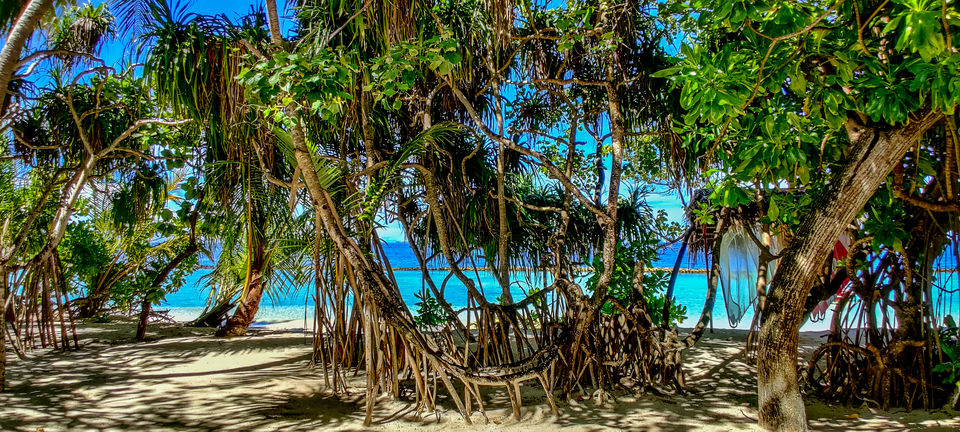 Hi,

Welcome to our first travel blog. We are Namrata and Tarun. One a lawyer from Calcutta and the other a photographer from Delhi, now recently married! As different as we are in our personalities, our love for travel and finding new experiences surpasses everything else.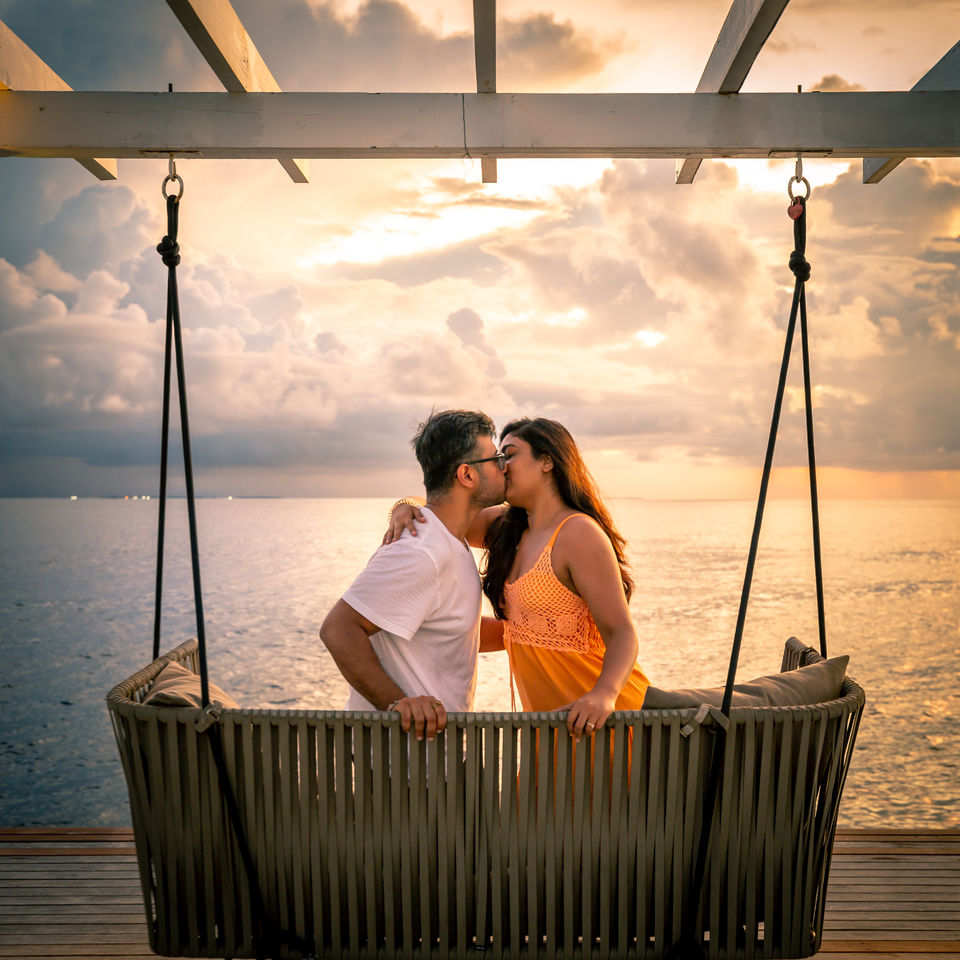 After dating for three and a half years and having gone for multiple holidays together, for our first big trip after the wedding (I refuse to call it "Honeymoon"), we wanted to go to a place neither of us have gone before, a place which mesmerizes us and of course is in our budget of around 3 Lacs. I was very certain that I wanted it to be somewhere tropical. So our options were Phillipines, Thailand, Indonesia and Maldives. After much deliberation and research, we chose Amaya Kuda Rah, Maldives.
Reasons why we chose Maldives: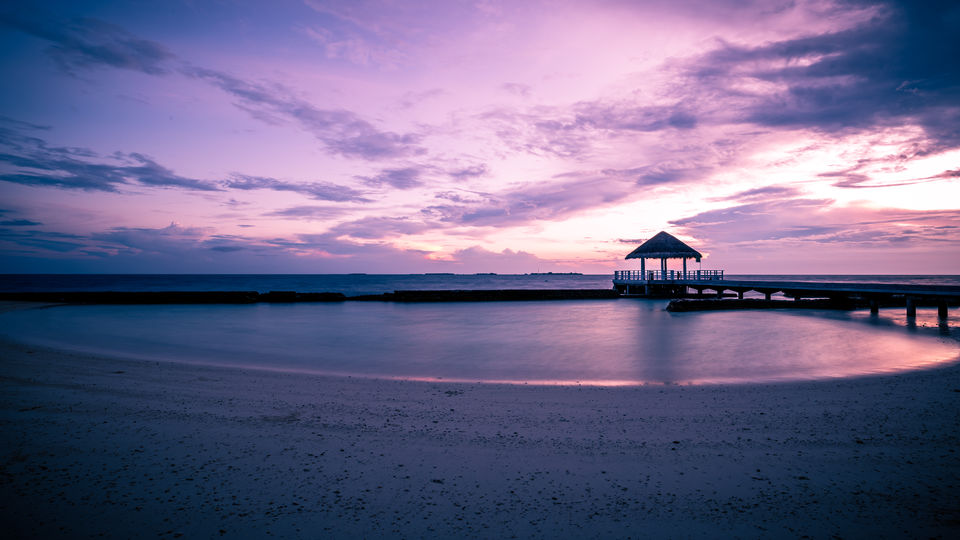 a) Luxury villa experience in a decent budget
b) The Over-water villas (OMG!!)
c) Very intimate, secluded and away from the hustle.
d) BEACHES, SUN, SAND…… need I say more?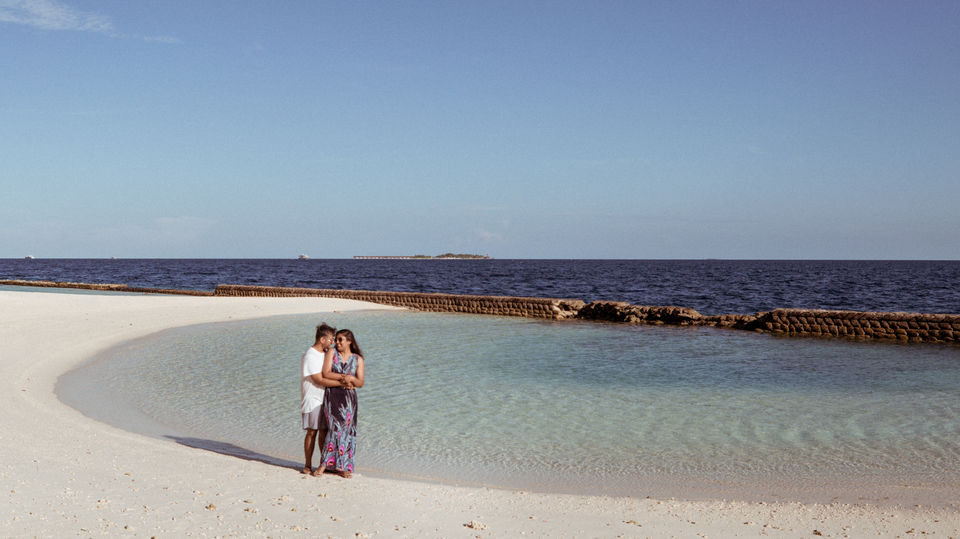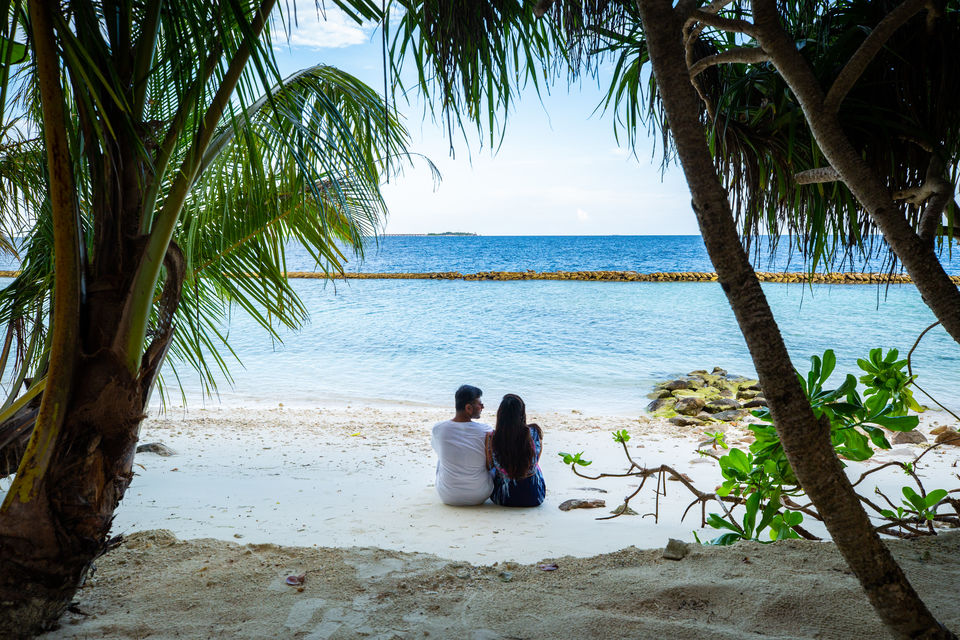 How to book your resort: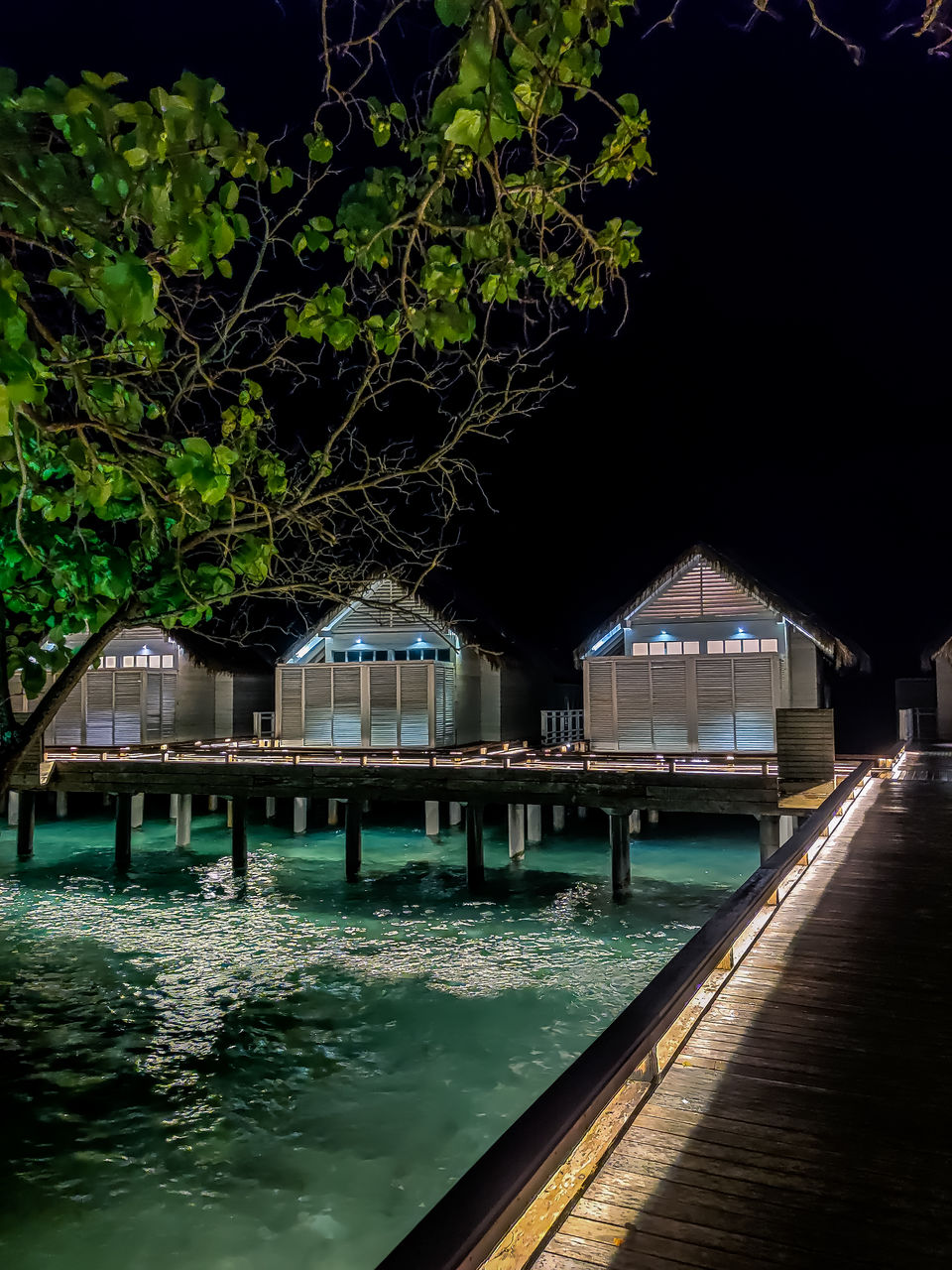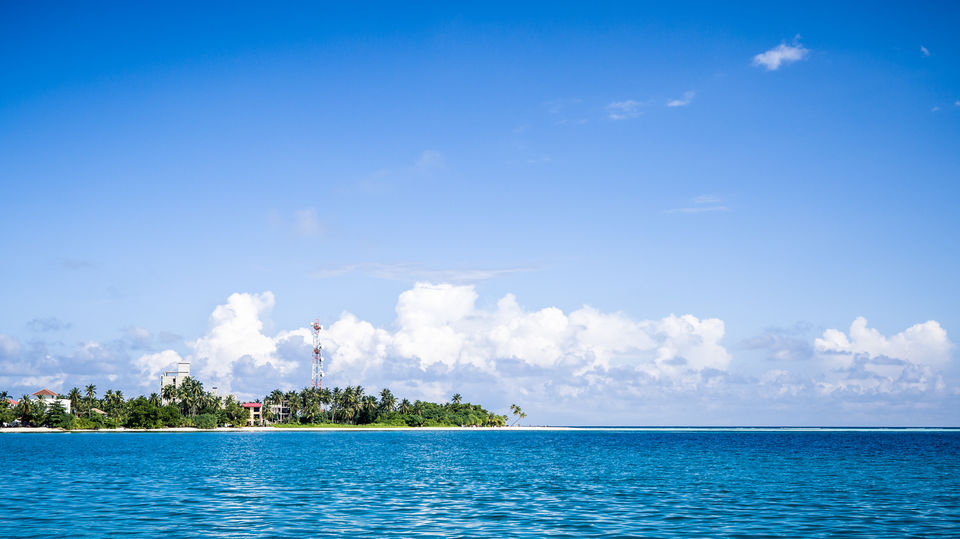 Before we booked Flynote as our travel agents, we did our own fair share of research. With our given budget, we knew we wanted to stay in an over-water villa only, because that's one off the check list, right?!
While doing the research, there were just so many options and all of them had some distinct quality making it super confusing to choose one. All of our friends and family who had been to the Maldives had also stayed with different resorts so there was not one in particular standing out.
Also, we were aware that if we went through an agency, the packages that they tailor make for you are amazing and quite a lot cheaper and boy did Flynote hook us up!! Right from the moment we started speaking to them, their representatives were quick and got our requirements to the T. They even added a few freebies (since we had planned the trip around my birthday along with our "first big trip after the wedding").
So, we were to travel from the 22nd of December to the 26th of December and our package was to include an over-water villa with a private pool(for all four nights), domestic transfers from the airport to the resort (sea plane and/or speed boat), all three meals (All drinks, alcoholic or otherwise, were strictly excluded), a candle lit dinner, a bottle of champagne, a fruit basket, cake and wait for it… bed décor!! :P
We also had the option of attending the resort's Christmas eve gala at an additional cost, which we went for (more on that later).
Things to keep in mind before traveling to Maldives: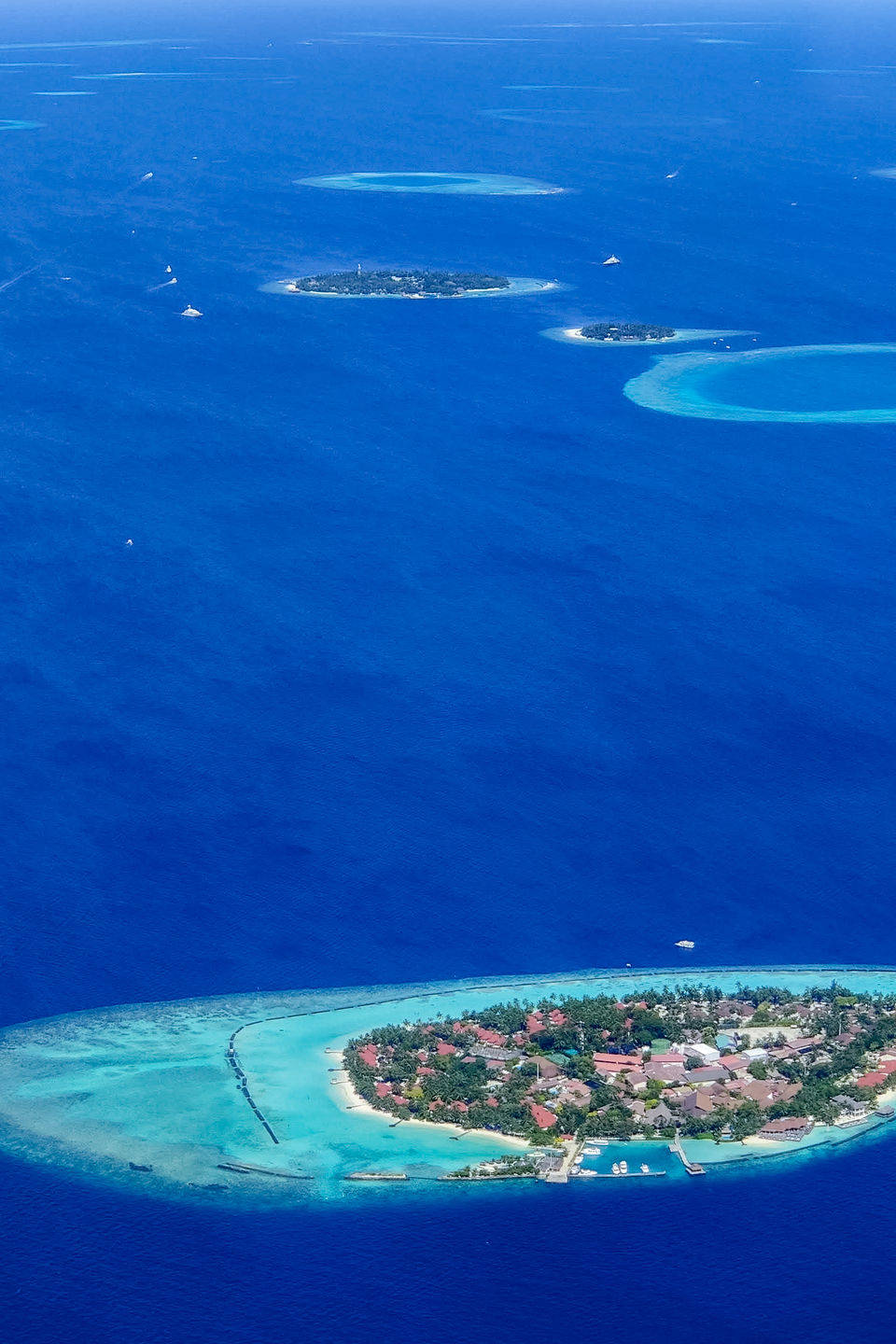 The Maldives consists of atolls, coral reefs and low-lying coral islands. There are 22 geographical atolls comprising of about 1200 islands out of which about a 1000 are still vacant. You will most likely choose an island (1 island houses 1 resort) to stay in, which will be an all-inclusive experience.
USD or Forex Cards are the most acceptable form of payment there. Taxes are heavy! There is mostly a 24% GST and 10% Service charge attached to almost every bill, phew!
You are not allowed to bring your own liquor to the Maldives. We had bought a bottle of whiskey from a duty free shop en-route which we had to deposit at Male airport's customs department upon arrival. The good news here is that you get to take it back with you when you leave the Maldives.
We were to fly from New Delhi, India --> Columbo, Sri Lanka --> Male, Maldives via Sri Lankan airlines, which was quite decent. Upon arrival at Male airport, we had to look for Flynote's stall (there were quite a few other agencies and resort stalls) where we were introduced to Amaya Kuda Rah's representative who then escorted us towards our next check in for our domestic transfer via the Trans Maldivian Airlines (the sea plane!). This was a last-minute upgrade since the weather was expected to be stormy. The sea-plane was a breath-taking experience as we got a chance to look over the gorgeous Maldivian islands and waters from above. The thrill of taking off on water is not for the faint-hearted.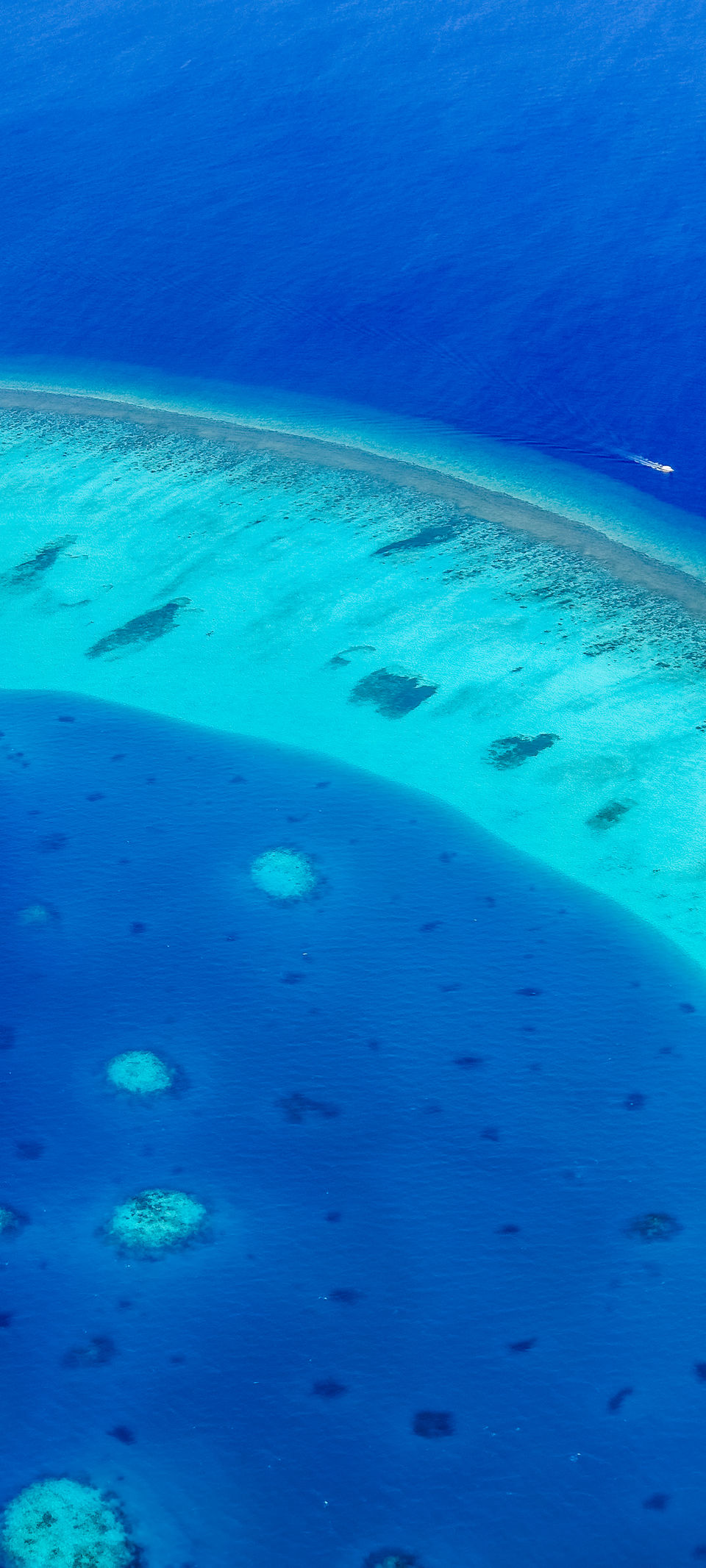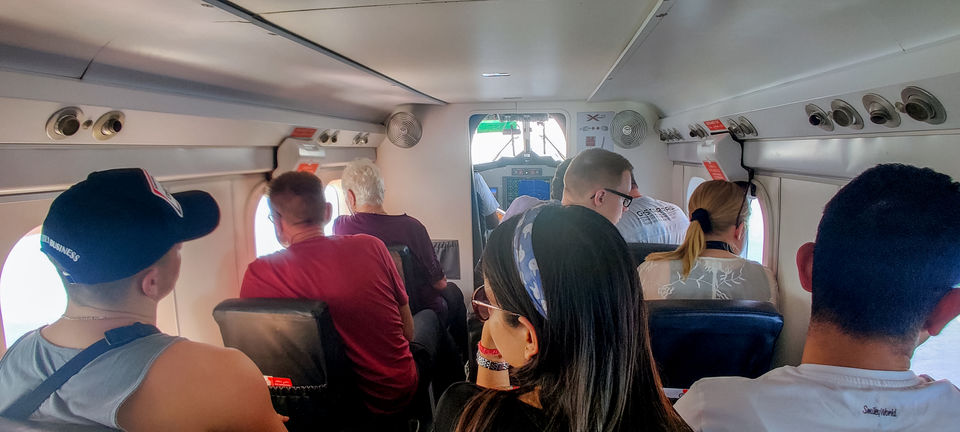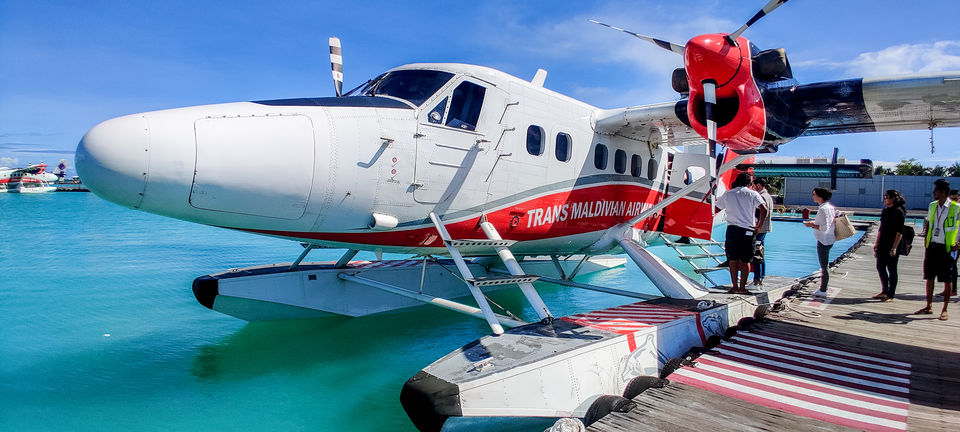 After a mesmerizing 25 minute flight, the Sea-plane decided to land in the middle of the ocean, next to a floating wooden platform and we got off. The airline staff was very courteous and helped us with all the luggage. Motor boats from the respective resorts were on the ready to pick up their guests. A 10 minute super scenic boat ride from there lead us to our resort.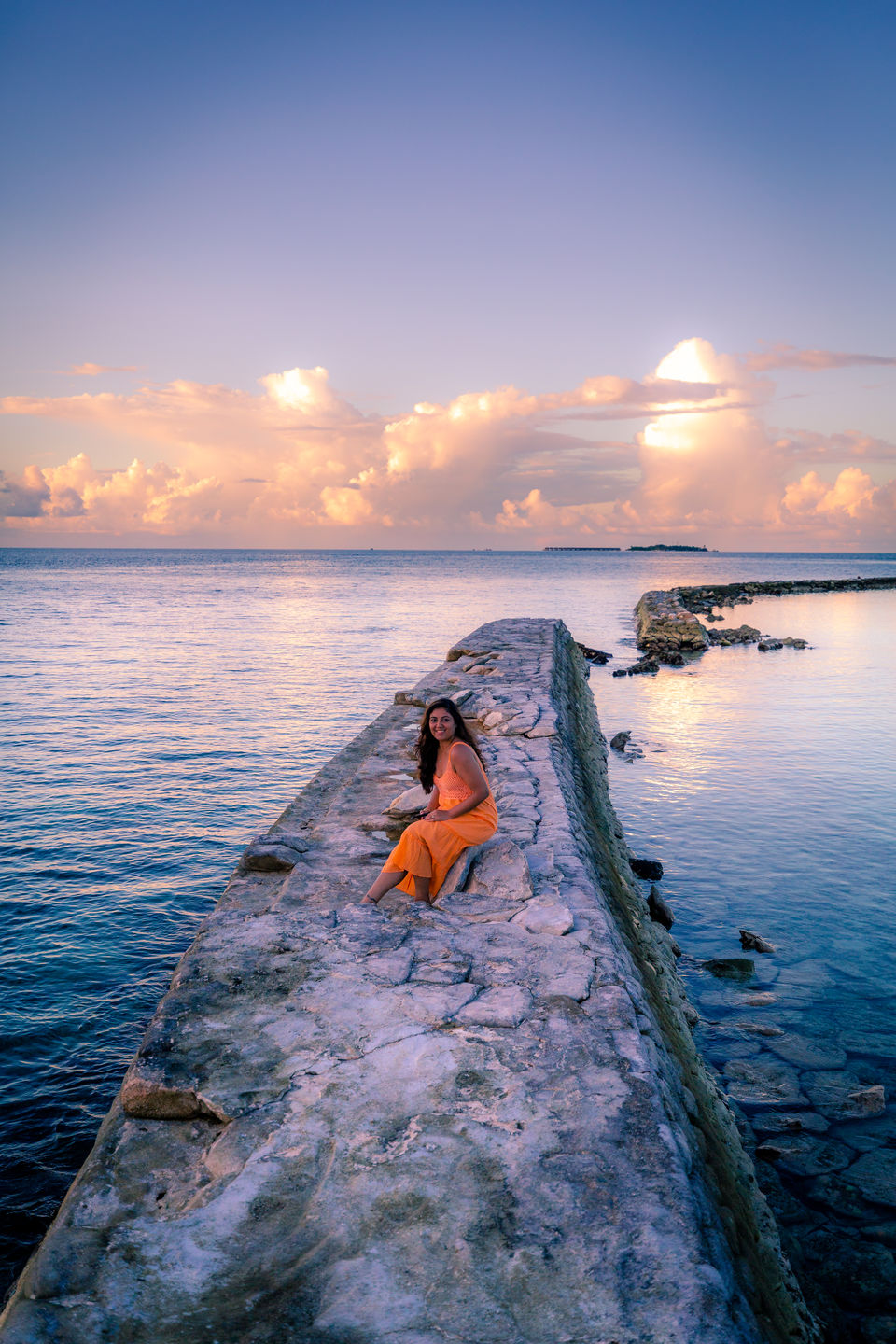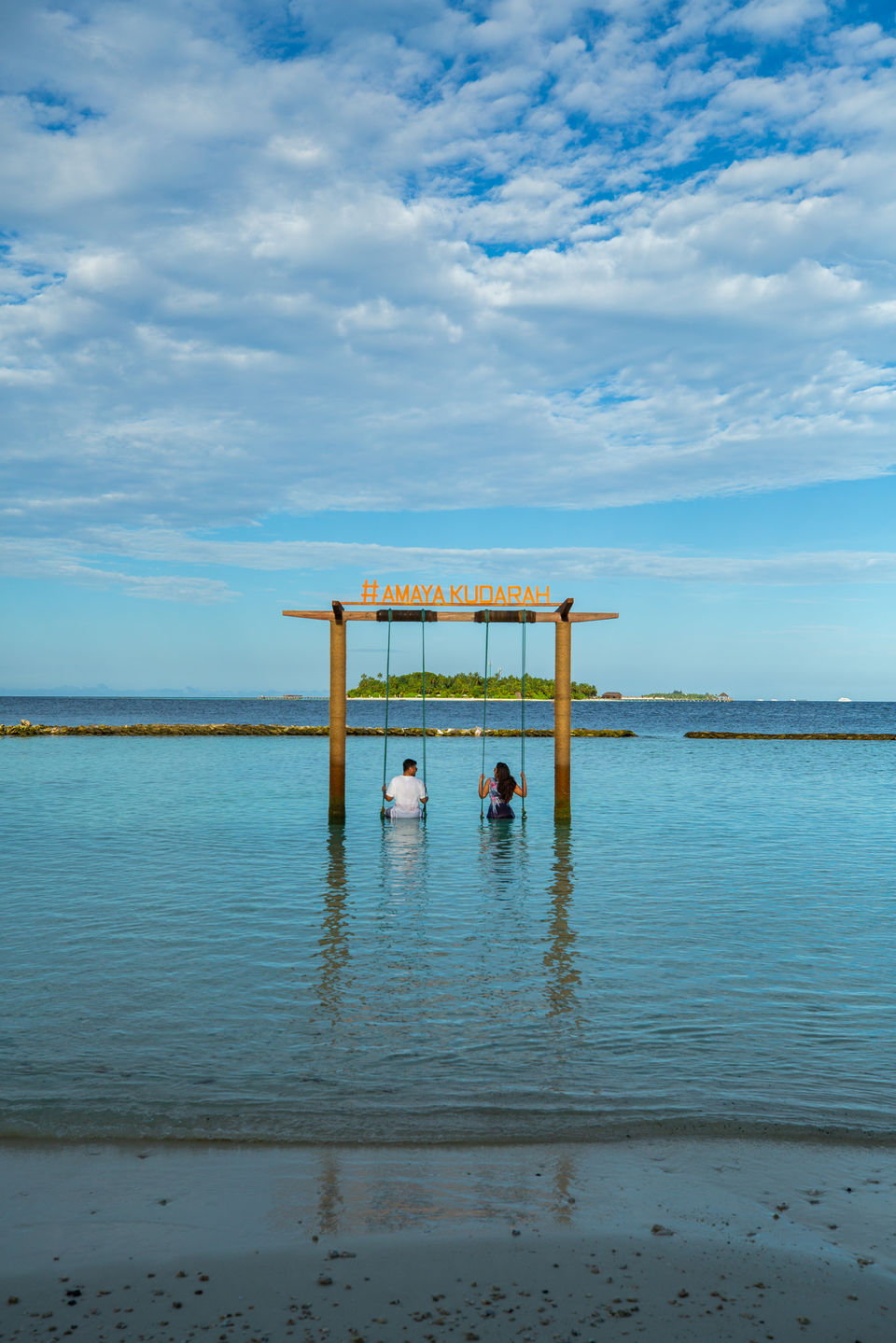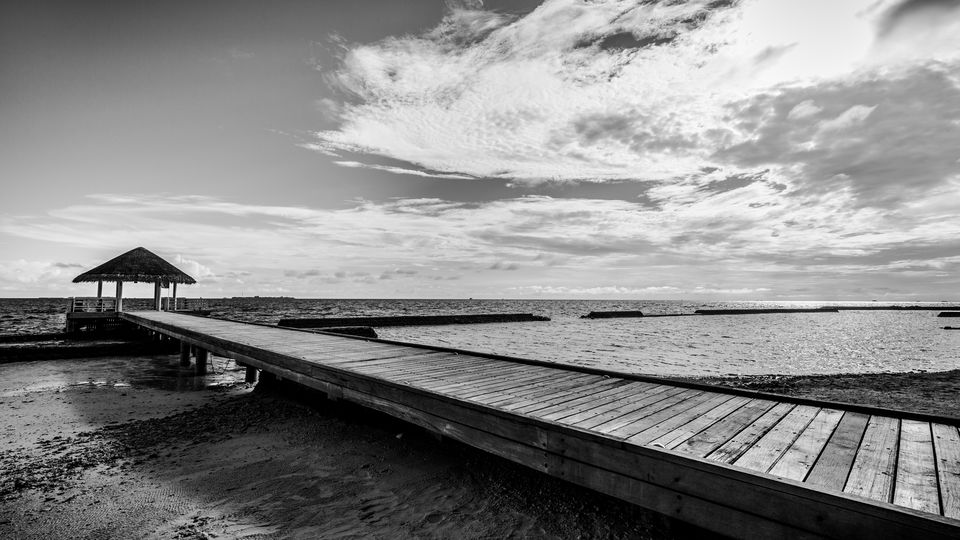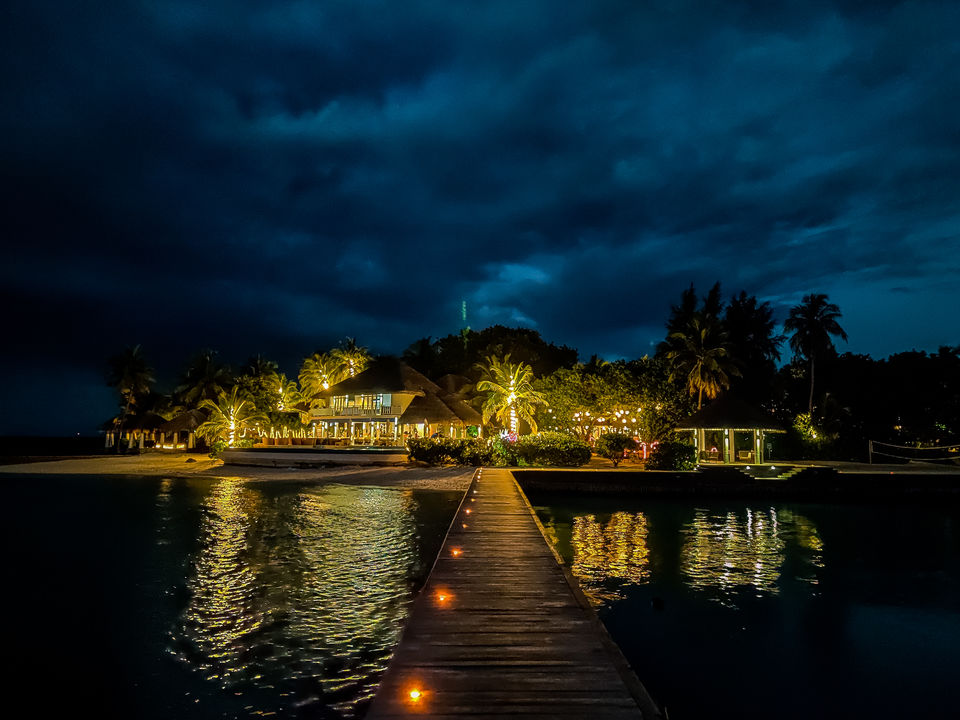 Amaya Kuda Rah is a beautiful resort with all the amenities that one would want from the experience. They were courteous and explained our package very carefully to us right on arrival, but accommodating, they were not! We noticed that they had little to no room for adjustment or customization towards our wants. I guess that's their way of quality control, but it did feel a little meh!
The Service was slow, to say the least and we had to shamelessly remind them of things that were in our package (yes, even the bed décor!!).
Having said that, it definitely lived up to our expectations of an island resort covered in the most amazing tropical flora surrounded with waters in different shades of blue, somehow naturally demarcated with extremely clean borders.
Apart from whatever we had in our package, the resort also offered a host of other activities like, a local island visit, sunset cruise, open air movie night, scuba diving, snorkeling, water sports, a spa and many more (all at additional rates, of course).
The Over-Water Villa: the pièce de résistance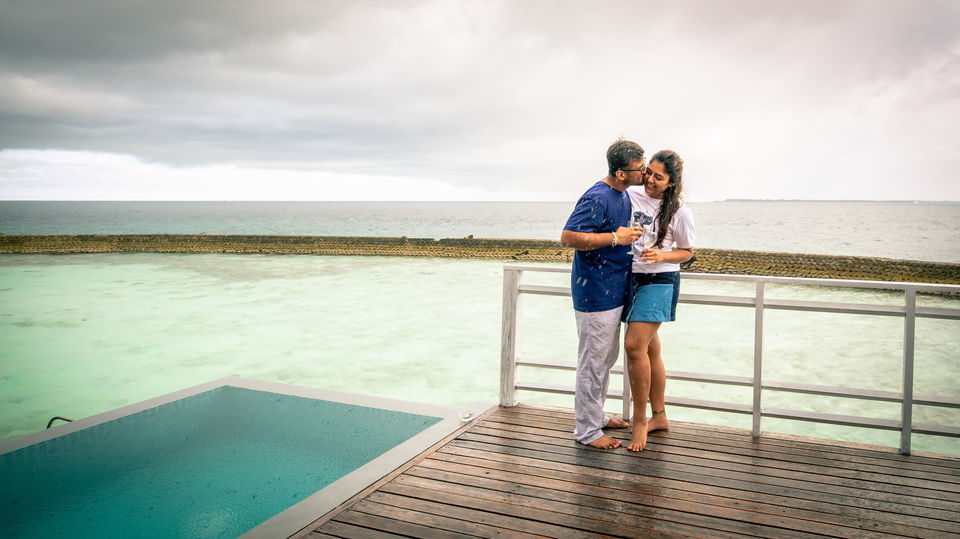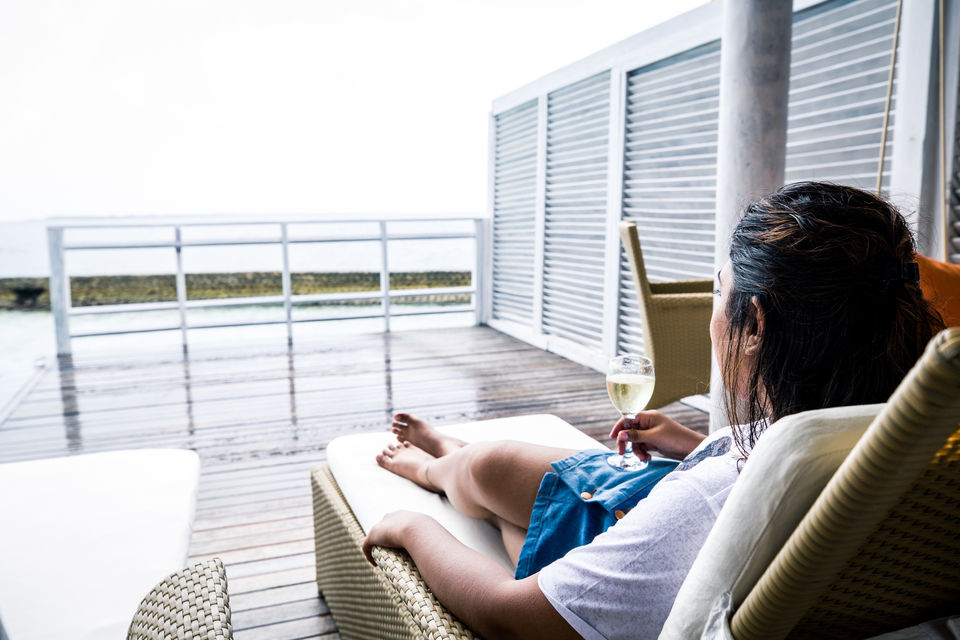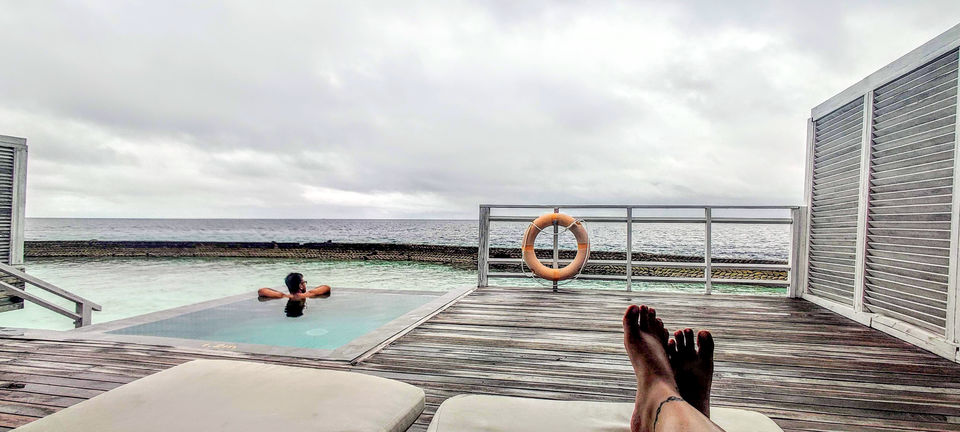 Guys, this was by far the best part about our trip. Just look at the pictures and you'll know what I mean. Starting with the bath area which conveniently housed a jacuzzi and two separate wash basins (I love this!!), stretching onto the bedroom with a HUGE bed, a large TV and a wireless Bose speaker (nice touch!) and onto the magnum opus, the deck with a swing, two sun lounges, a private pool and the stairway to the blissful blues. You can see a host of beautiful fish right from your balcony! The room came with complimentary snorkeling gear as well. What more could you ask for!?
However, since the over-water villas are quite next to each other, don't be alarmed if you're having a private moment in your pool while the couple in the next villa comes by kayaking.
The Dive: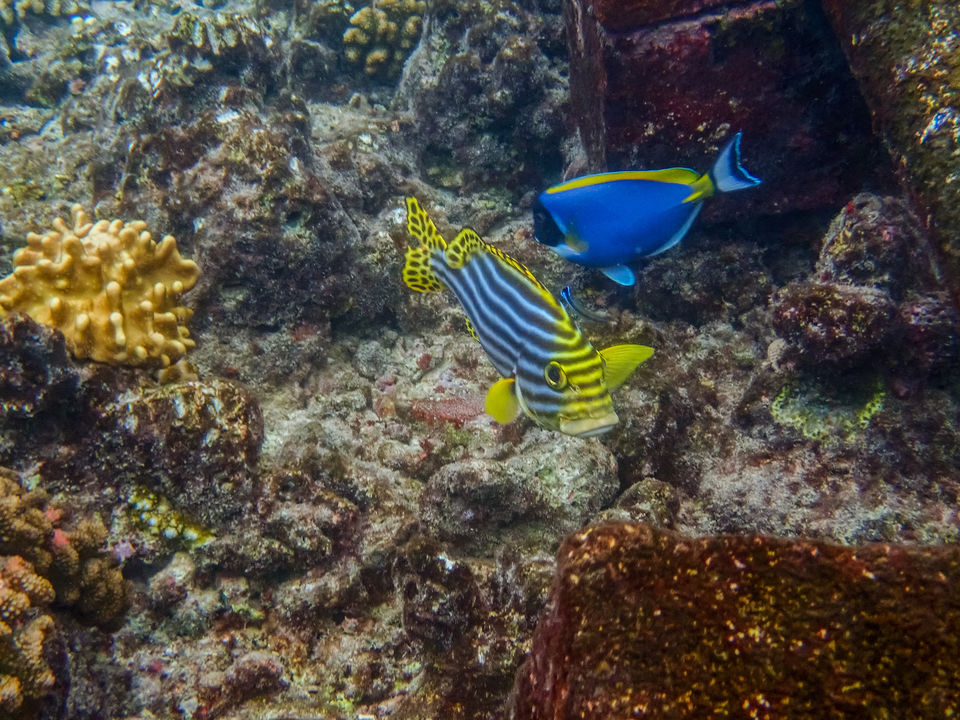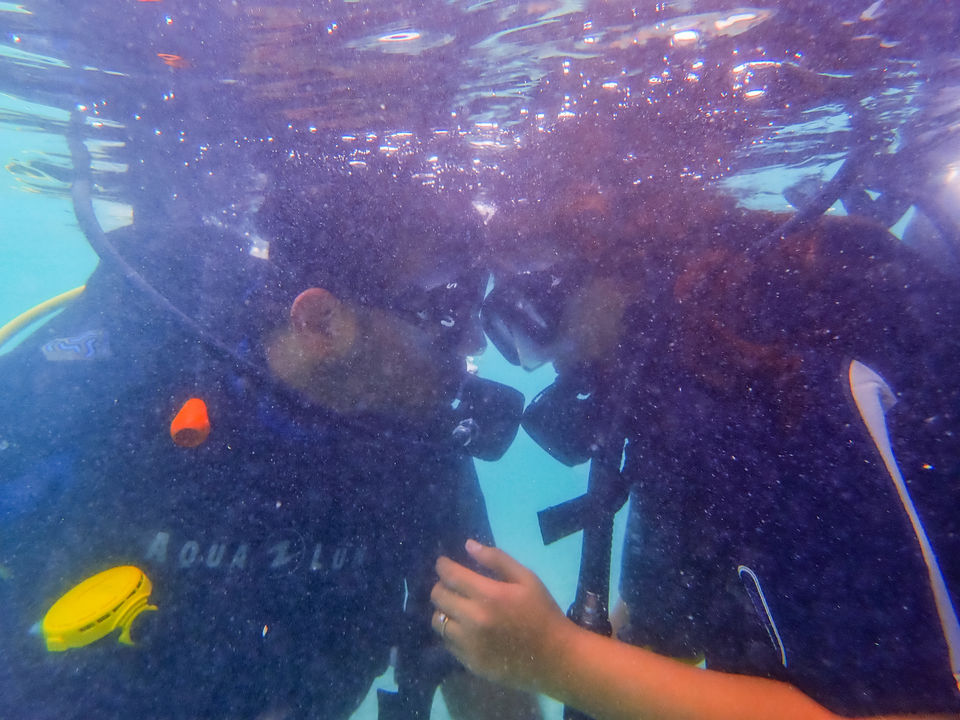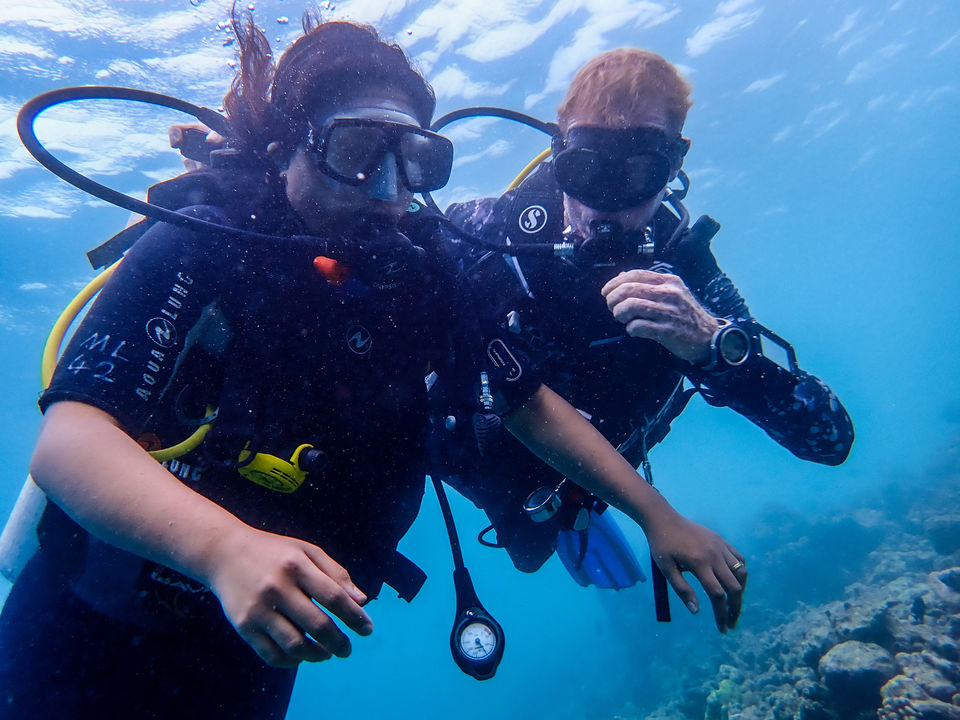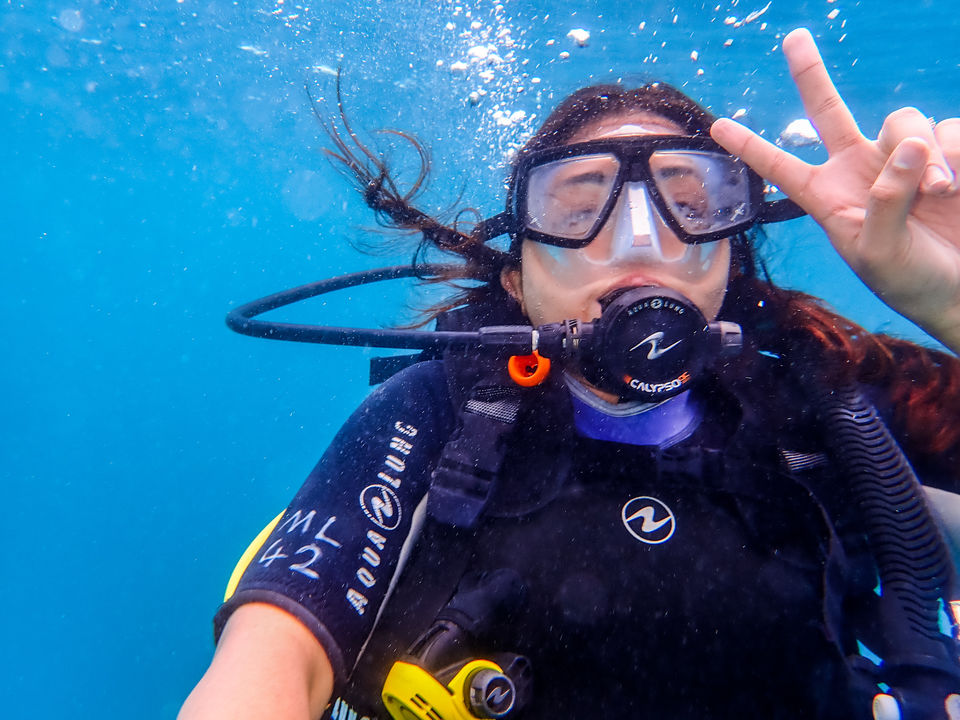 On the 23rd, since it was my 30th birthday, we decided to do something that we'd never done before; Scuba Diving!!
So after enjoying the tropical rain that morning, we found ourselves at the resorts diving area, conveniently called Dive Point and met with our super friendly instructor from Australia, Jeff, who immediately made sure that we get comfortable with the idea of diving, even though Tarun is a non-swimmer. He gave us a complete breakdown of the gear, communication under water and a short trial in the shallows. We were sold and were super eager to go in for the main dive. We finished the formalities (a lot of paperwork), saw the instructional videos and completed the training.
We were told to have a light lunch, after which we went back to Dive Point, where Jeff suited us up and we began our practical training under water once again and then it was time to go into the deep. We chose the dive package inclusive of photos and videos (USD 400 for a couple) where my photographer husband was more than excited to try his hand at under-water photography.
It was the most sublime 40 minutes of our life! The colorful fish, the deep blue water, the unending depths, the intricate coral and the super shy sharks (yes, we did see a few), blew our minds. We managed to go till around 4 meters deep after which I started experiencing ear pain because of the pressure, bummer! Nevertheless, it was an experience that one could never forget! And with that, we were certified divers!!
Dhangeti: The Local Island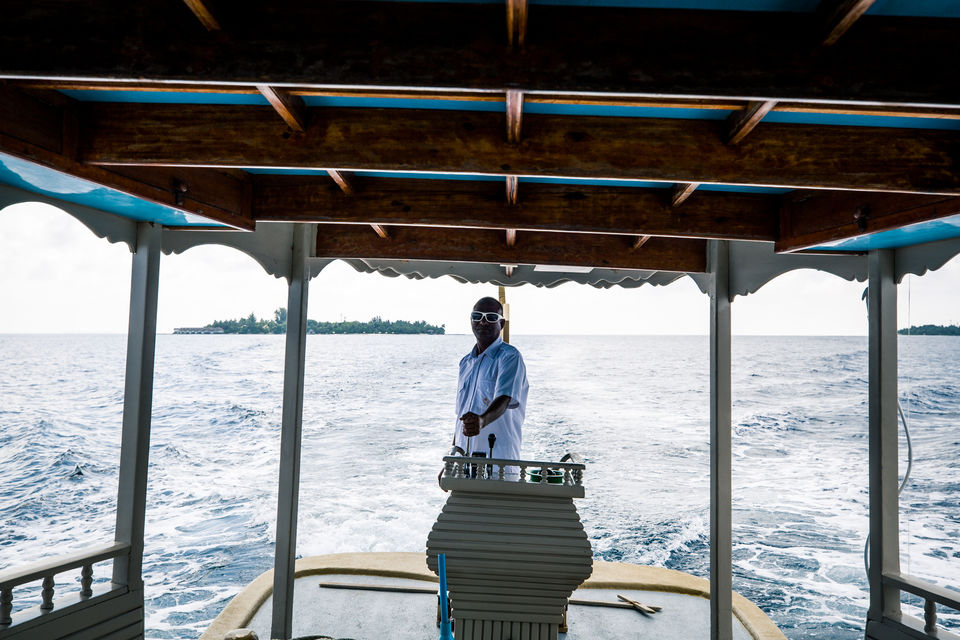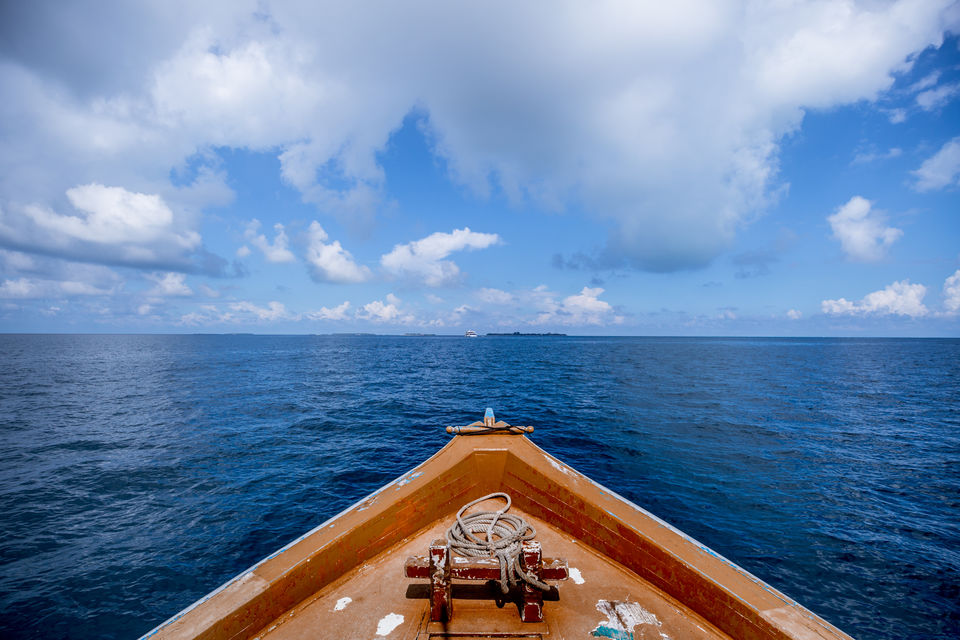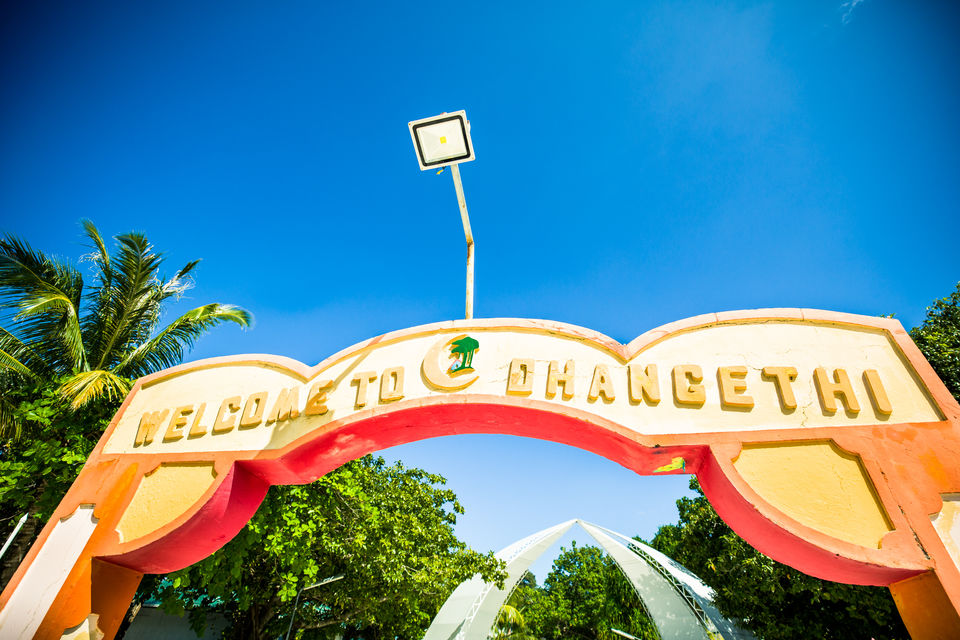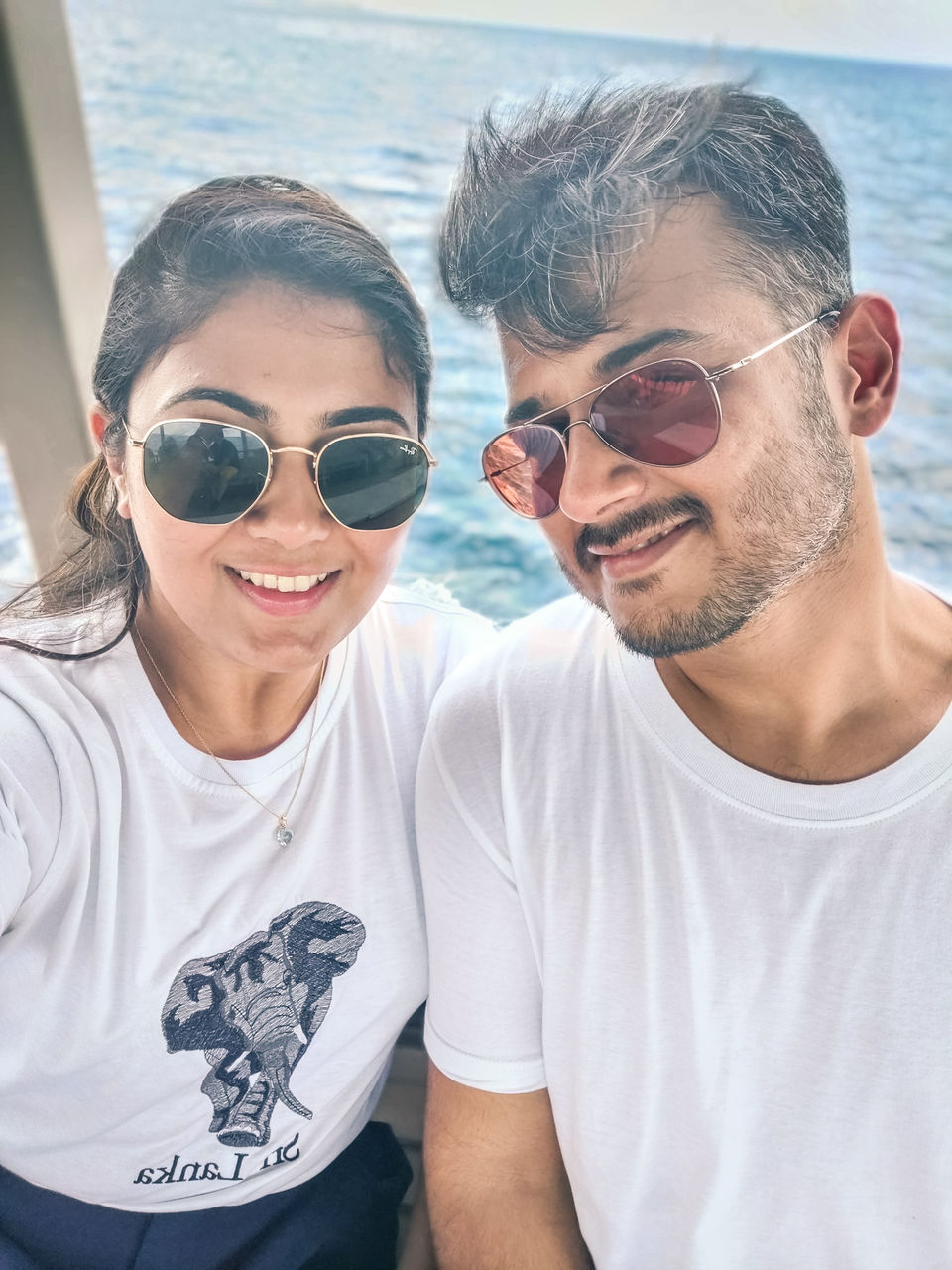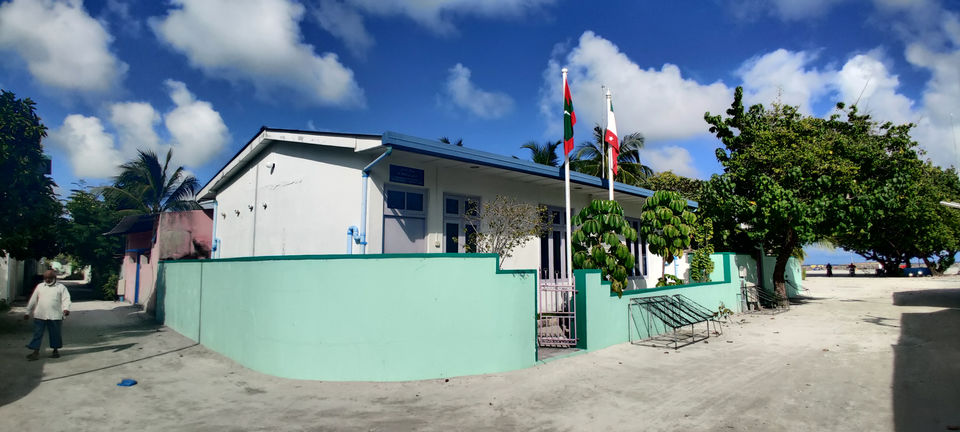 One of the days, we decided to visit the local island, Dhangeti. We had to inform the reception that we want to go for the excursion a day in advance and they gave us a particular time when we had to report at the reception. The next afternoon (a very hot one), they took us, and a few other guests, on a motor boat, to an island which had around 30 shops, all selling things like fridge magnets, t-shirts, sarongs, and decorative Coral at similar prices. Don't forget to get a proper receipt for any decorative Coral you buy from here as it could be asked for at the airport. Also, don't feel shy to bargain. Go ahead and spend your USD 60 on this only if you're a souvenir fanatic like us!
Meals and Drinks: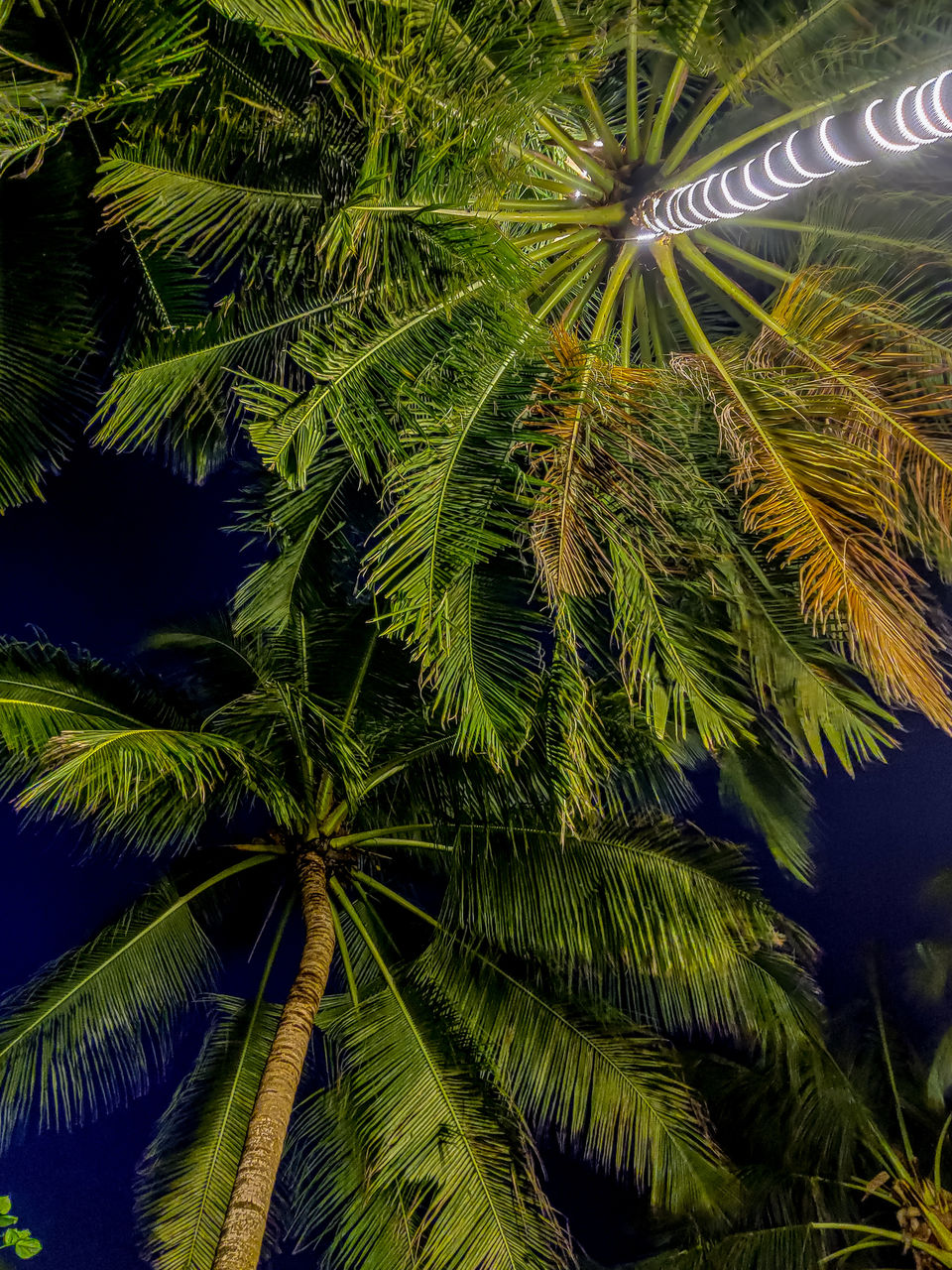 All our meals; breakfast, lunch and dinner were included in our package and were in the form of a buffet. A good spread of a buffet, no doubt! An international menu with everything from Roast Chicken, Beef Stroganoff and Salmon to Indian curries and Parotta. But, ALL DRINKS, inclusive of water, soft beverages and alcohol were excluded and they were priced anywhere between 3 and 30 dollars. You do get a complementary 3Lts. of water in the villas everyday.
We did get a bit bored of the buffet by the end of the trip though and ended up ordering pizzas and sandwiches from the A-la-carte menu. Something to remember is that in-room dining is considerably more expensive than eating at the restaurants. Speaking of which, there were 3 of them at the resort. Glow Bar, Half Lime and Sea Spray. Each with it's own menu and ambiance.
The highlight of the buffet was our Gala dinner on 24th evening, where there was unlimited alcohol (on the house) and a super massive buffet spread, while Santa was handing out gifts and a beautiful choir was singing Carols, we devoured the sea food spread and the desserts were exquisite!!
The Glow Bar offered Shisha at USD 25++ which was an unexpected delight! (Calcuttans will know what I mean).
The Weather: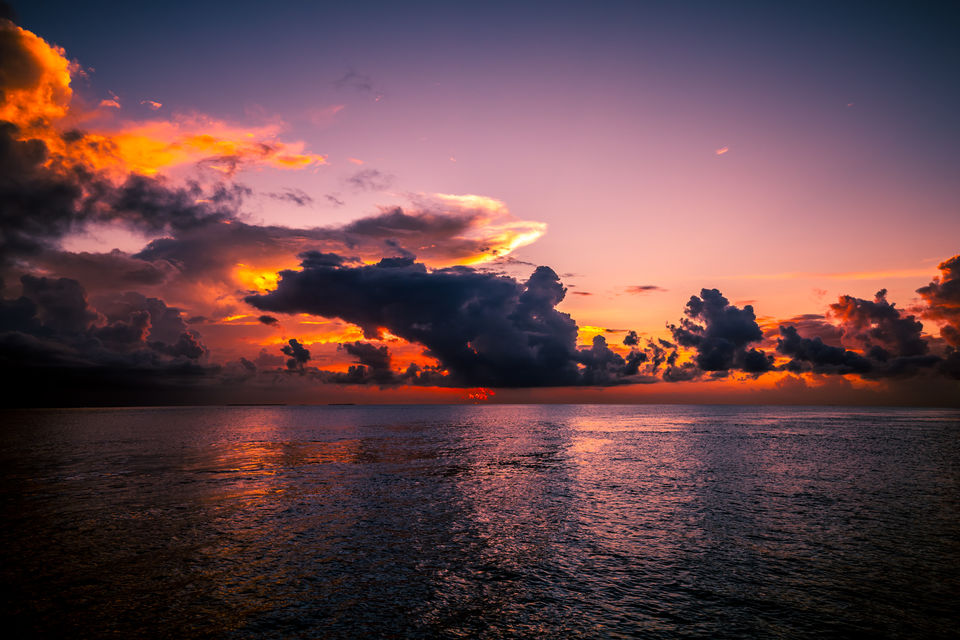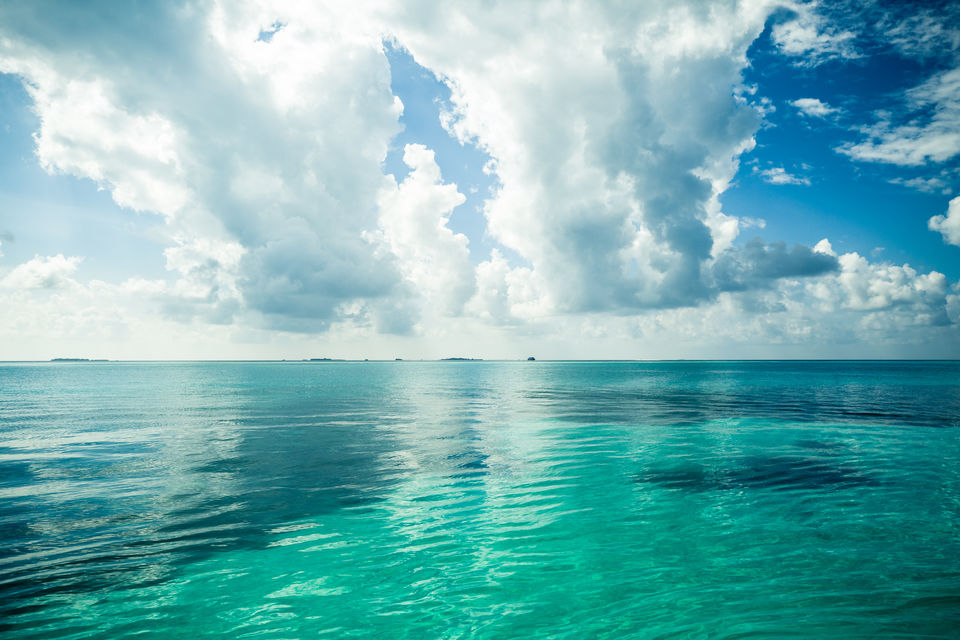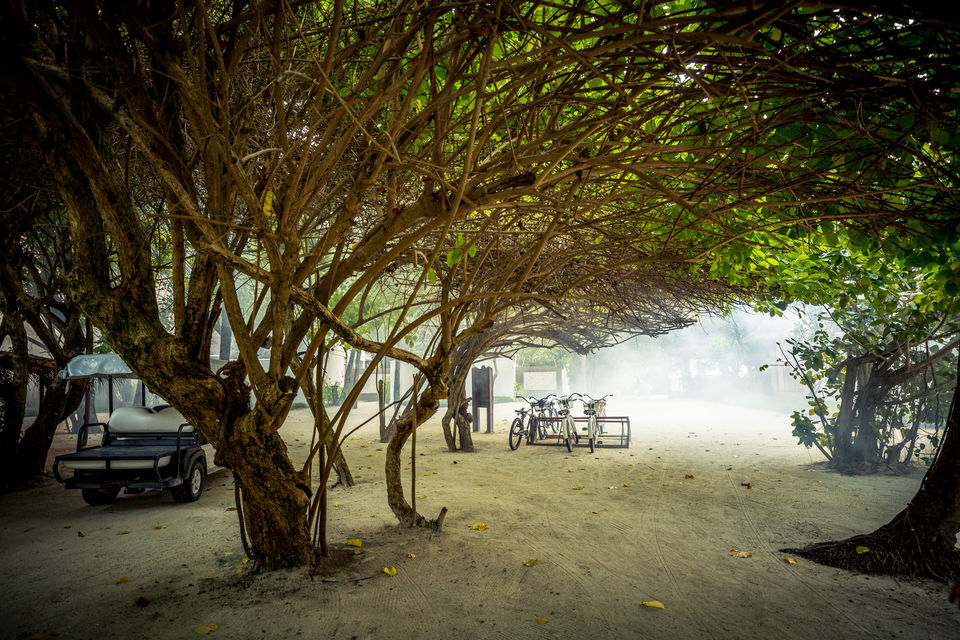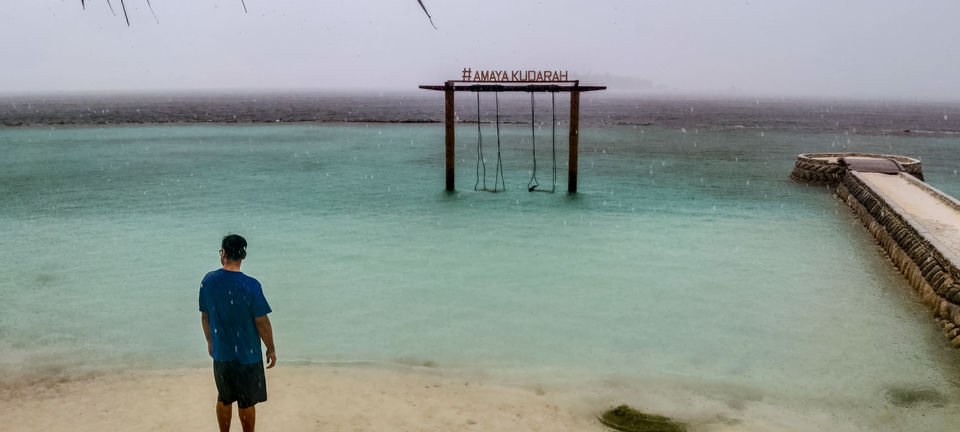 The Maldives is paradise even if it is raining. The first two days of our trip were mostly cloudy with intermittent drizzle coupled with storm. On those days, we decided to make complete use of the room and all of its pleasures, go scuba diving and just chill.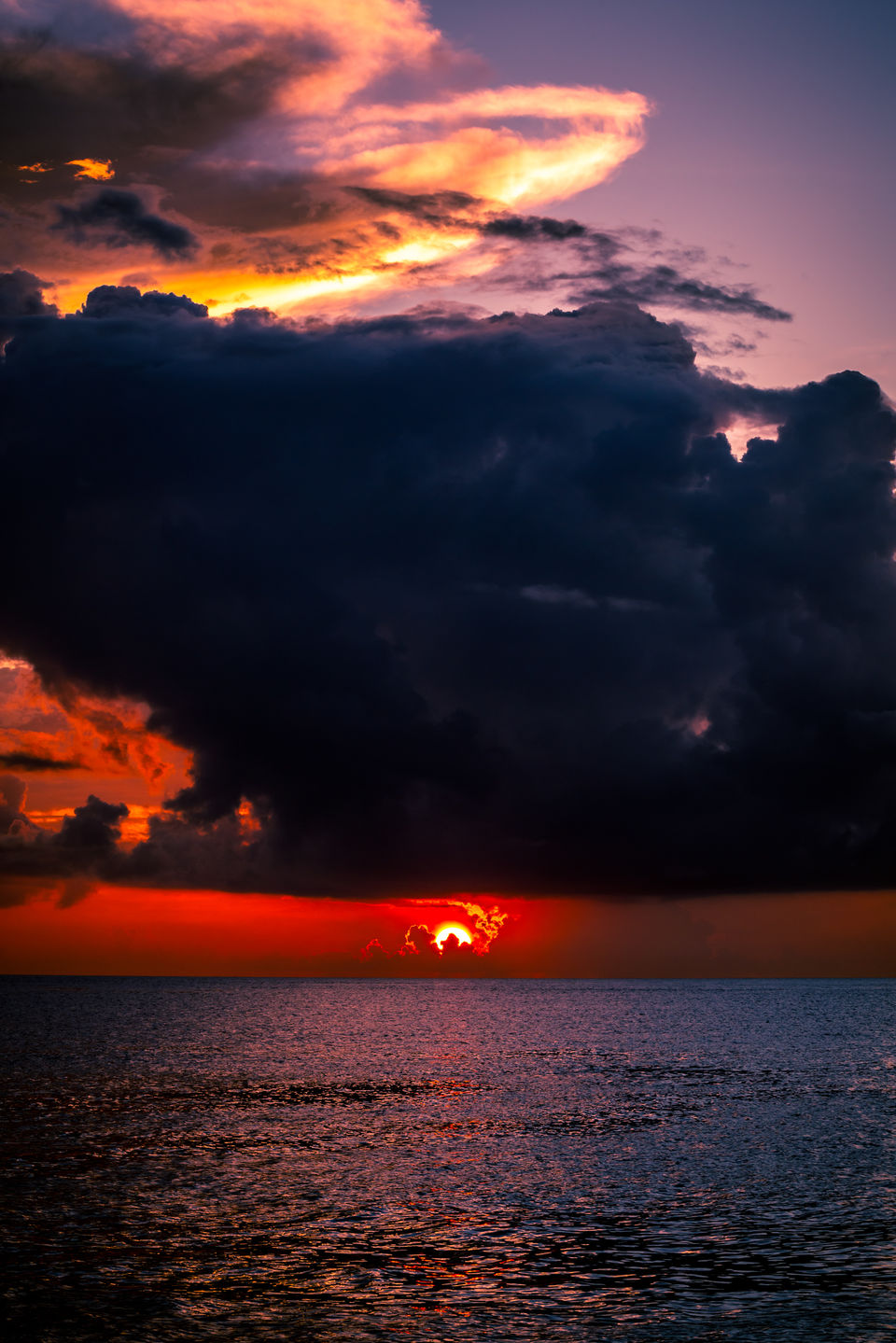 The next two days were sunny, toasty and the water sparkled like diamonds. I kid you not!
The Views: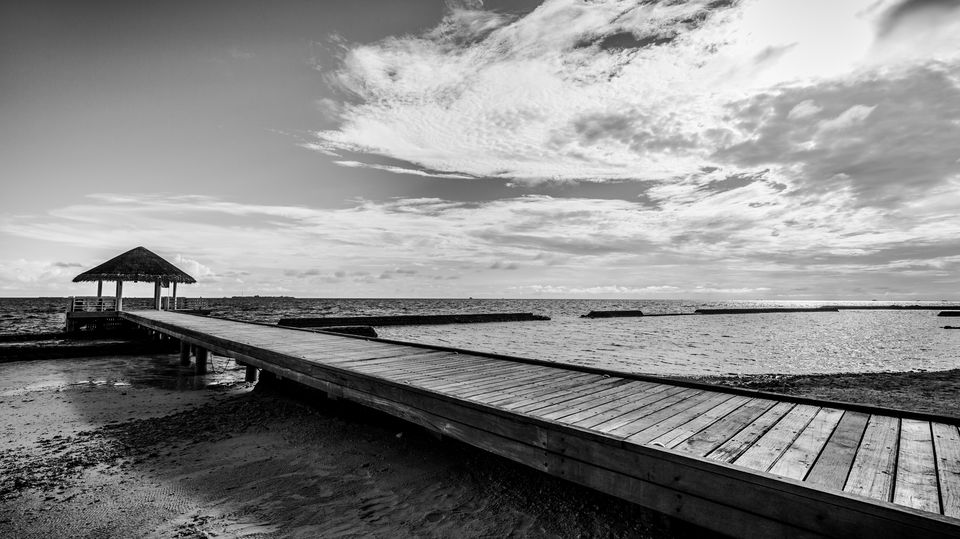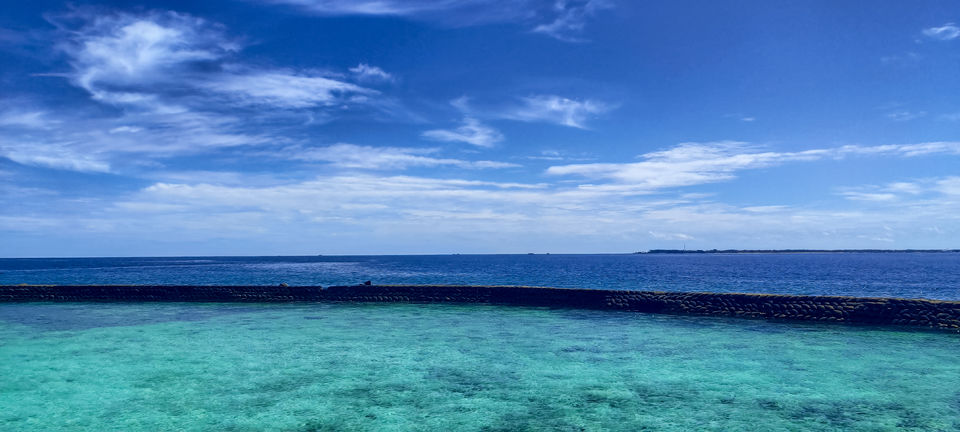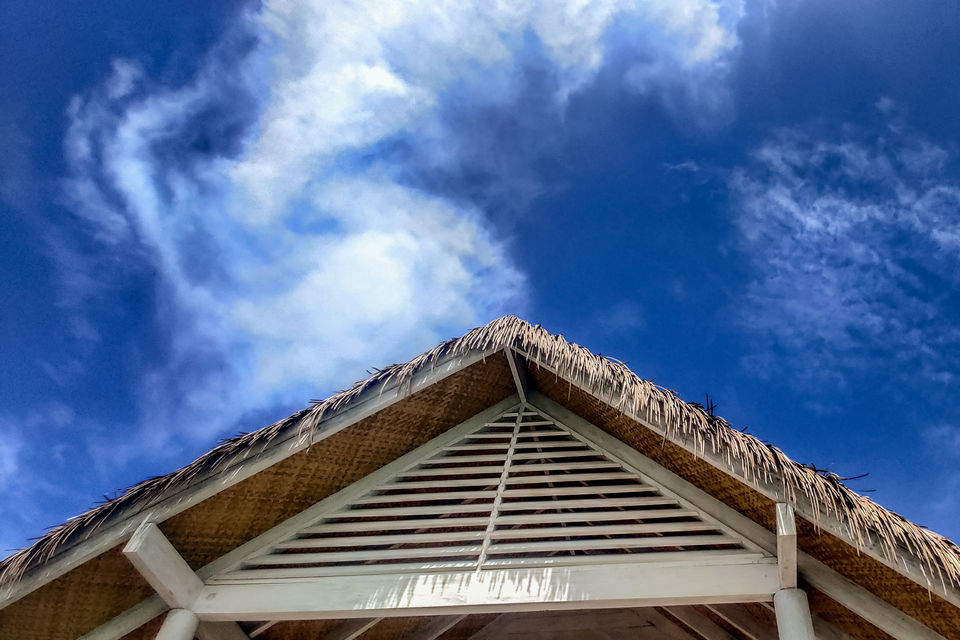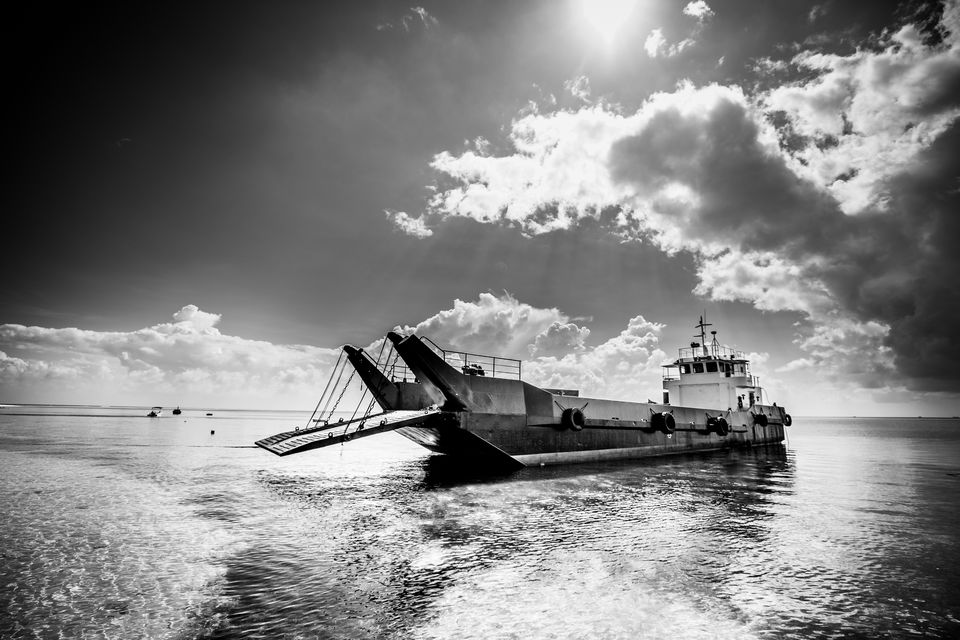 Never have we ever seen water so blue, skies so clear, streets and air so clean, sunsets so vivid and the ambiance so magical. With my photographer in tow, not only did we capture each sunrise and sunset; we also went on a photo tour of the resort as each corner was more breath-taking than the latter.
The Maldives are the stuff dreams are made of, as in dream vacations inspired by those impossibly perfect pictures you've seen, or those pesky fantasies about quitting your day job to live on an exotic island for the rest of your life. You know, the places that can't possibly live up to your expectations of beauty and wonder. Well, Maldives actually does! It looks exactly like those images floating across your screen: bright sun, transparent blue lagoons, house reefs teeming with fish, low waters with baby reef sharks and rays, and white sand beaches that stretch out into nothing but miles and miles of turquoise waters and blue skies.
If you want to know our detailed itinerary, our expenditures and see more of those beautiful pictures or buy any prints, get in touch with us at thetripseekers.in@gmail.com and definitely follow us on Instagram and Facebook at @thetripseekers

All pictures are subject to Copyright.