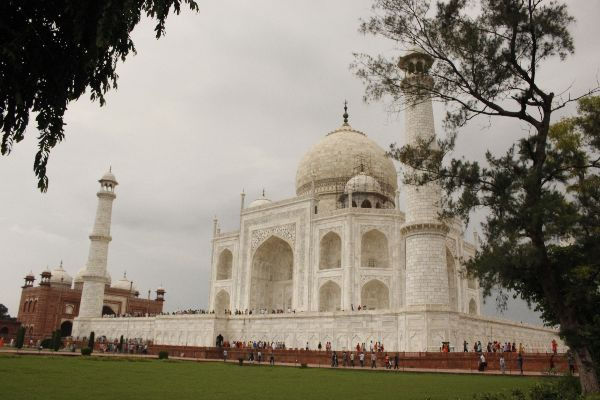 12-hours in Agra, what a fun-filled journey it was! I went to Agra last month with the only 12-hours itinerary in mind because spending more time in there doesn't fit me a very good idea. As we all know, Agra is only famous for Taj Mahal so there are not so many popular places that cannot get covered in one day. So, at 7:30 in the morning, I set my foot for Agra and I caught my already booked Volvo bus from Pari Chowk.
After 2-hour long journey, the driver dropped me off at a bridge and told me, you can get an auto rickshaw ride from here to Taj Mahal for 20 bucks only. I waved my thank you to him and walked forward toward hailing an auto to Taj Mahal. If you are going somewhere new, it is better to ask the fare to the fellow passenger because knowing you are new to the city, the auto driver mostly charges you triple times the original price. So, I took a sharing auto journey to Taj Mahal and especially, asked to drop me off at the South gate because before starting my trip, I wanted to grab breakfast somewhere at a quiet corner.
So, below is the itinerary that you can follow if you are planning a one-day trip to Agra and the itinerary is filled with a nice view of Taj Mahal, patriotic feel at Agra Fort, breakfast bite at Joney's Place, and an inspirational trip to Sheroes café.
Joney's Place
Before the trip, I actually spent four hours to draw out an itinerary to Agra that suited my lifestyle. That's was when I learnt about this eating joint which is very popular among foreigners. So, when the auto driver dropped me at the South Gate, I made my way to this place for breakfast.
It is a little cramped-up restaurant but the food is served with delicious standard and a meal would cost you a few bucks. Because I went there for breakfast, so I ordered a vegetarian cheese sandwich and a nice cup of Cappuccino. The sandwich was really tasty but, the coffee didn't make my set of standard. So, you can also head here for breakfast or for snacks and can enjoy the clean ambiance of this restaurant.
Taj Mahal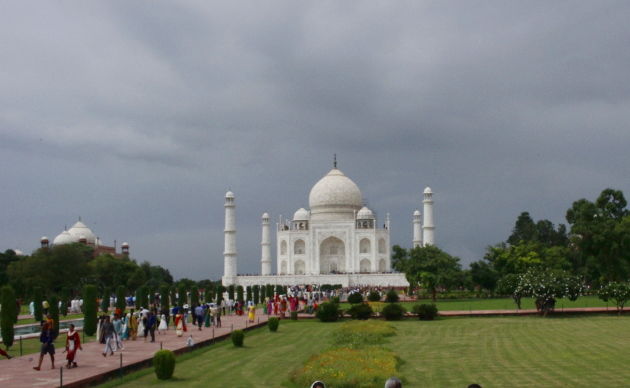 Next up in my itinerary was to spend one and a half hour walk inside the Taj Mahal complex. Just 20 m away from Joney's Place is the South Gate of Taj Mahal where I first bought a ticket for the entry inside the Taj Mahal. The ticket would cost you about Rs 50 and if you are a foreign national then, it would cost you about Rs 1000. Once you inside the gates after going through rigorous security session, you will be hovered by tons of tour guides who would offer a historical tour at a mere cost of Rs 200. I booked one for myself only because he promised to take some quality shots of me on my camera. And after listening to him, I thought I can have because I get to have some pictures of me out of this guiding tour otherwise, I would only have pictures of Taj Mahal and other people.
It is a beautiful stretch of an architecture where Taj Mahal shimmered against the bright light of the sun and the two small Taj Mahal on either side of it, accentuated it beauty thousands of times more. There were hundreds of people wandering over there, some looking at that marvelous piece and some taking pictures of it. The tour guide walked me with the whole history of Taj Mahal and between words, taking me to some popular corner to show the history to my gleaming eyes. He told me that the descendants of the workers who built the Taj Mahal stills live outside the place and all the money that has been covered through the tourism at that place straight away goes to those people.
It was a nice walk, you will be mesmerized by the beauty of this architectural piece which only dictated the intricate work of the craftsmen. So, enjoy a fun-filled hour at this place.
Sheroes Café
When I finished my Taj Mahal trip, it was already 2 in my clock. So, I decided to head for a nice lunchtime at the Sheroes Café. It is another very popular eating joint in Agra because it is run by some acid-attack victims. So, Agra is not only famous for Taj Mahal, there are many people who come to Agra to visit this place and to get inspired in life. This place is for those who are looking for an inspirational place in India because you will forget your struggle when you see some strong and independent women who have been attacked severely by pain in their life and yet, choose to live a life without any regrets but rather with a fight.
I had a cold coffee and a hot plate of red sauce pasta at this café. When I finished my meal, I went on to pay for my meal but they demonstrated the rule of only accepting donations for the meal and if someone decides not to pay them then also, they happily share their goodbye wishes.
Agra Fort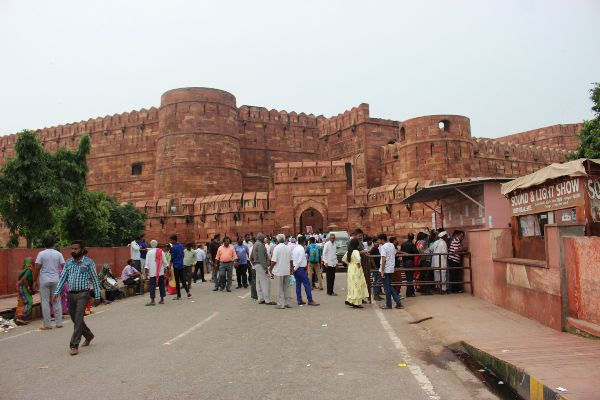 This was my last popular stop before heading back to my home. Agra Fort is yet another patriotic place which exhibits the effort of soldiers who died at this place fighting against the unjust and protecting their families. The red marbled architecture also had a perfect view of Taj Mahal to give you through one of its window. You can walk around the complex and read the history of the place. You can also see the cannons inside the complex.
The ticket to make an entry into this complex is about Rs 50 for Indian national and for foreign national, it would cost around Rs 500. So, enjoy your historical walk at this place.
And after my leisure walk in Agra Fort, I moved my way to the market road of Agra to see how daily lives are conducted at this city. The market place is little cramped up so you should avoid it as per my suggestion. So, this was a 12-hour itinerary of Agra where you can get catch up the sight of Taj Mahal and Agra fort with some delicious meal at Joney's Place and Sheroes Café.