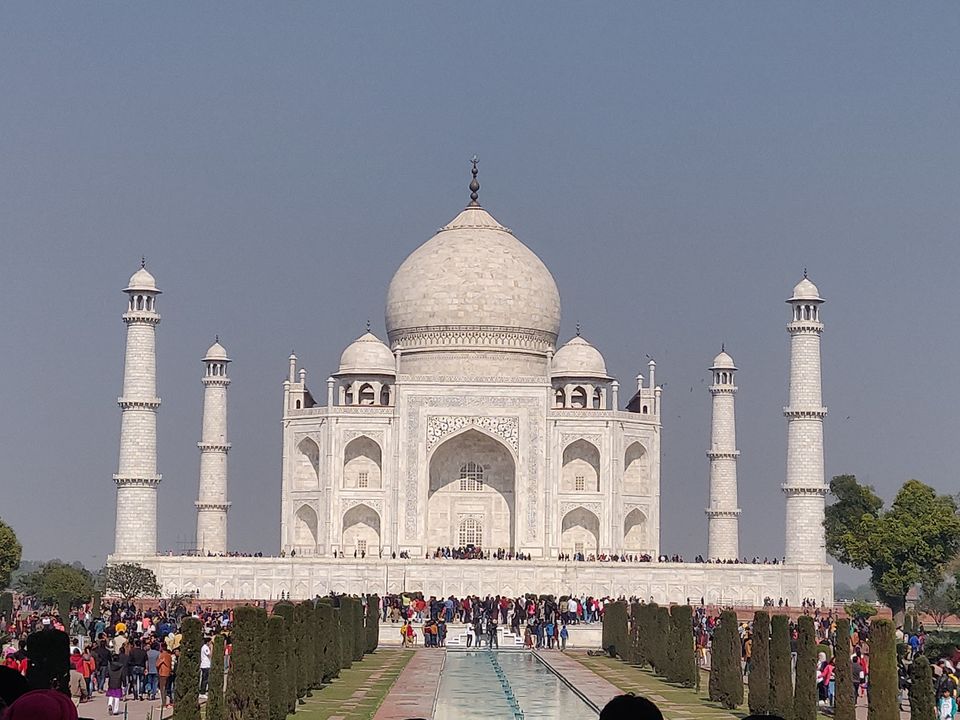 Left from our home at 5.50 a.m
Breakfast at Shiva dhaba at 8.15 a.m (ordered tandoori aloo paratha, paneer paratha, pakodas, grilled sandwich and kulhad tea, 2 water bottles; costs us 1455 which I think was not bad for 14 people. Yup, you heard it right 14 people 😛😃)
Reached Taj Mahal at 11.30 a.m (Tickets for 14 people: 3500, 250 each)
There were two divisions of tickets, one was for 50Rs and the other one was for 250Rs. The difference between the two is that you can go inside the Taj Mahal and see the exact replica of the grave of the Mumtaj Mahal (beloved wife of Shah Jahan). But the entry to the real grave of Mumtaj Mahal was closed which opens in April for three days (unfortunately I don't know the days).
Shoes are not allowed inside the Taj Mahal. But you can buy shoe covers (5Rs) from there only or you can submit your shoes and walk either in your socks or barefeet. The facility of battery operated rickshaw from the parking was also available there if you don't want to walk or save your energy for the rest of the day (10Rs per person).
No eatables, power bank, wires etc wasn't allowed inside. Best to take phone, ID proof (which you have to show while buying the tickets) and camera with you. You will get a token with the tickets which is very important for the entry and exit (keep extra care of it).
Lunch at 3.00 p.m (I don't remember the name of the place but it was near parking and one and only place to eat. Food was very good, served hot and freshly made chapatis, bhatura were too thin so I won't suggest it.)
Left for Fatehpur sikri at 4.00 p.m
Reached there around 5 p.m (there was not specific timing for entry and exit, it opens with sunrise and closes with sunset).
Entry ticket was 50Rs per person. The ticket counter was around 1.5 kms far away from the parking lot. But don't worry, they have got government bus service to take you there 10Rs per person.
I will suggest to hire a guide as they will tell you about the history, buildings and their architecture (it's very interesting).
Left from there around 6.30 p.m
Dinner at 10.00p.m
Reached home at 2.00 in the morning (which was very late, it was almost 22 hours we didn't sleep and it was too cold.)
So, in my opinion I liked Fatehpur sikri than the Taj Mahal. And if you want to visit other places like Fatehpur sikri and Agra fort along with Taj Mahal I would suggest to make it a two days trip. Because I heard that Taj Mahal looks beautiful either during the sunrise or under the stars.