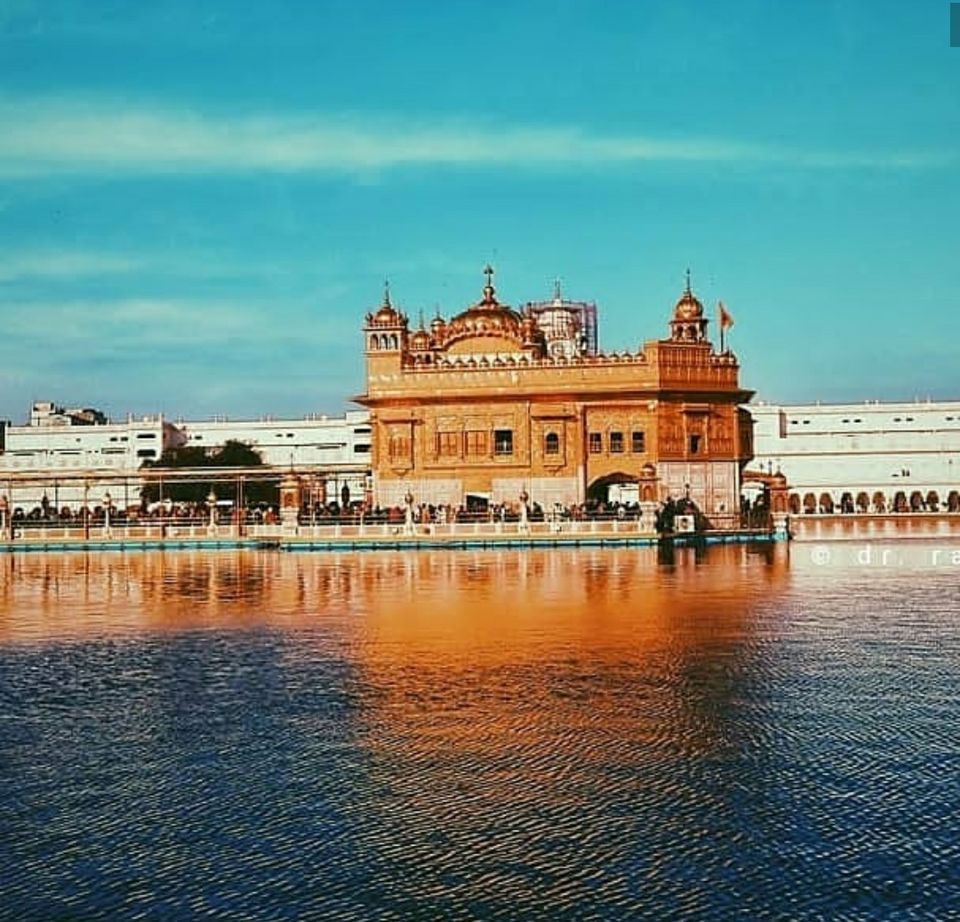 Our trip to Amritsar was good, especially the weather was super awesome that day... Thanks to some unprecedented rains that early morning.
I will recommend you to book your hotel close to Golden Temple (which will be in walking distance 1 to 1.5km).
1. From Amritsar station you can hire an auto to Golden Temple (try and bargain for 100 to 150 rupees),
2. Dump your luggage, freshen up and straight head to Golden Temple. No need to buy any head scarves (guys can cover their head with their handkerchief, and girls can use their dupatta/saree pallu.
3. It took us 2 hours to get the darshan. Inside the temple, they don't push you to go out.. so two hours wait is justified :)
4. Once you are done with your darshan, you can have your lunch at their Langar (which is within the temple complex itself). If you are not fancy about having the lunch there, at least go and see the Langar area... It's interesting to see how many common people are providing their service to cut veggies, wash used plates etc. I was amazed by the speed at which they were collecting used plates from pilgrims (must watch) they in particular seemed like MACHINE!
5. Use wash rooms and then head to Jallianwala bagh(walking distance).
6. Once you are out of Jallianwala bagh, you will see there will be lots of car/bus owners asking for Wagah border trip. I don't remember the exact fare if it was 100 rs per person / 200 rs per person; it surely is not more than 200 rs per person. Try to take a car which is ready to leave and there is no waiting business. Don't book in advance... you should do it on the spot and quickly leave.
7. It takes at-least one hour to reach Wagah border by car/bus. Don't hire auto to go to Wagah border, as autos don't run as fast as cars or bus. Others will beat you in the race of reaching early at Wagah border.
8. Do not carry lot of luggage to Wagah border, as you will have to keep your stuff in road side vendor lockers. Only water, wallets, sunglasses, cameras are allowed. Even if you buy a pop corn packet, they ask you to throw away the polythene and ask you to carry pop corn in your hand kerchief or dupatta.
9. Watch Wagah border parade and then head back to your hotel.
10. Eat dinner at Bharawan Da Dhaba, walk-able distance from Golden temple.
Time required for Golden temple: 4 hrs (includes darshan, photo ops, langar)
Time required for Jallianwala bagh: 45 mins (we did it in 15 to 20 mins)
MUST DO:
1. Leave to Wagah border by 2:30pm for sure, preferably by 2. We left at 3:15, and we had to stand and watch, if we would have been late by another 5 mins, then we wouldn't have got to watch it live... We would have had to watch it on big screen kept at the Wagah border. So ensure you leave by 2:30, preferably by two to get seats!
2. Wait till the whole crowd at Wagah border disappears, that's when you get opportunities to go to the main gate and get your selfie.
3. Interact with soldiers (only when the majority of the crowd exits), they are really fun to talk with.