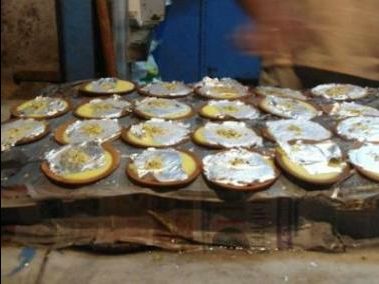 Amritsari foods not to be missed!
India is all about the food. Find one Indian who will disagree! Food stands above all. People are more willing to pay for food than for education, stuff or clothes (Even though in the next chapter I might discuss how obsessive ladies here are with clothes!). If one goes to a wedding, no matter how great the atmosphere is, no matter how greatly it is organized or how posh it is. If the food sucks, then the wedding sucks and people will complain about this horrific experience for another month. It is true, food is simply what most people here live for (or die for). (Just skip the sightseeing! If you didn't try butter chicken, you basically never visited India). Each state, in some cases even a single city, has it's own special dish which you can't find anywhere else but there. Or the only original form of a particular dish can be found only in a particular city. This makes whole India so exciting. When travelling, you will always encounter new things in terms of food. As mentioned previously, I would skip all those bus tours and instead opt for cycle or food tours which take you deep inside of a city.
1. Aloo Kulcha
Amritsari kulcha. If you miss this it is as if you have never visited the city. Kulcha is what makes local people patriotic. A family won't go a weekend without having a proper Kulcha Breakfast. What makes it so admirable? The culture, the butter and the stuffing. It is a tradition rather than just food. A good crispy kulcha with a good junk of butter all over it and the kulcha-man called kulcha walla crushing it with his bare hands to make the buttre and crust settle together. The seasoning is what makes is so addictive too while the melting butter on the kulcha will melt your heart. The kulcha is a complete meal in itself and it is served with chickpeas and some onions or chutney. The onions soaked in the tamarind chutney makes it even more heavenly. It is important that you catch a Kulcha before 12pm otherwise you risk that they will be out of stock. Each district in Amritsar has its' favorites Kulcha stops and everyone will have their own best-kulcha of the city story.
2. Amritsari Lassi
Don't blame me for putting lassi into the food section. Its' thickness and consistency makes it rather a food item. It is a dairy drink made of full fat milk, extra pieces of butter, yogurt and cream cheese added. Of course the heavy amount of sugar adds to the meal factor. Once you have a full glass of it for breakfast you will be craving for a good, cozy post-breakfast nap.
It is Amritsar's signature drink and again the same rule applies as for the kulcha – if you haven't tried a proper, heavy Lassi while visiting Amritsar you basically wasted your time!
Recently, there are new types of trending lassi flavors. My favorite is definitely Alphonso Lassi – the special mango lassi.
The top lassi places in Amritsar are definitely Gian Di Lassi shop very near to the Golden temple just in the middle of the main bazaar and Ahuja Milk Bhandar. Also not far from the old city center.
3. Gulab Jamun and Jalebi
Now this one is a tough one. These two items represent my love-hate relationship to food here in Punjab. They are the sweetest foods I have ever come across in my life. They are being literally soaked in liquid sugar after being fried in oil. It can't get more sinful than that. I can't eat more than one piece of each. However, that one piece – Damn! It is pure pleasure! It just melts into your mouth with every bite. While Gulab Jamun is a sweet round ball shaped dish, jalebi has a spiral shape and personally I prefer it much more as it is so much easier to eat. Gulab Jamun being a in a ball shape soaks way too much sugar for my taste so I can't eat more than one even though I would love to!
Jalebi is spiral in shape and it is also much thinner. Therefore not so much sugar is being absorbed – doesn't mean the amount of sugar isn't frightening! It is also really crispy. Personally, for me, jalebi is my favorite of all. This Jalebi Wala is a years-old vendor. And had been serving Jalebi from generation to generation. If there is something that can equally beat the Gulab Jamun of Amritsar then it is this Jalebi.
4. Roasted Tandoori Momos
Momost are orinially steamed dim sum while a tandoor is a traditional indian oven. Now it is time to combine both attributes together.
Hence Roasted or Tandoori momos are a fusion of an authentic tibetian momos recipe with the popular punjabi cuisine and its' tandoori gravy. These momos are generally soaked and marinated in the tandoori sauce later baked in tandoori oven or roasted over light fire.
All over India, momos won people's hearts! This dish originates in Tibet and was introduced in India by Tibetian refugees. A lot of "India" has been added to the new variations of Momos and today one can go as far as chocolate momos – one of my favorite discoveries I made during my trip to Rishikesh.
Momos are simply everyone's favorite. While exploring the street food I found a vendor in Amritsar who gives you the taste a very interesting version. Roasted Momos sound really different. These Momos are the evening street food of Amritsar. Localities accept the fact that these are best Momos you will ever have.
5. Aam Papad
Oh my dear! I never thought this even exists and could never imagine such a foreing yet blissful taste. Aap means mango in Hindi and it is basically dired mango pulp on various styles – sweet, salty, mixed, spiced….crazy how one simple fruit and its' pulp can offer so much to experiment with! The best part is when the shop keeper shows you the raw-in-sun-dried mango pulp. It a black-brown thick and hard long, dry sheet of mango pulp!
After that it is flavored and served in various styles. Sometimes they soak in sugar so it becomes more sweet, sometimes they sprinkle indian spices over it and add fresh drops of lemon juice which makes it very tangy. All in all it was propably one of the most interesting food discoveries I made in life and till then I always thought that there is nothing in taste that could surprise me. But aam papad it is and those out there who are looking for "the" perfect food experience – well, you can't miss this one. It is a street food so keep looking in the streets for it and do try different flavors to find your own signature one:)
Raw sun dried mango pulp sheet is my favorite!