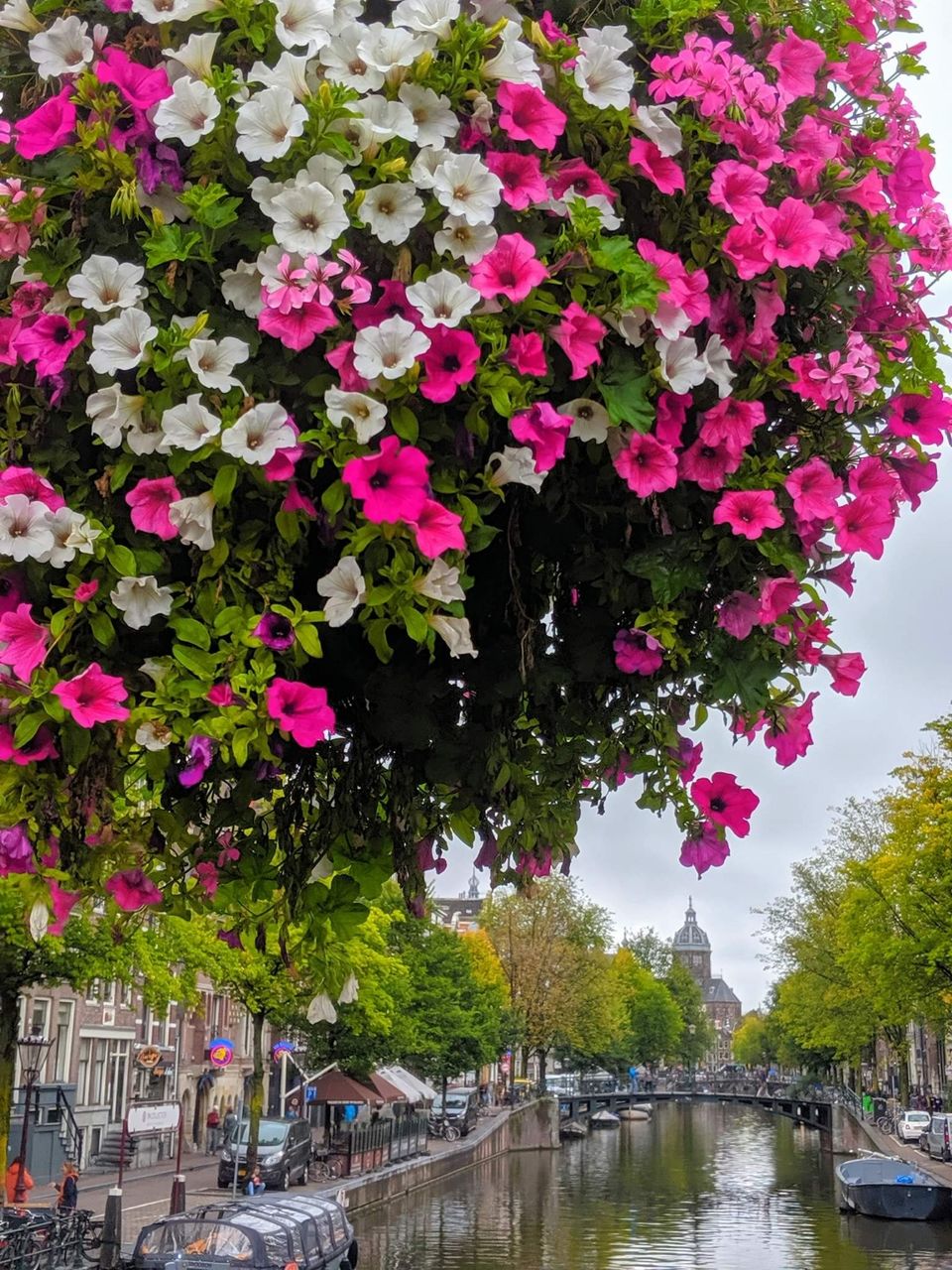 Chapter - 2
Netherlands - Amsterdam 🇳🇱
September 2019
So this was the next day after witnessing the supreme evening Eiffel Tower . I am in love with Eiffel Tower since childhood , Since the Bollywood movie released MP3 - "Mera Pehla Pehla Pyaar" and yes nothing else in Paris . I know it's overrated but anyhow love is love .
Netherlands specially Amsterdam is one of my favorite places in Europe . By immigration stamps I have been to Amsterdam 5 times till now and I am not sure whether I would ever witness such vibrancy anywhere else in any other city .
Going to Amsterdam is never with a sound beginning . Each time the flight would get delayed and on the top of it is the turbulence is what which would makes it extremely uneasy for me . Unlike my experience in all other parts of Europe this swinging landing makes my heart beats more than prescribed ECG index .
Flying with turbulence is my extreme fear . I initially thought that it would efface once I get to fly regular . But But But even after more than 50+ flights in this year I am yet to stabilize my nerves and emotions in air .
This might have something related with my past life but one thing is true the only insurance I have till now is Air Accident ( Though complimentary by my credit card company ) and my parents are not even aware about it . I don't wish to tell them because they would never be interested about money rather me .If my fear turns true any day ( I wish it never happen anyday ) share this piece of information along with a note that I love them . ( I didn't tell let them know about this fact as well 😉)
Coming back ----
We finally made a zig zag landing and I am sure why passengers start clapping each time in flight to Amsterdam . May be I say thanks to God for this landing and they compliment the pilot ( who probably deserves more than God ) . I purposely move from "Athiest" and "Agnostic" to "Theist" during flights and ofcourse verse chanting in my brain goes multifold each time as well .
The first thing you observe in Dutch is height . So practically they are the tallest people in world . Be it be Boy or a Girl they are the tallest .
Montenegro , Bosnia are probably the second one .
I was not aware of this fact but when I landed in Netherlands and Montenegro I could relate that easily and then I also asked to God , why did you bring me on this Earth when average height of 6 feet and 1 inches humans resides in this same planet but nevermind I checked Google and realised that there are at least 10 countries with average height shorter than India ( So happiness in grief 😞 ) .
Coming back to Amsterdam , I moved out from Airport and probably this time I know whom to talk and whom not to talk .
Last year I was scrutinized by police officers when a drug pedlar approached me but I had no idea who that person was . Just because I cooperated with cops and 30 minutes intense scrutiny I was Scot free and now I know how to mind my own business in Netherlands .
I went to Train information center on the airport to ask for Train tickets to Amsterdam Central . I sincerely have no idea why do they give different fares each time . From 4.5 Euros to 6 Euros they have this differential pricing of their train tickets but that hardly matters . Only thing that matters the most about trains is swiss trains . In Switzerland if you save your train fares of an year , you can alternatively buy your house in your own nation .
Hell Expensive it is !
Will cover that note in Switzerland chapter but here I have reached Amsterdam Central Station .
This time I booked my Hostel accommodation unlike my hotels near Schiphol airport . I honestly wanted to see Amsterdam in late night and may be full night outing . My hostel was with a bar at ground floor and rooms on the floors above .
While going there I found my favorite place in Amsterdam ( Manneken Pis Fries ) . Trust to the Lord of Potatoes , this Holand No. 1 fries are indeed the best fries I have ever had . These 🍟 are source of Vitamin P and along with Vitamin ketchup & Vitamin Mayonnaise I had my bit of life two times in a day .
Probably this was my long waited breakfast and I deliberately skipped my complimentary breakfast at Airport . I reached my Hostel in a 14 bed dorm room . This was the first time I entered in a hostel premises . The last time in Generator Barcelona hostel was my private room and hence I couldn't get experience of being with multiple roommates .
Fortunately it was first one in actual terms . I entered and saw a guy who was an Indian and we started conversation . He was based out of New York and was a solo Traveller like me . Unlike my view of Amsterdam as a party destination for short time , he wanted to spend 10 days here . We had a chat for some time and then i met another fellow from USA again and his last day was about walking 25 KM in a day .
Though this was my second day in Europe and till now my average walk was not even 3 km a day and he was walking on an average 25 KM . I may moved my average to 6-7 KM a day later but then this is how people from West keeps them fit and many of us are with our own beer belly and enjoying the luxury of transportation at our door step .
If I sincerely and immediately need to take away anything good from Europe and that is the way people are concerned about their health . There are many others which have already imbibed in me for all good . May be simple things like just now I am boarding from Mumbai to Delhi in Indigo Flight ( Read Ryanair , if you are from Europe ) and I didn't over jump my lane even when the person who is travelling with me is 4-5 passenger ahead . Looking at me lady ahead then me followed same when his husband was coming from front .
Coming back - I took out my mobile ,check my wallet , forex card , credit card and Euros and here you are with the magic of Amsterdam .
This city has some amazing canals , Cycles more than mankind , Youth from all around the world and the day which doesn't turn into night . I roamed around here there and then dropped down at my favorite Indian restaurant . These guys recognize me now and they even give me complimentary tea each time which itself is some 2 Euros there . It's always feel good when you get to have some nation binding things around and this owner each time makes sure that I get the most spicy food , more spicy than in India itself and tears in my eyes because of these spices is readily proof of his love towards me .
After lunch I moved again exploring the lanes and bridges on foot . I always end up at my favorite spot with different color flowers each time . I spend my maximum time there and keep on observing people around . I saw everyone was getting clicked with their signature bridge and I was also waiting for someone to make a return favour like every time .
And here is this guy ...
Looking like a Delhi guy and Travelling alone . He was a Travellers else I could just sense that solo travellers with their Dell laptop bag are not actually travellers but stationed with a tech background for their Onsite location in Netherlands .
He smiled and waved his land liked the way he knew that he can ask any damn favor without any need to request . I smiled back and reached to him and instead of formally asking he gave his phone to me and I happily clicked him with different backgrounds .
He returned the favor and helped me click with multiple pictures . I asked where are you from and he said Pakistan . I replied I am from India . I asked him further where in Pakistan , Karachi or Lahore and he replied Karachi . Now I could relate that his face is in cognizance with Former President Parvej Musharraf and probably then I realized why I was relating him with Delhi . Musharraf too had his roots in region which today is called Old Delhi .
I in my all past visits have met many Pakistani travellers and most of times they were extremely courteous , helpful and respectful individuals . I have no shame to admit ( unlike our beloved anchors on National Television ) that while outside they would help you more than any other . While social media is a different life altogether and that's why I always believe in "See , Feel and Believe theory " rather seeing what Republic TV shows us .
Probably sentiments were not same this time from his side and he received one call and I was waiting for him to complete the call but unfortunately he had something else in his mind after knowing my nationality . I might have expected to have at least a proper signoff and then all people are not same . There are some other interesting conversation with a Pakistan - Kashmir side native in my flight from Athens to Zurich and would probably cover that in Switzerland chapter .
And now it's the evening time ..
Till now in all my visits I have not skipped my evening boat rides here . I went there at ⛵Harbor and ask for boat tickets . He was giving tickets for fully closed boat and I would be last one to accept that . Hobson's choice may be different affair here but I asked the counter I only want to go at Open Boat or Semi Closed boat .
He said go to opposite direction and check the last semi closed boat .
This apparently was last boat .
When I reached , this boat was about to leave . The person who was checking tickets asked for my tickets at the entrance . I said I don't have time to go , buy and come back again so give me tickets here . He said we don't have tickets here but since this is a last boat , you would anyhow miss this ride .
I asked him again , any possibility of buying ticket onboard and he said go inside and give some tip to the driver .
I said Ok !
Driver was smart enough and asked for the full amount of ticket even when that person communicate to driver , let this guy in . It didn''t bother me because I anyways had to pay the full amount for the ticket but It reminded me the fact that requests works everywhere . Though this move was actually a request but it turned into whole money went as one individual personal income . Yes , we all are responsible for the illicit money people earn by following easy ways .
Honestly I realized I should not have opted this way but may be it's a new learning .
Now it's an evening time with sky turning into dark blue . This Architectural excellence in this city is beyond par in this dusk and with that dim light is a red neon light in every nook and corner .
This probably is the most youth concentrated place in night and amazed to see how femalehood reacts at looking to the same gender inside the red boxes . This probably is only place where a female stares at other female and I have no answer why .
While I remember my teenage conversation in the past with one of my female friend that staring or glancing by guys when they confront any hot girl in front is pretty relatable but why does girls stare the girls and then she replied , the purpose is different here when girl look at another girl . She further stated that we checkout everything from sandals to nails to necklace to hair bonding and I said Ok , I got it now ...
Perhaps I had the same understanding throughout my life until I say them here in Amsterdam where purpose of staring is not quite evident from my past beliefs .
Probably this place register more hugs and kisses everyday because they don't want their guys to get distracted and ice of the cake was when few Indian couples who had no idea about how dense some lanes are in Amsterdam Central region and what is the secret behind that lights . I heard one of them saying why did you brought me here , let's go back .
Now it was bit more cold and I went to have dinner . This Indian restaurant again made me have my favorite masala chai along with Dal Tadka - Rice and I stepped out again .
Probably I had never put this combination of beer after tea before but the atmosphere is so lively here that all rules set to off guard one after another .
This time all the lanes are in thousands of youngsters roaming around and peddler on one side try to catch easy targets to sell drugs which perhaps not even permitted in local coffee shops .
They would try to catch your attention but only thing that you are required to do is to ignore them and they would understand not to buzz you again .
Cops there would block the overcrowded lanes which are in center and this was time when I wanted to sit outside some bar and watch people around .
It's amazing to see how a silent day becomes most lively night and may be Thailand , Hungary and Netherlands made to my best night life destinations list .
May be Las Vegas would outshine it someday , I have no idea but let's see when I get the opportunity to explore it as well .
I came back to hostel hell tired and sleepy at 3 AM , couldn't see the full night but perhaps party element required in starting of trip was fulfilled now .
Now next destination i wanted was peaceful , serene and nature around ..
It is Croatia - Chapter 3 💓
Some unpleasant inputs here .
I made round trip booking on same PNR and I didn't onboard on first flight . I had no idea that if ticket is booked on one PNR and you don't come then they will land you in "No Show" for next flight as well .
Like I said before , Netherlands comes at a price everytime and every time there are some elements which are averse to my mood . The fine to hold my own confirmed ticket was 155 Euros . Yes , I had to pay that amount to KLM Dutch Airlines and even upon requested them multiple times I had to hold the same flight with fine because of the timings .
In Amsterdam or in life , letting go bad moments is most important because life is pretty in all other aspects 💓
Meet you at Croatia soon 🙏
You have eyes of iron if you have continued reading at this point ! Amsterdam