The only time I have seen Amsterdam was on Television and mostly in the Bollywood movie Queen where Kangana Ranaut has acted exceptionally well. I never got time to imagine or dream about the place, or think about what to wear (to be frank! every girl spends a lot of time thinking about what to wear :P ) This was the first time i'd been to Europe and of all the places, I landed in Amsterdam.
Amsterdam is said to be one of the most visually stunning cities in the world. Old brick buildings gaze over a patchwork of canals lined with tiny streets and alleys. Wandering the streets as you zigzag through the city, you'll feel as though you've stepped back into the 17th century. It's a truly magical place and I would want you to love it the way I love it.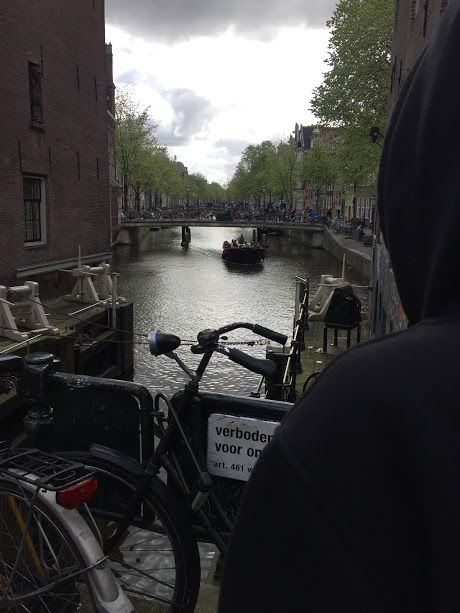 Amsterdam has something for everyone, you wouldn't find a single person who would regret visiting this place. From 9-60 years of age from any nationality can find something to eat/see/laugh/enjoy.
The Amsterdam Central Station is really huge. Considered to be the heart of the city, It is also here that the main Amsterdam Tourist Office is based, as well as departure queries for the tourist boats cruising around the city canals.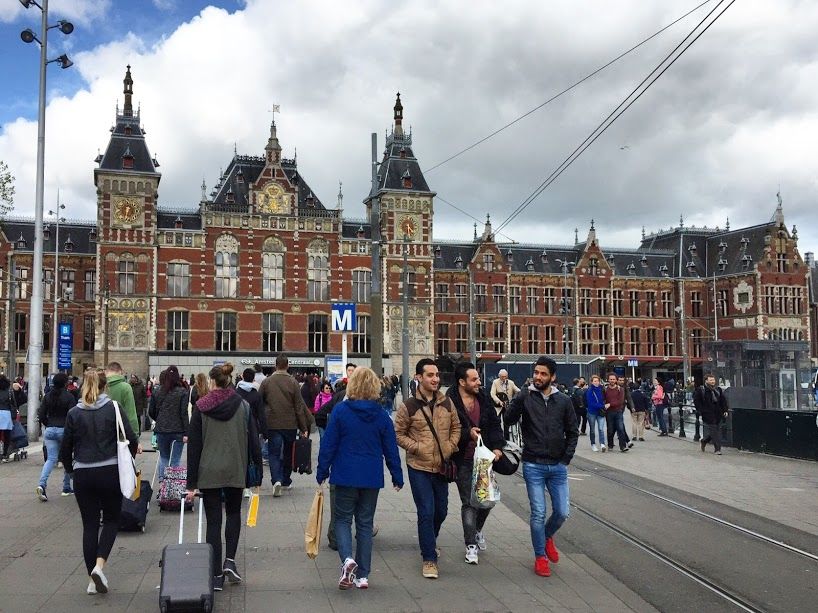 The only thing a person who wants to visit Amsterdam must do is to book a stay. It's pretty expensive and to get a good-not-so-ripping-off stay would need a booking. ECOMAMA hostel is the place where I had booked my stay via Booking.com. This was my first time staying in a hostel as well. I have never moved out from my house for education nor work and staying in a different continent in a hostel was a big deal to me. I had booked a bed in the 12 Bedroom Dorm. I made sure that I have enough money in my travel card to tour around the city. The travel card can be taken at the central station and the same card can be used for the trains, metro's and trams. On an average a person would require about 7-10 Euros/day to travel across the city using public transport.
I was a little anxious about the people who were staying in the hostel. I swear it was exactly the same way how its shown in the movie Queen. There were 3 people who had just checked in along with me. Lucy from Australia, Dennis from China and Joel from Singapore. They were sweet and we got to know each other. We also planned to go out for dinner the same day.
Another guy joined us from the United States and no one remembers his name. Let's call him John Doe. We 5 from different countries went wandering across the city exploring the tiny lanes and the canals. Everyone had there story to tell. Amsterdam is a little tricky - every lane and canal looks the same and you might go round and round and come back to the same place several times. After wandering for some time we found a restaurant which everyone agreed upon. It is a small Thai restaurant with delicious food. After our dinner, we headed to the De Wallen (red light district)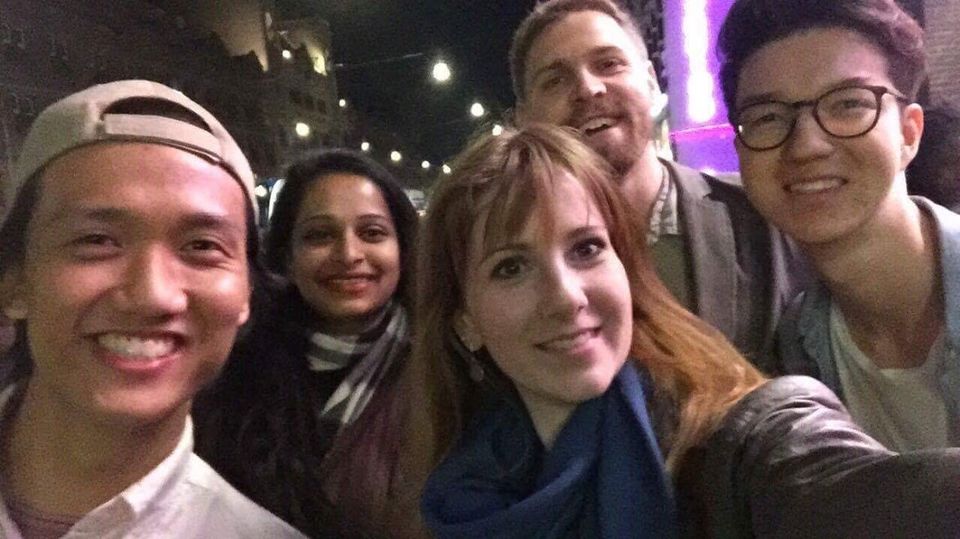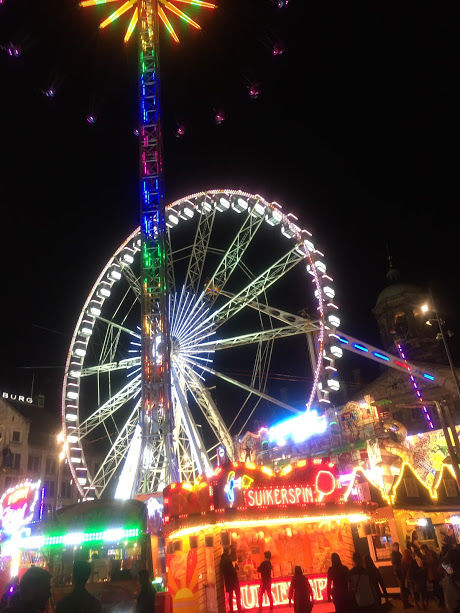 From brothels to sex shops to museums, the Amsterdam Red Light District leaves nothing to the imagination. It is very likely that you would have heard about this neighbourhood and to be frank, everything you would have heard is probably true , but to really put rumours to rest, you have got to check it out for yourself. The Rossebuurt, as the locals know it, is unlike any other place. Guaranteed. Certainly, the Red Light District in Amsterdam that everyone knows about is the one where women, of all nationalities, parade their wares in red-lit window parlours, many ready to offer more than a school boy peep-show in a private cabin. Another familiar image of the Amsterdam Red Light District is of packs of men, young and old, couples holding hands and pointing in shock of it all, giggling groups of women celebrating a hen night , and busloads of Asian tourists toting cameras (except not in the direction of the female entertainers! Strictly banned!). This is proof enough that the RLD deserves a visit, if not a little look in.
Prostitution is legal in Holland, and in Amsterdam most of it is concentrated in the Red Light District where it has enjoyed a long tradition of tolerance. Since October 2000, window prostitutes have been allowed to legally ply their trade. Today, prostitutes in the Netherlands are also taxpayers. For me, this was definitely a cultural shock. From a country like India where people stare at you for wearing short dresses to looking at Victoria Secret's like models standing behind a window almost naked took a lot of swallowing. The others with me were not as surprised though. I can understand why :)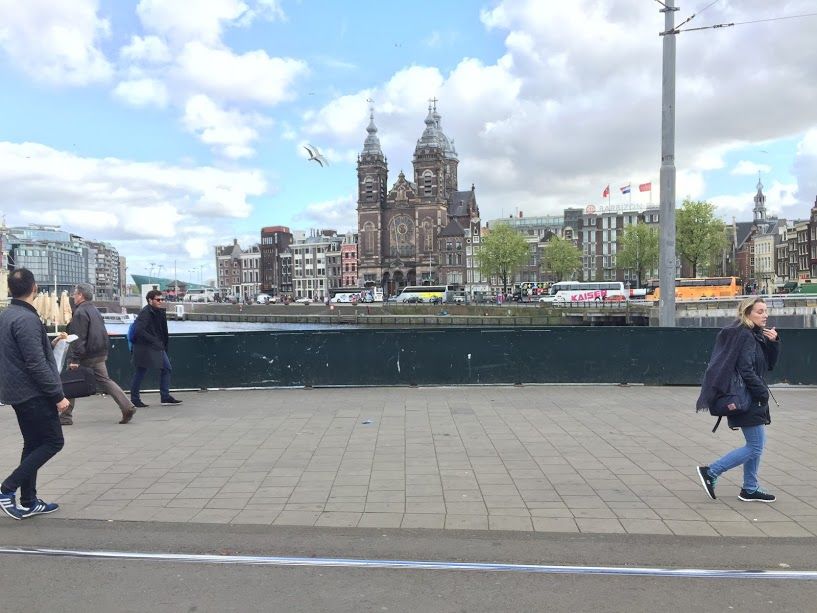 We went ahead to the next best thing in Amsterdam. Amsterdam Coffee Shop. You must go to Amsterdam coffee shops to buy weed (Which is legal in Netherlands) Note : The following is for the purposes of education and information only. This should not be considered in any way to condone the use of marijuana or other mind-altering substances.. You'll find about 200 coffeeshops in Amsterdam, so there is always one close to your location. Although Amsterdam coffee shops are not allowed to make any advertising, you will be able to identify them easily. Official Dutch coffee shops have a green and white licence sticker in the window. In order to enter the coffeeshops in Amsterdam, you must be 18 or over and have an ID. Amsterdam coffeeshops are not allowed to sell alcohol. Most coffeeshops have a menu. Since coffeeshops are not allowed to do any advertising, you will generally not find any details posted on the door or even inside. Just ask the person at the counter for the menu, and they'll give you what you need. Ask for advice if you are not sure, these people are here to make sure everything is safe. I would personally suggest to try it only when you are with your friends. We sat in a cafe and spoke and drank and got back to the hostel. The next morning John Doe had left and the rest were packing. Looks like the bag-packers had a lot more travelling to do.
I got ready and left for my day trip. Everyone are friendly and ready to help. Ecomama handed me the city map which was cartoonistic and cute at the same time.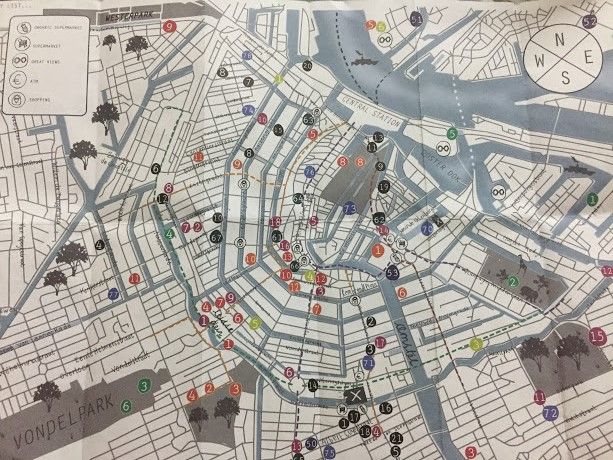 Amsterdam could be the best city with a map. If you look at the map carefully, Its pentagon shaped with roads divided by canals with the Central Station in the Center. There is no way you can get lost with all the roads leading you the station.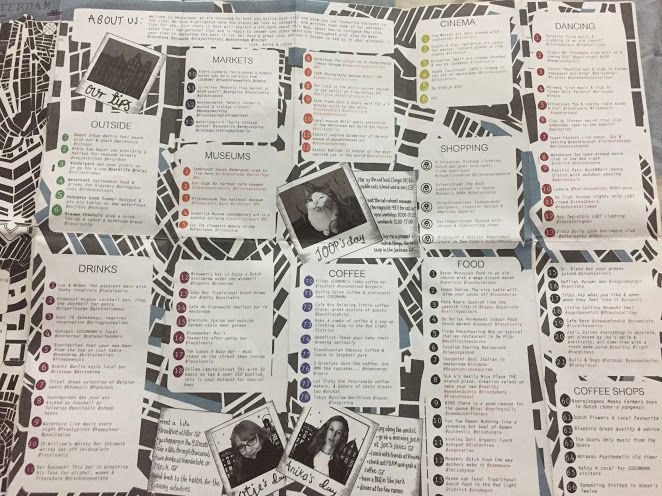 Everything on the map was so understandable. I figured out the routes in the map, made a list of the places to eat and visit. I took the tram sometimes but over the day I felt like the city is so small that it was easier for me to walk. Walking across the canals, looking at people speaking in different languages, them taking pictures, fascinated by the beauty of the city left me awestruck. From shopping to eating to attractions. My personal favorite place to eat is Pancakes Amsterdam. The best Pancakes in the world. Everything was perfect and the other days were almost the same. Coming to why going solo was probably the best decision I could have taken?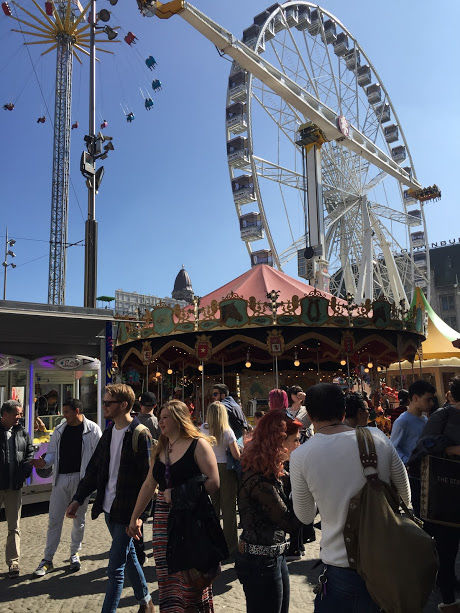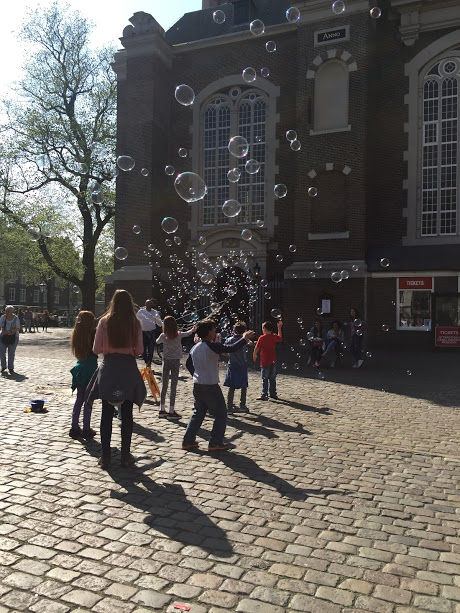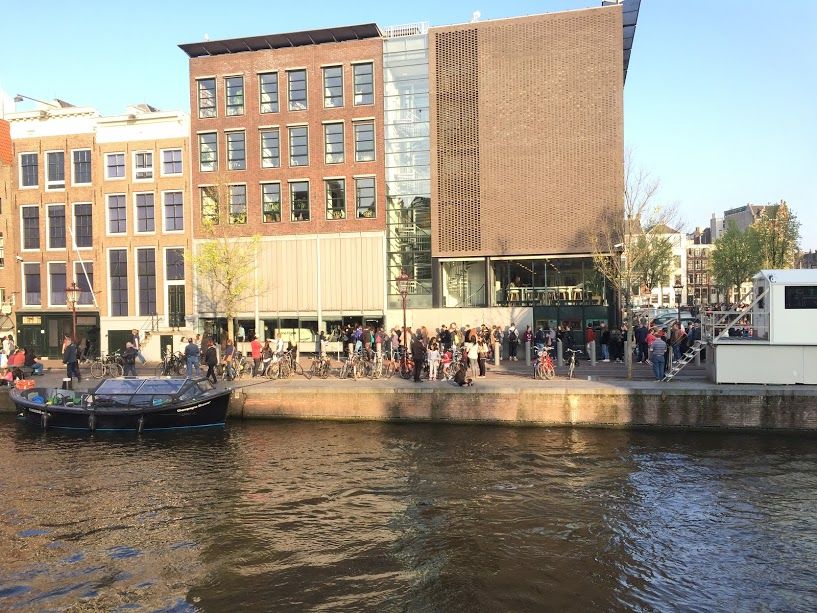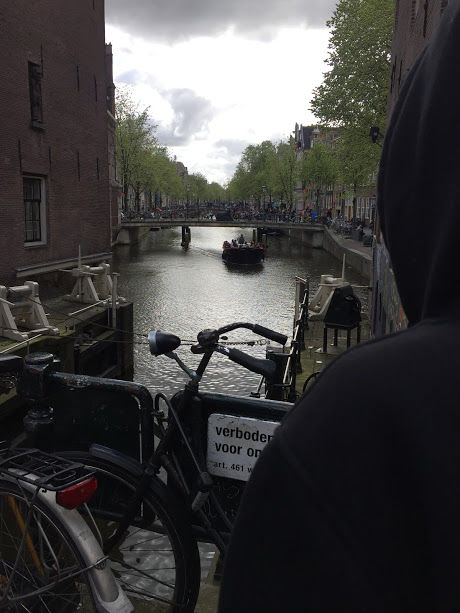 Coming to why going solo was probably the best decision I could have taken?
I Made Super cool new friends
Being alone and an extrovert led me to interact with strangers on a day-to-day basis, and learn how to greet and ask more. Got to know them a little. I Felt the cultural differences in travelling perspective.
Came out of my 'comfort zone'
Forget the days of comfort zones and those little people lingering around your ears telling you what you should or shouldn't do. I can now get ready in under 60 seconds in the morning or sleep like a pig in a roomful of strangers.
I Learnt
There were ups and downs and sideway moments where i lost my way, my phone battery died and i wasn't sure if i wanted to go on…. but this is all part of the learning process. On the rare occasion where something did go wrong, I became more and more suited to dealing with issues becoming more patient and understanding.
Then there's the obvious ways I did educate yourself…. language, culture, tradition, cuisine. Everything will be different and exciting and new. I learnt to travel in a world completely different to what I knew.
Restored my faith in human kindness
Everyone Greets you. In the Lift, Enter a cafe, a metro, train anywhere you go. People will smile and tell you Hello! Have a nice day :) I can't tell you how many times I have been offered help by a stranger – a phone to make a call, a free ride from one place to the other… you name it, people are (mostly) inherently good by nature here.
I relied on myself to figure things out
All I can say is God bless Google Maps. There will come a time in your travels when you'll be confused and downright annoyed trying to figure out which street leads to what museum your friend said you "just have" to see. In an unknown city, i did figure things out. Yay!
When you're on your own, it's up to you to ask for directions and figure it out. You'll have an intense feeling of self-confidence when you know you're capable of finding things on your own.
I gained a sense of independence
I need not say more about this. The City is filled with wonderful people. No harm Intended and anyone would help you. I have done a solo trip in India as well, the experience is different. Do that Solo Trip you always wanted to :)