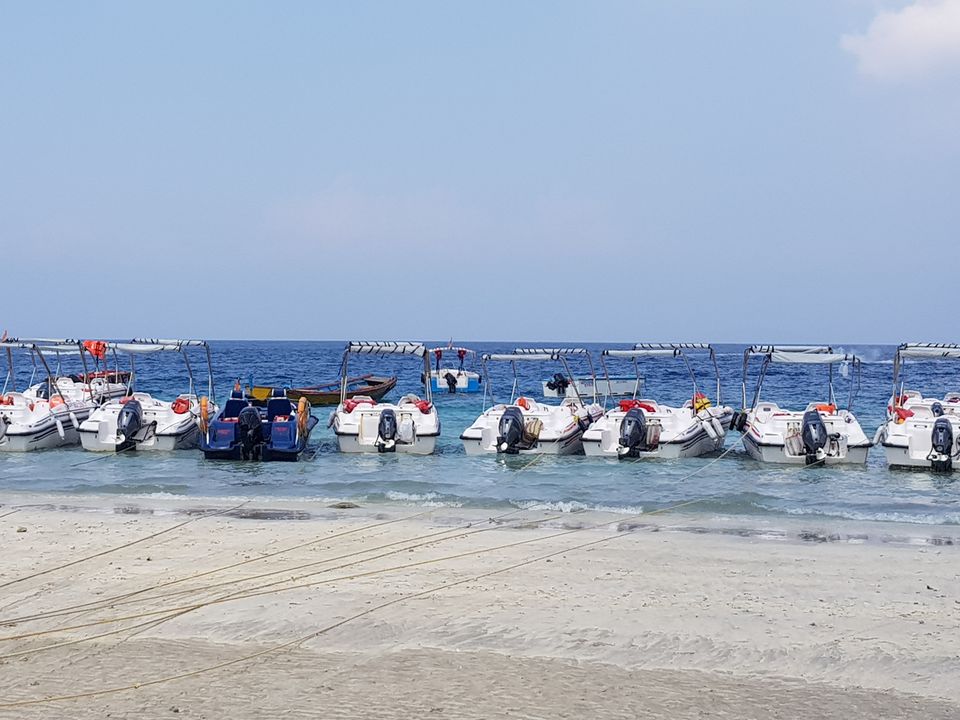 About a week's trip to one of the most romantic travel destination…"Andamans". In this article, I'll be focusing only on the second best thing I love….Food (The first one being travel of course)… Like most of the people out there, I too considered Andaman's to be a paradise only for sea food lovers. However, this misconception got cleared the moment I landed at Veer Savarkar International Airport, Port Blair.
Indeed the sea food you get at Andaman's is as fresh and delicious as it possibly could be, but then it has a lot more to offer than just sea food. And the reason is pretty simple, Andaman has a majority of its population as Bengalis, Bangladeshis and Tamilians. Their influence is quite obvious when you visit the place and see for yourself that South Indian food there is as good as the sea food this place offers.
I went to Andamans for around 8 days and my itenary included places like Port Blair, Havelock, Neil and Bartang. Since I am a non-vegetarian and love sea food, i have tried to cover non vegetarian food addas. However, I did try vegetarian food and would be sharing details about that too. Please note, vegetarian food options are widely available in all of Andaman and hence finding food should not even be on your worry list (Worry about how many places would you be able to accommodate on your trip )
One thing that is widely available at every nook and corner of Andaman is Coconut water ofcourse. And believe me, its nothing close to what we get here in Delhi. It was extremely refreshing, sweet and full of both water and the soft malai, which was a life saver and an instant source of energy in the scorching heat. The price ranging from a mere 20 bucks, to as high as 60 bucks in popular tourist spots. I'm sure none of those who visit Andaman's come home without having one.
Coming back to the food galore that is not to be missed –
Port Blair:
1. GB Pant Hospital Canteen(vegetarian)– Yes!!! You heard me right. I landed at the airport at around 11 in the morning and decided to visit the Cellular jail post checking in. I reached the Jail at around one and got to know that it was closed for lunch. I was starving and I asked a local about a nearby eating joint (The best way to explore the famous eating addas is to ask the locals). The sweet old tamil guy told me that the hospital canteen is rt next to the jail, and so I decided to have my first meal of the trip at the hospital canteen. Doesn't sound pretty exciting, right? Well, I had the same thought while on the way, but then I dint want to go back all the way to the market and waste another hour, moreover the sun was doing all that it possibly could, to make me go back to the hotel and just not step out. My wide grin turned into a straight line, when I saw the place.The place was pretty small, just 5 tables, but no AC (which was a nightmare in 45 degrees heat). Majority of the people sitting there looked like locals and I wasn't sure if I should go ahead and order something or just pretend that I have come to the wrong place and run away. Don't know why, but I chose to order and eat. The options were limited to idlisambhar, vada, khichdi, samosa, lassi and a local mini ice cream cup. So there I was, ordering my first meal at Andamans… Khichdi (wondering how the hell am I supposed to tell this to everyone… and let them all make it sound like a big joke). That Humble Khichdi came and I reluctantly took the first bite, I was completely taken aback with the taste. Saying that it was the best Khichdi I've ever tasted… wouldn't be a lie. It had loads of chopped veggies and packed with punch of flavours…..my wide grin that went off a while back… was back… and got even wide… and I decided to order a plate of idils (as many as 5 in just 50 bucks) as well. The idlis were super soft and light, and sambhar, absolutely delicious. Hence, a must try for everyone who goes to see the cellular jail.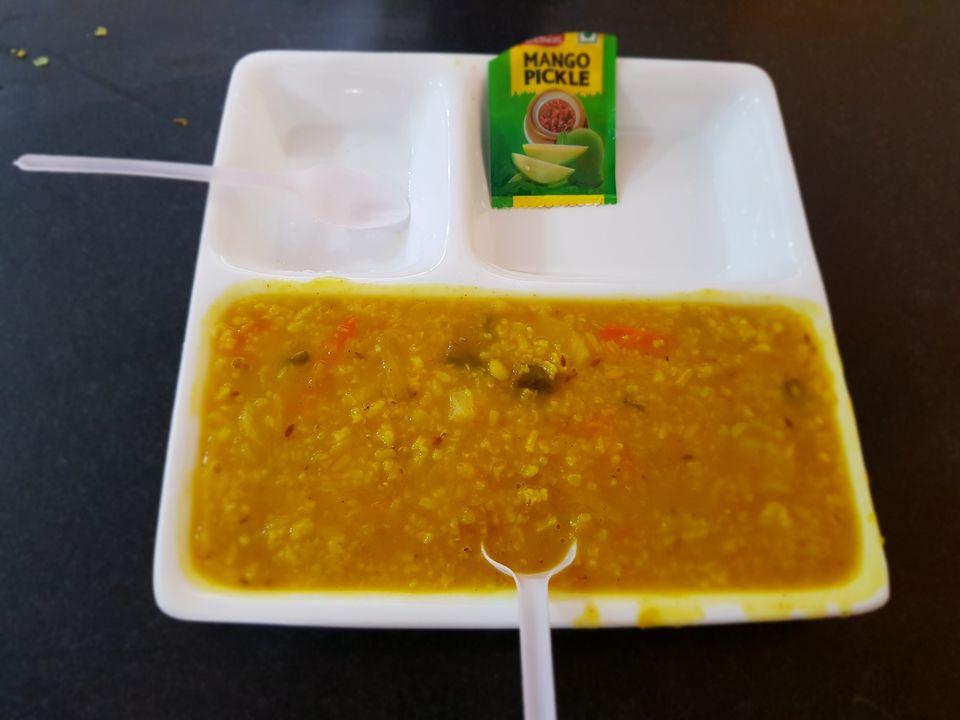 My first meal turned out to be absoluletly delicious and economical!!!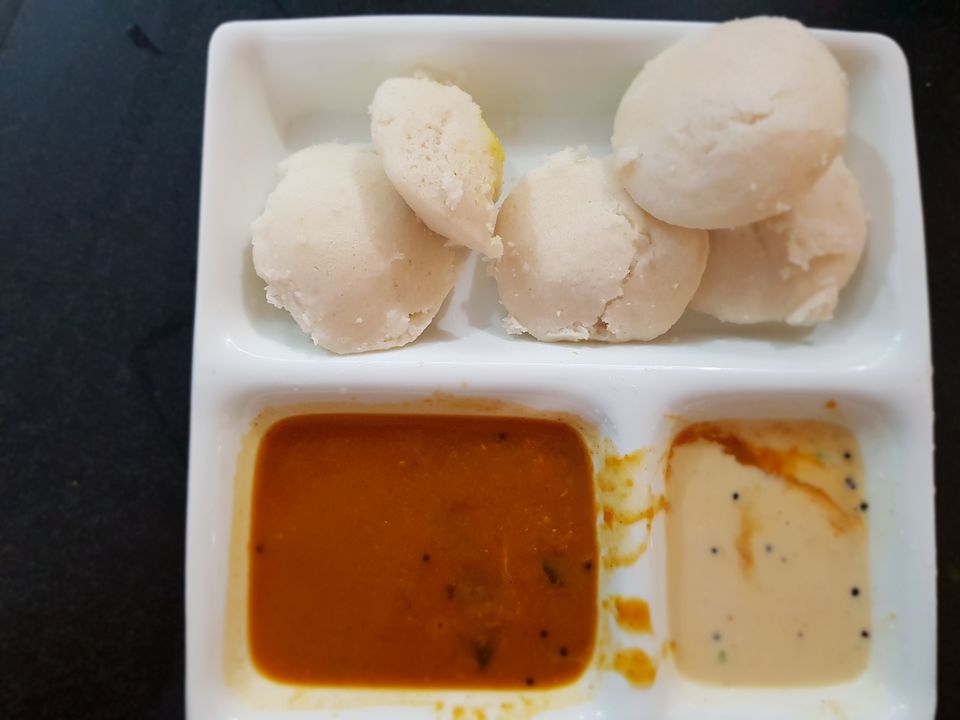 Cost: The entire meal costed me 125 bucks (Khichdi…60 bucks, 5 Idlis…50 bucks, ice cream cup… 15 bucks)
Location: Right next to Cellular Jail (GB Pant Hospital), 15 minutes from Aberdeen Bazar
2. Annapurna Cafeteria (Vegetarian): Almost everywhere I searched for food options, or asked people who had already been to Andaman, Annapurna was a name i heard repetitively. Even though I am a non vegetarian, I decided to have dinner here on the first day. Unlike the canteen, I had high hopes and expectations from this place. I ordered a Punjabi thali and sat there waiting for my food. It was around 7:30 and the place was packed with both Indian and Foreign tourists. I had to wait for around 10 minutes before I got a table for myself. The thali came and the first thing I observed was… the size of the bowls… they were all super small.. sufficient for a girl like me who doesn't have a huge appetite, but not for someone with a bigger appetite. The thali had two butter rotis, daal makhni, paneer gravy dish, curd, rice, halwa and salad. Daal was perfect, even better than the ones we get in here in Delhi.. and so was the paneer. Overall, turned out to be a good choice. The second item which i somehow couldn't resist was was a masala dosa, but to my sheer disappointment, it was totally soggy and not edible at all.
Would definitely recommend their Punjabi dishes, but wasn't much impressed with their south Indian preparations.
Cost: The meal costed me around 440 bucks (270 for the thali and 170 for the dosa)
Location: Aberdeen Bazaar, close to Model school, right next to Ananda Restaurant
Havelock:
3. Anju Coco (Veg and Non veg options available): Aahh!!! Seafood…Finally!!! An amazing place to eat at if you love sea food. Though it has a lot to offer right from Punjabi chicken to pastas.. but the local sea food was delicious. I ordered a red snapper fish platter which came along with garlic potato wedges and a garlic naan (i am sucker for strong garlicy flavors). The fish was absolutely tender, melt in the mouth and the masalas used for marination… ensured that it was loaded with flavours that I had never tasted before. Little on the spicy side and hence I loved it to the core. The quantity of the platter was good, garlic naan was absolutely crisp and went pretty well with the spiced up dry fish sitting pretty on the plate. One finger licking meal that was indeed!!!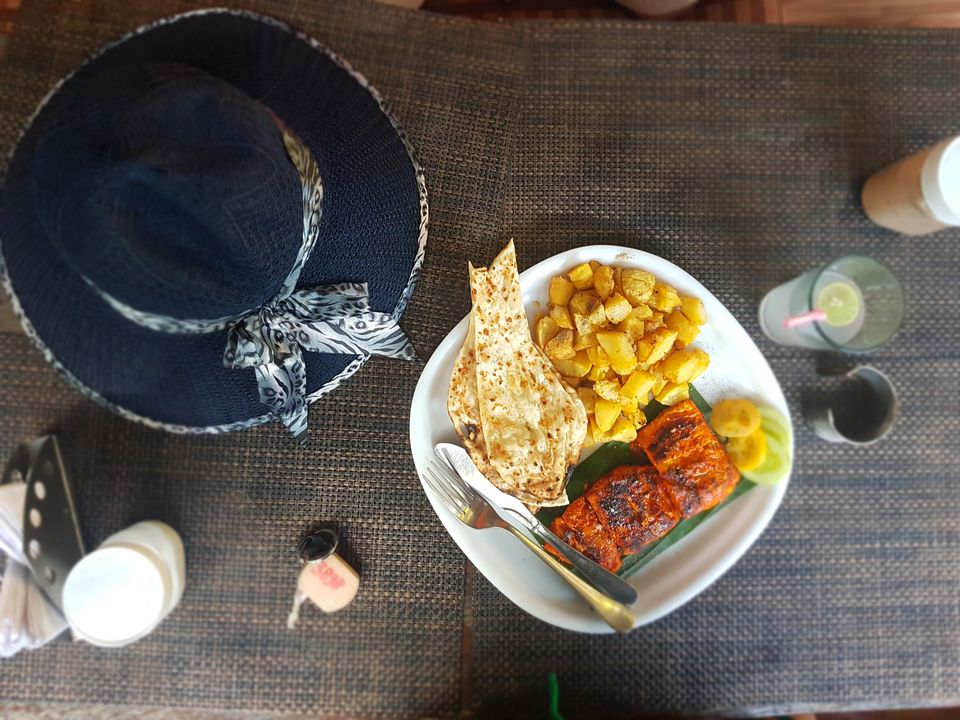 Loved the food so much that I ended up going to the place yet again the next day (Which clearly says how good the food would have been). This time, I ordered another fish platter, which had three different kinds of fish tikkas, all of them excellent, superbly cooked, different in taste from each other, served along with daal, naan and salad. Quite a filling meal in itself!!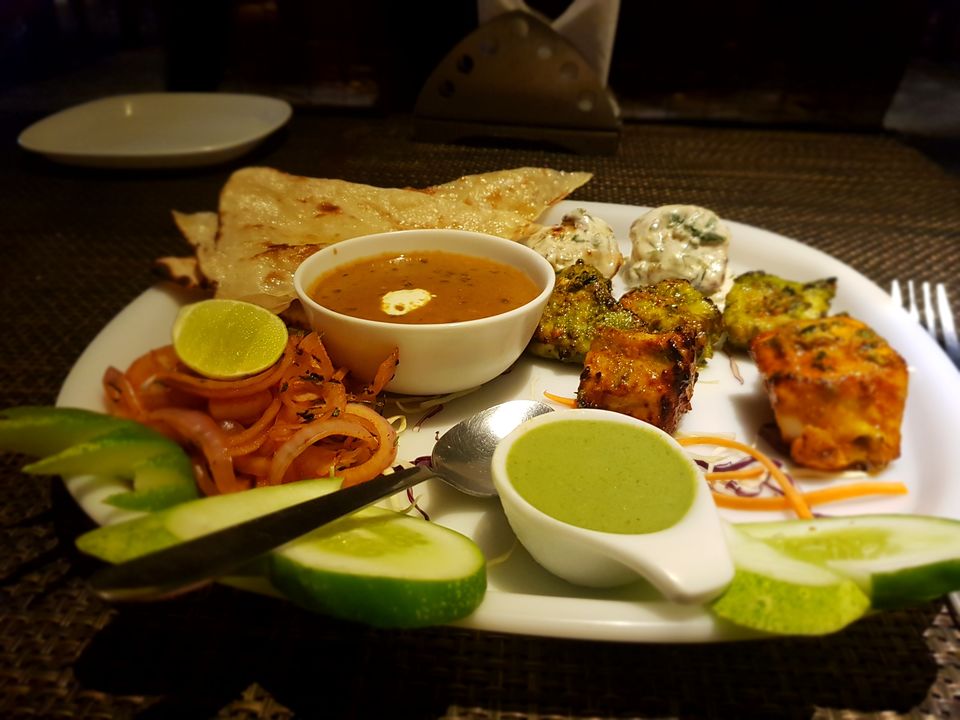 The joint is run by a Sikh gentleman who originally hails from Jammu and gives personalised attention to all his guests. The walls adorned pictured of the few film stars as well, the ambience was laid back with options of floor cushions for sitting on floor as well as fine dining chairs. The menu has a wide array of dishes, be it starters, main course or even drinks to gulp your fav food down.
Another plus point of this joint is that it is open till 10:30. The rest of them usually shut down by 9 - 9:30.
Cost: Day 1 – red snapper platter costed around 400
Day 2 – Fish tikka Platter Costed around 700 bucks.
Location: Beach Number 5, Vijay Nagar, Havelock
4. Fat Martin (Veg and Non veg options available): If you are the kind who loves to sit back, relax, listen to some nice music and enjoy your food… Fat Martin is the place to be. The menu is decent and fairly priced. From Prawns to Chicken Shwarmas, shakes to their famous "Hello To the Queen" Dessert, I loved every single dish I ordered there. The Manager, Nikhil, is good to talk to and takes care of the place as well as the guests by giving them personalised attention. The place has a laid back vibe and one can sit here for hours without getting bored for a minute. I ordered crispy prawns along with a nutella peanut shake and both of them were absolutely lip smacking. Ended up going there yet again and during my second visit, and ordered fish tenders and their famous dessert called "Hello To the queen". A must visit place if you are in Havelock.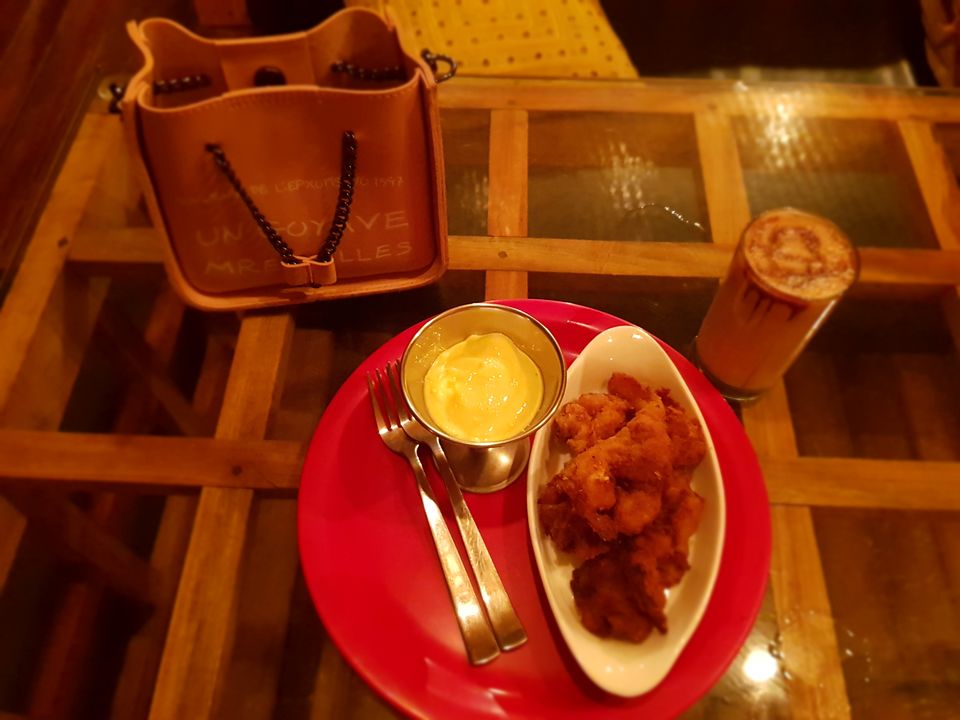 Please note, they take the last order by 8:45 pm (but you can sit and relax till around 10:00
Cost: Day1 – Crispy prawns and Nutella Peanut shake around 500
Day 2 – Fish Tenders, Hello to the queen around 600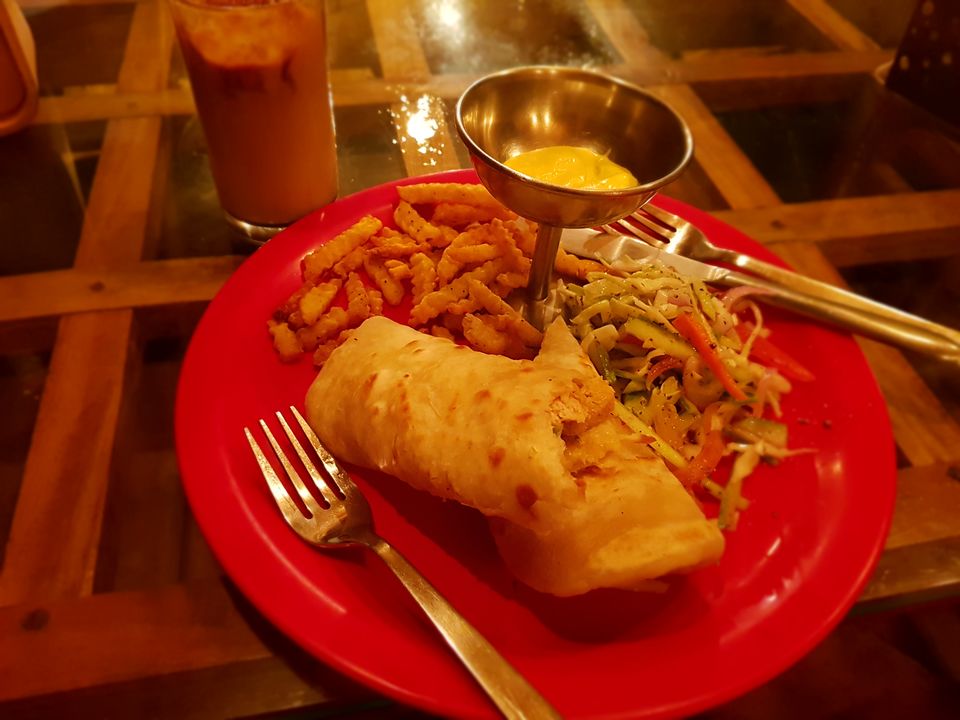 Location: Next to Wild Orchid Resort, Vijay Nagar, Havelock
Also, Fat Martin has a branch in Neil Island as well. I went there as well and the menu was absolutely the same. Worth a visit, especially since Neil doesn't have many Dining options!!
5. Squid Seafood Restaurant (Veg and Non veg options available): Squids, Lobsters, Crabs, Fish… you name it and they ll serve it!! Located right at the start of the market, this local restaurant looks pretty average when it comes to the ambience or service, but I can't say the same for the food it serves. When in Andaman.... experimenting with sea food should definitely be on your priority list and this restaurant just lets you do that without burning a hole in your pocket. Everything is prepared fresh and they even let you choose the fish you wanna have grilled. Prices depend on the size and quantity you order.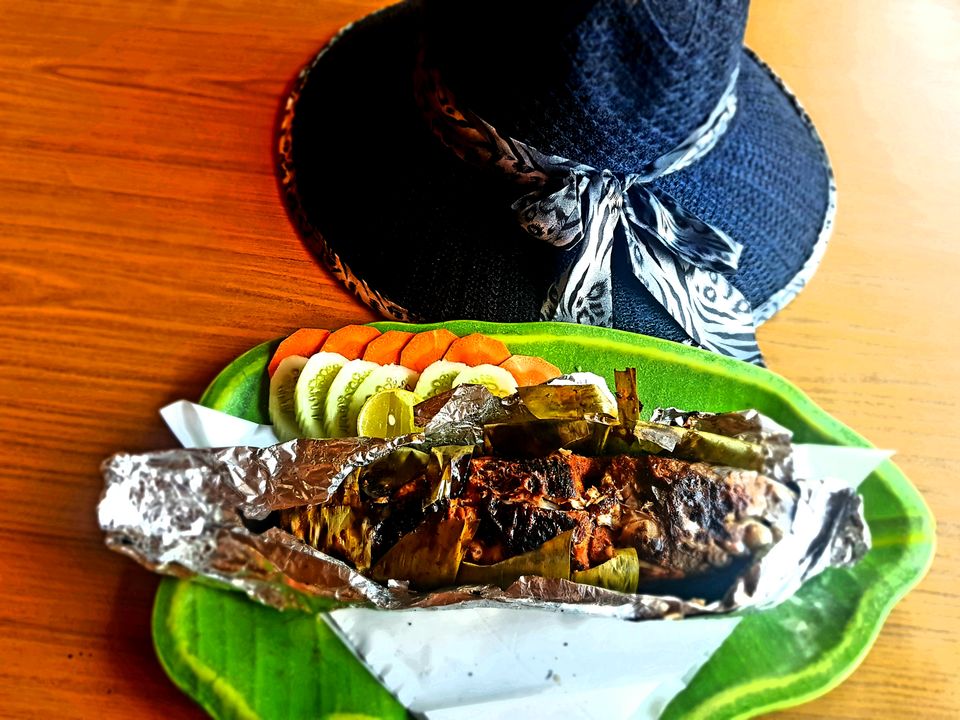 I ordered dry masala squids, with fingers crossed, coz not many people gave me good reviews about how squids taste, nevertheless, I wanted to give it a try and I am delighted I listened to my heart. Extremely lip smacking, crisp and full of flavours… I loved every bite of it (Guess that's why they named it squid seafood restaurant). Went to this place twice and the second time I ordered a grilled fish and was asked to choose the one I wanted to gobble down. It was full of authentic local flavours and was cooked to perfection.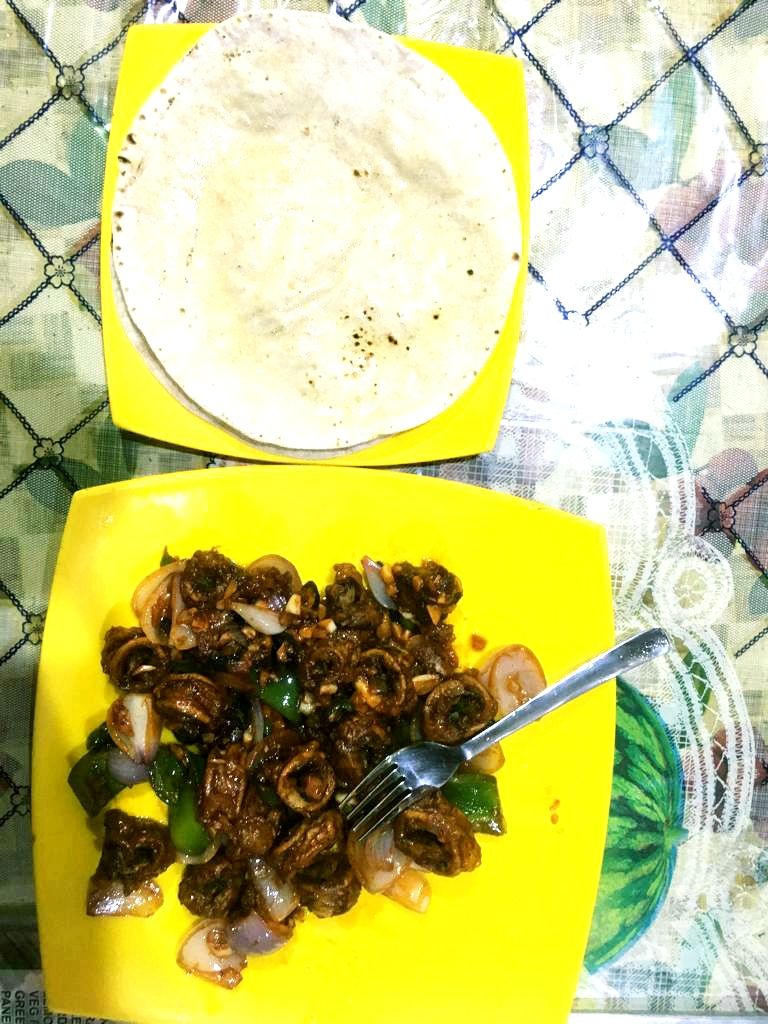 Surely a not to be missed place when in Havelock!!
Cost: Day 1 – Chilly Squids – Rs. 300
Day 2 – Grilled fish – Rs 300
Location: Start of the market, Govind Nagar, Havelock
6. Garden View Restaurant (Veg and Non veg options available): Neil is comparatively a pretty small island as compared to Havelock, and as such there are not many eating options available. Was aware of the same and hence wasn't expecting any out of the world experiences there, when it comes to food or lodging. Had done my research pretty well and knew about this restaurant when I reached Neil, so thought of having my lunch here. True to its reviews,the place is a cosy lil one, surrounded by trees and lil huts all around. Its run by a local couple who are extremely simple and yet generous.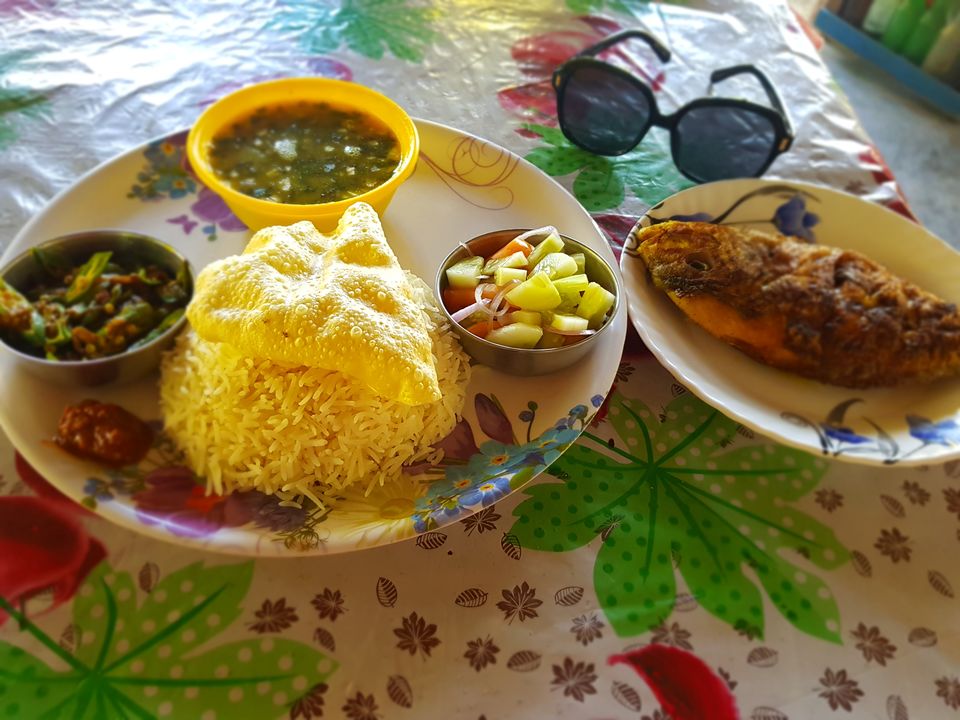 If any of you want to experience authentic, local, home- made Bengali food, then there is no place better than this one in the Andaman. The food is prepared when it is ordered and hence is absolutely fresh and heavenly. I ordered their fish thali which had a grilled Bengali style mustard fish along with rice, daal, bhindi and salad. I started with the fish first and was absolutely delighted to have come to this place for the meal. Had never tasted a Bengali fish prior to this and as such simply loved it. Even the daal and bhindi were superb. Anther dish I ordered was grilled fish and chips, of which fish again was delicious, can't say that about the fries, but considering the fact that it was from a local kitchen, that dint have any of the modern tools, I couldn't complain about the oil dipped fries.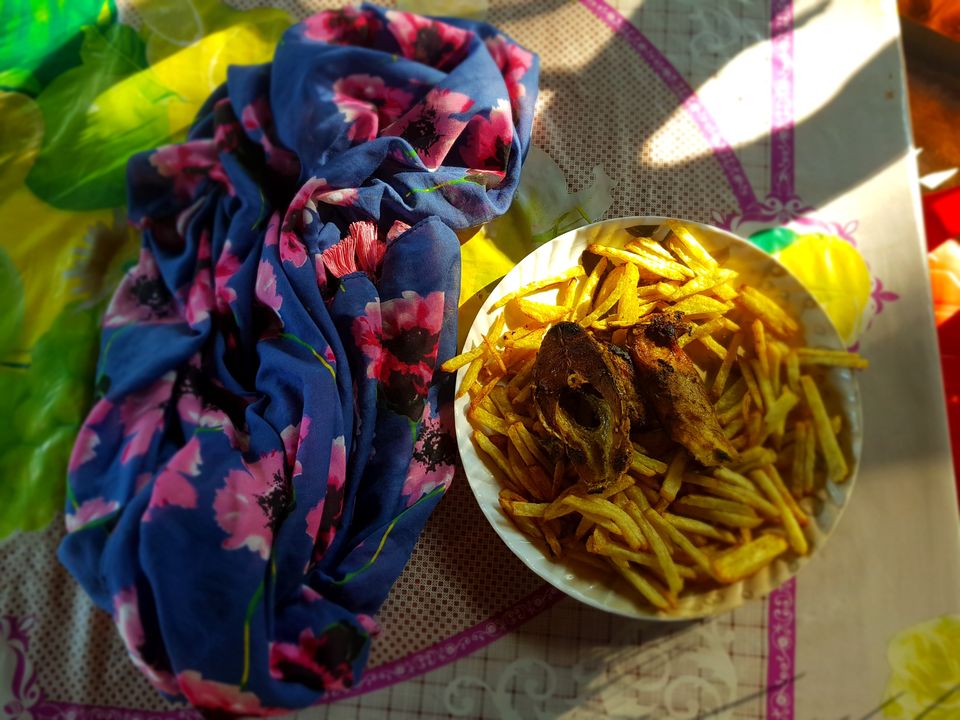 Worth a visit to experience local Bengali cuisine at its best!!!
Cost: Fish Thali – 180 bucks
Fish and Chips – 200 bucks
Location: Close to Sitapur beach, Neil Island
7. Kattobomman (Vegetarian – South Indian Food): Love South Indian Food??? Make sure you visit this place then. The place is so tiny, that I missed seeing it even after crossing it like 4 times. As much as I like sea food, I love south Indian food equally and so decided to have my dinner here in Port Blair. The options are limited, the place is small, nothing fancy, but the food… I have never tasted a dosa as divine as this place has to offer. Crisp, perfectly cooked, and served with the one of the most finger licking sambhar I've ever tasted. They serve dosas, Idlis, Vada, variety of rice preparations as well. I'd definitely recommend having their special Ghee Roast Dosa. Such delicious South Indian food at an unbelievable price..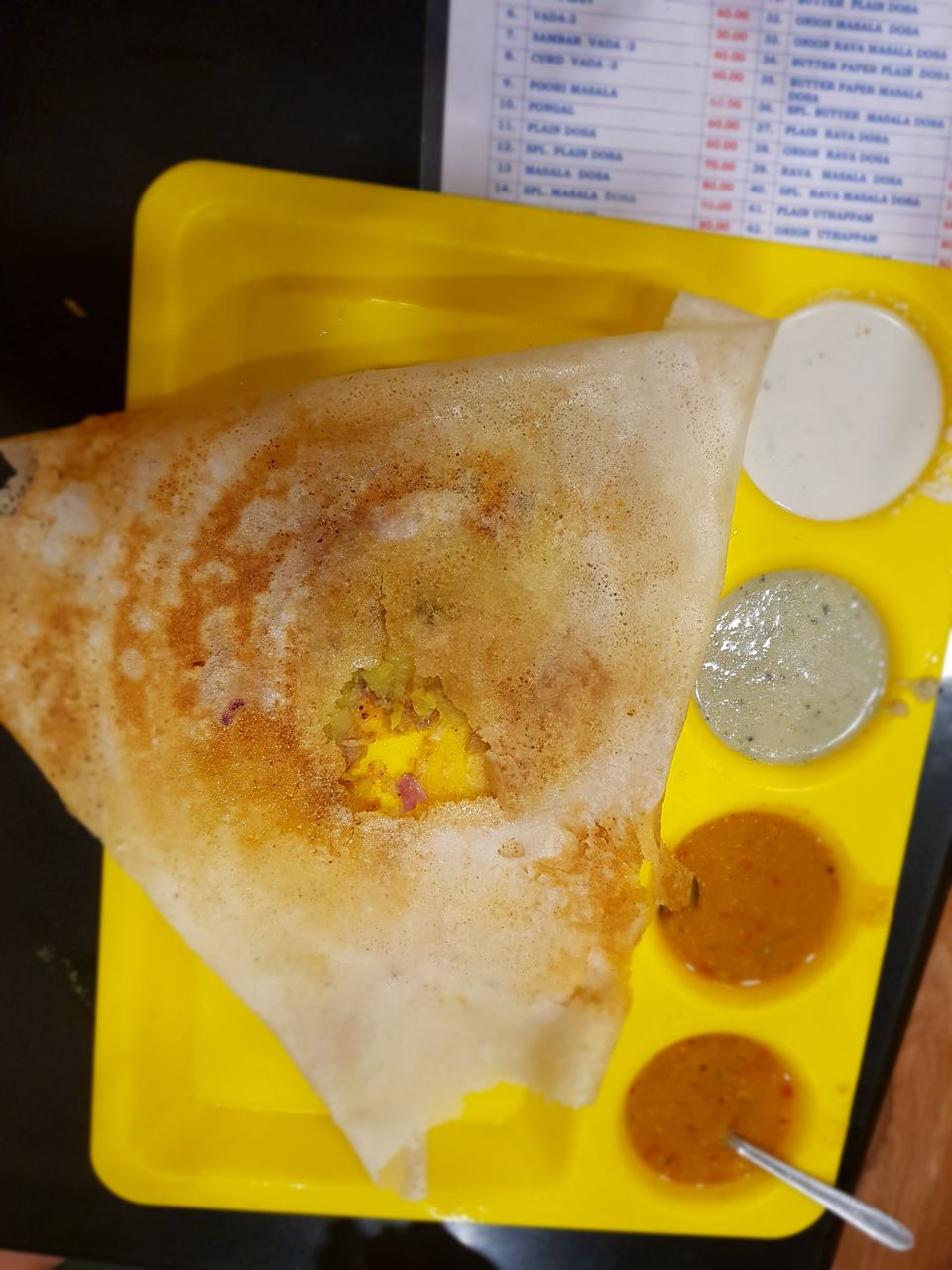 Another place I'd recommend everyone to pay a visit to!!
Cost: Rs. 250 (Ghee Roast dosa, A plate of vadasambhar)
Location: Next to Police Gurudwara, Opp J Hotel, 10 minutes from Aberdeen Bazaar, Port Blair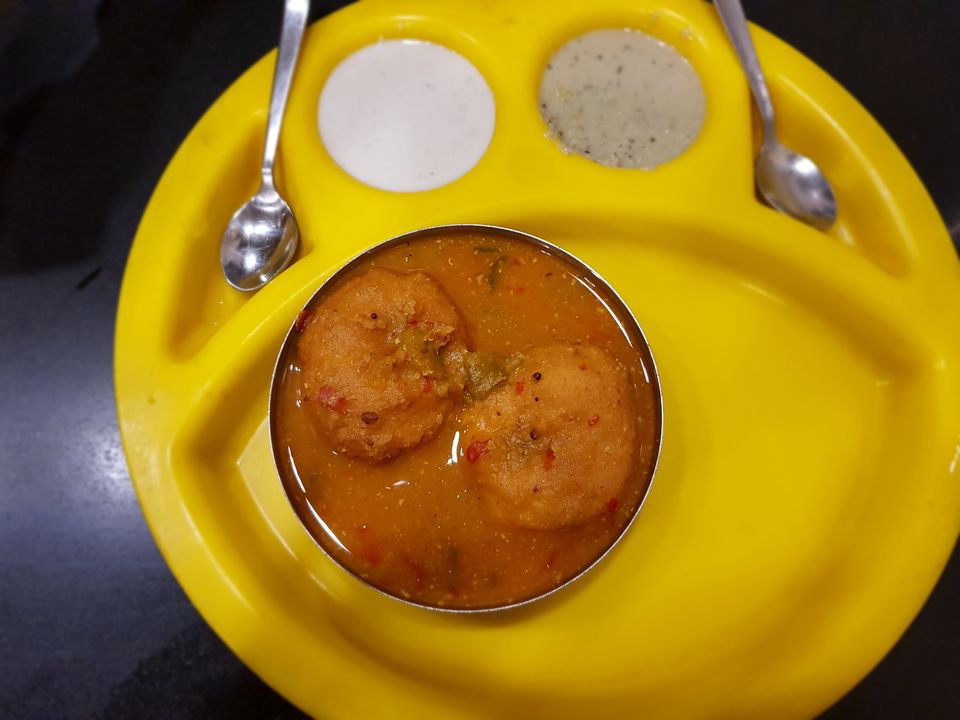 8. Lighthouse Bar and Restaurant: I dint mention any bars in here. Did I?? Well, that's because I am a tea totaler. But for all you booze lovers out there, this is one place you must visit. Not only for alcohol, but for the nice views it has to offer along with some delicious bar snacks to go along with it. I chanced upon visiting this place on the last day of my trip accidentally. I was busy buying souvenir's for my family back home and this place was right above the shop I was in. So I decided to give this one a try too. Had heard a lot about the New Light house restaurant, which is like a 5 minute walk from this place. Please donot confuse the two, New Light House is a restaurant and doesn't have any alcohol serving options, but is extremely popular for its fresh sea food barbequed right in front of the guests. This one, is famous both for its food as well as the alcohol, specifically since there are not many decent bar options available (apart from the one's in 5 star hotels maybe).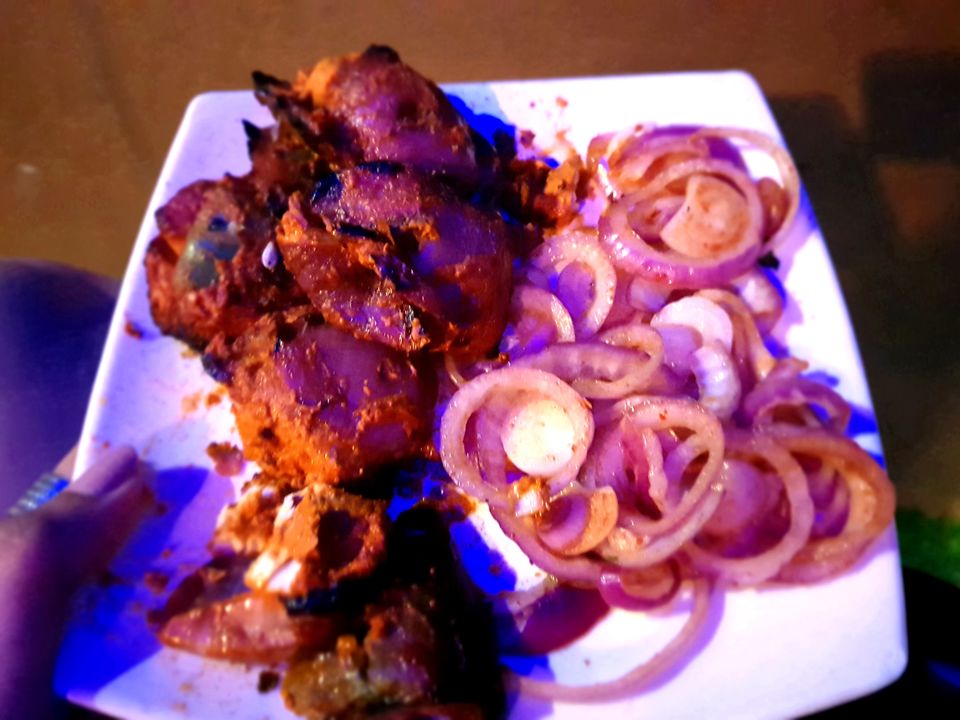 Their restaurant is on the first floor and bar is on the second floor with a sitting option outside that has one of the best views of the city. The food ranges from Chicken and Biryani's to all popular sea food items such as lobster, crabs and fish. I ended up ordering a fish again and it had a mustard laced barbeque sause that I totally loved. Not something that we get in here in Delhi I guess. The prices are very nominal and the place is open till 10:30.
A must visit for three reasons….good food, mesmerising views and the liquor ofcourse!!!
Cost: Rs. 270 for the fish
Location: 10 minutes from Aberdeen Bazar, Port Blair
9. Shacks at Corbyn's Cove : Chatpati…yesss that's what they call …samosa chaat with chane. It was the first time in my trip that I finally found something like this, and hence dint miss the opportunity. Nothing out of the word, but definitely a change for a person like me who was constantly having either sea food or south Indian food for the last 6 days. There were loads of other options as well like, fish cutlet, veg cutlet, omelette, chowmin etc. This Chatpati was definitely worth a try!!!
Cost: Chatpati Rs 20, Fish Cutlet Rs 40, Veg Cutlet Rs 20
Location: Corbyn's Cove Beach, Port Blair
10. Shacks at Radhanagar Beach: There are quite a few shacks close to Radhanagar beach that sell everything from jewellery to clothes to food items. A must try here is the fresh fruit salad plate that is on offer. Loaded with all varieties of fruits, this was a breather in the hot and humid weather. Apart from fruit salad, the shacks offer items like cutlets, chana chaat, coconut water, etc.
Cost : Rs. 100 per plate for fruit chaat
Location: Close to Radhanagar Beach
Apart from the above Restaurants that I personally visited during my trip, I would like to mention another few places that are extremely popular for their food, but unfortunately, due to time constraint, I could'nt try their preparations –
Port Blair–
1. Icy Spicy Restaurant
2. Gagan Restaurant
3. Ananda Restaurant
4. Adi Bengali Restaurant
5. New Lighthouse Restaurant
Havelock –
1. Restaurant at Barefoot
2. Full Moon Cafe
3. Red Snapper
4. Venom Bar
5. Bonova
Neil –
1. Blue Sea Restaurant
Bartang-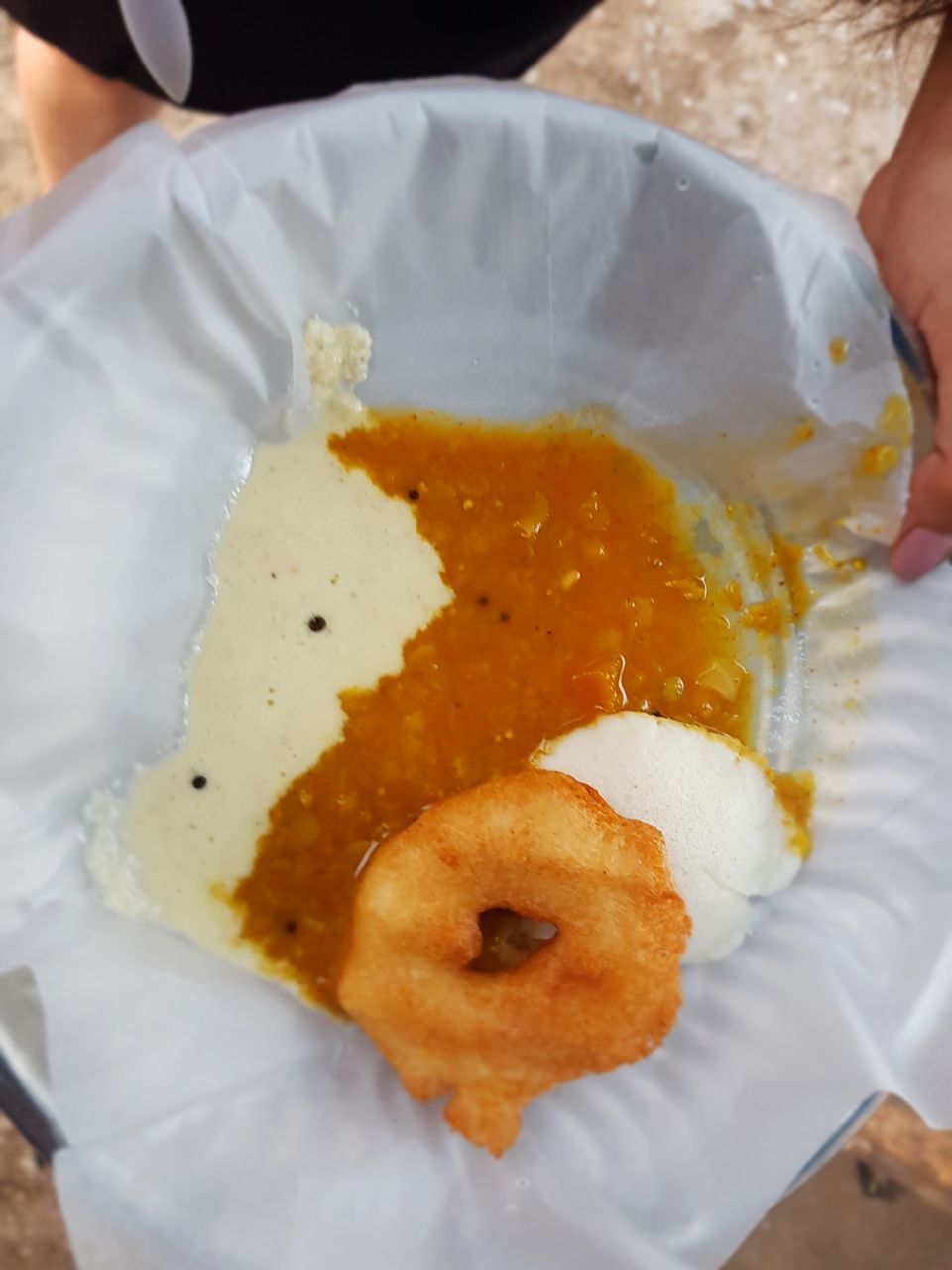 1. Port Canteen (The only food option I saw)
PS: There are a few Wine shops in Port Blair, but none of them have the facility to offer chilled alcohol, so plan accordingly. Also, most of the decently priced hotels do not provide guests with a fridge (even the water provided is normal room temperature water)
Havelock has only one wine shop and it does have limited number of options. Neil doesn't have any such shops.