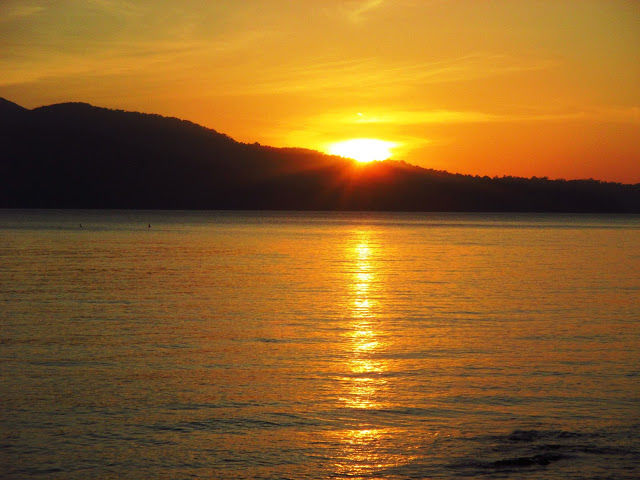 The importance of seeing the sunset of standing at any sea end is different, it was our second day in Andaman and so far we could not find the chance to see the sunset, so it was necessary to see the sunset at the next stop. Was there. It seemed like a bird island, as if there was an island between the middle of the ocean, and the birds of birds were heard from it, although these misconceptions had disappeared after reading a few blogs, because it is also a sea-shore, sitting here. At the time of sunset, the moment of color can enjoy changing colors and sea views. March 2015, the days of sunset in Andaman we were about five o'clock, and it was about four o'clock in the exit of Wandur. The distance of the bird island from here was 30 kilometers, which was about half an hour's time, and if it stopped somewhere on the way, it was possible to delay it, that means the border line was on and even after we stopped at a double place Could not stop himself, the reason for the stop would be gradually found out. Let's start with Sunset-Sun set scenes -
A glimpse of the sunset of the island island
                       At the beginning of the journey from Wandur to the island of the island, it was not easy to cross the city, but the beautiful streets of Andaman were fascinated. As you progressed, the drivers used to show the water gathered somewhere on the way, see that this is a tsunami water, many homes were standing so that they had no way to go and they were lying desolate. Seeing these places, understand It was as if any progress made by a human being, in every situation, it is proved to be a dwarf ahead of nature.
Tsunami water
Tsunami water
Tsunami water
                          We were moving forward to see such a number of places that a forest area started from a few kilometers before the island and after that we got parallel to the ocean line, then we could see many panoramic views and one The place has got peace only after leaving the place. Some similar scenes -
Andan's clean, dry road, and boating with water gathered together
another view
Sea-shore parallel sea
Bike rider
Sun God is now playing hide and seek among coconut trees.
                       Seeing these scenes, we reached the island of the time from time to time, to get a different view of reach here, which I had not imagined, the stems of large trees fell on the sandy land, Chairs were arranged for the sitting of the show, for showing the modern technique, by hollowing the stub with a large number, people-in-one and people's name from the other side were given the name. D. There were several swings to swing in which the children were swinging too big. We were so busy in seeing this park that for a moment, they forgot that we were standing on a seashore and came to see the sunset, as many things were not able to take as many photos here,