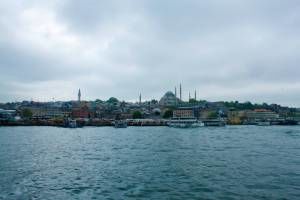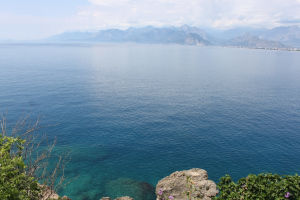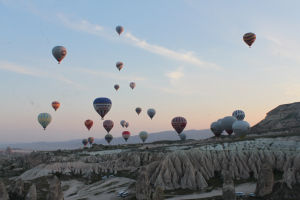 A destination not on everyone's bucket list. Honestly, it wasn't even on mine. I used to believe Greece is more beautiful than Turkey but when I began my research I realized otherwise. And after spending a few days in Turkey I didn't want to come back, it was absolutely amazing.
Many tourists wonder what does Turkey have to offer? Turkey, a transcontinental country located at the crossroads of Europe and Asia – the Bosphorus River, divides the country where a part of it falls under Europe while majority falls under Asia. It has so much to offer right from the fast paced city life to the ancient cities with their ruins, volcanic rock formations, underground cities and not forgetting the amazing coast line with the turquoise waters.
People
Yes! Though 99% of the population of Turkey are Muslim and follow Islam, it's a very open-minded country. People here are so warm and welcoming and will try their best to help. They are huge fans of Bollywood movies and know most of the stars like Aamir Khan, Shah Rukh Khan, Bipasha Basu and when the street vendors realize you are from India, they will keep calling out to you with these names. A restaurant even went to the extent of playing a hindi song to catch our attention!!!!
Food & Drinks
Turkey is also known for the delicious cuisine they offer – Kebabs, Doner (shawarma in India), Kumpir (a baked potato puréed with butter and cheese and topping that you can choose from such as mayonnaise, ketchup, pickles, sweet corn, sausage slices, mushrooms, Russian salad, etc), Pide & Lahmacun (Turkish pizza), street vendors sell Simit with Nutella, corn cob & chestnuts and not forgetting the ever so famous Turkish Delight and the Baklava that just melts in your mouth.
They are also known for their teas & coffee – the most famous teas are their Turkish & apple tea. The people are so hospitable that when one visits a store they will always offer you tea; restaurants at times provide complimentary tea at the end of your meal. The tea is served in these cute little cups and saucers.
Oh and the Dondurma (Turkish ice cream) that is found at every corner in tourist areas, is so soft and creamy and mind you the ice cream man always has some trick up their sleeve (they are famous for their tricks). Ayran (buttermilk or unsweetened lassi) is the drink most locals have along with their meal. When it comes to alcohol, Efes is their local beer while the national alcoholic drink is Raki (aniseed flavored drink), which is a colorless drink and turns white when mixed with water or ice.
Transport
They have amazing transport facilities & infrastructure. For cities like Istanbul, they have ferries (for people to cross the Bosphorus River), trams, metro, metered taxis, buses. When it comes to smaller cities there are taxis or dolmus (a minibus). What amazed me is the intercity bus services – travelling by these buses are no less than travelling by a flight – they make the journey so comfortable. Most of the buses are equipped with wifi, a personal entertainment system and they also serve snacks and refreshments. The driver and his support are dressed smartly with ties and sometimes coats. Their buses are always punctual and depart on time, never a minute late.
Interesting Experiences
We were so puzzled by all the drama (like a wedding procession) at the intercity bus stop with people dancing, singing with drums, whistles, Turkish national flags, fire crackers, some crying, while others rejoicing, carrying & tossing a young man around. All this for just for a sendoff??? In one instance, a group of friends of the young boy chased our bus with their cars and forced it to halt by stopping their cars in front of the bus and put on music and began dancing. We were annoyed but later the boy apologized. We were under the impression that he may be on his way to a new job or for further studies in another city in Turkey and were amazed by the amount of love he received as he was leaving and must have been pretty popular for such a sendoff. We were later stunned when we clarified and got to know that this is a sendoff ceremony that generally happens for boys leaving to join the army. Yes!! All young boys once they turn 18 need serve in the military for a couple of years till they can return back to their normal life. When we realized this, it all made sense, people crying while some celebrating as they were proud that their son/brother/friend was going to serve their country.
My Holiday
Coming to the planning of my holiday….And so we decided, we would travel to Turkey in the month of May 2015. We managed to get cheap or rather decent priced round trip air tickets for about Rs 32,000 per head (thanks to the early planning and Qatar Airways sale) for a 15 days trip, Yes an entire half month that we planned to explore Turkey. Ours was a budget trip with 4 of us travelling; we booked service apartments or rooms in with 4 beds which made it very economical. Our stay cost came to just about Rs 11,000 – 12,000 per head for 11 nights. Another way we saved was overnight bus journeys to travel from one location to the next; saved on the night stay cost.
While it was quite difficult to shortlist places to visit within Turkey as all of them are so beautiful, we managed to shortlist the must visit – Istanbul (5 night), Selcuk (2 nights), Antalya (2 nights) & Cappadocia (2 nights). Each of these places are so beautiful, unique and special in their own way.