Introduction
"Rang barse!" or "Holi hai!" are commonly heard terms that we get to hear all around as the festival of colours approaches!
This Festival of Colors which usually falls in February or March is beloved by everyone including the elderly people.
As per Hindu mythology, Holi is a 2 days programme. It begins with the Holika Dahan or Chhoti Holi (That is burning of Holika a night before the Holi); during Holika Dahan people would have bonfires and circle around the same. They offer prayers to Lord Vishnu and pray for good luck.
The next day is Holi, sometimes better known as the "Festival of Love" in which people throw colours on each other, kids mix water with colours and play with them, and there is a family gathering, songs, food, and whatnot.
But did you know that there are some places in India known for their unique Holi celebrations? No? Don't worry, in this article, we will be talking all about how Holi is celebrated in Mathura and Vrindavan to Rajasthan's Jaipur and many others. All you need to do is keep reading further!!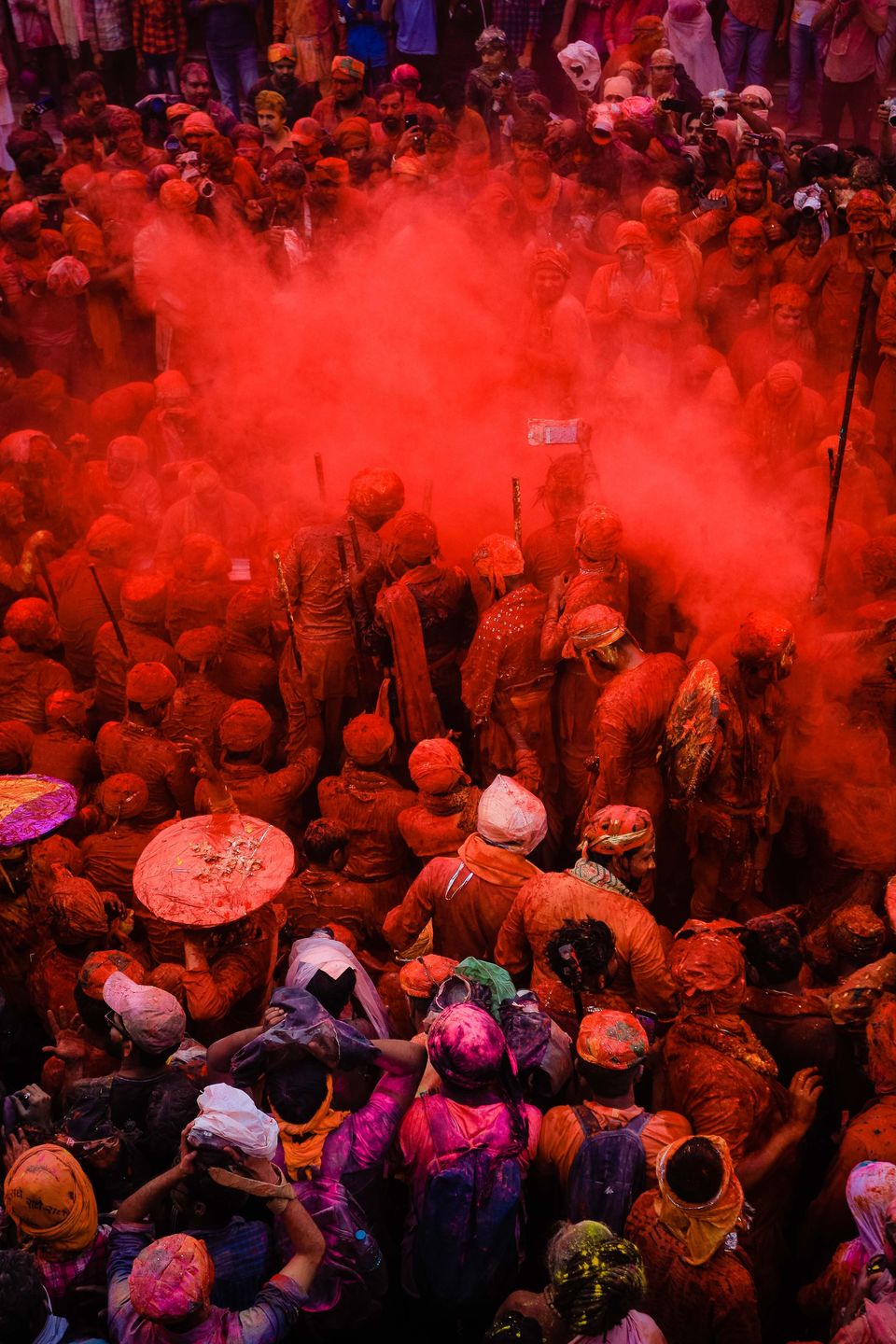 Top 10 Places To Visit: For Holi
Vrindavan: Banke Bihari Temple
Banke Bihari Temple is a popular Hindu temple located in the holy city of Vrindavan in Uttar Pradesh, India.
The temple is dedicated to Lord Krishna and is considered one of the most important pilgrimage sites for devotees of Lord Krishna.
Holi is a major festival in India, and the celebration at Banke Bihari Temple is particularly famous. The temple celebrates Holi for six days, starting from the day of Basant Panchmi.
During the Holi celebration, the temple is decorated with flowers and coloured powder, and devotees sing and dance to devotional songs.
The highlight of the celebration is the throwing of coloured powder and water, known as "rang barse," which takes place both inside and outside the temple. Apart from this people throw flowers (Better known as Phoolon ki Holi) during the same.
Known for: Phoolon Ki Holi
Jaipur: For Hospitality
Holi is a widely celebrated festival in India, and the city of Jaipur is no exception. People in Jaipur celebrate Holi with a ritual called Holika Dahan which is accompanied by singing, dancing, and chanting.
The next day people in Jaipur play with colours and water. They smear each other with coloured powders and drench each other with water using water guns and balloons which is followed by music, dance, and feasting. Some popular dishes include gujiya and thandai.
Goa: For Parties
While Goa is not traditionally known for Holi celebrations, in recent years, it has become a popular destination for Holi parties.
The beaches of Goa come alive with music, dance, and colour during Holi.
Many nightclubs and beach shacks in Goa host Holi parties, with music, drinks, and colour. These parties are usually held on the day of Holi and can last for several hours.
Known for: Holi parties.
West Bengal: Shantiniketan
This town in West Bengal is famous for its Basanta Utsav, which is a spring festival celebrated on the day of Holi. It was started by Rabindranath Tagore and is marked by cultural performances, poetry recitals, and music.
During Basanta Utsav, an art and craft fair is held, showcasing the works of local artists and craftsmen. The fair is a great place to buy traditional handicrafts, paintings, and sculptures.
Known for: Basanta Utsav.
Mathura: Barsana
Barsana is a small town near Mathura in the Indian state of Uttar Pradesh, known for its unique celebration of Holi, called Lathmar Holi.
Here, women chase and beat men with sticks, while the men protect themselves with shields.
According to legend, Lord Krishna used to visit Barsana to play Holi with Radha and her friends. To recreate this, men from the nearby town of Nandgaon visit Barsana, where they are welcomed by women who playfully beat them with sticks.
Known for: Lathmar Holi.
Anandpur Sahib: Punjab
Located in Punjab, this town is known for its Hola Mohalla festival, which is celebrated by the Sikh community. It is a three-day event that includes mock battles, acrobatics, and displays of physical strength.
The festival starts with a procession, called Nagar Kirtan, where people dress up in colourful attire and march through the streets, singing devotional songs and reciting hymns from the Sikh scriptures.
Known for: Hola Mohalla festival
Delhi
In Delhi, Holi is celebrated with great enthusiasm and excitement. People come out on the streets and apply colours on each other, sing and dance to the beat of dhol and enjoy sweets and delicacies.
There are many places in Delhi where Holi celebrations take place, including parks, temples, and public spaces.
One popular place for Holi celebrations in Delhi is the Holi Cow Festival, which takes place annually in various locations throughout the city.
Known for: Holi Cow Festival
Hampi: Karnataka
Hampi is a historical and cultural site in the Indian state of Karnataka. The city is known for its rich heritage and ancient temples. Holi is celebrated in Hampi with great fervour and excitement, and the celebrations here are unique in their way.
During this time, people gather and prepare the colours and the traditional drink called "bhang."
On the day of Holi, people in Hampi dress up in traditional clothes and smear each other with colours.
Known for: Traditional celebration
Manipur
Holi is celebrated in Manipur, a northeastern state in India, with a unique blend of tradition and culture. The festival is known as "Yaoshang" in Manipur and is celebrated for five days.
On the first day children go to others' houses for monetary donations, while on the second and third days, there is a bonfire, cultural music and dance performances and a special day when married women go back to their parental home.
People keep playing with colours from the second day till the last day of this extravaganza. Many cultural sports events and programs are also organized for the children and youth to instil better learning among them.
Known for: Yaoshang (5 days celebration)
Agra
On the day of Holi, people in Agra come out on the streets and play with colours and water. They smear each other with coloured powder, throw water balloons and use water guns to splash water on each other.
The streets are filled with the sound of dhol and singing, as people dance to the beat of the music.
Holi is celebrated in Agra with great joy and enthusiasm, and the city comes alive with colours, music, and dance.
Conclusion
These are just a few examples of how Holi is celebrated in different Indian states. Each state has its unique traditions and customs, making Holi a truly diverse and colourful festival across the country.
For More information: https://www.universaladventures.in/