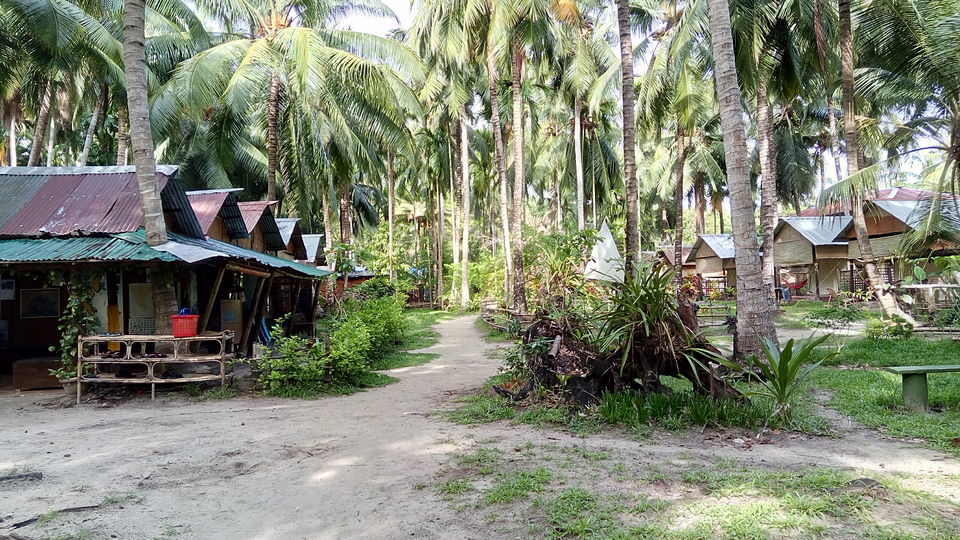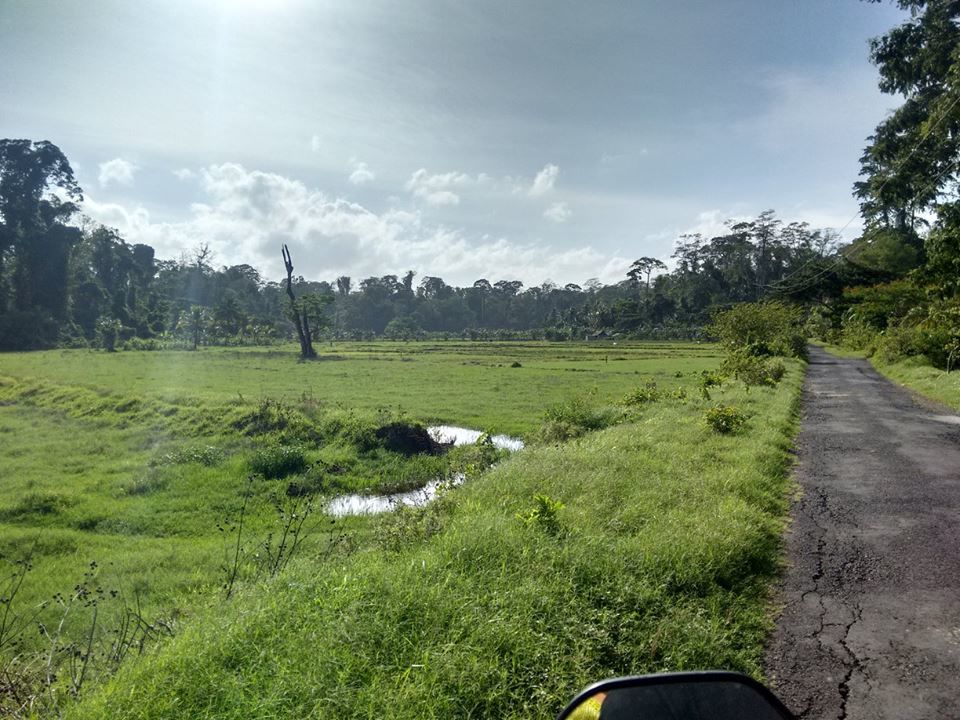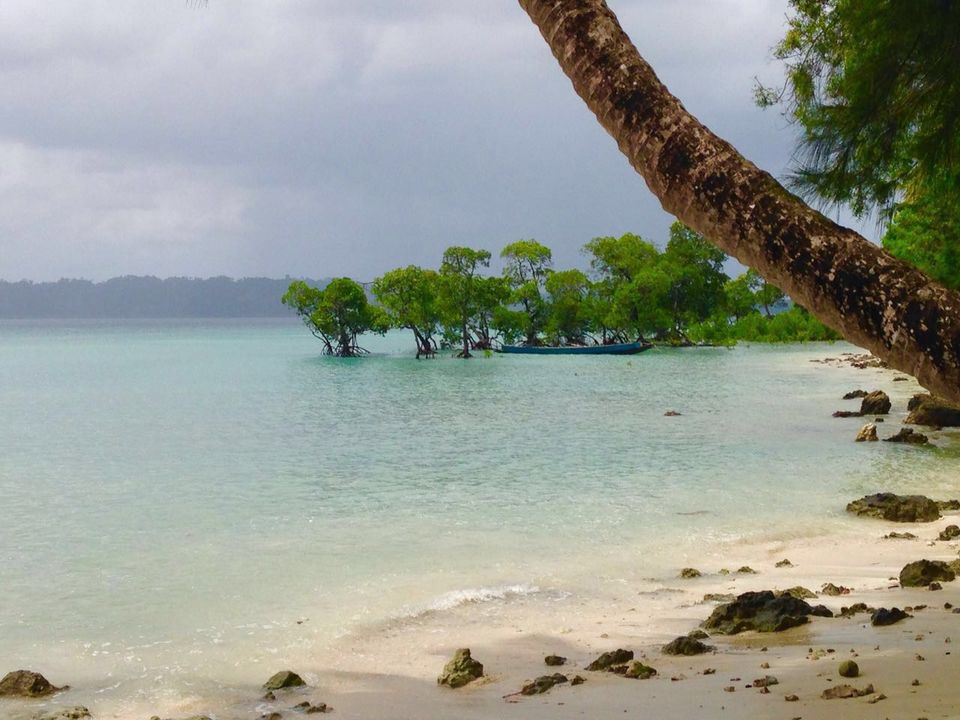 Our first glimpses of Havelock Island were a few minutes before docking into the jetty. From a distance, the sight of lush tropical vegetation bordered by the azure waters of the Andaman Sea and white sandy beaches gave us the Goosebumps. Our thoughts sparked with imagination and wonder; was this place to leave us spoilt forever?
Part of Ritchie's Archipelago, Havelock is situated about 2 hours away by ferry from Port Blair. It is a dense jungle, with pockets of civilization focused around its north, east and central parts with agriculture and tourism being its flourishing industries. It is one of two most popular tourist destinations among the Andaman Islands; however major development is still thankfully absent giving it a pristine, rural appeal. Don't be put off by its popularity though, it still doesn't get as crowded as other popular locations in the mainland do.
We were lucky to arrive during the off season, in June. Despite occasional drizzles (due to the monsoons) the emptiness of this place brought out its true colours. If you're one to relish solitude, nature, tropical islands and a slow life and who doesn't mind the humidity and a little rain then the times from mid-March to mid-June and from September to October-end are perfect for you. The island becomes really lively and happening during winter months; that's when the bulk of tourists start pouring in, both local and foreign.
On arrival we wasted no time and headed straight for our eco-resort which was located right by the eastern coast. The resort was beautifully maintained amidst the lush nature of the island. Its rooms were in the form of tiny shacks which were all conveniently spaced out having all the basic necessities and each with its own porch and hammock. Most of the resorts in the island are located around this area and tourists won't really have a hard time finding accommodation in Havelock.
Once we checked into our cottages, my wanderlust led me straight for the beach. As I broke through the foliage into the sand, I was awestruck by the scenery. Turquoise clear waters glittering under the afternoon sun and mangrove, palm and mahua trees that drooped over the white sandy beaches lay right before me. It's something you only see on postcards or travel documentaries. No words or images can describe its splendour. Without any thought, I was instantly attracted into the waters by the sheer beauty of this place and a little later I was joined by my companions: Tej, Sue and Sabarish. There wasn't a soul in sight; we literally had the entire place to ourselves. Reminiscing how we spent those first few hours in this tropical paradise still gives me the shivers.
Our hunger pangs finally struck and so we headed to Red Snapper for lunch; a restaurant highly rated by Lonely Planet for its seafood. The food was fresh and delicious and the fish was the local catch of the day. There are however many other well-known cafes, restaurants and bars that provide all sorts of delicacies. But if you're a travel buff and seafood lover then I'd suggest you try out the economical local restaurants which celebrate the local cuisine of the islanders.
Havelock does have a sporadic bus service and an abundance of auto-rikshaws, but the best way to navigate the island is on a two-wheeler (motorbikes or cycles). We rented two scooties at a reasonable rate and we took off. The pathfinders in each of us led us to explore the length and breadth of the island which was really an eye opener and it subliminally set our souls free. We traversed the roads through thick forests, where trees seemed to cave in on us; rocky- white sandy beaches; pristine, untouched and secluded villages and farmlands; and, small hills dotted all over the island. We travelled so far and wide around the island until the road finally ended.
We spent an amazing, laid back evening that day in Radhanagar beach; a spectacularly huge and intimidating wonder with an untouched charm (once voted as Asia's best beach). The sunset we witnessed there was truly magnificent.
Still numb with satisfaction of all our adventurous endeavors on the 1st day, the 2nd day had something special in store for us. We were going to explore the underwater world. That's right, scuba diving!
The day started really early and after being introduced to some technicalities and the dos and don'ts of scuba diving we submerged ourselves. It felt like a whole new world underwater; silent, peaceful and blue. As we were led a little deeper, I was totally numbed by the awesome sight of vibrant coral reefs abundant with marine life; teaming with schools of fish. There were all sorts of sea critters swimming around the corals, including Nemo! We gently glided along the sea floor, guided by our instructors, moving between and above the corals witnessing this marvel. I would sometimes forget to breathe being stunned and amazed by my surroundings. It was so beautiful seeing how the different species of marine life co-existed with one another; it almost felt like an alien world. Occasionally though I'd have to exhale from my nose to remove the water that seeped into my mask; wet my throat as it kept drying up; and, equalize my ears whenever they started to hurt if I went deeper.
Scuba diving no doubt was a really cool new experience, one I'll always reminisce about and want to repeat.
Our remaining time on the island was spent mostly just hanging around and relaxing. We devoured tons of seafood; quarreled over who gets to ride the bikes; experienced eco-tourism; interacted with the locals; met some amazing fellow travellers; relaxed extensively by the beach, playing Frisbee and sipping on wine and breezers; lazed around; partied at night with new friends we made; saved wild kittens from getting run over by trucks (don't ask); spent loads of time in the water; and, hardly ever had time to sleep.
One hot afternoon I rode out on my own to explore the countryside. I was eager to acquaint myself with the local populace and learn the story of the island. Though most of them lived comparatively less fortunate lives, they were fairly content in living here. The government resettled many Bengalis here following the 1971 war with Pakistan and so a vast majority of the islanders are of Bangladeshi origin. It was refreshing to speak with the locals who were friendly and welcoming. Listening to their heartwarming stories of migration, resettlement and life in general was fascinating.
There were still so many things yet to do here which we missed out on due to time constraints. One can go for sea-walks; do snorkeling; take a boat ride into other uninhabited islands; trek into the jungle; and, ride an elephant (if you're lucky enough to find it). It was also comforting to know that the crime rate in Havelock was close to 0% and is one of the safest tourist spots for women. Where else would you find such a place in India?
Havelock Island had more to offer us than we ever could've imagined. It showed us a different side of our country: tranquil, untainted and well-preserved. The fine surroundings; delicious food; basic accommodation; good company; and, most of all, pristine beaches made our trip a success.
The morning prior to our departure from Havelock I woke up early to have one final dip in the sea. It was low tide and the waters had receded considerably, but not so much so that you'd expect a tsunami though. I walked about a 100m in and surprisingly the water's depth was still only knee deep. It was its usual turquoise blue colour and you could see right through it. The view of the lush vegetation of the island and the crystal clear waters from where I was and the occasional sightings of fish jumping over the surface was truly captivating. I just sat down in the water for about an hour and took in the scenic beauty of my surroundings. It was so peaceful and calm that all my worries faded away instantly. What I would give to relive that moment.
I wish this place had been a little less entrancing. I speak on behalf of my companions when I say that this trip was easily the best any of us has taken. It really captured our hearts forever. I hope to come back again soon for a longer time, more prepared and hopefully experience that which we missed out on.
Havelock Island has no doubt spoilt us forever and lifted our expectations of what we need of a perfect holiday.