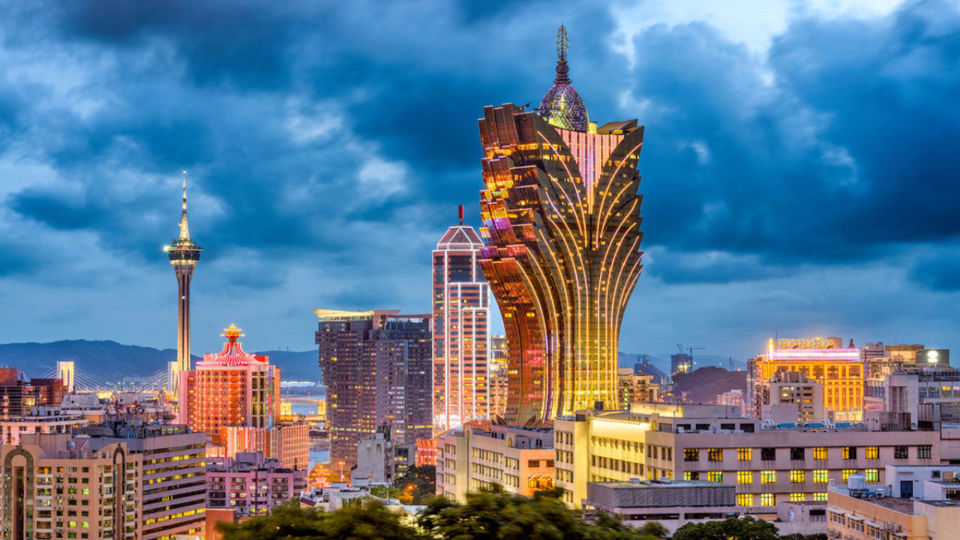 When you say Macao, you always think about famous luxurious hotels and resorts; leaving those apart Macao attracts many tourists by it's beautiful and charming historical places. Most visitors coming here are attracted by the beautiful features mixed of Asia and Europe, the quiet of the city, the harmony between old and modern, the contrast with the modern without the rough. All these things attract tourists from all across the globe and most of them are from Mainland China. Let's have a look at these 20 things I love about Macao.
1. People and Culture
Whenever you travel to any different city or country, the first thing that you get in contact with, is the people and culture. Macao was administered by Portuguese Empire from mid 16th century until late 90's. It was rented to Portugals as a trading port. Then city was handed back to China in 1999. Macao was a trading hub for Portuguese for over 300 years, as a result it has a Portuguese impact on culture, structures and food.
2. Food
Before you go to Macao, you should know about the food. Traditional Macanese food is a fusion of Portuguese food and Cantonese food, dating back over 300 years of history. It is also considered the world's first fusion food. Of course you will find many Chinese restaurants, however when you are in old city centre which is Portuguese part of the city, don't forget to try some of the Portuguese and Cantonese restaurants.
Must try dishes:
In Restaurants-
Minchi, Shrimp Roe Noodles, Clams Bulhao Pato, Serradura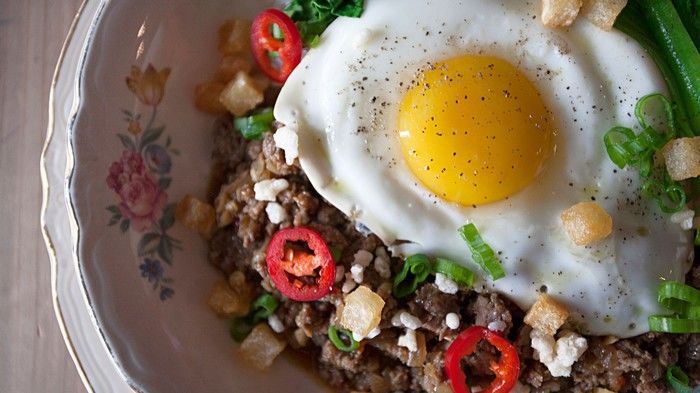 On Street -
Egg Tarts, Pork Chop Sandwich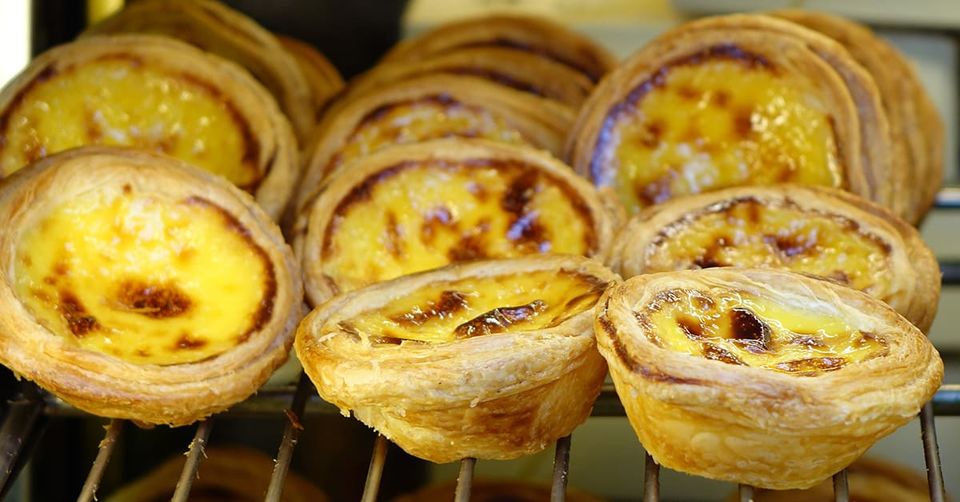 3. Ruins of St. Paul :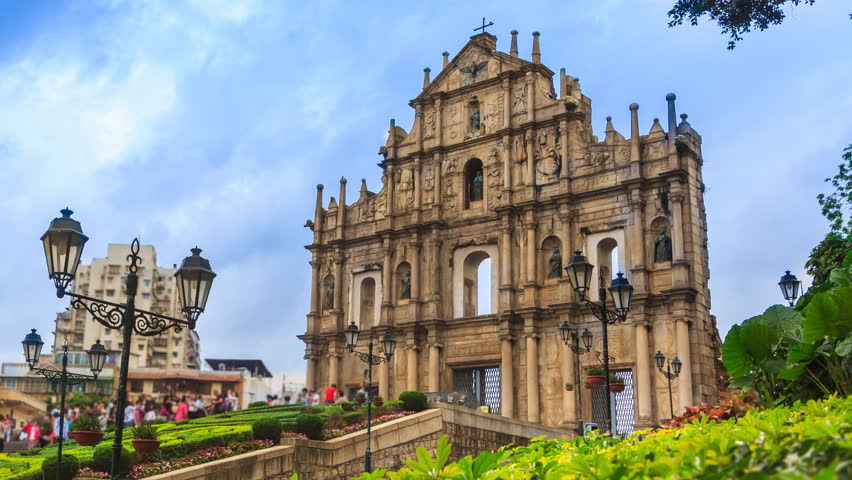 Built in the 16th century, the Church of St. Paul is one of Macao's popular landmarks. Today, most tourists who visit the ruins probably only see the remains of a beautiful old church, but there's more to its story. In fact, the ruins serve as a key reminder of Macao's unique roots.
The original structure was made of wood, which burned down in a fire during a typhoon in 1835, leaving only the beautiful granite facade and a grand staircase of 68 stone steps leading up to it. In 2005 this monument was officially declared as a part of the Historic Centre of Macao, a UNESCO World Heritage Site.
4. Fortaleza do Monte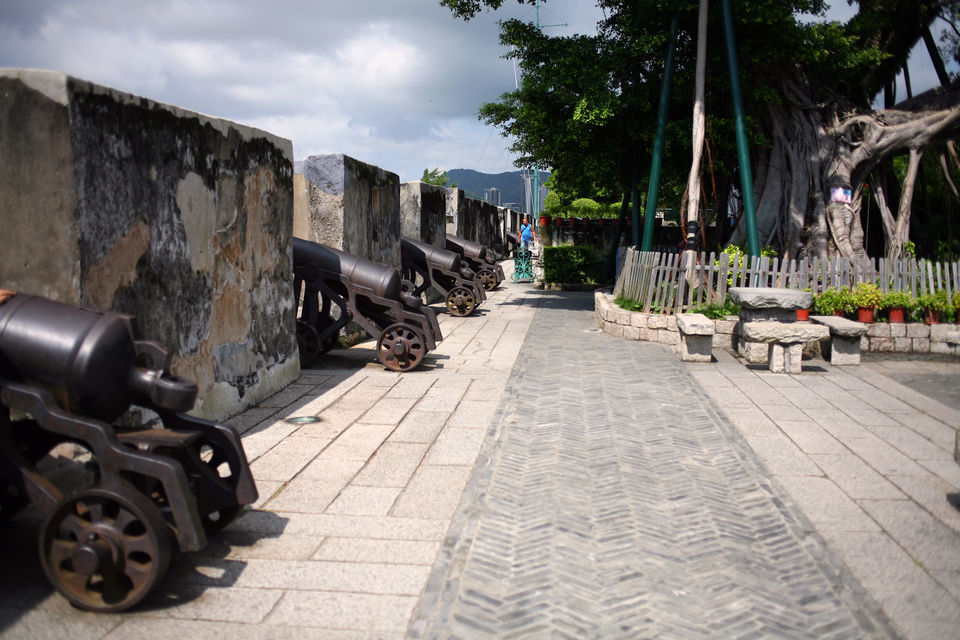 Fortaleza do Monte, is an ancient monte forte in Macao, it is one of China's oldest Western-style fort buildings. Built in the 16th century by the Jesuits and later used as a centre base of gravity of the military defence facilities in old times, and now it is part of the Historic Center of Macao and one of main attractions in Macao. Macao Fortaleza do Monte is located in the side of the Ruins of St. Paul. Around the forte, there is giant steel gun which has lost its military role but became testimony of Macao's old relics and history.
5. Macao Fisherman's Wharf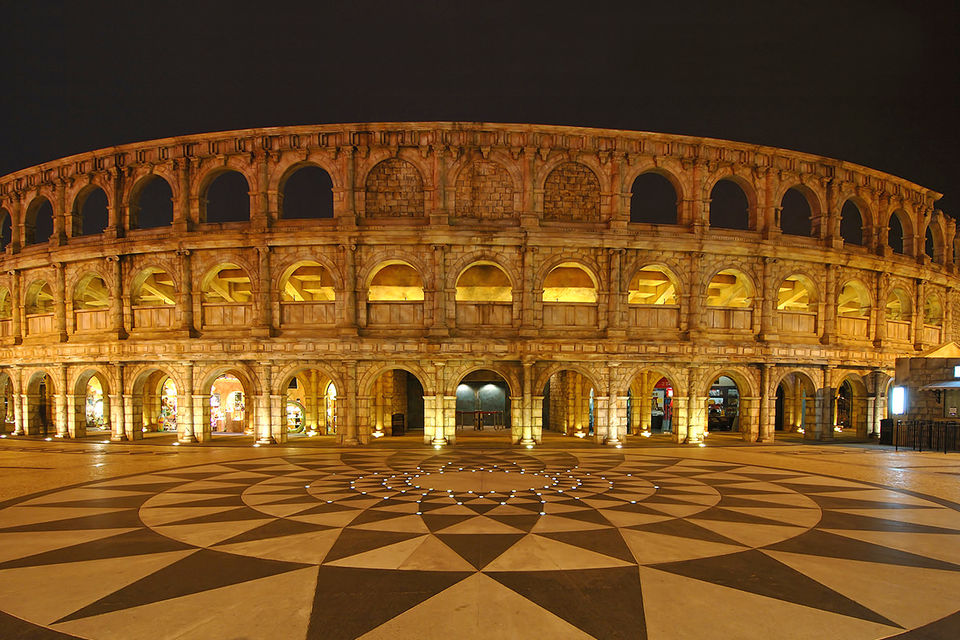 Macao Fisherman's Wharf is Macao's first theme park and imitation of Fisherman's Wharf shopping centre of Europe and America. Covers an area of more than 111,500 square meters, it collects entertainment, shopping, restaurants, hotels, marinas, convention and exhibition facilities, combines different architectural features as well as Chinese and Western culture, so as to make the visitors break geographical boundaries to experience the feel of different areas.
6. Two Lakes and One Tower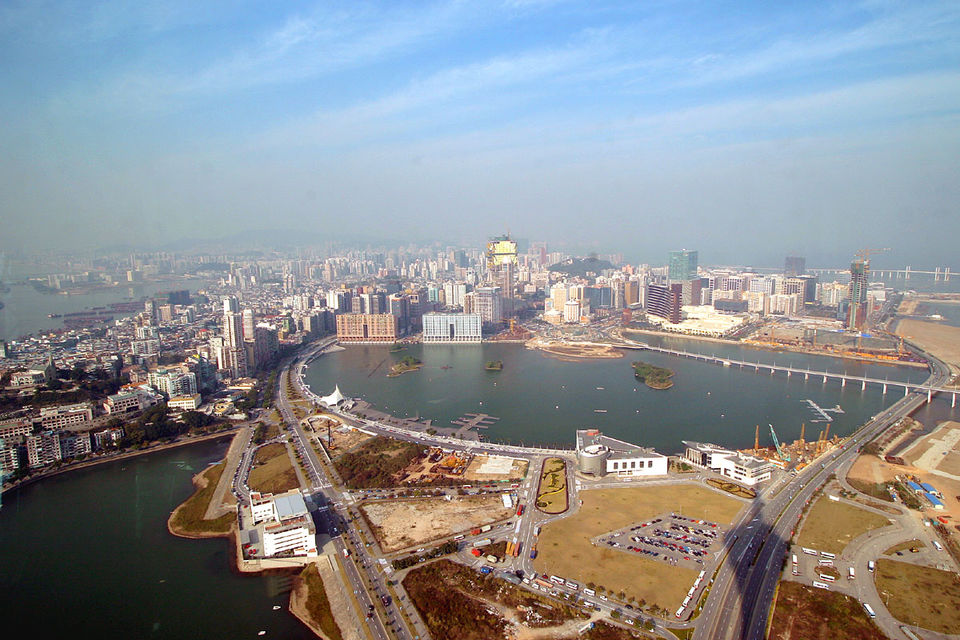 "Two Lakes and One Tower" refers to the Nam Van Lake, the Sai Van Lake and the Macao Tower. The Nam Van Lake and the Sai Van Lake are formed with stone embankment. At night, there would be gorgeous fountain and laser show on Nam Van Lake. The leisure square "Anim'Arte NAM VAN" created by Macao Government years ago, in combination with water amusement facilities, catering and cultural and creative shops, could provide diverse services and experiences. Sai Van was once used as a berth for merchant ships. Residences are along the bank and the embankment is shaded by old trees which leads to quiet and comfortable environment. The Sai Van Lake Square is divided into upper and lower levels. The lower level is close to the lakeshore. You may enjoy the lake view, the Penha Hill and Southern European style architectures at the bottom of the hill.
7. Macao Tower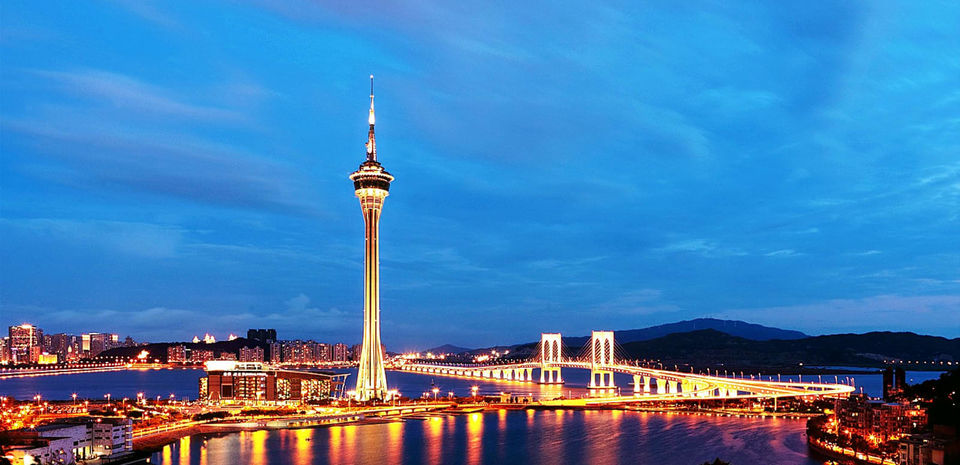 This tower is the most iconic place in Macao. Macao Tower is 338 meters above the ground. The highest observation level is the Outdoor Observation Deck on Level 61, with a height of 223 meters (about 732 feet). Walking around the Observation Deck, you can have a panoramic view of the Peal River Delta, Macao Peninsula, Taipa and Coloane islands. Macao Tower is a fascinating place to see the sunrise and see the spectacular night-view of Macao. Looking down, you can see the East and west Mangyang Hill, Casino Lisboa and even the outlying island of Hong Kong in sunny days.
Apart from this Observation Desk, Macao Tower also has many adventurous activities including World's highest Bungee Jump, Macao Tower Mast Climb and Macao Tower Skywalk.
8. Hong Kong-Zhuhai-Macao Bridge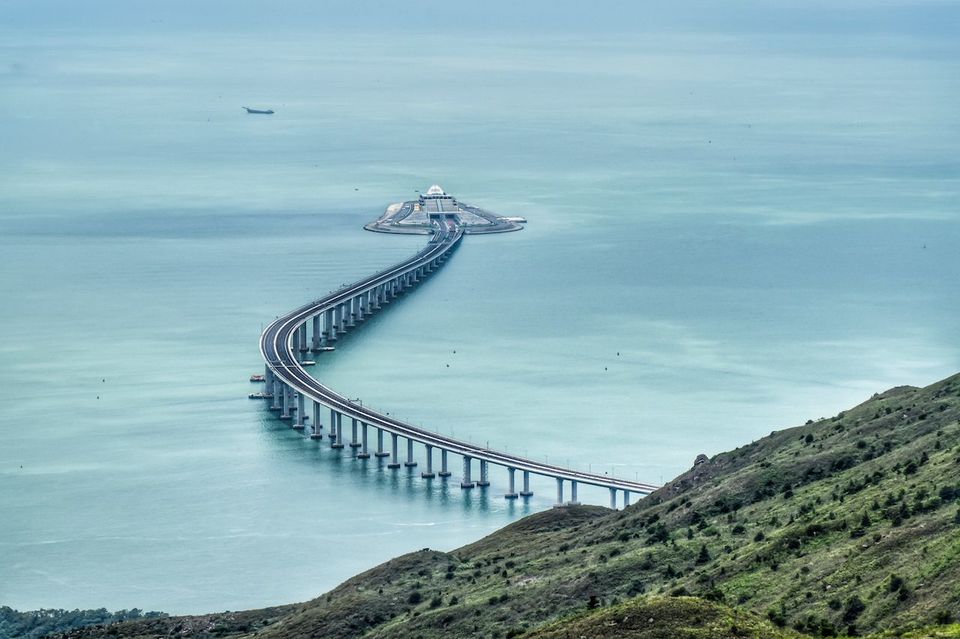 The Hong Kong–Zhuhai–Macao Bridge is a 55 km bridge-tunnel system, connecting Macao with Hong Kong and Zhuhai. It is world's longest sea bridge, opened to the public in October 2018. This is an engineering marvel as it is the largest in scale, highest in standard, most challenging cross sea bridge construction and it has the longest immersed tunnel and cross sea bridge-tunnel which is magnificent. This bridge cut downs the travel time from Hong Kong to Macao, from 3-4 hours drive down to 1 hour drive.
9. Penha Hill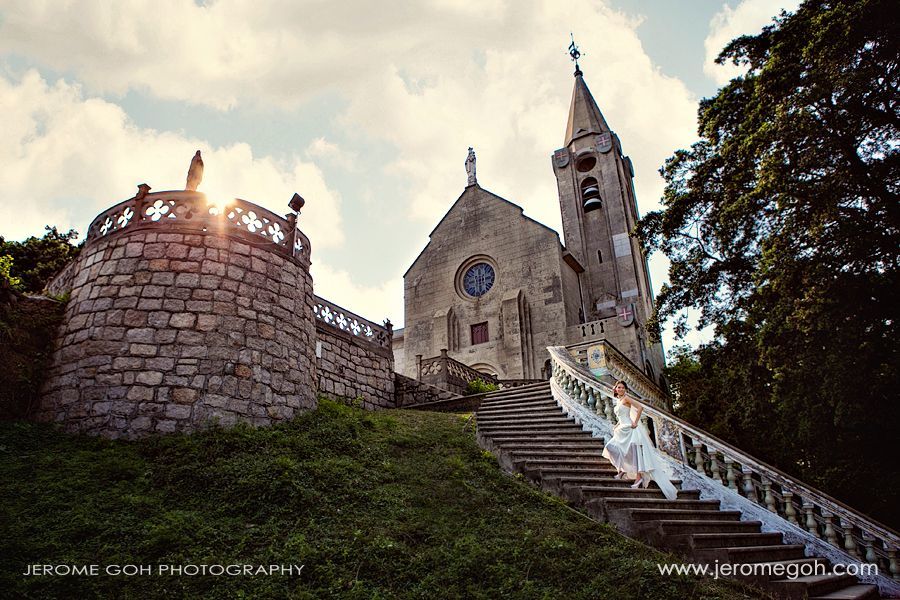 The Our Lady of Penha Chapel is located on the top of the Penha Hill, which was built in 1622, and was once served as the residence of the Bishop of the Diocese of Macao. Featured with the spire of a Gothic church, it has been praised as "a building of architectural value", and was listed in the Classified Immovable Properties. In front of the church, there is a high platform for placing the statue of Madonna carved in marble; and below the church, there is a cave of Our Lady of Lutheran, symbolising the appearing of Our Lady at Lourdes.
10. Black sand of "Hac Sa beach"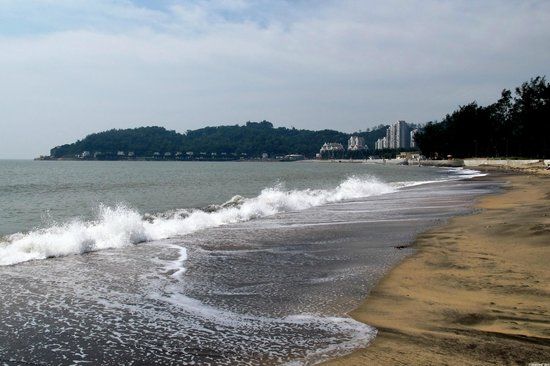 After hopping so many places you really need some time to relax. Trust me black sand of Hac Sa beach is a perfect place to get some relaxation time. "Hac Sa", in Cantonese stands for "Black Sand". People in China generally don't sunbath, so on a sunny day the Hac Sa beach is better than most other beaches in the world: no crowd, no noise, just a nice quiet beach.
11. Long Chao Kok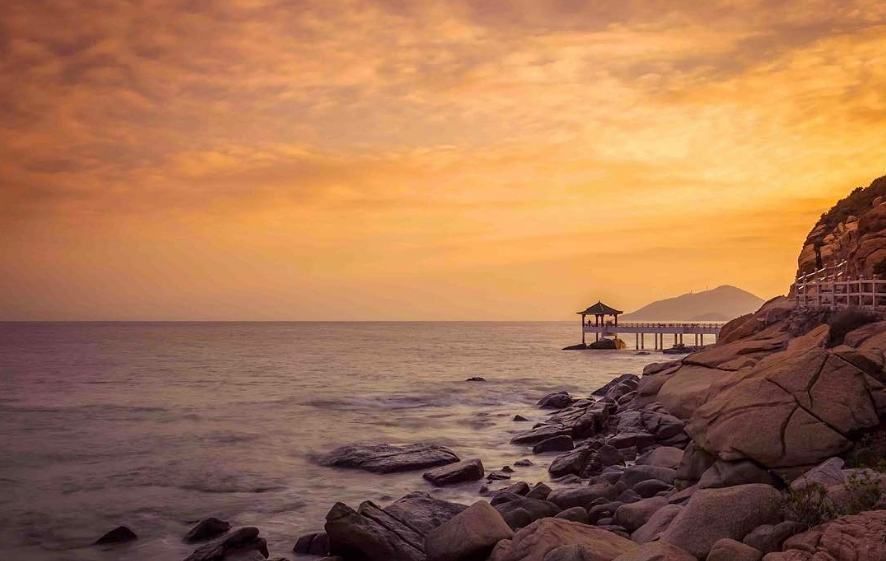 Long Chao Kok is located in the southwest coast of the Hac Sa Beach. It is named after 4m-tall and peculiar "Dragon Claw Rock". Dragon Claw Rock was named after a legend: a little dragon was demoted to the earth and confined in a big rock by the Jade Emperor because it secretly ate the peaches of immortality of the Celestial Palace. And so the stone texture is similar to the shapes of dragon claws, head, body and scale. Along the coast of Long Chao Kok, there are many great scenic spots for photography lovers, such as golden rocks (ape-man stone", "lizard rock", "eagle rock", "pig head rock", etc.), coastal ecological resources (ecology, plants and animals in tidal zone), lapping of sea waves onto the beach and light changes between sunrise and sunset. "The Long Chao Kok Coastal Trail" is paved for the pedestrians to walk along the coastline to enjoy Macao's natural scenery.
12. The Venetian Macao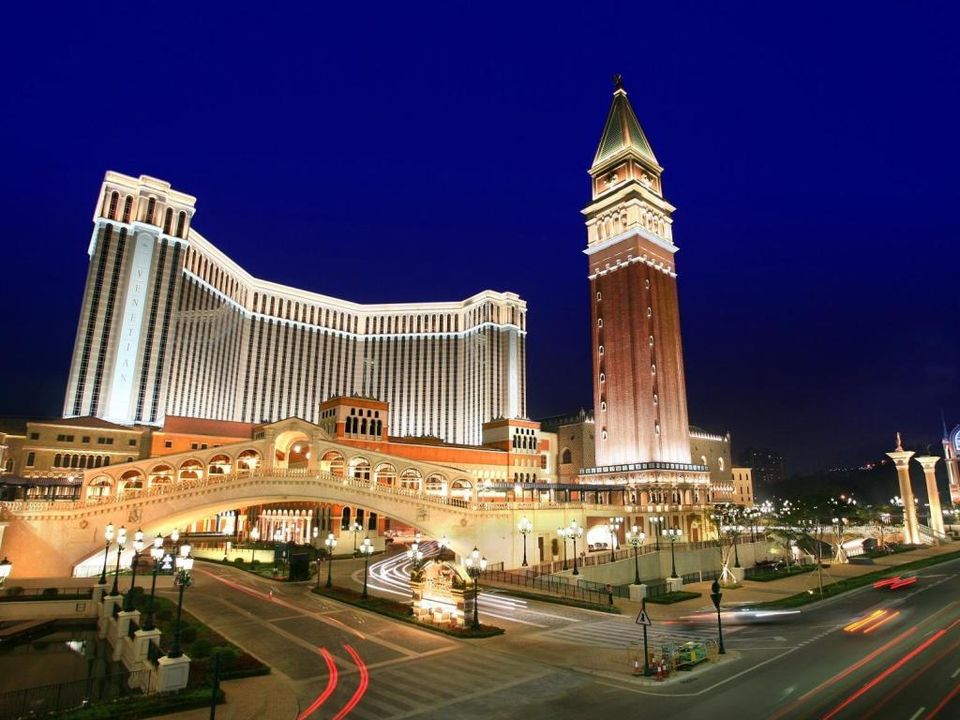 The Venetian Macao is a luxury hotel and casino resort in Macao owned by the American Las Vegas Sands company. Even if you are not in gambling, this place should be in your must see list if you visit Macao. Holding many world records like the largest Casino in the world, largest single structure hotel building in Asia and seventh largest building in the world by floor area.
13. Galaxy Macao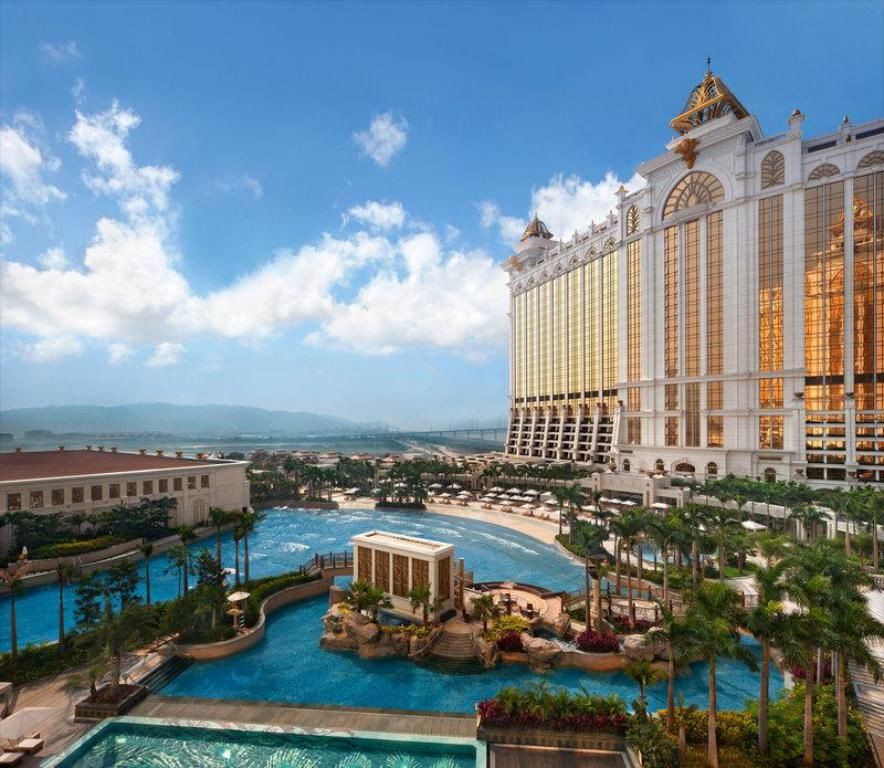 Galaxy Macao Hotel is the most famous hotel in the town. Known for it's lavish suits and service, this place is favourite on tourist's list. Apart from having rooms and excellent service this hotel complex has it's own water park, Grand Resort Deck. You can take dip in the water and relax in Lazy River or dive in the wave pool. One doesn't have to stay in the hotel in order to enjoy these amenities, Galaxy Macao offers day passes. If you are done enjoying time in the water park then head to the diamond show. Because of this grandness, Galaxy Macao is the most iconic and photogenic resort in Macao.
14. City of Museums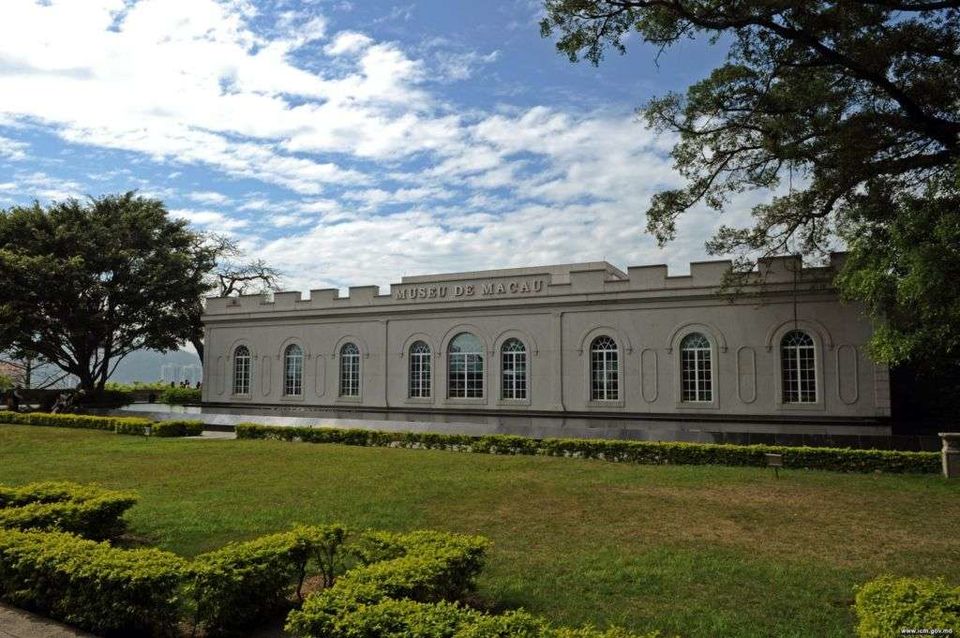 Every city has it's own history and Macao doesn't fall back when it comes to history. To tell us about the history, we have Museums and Macao is very rich when it comes to museums. There are almost 30 museums in Macao. One can spend entire day visiting all of them. They are sign of glorious history, art, science and culture of Macao. Macao has a dedicated museum for tea, named as Macao Tea Culture House. It is a must visit place for tea lovers.
15. Giant Panda Pavilion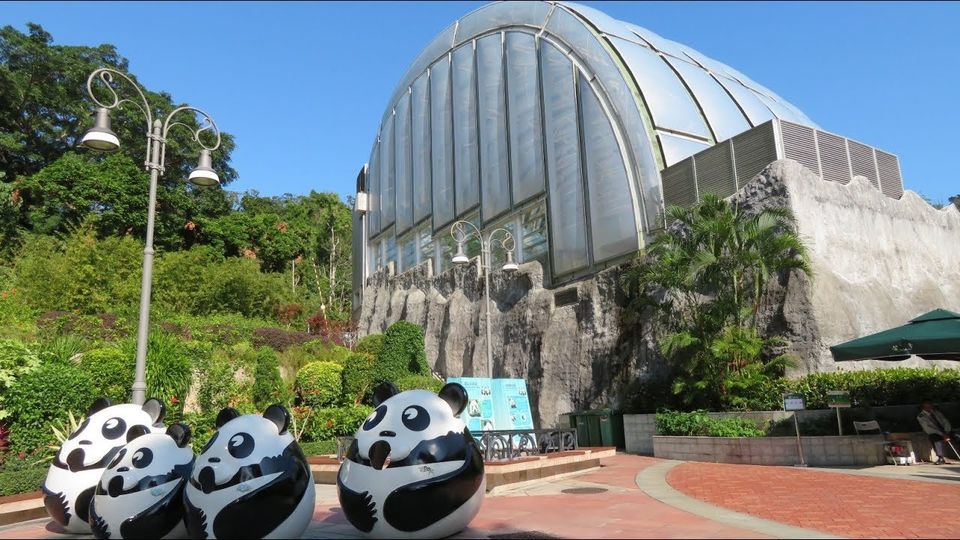 A visit to Giant Panda Pavilion will be a great addition to your trip. This is a very small zoo completely isolated from Macao. This small zoo offers you the chance to come close to one of the rarest animals in the world. If you really love pandas this zoo should be a must visit place on your list. Besides pandas this zoo is also a shelter for monkeys and lemurs.
16. House of Dancing Water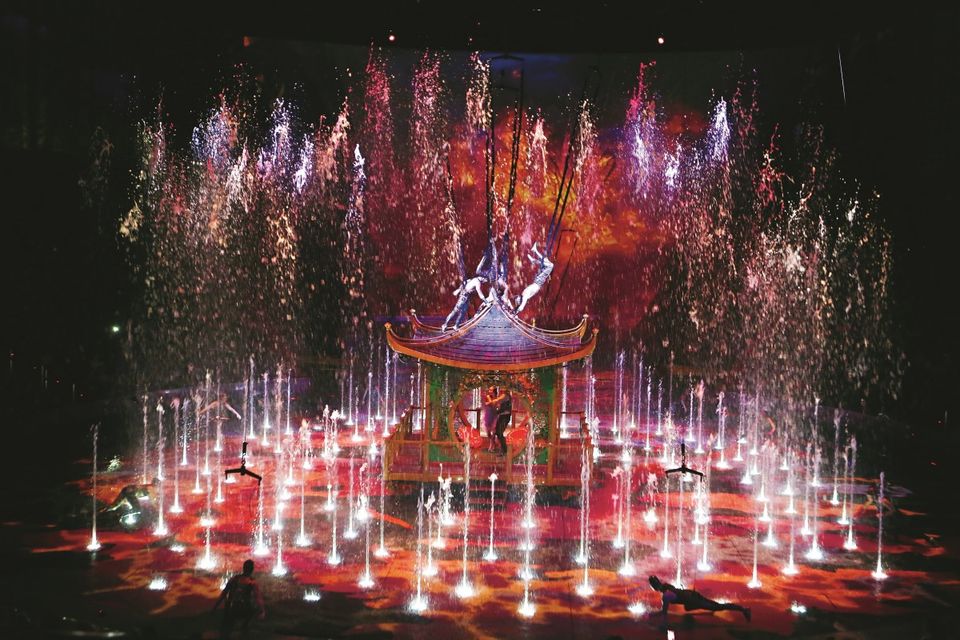 You must take out time to watch this spectacular show. The House of Dancing Water is the world's largest water-themed spectacle. The performance pool holds 17 million litres of water, and that's enough to fill more than five Olympic sized swimming pools. Brilliant coordination of over 300 cast and crew will drop your jaw.
17. A walk on Senado Square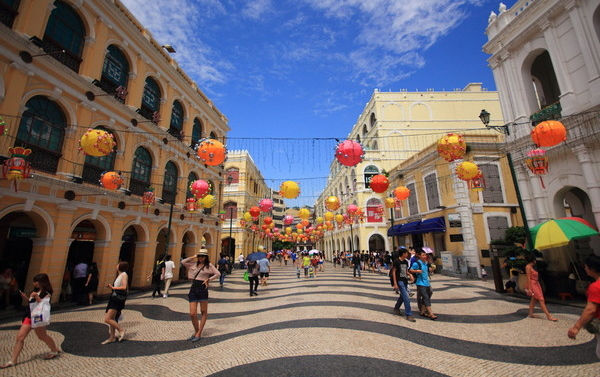 Senado square is one of the beautiful landmark in Macao. Many shops, restaurants, cafes, church, museums are located within. Is it usually crowded with locals & tourists. It is very popular for public events & celebration. Also, this area gets beautifully decorated during festivals. It also has lots of picturesque alleyways and cobblestone streets.
According to the history this place was the meeting point for the Chinese and Portuguese in the 16th to 18th centuries.
18. A-Ma Temple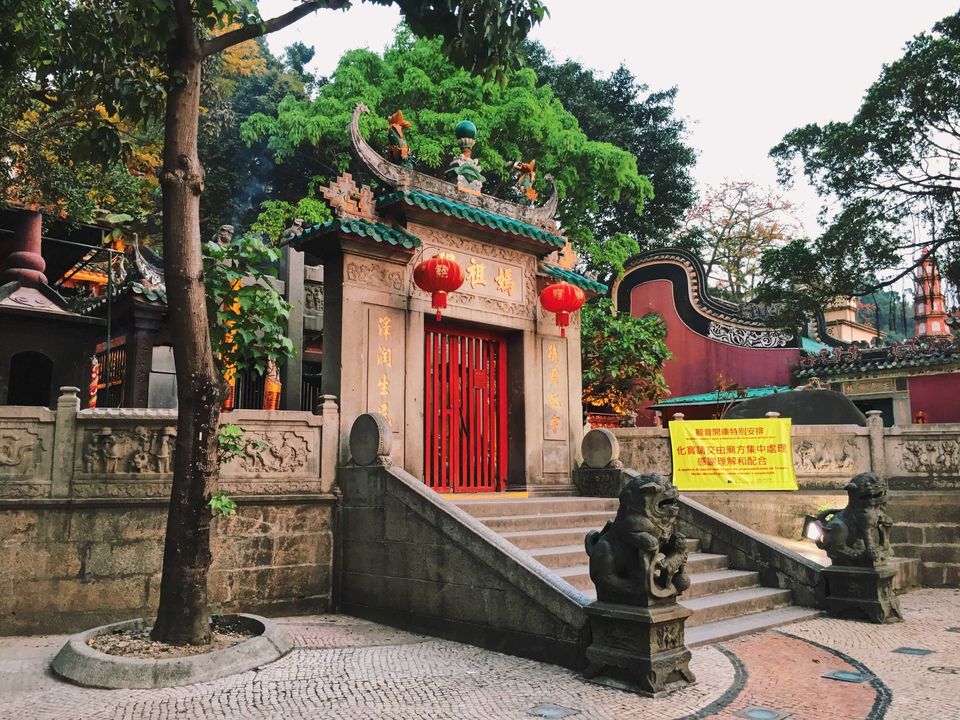 If you want to see how locals practice Chinese Folk Religion, this is a perfect place to witness. This temple is dedicated to the Chinese sea goddess Mazu. Built in 1488, the temple is one of the oldest in Macao. Once you enter the temple, you will find many incense sticks burning and few of them last for a week.
19. A visit to Taipa Village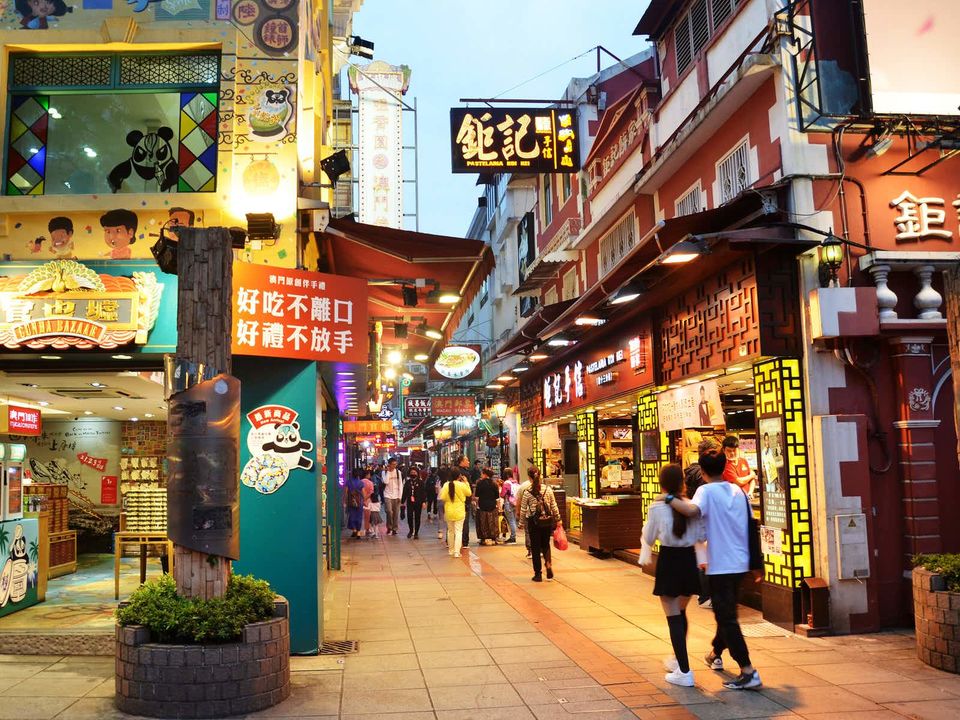 Taipa is one of the most popular places in Macao for tourists to visit. This is a charming village located just next to the Cotai Strip, within relatively short walking distance from both Galaxy (10 minutes) and Venetian (15 minutes). It has a perfect blend of old and modern designs where the juxtaposition between the past and the present melts.
There are a handful of hotels in the area. Plenty of small, quaint streets with a few retail shops, art gallery and souvenir shops. You'll also find a few temples, two museums and a pretty church from the colonial era.
However, most visitors come to Taipa for the it's mouthwatering street food. Almost every business here is a food shop serving various types of local Macanese street foods and other snacks.
20. Golden Reel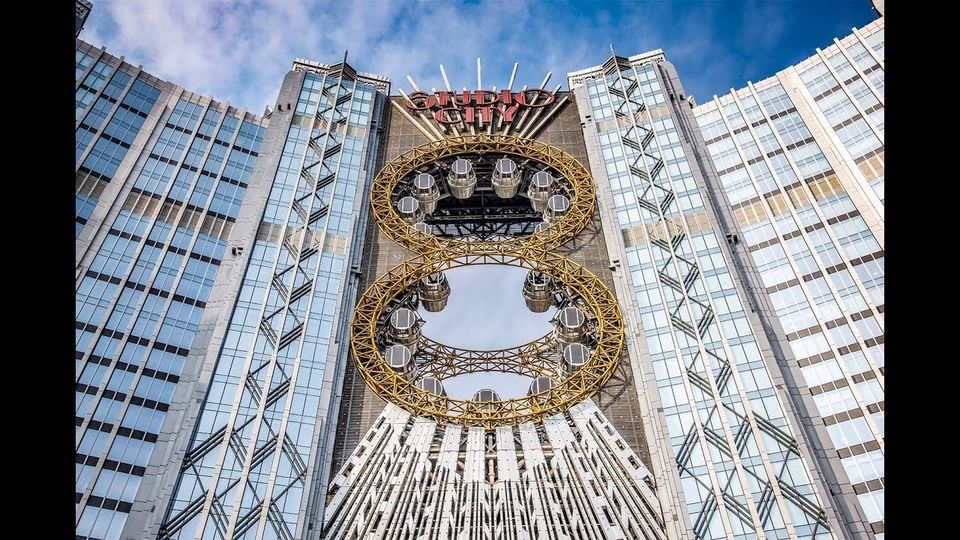 Suspended between the twin hotel towers of Studio City at a height of 130 meters, the Golden Reel is the world's first and Asia's highest figure-8 Ferris wheel. It features 17 "Steampunk"-themed cabins, each accommodating up to 10 passengers on a memorable ride around the uniquely-shaped figure-8 track. Once aboard, you can admire the breathtaking views of the city in different angles.
P.S : All pictures used in this blog are downloaded from google.
Prasad Guram