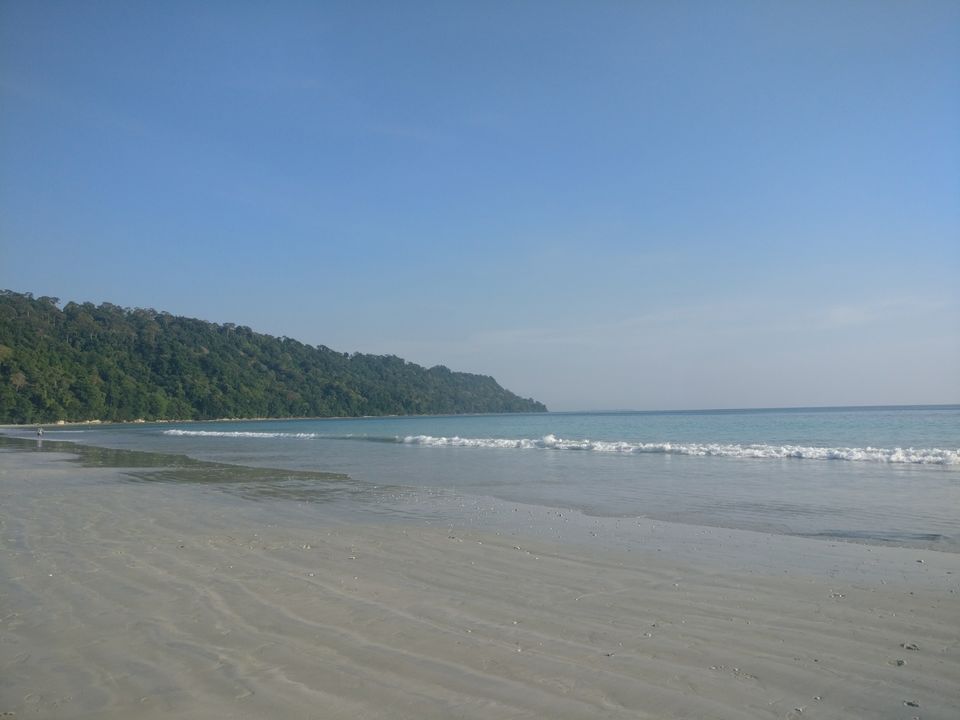 Convincing your parents to be allowed to go on a solo trip never has and never will be easy. Mine wasn't either. It took me a week to convince my parents to let me go for solo trip with a little blackmail and a birthday bribe.
After all the necessary drama, I finally booked my tickets to Port Blair. The main intention of this trip was to do the Open Water Scuba Diving Course.
I booked myself on the 5:50am GoAir which was rather perfect given it had only a 35 min stop in Chennai.
I was a little more than nervous given that it was my first solo trip and of course Scuba Diving.
I reached Port Blair at 11am where I met Nagesh from Diveindia. Because I had sometime before my ferry to Havelock, I visited the famous Cellular Jail of the Andamans.
Little did I know, this was going to be the turning point of my trip. I met two amazing people because of whom this trip has been amazing. IIl refer to them as my trip buddies.
I spent about an hour at the jail which was quite interesting. Nagesh picked me up at about 12 and dropped me off at the ferry terminal at 12:30. I had a 1:30 pm ferry which would reach Havelock by 4pm. Makruzz is definitely a good choice for your ferry journey.
Once at the port, Diveindia had arranged my pick up there as well. I reached DiveIndia where my standard hut was ready. The standard hut has only a bed with a wooden shelf stand. There are common toilets. Pick the standard hut only if you are comfortable with the toilets being outside.
I rested for some time and then visited The Full Moon Cafe which is in Diveindia itself.
The food is amazing though a bit expensive. The veg falafel wrap was definitely a good choice.
With all the travelling, I went to bed early.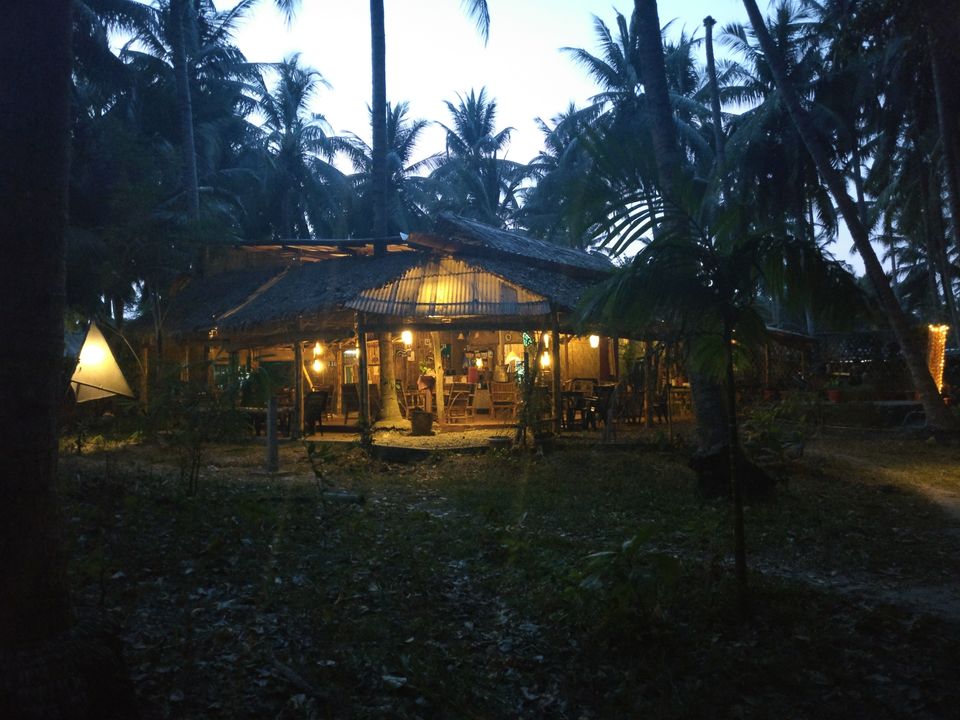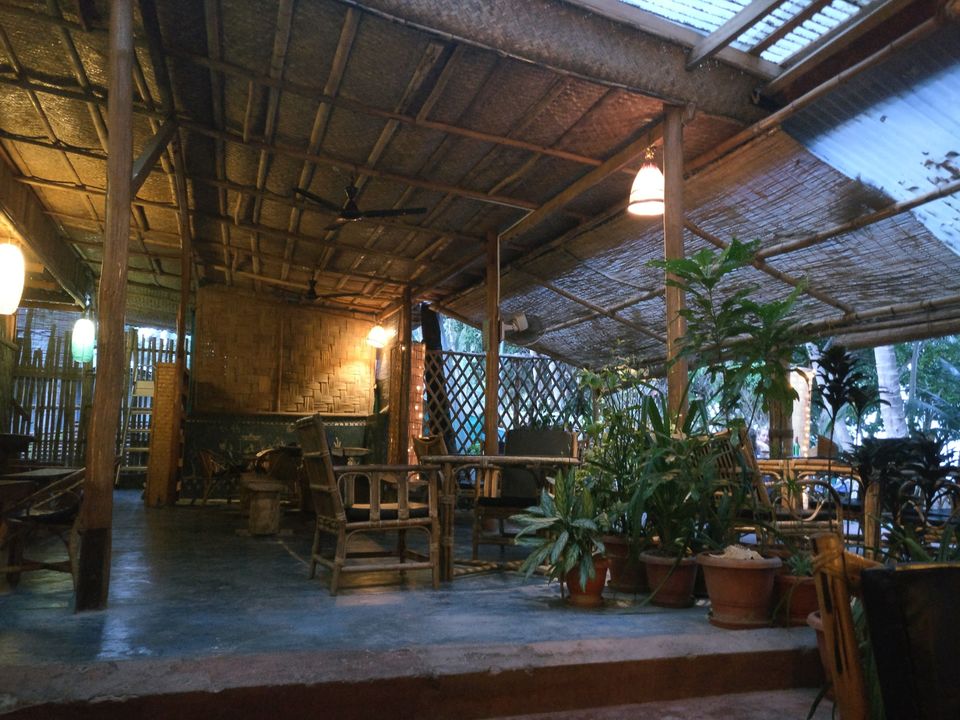 This was the first class of our open water course. I met our Dive Instructor Vidit and my dive buddies. Before learning anything, we had to give a swim test for 200m. You can choose the stroke that you are most comfortable with for the test.
Post that, we put on our masks, fins and snorkel. We learnt how to breathe through our mouth using our snorkels, clear our masks underwater, the right way to fin for Scuba Diving and how to put on our BC (scuba jackets). This was definitely a great introduction class to Scuba Diving.
Post that, we had our equipment briefing. We were taught how to assemble and disassemble our equipment which is quite easy if practiced enough.
As part of the course, there is also theory that needs to be covered. We had to watch 6 videos related to the 6 sections as part of the SSI course.
At around 2:30 is when I headed to Radhangar beach with my trip buddies. Radhangar beach is about 20-30 mins away from Diveindia and the rickshaw takes about 700 return.
We enjoyed amazing Prawns Masala, Prawns Curry, Appalam and rice at a small restaurant called Maya (try not to miss this).
Radhangar is one of the prettiest beaches. The water is absolutely clear and serene. If you get a chance, watch the sunset there.
Sunset in Andamans is at 5:30pm post which it gets dark.
We headed back towards DiveIndia. After a quick shower and some rest, we headed to Fat Martin's. We ordered the cold coffee, iced tea, peanut butter Nutella shake and squid masala. Since we didn't enjoy the food much and were still hungry, we found our way to Anju Coco. This is definitely a recommended place to eat. The Prawns, Fish and apple pie were definitely good..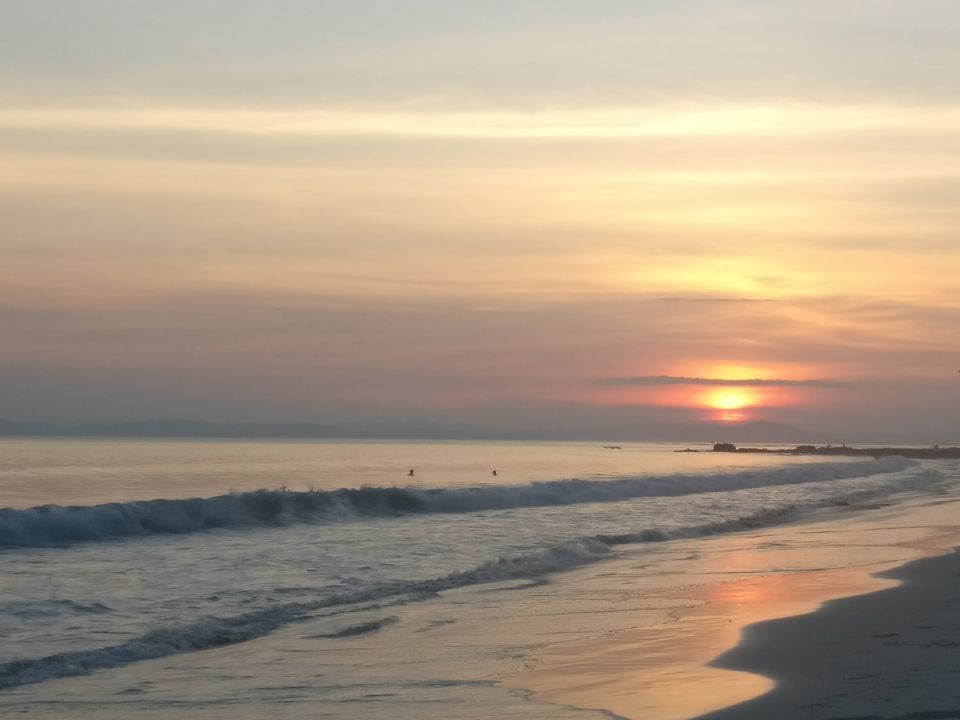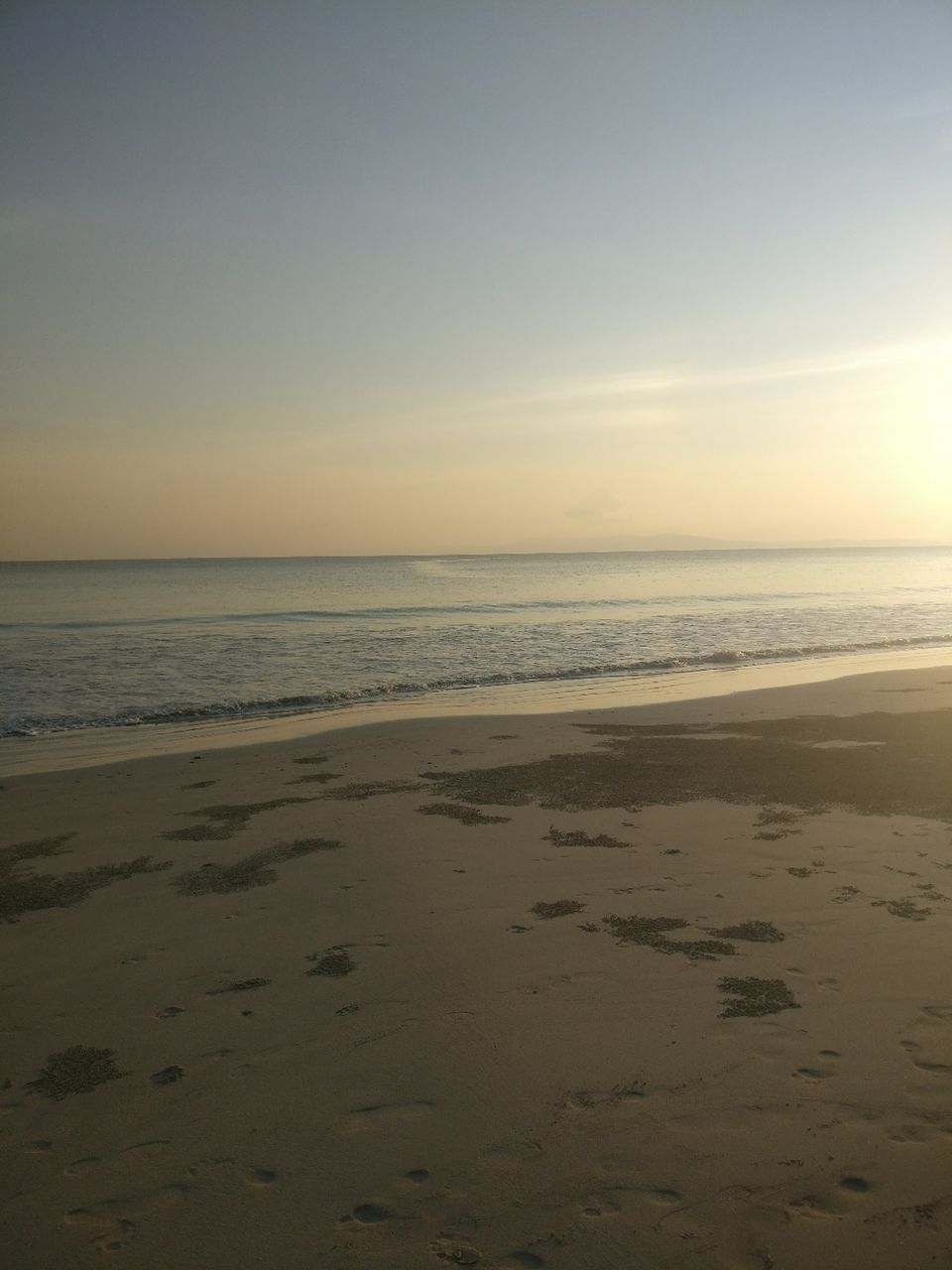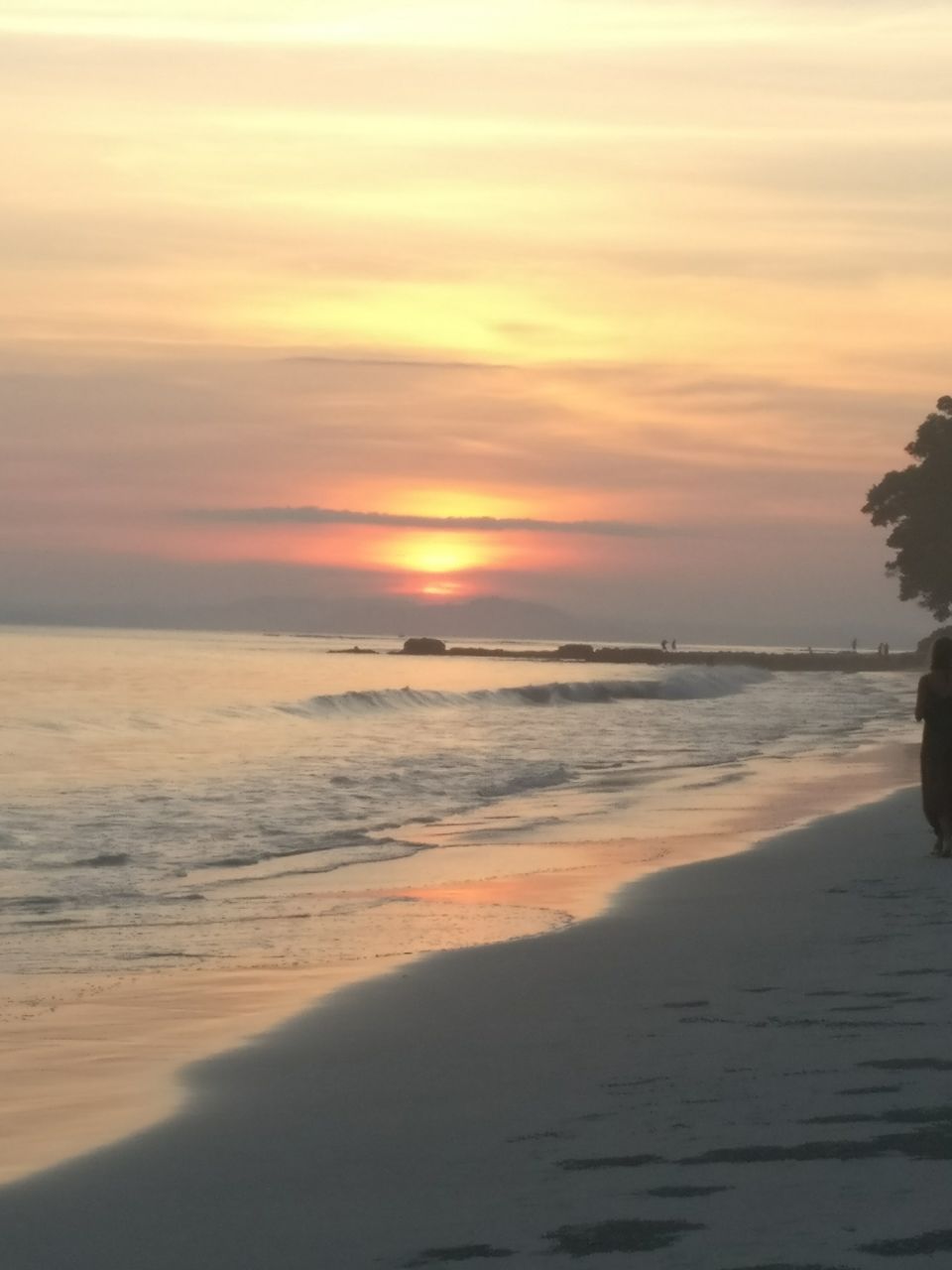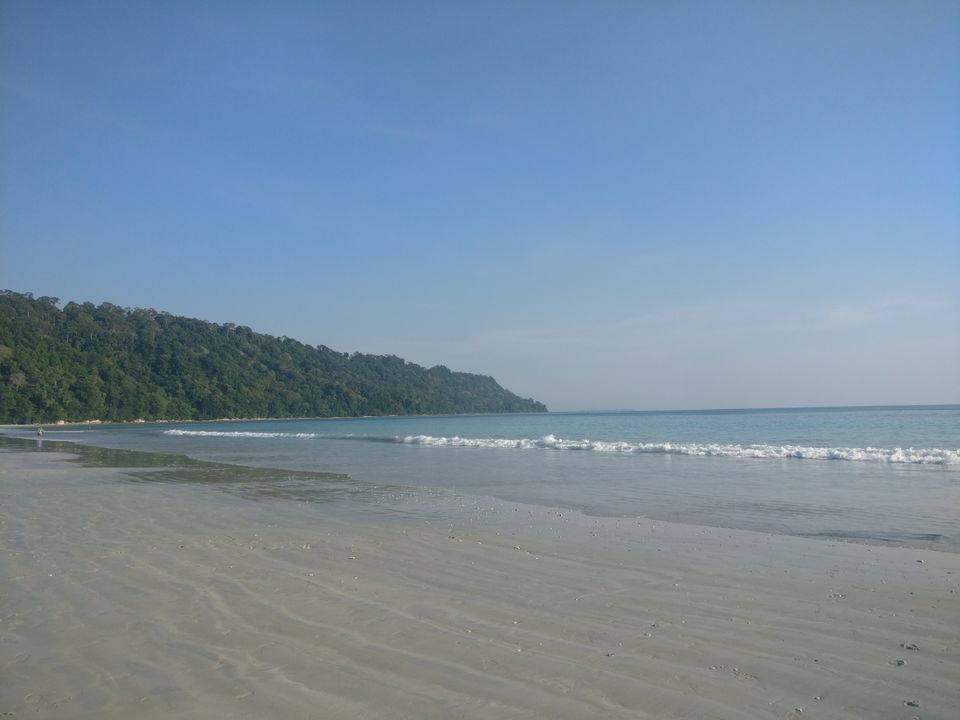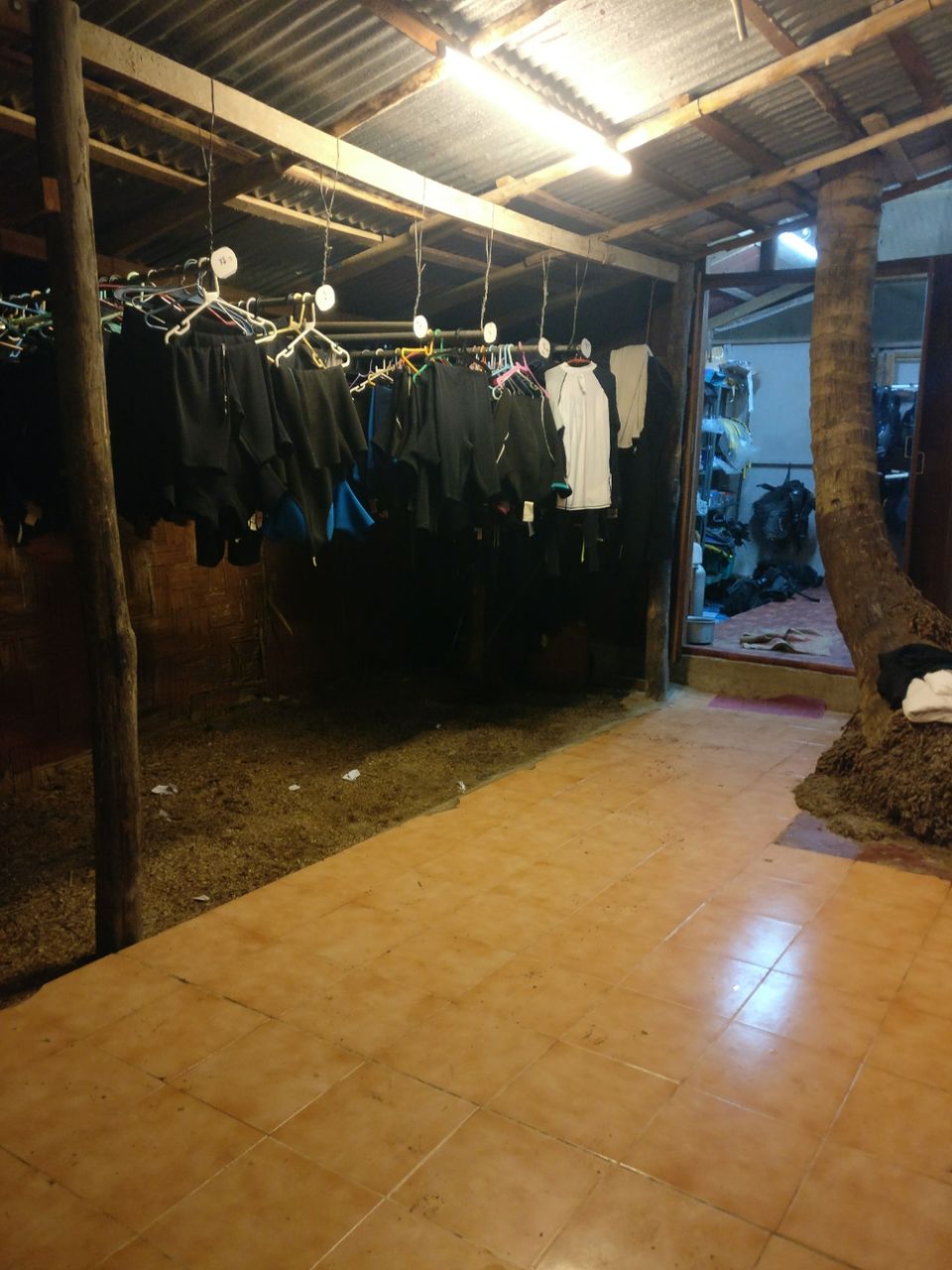 Awake at 6:45, this was day 2 for the course. After a warm bowl of Porridge, we headed to Nemo Reef. Here is where you learn the important techniques and skills for Scuba Diving. Neity, our instructor was amazing with her level of patience.
We were taught how to maintain buoyancy, use a regulator for breathing, air sharing and other necessary things.
We got back at 1pm. After a quick shower, we had a theory class with Neity. While enjoying some Fish steak and lemon rice, she spoke to us about what we would do the next day as well as how we can improve ourselves.
I headed back to the Cabana (yes, I couldn't survive the standard hut). The Cabana is actually quite nice however it does get a little stuffy and hot at night.
After resting for some time, I headed to Emerald Gecko with my trip buddies where there was a barbeque dinner. We were served Paneer Tikka, Pineapple Tikka, Fish Tikka and a whole fish.
It's quite a nice place with accommodation options as well.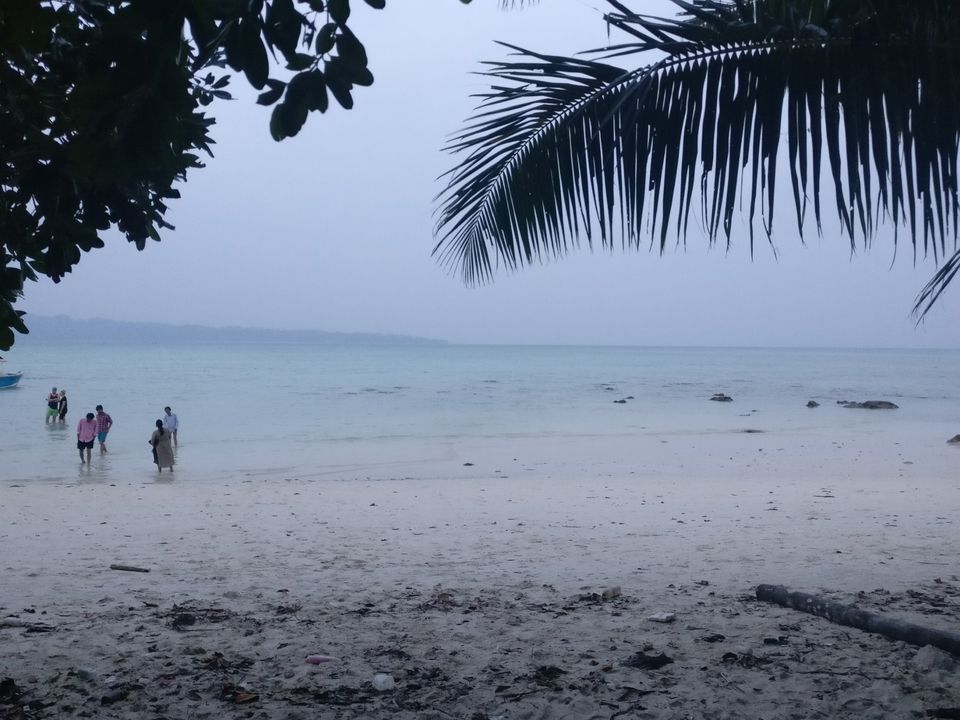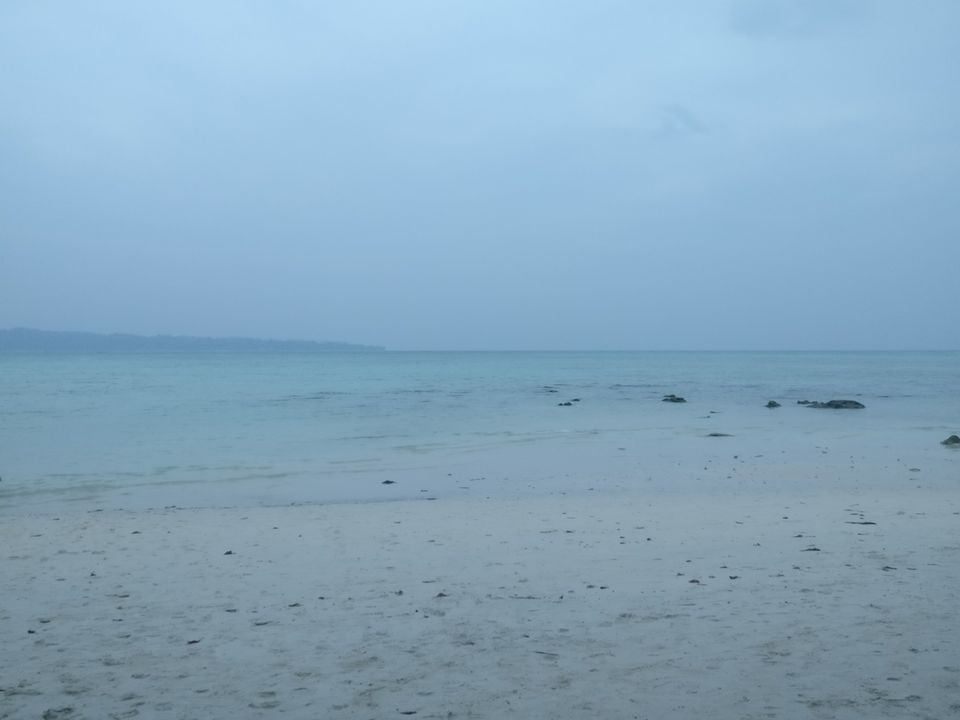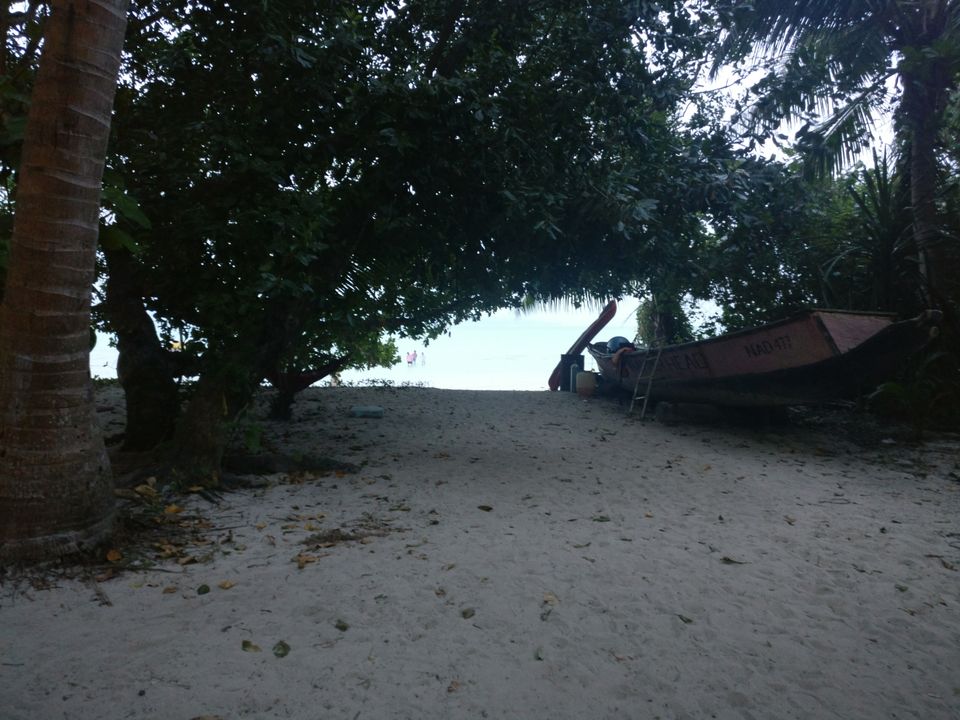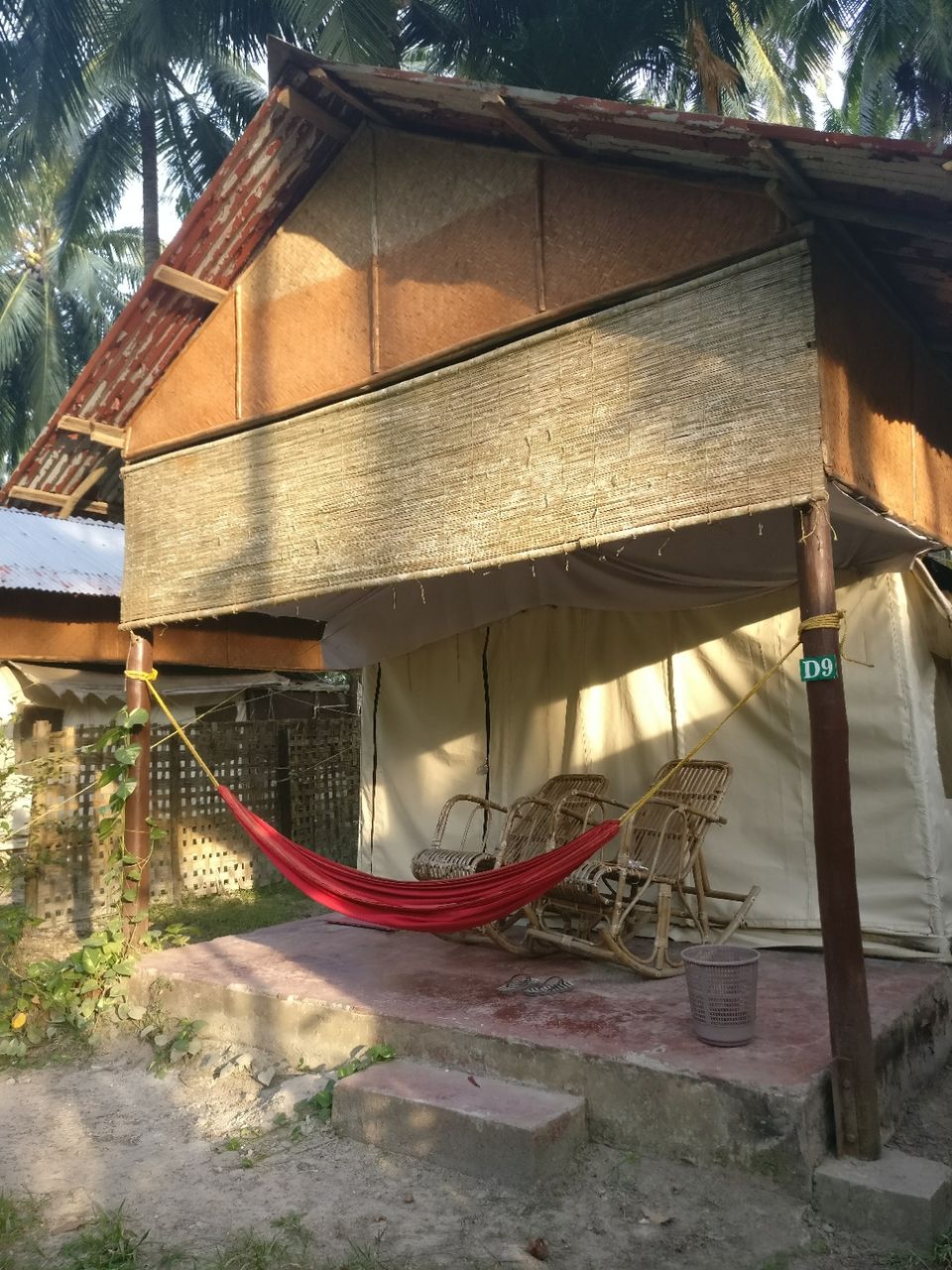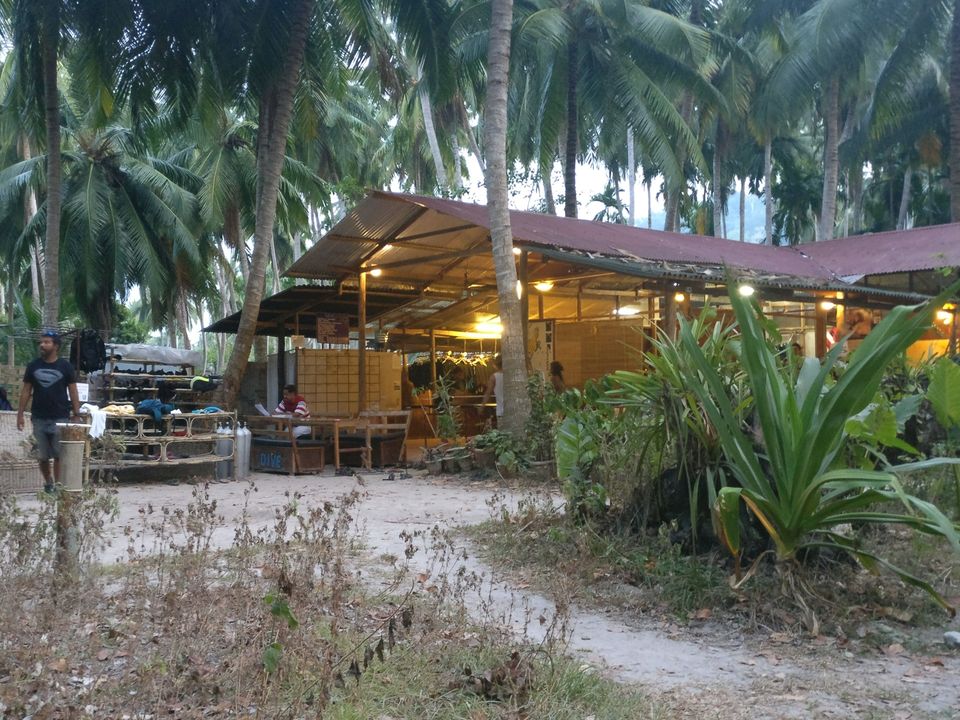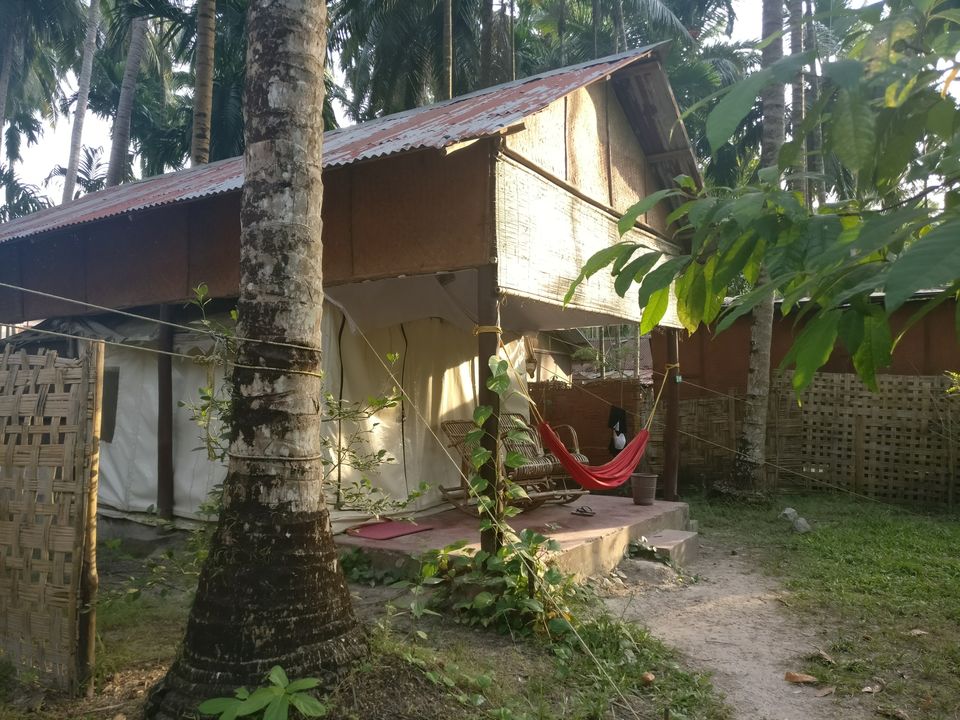 This was the first day of our open water dives and we were all very stressed. We were to do 2 open water dives at Nemo Reef.
After a 30 mins practice of finning, I was buddied with another instructor JuJu and another student.
The first dive was up to 5 metres where we saw various fishes like Parrot Fish, Angel Fish, Butterfly Fish, Anemone Fish (lots of them, hence the name), and Damsel Fish.
The first dive will always be the most closest to my heart. The calmness I felt when I was underwater cannot be explained. It is truly an amazing experience.
We then came up for a small break. You need to take 10 mins break between your dives. Our tanks were filled with more air while we enjoyed some tea, biscuits and samosas.
The second dive was 7.5 meters deep where we saw Clown Fishes (Nemo fishes), pipefish, Leafy ghost pipe fish , Angelfish, Sweet lips and Scorpion Fish.
Post the dives, we came back to Diveindia where I had prawns curry with rice and Appalam. We then had another theory class which went on for about an hour.
At about 4, my trip buddies and me enjoyed some amazing filter coffee.
I gave my SSI Theory exam at the same time. The exam is a requirement which needs to answer 40 questions correctly out of 50.
You can give the test anytime during your 4 day course.
Post that we headed to the market. The market is a nice long 30 mins walk from Diveindia. The medical stores and ATMs are only here.
We walked around for sometime and on recommendation went to Squid. This small restaurant is famous for all its seafood. We tried the Squid Masala and Prawns Masala.
A 5 minute walk before Squid is a small mithai shop which has delicious sweet boondi.
We then walked back to Emerald Gecko. That was a slightly longer walk back.
This was the night before my birthday. On request from my trip buddies, they put out a candle lit table on the beach. It was beautiful. We relished some Andamans Fish Curry and Coconut Fish Curry with rice and parathas. Yummy!
I was surprised with a birthday cake which surprisingly was really good.
This is was the last day of our course and it was the deeper dives. At 7:30, we were taken by boat to The Aquarium and Peel Lighthouse. I however couldn't do the dives because of an equalization problem. Hence, was dropped off at Nemo to slightly shallower dives. Another instructor, Mariam took me for 2 dives, 20 minutes each of 6m and 8.9m.
Since this was my last day in the Andamans, I decided to just relax on a hammock and read. Island life is definitely wonderful. It makes you realize how stressed and busy your life in the city is.
At about 6pm, we completed our formalities for the course. Our tests were corrected, we were briefed on what was expected if we dived in the future etc.
It was of course emotional as the past couple of days had been amazing underwater and we all shared a special bond.
After some goodbyes, I packed my stuff and headed to enjoy my final dinner at Full Moon Cafe. Here I had the acquaintance of a gentleman who was a divemaster and had be diving for 25 years. It was nice to have inspirational company. I had the Andamans Salad which is quite big for one person.
Since I was leaving today. I took the chance to wake up at 5:15 and catch the sunrise. It was beautiful. I then slept for some time and woke up at 7am, got ready and ordered a good breakfast. I order the baked scrambled eggs and some toasts. Heaven!
After saying my final goodbyes, I made my way to the port where I was boarding the 9 am Government Ferry.
If you have the option, try to take the private ones. They have better facilities.
The ferry pulled into Port Blair at about 11:15am.
Since I had some time to kill, Nageshji took me Fortuna Bay Resort which has outdoor restaurant with a beautiful view to the sea. Don't forget to take some pictures here!
This trip was truly amazing and I would recommend to definitely try Scuba Diving once in your life.
Once you dive, it becomes a part of you and is addictive. It makes you realize how beautiful and serene the under water world is.
While a solo trip may seem scary but take the first step and everything else just follows. Remember you won't always have people around so why not take the chance and go for it.
I would like to thank everyone at DiveIndia for an amazing experience. Dhananjay and Sergei for managing anything and everything that I needed. Vidit, Juju, Mariam and most of all Neity for teaching me the Open Water Course and being patient.
And last of all, my trip buddies, without whom this trip wouldn't have been as amazing.
Frequent Searches Leading To This Page:-
best places to visit in andaman and nicobar islands for honeymoon, andaman nicobar cheap packages, best places to visit in andaman for honeymoon, andaman tour package from chennai by ship, andaman and nicobar islands best tour packages