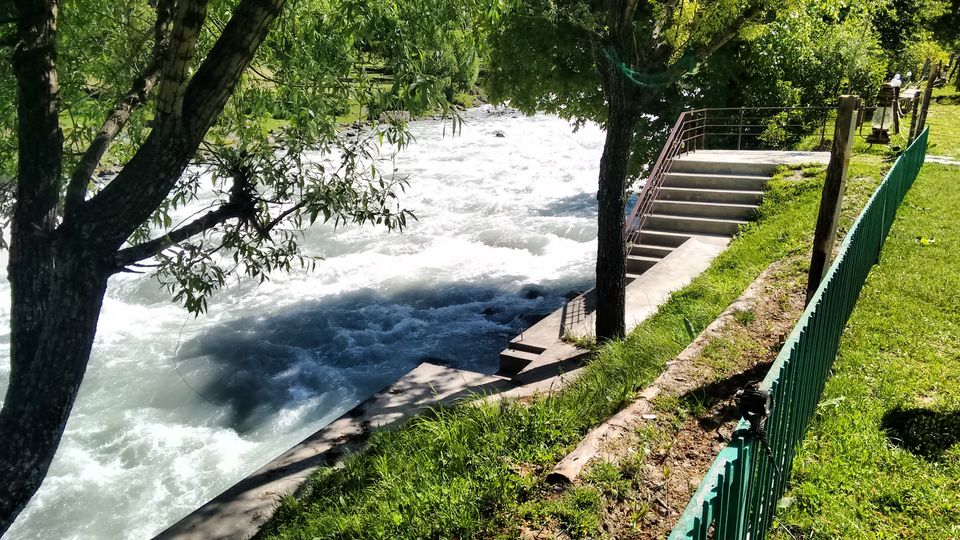 A gorgeous drive of 2hrs, 65kms from Srinagar through a fairly well heeled broad road leads one to the beautiful valley of Sonmarg. The River Sindh keeps company all along with its gurgling waters emanating beautiful sounds in the bountiful nature around, its truly a divine kinda experience. Though the Sonmarg town itself its a big disappointment but numerous villages/hamlets enroute paint a much beautiful picture. We took a detour off the highway on the Right hand side at village Kullan around around 12kms before Sonmarg, crossed the river and came to this tiny hamlet called Zerpora, complete with mountain stream, forest treks, river side, small but well built and decorated houses, a cute little Govt Middles school, some shops for daily needs and our fairytale abode THE VILLA HIMALAYA, a beautiful Villa by the river with 10 rooms, tastefully decorated to suit the well heeled traveler.
Morning walk to the Village gave us an introspection to another realm of life, which is above all materialistic engagement or we should say attachments. Air is fresh, so is the water which is so pure, colour green never seemed so true and scenes unfolding before the eye no camera can capture better than it !!
To our utter surprise the village folks there are highly concerned about their kids future and hence attendance at schools is very high. The mid day meal scheme and the uniform and books given to the kids without any charges is another reason for drawing  huge no of kids to school, which in itself is superbly managed byt he local staff !!
Trip to Thajiwas glacier was mesmerizing with Snow in abundance even by the road side even in Mid May'15. Do visit Kashmir and do go to Zerpora at Kullan,
Sonmarg