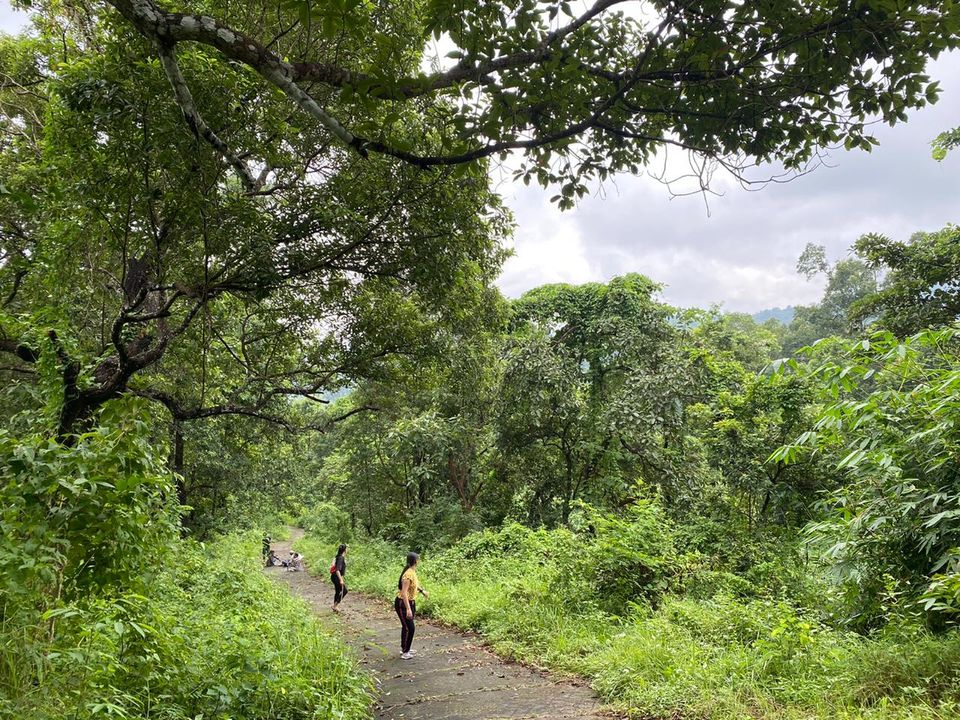 2020 has been the year for all. I don't even wanna get started with all the negativity that has been the only news of this year. And with that has come along all kinds of restrictions, travel including. Here I am in Guwahati, working from home since March under this pandemic that has groped the world. With literally no sight of things easing off I've been forced to remain indoors for last 6 months, confined to my room and my work laptop.
The govt. had, however, started to relax norms gradually for people to get along and adjust to this new way of life. And with that we also tinkered about the idea of going somewhere close-by. There was this hill near to Sujju's home at Narengi which she proposed we hike to. Turned out it is one of the highest point in Guwahati and actually quite a popular weekend hiking trail. I had been only bulking up since last 6 months with literally 0 physical activity. Health had gone for a toss and I was itching to get my legs worked up. This all and without a second thought I agreed to venture out.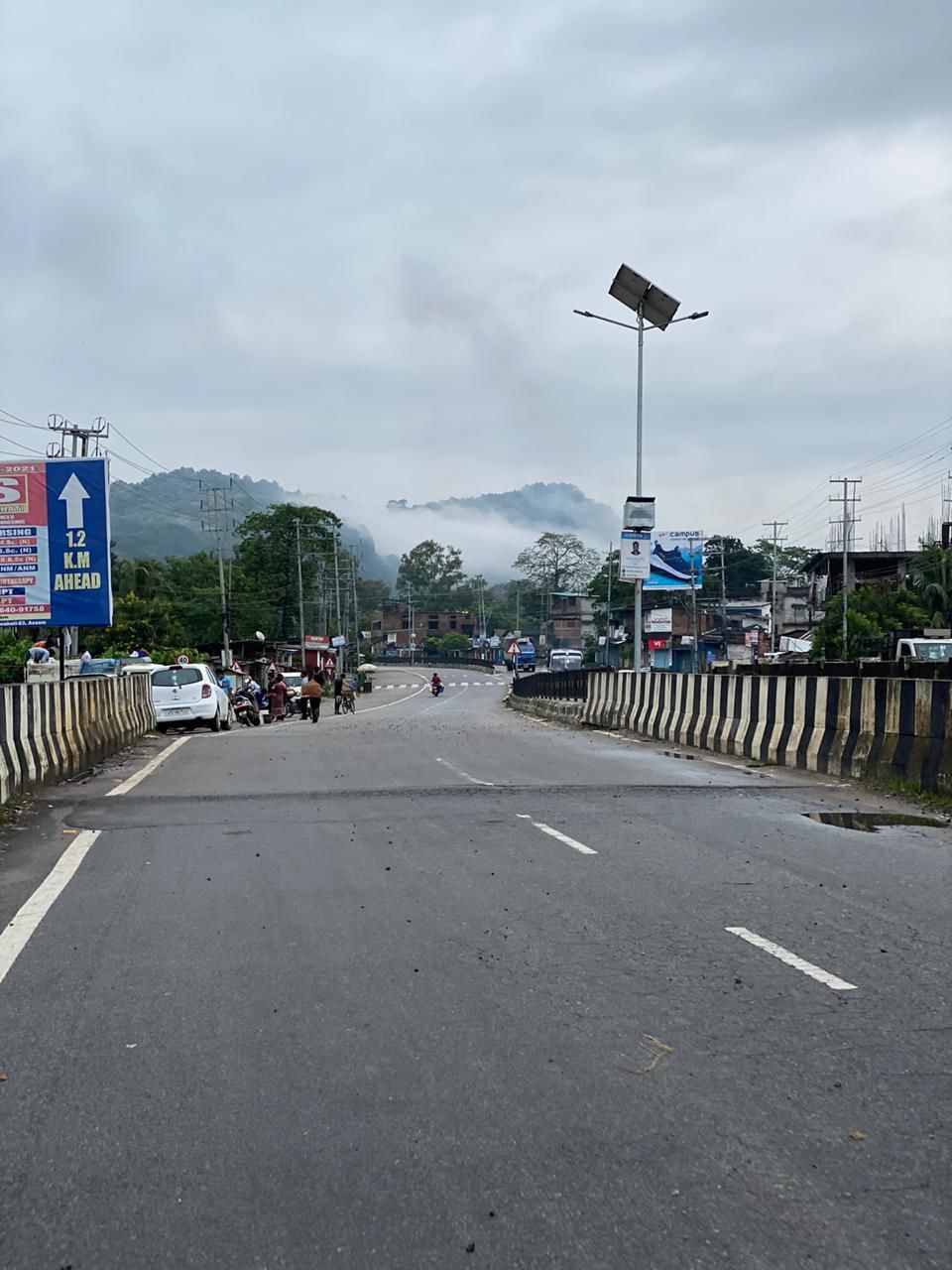 Now the thing is that it has been pouring like there's no tomorrow for the last 3 days here in Assam, and across many parts of North East India. We planned to go on early morning of 27th Sept, but it had been raining so profusely that I feared we wouldn't be even able to get out of our house, let alone hit the trail. The trail was almost 34 kms from my house, so an early morn start was inevitable. I woke up at 4:30 to darkness still ruling the skies. The torrential rains had stopped though, and rain drops dripping all around couldn't have made it a livelier and fresher morning. Without wasting any time I quickly rushed out with my dad still scratching his head like what's the fuss about so early in the morning.
Cruising through early morning on some rain drenched and empty roads is quite a feeling. With the clouds hanging low and greenery popping out Guwahati never looked so splendid. I reached the OIL township where Sujju was waiting. Picked her up to ride further up to Birkuchi where we'd be accompanied by Nirmali, who stays right below the hill. The roads leading up to her house were filled with potholes and took us a while to reach. A quick exchange of pleasantries and we were off walking on some rickety roads. The weather was gloomy and a cool serene breeze made sure we were in for a good day.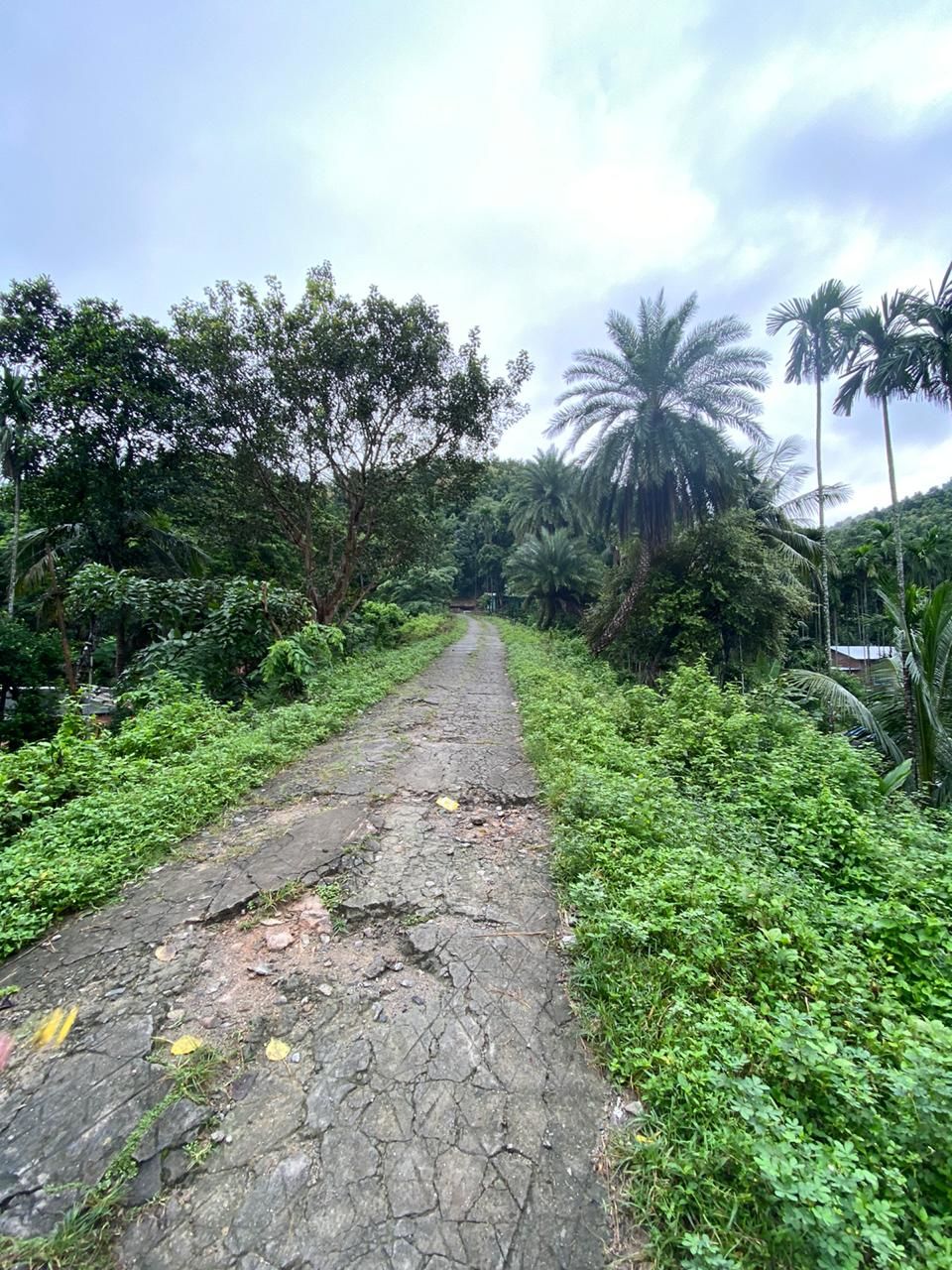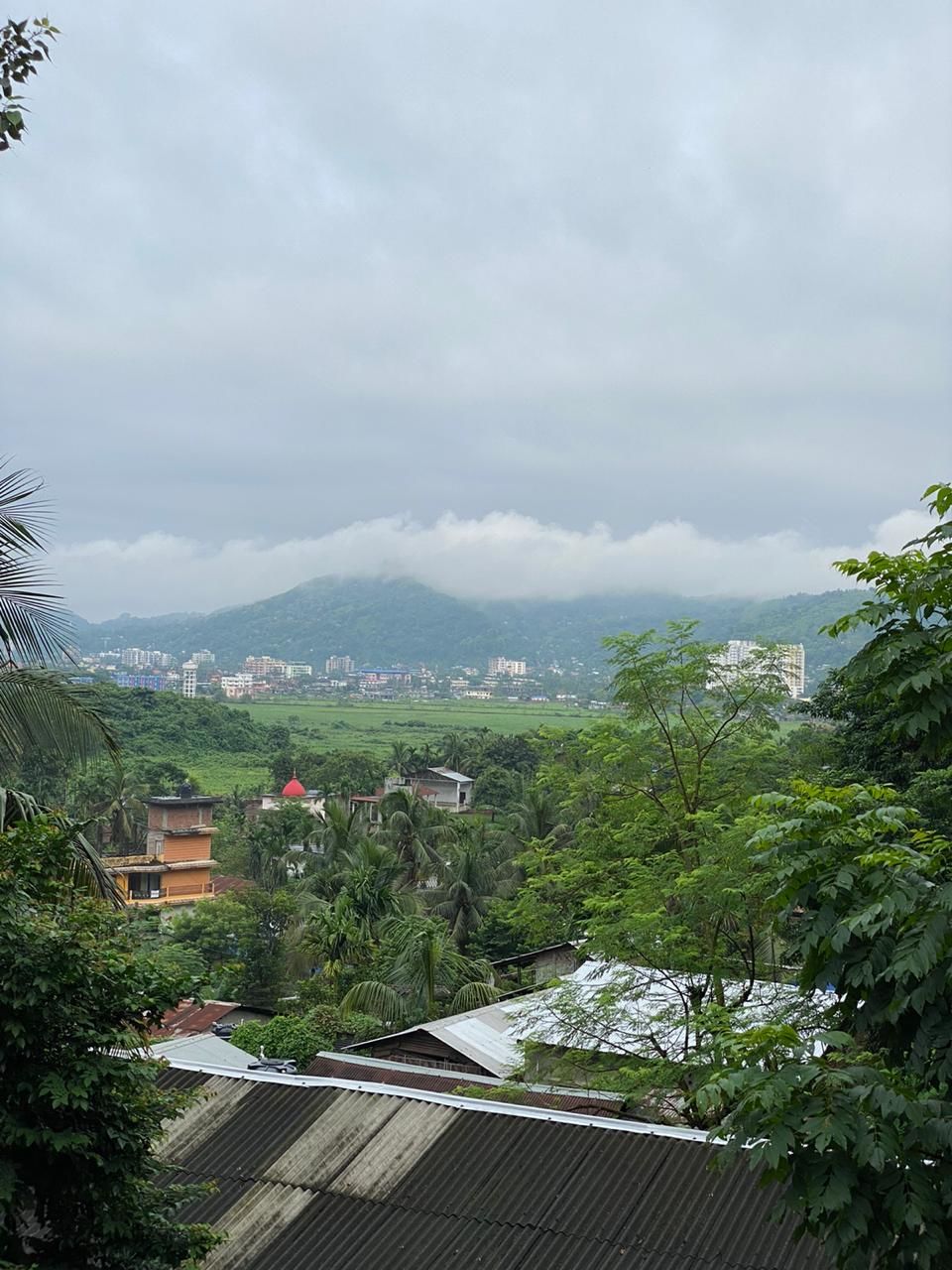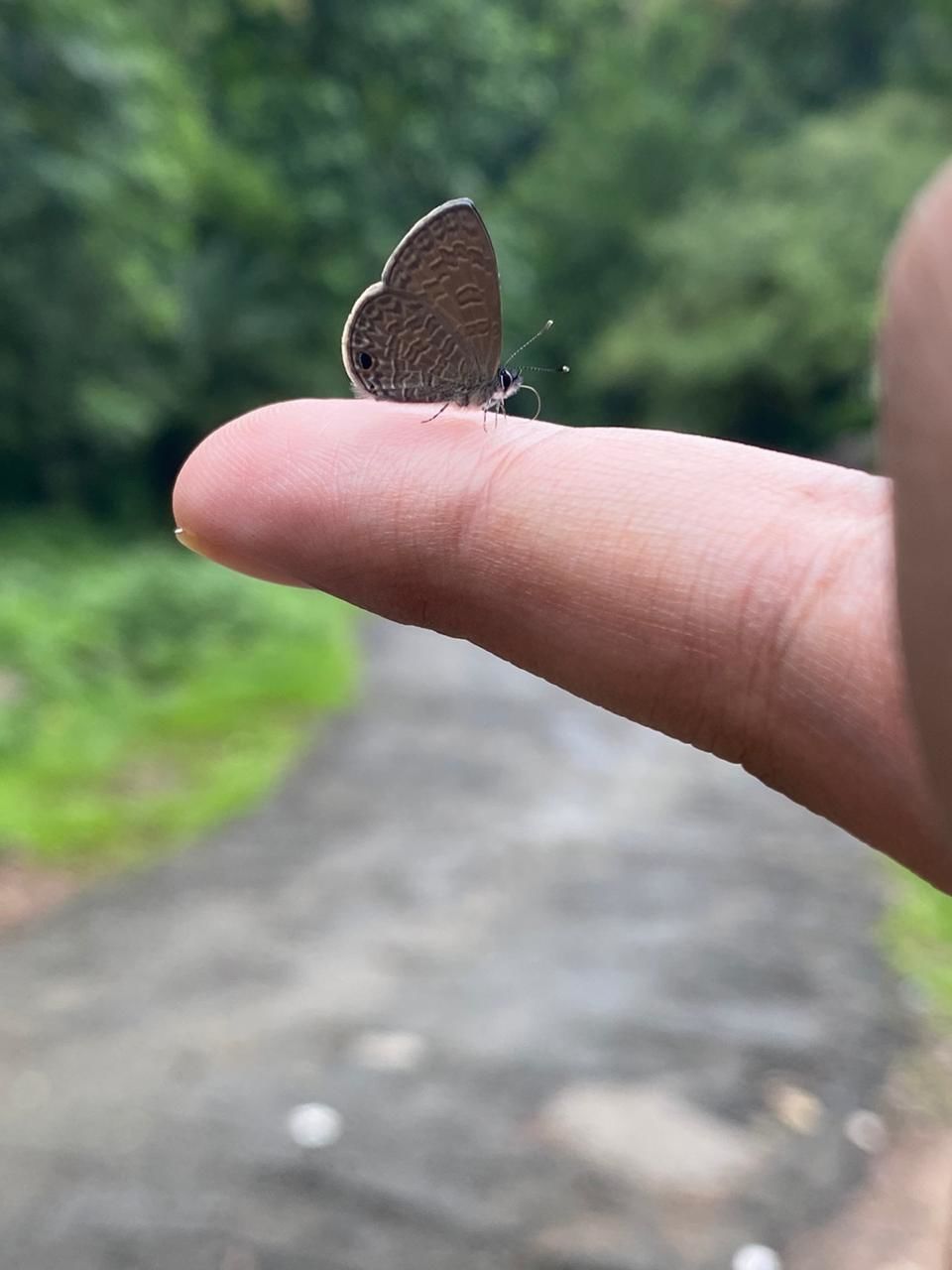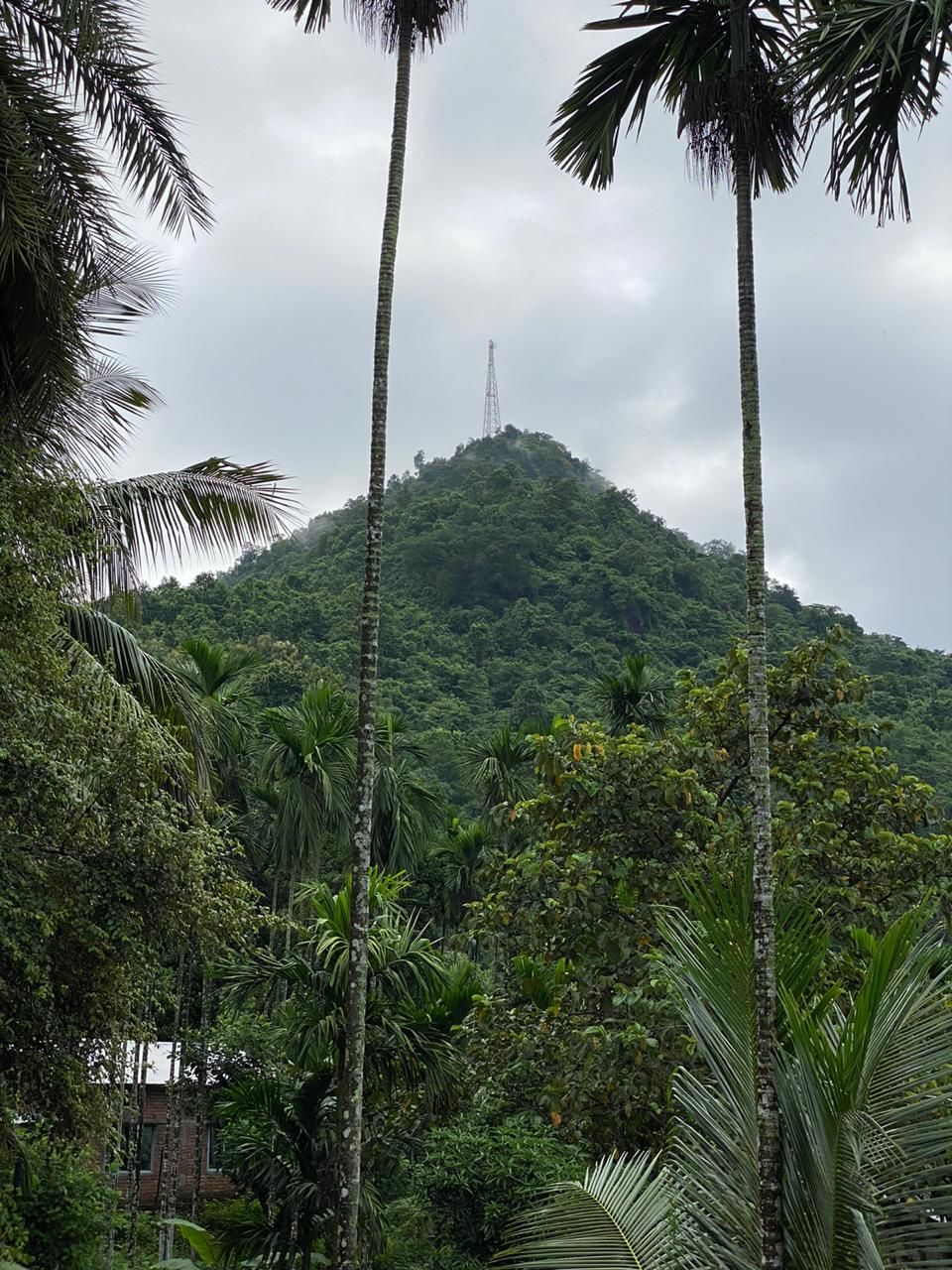 The start point of the hike is from a narrow stretch of road that has a steep incline and has an arch made which also serves as an entrance to a temple that is a little way ahead. The hill with the BSNL tower at the top is also prominently visible from here. The lack of fitness was imminently discernible with me puffing away at this steep slope. We quickly started gaining height and the beautiful view of the city also started opening up. The villages soon bade way to deep dense forests on both sides. Our biggest fear were leopards and elephants, which are not uncommon in these foothills. Needless to say our eyes were on constant watch out for any peculiar sounds or movements.
We reached the Shiva temple (Burha Gokhai Than) almost half kms onto our route. We were already feeling super-energized by now and for sure wanted to keep moving ahead. But due to hardly anyone else on the route that we crossed plus the fear of leopards kept us in two minds, and we were THIS close to turning back. Fortunately, we saw 3 cowherders who were going all the way up to fetch grass for their cattle. They literally were our saviors! They go up almost everyday, so rest assured we were in safe hands.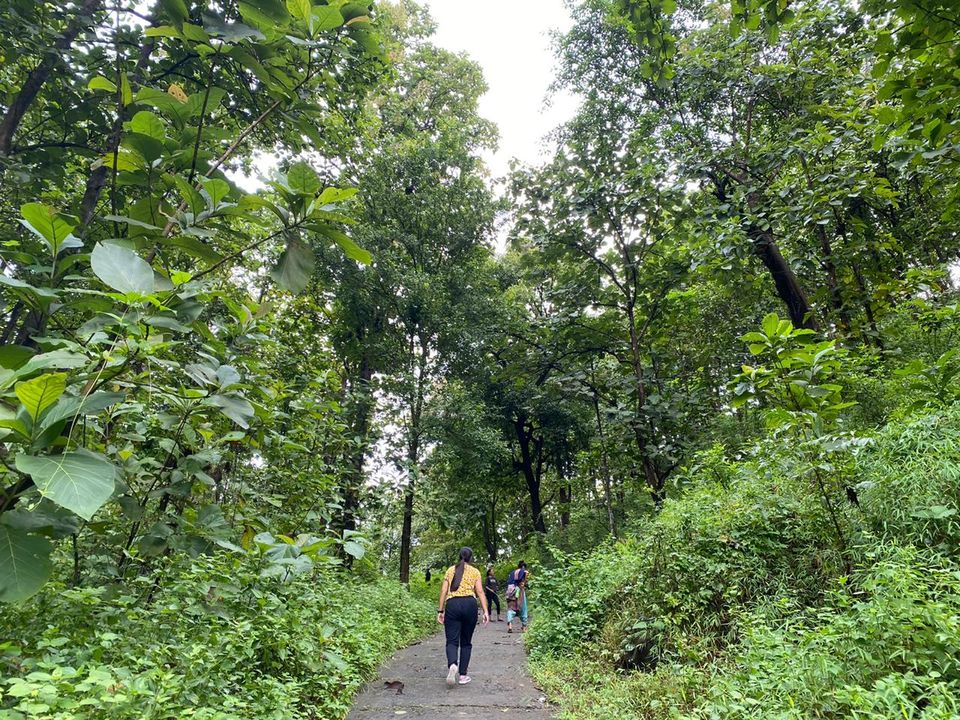 The jungles get even more condensed after the temple. I was thrilled and amused to see such a dense heap of forests right within the city. The trail although was motorable but the steep incline would pose anyone a challenge while putting up their vehicle up to its paces. As we marched with an increased poise the raw beauty of the forest started revealing itself, with wild flowers and huge trees taking over. One sad state of affair was the littering all around; hordes of plastic cups, alcoholic bottles strewn around, shows the callousness and utter disregard to this otherwise enchanting place.
Call me ignorant but trekking in these pair of jeans was a total misjudgment. As the ascent increased the discomfort in hiking in uncomfortable clothing got obvious. Lucky for us we arrived at our first pitstop where spring water was flowing. It was such a relief to gulp into fresh flowing cool water. I felt more rejuvenated now. Sat down there for sometime to catch our breath and enjoy the vast greenery that abound in front of us. There were so many colorful butterflies fluttering all around us that it was literally not possible to not stop and gaze at them, hoping that one of them would land on one of us. We sat there for around 10 mins to regain our energies, with the local cowherders also patiently waiting for us as well.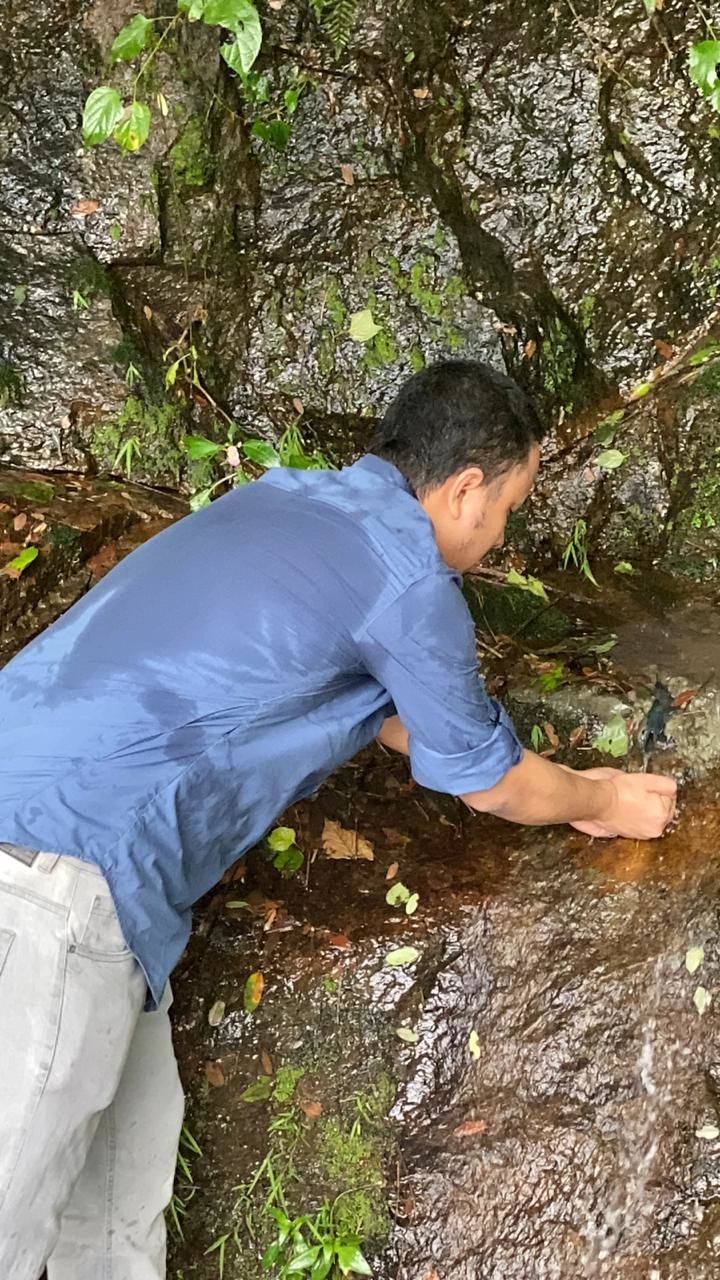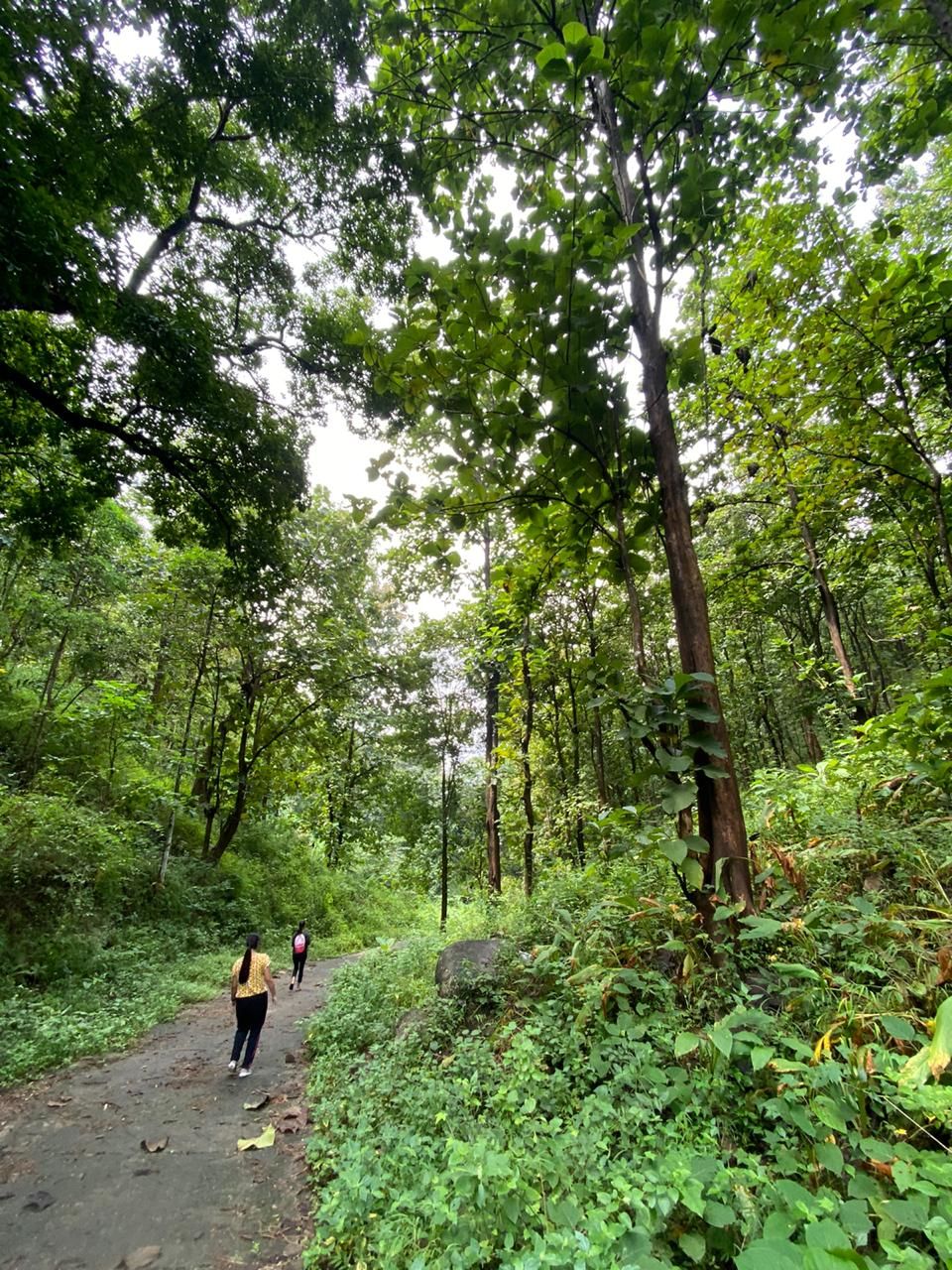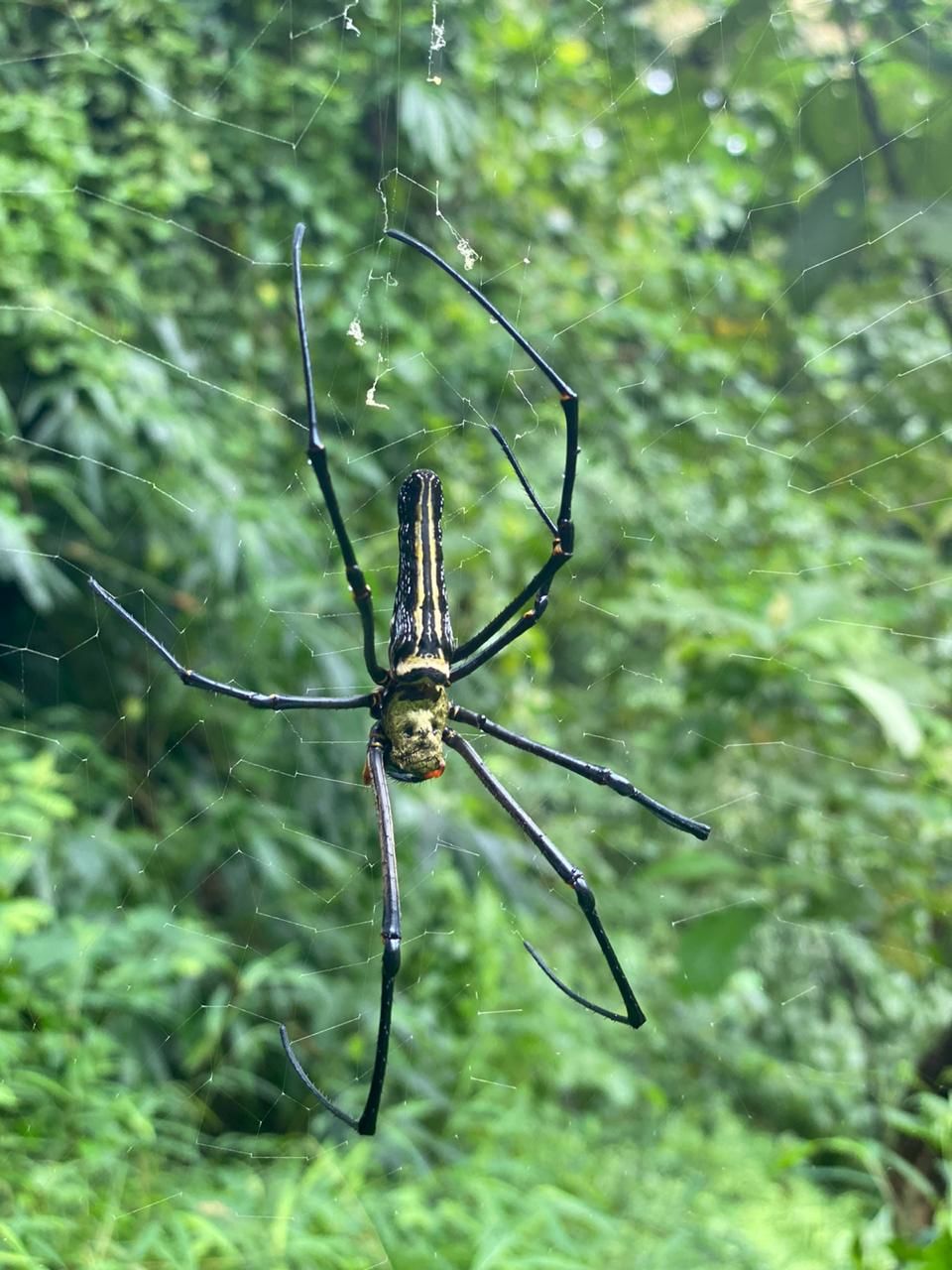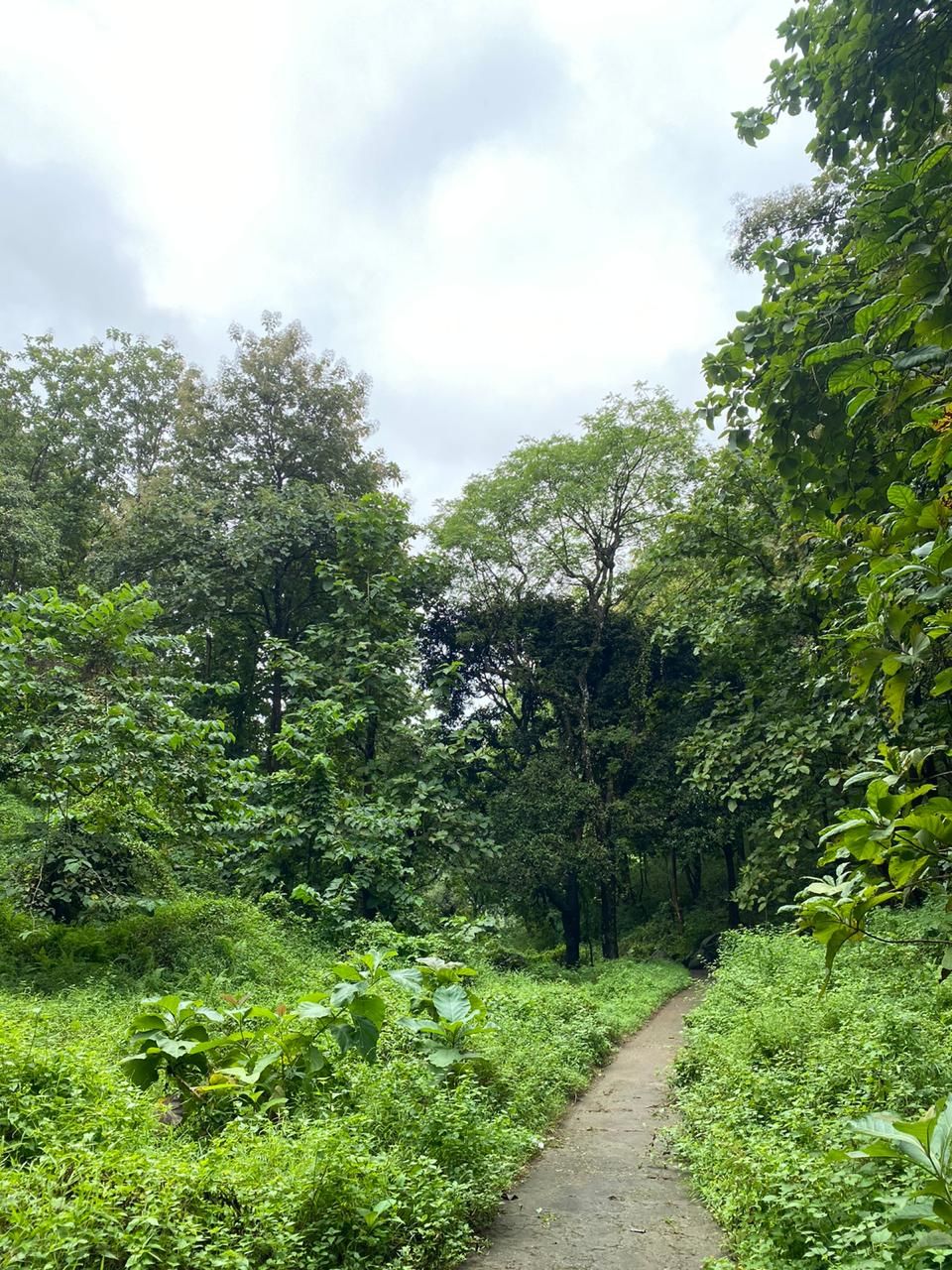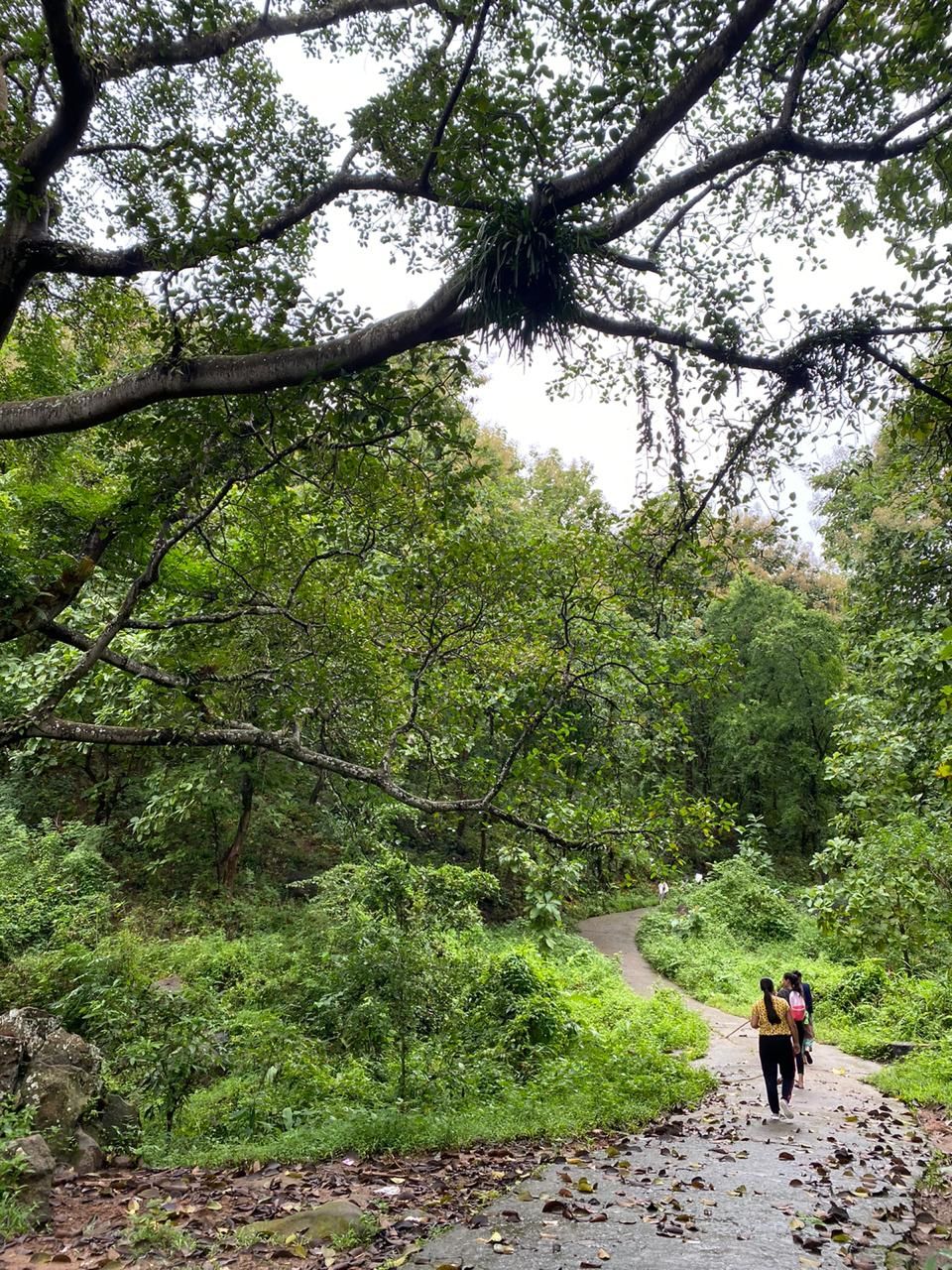 The steepness only multiplies double-fold from here onwards. But difficult climbs lead to grander views. And true to that saying we were slowly rewarded with panoramic views of the entire wildlife sanctuary as well as the mighty Brahmaputra far in the horizon. Mind you we were the only mortal souls here, besides the fluttering butterflies, birds singing in their high spirits, and perhaps any wild cat keeping an eye, camouflaged while resting high up on a tree. We will never know. The cowherders spotted their area where they'd be harvesting their grass, and asked us to continue the remainder of the 1 km on own. 3 curious but anxious, fixated faces were staring at each other, thinking if its safe enough to go on our own. Gathering courage we decided to move along, albeit walking close to each others' steps. We could spot the tower faintly through the green cover, which only buoyed us that our destination ain't far enough now. The last part was not only steep but bit slippery as well thanks to the algae presence at some parts.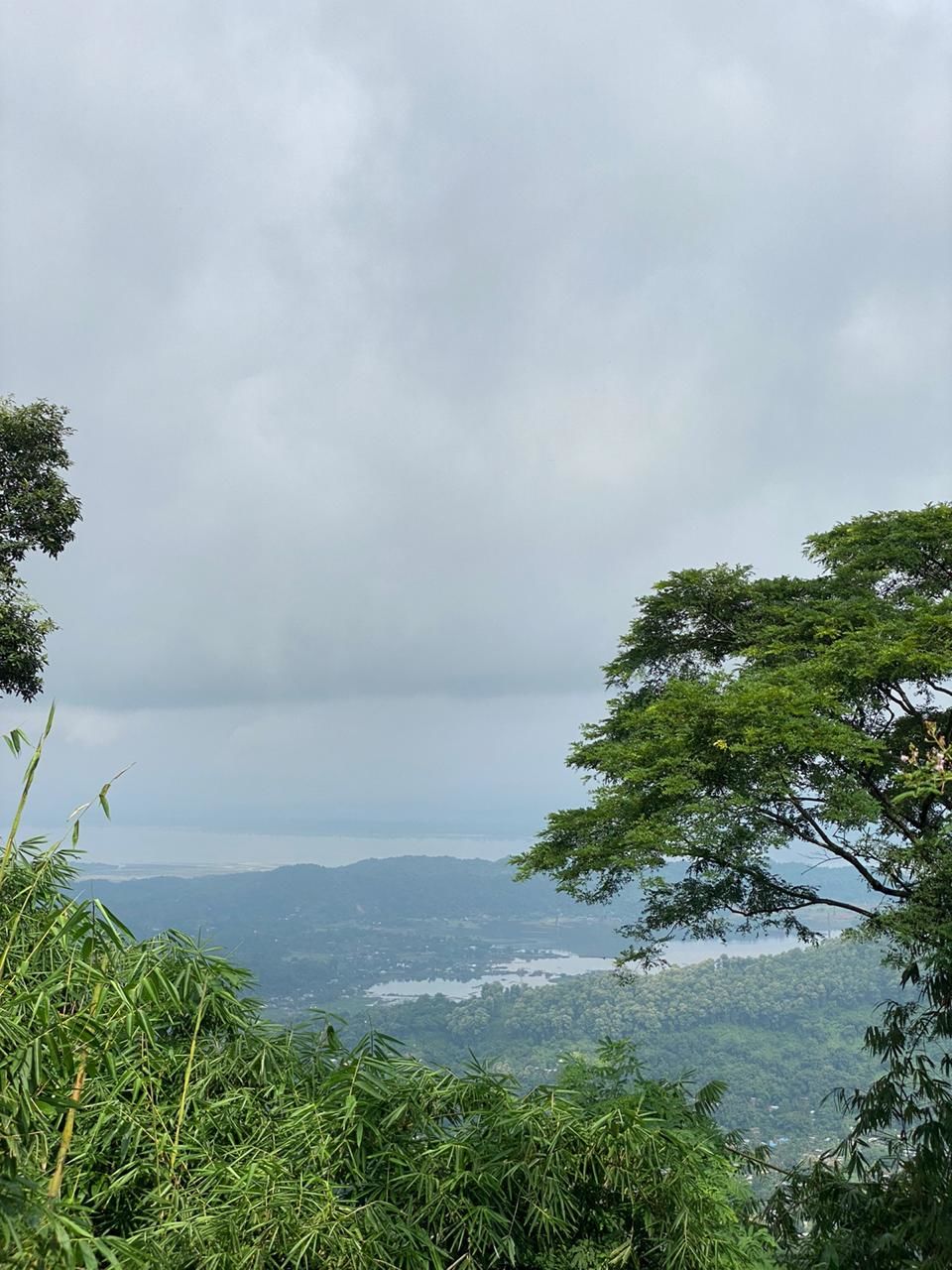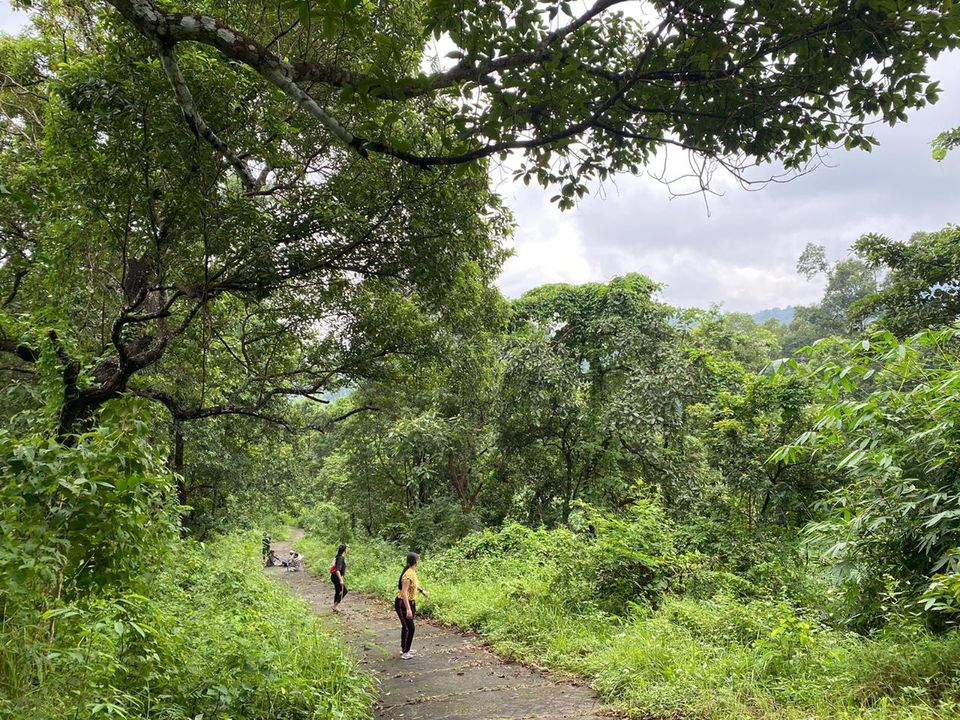 Heaved a mighty relief as well as joy when we saw the stretch of open land at the top with the gate wide open. There's this BSNL tower at the top with couple of maintenance buildings, although there wasn't anyone that we could find when we were up there. The small compound is surrounded by a fencing which has crawlers growing all over it, thus obscuring the otherwise grand 360 degree views. You still get a good view of the surroundings along with that of Brahmaputra. We had reached at the right time as it started to get sunny and humid. Few clicking around and we decided to head back down.
That look of satisfaction, happiness, and the relief of being out amidst nature after a tumultuous and agonizing captivity was palpable on each of our faces. We couldn't stop talking about how good a decision it was that we took to visit this place, despite the fact that being from this place we never even heard of it. As we merrily trotted down we met a group of hikers from Encamp Adventures who hike up to nearby hills almost every weekend. Perhaps we are not the only solitary souls anymore on this hill today. While descending we could spot the cowherders deep inside the forest, busy cutting grasses. We thanked them immensely, with exchange of smiles and a promise to meet again soon.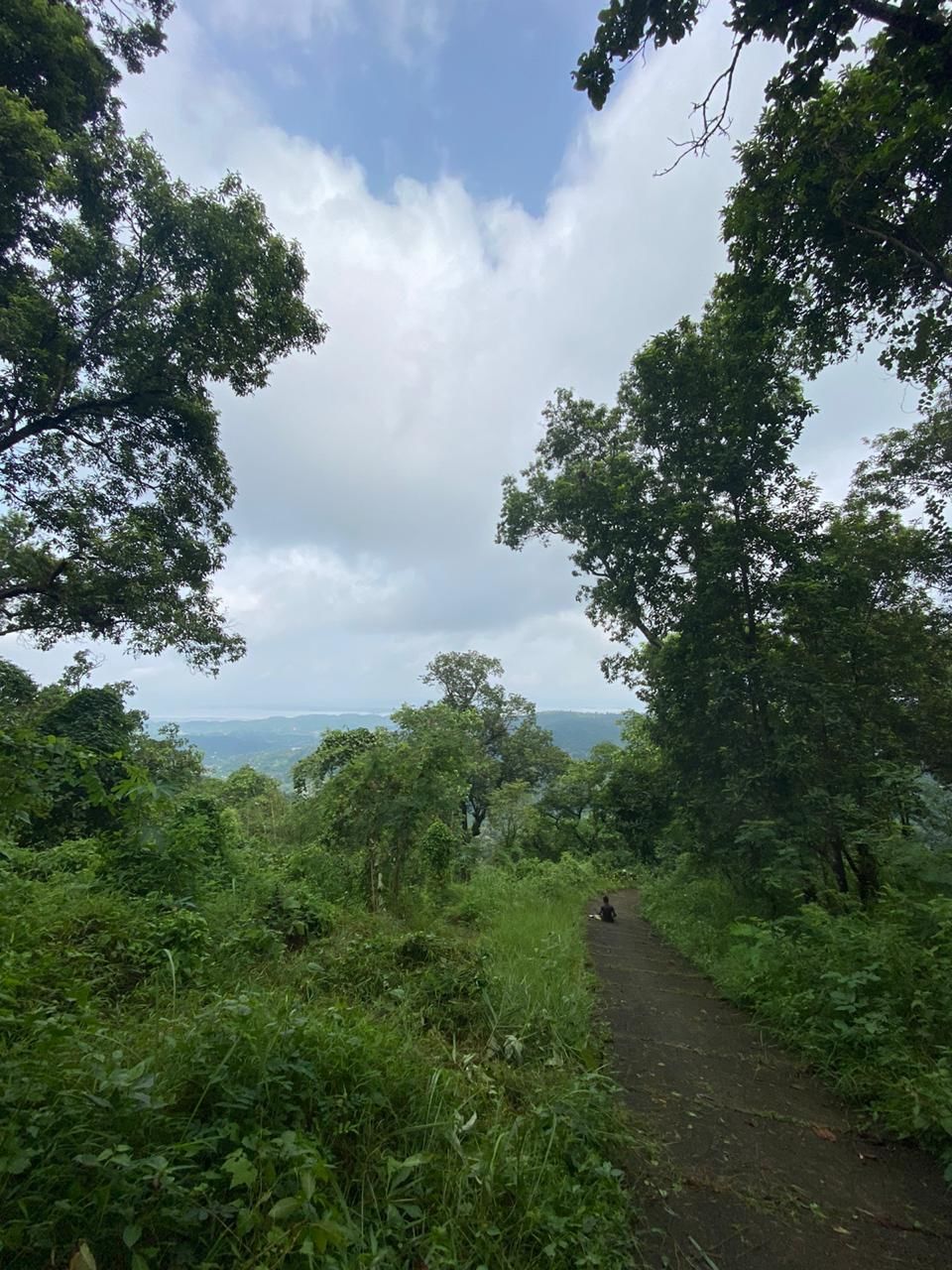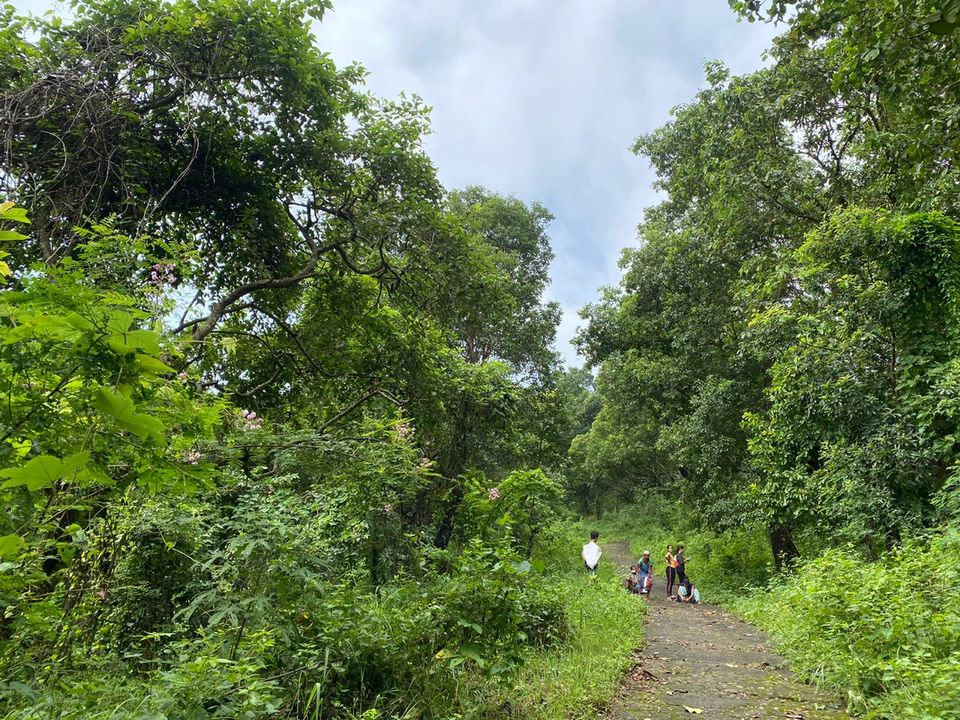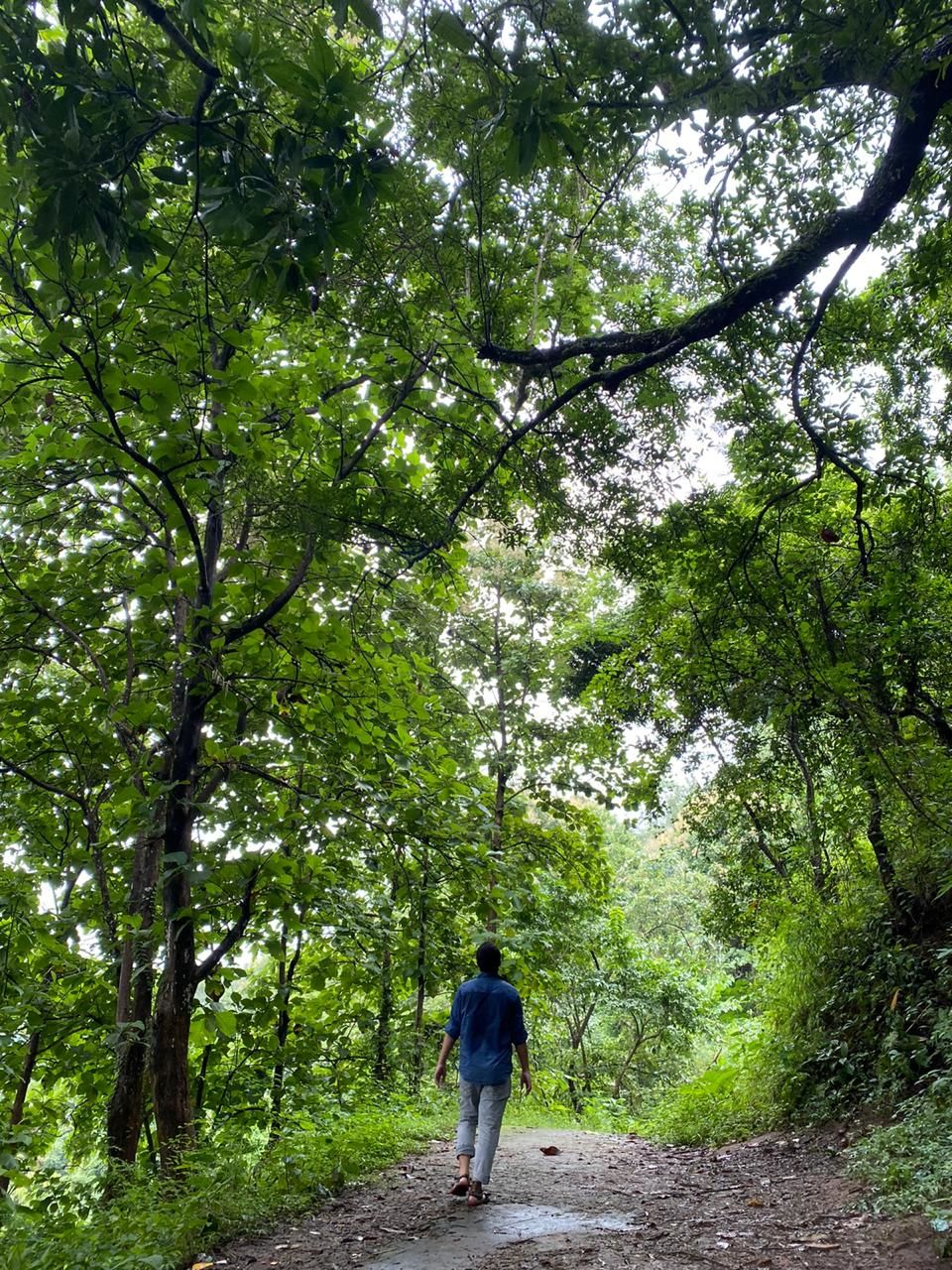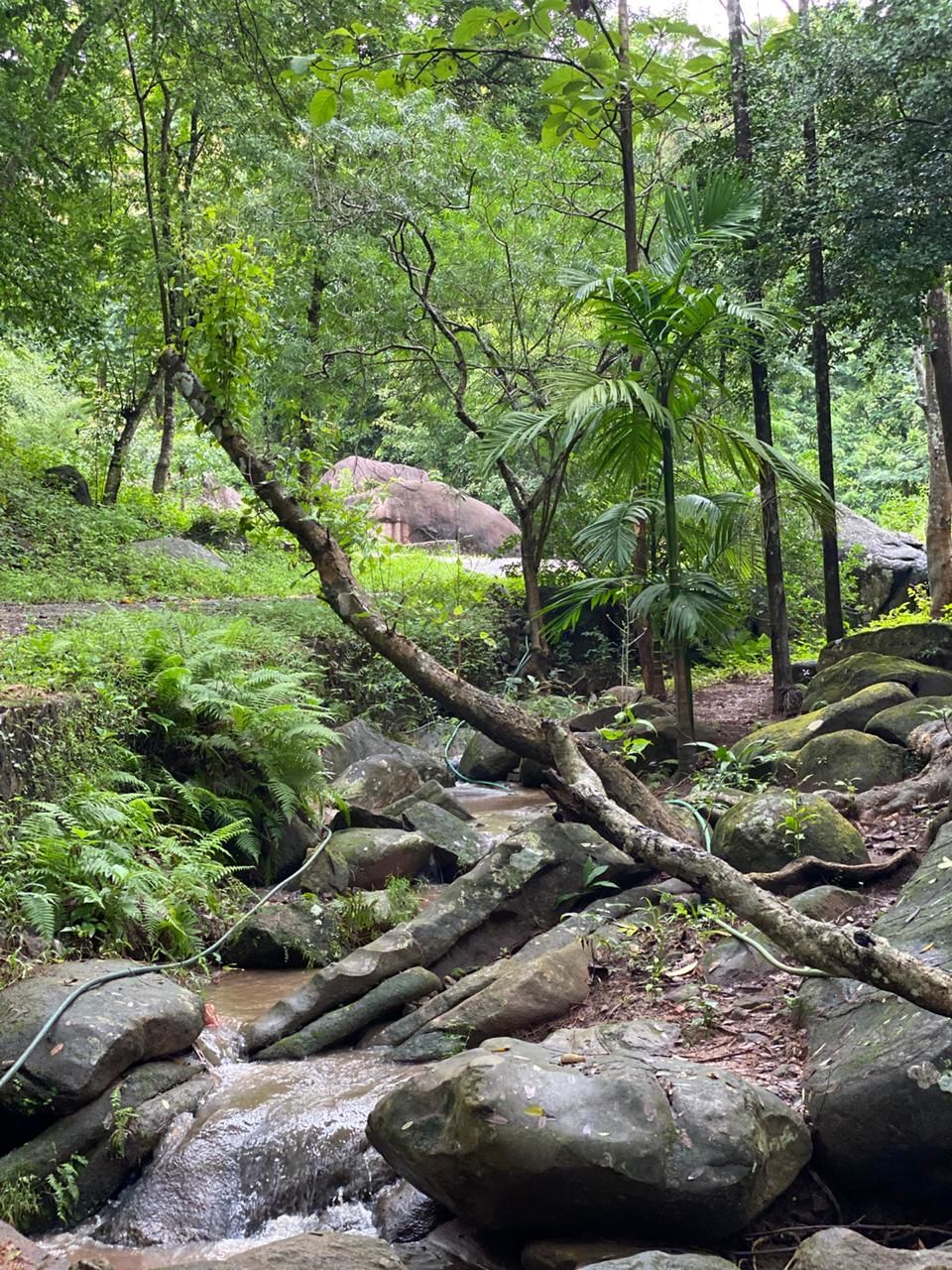 By the time we reached the temple we were drained and exhausted. Sat down under the calming shade of trees near the temple with thoughts of exploring other hills that dot this beautiful city. By the time we arrived back at our starting point normal life had already resumed, with more people out now than we saw early in the morning. Thanks to a quick round of lemon juice at Nirmali's place we bid adieu to her and to the hill that we just conquered, carrying with us that sense of accomplishment and gratification.