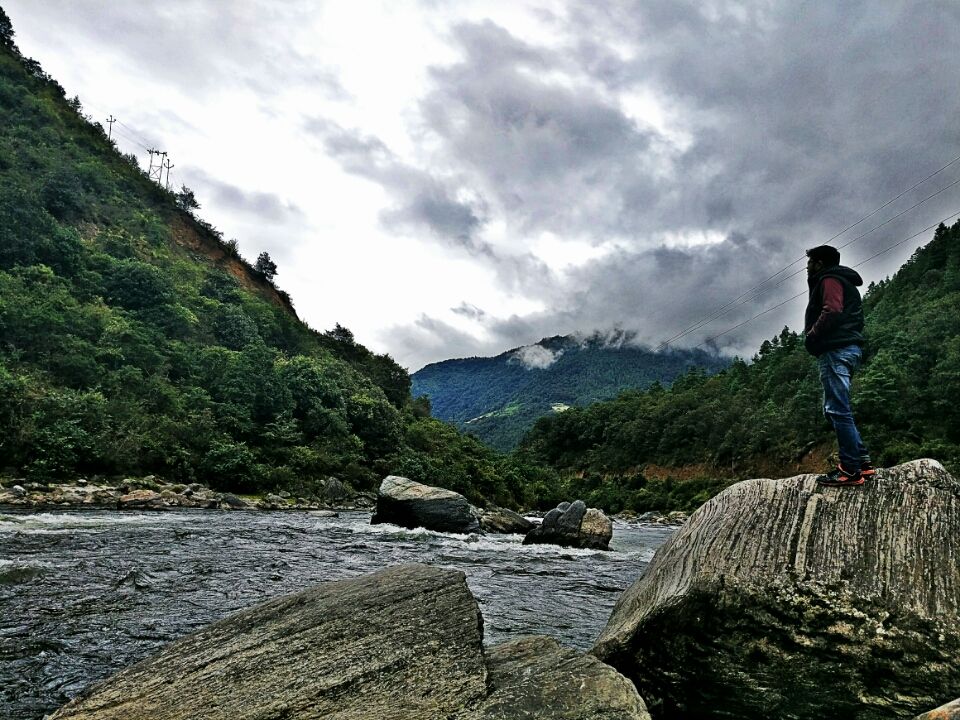 Overcoming a loads of rumour regarding the crude form of the Social scenerio of the North East I decided to head for it.
My Trip Itenary:
Malda- Guwahati- Kazirangha Wildlife National Park - Guwahati- Tezpur- Bhaluk pong- Bomdilla- Tawang- Bum La Pass.
I started from the Maldah railway stn to Guwahati.
I was eager to visit some places in Assam before heading for Arunachal pradesh(ARP).
So I decided to visit Kaziranga National Park.
I forwarded from Guwahati to Kazirangha by picking a bus from ASTC Bus stand.
It took nearly 6 hrs to reach Kazirangha.
Lodged into the Govt. sponsered Bunglow, Bonani.(There are two more Govt. Bunglows namely Banashree and Aranya)
The kazirangha offers safari to explore the Forest.
~Safari:Two types :1.Jeep safari (Inr 2500/-approx. for 6 people)2.Elephant safari(Inr 875/-per person)
~Corridors : The forest is divided into Three corridors namely the west,the central,the east.(Best chances to view wildlife is West corridor)
~Best time:After November upto Jun/July.But I will suuggest to visit on the operlning of the forest I.e November.
Took jeep safari in the west corridor of the forest and viewed One horned Rhino,Elephant,Deer,Hornbill,wild Buffalo,Monkeys,and loads of other wild animals and birds.
N.b: Elephant safari is suggested due to its route through the forest.
stayed at night and njoyed the wild serenity and head off for the next destination the next day.
Day started with early morning bus journey back to Tezpur.
Imp things before you head to ARP:
1.CARRY ONE PHOTO ID PROOF PREFERABLY PASSPORT.
2.MAKE ILP(INNER LINE PERMIT)-THE MUST TO ENTER ARP.(U can apply for it and get it from Arunachal bhawan,kolkata or else in Tezpur.Cost-Inr 100/-)
3.WOOLEN CLOTHES AND GOOD SHOES.
4.atleast 10 copies of passport size photo.
I was without ILP as I didn't get the time to apply for it from Kolkata.So I decided it to collect from Tezpur.
From Tezpur I collected ILP and started the journey in Safari Cab.I reached Bhaluk pong (the check post and last line of Assam) and entered ARP aftr showing the ILP.
I rest my back at Bomdilla.
Sight scene was too good and njoyed the chill and dew.
Started Early in the morning as the communication is too bad and irregular here due to weather.
Only 6am cabs starts for Tawang after that u will not find any communication (if lucky enough you can find some hired cab bt its too costly)
I missed the public transport and forced to hire a cab to ascend Tawang.started late 11 am.Fare- Inr 6000/-.
It was a long journey to Tawang nearly 10 hours.
But the roads are pretty good in compare to other hill roads but are narrow but the beauty of the road cannot be expressed.Its mind blowing and splendid.
The clouds play all around with the green lush.
Its the journey to remember.
Reached Tawang at 10 pm and rested.
Gone out for traditional sight seeings:
Tawang monastry,Sella pass,Madhuri lake,P Tso lake are must visit.
Enjoyed local food and market.
The Area is full of Defense personnel and Lamas.
Nice place to stay for couple of days.
Day for Bum la Pass( India China Border)-15297ft
Its the most terrible and beautiful day I have seen ever!!
Before that a permission is necessary which is necessary to be taken from the bridgadier and additional DC of police(can be managed from the local tour operator but it takes a day so before the day u plan for bumla u need to make it)
Hired a cab to Bum La pass and the scenic beauty is awesum.
Reached Bum la and stepped in China land and It was -3 degree celsius there.
It was awesum and adventurers will love to view the sights.
Then I forwarded from there to Madhuri lake 12786 ft. It is also a very nice place to hang for sometime.
then I moved to P TSO LAKE and gradually decended to Tawang and stayed over night.
Next day I descended down and visited Sella pass and reached tezpur (journey time :14hours)
Rested in Tezpur picked last bus @9:30pm and rested in Ist class Ac waiting as my train was @ 5:30am and reached Kolkata.
important note :
1.Journey is very long and time consuming.
2.Transiet time is maximum
3.No problem with food
4.ILP and Pass for Bum La (to be made earlier)
5.Carry cash as u may find difficulty in using card at shop and find atm
6.Carry light weight luggage
7.Carry Passport or Any other govt.ID card
8.Use Airtel to get the continuous service
9.Carry Dslr
10.Power bank must as there is issue of frequent power cut.