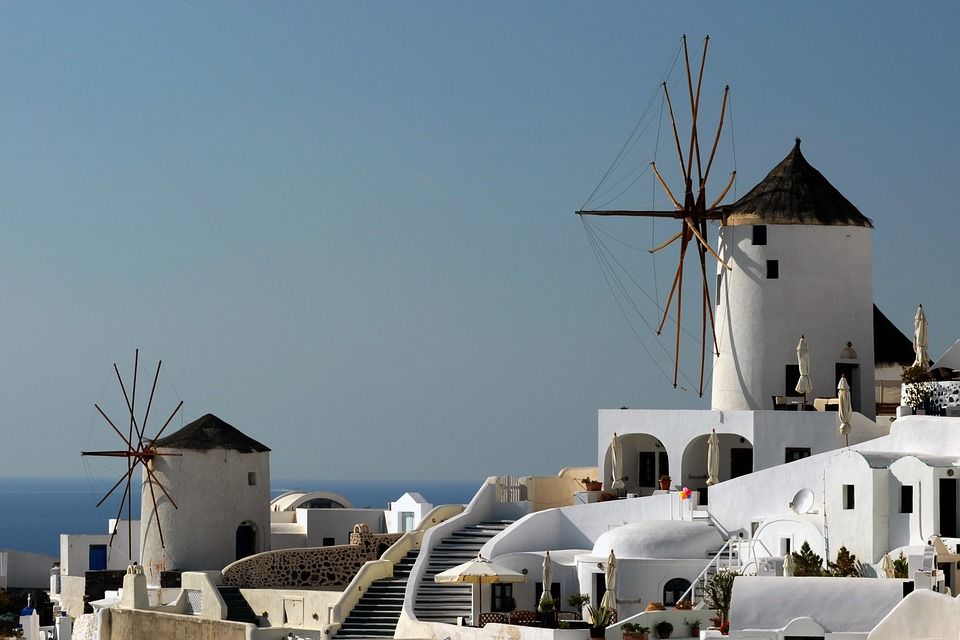 Reaching Santorini
Flight Details
We traveled to Santorini via Athens.
From Delhi, we took Indigo flight via Istanbul.
Delhi to Istanbul (6E 015) -6.5 hour flight
Layover at Istanbul -4 hours
Istanbul to Athens (TK 1850)-1.05 hour flight.
Athens To Santorini-> 45 mins Olympic air flight for Santorini.
Stay at Santorini
We chose to stay in Firostefani, as being the centre of the city, everything was within the reach. In Firostefani we stayed at Sunset Hotel, the experience of staying over the caldera is once a lifetime for sure. Location wise it is the best place to stay within budget. For my Detailed Review on this property, click here.

Rooms were decent with heavy complimentary breakfast, daily room service, and hot bathtub inside bathroom. You can also enjoy hot Jacuzzi outside with a perfect sunset view. During our visit, it was covered but on request, they opened it for us.
Room cost was 114 Euro per day in mid-November which further reduced to 92 Euros in late November. To know, How I did Greece in 1 Lakh from India, click here.
Transport from airport to and fro
Once you exit the airport, you can find taxi booths. We booked with the company Choose Yafy. For Firostefani, they charge 10 Euro per person in sharing. The travelers were really cool black in color and very much comfortable. You can also call them and book a ride from your hotel to the Airport.
From Hotel to Airport they charged us 15 Euros per person as it was a private ride. For 4 people they charge 10 Euro per person.
Day 1 : Firostefani to Fira on foot
Since we visited in November, the weather was quite unpredictable. So the day we reached, it was raining heavily and the weather turned out to be pretty cold.
We took our raincoats and decided to explore Fira on foot. Walk from Firostefani to Fira was about 2kms. Due to heavy wind, the weather turned out to be really cold. It was hard to find vegetarian food in Fira, the only thing we could have in the budget was Pizza and soft drink.
Day 2 : Fira to Oia Hike
Distance From Fira -> 10 kms
Time -> 2.5 hours Level -Easy
Oia has the world's best sunsets so the plan for the day was to hike Fira to Oia. The entire hike is of approx 10 km and takes up to 2.5 to 3 hours.
Its advisable to start early as by 10 am because you can avoid mid-afternoon heat. November was the best time to hike because the weather was favorable compared to Hot summers of Santorini. Don't forget your camera, some of the most scenic landscapes and seascapes will stretch before you .
2. Akrotiri Light House
Distance from Akrotiri castle - 4.8 km
Entrance cost -Free
It is considered one of the best lighthouses in the entire Cyclades of Islands. The white stand-alone building is located on the edge of high cliff above the sea.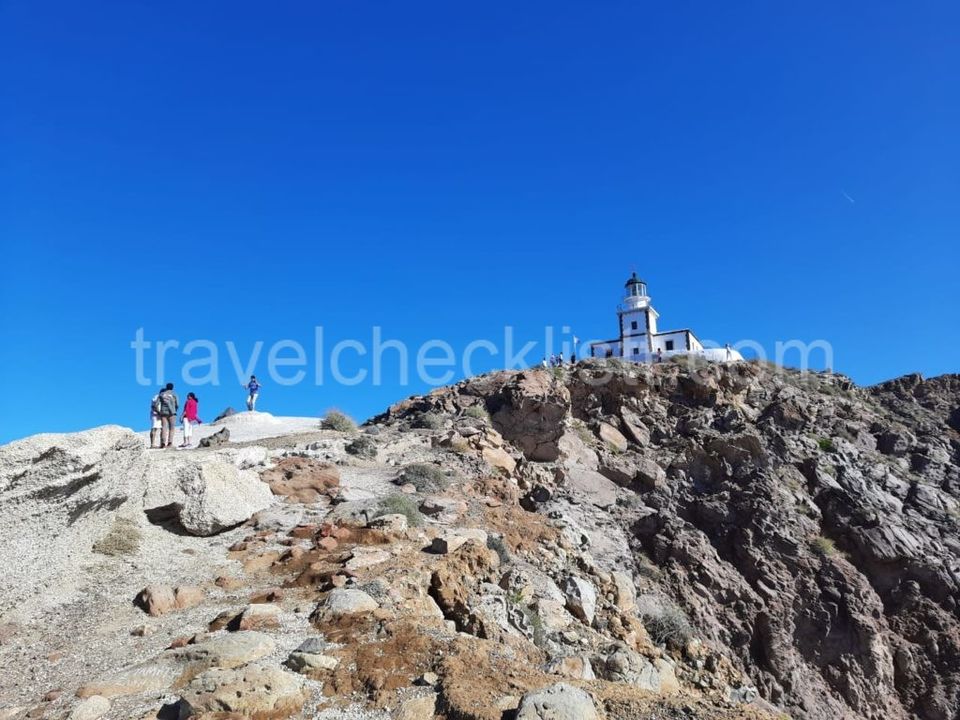 3. Akrotiri Archeological Site
Distance from light house - 6.9 km
Entrance cost - 4 euro each
The archeological site of Akrotiri is one of the most significant sites in Greece. Today the site is covered with a bioclimatic roof and walkaways are suspended above archeological site making a pathway for visitors to walk among the two and three-story building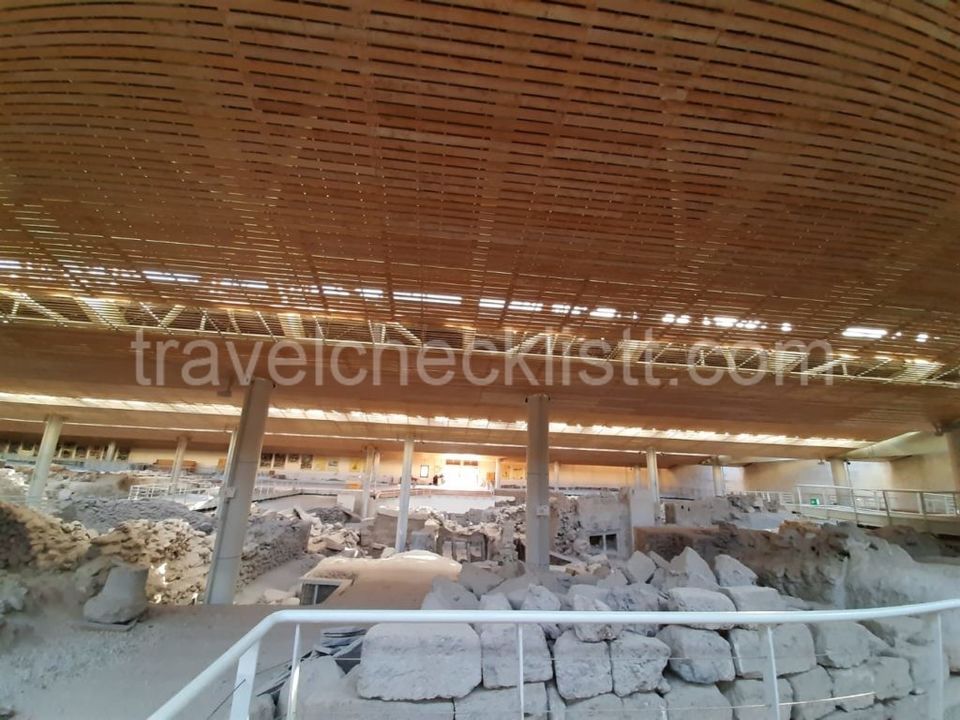 Day3: Evening -Santorini Beaches
1. Red & White Beach
Distance from Akrotiri archelogical site- 1.4 kms
Red beach is a volcanic sand beach on the Aegen Island of Santorini. It is one of the most beautiful beaches in Santorini known for its red and black rocks. Small beach area makes the place much crowded during peak seasons.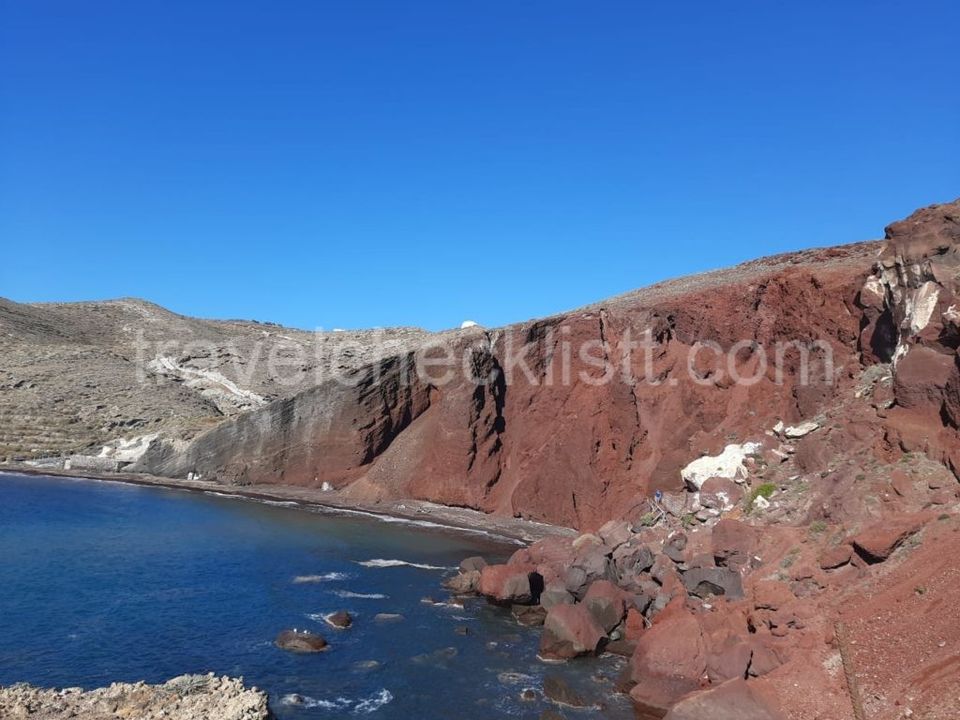 2. Black Beach
Most of the beaches of Santorini are made of volcanic black sand but only this one is known as Black beach. The sand is closer to jet black than pencil grey. During November month beach was too silent and all beach activities were shut down.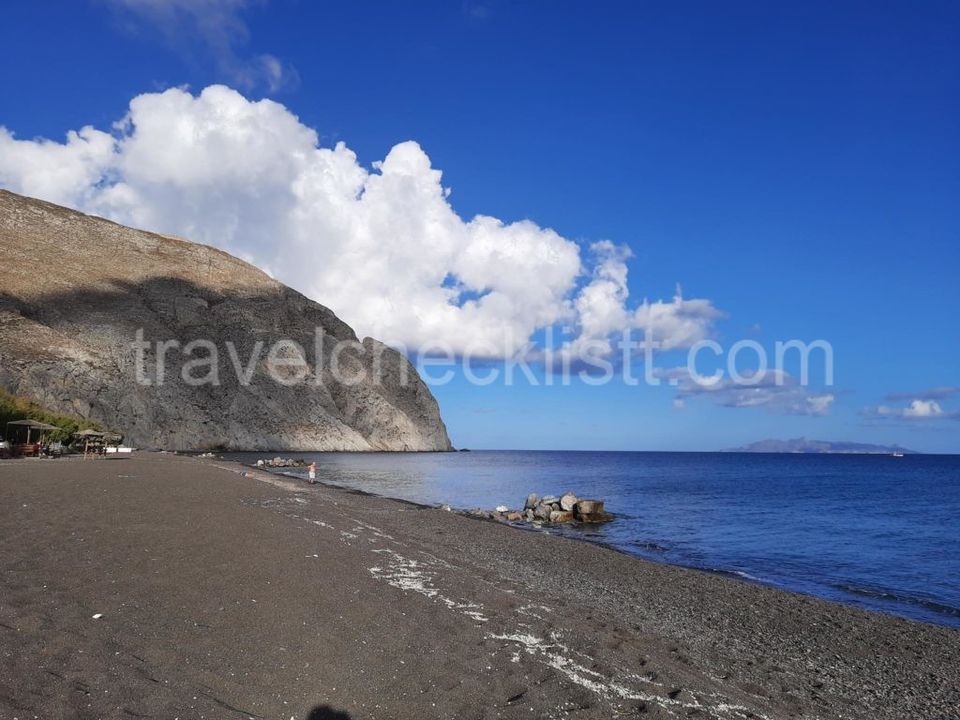 Day 3 Morning- Explored Akrotiri
1. Akrotiri Castle
Distance from Firostefani -11 km
ApproxTime to spend - 1 hour
Castle of Akrotiri is also known as Castle Akrotiri, Goulas, or La Ponta. It is a well-preserved castle in the historic Akrotiri village. The castle was built approx in the 13th century by the Republic of Venice.
During the off-season, hardly a few tourists were seen in the castle and most of the shops were closed. Few cafes and souvenir shops were opened during our visit in November..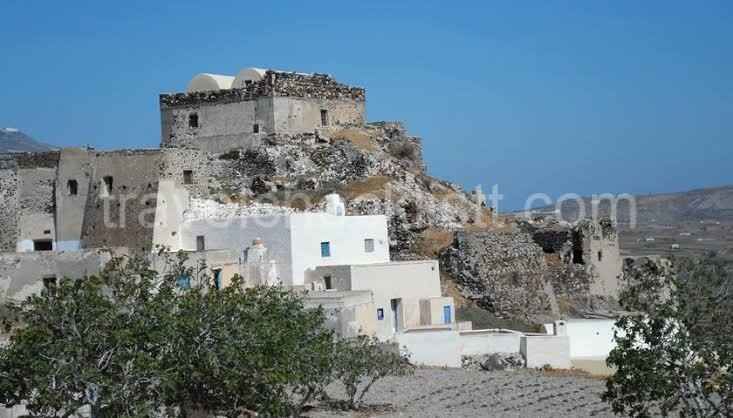 Places to visit in Fira
Museum of prehistoric Thera
Three bells of Fira is iconic.
Apart from these, you can just simply explore the city, its markets, and the neighborhood. Check the souvenir shops, for 1 Euro you can get the fridge stickers. One interesting thing you can buy from here is Mugs with the Greece painting on it and wall hangings.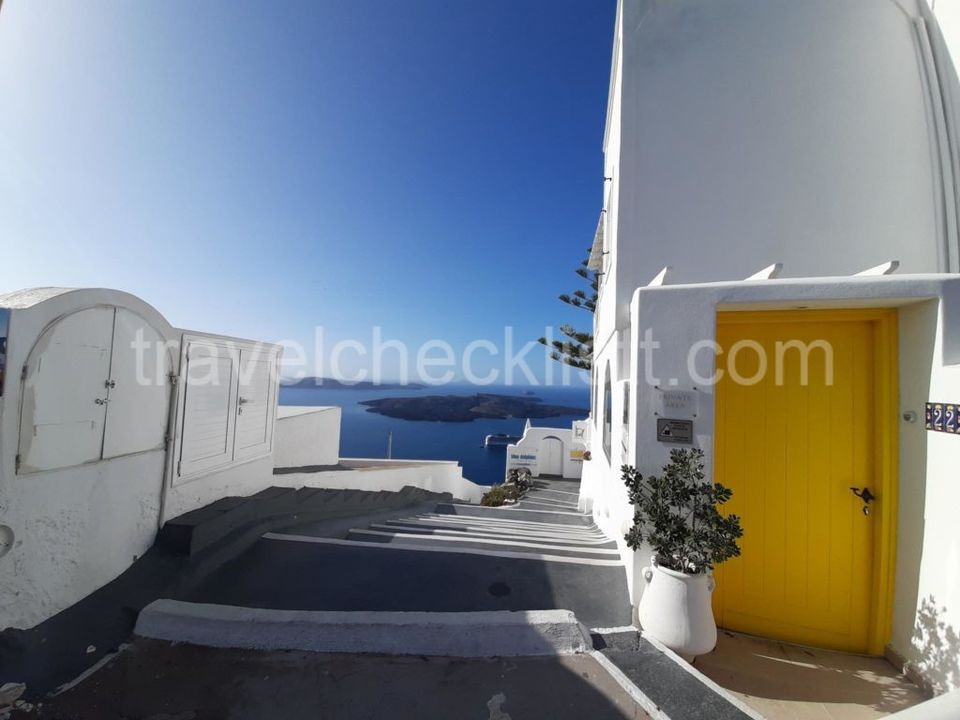 Compact houses with colorful doors and graffiti all over will definitely make your day. Keep your cameras ready, you would not want to miss even a single shot here.
Hiking Trail from Fira to Oia
1.Fira to Firostefani
2.Firostefani to Imerovigli
3. Imerovigli to Oia
Stock your bag with plenty of water and snacks. Also don't forget your hat, sunglasses and full hand gloves. If you are traveling in offseason such as post-October then carry raincoat and windcheaters as weather is quite unpredictable.
The walk could be tiring at some point so don't try to rush, soak yourself into the view and enjoy the walk. The hiking path is well marked with signboards, just keep a check and do not get deviated from the route.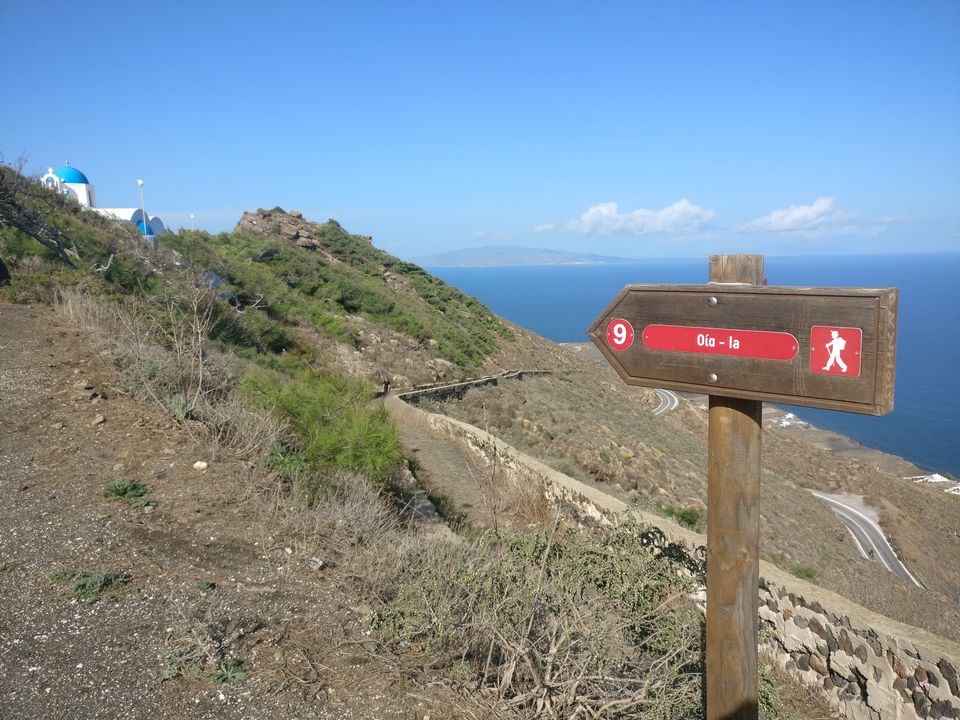 Main Attractions in Oia
1.Blue white domes
2.Atlantis book store
3.White marble street OIA
The white marble road of Oia is the best road I ever walked upon. The entire pathway is surrounded by cute little cafes, with the amazing view of the Aegean sea.
According to historical data, the lighthouse was built in 1892. The best time to visit is at the time of sunset, view of red molten ball dipping in Aegean sea will steal your heart for sure. The surrounding area of the lighthouse gives a panoramic view of the Aegean sea and is an ideal place to spend an hour.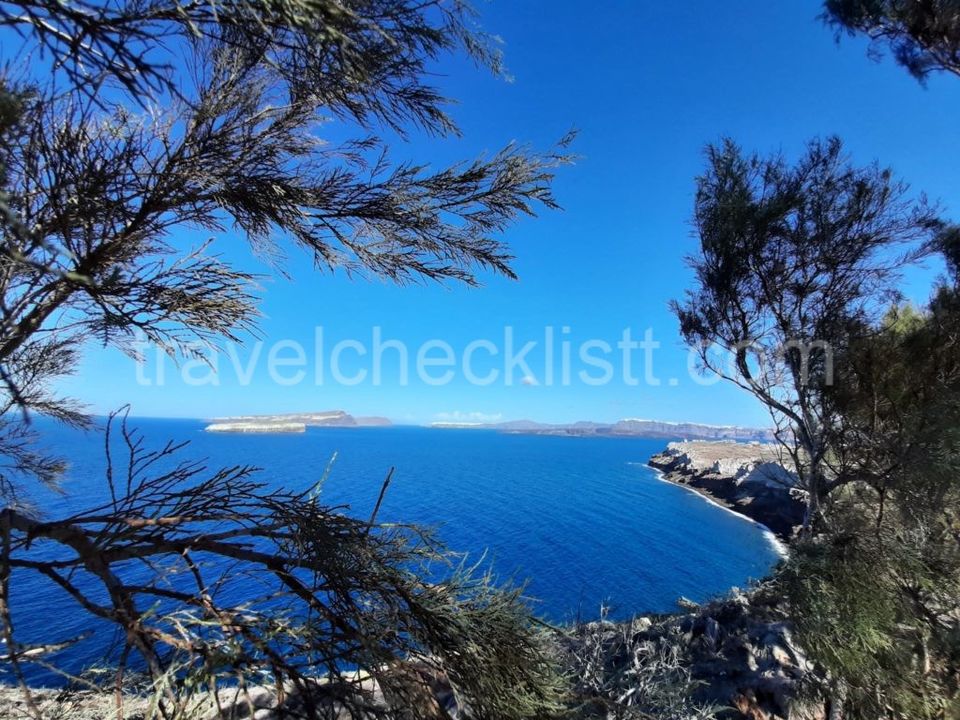 The settlement has a number of notable features, it had an elaborate drainage system and was made up of multi storey building. It was one of the major cities and ports of the Aegean during the Middle and late bronze age. It was a crowded city of 20 acres with remarkable social structure, public roads, sanitary engineering and multi-story building
Avoid going down to the beach as there are warning signs all over for falling rocks. You can admire the beauty of this unique landscape from the headland.