The world's first koala hospital sits in NSW, Australia, and comes packed with the cuddliest creatures, their amusing antics, and moving facts of their vulnerability. By Kiran Mehta
Everything that stings, bites, and kills is found in our country," said Tim, my taxi driver from the Sydney airport to the hotel when he heard I'd signed up for a nature-driven holiday. There was some truth to his words: the deadliest spider (funnel web) and the top 10 killer snakes in the world are all proud Aussies. But I was there on a different mission: to track down the cute critters on the island continent. If penguin parades amuse you, head to Phillip Island at dusk to watch the smallest penguins in the world, aptly named Little Penguins, waddle their way out of water and into their sandy nests on the beach, or spot the endangered cassowary while on a stroll along the beaches of Northern Queensland. And in Land Down Under, thousands of sprightly kangaroos with little joeys peeking from their pouches are a delightful sight for animal lovers. My favourite, however, is the teddy bear-like koala for which I headed on a four-and-half-hour drive from Sydney to the Koala Hospital in Port Macquarie.
After signing up for the complimentary walk-and-talk tour that takes place daily at 3 pm, I entered the open-air hospital to the refreshing scent of eucalyptus and a screeching sound of cockatoos, and camouflaged against the brown barks, were the sleepy little saints I had come for. One was busy biting into leaves, as another, a baby, clung onto its mama. "They look like they were made to be cuddled," said a voice behind me, as if reading my mind. This was my guide on the group tour, a pioneering volunteer at the Koala Hospital, Mick Feeney. He quickly added, "Wild koalas on't like being touched. They've got claws!" And with that, our tour began.
The Koala Hospital, the first of its kind in the world, began operations when animal-lovers and local shop keepers, Jean and Max Starr, came across one-too-many injured koalas. The couple wanted to care for the animal, and in 1973, launched the Koala Preservation Society, a non-profit that runs the Koala Hospital. Even today, the hospital remains an organisation that functions on the might of volunteers and donations, sans government funding.
To volunteer, one needs to fill forms online and pay a fee of AUD100 for a monthlong specialised training programme that covers insurance. A sweet deal that hasn't yet been lapped up by an Indian.
The Inhabitants
On the tour, one gets to meet a few koalas. Ian is a 17-year-old koala and a senior citizen, easily recognisable with his dull brown coat. Mick explains, "With advancing years, they wither away.
Sometimes they come down to move to another tree but are too weak to get back up." This inmate was saved by a passerby as he sat helplessly at the bottom of a tree in the forest, in clear view of predators like foxes, dingoes, and pythons. "Most of our rescues take place when people who are out on their walks or hikes spot an injured koala and call our helpline," prompting the team of koala-messiahs to rush out in an ambulance for rescue. The good Samaritan who calls in, gets to name the animal. Zenani, another inhabitant, is a feisty three-year-old who has a human mother. She was brought to the hospital after surviving a bush-fire where she lost her mother. Baby koalas need their mamas perhaps even more than we humans do.
In only 35 days after conception, the little jelly bean moves from the birth canal to the pouch where it develops for the next seven months. At about one year, the joey is much too big to fit into the pouch and climbs out, still clinging to its mama's belly, back, or chest, till the age of three. Zenani didn't get that. Having lost her mum, she latched onto her caregiver, Barbara. Within the hospital, it is only her human mother that Zenani will rush towards, hugging and clutching as she cradles Zenani, wrapped in a blanket, and feeds her through a milk bottle—a most heart-warming sight.
We then walked into the ICU to meet Nick, a young koala who was hit by a car that left him with a damaged paw. "At first, it looked like we might need to amputate, but managed to save the limb." In another bed lay 'one-eyed Jack' who had contracted chlamydia and subsequently lost one eye.
Some can't defend themselves in the wild and live out their years at the hospital; others recover and are rehabilitated. Mick ends the tour with John Williamson's lyrics, a well-known Australian singer whose donations helped build the ICU. He sang Goodbye Blinky Bill decades ago and warned the world, 'Our koalas are all dying, can it really be. A national disaster, a world catastrophe.' As I left the hospital, I thought about our future generations which may never know this unique marsupial. Williamson's song sums up the sentiment, 'What would we tell our children about this little mate.'
Plot The Cute Critters
1. Run alongside an Emu at Wildlife Currumbin Sanctuary, GOLD COAST
2. Cuddle a koala at Lone Pine Koala Sanctuary, BRISBANE
3. Watch the Australian Sulphur-crested cockatoo at Australia Zoo, QUEENSLAND
4. Hand feed kangaroos at Featherdale Wildlife Park, SYDNEY
5. Watch the bearded dragon at WILD LIFE Sydney Zoo SYDNEY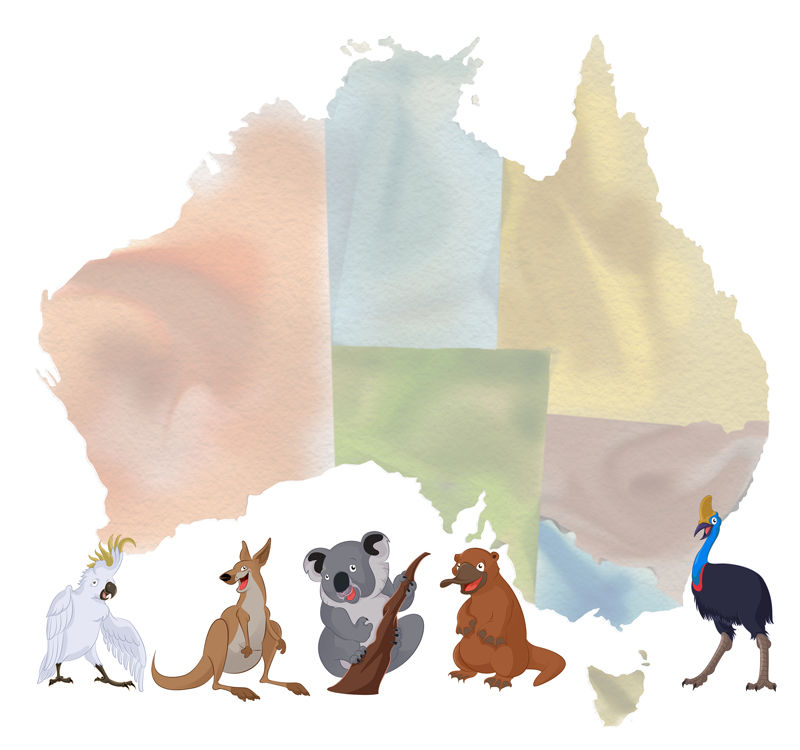 What's Alarming
In NSW, koalas have been recognised as a vulnerable species under the Threatened Species Conservation Act.
The Australian Koala Foundation estimates that there are less than 1,00,000 koalas left in the wild, and in all of Australia, possibly only 43,000.
What's Interesting
▪ Apart from humans, gorillas and chimps, koalas are the only other primates with fingerprints.
▪ Koalas are extremely picky about their food and won't eat anything but fresh eucalyptus and a particular type at that. Fresh leaves are brought in everyday at the hospital.
▪ They use sounds to communicate and also communicate by sniffing each other's noses.