How do I even begin to describe this phenomenon called Bali??!! Bali is one of the major Islands of the Indonesian Archipelago and is the biggest crowd puller out of all the islands there probably. Rolling Rice terraces, Pristine white sand beaches with turquoise blue waters, beautiful Balinese temple with the stunning backdrops of lakes, cliff edges or oceans, volcanic mountains, party hubs, yoga and meditation camps. you name it and Bali has an option for you and that too in your budget!!!
This Blog focuses on my experience of visiting Bali for the 2nd time to check out the places that I missed out the first time!! which were honestly quite a lot. like many of my previous blogs this also is based on my experience alone. I had just booked the air tickets and accommodations in advance through Airbnb and took in hand cash of USD 1000(felt like a Millionaire for sometime!!!). Apart from this nothing was Planned and we just decided to go with the flow. we did not have a checklist of places to see or a daily agenda our only rule was to see something new and probably not repeat what's already done the last time.
THE CALM AND QUITE CANGGU!!
As always I sat down researching on the places to stay probably a few months before the trip and somehow saw a lot about this place called Canggu, this is located quite close to the touristy Kuta and Seminyak but still has a very quite and calm feel to it and so I wanted to check this out. The place was for sure just like what the internet said and it's a good place to just unwind and relax, you would find a lot of tourists in these cute and cozy little coffee shops who just sit and read their favorite book in a corner!!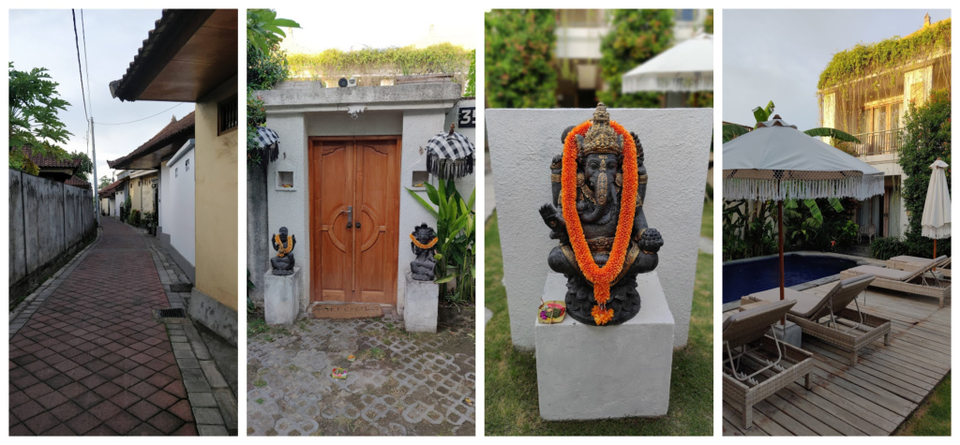 Stays like these!! ❤ ❤
There are also a few really good beaches in Canggu which are good for Surfing and other water sports activities which we did not do because our next spot was going to be all about the beaches - Gili Trawangan islands!!
The must visit touristy place close to Canggu is the Tanah lot Temple where we went for the sunset!! a Time lapse video of the Sunset in Tanah lot would for sure be a major highlight of your trip. We stayed in this Airbnb Called the Spare room Bali in Canggu which is located in a narrow but beautiful and quaint lane. they have basic but clean and safe rooms and a very instagramable property but they do not offer breakfast in the property. There are plenty of cute Cafes around where we found good veg and vegan food!!
Some Cloudy sunset!!
PARTY OR NOT GILI IS A MUST VISIT!!
we next headed to the Gili trawangan islands from here by the Blue water express speedboat, we got the return ticket per person at a approx cost of IDR 800000 per person which was considerably lower than their website rates. I was honestly quite nervous after hearing a lot of horror stories about rough seas and sea sickness but this was not so bad after all and the experience on the sun deck of the boat is unforgettable.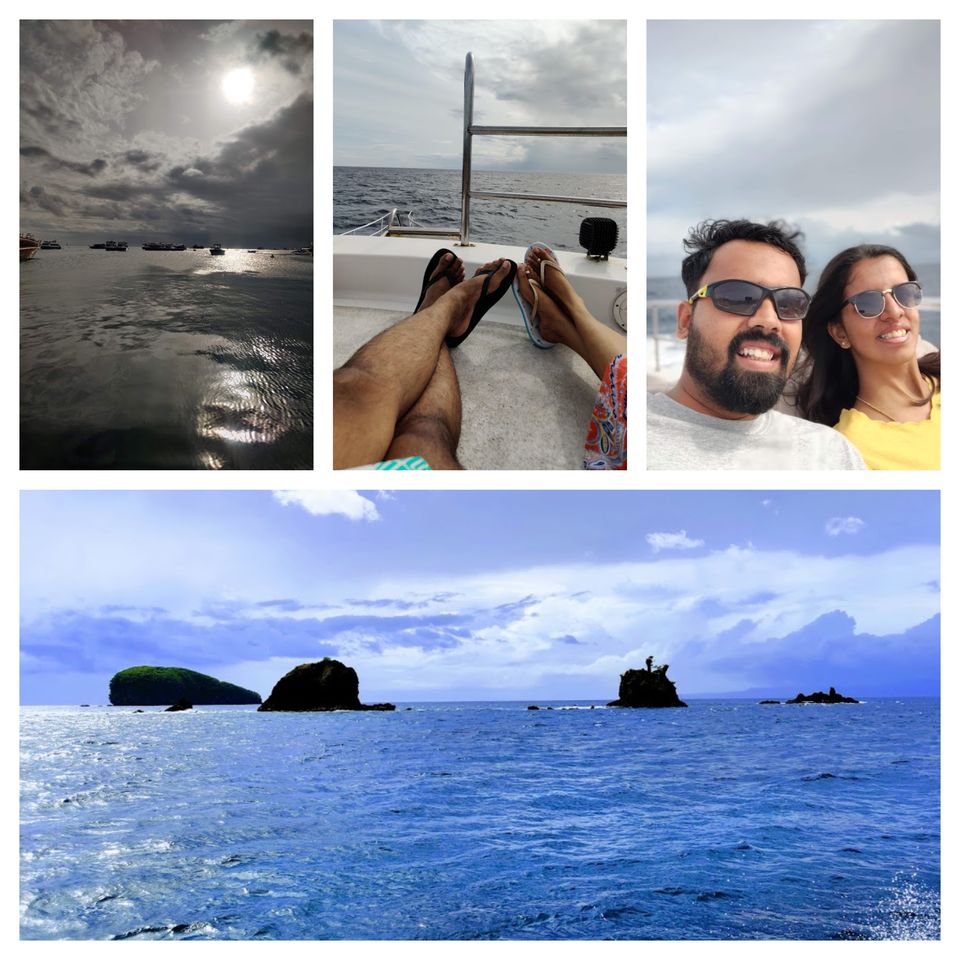 The Gili islands are a group of 3 islands which are a part of the Lombok region of Indonesia and the Gili trawangan is the biggest of the three and probably the most visited one. the other 2 islands of the Gili Meno and Gili air are just within 30 mins from here in a speed boat and you will probably get the opportunity to visit them if you take up the 3 island snorkeling trip.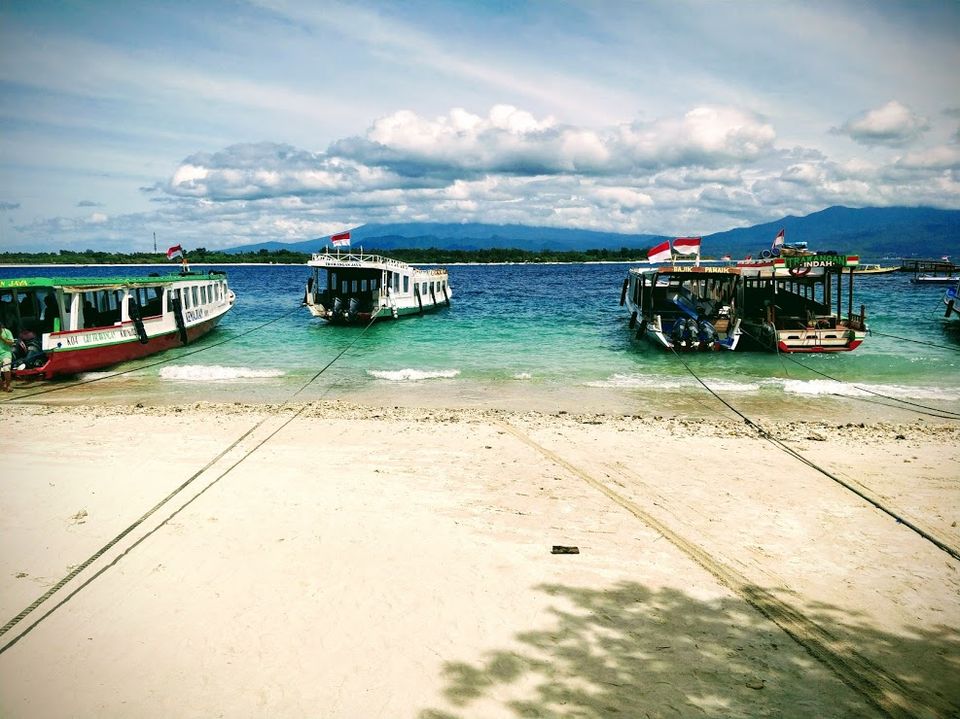 As we reached Gili we were greeted by pristine and clean white sand beaches with crystal clear turquoise blue water!! I had booked us into the Airbnb Called Kupu kupu cottages in Gili Trawangan which was again quite basic but very clean and hygienic and absolutely worth the money and this place also includes breakfast. The highlight of this accommodation for me was the open to sky shower.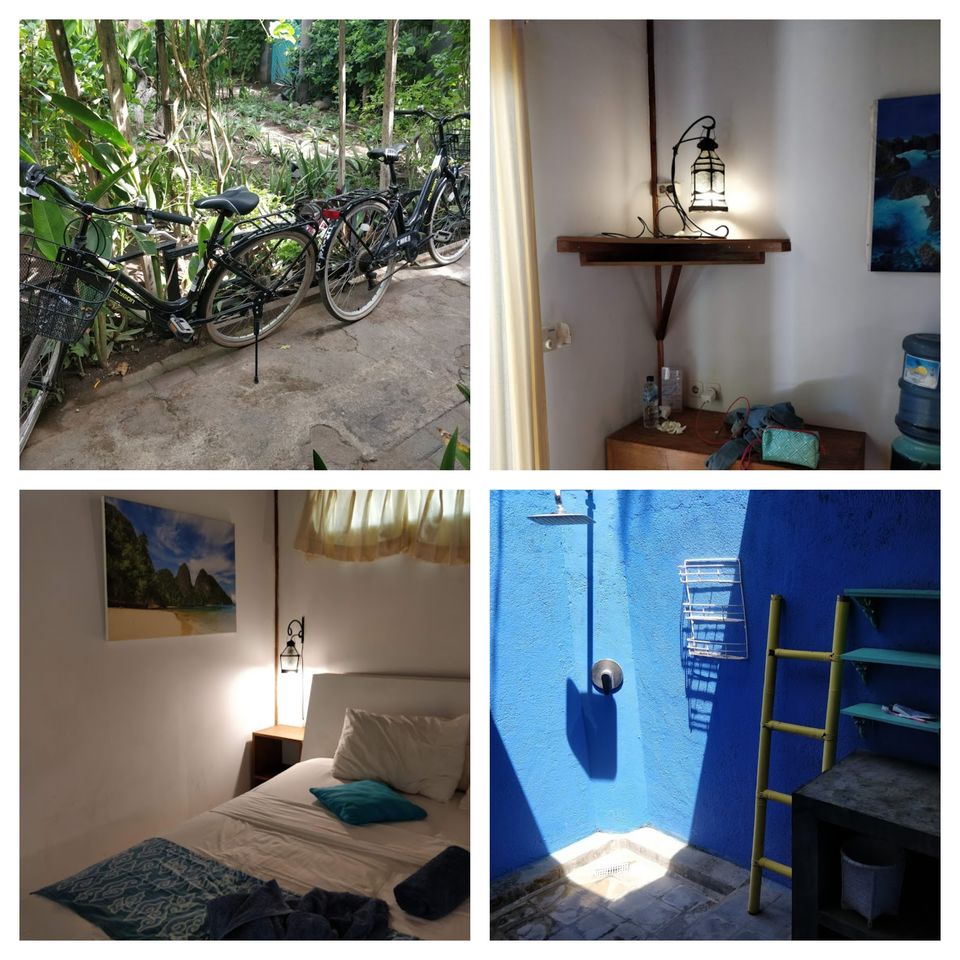 The best part about this Island is that is a vehicle free island!! Imagine such a place!! the Air was so clean and the whole place so peaceful without any honking and unwanted carbon emissions. There is no real list of places that you can see in this island but its rather the experience that counts here. Weather you want to indulge in adventures like snorkeling, Scuba diving and other such water sport activities or just lie down in a secluded spot in the beach and just soak in the sun!! all these experiences are unique here compared to the other touristy islands. There are just 2 modes of transports to get around Gili trawangan - Horse carts and Bicycles - we were not for horse carts as the horses are not kept under the best conditions or treated in the best way but Bicycles were a savior for us to get around here and if you are upto walking that's always there!!
The beach where the ferry terminal is located is probably the most busy and crowded one for obvious reasons and as we move away from here the beaches get more cleaner, beautiful and peaceful. My most favorite beaches were the sunset beaches which also had the swings. I did not want to miss a single sunset here and on the first day unfortunately the sky was quite cloudy so it gave me an excuse to come to this beach again the next day!!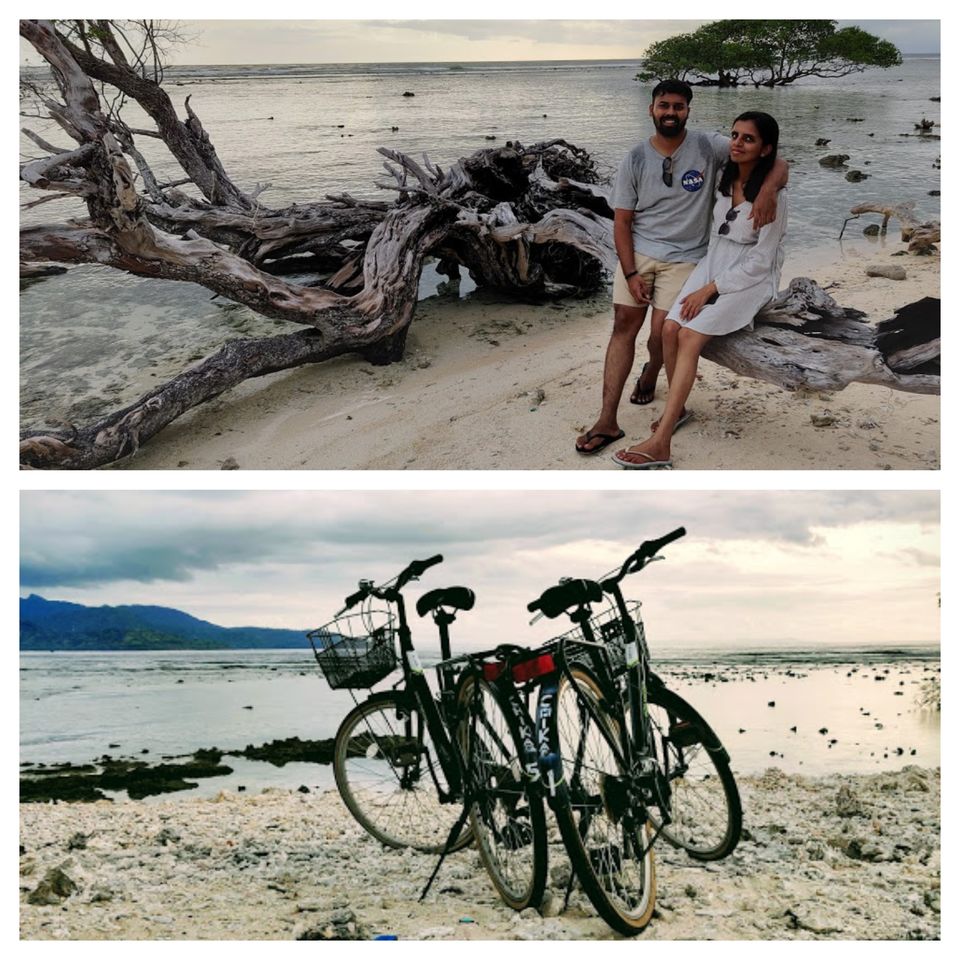 SNORKELING AT GILI:
The adventure activity we zeroed in on was Snorkeling on private basis between 3 islands, there are private as well as group options for this activities, the group Snorkeling cost about a 100,000 IDR per person and the private snorkeling sessions cost 10,00000 for the total no of people so the more the better, but we bought down the price to IDR 850000 for both of us together.
This was probably more scary for me than I expected, Having Snorkeled once earlier in the Andamans I thought I could manage but since I did not get that kind of help or hand holding here I Was too Scared when I got in First and also got a little sea sick and so did not continue with the second and Third dive but Ananth did and he loved it as this was the reason he even agreed to come in the trip!!
The first spot of Snorkeling would be the underwater statues and to See them is a one of a kind experience!! the next spot was just for spotting a lot of colorful fishes and this makes you realize that there is an entire world down there just like ours back up!! The last spot was for spotting these sea turtles which were really huge!! the waters around there were so clean and clear that I could Actually spot a few swimming a few feet under the surface and here I could also spot a lot of colorful fishes and this was simply Amazing!! with this we made it back to Gili trawangan and to the hotel. In between all this snorkeling you get a break for an hour for lunch in the Gili Air which also gives you an opportunity to check this Island out!!
THE SUNSET BEACH!! ???? ????
I do not know how do I even define this Beauty!! I have seen quite a few sunsets in my life but this beats it all and the view from here is thoroughly amazing!! The beaches which face the sunset view are relatively calm and less crowded probably because a lot of these stretches belong to various resorts and there are just small bits of public beaches in between.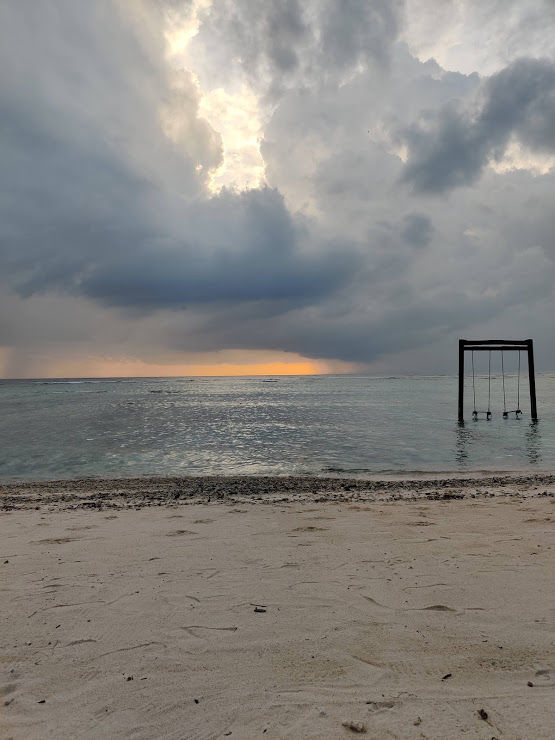 The swings on these beaches along with the backdrop of the sunset its probably the perfect Instagram opportunity and the place and moment would be the most memorable part of your visit to the Gili Trawangan islands. If you are a party animal the pubs, Cafes and restaurant near the main beach and ferry terminal area would be ideal, while the sunset beach is for the more laid back ones.
The whole Island being such a tiny one I think it would just take about an hour to cycle around from one end to the other and most of the things happening between the ferry terminal and the sunset beaches and this whole stretch is just 2 km long.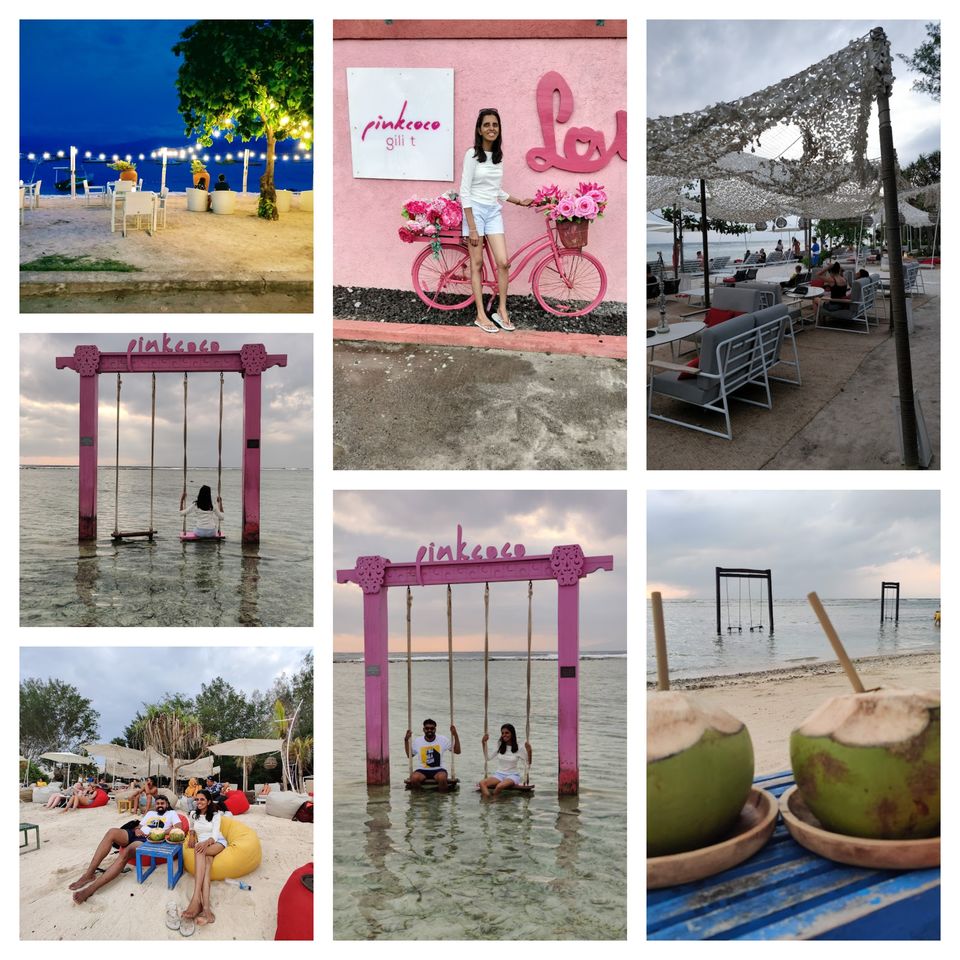 THE RUSTIC UBUD!!
Our Last stop for this Vacation was the Ubud!! I had heard a lot about Ubud and sadly had not seen much of it in my previous visit here. Ubud gives you a contrast side of the Bali islands, the southern part of Bali has endless stretches of beaches and blue waters to just unwind or get that adrenaline rush with all the watersports , Ubud is located towards the northern side of Bali which has vast expanses of Rice terraces, Beautiful temples in Balinese Architecture, A zen and calm atmosphere and countless instagramable places!
In ubud we stayed in the Airbnb called the ubud Ku guest house which was located in Central ubud, just within a kilometer from the monkey forest. we stayed here for 4 nights and 5 days and thankfully this accommodation option turned out to be the best one and it offers more than your money's worth. I have to specially mention Mr. Ketut and Mrs. Novika our hosts who left no stone unturned in making us comfortable there.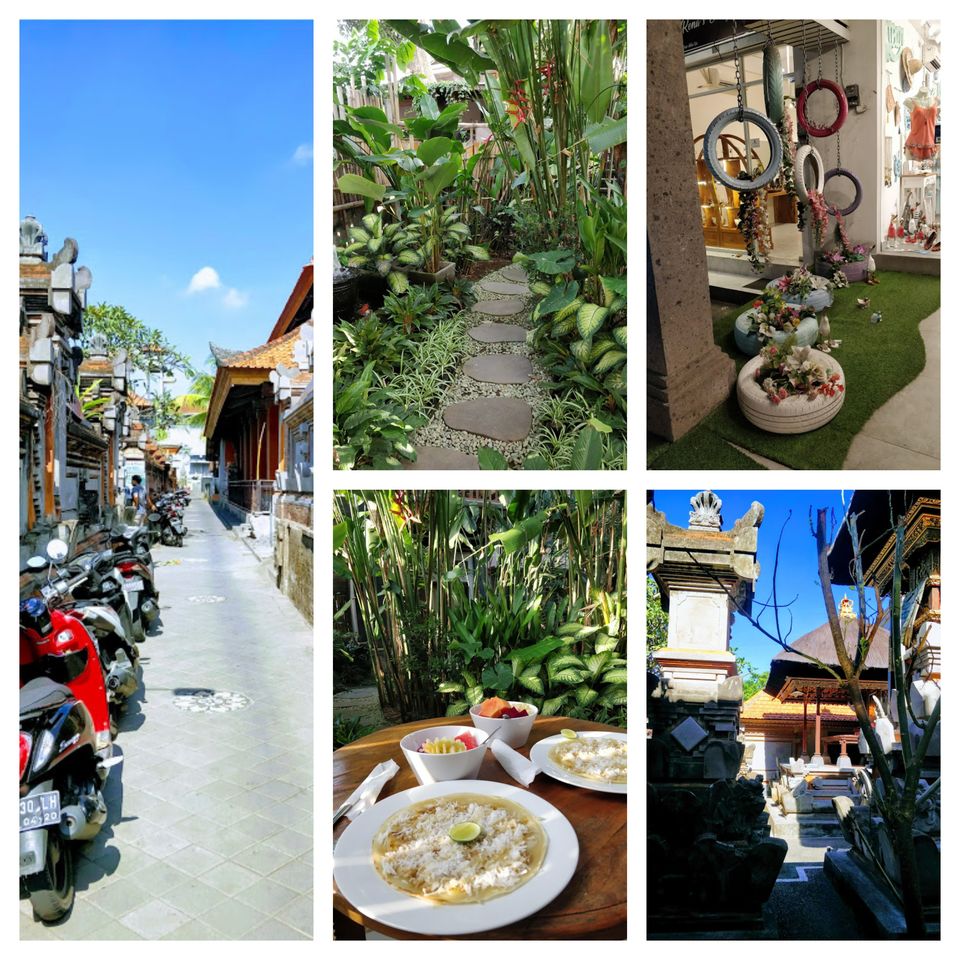 The places that we saw in Ubud are the Monkey forest, The Tegalalang Rice Terrace, The Tirta Empul Temple, The Tibumana waterfalls and the Ubud palace and Art Market. We saw all these sights across a span of 3 days and that seemed Ideal and comfortable considering how hot Bali was the time we visited.
MONKEY FOREST - CHECKING OUT THE MONKEY BUSINESS
Our first attraction in Ubud was the monkey forest, staying just a KM away we decided to walk down but still we were quite tired due to the heat and humidity there and we could not check out the entire space as it was quite massive. I had already read a lot of scary stories and seen quite a few videos where the monkeys get all over you so I was a bit hesitant to go here, but still decided to go ahead as we are probably not going to get a chance to see this again. The big boards there with a lot of instructions and dos and don'ts were also not of much help in easing my fears.
As we walked in though the monkeys were perfectly busy with their own activities and they clearly did not seem the least bit interested in us curious tourists clicking away our cameras and mobiles. These monkeys seem very much used to having a lot of visitors and specially the monkeys holding on to their little ones were more intent on getting away from the crowd.
The basic rules to follow so that you do not get into unnecessary trouble with the monkeys are below:
Do not look at them in the eye Do not touch them Do not react violently in case they get near you Please leave the baby monkeys or the adult carrying babies alone Do not touch any of the food that's already there for the monkeys at various places Do not try to take selfies with them. Always move around in crowds
We were just here for about 20 - 30 mins but there is a lot to see and if you do have the energy in you and if you love being around the monkeys you can probably spend even an hour or more here.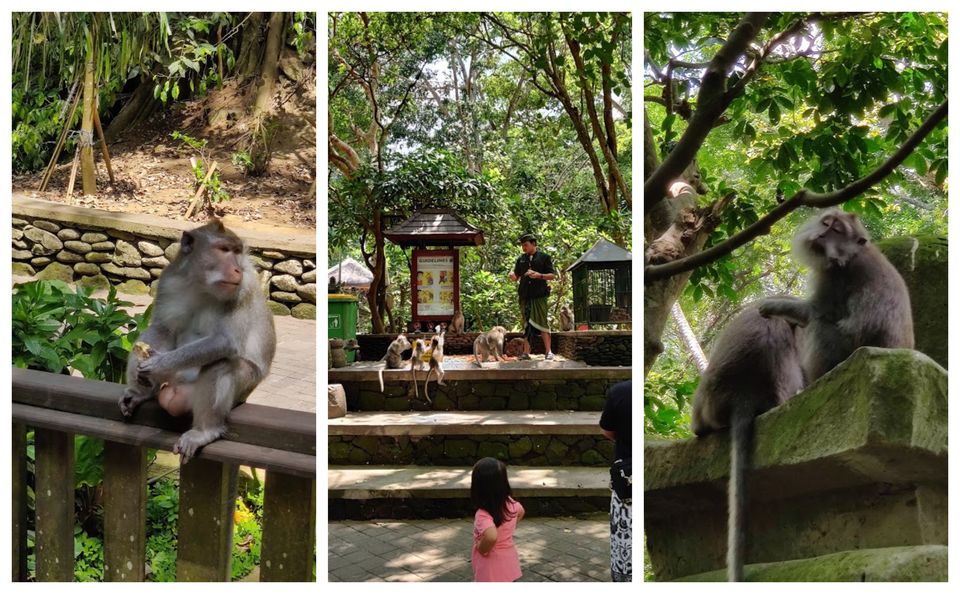 TEGALALANG RICE TERRACES - EVERYTHING FOR INSTA!!
The Tegalalang Rice terrace is probably the best thing that any avid Instagrammer can get in Bali, the swing and nests at the back drop of the rolling rice terraces make for a very good photo op. Unfortunately we ended up going there on probably one of the most humid and hot days of that period, so we were completely famished and drained out just half way through the hike down to the Rice terrace and the thought of hiking back up all the way scared the hell out of me.
Anyway we first checked out the Bali swing and the nests there. There are quite a few installations of swings and nests in Bali and each one is managed by a different group so I would recommend you to check around once before just deciding to go ahead with the first one you see because honestly one might be cheaper than the other. Having said that we actually decided to go ahead with the first one we saw and it cost us about 300000 over all which was approx Rs.1500. Though this does seem on the pricier side the experience was nevertheless very good and quite liberating when you are up in the air in the swing. The full hike down to the Rice terrace would take around 15 mins and the hike back up would be similar but the path is quite muddy and slippery and I would not recommend it to really small kids or senior citizens just for that reason.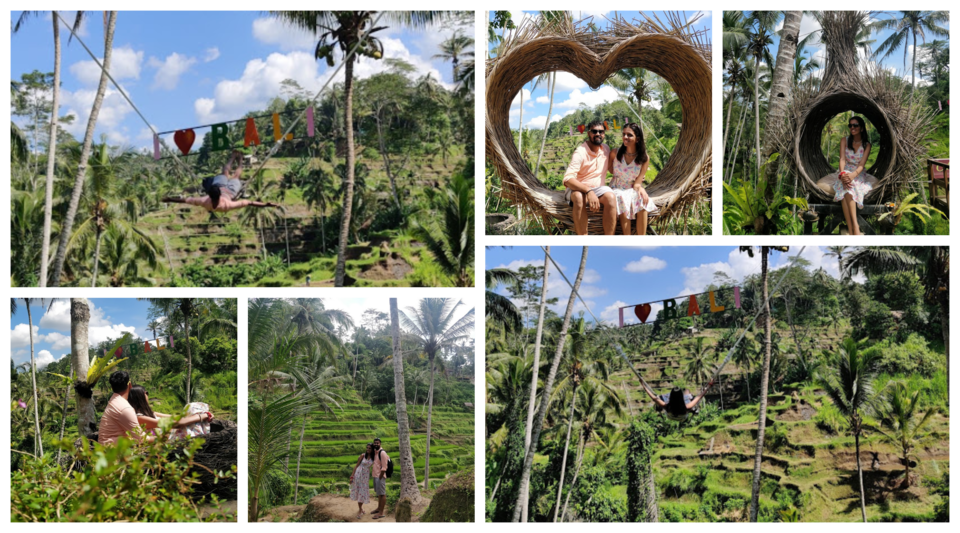 TIRTA EMPUL TEMPLE - BEST IN BALI FOR REJUVENATION:
After the Tegalalang I just wish someone would just throw a huge bucket of fresh cold water at me or if I just get to dip into a pool of one and that's exactly what I did next we next headed to the Tirta Empul Temple which is a famous holy springs temple in Bali. The Balinese believe that Lord Indra himself was responsible for the creation of these holy springs and so the waters are blessed by him. There is a strong belief that each of the spring is good for a purpose, For Eg, Insomnia, Depression, Stress, Gaining prosperity, Etc.
A dip in this holy spring for sure rejuvenated me and I forgot how tired I was sometime ago while I made it out of the Tegalalang. we did not intend to take a dip here initially but we ended up getting in nevertheless and that was a big relief!! I would recommend you carry your own towels if you intend to take a dip here.We just took a dip and came out all wet on our two wheeler and dried up on our own as we headed back.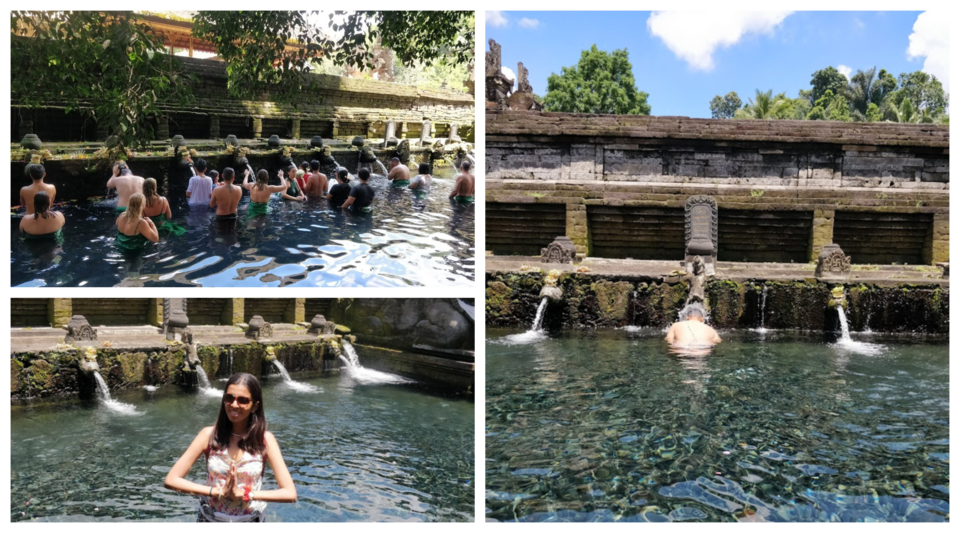 TIBUMANA WATERFALLS- A HIDDEN GEM OF UBUD!!
We had initially decided to go waterfall hopping in Bali, but finally we had time for just one waterfall!! having researched a lot online and also speaking with our hosts in Accommodation we zeroed in on the Tibumana waterfalls. This is supposed to be one of the most easily accessible waterfalls there and it's also surprisingly less crowded compared to others.
on the face of it this waterfall looks like a small stream of water cascading down to form a beautiful pool. This pool of water is not very deep and and is quite easy to swim if you know how to. There are guards there who keep an eye on you and alert you if you drift closer to the waterfall because that's probably the deepest part of the pool and though it does not look it the stream of water flowing down is quite forceful and not really safe until you are an absolutely pro swimmer. even though this was quite an unknown waterfall around there we still found quite a few people there and it was actually quite difficult to get that perfect shot. The entrance is another beautiful attraction in itself, you can hear the sound of the gushing water from the parking spot itself and the pathway is covered by just pure greenery and some exotic flowers on the either side.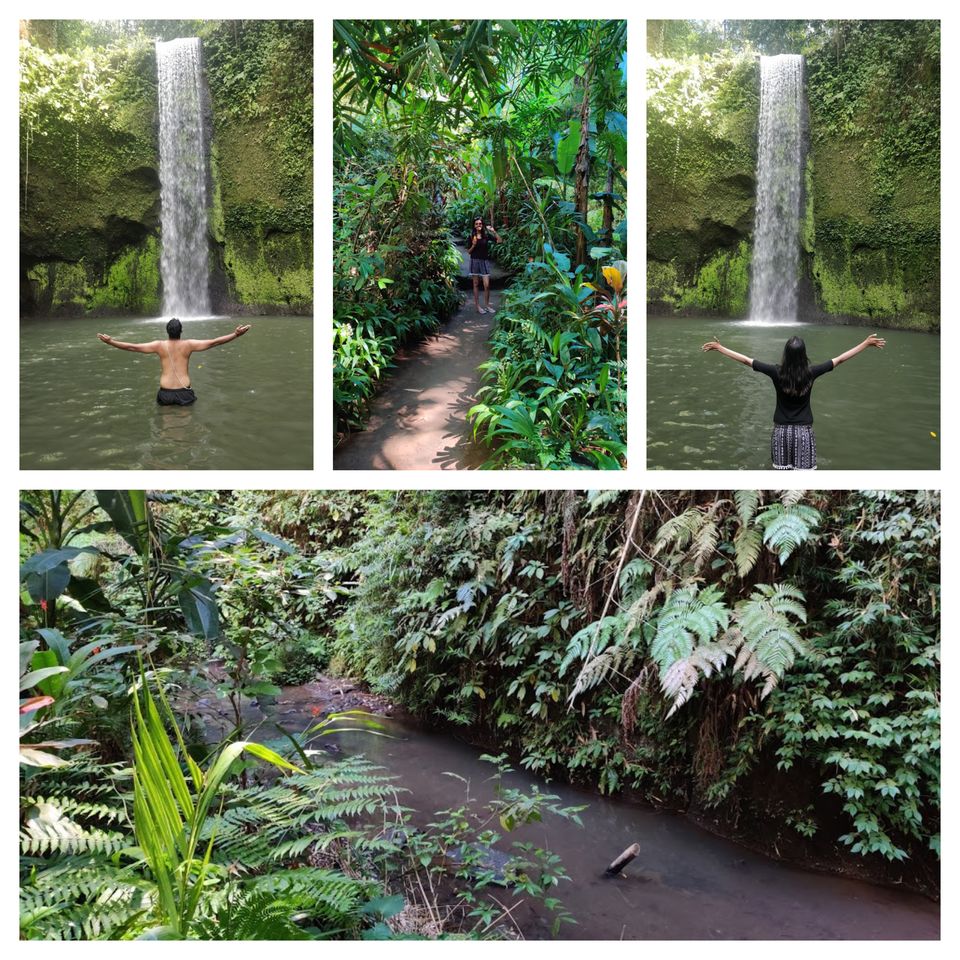 There are around 2 or 3 waterfalls close by which you can check out if you have time to hike up and down each waterfall. There is the Pengibul waterfall, the Kanto Lampo water falls , etc. I had decided before leaving itself that Tibumana would definitely be one of the waterfalls I am visiting but Since we did not have much time and energy left and we had to choose just one waterfall I stuck to this and we do not regret this one bit. The approach to this waterfall is quite straightforward and easy. Its just a 5 to 10 min walk from the parking and though there are stairs to climb they are few and not very steep.
After this we checked out the ubud palace which was quite nice, its near the art market and in the heart of Ubud and I loved the ubud Art market more than the palace... it's the best place for bargain shopping and better be an expert bargainer to get the best deals here.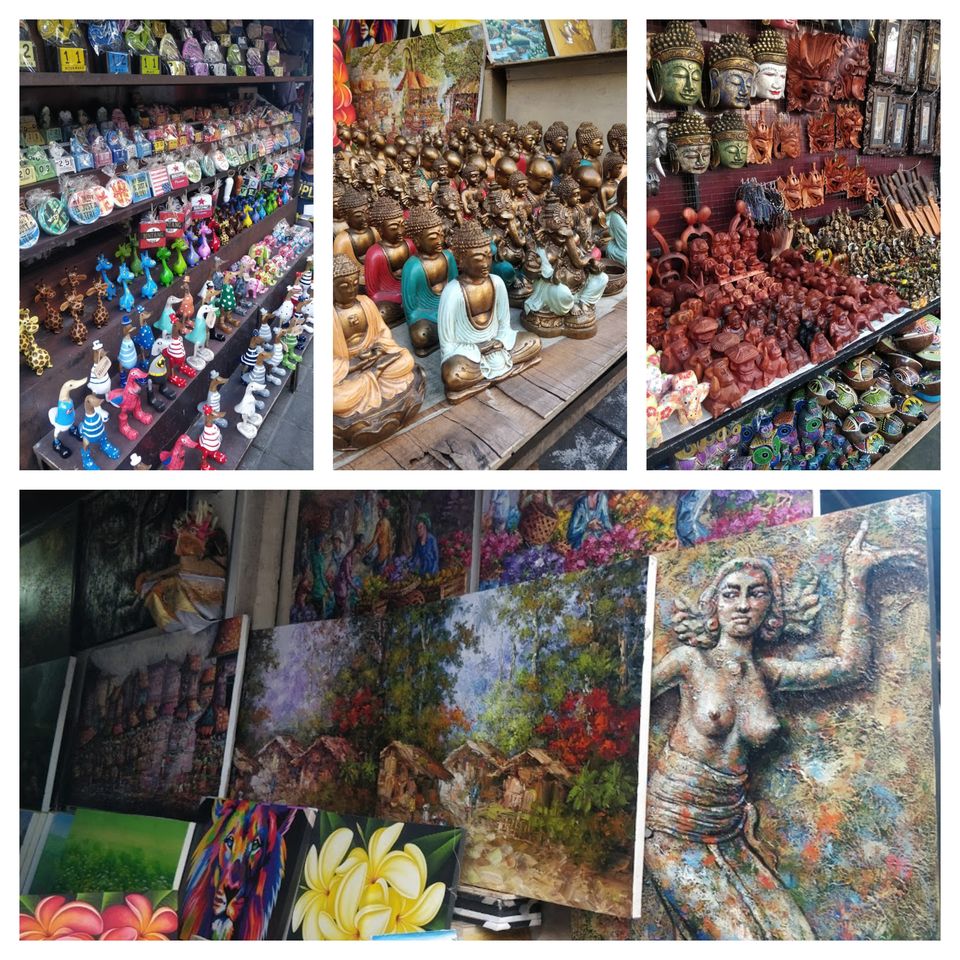 BALI IN A NUTSHELL
This was probably one of the best trips we ever took. It was quite challenging not having any guide or travel agent assist me in every step of it. Even though I am a travel agent myself I realized how little I know about Bali even though this is one of the most popular destinations I sell. There is clearly a lot more to this place than the standard list of attractions that every travel agent generally sells and 9 days is not enough to cover everything in this paradise.