We were all set for our honeymoon in the Indonesian paradise i.e. BALI . Yes, we had chosen none other than this beautiful island to celebrate and bloom our love (winks). Bali is one of 17,000 islands in the Indonesian archipelago where one can soak up the sun on a stretch of white sand, or commune with the tropical creatures as you dive along coral ridges. Friendly, hospitable people along with magnificently visual culture infused with spirituality and spectacular beaches with great surfing and diving have made Bali Indonesia's top most tourist attraction. It has all the natural landscapes one can think of from serene beaches, tall mountains, lush foliage to a variety of water sport activities.
The Journey
Talking about the itinerary, we started from Kolkata as this was the nearest airport from my hometown. Our flight to Bali started from Kolkata via Bangkok and finally taking us to Denpasar. The travel time from Kolkata to Bangkok was around 3 hours and the flying was quite pleasant. There was a layover time of 3 hours at the Bangkok airport and to keep ourselves occupied we took numerous pictures and captured the lovely moments in our camera. We also roamed around for sometime, exploring the airport locale. If in case you have a long layover time, you can get out of the airport and visit a few spots around this area. We soon boarded our connecting flight to Denpasar (Bali) which took us to our destination in approximately 5 hours. The best thing about Bali is that you don't need to worry about visa, when you land at the airport you can get "visa on arrival" and you are ready to take a tour of the city. As you get out of the airport you are stunned by the beauty in vicinity, it is simply breathtaking.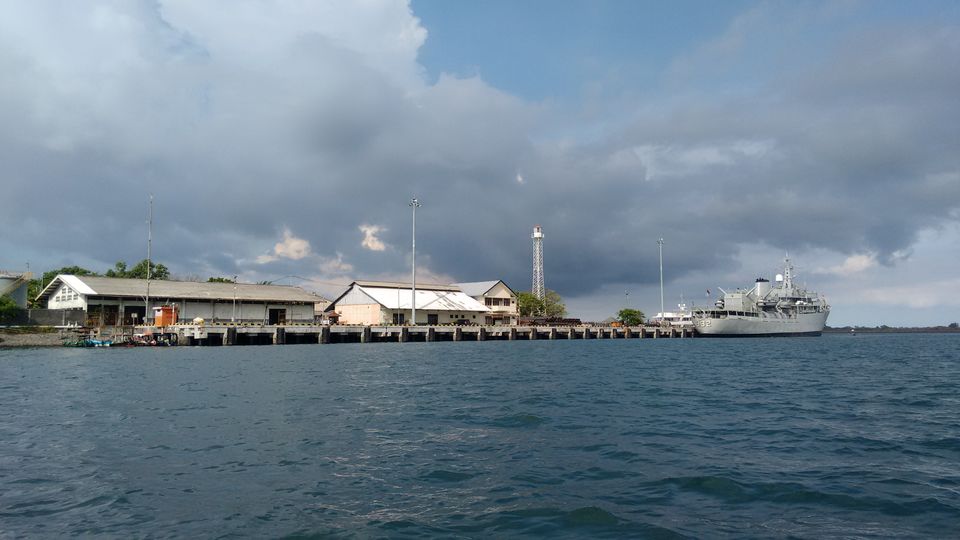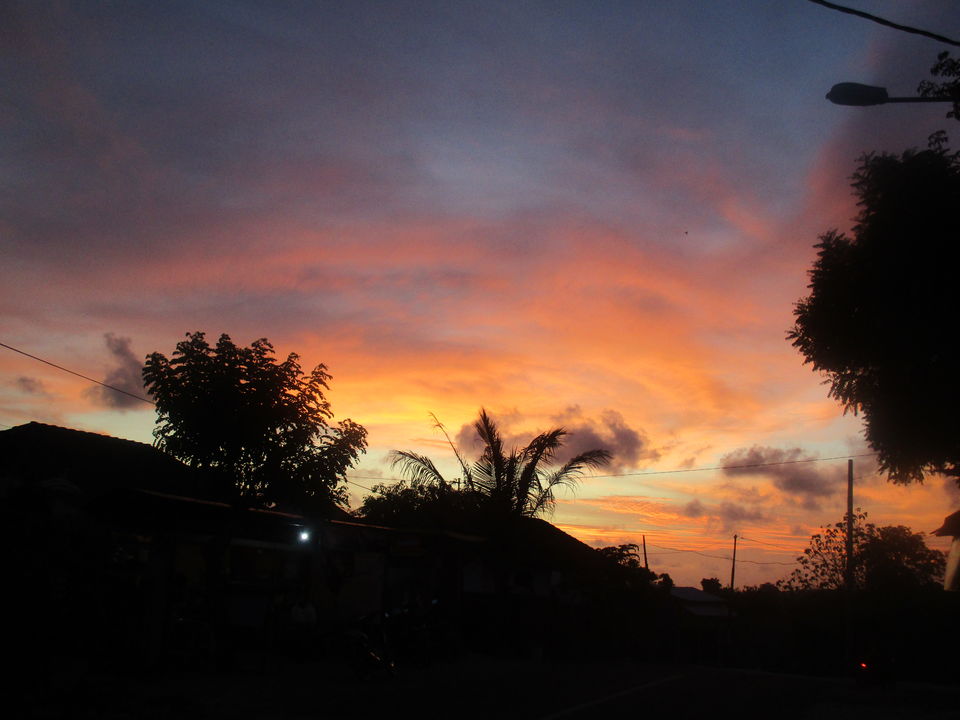 The Sojourn
We had already made the bookings for our stay in one of the finest resorts in the southern part of the island, to be precise in "Nusa Dua". The hotel staff was already present at the airport to gladly welcome and receive us. The driver took us to the hotel in no time and on the way he kept sharing his knowledge about the area to help us know the place better. As soon as we arrived at the resort, we were welcomed by a garland and fresh juice. We were pleased by their warm gesture. Ahhh, we were already feeling so refreshed after seeing the panoramic view around the resort. I was very eager to explore the resort as to what all it had to offer us. In no time, we had changed and were wandering around the area. As we were famished by hunger, we thought of ordering some appetizing food and drinks.
For our stay here, we had chosen the "all inclusive" package offered by the hotel. It included all food items and drinks at any of the four restaurants of the resort. We were given a wrist band which would help the hotel staff to differentiate "all inclusive" guests from other guests. It was pure bliss and joy to have an opportunity to taste so many varieties of exquisite delicacies. The hotel had so much to offer, four restaurants serving potpourri of cuisines.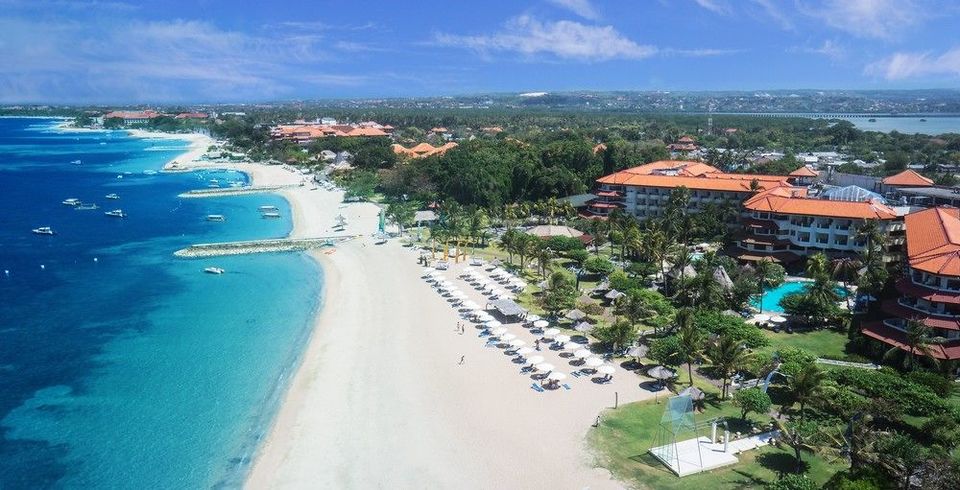 On one of the days of our stay, the resort had organised a small fair where the locals had brought souvenirs we could buy as a token of remembrance. On another evening there was a skit organised, from the celebrated tale of Ramayana (execution of Ravana) which was later followed by few regional songs and dance performances by artists. The ambiance was so beautifully decorated that the whole aura emitted tender vibes.
The resort also offered other services like laundry, games room , gym, internet, live music, cultural performance, spa, swimming pool, meditation, photography and many more.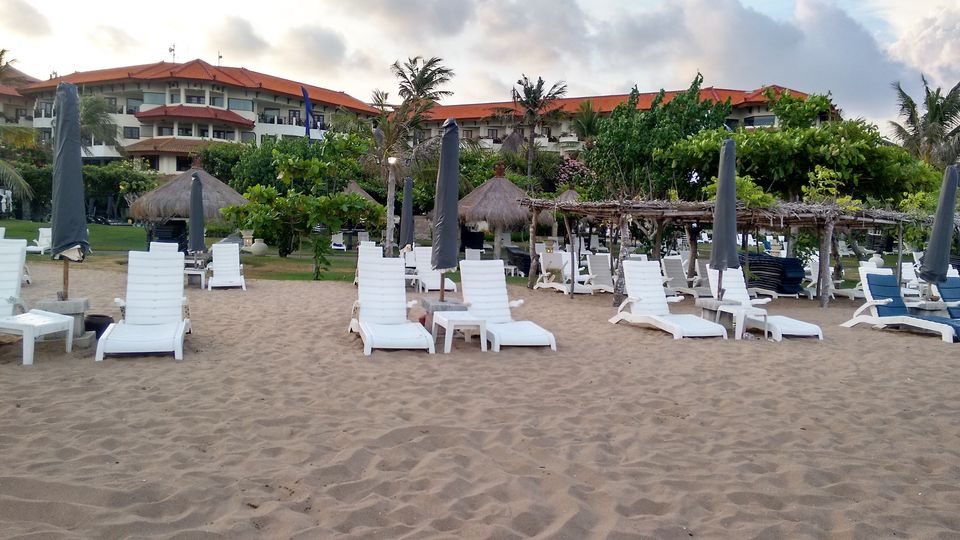 Water Sports
The package also included a few water activities. One of it was sea-walking which is a sea sport that allows you to enjoy the underwater world without the hassle of mastering scuba skills. Sea walking allows you to admire the amazing marine life up close and personal. It is done under the supervision of the experts who guide you how to proceed.
Other activities included in the package were banana boat ride and speed boat cruising. It was so much fun and an amazing experience to participate in the water sports. You can go for other sports as per your choice like jet skiing, catamaran sailing, wind surfing and ocean kayak.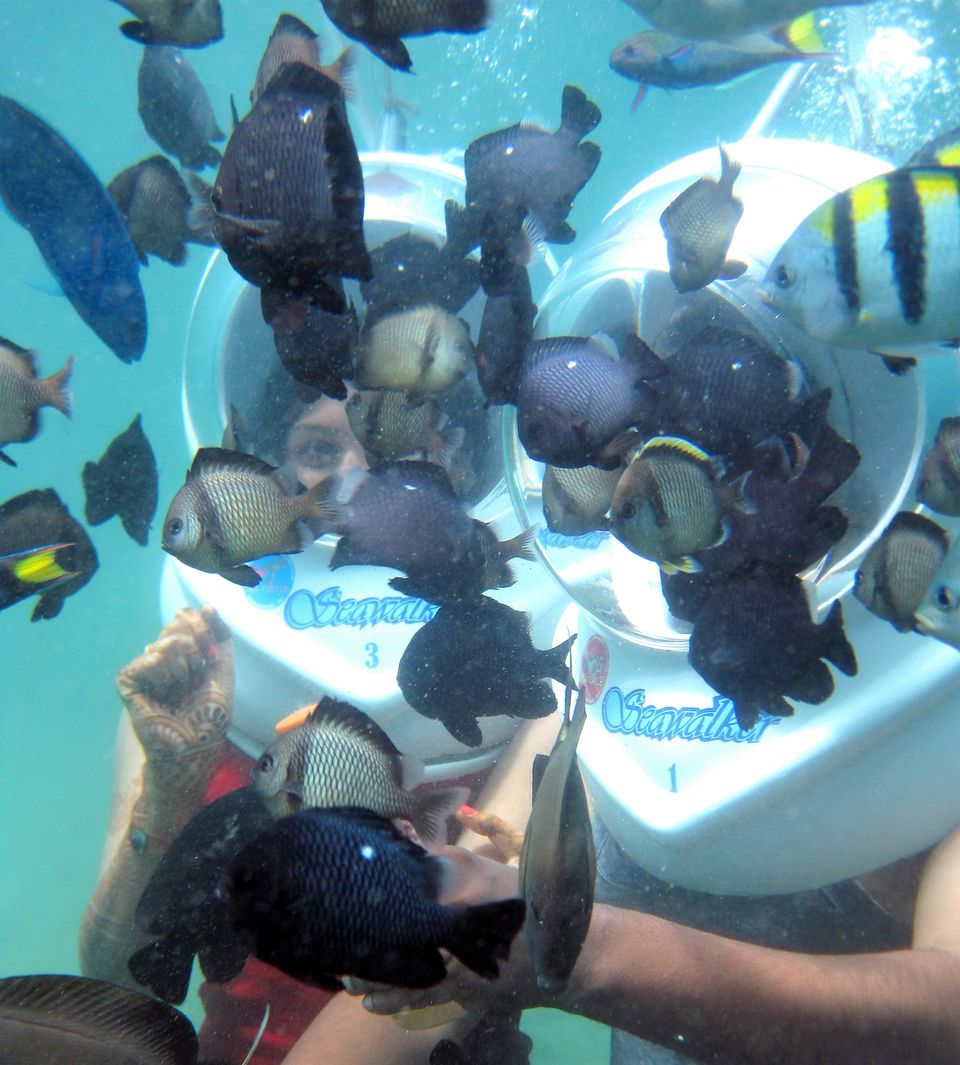 Tourist attraction
Bali gives you an extensive range of spots to visit and reconnoiter. We made sure to cover maximum places possible during our vacay there. The first day was spend chilling around the resort, sitting by the beach and watching the waves swell and vanish in no time. The next day we got up early and were ready to take a glimpse of the city. We had contacted the resort personnel and appointed a guide cum driver who took us to the famous spots and also took wonderful clicks of us (lucky us). To start with, we chose to visit the PADANG PADANG beach. It is a famous surf point in Bali with great waves and white sandy stretch. This surf point is situated the white stone hill with nature scenery to the Indian Ocean and spectacular sunset at late afternoon that creates the romantic nuance. Our next spot was ULUWATU Temple believed to be Bali's spiritual pillar, is renowned for its magnificent location, perched on top of a steep cliff approximately 70 metres above sea level. This temple also shares the splendid sunset backdrops as that of Tanah Lot Temple, another important sea temple located in the island's western shores. It offers a splendid view to calm your mind and soul. The next destination was PANDAWA beach which is also known as the secret beach of Bali. This beach has statues of Panch Pandawa located alongside. Our guide did not miss a chance to draw us closer to the culture of Bali and took us to SARI AMERTA which is a Balinese art-shop of handicrafts, gifts and souvenirs. Next we headed towards BALI BATUAN temple . It is a Balinese Hindu temple designed very beautifully full of Balinese ornaments and the roof temple building is made from the fiber of chromatic black palm tree. One will be amazed to see how skillfully it is designed and sculptured.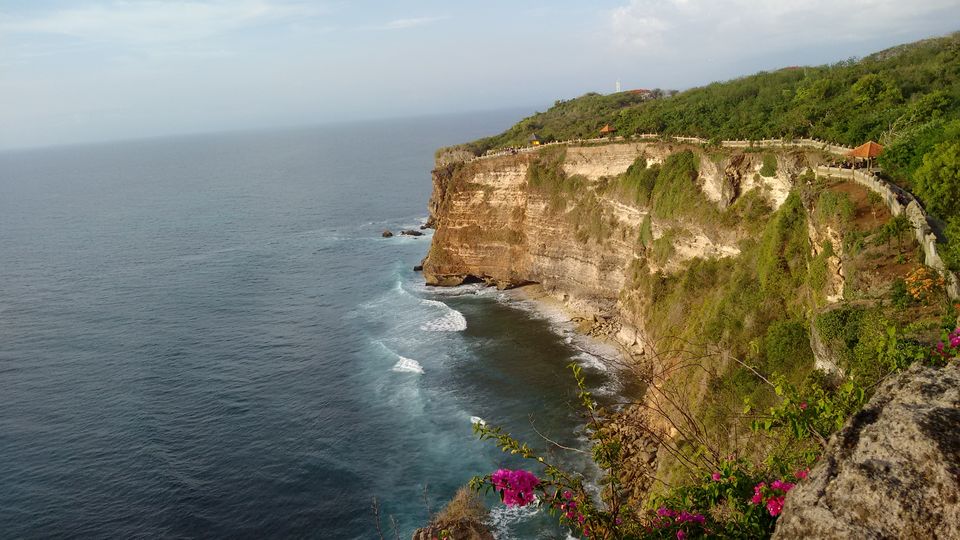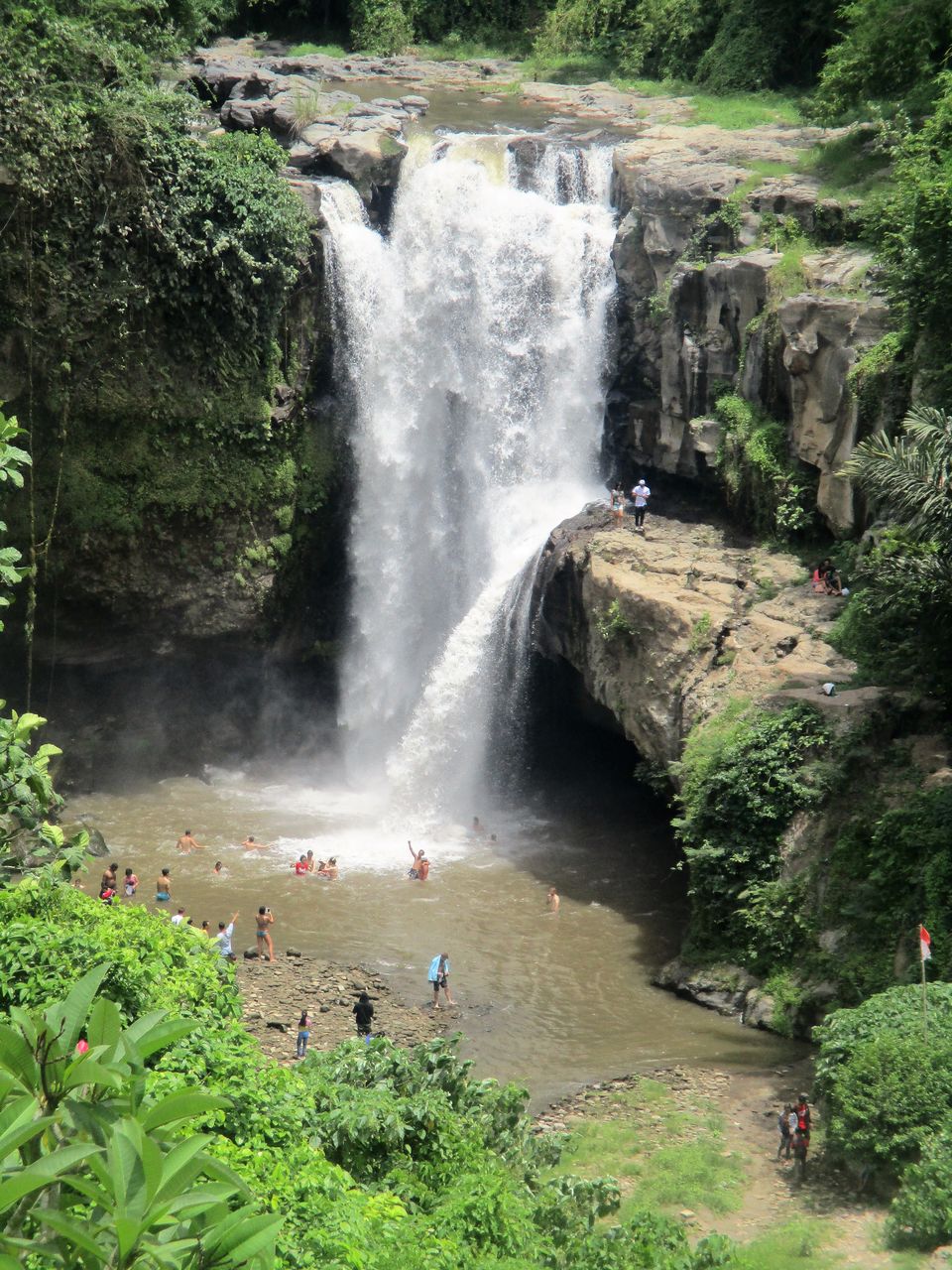 On the second day we started with scenic TEGENUNGAN waterfall . It looked so serene and calming to watch the crystal clear water fall from an altitude. It is surrounded by greenery all around, people are often seen playing in the waterfall. Than we headed towards the UBUD palace known as the official residence of the royal family of Ubud. It has well-preserved Balinese architecture and charming garden settings. Just nearby the palace there is a huge market known as UBUD market, you can buy all sorts of things from here. If you are looking for a present to gift to your dear ones, this is the right place. Next we moved to the picturesque RICE terrace famous for its beautiful scenes of rice paddies involving the subak (traditional Balinese cooperative irrigation system). It spreads down before you and away to the rice terraces on the slopes across the valley. The high roadside location is cool and breezy and it is a well-known spot for tourists to stop and take photos.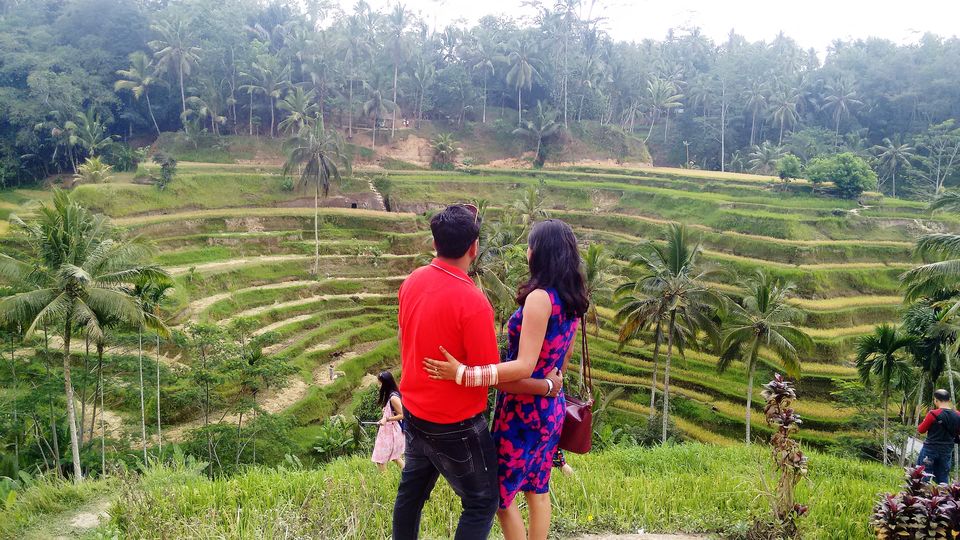 Later we headed to COFFEE tebesari which is a small coffee industry. One can get to know about the process of coffee making and taste a variety of tea and coffee. We can also purchase any of the spices, organic oils and beverages from here. Last but not the least we visited the GOA GAJAH temple or 'Elephant Cave' is an archaeological site of significant historical value that makes it a special place to visit. The temple has relic-filled courtyard rock-wall carvings, a central meditation cave, bathing pools and fountains which are worth noticing.
This basically sums up our visit and trip in and around BALI.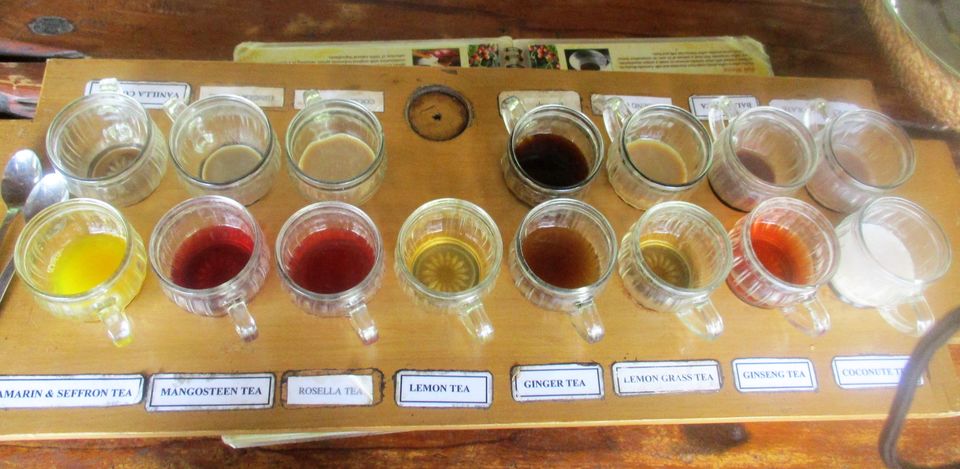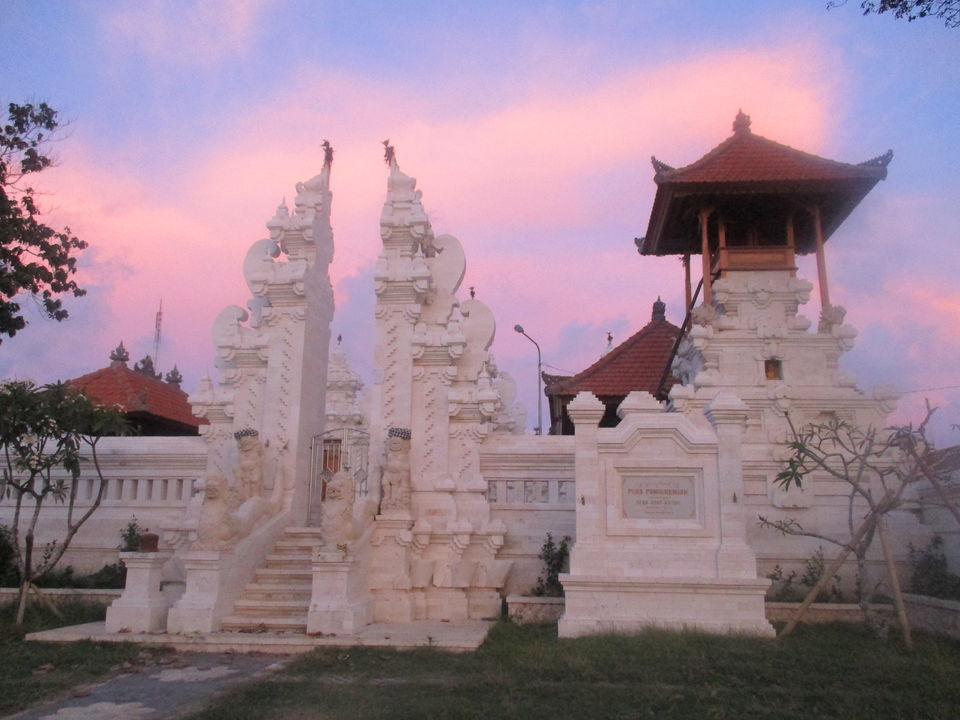 It was time to say goodbye to the panoramic island "Bali". We did not want to miss any opportunity to breathe in, as much of Bali as we could. We contacted the professional photographers (working within the resort) to help us capture the lovely moments and the beauty of the place for eternity in the form of photographs. As it is said "Photography is a way of feeling, of touching, of loving. What you have caught on film is captured forever… It remembers little things, long after you have forgotten everything".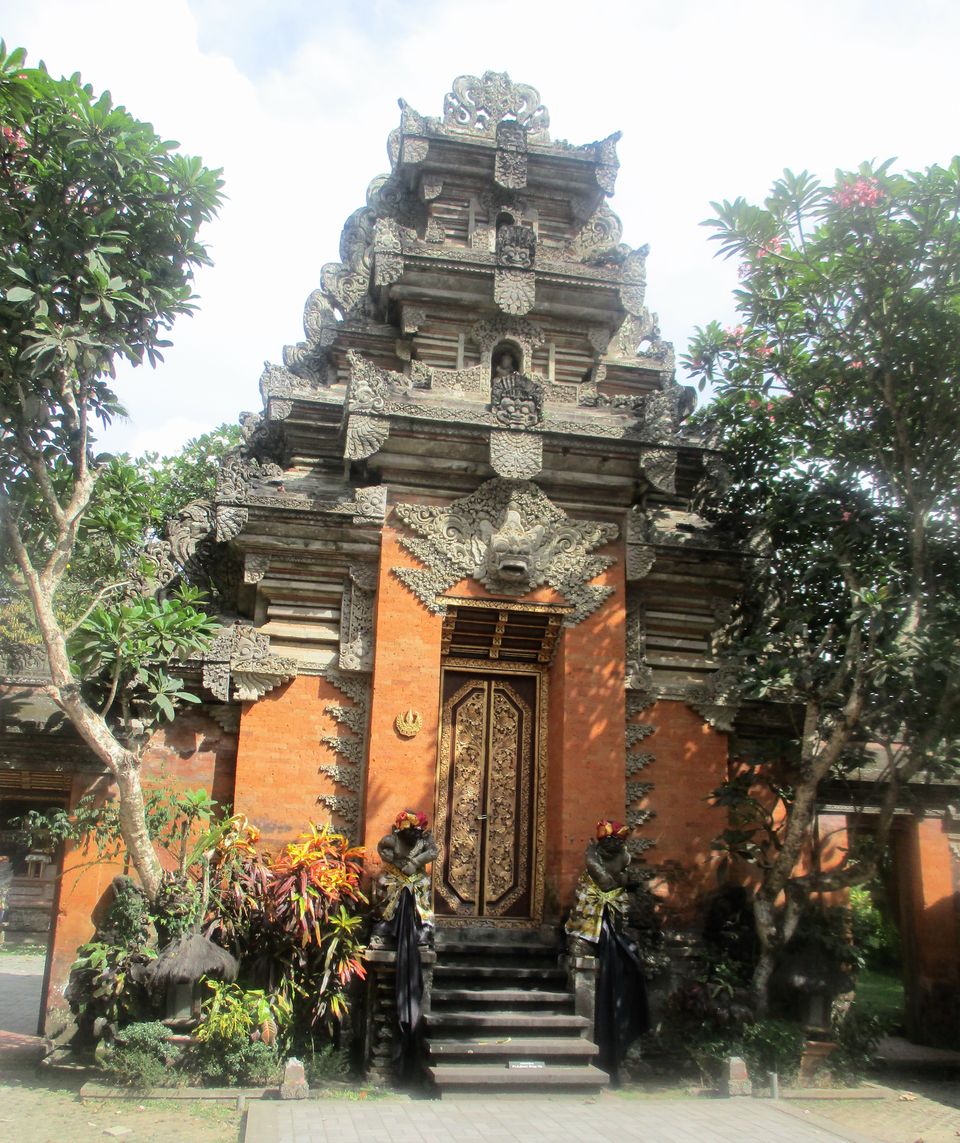 And today as I recall those marvelous days, these pictures remind me of each moment we have lived and enjoyed, giving me so much contentment.
It was a pleasure reminiscing those golden days, hope you too enjoy it.