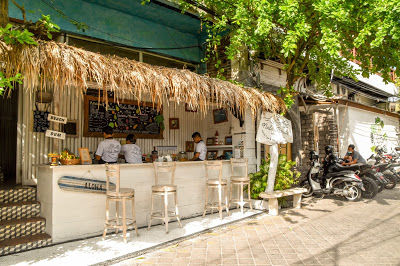 Seminyak is one of the fast and crowded areas of Bali, definitely not as crowded as Kuta and Legion but nor as chill as Canggu. However, one of the most recommended places to stay if you are travelling alone or even in a group and want to hang out in cool cafes and beach bars. Of course the number of travel influencers that set base in this area is super high and I met so many people who've just been travelling and making money on the road, living their passion which was so cool! During my stay at Seminyak, I hung out at various cafes and beach bars. First up is Nalu Bowls, a small cute cafe located in a small lane at Seminyak. They serve one of the most delicious smoothie bowls. A very good option for breakfast, very healthy and delicious. The bowls are decently priced and filling. I had their smoothie bowl known as 'uluwatu' it was delicious. There is also another breakfast hotspot by the name Shelter right about Nalu Bowls which is a good breakfast option. You can also opt for the smoothie bowl from Nalu bowls to be served at Shelter. Next up is Coffee Cartel, one of the days returning back from sunset at Seminyak I stopped over for a coffee at this cafe, only for the reason that their sit out was awesome right on the street of Seminyak, fabulous location.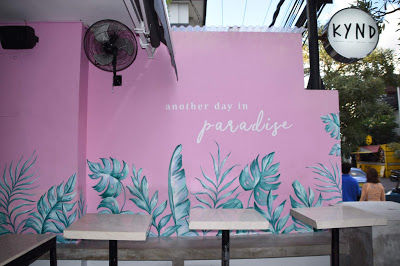 Seminyak has many options and one of the famous cafes is Kynd Community, again located on the crowded streets of Seminyak this cafe serves delicious food which is decently priced. This cafe is very popular for its pink walls. Kynd is one of the crowded cafes where you will need to wait in order to get a good seat. Here, I was for brunch and I tasted their dish called 'high rollin' and one of their coolers called 'squashed' It was amazing, please check out this cafe and make sure to get place at their outdoor seating area. Honestly, this is the kind of place which is absolutely flawless, from friendly staff to tasty food to perfect location. Another option for brunch/lunch could be this restaurant in Seminyak called 'Sea Circus'. On the first day I passed a colourful wall but could not realise there was a restaurant behind it. At Sea Circus I had one of the most delicious coconut flavoured ice creams. Pretty decently priced and is crowded during the peak hours. Surely one of my favourite restaurants in Seminyak as I ended up returning to the cafe for dinner on my last day. The staff here is very friendly. Coffee Cartel, Nalu Bowls and Kynd are open only till 6:30 in the evening so if you plan on going make sure you head there for breakfast, brunch or Lunch. Sea Circus is open till late just like the one of the beach bar i visited in Seminyak called 'Potato Head'.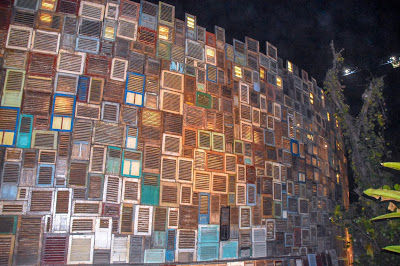 A very fancy beach bar right on the beach at Seminyak, it's got a pool as well. A recommendation for fine dining. Prices here are slightly on the higher side. Another beach bar I visited was Finns, located in Canggu. Finns again is a fancy beach bar also with a pool right on the beach. Here also the prices are more on the higher side, they serve some delicious smoothies though. In Canggu, the place to be is 'The Lawn' it's beautiful and is another beach bar which I can call flawless, as i have written in my earlier blog. If you are in Bali and hanging out in Seminyak and Canggu as per my experiences these are the places to not miss apart from the many other super cafes located in these places. I surely have feasted on the smoothies at these places for which i am not guilty one bit. Another mention would be 'La Favela', walking on the streets of Seminyak and talking to a few locals I learnt about this place which has many floors. Each floor caters to a different genre. From one floor dedicated to partying and another to dining. A very colourful place, with lush green and antique decor. Food here is absolutely delicious and the cocktails are also spot on. La Favela is best to visit after sunset as it comes to life then and is open till late.