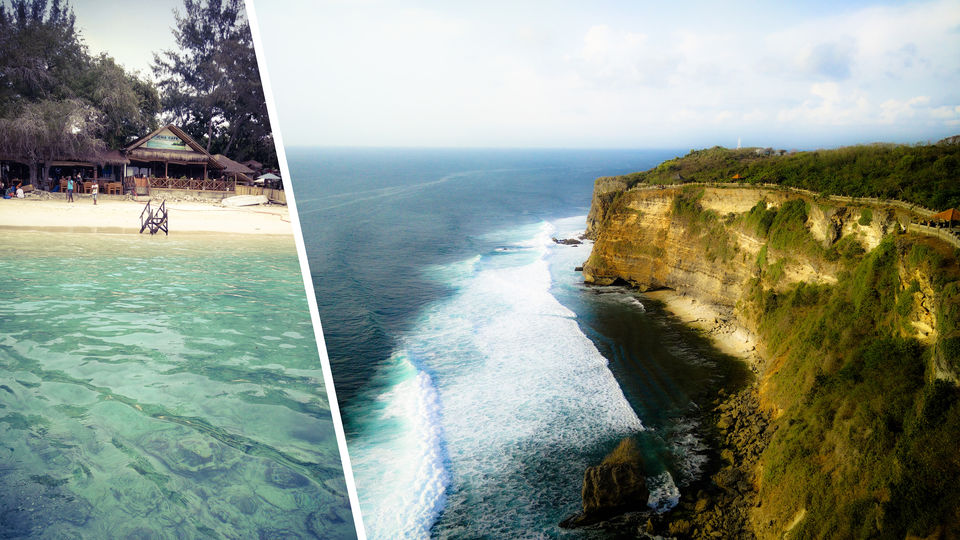 Bali, a destination that is almost on every person's bucket list is an island full of surprises and adventures. A ton of information about Bali is available online so I won't repeat all of that but instead below are a few tips which won't be found on the internet to make the most of your trip to Bali while keeping a check on the budget.
1) Credit Cards and/or ATM Withdrawals vs Money Exchange
One important thing I learned in Bali was that it's cheaper to use a credit card and withdraw cash from ATMs for places which don't accept cards. All you need is an international credit card that doesn't charge extra for foreign transactions and simply applies the exchange rate applicable at the time of the transaction. Secondly, make sure you are aware of what your ATM card charges for cash withdrawals in foreign ATMs (this may vary from country to country). Indian banks tend to charge as low as 100 INR per withdrawal in Indonesia and most ATMs in Bali allow withdrawals up to 2,000,000 IDR, which in retrospect isn't too much. In comparison, the rates offered by official money exchange centers are considerably low for the Indian Rupee. Further, it's rather safe to withdraw smaller amounts from an ATM as and when required, than getting a larger amount from the money exchange. (Converting INR to USD from India and then converting USD to IDR in Bali saves more money if money exchange is your way to go)
2) Buy Alcohol from Indian or Singaporean/Malaysian Duty Free
Alcohol in Bali is not expensive, but it's not cheap either. The problem though is, that the hard liquor served at night clubs is quite evidently diluted. Having said that, if you like to have a couple of drinks in your room before you leave for a night of partying, one can't buy a bottle of hard liquor off the shelf in 7-Elevens of Bali and most liquor shops are located in bylanes and are quite hard to find. As far as the Duty Free shops at Bali airport are concerned, they are quite expensive than any Indian Duty Free and if you're flying through Singapore or Malaysia, it's even cheaper there.
3) Fly by Tiger Air or AirAsia
Tiger Air flights from India halt at Changi Airport, Singapore and thus makes it at obvious first-choice for a long stopover. Changi is one of the best airports in the world with amenities like wonderful theme rooms, a movie theatre and even a PlayStation section which are all available for free to all passengers. AirAsia halts at Kuala Lumpur but both of these airlines are cheap and completely reliable and that only means having more money to spend at Bali. P.S. Just remember to carry an empty bottle and fill drinking water after security because they won't serve anything for free.
4) Stay at a Hostel
If you find the right hostel, it can easily elevate your overall experience. Staying at a hostel is cheap and one can find many other like minded people to socialise and have fun with.
5) Gili T
When in Bali, one should really consider going to Gili T, which is easily accessible from Bali via a ferry or speed boat. The number of days you spend here completely depends on your total duration in Bali but I'd definitely recommend staying for at least one night. The island, where no motored vehicles are allowed, is one of the best escape spots I've ever seen. The clear blue waters, the occasional dolphin spotting, the bike rides on the beach, the crazy night parties, the amazing beach restaurants, the night food market, the snorkeling with the fishermen or the Jiggy's Boat Party there's hardly a dull moment here. Well to sum it up, I'd say, this is a must-visit but one must remember to pack light as you may have to carry your luggage all the way from the pier to your hotel as the horse carts are a little overpriced.
6) If you haven't ever Scuba Dived, this is the place to begin
Bali and the adjoining Gili Islands are filled with beautiful diving spots and some of them are even the best rated in the world. It's cheap, it's easy to find and thus this is absolutely the perfect place to try diving for the first time. And it's something that everyone should definitely try at least once in their life. The easiest and also most commercialised location would be Nusa Dua for all water sports but I'd strongly recommend to get it a miss and to head to absolutely any other location that is most convenient.
7) Kuta Legian
One would read all about Kuta Legian being the most happening place at night in Bali. It actually is if one intends to score a new one night stand every night, but there is nothing more to it. If you'd rather explore other places (and not be bothered by pimps and peddlers), my advice would be to not spend more than one night here. The place has no more than 6-8 good night clubs, all of which can be covered in one night alone if wanted.
8) Seminyak
Having complained about Kuta, this is my alternative. Seminyak may be a little expensive with all its swanky clubs and exotic restaurants but offer better experiences in general. Shopping can be a little more expensive here but one can always go to Kuta for that. To conclude, one is better off staying in one of the hotels here for a longer trip.
9) Ayana's Rock Bar, Potato Head Club, Ku De Ta & others
There are tons of sea-facing high-end clubs in Bali that one would read about on the internet. All the reviews seem pretty awesome and so are the places. The only problem is, if you've seen one, you've seen all of them. Not taking any credit out of any of these places, they all have good food, great ambiance, great service but are all expensive and they all look the same. If you're on a short trip to Bali, going to one such place is a good experience but, don't bother spending your time and money trying to cover all.
10) Jimbaran
If you ask any local in Bali where to find the best seafood, they'll immediately recommend the long line of sea-facing shacks at Jimbaran but all these restaurants have the same menu, same theme and same seating and the meals they serve are hardly close to being the best. Jimbaran can be excluded from one's bucket list and there are tons of other good seafood restaurants on Zomato.
Frequent searches leading to this page:-
Bali honeymoon package, Top places to visit in Bali for honeymoon, Bali tour package for couple, Bali Indonesia package tour with airfare, Bali Indonesia tour package, Bali tour package from India, Bali honeymoon package cost