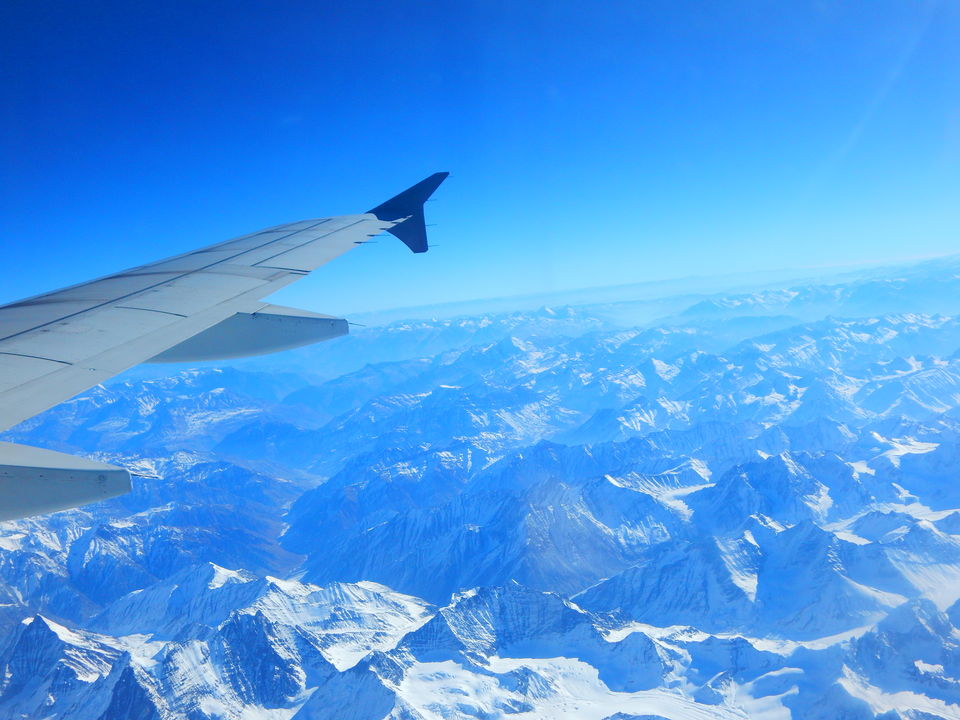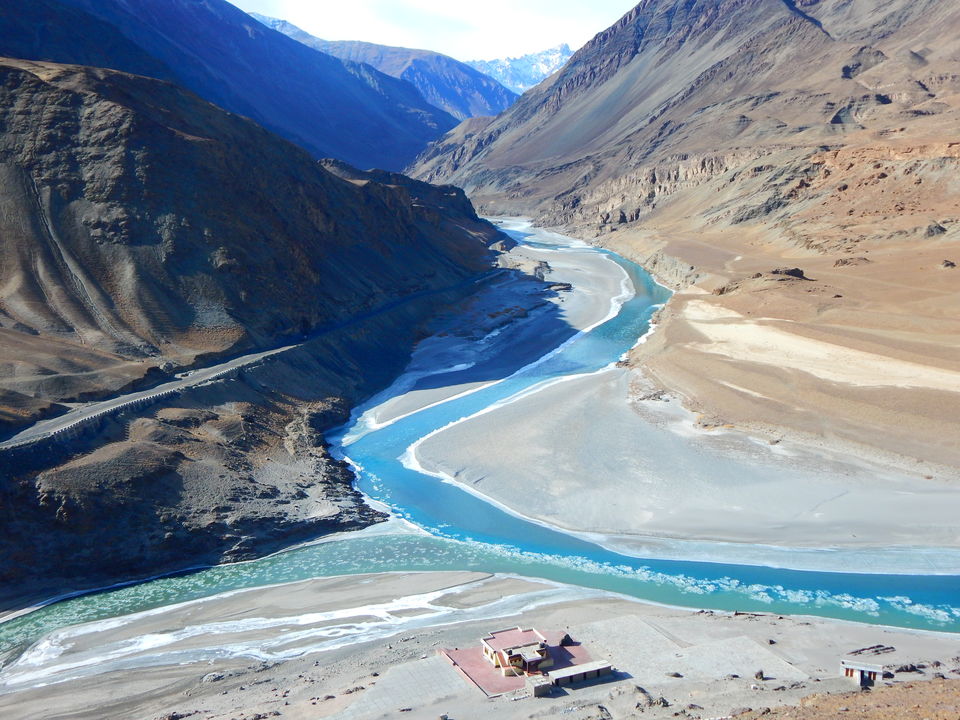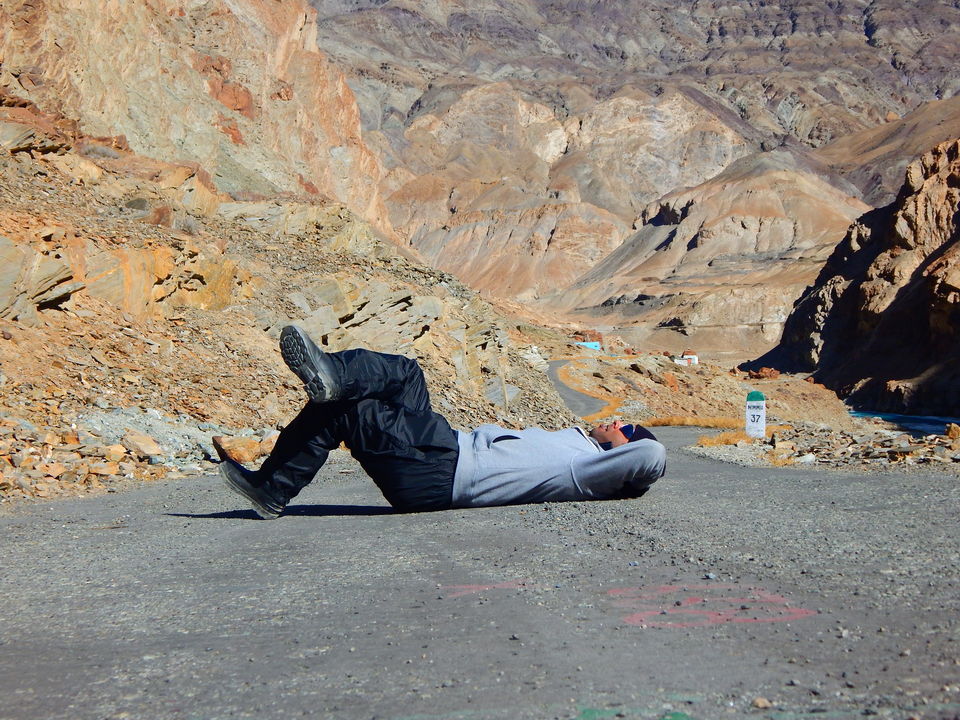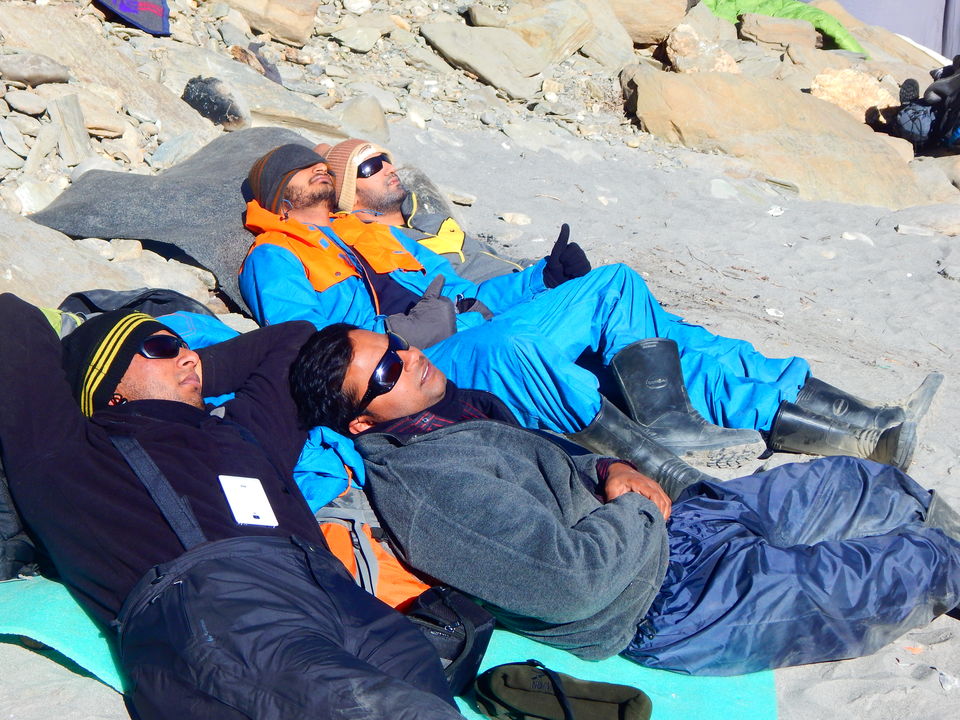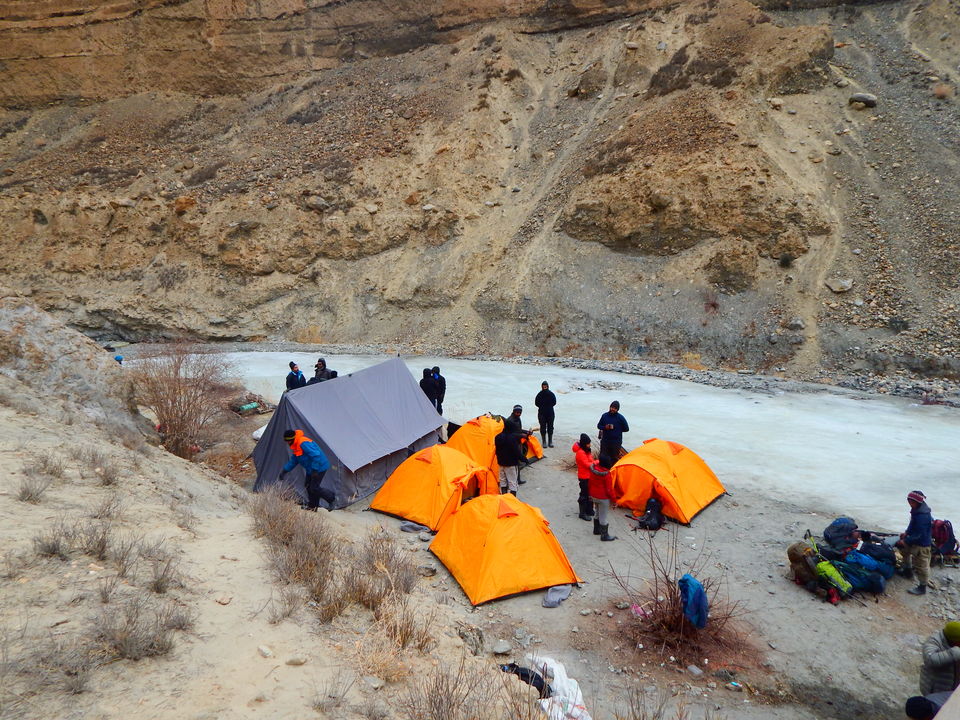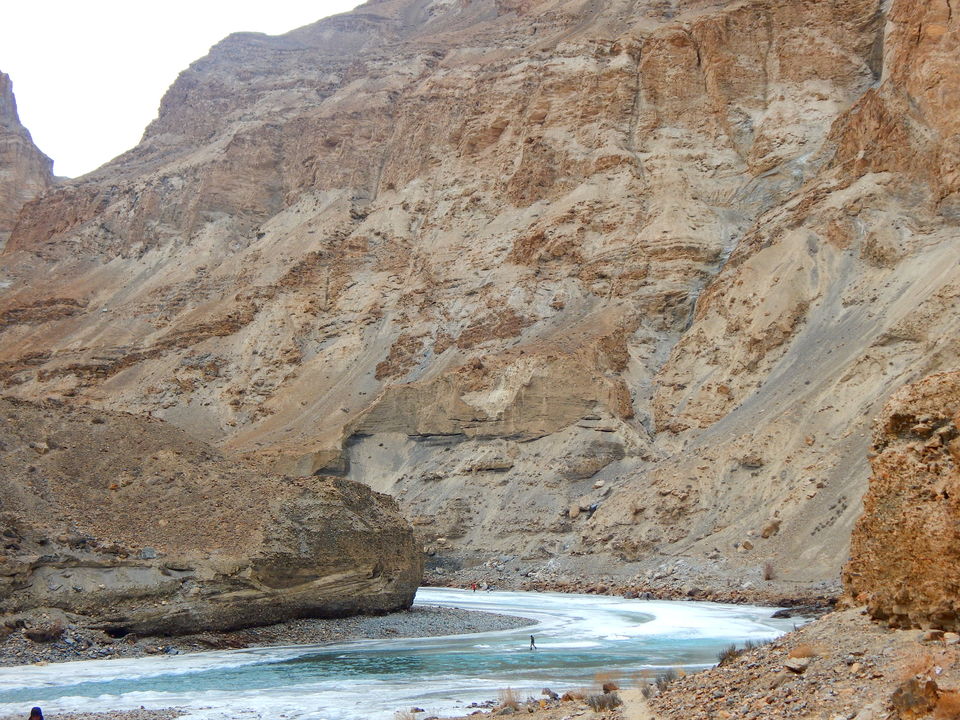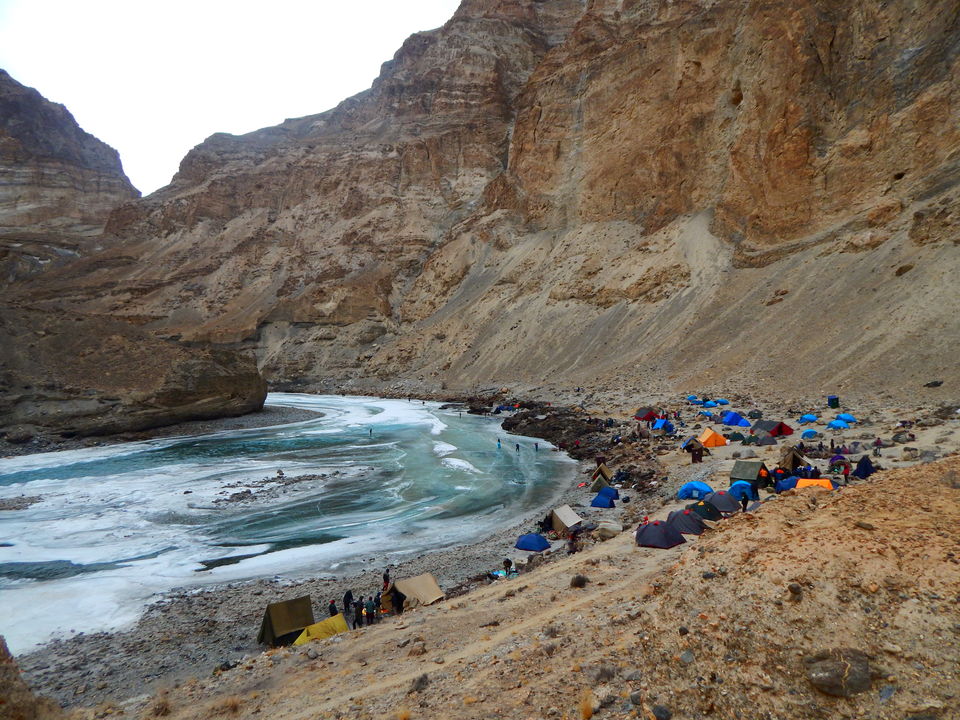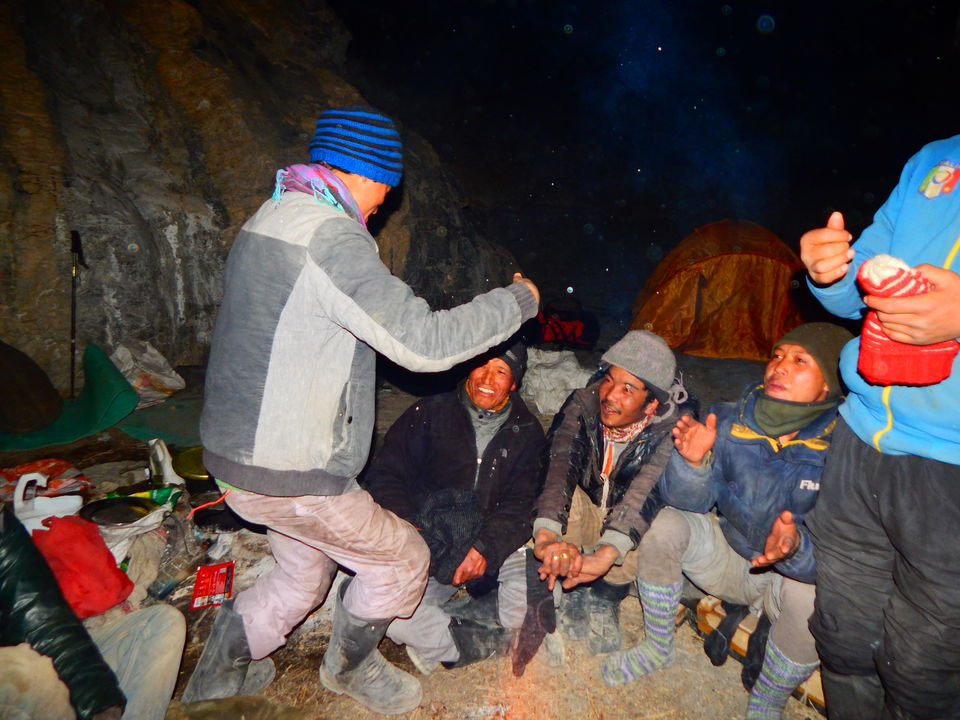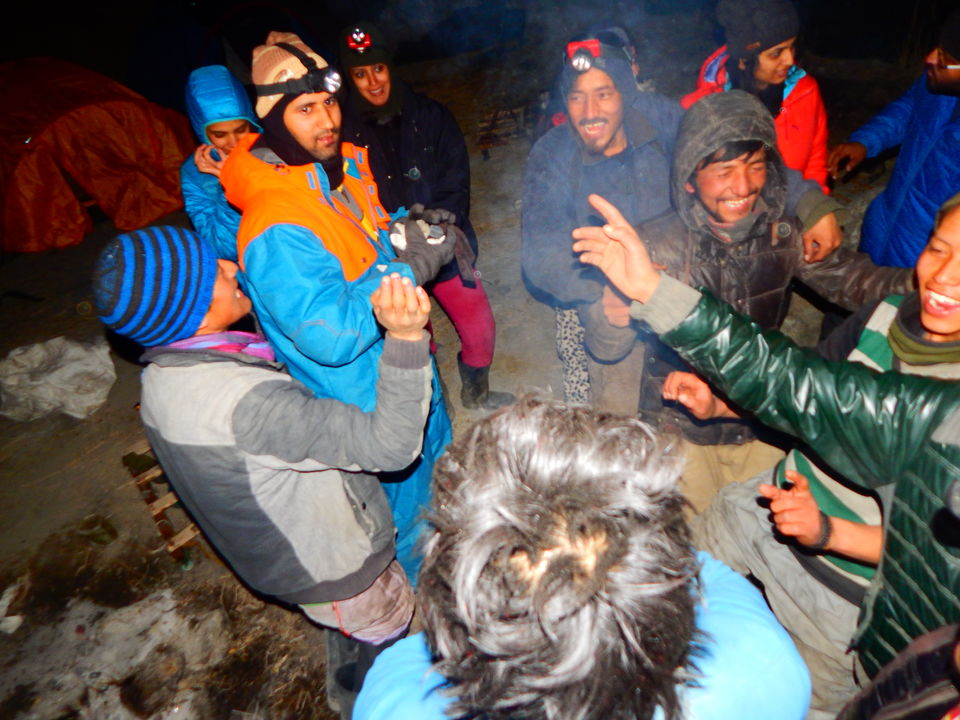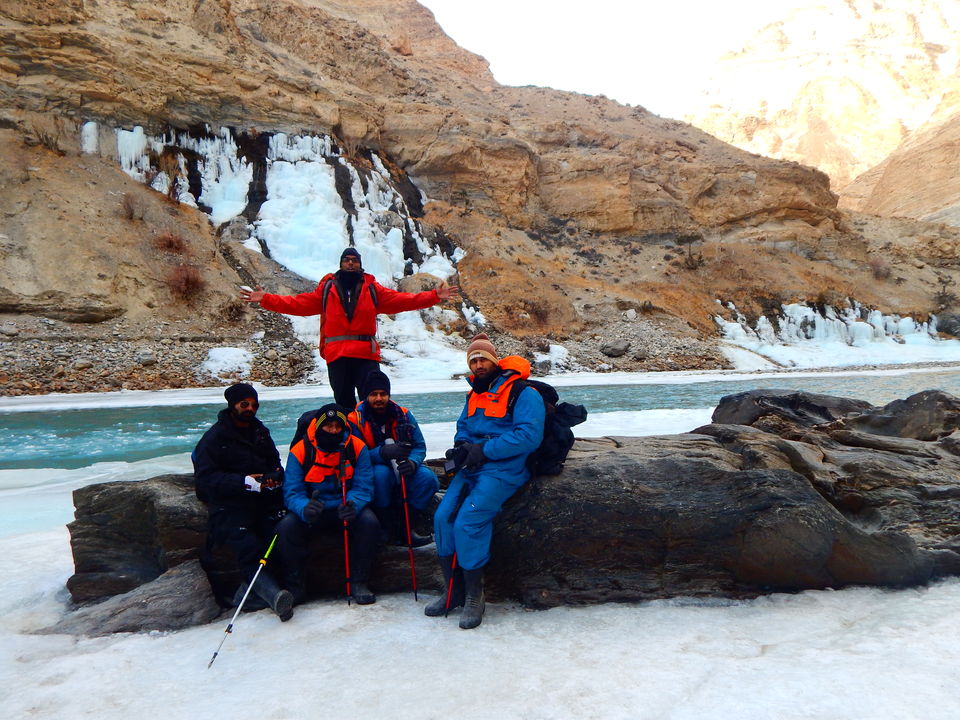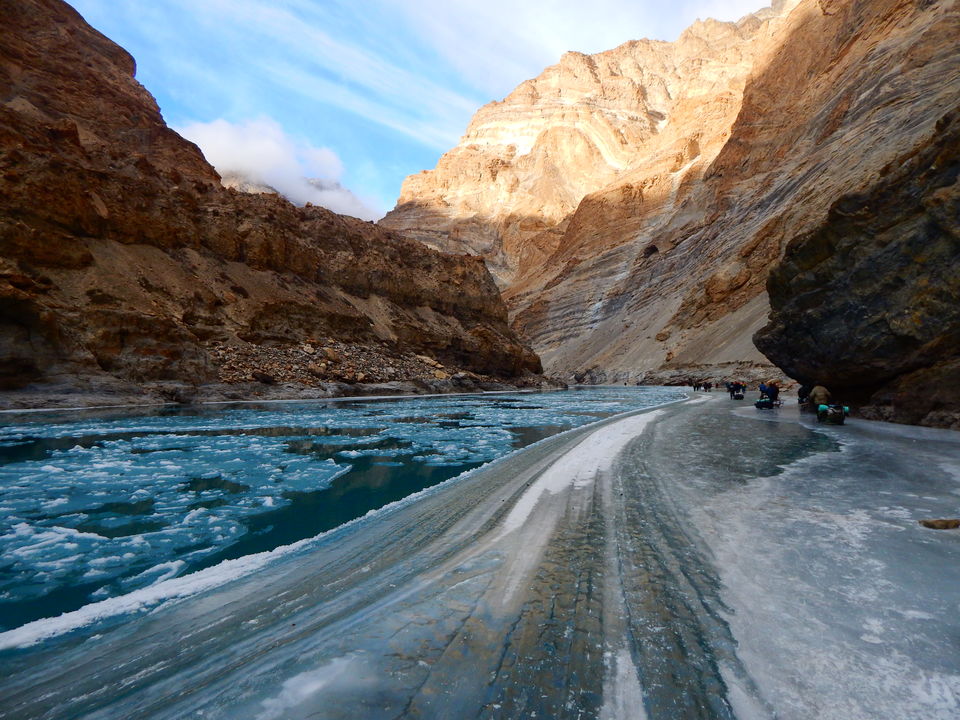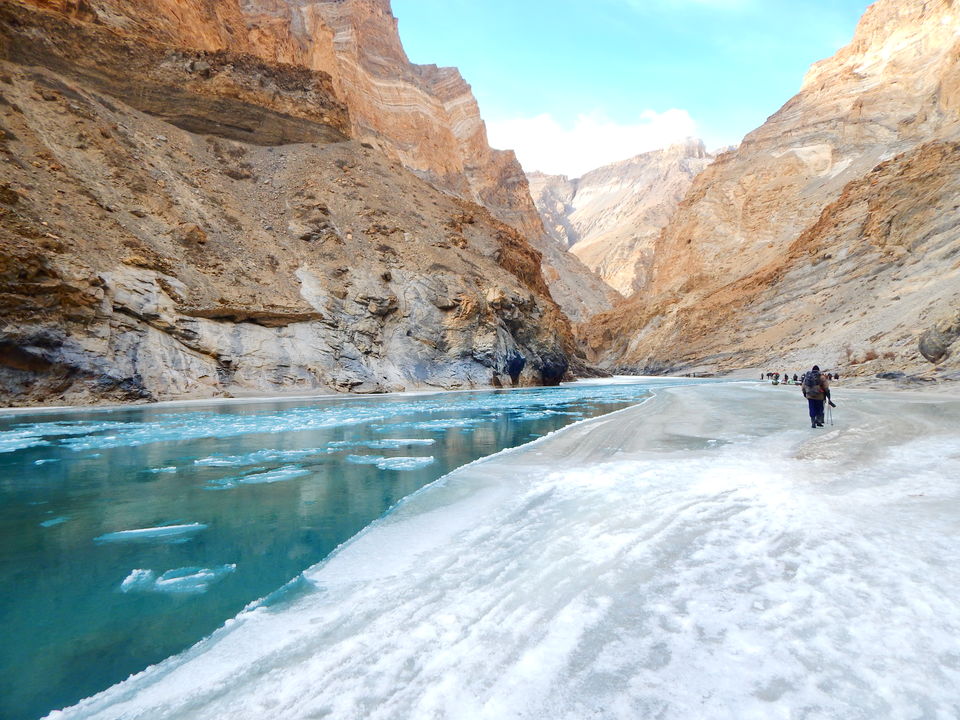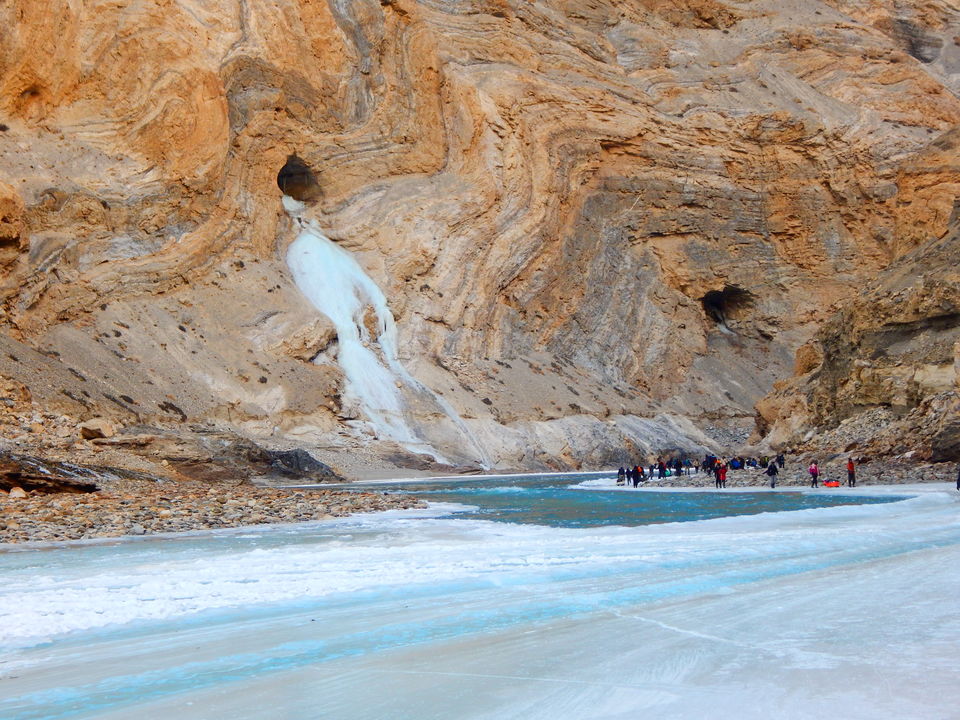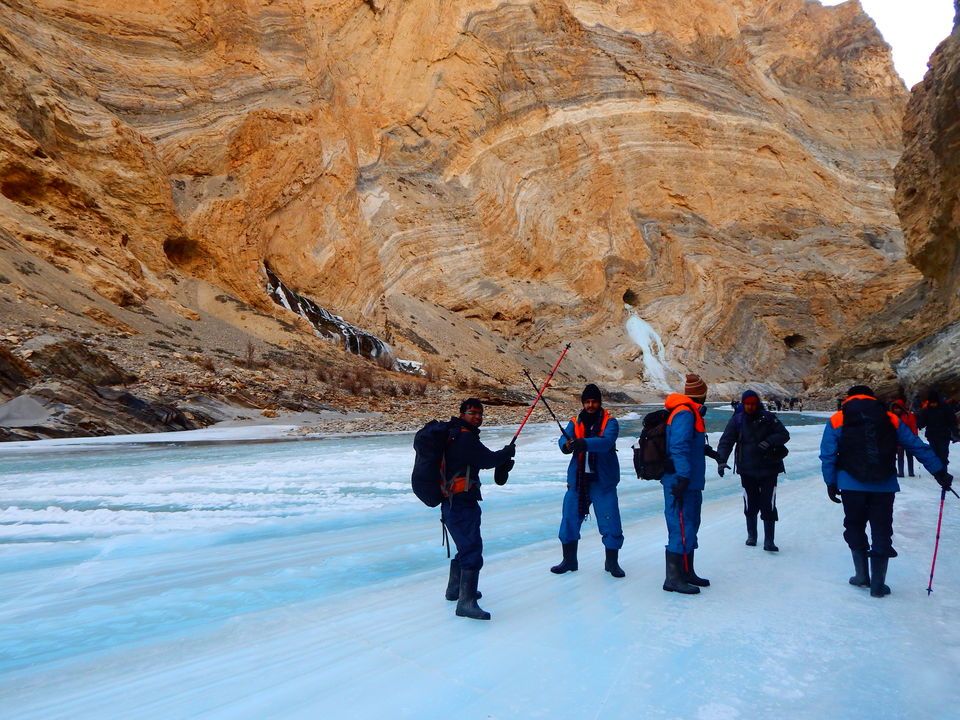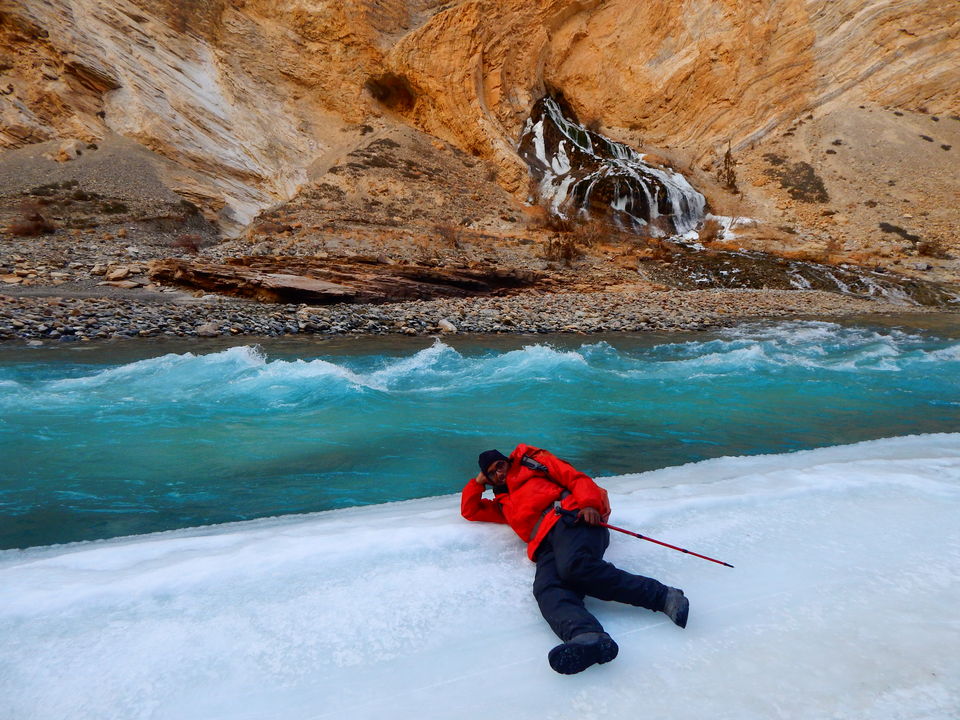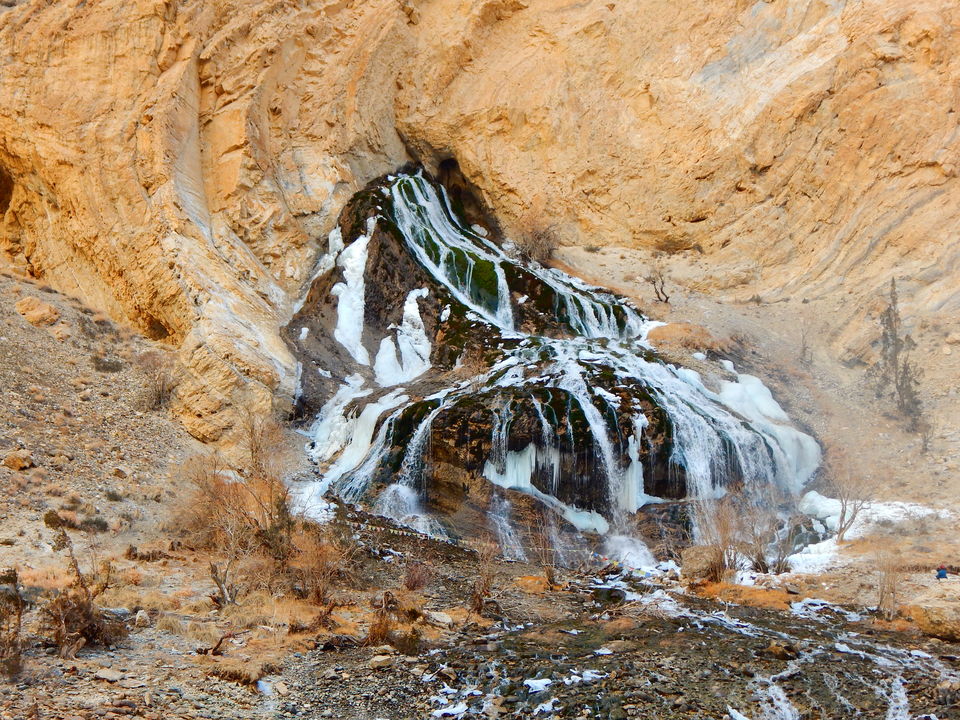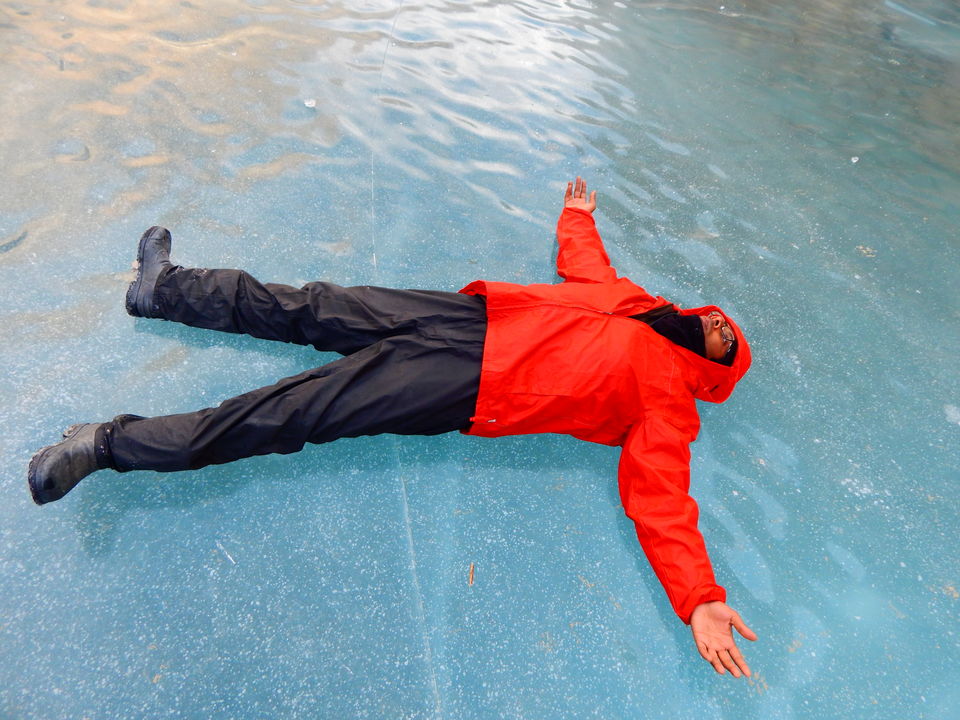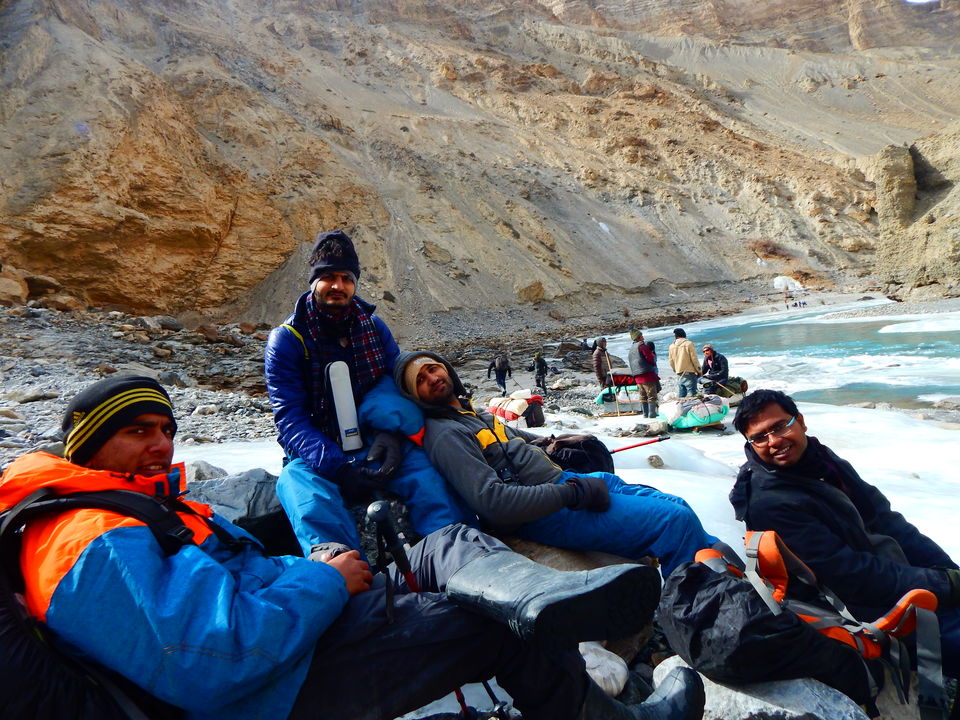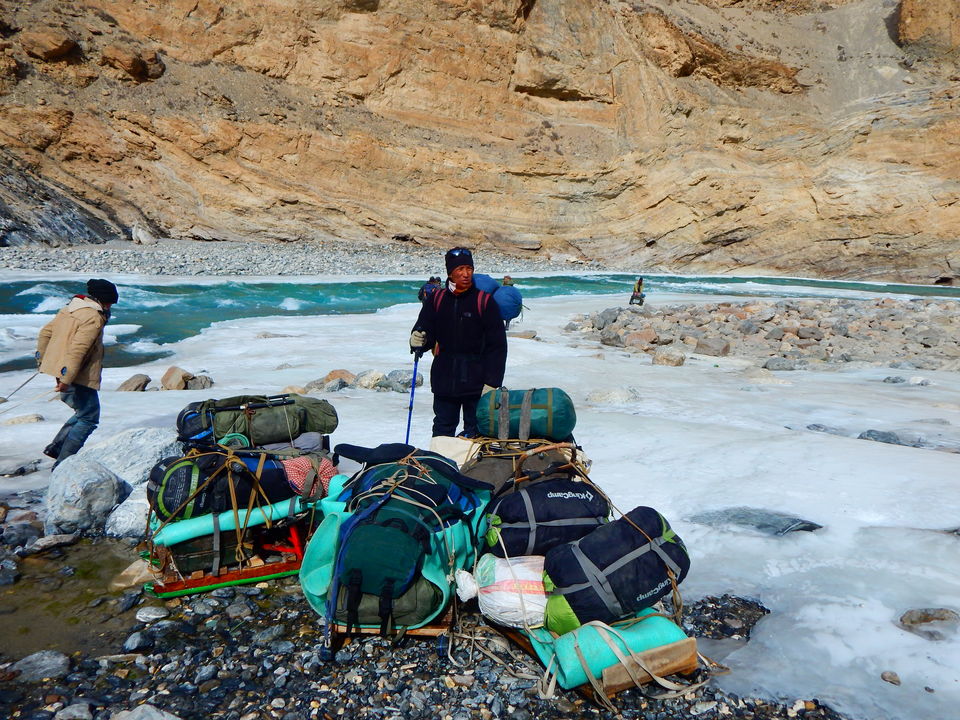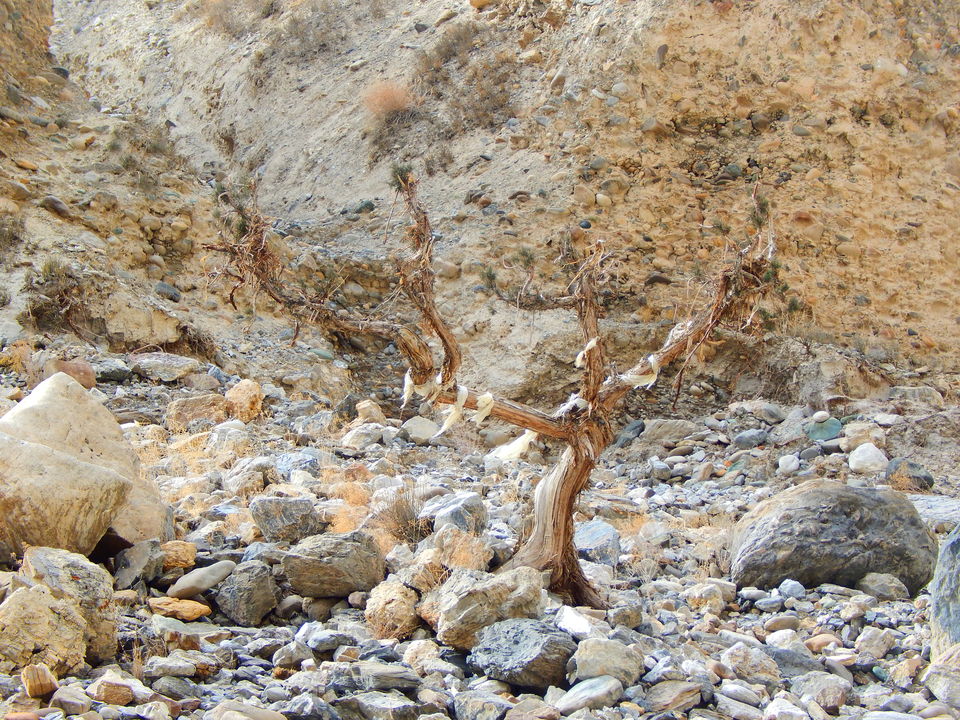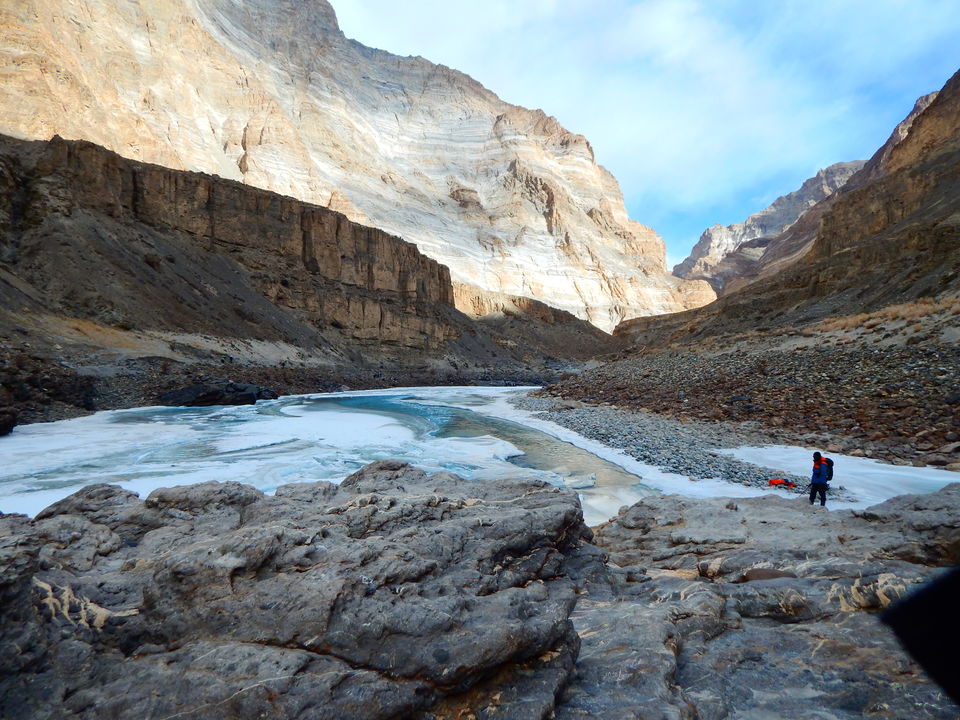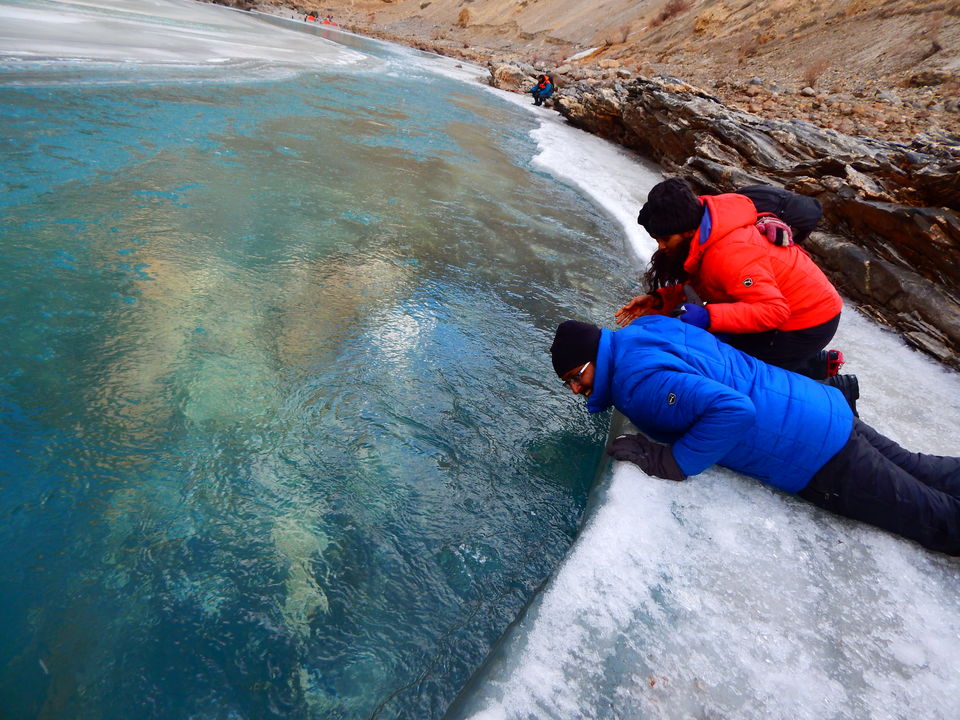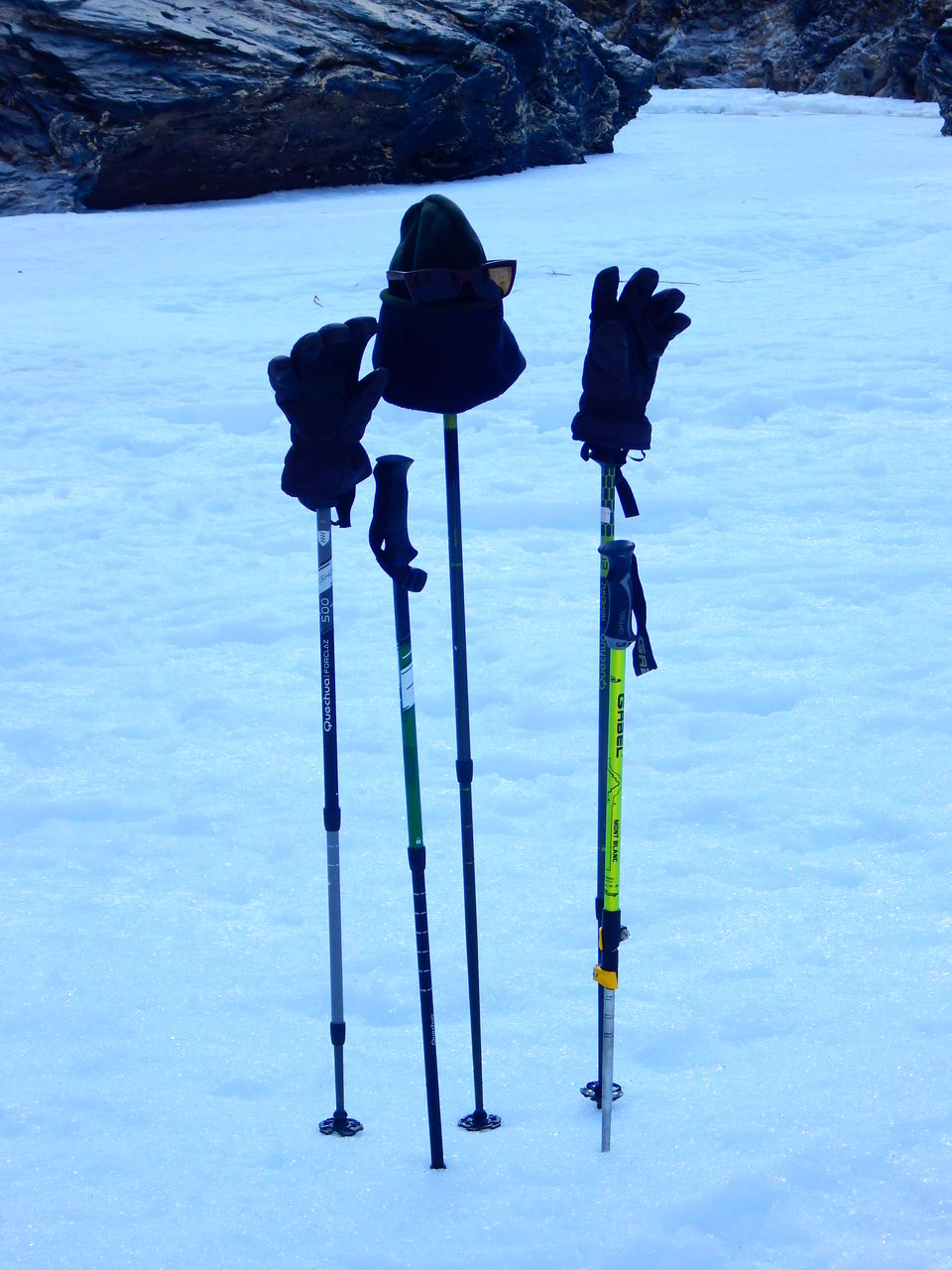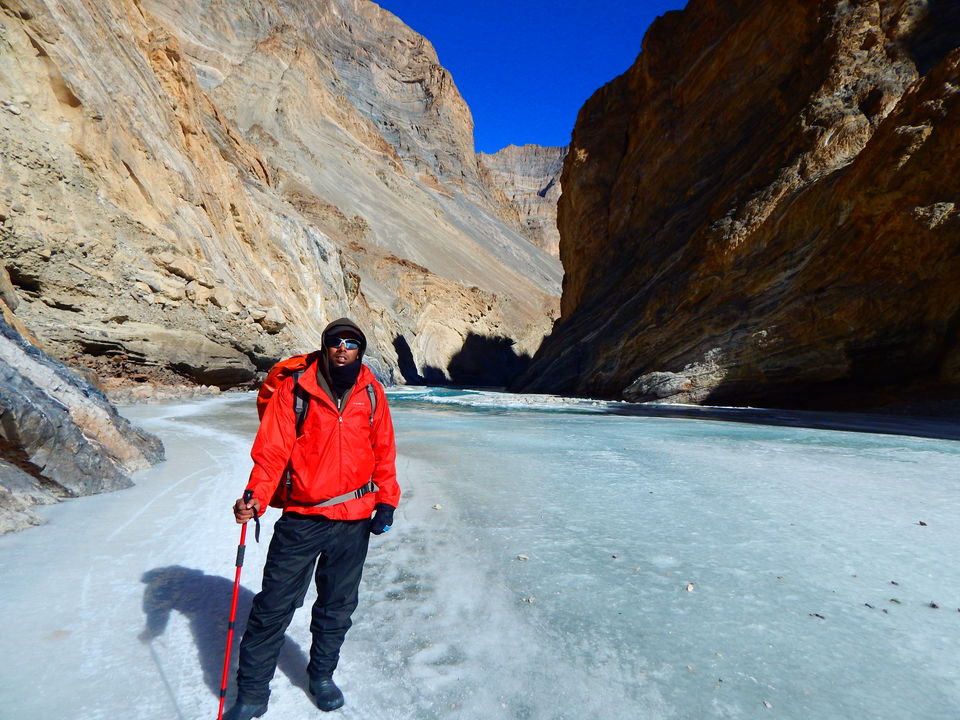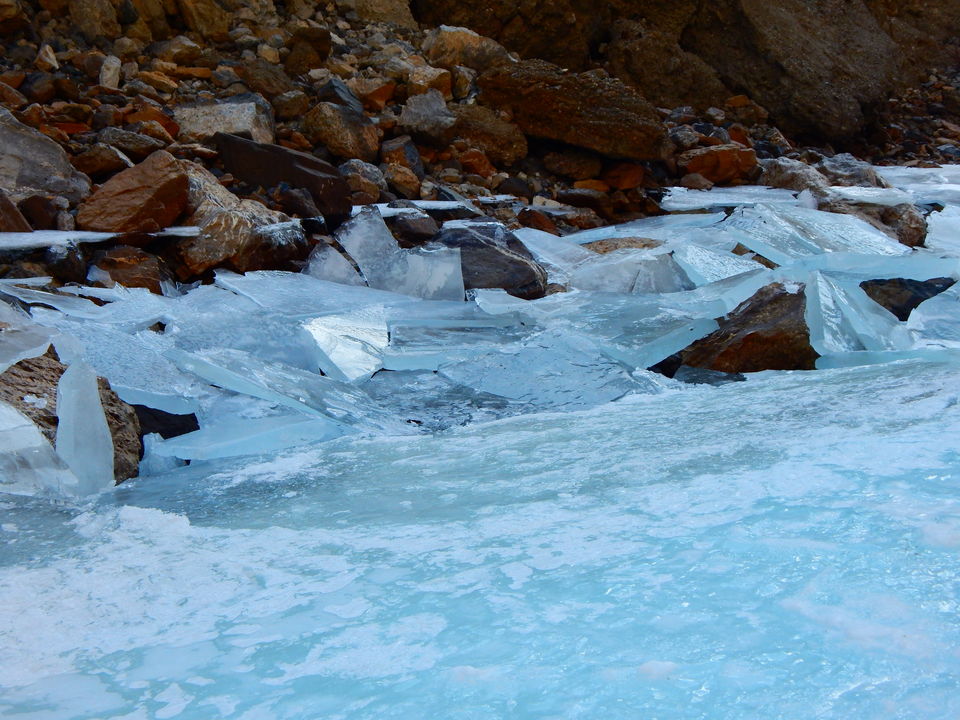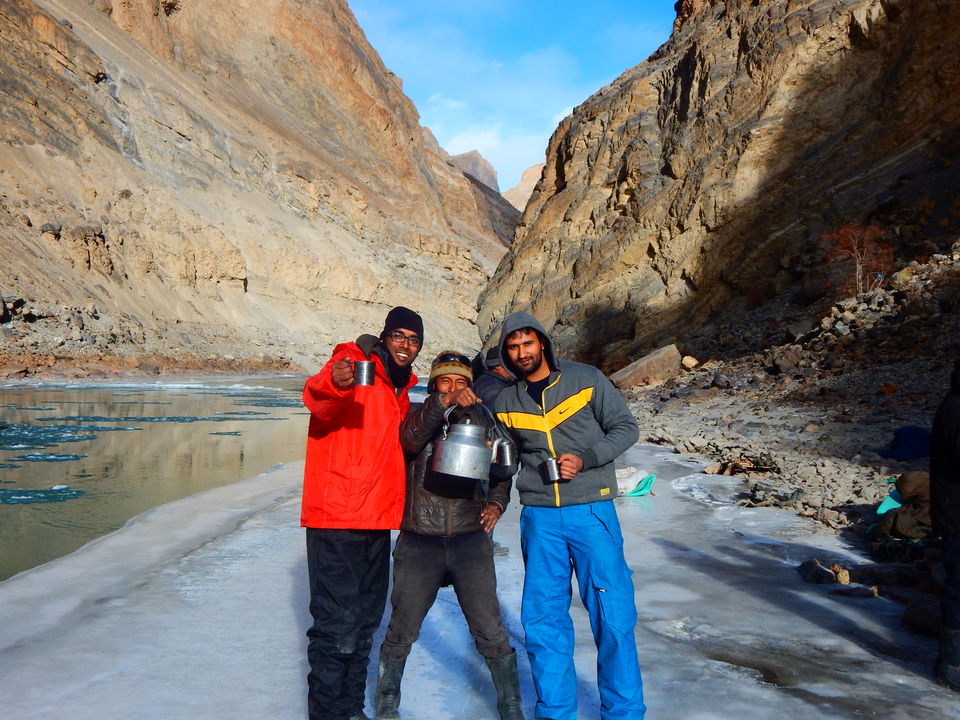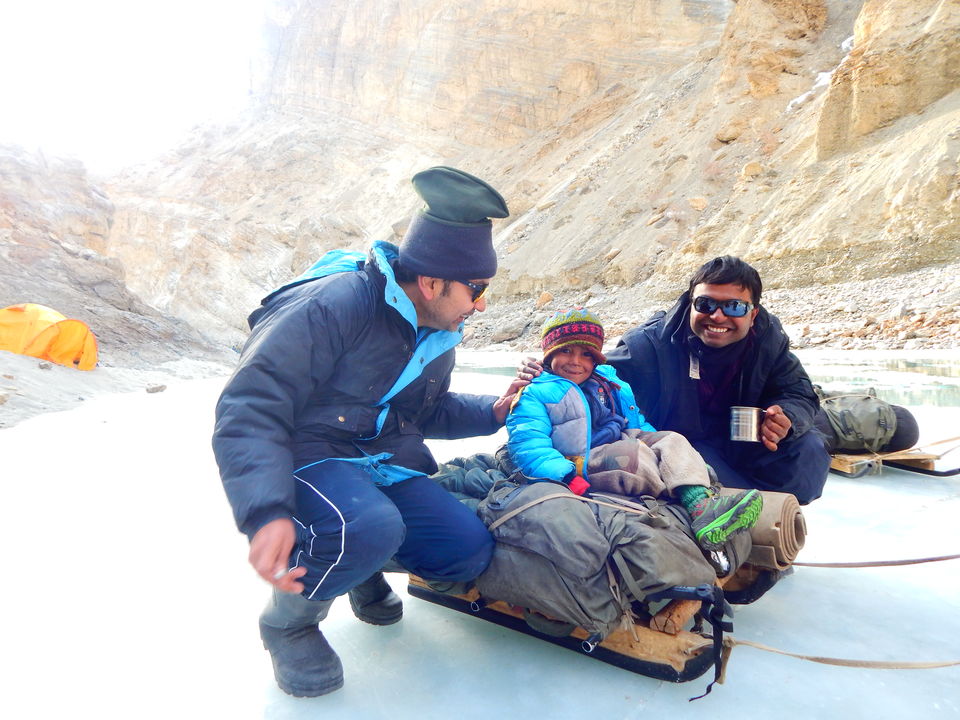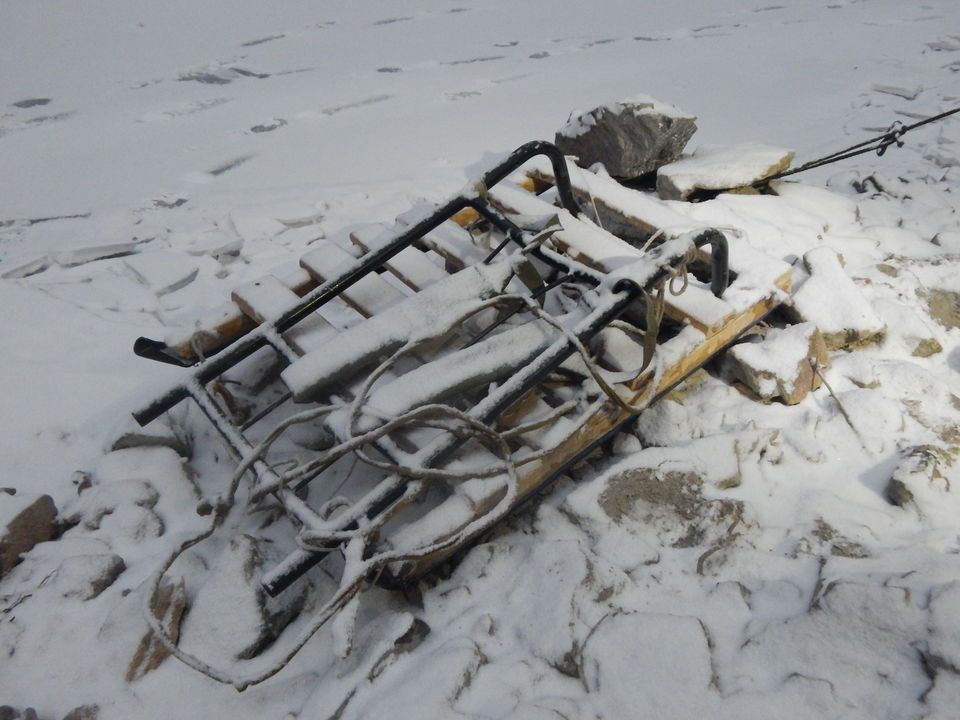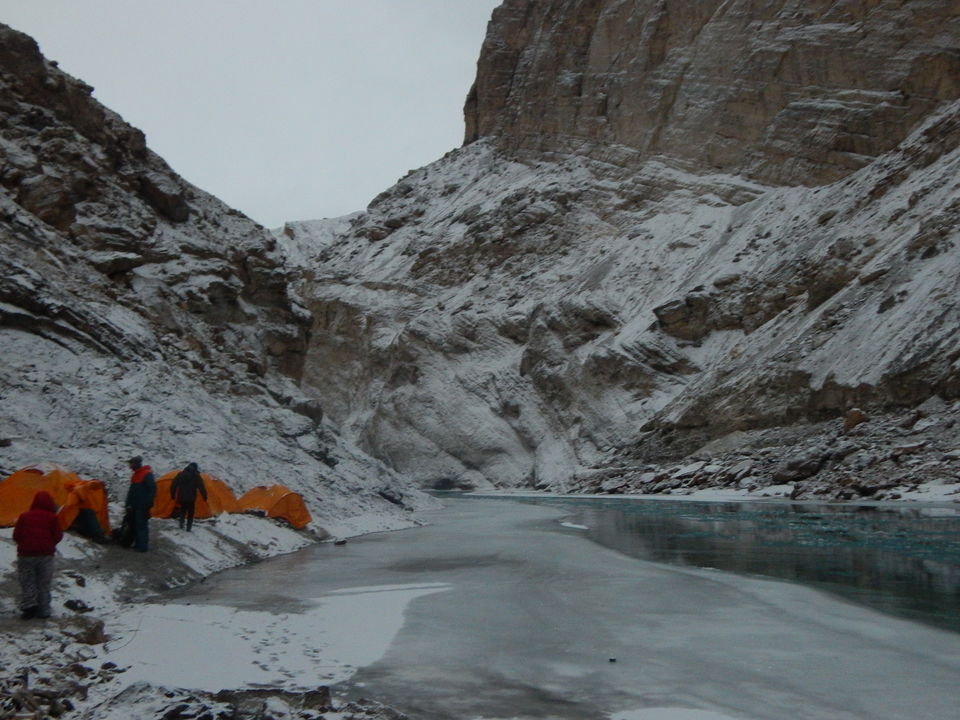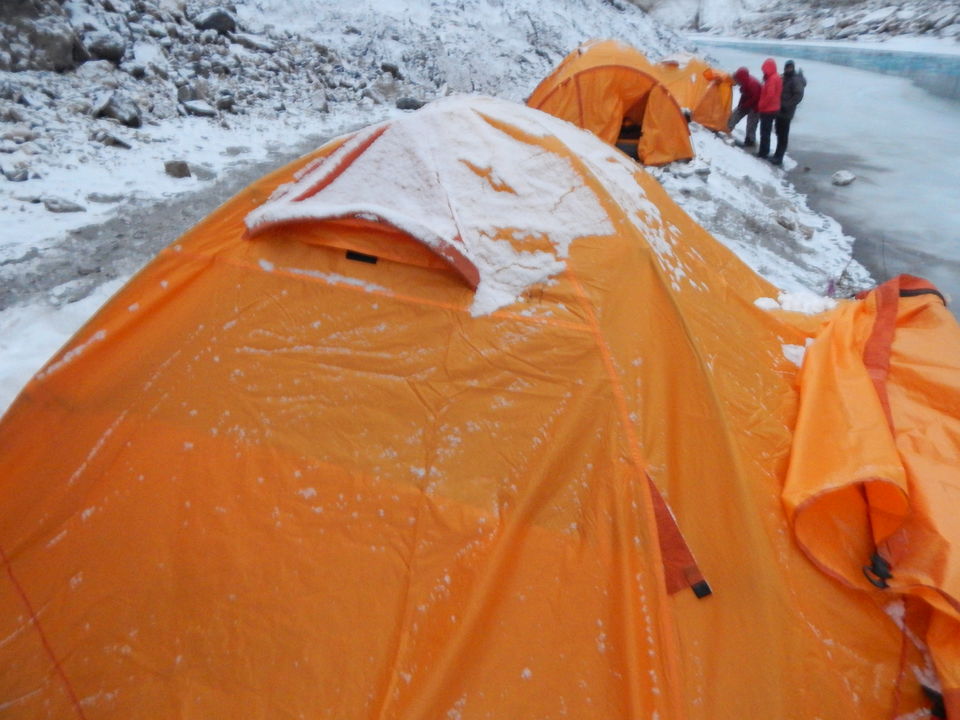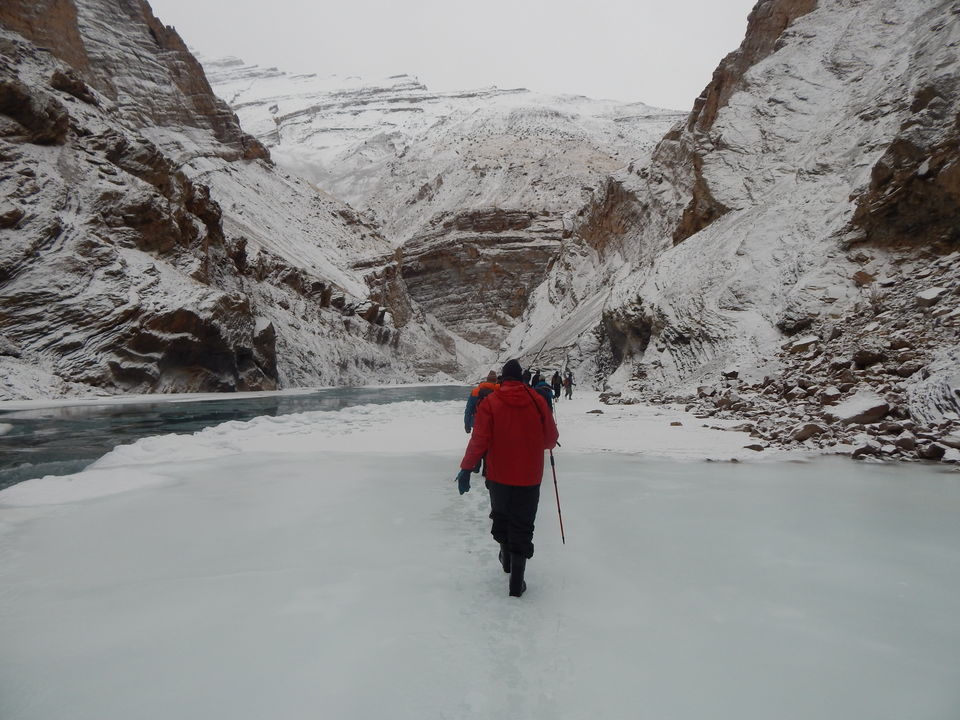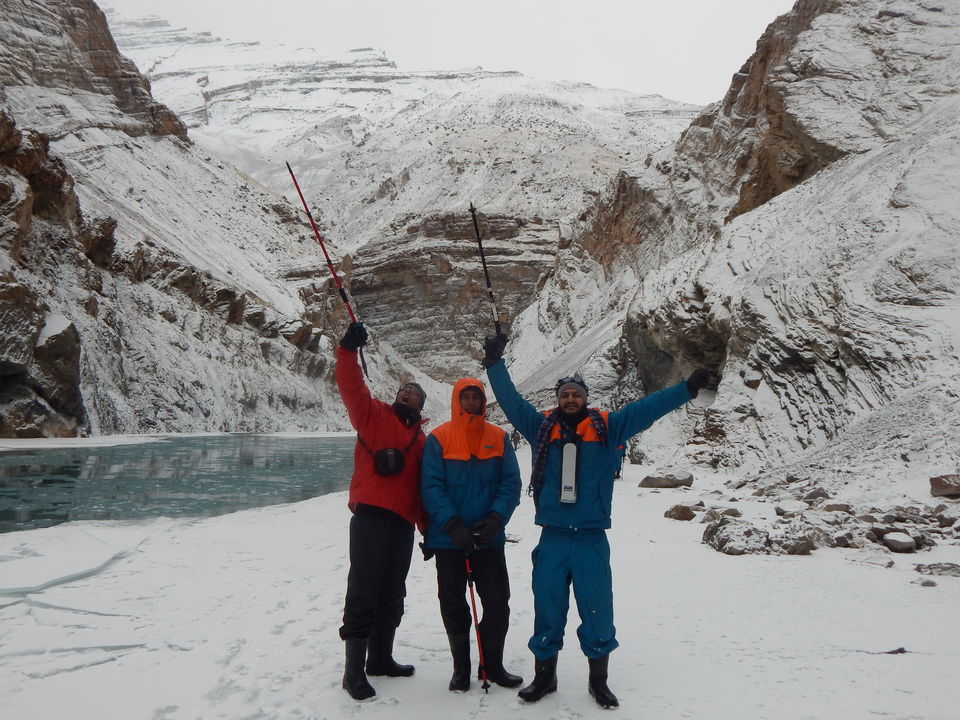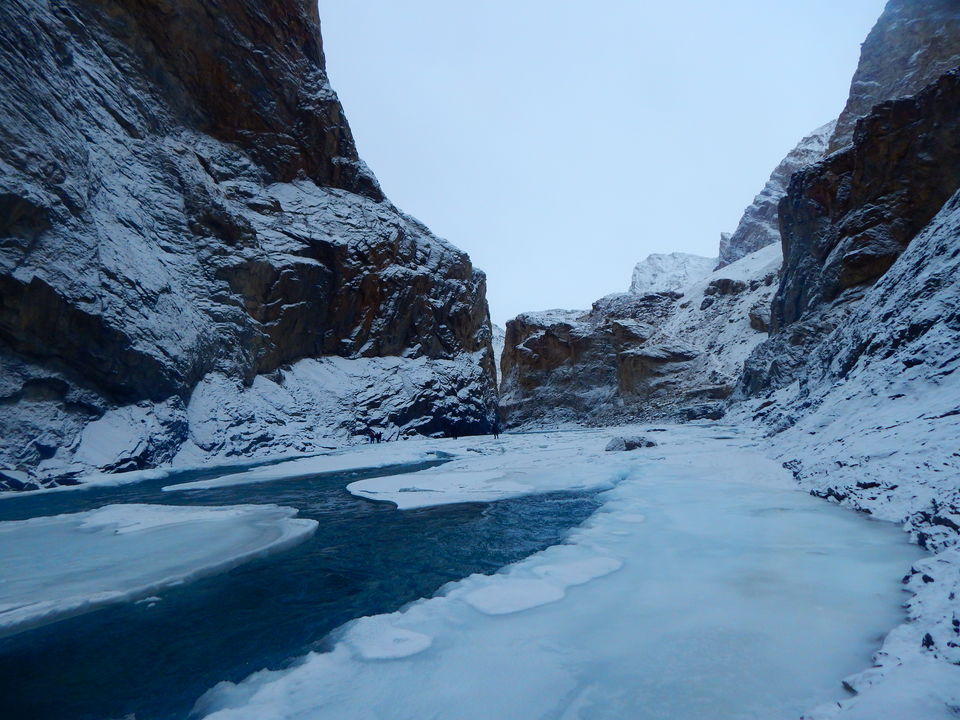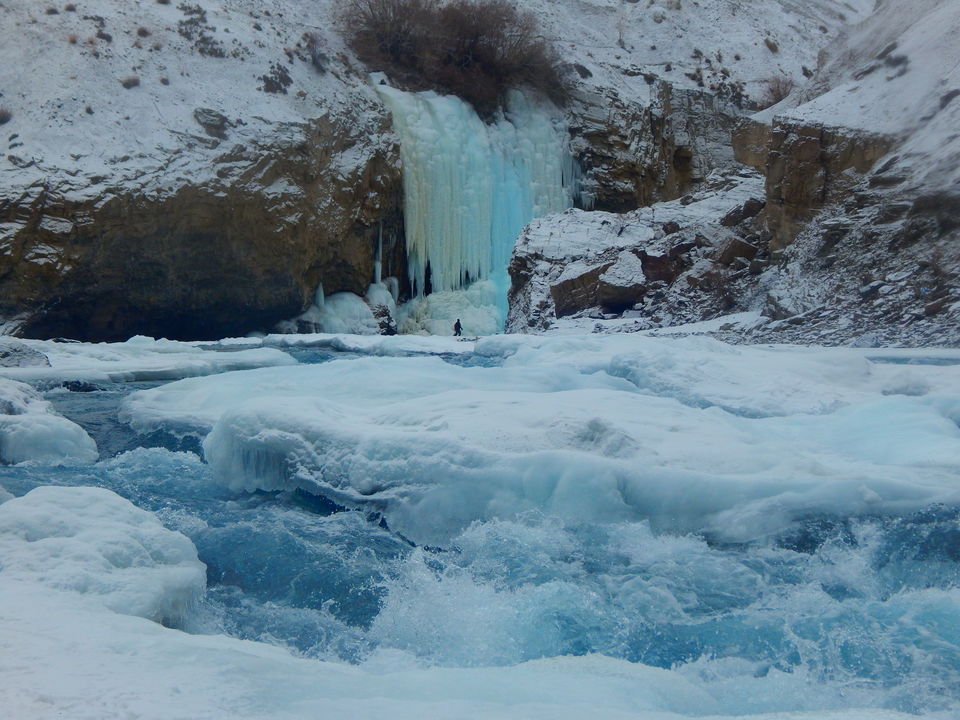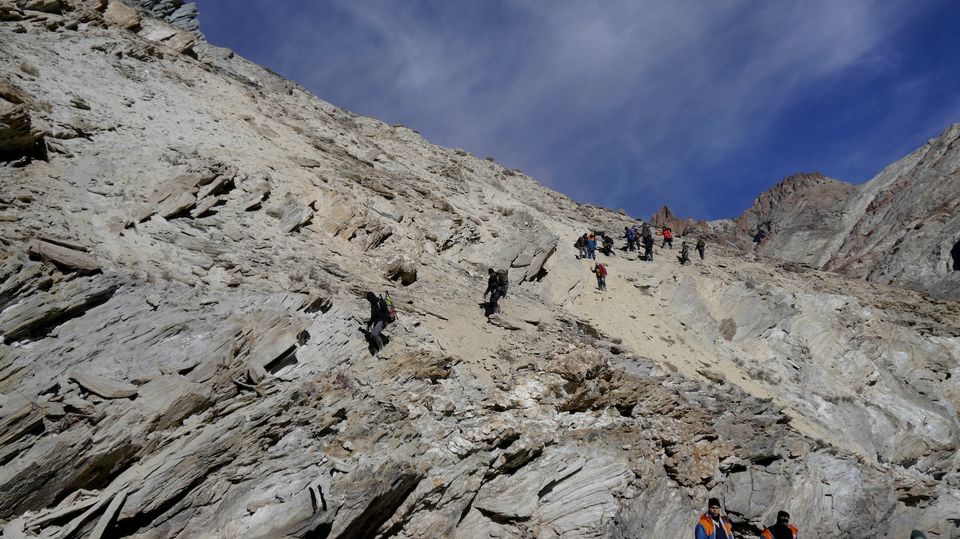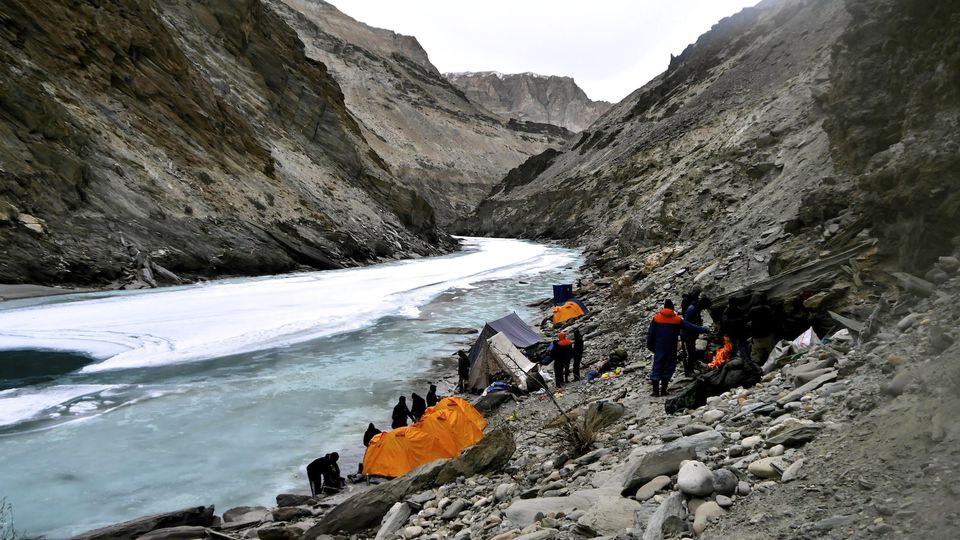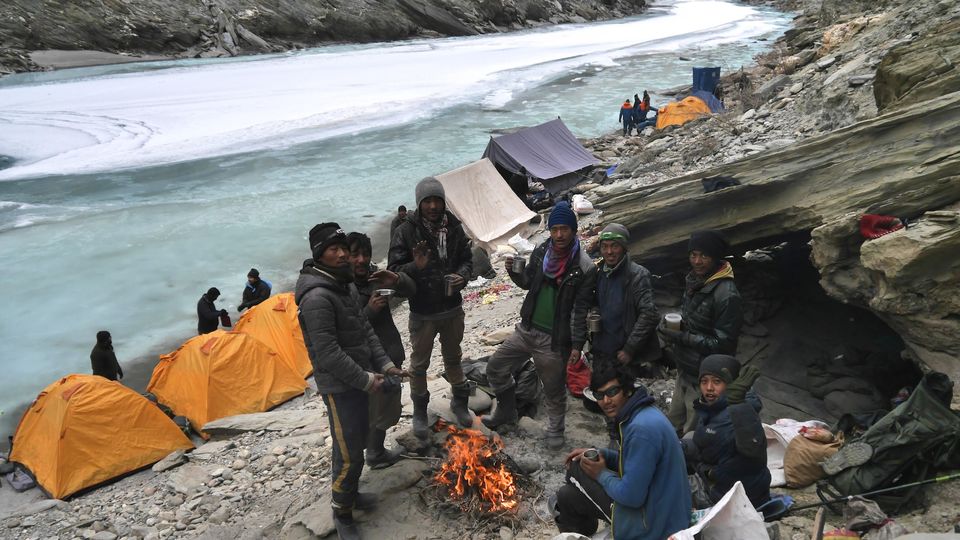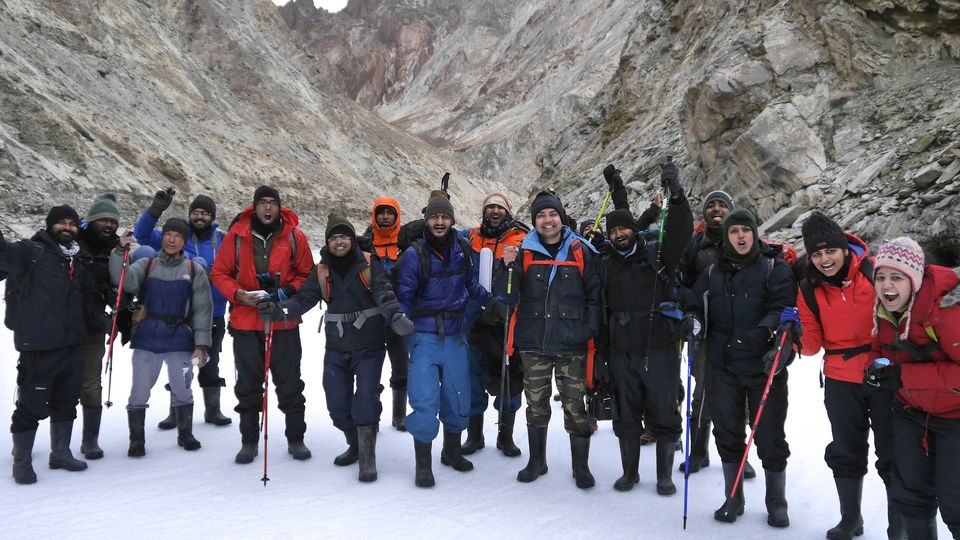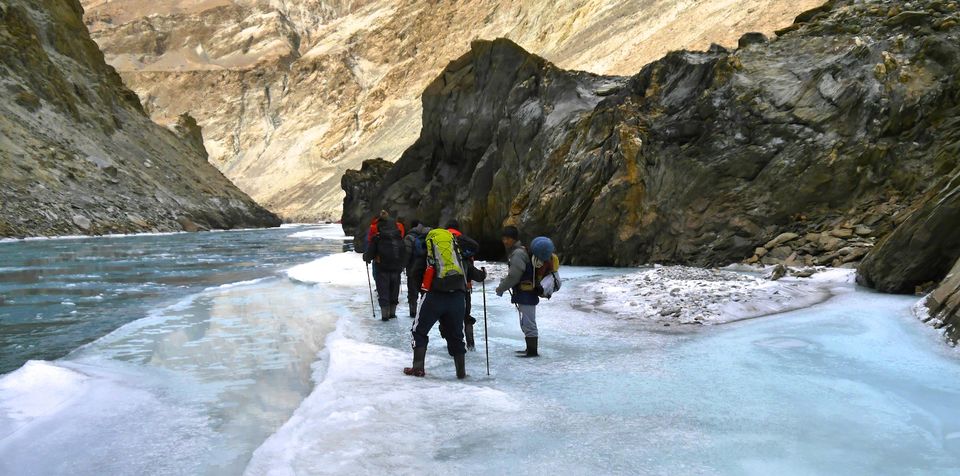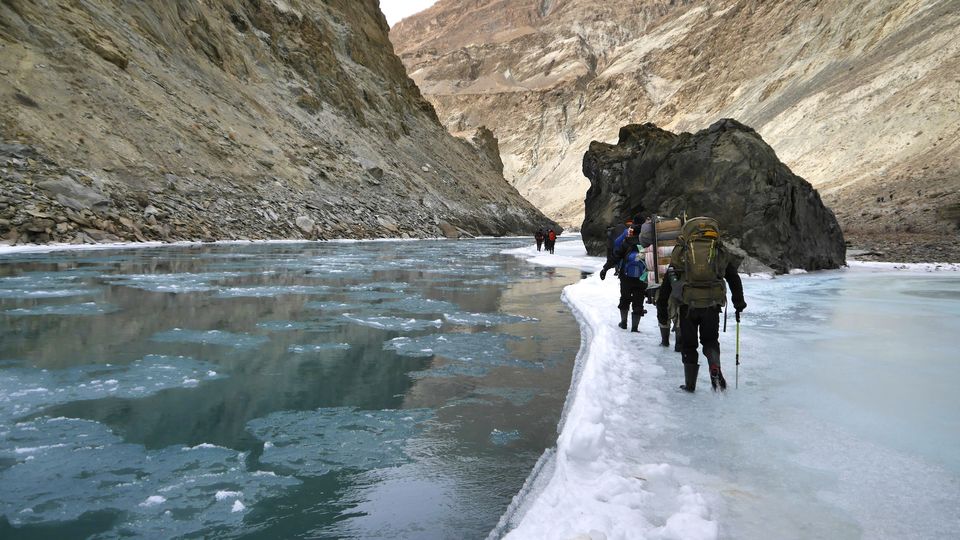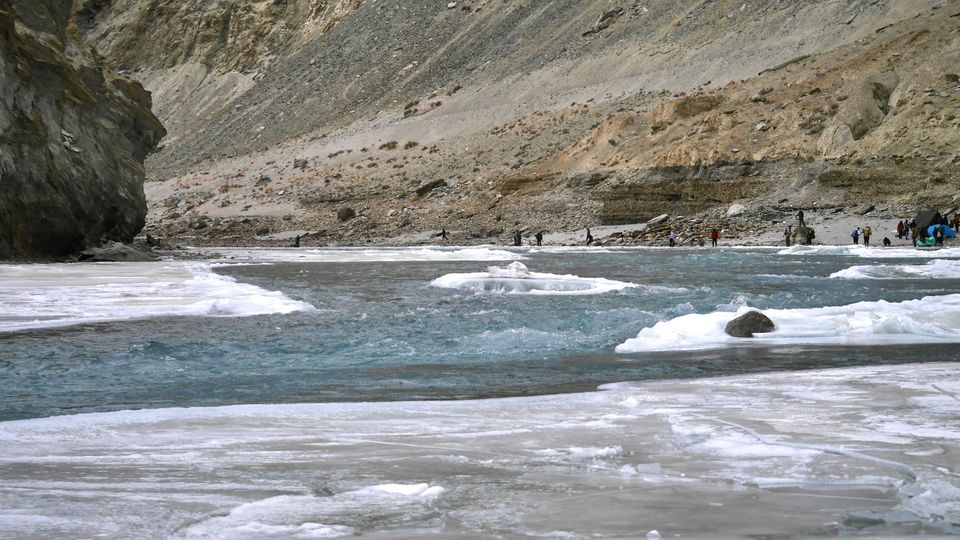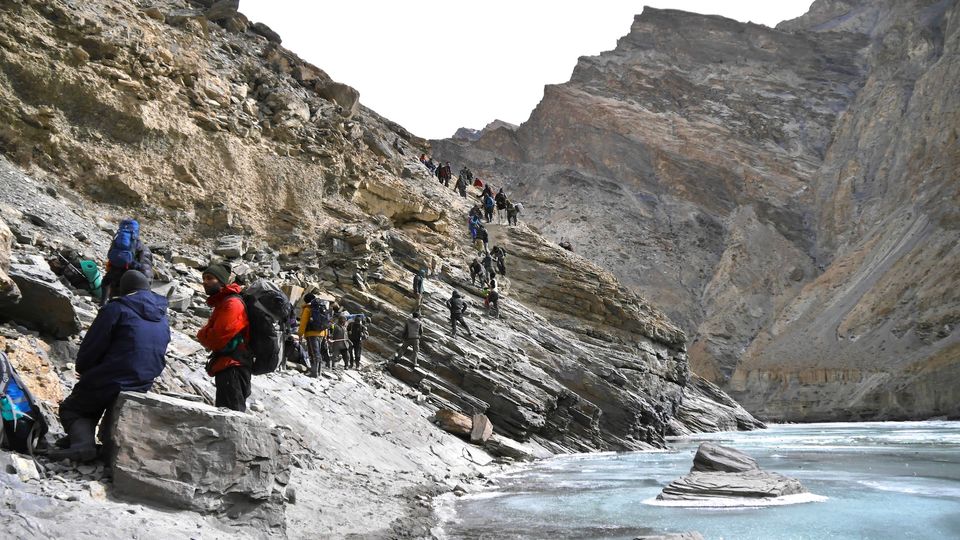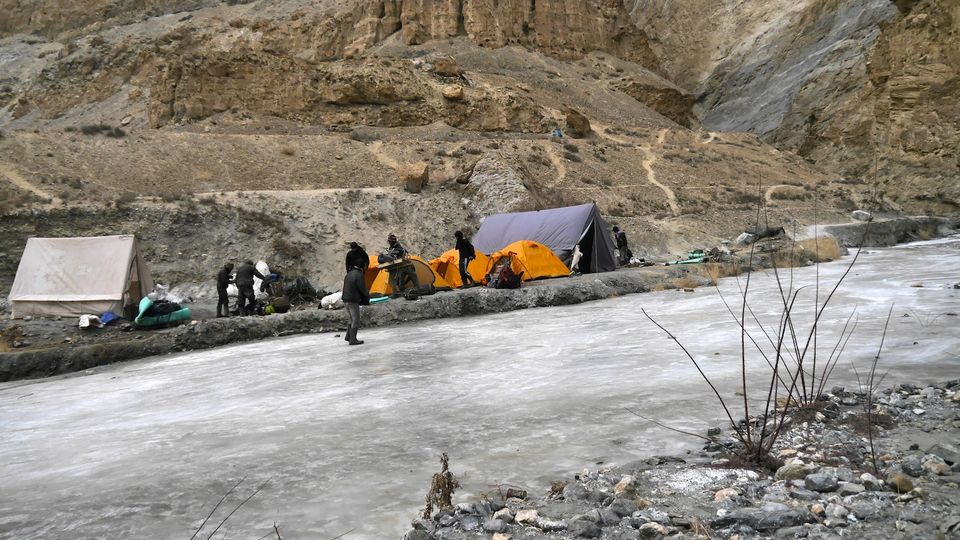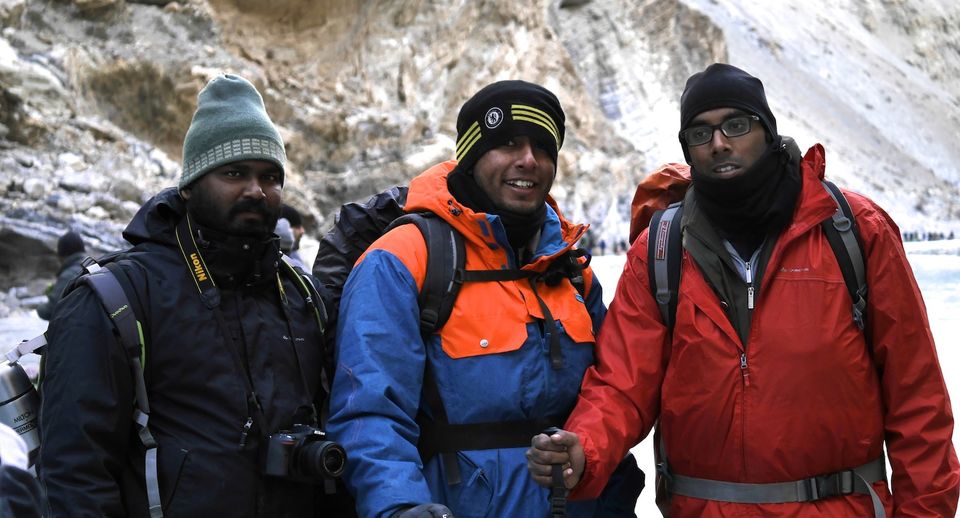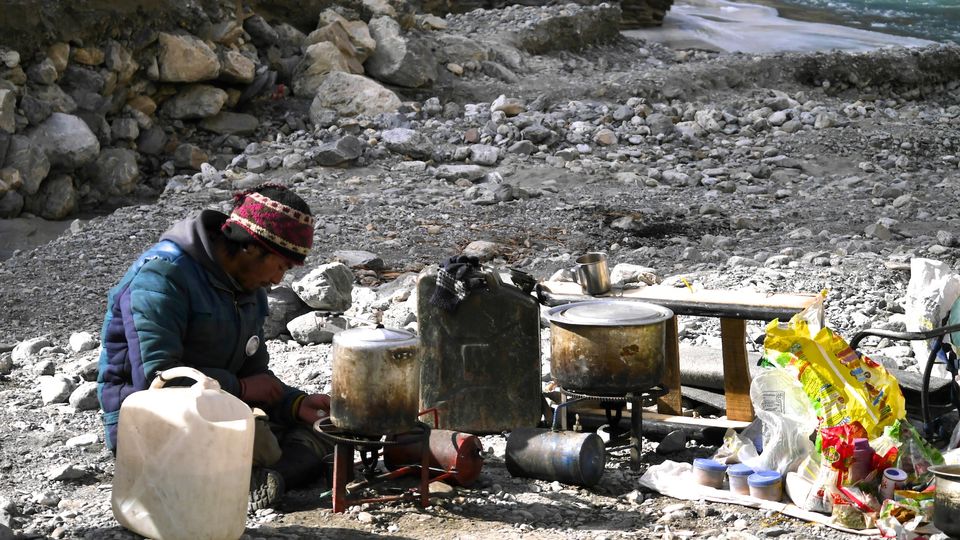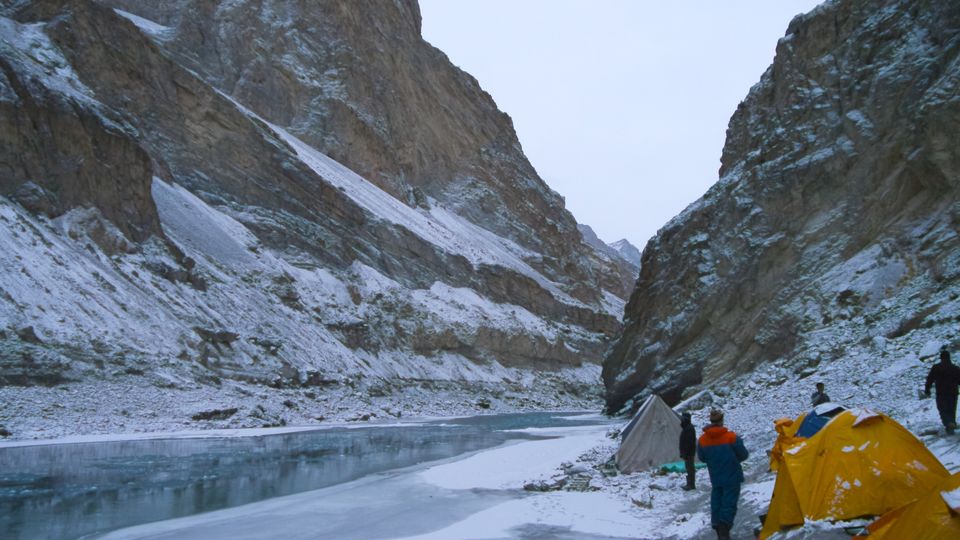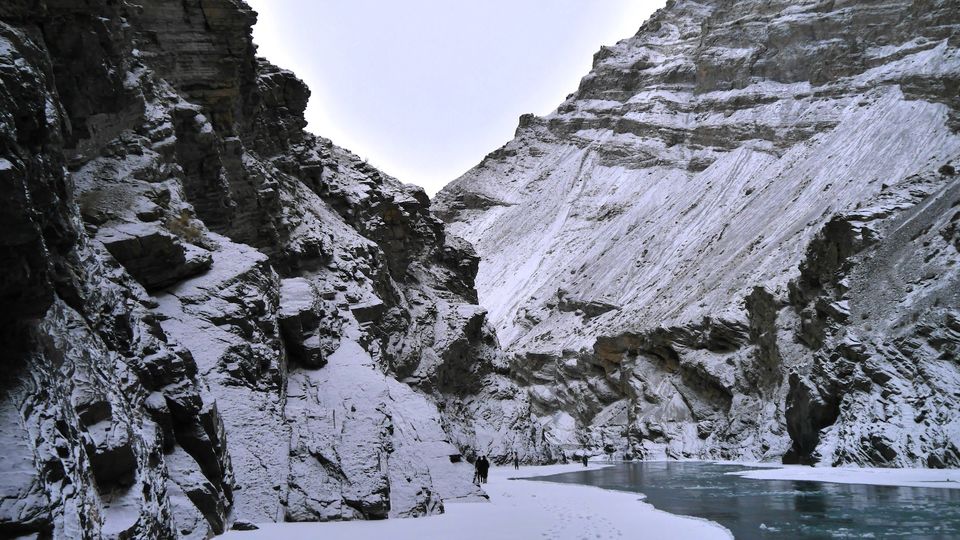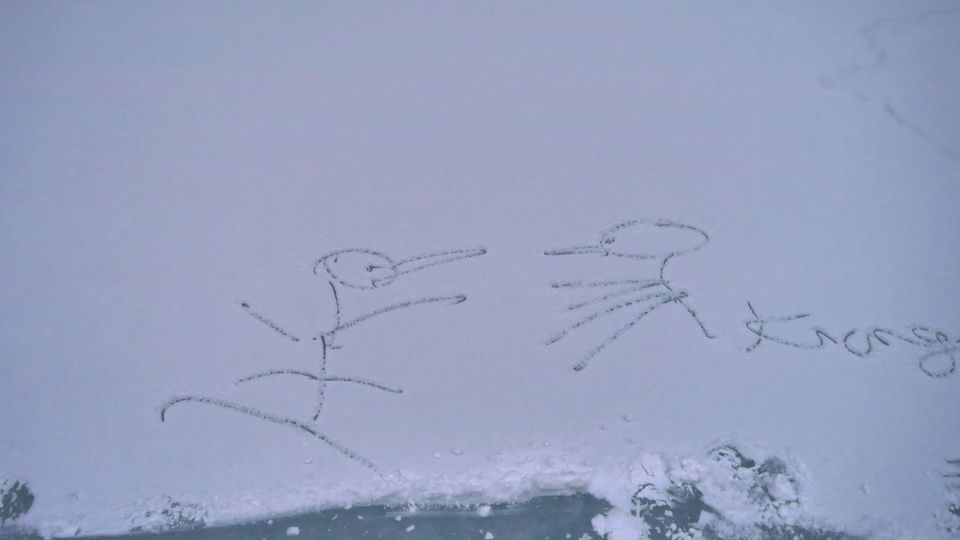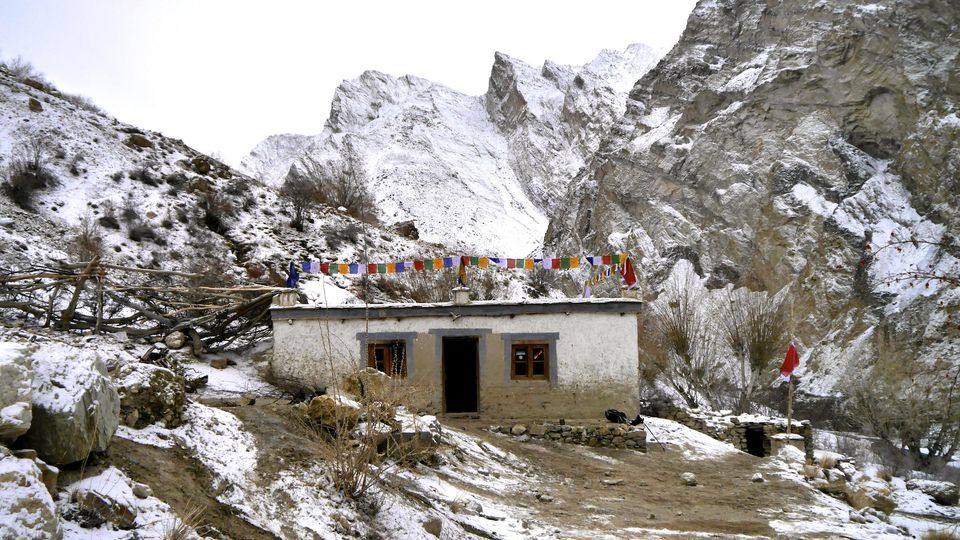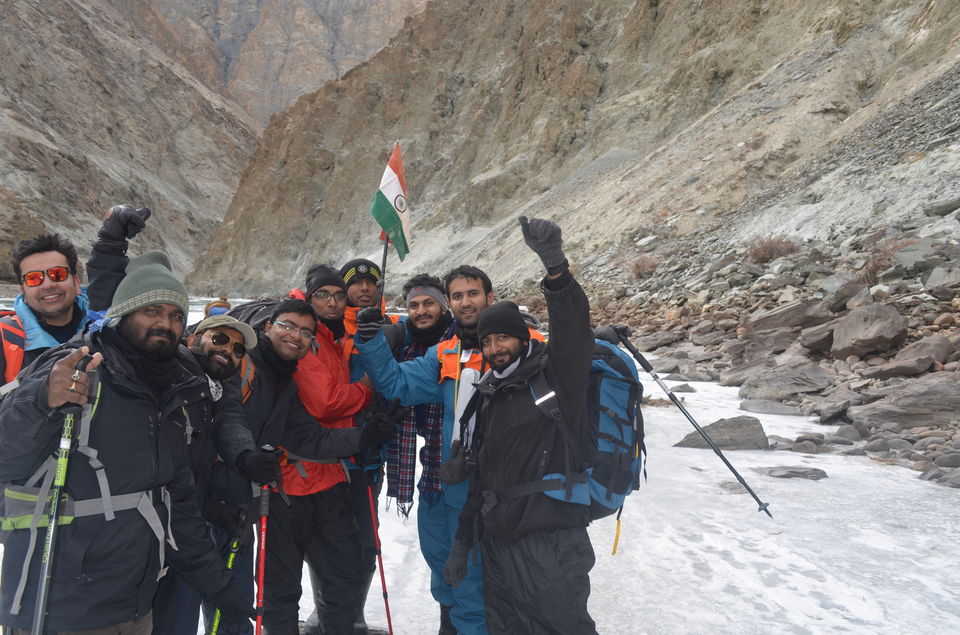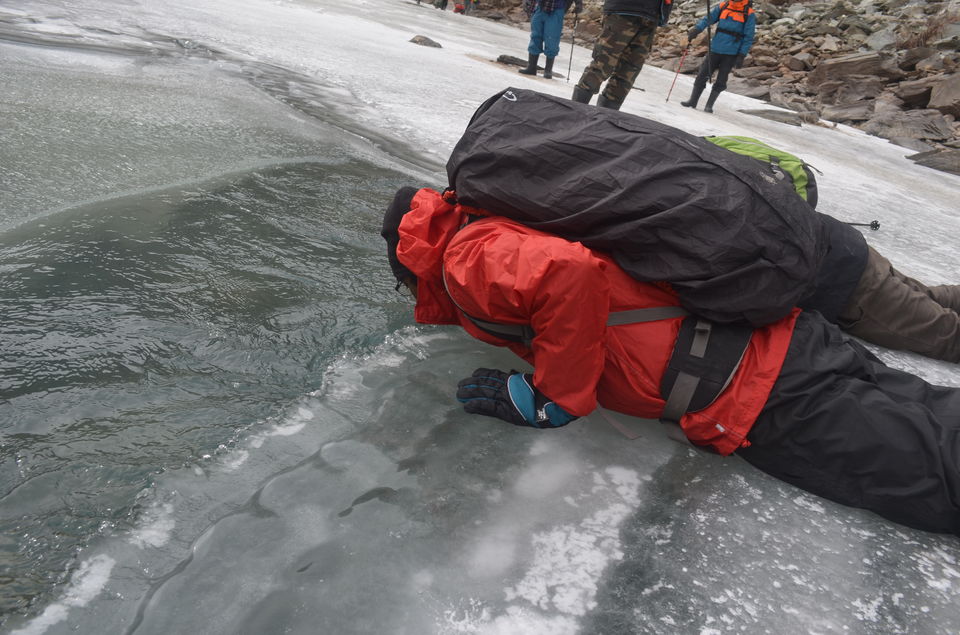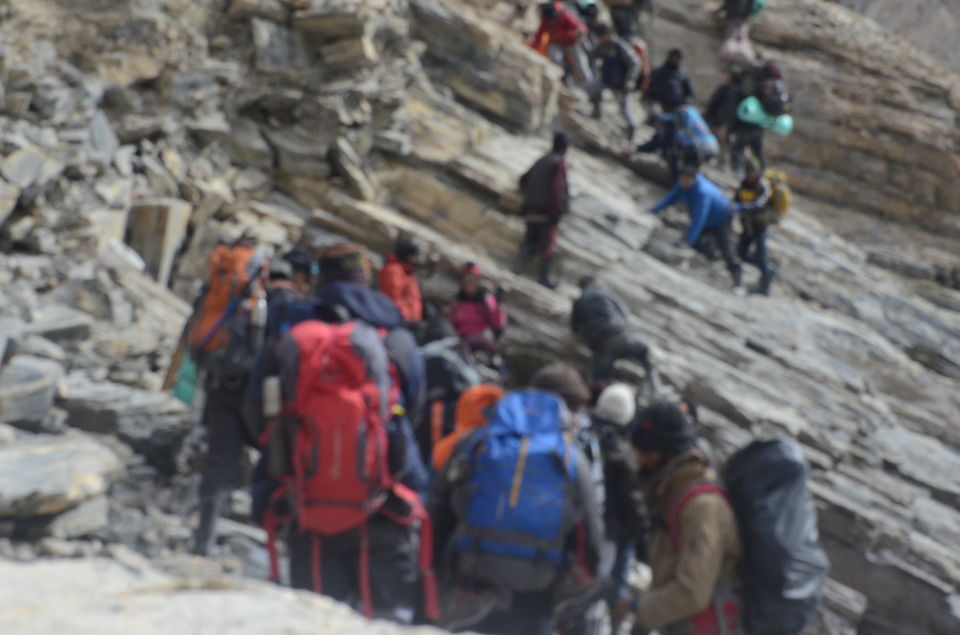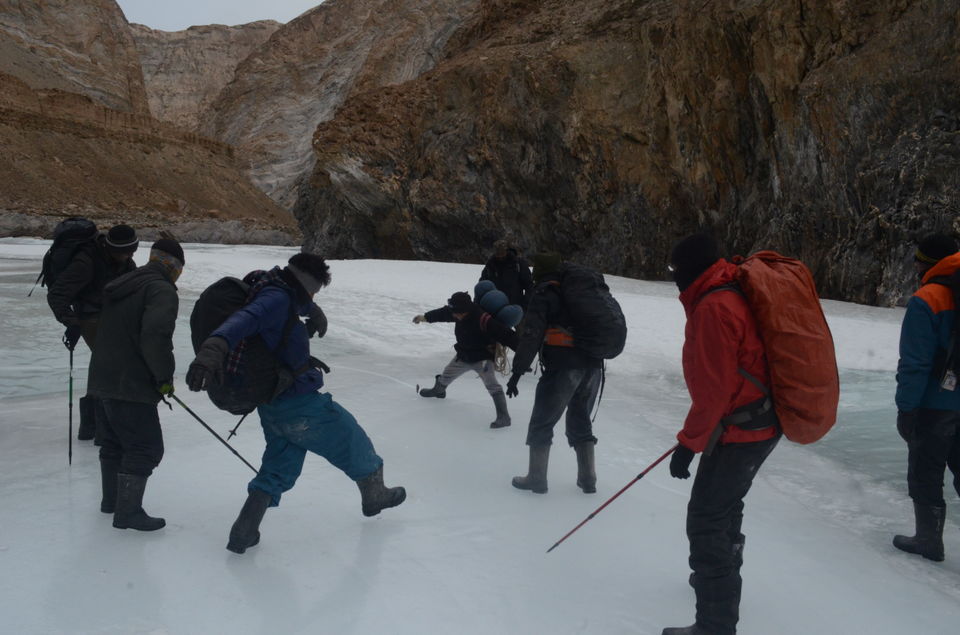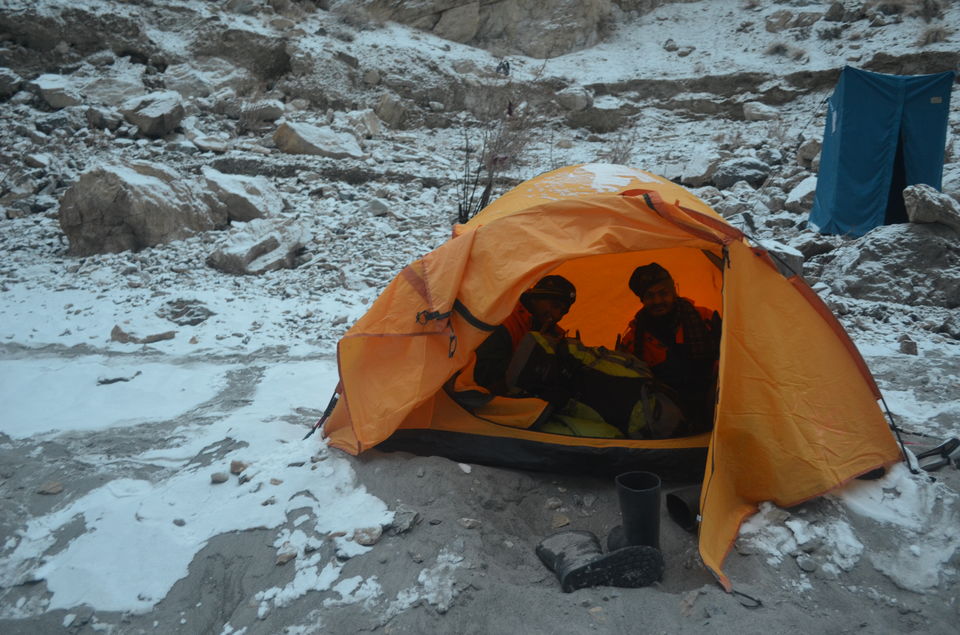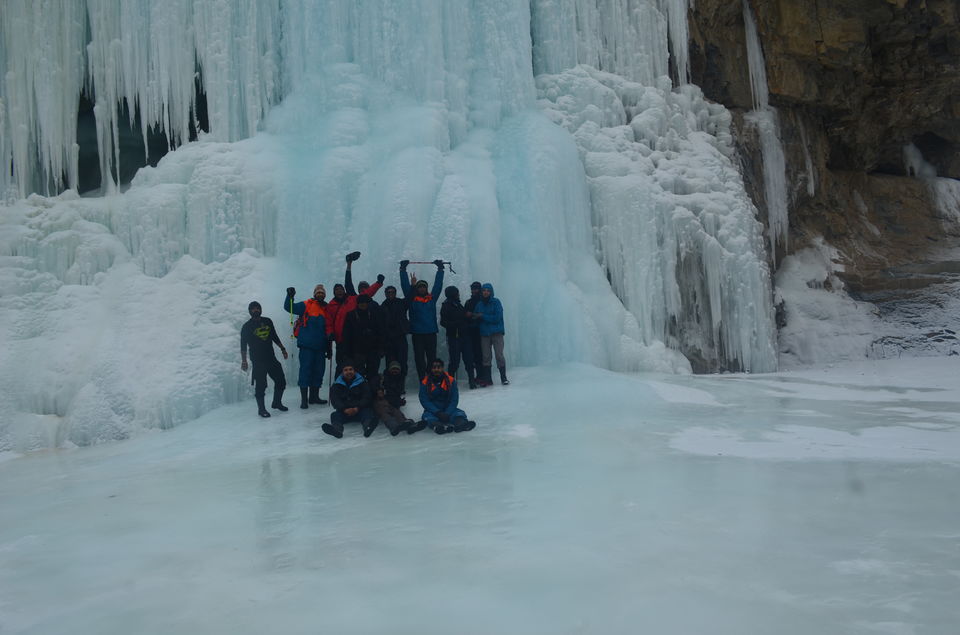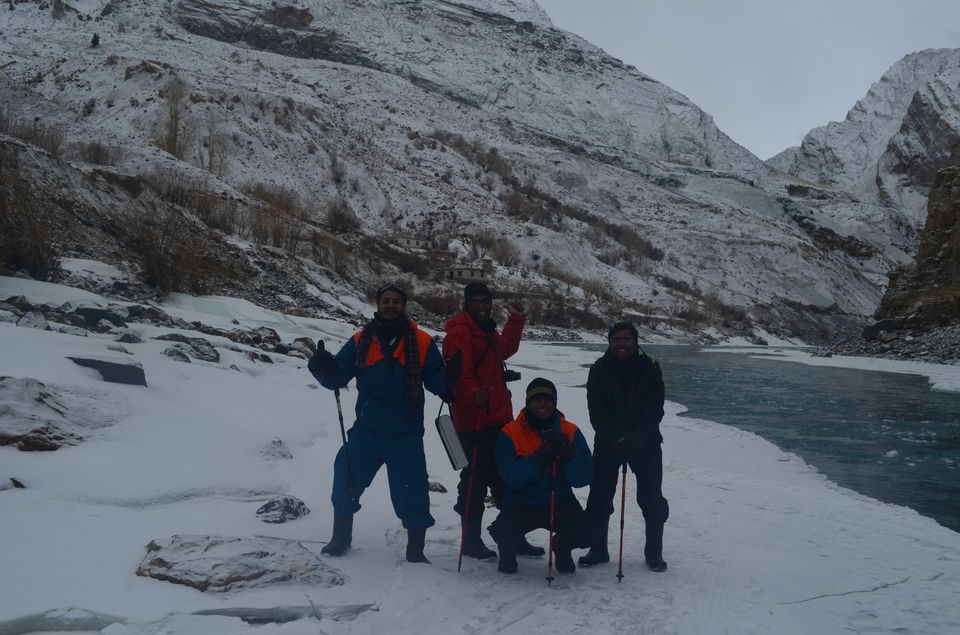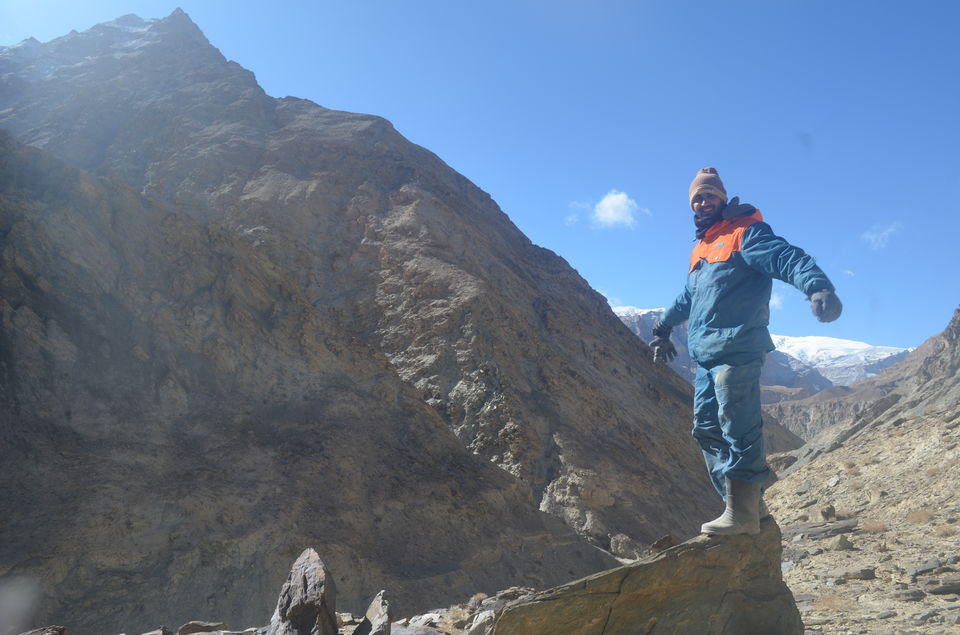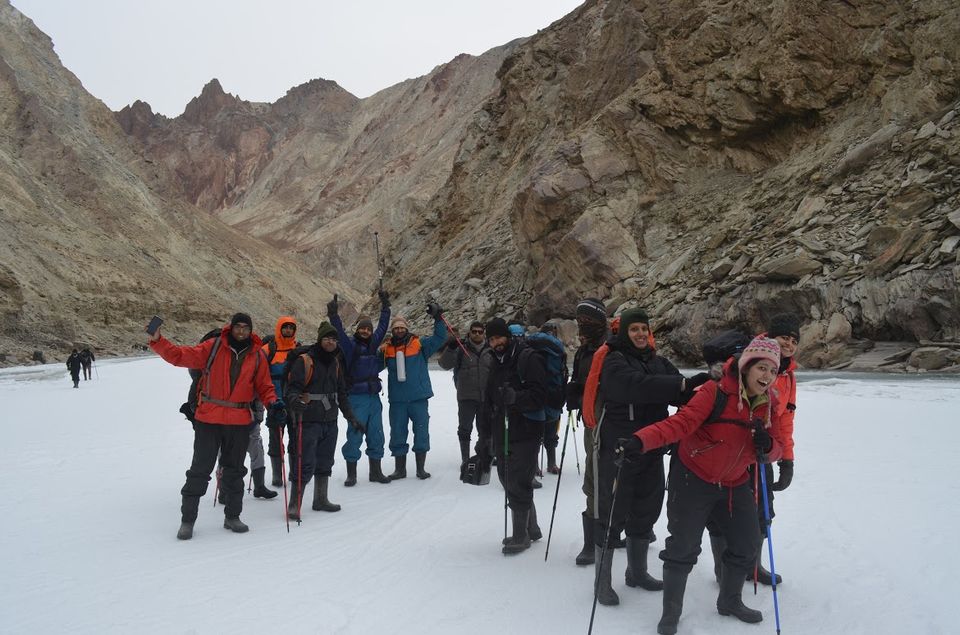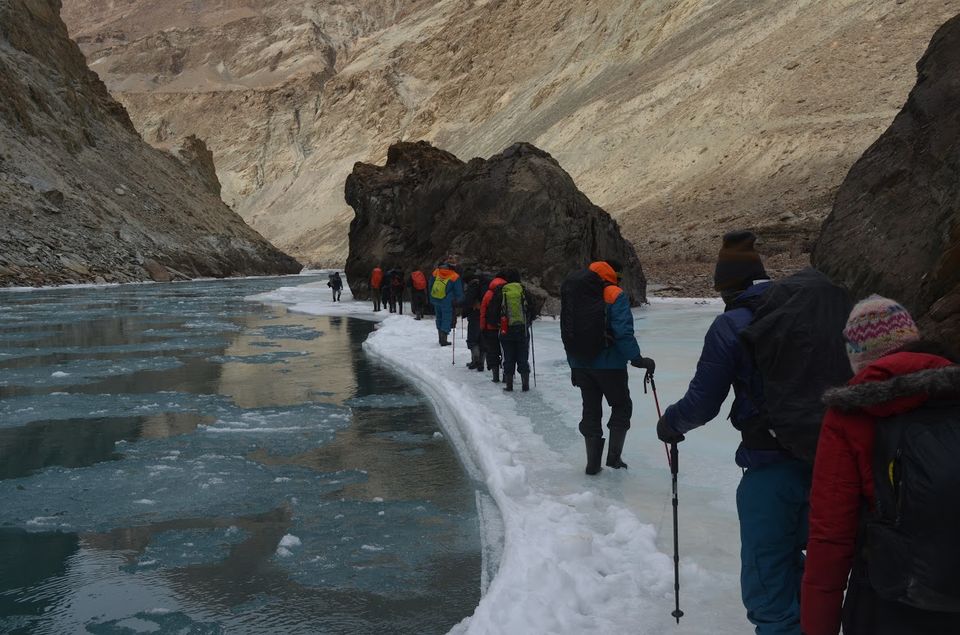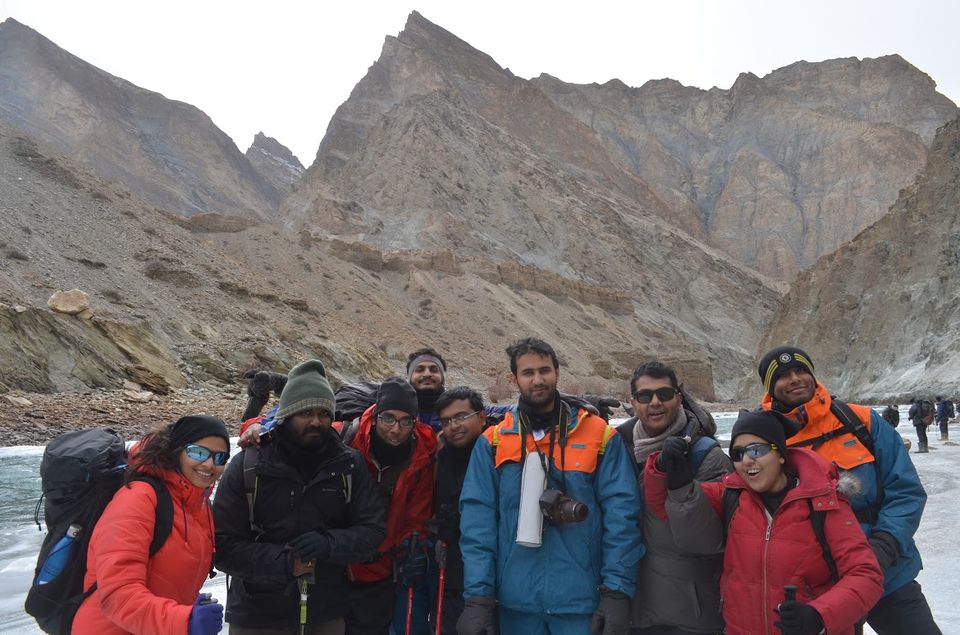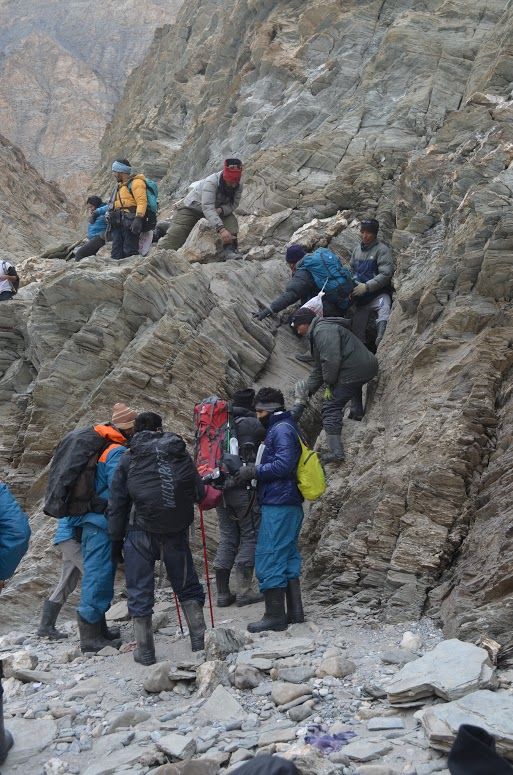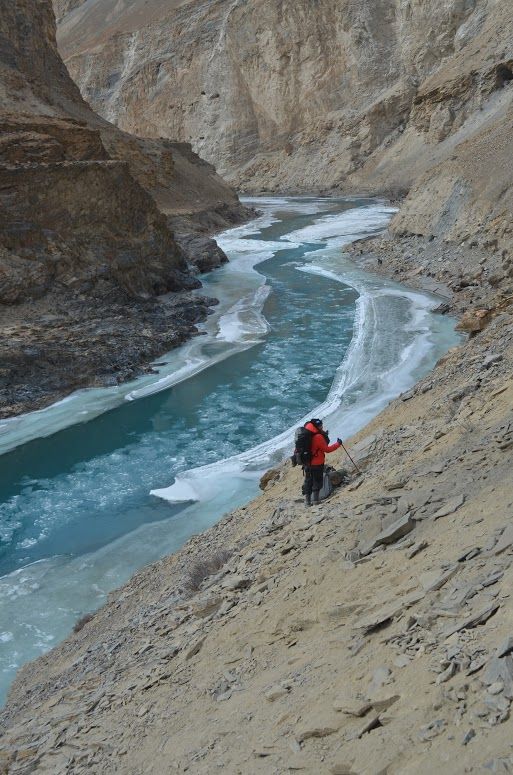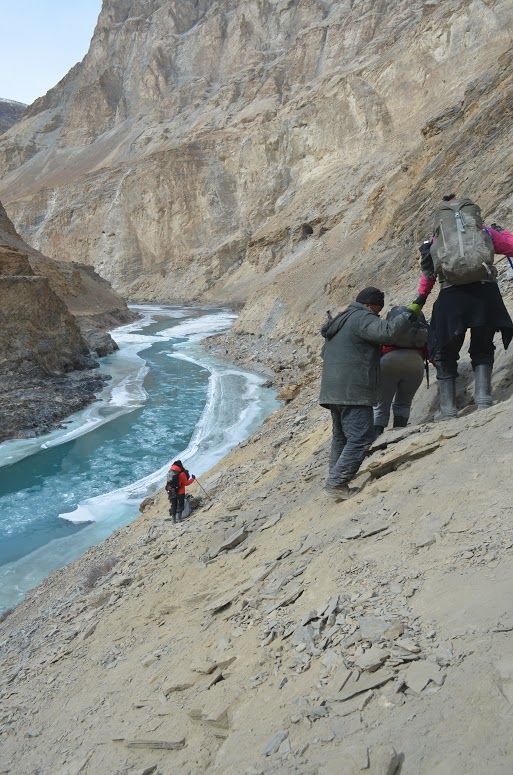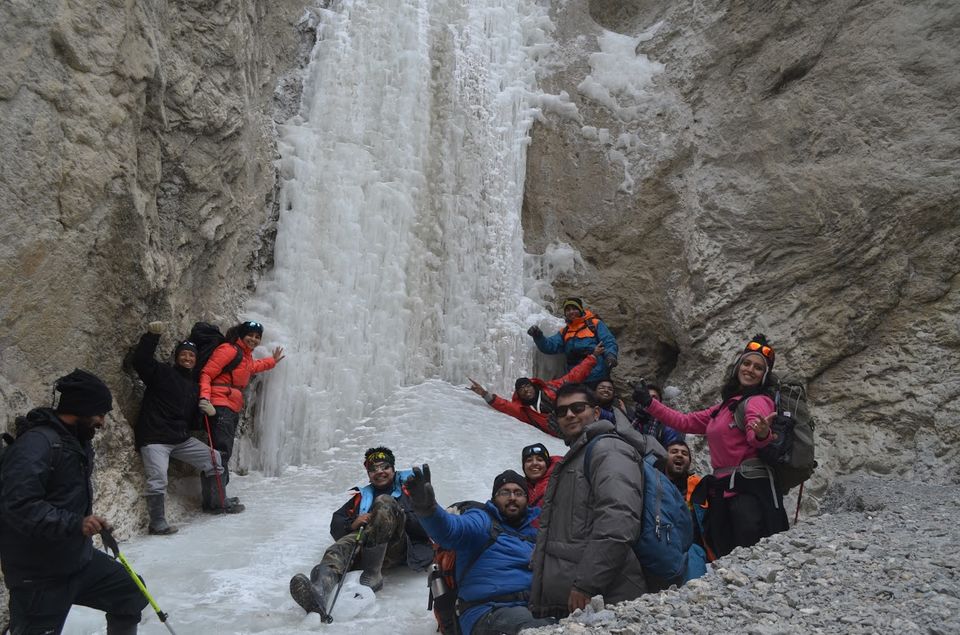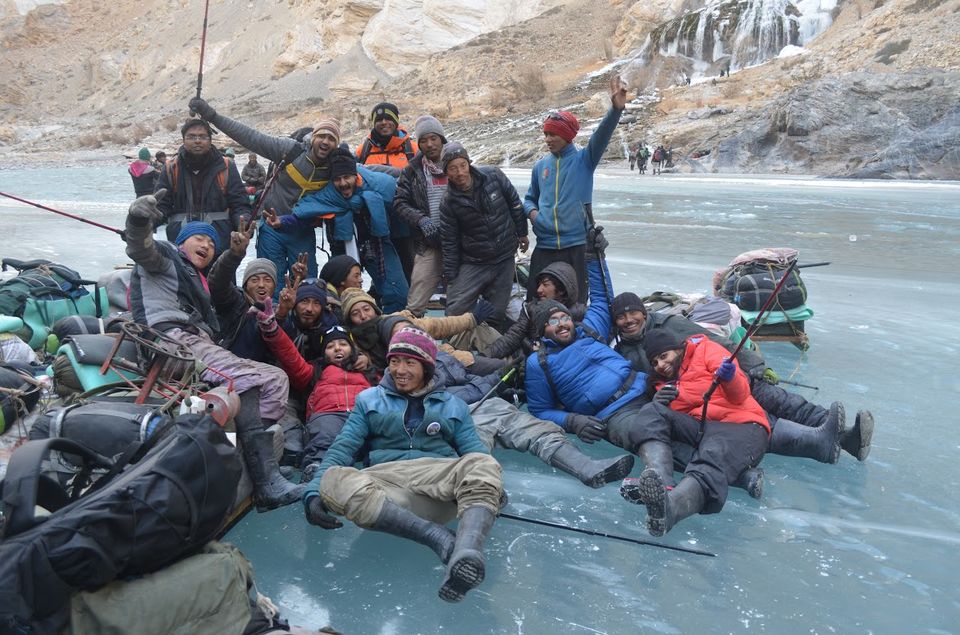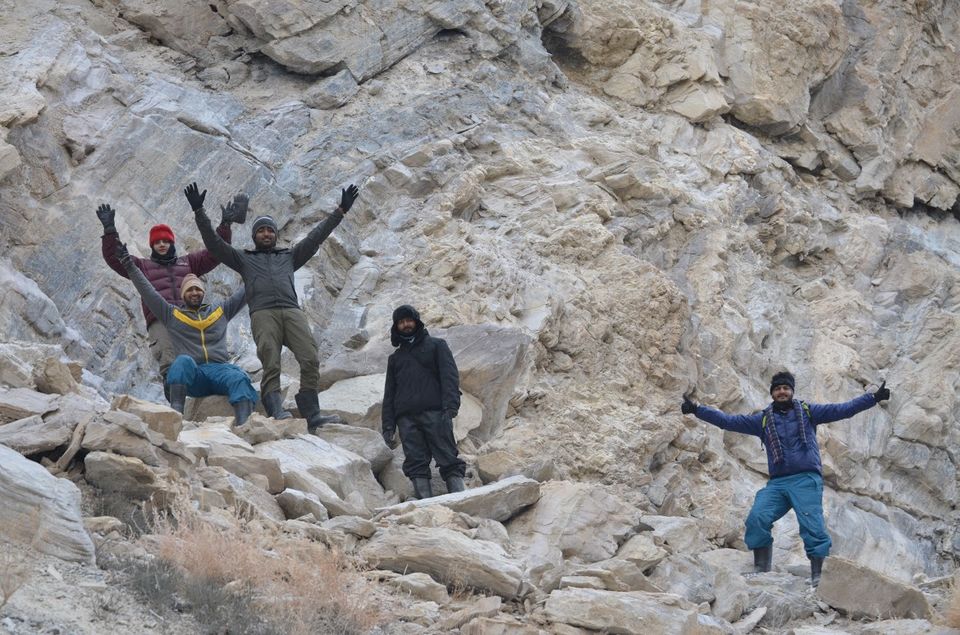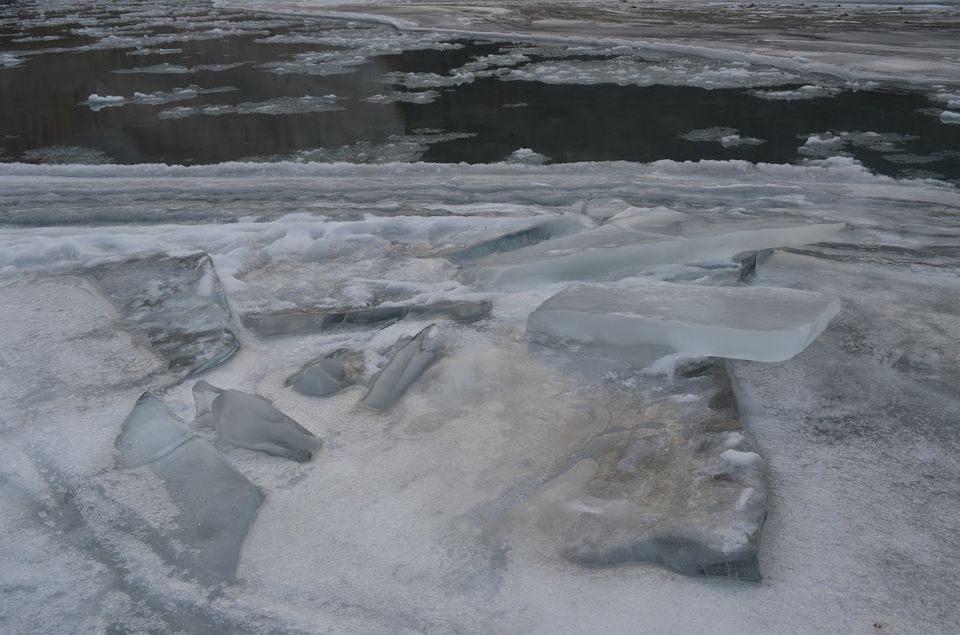 This blog isn't meant to provide basic info about the Chadar trek which you will find everywhere rather you will have insights into some of the untold painful facts about the trek while many other interesting things about the trek too which you won't generally find anywhere else. The trek has become so popular that we used the term "Chadar Festival" looking at the numbers of groups which came for trekking. In fact when crossing steep slopes it was a common dialogue "Bhaiya jaldi cross karo nahi to traffic jam ho jayega." The day we started the trek we got to know that there were as many as 300 people who have started this trek just one day before us all on the same day!!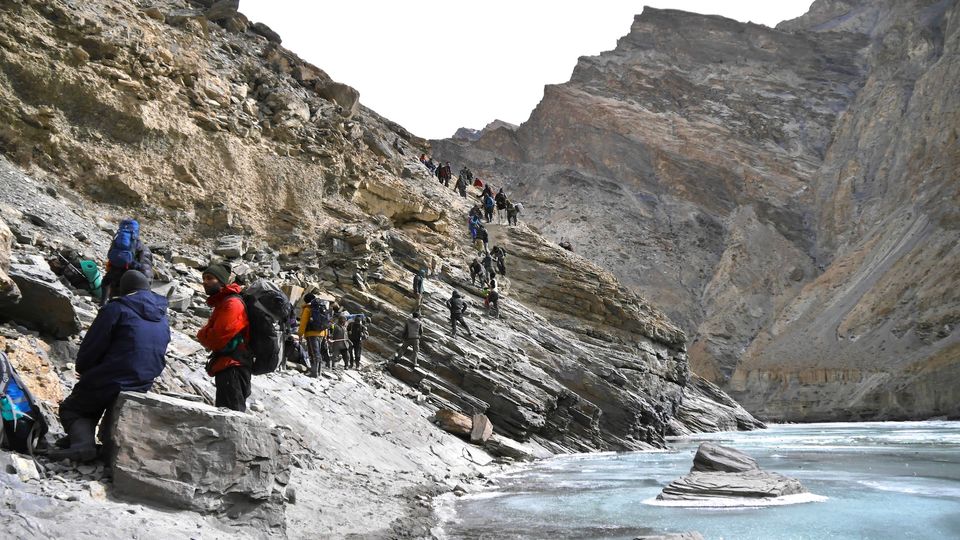 Chances of completing the trek
 Formation of Chadar is totally unpredictable. Clear sky helps in formation while cloudy sky is not good for the Chadar. More than 60% of the group won't complete the trek till Nerak because at many places Chadar would not have formed yet or is too fresh/weak to walk on. You will have two options in this scenario:
Use steep sideways slopes to cross this section of Chadar. This is very exhaustive and in fact most difficult part of the trek. There will be places where slopes are too steep to cross the Chadar, so no option other than returning back.
Cross the river. Believe me you do not want to wet your socks, inner. Many places flow will be rapid. Even you agree porters won't agree to do this with so much of loads on their back!!
During our trek several groups were returning mid-way because of above reasons. One group even was camping for 3 days at Tibb waiting for Chadar to form ahead. Of course returning mid-way is the most disappointing part of the trek.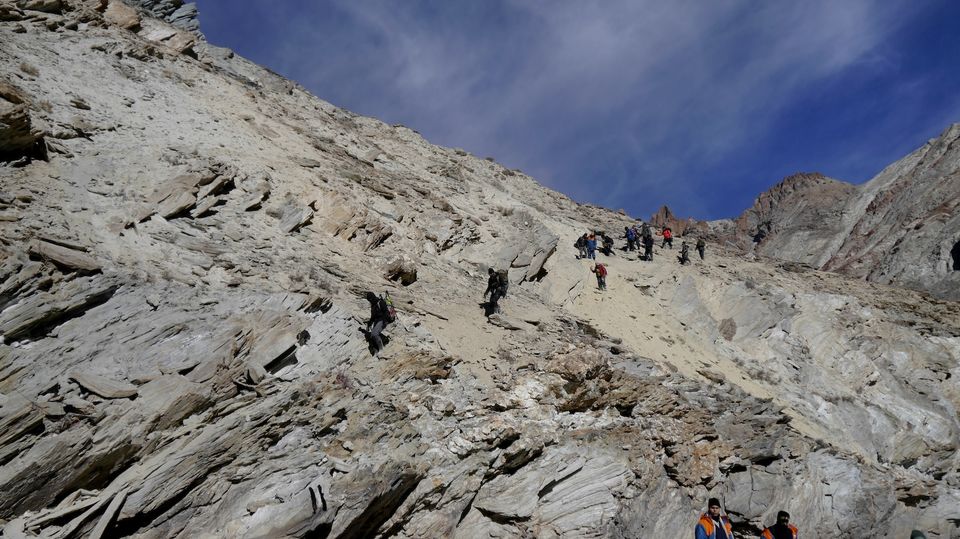 When you should book this trek
Think of a scenario when you have booked this trek few months in advance, done all kinds of shopping and you are very enthusiastic. But due to Poor Chadar you had to return back mid-way during trek. Very disappointing right?
I would suggest book refundable Delhi-Leh return ticket. Have some buffer. Few days before the booked dates get info from locals, other friends who would have gone for this trek but not agents since they will lie about the state of Chadar and success rates of groups. Now if you make your mind to go ahead with the trek most of the booking portals will accept the online booking even few days before the starting date since there is no restriction of group size. Leh market is open so you can buy all trekking gears from here. I prefer buying stuff in Leh rather than decathlon.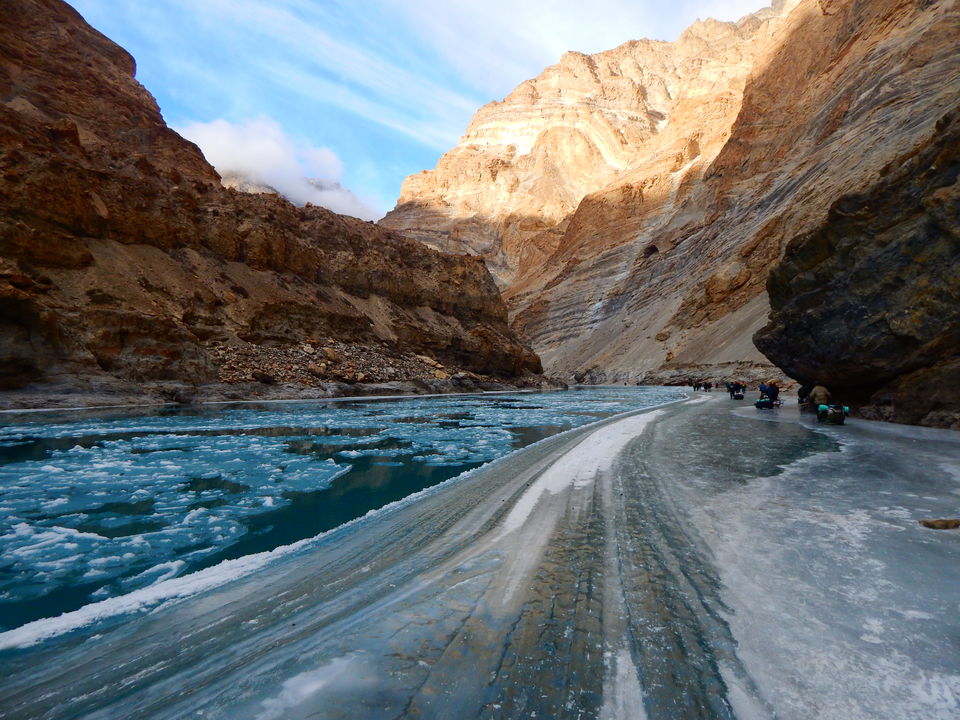 Now if you have booked the trek things to note
Once you are done with booking you are going to be mailed big list of things for this trek. Believe me most of these will be useless since these will be copy paste from same source. I have seen many agencies exactly using the same template. Try to take note of following points:
You don't need any extra pairs of inners, undergarments, shirts etc. since you will be wearing same set of clothes from 1st till last day of the trek unless you get wet in water. Wear clothes in layers and have just one set of backup clothes in case you get wet in your bagpack. Have extra pairs of socks since these will be wet by evening. Even if you wet your lowers, you cannot stop and change but you will be asked to keep walking!!!
You will be told that Woodland or Quechua Forclaz 60 hiking shoes will be suitable for this trek. Nothing works better than Gum Boots which you will buy from Leh market for INR 380. You do not need to buy any shoes or even carry extra shoes during trek except the Gumboots. Otherwise you will end up spending 4k buying trekking shoes and it will be left useless. It's your choice.
These are mandatory items. Please have them for sure  :  One trekking pole  (saved me many times from slipping on ice), Sunglass (Prevents from snow blindness. Don't use contact lens. I used the similar power sunglass and will recommend others too  Decathlon Link ), Milton water bottle (Normal bottle water will freeze), Head Lamps (Very handy at night), Tissue papers & dry fruits.
Entertaining yourself during trek
Many might find my view not suitable but after all it's your choice. Altitude is a state of mind. Bangalore height is 3000 ft. above mean sea level. Now say a person that he is at 10500 ft. in Bangalore he will soon start noticing problems in his breathing. Hardly one out of 20 people will have Altitude related problems like headache, nausea etc.
If you find yourself perfectly fine carry few packs of cigarettes. You will miss it when you are served hot tea at minus 35 degrees. Carry some amount of liquors and share it with porters at night at camp fire. They will be very happy. Sing and dance with them on Laddkahi and Bollywood tunes. Shout as loud as you can anything. Listen to your echoes. Do not go to your sleeping tents soon after dinner. Do stargazing. Play antakshri with porters. Play dumb charades or cards. Be crazy. Lay down on ice beds at night...yes we did it crazy right!!! That's what you have to be on this trek.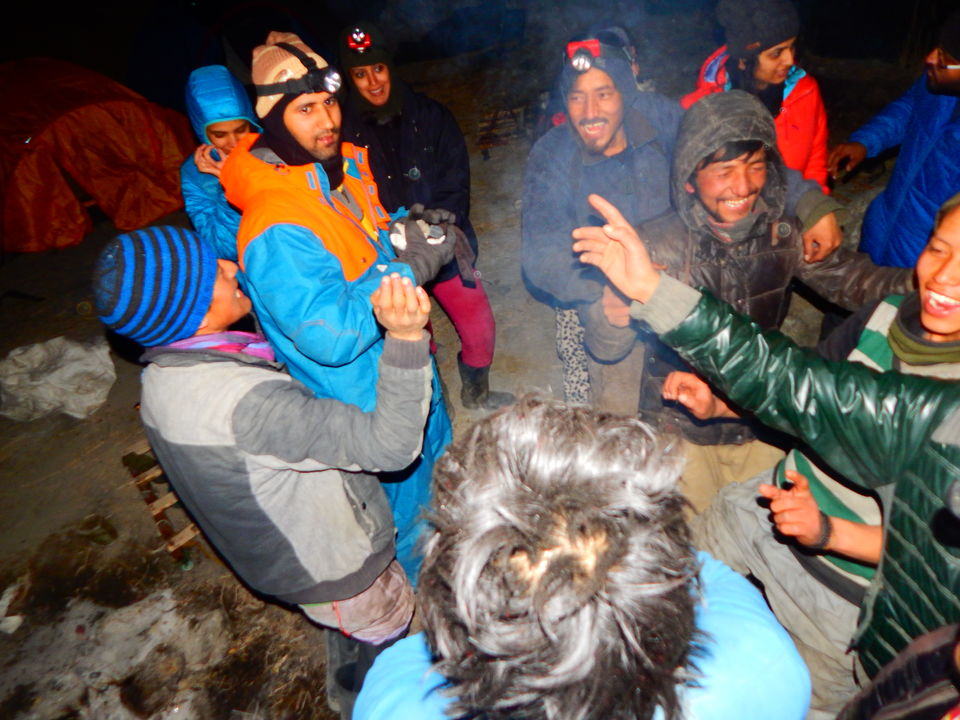 Keep at least one day of buffer when returning
There will be 2 scenarios.
You complete your trek on given dates. Take return flight next day.
You have to return back early as there is no Chadar. This case if you return early to Leh mostly hotels accommodation will have to be paid by you. There will be debate among the team members for sure as to stay in camps for rest of the trek period even if going forward is not possible, many will prefer returning back and staying in hotels in Leh rather staying in uncomfortable tents.
  This is what happened to few of the groups including ours returning on 31st Jan after completing the trek. There is a point where bus will drop you and you start the trek. Same point bus will come and pick you and will take you to Leh. Generally Buses comes by 10:30 AM. In our case it did not come even by 1PM. Many people from our group had return flights from Leh next day so they were worried. We were informed that construction of road is happening so BRO (Border road organization) might be doing blasting and hence buses are all stuck beyond certain point. Few people even went 6km ahead and could not see any trace of the buses. How far is that point no one knew. There is no form of communication!!!  We all decided to walk not knowing how far the bus is. Worst case we were even ready to walk for 50km near confluence from where we would get lift to Leh. We were lucky to have find buses coming after walking just 3km.
So here is my advice to keep at least 1 day buffer. Assume your trek ends on 1st Feb. Book return ticket for 3rd Feb. instead of 2nd.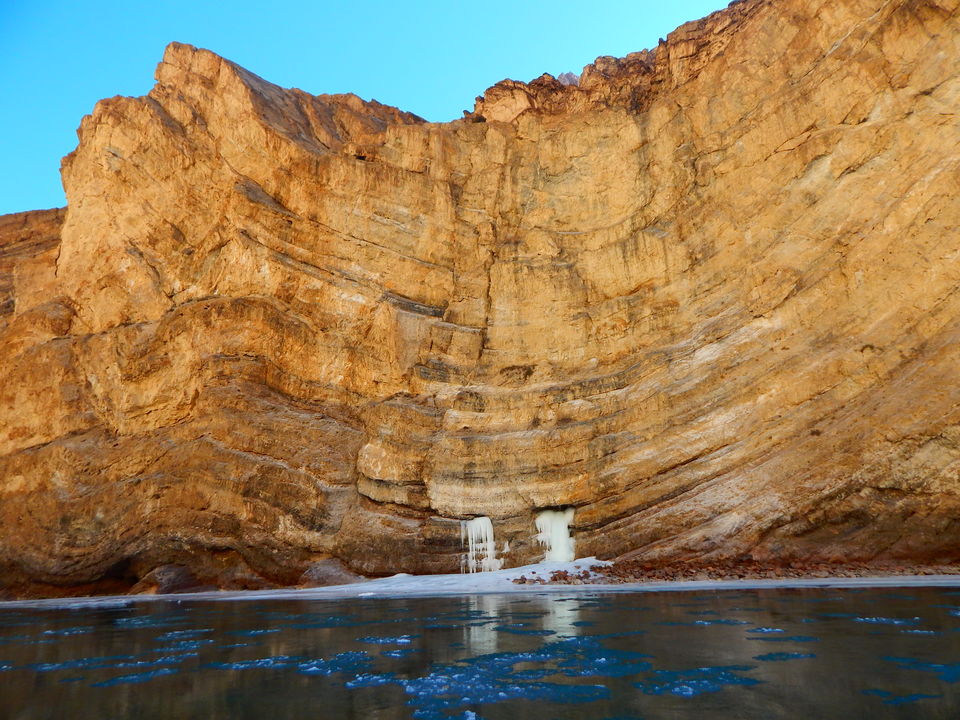 Book through known agency
During out trek we came across one group whose porters were not local but from other states. During second day of our trek we had to climb up very steep slope. We had some difficulty but our porters helped us all and we crossed that part of Chadar with little difficulty. When we camped at Shingra Koma we came to know that other group's porters were not ready to cross that as it was very risky. Few porters from our group went and helped them cross it. By the time we were having snacks and tea and were warm in our tents that group was still sitting in open waiting for porters to come and set camps. Do little research before booking with them.

Also we came across several so called much disciplined groups whose guide used to lead while other members strictly used to form a train behind strictly following footsteps. We almost died laughing seeing them. Seriously you won't like to be part of this kind of boring group. After first 2 days of trek believe me you can judge very well which path to walk and where not to like a Guide. We had 2 guides one walking ahead of us second following us all while 17 of us used to be in 3 groups, enjoying our self, playing ice-hockey, drawing paintings on snow, walking at our own pace, even running on some sections, sliding on others, drinking water from river, lying down on snows, following snow leopard footsteps, playing snowball fight and of course doing pushups. Try to have as much fun as possible.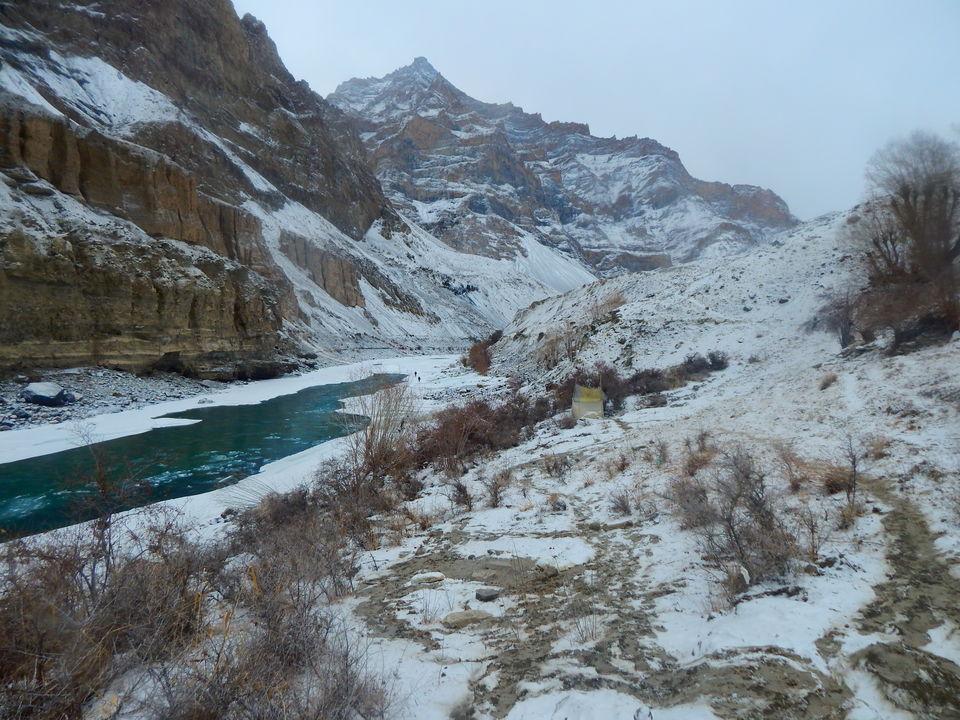 Our Itinerary very briefly
24th Jan we arrived at Leh. We did shopping from local Leh Market like gloves, trekking poles, gumboots etc. Tried becoming used to temperatures. Next day on 25th we started at 10AM and reached base camp around 1.30PM. Nothing to do much. Practiced walking on snow. 26th morning to our surprise part of river had become Snow and part where we were walking was water!!! It took good 6 hours to trek till Shingra Koma. We had to climb steep slopes twice. Many places Chadar was slippery too. We camped at Shingra Koma. On 27th Morning we started for Tibb but after walking for one hour we hit block and there was no Chadar. We camped just 2 km from Shingra Koma. That night was a debate where 5 people wanted to return back to Leh while rest of us wanted to wait for 1 day so that at least Nerak was out of question but we would make to Tibb!! By next day just one girl returned back with one porter while rest of us started for Tibb on 28th. To our surprise Chadar had formed and we now wanted to reach Nerak on same day since we came to know that till Nerak Chadar is in very good condition. But one of the group members became ill and our group had to take everything into consideration. At the same time porters refused to camp at Nerak since it meant they had to carry the load double the distance on a single day which was impossible for them. Somehow we convinced them to camp 90 minutes ahead of Tibb toward Nerak.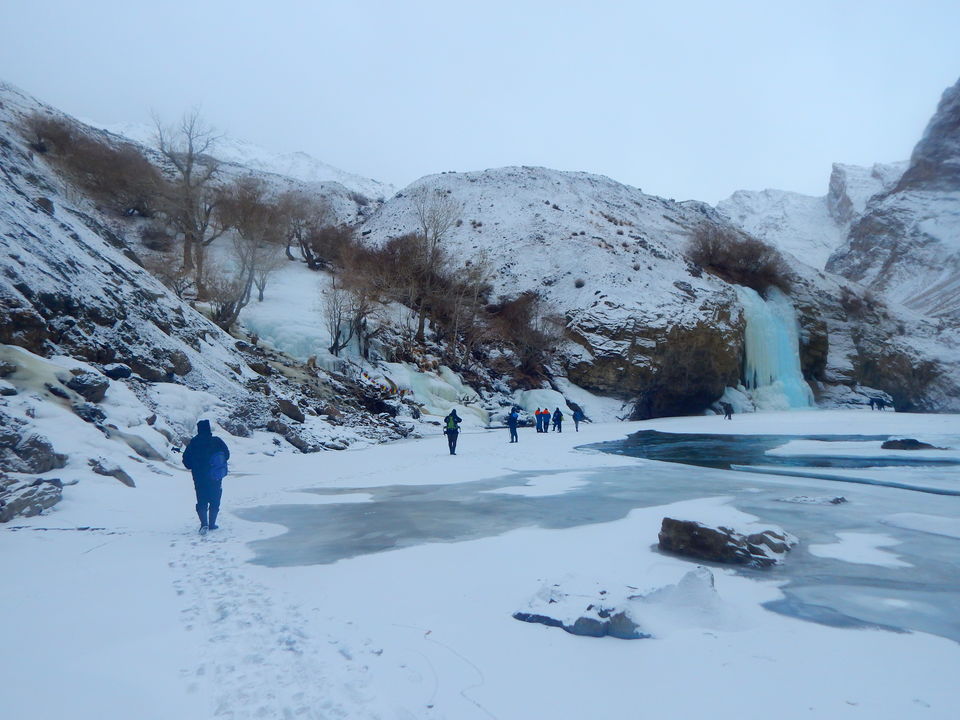 29th Morning we woke up and that was the first snowfall of the season. Everything was damn white and it looked like heaven. We left our backpacks in camps and carried just day backpack as was decided previous night and started our journey to Nerak. Fresh snow and cloudy sky in night made way difficult and Chadar weak. We were first group walking on virgin land making way for other groups. It took us 3 hours to reach Nerak. We had good time near waterfall and had lunch at homestay. We started return journey at 1PM and returned back to Camp by 4PM throughout the time of trek there was snowfall. I cannot describe the beauty and feeling. It was day when we covered good 17 KM. 30th We started from camp crossed Tibb and reached Shingra Koma again covering 18KM. 31st morning we started for base camp and reached Leh around 4-5PM. We had awesome bath which everyone was dying for and drinks party at cozy Singge Palace. Next day half of us left Leh while the rest of us went to Khardung La and local sightseeing. 2nd finally was the day to bid goodbye to Leh.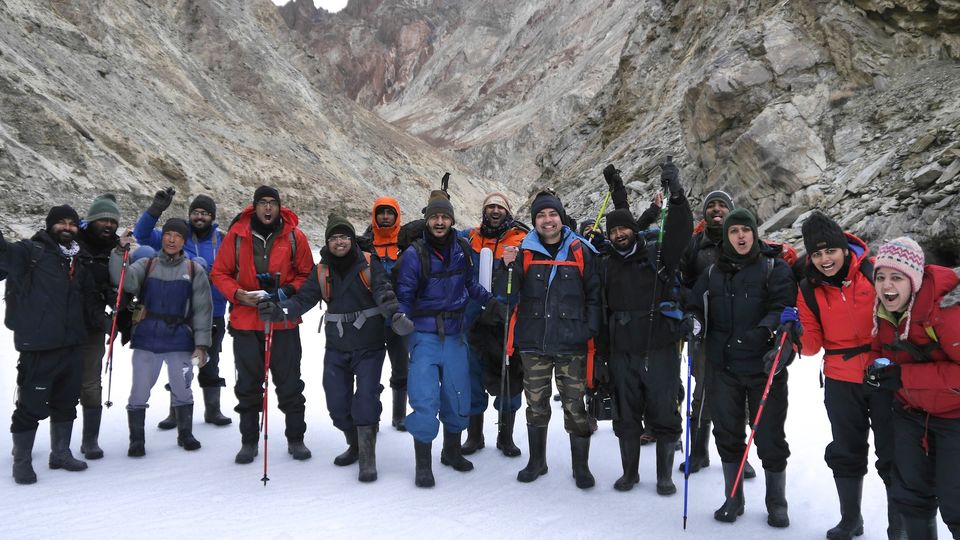 Funny facts and conversations that we cannot forget
Porters had named our group "Ki Thao" or "Chi Thao" I can't distinguish. It means good looking dog. We really liked it. We rather would have preferred "mad dogs". Throughout the trek we kept shouting this and it was fun.
Our guide told us that in one group out of 20 people only one made it to Nerak. When we asked why, his answer was "Baki sab ki Phat gayi thi". Same day they were supposed to return so it meant 24 km of trekking on a single day.
Sleeping tents used to be close by so a person from one tent could hear a person snoring in other tents. In our group out of 6 tents 3 had snorers. In one tent out of 3 people 2 used to snore. Here is what they told us all "Jab main marta hu wo nahi so pata jab wo maar reha hota hai to main nahi so pata" (they meant snore but you know).
There was not a single person who did not slip. I slipped 5 times. Our dear friend Ritesh was special. Whenever anyone used to slip all of us used to shout and Ritesh used to shout loud out of joy and used to turn back to see who slipped and in process of turning back he always used to slip. He broke all records and slipped more than 20 times. Luckily he is in one piece and very well.
No one had ever imagined that cooks will be serving us these many varieties during the trek. To name few : gajar ka halwa, popcorns, daily 4 times tea and biscuit, soups, pakodas, chow mein, custard, momo, alu paratha, chole bature, puri sabji.
Kind of answers we got when we asked about carrying cigarettes during trek was such that everyone was scared. Still we had 3 packets carried by 2 people. It was shared among 10 people over 7 days. Last day we did not have any of them. Local people/porters take dumdum bidi. We had to borrow it from them and every one including girls had their hands on bidi for the first time in life and it was really funny.
If you are aware of kodaikanal specialty do not miss to bring those. You will not find any better place to get lost in nature for 2-3 hours. I wish I had brought those.
One guy in our group was very scared of climbing up and coming down. He always was kind of rescued by guide/porters. On 2nd day when we were coming down a very steep slope he was just behind me (was left there by one porter and was asked to wait there). While I was waiting behind others for my turn this guy started shouting. "Bhaiya I am slipping save me. Tashi Bhaiya please come save me". Problem was that he won't take anyone's help other than our guide. That moment "meri phat gayi thi". If he slipped I will go down the slope with him into the river with 1-2 other people ahead of me so everyone started shouting encouraging him.
Last day when everyone came back to Singge palace (4 star hotel) at Leh everyone was dying for a hot water bath. One of our dear friends did not know he had to turn knob left to get hot water. He took bath with freezing cold water!!!! We all laughed so much when he told water was too cold when he took bath.
Last night during dinner all 17 of us had good amount of drinks to celebrate. I had little more. I was scolding the waiters for not having deserts during dinner since we had become used to it during trek. They brought Rasgulla and everyone had as many of them as possible. When bill came we came to know that it costed 160 INR per piece. Our 50% of bill amount was of Rasgulla.
One of our friend got loose motion on first day In Leh. Everyone in group gave him their own medicine and it was supposed to stop for 2-3 days. Even a doctor from New Zealand was there for trek. Even his prescription did not work. Next day he came with us till base camp. We asked him to wait at base camp to see if it improves for one day but he decided to return. When he went back to leh he did not had it for next 3 days. He regretted his decision while we laughed when we came to know on coming back to Leh.
Lastly as i said try to have fun in whatever way you can. Here comes more pics from the "Ki Thao" group.