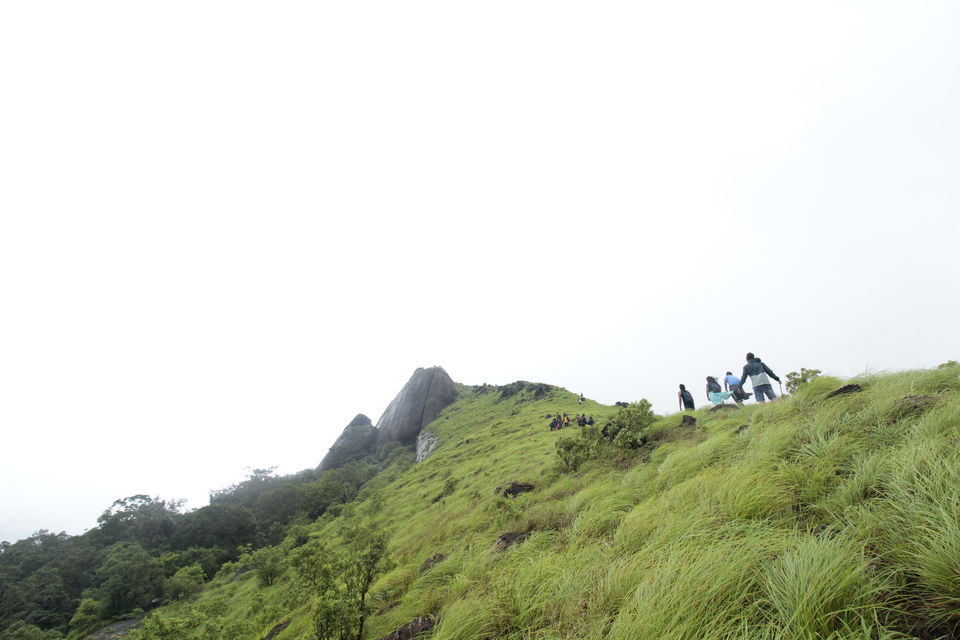 Yesterday's attempt of trekking to Kode Kallu was disappointing for all after the Forest officials denied us the permits. We returned half-hearted and instead did some small hikes under a pouring sky. The team was still in a jolly mood though, with a promise to a better day tomorrow.
Back in July 2019 World Trekking Club (WTC) had organized an event in the pristine Charmadi Ghats. We had planned to visit Kode Kallu on the 1st day, followed by a trek to Eri Kallu the next day. Dakshina Kannada district, especially Charmadi Ghats are at its finest during monsoons. It would rain intermittently, leaving a trail of freshness all around.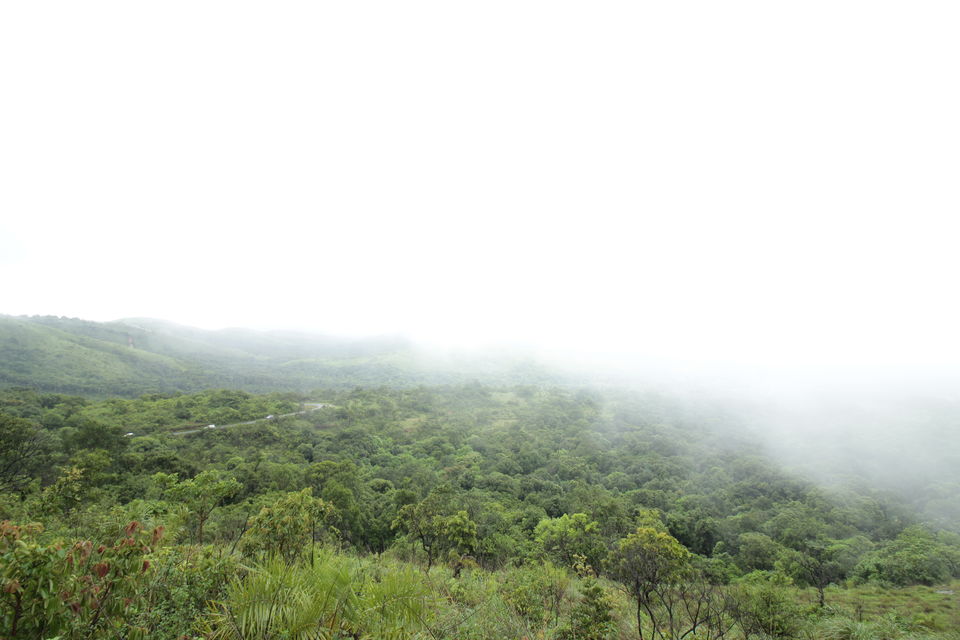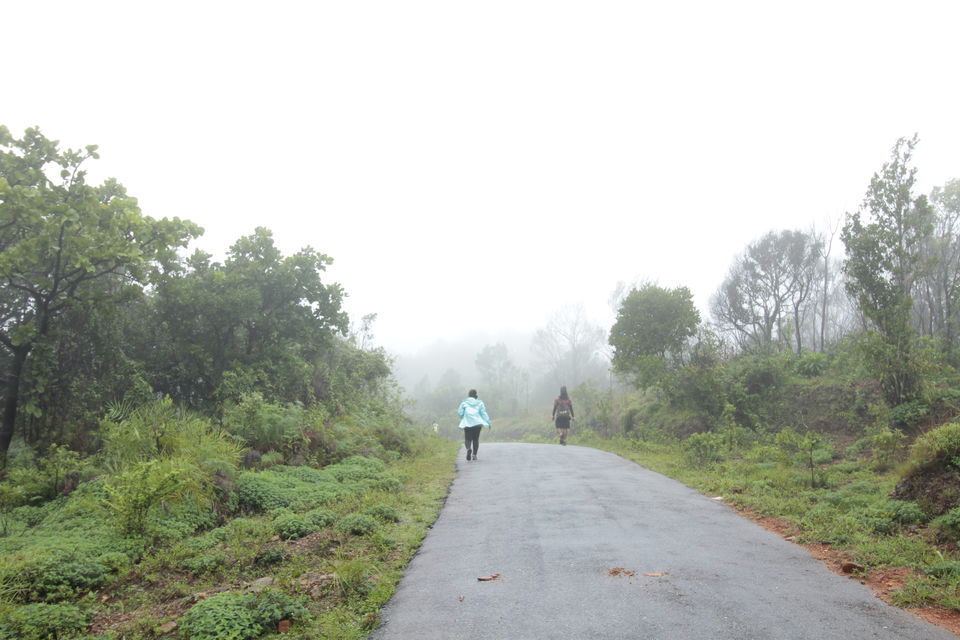 Its Varun's birthday today; Anish had arranged a small cake from somewhere. After breakfast and cake cutting we set out for Eri Kallu. Our base camp for the event was Kakkinje village, easily connected via the highway. We started off by crossing a stream, immediately venturing into some dense forests. Its to easy wander off here, we'd be on the heels of our local guide with me and Anish as the sweepers. Its around 9 km till the top.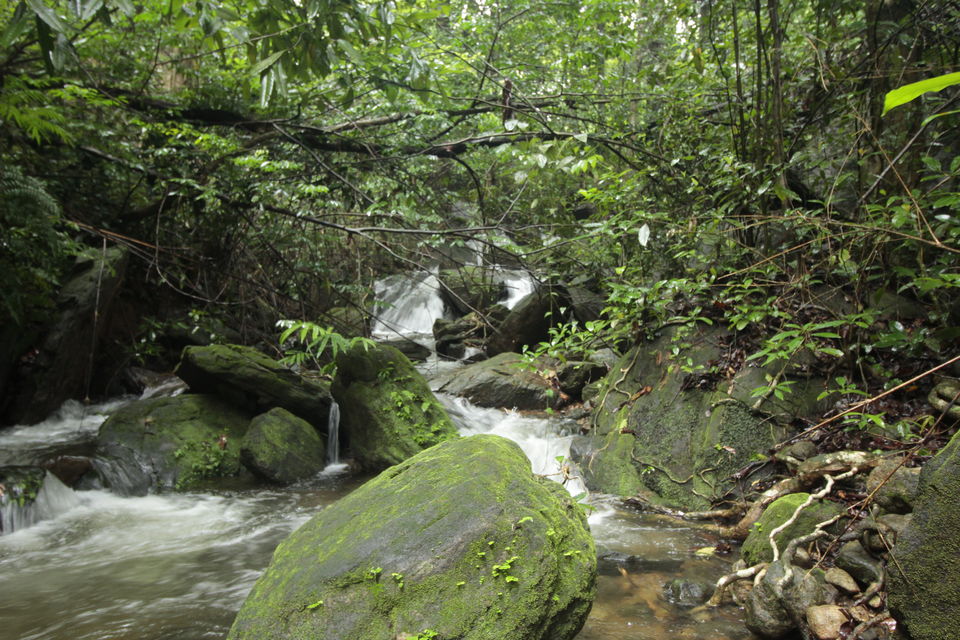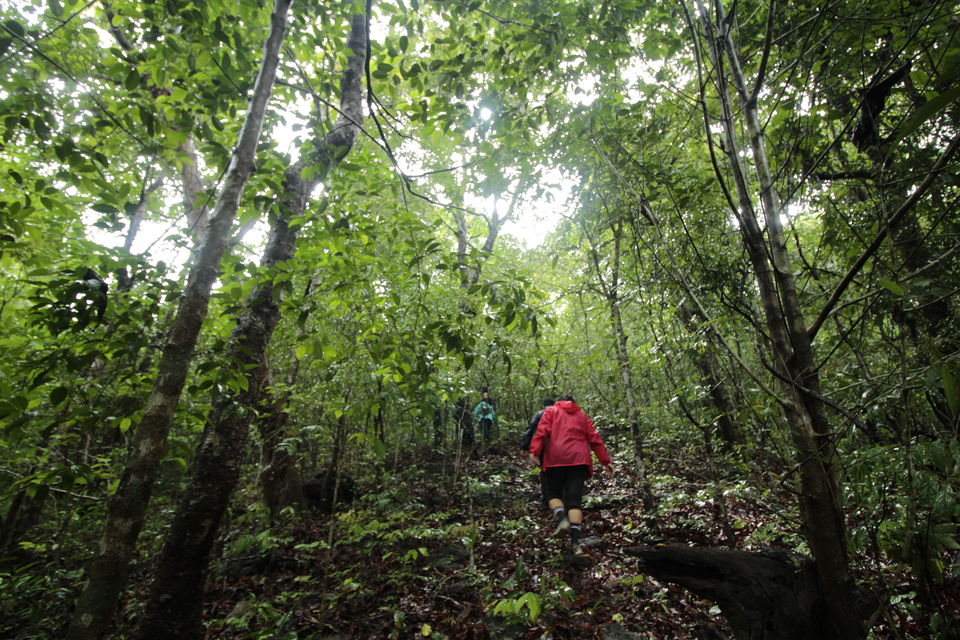 Water droplets trickling from the leaves and branches, treacherous, sloppy, & muddy trail; this is how trekking in the ghats during monsoon is all about. Me and Anish had been on the trails of Eri Kallu around 2 years back, but back then we had to return half way as we had started off only by noon, coupled with a sweltering heat we struggled.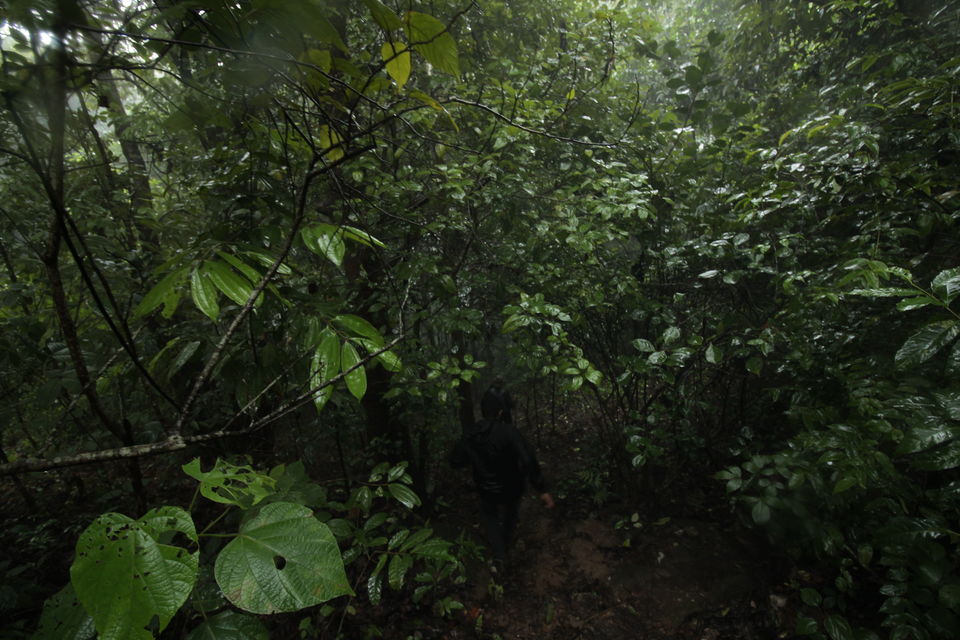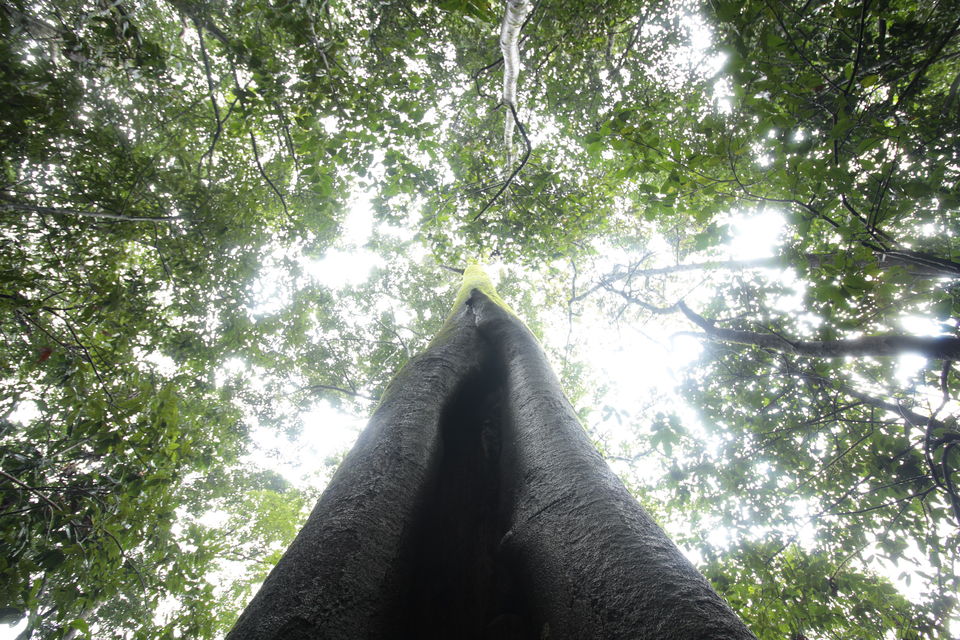 These forests are notorious for wild animals and snakes. I was constantly on the lookout for any pit vipers that may be lurking around. The trail was quite steep to start off with. So steep that we were slipping quite often on the muddy trail. Few of us did struggle with the steep ascend but we got to keep moving. The 1st 6-7 kms are completely inside the dense forest. We started off at 9 am, and reached the forest clearing by 1 pm. And the first visuals of the entire valley was enough for us to scream in excitement!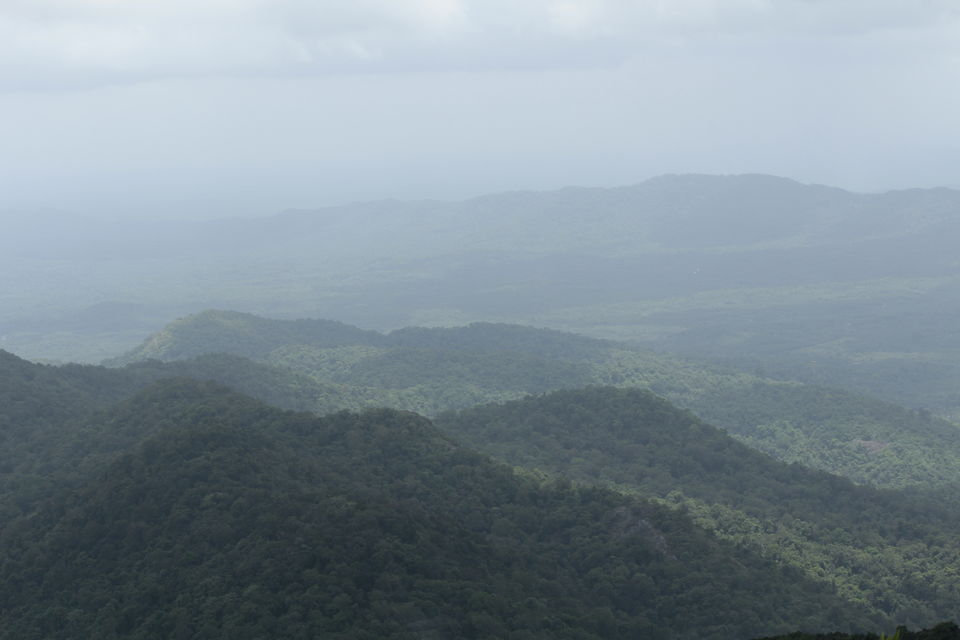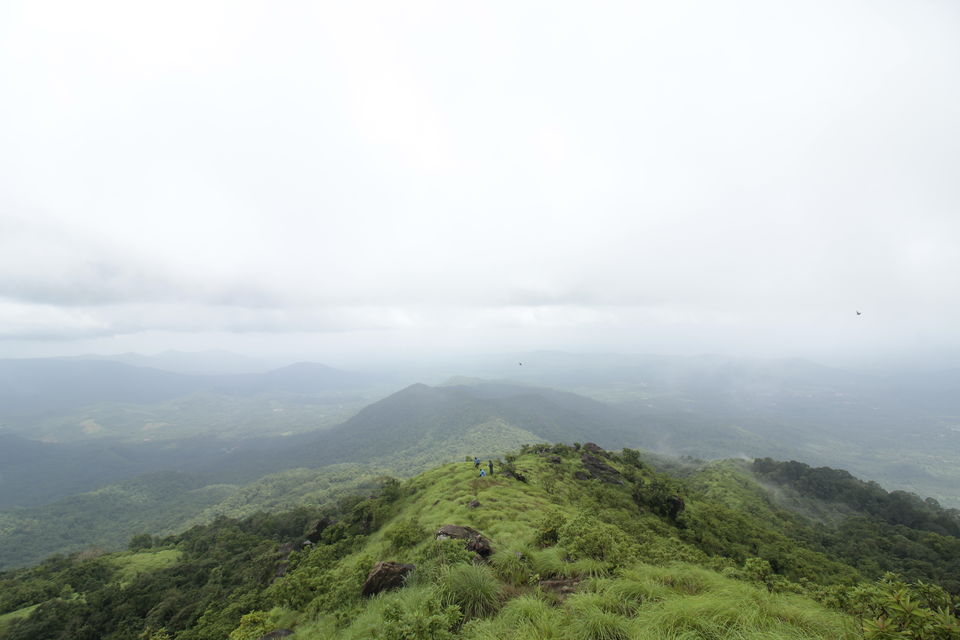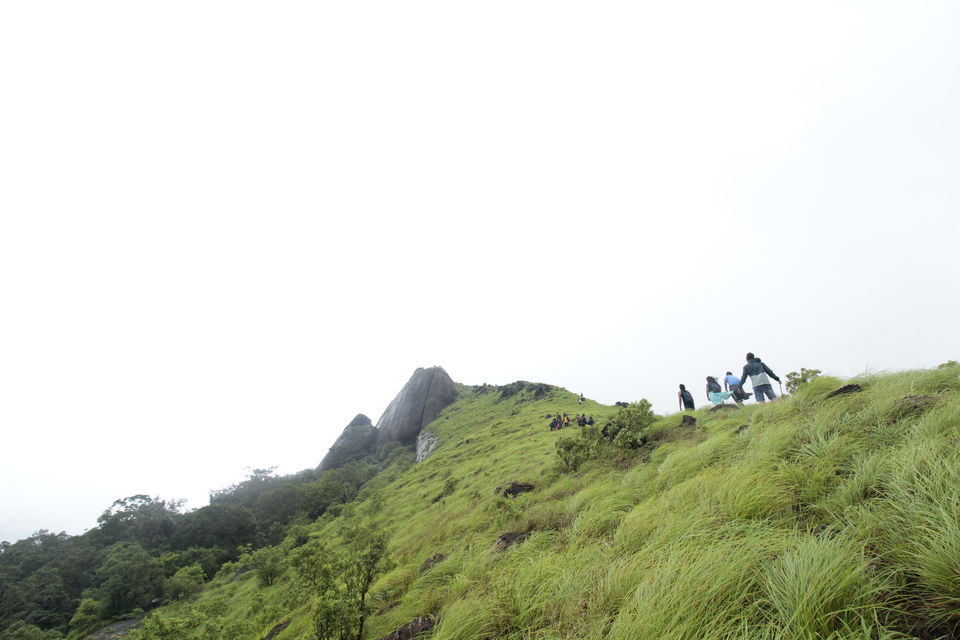 Tall, dense trees now gave way to these tall grasses. We had another ~2kms more to cover till the top. The sweeping view of the entire ghat section was right in front of us with the clouds playing hide-n-seek. Moving further up and the destination was clear. There was a huge rock marking the summit. It was windy but pleasant. The rains have subsided, atleast for the time being. We reached the summit by around 2 pm, to be welcomed again by a bout of rain. Found some cover under the huge boulders where we had our lunch of lemon rice.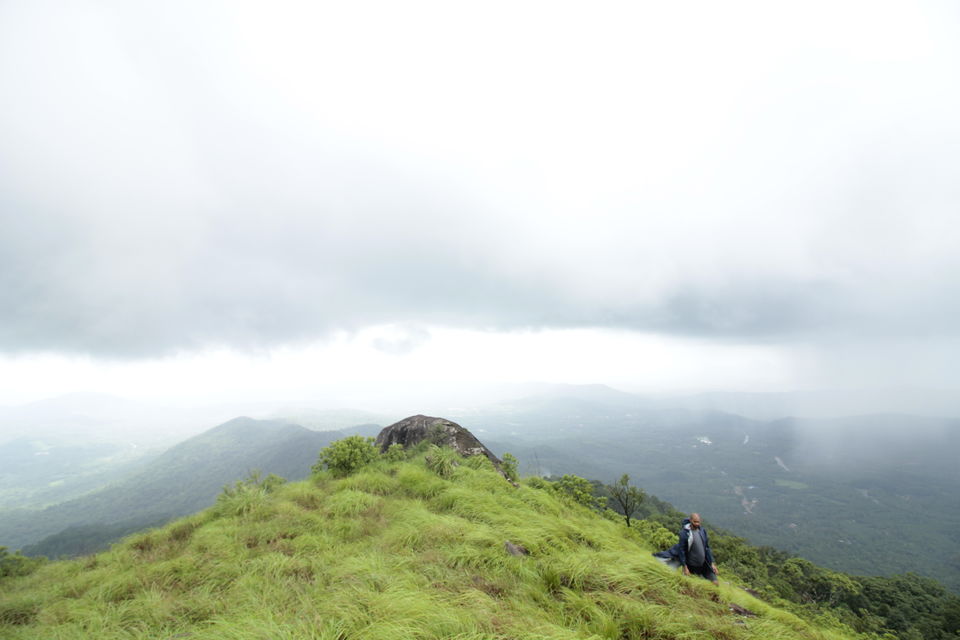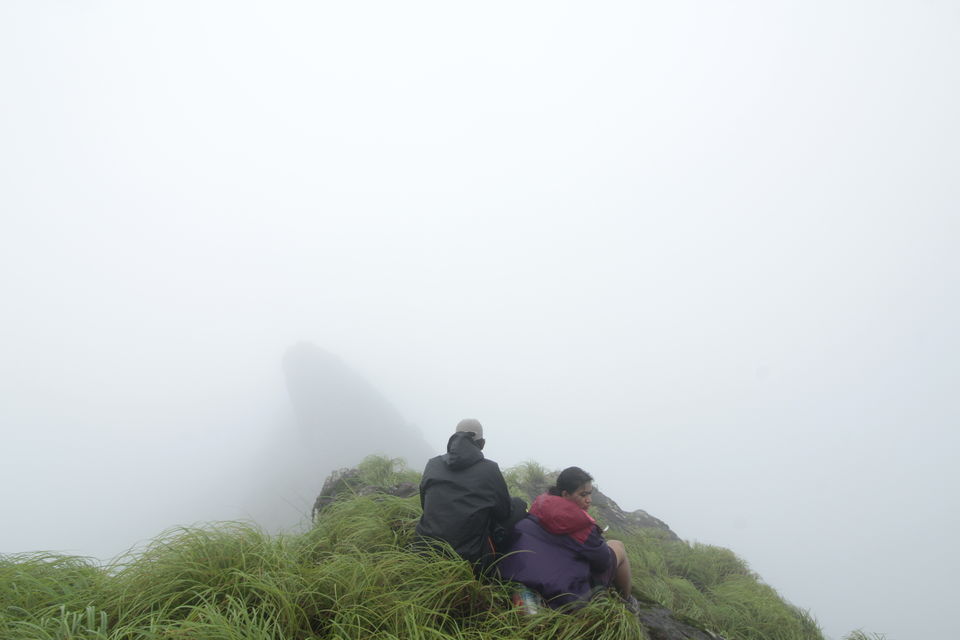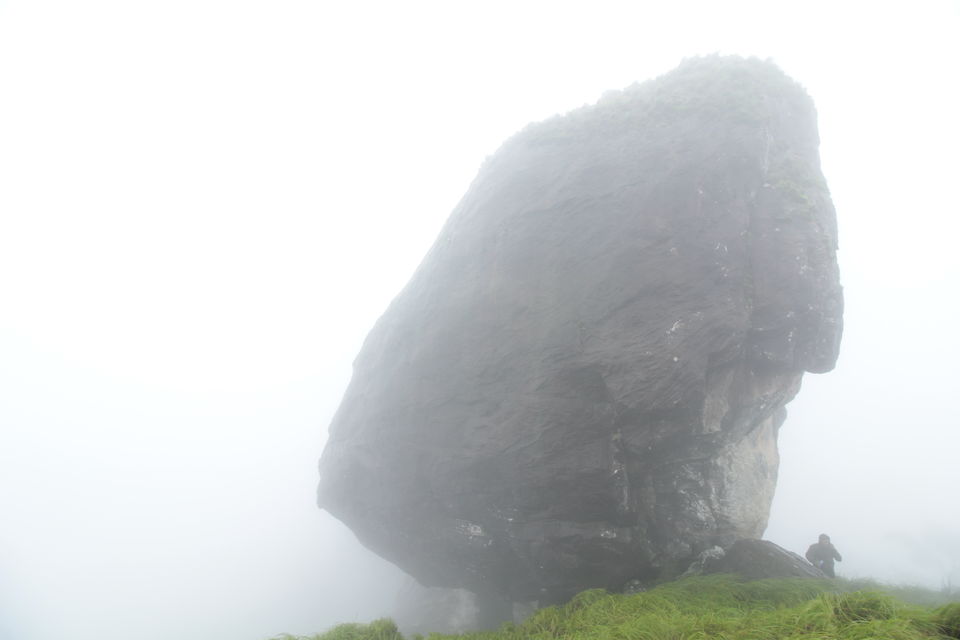 By now clouds have taken over the entire valley. We starting moving back down by 2.30 pm. Back inside the forest and the descend is tougher than going up. Owing to the muddy terrain we were struggling with our foothold. A muddy, brown bum was now a common sight! With tired bodies the trail felt like never ending. Few who were struggling to walk were far behind, and Anish was helping them to be not left further behind.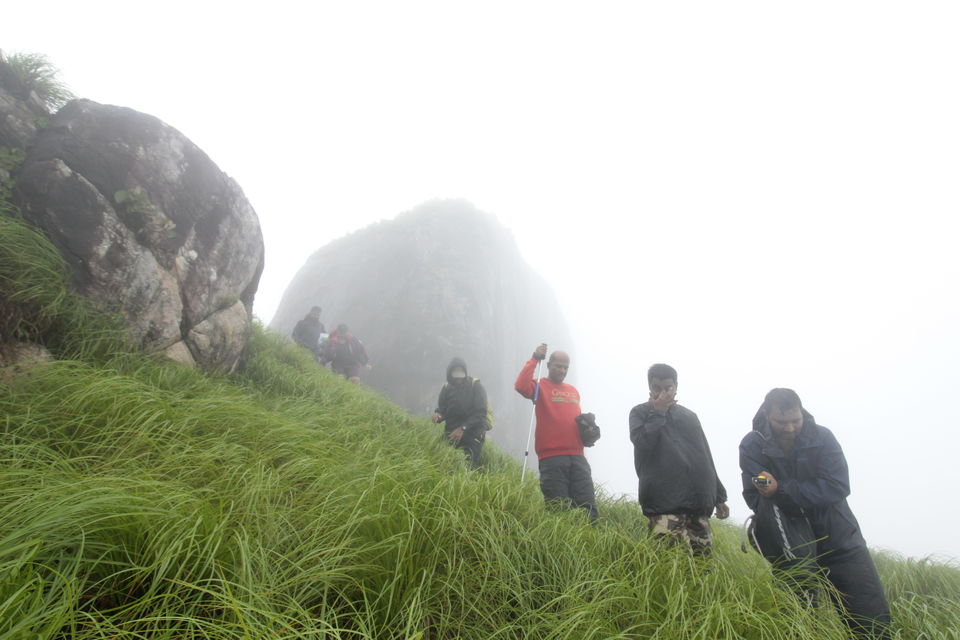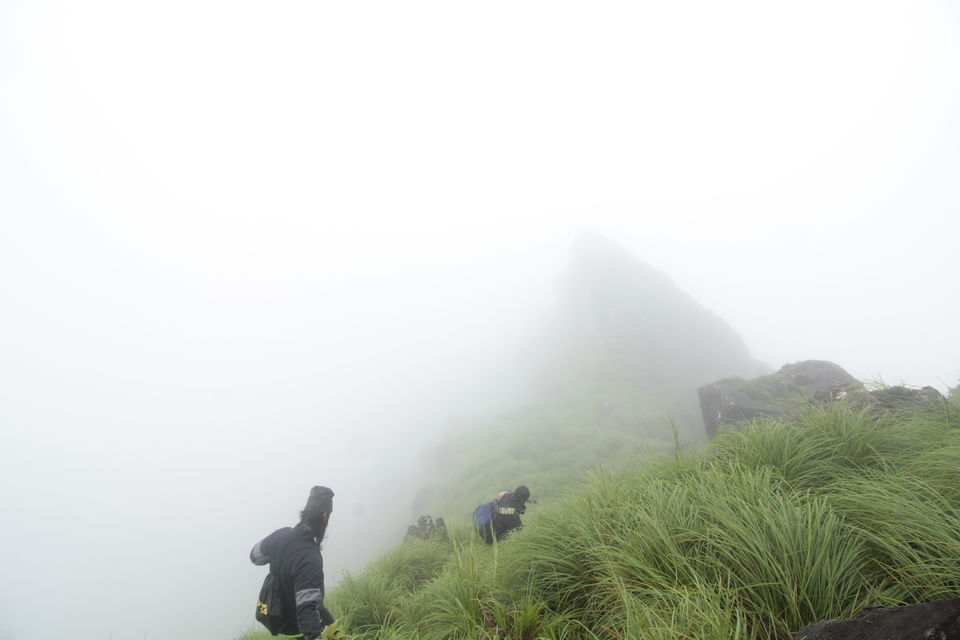 The group had broken up completely now; the pacers were already far ahead and the rest were somehow wobbling down. Our water bottles had emptied by now, and the profuse sweating was only making us more thirsty. Mighty relief when we finally came out of the forest, the trek had finally ended (well, almost). There was a stream passing by and we wasted no time in filling our bottles from there as well as splashed on our faces. Just when we were about to move on one of us spotted a baby copperhead pit viper hiding between the grasses. Finally, my moment after looking around for one throughout the day.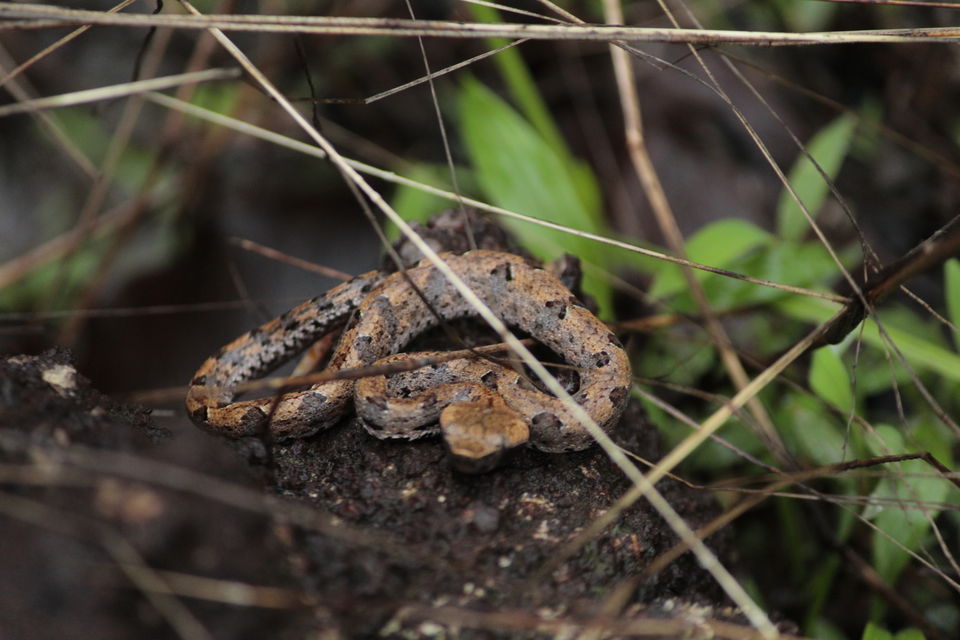 From here onwards the walk till the main road doesn't takes more that 15-20 mins, and by the time we reached the highway it was 7 pm and had gotten dark. Worn bodies just rested down at a nearby dhaba, most had numerous leeches still hooked on. Needless to say we were stinking like a fish market. We had no other option but to just change with new clothes and hop on the bus for our journey back to Bengaluru.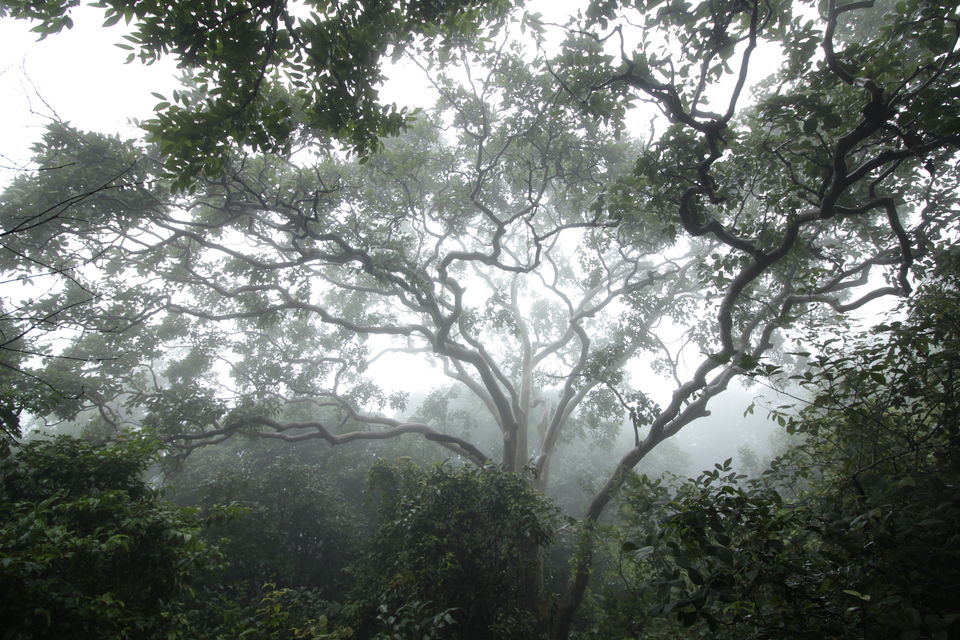 Eri Kallu is by far one of the least explored trails, yet can match to the difficulty and scenic grandeur offered by other popular treks. And Charmadi Ghats really bounces to life during monsoon. This ones for those who seek a challenging trail without the cacophony of the numerous footsteps that dot the other popular trails.