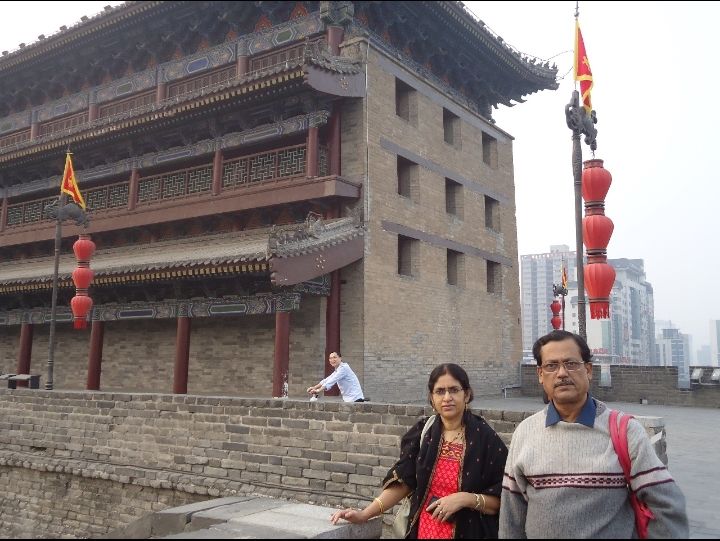 For many years China government did not give any permission for introducing as well as expanding tourism but finally, it has allowed to open the gate for tourism but only to some of the places. Still many places have been kept under veil, unventured and unknown. Though we have not decided to travel China in the first place but ultimately, we indeed paid a visit to this beautiful place and the experience was totally amazing. Photogenic city is China. Though we had visited there 5yrs ago but I guess many have been changed now. Well due to current pandamic situation, I presume china government has taken very strict rules and regulations for both tourism and trade and commerce. But yes, because of its scenic photogenic beauty, China is a must have in the bucket list.
Well, the tour starts with Xi'an. It is a large city and capital of Shaanxi province in central China. One known as Chang'an (eastern peace), it marks the silk road s Eastern end and was a home to Zhou, Qin, Han and Tang dynasties' ruling houses. In Xian, we will see--
1. Fortification of Xi'an :
Xian city wall or fortification of Xi'an is the most complete city wall that has survived in China as well being one of the largest ancient military defense systems in the world. It was built in 1370.
When Zhu Yuanzhang, the first emperor of the Ming Dynasty, captured Guizhou, a hermit named Zhu Sheng admonised him that he should" built high walls" store abundant food so that he could fortify the city and unify other states. Zhou Yuanzhang followed his advice and began to enlarge the wall built initially during the old Tang Dynasty.
This fortification has four main gate: east gate ( changle gate), West gate( Andling Gate), South gate (Yongning Gate) and North gate (Anyuan gate).
2. Big Wild Goose Pagoda :
It is a Buddhist pagoda located in southern Xian, Shaanxi province of China. It was built in 652 during the Tang Dynasty. The original Pagoda was built during the reign of Emperor Gaozong of Tang but it's stone exterior facade collapsed five decades later. The Ruling Empress Will Zetian had the pagoda rebuilt and added five new stories by the year 704.
A massive earthquake in 1556 heavily damaged the pagoda road reduced it by three stories. The Giant Wild Goose Pagoda was extensively repaired during the Ming Dynasty and renovated again in 1964.
3. Emperor Qin shihuang 's Mausoleum:
The terracotta army is a collection of terracotta sculptures depicting the armies of Qin Shihuang, the first Emperor of China. It's a form of funerary art buried with the emperor with the purpose of protecting the emperor in his after life.
The emperor constructed his mausoleum because he wanted to conquer death-- his obsession with immortality. More importantly, his underground palace, a mausoleum is attended by an army including over 7000 terracotta warriors, horses, chariots and weaponary intended to protect him in his after life.
4. Glimpses of Old China at Hutong Street:
People say that the real culture of Beijing lies in the culture of Hutong and Siheyuan (courtyards). They give an insight to the old lifestyle of ordinary Beijingers.
During China's dynastic period, emperors planned the city of Beijing and arranged the residential areas according to the social classes of the Zhou dynasty. The term "huttong" appeared first Yuan dynasty, meaning "water well".
Following the founding of the people's republic of China in 1949, many of old hutongs of Beijing disappeared and replaced by the wide boulevards and high rises. However, many of Beijing ' s ancient hutong s stand still and they have been in protected areas.
Some of those buildings are coloured as red buildings as a symbol of communist party and old rickshaws are the only transport offered for visiting those hutongs. One can see river flowing by beside those hutongs.