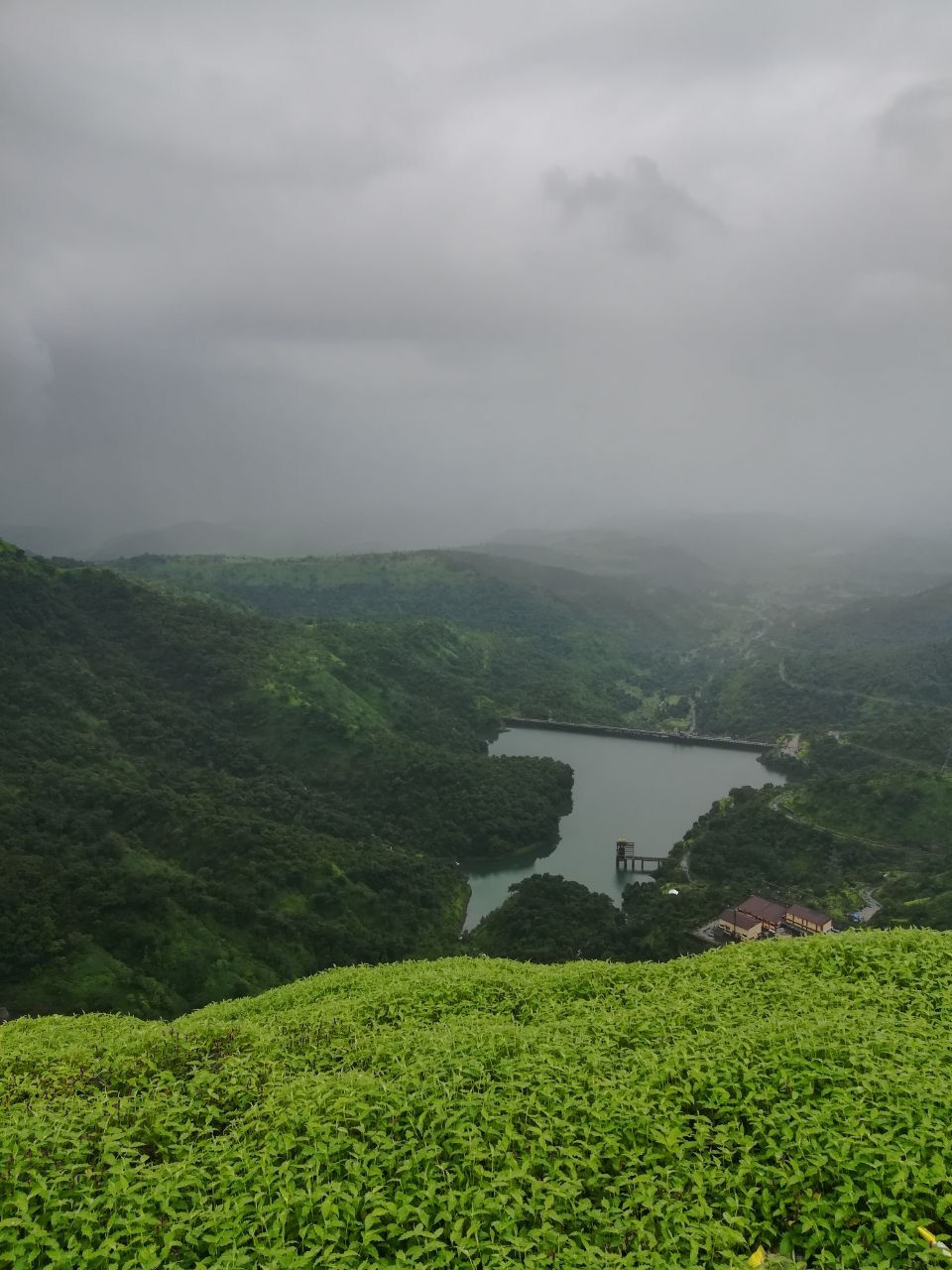 Started from Pune at about 11 AM. Took the shortest route shown by GPS- Pune-Alephata-Otur-Brahmanwada-Kotul-Bhandardara
Even though this route especially after Kotul becomes very scenic and beautiful the road condition is very bad. I heard from some folks the road via Sangamner-Akole is comparatively good.
You can find many good food joints and restaurants on Pune-Nasik highway, particularly near Narayangaon. We enjoyed hot and spicy Missal Pav at one on the way Missal house as they call it.
While nearing Bhandardara one can see the great Arthur lake, Wilson dam And beautiful Umbrella fall. It's worth stopping by. Reached Bhandardara at around 3.30pm. I recommend to book your accommodation in advance in case you are traveling on weekends. Checked- in the resort got fresh and did nothing. Just went to the poolside and enjoyed some swimming. Enjoyed delicious dinner served at Resort
Woke up by hearing the sweet chirping sound of birds and looking into beautiful view of forest and mountains from our room. Finished breakfast and started for Bhandardara sightseeing. As we were new to this place we hired a local tourist guide and I can say that it was a good decision since he knew the area very well.
Bhandardara has a circular road of around 50-60 km which has all the major tourist spots and it took us nearly 5-6 hrs to complete visiting them.
To enter this circular road one has to get the forest pass from the forest dept check post, they charge Rs 200 for a car and Rs 30 per person. This road is really incredible ; lush green and windy. I have never seen so many shades of Green before coming here. We stopped by the Dam backwaters and clicked some pictures.
Spot-1: Panjhara : it's a waterfall of about 10 ft height coming from the rocks. There is nothing much you can do here, just enjoy the waterfall take some picture and head towards next spot which is Umbardara.
Spot-2: Umbardara: is a small place hidden in the woods which is basically a viewing point to the dam below. One gets the view from two mountains and the dam beneath. Again spent some time , took some nice photographs and we were towards the next point, Kokan Kada
Spot-3: Kokan Kada: its very thrilling experience to see the mountains and the downside dam from this point. We can actually see the clouds down at this point. We can have amazing view of the electric power plant which is situated on Ghatghar dam. Delicious Kanda bhaji(Onion pakodas) can be enjoyed at this point.
Spot-4: Sandhan Dari : I will say this was the most challenging and adventurous experience. This is actually a rocky valley which flows the river in it. Water flow was quite fast. It was very
scary at times to pass through the rocks and speedy waters. But the efforts are worth spending as this place shows us very Raw look of nature . Efforts taking but worth a experience .
Spot-5: Amruteshwar temple: it's a very old temple of deity Shiva and also origin of Pravara river. As per local legends the Pandavas built this temple overnight.
Spot-6: Necklace falls: it's just another waterfall coming from high mountains and has a shape of a Necklace . Nothing much can be done but to see the falls and head to next point.
Spot-7: Nhane falls: it's a nice waterfall which we can enjoy by going near to it. It has a metal bridge built very next to the point where the waterfall falls on the rock. It's nice to enjoy on the bridge and experience the water sprinkling on ourselves.
Spot-8: Umbrella falls: this waterfall is active only when they release the water from the dam. It's very beautiful to see the water coming down from the dam and forming shape of umbrella.
So that's how we completed our day 2 by 5.30pm and returned back to resort to have some rest and food.