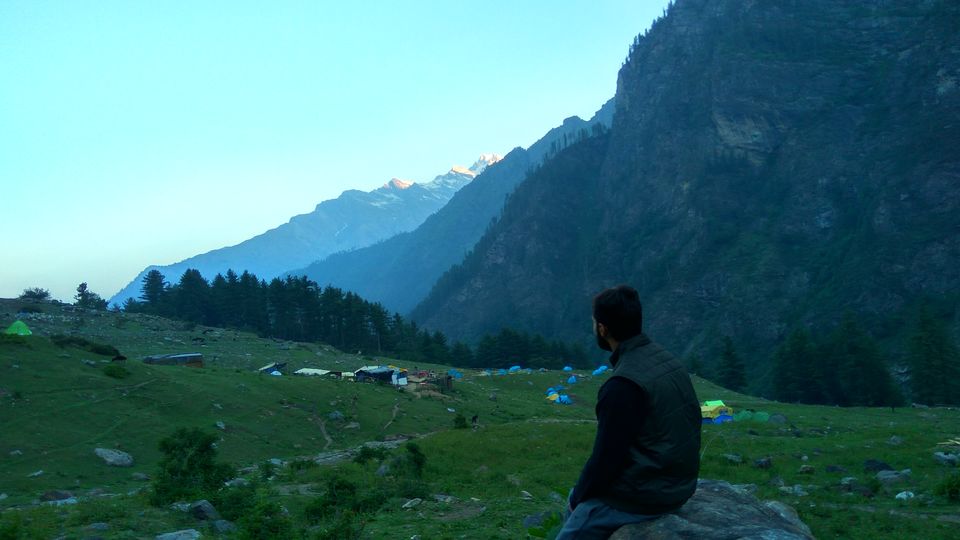 Our journey started from Delhi at around 9 PM when we reached Kashmere gate ISBT to catch our bus for Bhuntar. We had pre booked our to and fro bus tickets from HPTC website itself. The HPTC buses are the best in class and offer a comfortable ride at pretty cheap prices. Their buses are usually all booked so to catch one you have to book in advance.
After the 10 hour journey we reached Bhuntar at around 7 AM. Plan for the day was to reach Barshaini and trek to Kheerganga where we'll retire in tents for the night. It was a really optimistic plan with almost no buffers but we somehow made it work. From Bhuntar we took a cab which took us to Barshaini for a fare of 300 per head. It seemed pretty reasonable considering if we take a bus for the same , we might lose a lot of precious time in the bus rather than spending it either on the trek or at Kheerganga. The drive to Barshaini from Bhuntar was pretty scenic with Parvati river flowing along all through the way. Our decision of taking a cab turned out to be pretty good as the guy also took us to Prashar lake later in the same cab. Plus since he was a local he had the knowledge of nearby snow clad peaks and the treks which were organized to summit those peaks. Although you'll be paying quite a lot extra but I'll still recommend taking a cab over a bus. The people there are very friendly and will guide you all through the way. Another benefit of hiring a cab was we asked him to stop every 10 minutes to click a picture of the surrounding hills and the beautiful landscapes. He was more than happy to oblige most of the times and took pride in telling us about the history and the beauty of this place in different seasons.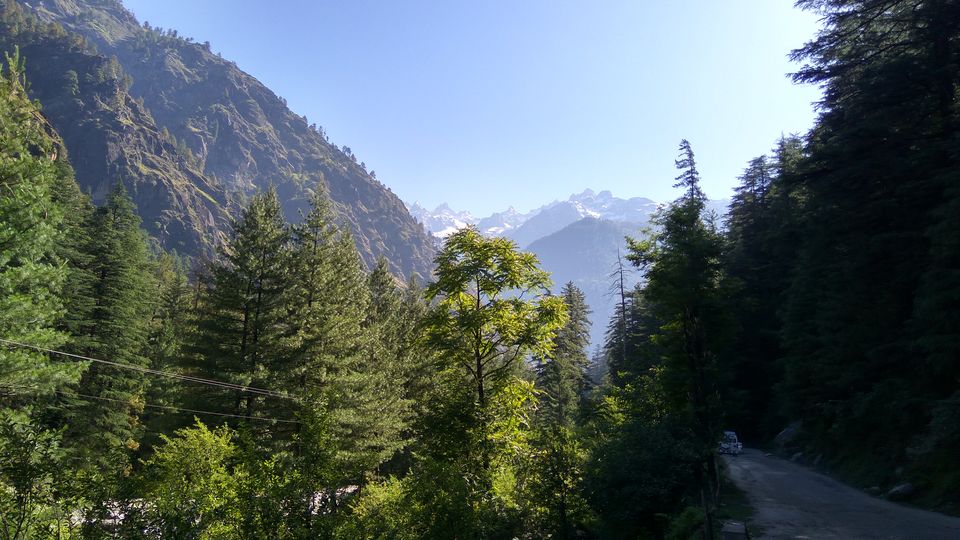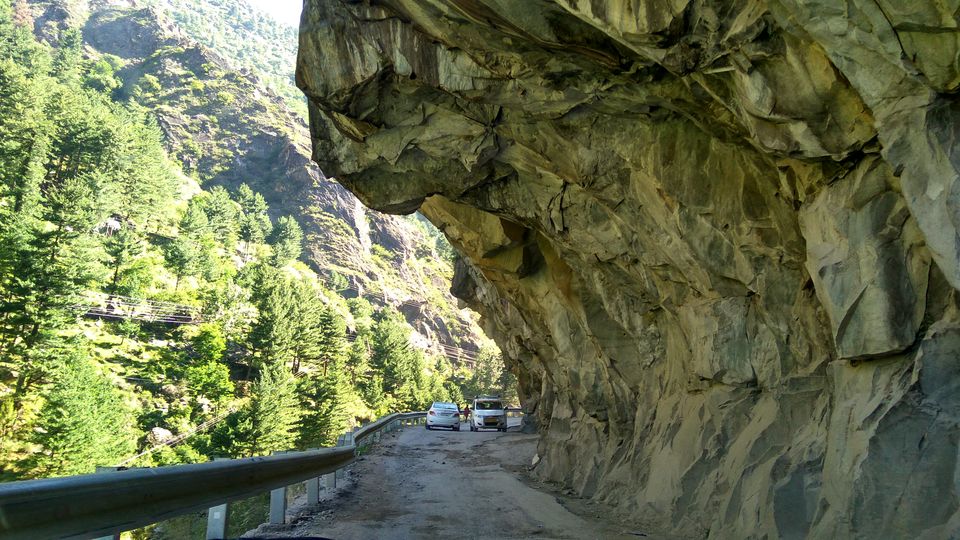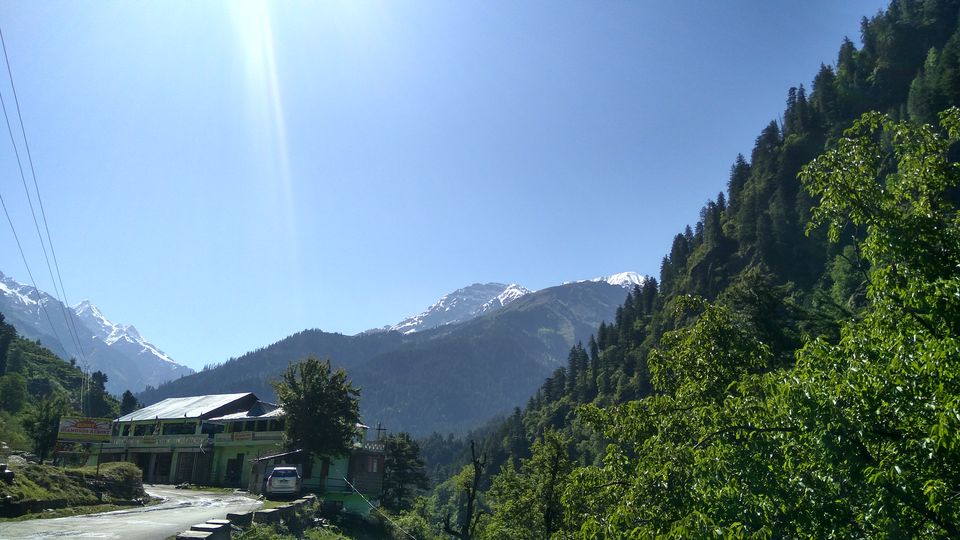 After reaching Barshaini, we had our breakfast. Luckily the person who had this breakfast place was also operating a lounge there. So, we used one of the rooms to freshen up and prepare our self for the trek. Barshaini is a small town and there is not much to do here. Despite being small the views are great and Parvati river flows at great speeds from here. That flow is also the reason of a dam being constructed near Barshaini.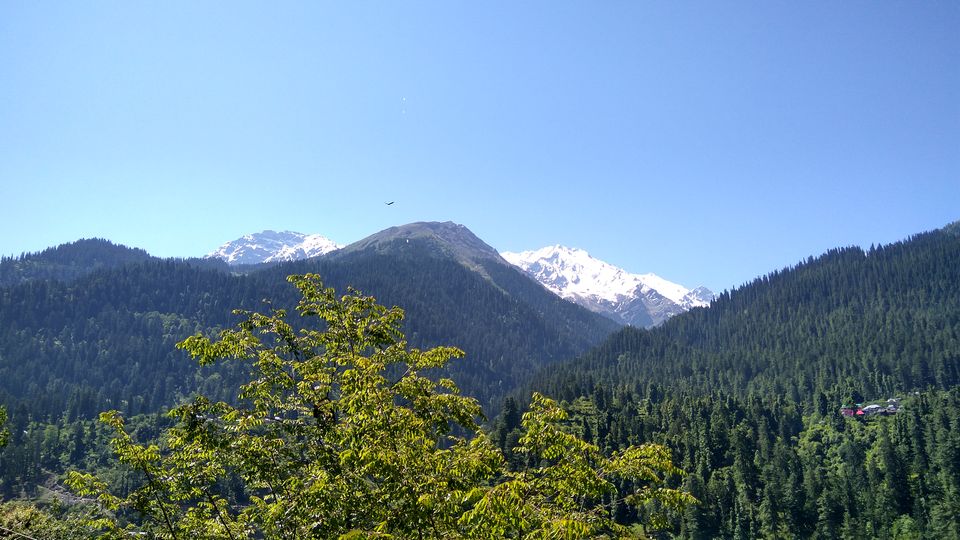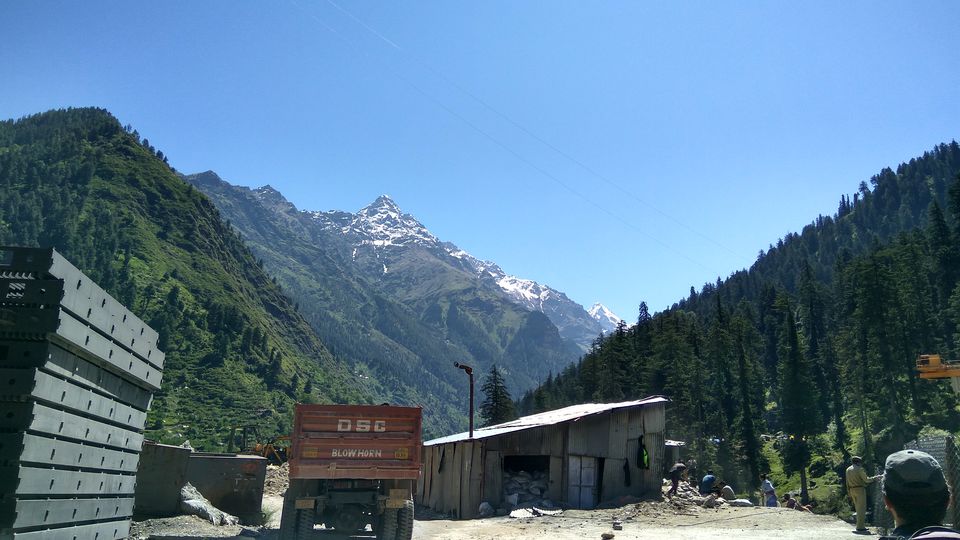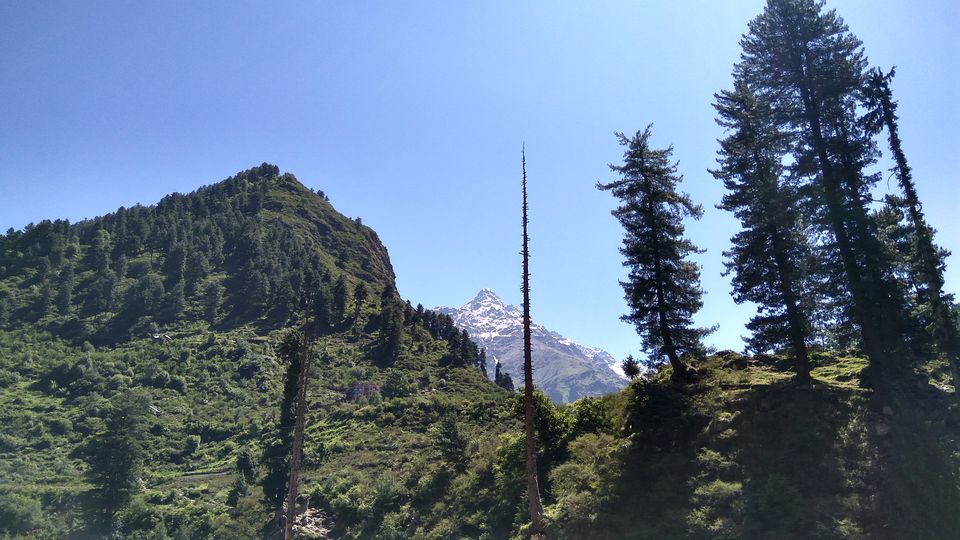 After gathering the route information from the locals, we started our trek towards Kheerganga. The first checkpoint is the road ending with the stairs leading down to the dam construction site. You will be able to see a trail going to your right into the hills. We started our trek to Kheerganga from here. After about 15 minutes of hiking on the trail we came across a small waterfall to our right. This is one of the landmarks which tells you that you are on the right trail. All the while you are trekking here, there will be a snow clad peak in front of you, Parvati river gushing alongside you and a lush green mountain opposite to you. The views can't be any better. And since this trek is pretty much commercialized you won't have any trouble in finding the way or any side shops for a bottle of water or some quick snacks. After crossing that small waterfall and trekking for another 2 km, you'll come across a wooden bridge which crosses the Parvati river. The flow of the river at this point is scarily beautiful. Crossing this wooden plank gave me goosebumps as water was gushing underneath and with such force that it could take anything with it. To increase the already tensed moment, that plank was creaking every now and then.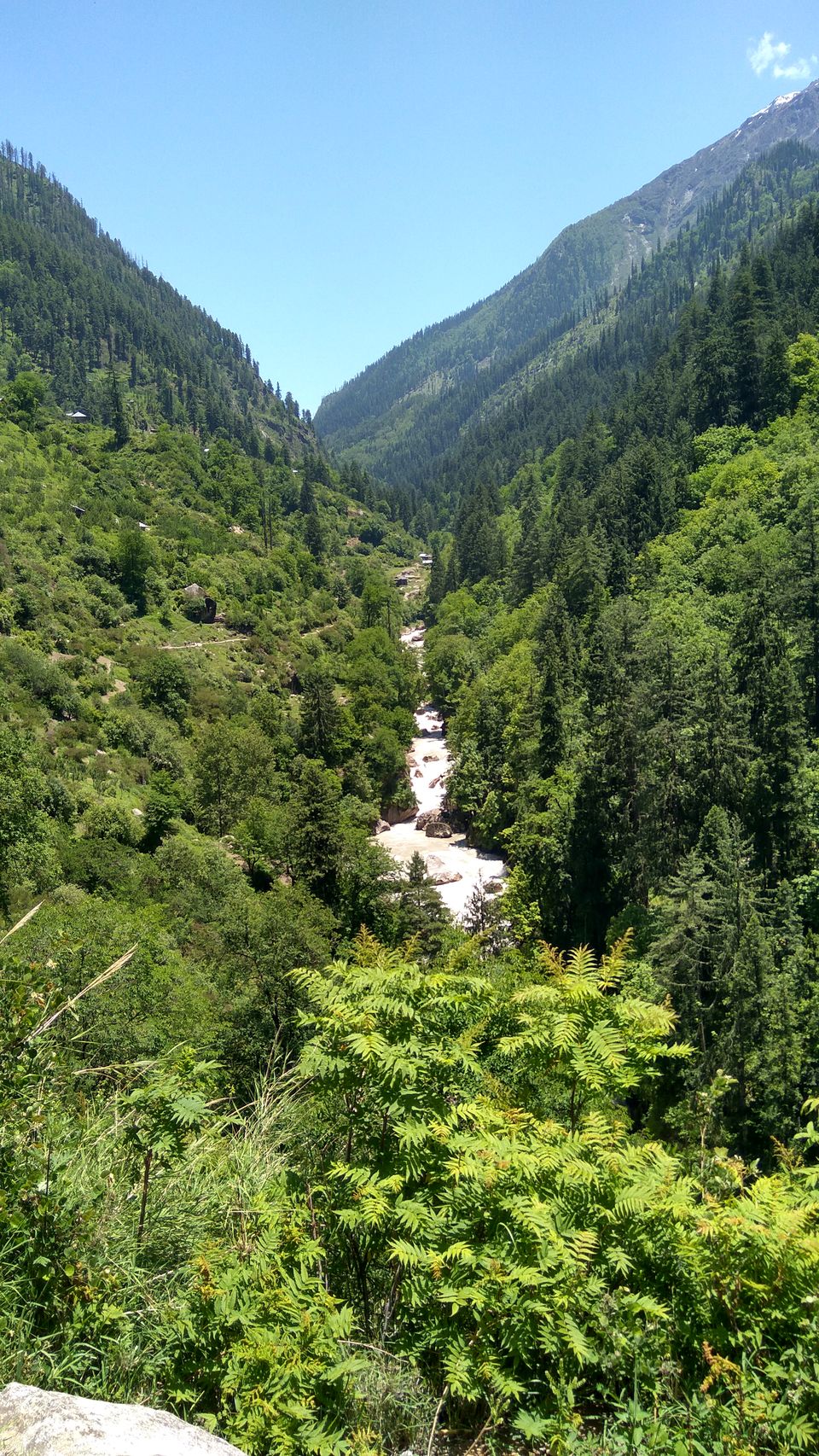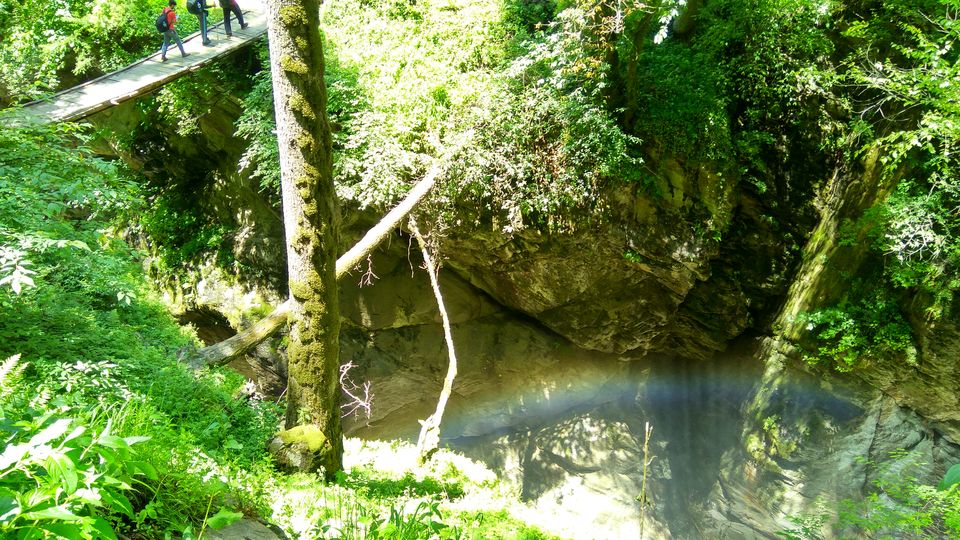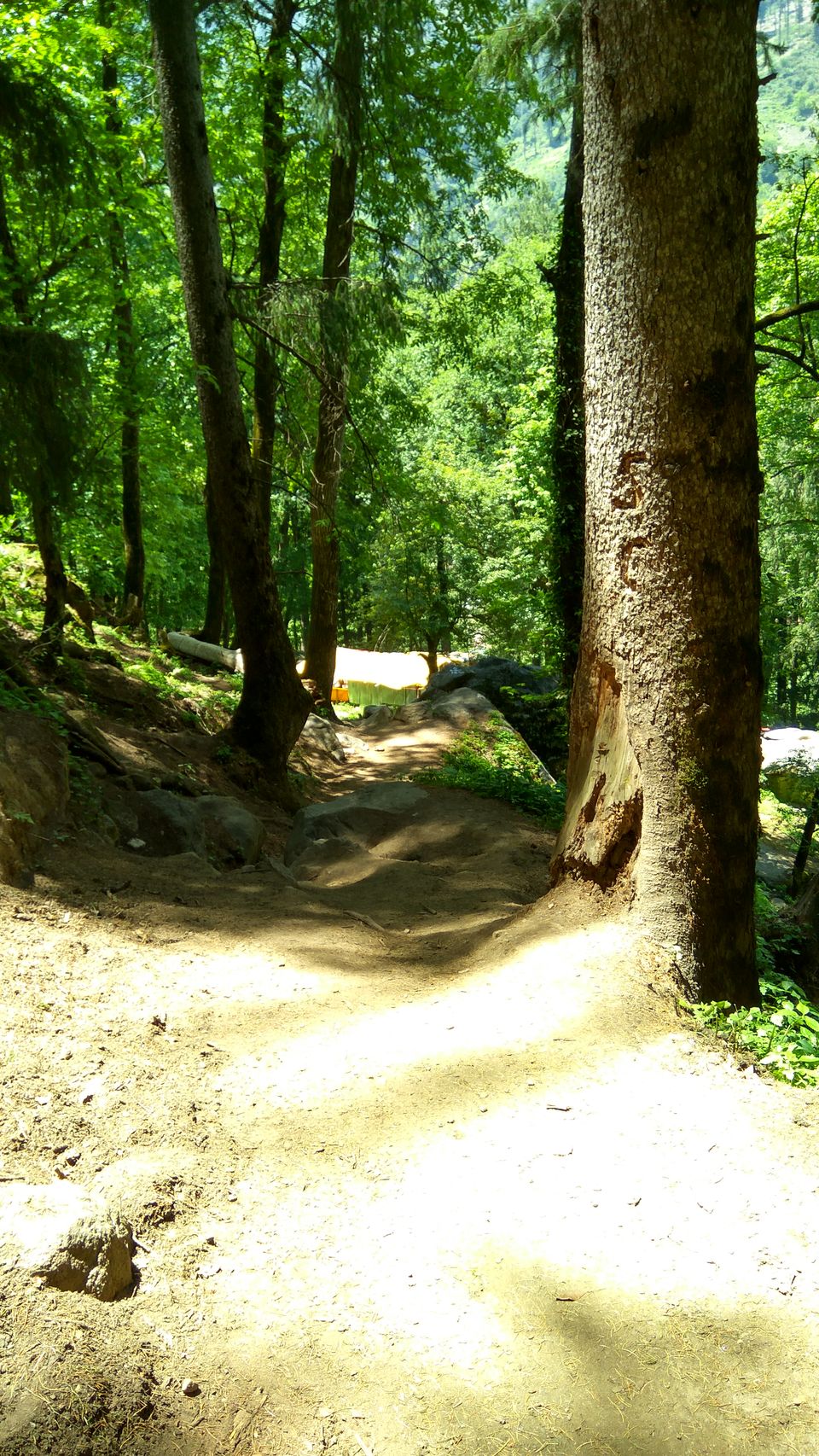 After gathering some courage we finally crossed the plank to witness a rainbow formed out of the mist of the gushing river hitting the massive rocks at the base. After this we were almost halfway through the trek. There was a steep climb of about 1 km from here and post that it was mostly plain with a tinge of incline at times. You'll be crossing some streams too on the way which are quite beautiful in their own ways. However due to increased transit to this place, garbage is becoming one of the grave issues of Kheerganga. Please refrain from throwing any wrappers here and there. There are a lot of cleanup drives being initiated but still a lot needs to be done to rectify the damage already done to this pristine trek.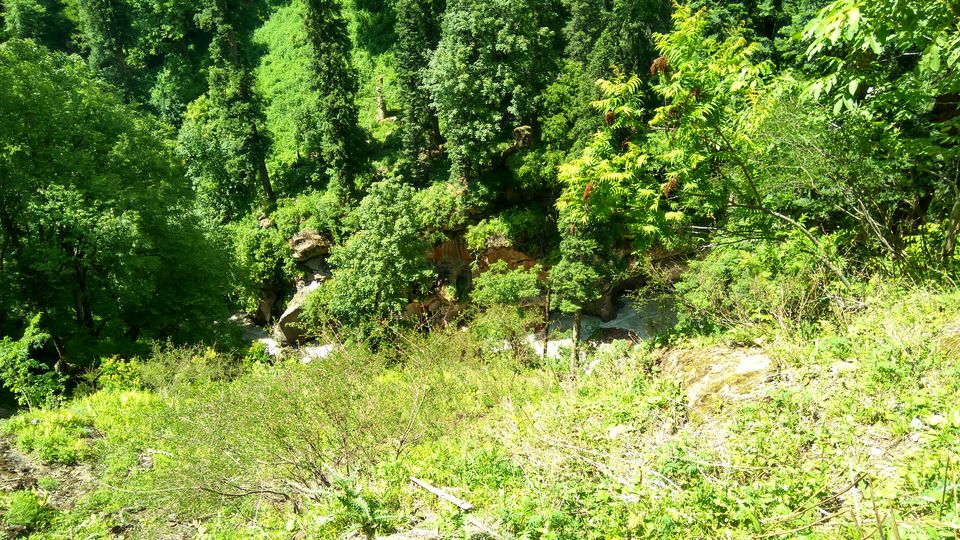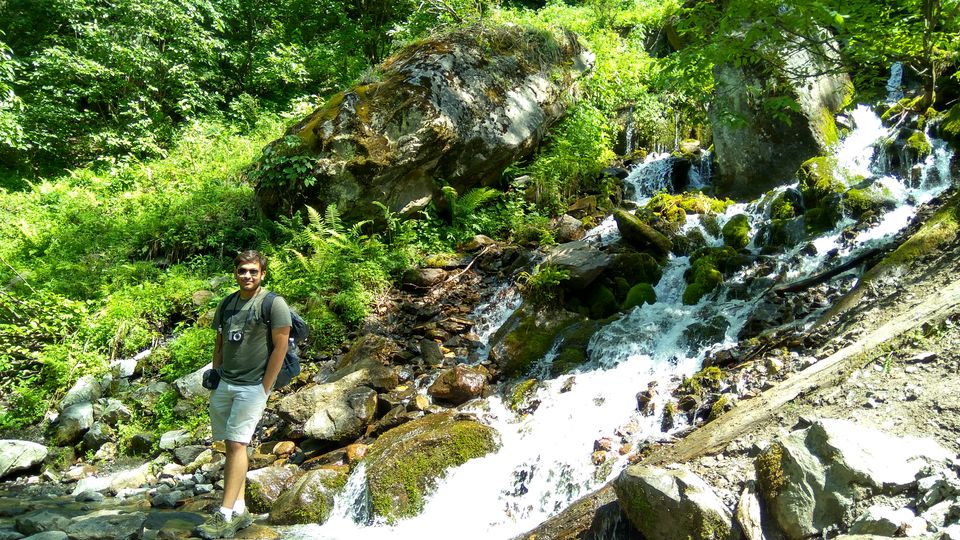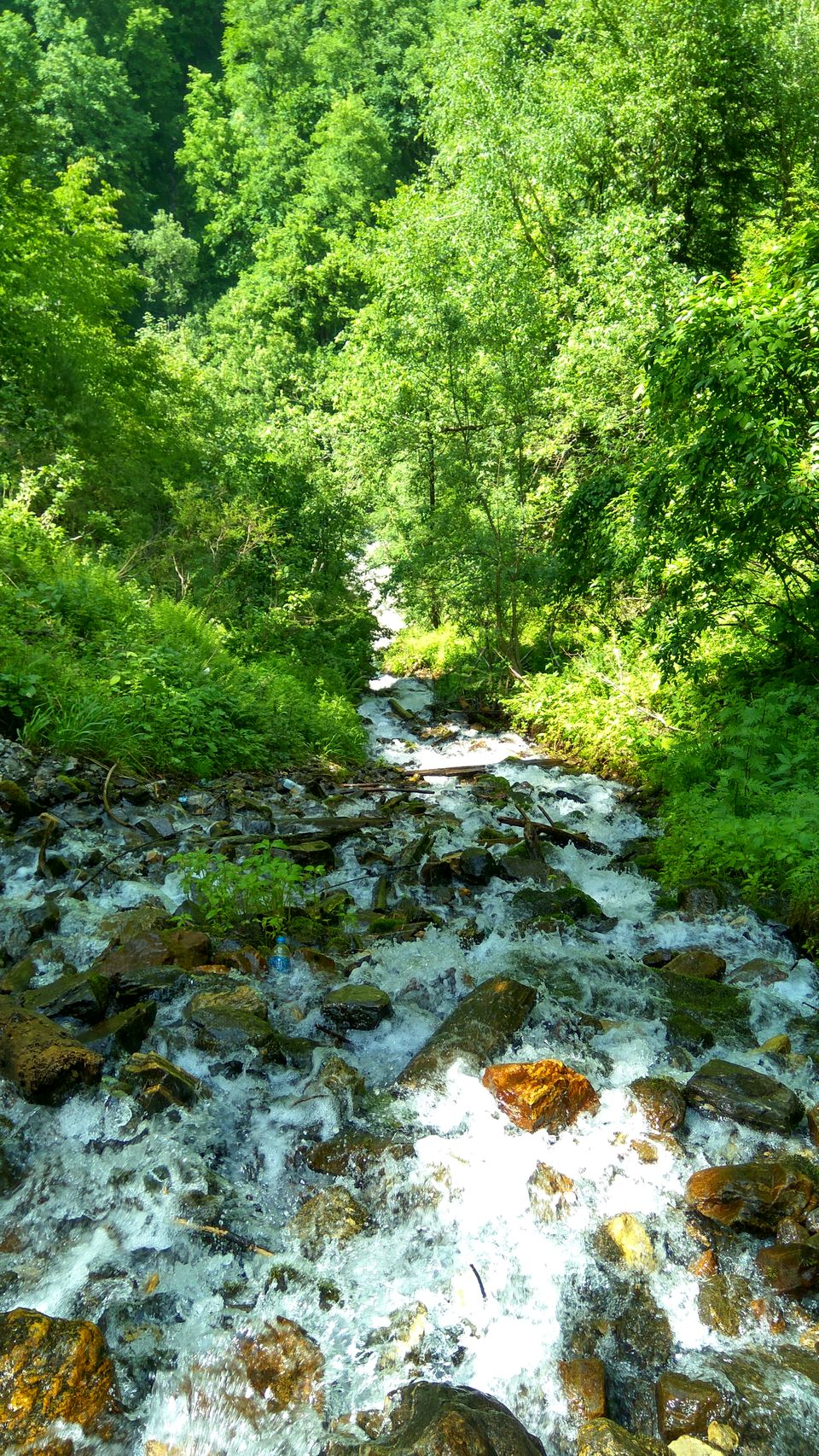 Another 30 minutes of trekking through beautiful landscapes and we finally reached Kheerganga. We were a little slow and stopped at quite a lot of places to cover the distance and hence we reached Kheerganga around 4 PM. We were there just in time to see the setting sun and catch it's last rays. The hot water spring is open only from sunrise till sunset so we decided to go for it the next day in morning. After this we pitched our tents and set up our stuff for the night to follow. In the hurry of finding a place for pitching the tents we forgot to notice the beautiful landscapes all around us. Once we were set up, we just sat in our tent facing the mountain in front and enjoying the views of nature. On the mountain in the front, if one looks carefully you can easily spot about 10 waterfalls coming from the snow clad peak. the vastness of this mountain covering the Kheerganga valley is a sight to relish.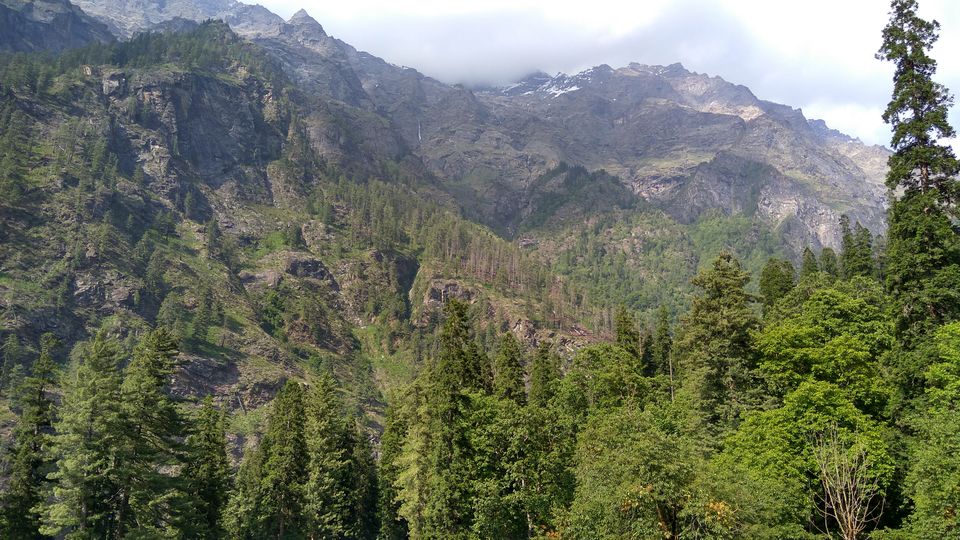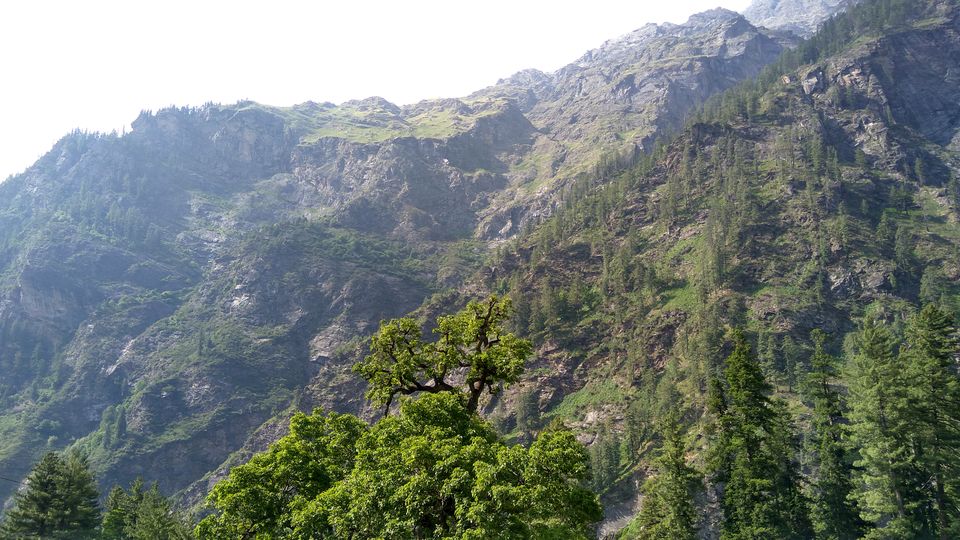 On the other side is another steep climb which we didn't really explore. On the right is lush green forest and on the left in some distance you can see some snow covered peaks. We had our dinner at one of the restaurants and spent the night in the tent. While I was sleeping, my friend couldn't really sleep in the tent and wandered out in the night to notice stars in the sky like something which we had never seen before. Because of the altitude the sky was glittering with stars. There was no moon but even then the night sky made for one hell of a sight.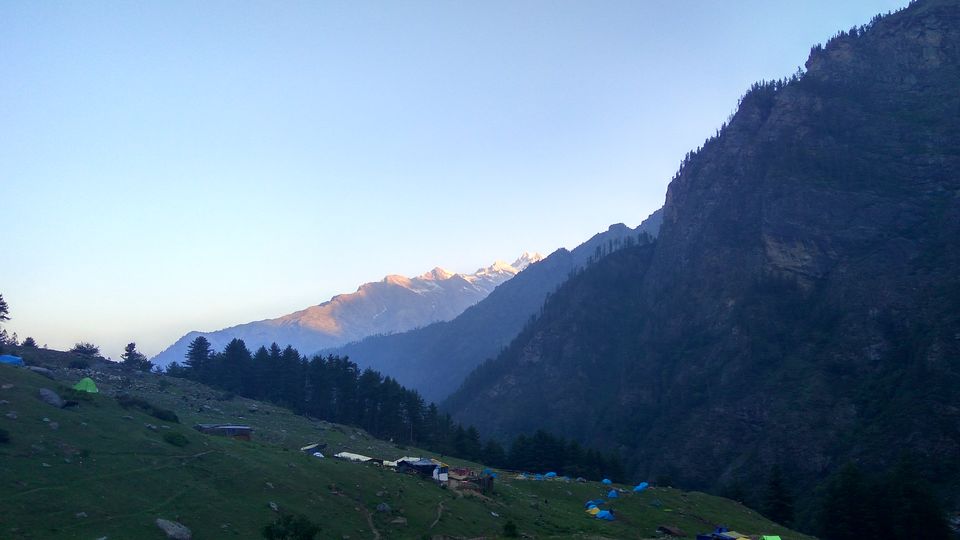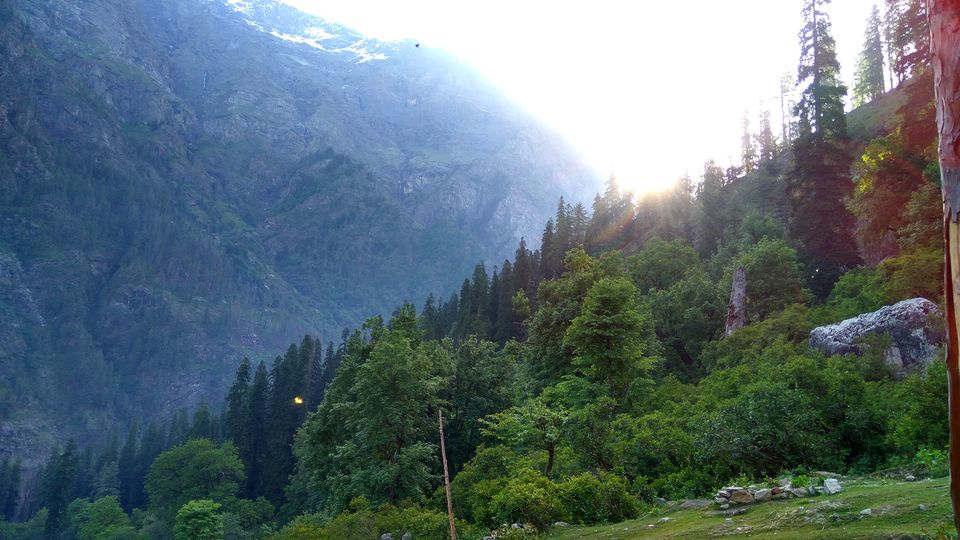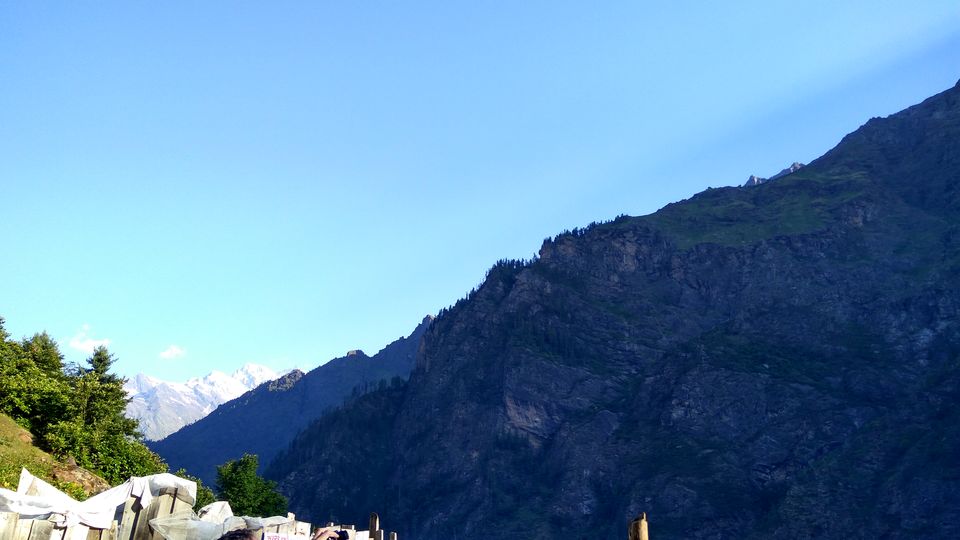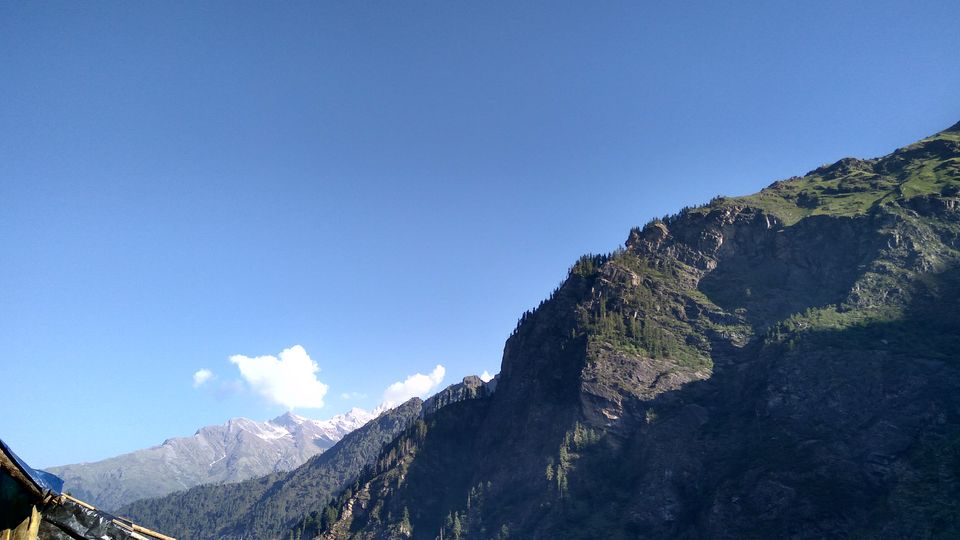 The next day we got up early morning to get a glimpse of the rising sun and go for the hot springs. The sunrise from this place was just magical. The rising sun cast it's rays on the snow covered peaks to give a golden glow which was just perfect. To enjoy it even more we rushed to the hot springs and jumped in the water. It is said that the water here has purifying properties. We couldn't really experience the purification but it was definitely more than refreshing. We spent a good 30 minutes relaxing in the hot water spring and enjoying the views of the rising sun over the majestic hills right in front of us.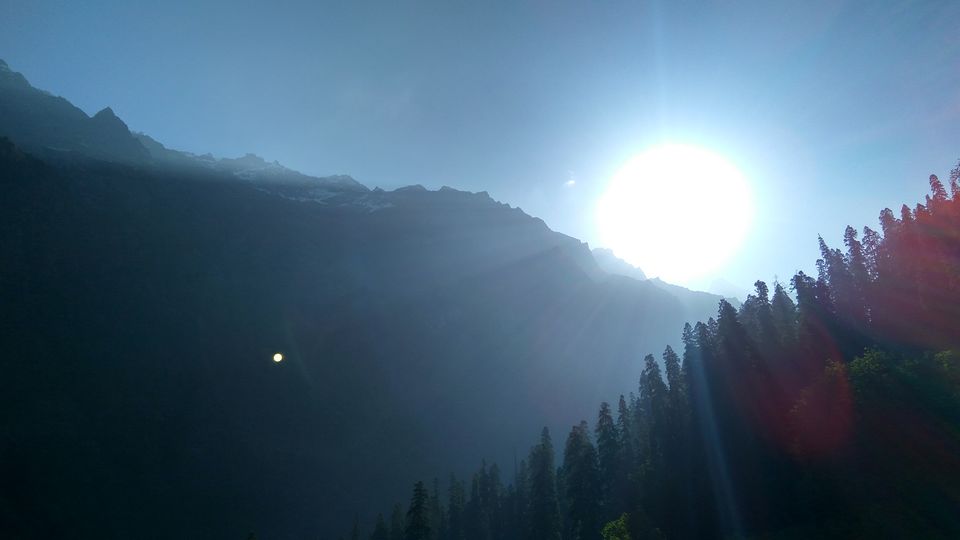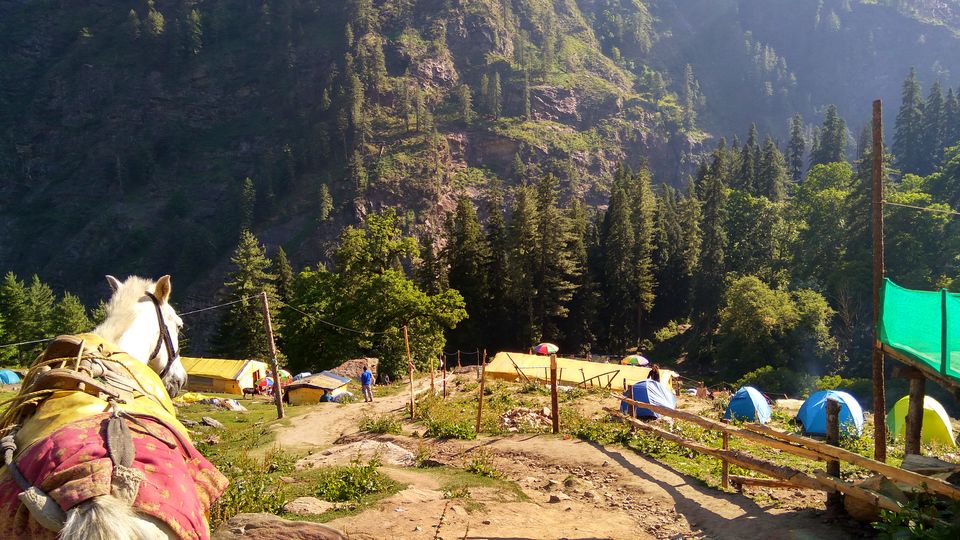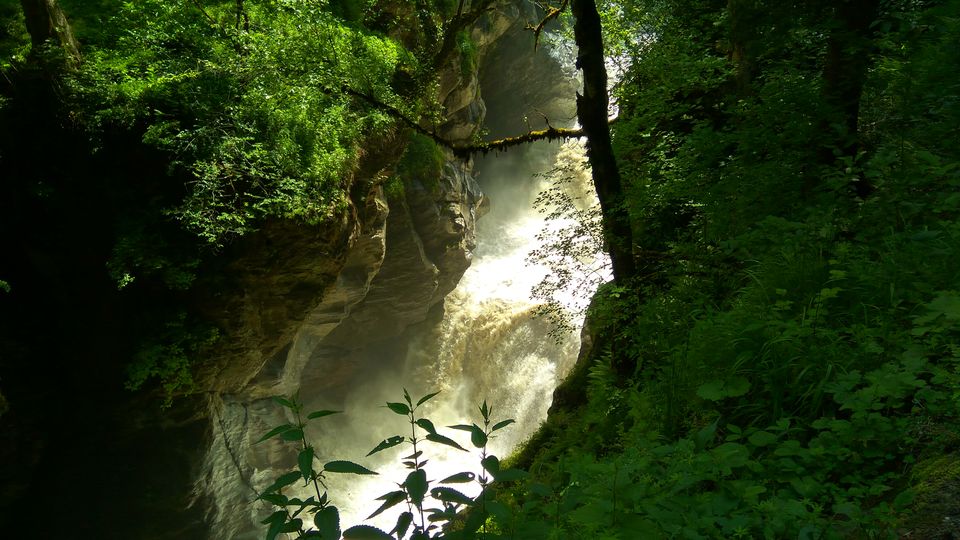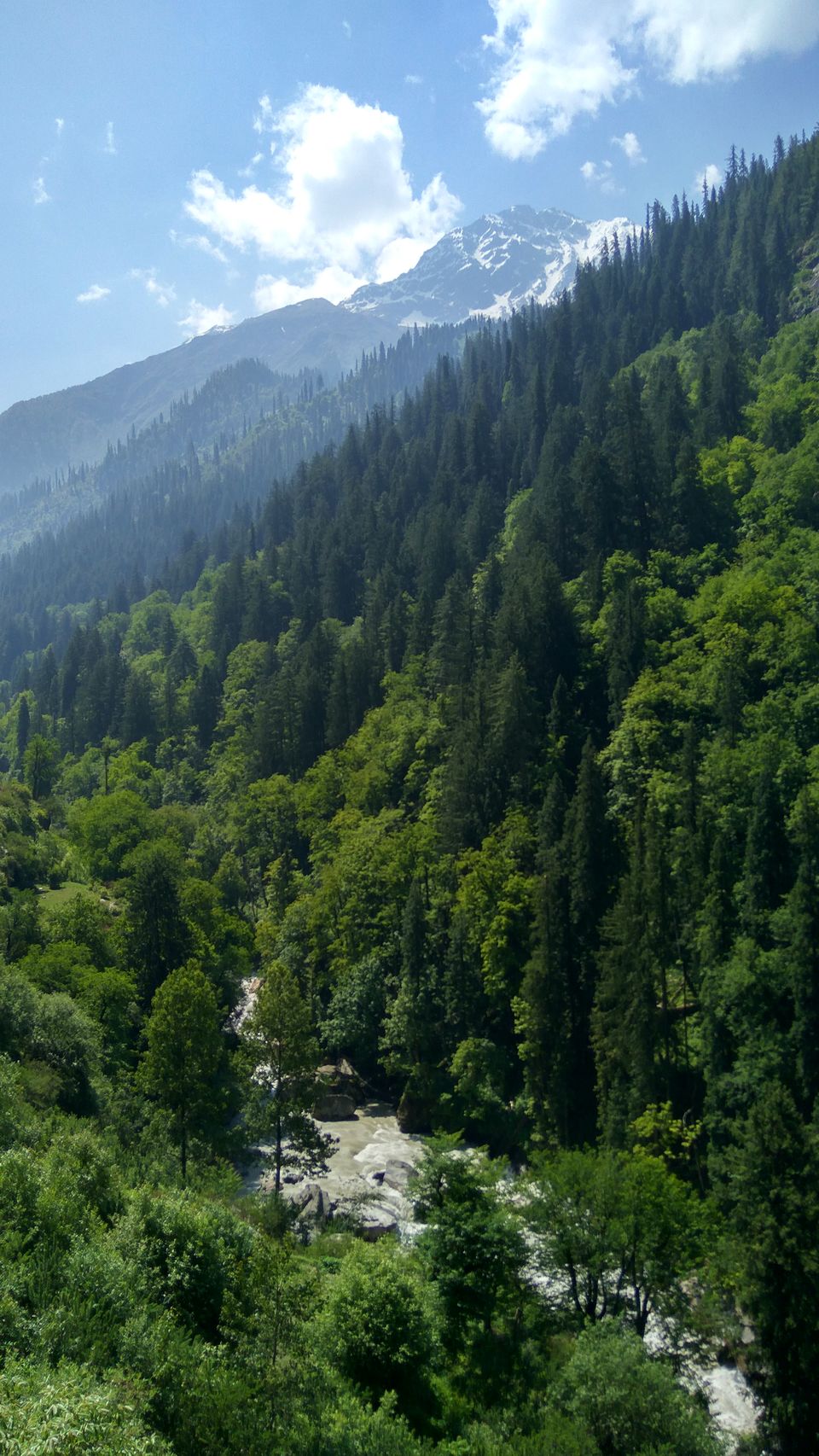 After this we went back to our tent, had some breakfast, enjoyed the views for one last time before departing for Barshaini. We trekked back to Barshaini while enjoying the views of the mountains on the other side of trek once again.
How to reach:
You can take any bus going for Manali and it will drop you at Bhuntar. From here you have to take a bus for Barshaini. We hired a cab for reasons I have already mentioned but in case of tight budget, government operated buses are also an option.
From Barshaini you can ask any local and they will guide you towards Kheerganga.
Things to carry:
It's a one day trek but when you have come so far, you should visit the nearby areas and make it a 2-3 days trip. Manali is one of the most famous tourist spots in the area and you can also go to Rohtang pass from here.
So you have to pack accordingly. If you are taking your full backpack for Kheerganga trek, pack only the essentials and try to keep it below 10 kg so that it doesn't cause much strain on your back and shoulders.