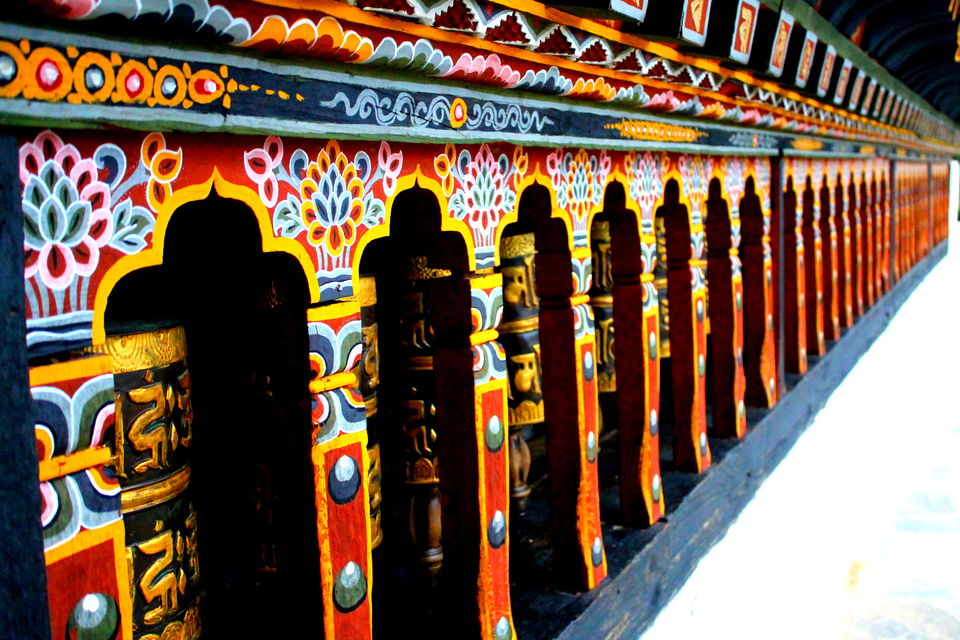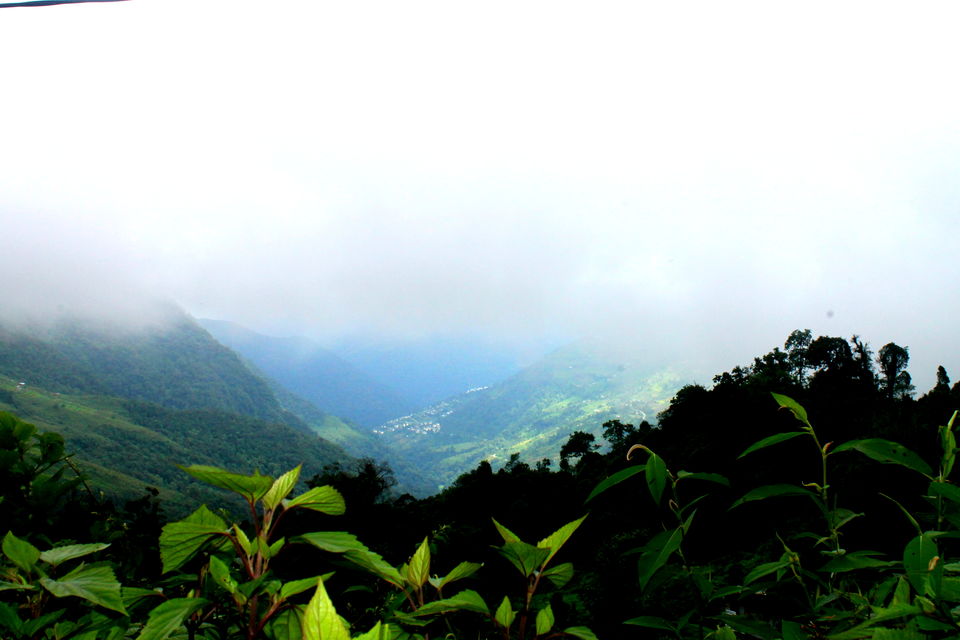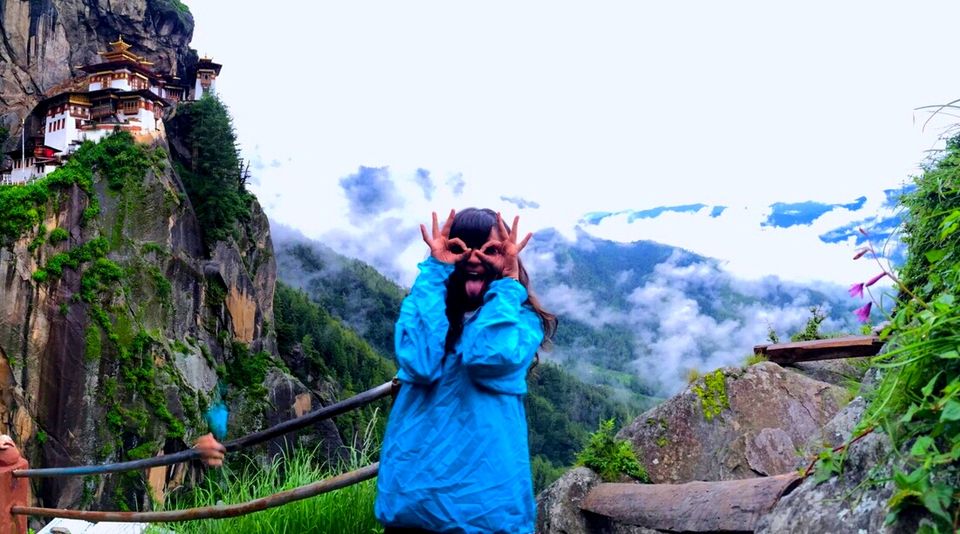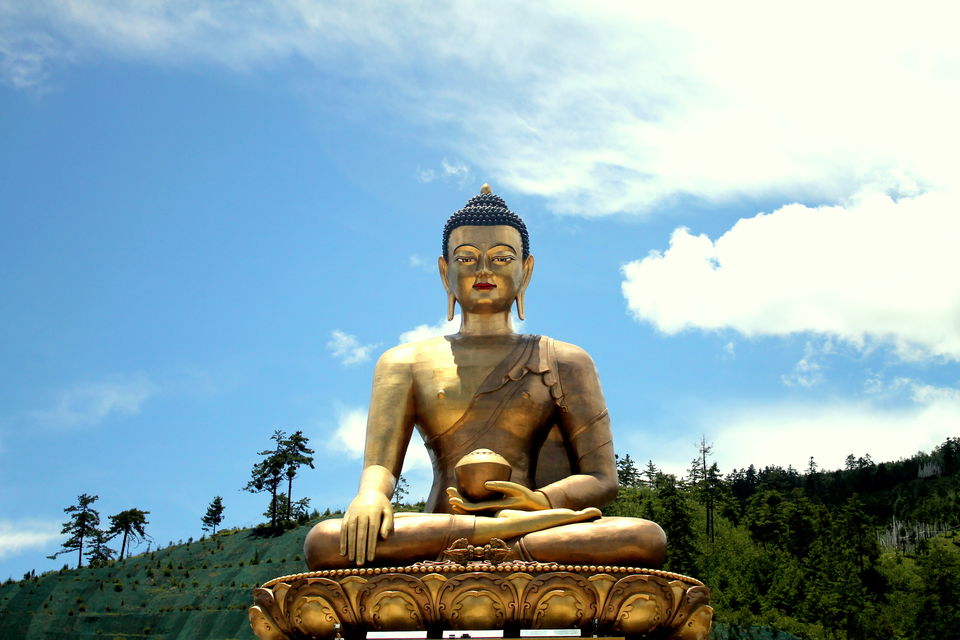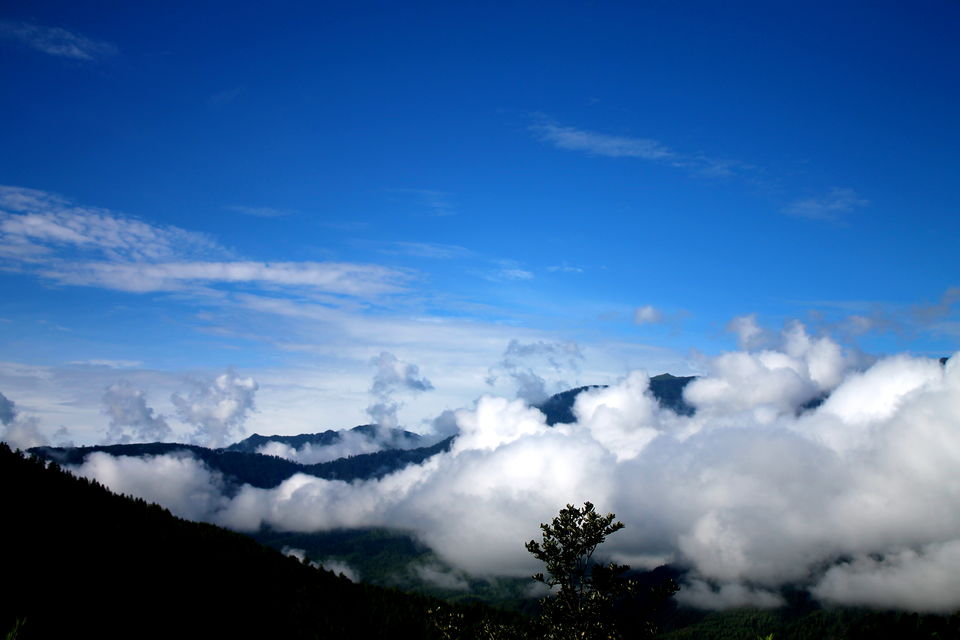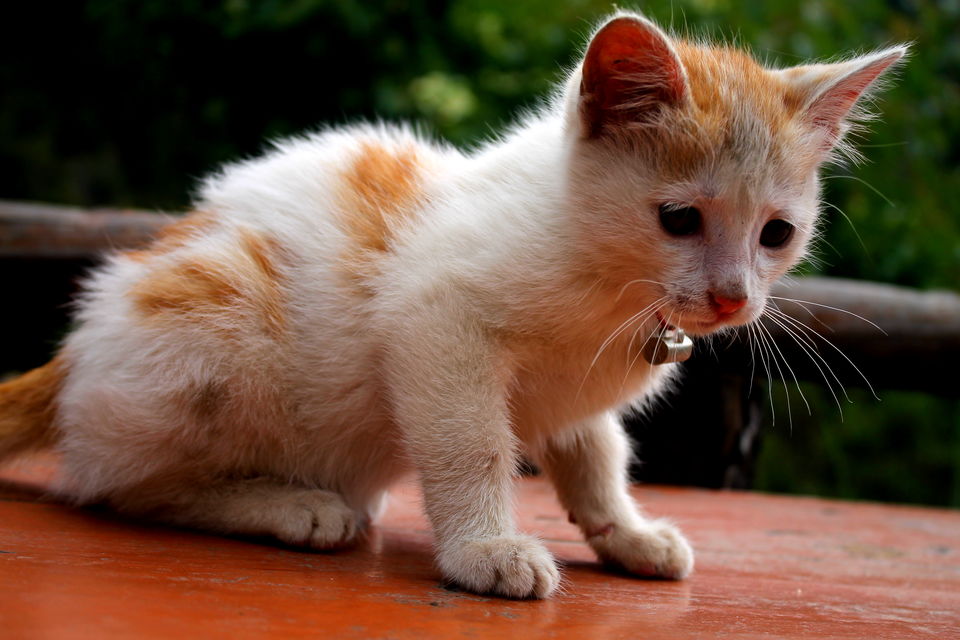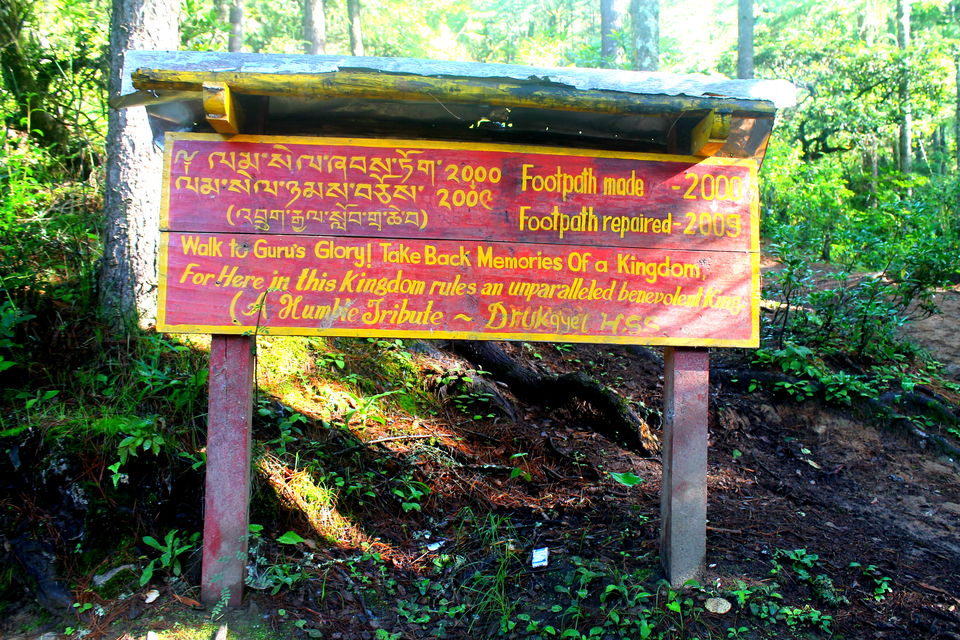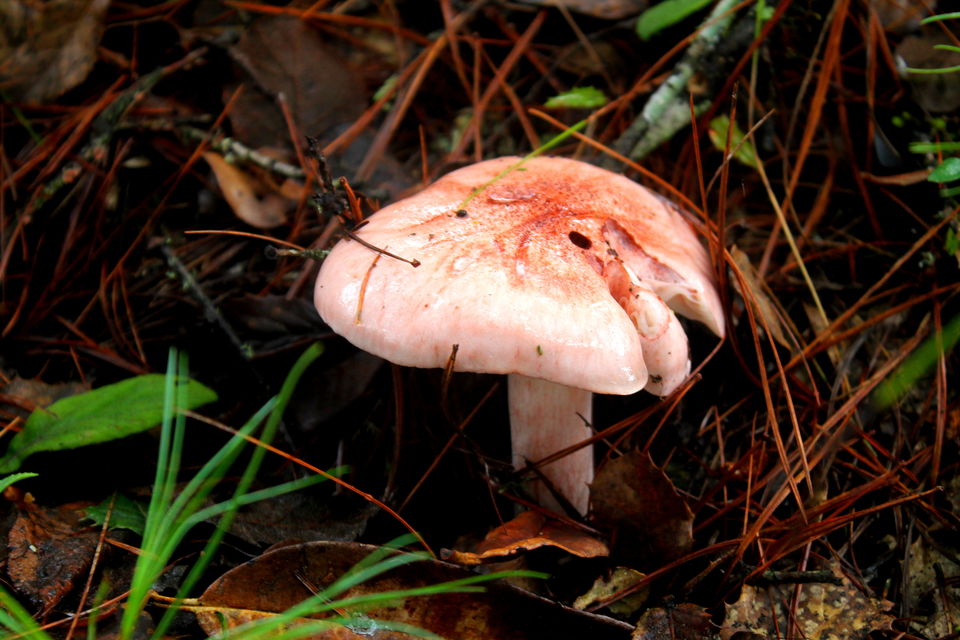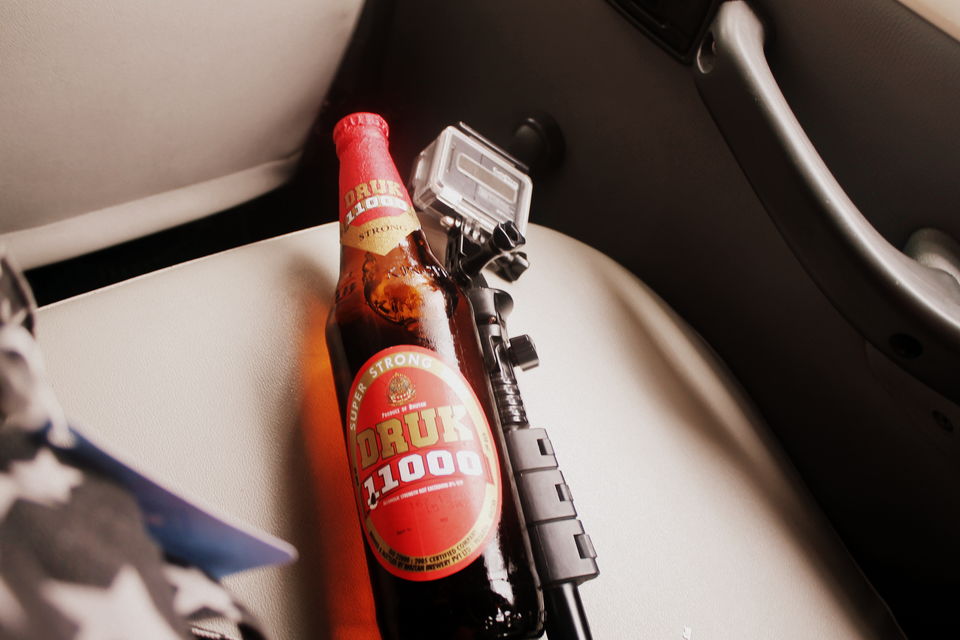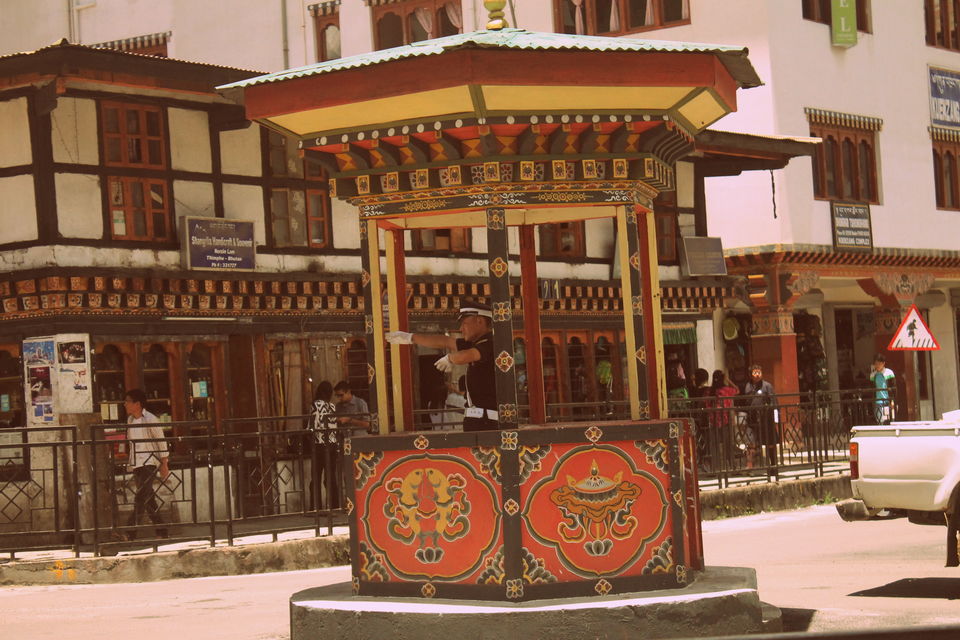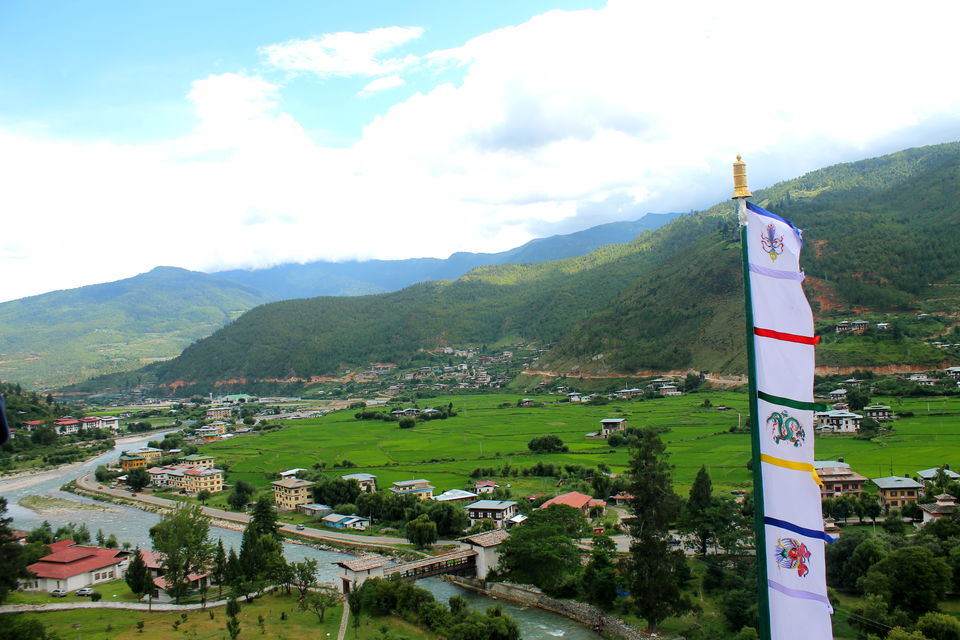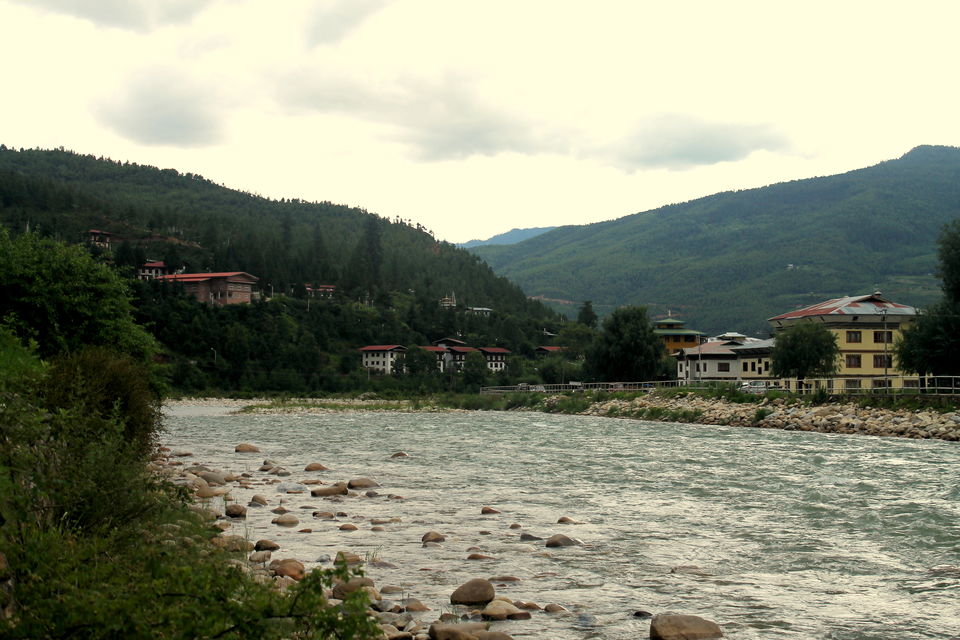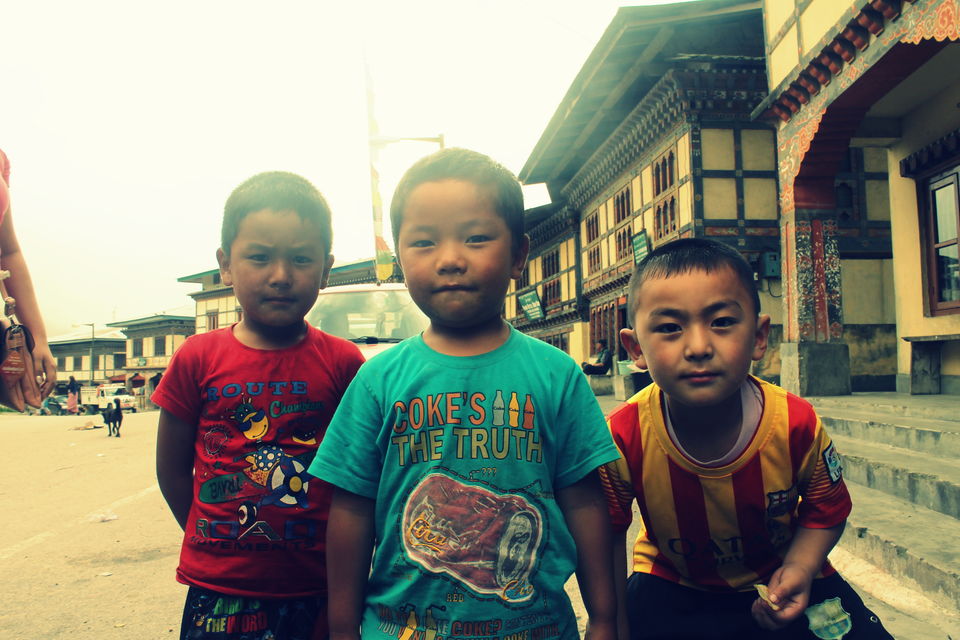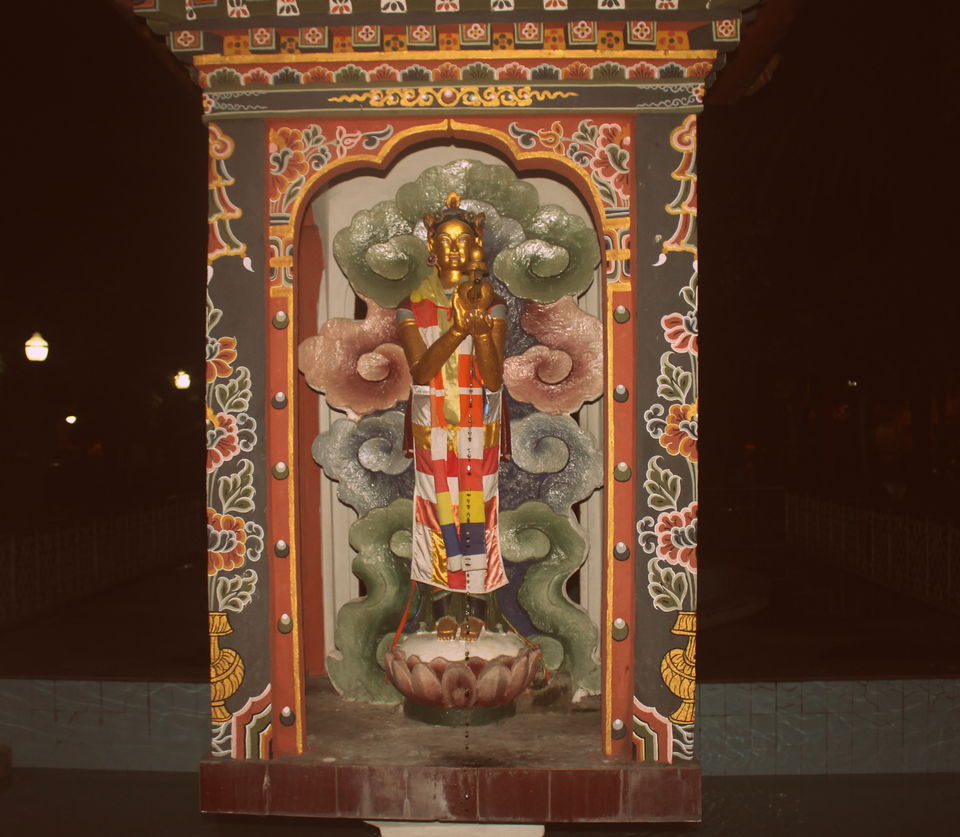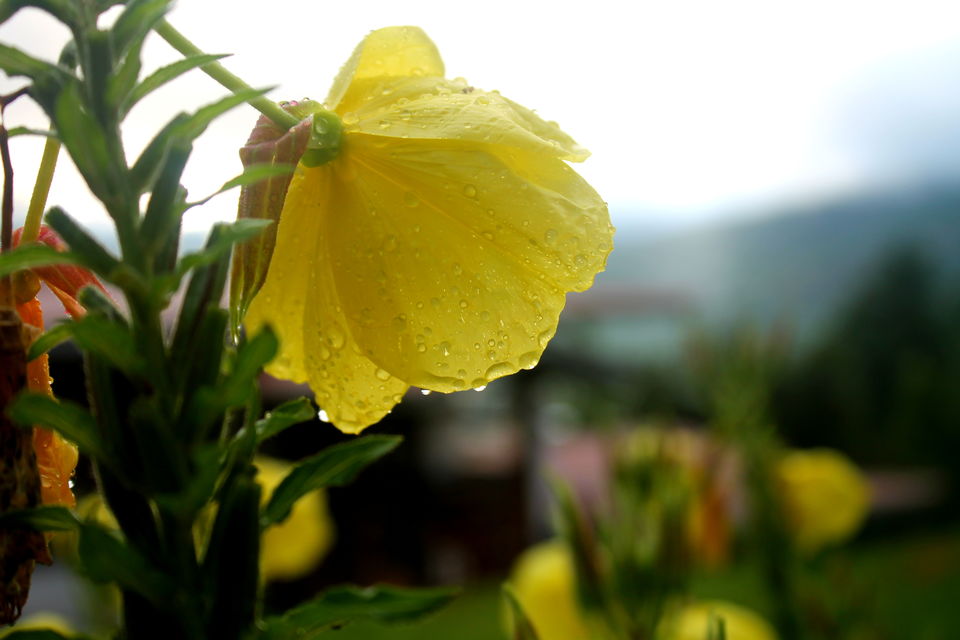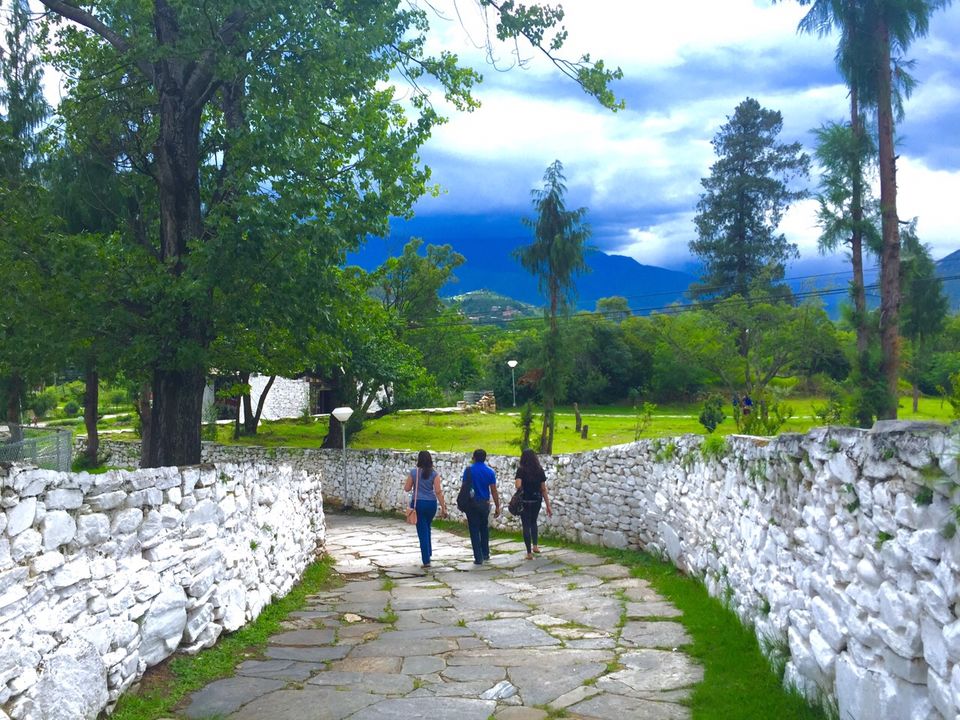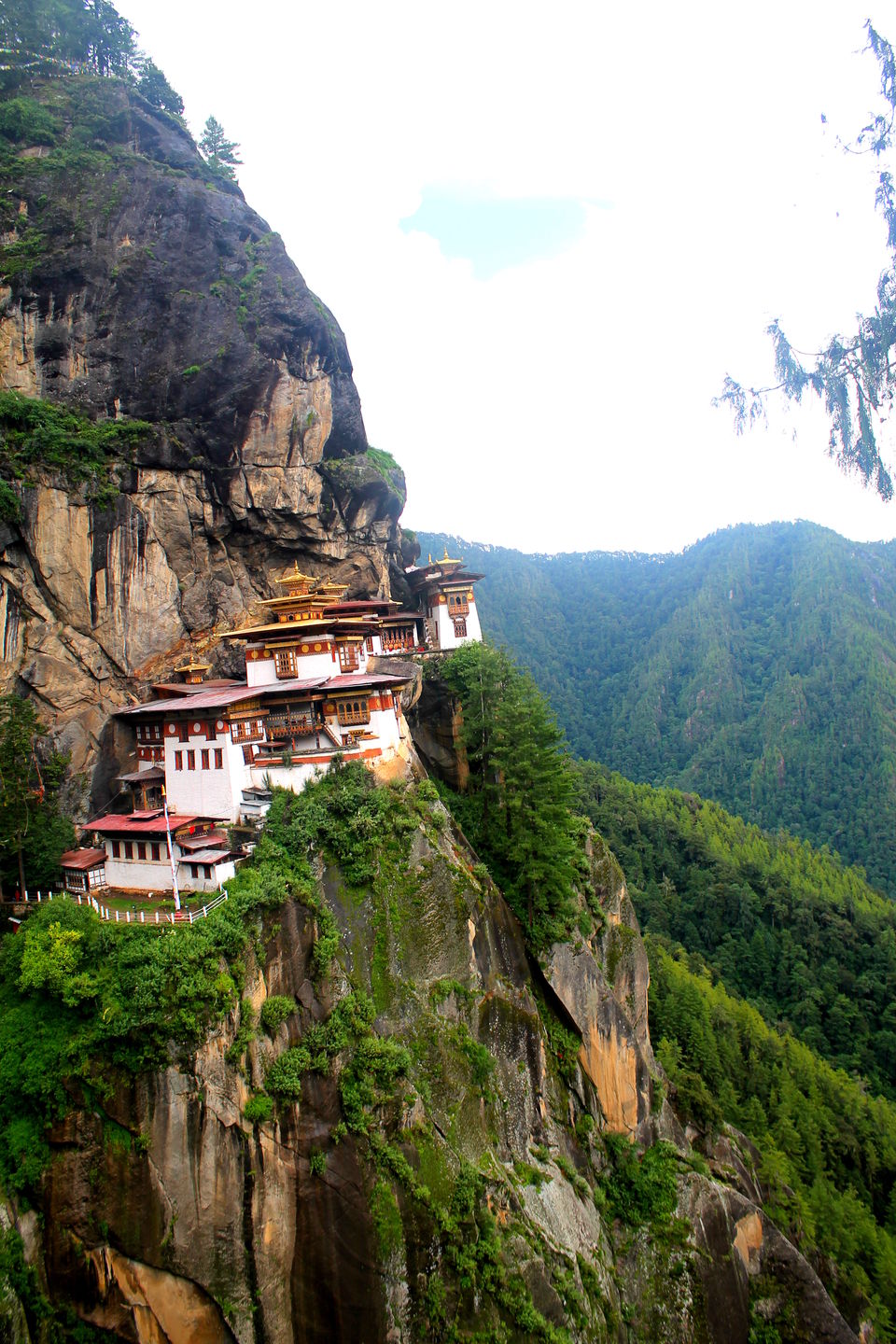 The best way to get to Bhutan for Indian travellers is to fly to Bagdogra and cover the rest of the journey on road. Though there is a direct connectivity to the Paro from Delhi and Kolkata (Druk Airways apparently gives you a view of Mt. Everest on a clear day! But this is both expensive and you end up missing out on a beautiful road journey!). As soon as you land, the entire landscape changes and you instantly get into a holiday mode!
We booked a cab from the airport to Phuntsholing. The journey took us some 4 hours and was some what reminiscent of Goa /Kerela backwaters on a rainy day plus a lot of tea estates :-)
PS: Bagdogra airport doesn't have an ATM. The nearest town in case you have to stay the night is Siliguri.
--
Its advisable to stay the night at Phuentsholing instead of Bagdogra (A transit town where you can get all the travel permits; also a major Bhutanese city for trade/ exports). 

We spent the night roaming around the city on foot; getting the feel of the people and culture. Had food at a small joint where we tried the local cuisines and drinks.

Vegetarians beware! It's not called the land of *Thunder Dragon* for nothing ! Chances are you will be breathing fire at your first attempt of Ema Datsi (chillies in a cheese fondue) :D

Interestingly, a lot of ordinary looking supply stores double as eateries and drinking bars all over Bhutan. You might walk in for a pack of batteries and end up having a beer! Which totally explains why they rate so *high* on the their Gross Happiness Index!

PS: The permit office opens at 9.30 am in the morning and the whole process takes about an hour. You need to carry your passport/ voter ID card, photocopies and photographs etc.

Lot of cheap options to stay, around the permit office. The price ranges from 1-2k a night on the higher side. We booked a cab from Phuntsholing for the rest of the trip for about 3K per day (15K for 5 days). The drivers usually double as tour guides and are fluent in Hindi and English.

A cafe called Kizom is recommended for a scrumptious breakfast (incase you're a toast, eggs and bacon kinda person). 

Try Ara and Druk 11000, for the local flavour in wine and beer.
--
Thimpu City has a small-hill-station cum valley, look and feel to it. The city has a distinct culture and soul; you feel you've travelled back in time with castles and royalty and relics adoring every shop / corner of the city. 

We stayed in the middle of the market area in a hotel called Tandin (Very much recommended @ 1.5K per night) which made it easy to move around on foot and check out the local flea markets / handicrafts and museums.

Somehow we were lucky enough to be visiting on a Friday which is apparently *Disco Night* in the city! 

While walking around the market place in the night, we came across a karaoke place bustling with Bollywood music which turned out to be a dance bar! Before we could even process what was happening we were shoved inside by a beautiful waitress, who assured us it a *family place* and pointed out to a women and men sitting in large groups with small babies ! 

We decided to have a quick drink and move to another place and payed some 350 Rs. for 2 bottles of beer. To our surprise, the waitress authoritatively *demanded* for another 300 Rs. as a tip and finally was *generous* enough to give us a 100 Rs. *discount* on account of our naivety seeing our blank faces ( This is apparently the norm in the city, where pretty waitresses chat you up and you have to buy them a drink as a gesture of goodwill ...Suddenly the atrocious service charge we pay in Delhi seemed to be much more agreeable :-)). She was however, nice enough to point us to one of the more happening places for a clubbing experience (Space 34 and Vivacity). We found the Bhutanese youngsters (especially men) rather umm forthcoming and friendly and partied till late in the night :-) Tobacco is illegal in Bhutan, but its not uncommon to see certain discs and night clubs with smoking lounges.

PS- Honey Singh is quite a rage in the Bhutanese clubs !

Thimpu is mostly sightseeing and museums. Here is what you must visit while you are there: Memorial Chorten, Bhuddha Point, Motithang Takin Preserve (For the national animal Takin - Half Goat half cow), The Royal Palace, Zorig Chusum Art & Crafts School, National Library and the Folk Heritage Museum. All these places can be covered in half a day.

You will be surprised to see something called the phallus dragon; small key chains/ souvenirs with a dragon wrapped around the male genitalia (that's right), being sold locally - somewhat of a cultural shock to many.

The story dates back to - Drukpa Kunley, (colloquially known as the Divine Madman) - was a badass (Barney Stinson equivalent ) Bhutanese saint who professed unconventional and rather profound ways of spreading Buddhism. 

He spent his years preaching spirituality and deflowering young women with his *magic thunderbolt of flaming wisdom*. There is apparently a monastery in Phunaka dedicated to him where young women are tapped on the head with a wooden phallus to ensure fertility ! :-/

Unwind the day by googling up his stories over a nice Bhutanese dinner with friends - will leave you in splits and should definitely be on your list!

Recommended: 
Buy - A book called Phallus : Crazy wisdom from Bhutan; Souvenirs; The national traditional dress called Gho / Kira
Eat - Ambient Cafe, Bhutan Kitchen, Swiss Bakery, Wine and Dine
--
Paro City is a small sleepy town which can be covered in foot in under 2 hours. Tigers Nest is the major attraction of the city. You will have just the perfect time biking / hiking and relaxing here. Very much recommended to spend atleast 2-3 days here doing *nothing* if inner peace if something you are looking for :) We ended up taking a swanky hotel here (the best one was 3k a night) as we just wanted few days of relaxation and luxury. A restaurant called Sonam Trophel is recommended; the lady who runs it is very enterprising and chatty. She was our go to person on all days for advice on things to do around the city.
Tigers nest – Frankly Im kinda out of words for this place ! No picture, blog, travel story can do justice to the mystique and the tranquil the monastery offers! The climb is worth the effort and scenic beauty will stay with you for a long long time :) The restaurant midway provides a breath taking view of the serpant clouds trough the valley and some great food.
Interestingly, the monks who run the place have a super cute, super jumpy pet cat called "Karma" who is literally the star of the place and will keep you engaged for hours! Karma is not a bitch after all ! :)
--
Other places, which we wanted to cover but couldn't were, Gedu, Ha and Phunaka …
My advise: Go to Bhutan, without a return date. Go get lost without a plan and find yourself in the process! Go with people you like. Or go all alone and make new friends and assimilate a new culture; especially women planning a solo backpacking trip. This is the safest you will ever feel.
This Himalayan country will give you back a piece of your soul and you will definitely not come back the same again ...