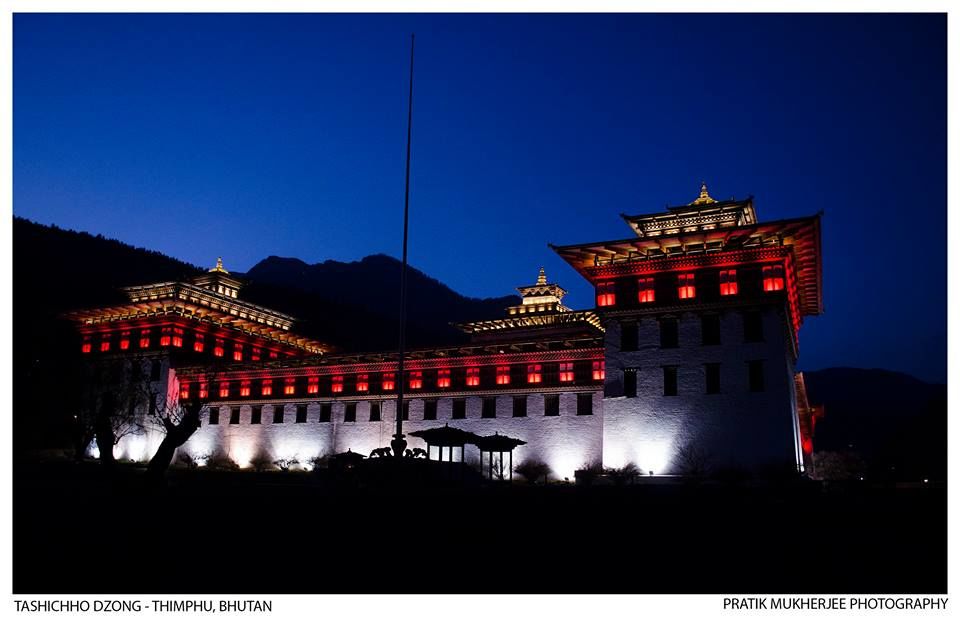 I planned up for this trip in January 2016 and act accordingly. I won't write much about the places I visited in Bhutan cause words are not enough to explain the beauty of Bhutan. You must go yourself and see the country in your own eyes. The fresh sunlight...the dark blue sky..the cool breeze of Bhutan will give you a mesmerize experience...you won't feel like to come back to your native place. It's a surprise pack with rich culture, beautiful landscape,different food, pollution free environment, some strict rules with lot of well-behaved-smiling faces and ready to help people. I never felt so safe even in my city that I felt in Bhutan ...don't need to be cautious for your belongings or getting cheated by taxi drivers or shop keepers. You will be free from rude people and noisy environment. They call it a silent country...and I found peace in them.
I traveled in a backpacker way...found out the cheapest and but in a comfortable way. I would like to share it with you all so you can easily plan your own journey. Even novice can follow my way to avoid problems.
Key notes Before Starting your Journey:
If you are going from Kolkata city or Delhi then make your permit beforehand. Yes, you need permit if you are from India, Bangladesh and Nepal. Rest of other country people need visa and USD 240 per day and travel agents of Bhutan. I felt really lucky being an Indian once again. The permit is free of cost and I suggest you to apply for it 45 days prior to your journey date (if your travel plan is between March to May month cause this is the best season). All you need is to fill up a form and give your identity + residential proof ( Voter ID card, Adhaar card, Passport). You will get permit for maximum 10 days of stay in Bhutan. You can get your permit done from Bhutan Consulate. The Bhutan Consulate is at Tivoli court in Kolkata city. Visit time: 10 to 2 p.m and 2.30 to 4 p.m. Bhutan Consulate Phone No. in Kolkata : 033-4012-3924/3999
Get you train ticket done on the opening date of reservation as I noticed a continuous rush in North Bengal rail route throughout the year.
Don't need to pack many warm clothes as in day time in Thimphu or Paro , you can easily walk around wearing a cotton tee. In night it's cold but bearable ( I meant for March to May month)
No need to exchange currency if you are from India. They accept all Indian currency upto INR. 1000 bank note. Their currency is equivalent to us no need to think about conversion rate. They use Ngultrum as their currency and call Nu.
Smokers can take cigarette in their bag, no need of taking purchased invoice or stuff like that as said in Bhutan official websites/travel websites. No one will check your bag. Even if they check and find cigarette in your bag they will not say you anything unless you smoke outside.
Key notes when you are in Bhutan:
Don't ever think to smoke outside /public places in Bhutan. They are very strict to their rules and maintain it. If you caught smoking by police may penalize you upto INR. 50,000 or put you behind the bars for 1 month. So kindly avoid it, and even if you do and get caught please don't try to bribe the police...don't think it even!! You can request the police, they are helpful...if possible they will help you or show mercy on you. It is applicable for any mistake you do and caught red handed by police.
Don't get off the car from right side. Always use left door. If you get caught you will be fined Nu. 500. Though generally all taxis in Bhutan kept lock the right door of the car.
Don't bring any drugs, marijuana or stuffs like that. Though they don't check but still don't take risk as they are very strict to narcotic laws.
You can drink beer,whisky or any alcohol in public. It's allowed. You can sip your beer while walking down the street of Thimphu. But don't misbehave with anyone ...not even with any girl/woman. Again I remind you about the strict laws.
Both men and women are very friendly in Bhutan....you can talk to them...ask for information or help.They are ready to do it with a smiling face.
They like India, they love India and Love Indians so you will get warm welcome always, specially if you are from Kolkata. They like Bengalis.
I found at least 95% people of Bhutan can understand and speak English. Even rural people understand English and can speak. Some of them also understand Hindi too.
Don't bargain much, they don't like bargain. Taxi/cab drivers have a general fixed rate and they don't cheat so no need of bargain with them, but you can negotiate in Souvenir shop. Taxi fare in Thimphu is generally Nu. 70 if you get in and go anywhere around Thimphu city.
Shops in Thimphu city generally started closing from 8 p.m. though restaurants are kept open till 10.30 p.m. but last order should be within 9.30 p .m.
Bhutan use GMT +6 so they are 30 minutes ahead of us.
No need to go immigration office in Phuntsholing if you already done your permit from Bhutan Consulate of your city, just cross the border and get to taxi/ bus stand and board. The permit is checked and stamped in two check posts when going to Thimphu and while returning, it will be submitted at the last check post. Don't forget to submit it. Keep your permit safely throughout the journey as it's the only identity you have when you are in Bhutan.
You can buy tourist sim card for Nu. 240 where you will get Nu.200 as talk time. Minimum recharge value is Nu.50. Take TashiCell sim card as they have better coverage. Calling in India will cost your Nu. 4.00 only for per minute and local call is Nu. 0.80 per minute in Bhutan. For getting sim card you must need the travel permit.
Bhutanese dishes are extremely spicy and they have great liking for dry chilly powder , chilly flakes , red chilly...green chilly and so on. So eat cautiously and ask before you order. They use too much of water in every food , their gravy is not thick rather very watery and the red colored gravy is mainly dominated by various kind of red chilly. You can experiment with Bhutanese Dishes like Ema dashi but on your own risk as it is very spicy and I personally gave up after having 3 spoons. I used to be very proud of having most spicy food among my friends and family but after visiting Bhutan my pride gone away. They are way ahead then Bengali/Bangal and Rajasthani who are famous for making spicy food.
You can get wide range of pork , beef , Yak meat dishes in Bhutan.
All vegetables/ fruit which are cultivated in Bhutan are purely organic. You must try the apple / oranges as they are organic and don't use any chemical fertilizers.
Thimphu city is very safe even in night for girls too, no one will disturb you but beware of street dogs as they are very aggressive and don't like strangers. So I will suggest no to stroll around in Thimphu city all alone at late night.
The heat generally starts from morning 11.00 a.m. till 4 p.m. Just wear a tee during that period but you need to put your jacket after 4 p.m. till morning 10 a.m. for the cold wind.
Food is a bit costly, a plate of maggi/ wai wai will cost you Nu.50. A cup of tea is Nu.30/40 (enough for 2 people). All 1 plate quantity of vegetable , chicken are enough for two people.
Journey detail:
I went to Hasimara directly by train from Kolkata (Sealdah Junction) . I preferred Kanchyankanya express for its timing but it hardly maintains it time. Schedule arrival time was at 10.30 a.m. but it reached around 12 p.m. at Hasimara.
After getting down from the train come to Platform No. 2 and walk straight towards the train went off ...you will find the platform end and get down at the pebbled street and can see the auto rickshaws are waiting for passengers. I asked for Jaigaon auto and traveled for 40 minutes through the tea gardens and reached in front of Bhutan Gate in Jaigaon city. Bhutan Gate is the border crossing gate between India and Bhutan...between two cities Phuntsholing and Jaigaon. You can see the mountain behind called as Bhutan Pahar.
It was an amazing experience to cross the border walking and felt the freshness of Phuntsholing city. I took a taxi for reaching taxi stand from where I got cab for Thimphu city. I gave INR. 100 and got back Nu.50 in return. I felt good when I hold the new colorful currency in my hand. I heard there is no coins used in Bhutan , even they have Nu. 1 bank note and easy available. No scarcity of change I faced throughout the whole trip in Bhutan.
Taxi/cab has 3 rates for Thimphu- Phuntsholing . In early morning they all ask for Nu.500, in mid afternoon Nu.600 and in late afternoon i.e. around 1 p.m. or 2 p.m. they will ask for Nu.650. As I don't wanted to waste my time in Phuntsholing i readily accepted the rate and boarded the cab.The driver was very efficient and took 4 passengers in the cab. They use Hyundai Santro or Suzuki Wagon R as cab. In Thimphu city I also found some vintage Toyota sedan as cab. The journey started at 1.30 p.m. and reached Thimphu city in 7 p.m. A 30 minutes break was included in this total journey time. I had anamazing experience in climbing up the mountains and then climb down and reached Thimphu valley. I felt a bit cold in Gedu as it has high altitude. Chukha and Gedu are the small cities comes in the way while going Thimphu.
I hired cab for sightseeing Thimphu and Paro. There is no mass transport system in Bhutan. Santro rate is Nu. 2500 for Thimphu Sightseeing and Nu.3500 for Paro. No need of staying in Paro, you can visit Paro hiring cab from Thimphu. I did it.