Homestays are the new way to travel. For the uninitiated i.e. the noobs, homestays are basically a new style of accommodation, where people let out a room or their entire apartment to those travelling to their side of the world.  If you go to Airbnb (World's largest Home-stay rental website) and go through their properties, they'll more than surprise you. Homestays aren't just about finding a bed to crash in, but also finding the most unique and cool places to stay. Of seeing a new city or country, from right in the middle, rather than the distant balconies high up from a hotel.
Be it the location, the place or the fact that they just scream "unique". Tripoto brings you glimpses of homestays on Airbnb that take the concept to a whole new level.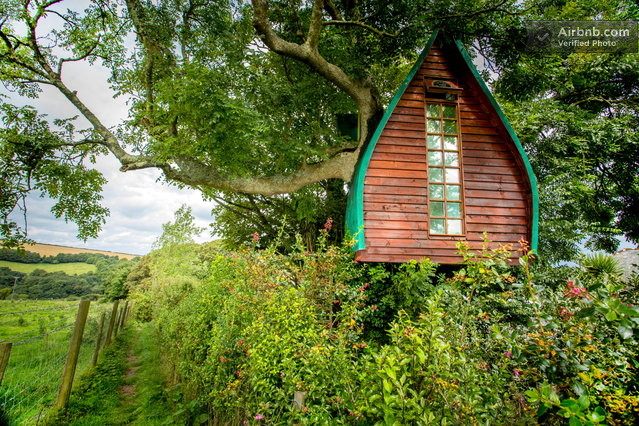 https://www.airbnb.com/Tripoto
Who doesn't love tree-houses? Embrace the coziness of this arboreal hideaway, perfectly perched in a seaside town of the Cornwall countryside.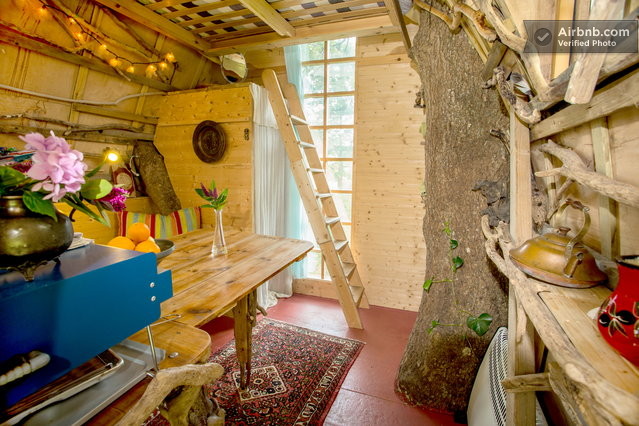 https://www.airbnb.com/Tripoto
A room of one's own, atop a clock tower. Part of the St. Pancras Station building, built in the 1860s, its age is visible in the delightful wood and brick interiors of the apartment. And it has a library too. Now, if I just had all the time in the world.
Holy cowboy! Its a horse ranch! Forget Disneyland, this is the happiest and cool place on earth. In addition to hosting you, this ranch also provides shelter to rescued animals. True-blue American hospitality, with a side of rodeo!
Culture, tradition and a picturesque rural landscape come together in this little piece of heaven. This traditional Trullo is the perfect hideaway to experience the rustic flavors of Italy . Imagine waking up here to the smell of olives and espresso. Sigh! This one is one hell of a cool places to stay in.
A houseboat on one of River Seine's most picturesque piers – Port de Suffren, with beautiful views of the city, the Eiffel Tower from the banks. Could there be a better way to enjoy la vie parisienne?
6. An Ancient British Castle - South Stainmore, Kirkby Stephen, United Kingdom
In the introduction, the place is described as "built in 1841 as a Victorian gentlemen's folly", it really doesn't get more British than that! But apart from its genesis, this cool place is downright lovely, and sure to leave you gobsmacked!
A traditional home-stay to perfectly kick-off your South Korean adventure.  This home is complete with silk and Hanji doors,  vernacular furniture, a courtyard and all modern amenities, including  pocket WIFI for guests. Needless to say, Koreans are proud of their culture and fond of technology.
8. A Sleeping Barrel- Ostbevern, North Rhine-Westphalia, Germany
Going to Germany always involves varying plans which invariably include some version of emptying barrels. Book this place, and you can sleep in one . Before you ask where did they put the precious stuff from inside, let me tell you they have a bar too.
I know I already did a castle, but damn is this place amazing! Located in the most idyllic British countryside, and not to mention you'll be staying in a castle all for yourself, you could finally enjoy being a gentleman of leisure for a few weeks!
So we've had our castles, and now its time for beauty that lies away from opulence. These cave homes hewn into the rock are a part of a heritage as old as the castles themselves, and equally beautiful though a lot more charming!
An old country house made of pine wood, this place is situated on the slopes overlooking the Idro Lake. For so many of us landlocked creatures, living beside a waterbody would be a retirement plan for quite a few. Staying in one, albeit for a few days, in relative isolation, is a good way to get a taste of our dreams.
***********************************************************************************
Get your 25$ here.