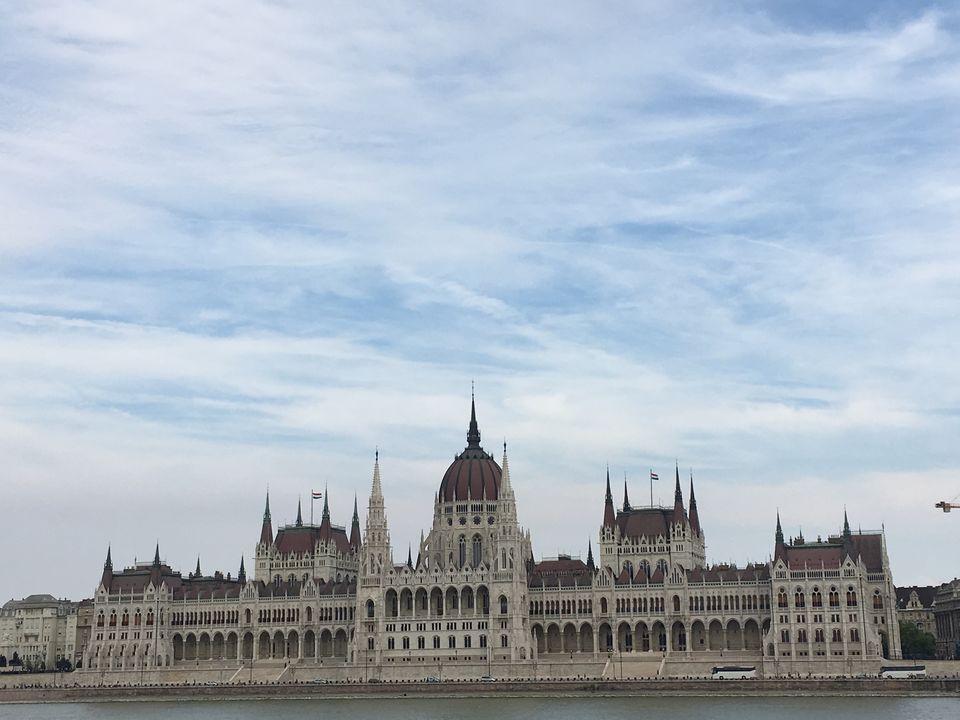 Day 8:
We reached Budapest at 10:30 AM from Vienna on 19th August 2017 by train. Booked tickets on OBB app 2 months before the trip. Accommodation was reserved through Airbnb. Our apartment was located very close to Szimpla Kert and other ruin bars. We were in Budapest only for a day. Someone told my friend that Budapest is extremely beautiful at night so we came here only to witness that. But, I feel Budapest had more to offer than only night views!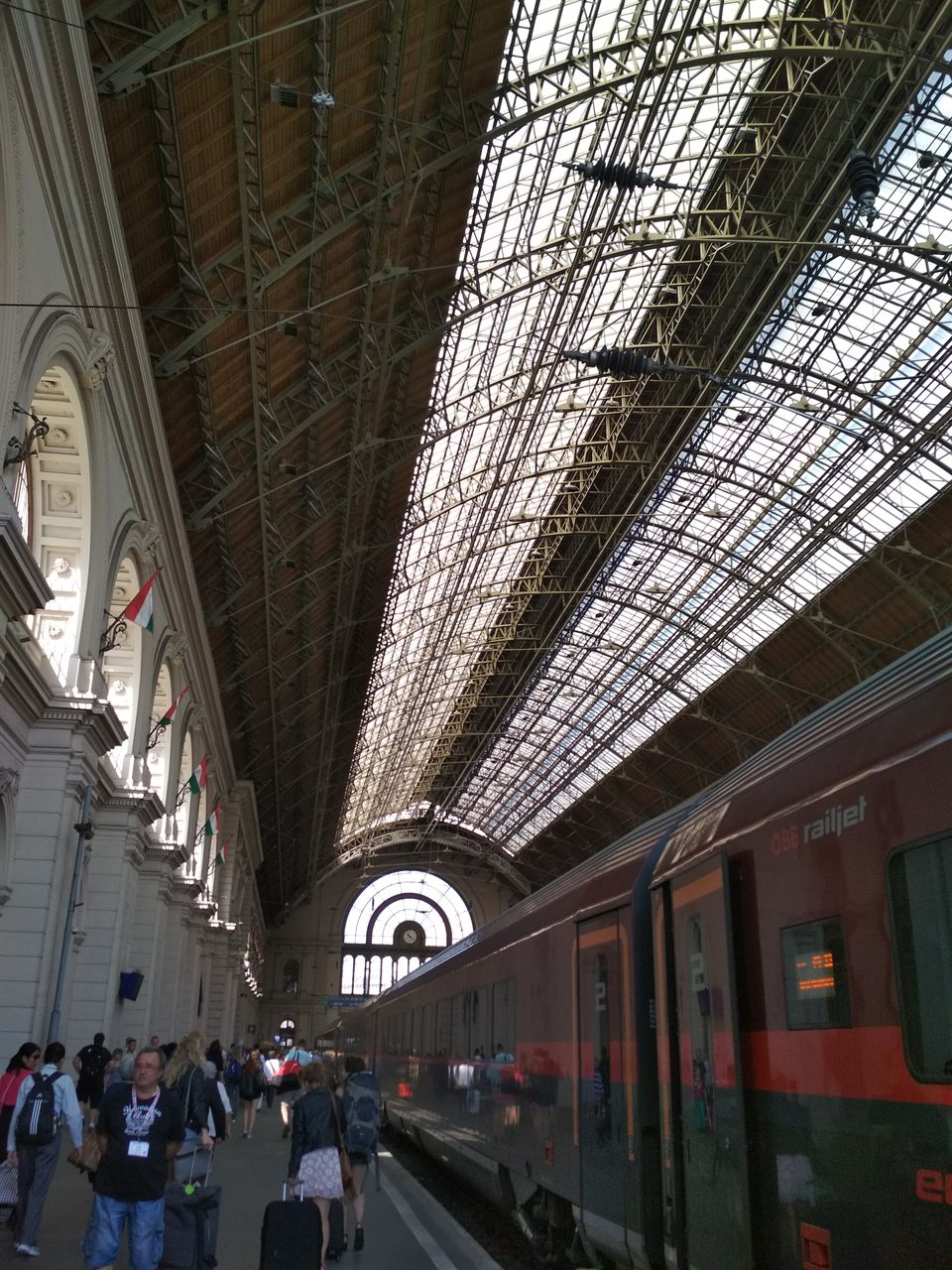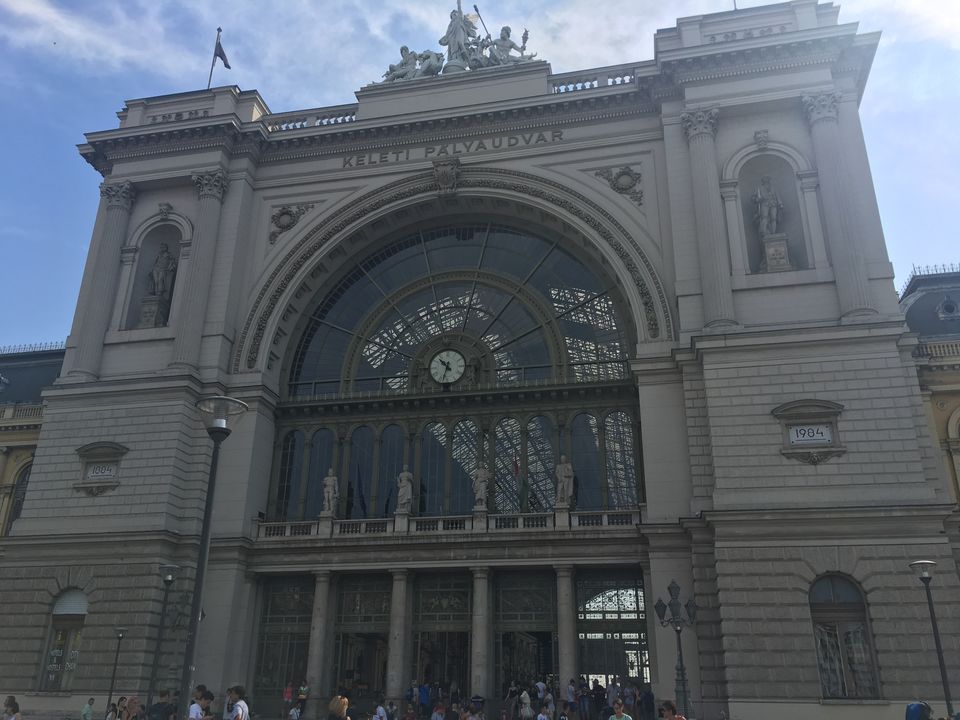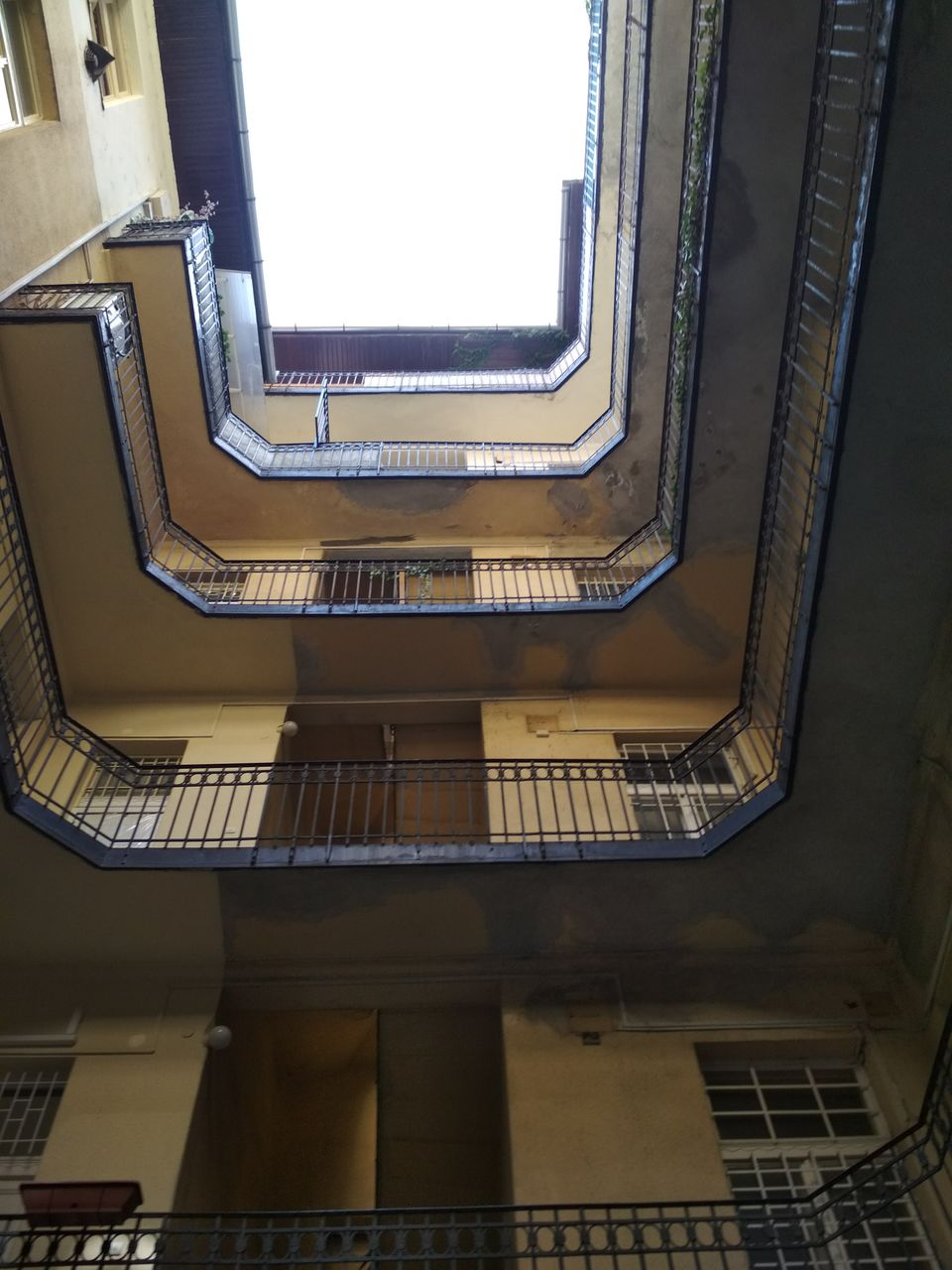 Day 9:
Next day we went back to Vienna by train at 8:00 AM. Tickets were booked 2 months earlier on OBB app.
Recommendations:
1. I highly recommend staying in Budapest for atleast 2 entire days to leisurely explore everything. It has a lot to offer.
2. On the day of your arrival, go for free walking tours which are highly informative and give you quick overview of important places and Budapest in general. Just Google for more information on these tours.
3. Budapest looks extremely stunning at night so I highly recommend either a) strolling at Chain bridge, Buda Castle hill and near Parliament or b) may be going for Boat cruise on River Danube at night
4. You can use Google maps for navigating by public transportation within Budapest.
5. Having only a day in hand to explore Budapest, we couldn't see following places which I would love to cover in future if I ever visit here again:
a. Buda Palace Labyrinth: I read about this place is some blog. Though couldn't find any reviews on TripAdvisor. It is apparently located underneath Buda Castle district. It has complex of caves and cellars. They have a website as well. It seems quite adventurous.
b. Hungarian Parliament from inside
c. St. Stephen's Basilica
d. House of Terror Museum
e. Jewish quarters especially Dohány Street Synagogue and Wallenberg Memorial Park having Tree of Life and Heroes' Temple
f. Széchenyi Baths from inside
1st task of the day was to get currency exchange since at most of the places in Budapest euros are not accepted. Forint is Hungary's currency. During this time, exchange rate was 303 HUF=1 Euro. Some of the currency exchange places will charge commission and others won't. Whatever the case, just make sure you get currency as per the exchange rate and not lesser.
We got 24 hours Budapest card from tourist info center located just beside McDonalds near Deák Ferenc metro station. With this card you don't need to buy separate tickets for any mode of transportation within Budapest, plus, entry tickets to some sightseeing places are also discounted but only to 10-20%. We did not find this card very useful.
Our 1st stop of the day was Széchenyi Baths and we reached here by metro. Entry was 5500 HUF. We were getting 20% discount on this using Budapest card. Important: you cannot enter without a proper swimsuit. For women, by proper swimsuit they mean 1-piece tankinis or 2-piece bikinis. Unlike in India, synthetic tops and shots are not considered as swimwear for women. Men must be in swim shorts. And unfortunately, we were not carrying our Bikinis! You can buy swimsuits, towels and flipflops from shops located inside Baths but we did not buy since we were in no mood to purchase expensive bikinis just for an hour or half-an-hour fun!
Disappointed we left and walked down to Hero's square which is nearby. It is an astonishingly huge square which is dedicated to all heroes who sacrificed their life for freedom of Hungary. The square is decorated with life size rusted green bronze statues. The middle memorial is surrounded with an arc of symmetrically organized tall stone columns having the most significant statues of Hungarian kings and heroes. There are 2 museums near the square called Museum of Contemporary Art (Műcsarnok) and Museum of Fine Arts (Szépművészeti Múzeum). We skipped them. Did not want to waste our single day in Budapest exploring museums!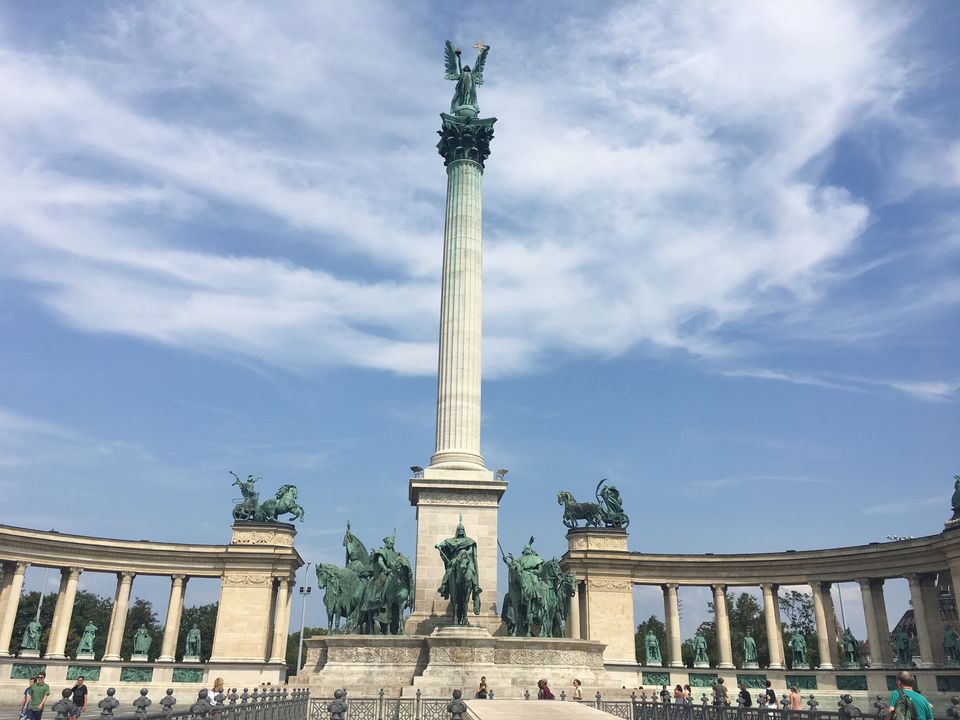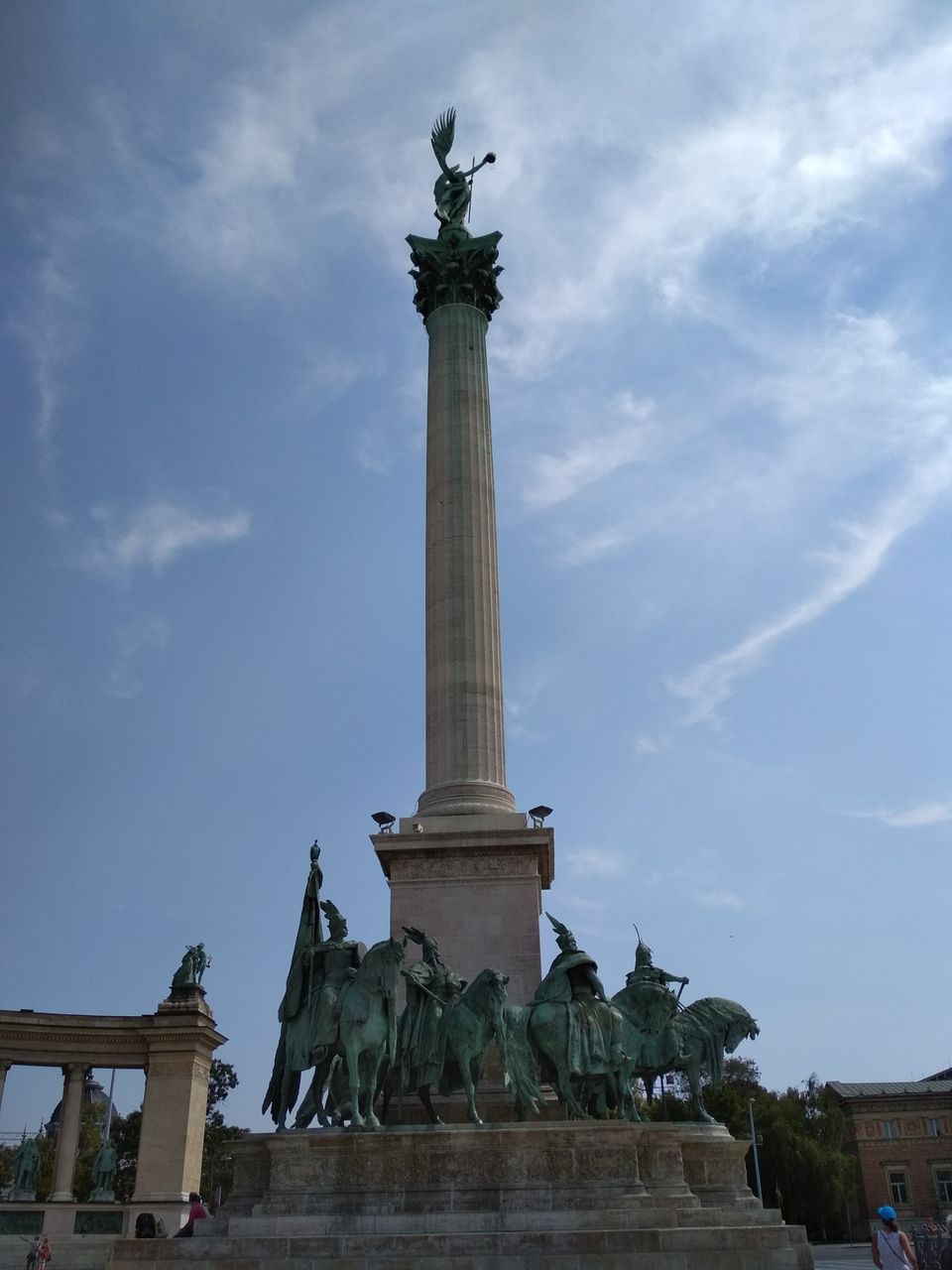 Our next destination was Buda Castle Hill. Crossing the famous pedestrian Szechenyi Chain Bridge, we reached Buda side of Danube from Pest. The castle hill actually sits atop a large rock on the banks of Danube river. It's a whole complex having Royal palace, churches, museums, restaurants, hotels and some of the posh dwellings of Budapest.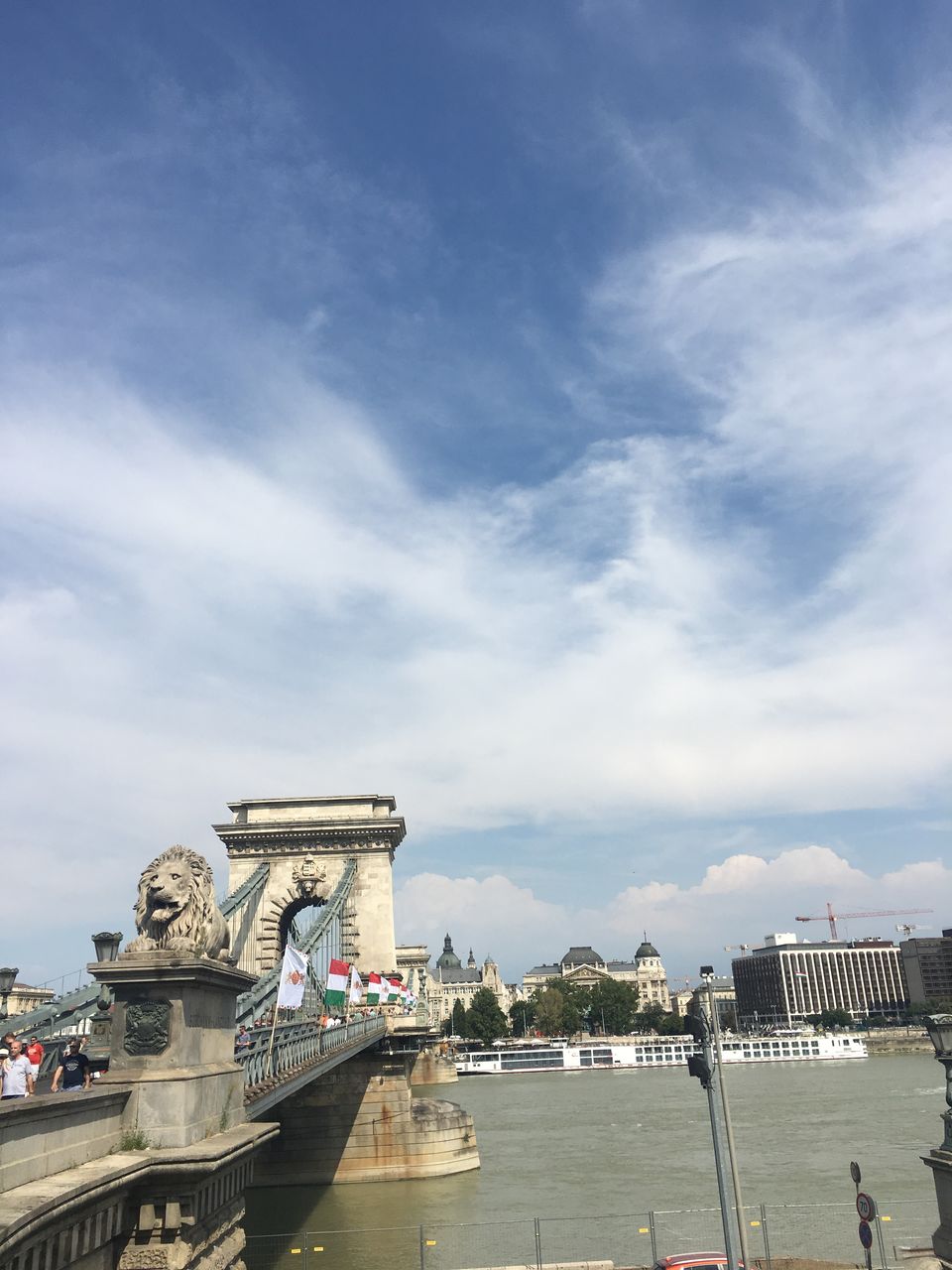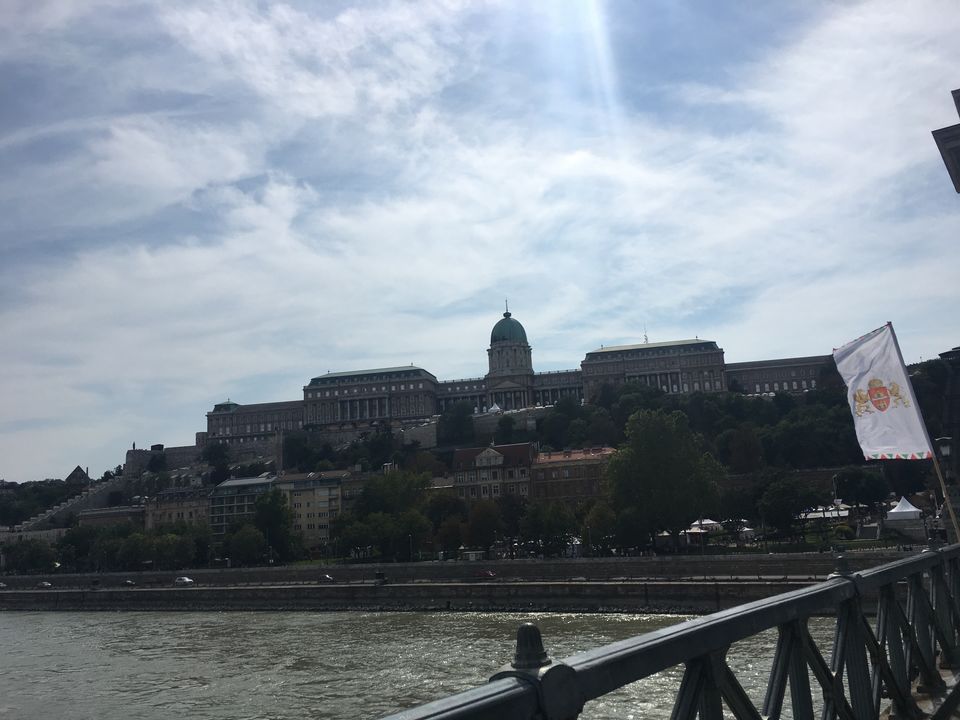 When we reached Clark Adam square which sits at foothills of castle hill, it was thronged with tourists and locals as some concert was going on. To reach atop the hill, there are couple of options. Obvious being climbing up on foot which is most preferred by locals. 2nd is taking funicular ride. There was a long queue at ticket counter plus we were no more excited about funiculars so we skipped this option. 3rd one is to take Bus#16 but due to some reason it wasn't operational that day. So, last option was to take Golf cart shared ride which was free with Budapest card.
Buda Castle Hill has:
1. Royal Palace whose exteriors are quite boring, nothing magnificent about its architecture but at night it's a stunner when it is entirely lit up! Don't know about its interiors since we didn't go inside. It has a library, museums and an art gallery.
2. Matthias Church having splendid appearance with colorful tiled roof and spires. It closes at 12 PM on Saturdays so we couldn't go inside.
3. Fishermen's Bastion – It's a beautiful ornate piece of architecture directly overlooking River Danube and Pest side of the city. It has fairytale type white towers giving it similar appearance of some romantic Disney castle! Entry ticket to its towers was 10% discounted with Budapest card. However, this ticket doesn't include access to all towers. For the other half, you will have to buy ticket again! I feel one doesn't need to buy any ticket to appreciate its beauty or enjoy city views from here.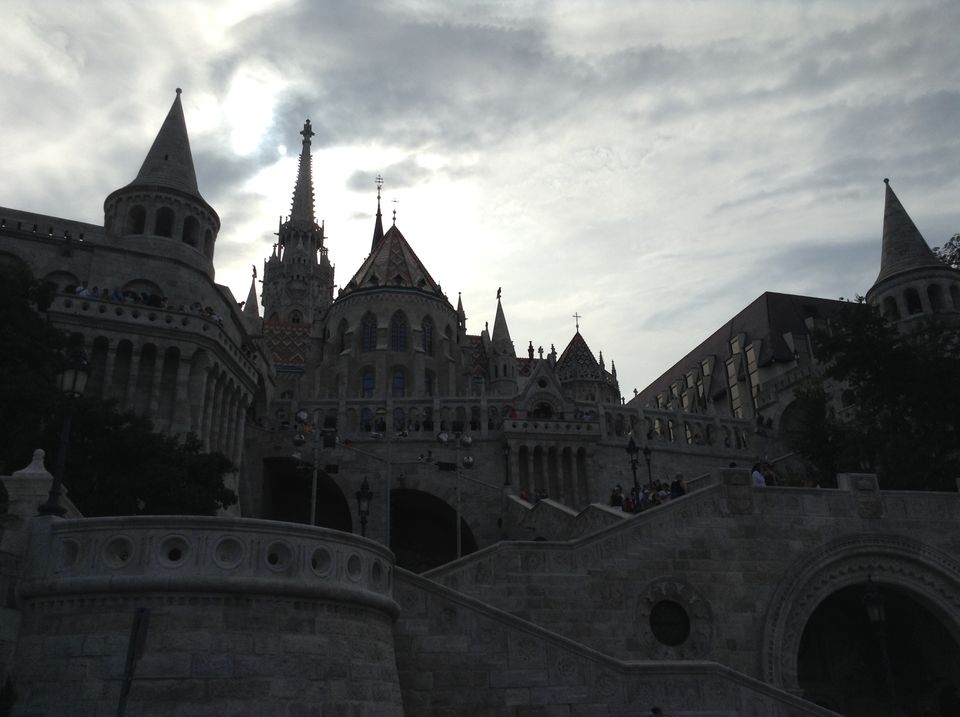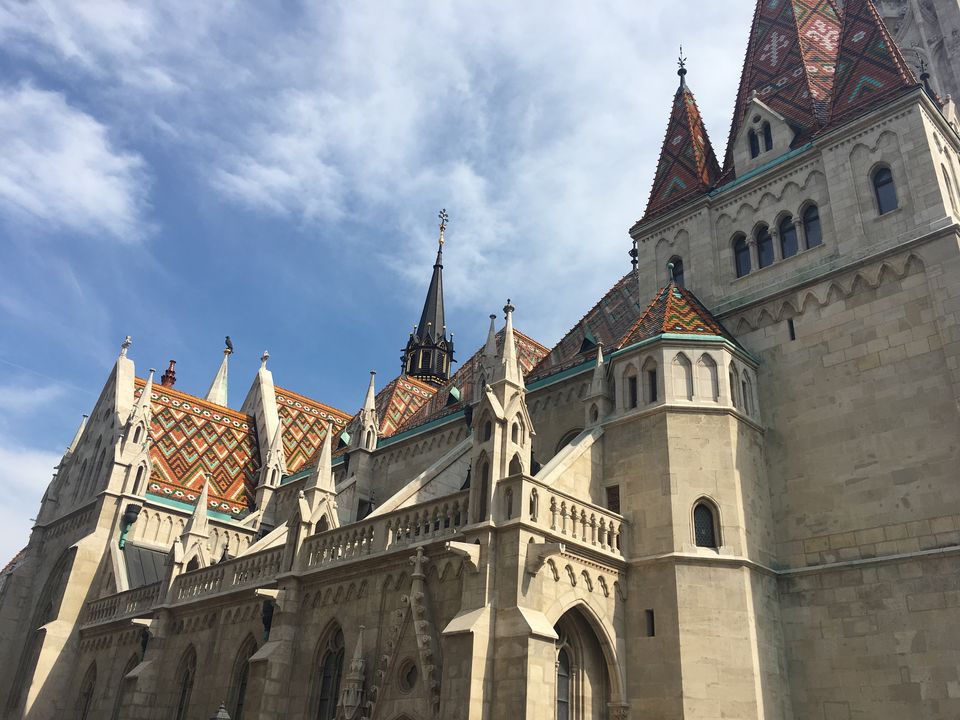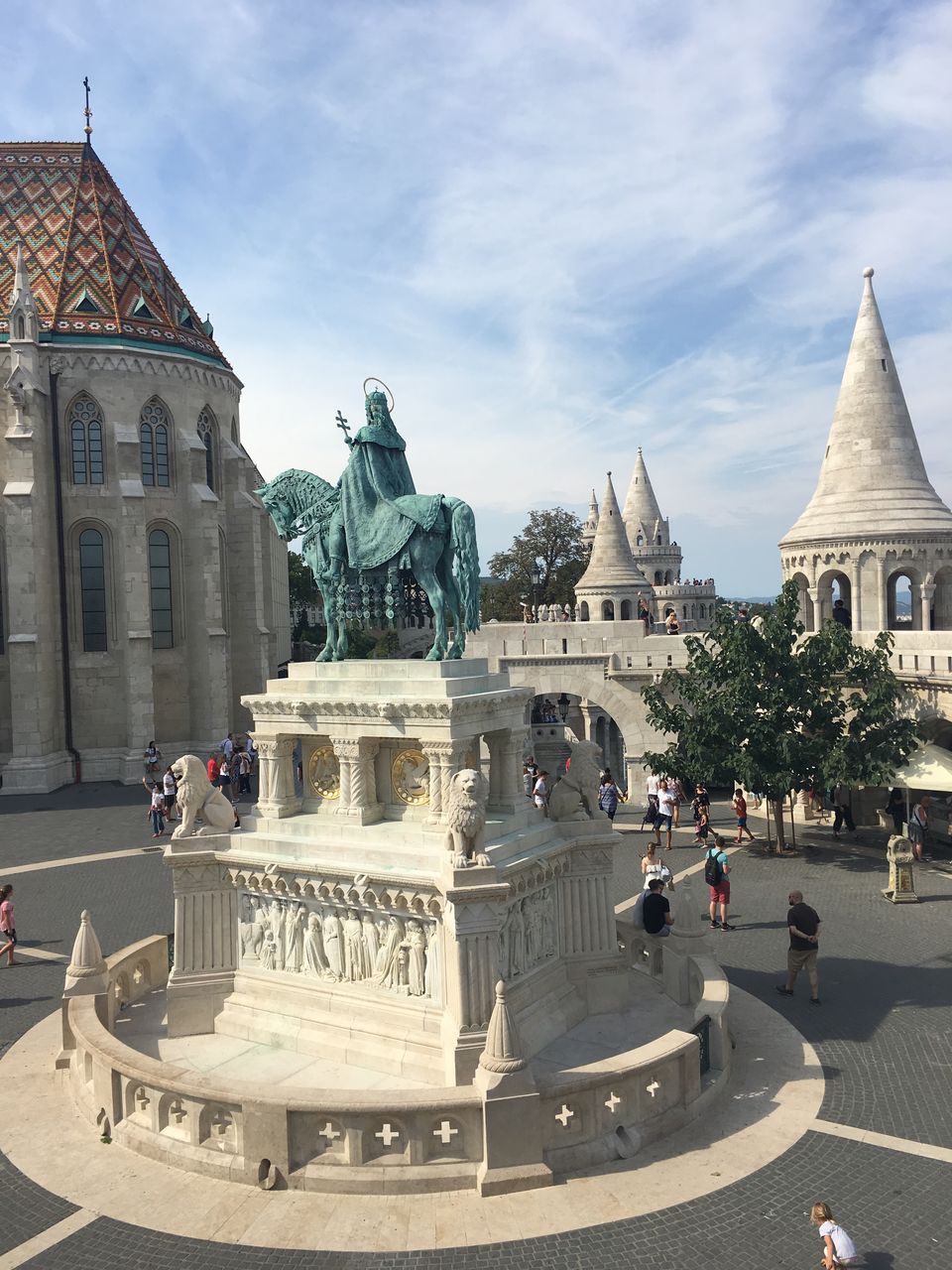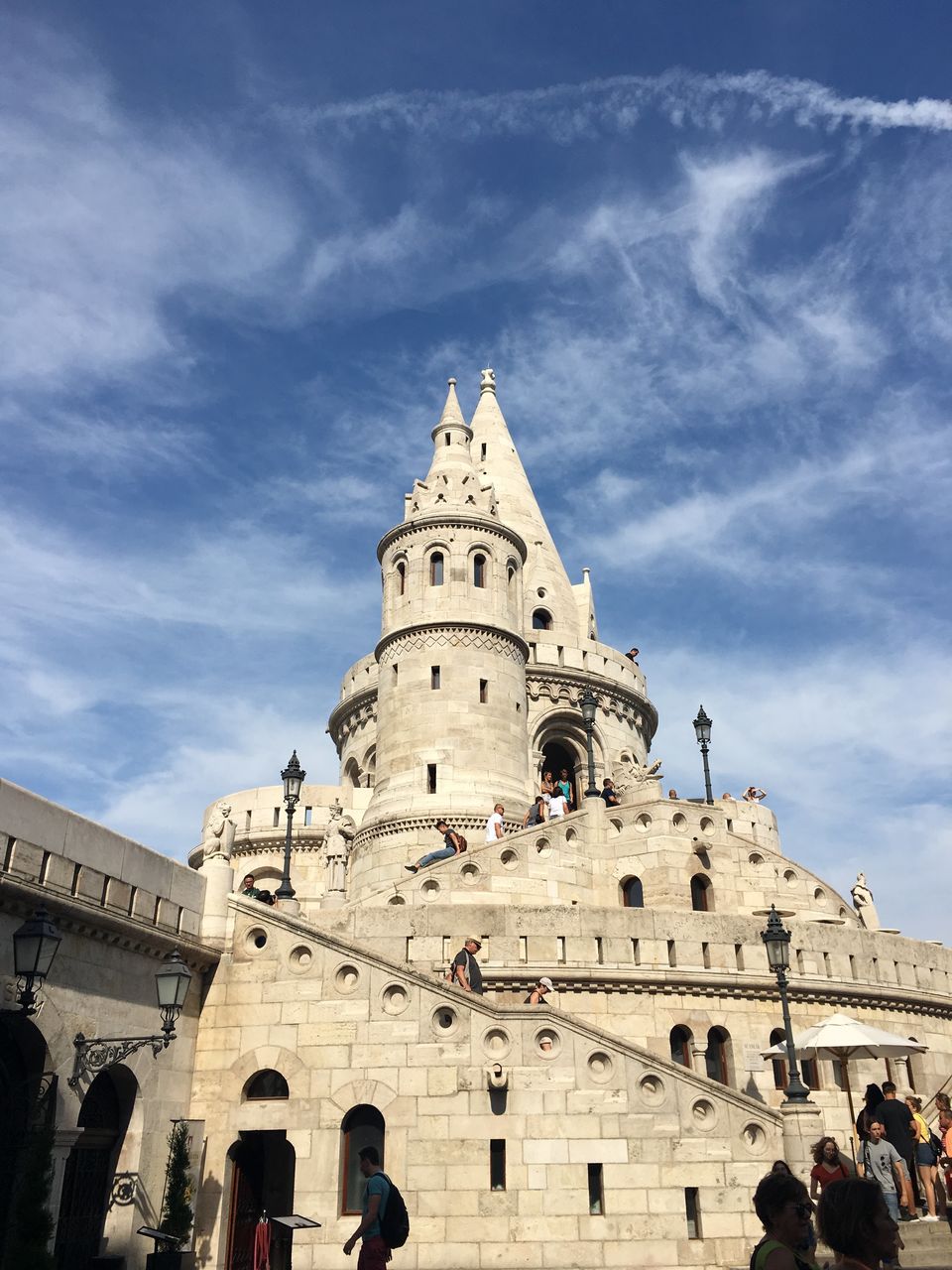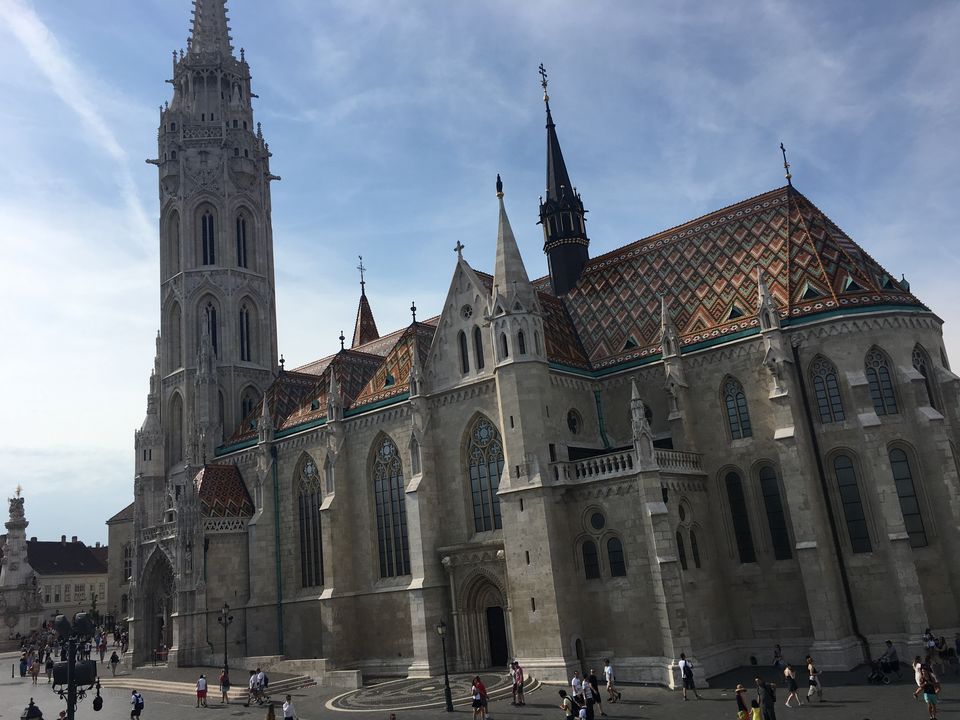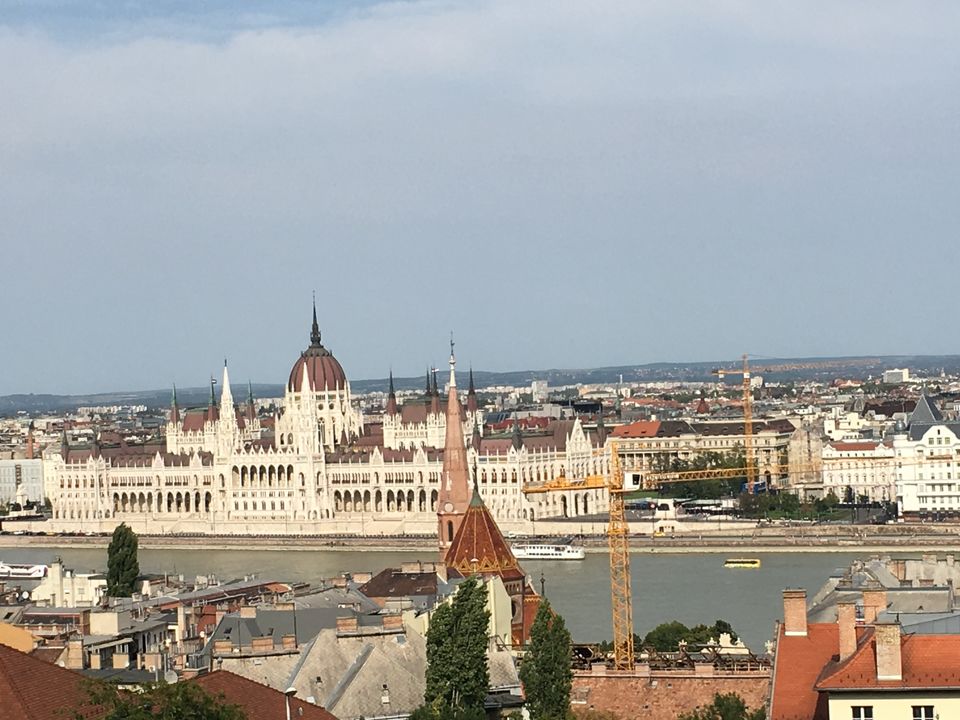 Post climbing down the stairs of Fishermen's Bastion, we crossed many twists and turns on quaint cobblestone streets of Buda castle hill to reach back at Clark Adam square. It was a perfect leisure walk of the day!
From here we went on to see Hungarian Parliament. I think this is the most photographed building of Budapest and very rightly deserved as well. It has Gothic appearance and it is nearly impossible to be not impressed by its grandeur. We couldn't go inside because of lack of time but there are many guided tours available at its entrance and it seems they are quite informative also as mentioned in many reviews on TripAdvisor. It can be best viewed from the other side of the river or Buda castle or while walking along Riven Banks. It is well lit up at night and looks breathtakingly stunning!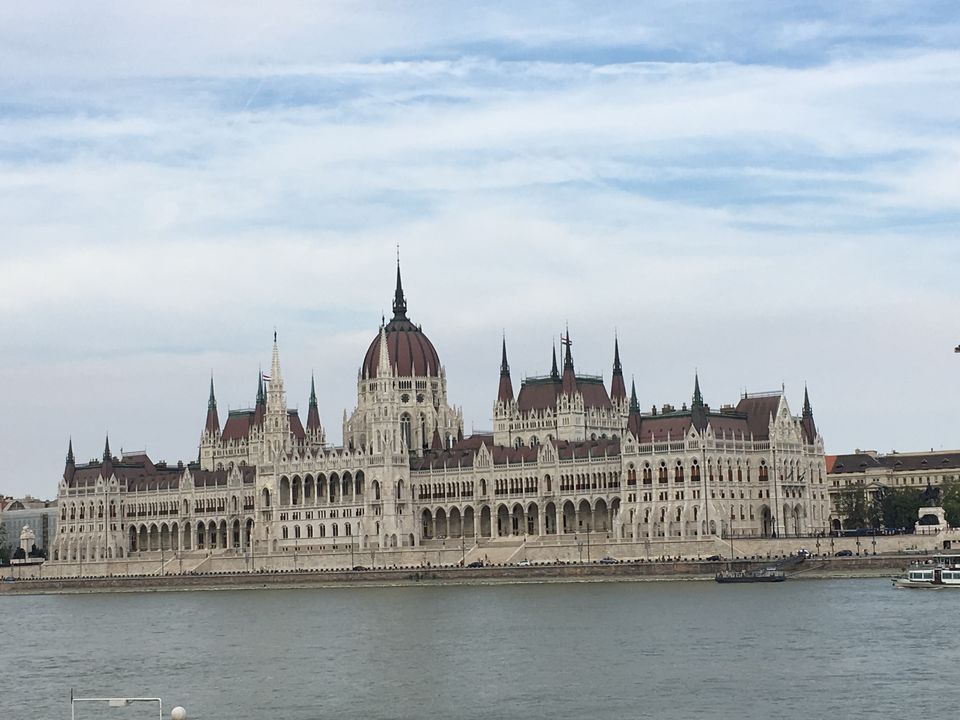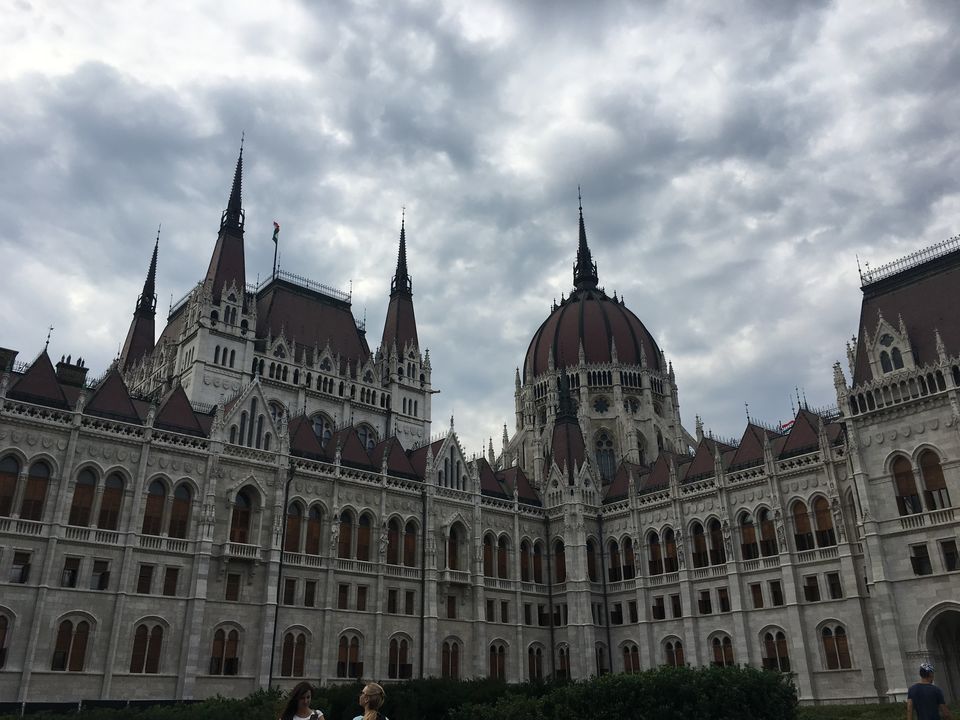 Next, we went to Restaurant Govinda which is run by ISKCON to have our supper. Okayish food! Our next stop was Shoes on Danube. It looks like a collection of bronzed shoes on banks of River Danube but the cruel history behind this memorial makes it an emotional visit. During WW2's Holocaust, Arrow cross, the secret Nazi police used to execute Jews here. To save bullets they used to tie people together, shoot one and watch the dead body drag the other tied up alive people into freezing water. These people were made to remove their shoes before killing them. We spent some time here sitting on the banks enjoying the cool breeze and views!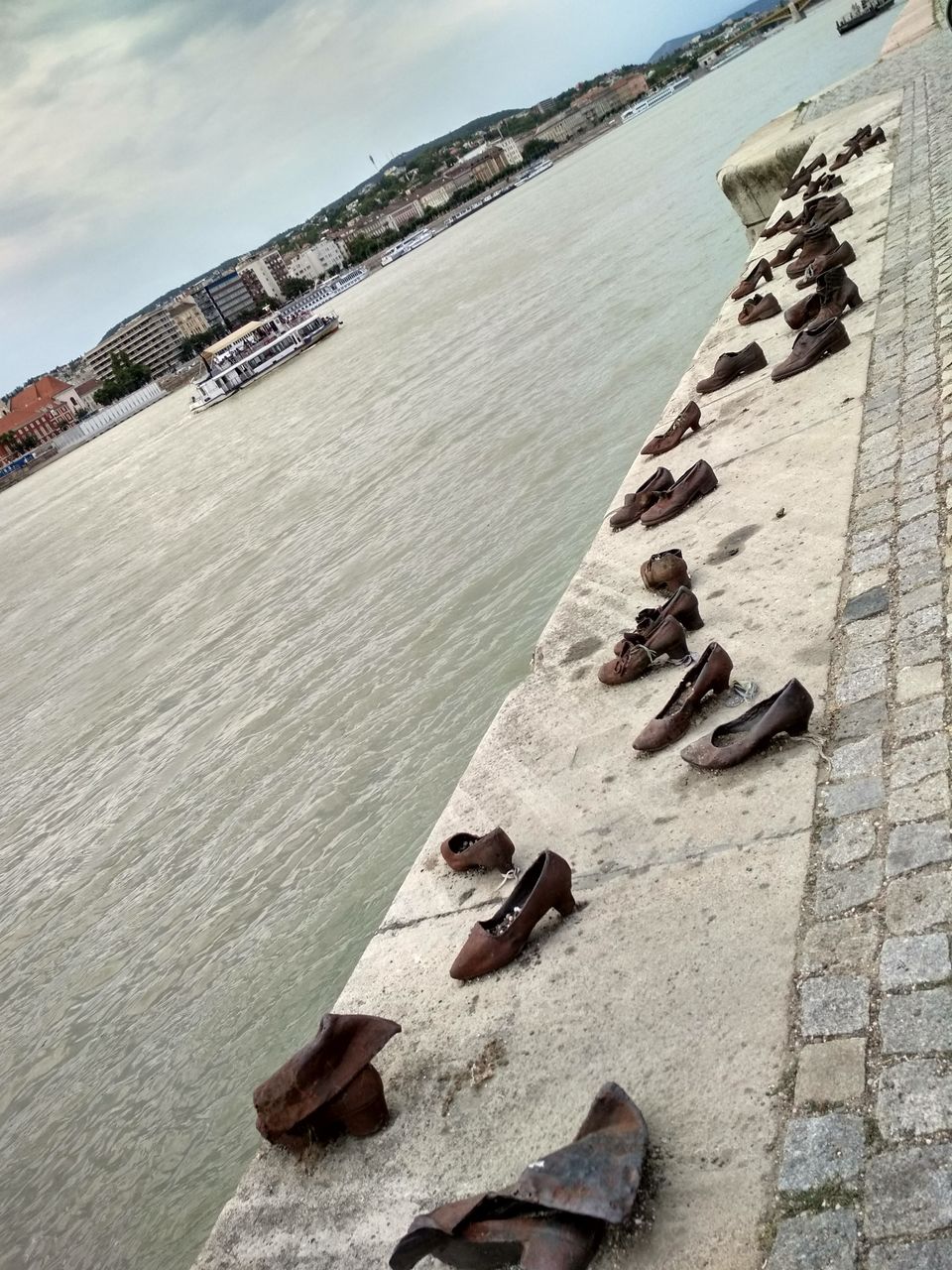 From here we rushed to Dohány Street Synagogue. I was really excited to see this place from inside but unfortunately it was closed that day because of some reason! The Hungarian Jewish quarters starts with this synagogue and has couple of more interesting places to explore.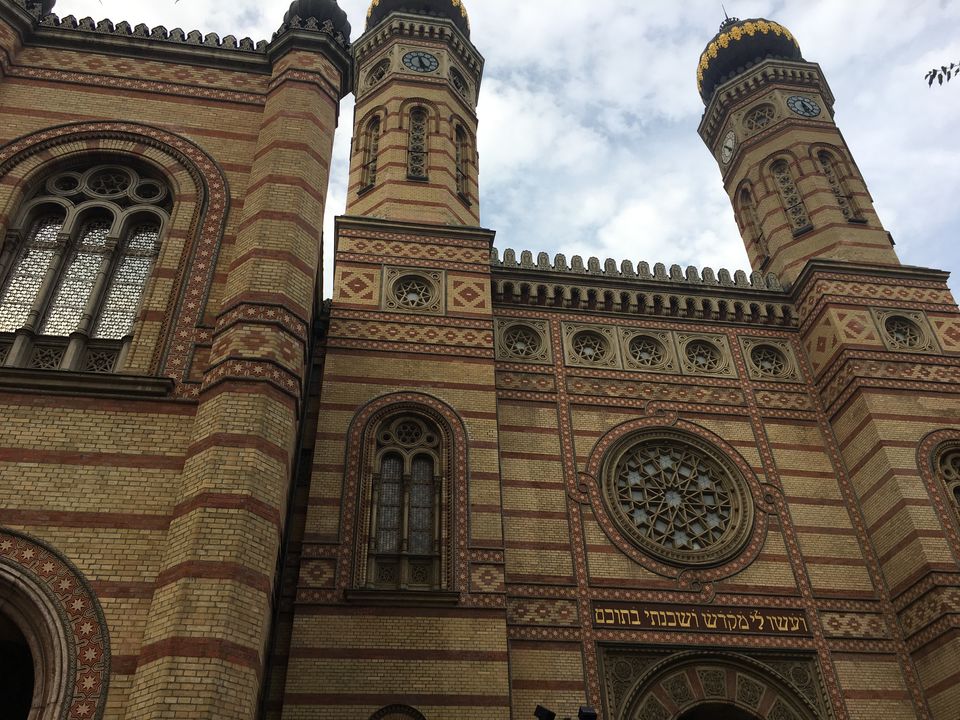 Váci Utca was our next destination. This famous pedestrian street is lined with many upscale cafes, restaurants and branded stores.
And soon it was dark! Each and every significant monument in Buda and Pest side of River Danube was brightly illuminated providing mesmerizing views altogether. We hired a Tuk Tuk Rickshaw which drove us along the river banks and Parliament so that we could intake this beauty while giving rest to our aching feet! Our last stop of the day was Szimpla Kert and so our rickshaw dropped us here.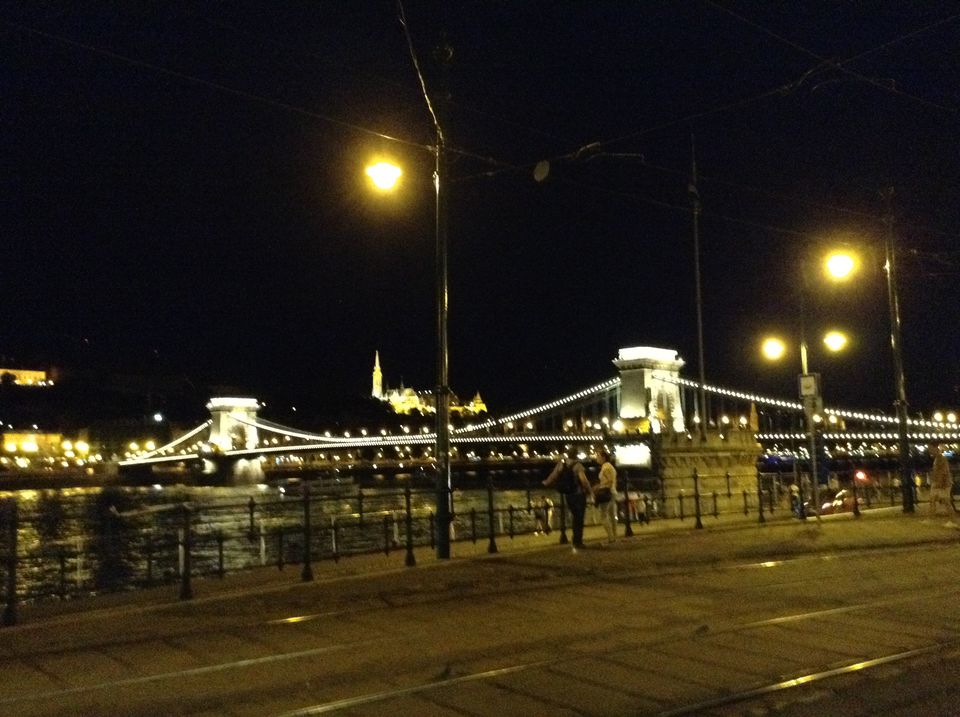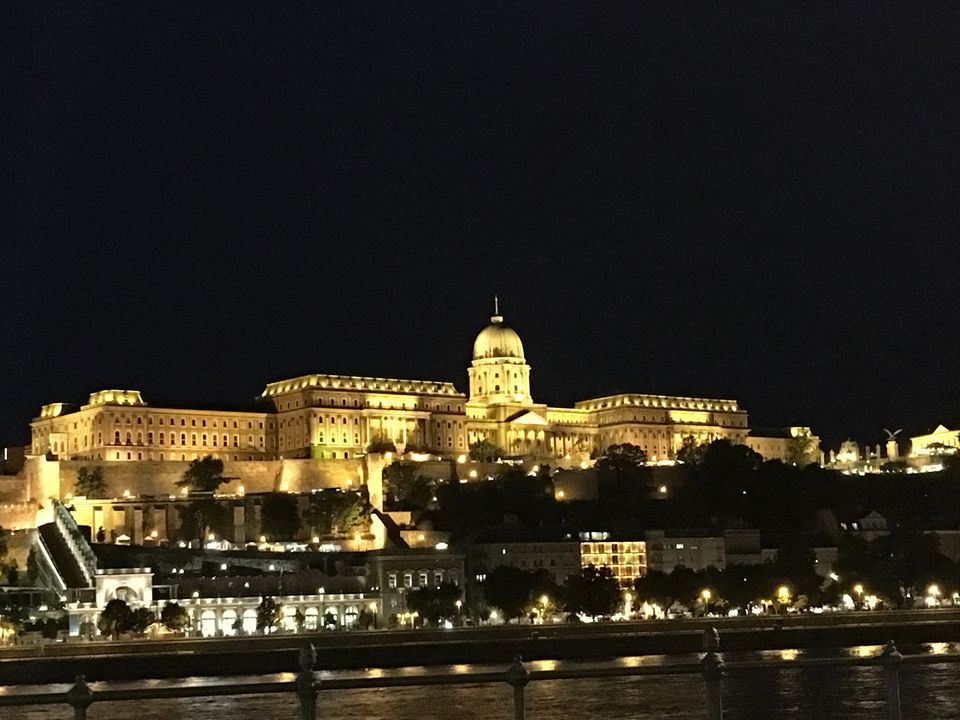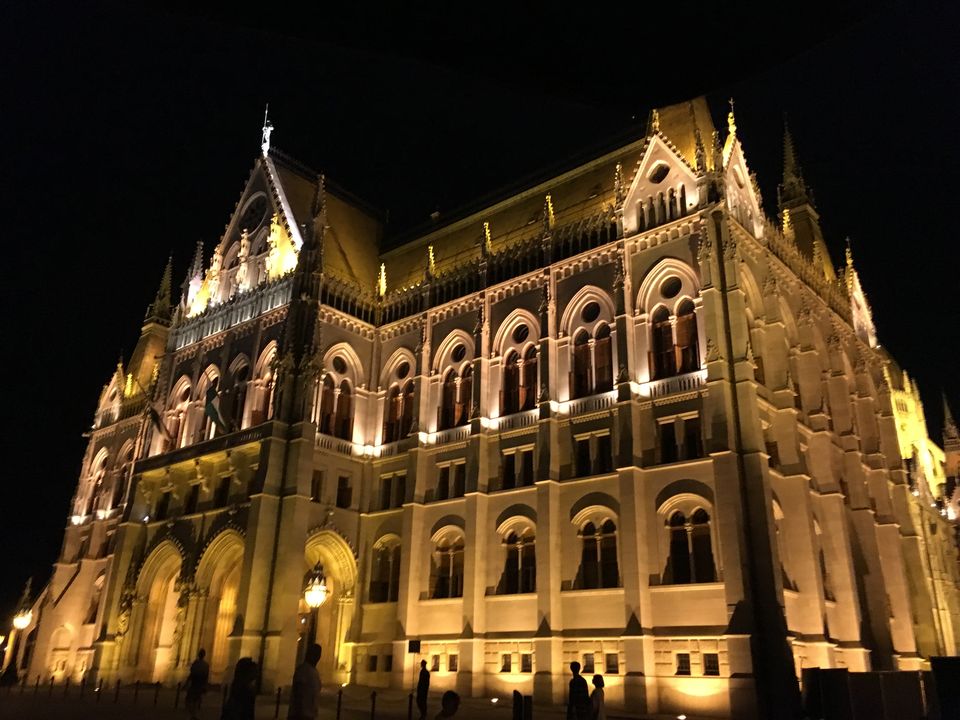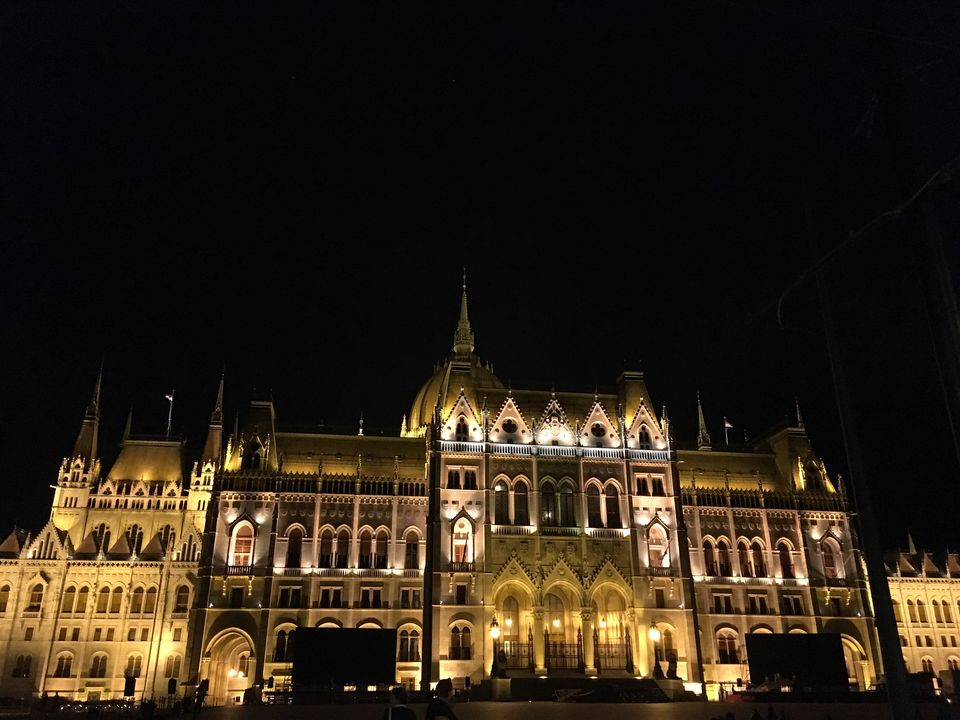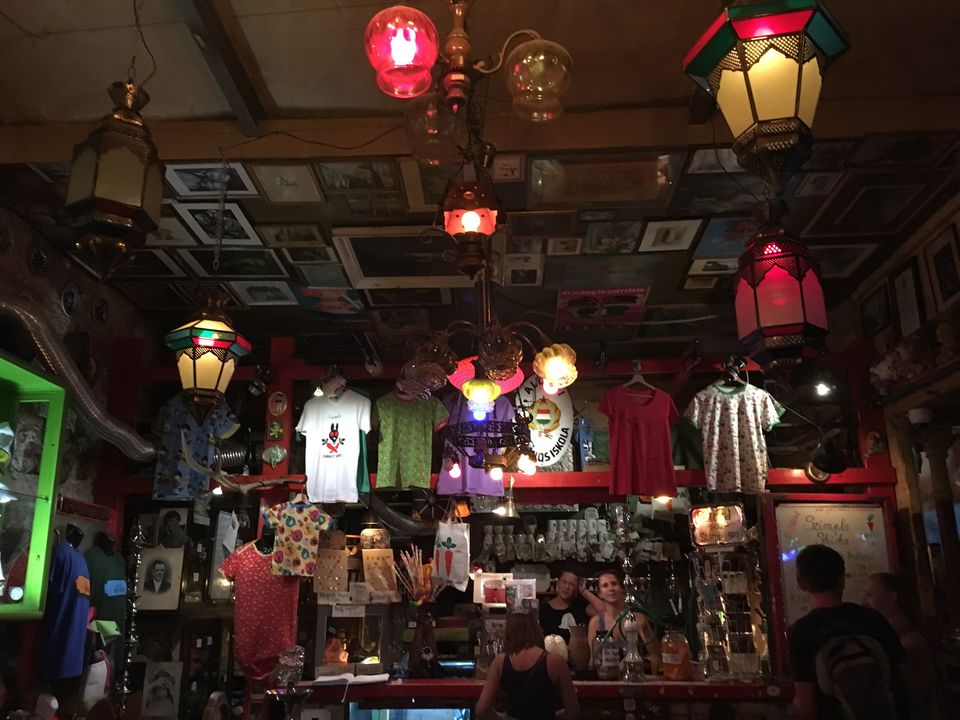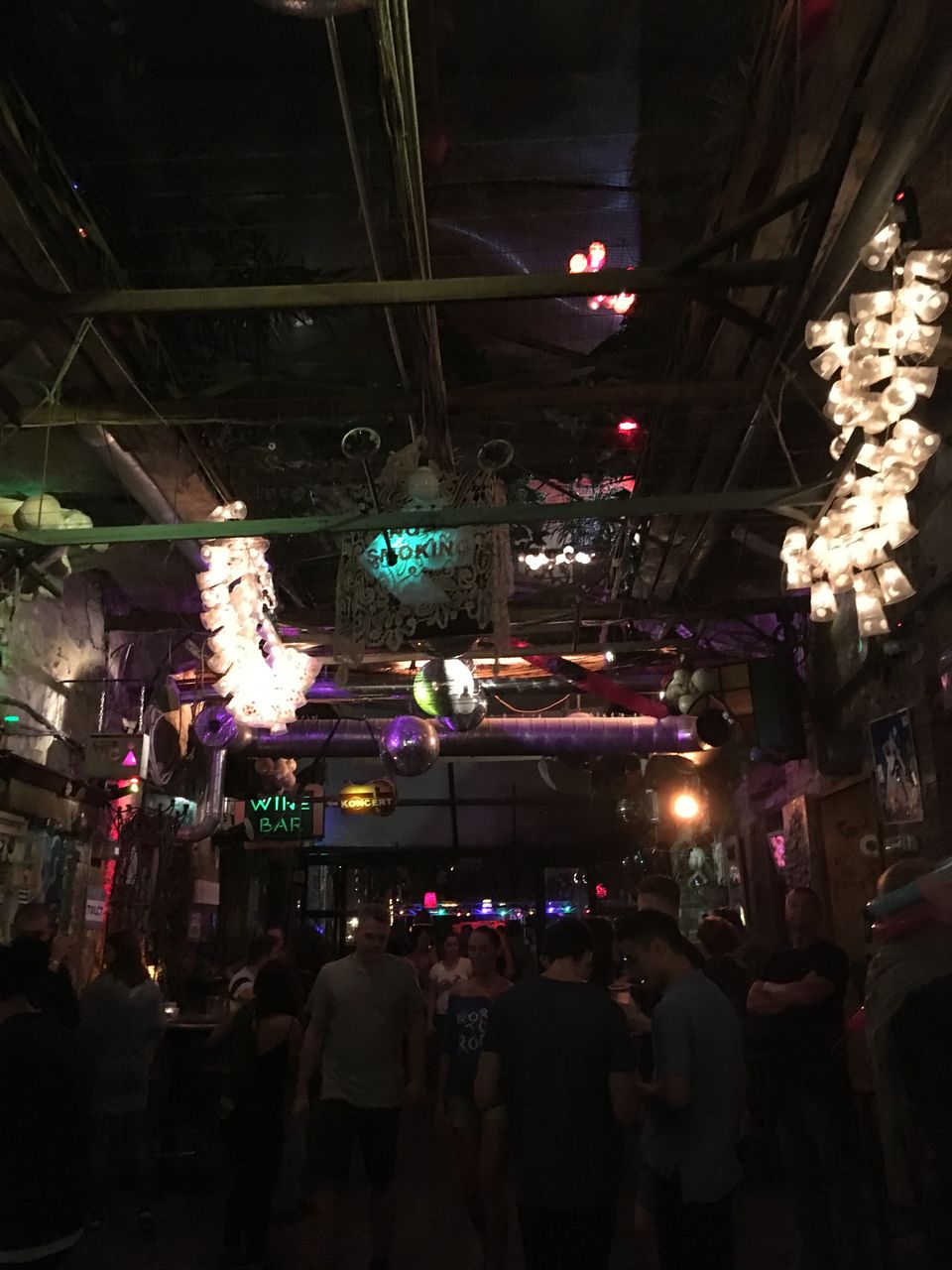 Szimpla Kert is the most hyped and cult ruin bar of Budapest. It has quite fascinating and rugged interiors with hippie kind of ambiance. It was a perfect ending to our 1-day trip to Budapest!