The forests always have fascinated me. Be it the eerie silence of the night, or the chirping of the birds at the dawn, the buzzing of the insects or the roar of the big cats, the gushing waters of the river or the rustling of the leaves when wind blows across, all these just need to be felt, need to be experienced. And a few forests that I visited had all these elements.
Nagarhole National Park
Located some 90 kms from Mysore, Nagarhole National Park, which has derived its name from the words Naga-Snake and Hole-Stream, stands true to its name as river Kabini flows serpentine through the forest separating it from the Bandipur National Park.
Once a hunting reserve for the Maharaja of Mysore, now it has been converted to Tiger Reserve and is a home to some of the most exotic flora and fauna. Perhaps it is the only place in India where three big carnivores, viz. Tiger, Leopard and Indian Wild Dog (Dhole) co-exist. Apart from these, one can find spotted dear, sambar, elephants, guars and about 200 species of birds.
The Kabini River Lodge provides the most picturesque location to relax and enjoy the nature and it also takes you on jungle safari where can spot some beautiful creatures.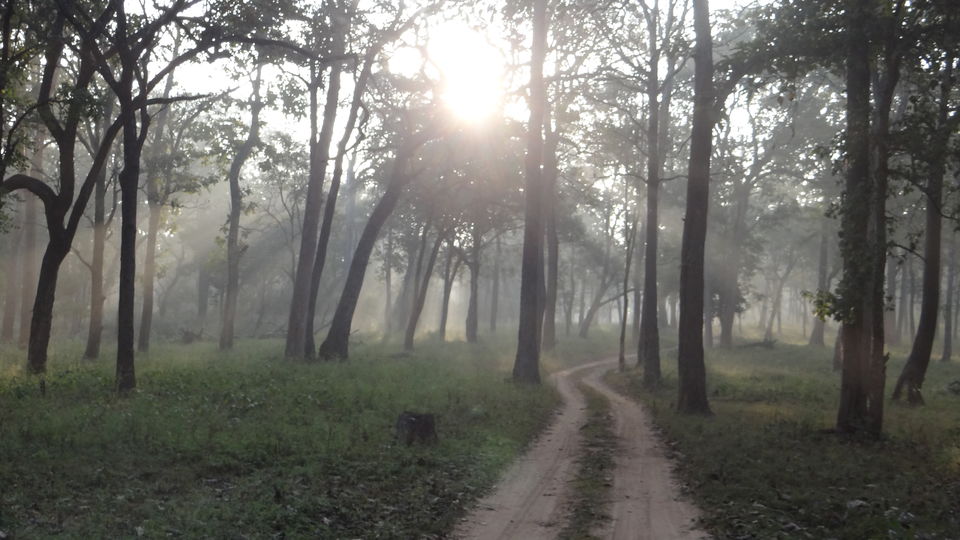 First rays of the sun penetrating through the woods, giving the forest a complete makeover!
Now, for the wildlife enthusiasts, here is what you can find while on the safari.
1. Spotted Deer or Chital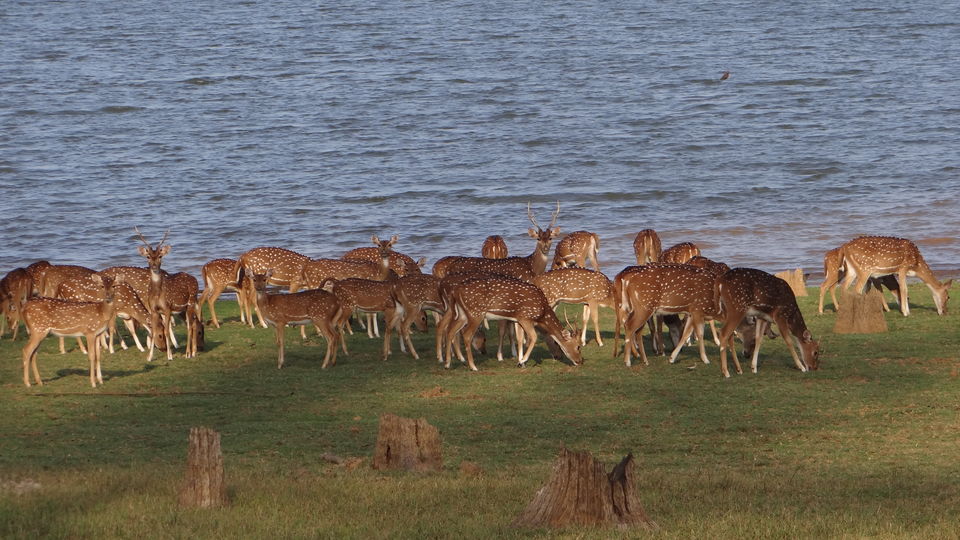 Very cute, very gentle, very naive! The deer are the most commonly spotted mammals in these forests. You can find them anywhere and everywhere, roaming in herds, grazing on grass, plants and barks. And if you are lucky enough to go on an evening safari, you can find something like the photo below!
2. Asian Elephant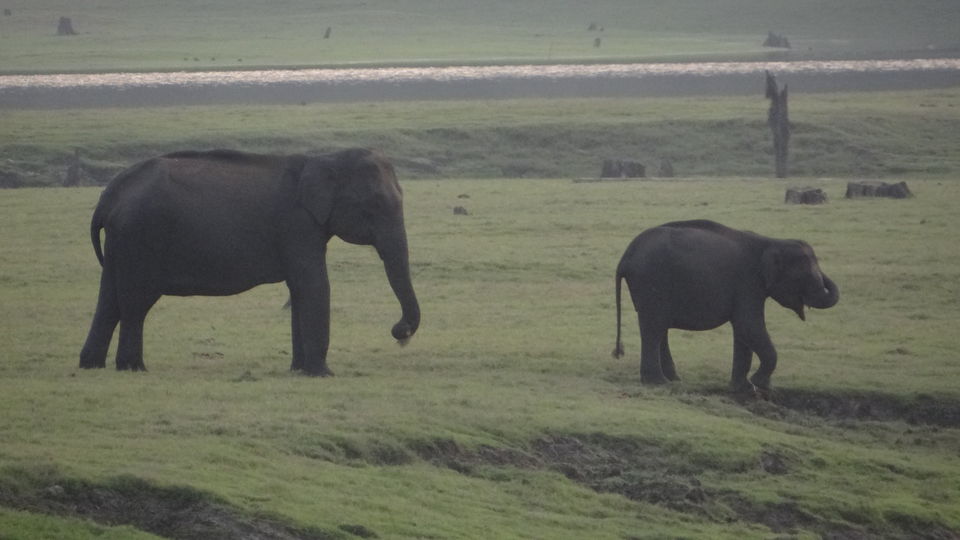 They are huge, yet they are gentle. But if you mess with them, they will make you tremble. Elephants are easy to spot, thanks to their huge frame. One can find them digging the grass off, debarking a tree or having a mud bath.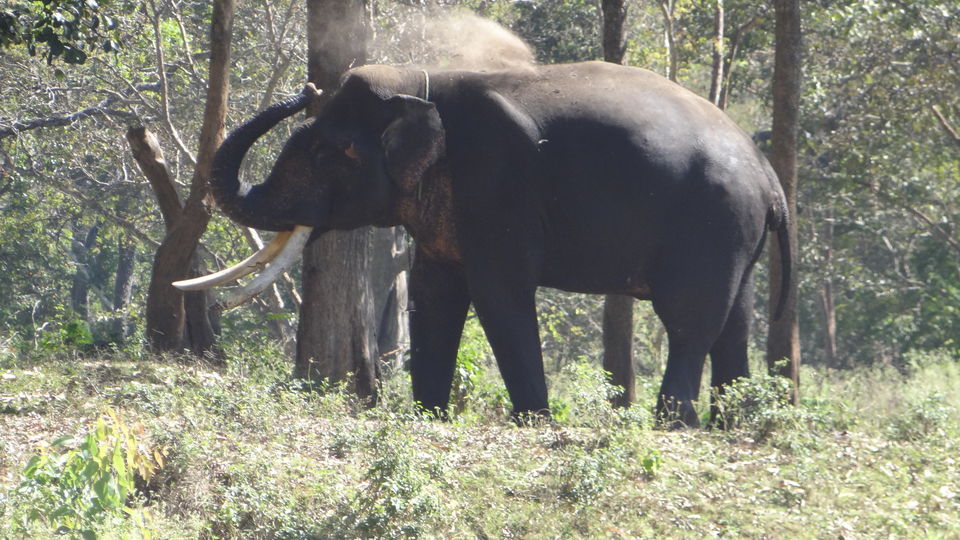 Be cautious though, they have a lot of temper tantrums. Follow the guides' instruction or else it might happen that this would be your last trip.
Personal Account: While on a safari, there was an instance when we heard a fierce trumpet. Looking in the direction of the sound, I got a glimpse of one jumbo chasing another behind the bush, a fierce battle was being fought, but that sound of trumpet still reverberates in my ears! It was terrifying!
3. Indian Wild Buffalo or Gaur
Close cousin of the African wild buffalo, these large mammals can be found in scattered locations around the forests. These huge animals are capable of driving away even a tiger by sheer brute strength. When these creature sense danger, they charge and can bring down even a 2-tonne bus with just a push of a head. Apart from this, no issue ;)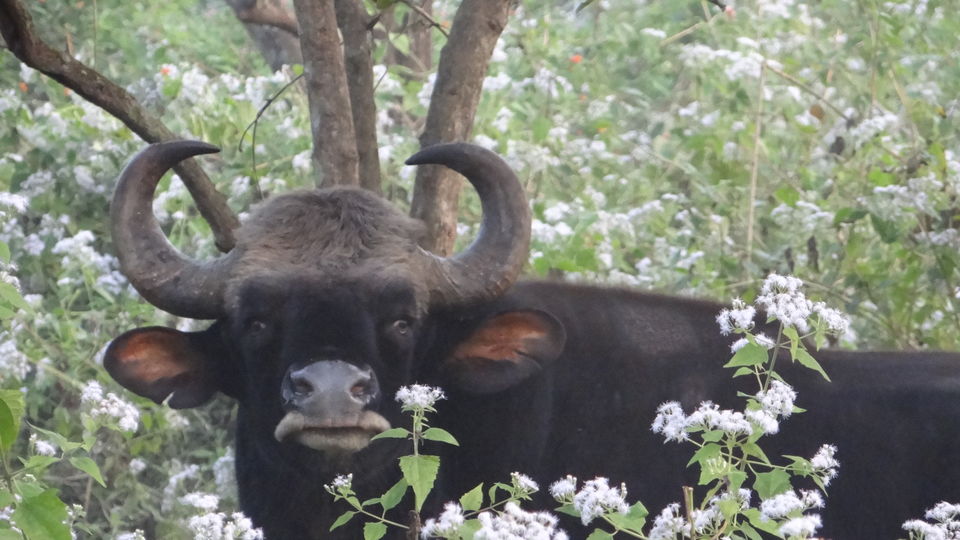 Close Encounter: The above photo was taken from merely 10 feet. This Bull Gaur, an extremely gigantic beast, weighing about 1-tonne was looking at the lens so fiercely, even our guide was terrified and said, "Sir, we should leave from here else our jeep would be upside down."
4. Leopard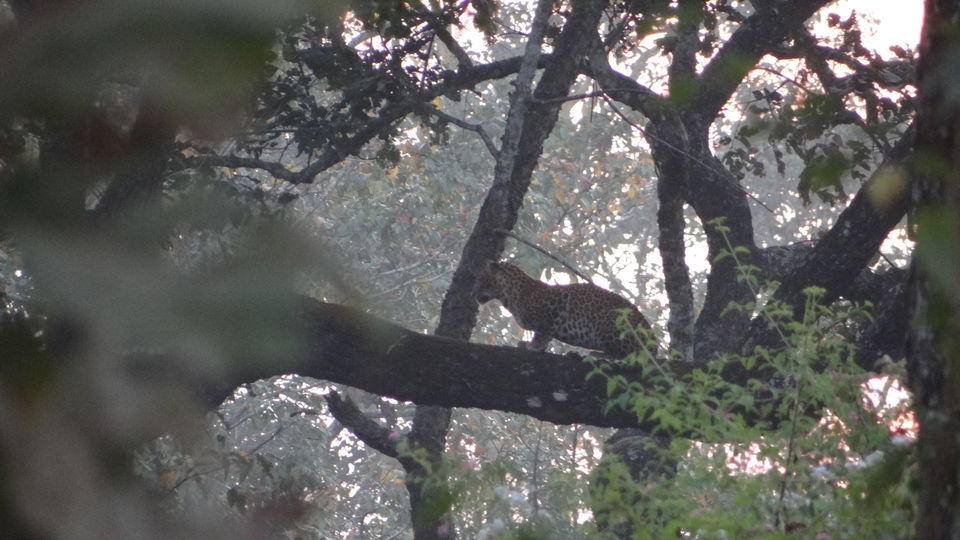 Secretive, Surreptitious and Stealthy. These adjectives best describe a leopard. This big cat is a master of camouflage and best known for quick ambush. It is said one needs to have his eyes on the trail as well as on the trees in leopard's territory. Excellent climbers, the leopards wait for their prey on the trees and after the hunt devour the same on the trees.
5. Tiger
Extremely difficult to spot, this royal beast is the king of these lands. One roar can be heard up to 2 miles in the forests. They hunt alone, they hunt with might and if you spot them during safari, well then you are extremely lucky.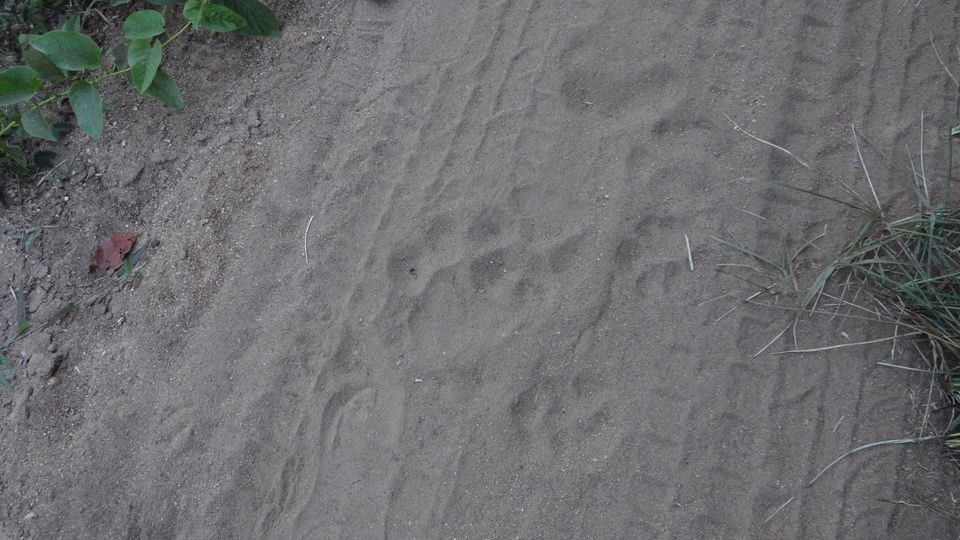 These were the fresh pug marks of a tiger along with its cub. We waited there for 15 mins, with no luck. So near, yet so far!
6. Dhole
They come, they hunt, they conquer. The pack of wild dogs work on 6-sigma level while hunting. Always hunting in packs, seldom they let their prey get away. They form a pattern and corner a weak link in the herd of their prey. Once the prey is lost from the group, they hunt with full strength. They are capable of bringing down a full grown gaur down to the ground and even make a leopard run for its life.
These were the big 6 of Nagarhole National Park. You get the same species in Bandipur National Park, which is located just across the river Kabini. Take a boat safari and you will find beautiful species of birds and water mammals that will make your day.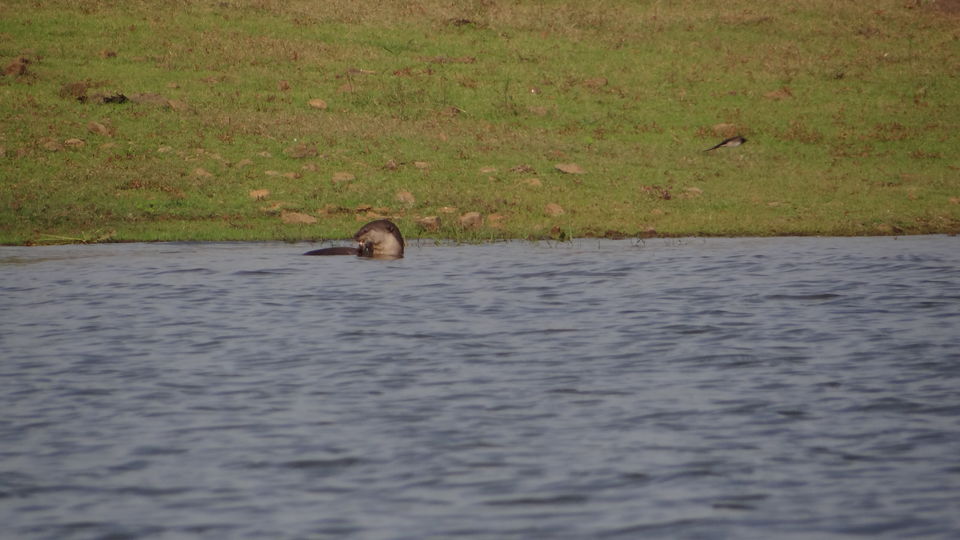 Otters are extremely cute creatures and I found one feasting on a fish just on the banks of the river.
The bird in the picture is Black Cormorant. Commonly spotted on the bank of river Kabini, has beautiful patterns on its wings as it can be seen and is one huge bird.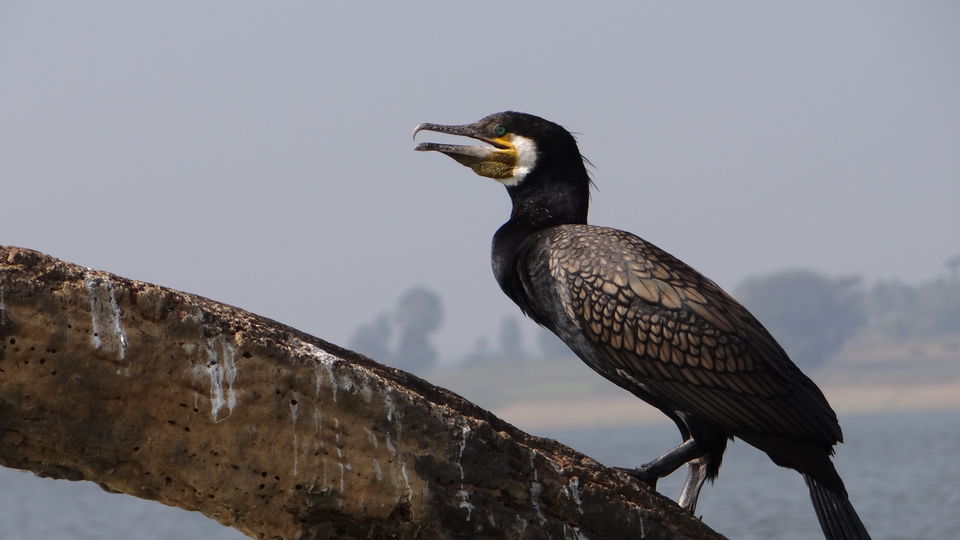 Best Shot of a bird: I took this picture from an arms length distance while sitting in a coracle. The bird had gulped a fish and something was stuck in her throat so she was trying to push it down her throat. And because of which I got a beautiful shot because she didn't fly away.
This was all about Nagarhole National Park. Just a river's cross distance and you will end up in Bandipur National Park and they form a delta with Wayanad Sanctuary in Kerala as we move further south. All these flora and fauna can be found in Bandipur National Park and the chances of tiger spotting are also high there. Try your luck!
B.R.T. Wildlife Sanctuary
Located about 100 kms from Mysore, Biligiri Rangaswamy Temple Wildlife or BRT Wildlife Sanctuary is the perfect location to spend weekend in the wilderness. You can plan your stay at K. Gudi Jungle Resort and enjoy your stay in the lap of Mother Nature. K. Gudi Resort too, provides jeep safaris for animal spotting and trek through the forests which provides a perfect opportunity to spot exquisite birds. My personal recommendation is to go for the trek early morning, because of two reasons
1. Finding a few feathered friends
2. A warm-up on a chilly morning
Here are some birds that can surely make your day.
1. Woodpecker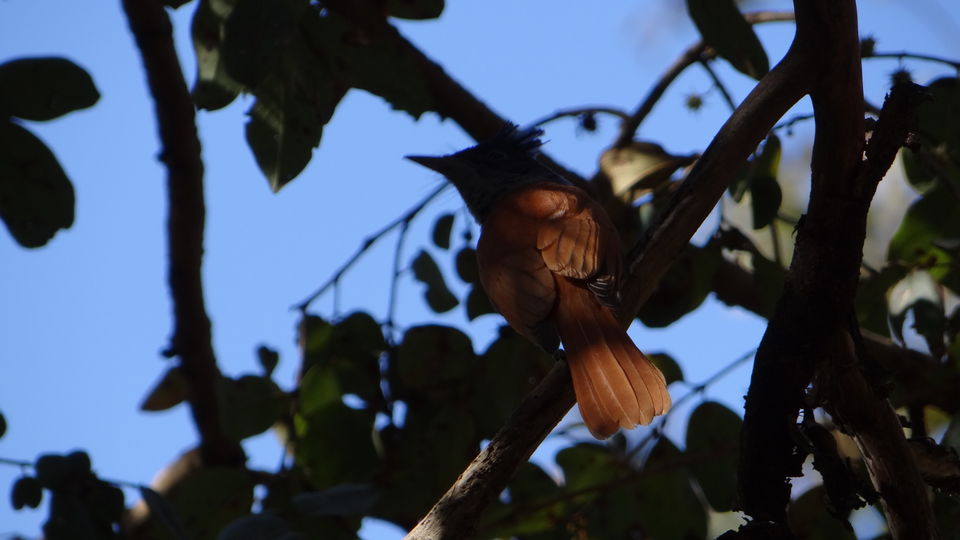 The first sound you hear in the forests is the sound of a beak rapidly striking against a piece of wood. Trust me, it is sheer music to the ears. Next thing is you try and look for this tiny bird amongst the leaves of the tree. Contrary to the myth that woodpeckers dug a hole in the bark and build their nest in it, actually it pecks on the bark to get its food, i.e. the insects that are hidden under the layer of the bark.
2. Golden-fronted Leaf Bird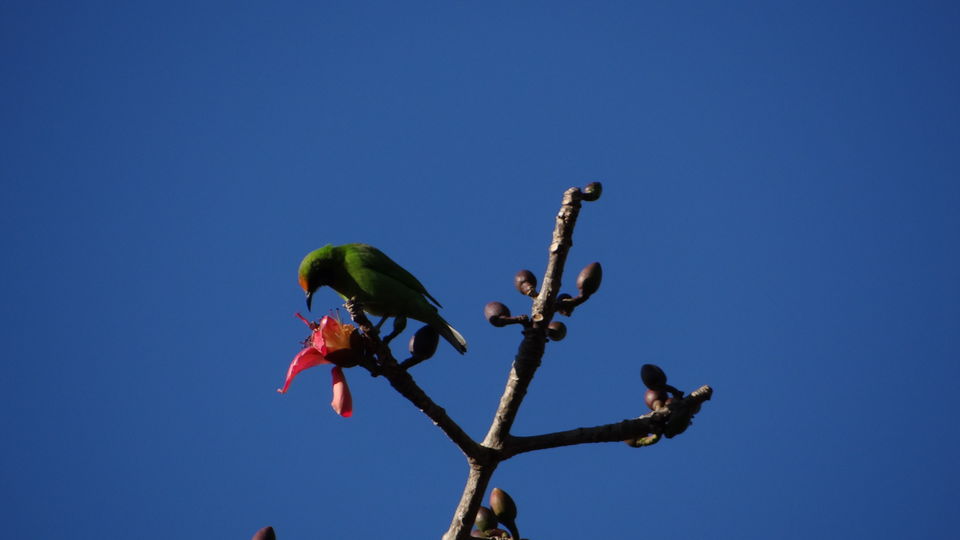 A green colored body and a golden tip on the beak. And when a clear blue sky provides a perfect background, a photograph needs to be clicked.
3. Serpent Eagle
This majestic bird can be seen sitting on top of a tree like a sniper at a vantage point. Once it spots its prey, just like a sniper, doesn't miss the shot.
4. Kingfisher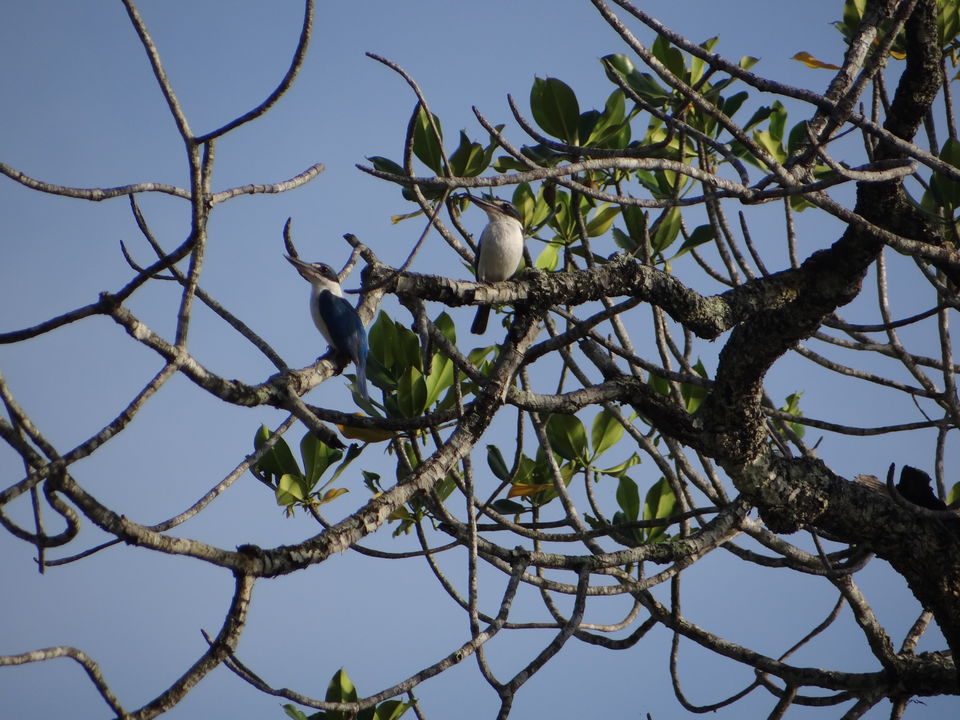 Most of us might have spotted a kingfisher in fields, its magnificent blue color will revitalize your senses and make you feel that I just want to view this bird ever and forever. And he certainly is a king of good times!
The forests also houses some unique insects and creepy crawlies that are an important part of the eco-system. I was quite amazed to find out so many species of spiders exist in the ecosystem.
1. Black Widow Spider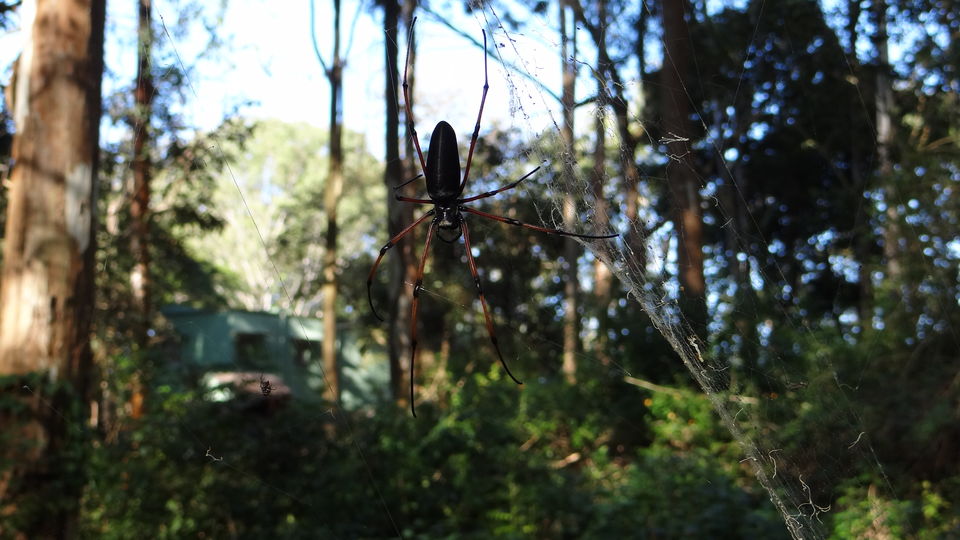 The spider derives its name from an interesting tale. The big black spider that is seen in the photo is a female. Give your eyelids a little strain and you will find a tiny spider in the left part of the screen. That poor chap is male. Now a tragic event follows. After mating, the female kills the male :( :( and hence it is called a Widow Spider.
2. Flute-legged Spider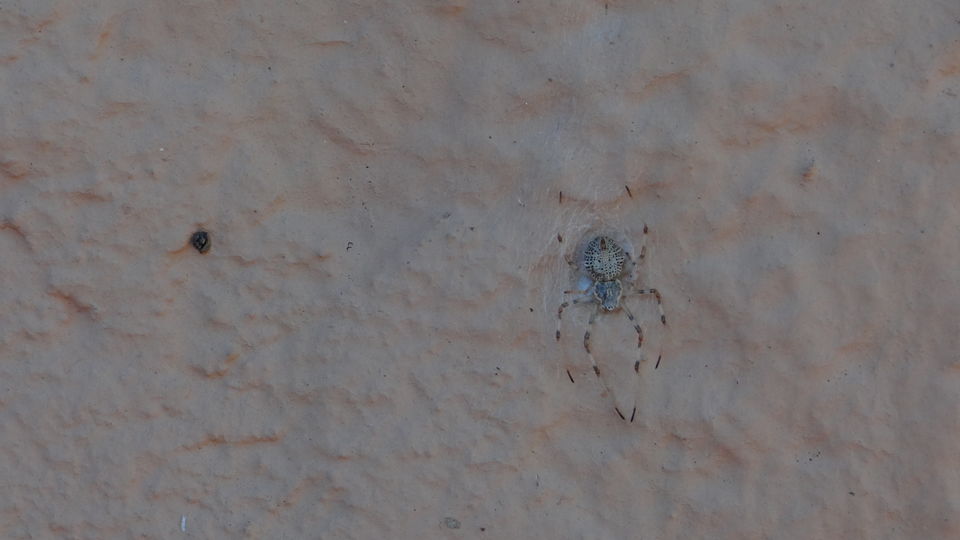 The legs of spider have a lovely pattern making it look like a holes on a flute. I don't find anything like that, but it looks good certainly.
3. Signature Spider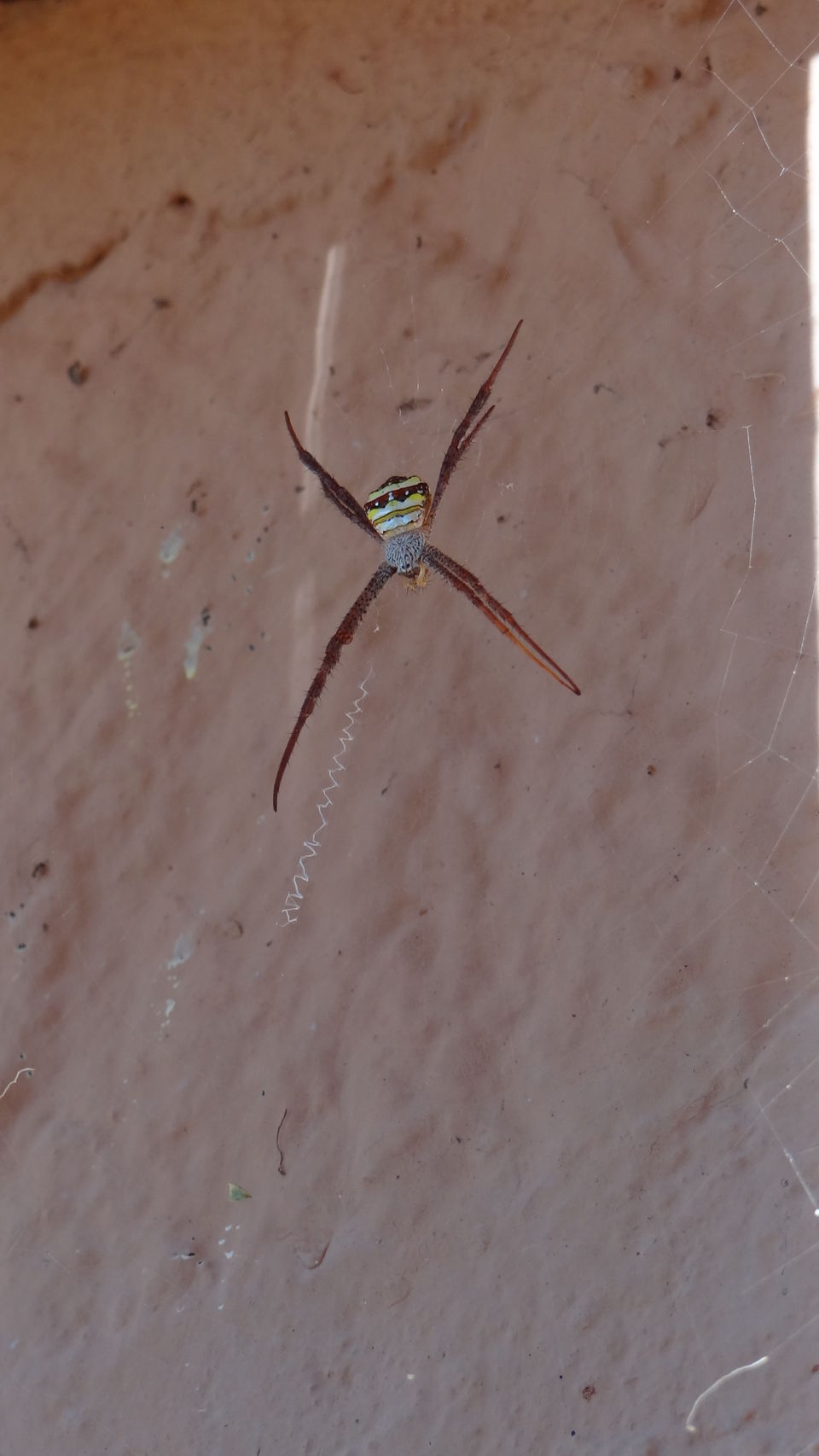 Ever seen an insect leaving its trail? Well, this fellow surely knows how to create a lasting impression. The way in which the spider creates its web makes it appear as a signature and now you know how a name is derived.
I had never been so up-close with the forests before this trip and I found it extremely intriguing laying in the lap of nature. The thirst has just got bigger. More forests to explore, more photos to be clicked, more blogs to be written. Till then take care!