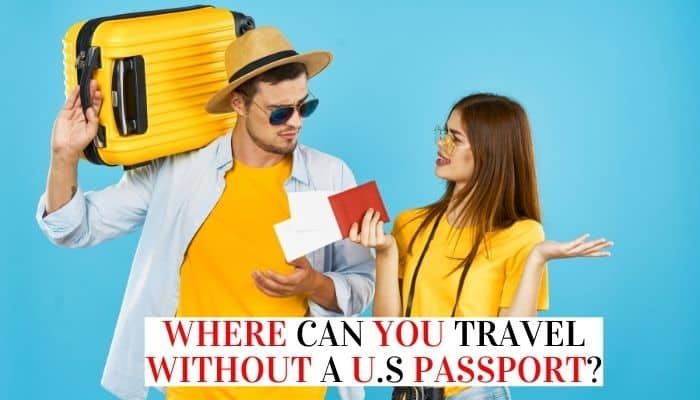 Where Can You Travel Without A Passport? This is one of the common questions people ask that where can I travel without a passport, Craving for long-distance travel but don't have a passport? No, issues! Here are Seven tropical destinations that invite sunny climates, beautiful beaches, and cultures that Americans can experience international travel without a passport.
Foreign Locations Where Americans Do Not Need A Passport | Where Can You Travel Without A Passport?
From the Caribbean prefers to travel to South Pacific gems, these seven abroad destinations offer all the holiday charm for US citizens without any of the passport requirements. Below are the best places to travel without a passport.
Travel these Countries without passports
1. Puerto Rico
The island of Puerto Rico is a favourite for a long time among travellers from the contiguous 48. Cheaper airlines than low-cost carriers make Puerto Rico an affordable option for East Coasters. Moreover, it is one of the easiest Caribbean Places to visit, as you can travel many of its wonders without a US passport.
2. United States Virgin Islands
The American Virgin Islands is located only minutes away by plane from Puerto Rico. Composed of three main islands — St. Thomas, St. Crix's and St. John's — plus the scattering of small islets, U.S.V.I. Much depends on tourism, and in recent years has slowly rebounded after the storm.
Each island has its own individual attraction. St. John, with its national parkland and also legendary diving, will attract true dreamers. St.Thomas is a shopper's desire, with countless boutiques and jewellers, as well as two bustling cruise terminals. And the Danish taste and varied St. Croix is ​​a favourite of luxury-seeking honeymooners.
3. The Northern Mariana Islands
These Micronesian islands have been ruled by many in their rich history: first by Spanish colonists in the 16th century, then by Japanese forces during World War II and lastly, the United States since the Battle of Saipan in 1944.
The islands are heavily dependent on tourism from their northern neighbours Japan and Korea as well as the United States.
History enthusiasts will have much to see in Saipan, the largest island of the Marianas, which is home to many war memorials and museums.
Adrenaline enthusiasts can sip grotto, a limestone cave whose 70-foot deep water is home to sea turtles and reef sharks, or hire a boat to the lagoon surrounding Manage Island. One of the beautiful places where US citizens can travel without a passport?
4. Guam
Like northern Mariana, Guam in the south was established by the Spanish, changed hands during World War II, and is now one of the various tourist destinations for Japanese and American citizens. (Its second-largest source of income is the US Army, whose naval, coast guard and air force bases make up about one-third of Guam's total land area.)
Military on one side, there is enough to do on this flaming island: the beaches of Tumon are known for great snorkelling and are famous among divers for up to 150 feet of visibility along the coast of Guam.
Two Lovers Point, a cliff-side lookout, offers some ancient views from 400 feet above the Philippine Sea (plus a dramatic legend of star-crossed lovers).
5. American Samoa
Turning out this list are the uninhabited regions of American Samoa, a collection of five volcanic islands and two atolls between Fiji and the Cook Islands.
A really off-the-beaten-path destination, there are only a very few hotels on Tutuila and the neighbouring islands, beyond the tourism infrastructure, and fast-food restaurants, some business disruptions to remind me of home.
Discover coral waters, lava-covered raw coastlines, and untouched beaches with only other sunbathing seabirds. And unlike the highly trafficked Polynesian destinations, native Samoan culture is still undeniably authentic here.
In Allega Village, go to Tissa's barefoot bar for a drink, a meal (the chef will grill your freshly held lobster for you), or a night's rest (a traditional Samoan Hut).
American tourists can fly to Pago via Hawaiian Airlines. Also one of the beautiful places to travel without a passport.
6. Canada
Can you travel to Canada without a passport? Yes, it comes under the places to go without a passport for us citizens.
Since the War of Independence, America is ending its Englishness and embracing its unique multicultural personality.
Of course, it is not all cucumber sandwiches and crickets in this vast and modern nation, but there are some interesting historical places.
If you are on the east coast of the US, a wonderful road trip to drive through New York State, stopping at Niagara Falls.
Spring and Fall is the least busy time to visit the waterfall and you can join a boat trip down the falls (away from the mist) and travel through the caves.
The falls form a natural border between the US and Canada. And what a limit! Be prepared to be drawn by Mother Nature's biggest floor show!
Once you pass the border into Canada, it is less than 100 miles from Toronto. This incredible city, situated on the shores of Lake Ontario, is a combination of modern skyscrapers and Old Englishness. However, in 1815, the city was known as York.
On the US West Coast, you can catch a ferry, train, or drive due north from Washington State to enter Canada.
Vancouver is the usual destination for such trips, but I suggest you try a few miles from White Rock, a seaside town of Blaine. Or perhaps Victoria, the capital of British Columbia, lies only in Puget Sound.
Plenty of restaurants and also a theatre with its very own palace – Craigdarok Castle – make this a spectacular weekend getaway.
Oscar Wilde may have said that England and America were two countries divided by a common language, but I think you will find more similarities with your northern cousins ​​while you are still enjoying a fresh new experience.
7. Mexico
Can you travel to Mexico without a passport? Yes!
Now that we've covered Canada's serene destination, let's do something different. In my opinion, one of the best places to vacation without a passport is to be in Tijuana, Mexico.
A short drive from San Diego and you will be moved to another world full of culture, good foods, and rental of Mexican villas.
There can be a lot of view on Mexico, most of which is driven by Netflix's desire to create popular shows focusing on drug cartels and violence.
There is a lot more to Mexico than Mexico and Tijuana is a fun introduction to Mexico's authentic taste in a manageable bite.
However, many thousands of American tourists pass the border each year.
The weekend in Tijuana is extremely popular for young travellers, who want to enjoy a laid-back vibe and party scene. Tequila, craft beer, melting tacos in the mouth, music … it's waiting for you.
Art and design are the two major features of this city whether you visit it in quiet galleries or in architecture. Turista Libre is a great way to see the city.
Jump on these old school buses / mobile bars and get a good understanding of Tijuana and its history and culture. Also, it is a noisy, busy, fun place.
Similar rules of behaviour and safety apply here as they return home. This is not some lawless outpost. It is a piece of a rich and also an ancient culture that you can enjoy!