For most travelers, a visit to a museum sounds like a boring day out; an activity that's only reserved for those who think experiencing the culture of a place involves standing in cues, oohing and aahing at things that you don't really get but pretend to understand with everything you've got. If you've visited one, you've visited them all, right? Wrong! If you're one who likes to indulge in a little bit of peculiar once in a while, I've got a list of the world's most wacky, unusual and not-at-all-boring museums for you to peruse and maybe visit some day.
Museum of Broken Relationships, Zagreb, Croatia
We've all been through bad relationships and some of us even have keepsakes to remember those good times (and the bad!). If the name didn't tip you off, this museum is all about just that. Yep. The Museum of Broken Relationships revolves around "the concept of failed relationships and their ruins", according to the museum website. If you've been through a terrible breakup recently, this just might be the place for you to go to heal. You can even donate something to commemorate your own lost love. If people around you don't understand your pain, this museum will totally empathize!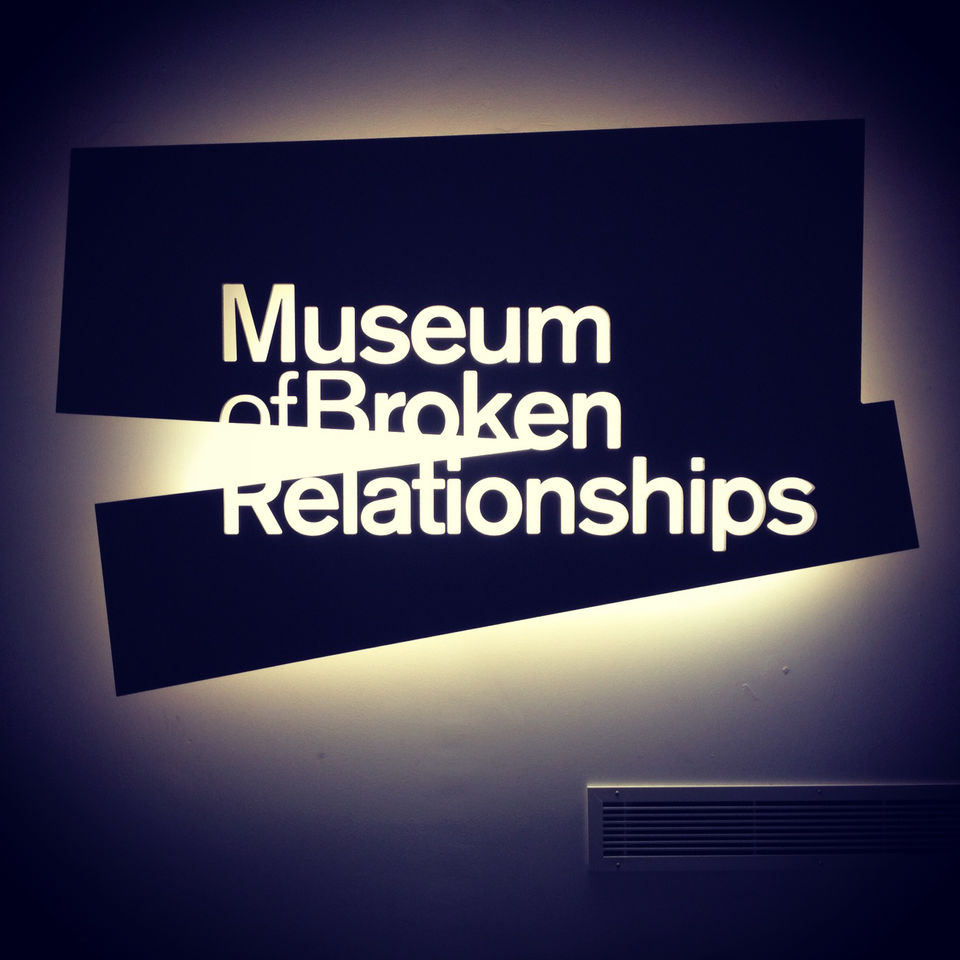 The Museum of Bad Art, Massachusetts, USA
I don't know about you, but sometimes I just don't understand art. I mean, all you'd see on a canvas are some paint splotches and it's supposed to be a masterpiece. Huh? If you're like me and can't discern between good and bad art, the Museum of Bad Art can lend you a helping hand, for its sole purpose is to collect and preserve "bad art in all its forms and in all its glory". It started its life in a small basement, but now the museum has got such a vast collection of awful art that it's got three permanent locations, the New England Wildlife Center, Somerville Theatre and Brookline Interactive Group, and even a virtual gallery! You can also donate to the museum. If you're an exceptionally terrible artist, you too can have your chance to shine!


Sulabh International Museum of Toilets, New Delhi, India
This museum is one of the weirdest on this list because it's dedicated to the history of sanitation and the evolution of toilets. It does not get stranger than this! The Sulabh International Museum of Toilets has exhibits from around 50 countries and has sanitation artifacts from as far back as 3000 BC till the end of the 20th century.  Yes, they've got information of the sewerage system of the Harappan Civilization and the toilets that existed during the Indus Valley Civilization, and whole gamut of all-things-sanitation. So if you want to learn about the history of how we did our business, related technology and etiquette in different parts of the world (I'm not judging; it's totally okay to be interested in weird things!), then there is no place better!


Cancun Underwater Museum, Cancun, Mexico
Forget comfortable shoes! To visit this museum, you will need scuba gear! The Cancun Underwater Museum is located in the pristine waters of Cancun National Marine Park and it houses 500 sculptures located around three and six meters underwater. The sculptures are made from materials that allow coral to grow on them and benefit marine life, and the idea behind the museum is the conservation of coral reefs that are being damaged by pollution and human activity. One of the most interesting museums on this list! As Sebastian the crab in The Little Mermaid aptly said, "Under the sea, under the sea; Darling it's better, down where it's wetter, take it from me!"


You think the concept of beauty in the present world is messed up? What about things like lip stretching, skin tattooing, feet growth restriction and neck stretching? The Museum of Enduring Beauty is dedicated to all that and more! The museum exhibits the standard of beauty since the ancient times until the present and the different practices of cultures around the world. Confucius said that everything has beauty, but not everyone sees it. Boy, was he right!


Momofuku Ando Instant Ramen Museum, Osaka, Japan
College students know the value and worth of instant noodles. They're the real saviors and had it not been for them, many a broke college studens would sleep hungry and morose. The Momofuku Ando Instant Ramen Museum is dedicated to instant noodles and cup noodles and their creator and founder, Momofuko Ando, the hero of the people. This museum also has an instant ramen workshop where you can learn how to make fresh noodles and a noodle factory where you can assemble your very own personal cup noodles. It's raining ramen, hallelujah!


Museum of Witchcraft and Magic, Cornwall, England
The Museum of Witchcraft and Magic is dedicated to…well, witchcraft and magic in Europe. Exhibits devoted to Folk magic, Wicca, Satanism, Freemasonry, or whatever cult you can imagine in the occult, are all there for your viewing pleasure. Ritualistic talismans, chalices, swords and every object associated with magic can be found here. This museum also has a large library with over 3000 books on magic and the occult. So if you want to spend a literally magical evening in England, this museum is your best bet!


The Torture Museum, Amsterdam, Netherland
If you're a fan of the macabre, make sure that you book your tickets to Amsterdam soon. The Torture Museum is just like it sounds; it's got a collection of more than 100 different torture instruments from the medieval times—some more obviously painful than others (Don't worry though; if you don't understand how they were used, each instrument is accompanied by a description!). If you haven't had enough, Amsterdam has another museum called the Museum of Medieval Torture Instruments. Wince your way through the wonderful assortment of torture devices for an absolutely lovely day out!


UFO Museum and Research Center, Roswell, USA
If you believe in aliens, there's not a chance in the world that you haven't heard or read about the Roswell UFO Incident of 1947. What was supposed to be a United States Air Force surveillance balloon crashed near Roswell, New Mexico, but people claimed that it was an extraterrestrial spaceship. Despite reports published by the US military, people still continue to believe that the Roswell Incident was a giant government cover-up. This museum has got all the information and remnants from the supposed crash, along with other alien encounters in the US.  Believers and skeptics alike are welcome!


Gelato Museum, Emilia Bologna, Italy
Gelato (Italian ice-cream) is probably the best thing to happen to this world. If you agree, I think it's time for you to head to the Gelato Museum in Italy, a museum that traces the history of this sweet delicacy from when it was simply an Arab pomegranate sorbet recipe in the 11th century, to what it meant to the Romans, until its "democratization" in the 20th century. If you too scream for ice-cream, then a visit to this museum is a must!