The Lemon Tree Amarante Beach Resort is everything that the brand 'Lemon Tree' stands for-young, vibrant, fun and pocket friendly. At the same time it enjoys a great location- 250 metres from the Candolim Beach to be precise- and offers personalized hospitality experience.
We reached the Lemon Tree Resort after a comfortable and scenic one-hour drive from the Dabolim Airport, Goa. The signature lemon fragrance and a bright cheerful lobby welcomed us. The check-in was smooth and fast.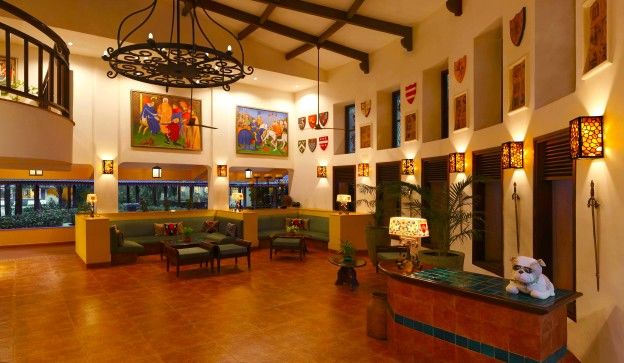 The Rooms
Lemon Tree Amarante Beach Resort has 65 rooms of which six rooms and a suite are located in the heritage building- a century old Portuguese Mansion restored to offer a modern hospitality experience.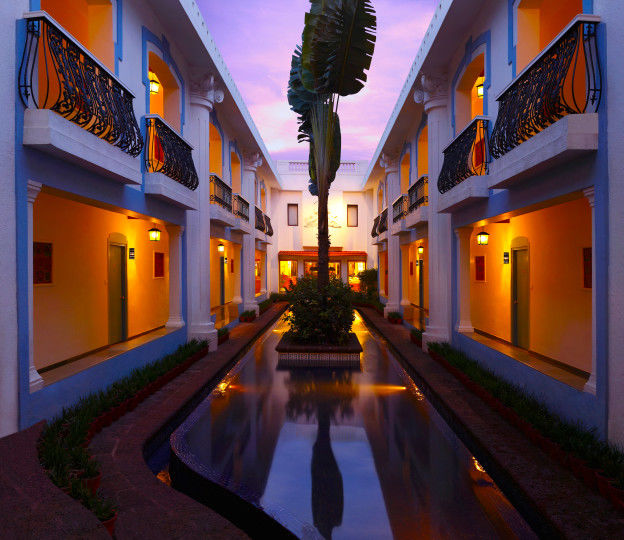 This was my second time at this property. While last time we stayed at the Heritage Suite that had a private plunge pool, this time we checked in the Terrace Studio Room. The room had a terrace balcony, a small living room, bedroom and well an expansive bathroom! I was pleasantly surprised to see my framed pictures in both living and bedroom as soon as I entered. Little things that some hotels do go a long way in creating great memories.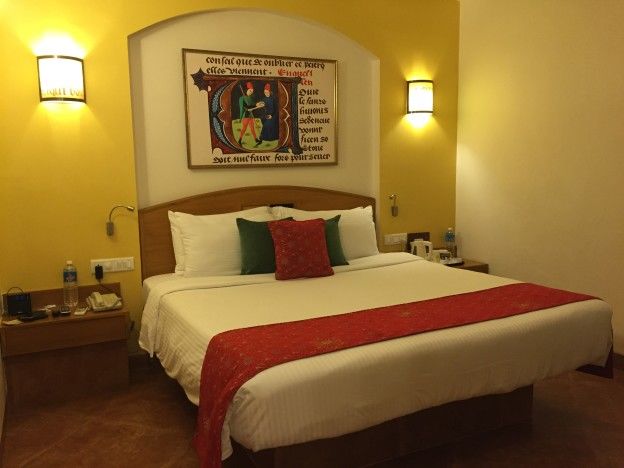 No points for guessing that I spent time lounging on the terrace. The room actually made me feel as if I was staying in a quintessential Goan house. Thank God I didn't feel trapped in one of those assembly-line hotel rooms.
Details matter. The bathroom, which was huge, had a lip balm and body butter from Amatrra besides the regular toiletries that hotels stock. Considering this is a midscale hotel and not a luxury resort the fact that they had paid attention to details and added that extra bit to regular offerings did leave me quite impressed.
Beyond Rooms
The resort has an outdoor swimming pool, small spa Fresco, fitness centre, business centre and conference area. The dining options include- pan-Asian restaurant - Republic of Noodles; an open air bar - Mango Bar and a 24×7 multi-cuisine coffee shop - Citrus Café.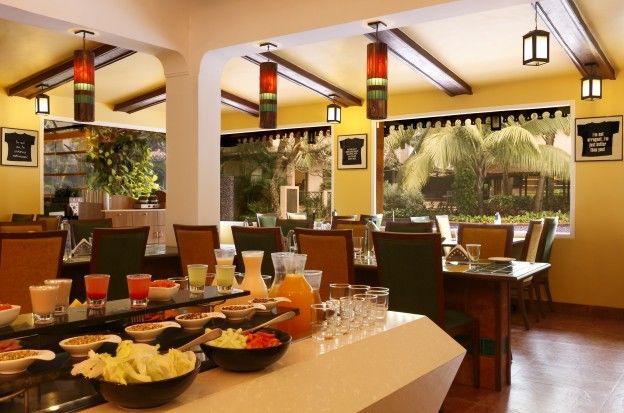 Republic of Noodles is a must try restaurant when in Goa, even if you are not staying at the hotel. It serves dishes from Thailand, Cambodia, Vietnam, Indonesia, Malaysia, Singapore and Myanmar. We loved their Banana Leaf Wrapped Grilled Fish in Balinese Spices, signature clay pot curries and for dessert Water Chestnut Rubies and Longan in Coconut Milk.
The breakfast was served every morning at the Citrus Cafe with live stations and a hearty buffet spread. Being a resort property the breakfast was served till 12 noon- another detail that the hotel has paid attention to. You must try their Pizza Dosa for breakfast. The chef tells me the Pizza Dosa is his Trump Card. Well it surely is. I would love to go back just for the Pizza Dosa!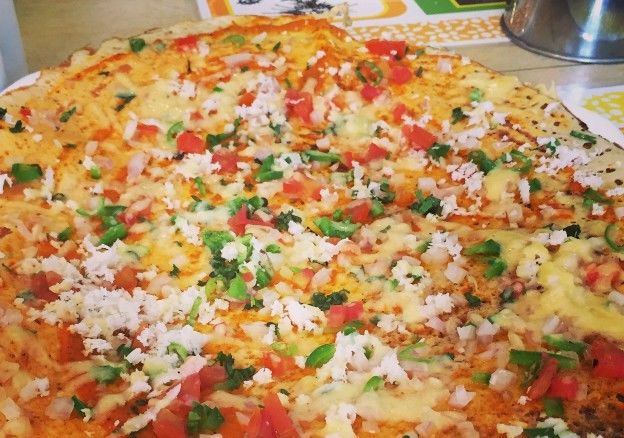 We spent our evening sipping cocktails at the poolside and enjoying the Goa monsoons. The hotel offers some economical happy hour packages that you must avail.
The spa is not exactly plush but their Signature Lemon Massage is worth trying.
Interiors wise it's a bright vivacious resort property with framed quirky quotes- a Lemon Tree signature, adorning the wall besides the artefacts, stained glasses and interiors that evoke the 15th century Portuguese romance.
An Extra Star for Lemon Tree Hotels
Lemon Tree chain of hotels employs differently abled staff in different departments across its properties. Its chairman and founder, Patu Keswani has been recognized for being a great employer as Lemon Tree Hotels gives equal opportunity to differently abled and the company is also a fun place to work with senior employees sporting ponytails and stray canines on its rolls!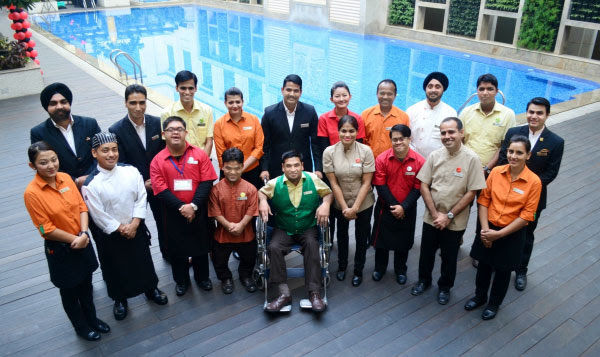 The Goa property has many speech and hearing impaired employees as well. Every morning at breakfast one such employee- Sandeep- served us with great zeal and a big smile. He would hand us over a notebook where we could jot down whatever we needed. The service was flawless! I left a hand-written note for him when I left the property- something I haven't done in a long time; at least not at a hotel. His smile also made me believe that happy employees are key to brand success.
Honestly speaking, on usual parameters such as service, food, location etc I would have given the hotel four stars; but their employees deserve an extra one star! Yes that makes it full five stars for the Lemon Tree Amarante Beach Resort.
Fast Facts
- Located on Candolim Beach in North Goa, the resort is 250 metres from the beach.
- The resort offers 65rooms an d suites. All ground floor rooms provide access to a common garden. The six heritage rooms and suite, housed in a century old Portuguese mansion, have been restored to their original glory and appointed with all modern amenities.
- Room categories include Superior Room; Heritage Room; Terrace Studio Room; Heritage Studio Room; Heritage Suite (with a private swimming pool).
- Distance from: International airport 41 kms (approximately 50 minutes), Domestic airport 41 kms (approximately 50 minutes), Railway station 45 kms (approximately 75 minutes)
- Dining Options: Citrus Café, a multi-cuisine coffee shop that offers an eclectic all day dining menu including Indian, European, American and pan-Asian cuisine. Extended breakfast is available in the coffee shop from 7:30 a.m. to 12 noon daily. Republic of Noodles: Lemon Tree's pan-Asian restaurant showcases the best of popular food from Thailand, Vietnam, Singapore, Cambodia, Indonesia and Myanmar.
- Mango Bar: An open-air bar adjoining Republic of Noodles. Set around an old well, the bar offers an eclectic selection of wines and spirits. Also In Room Dining is available 24×7.
- Tangerine is the 594 sq. ft. well equipped conference space with 40 theatre style seating.
LEMON TREE AMARANTE BEACH RESORT: REFRESHINGLY DIFFERENT: OVERVIEW
LOCATION ☆☆☆☆☆
SERVICE ☆☆☆☆☆
FOOD ☆☆☆☆
CONNECTIVITY ☆☆☆☆
Wow! ☆☆☆☆☆
Summary:The Lemon Tree Amarante Beach Resort is everything that the brand 'Lemon Tree' stands for-young, vibrant, fun and pocket friendly.
This blog was originally published on The Hotel Explorer.