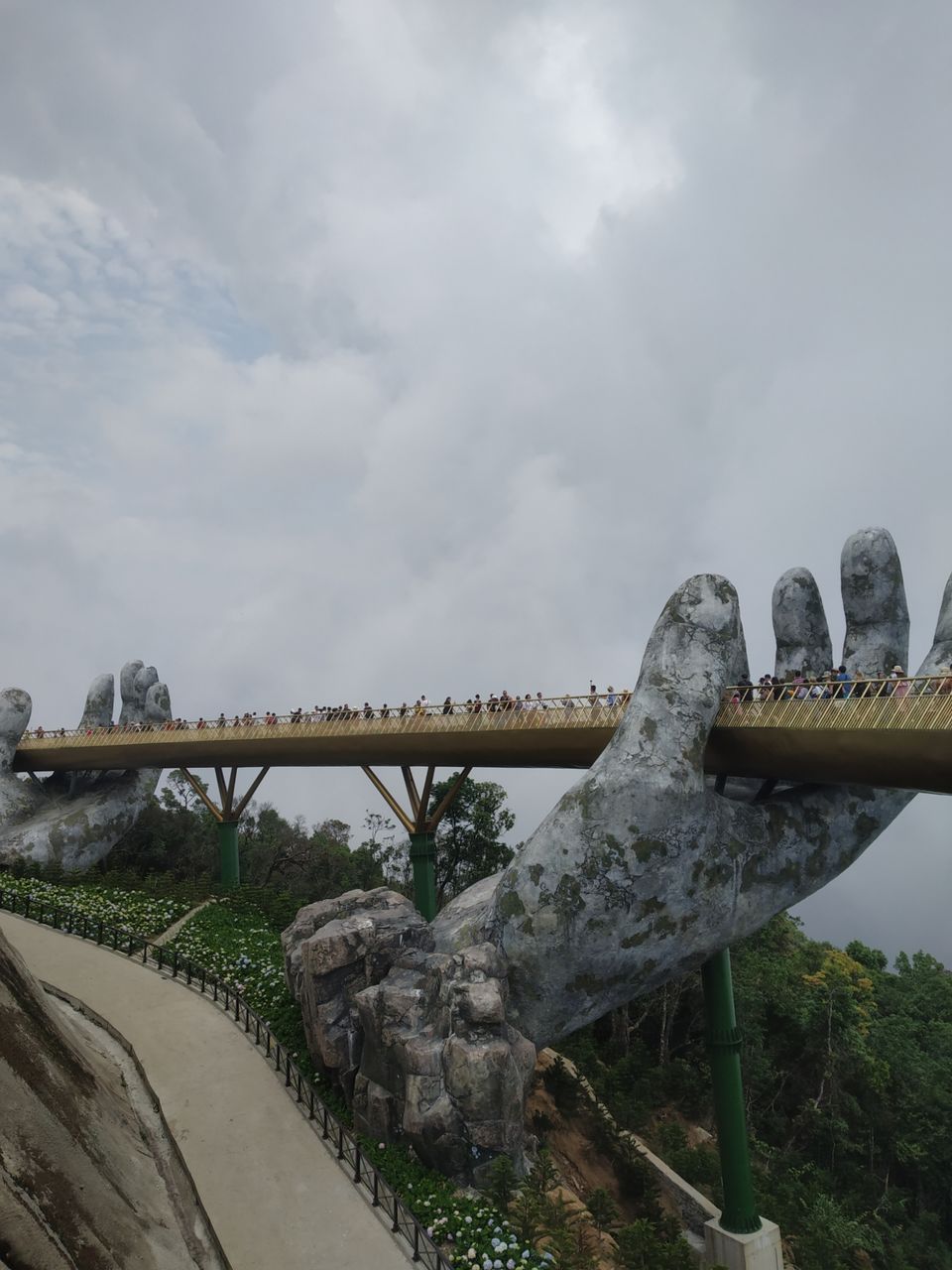 So as I start a big hello guys! It was a dream for me to travel solo to Vietnam. Finally it was the D day And I was so excited because it's gonna be my first international Travel. It all started with a stamp on my Passport, boarded the Thai Air Asia flight from Visakhapatnam to Ho chi Minh City via Bangkok at 12:15 am and at present I am at Don mueang international airport (Bangkok).
Waiting for my next connection to Ho chi Minh City (Saigon) South Vietnam. I will be reaching there by 9:30 am
I have some big plans Today in Saigon.
Will soon update at the end of the day.
After reaching Ho chi Minh city tan( Tan son nhat airport) visa on arrival and immigration is done . Came out at 11:30 am took a Grab(cheap transport app in Vietnam) to my hostel. My room is pretty good actually at centre of district 1. It's name is city poshtel.Very neat and clean also.Do check out. It will be in Budget.
After checking in, I went outside for a local Sim and I went to viettel(The largest network in Vietnam) official Store in district 1 to purchase it and got it for 150000 dongs for 12GB data/30days. And then went to exchange notes at Exim bank branch at district 1. Got a good deal though.
After doing a small meal of pho noodles(30,000 dongs) which was excellent I have left to the war Remnants Museum (Entrance ticket 40,000 dongs)and information over here is so cool and very historical.
And then I went to Independence palace(40,000 dongs) which was quite beautiful and walking through the central park I have went to Saigon central post office which was started in 1890s and quite opposite to it you can see Notre dame cathedral.
And then I have went to the tallest building in Vietnam country the bitexco financial tower walking through the beautiful times square of ho chi Minh city.
The entrance ticket to visit the sky deck of Bitexco financial tower is of 200,000 dongs. But it's ok to give that much for that view. My suggestion is to go around 5/5:30 in the evening so that you can see both the Before lights and after lights view.
And after This hectic schedule in this City I have went back to my room and Freshed up and came back to street searching for best Banh Mi(45,000 dongs) and I have tasted it finally. It is great. And it ended my first day in the largest city of the country.
Sleepy sleepy ....
I have shared some images . I hope you like it.
Bonus- I have added some images which I have captured from the flight during Bangkok to Vietnam. The sight Is just surreal. Do check.
And please comment your views and suggestions & any queries regarding Saigon city or Vietnam visa Related Queries. I'm ready to help.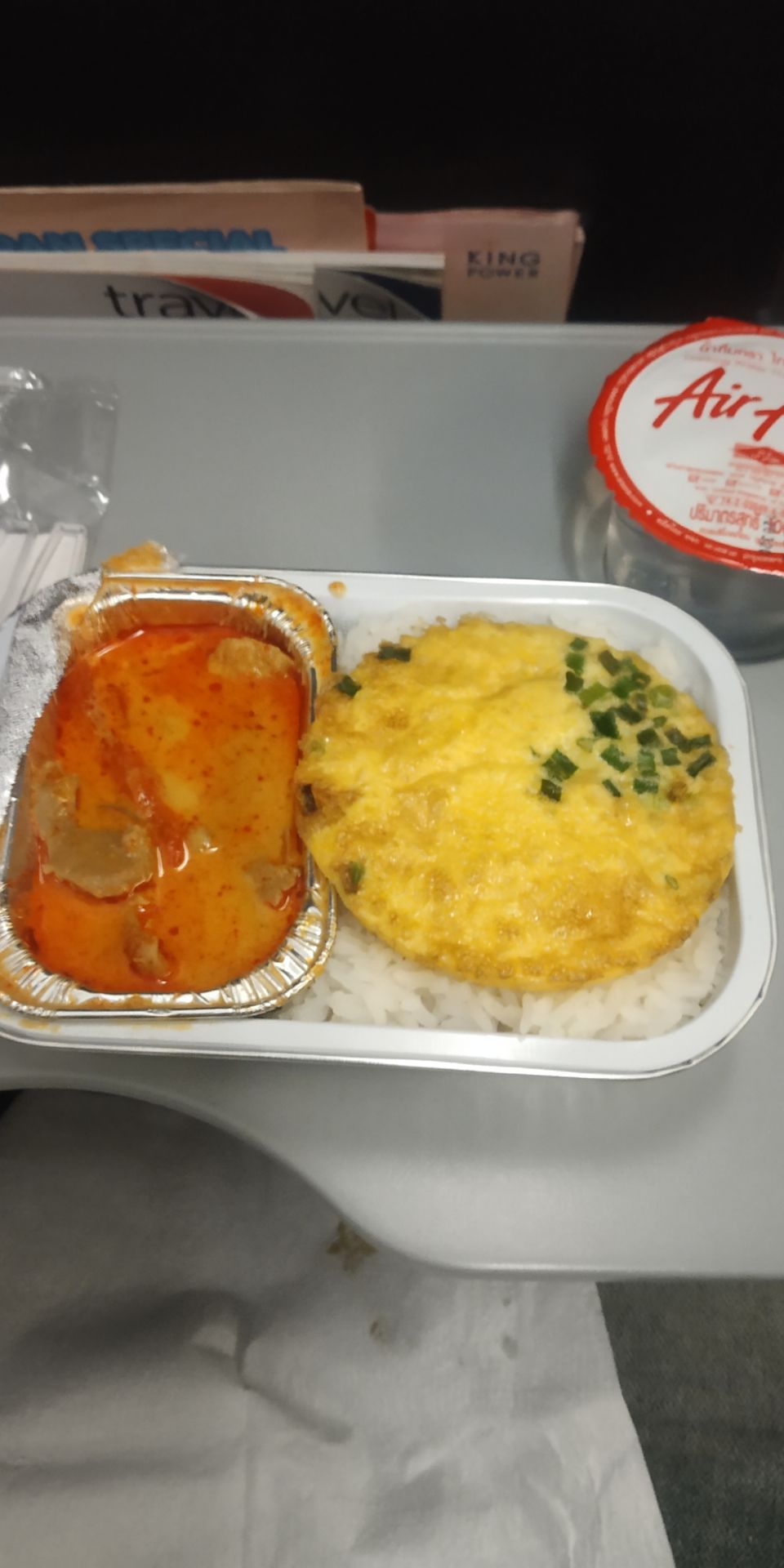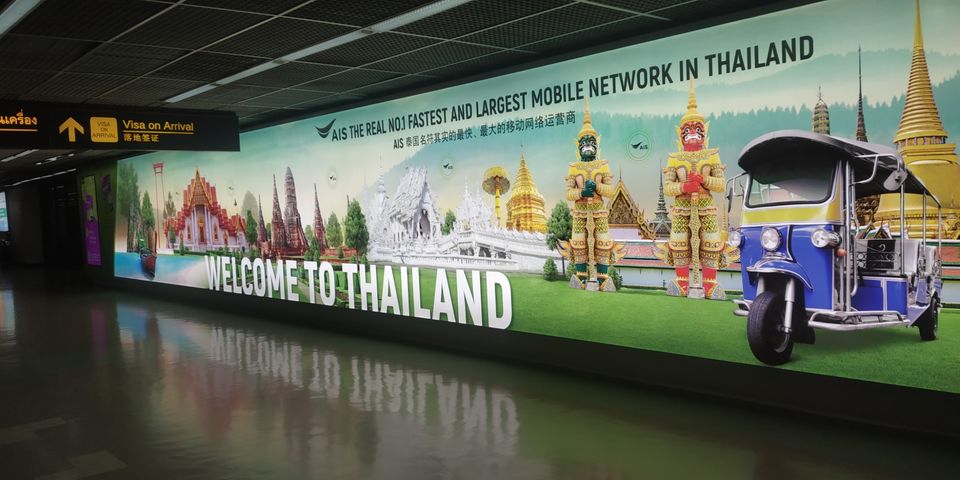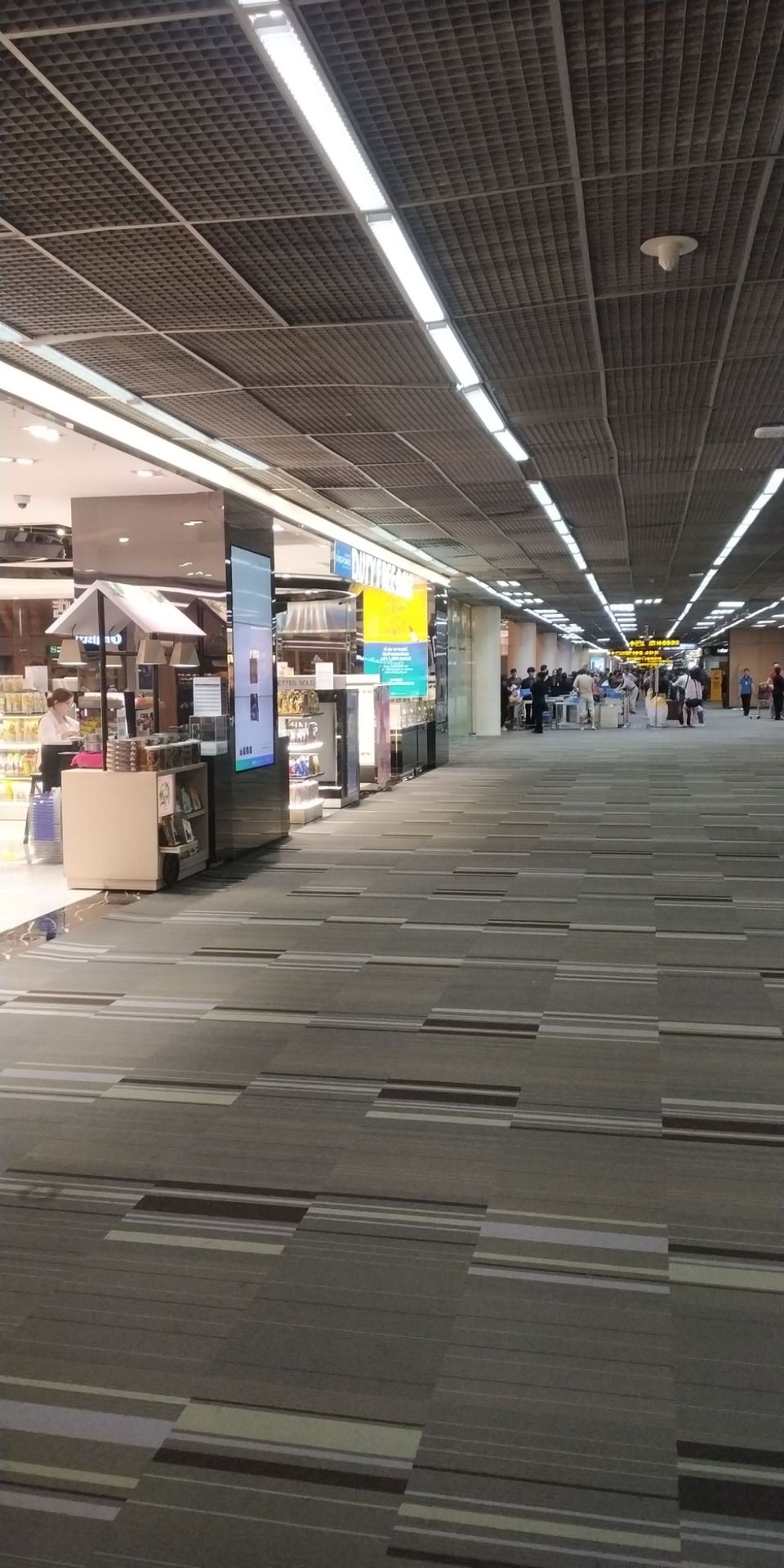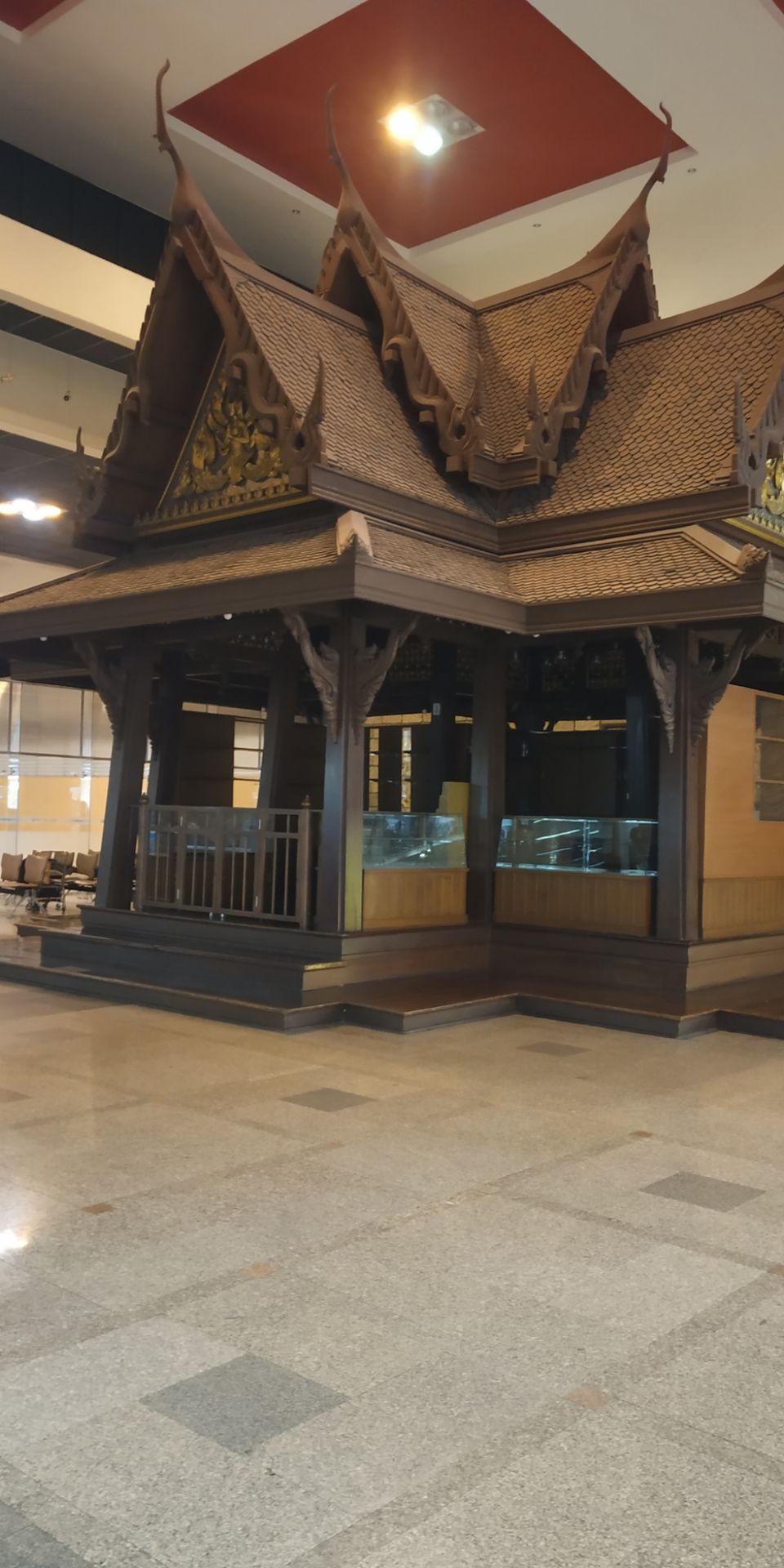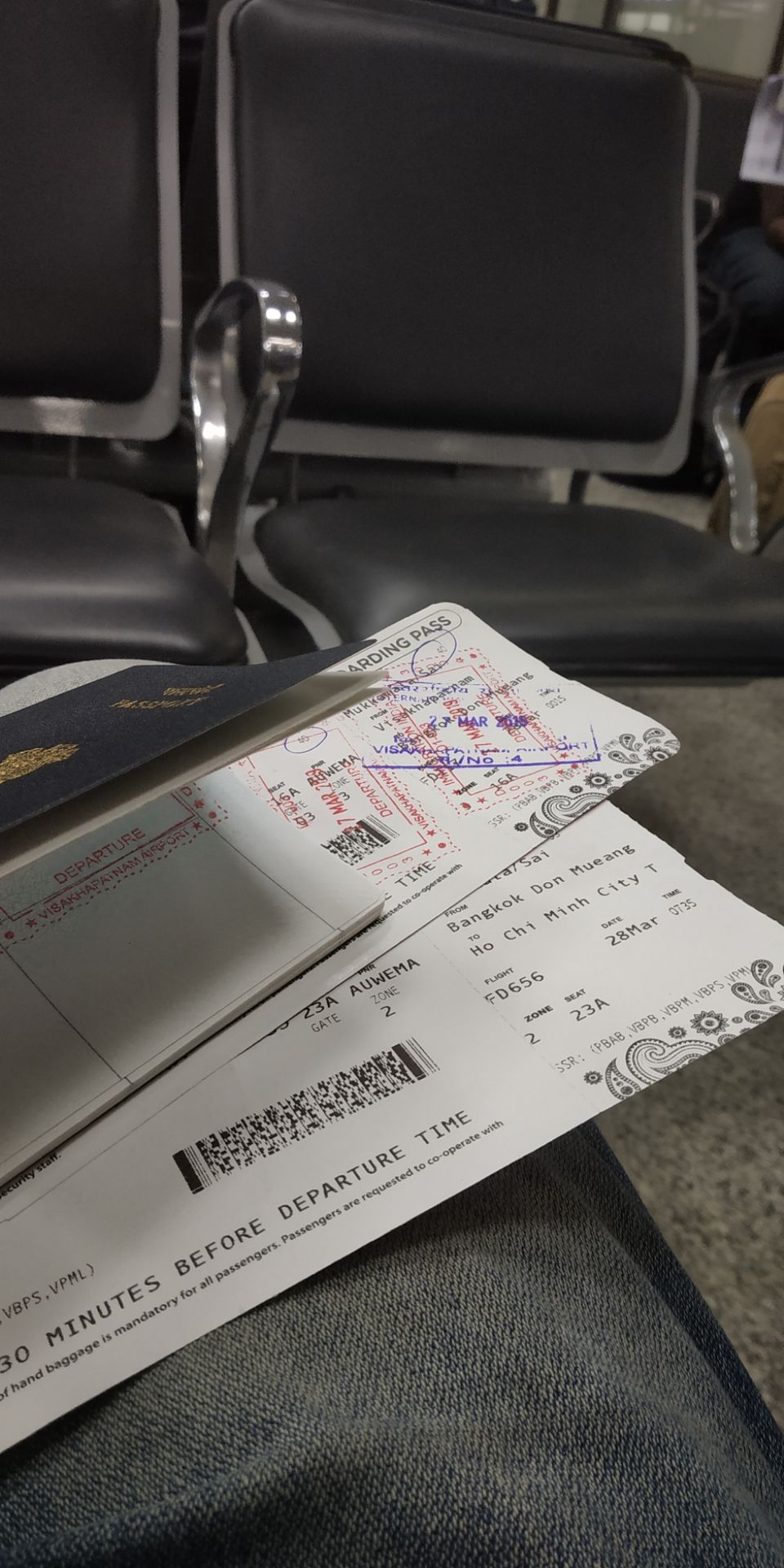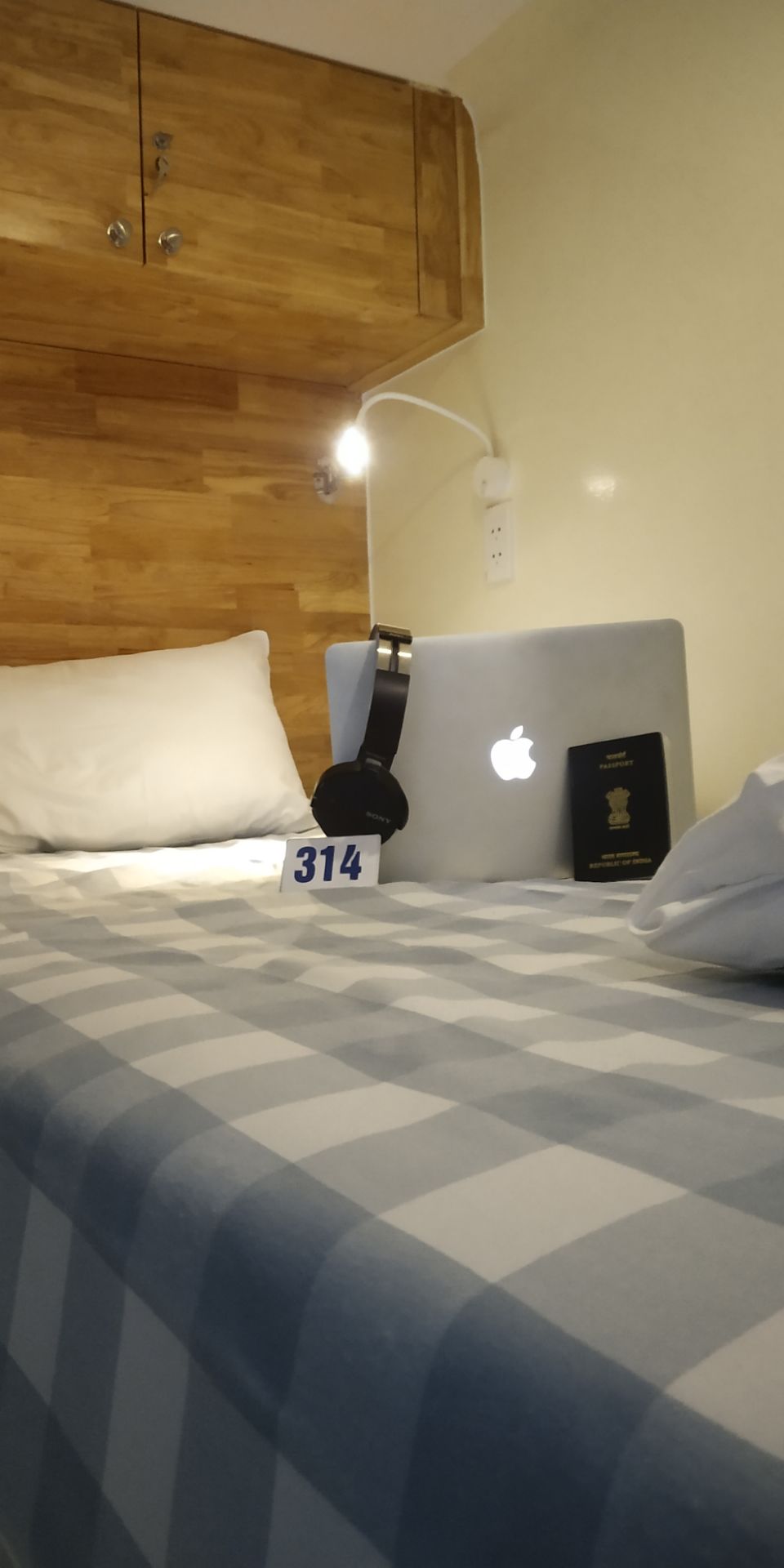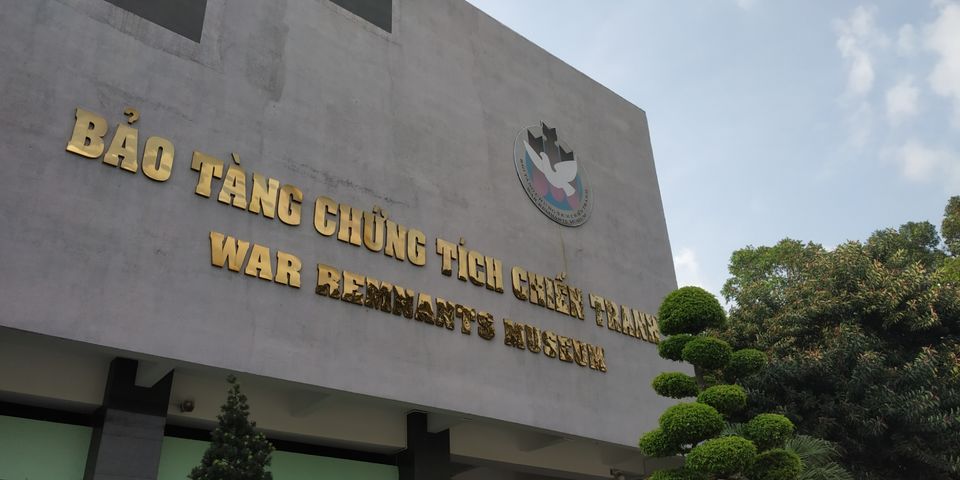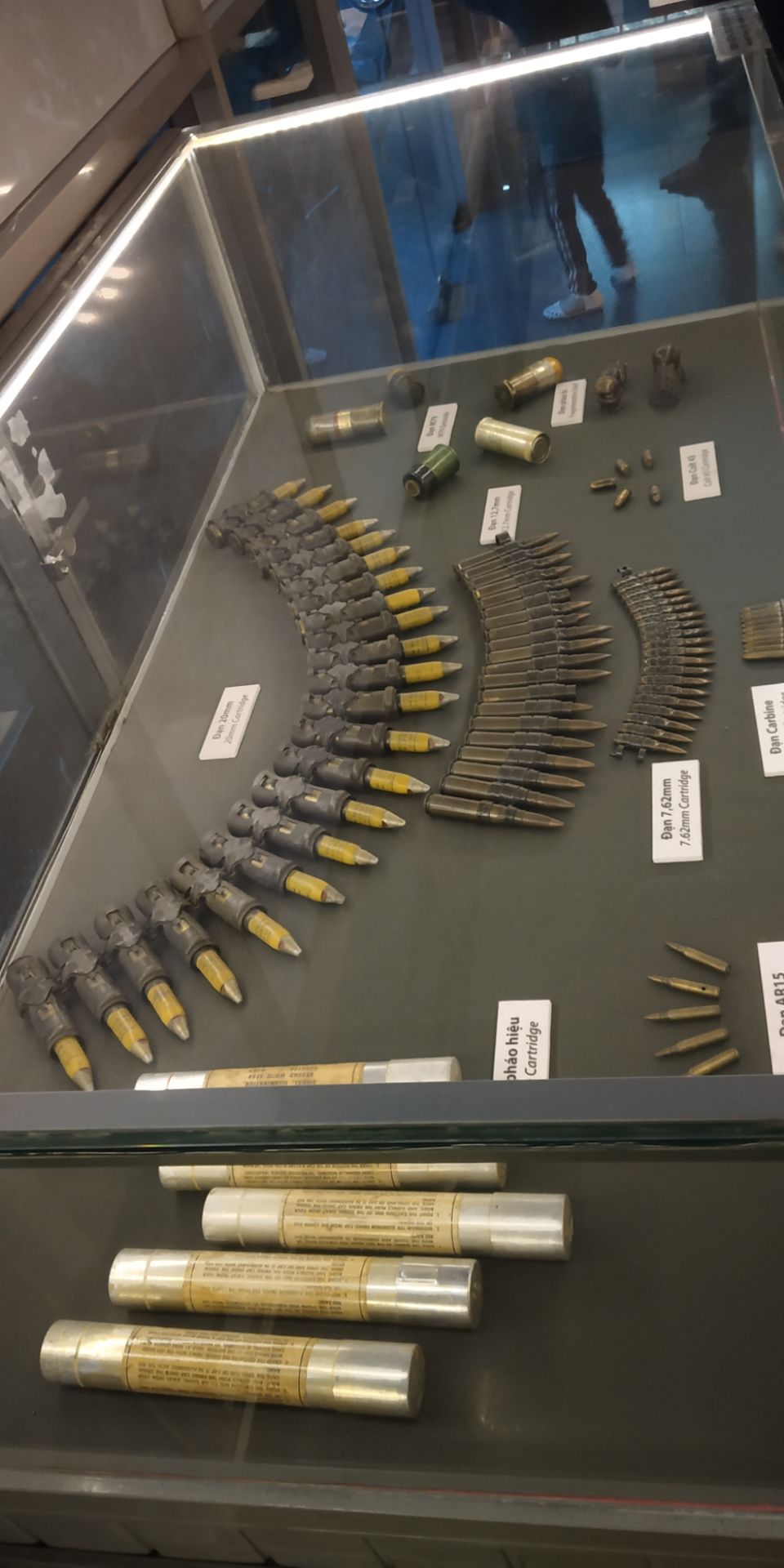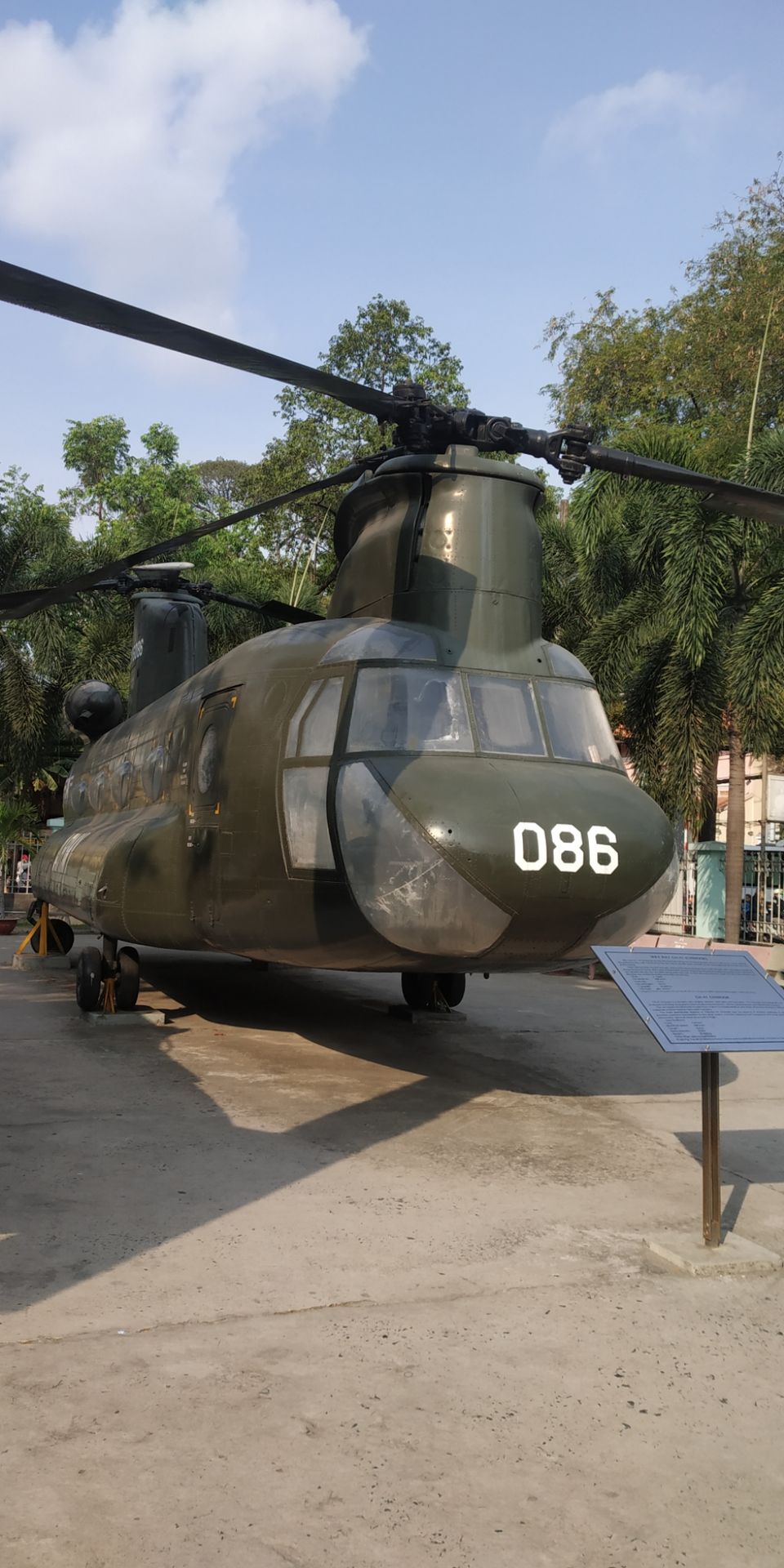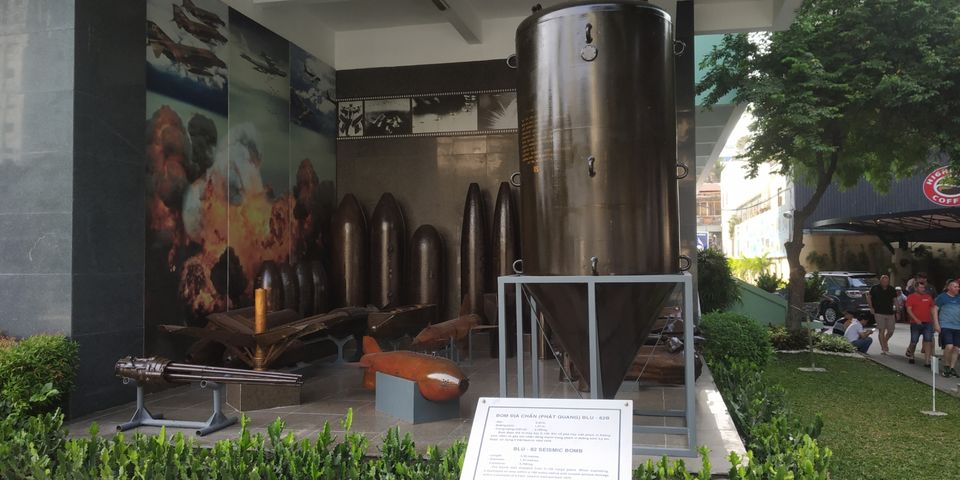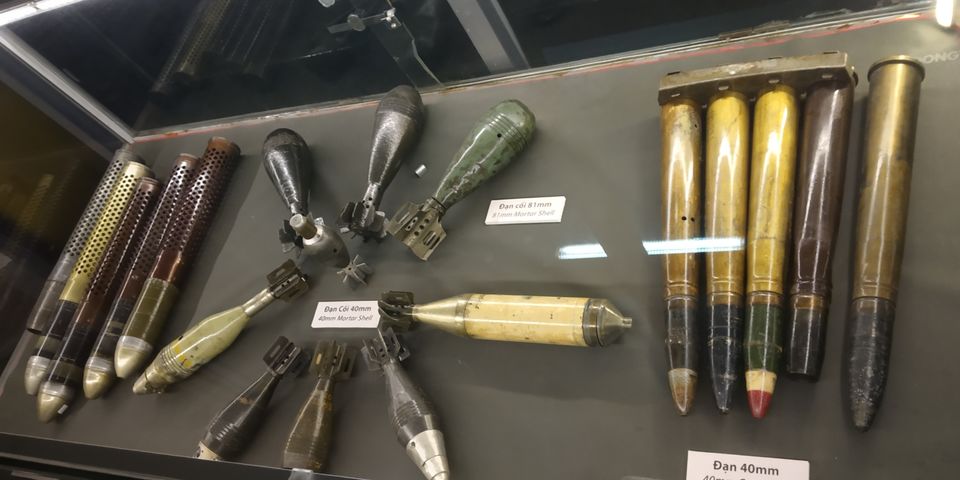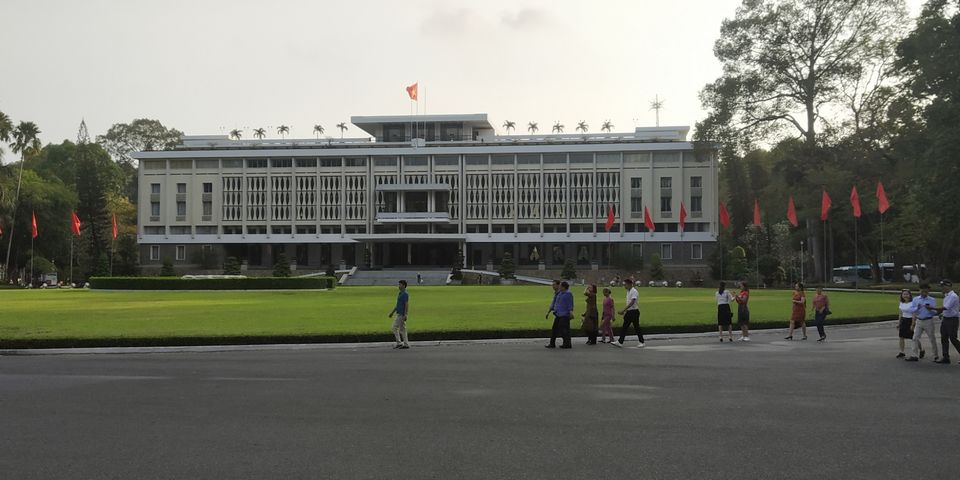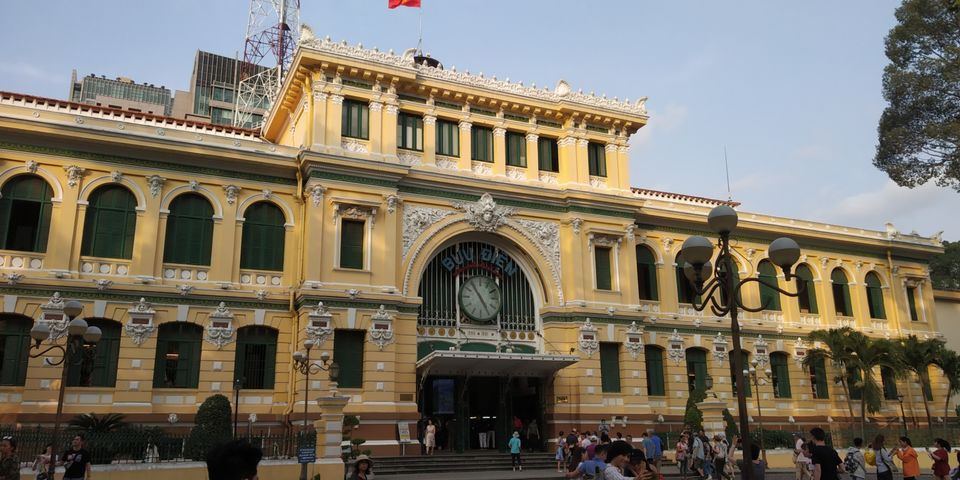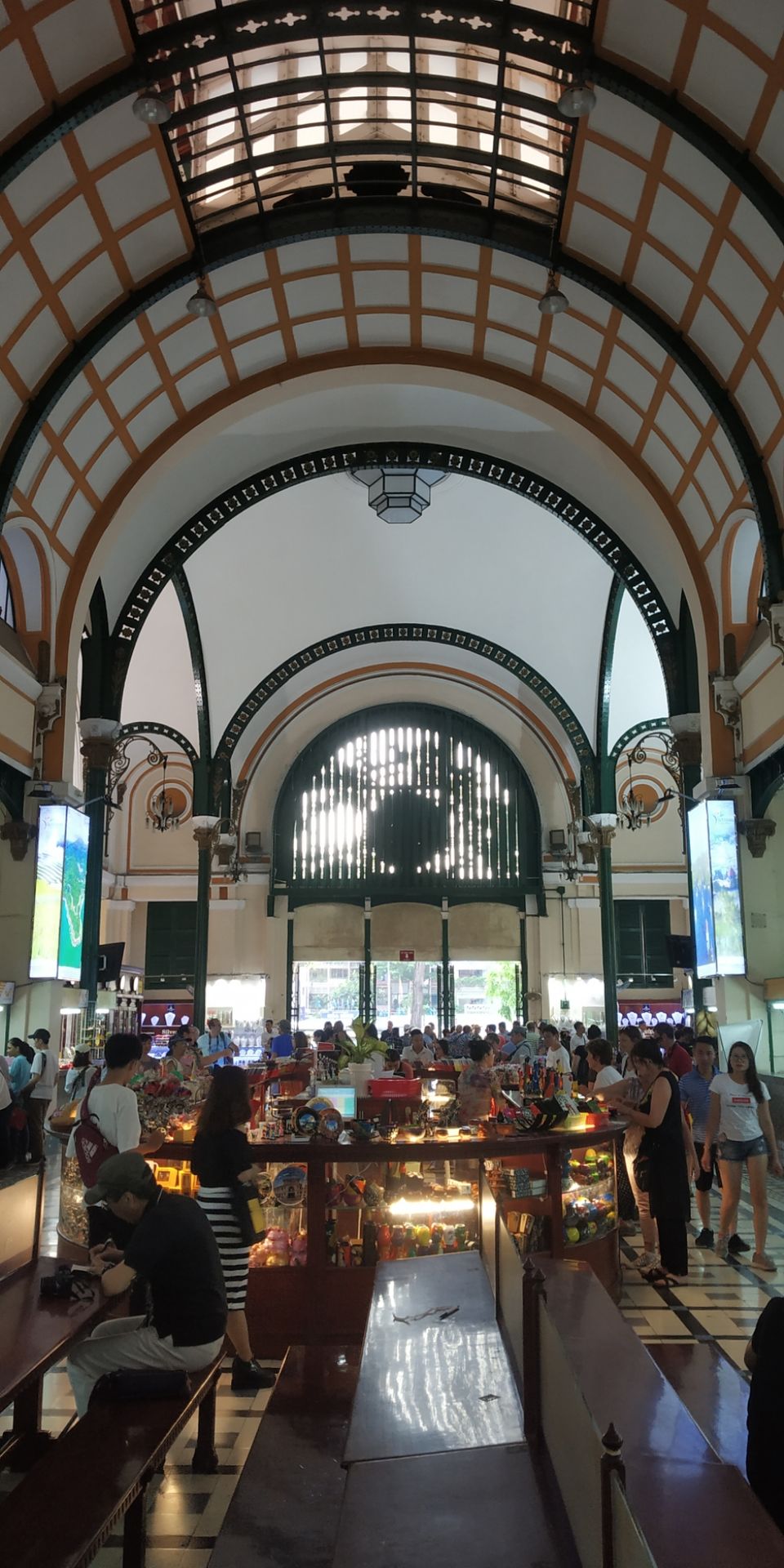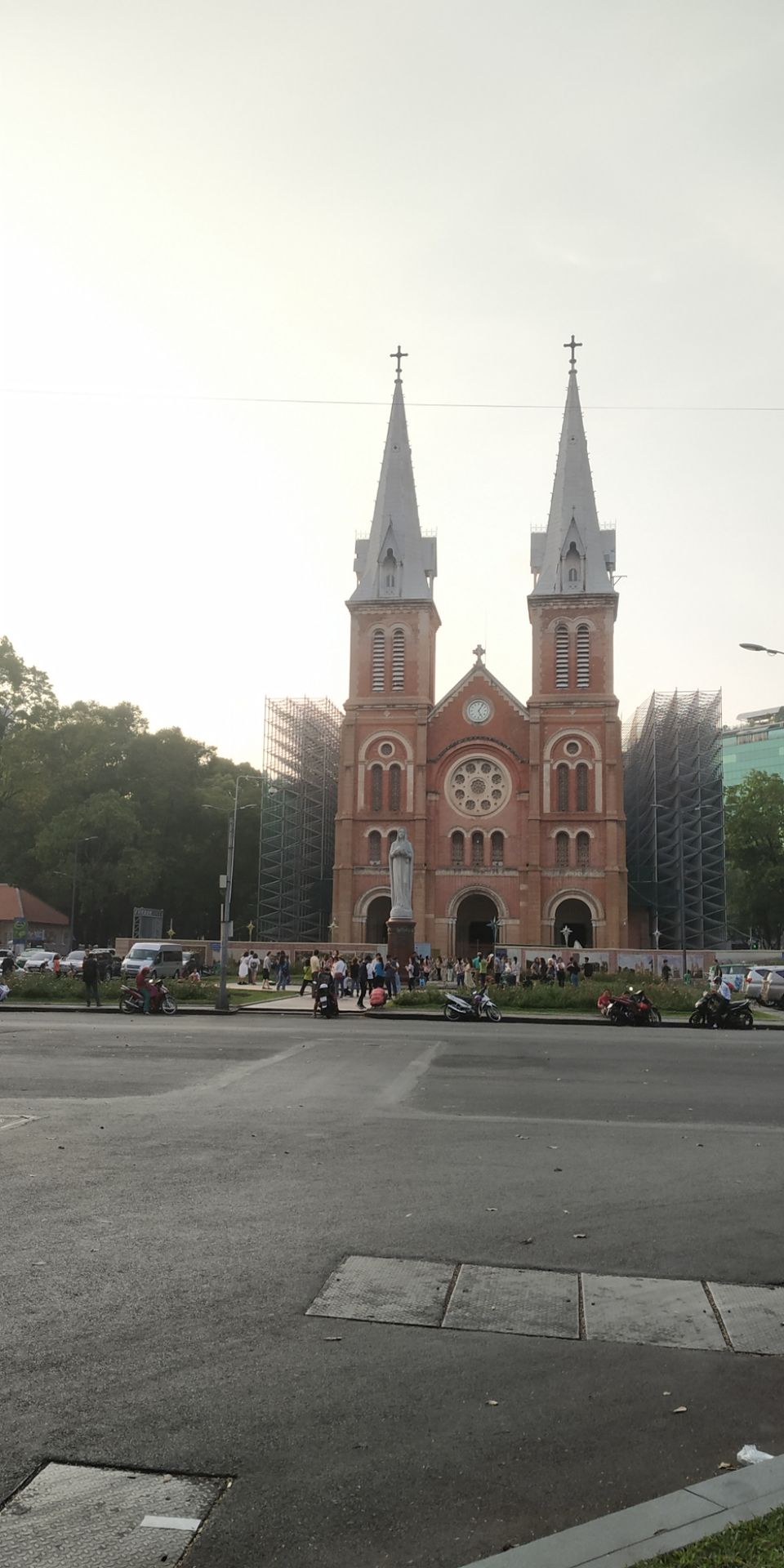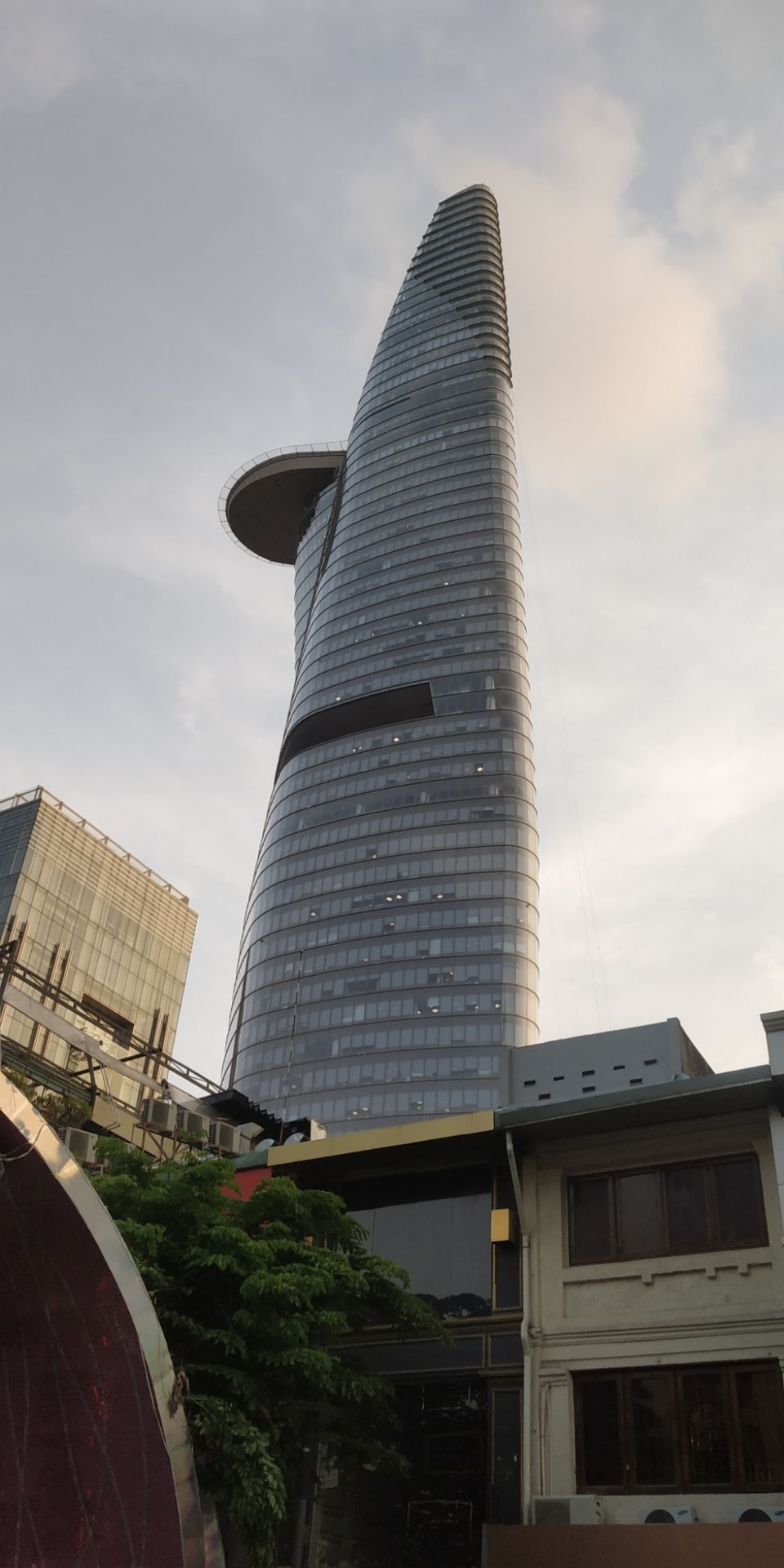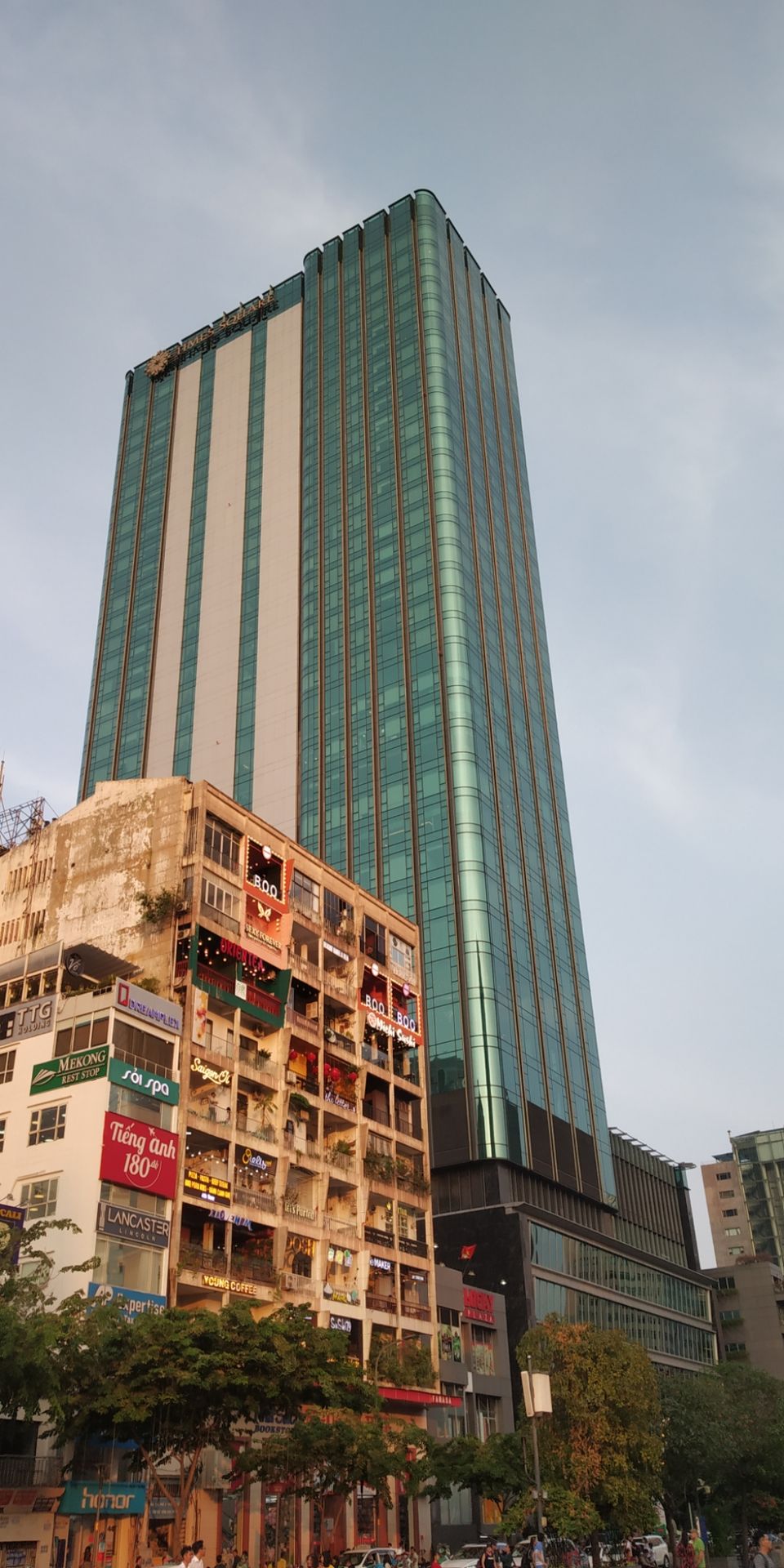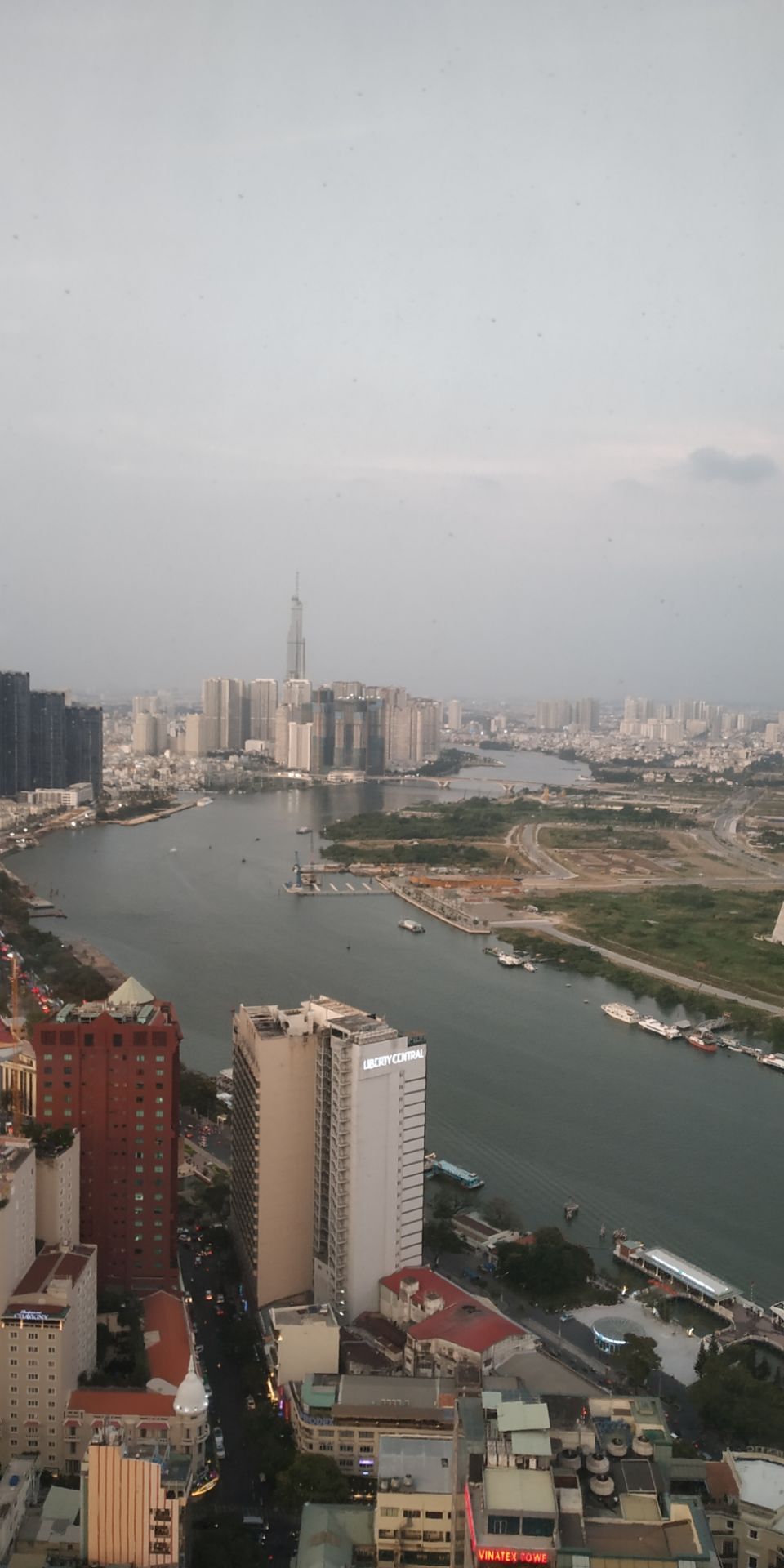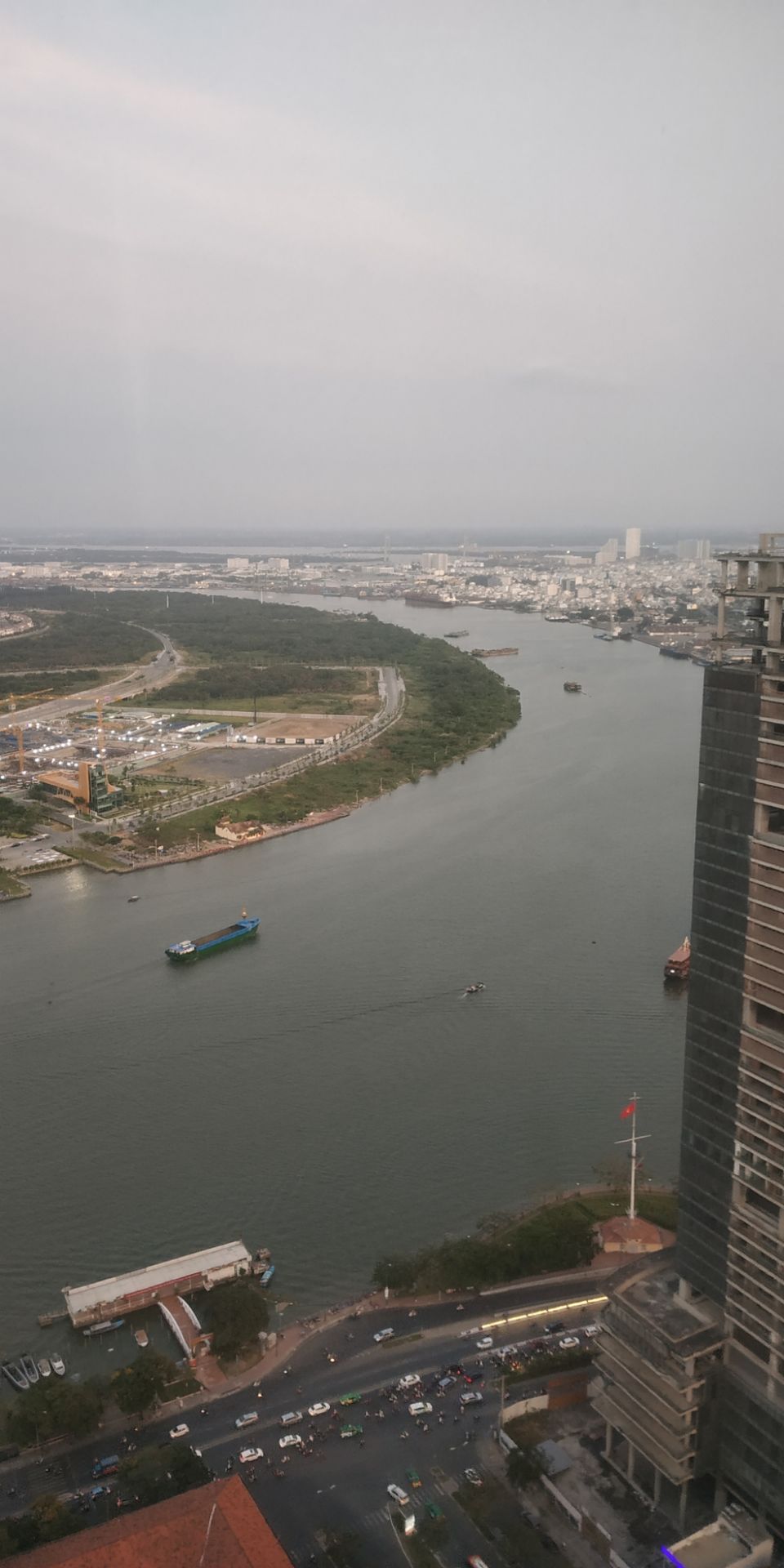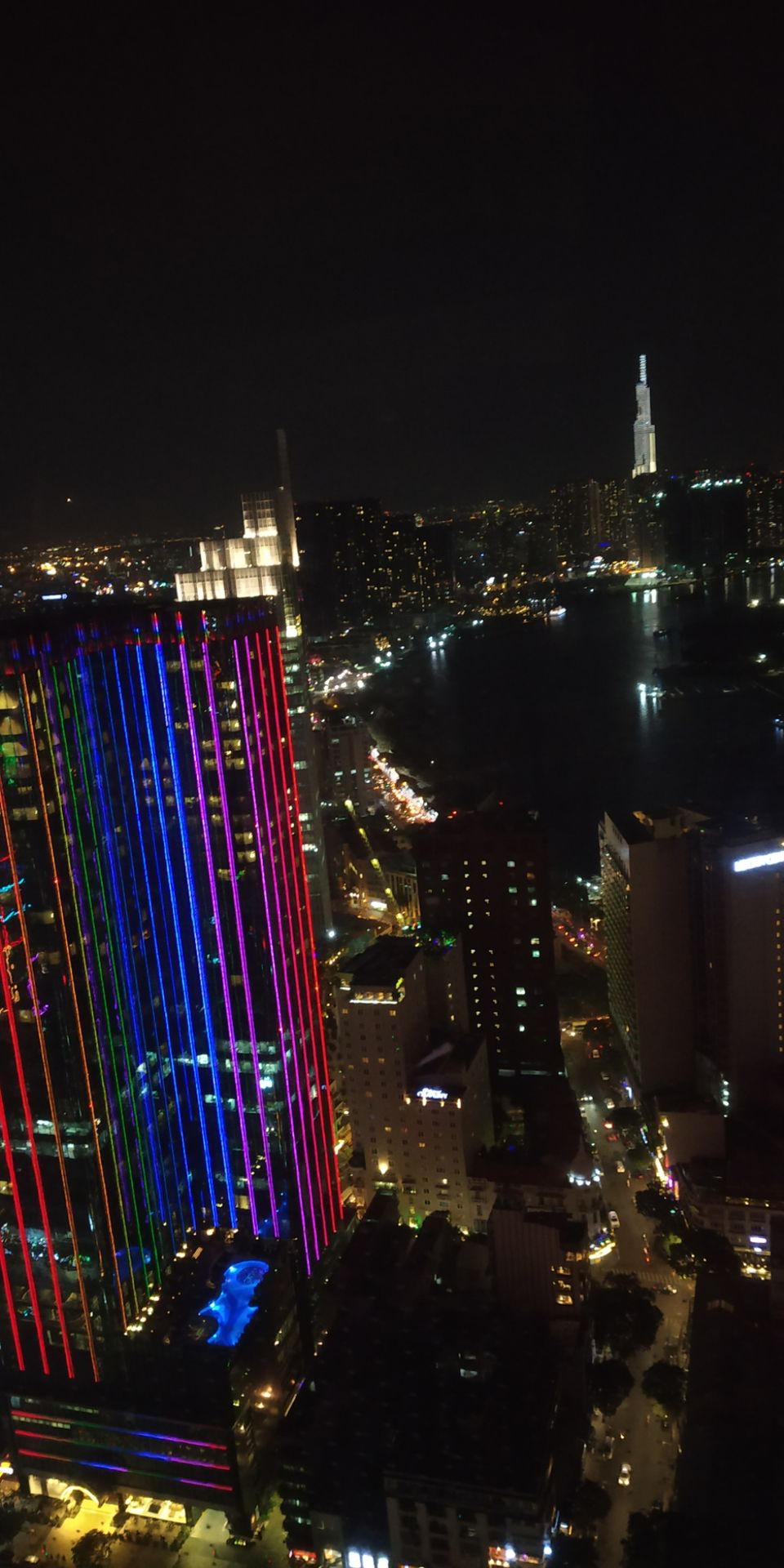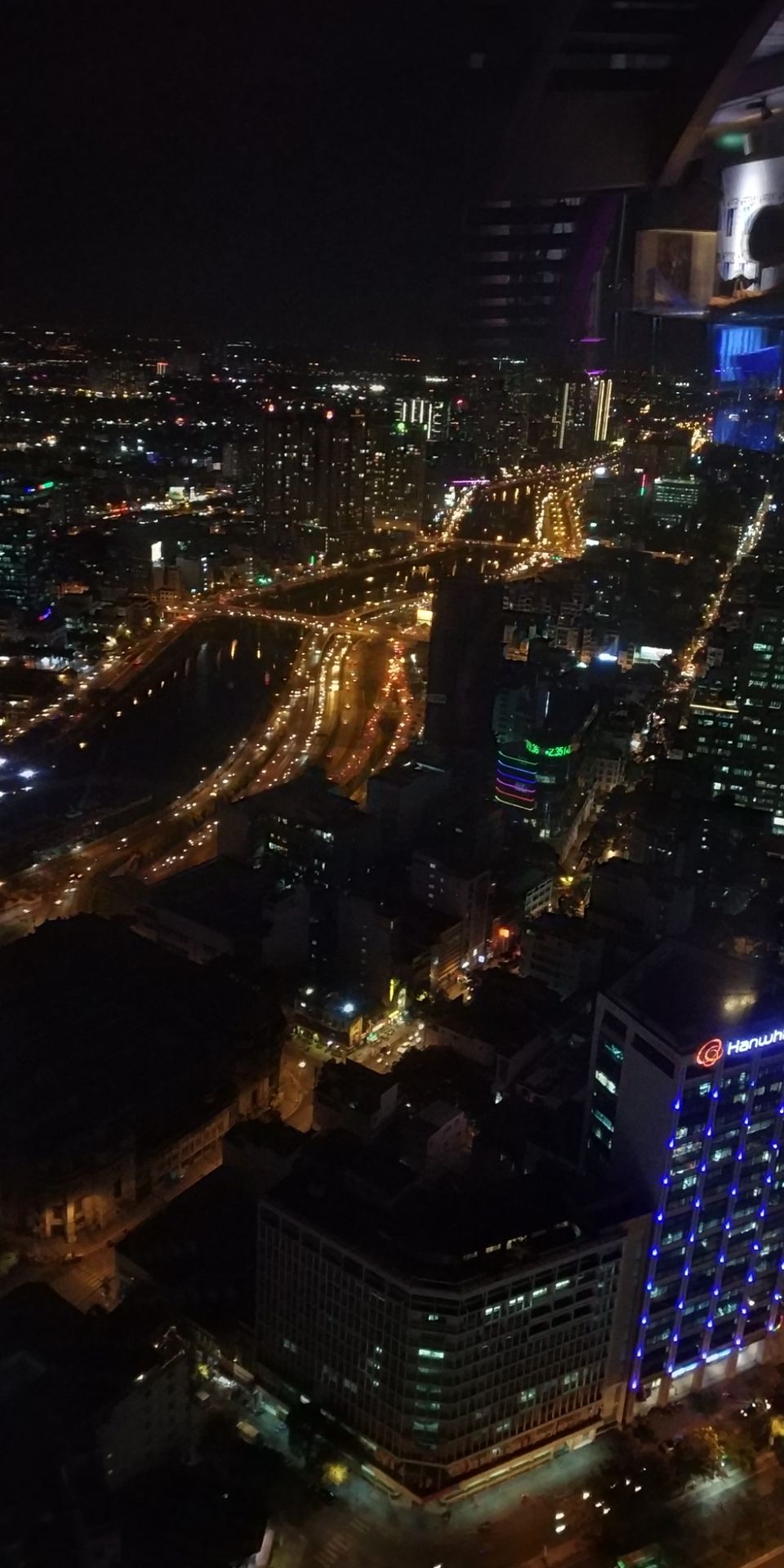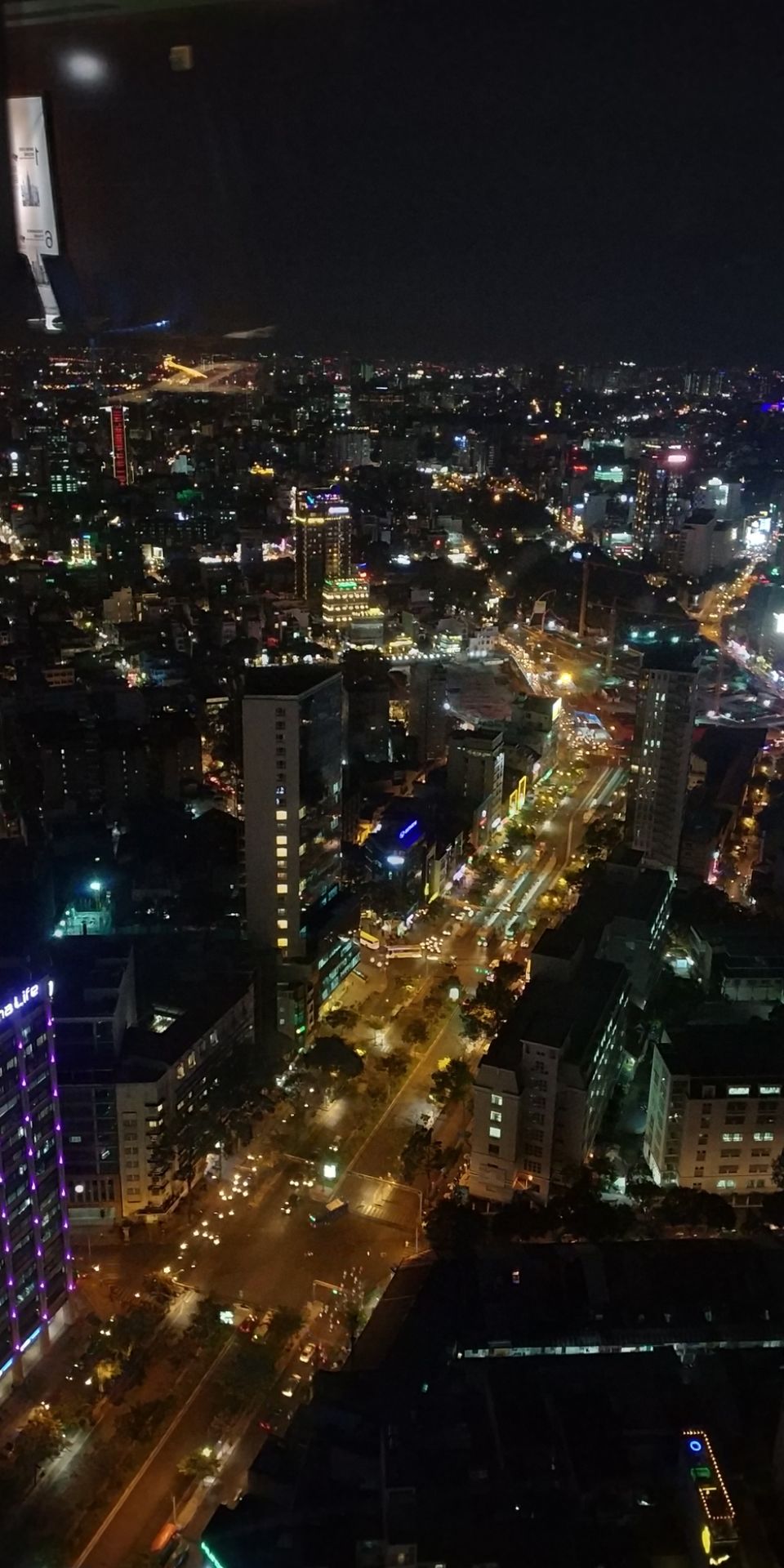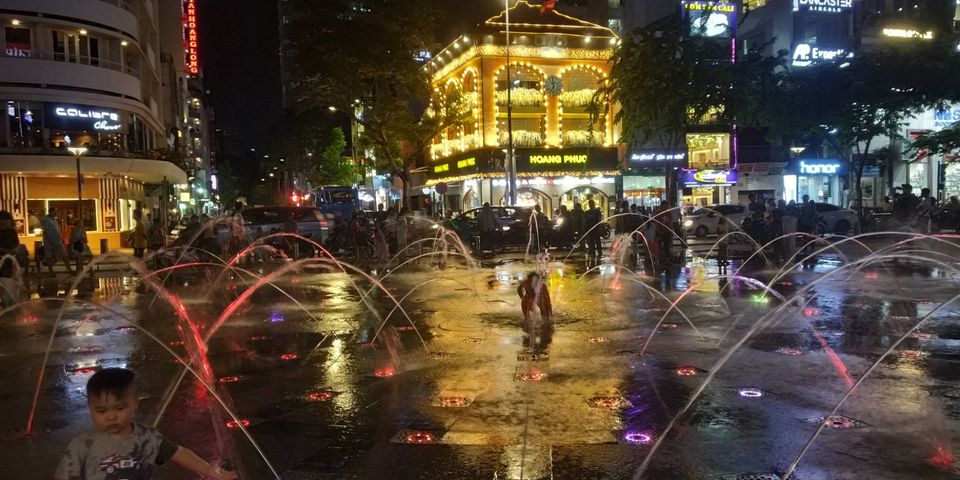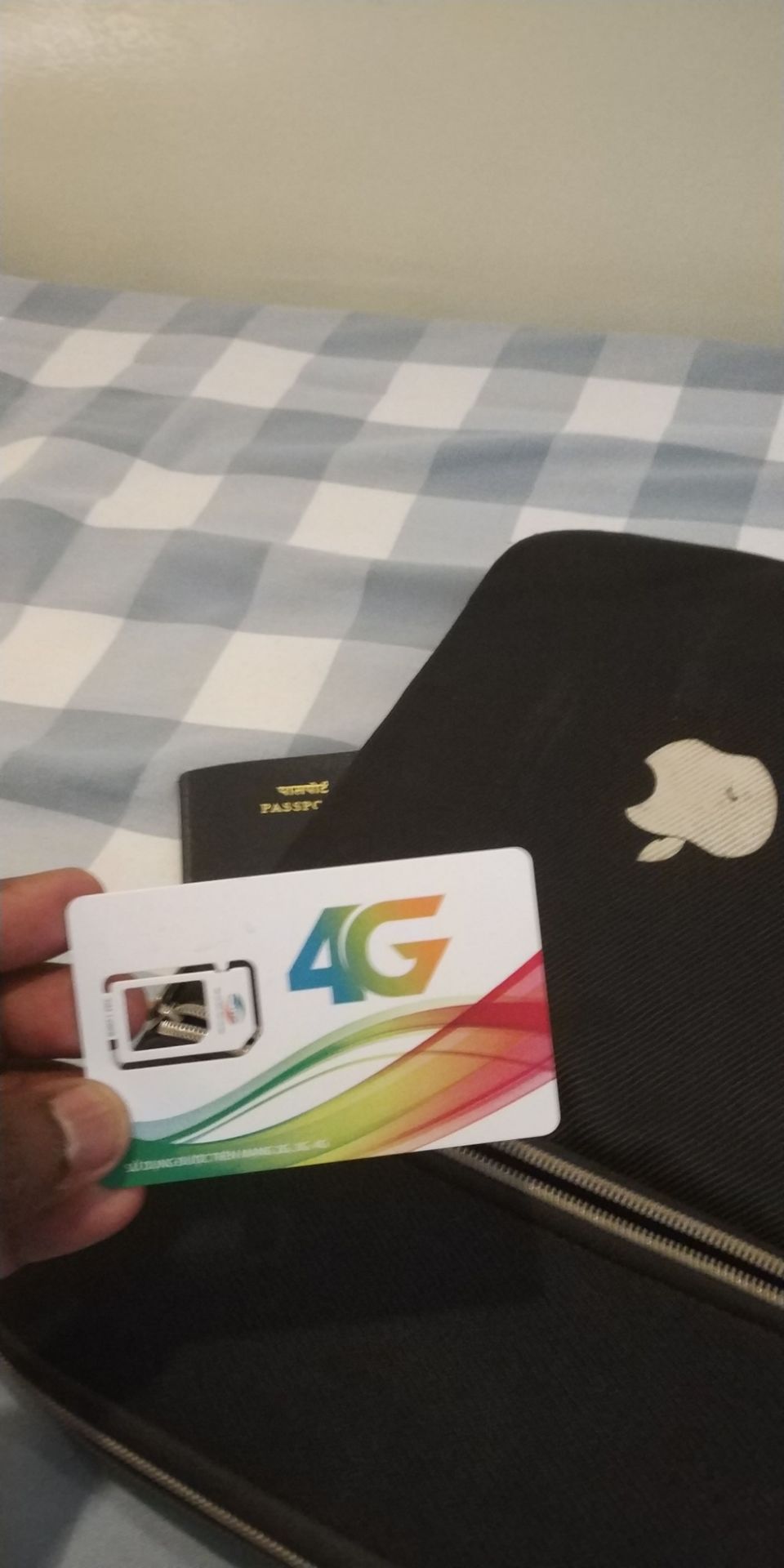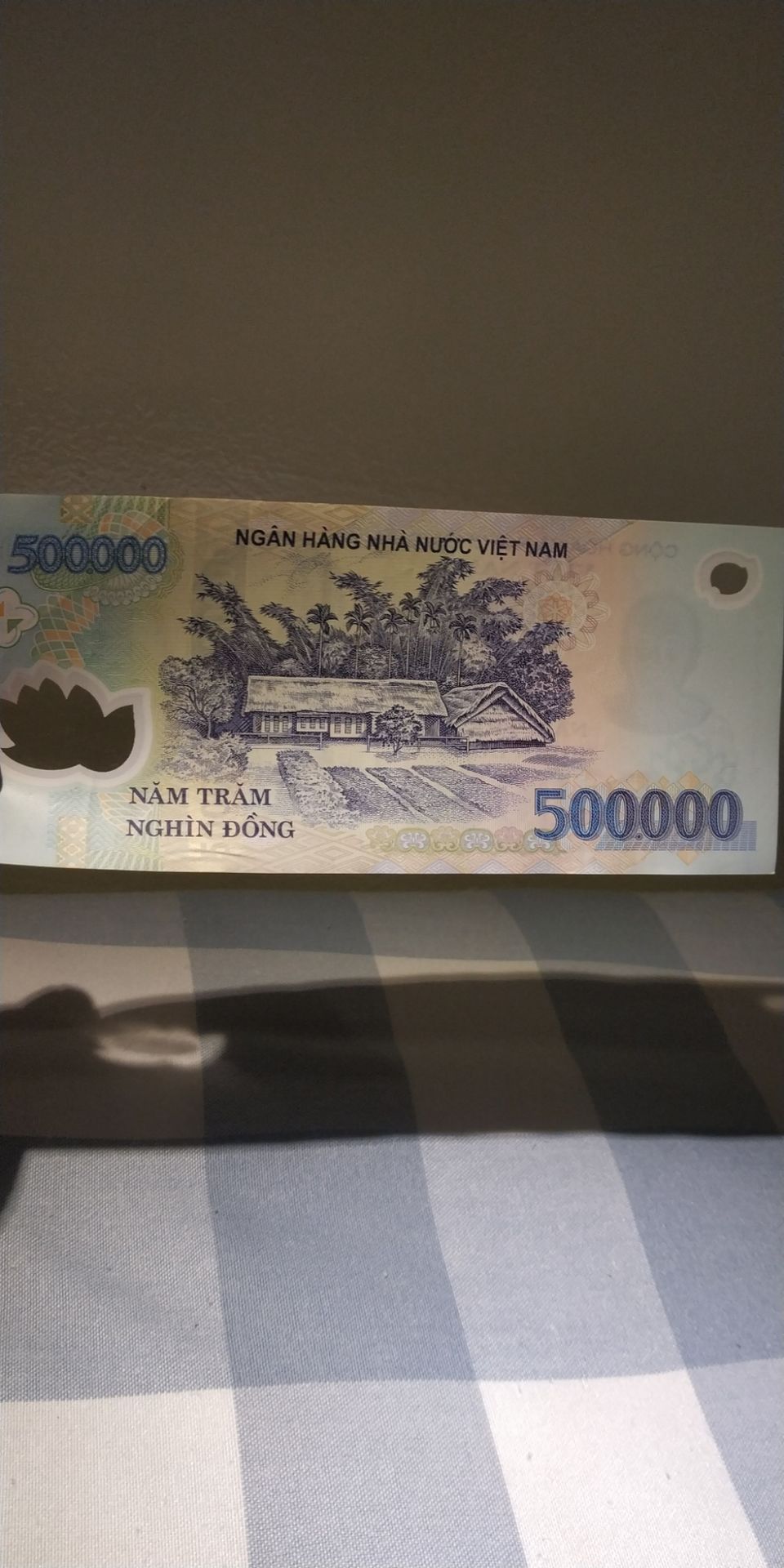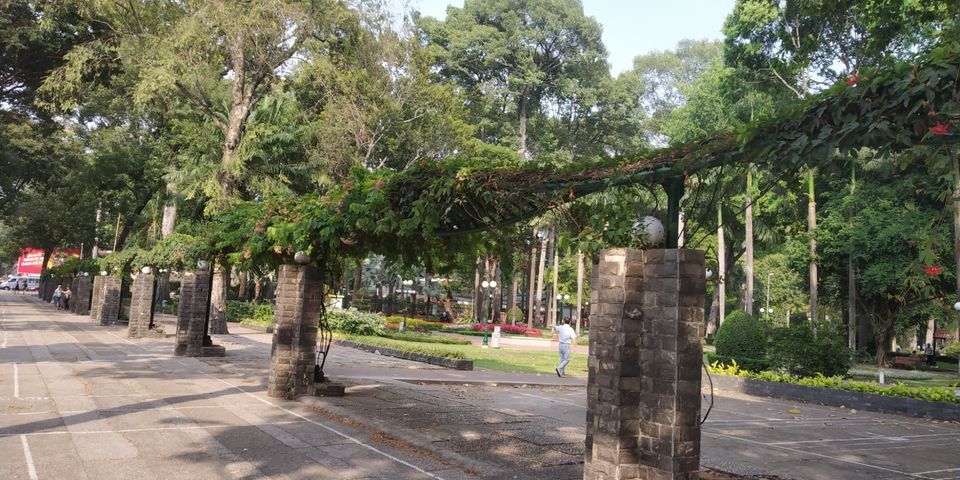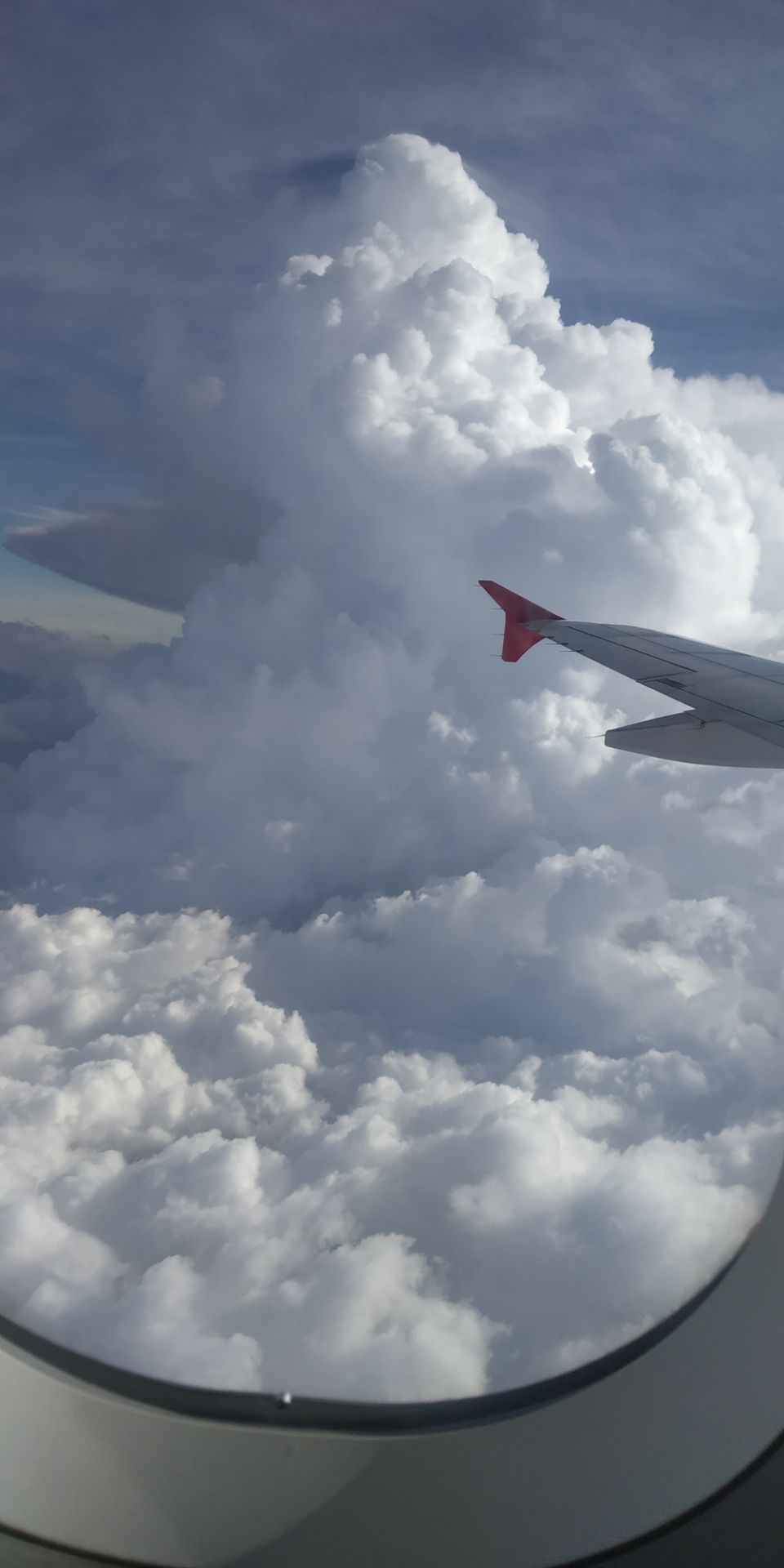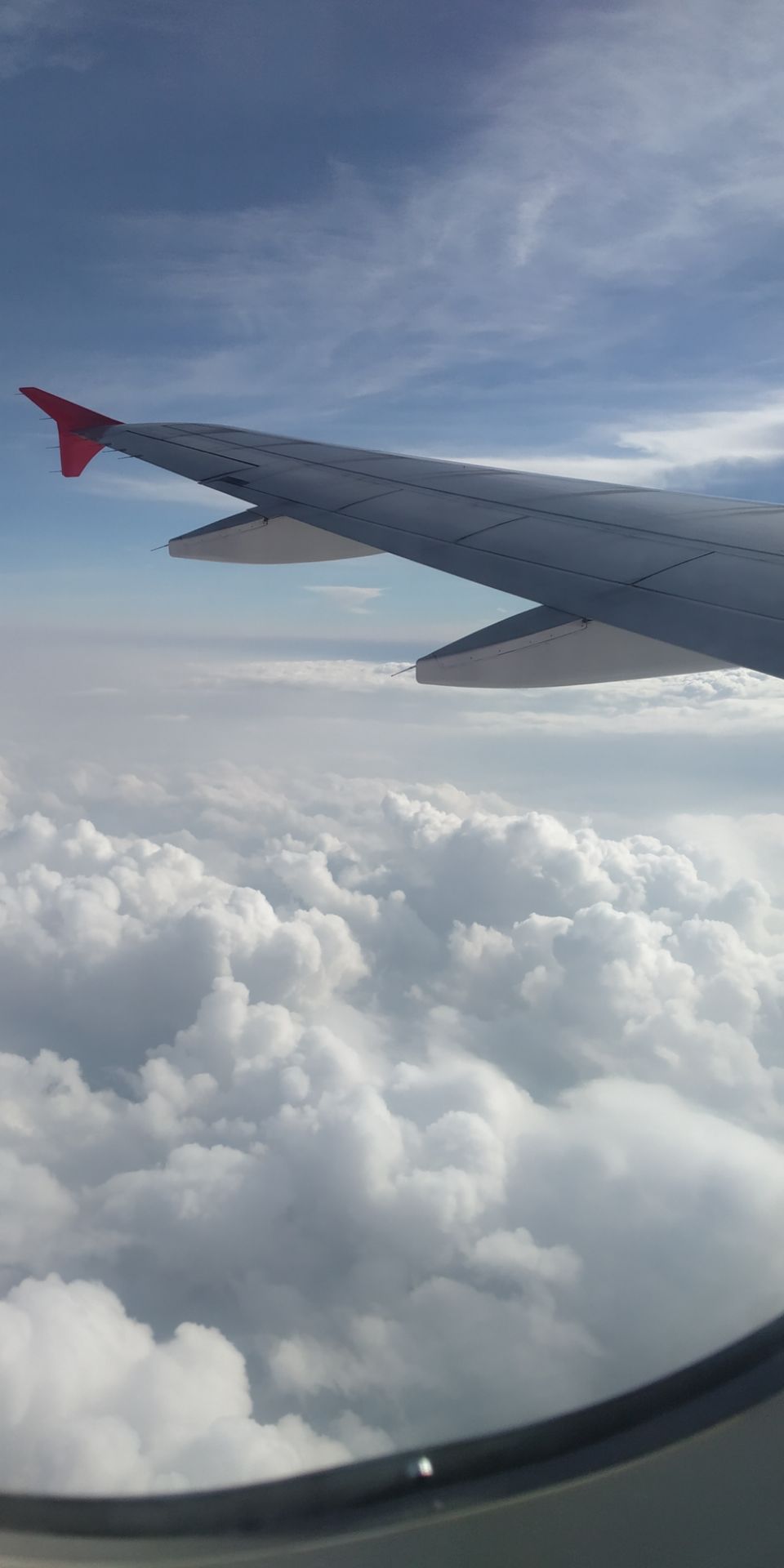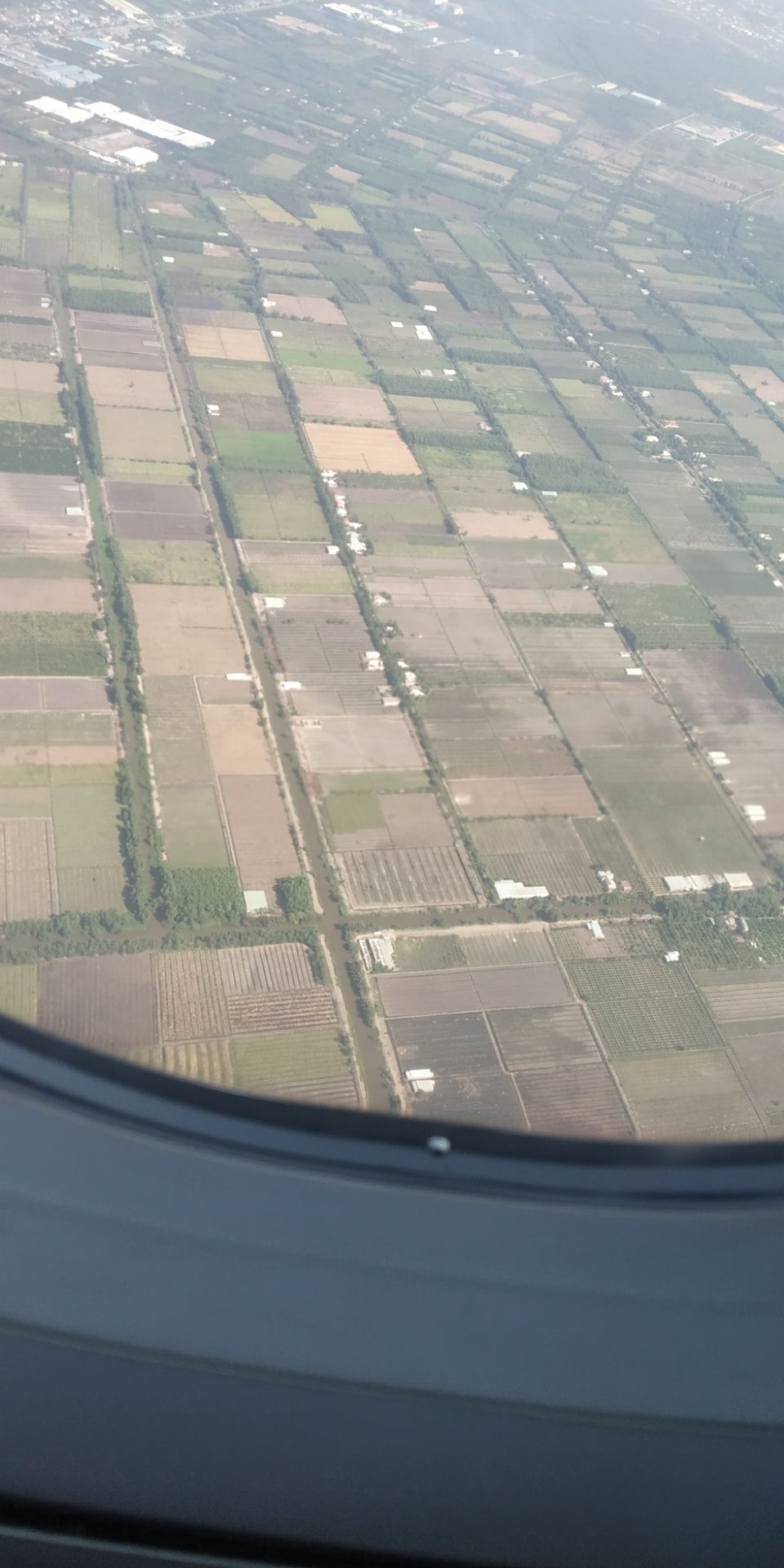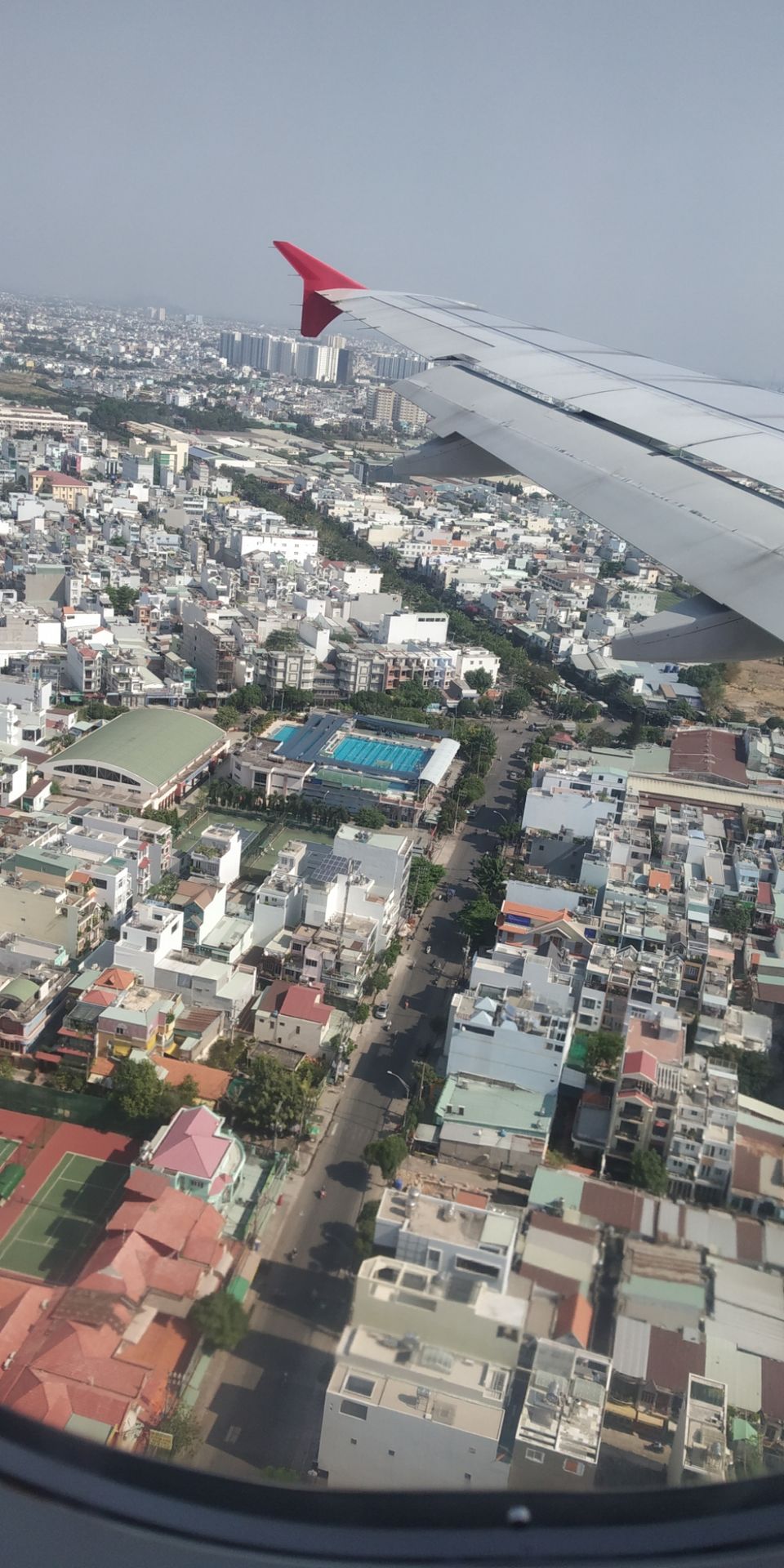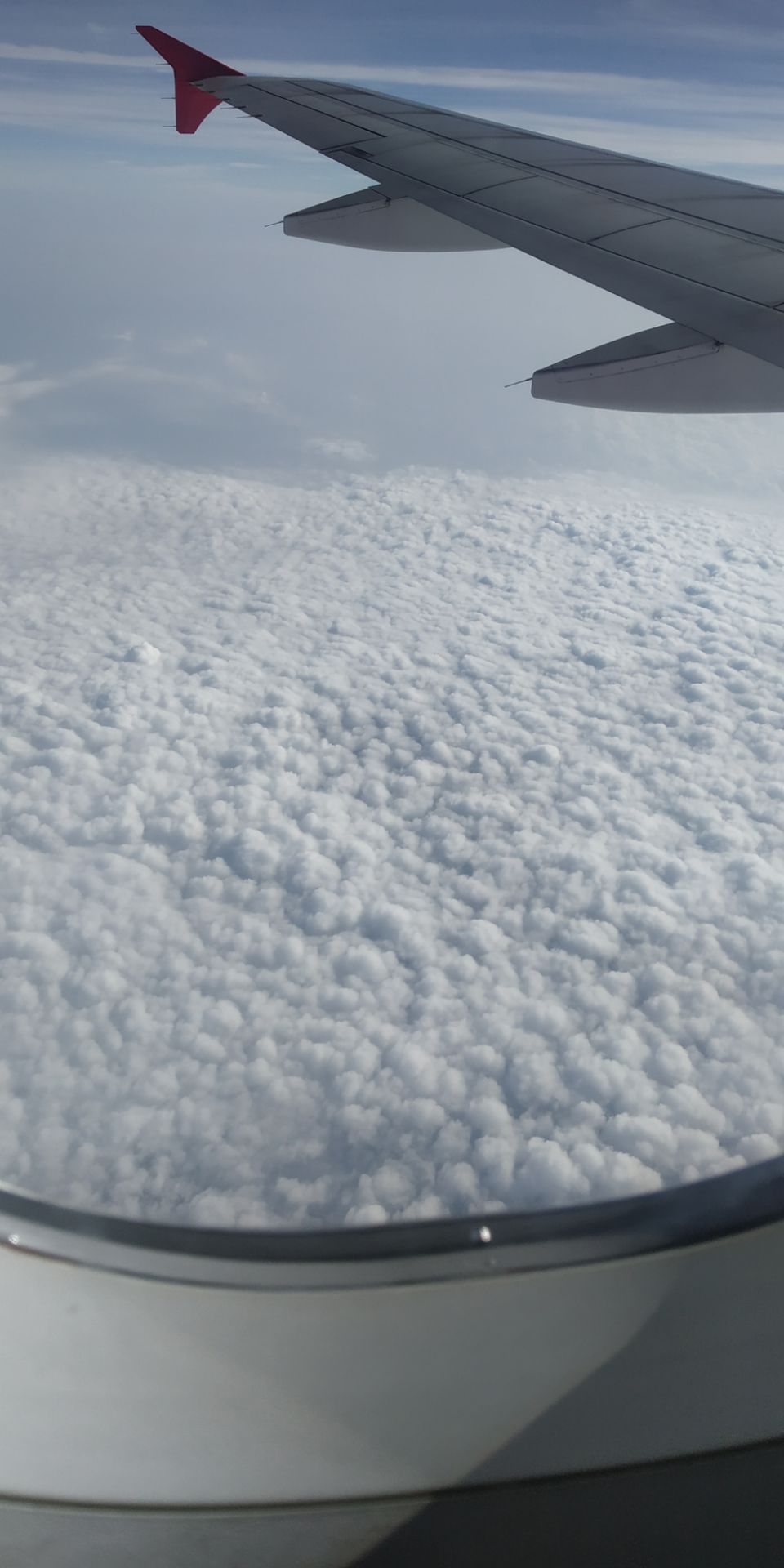 A pleasant day 2 in the ho chi minh city. Woke up around 7 am and done the complimentary breakfast in the hotel and came back to the room to get my things packed as I have to check out by 12:00. And at 11 I have checked out keeping the luggage in the lobby and went outside in search of mouth watering Vietnamese fooooood.
There's a place known as 'Asiana food town' at district 1 where u can find every single Vietnamese cuisine.
I ate Gui coun (Vietnamese spring rolls) - 25,000dongs. And also Banh xèo (crispy pan cake) 70,000 Dongs, it is heavily stuffed with chicken, it's good for a meal and also healthy. And I have ordered Mango dessert 35,000 dongs which is also pretty good.
Anyway Vietnam is also famous for its world class cuisines. Will taste more varieties in the coming days.
And at 3pm i went back to my hotel and socialized with fellow travellers and locals. The best part is i have met people around the globe Austria, Netherlands, Australia, England, Indonesia,Turkey,Canada.
The people are really good with Their big smile on their face to always welcome.It went quite well and at 6 pm after saying Tata bye bye's its time for me to leave to my another stay.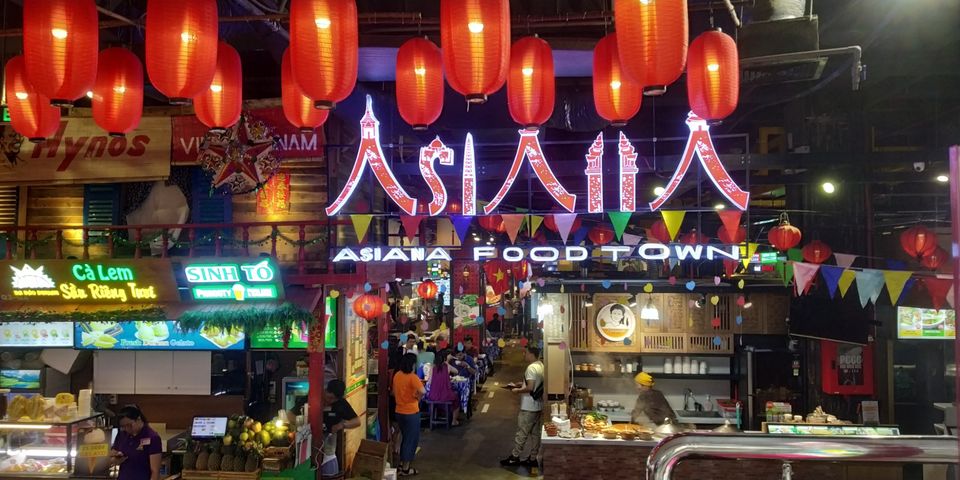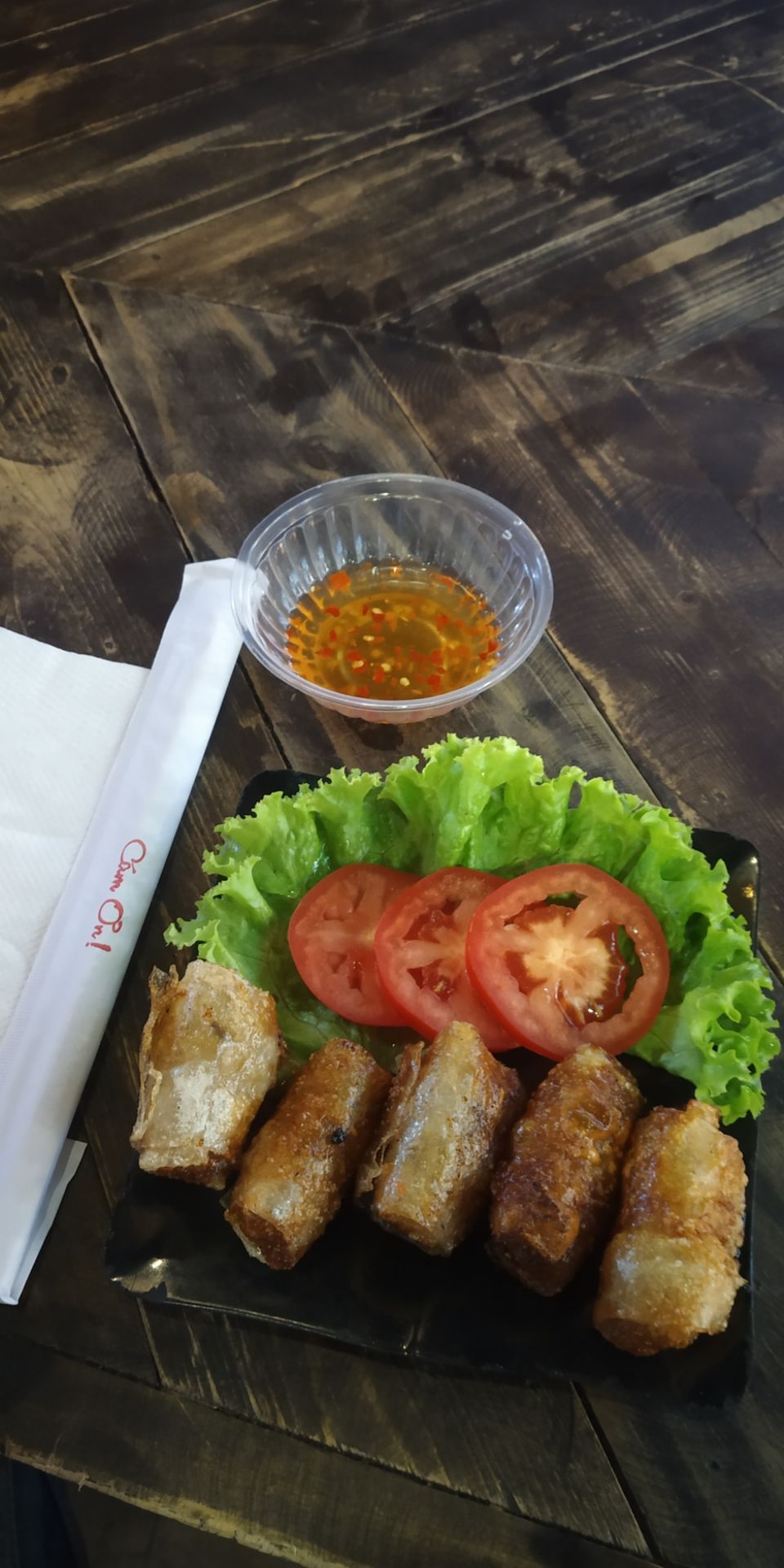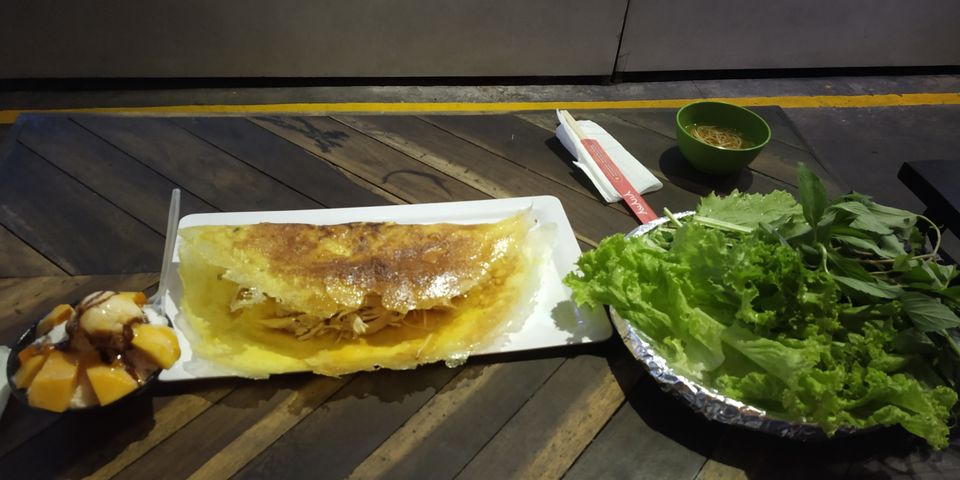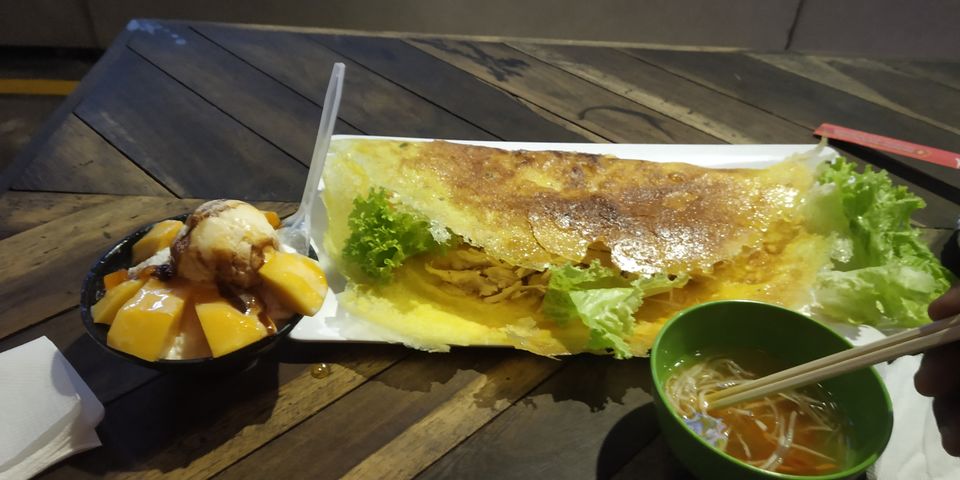 So the Day 3 of my Vietnam trip started quite well with the best local breakfast Banh Coun.
It's just an off day in the trip, went on spending the day by roaming at the local markets and streets as it was my last day in Ho chi Minh City. I am gonna miss it. The largest city of Vietnam.
I am on my way to Airport. And by the way 'Grab' is the easy and best way to roam around the city on bike. If you are leaving to Airport from the city centre you can take a Grab or else catch a local bus (Bus number 152 & 109) they are available till 7 pm. The bus no. 152 costs 5000 dongs which is pretty cheap and 109 costs 20000 dongs to the Airport.
Special thanks to Chang , She is the one who picked me up at the airport when I have arrived at ho chi Minh City and booked me a Grab(Transport app) to my hotel. Thank you so much. It really means a lot. Helping an Unknown person is always a great thing. It's people like her who make our trip the best.????
So I'm done in Vietnam, No no no just strike it off. I'm done with the city side of Vietnam ????. This a long trip with 11 more days & a total of 13 days,So the best part is yet to come. Flying to Da Nang (Central Vietnam) from Ho chi Minh (South Vietnam). I choose to fly (2 hour journey) because I just want to experience all Four kinds of transport in Vietnam.???? It costed me around INR 2000 for the flight (Vietjet Air). Any way the bus (19 hour journey)would cost the same????????. So Early the booking of flight of Vietjet Air , lesser the Amount. So always be well planned.
See u guys , Meet you in Da Nang.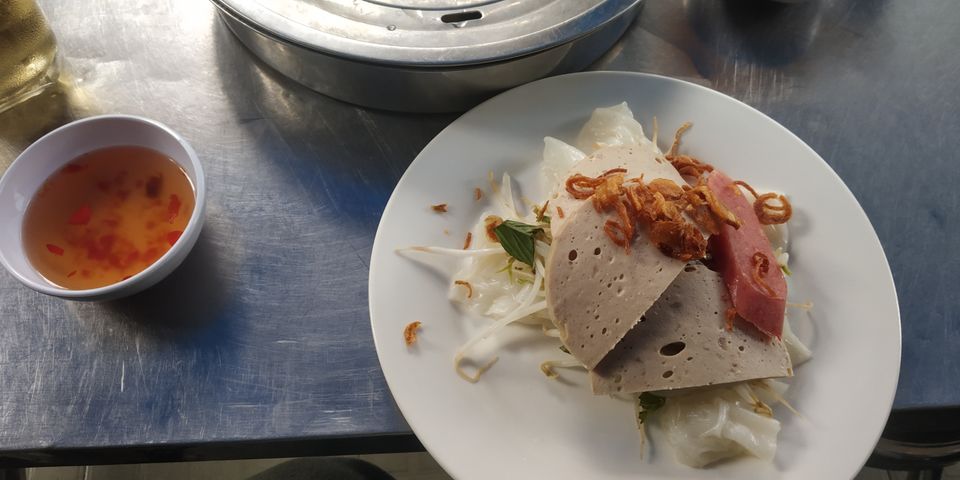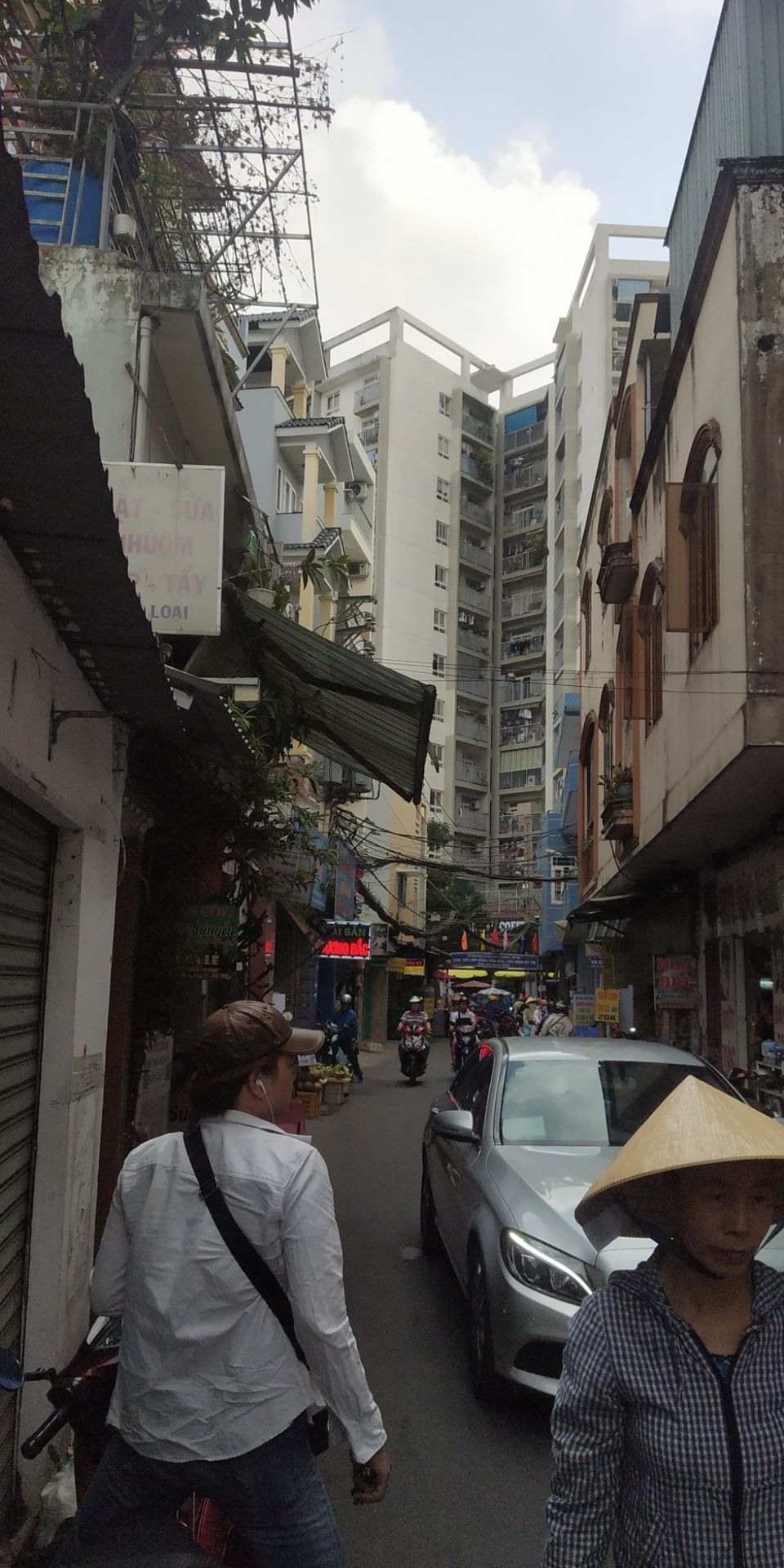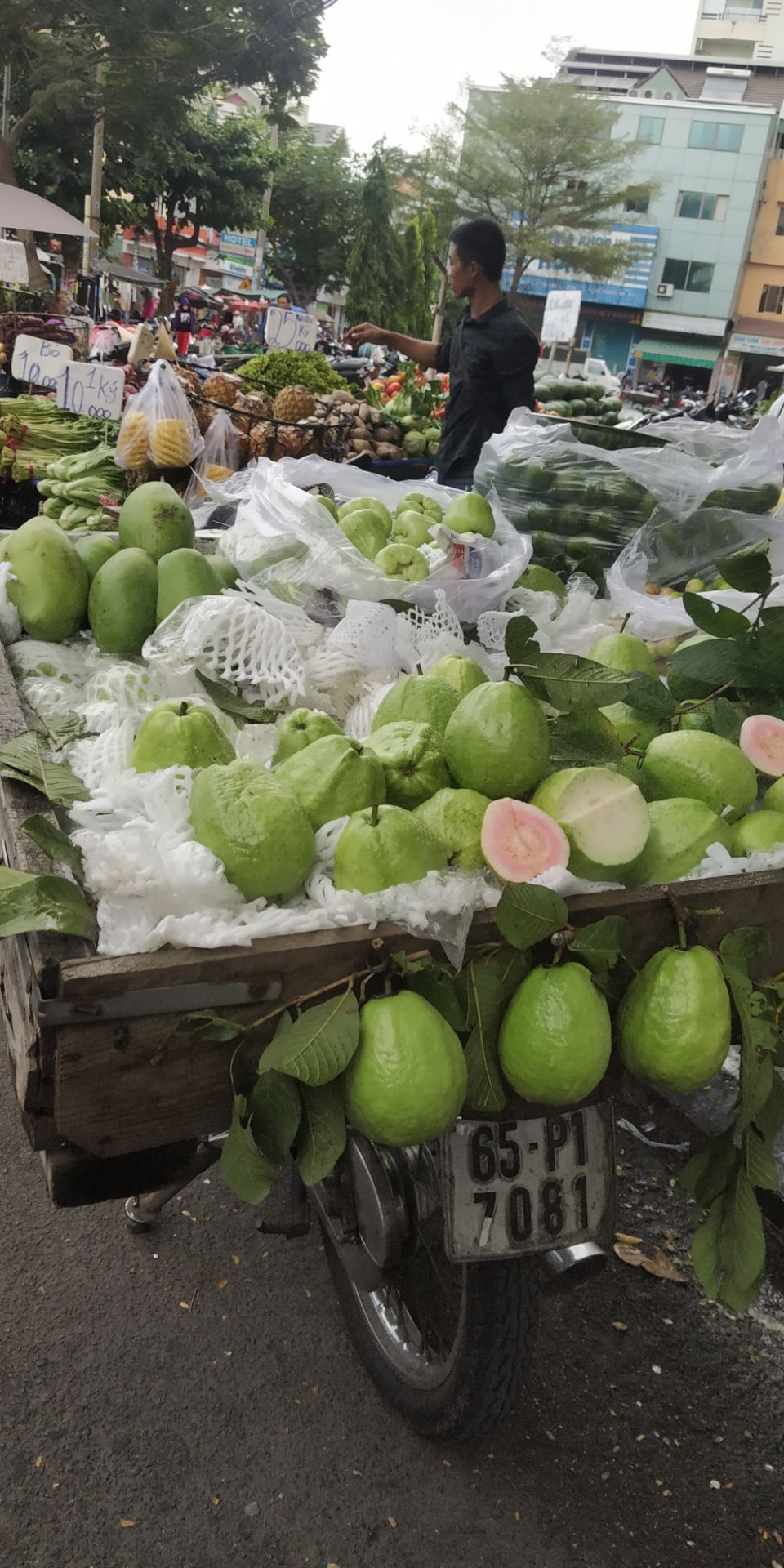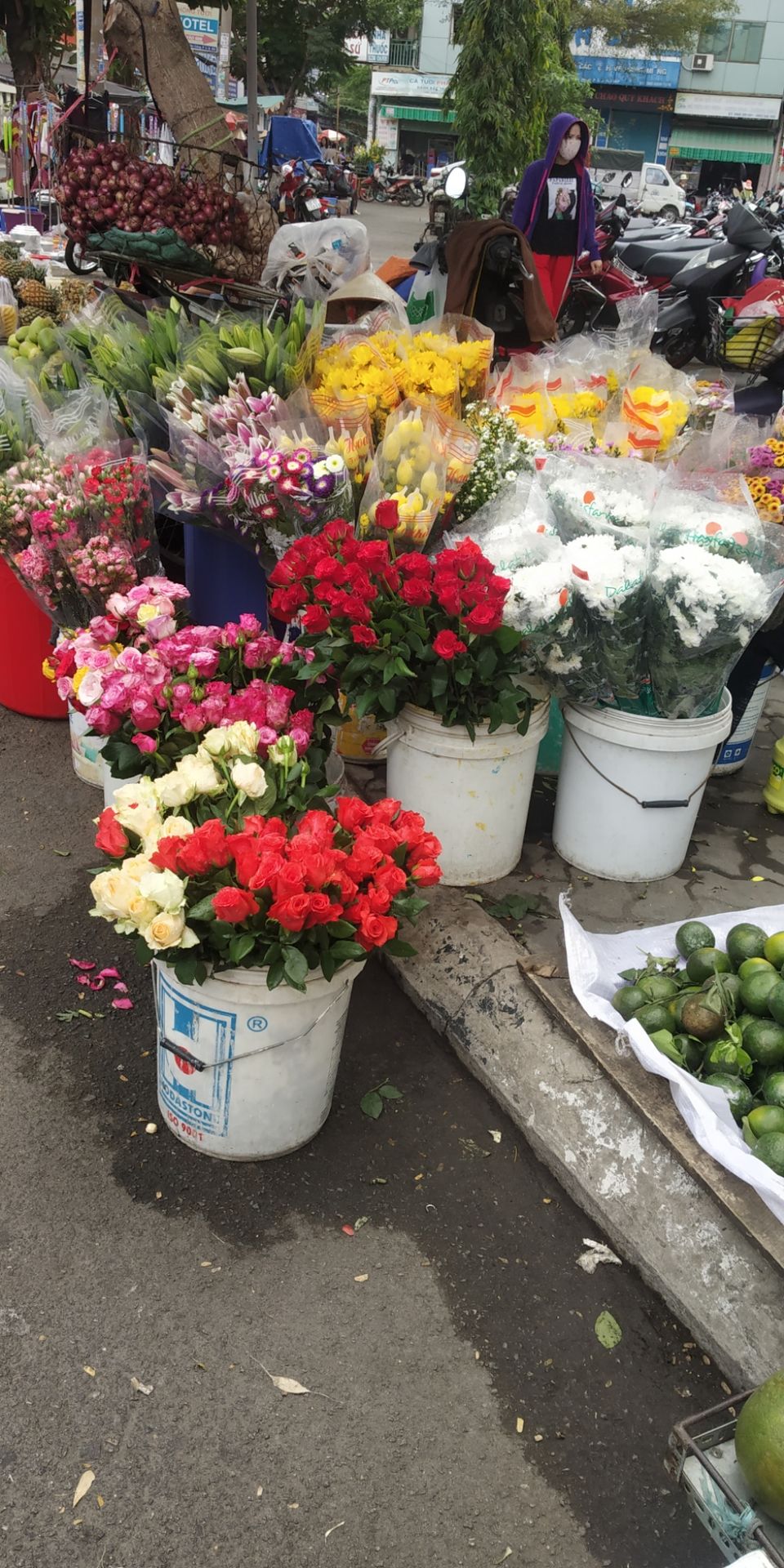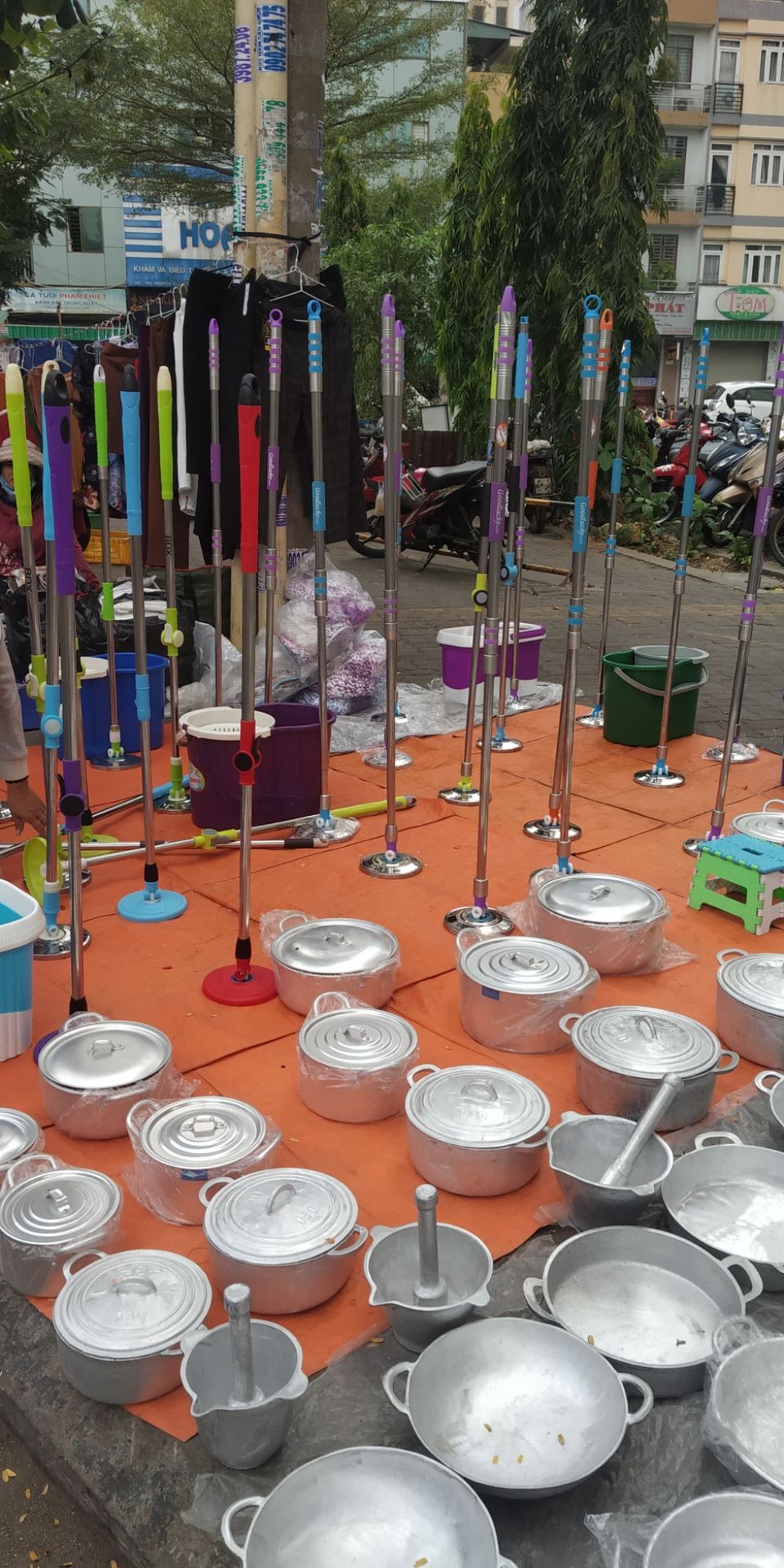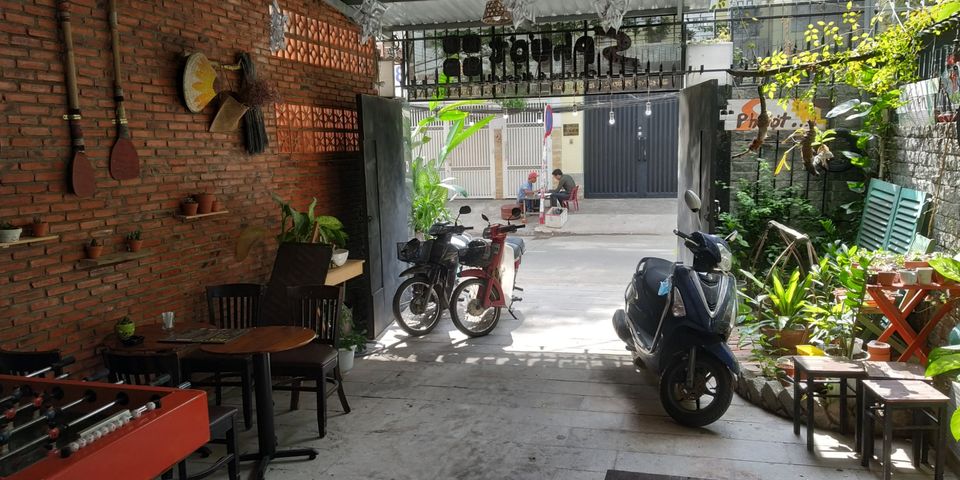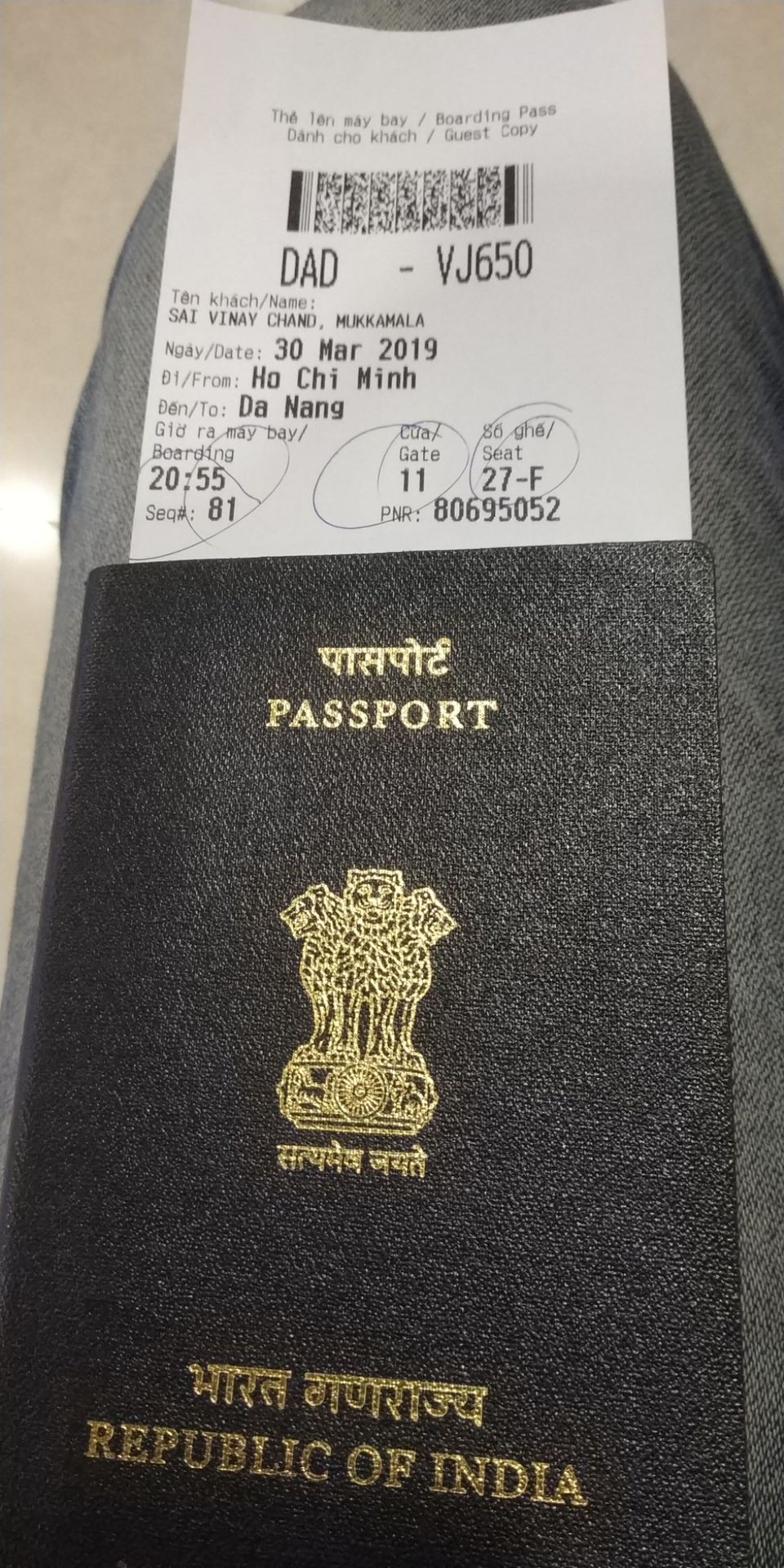 And on day 4 I have reached Da Nang at mid night and checked in to my hotel and did a tight sleep and at 8 in the morning I have rented a bike(Yamaha) for around 150,000 dongs for 24 hour basis, and fuelled it up for 60000 dongs and I was set for my way to Bana hills. It was 35Kms from the Danang City centre. It took me around 45Mins to reach there. And the entrance ticket for the sun World, Bana hills is 700,000 dongs which is around 2000INR. After being in , I'm amazed with what I have witnessed with those 2000 INR. Just amazing. you can see the pictures in my blog to know how beautiful it is. At first, we have to get in a cable car for a 25 minute ride to the mountain and I'm very fortunate that I was in the cable car which went over the waterfalls. Because there are 3 cable car lines to the mountain and the one which I'm in is the only one which offers the view of waterfalls on the way. So after a long ride , we will reach the French village and also I have got an additional bonus as the flower festival 2019 is going on in the Bana hills, it's very couloruful and Very touristy. French artists performances are so good. And then walking through the French colony I have went to the temples zone and then to Mighty Golden bridge. We have to get into another cable car which we r gonna ride for 5 minutes to reach golden bridge. And the view is just breath taking. I am stunned by the visuals. And then moving further I got into a funicular ride to reach the flower garden and Laddy buddha. And after reaching there , suddenly it started Raining. So experienced every bit of climate over there. Also there's an amusement park inside the Sun world in which I choose a Roller coaster ride which is quite adventurous. And at round 2 Pm I took an cable car ride back to the boarding point. And still it's drizzling a bit, but anyway I drove back to My hotel for a small refreshment break and then headed to the beaches of Da Nang. The beaches are well maintained. And I have to mention about the bridges in Da nang, every bridge has its own speciality over here. Like the Dragon bridge.
And yeah today I wanted to taste my indian food. It's been around 5 days without rice and spices. So I'm very desperate to have some Indian food. At 8 pm went to an Indian restaurant 'The Himalaya' to have my dinner. And the taste is good over there.
So the excited part is today's stay. I am staying in an capsule hotel. Generally Capsule hotel concept is like a Room in space ships. So I want to experience once. Got it for 150,000 dongs which is around 350INR with A/C and Complimentary breakfast. It's the best deal. Do check out "Nang capsule hotel".
Good night guys , look forwarding to spend my upcoming days in Vietnam more adventurously.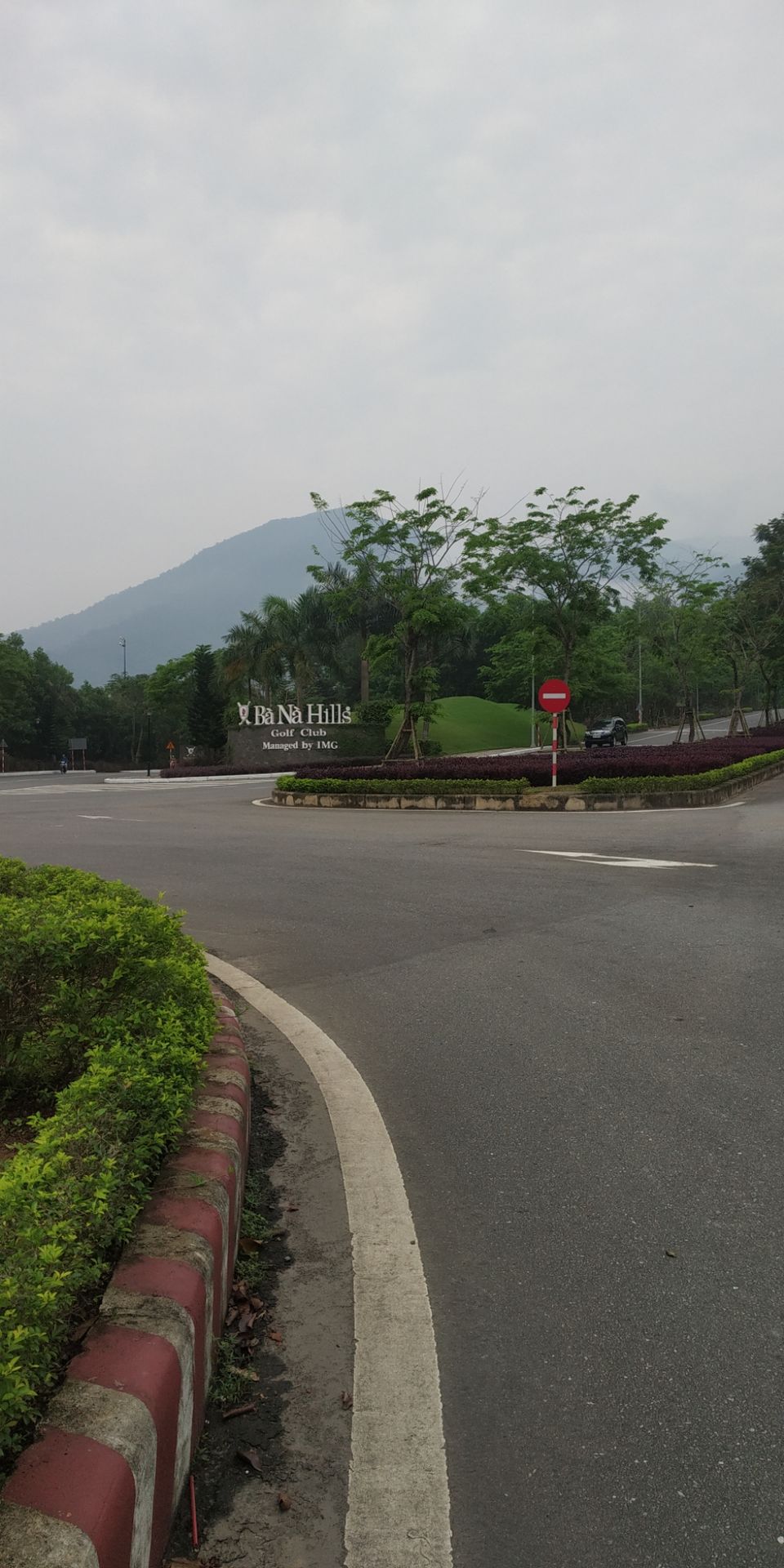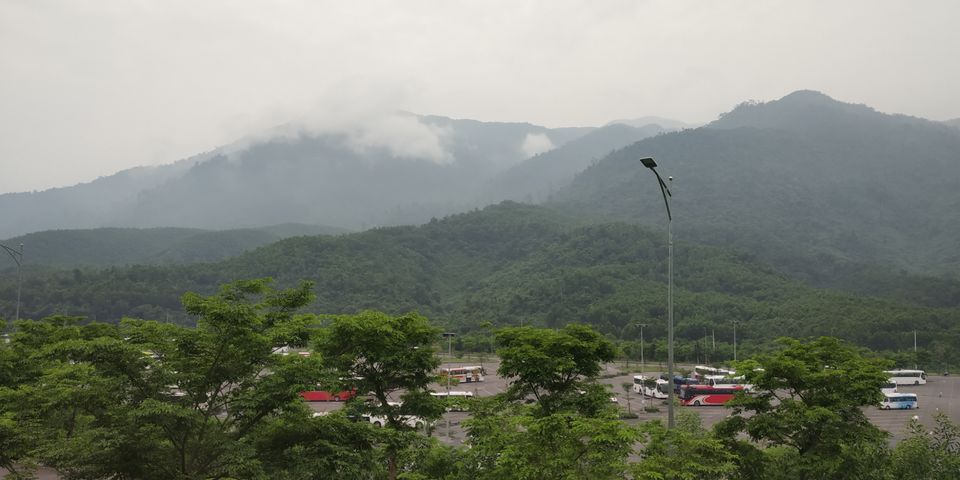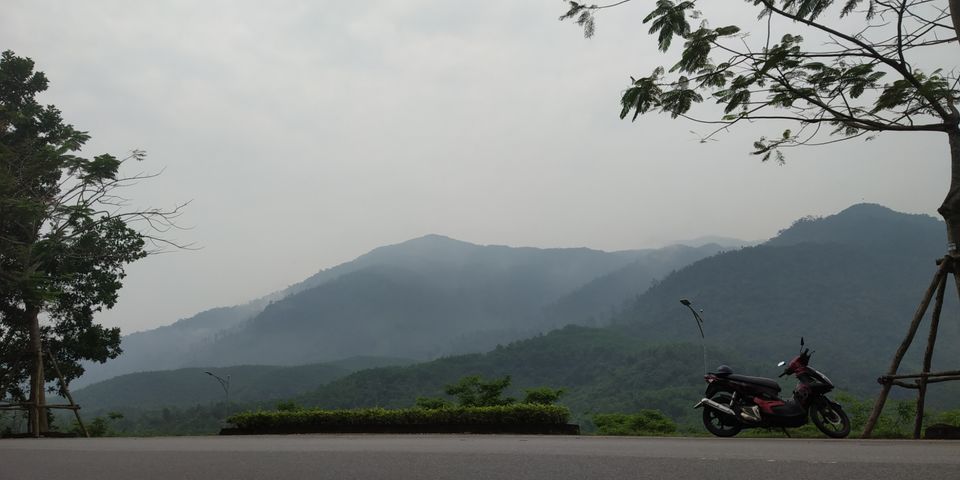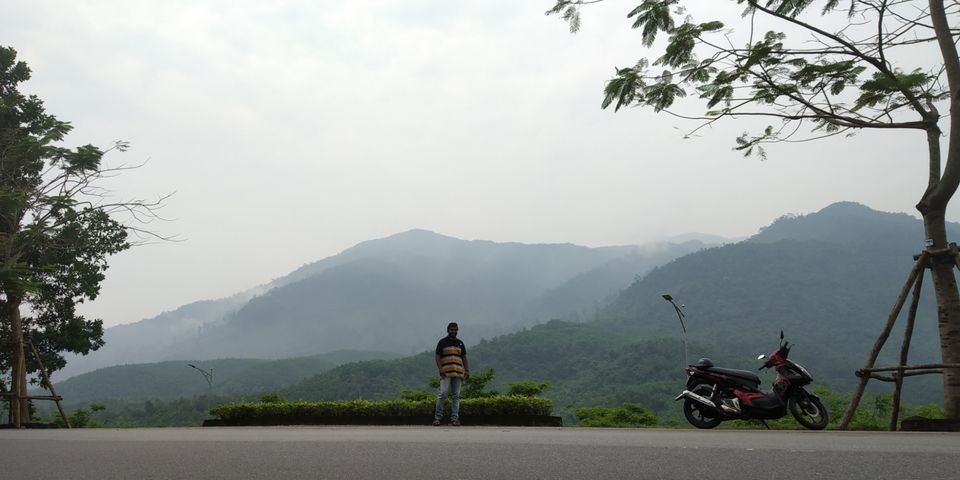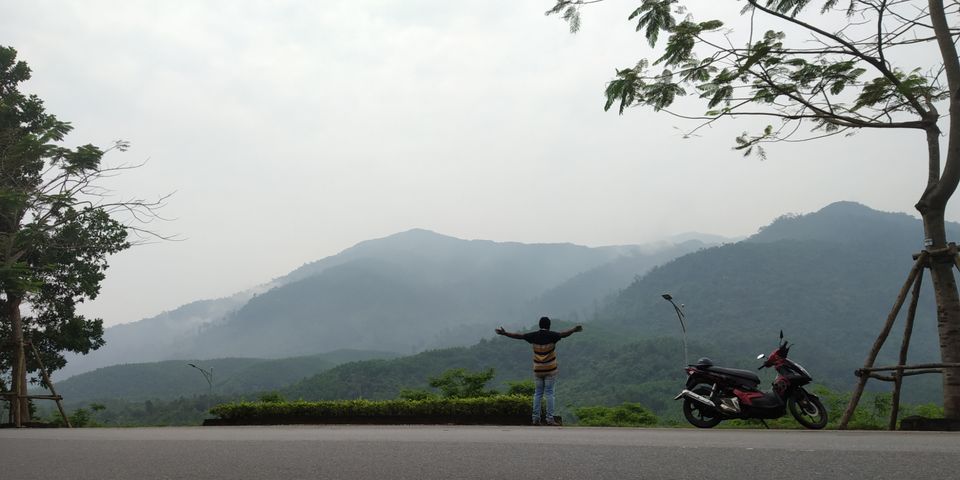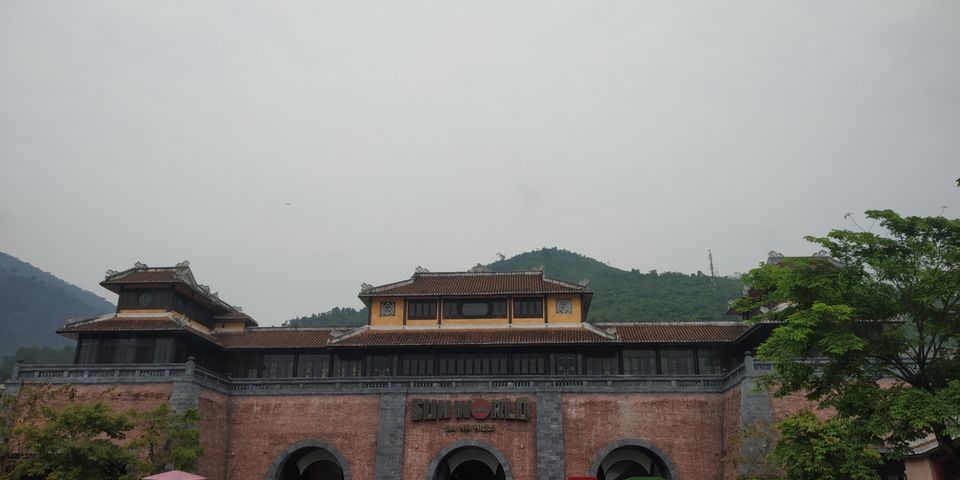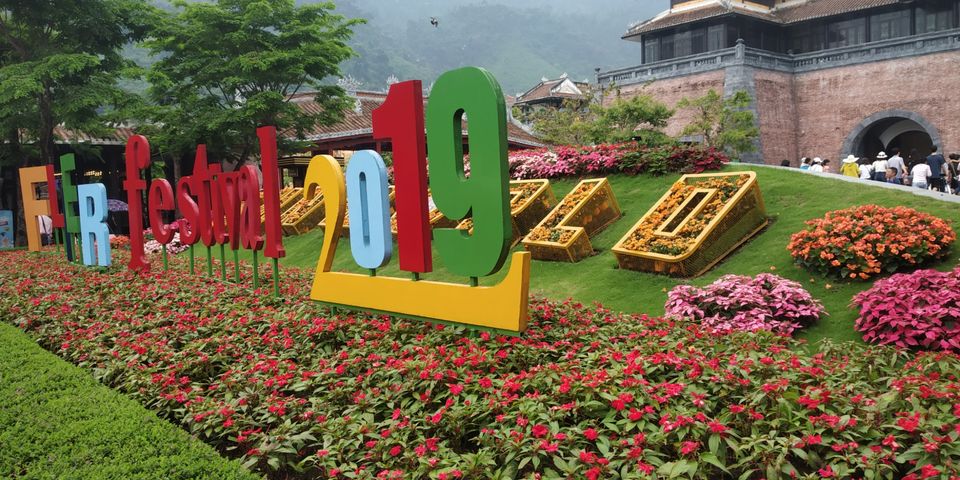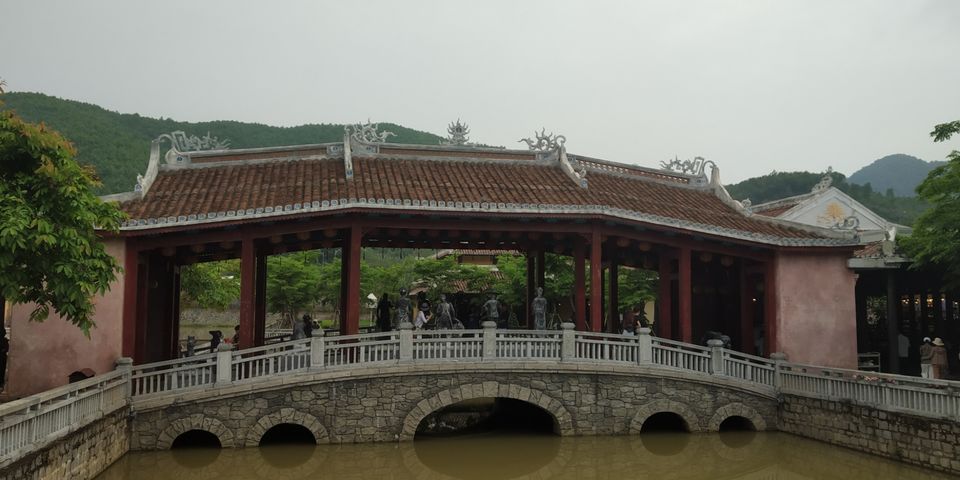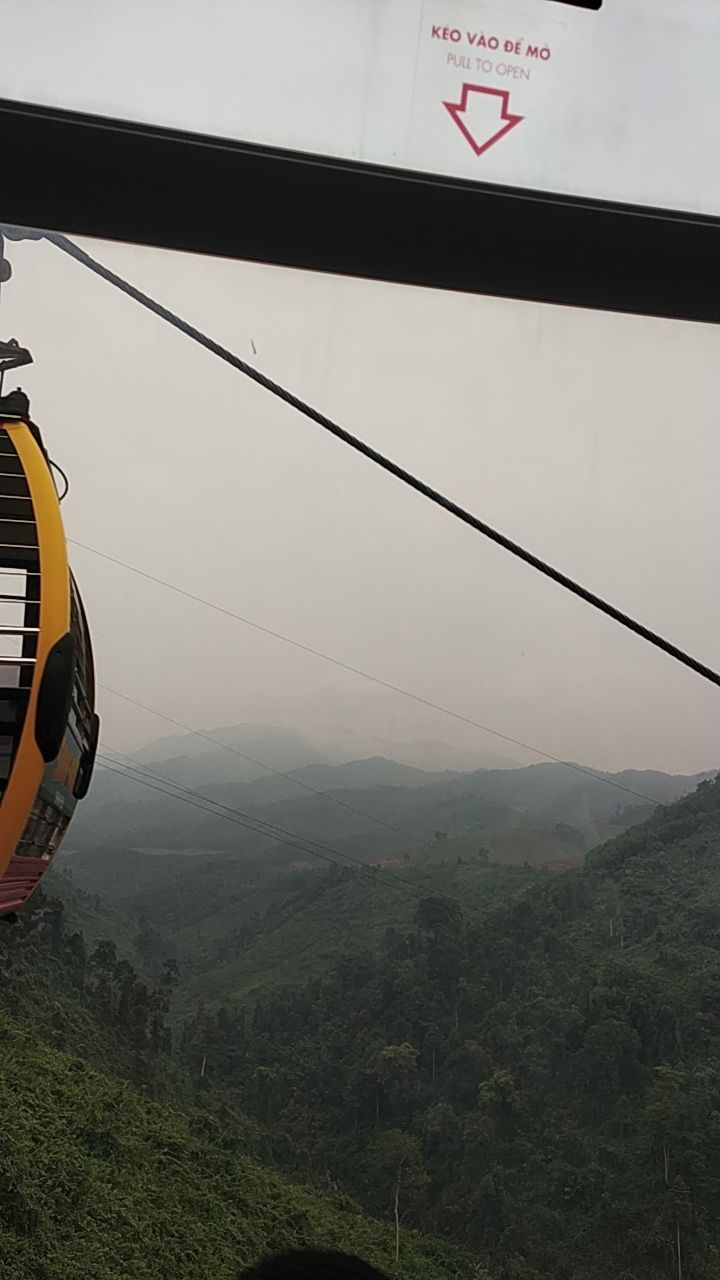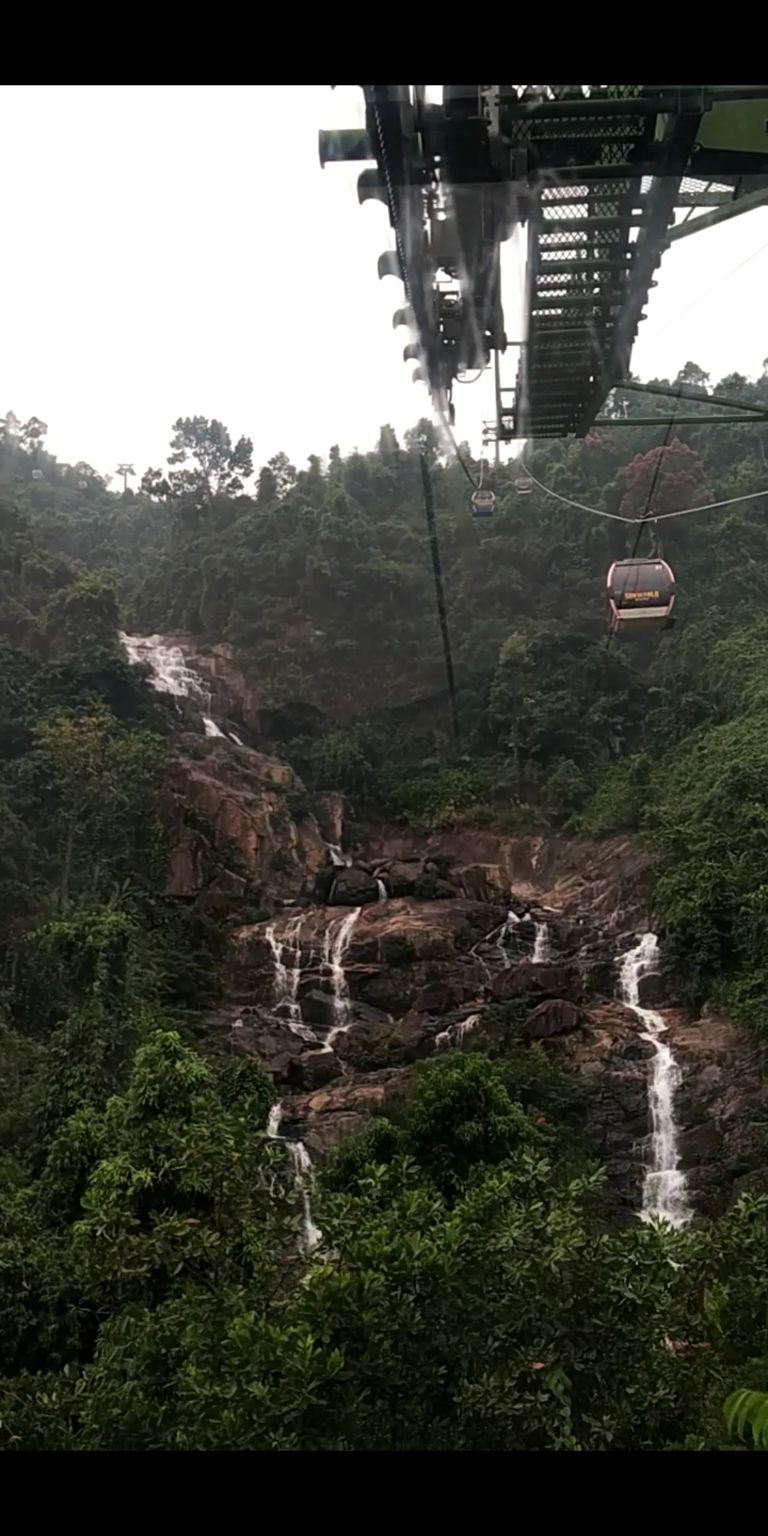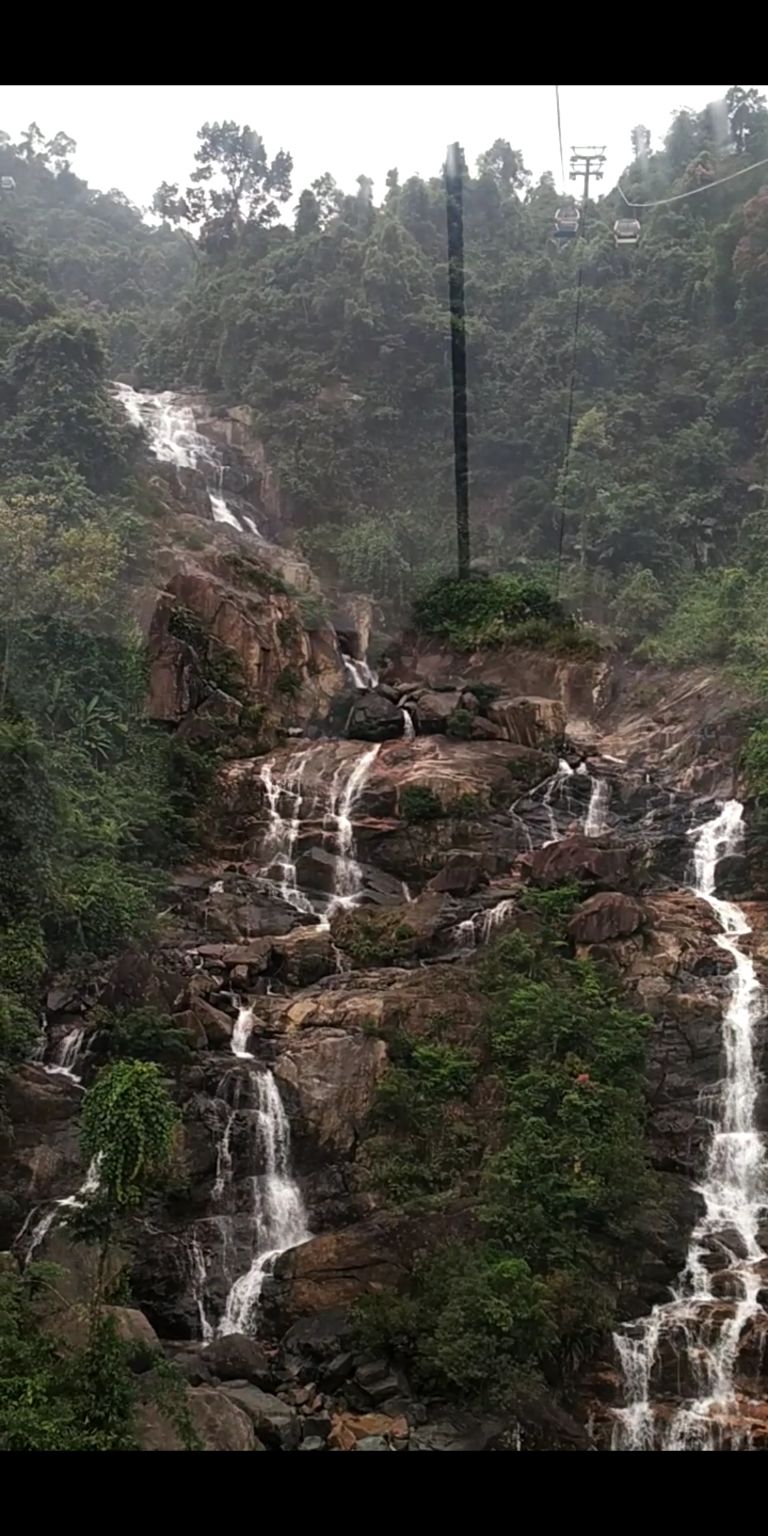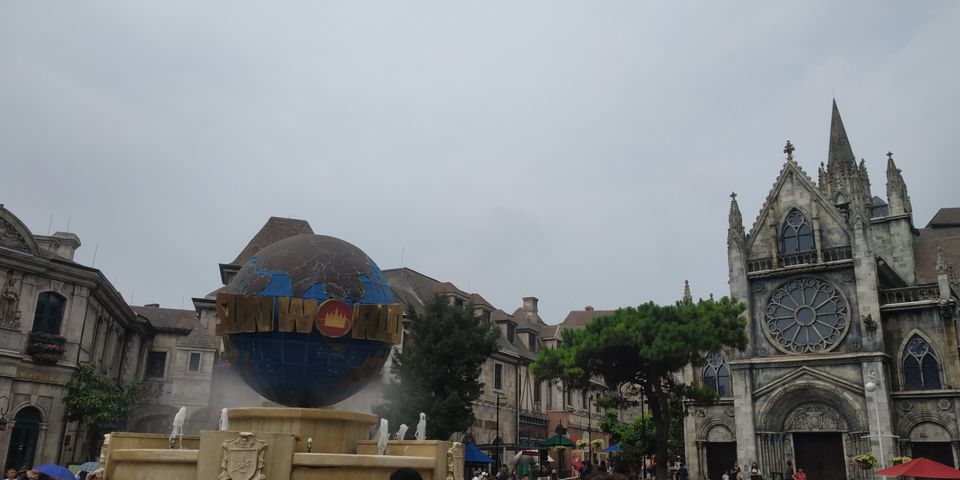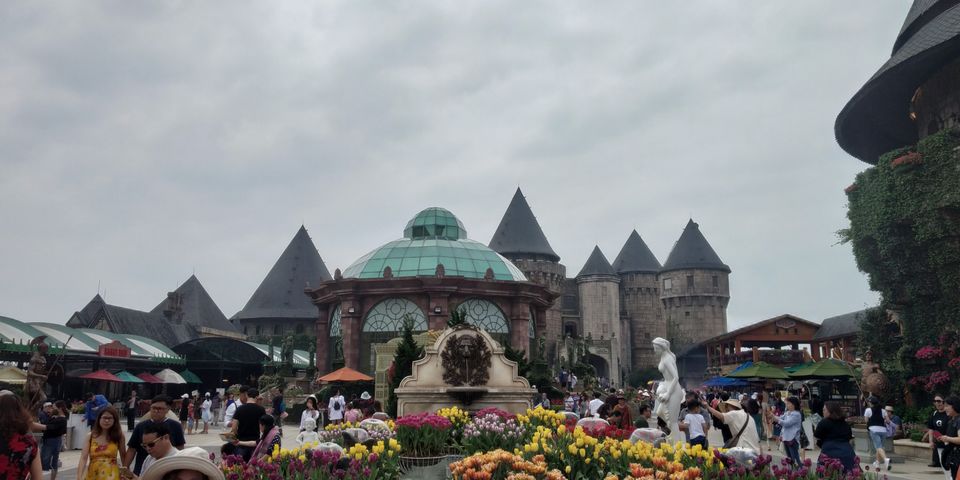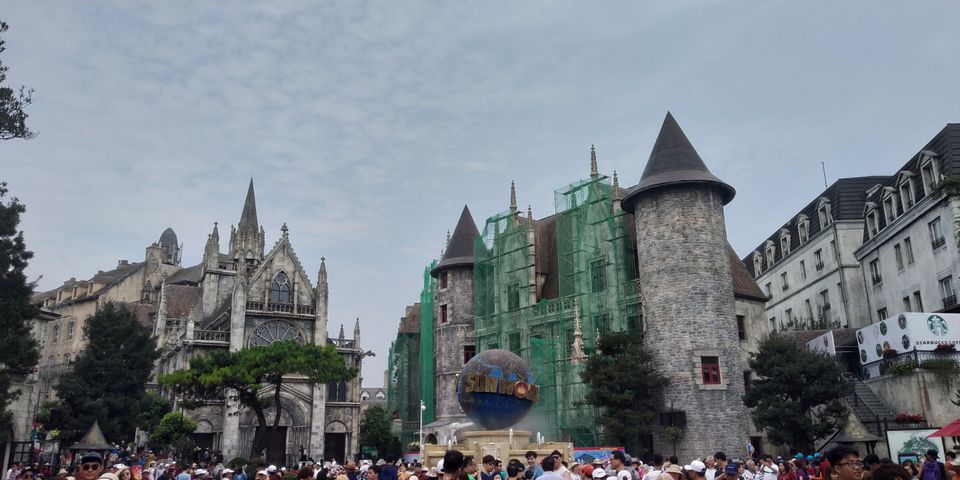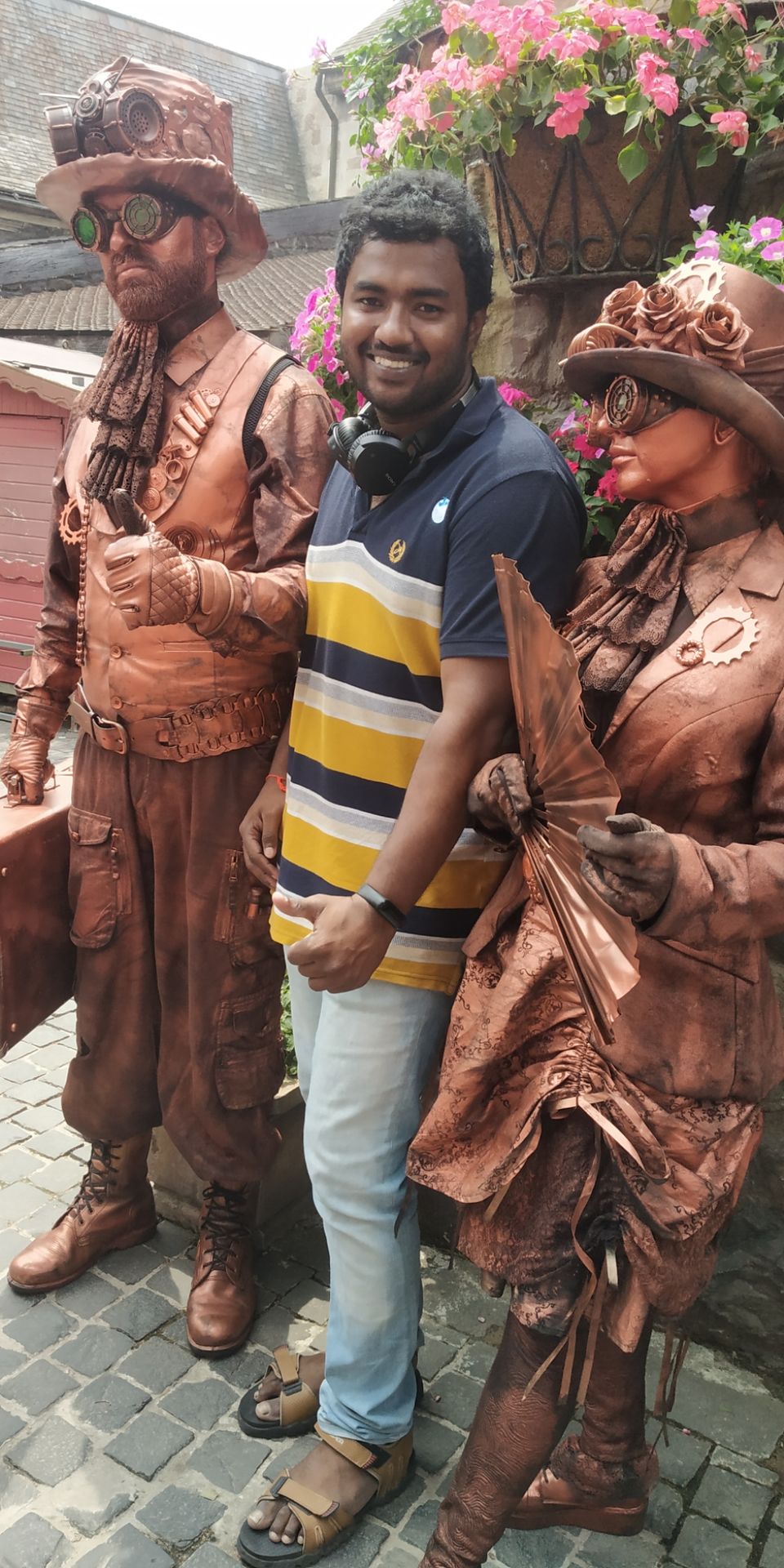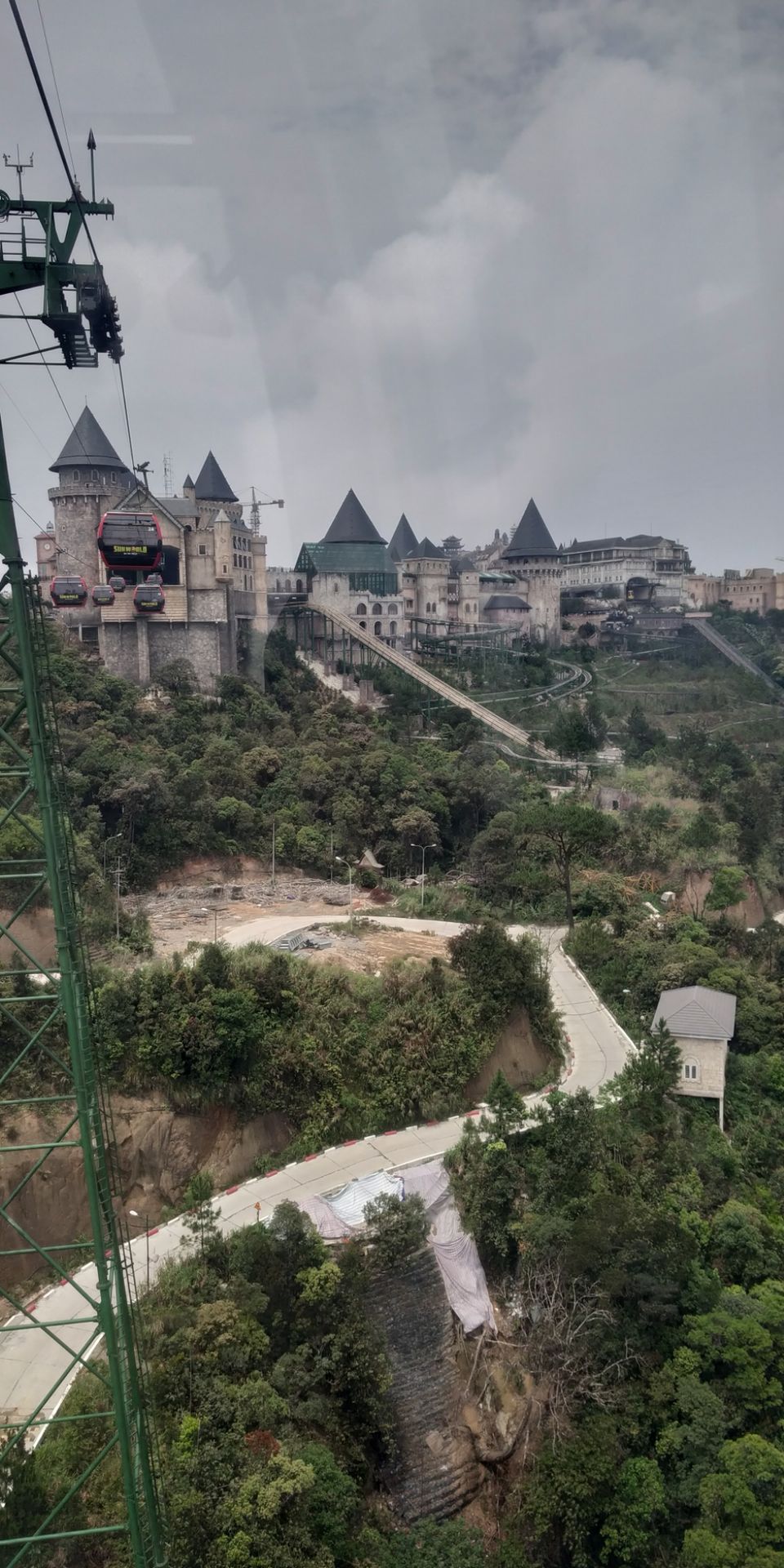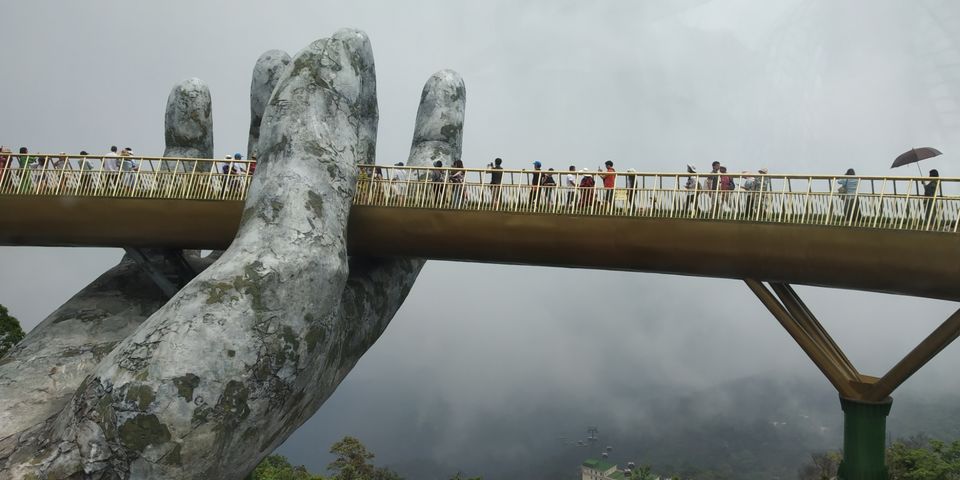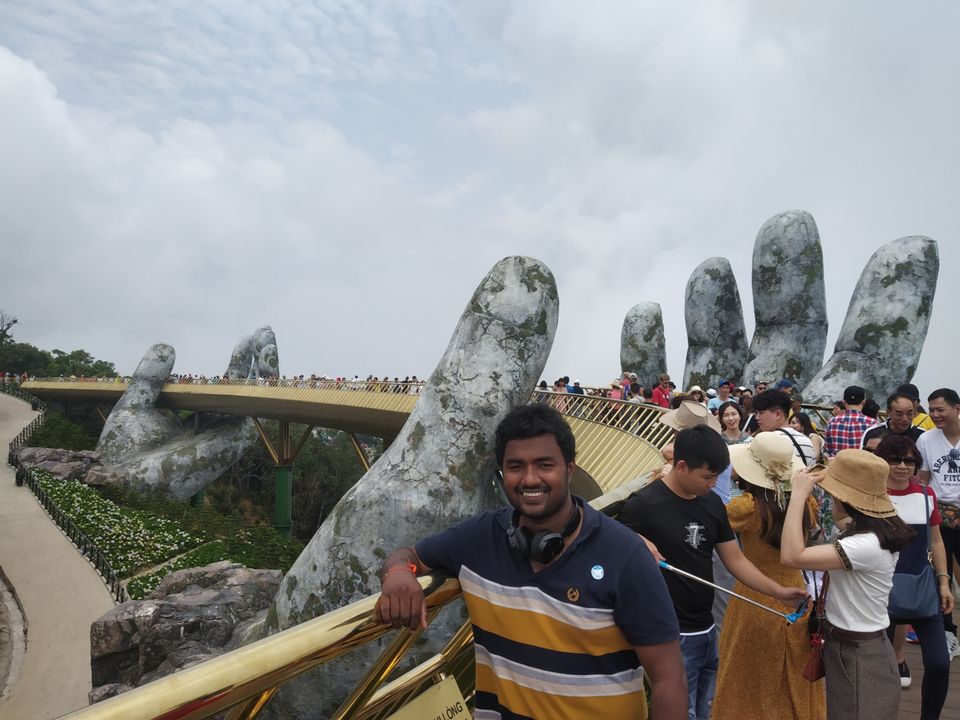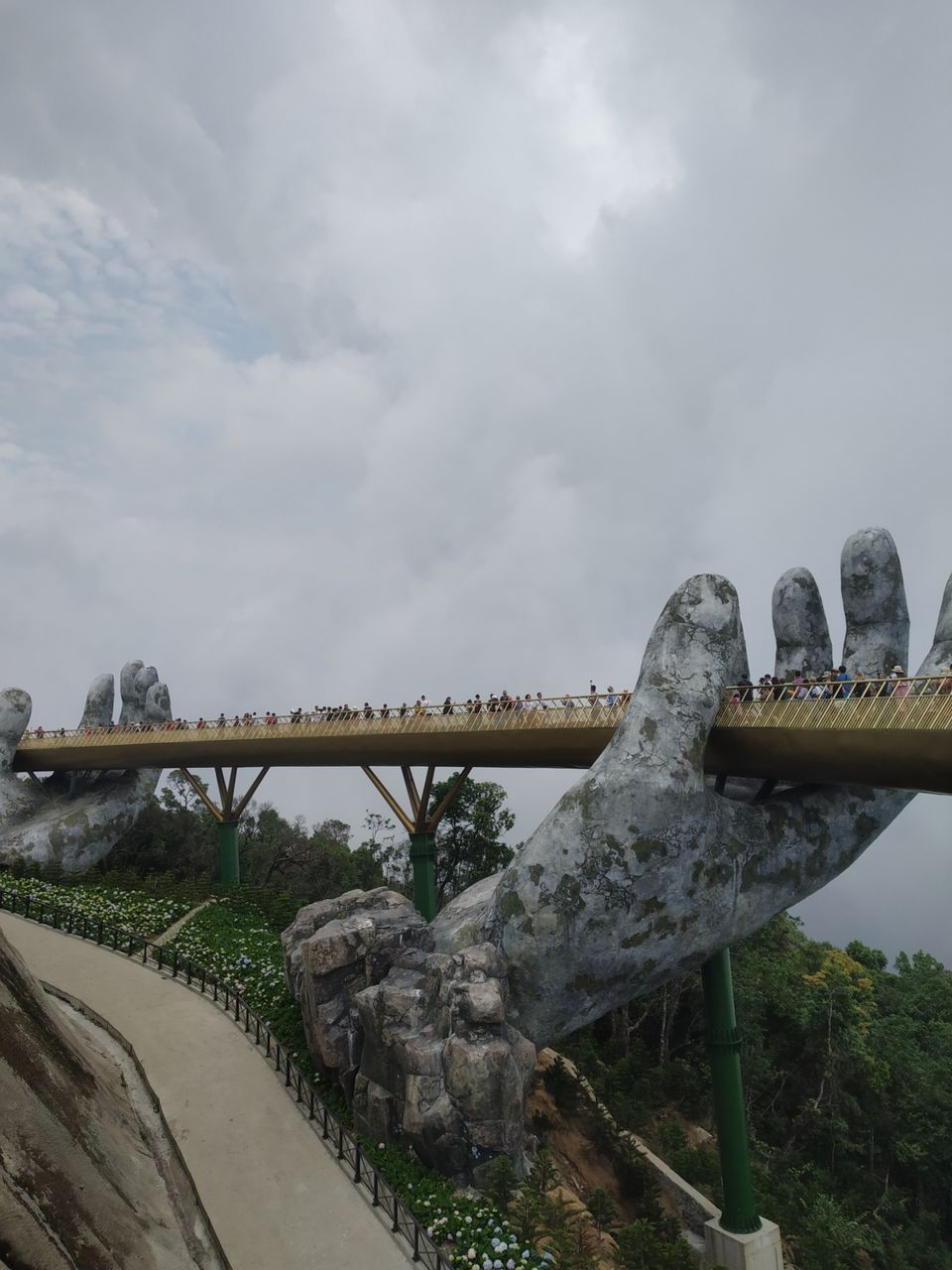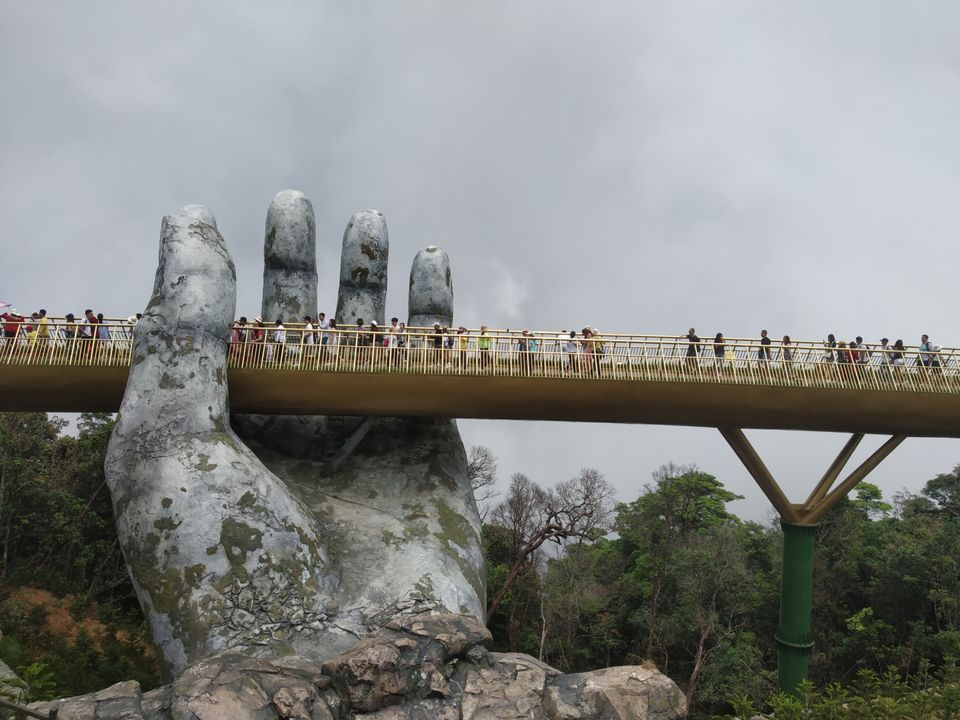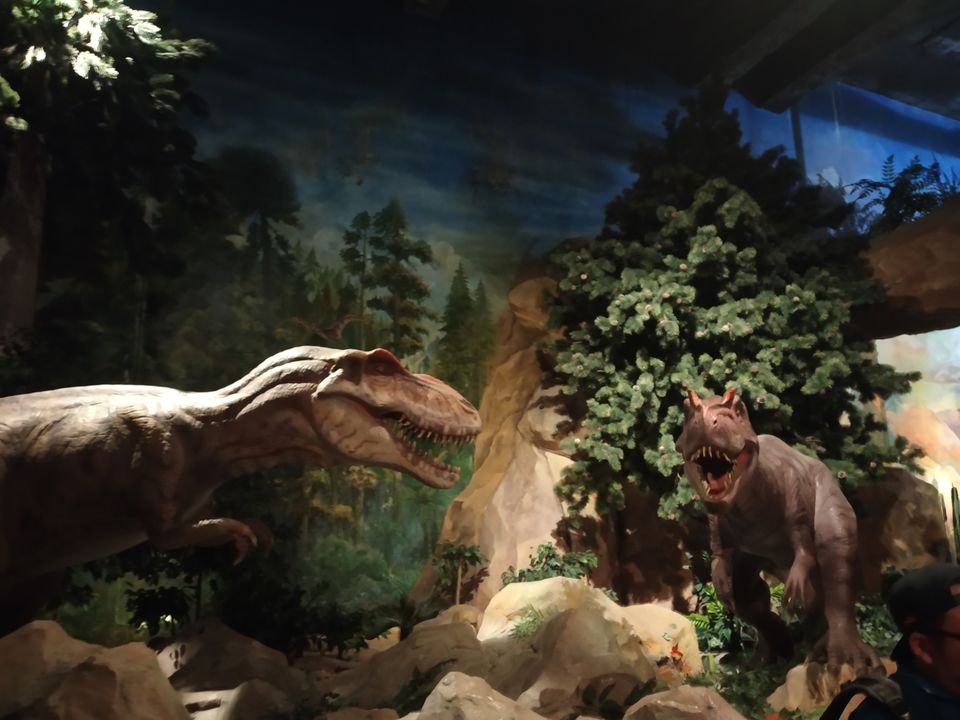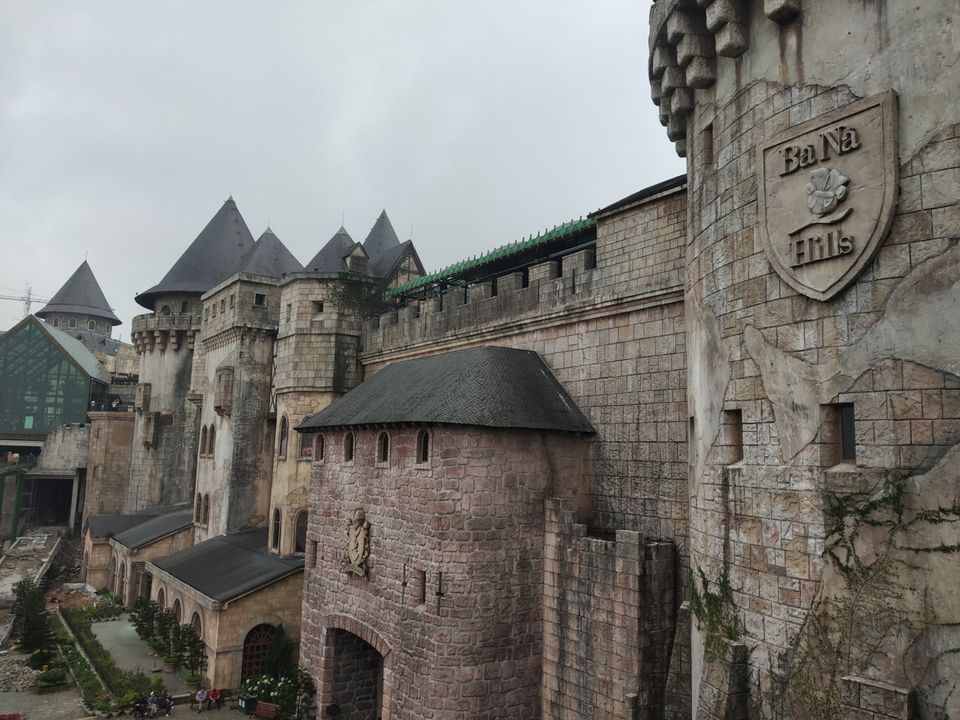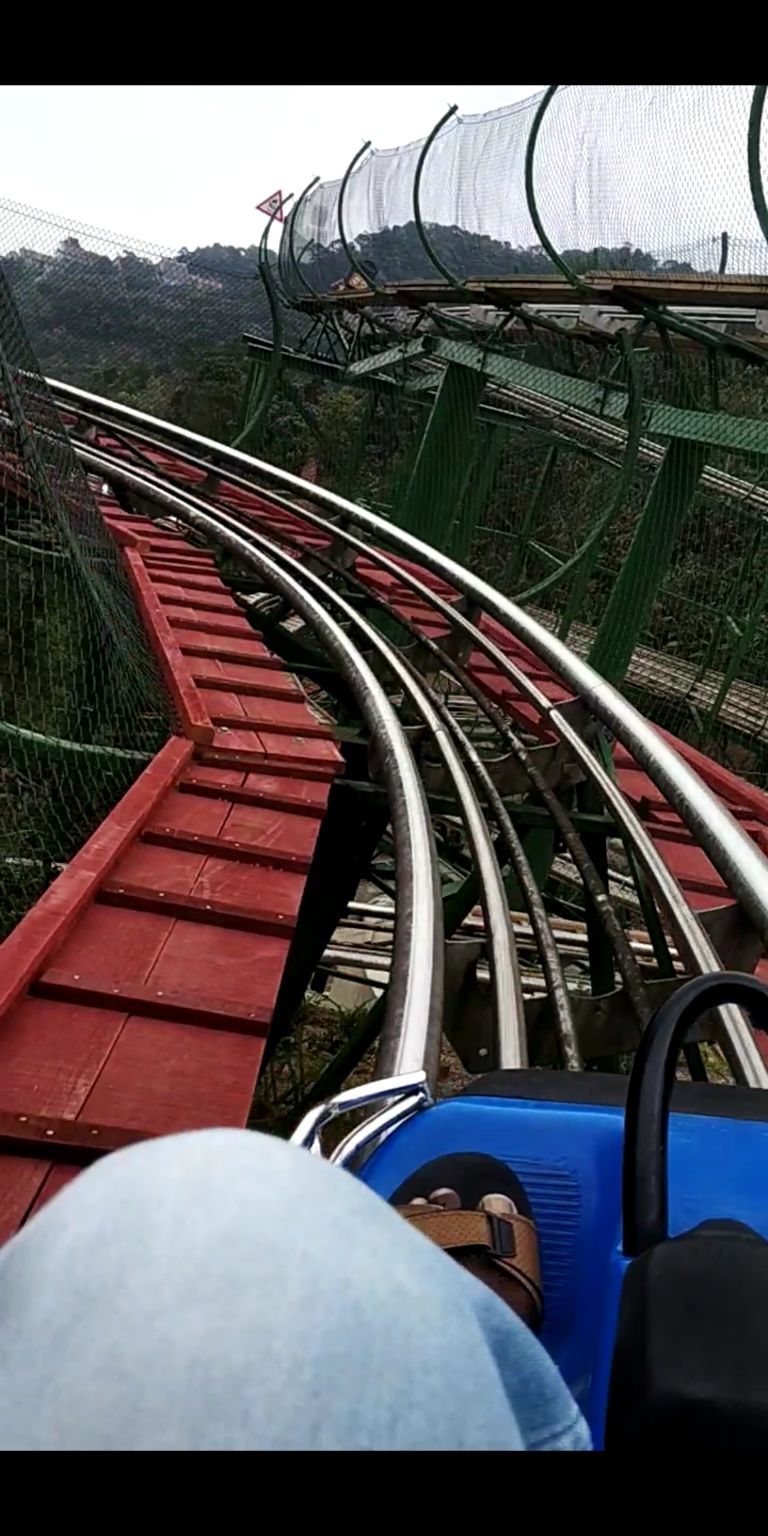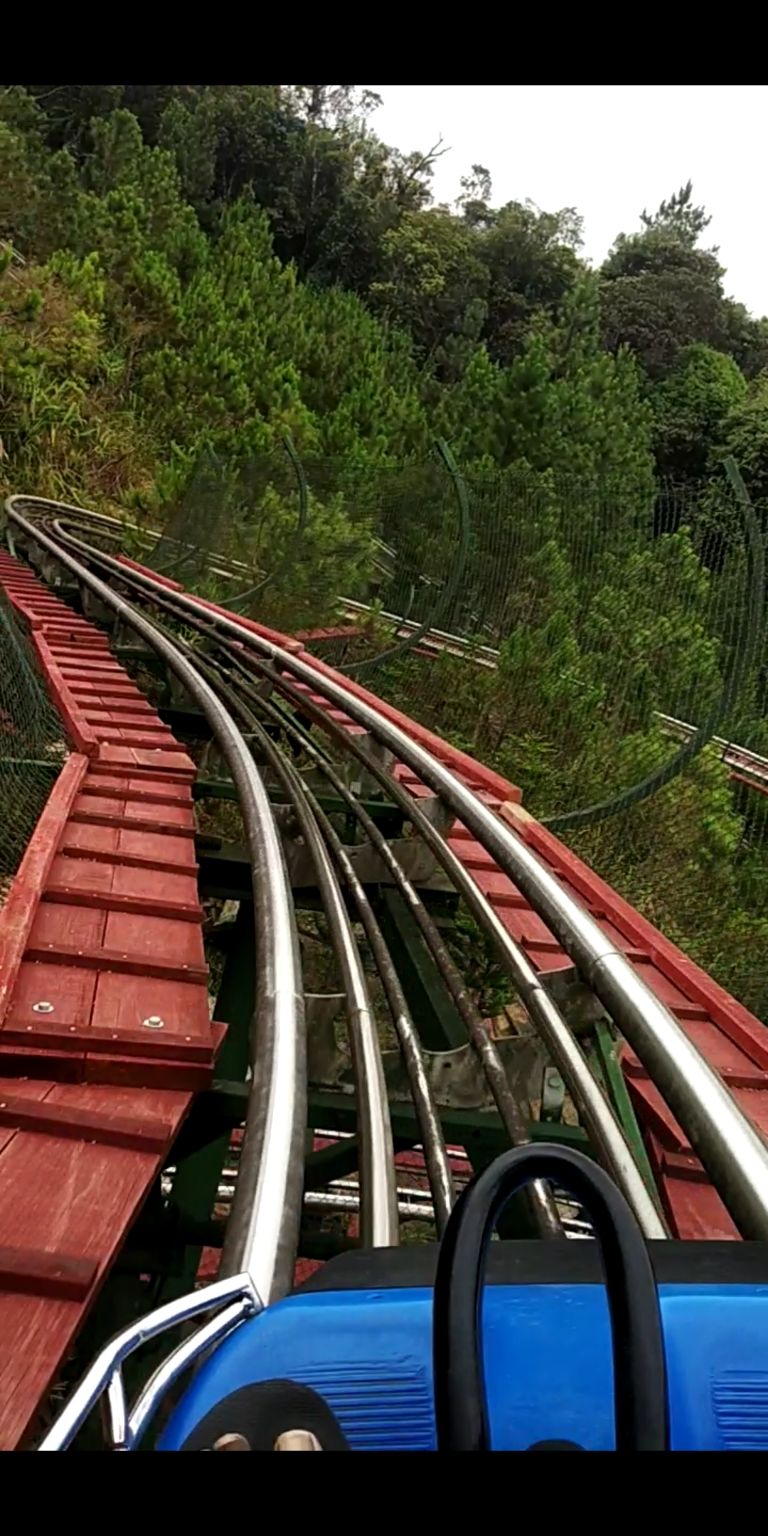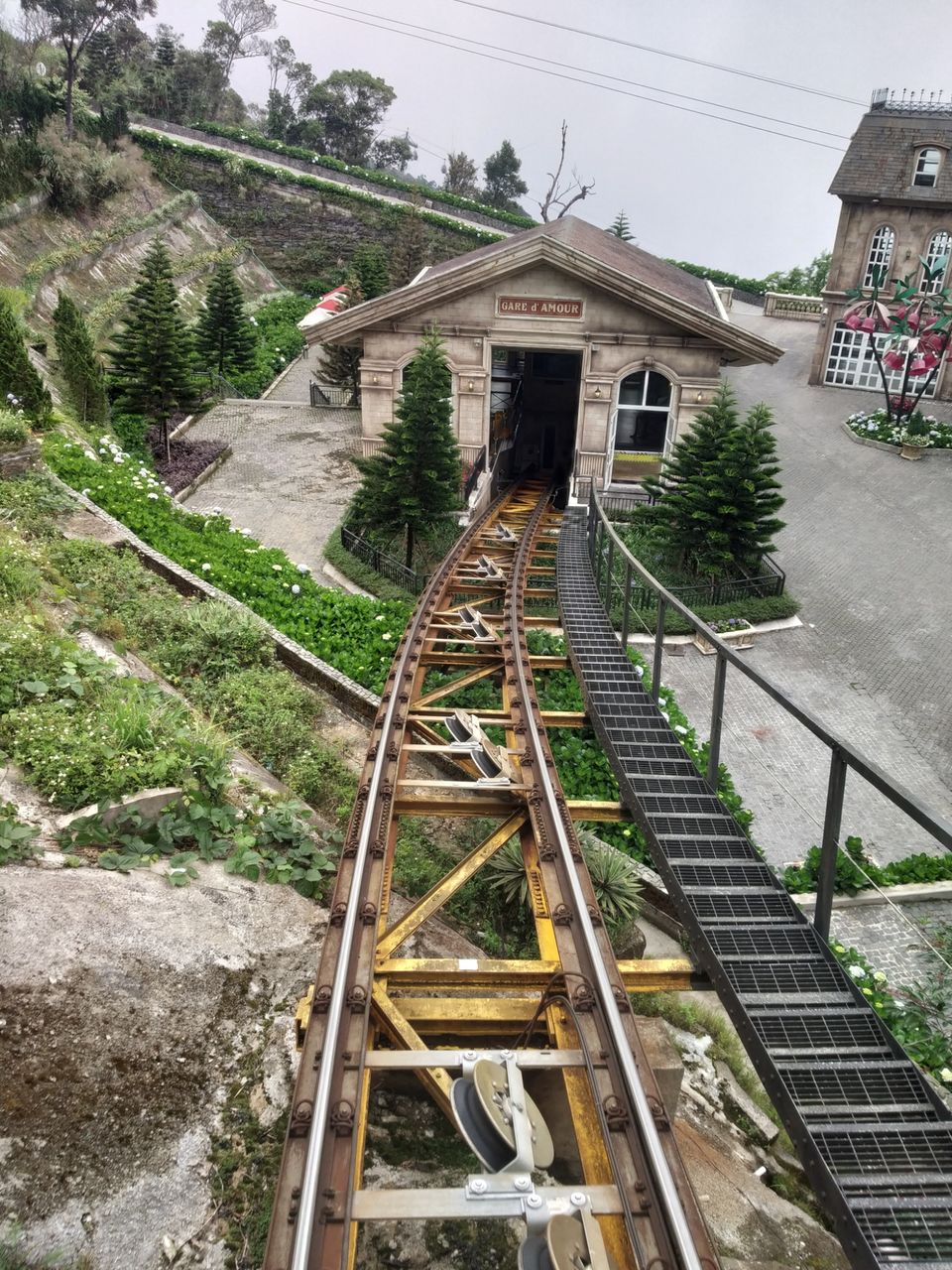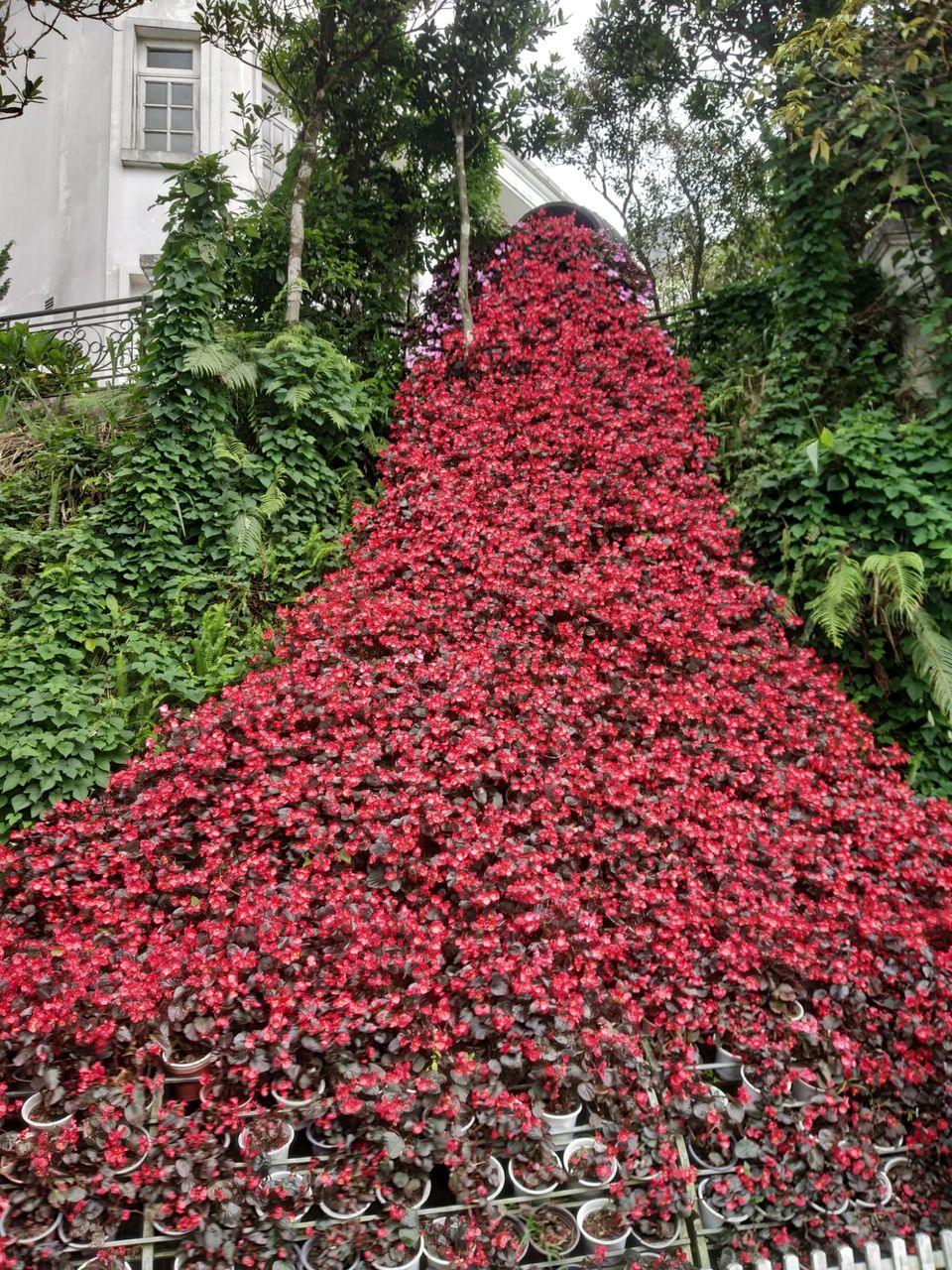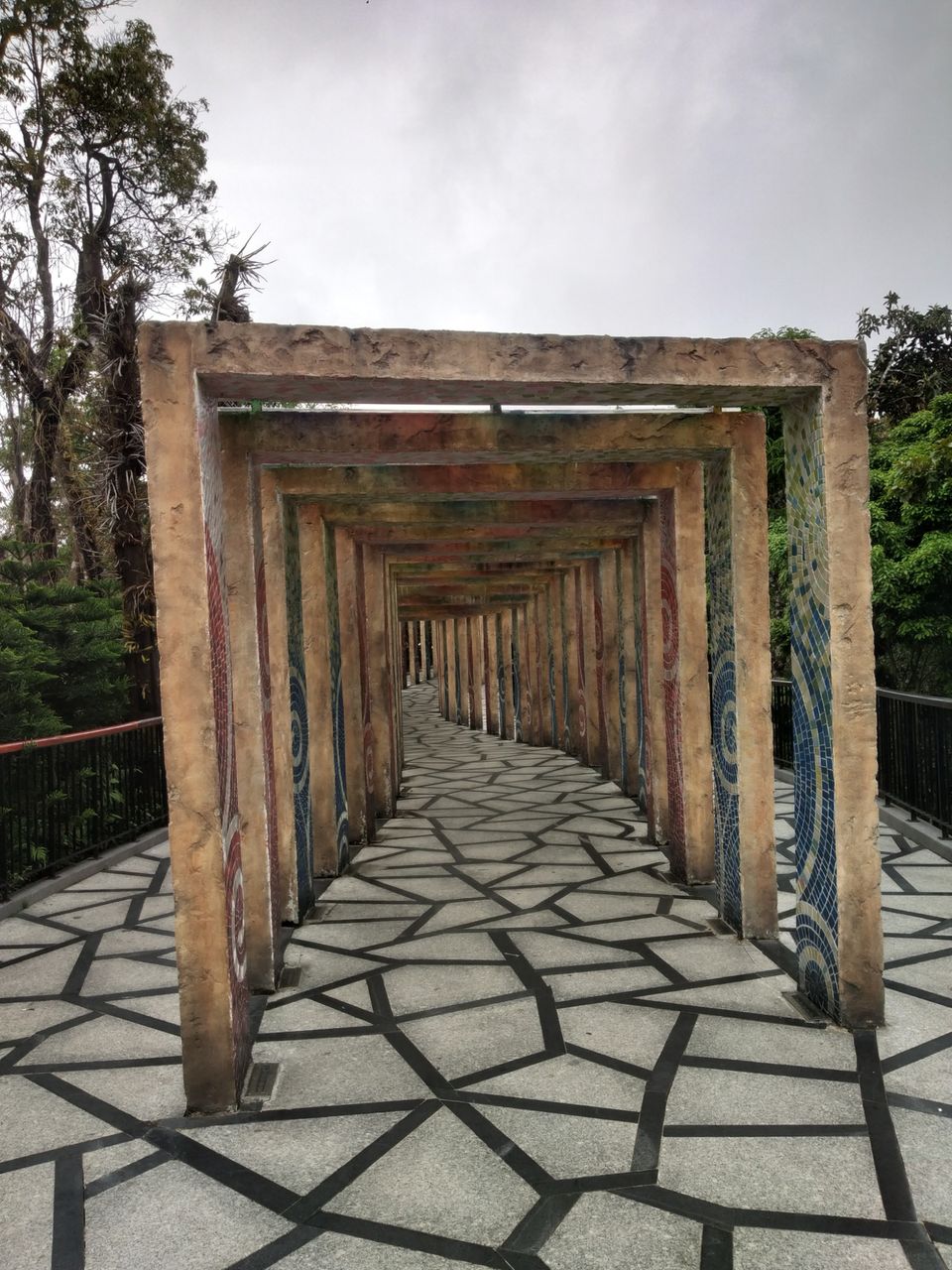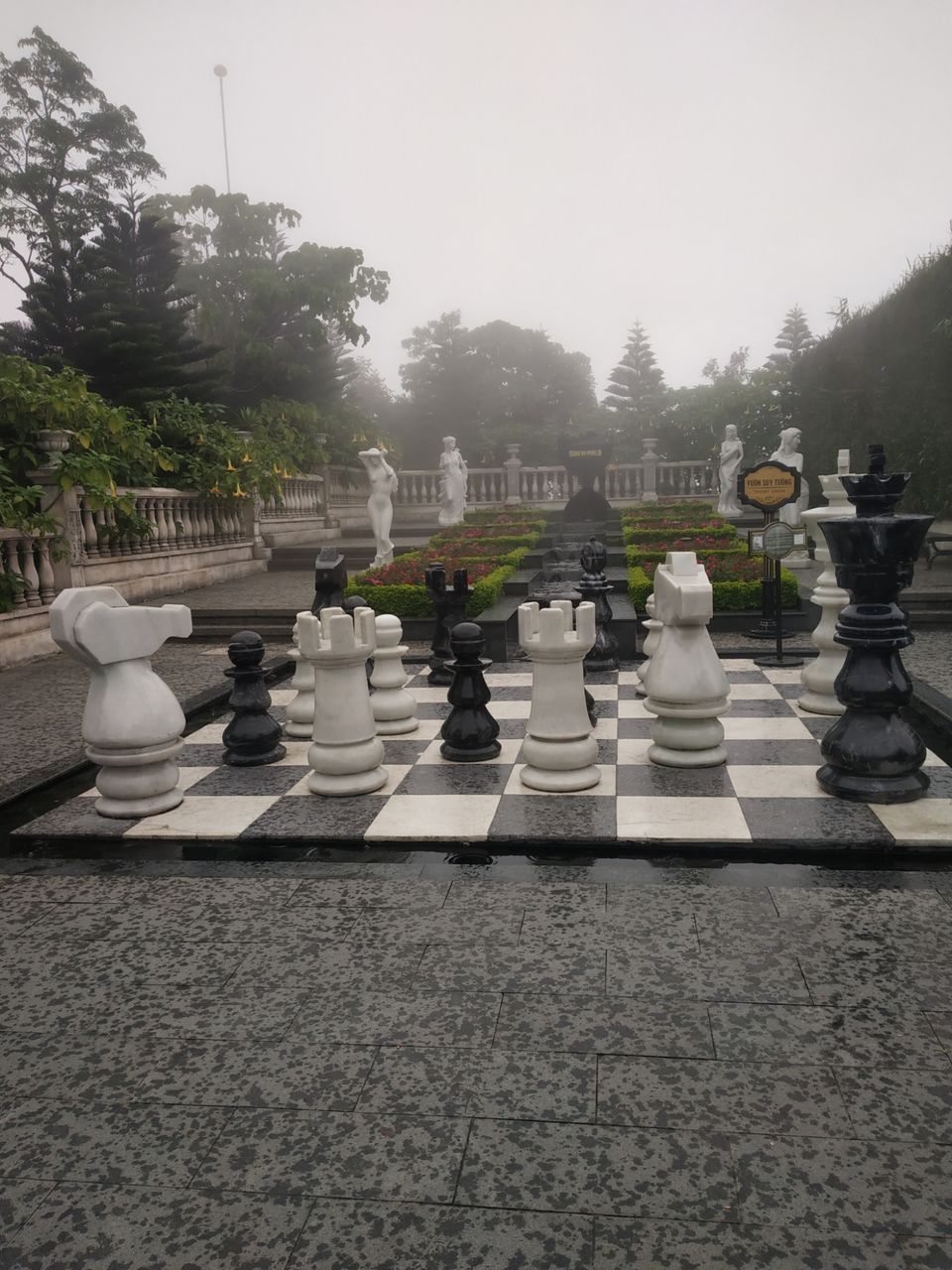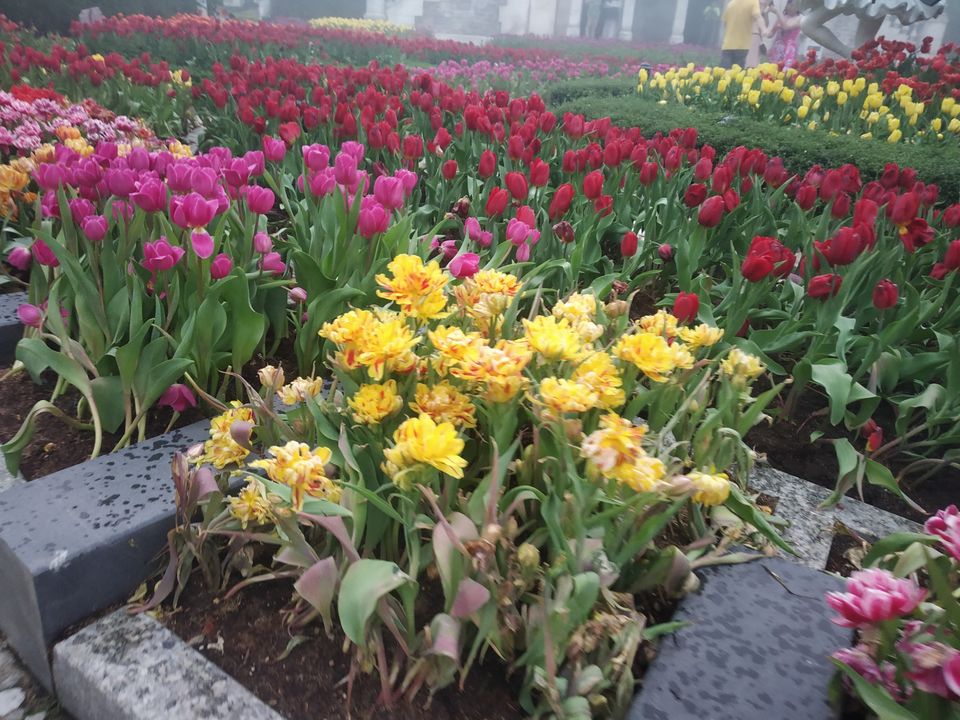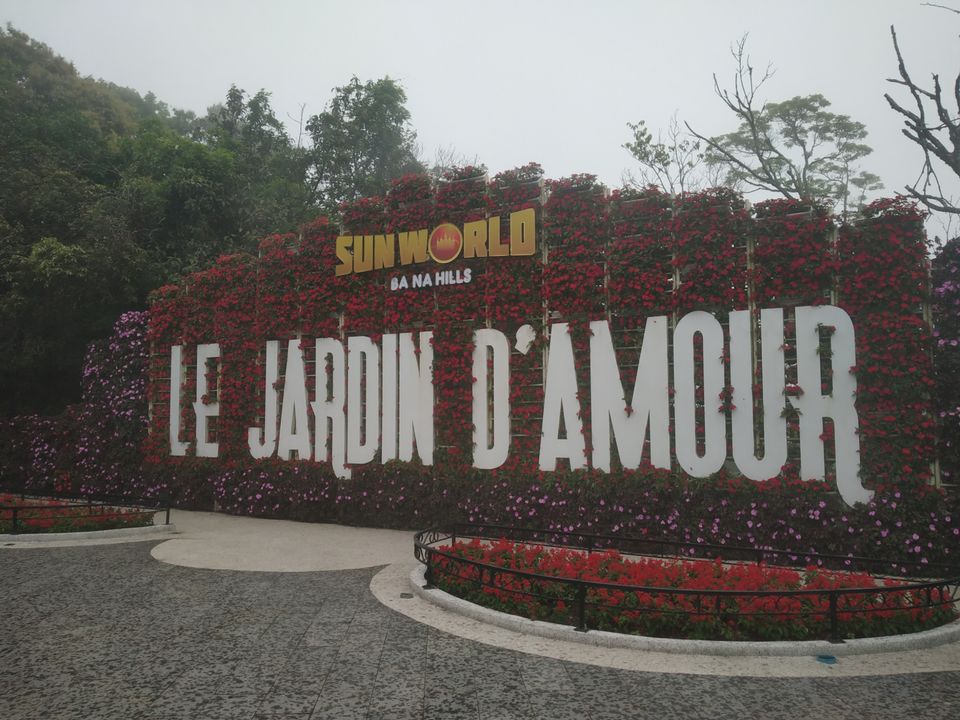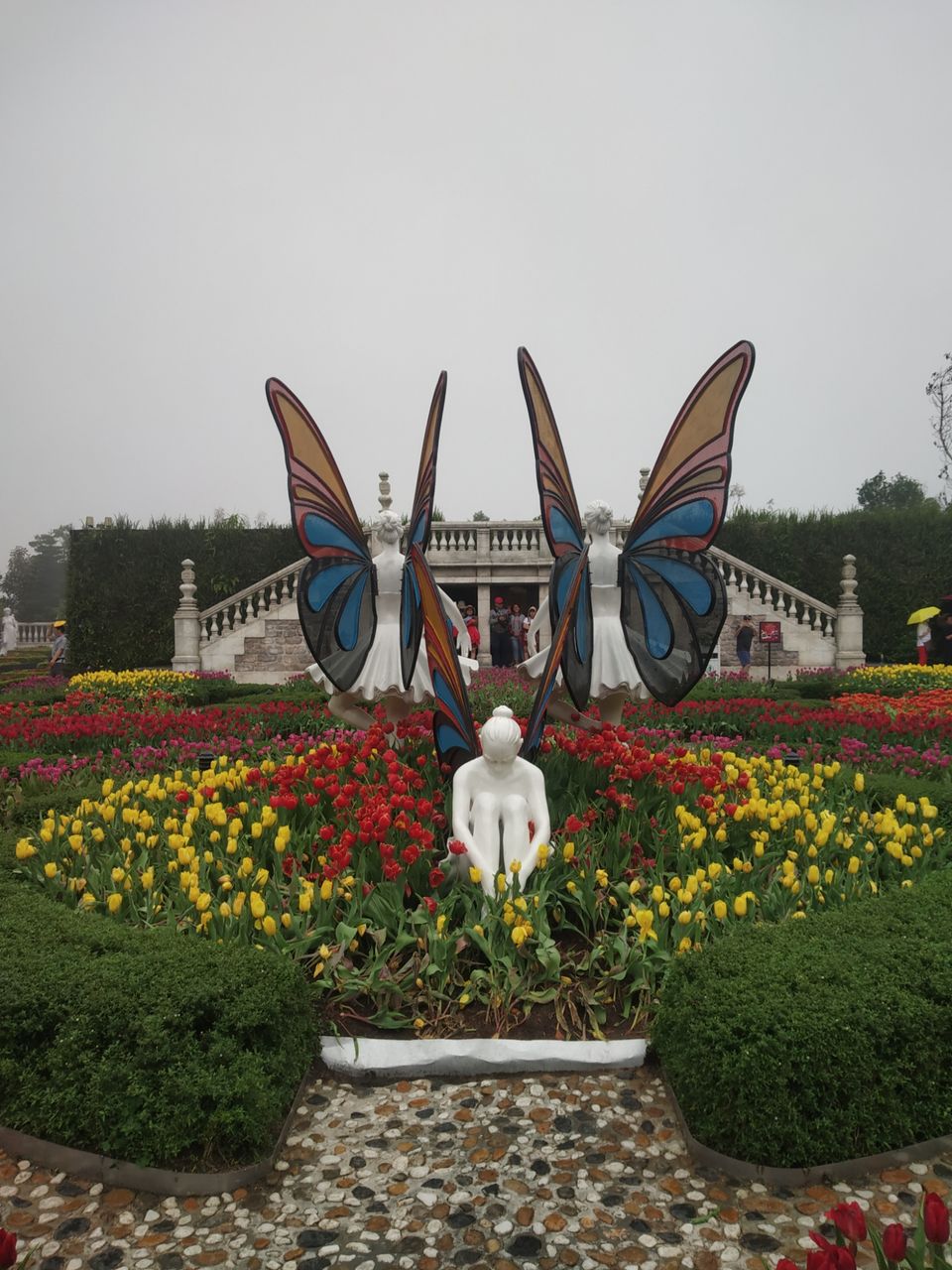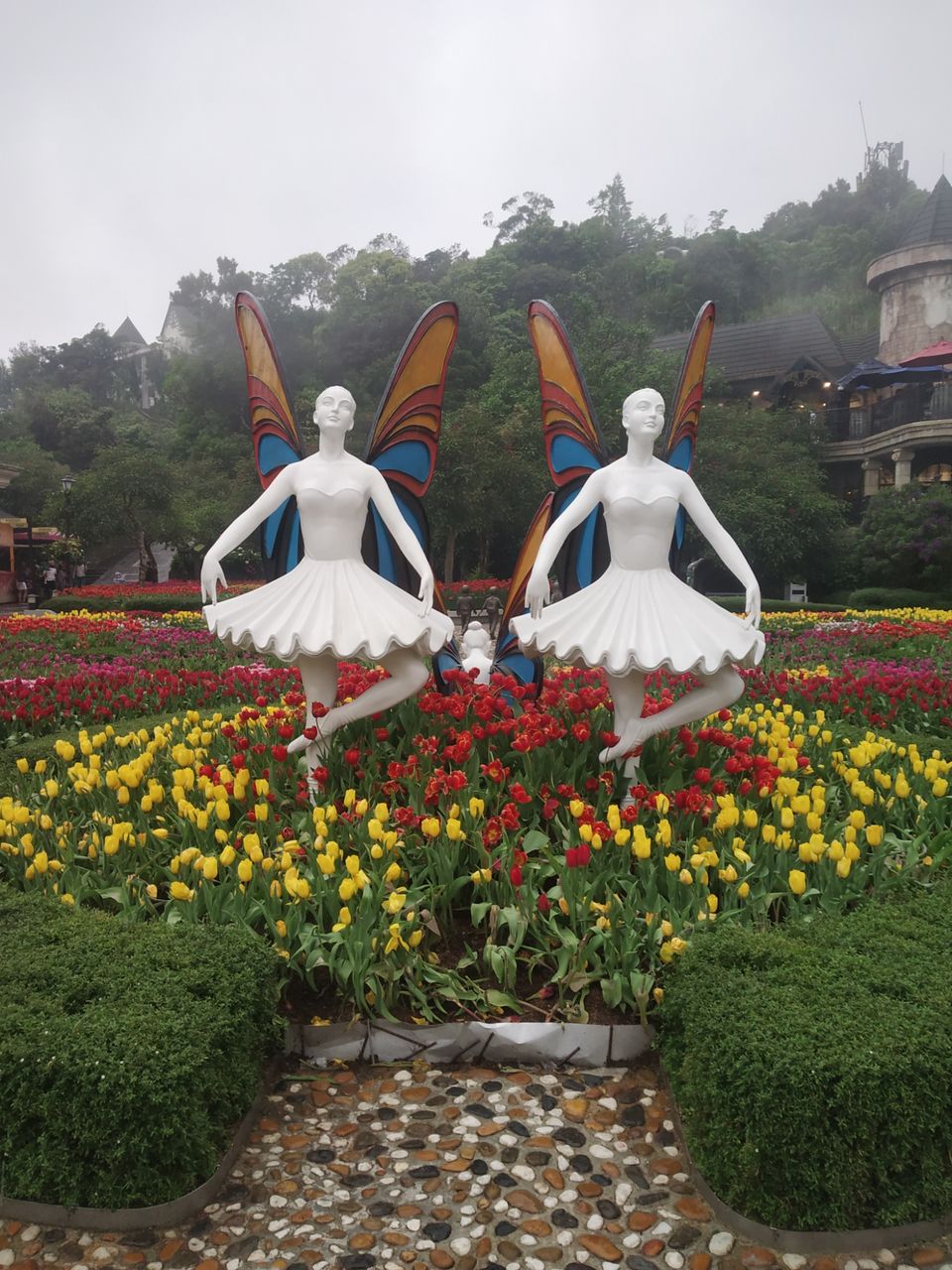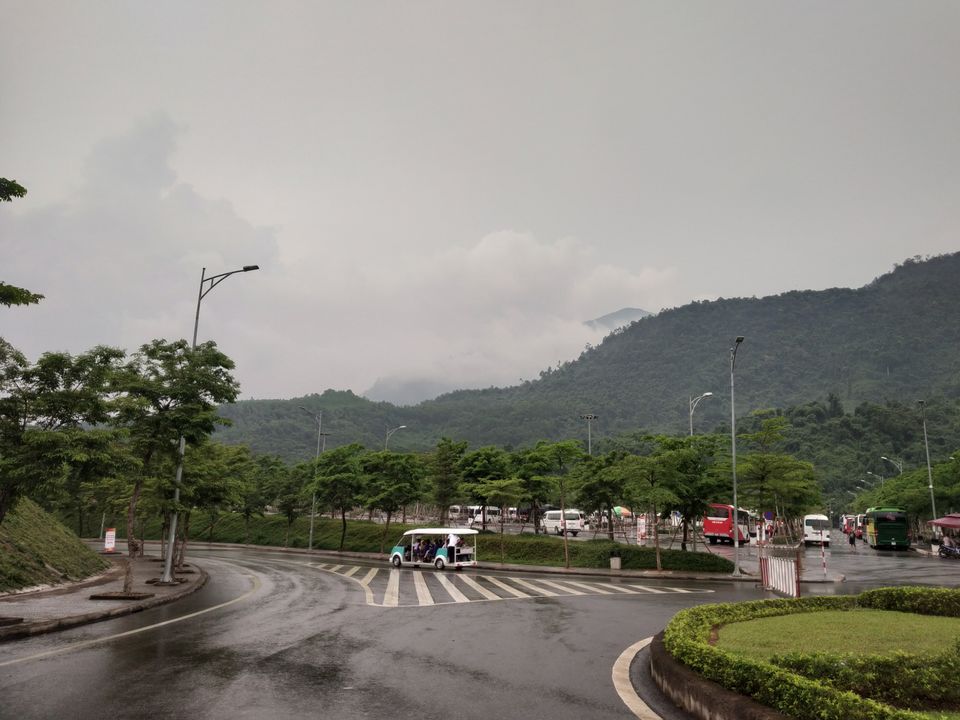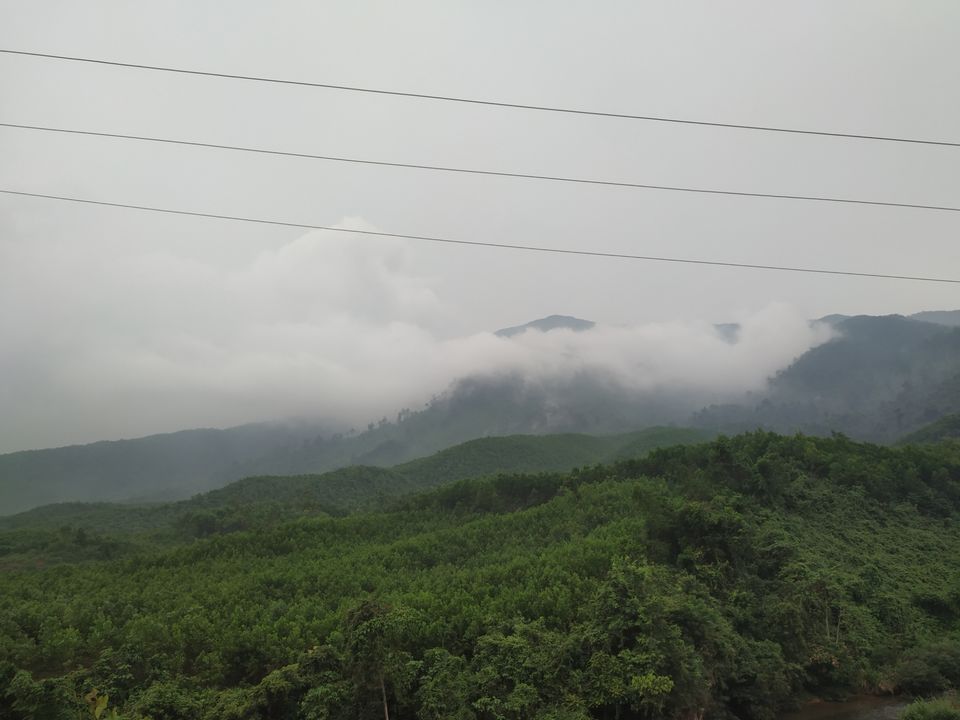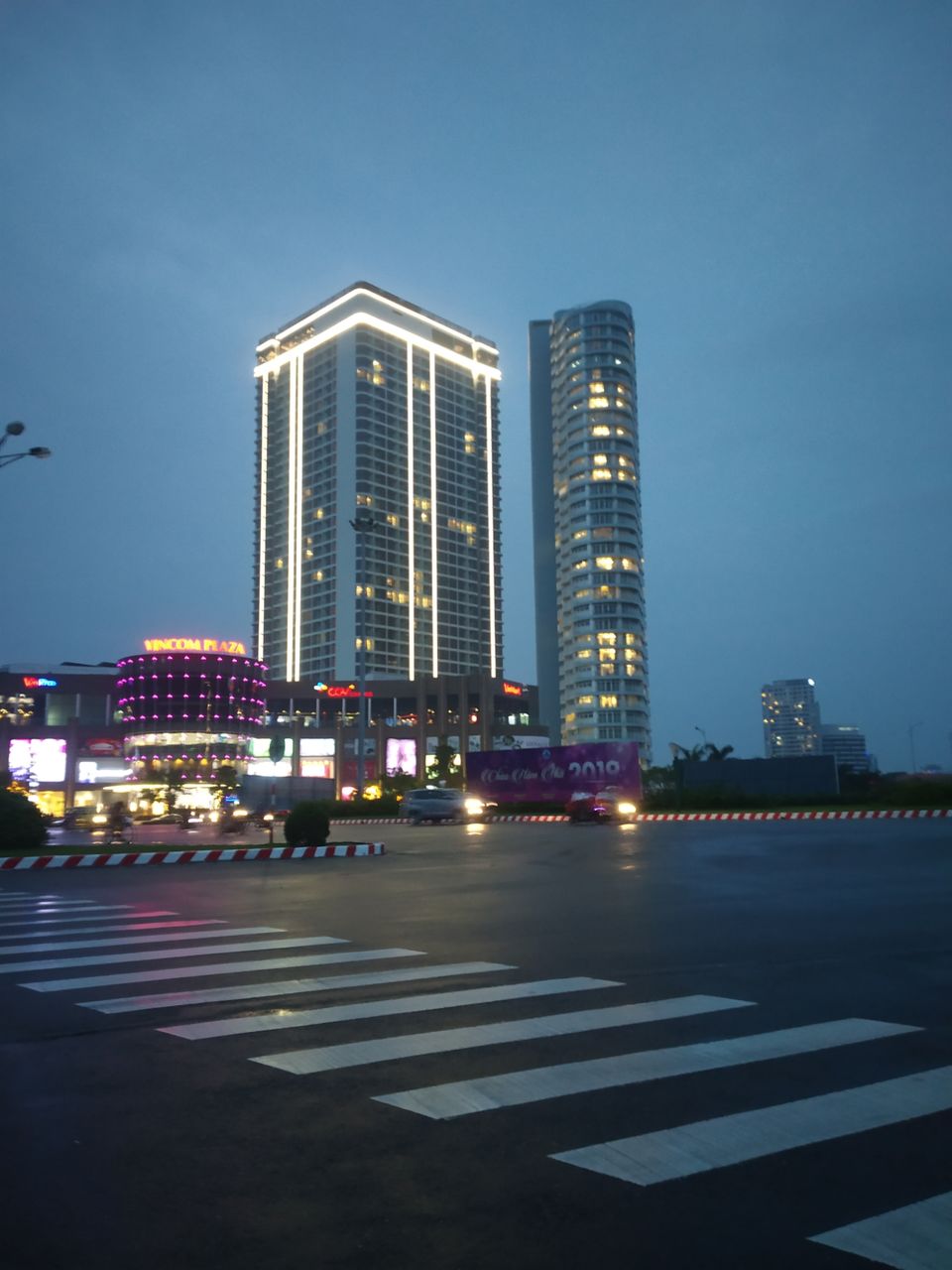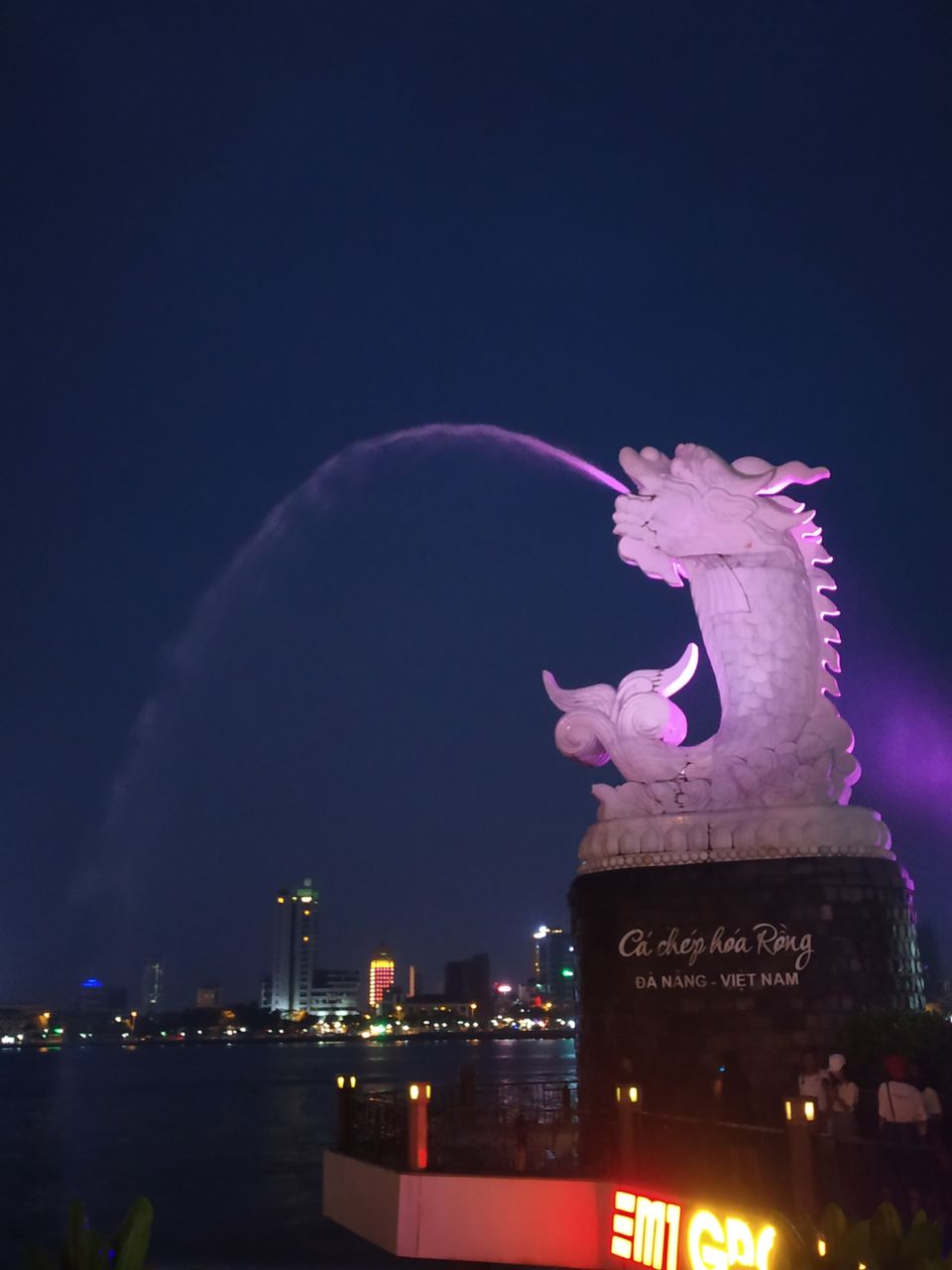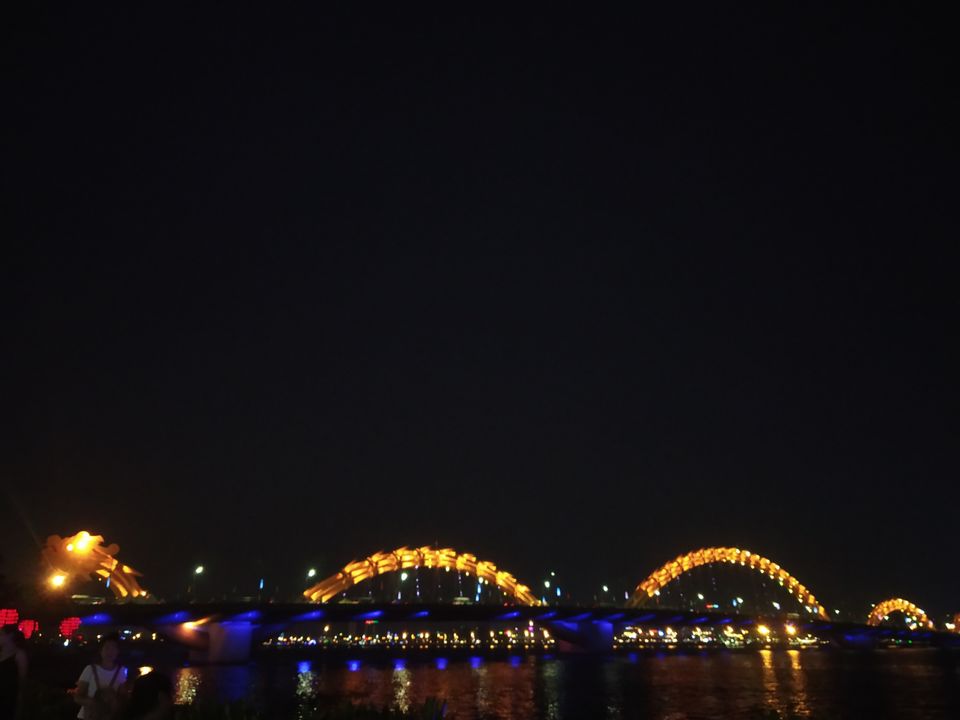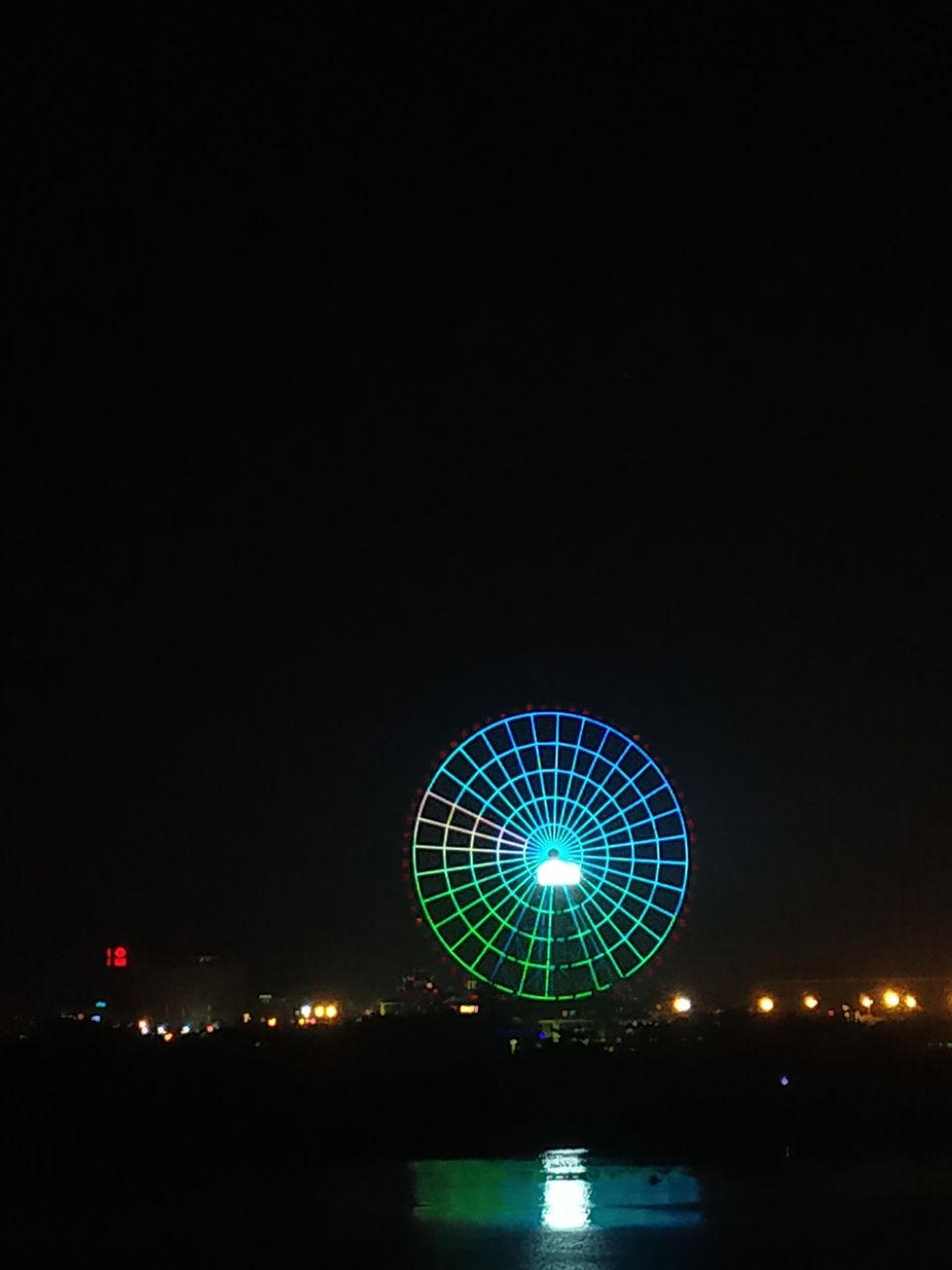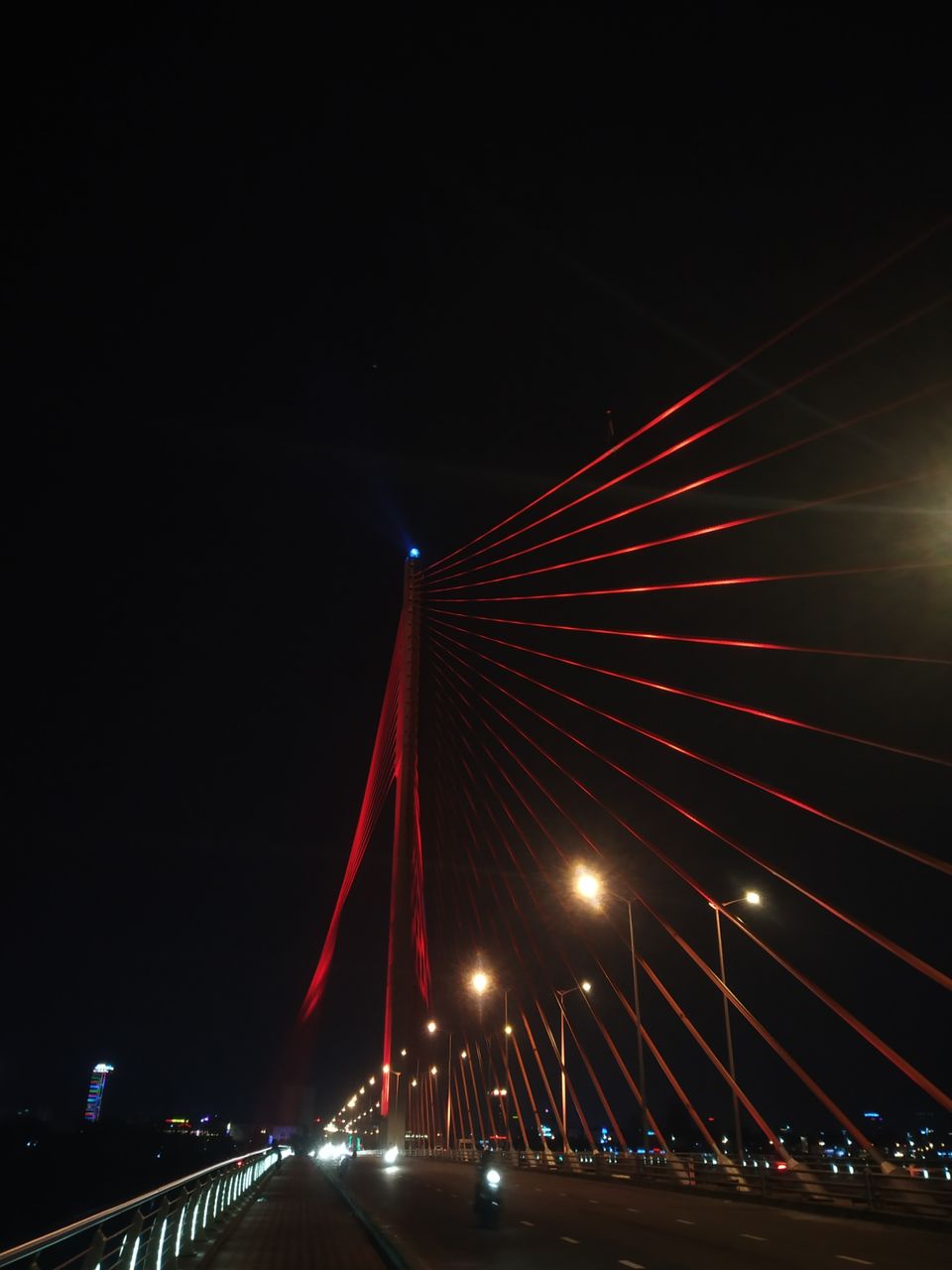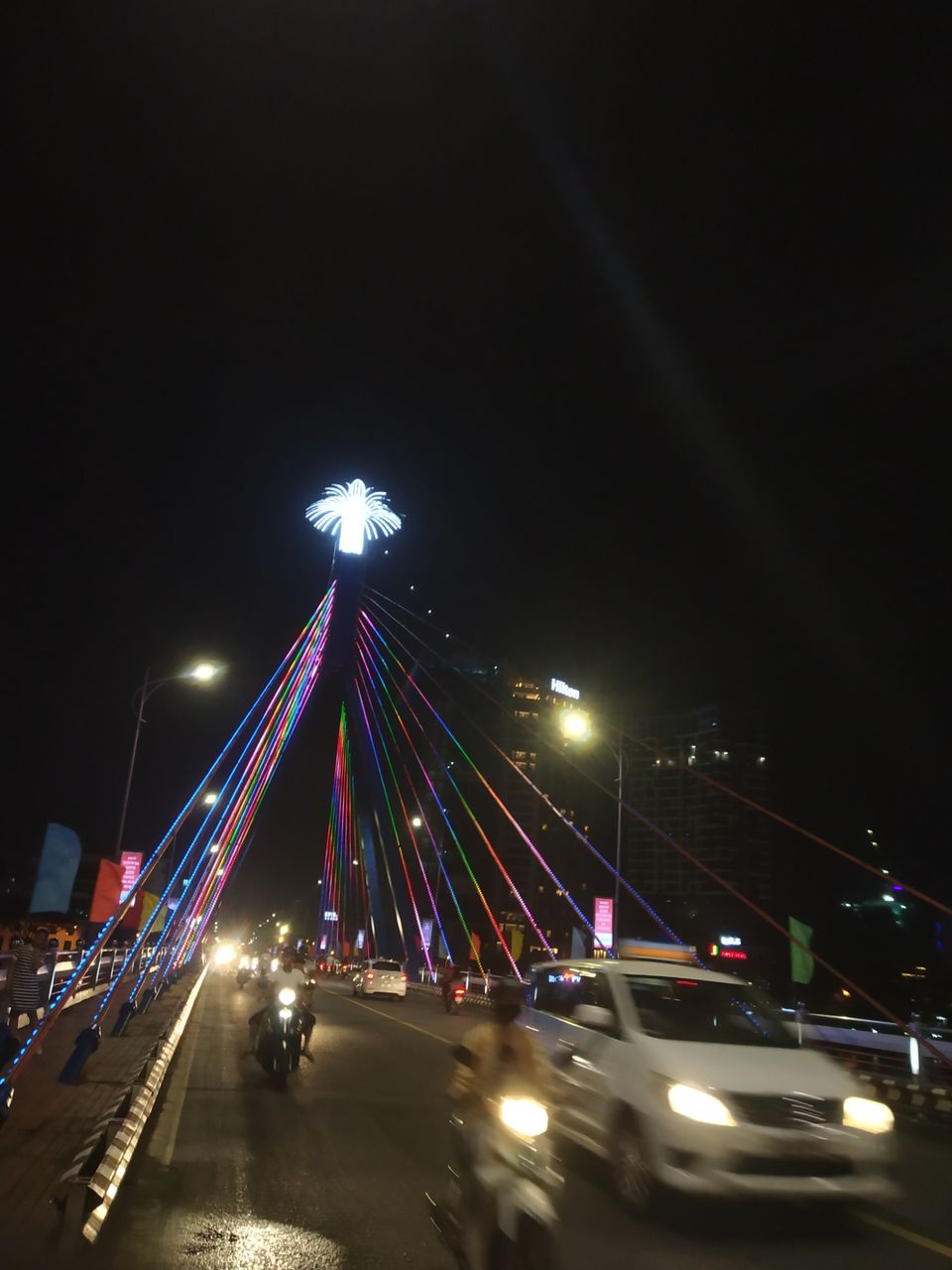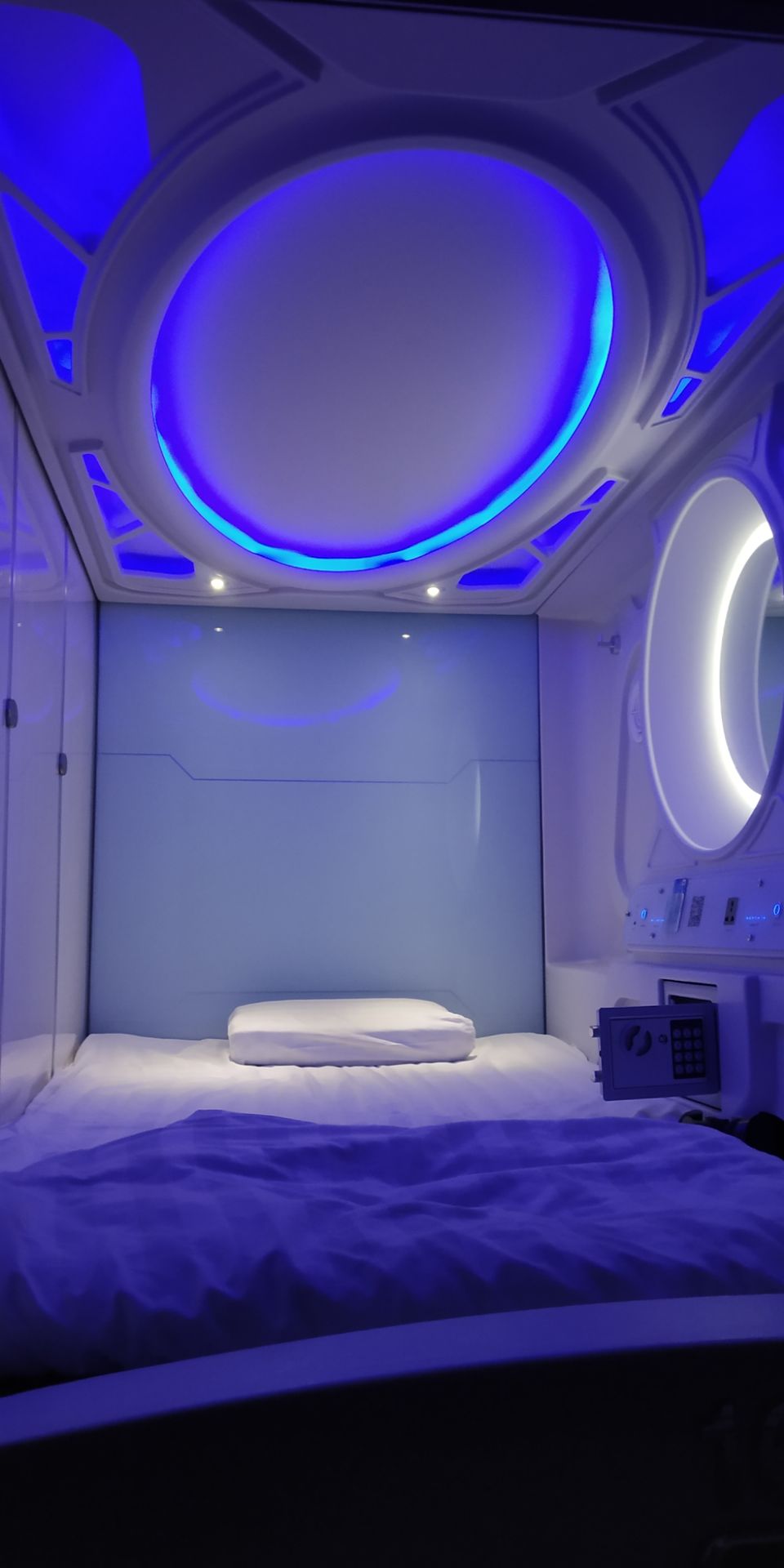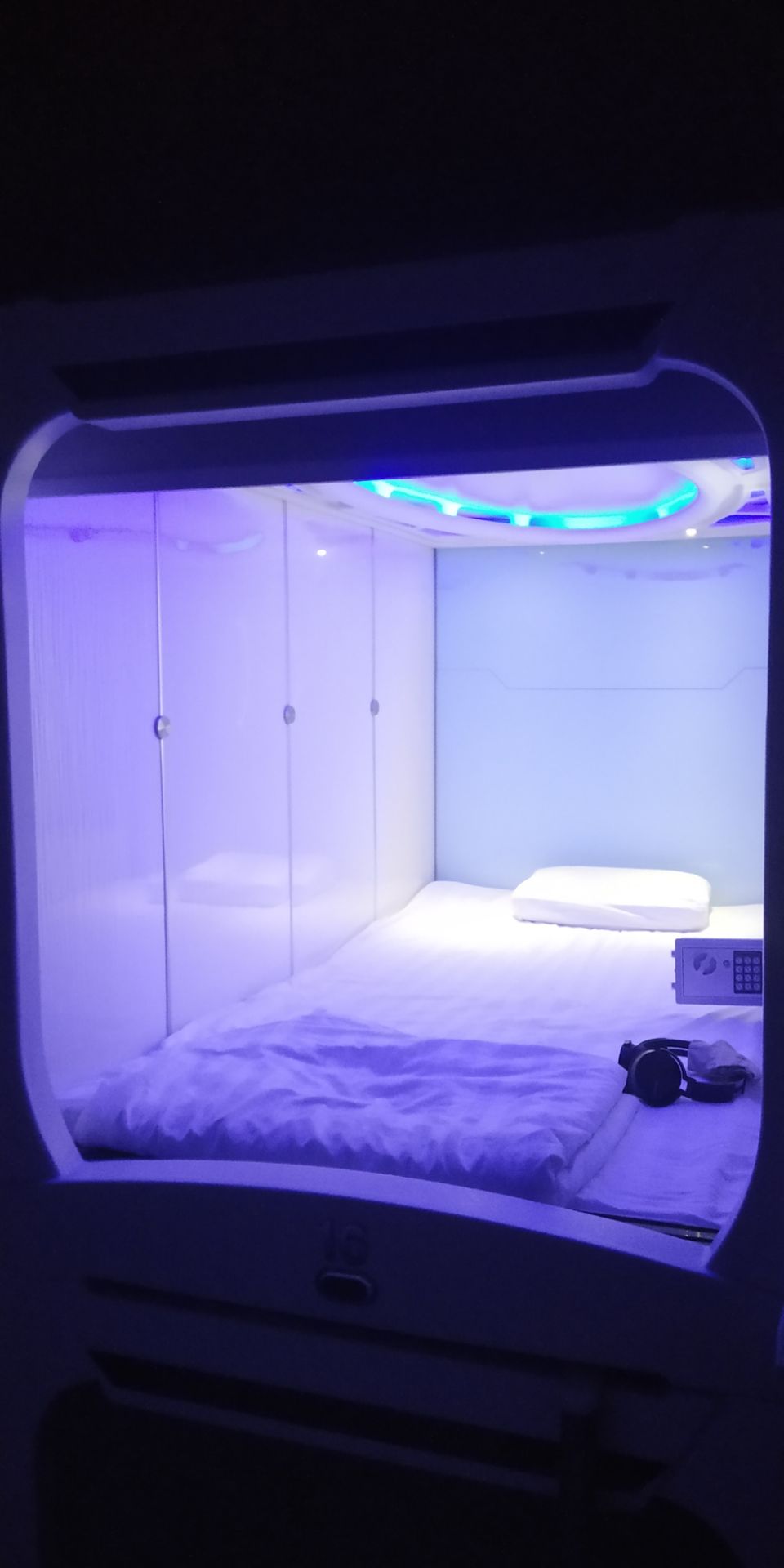 The day started with a Bike ride to Hoi an from Da Nang. Hoi an is an ancient town in Central vietnam (35Kms from Da Nang). Heard from many other travellers that Hoi an is the best from their point of view, so I am very excited about Hoi an. So I started my ride with the same motor bike which I have rented yesterday and on the way To Hoi an you can find the marble mountains which are pretty good and the view from the top of the mountain's is just Awesome. It costed 40000 dongs for the entrance ticket. And after sum walk around the marble mountain, at around 2Pm I resumed my trip to Hoi an and reached there by 2:30. Checked in my hotel, thrown away the luggage into the locker and quickly went into the Streets Exploring the Japenese bridge and The Ba Mu temple, the market area & Thu Bon river.
Every Shop and house over here Can be photographed. I am just Amazed by seeing this beautiful small town. Also, it's very Touristy. So after the city lights are turned on more crowd started to roam around on the streets. The night market is filled with colourful lanterns all over and With crazy street Food. I have done my Dinner at a vegetarian hotel Tonight tasting the Vietnamese Noodle soup. It's Quite delicious.
Back to the hotel by 10Pm and done some serious discussions with fellow travellers.????
Hoi an is Really Beautiful and it should be in your list for sure when you visit to Vietnam.
Dropping some pictures below.????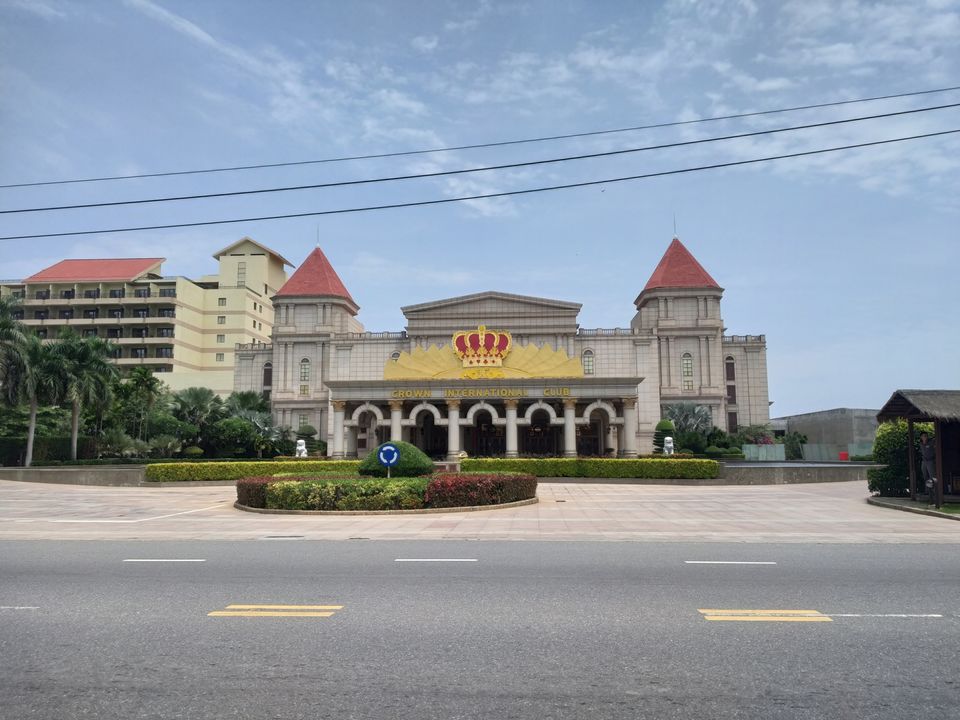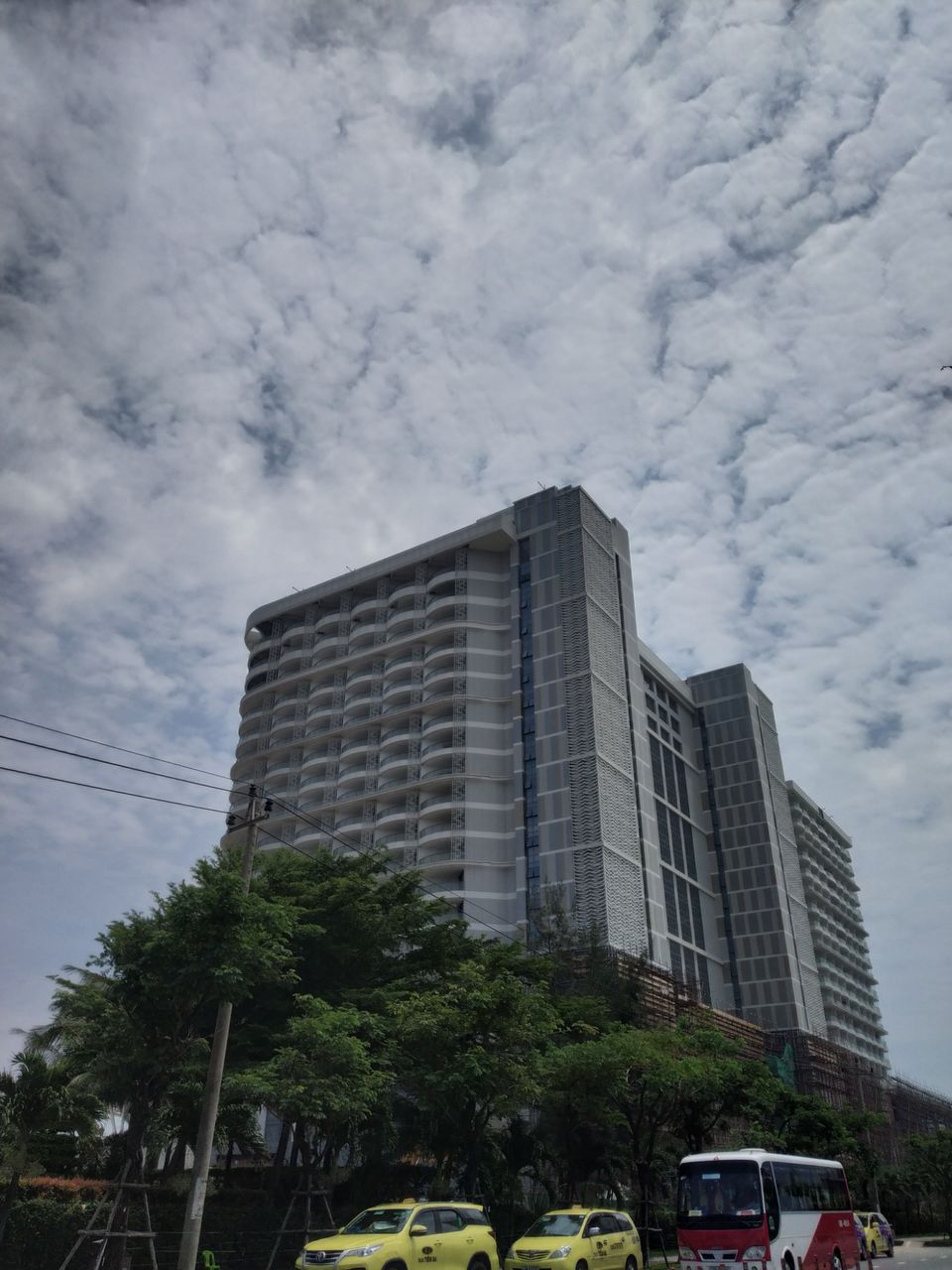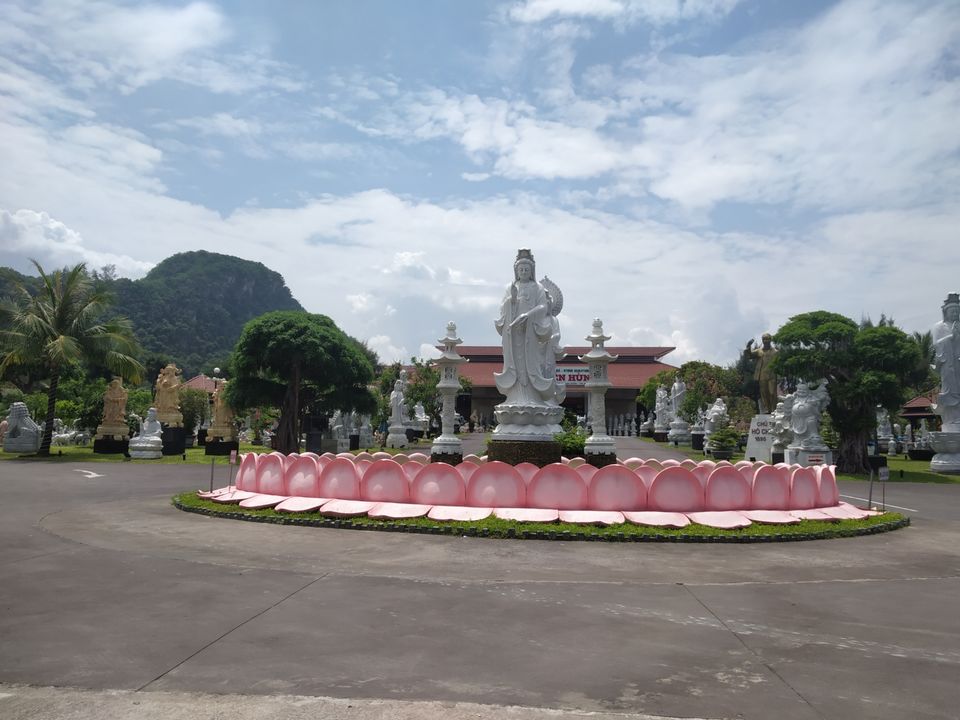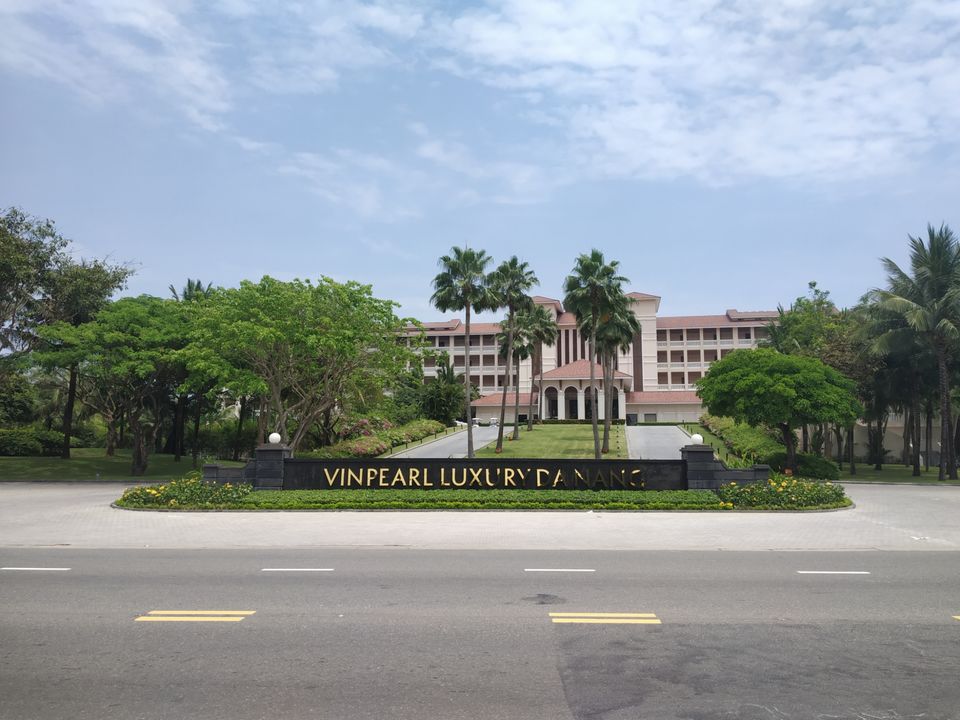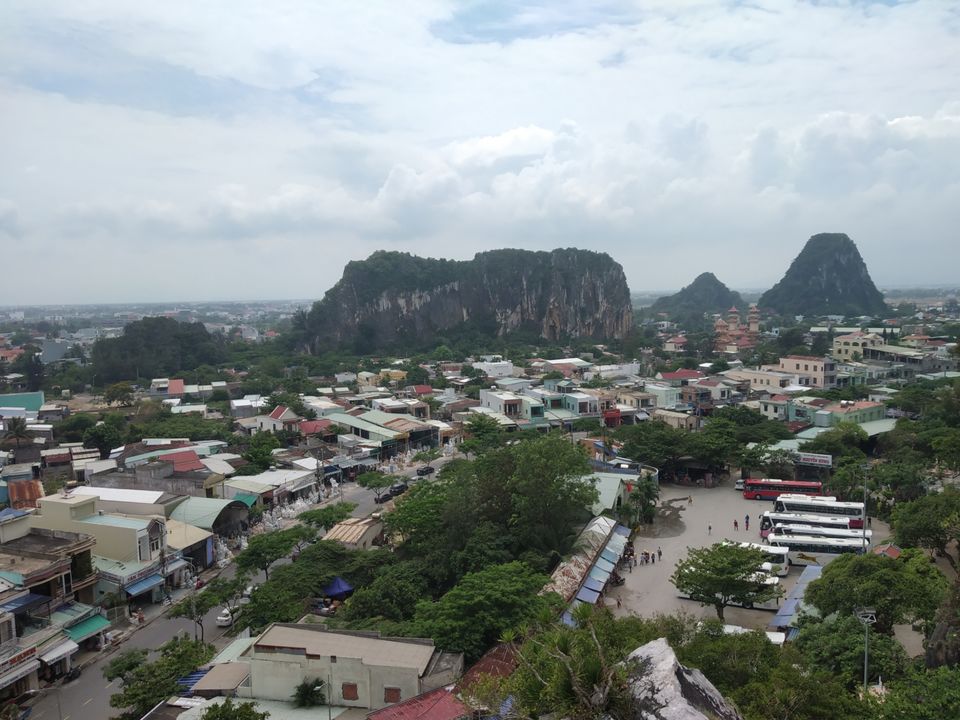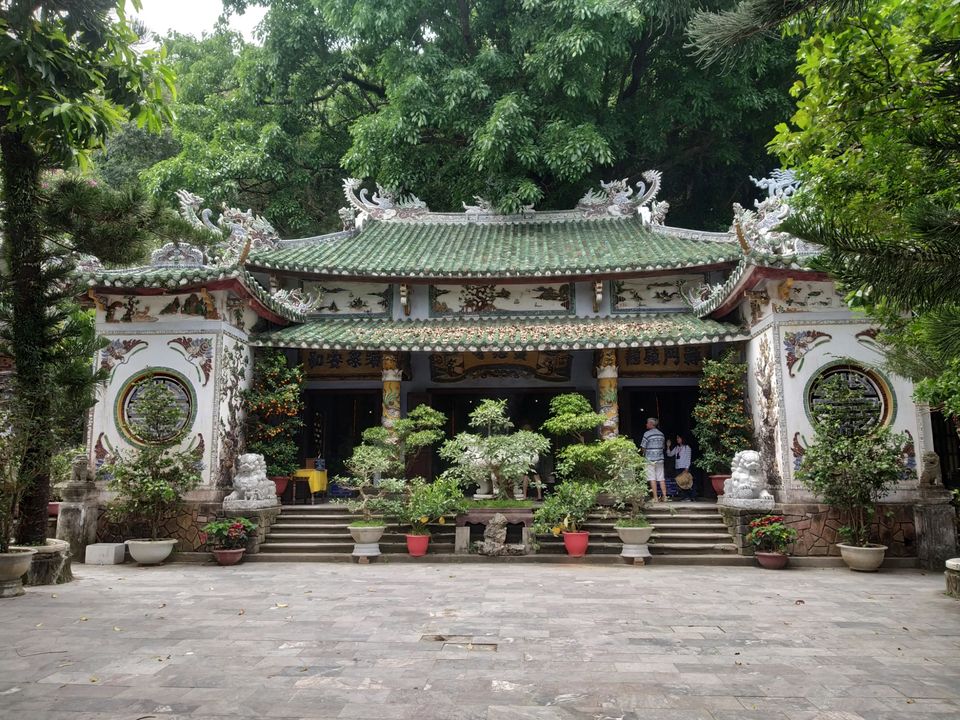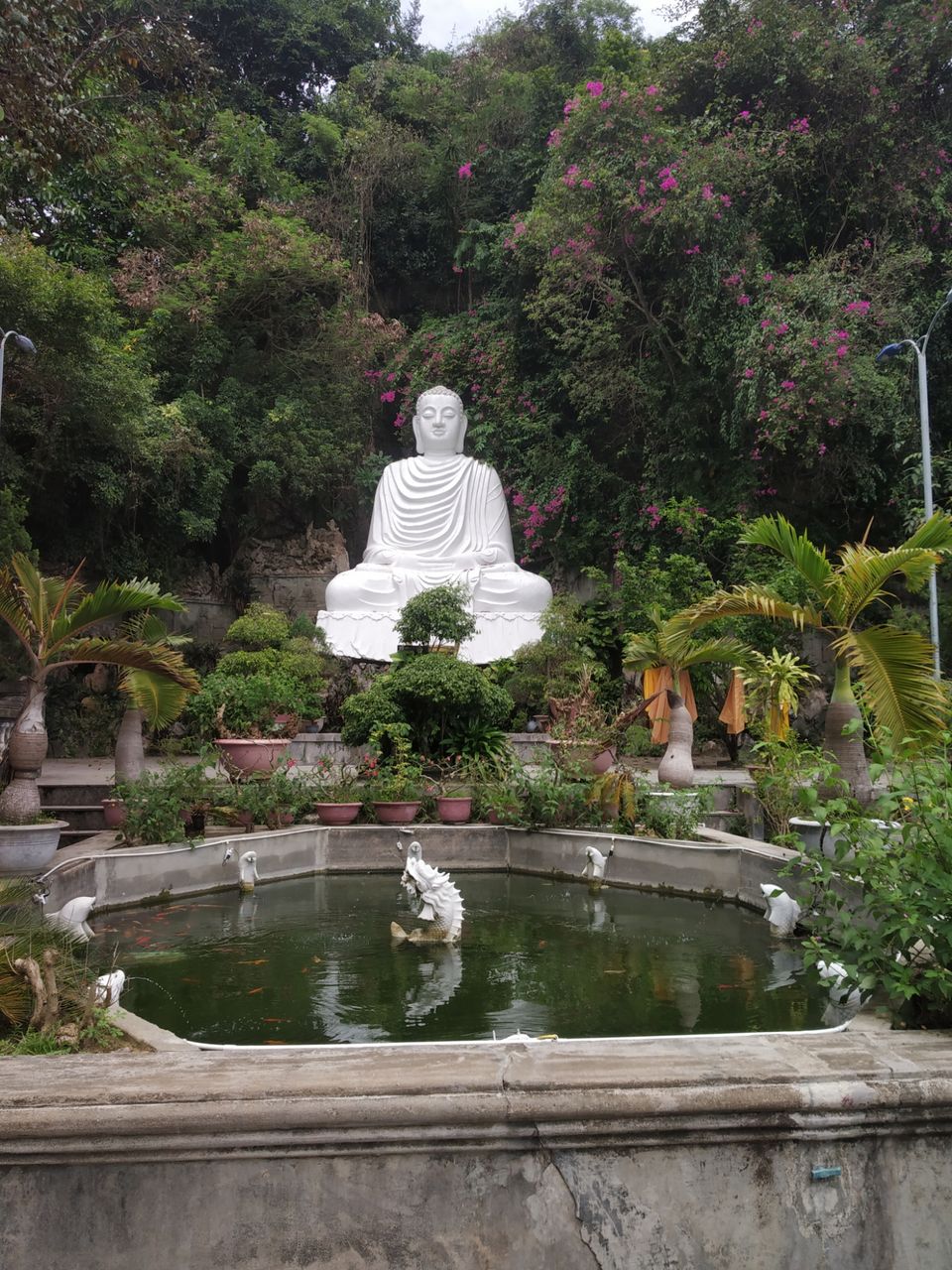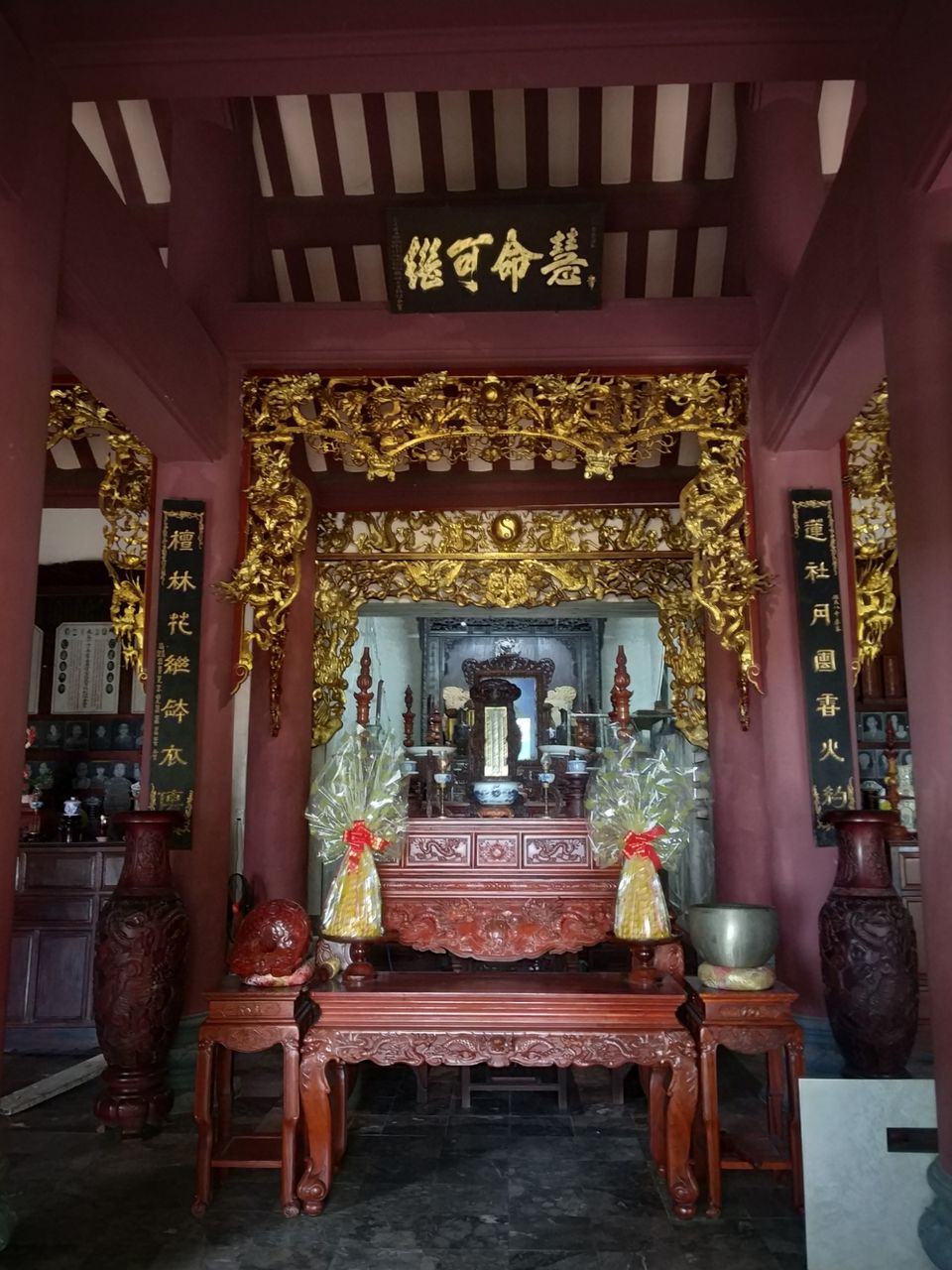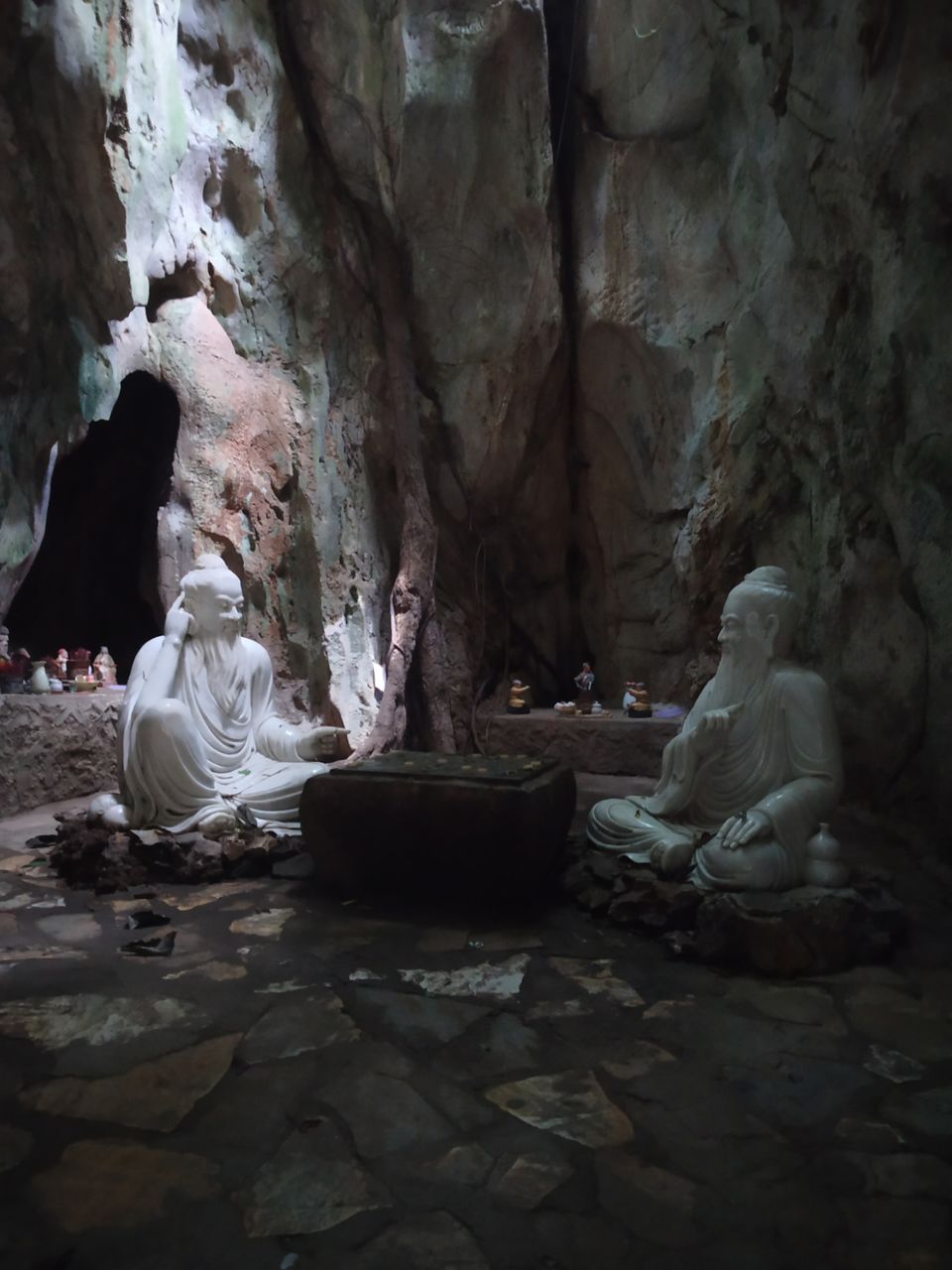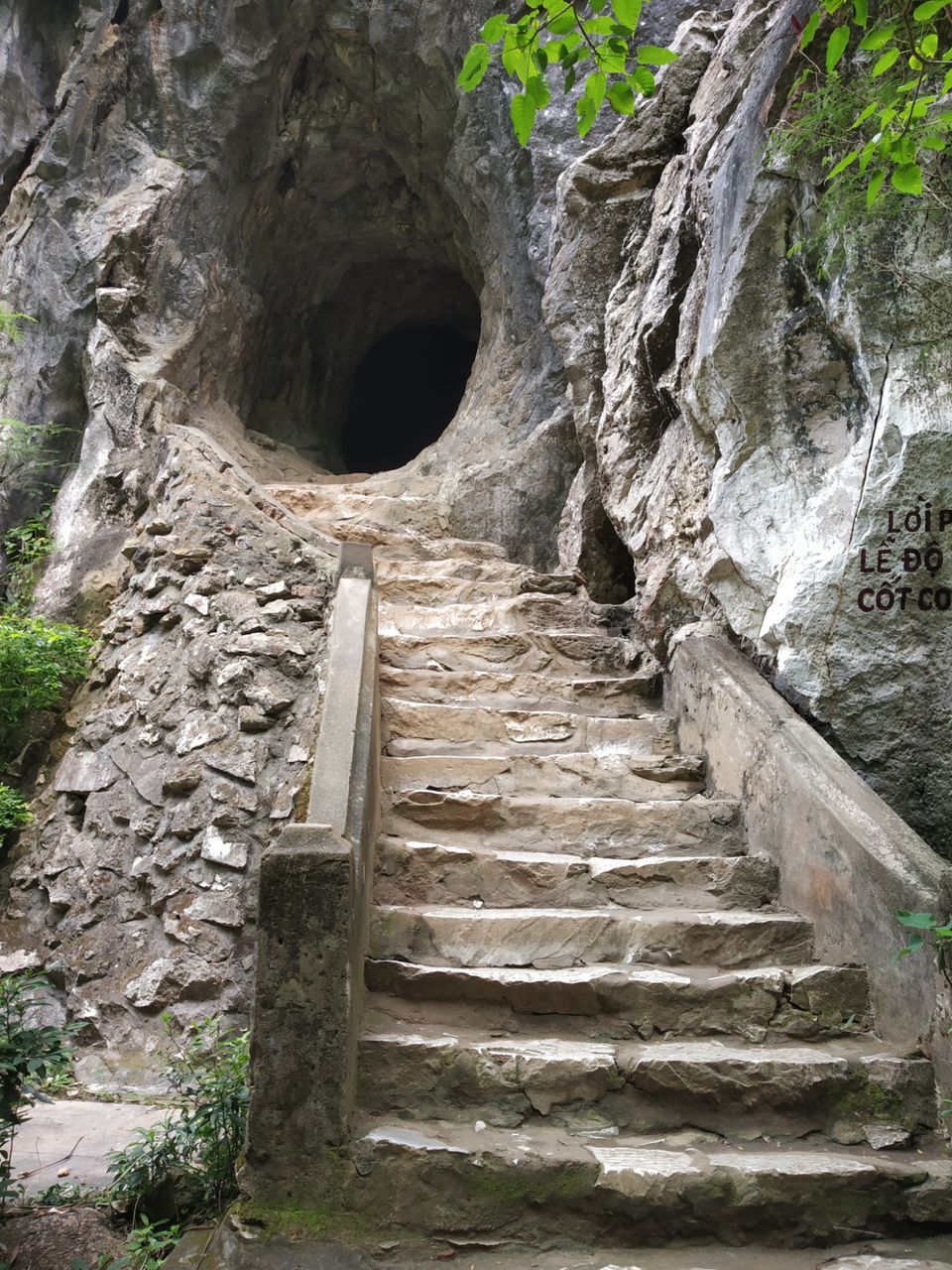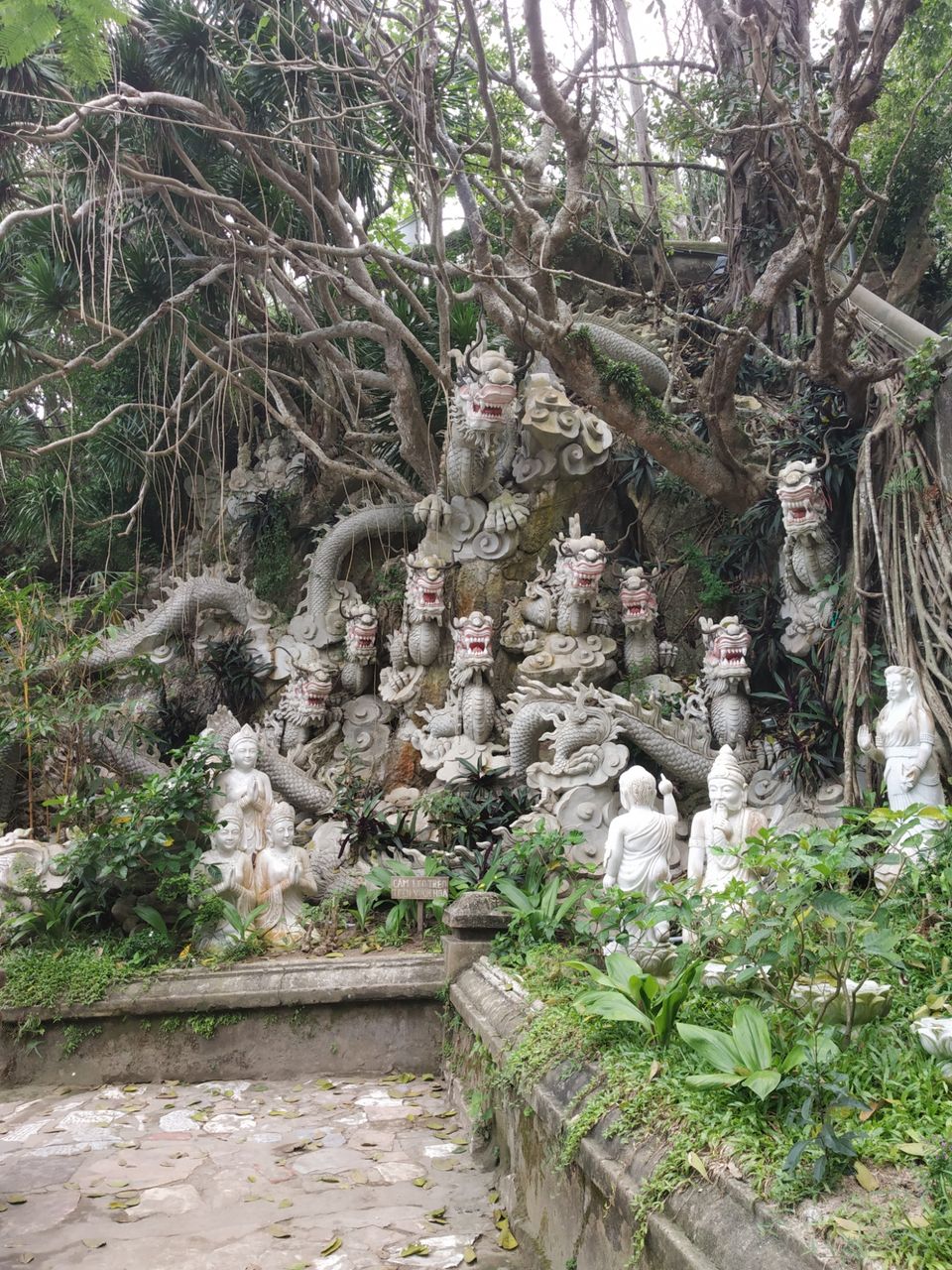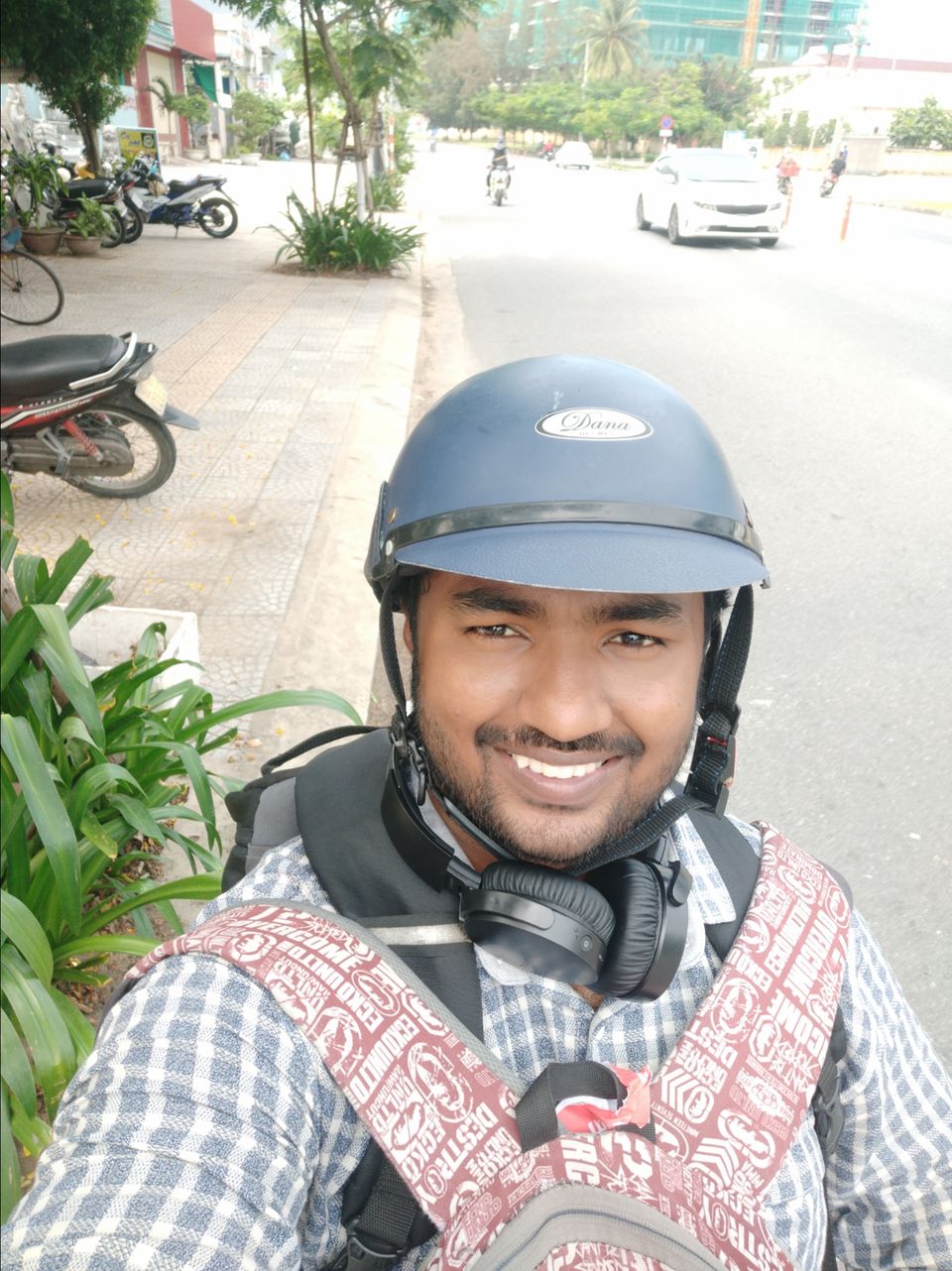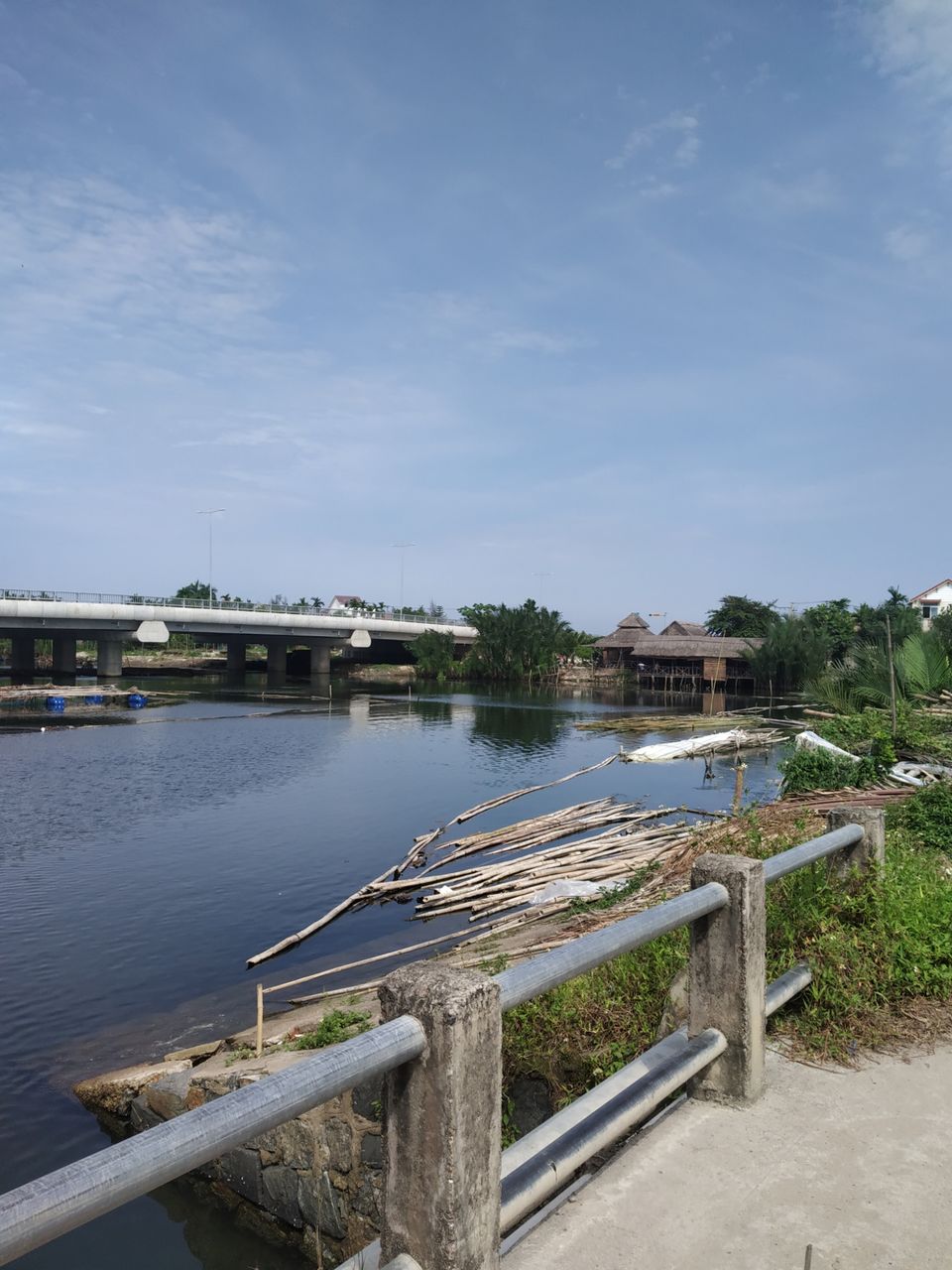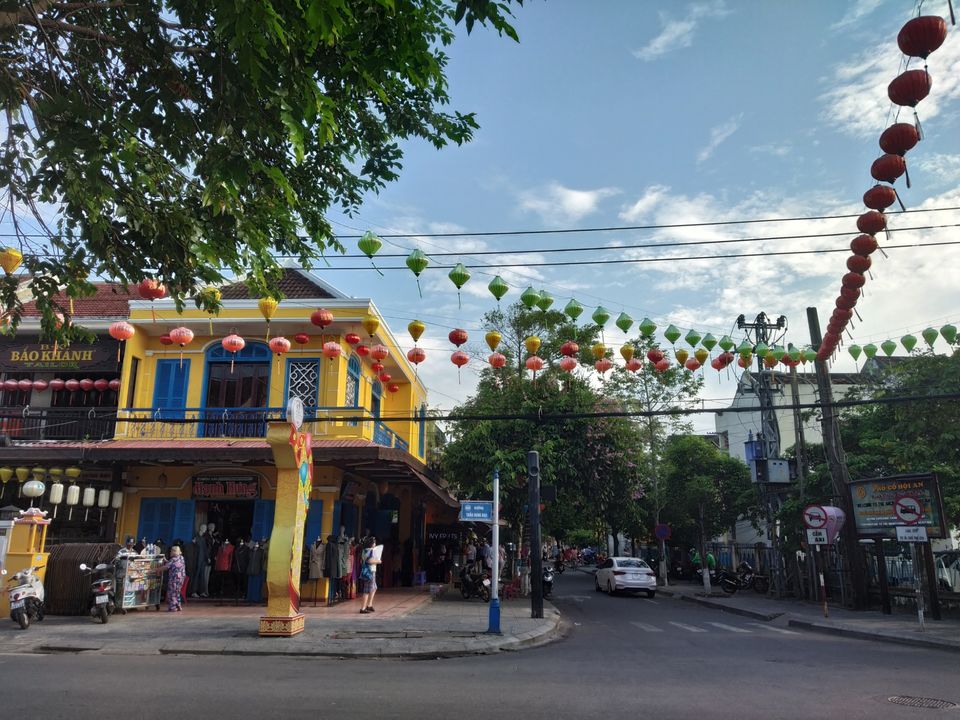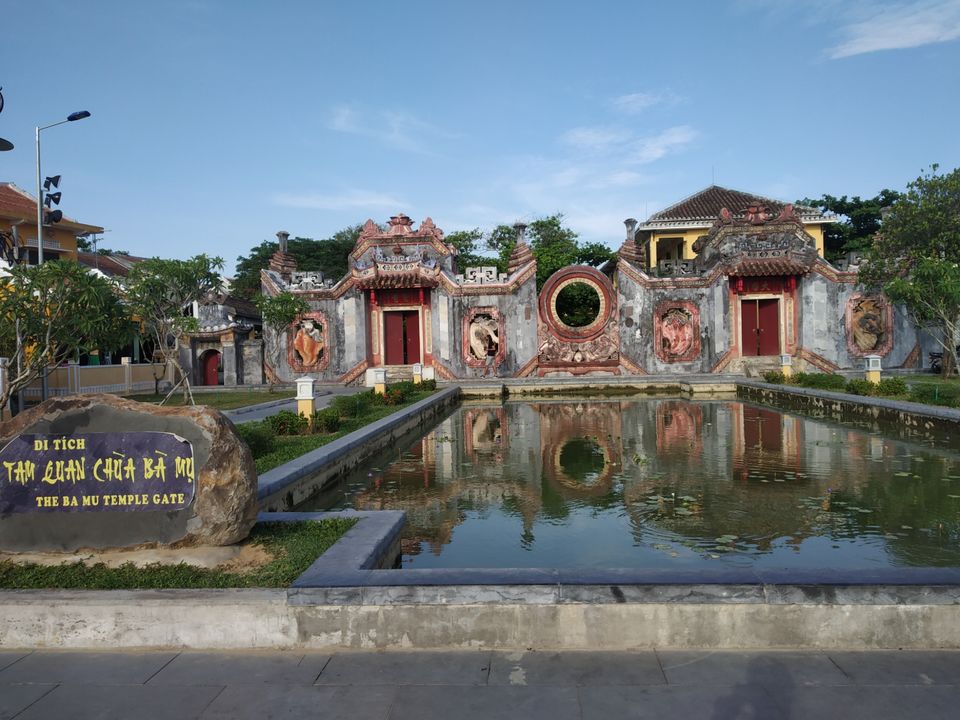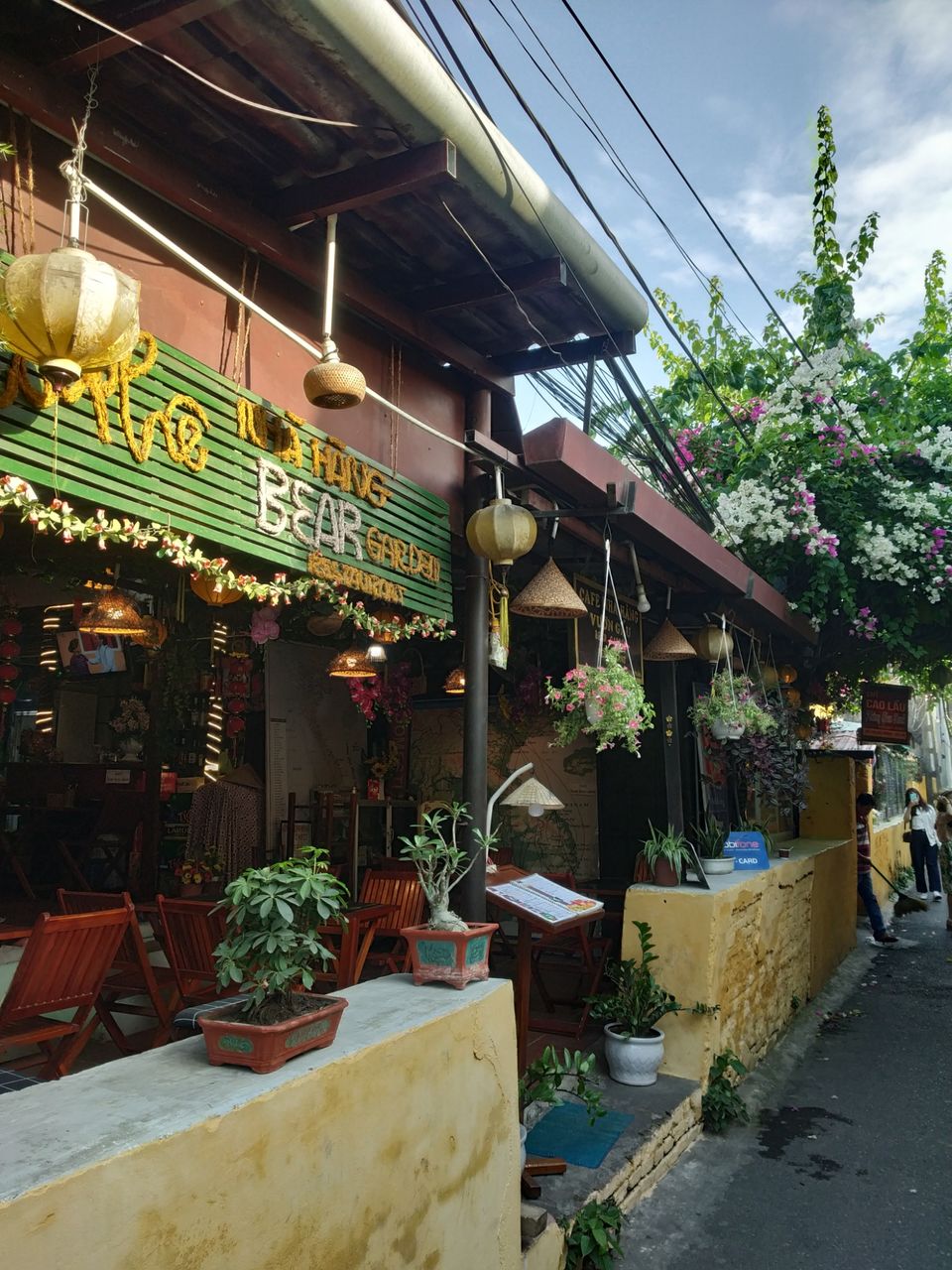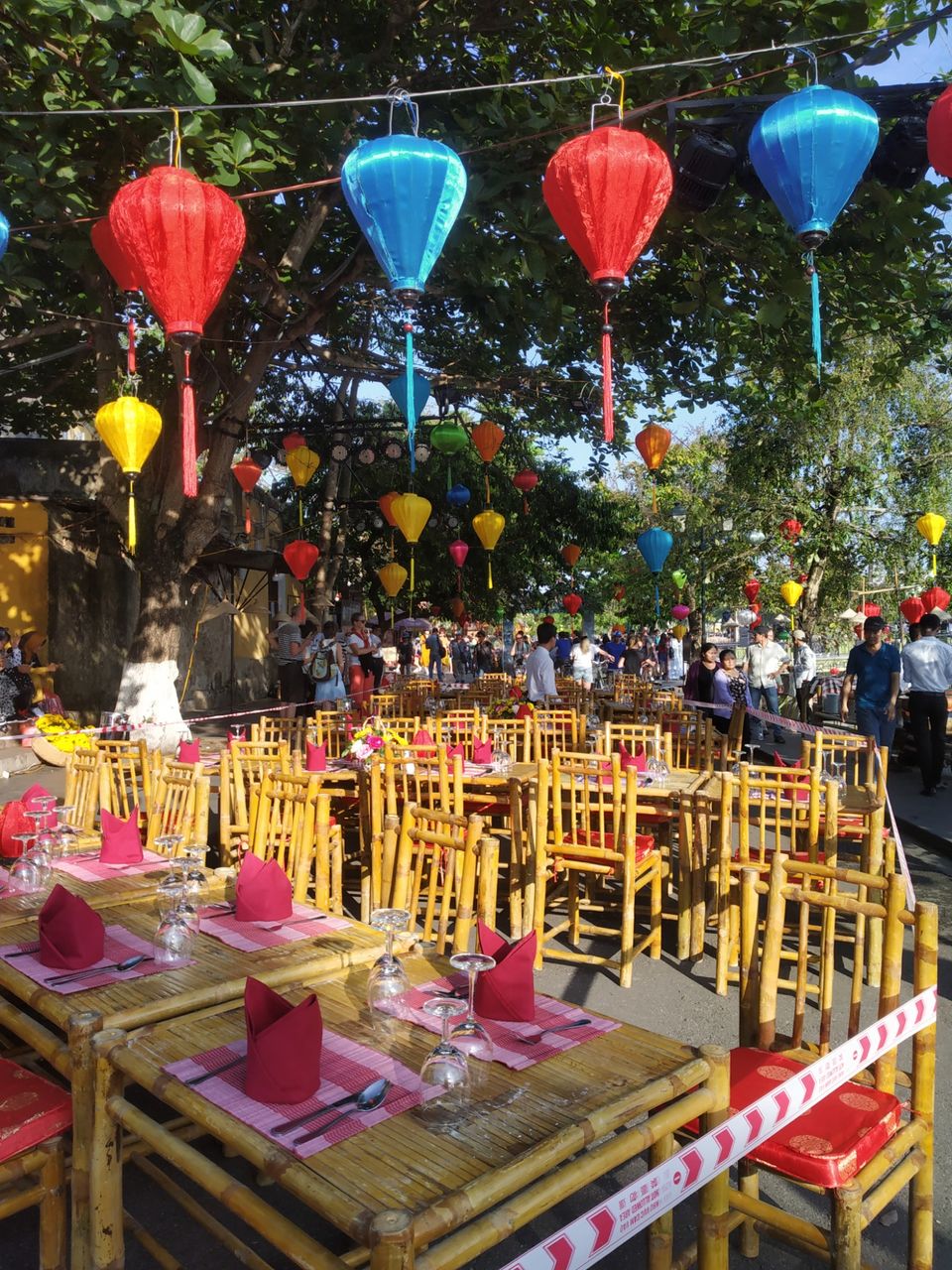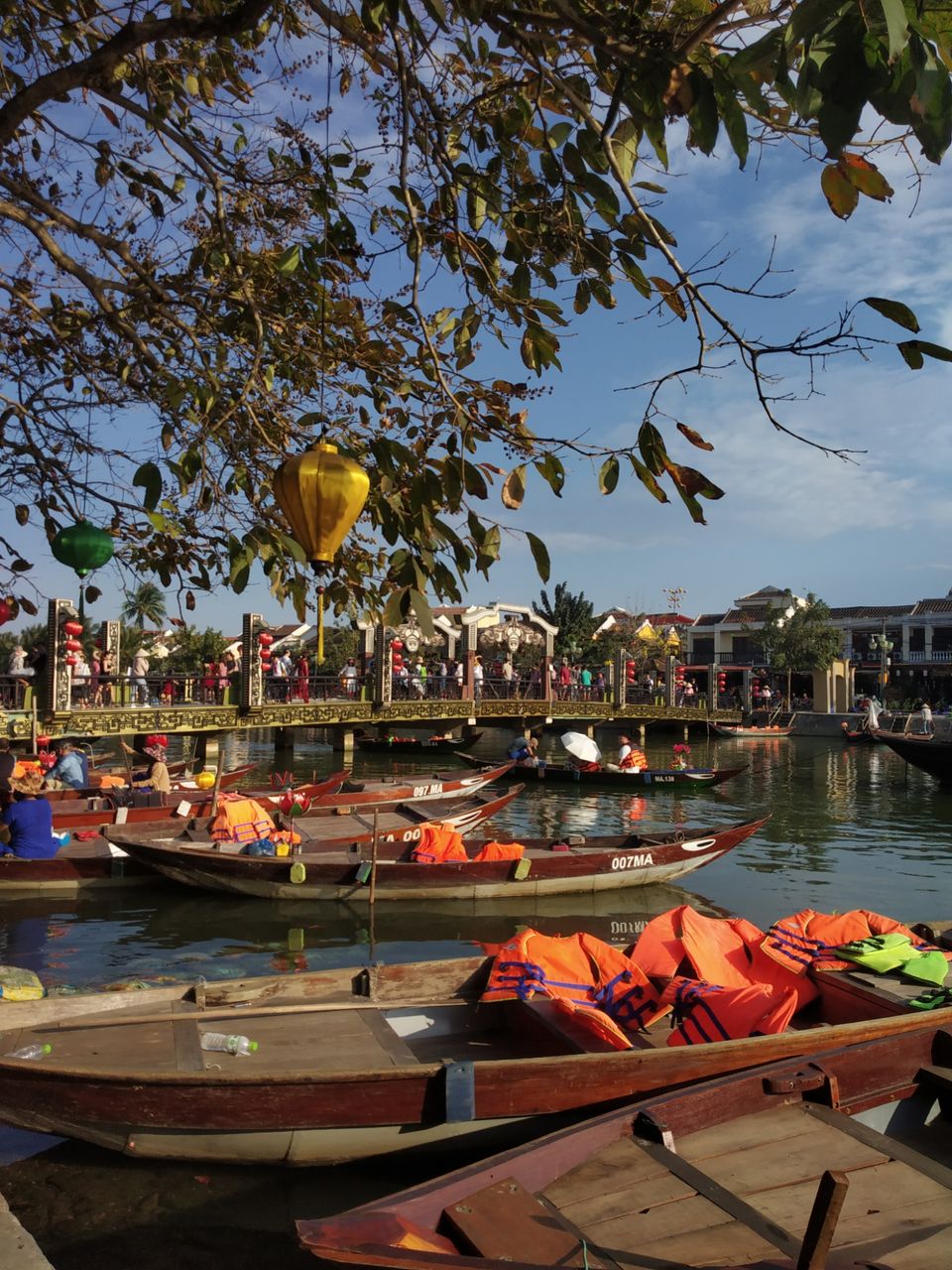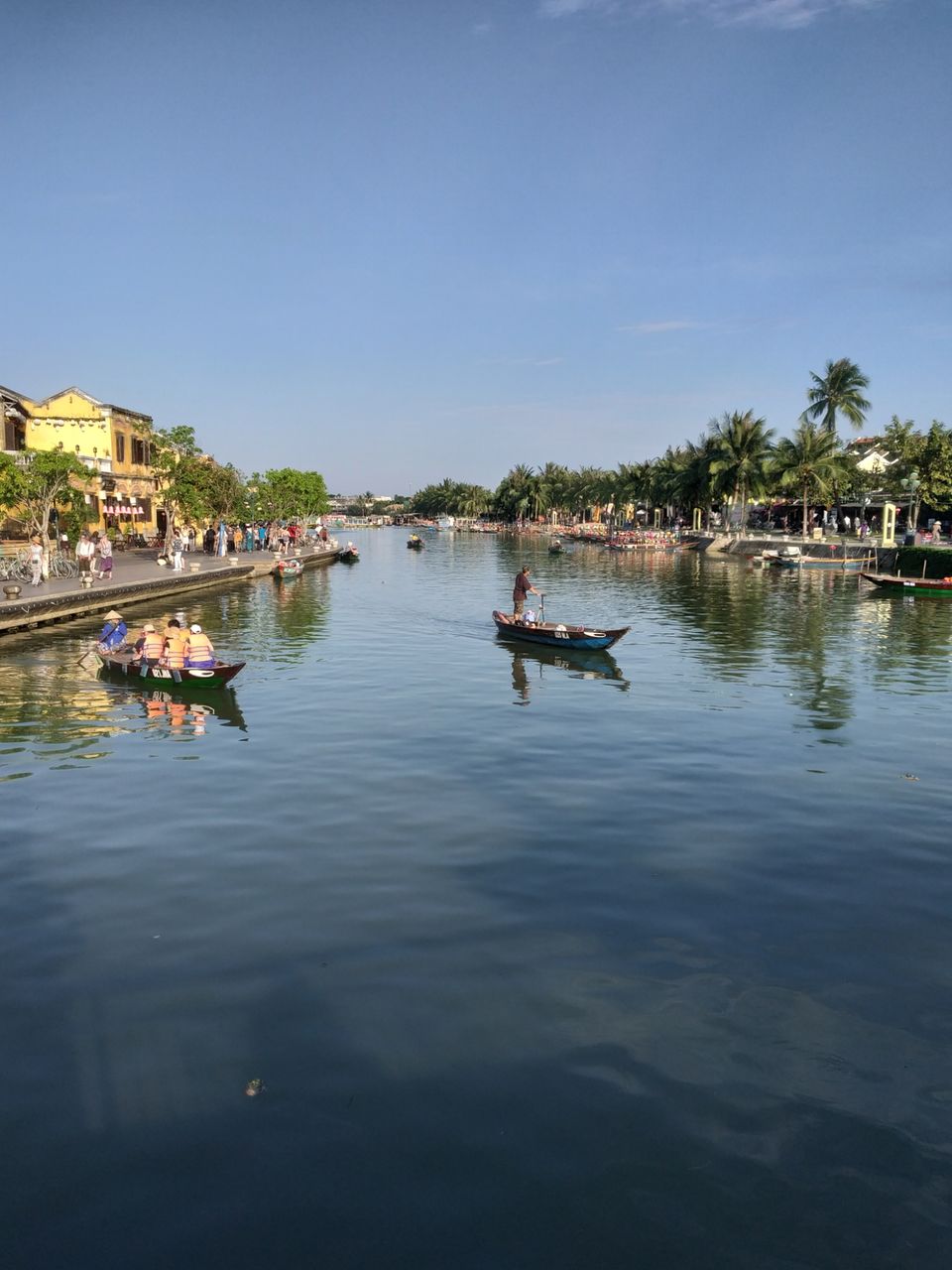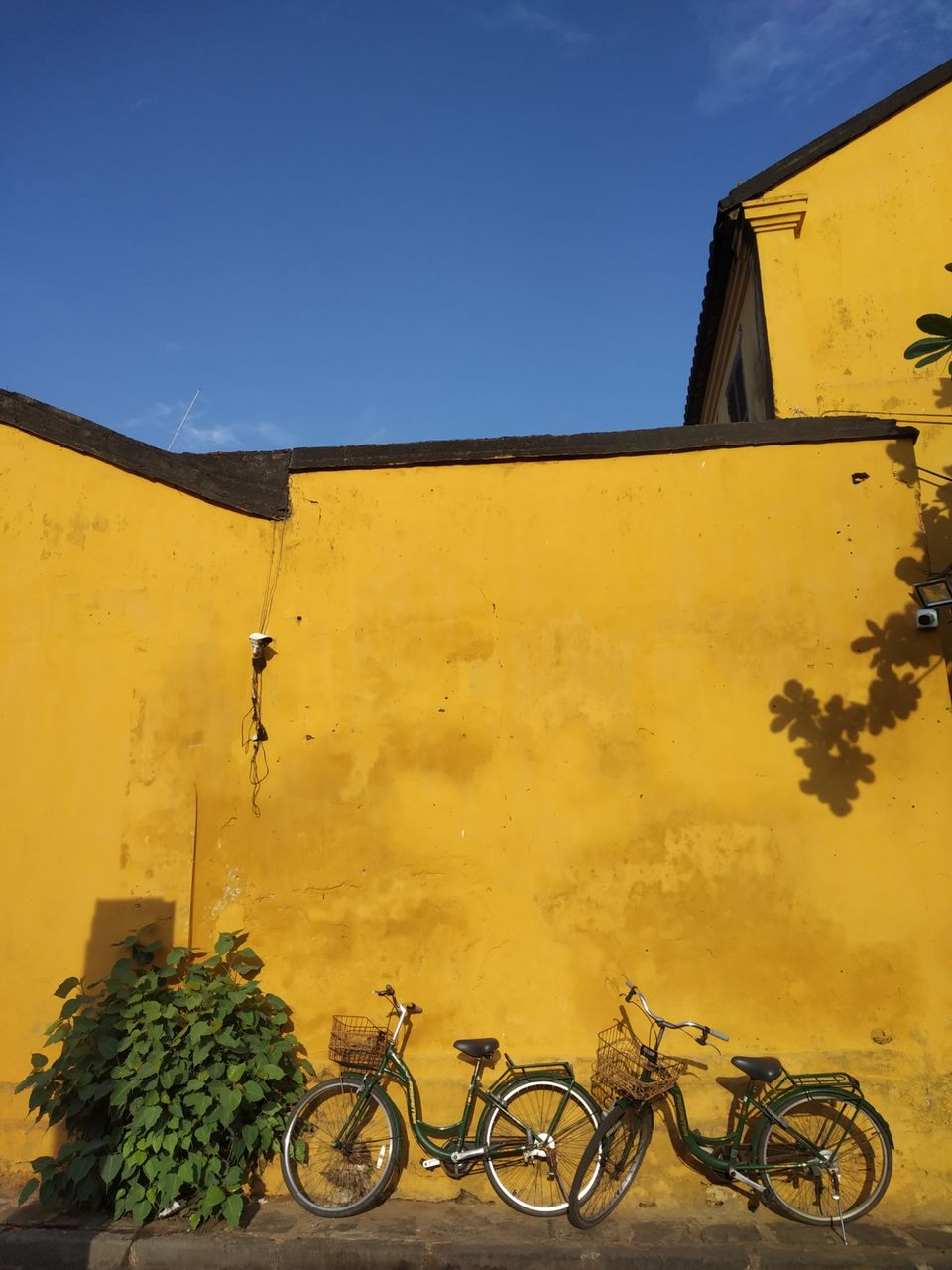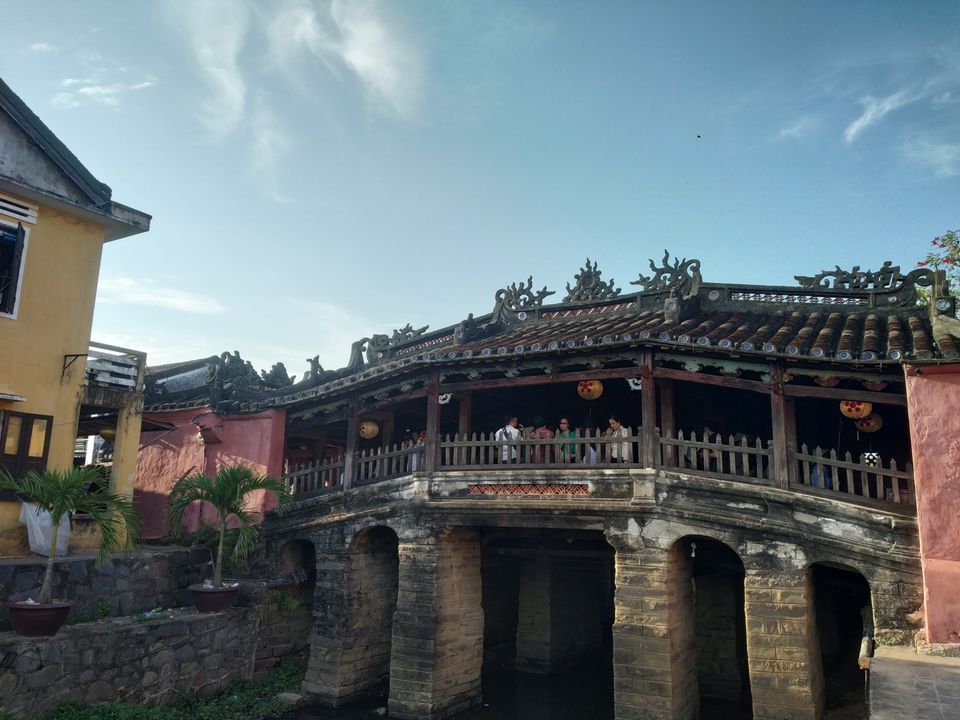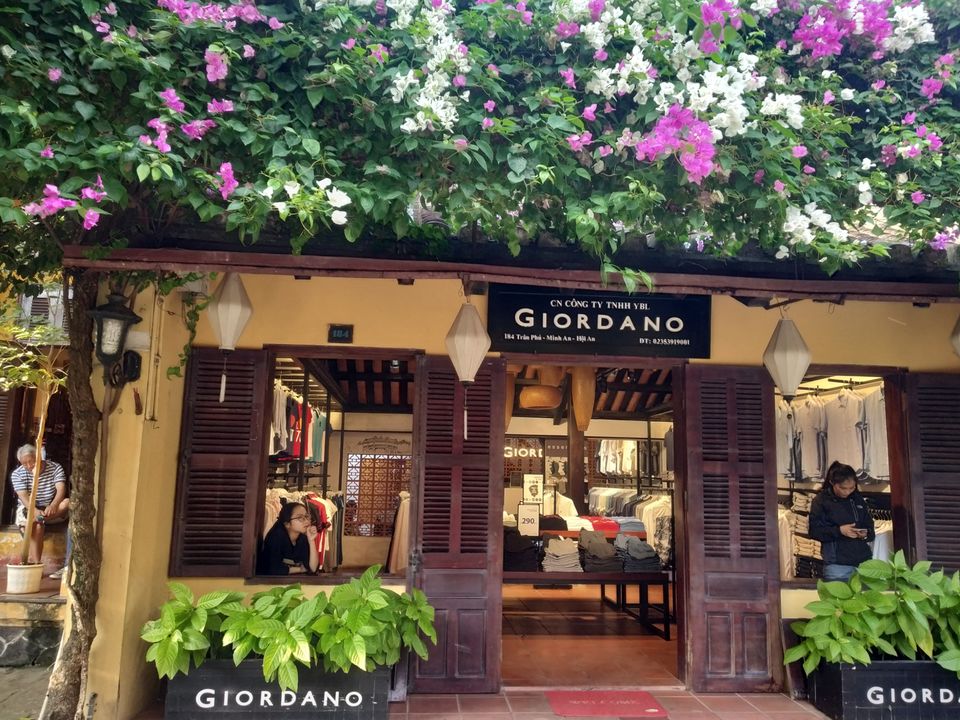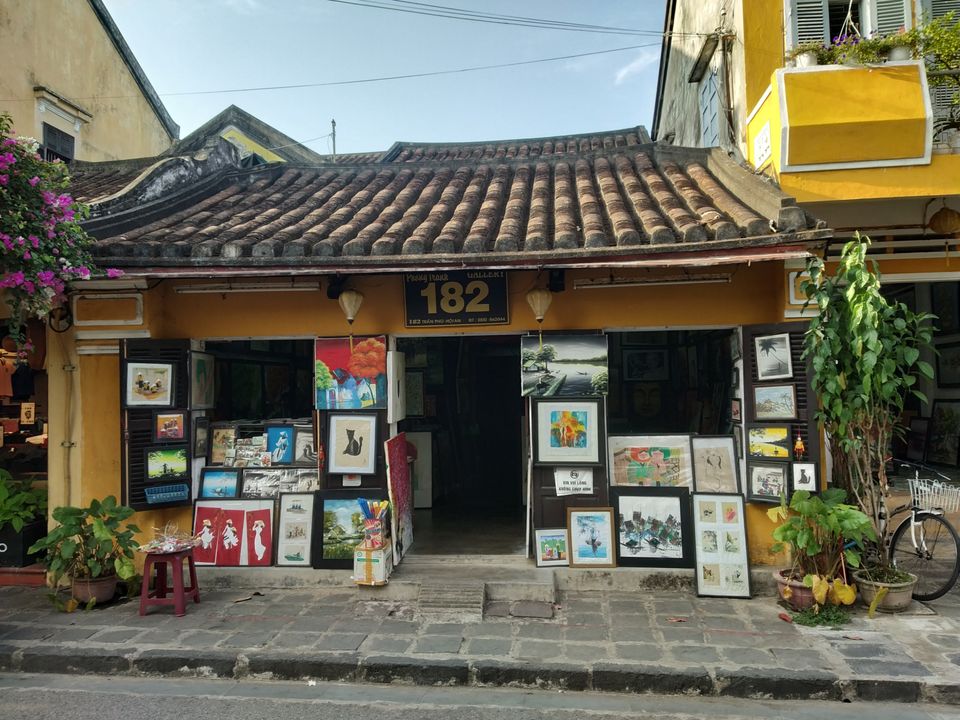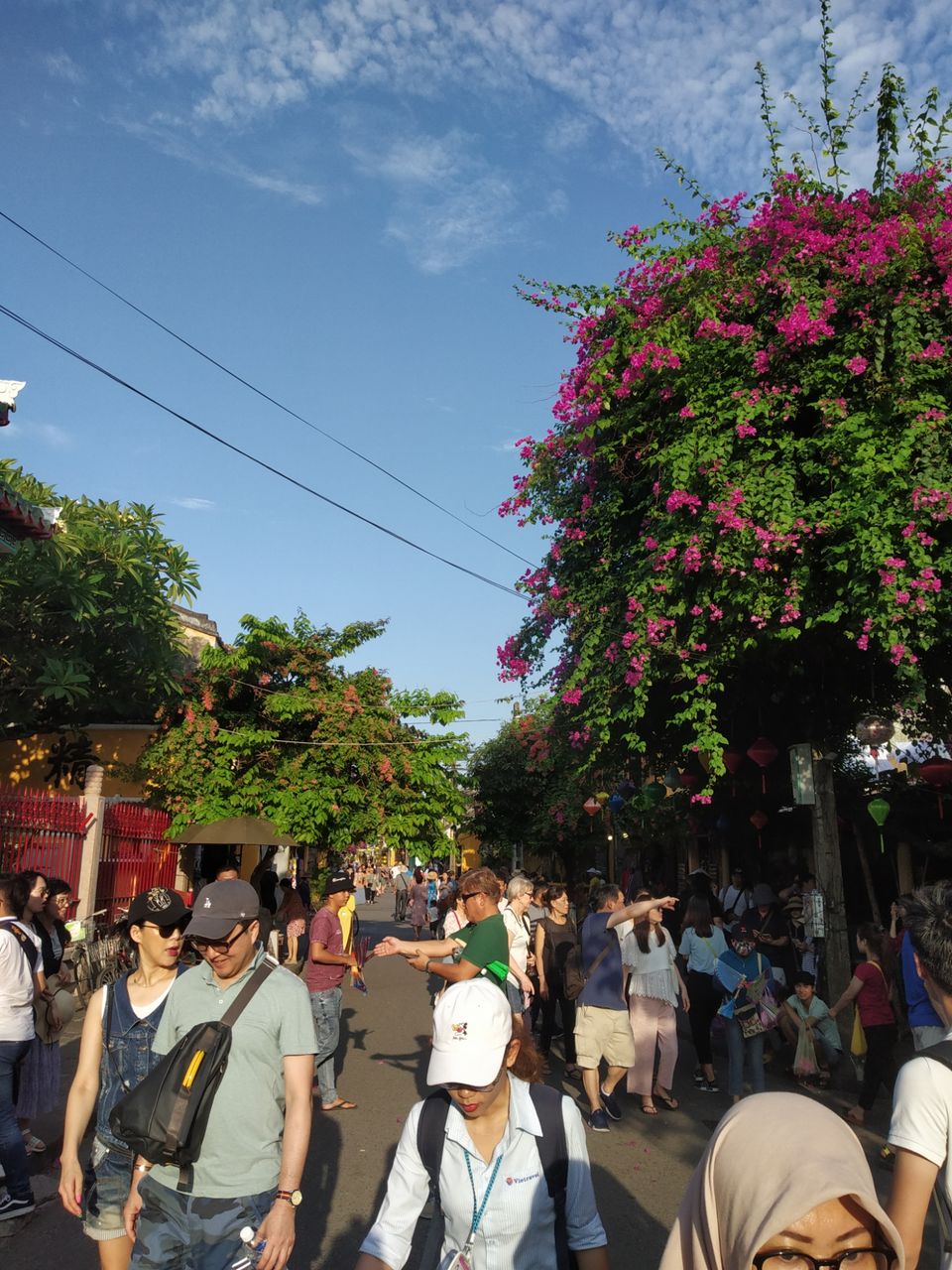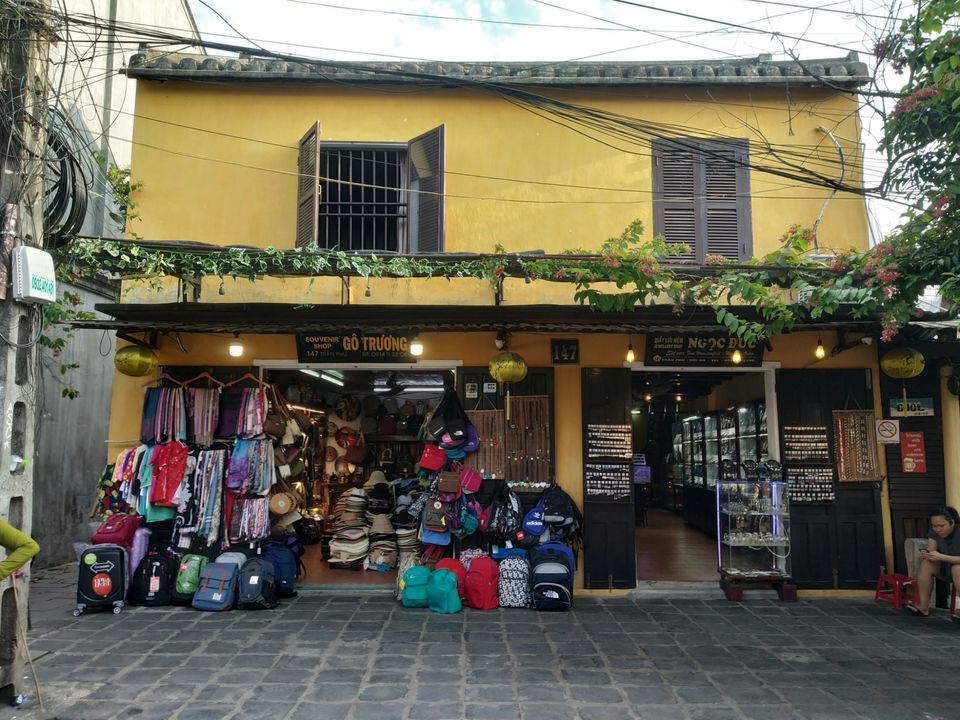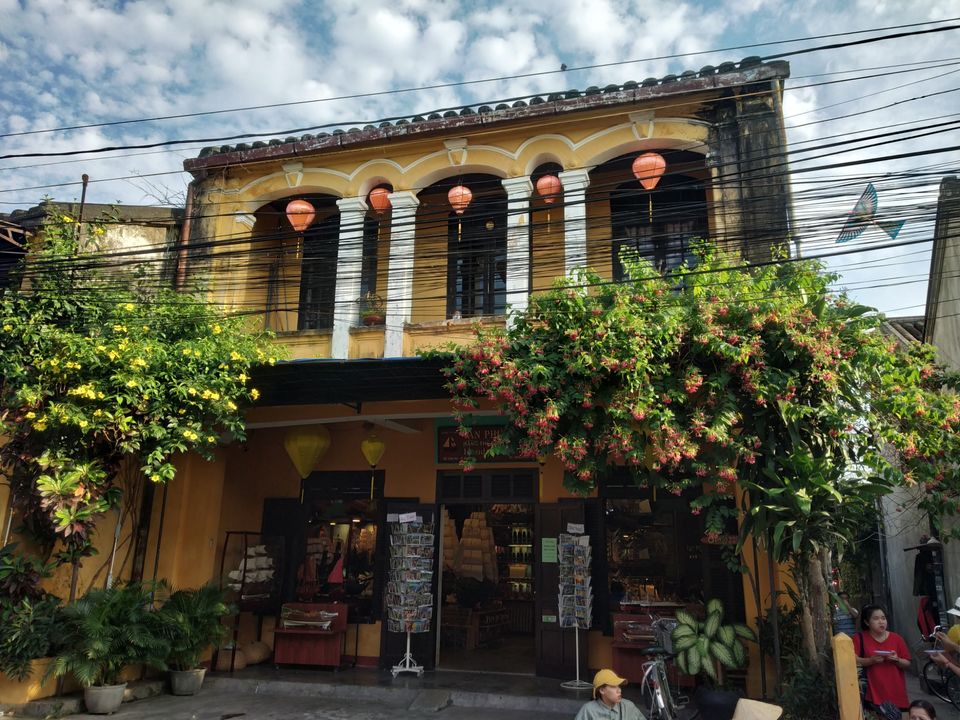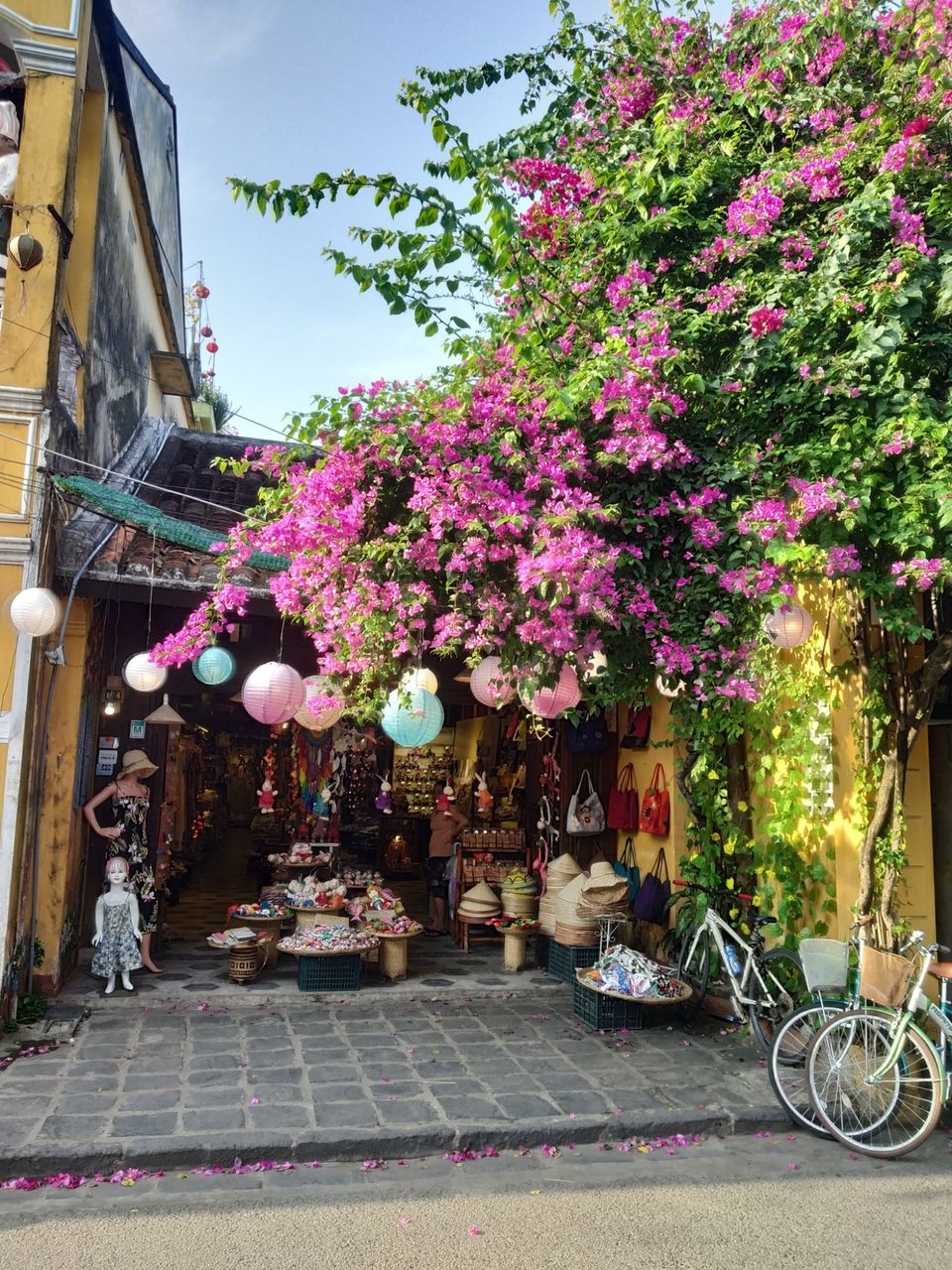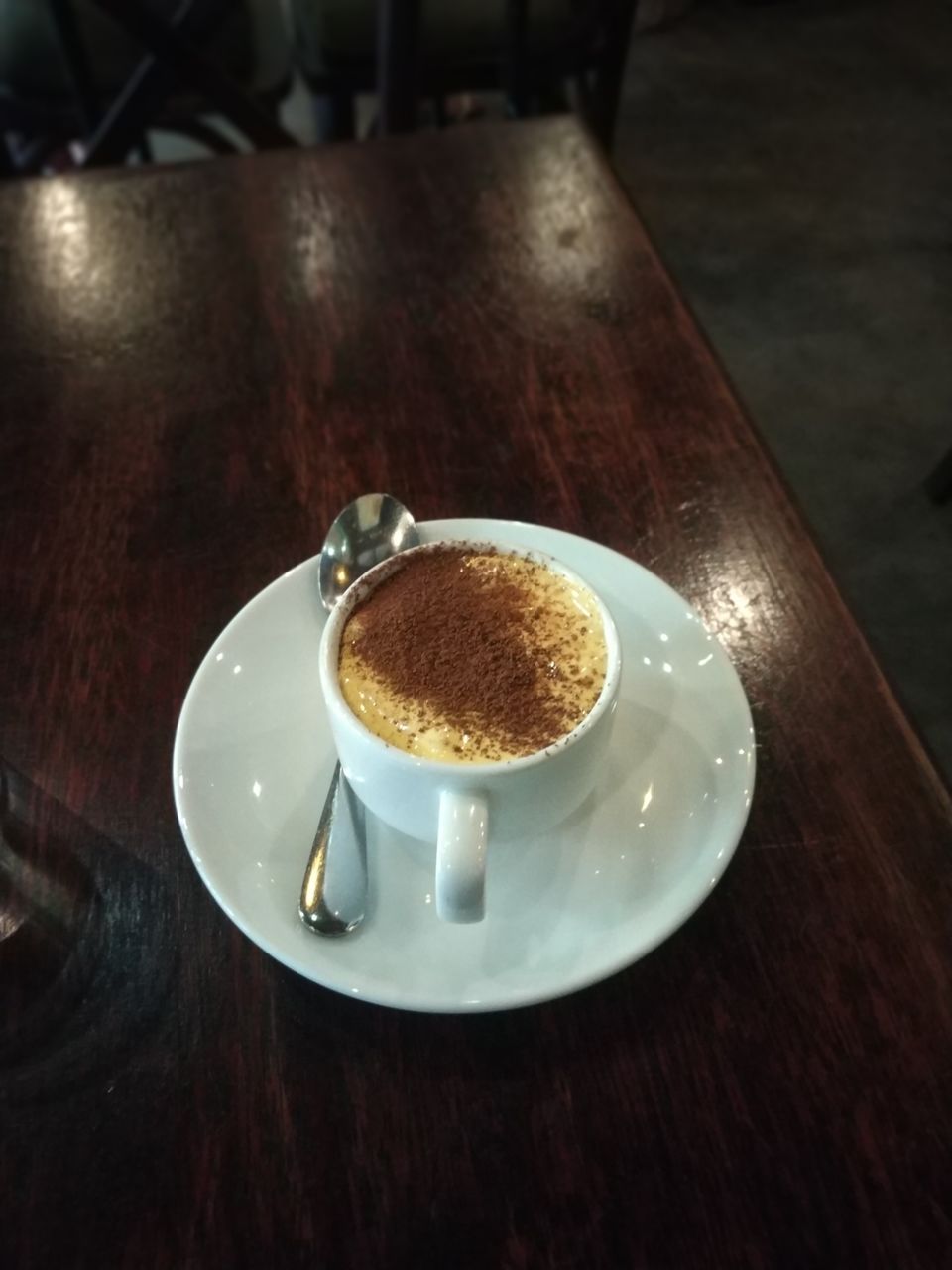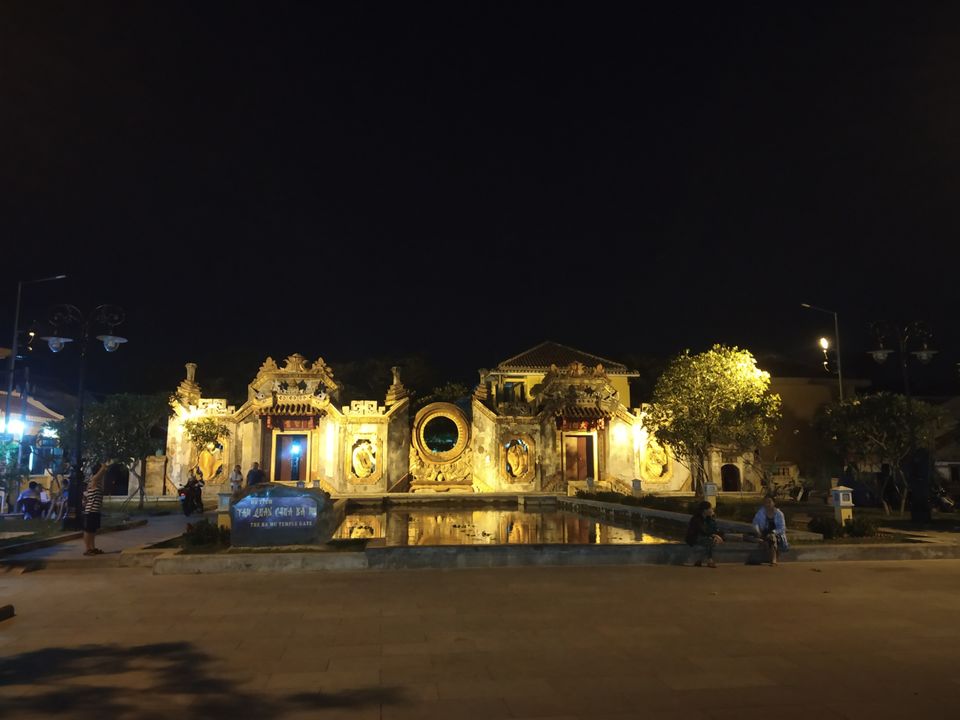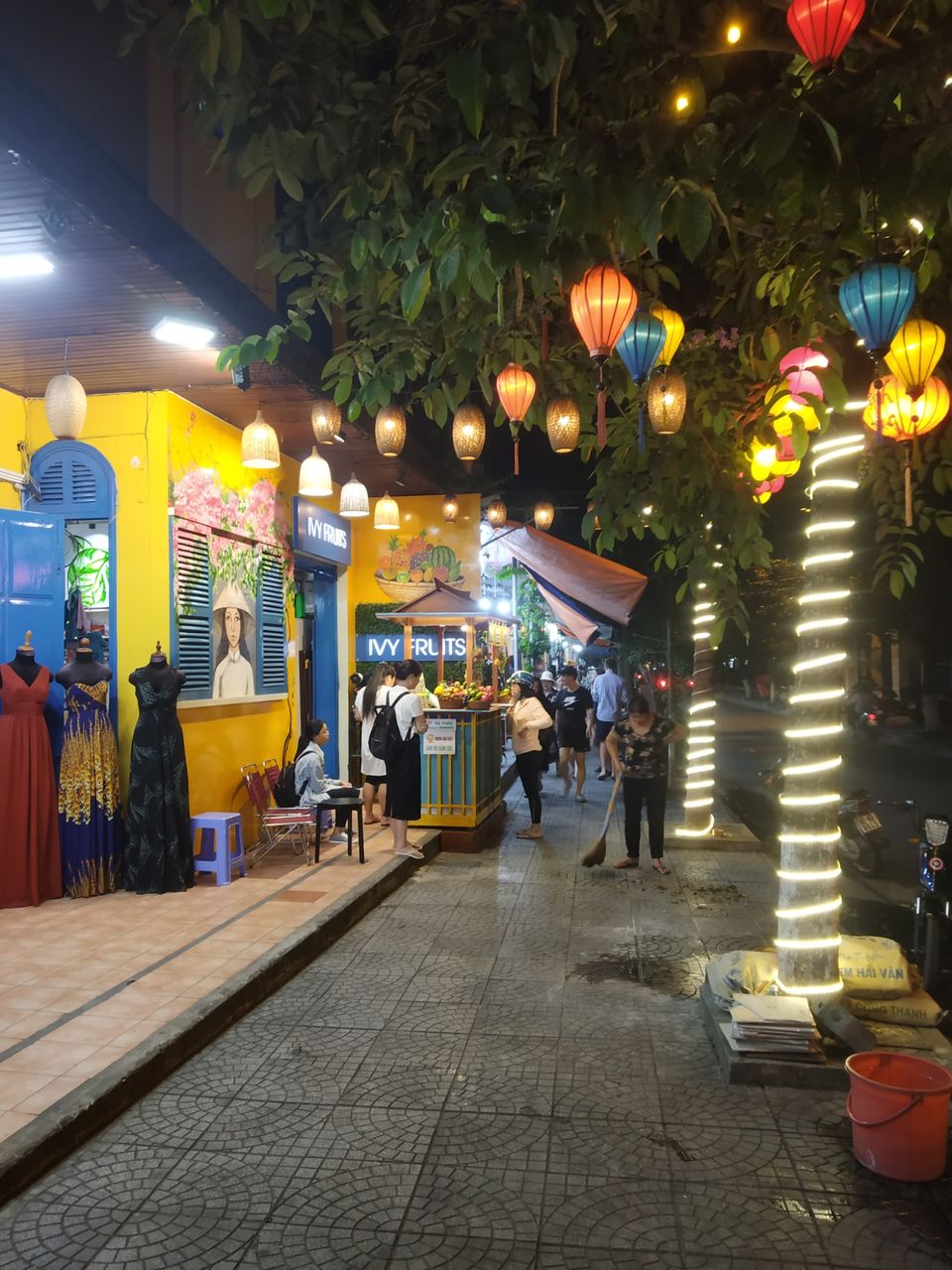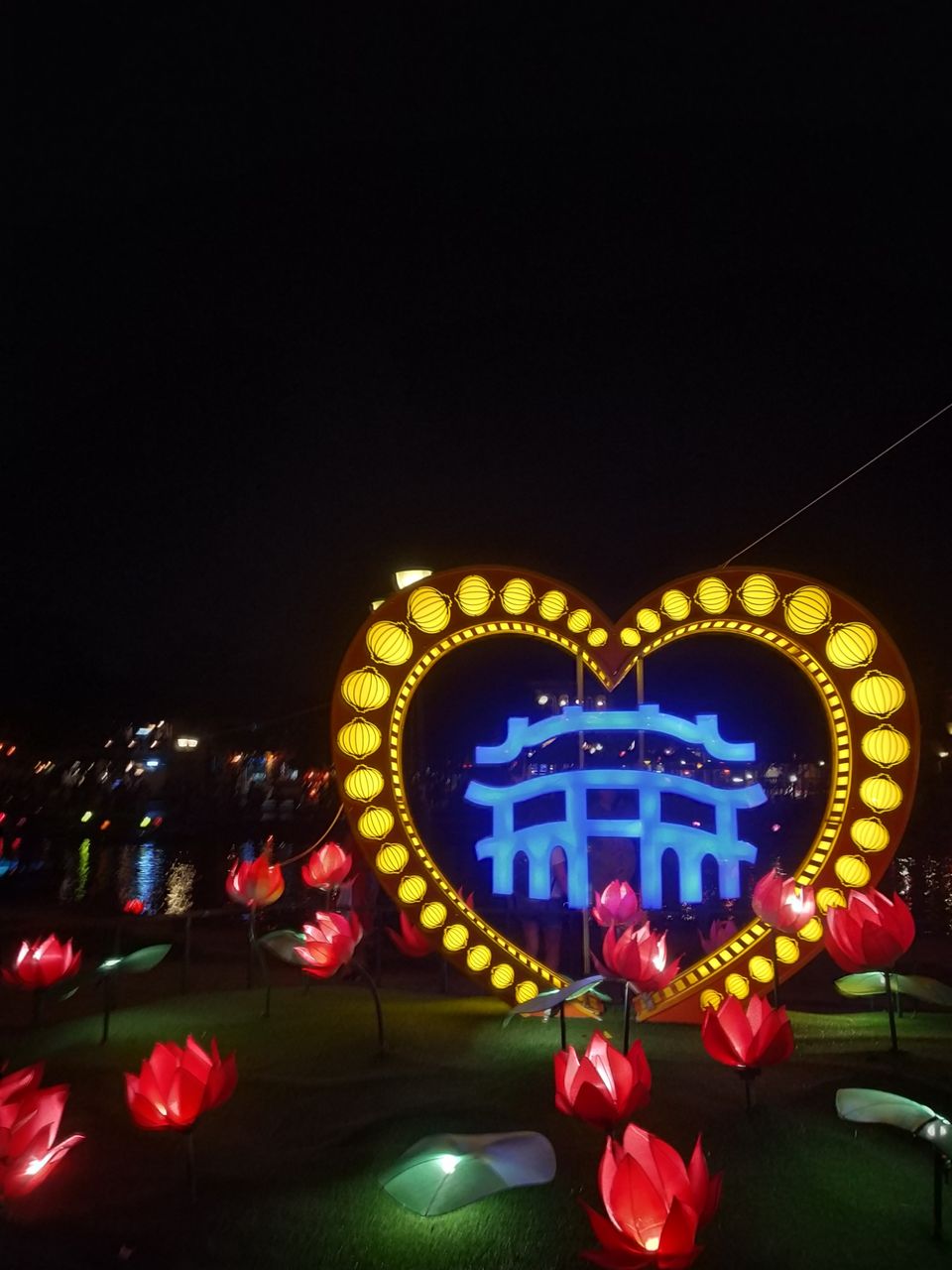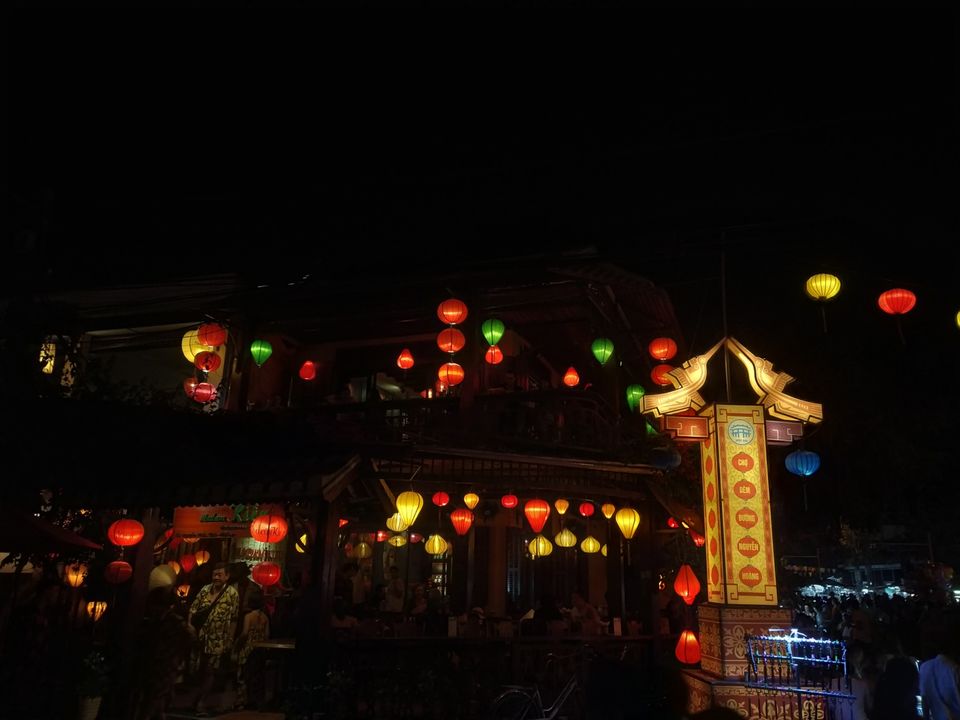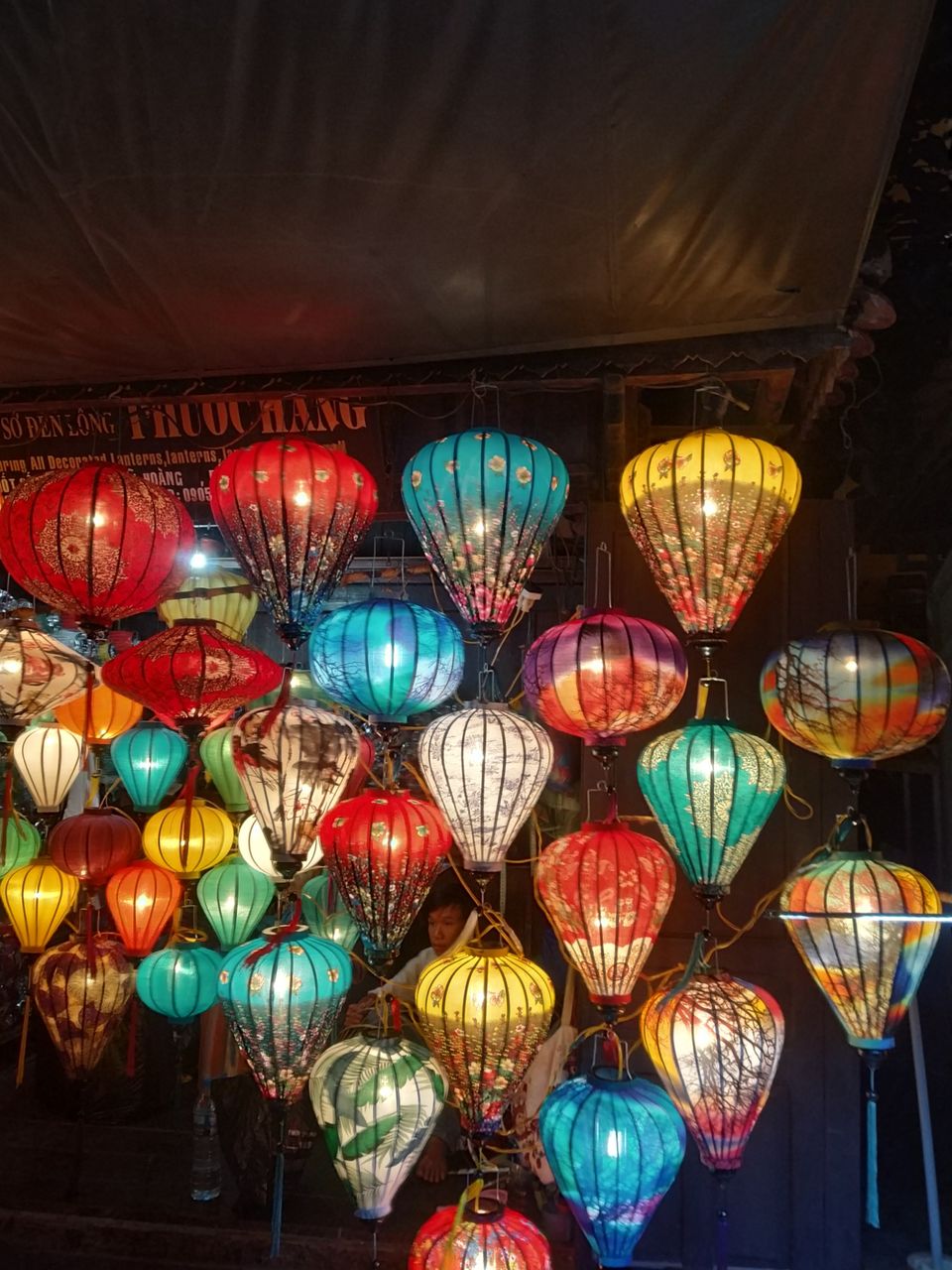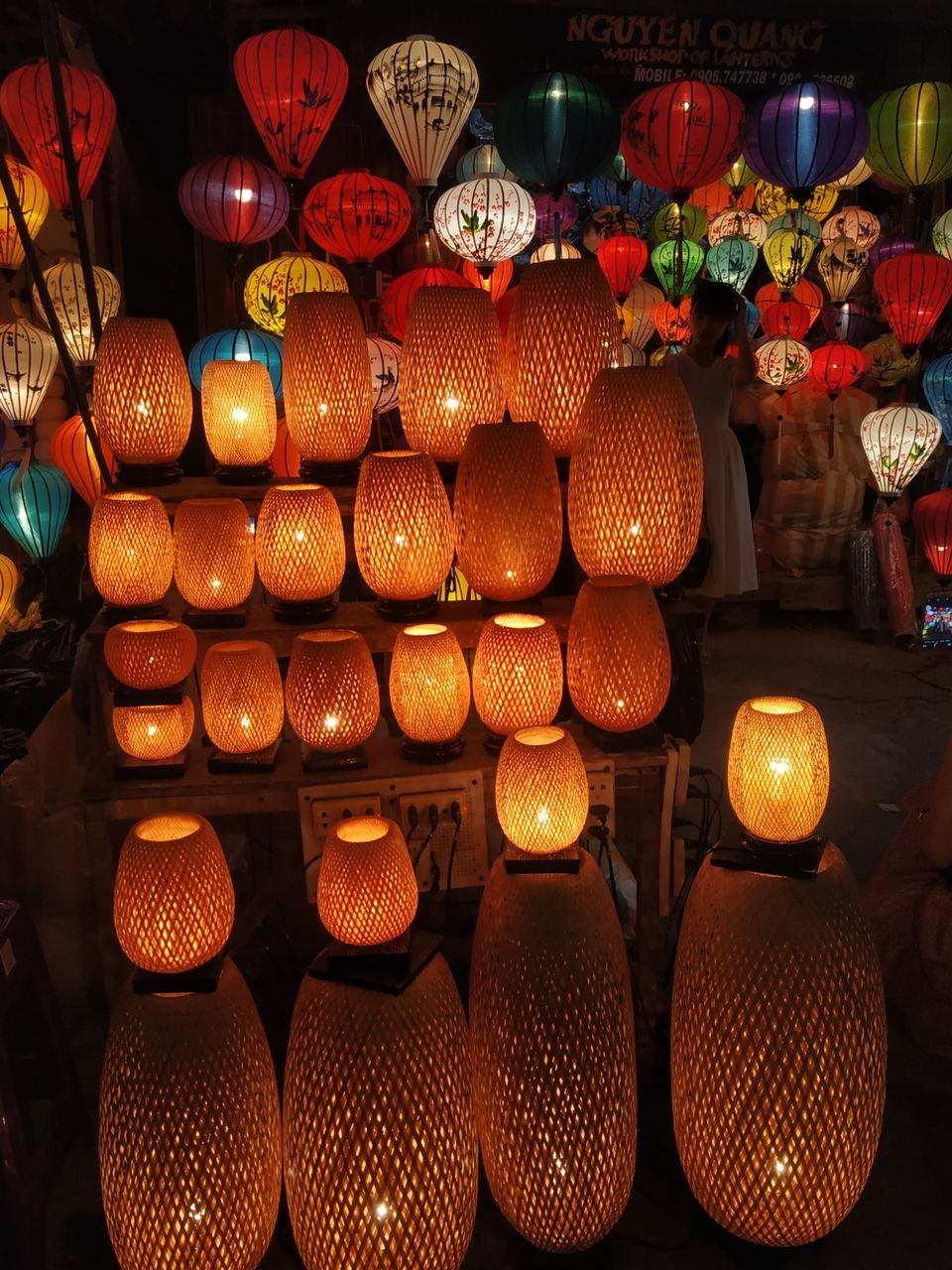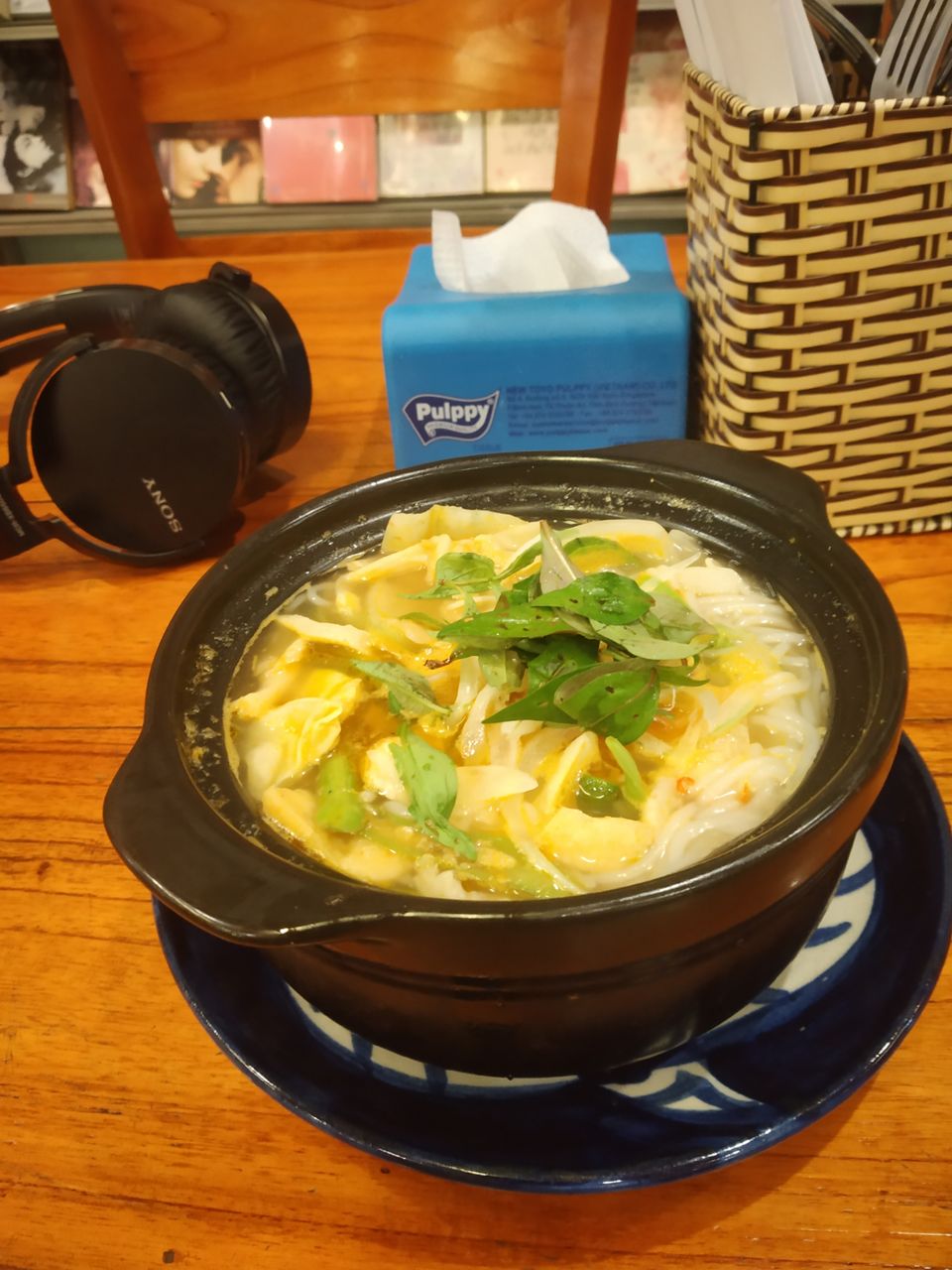 The morning started with a complimentary breakfast offered at my stay and after that at around 10 Am I started back to Da Nang to return the motor bike and also I have a train to Ninh Binh from Da Nang At 7Pm. So on my way to Da Nang I went to the Cau Dai beach in Hoi an, it was A very romantic beach with the blue water all around and the green trees and surrounded by some beautiful resorts. After a short stay at the beach I resumed to Da Nang and I have reached at 12 pm to the Capsule hotel. And I started to roam around in Da Nang , went to the Buddhist temple and then to 800 years old Banyan tree, which is at a place like where it's literally the end of the road. And Banyan tree is truly very old, we can see that the branches are rooted. And the drive from there to Da Nang beaches is so beautiful on the ocean side and the sunset view is pretty good. Finally I returned to my hotel at 6Pm , Grabbed my luggage and went to the railway station in Da Nang and took a train to Ninh Binh. Always be 15-20 Minutes before the Departure Time in Vietnam, they follow the schedule very strictly. The train is good with all the First class compartments varying with 6 berths and 4 berths. I got a 6 berth one and it costed me like 600000 dongs from Da Nang to Nin Binh. It's gonna be a 14 hour journey and il be reaching there by 1:30Pm , So I think it's gonna be a great time in the Train in Vietnam, Anyway my first train journey in Vietnam. ❤️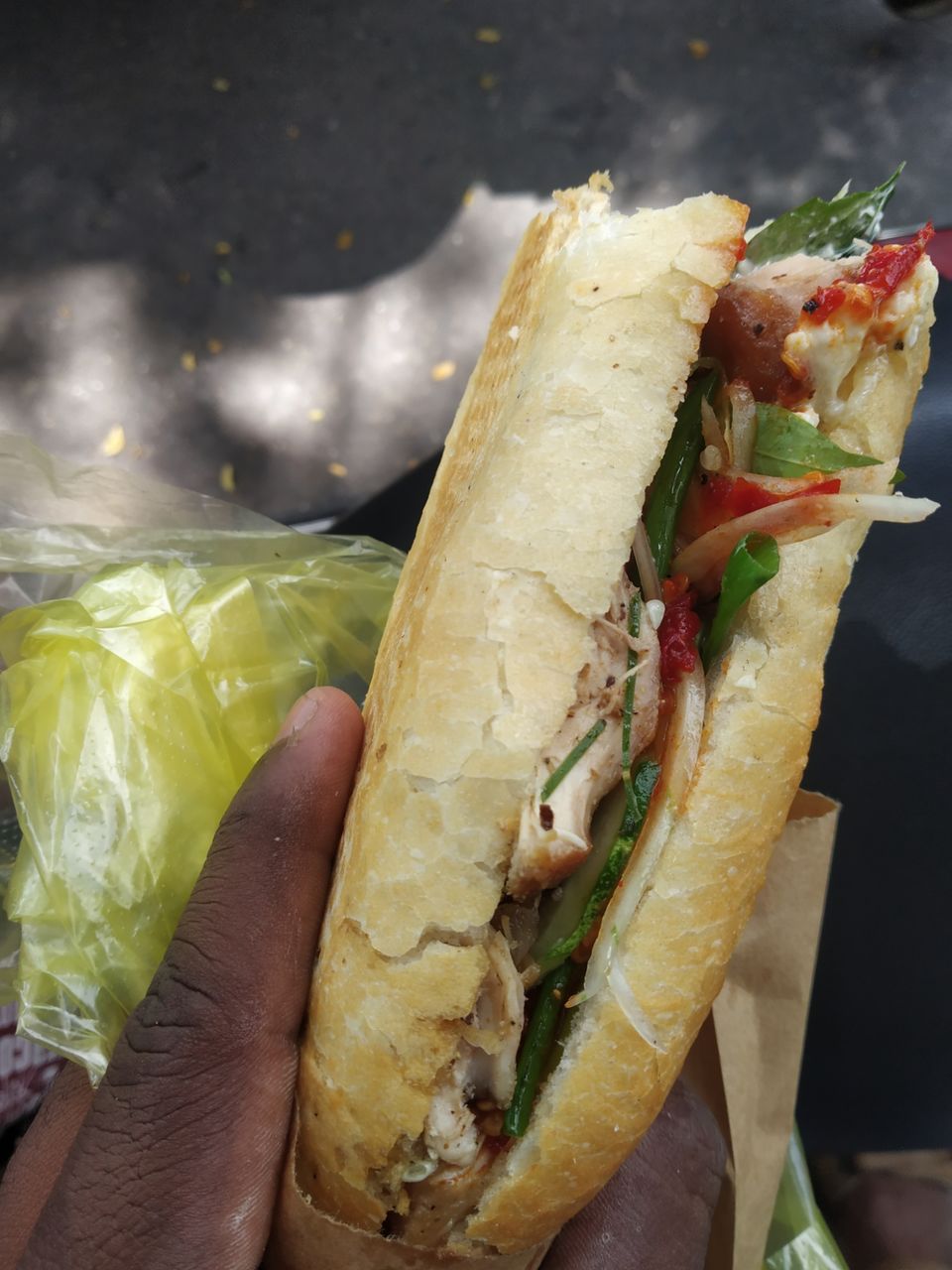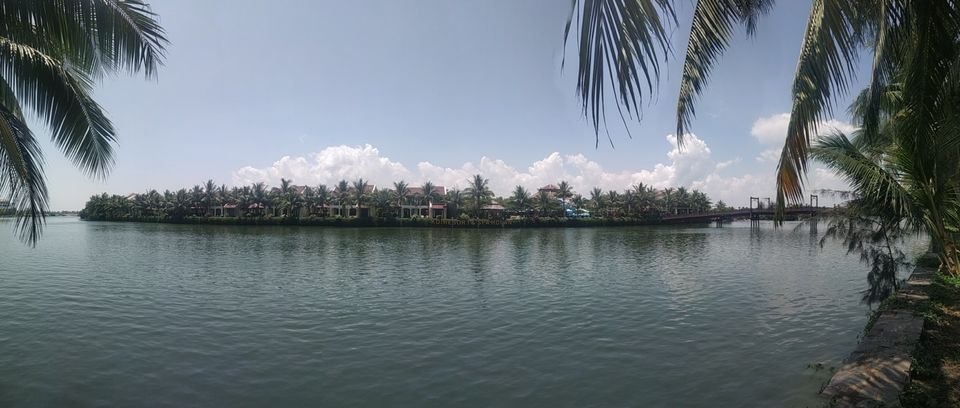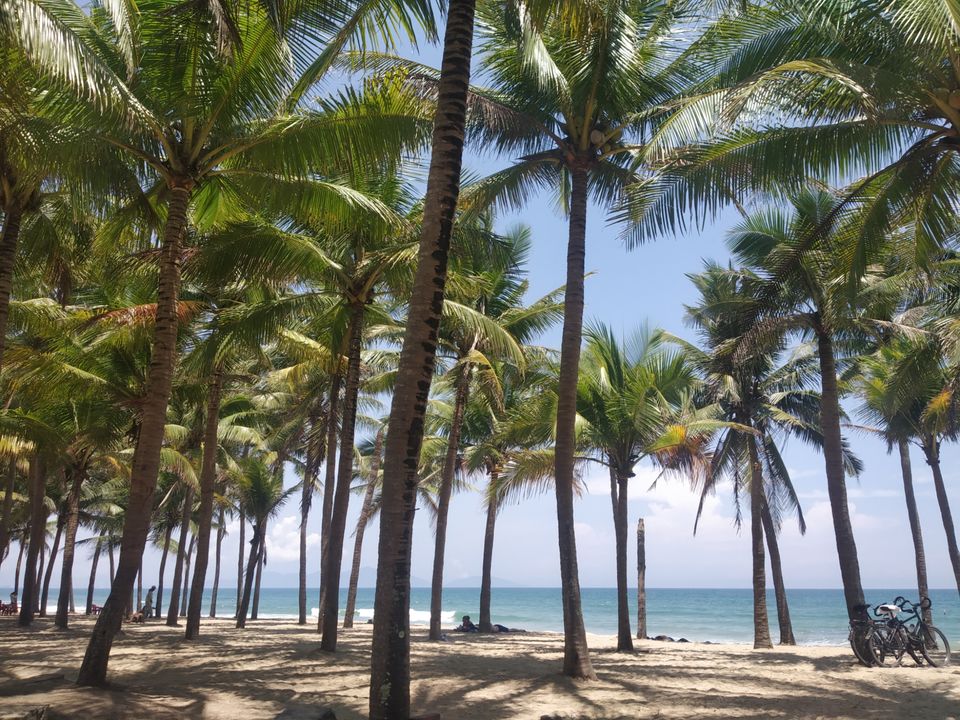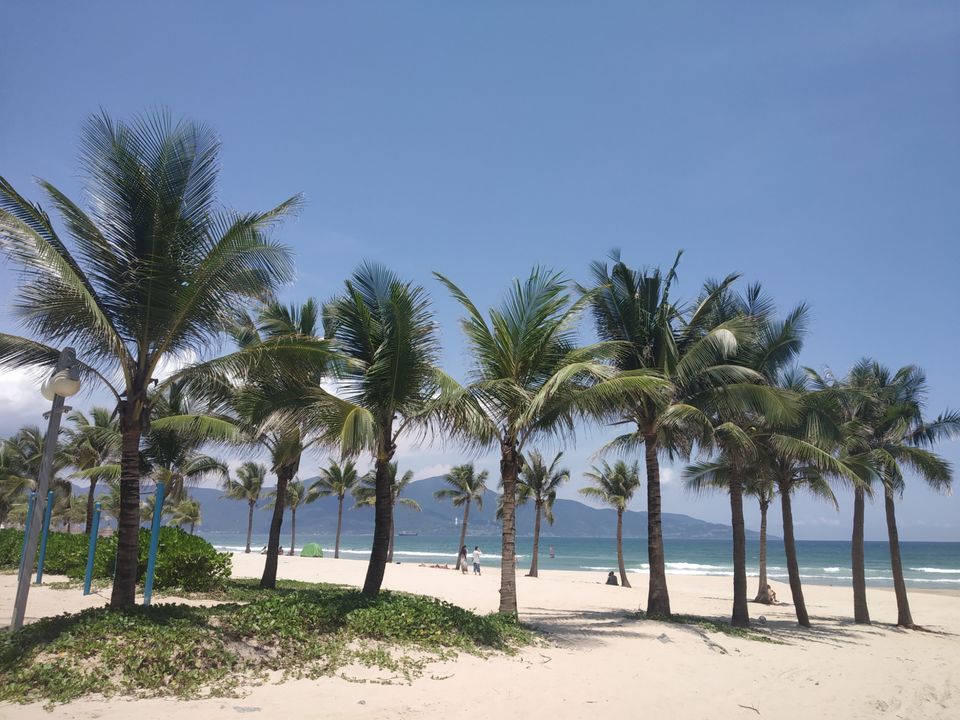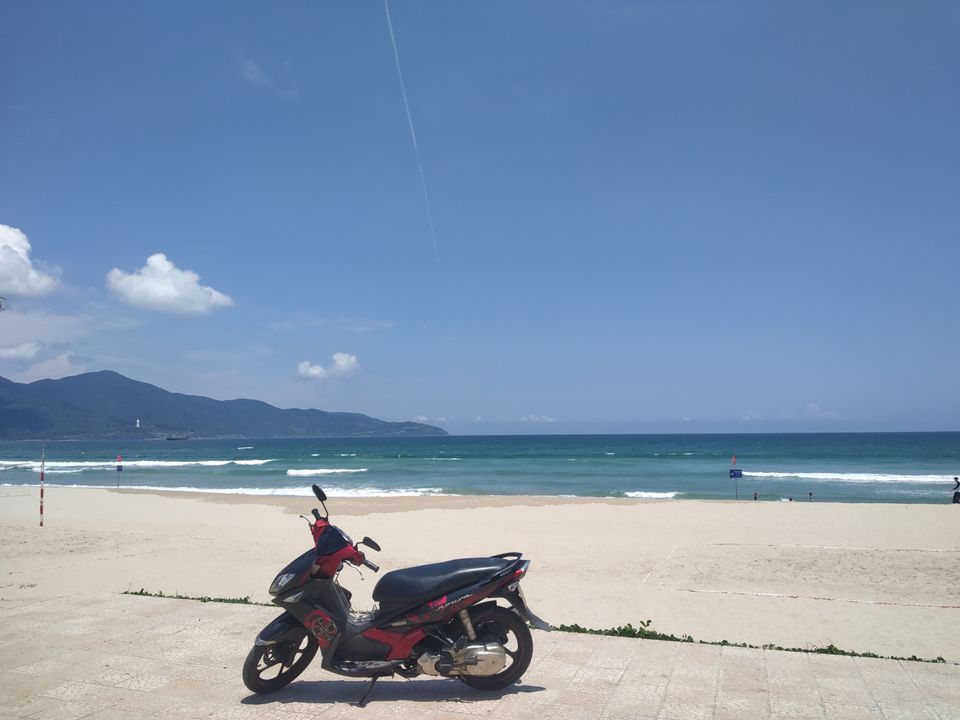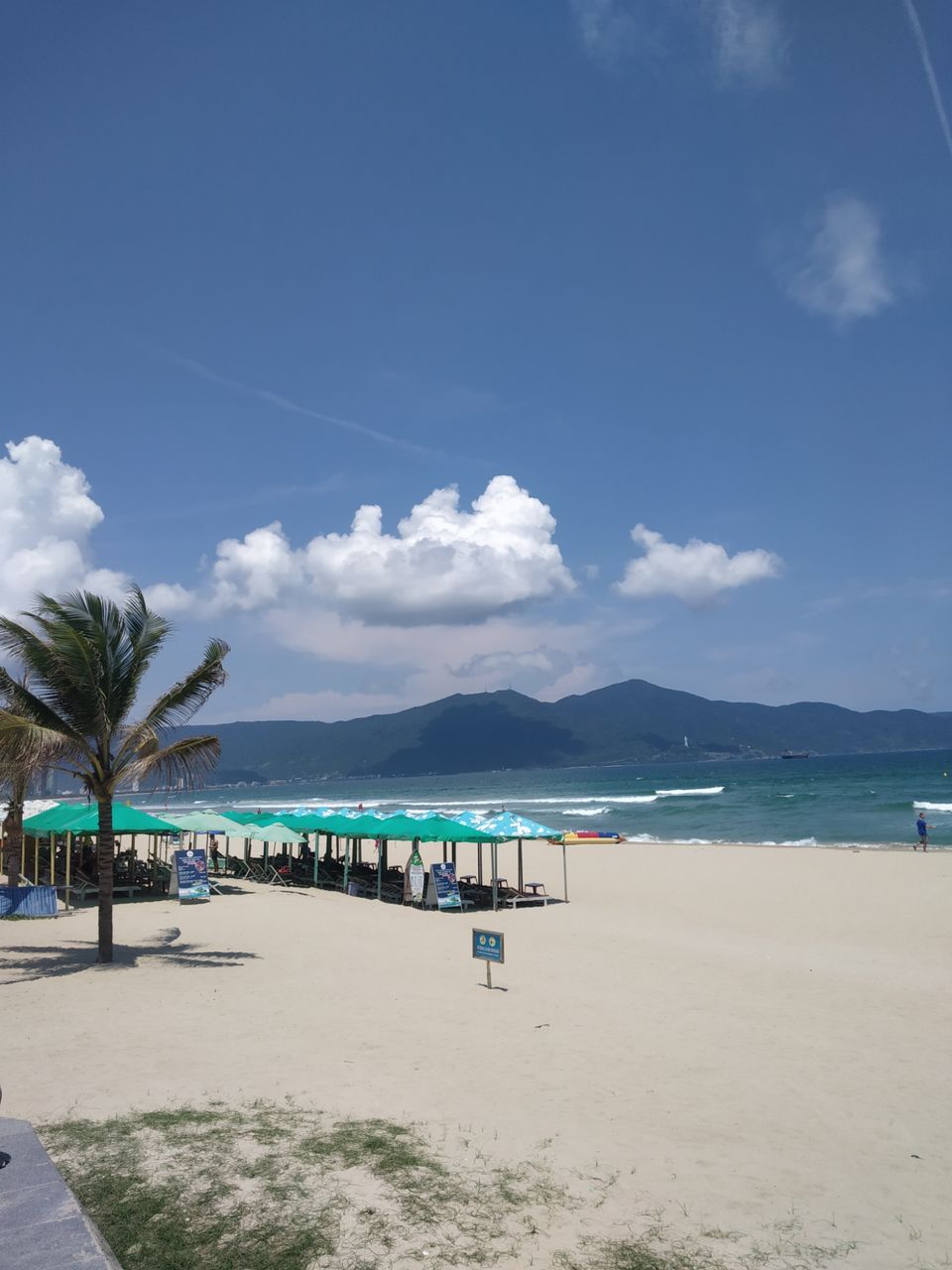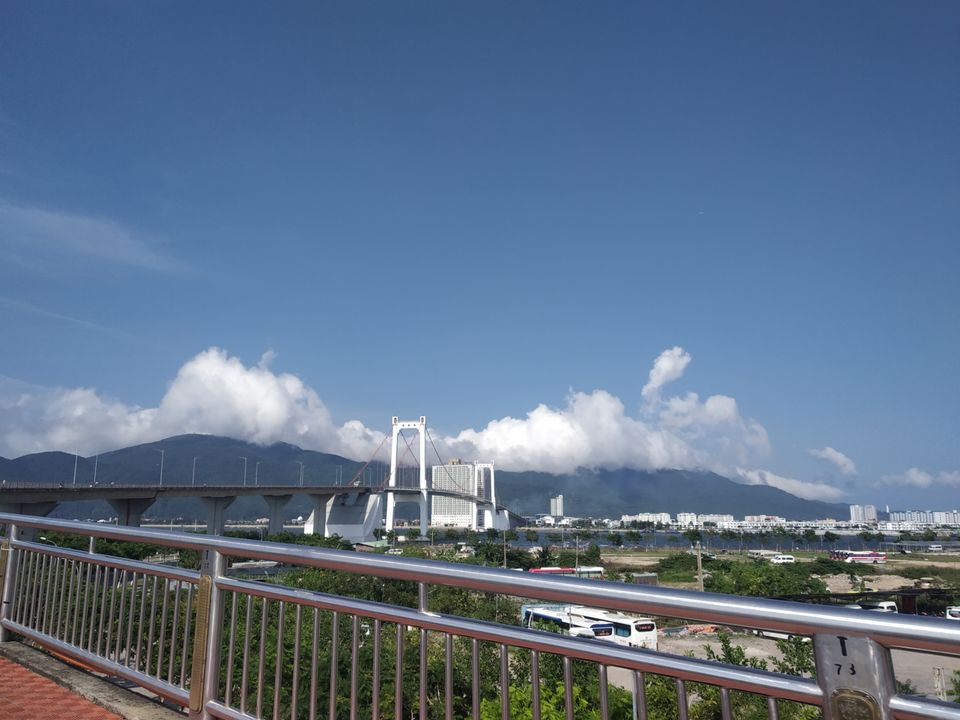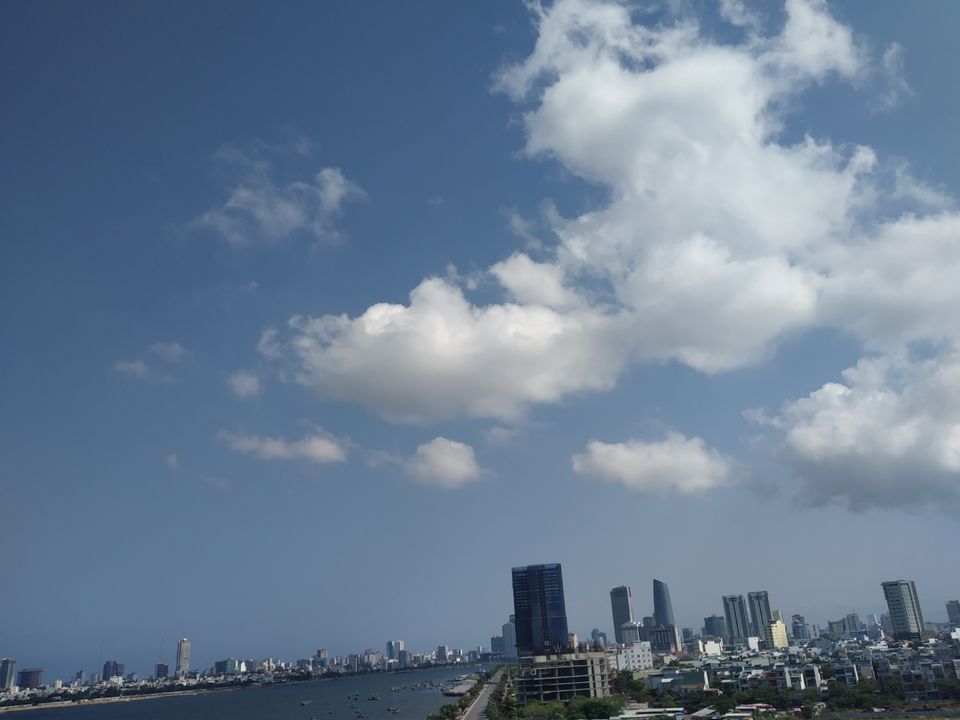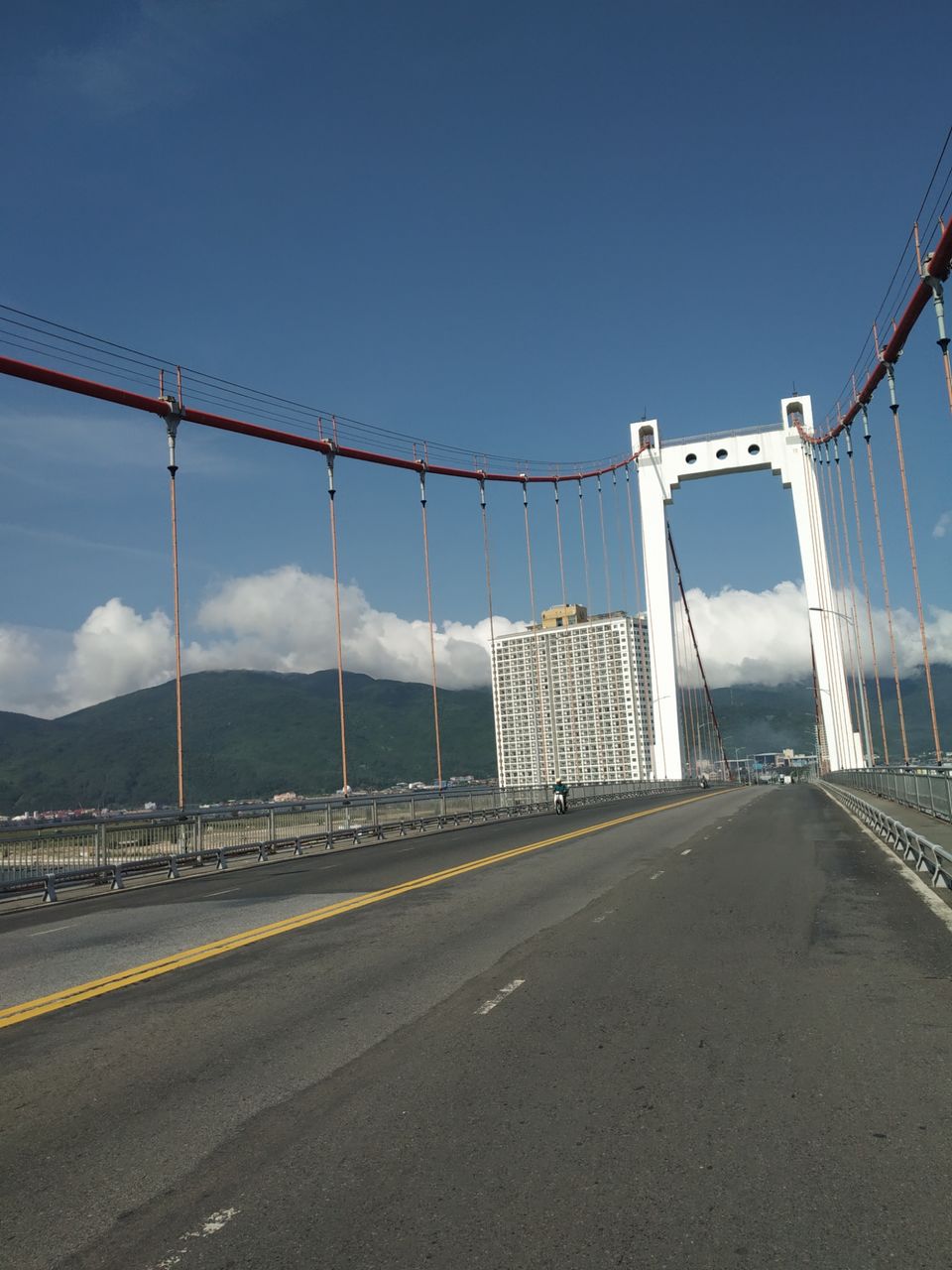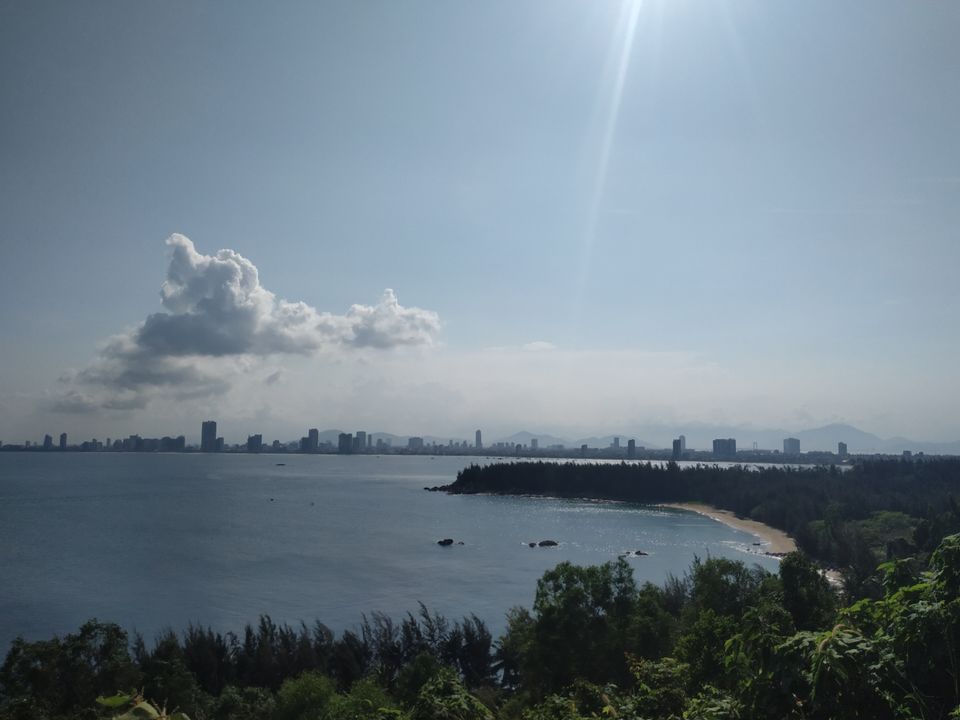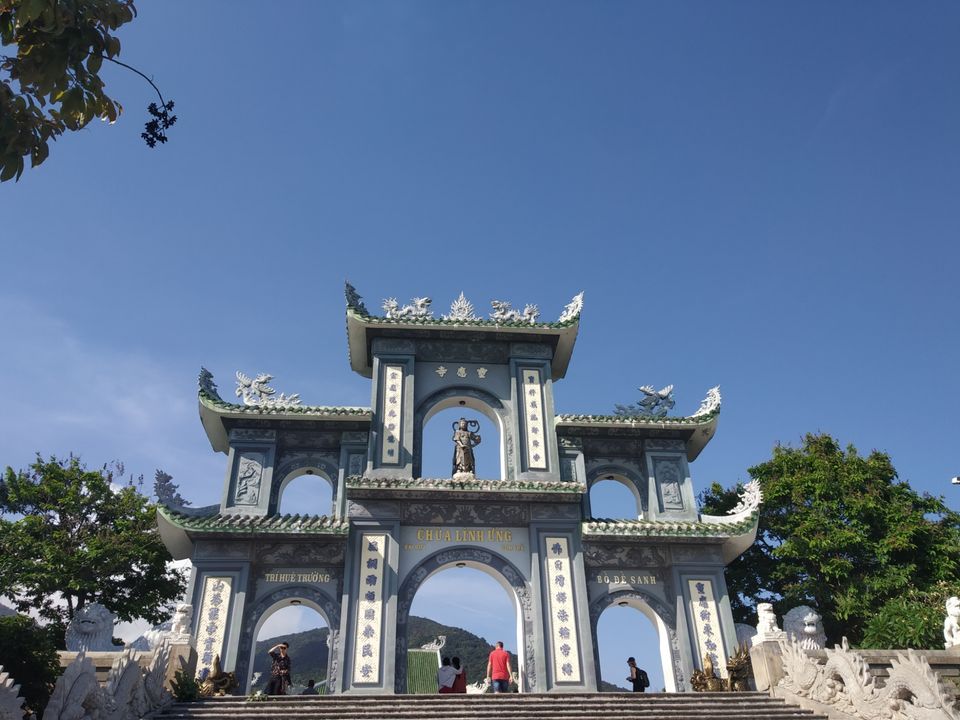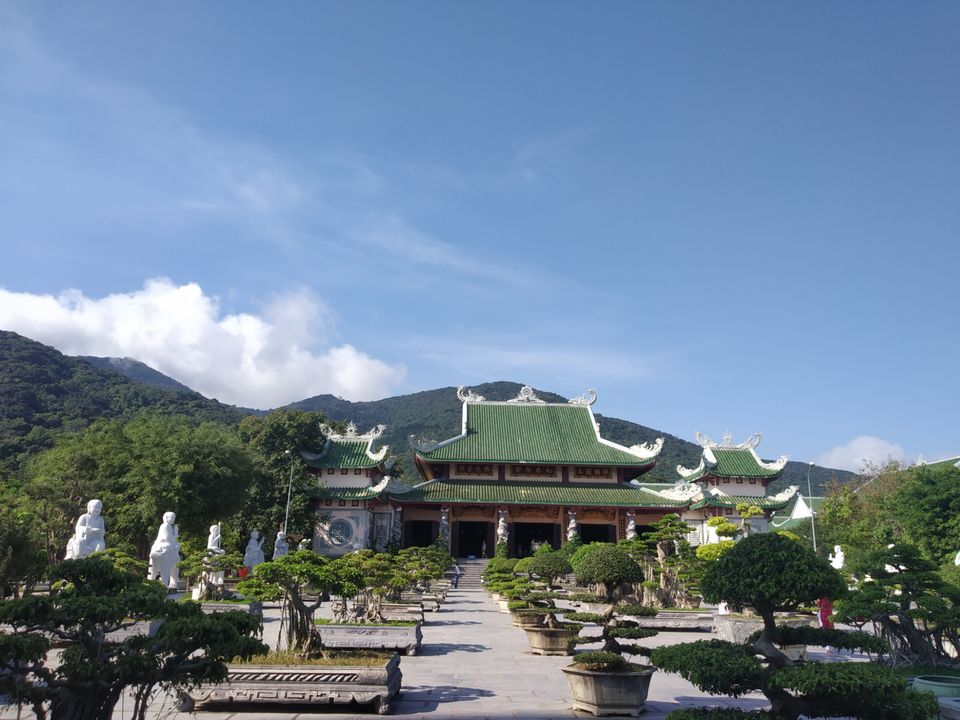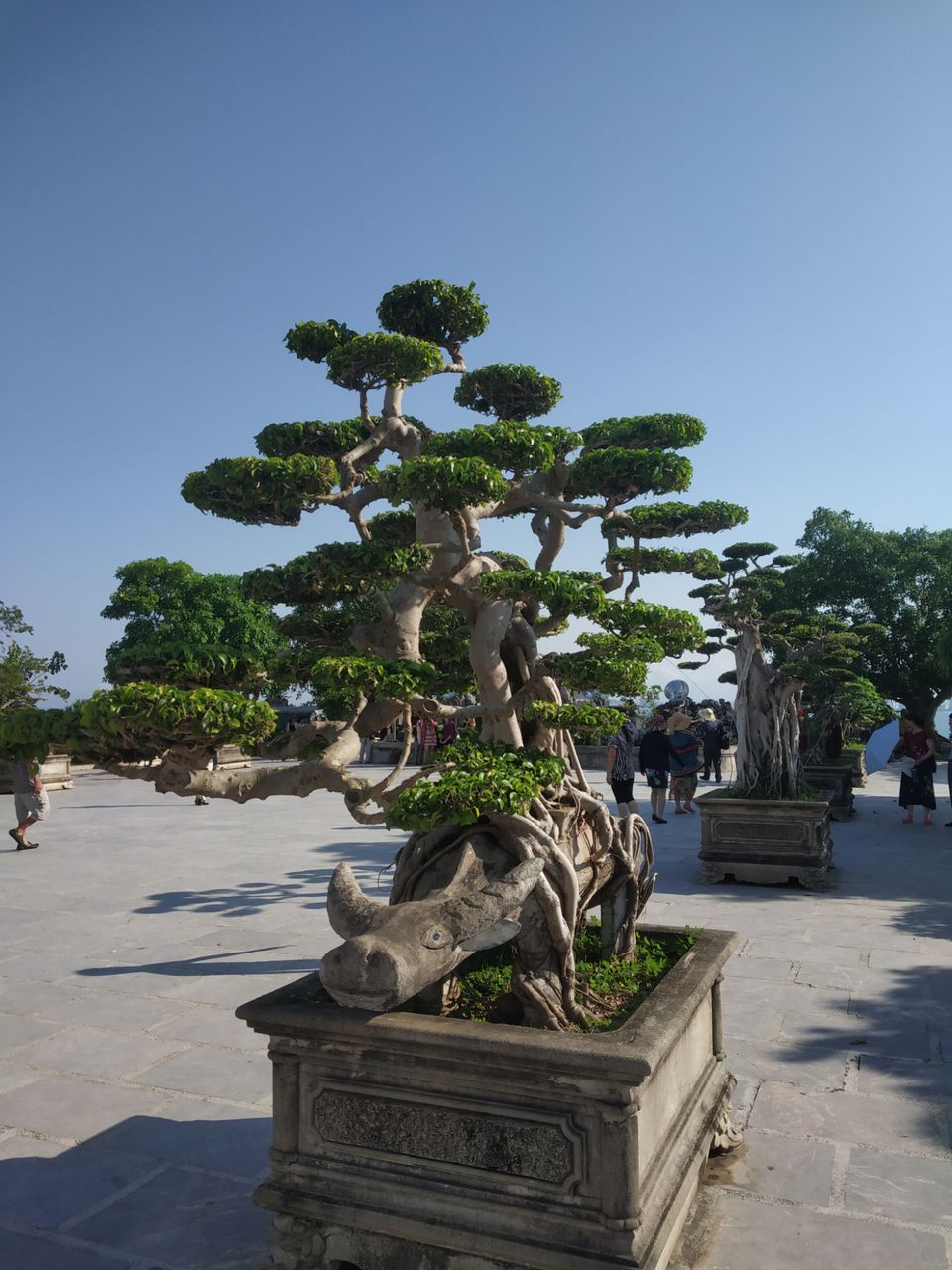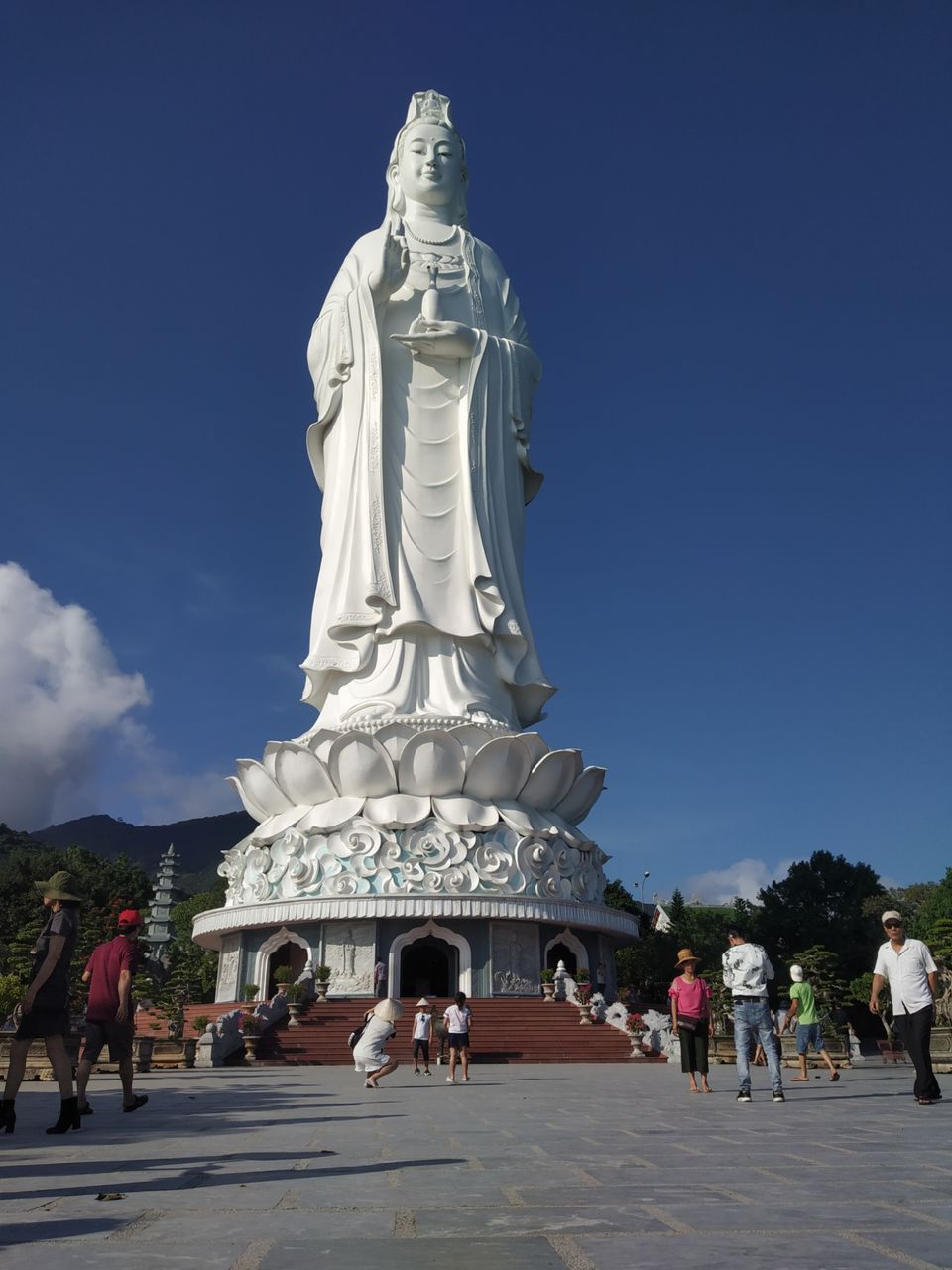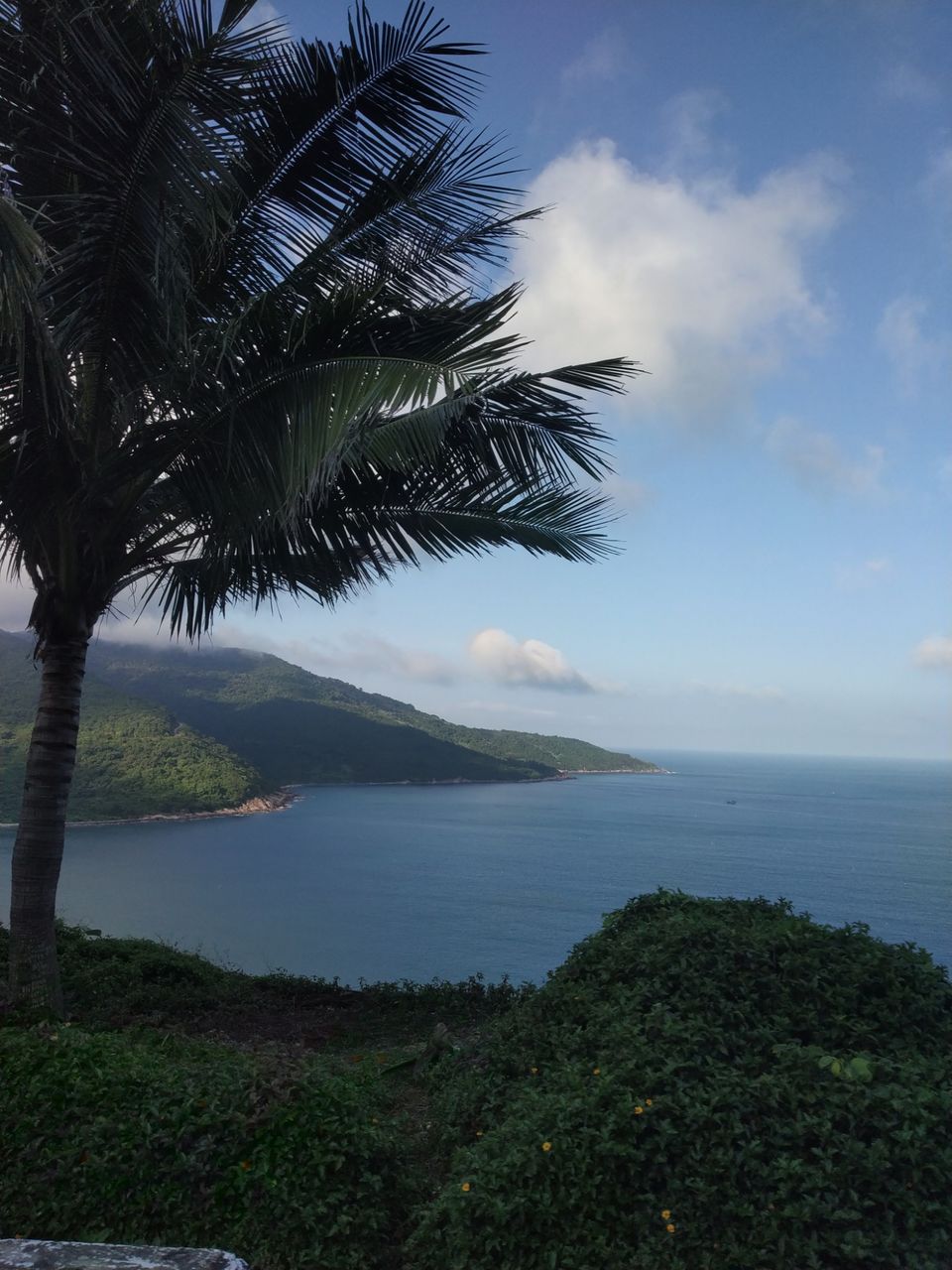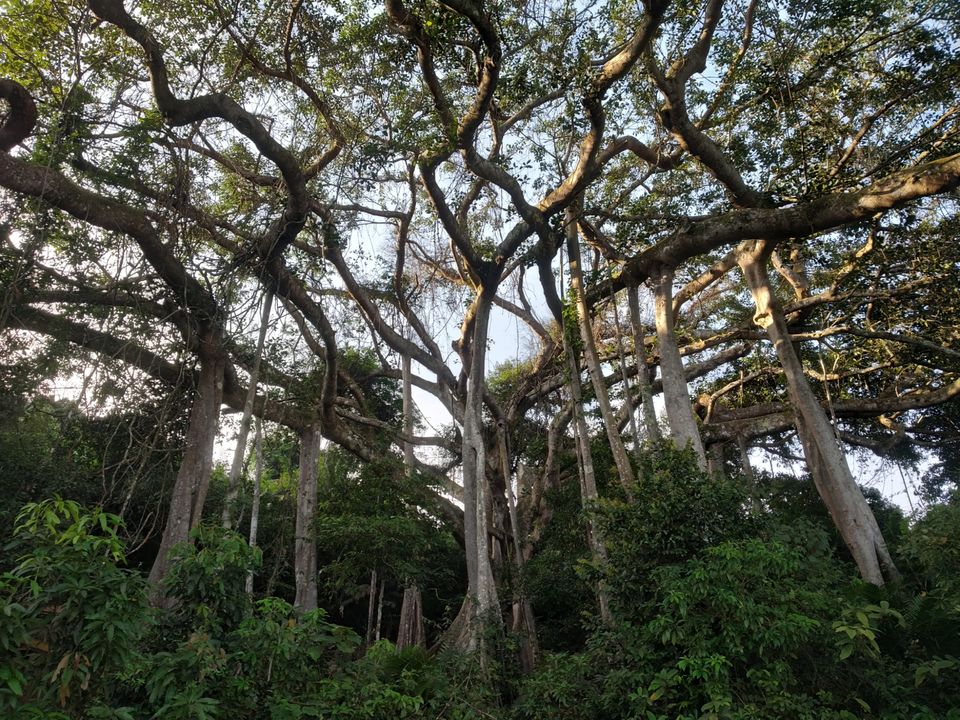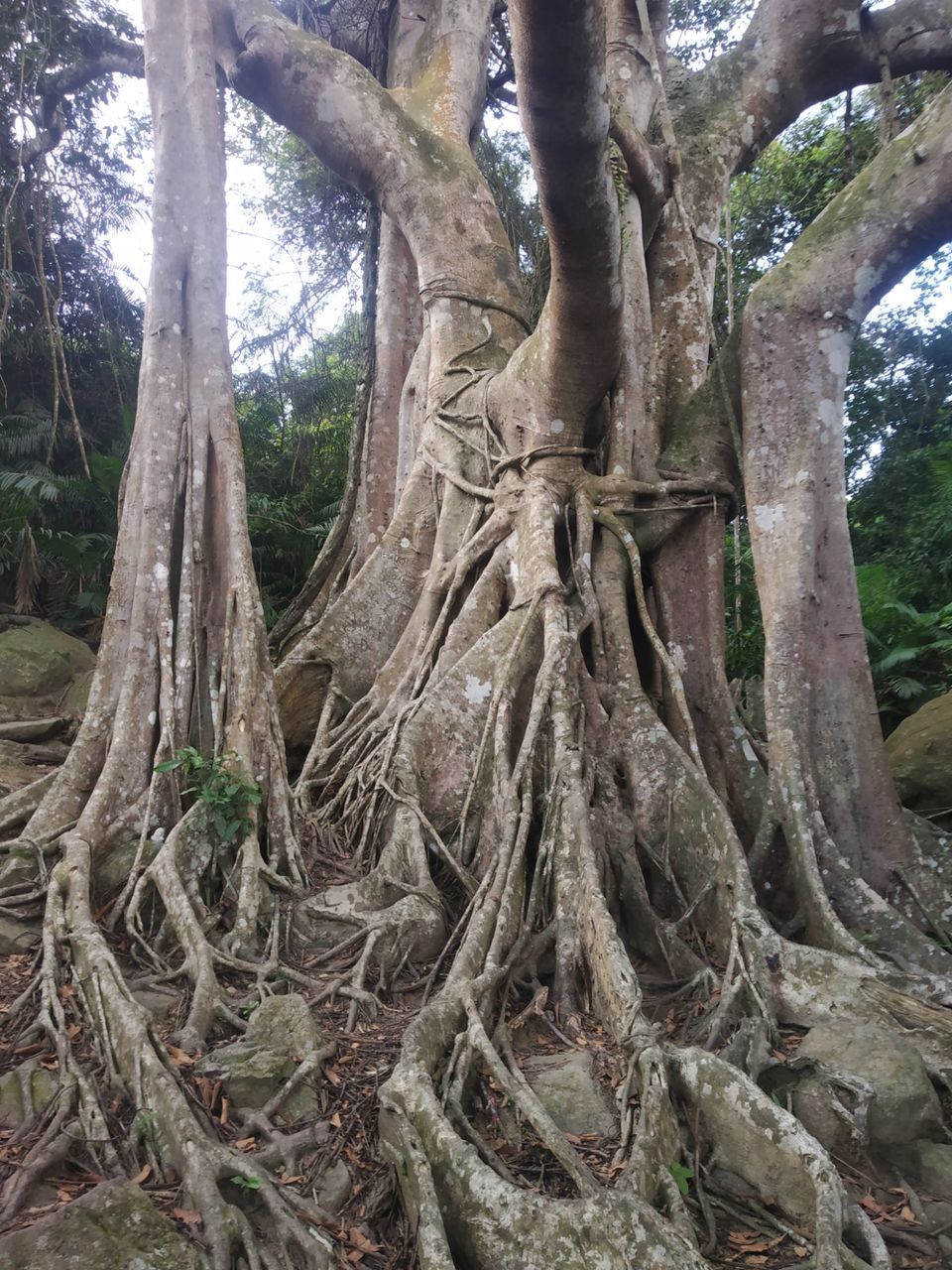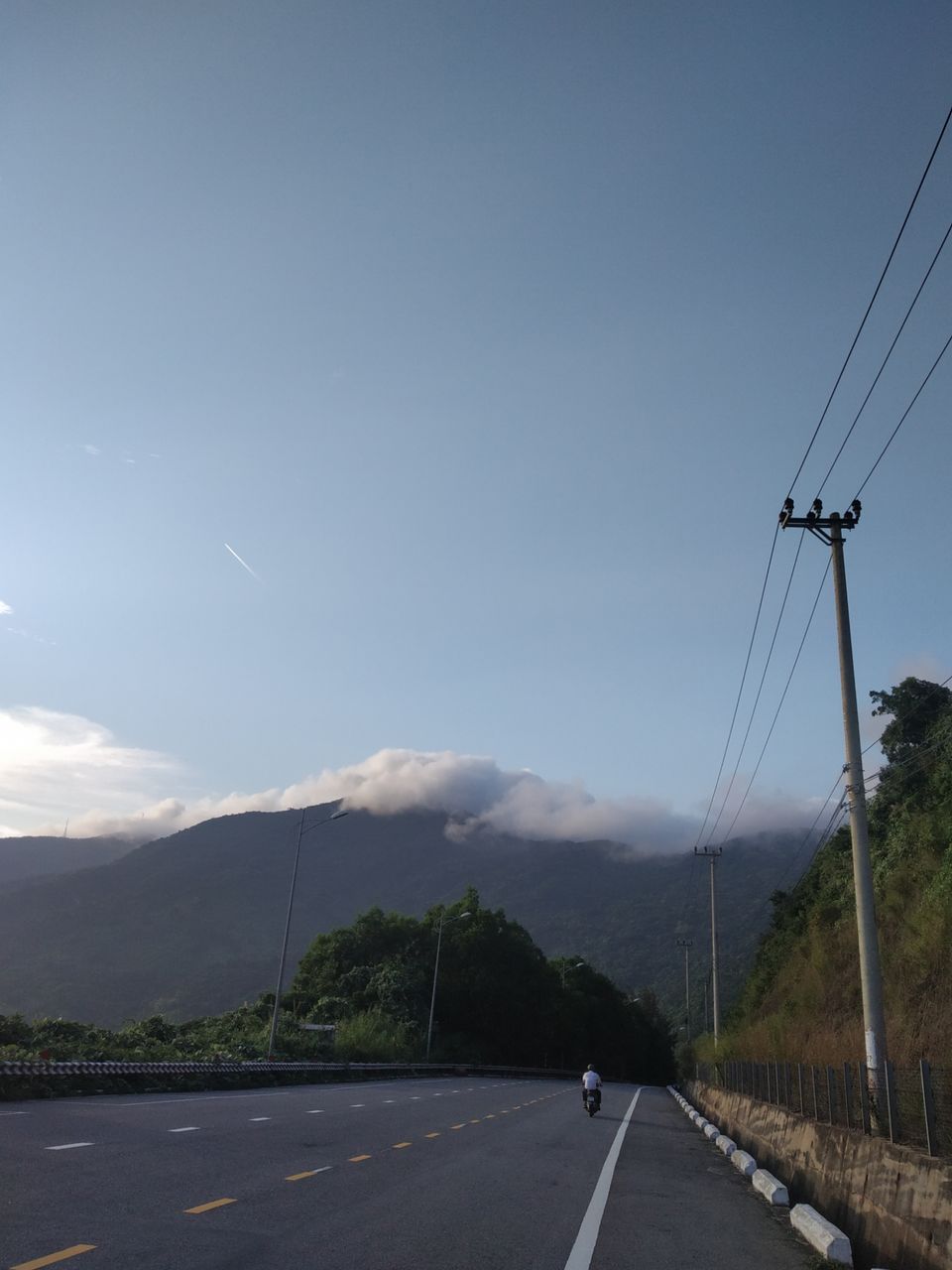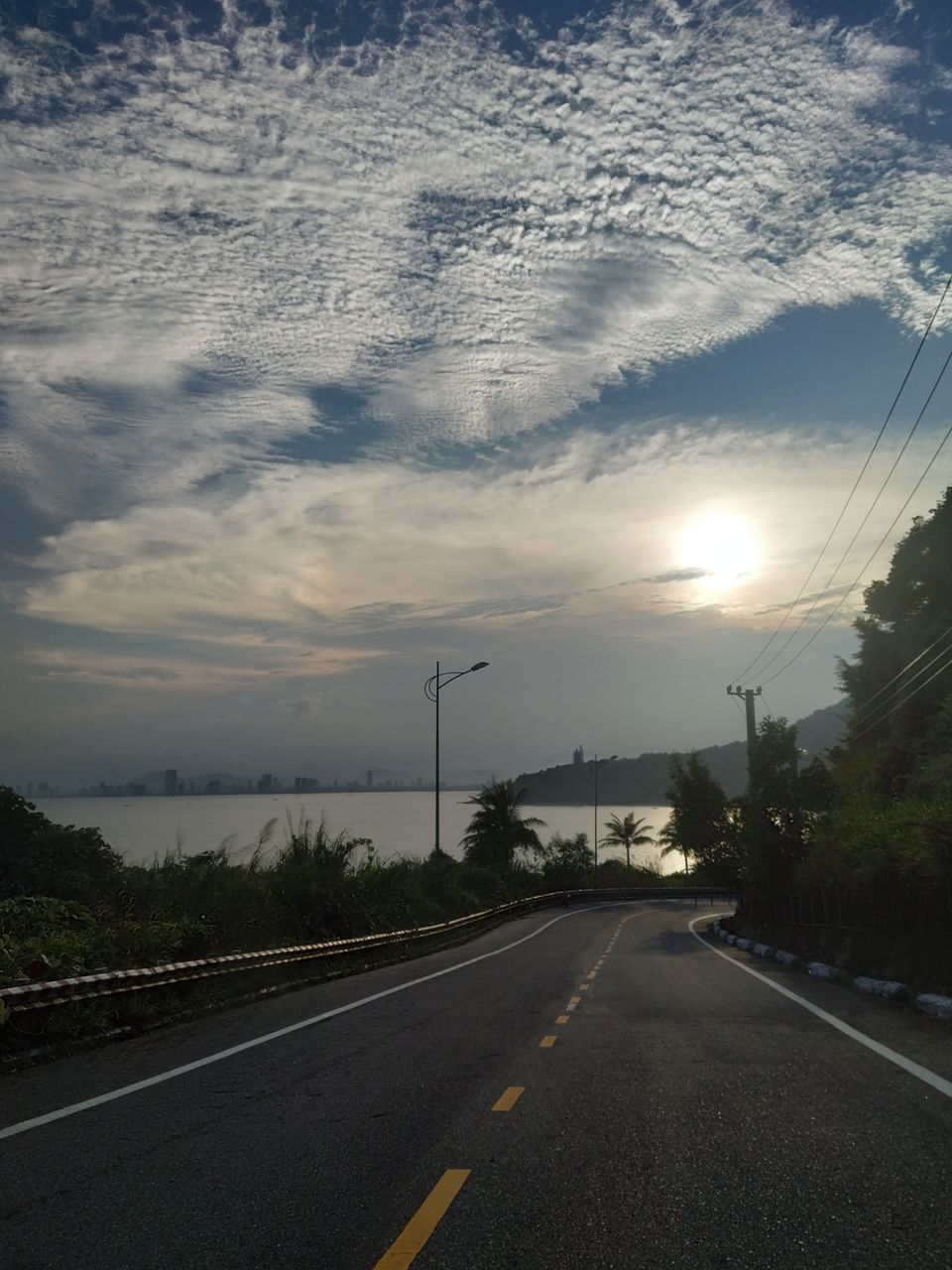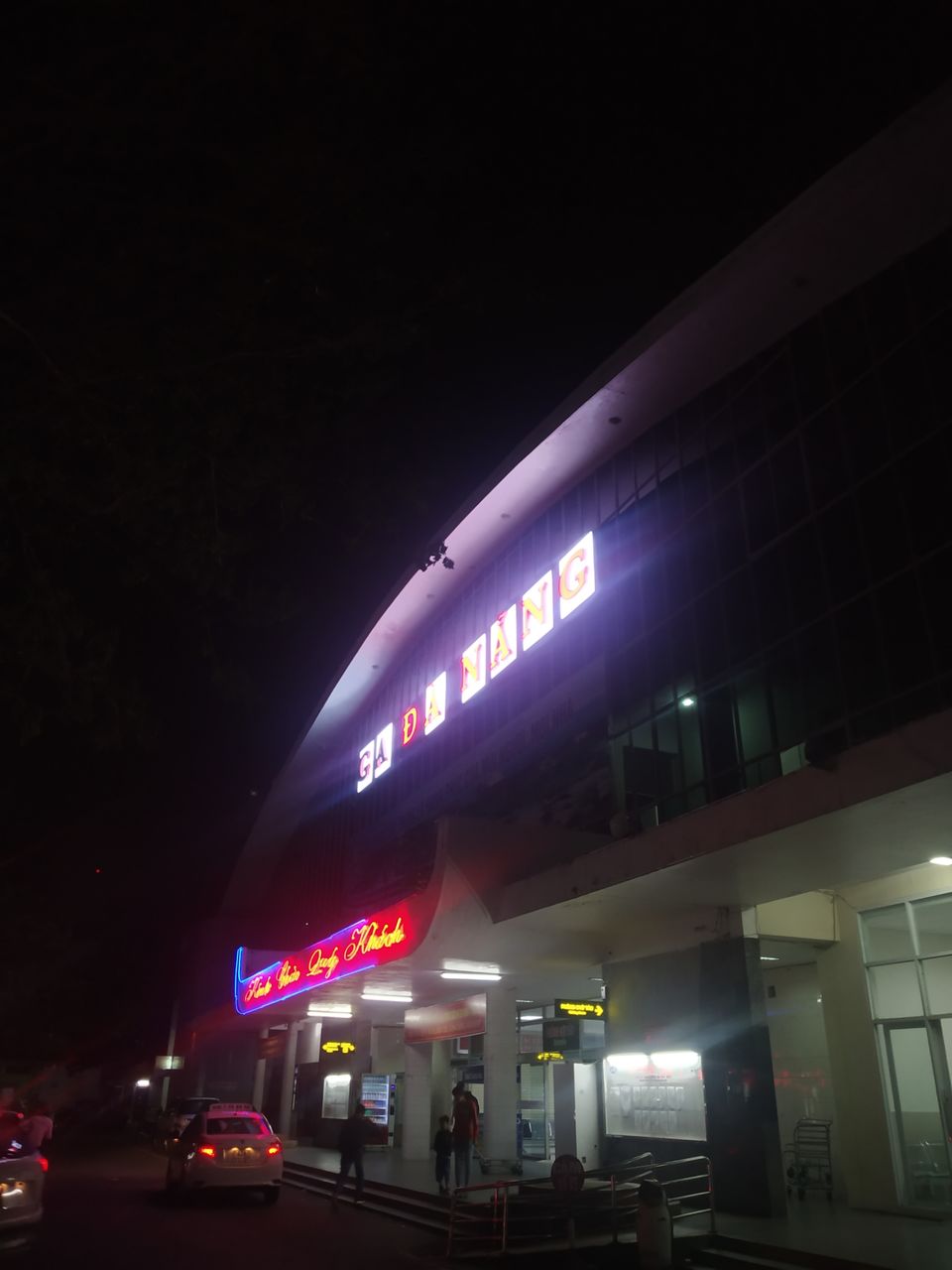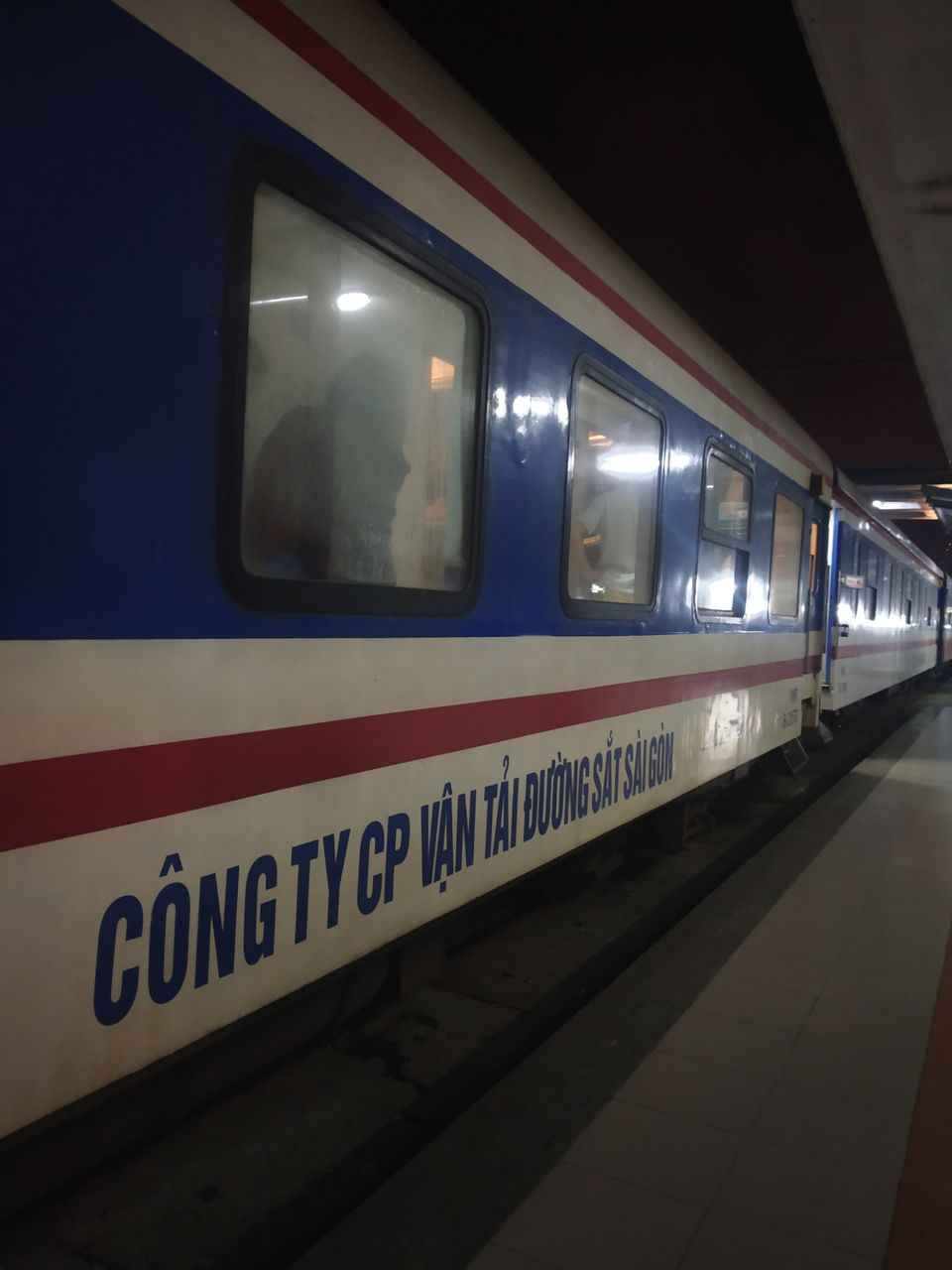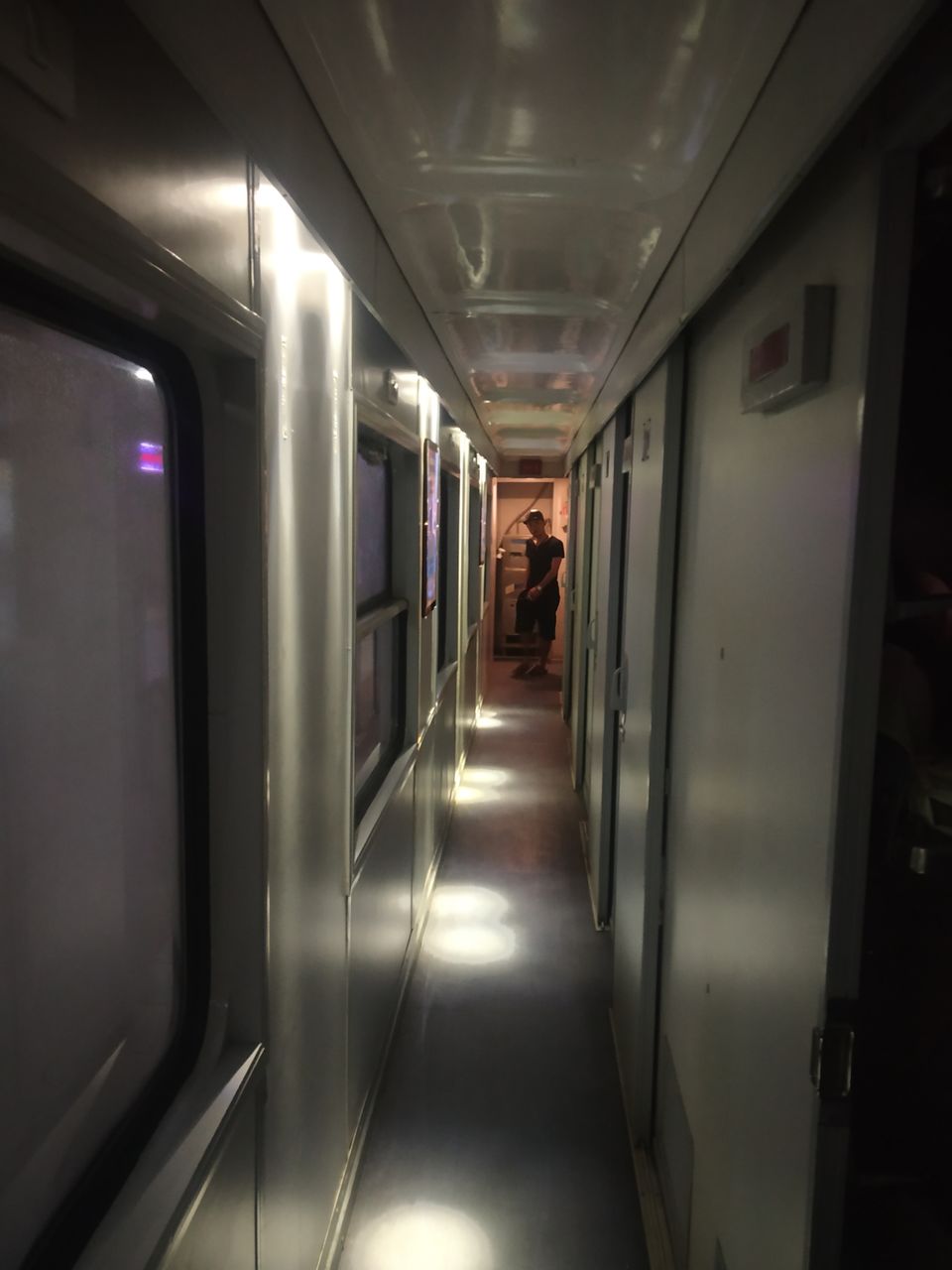 So the overnight train journey is good and when the vendor comes with the trolley it was like Hogwarts express in the Harry potter movie????. I have reached Ninh Binh around 1 pm and took a taxi to my hotel at Tam Coc. After a quick fresh up, I rented a motor bike at the hotel for 150,000 dongs for 1 day and went on to visit Tam Coc. Tam coc has some good scenic roads with the lime stone mountains surrounded all over. The sight is just surreal. I went on to visit the Thung Nham Ecological park (entrance ticket - 100,000 dongs ). It took around 2 hours to complete a full circuit of the park. It has like 2-3 caves and a flower garden and a 1000 years old tree and some beautiful bridges. And I wanted to be at the Mua caves (100,000 dongs) for the sunset, like it has the best 360° view from the top of the pagoda.
We should start our trail by climbing around 500-700 steps and the view from the top is really breath taking. So I have reached to the top by 5:30pm and stayed there until everyone left. I was just sitting at a corner which has a great view and enjoying itm suddenly I realised that I am the only one left at around 7 pm????. So slowly I made it to the starting point and went back to my hotel, had some good food & healthy conversations with other travellers. It was quite a long day, feeling so tired and drowsy. Gud night guys.
So 7 days completed in my 13 day trip. More 6 to go! Hoping to see more beautiful places.
Until today it's like yeah this is the best place or best day and the next day it changes to that day. It's been so till now. Anyway that is what I wanted to experience and it's perfect for me.
Many say that Vietnam is bad and also I hear some people saying "what's there in Vietnam to see, Ha Ha", I want to prove them that Vietnam is a An awesome country with beautiful people and Amazing locations.
I wish I can change those minds and may be make someone's trip to Vietnam a better one.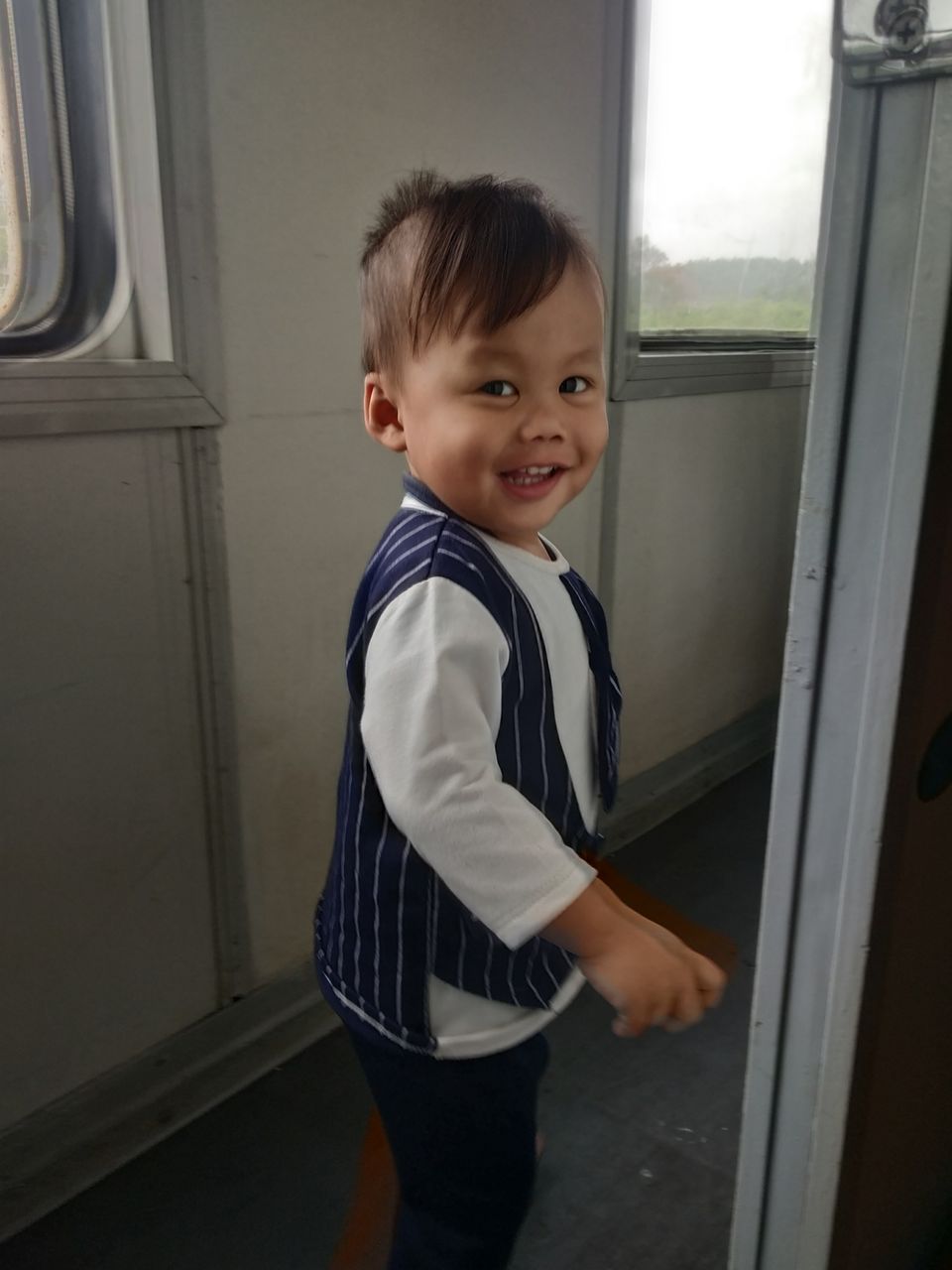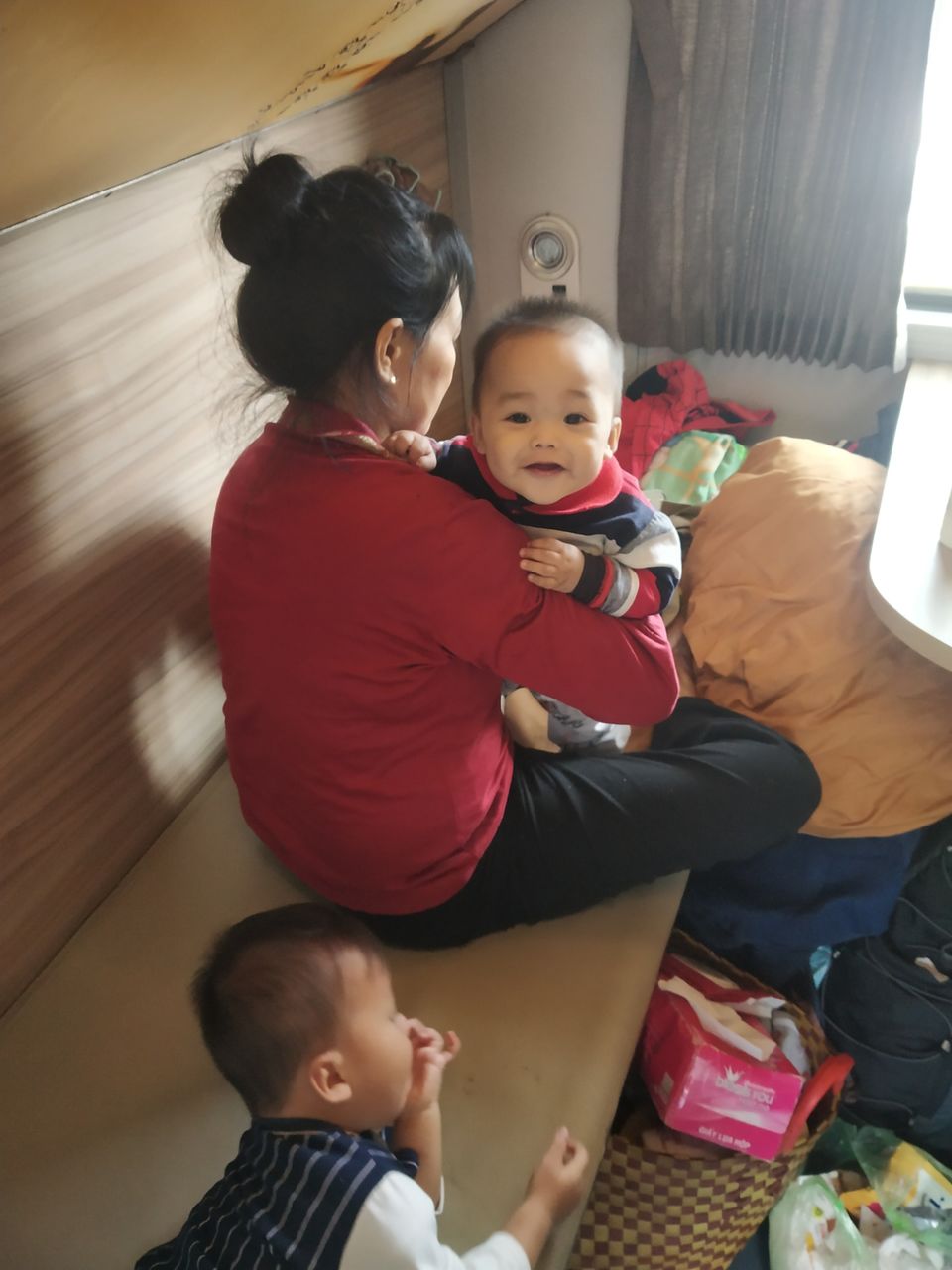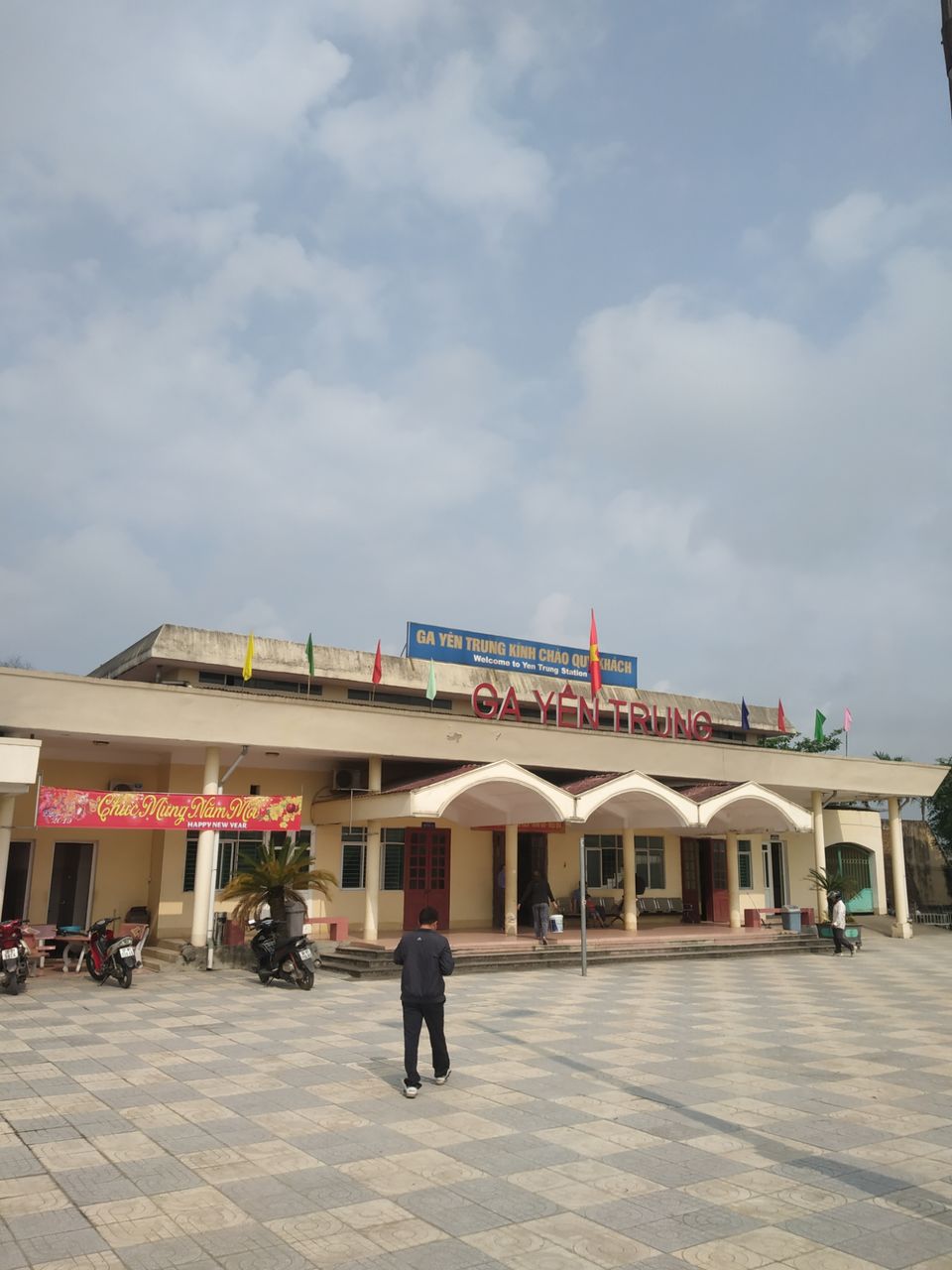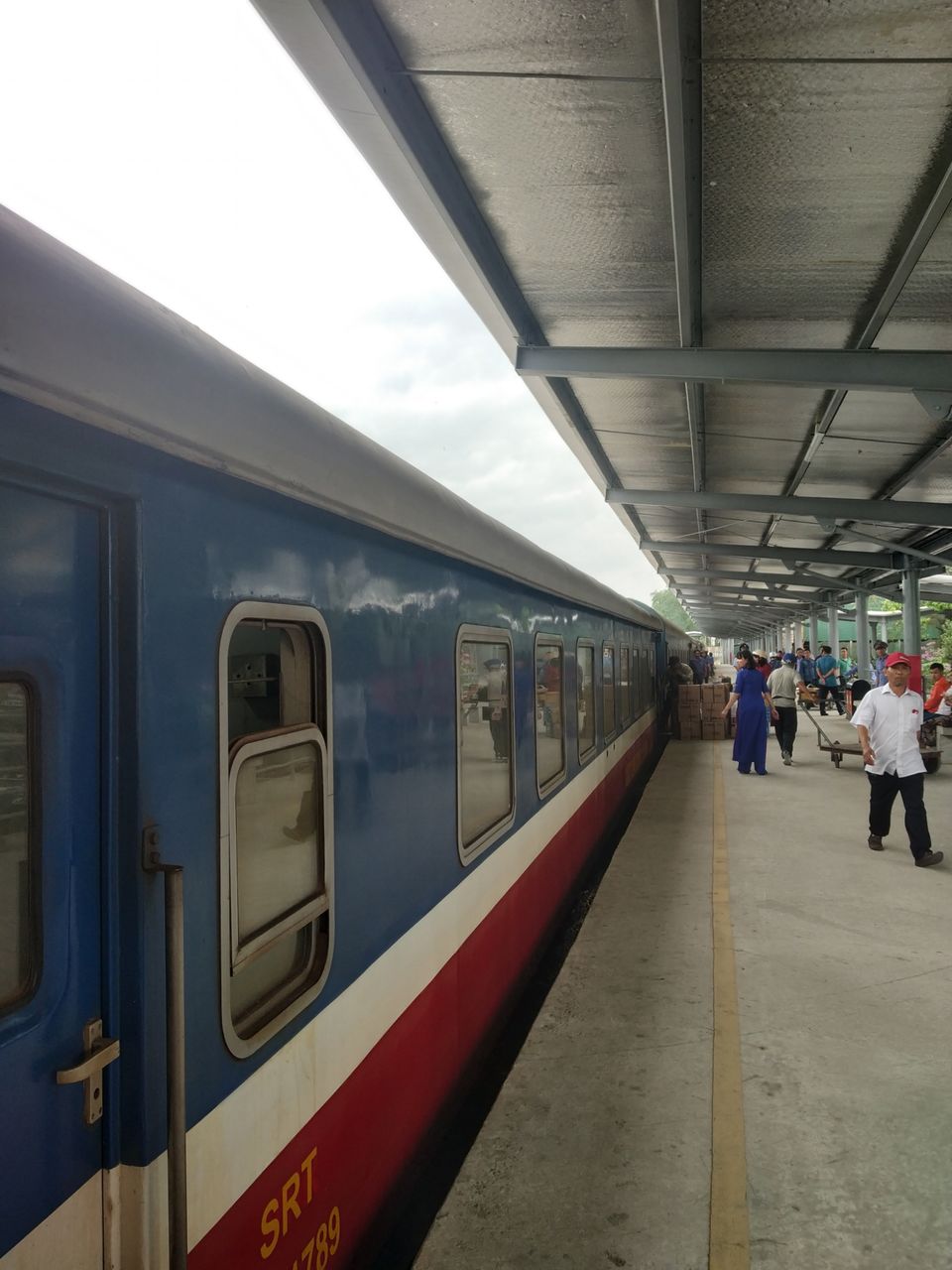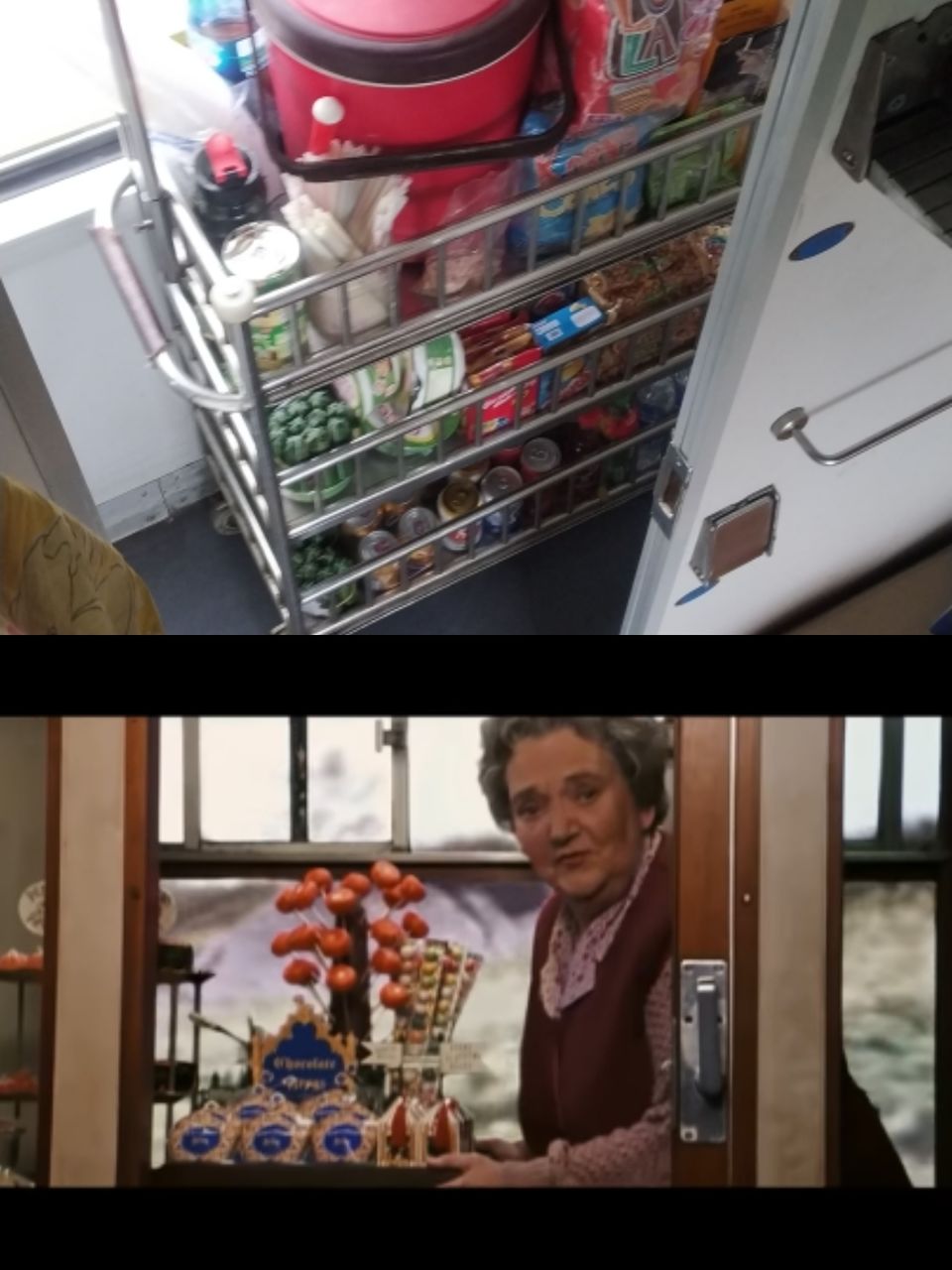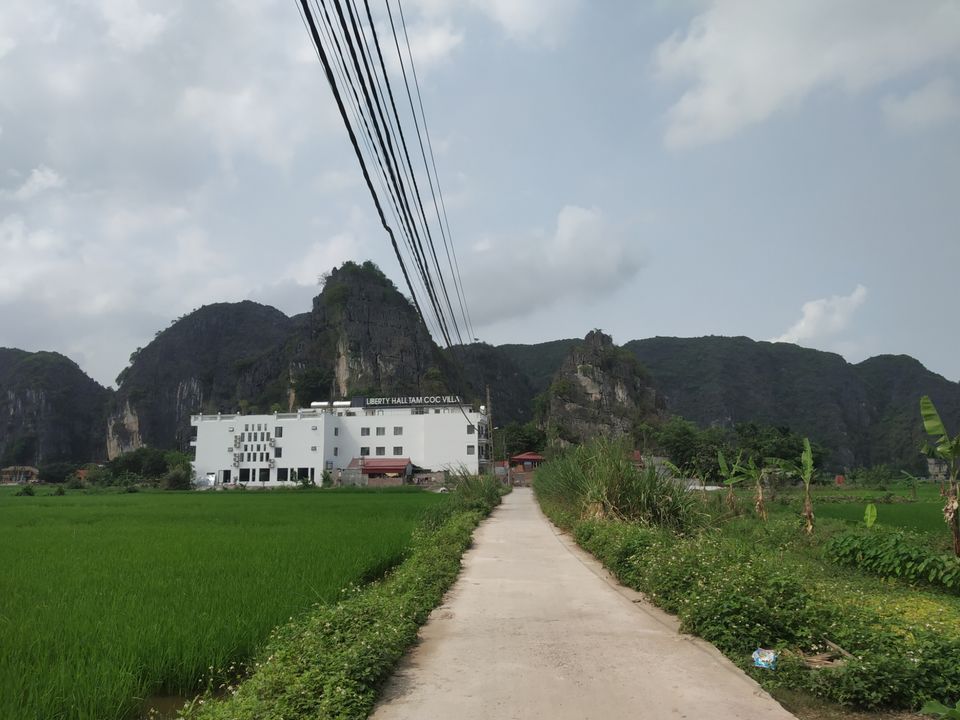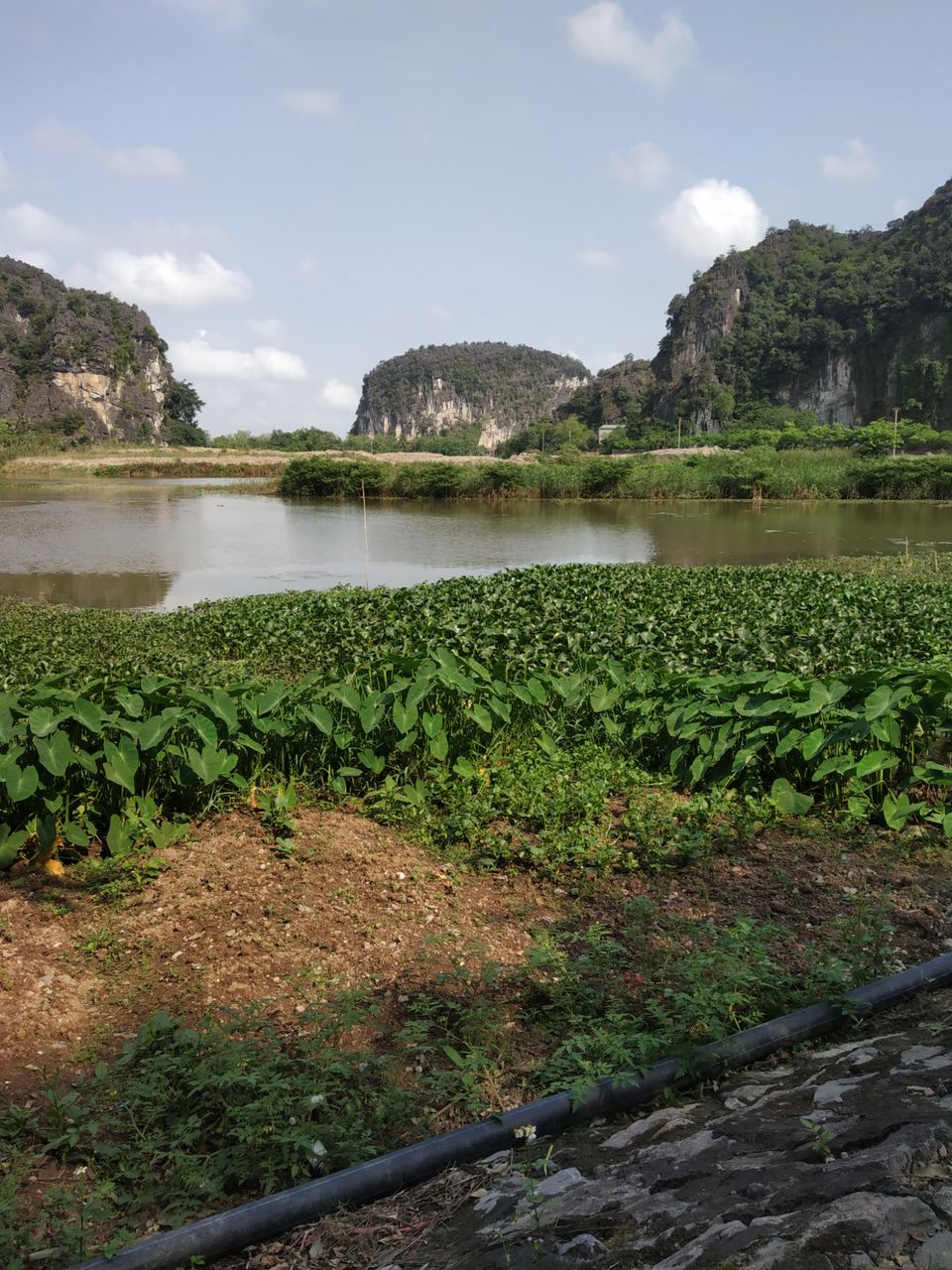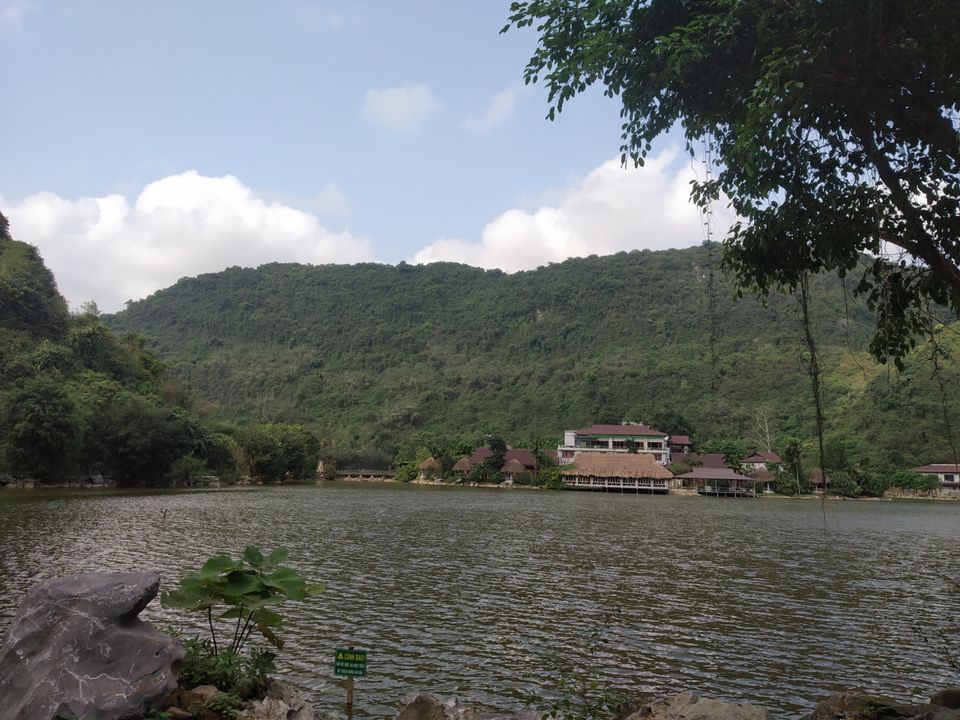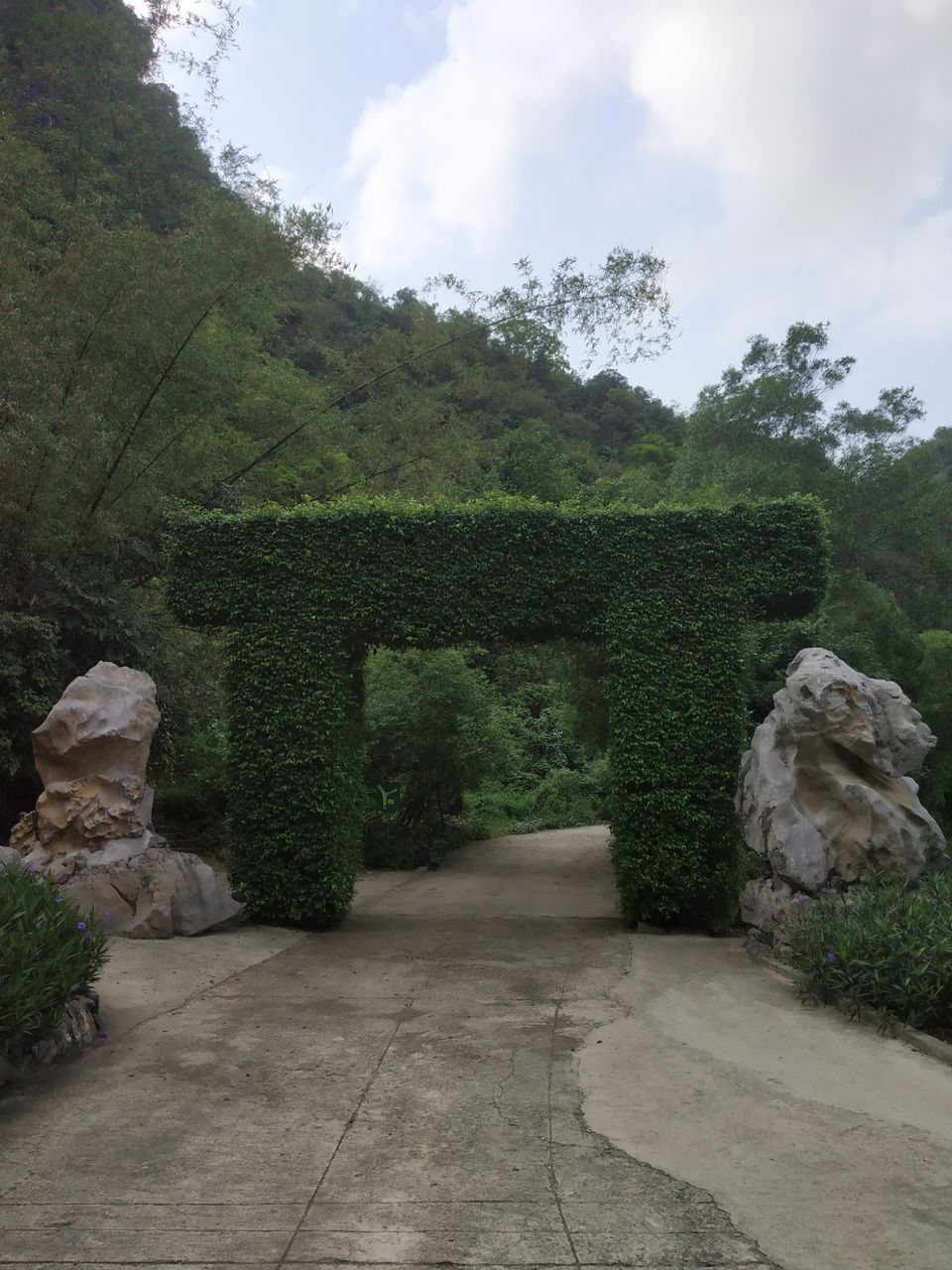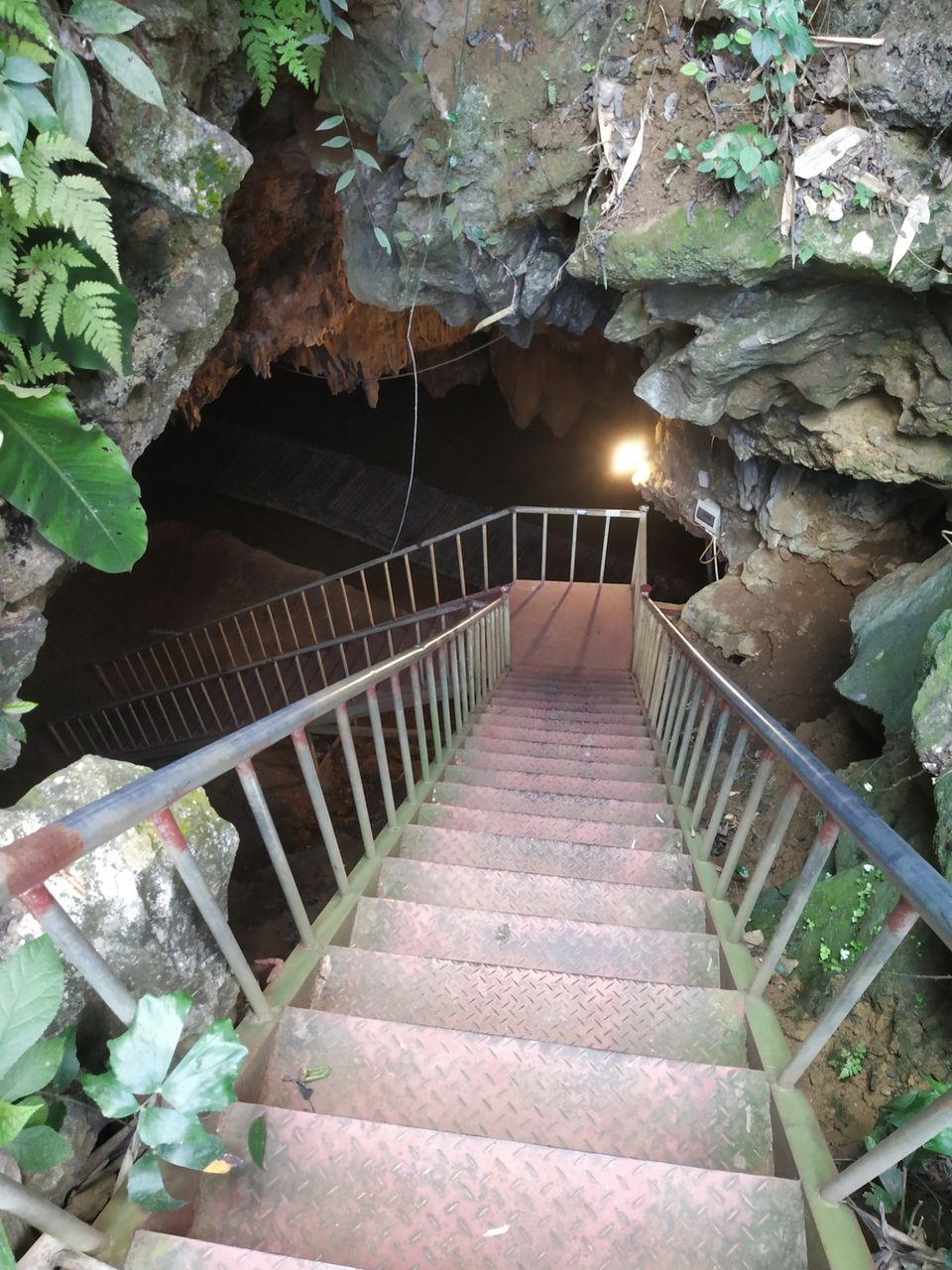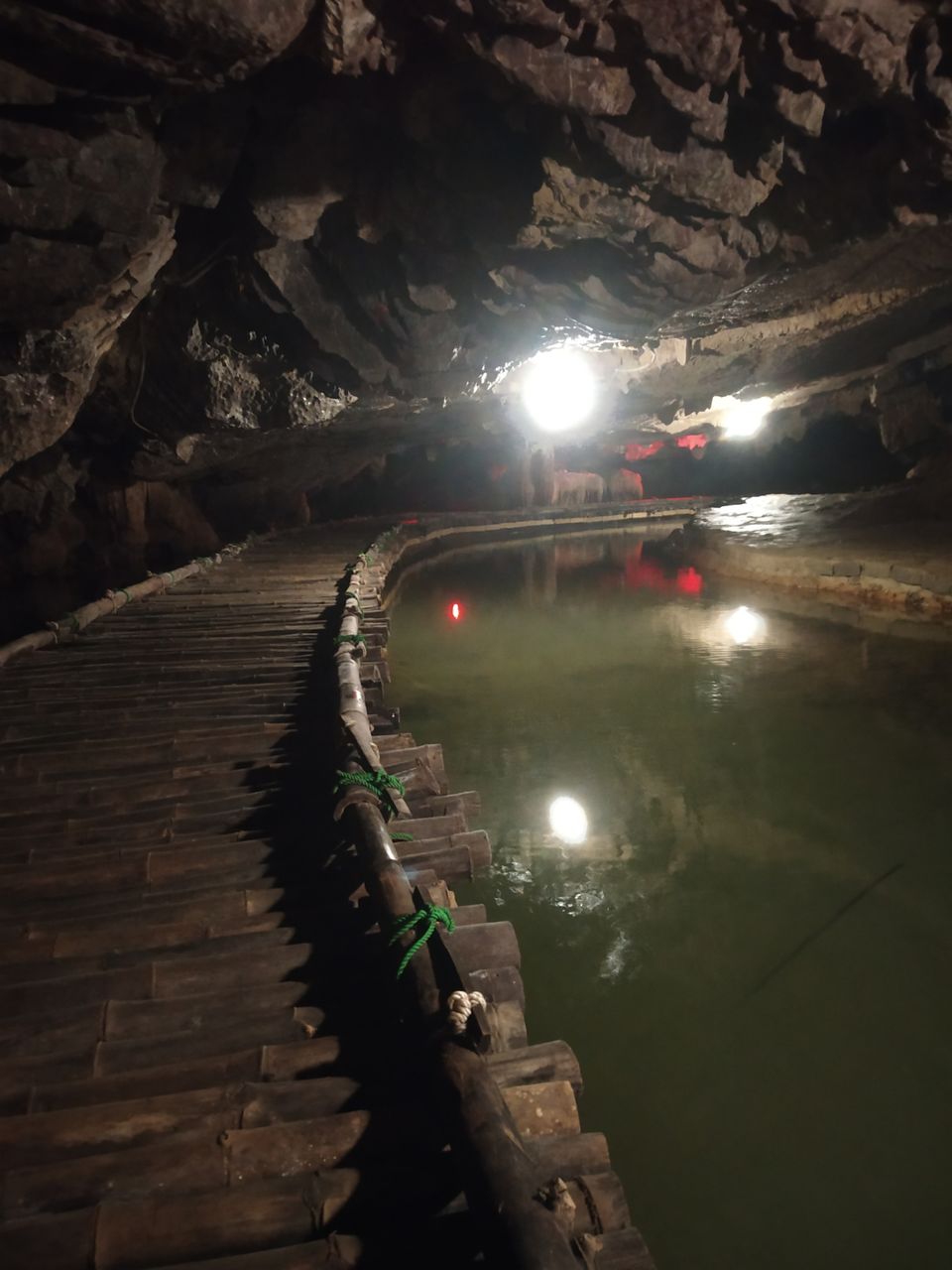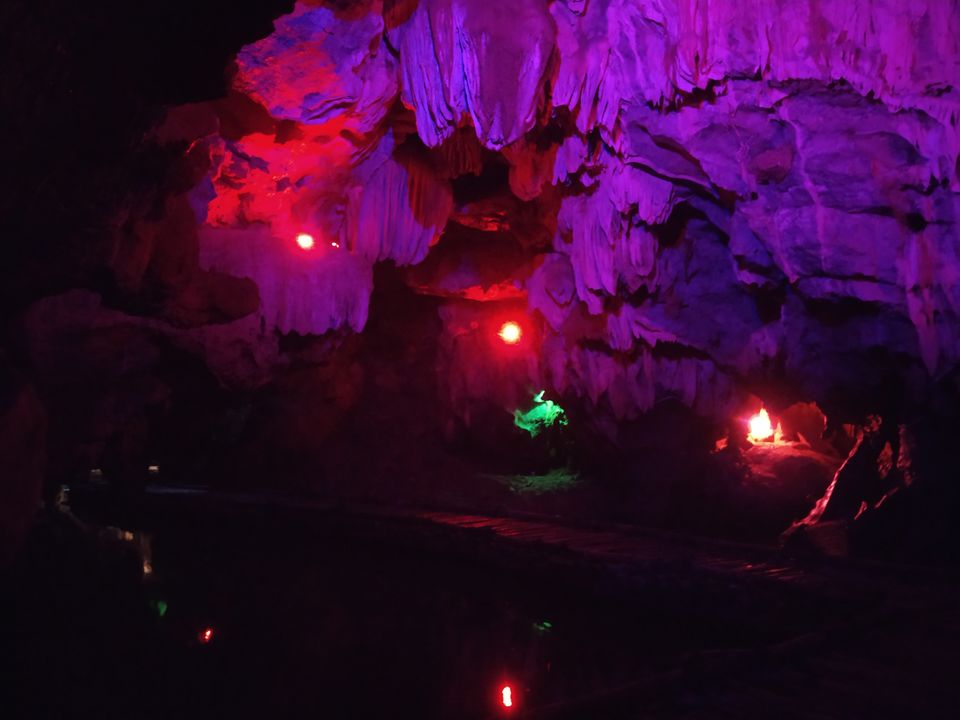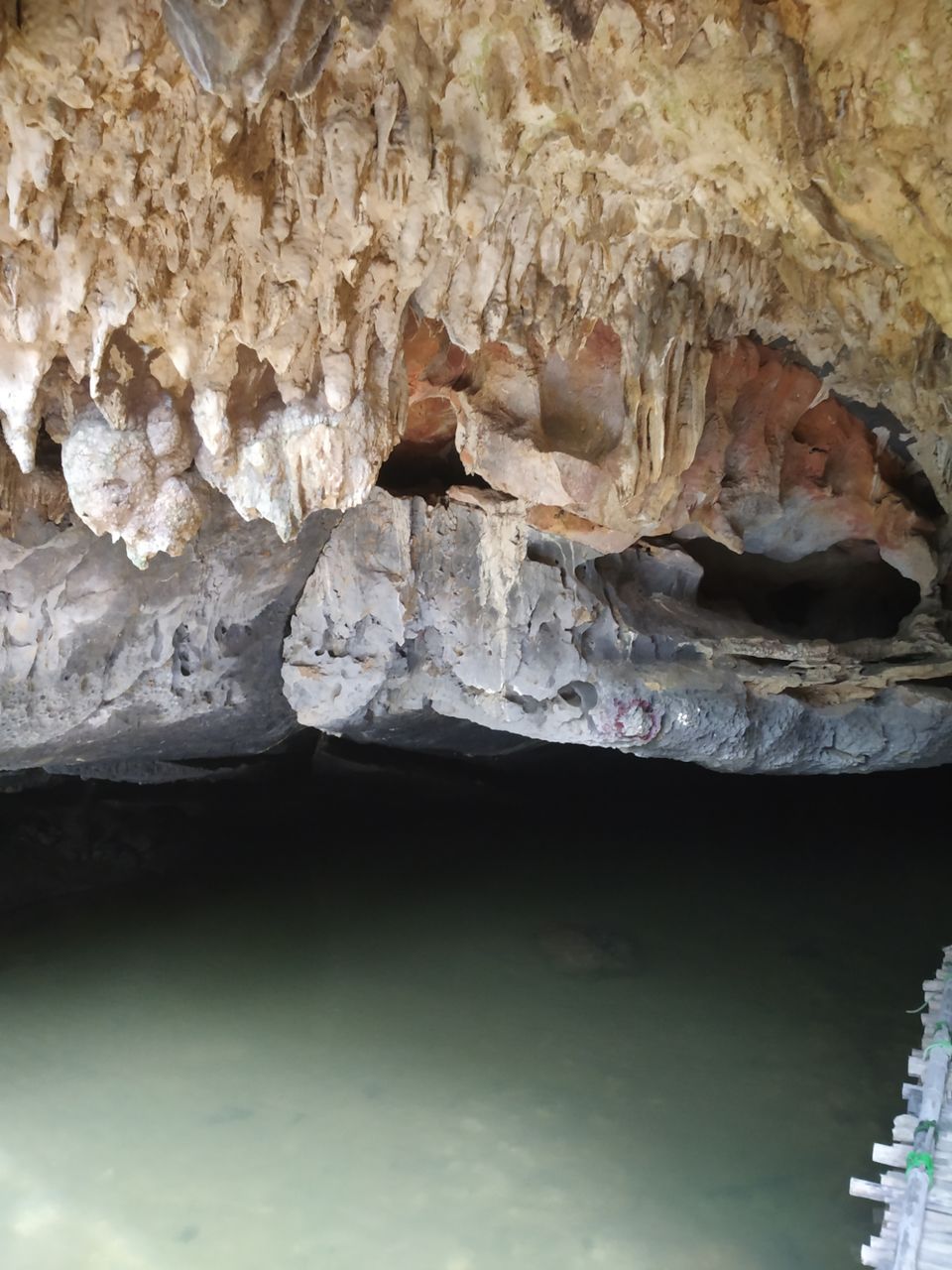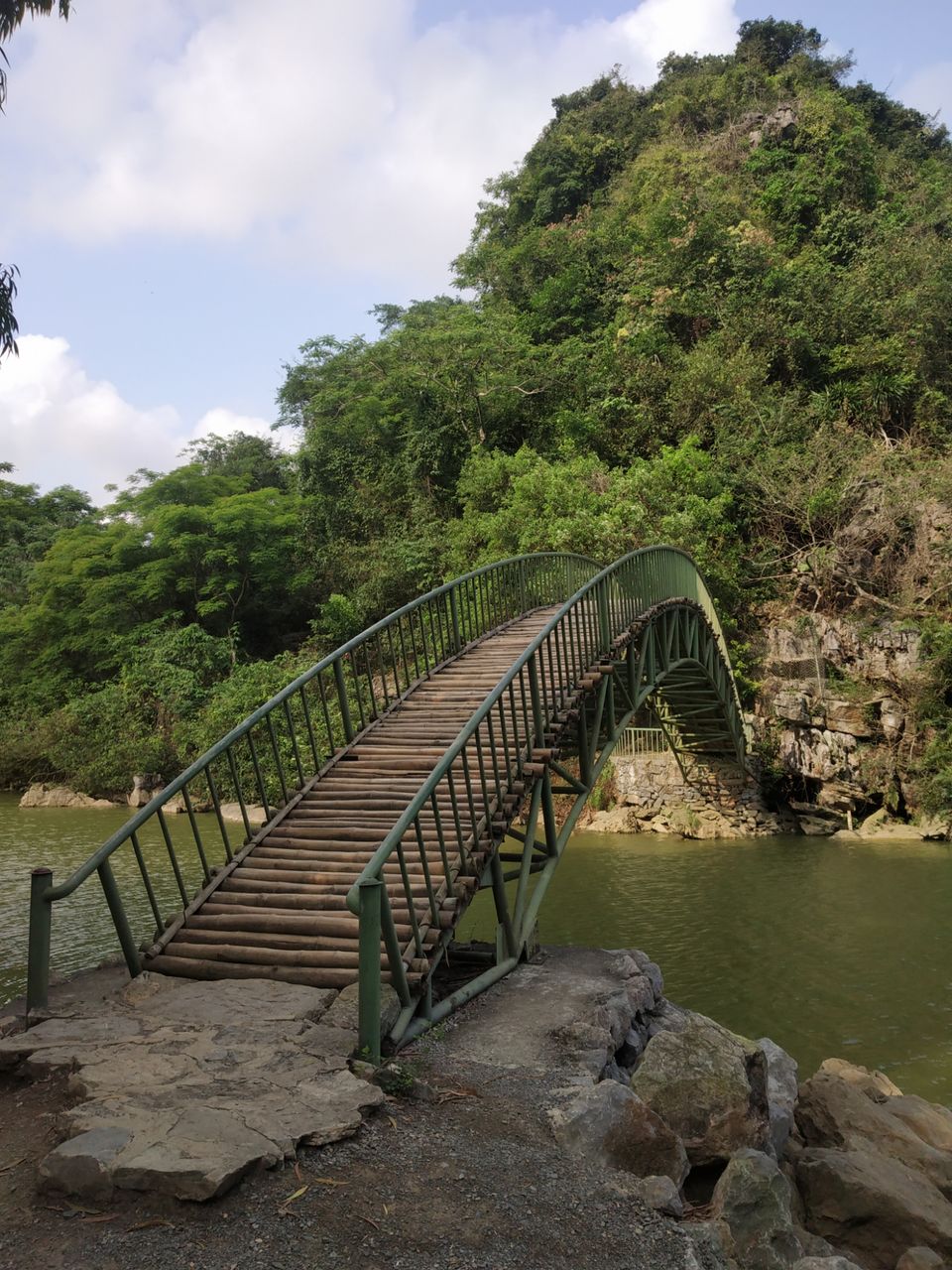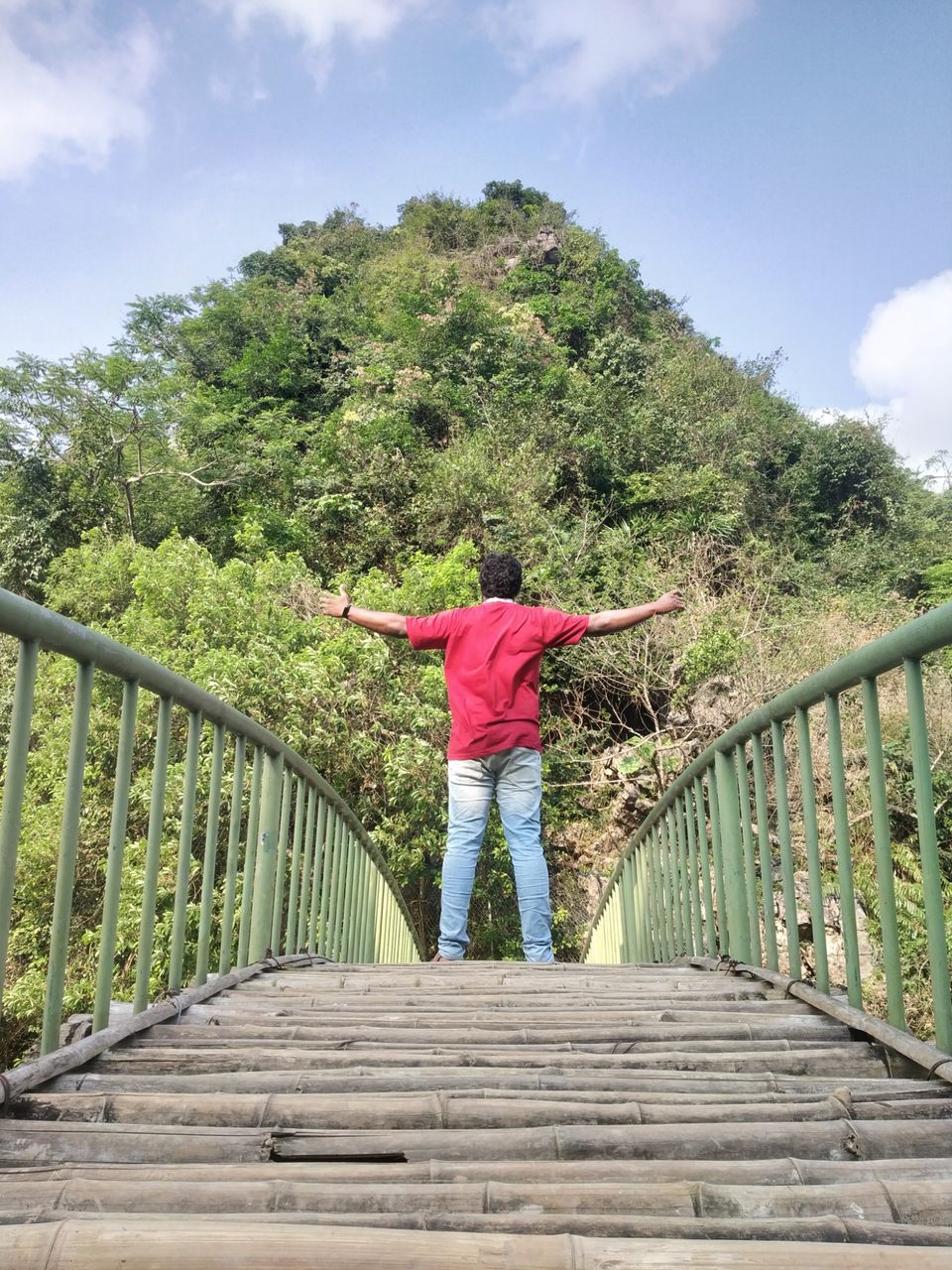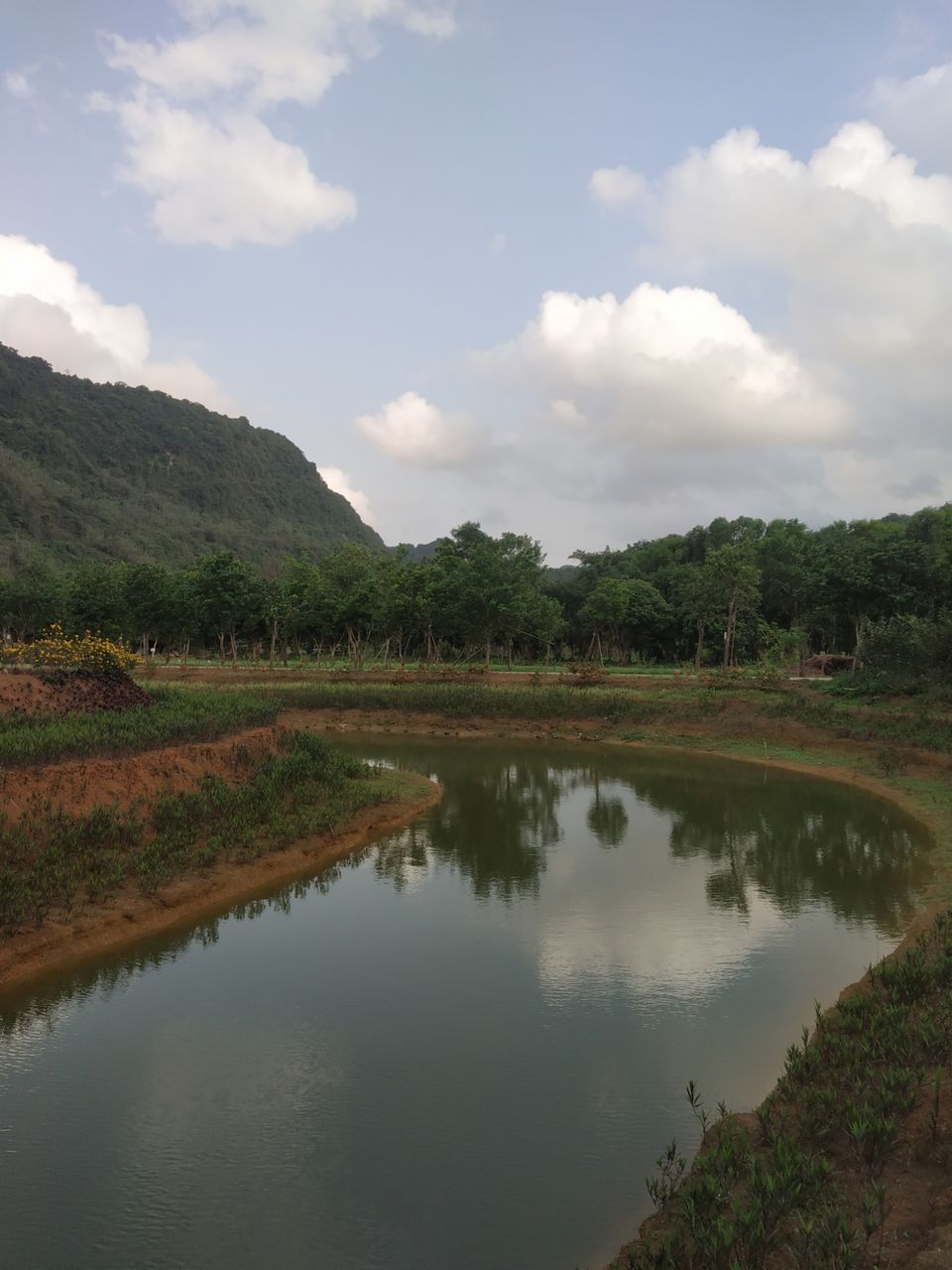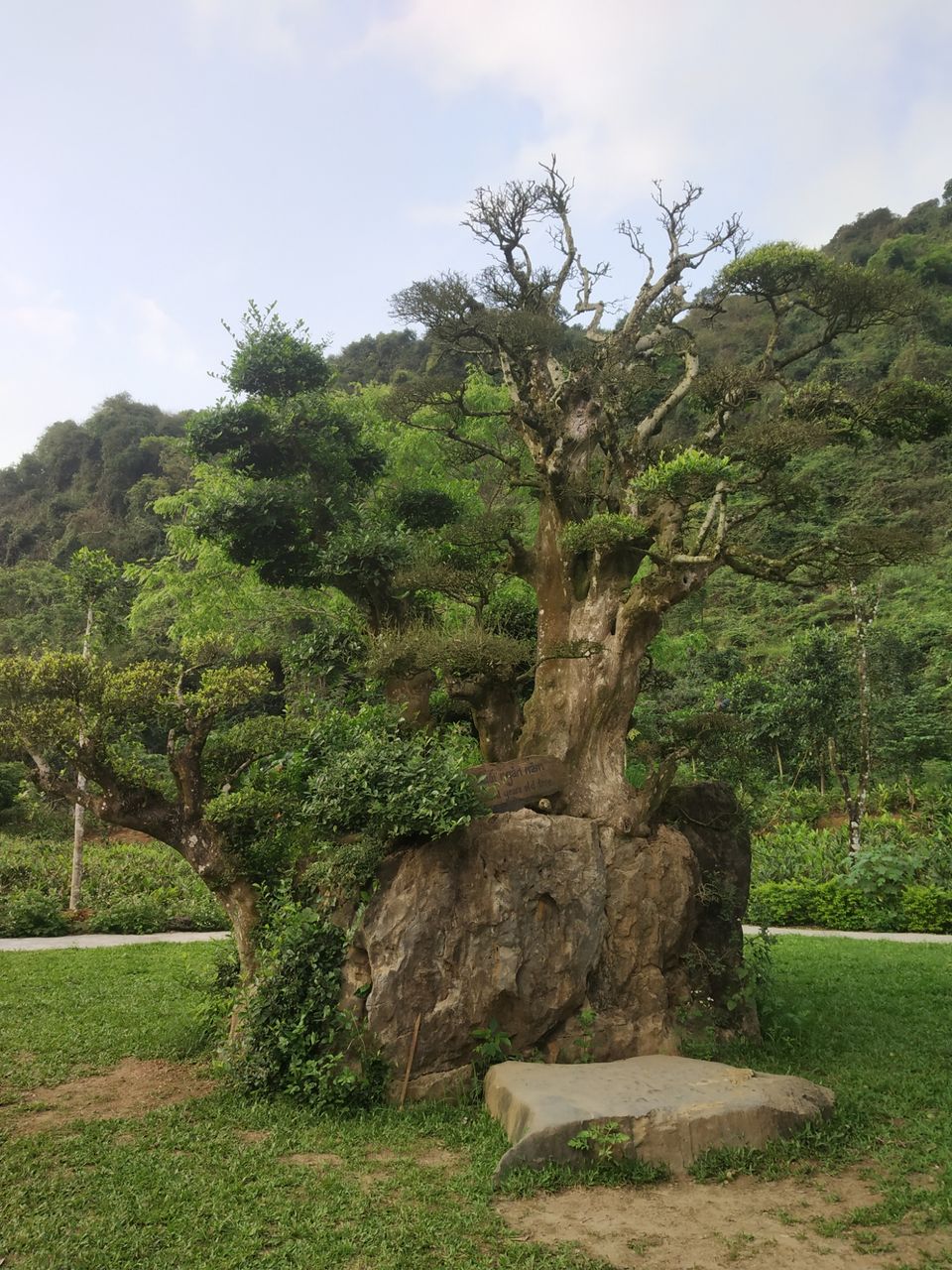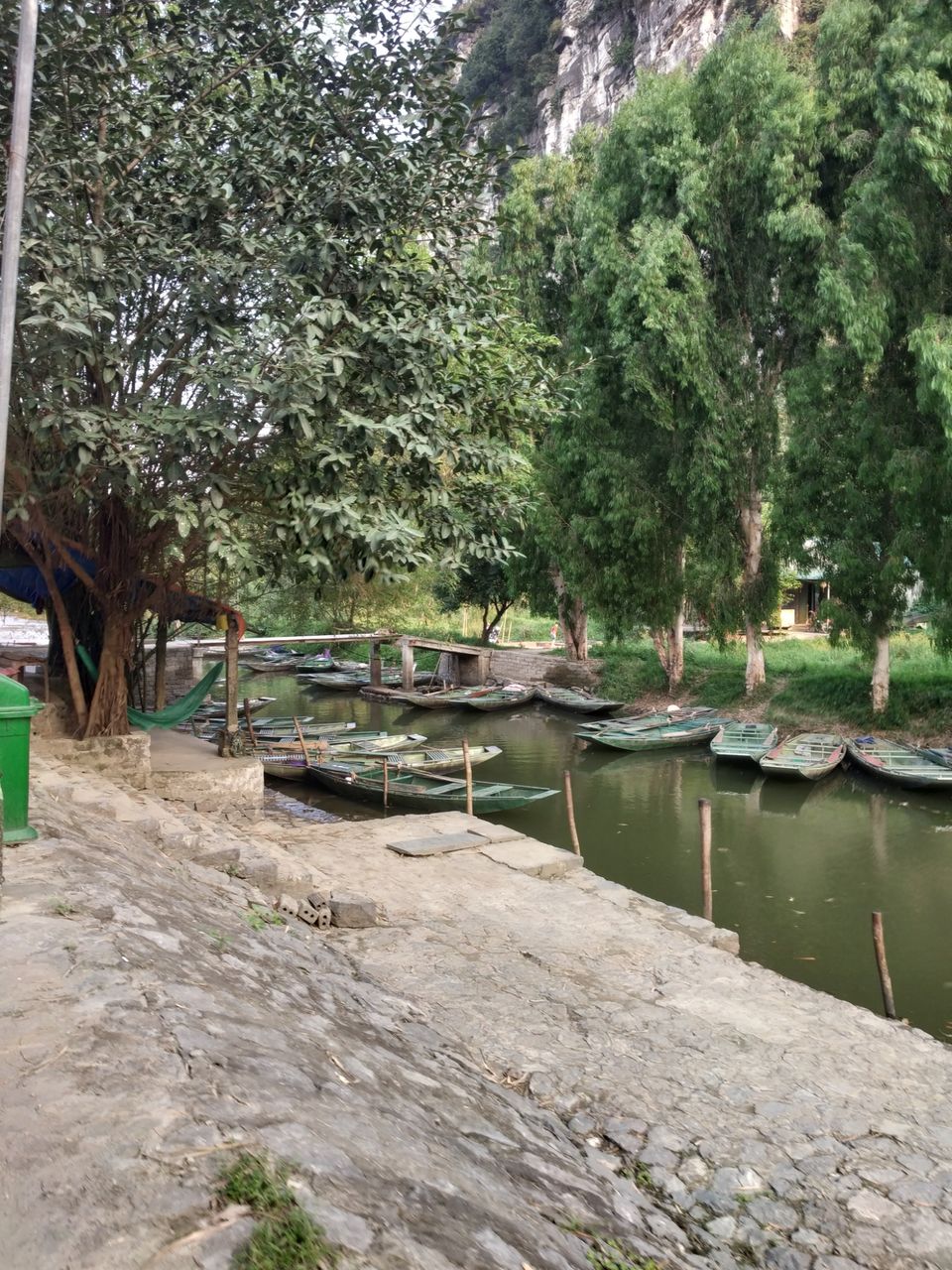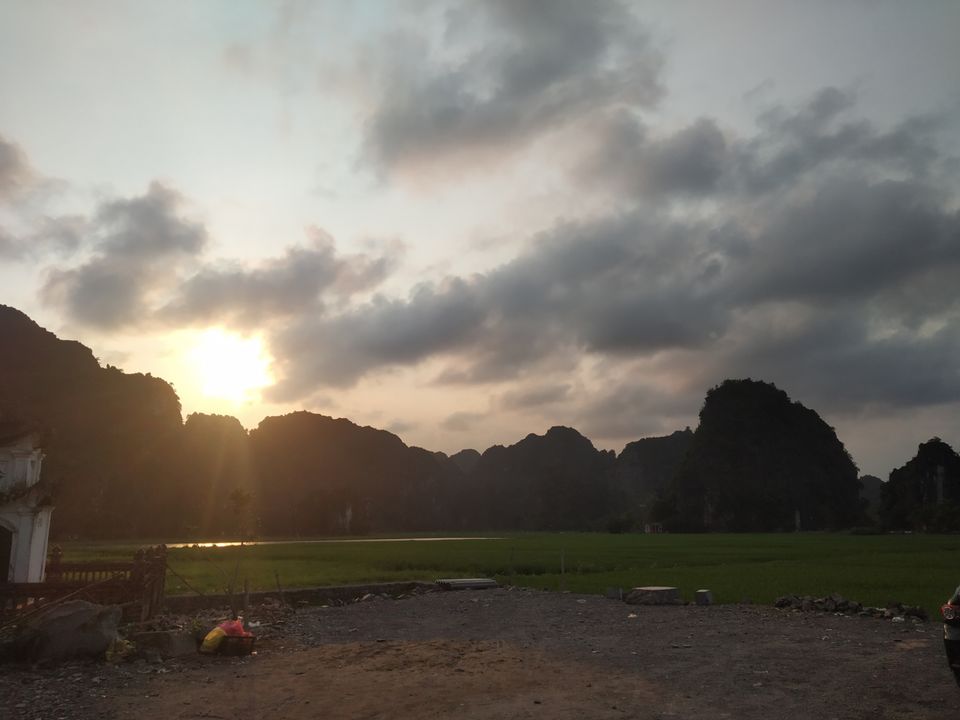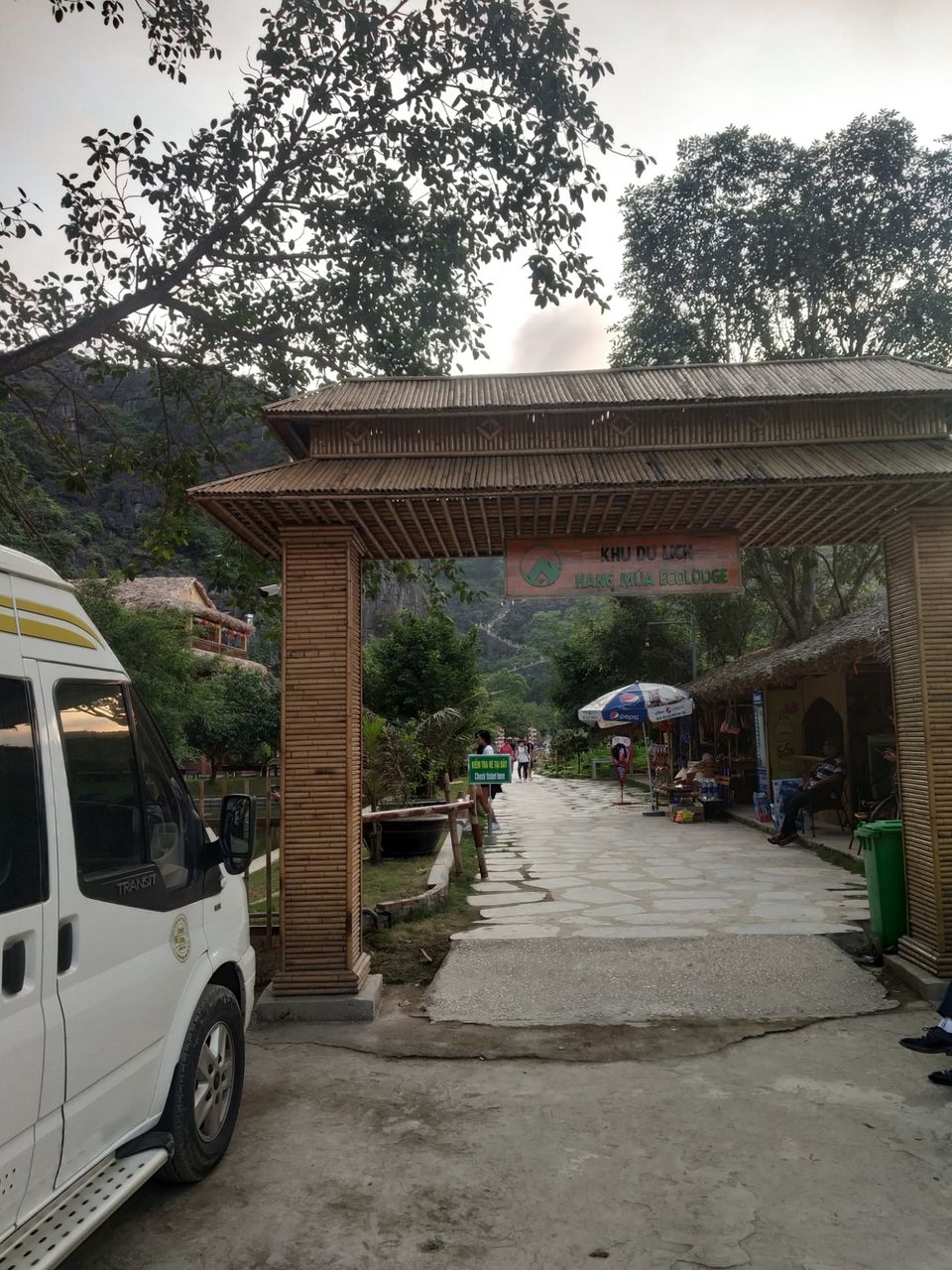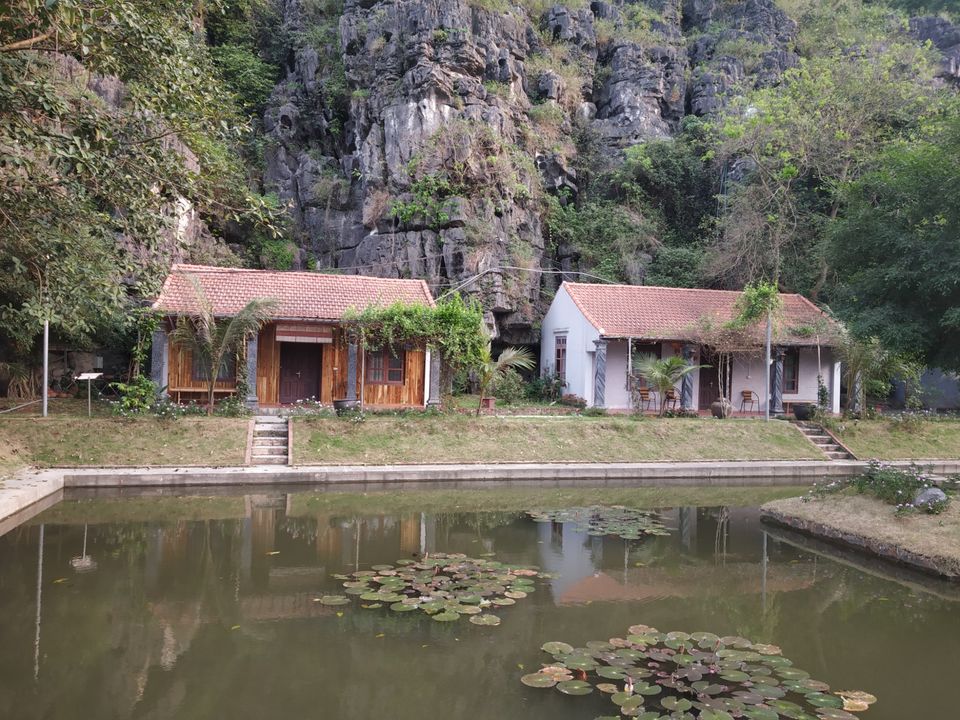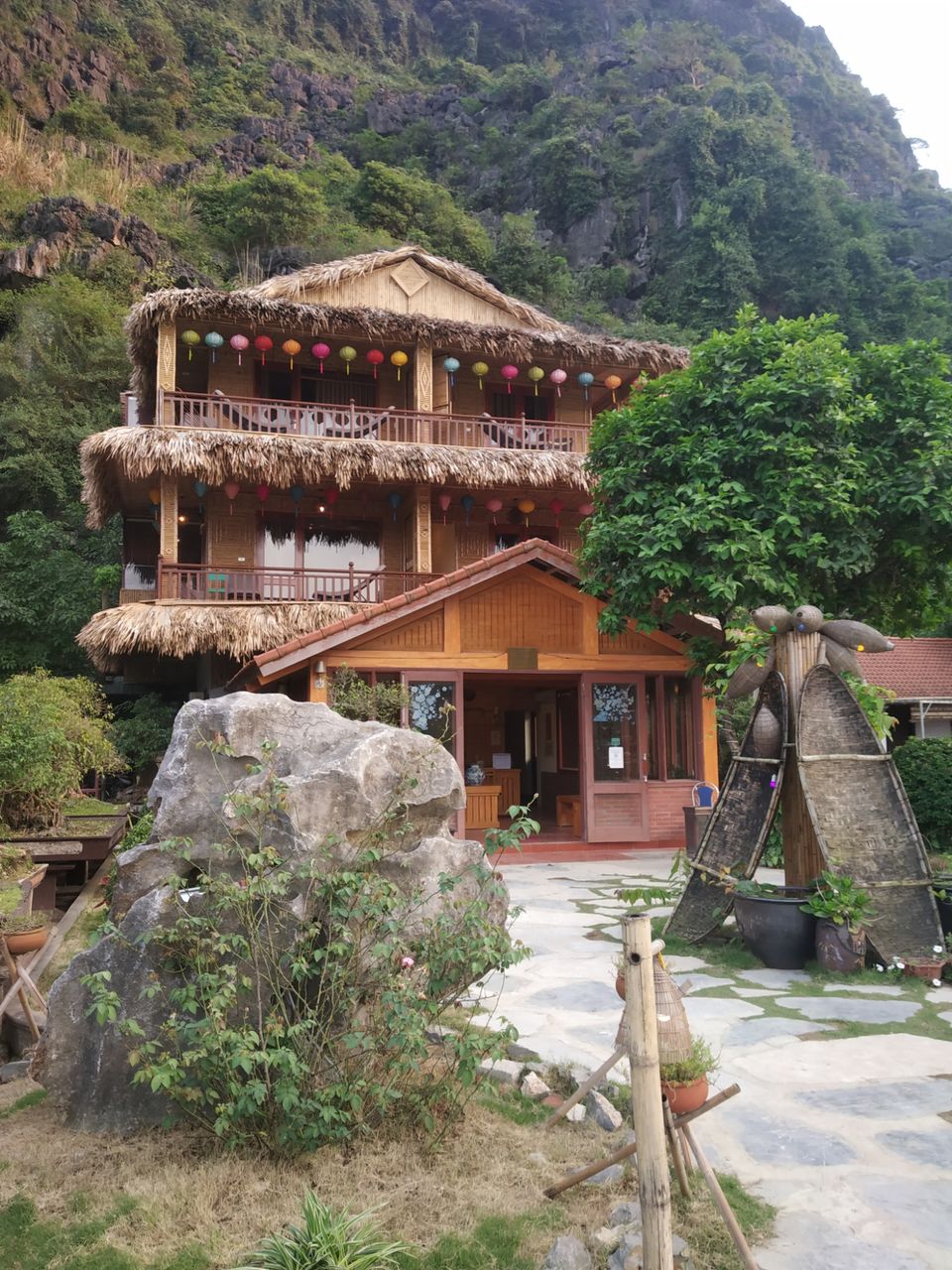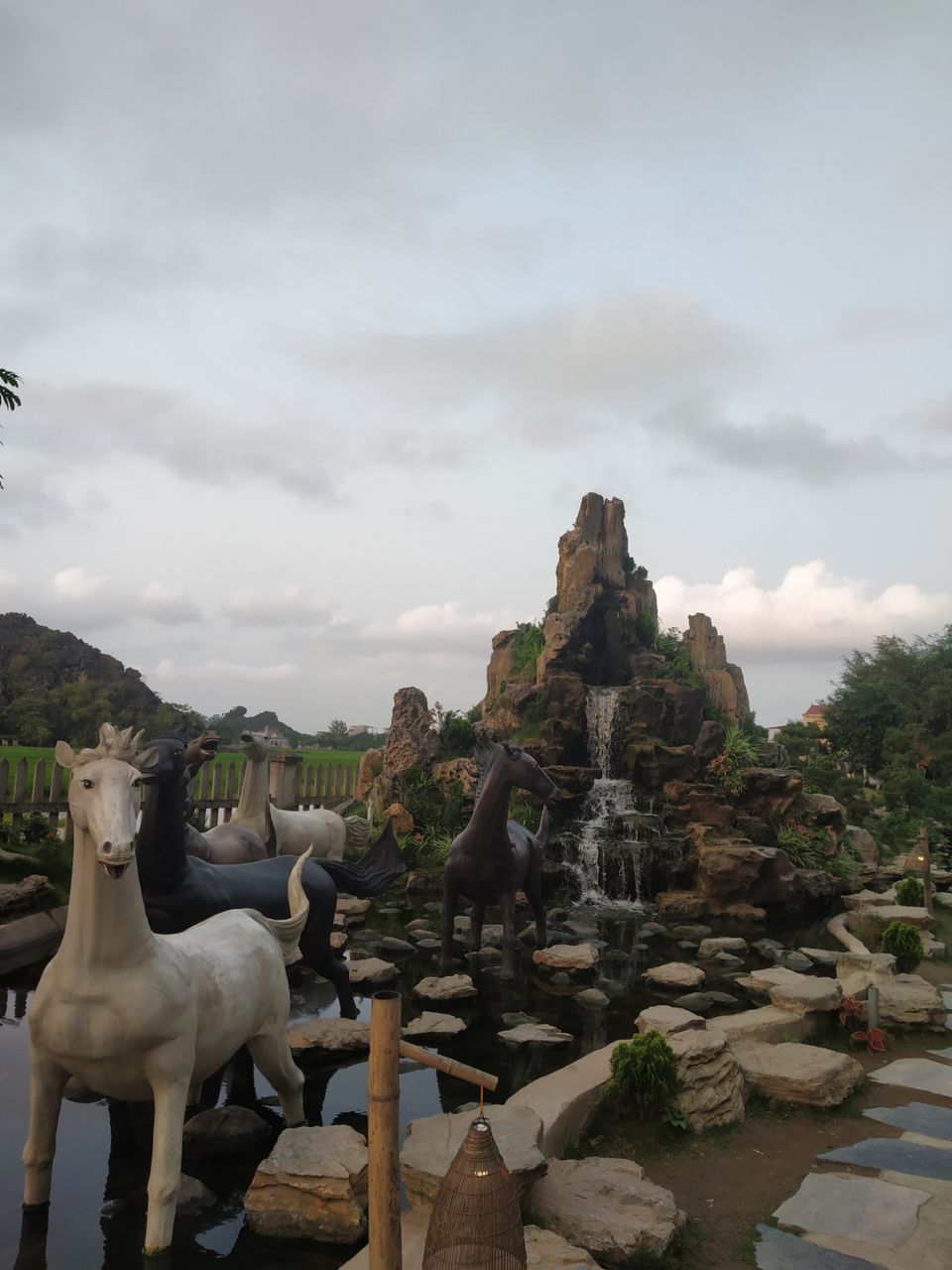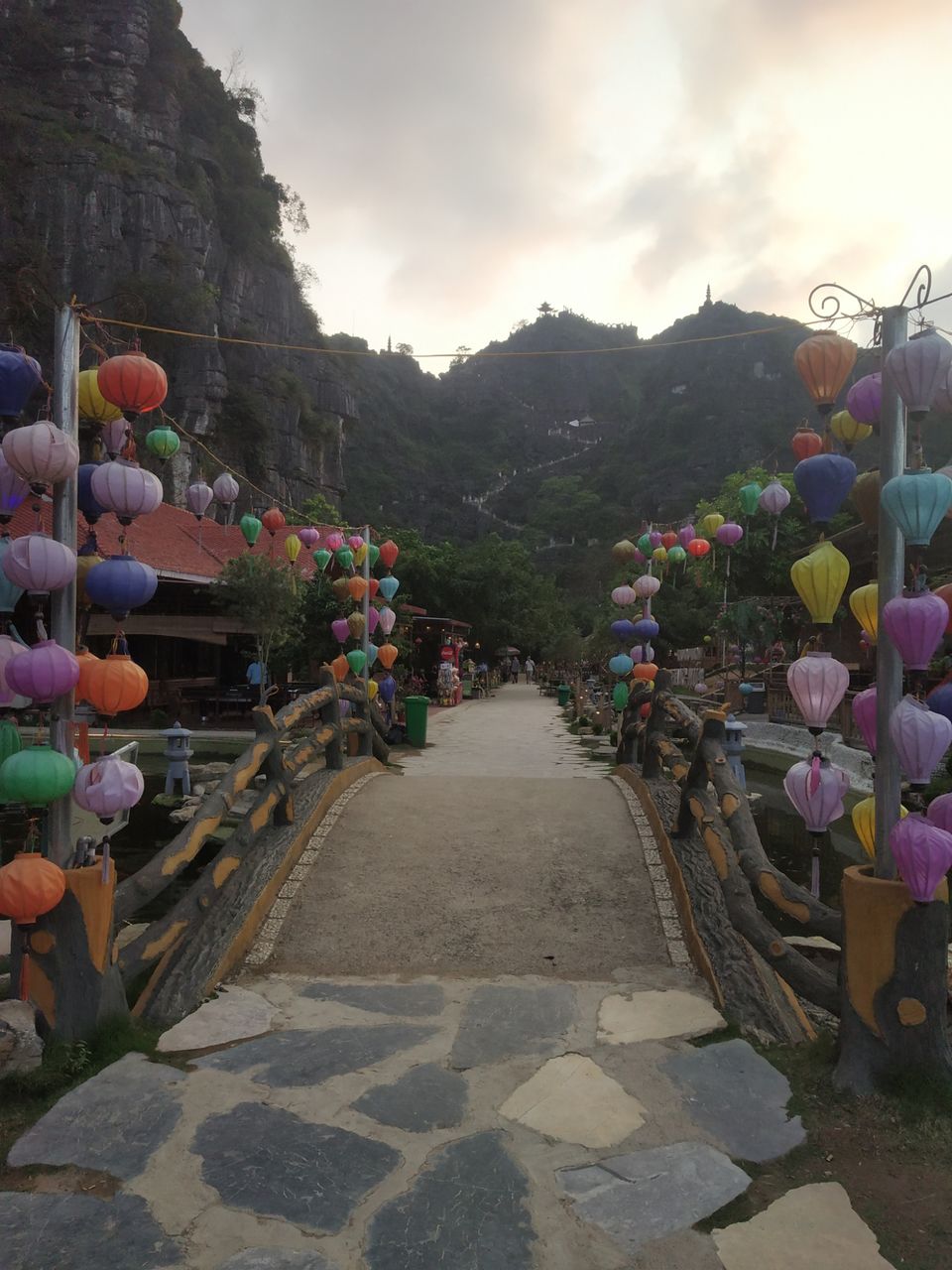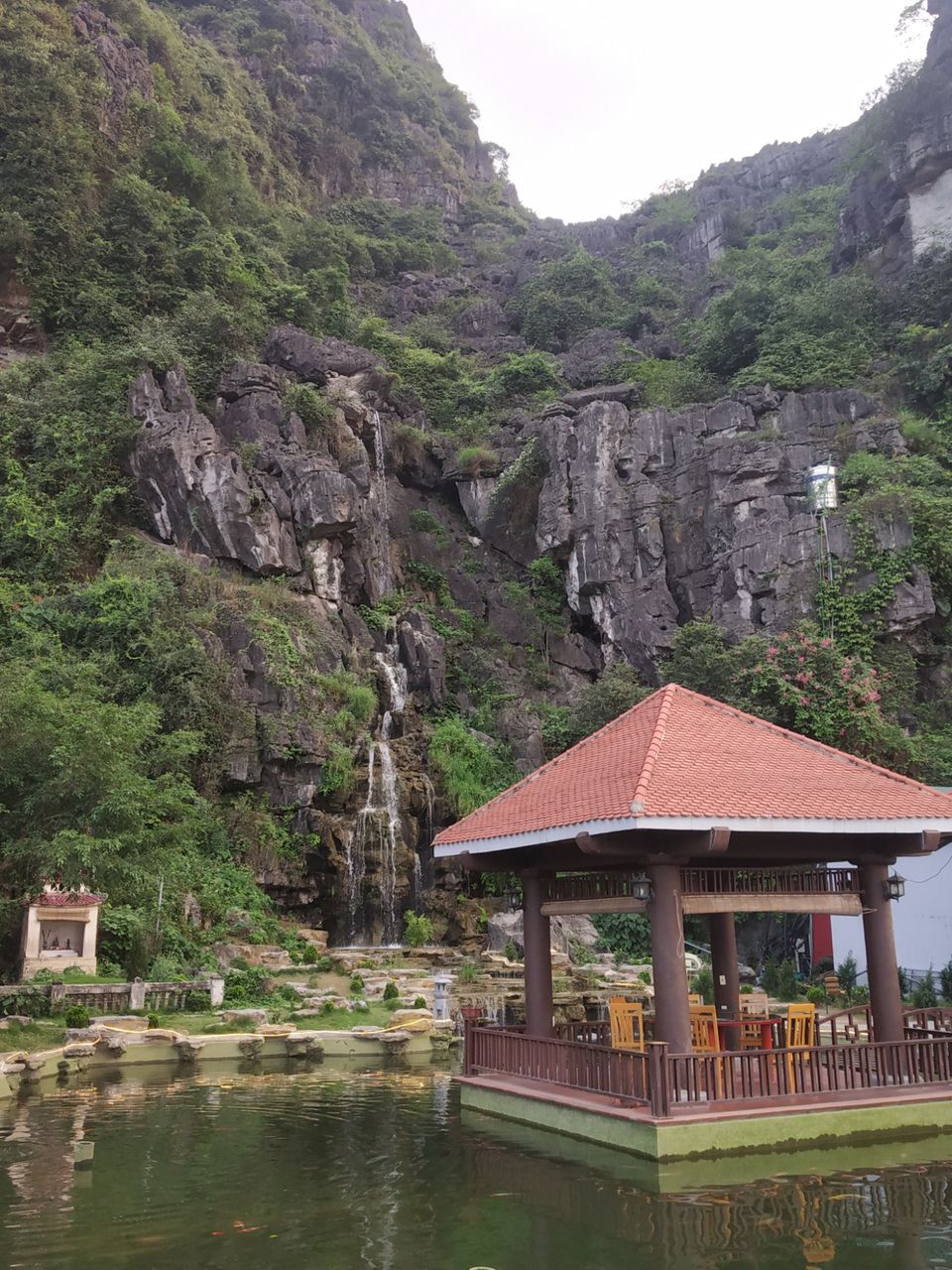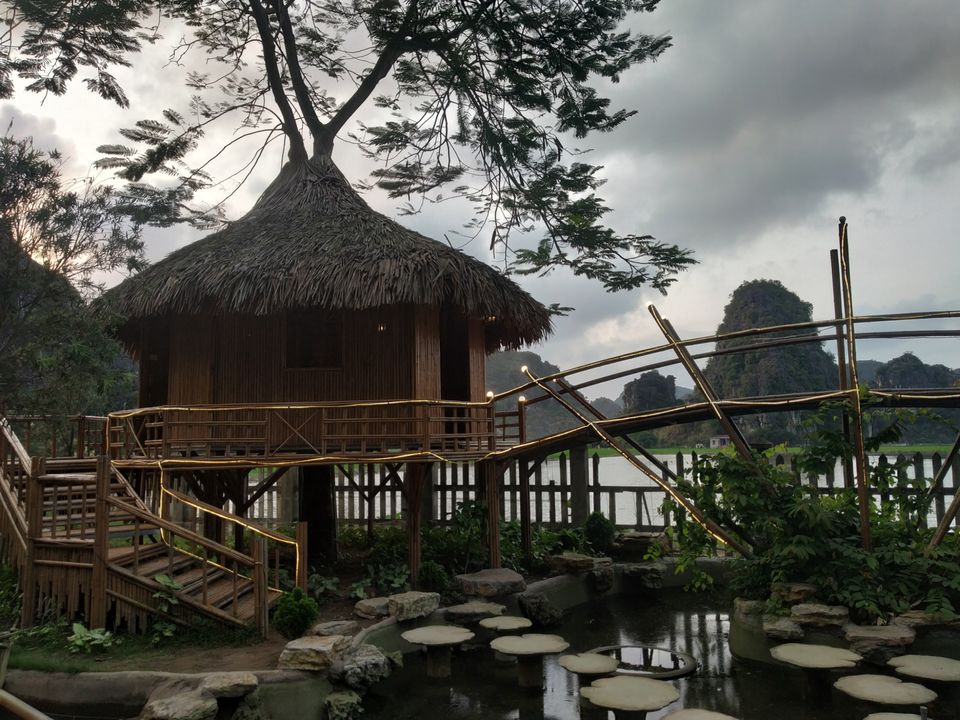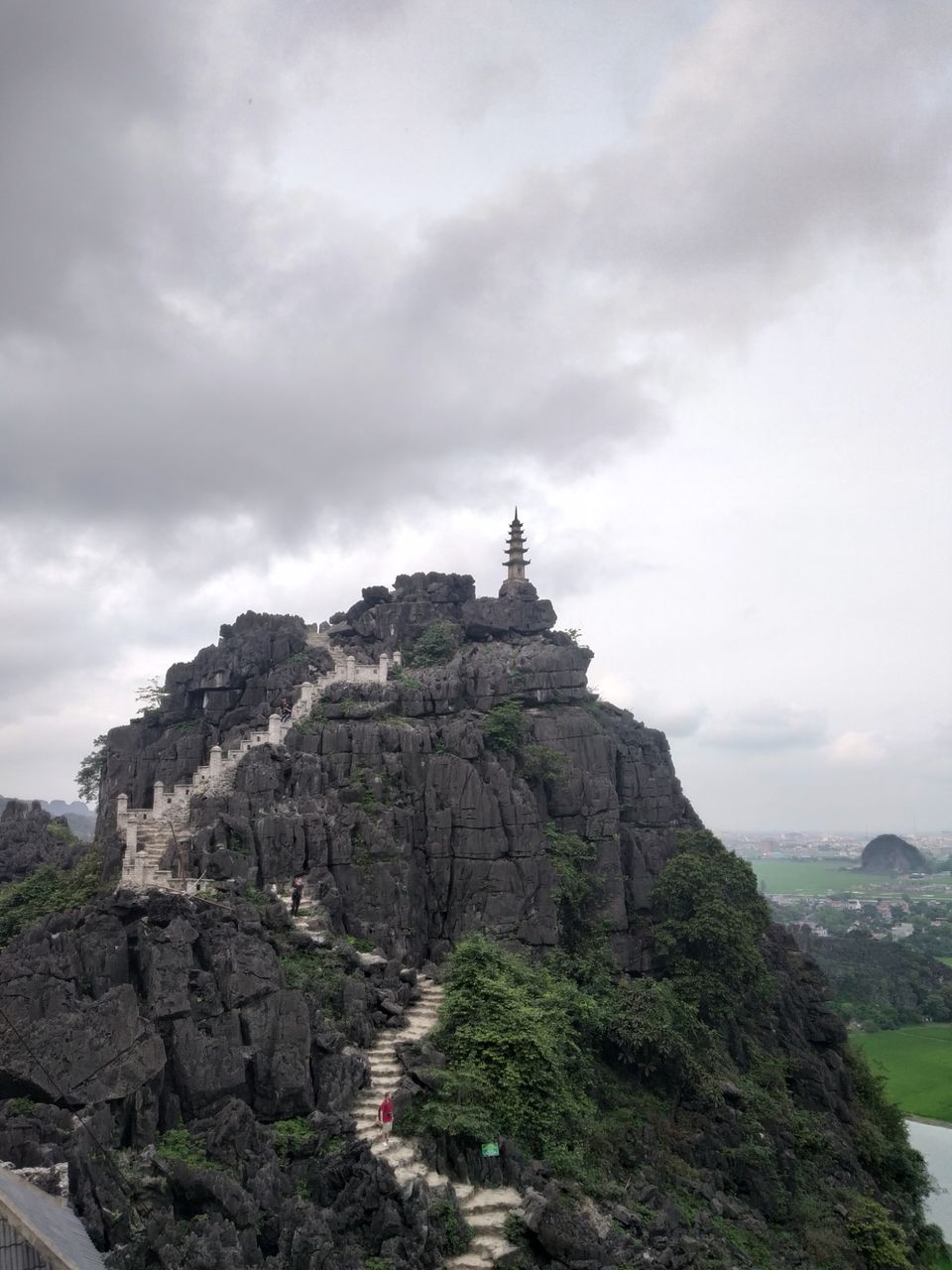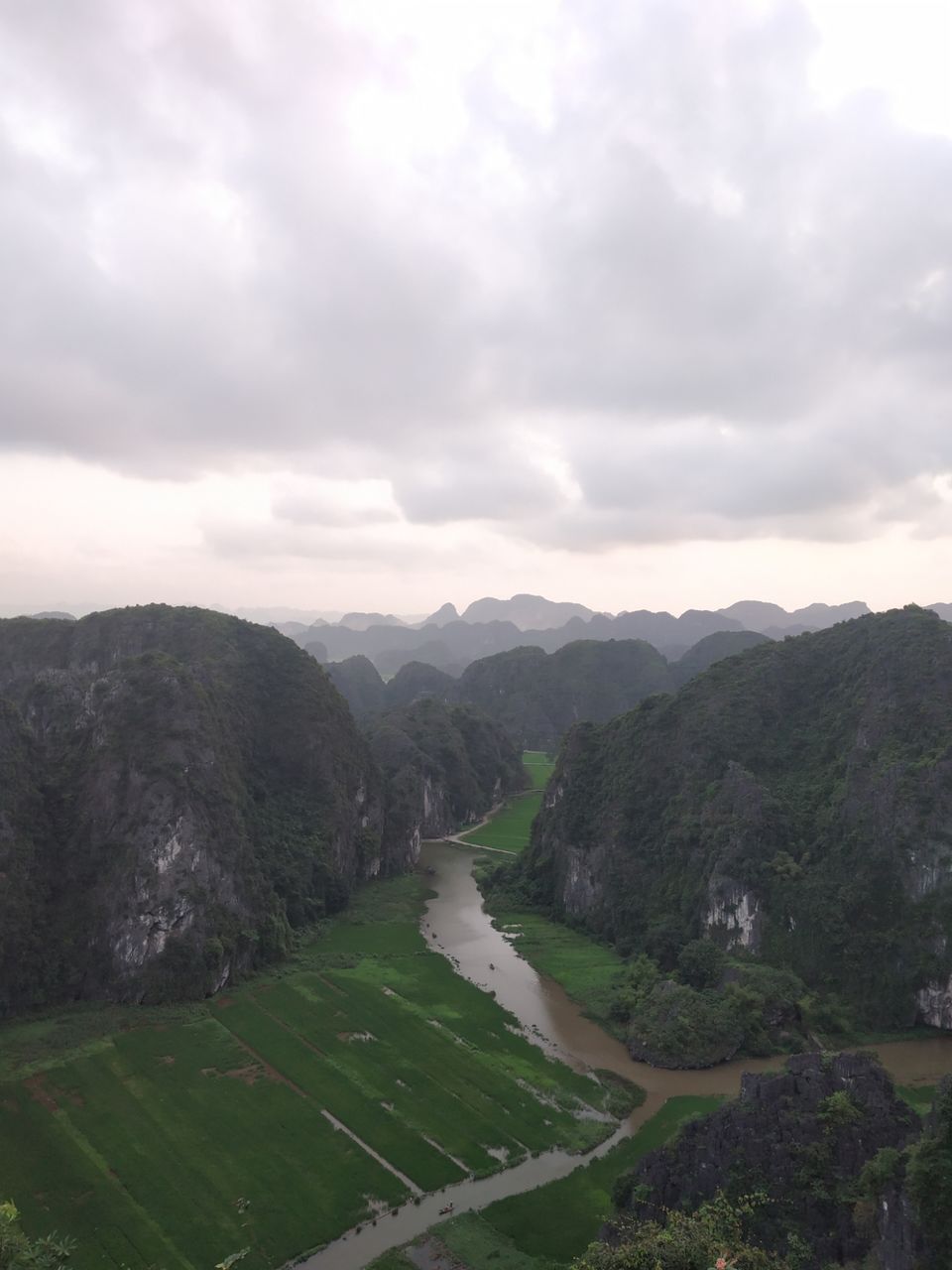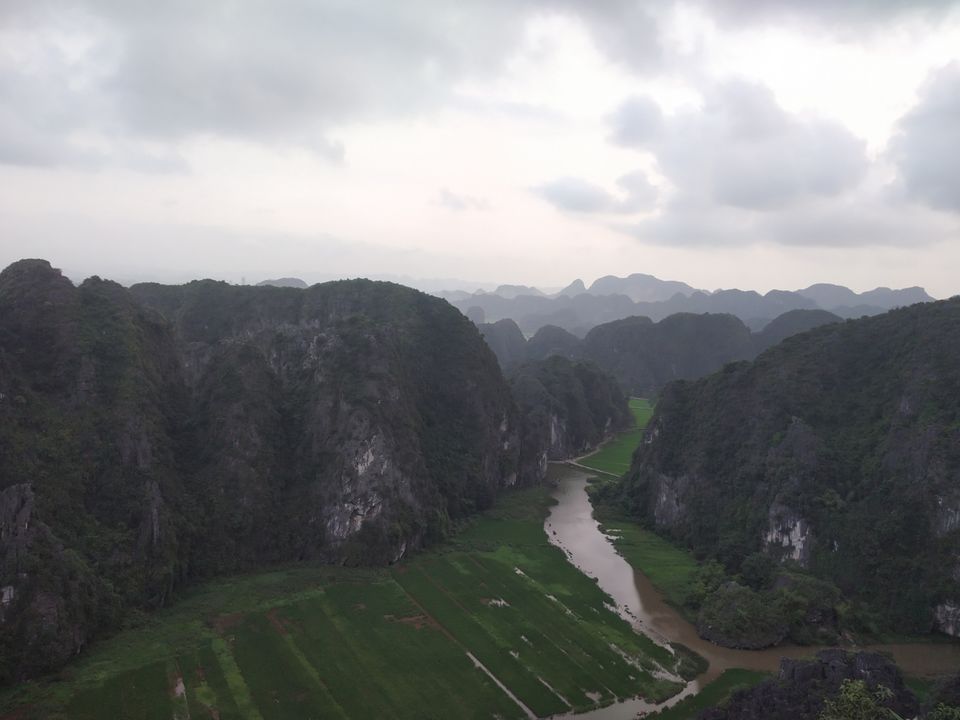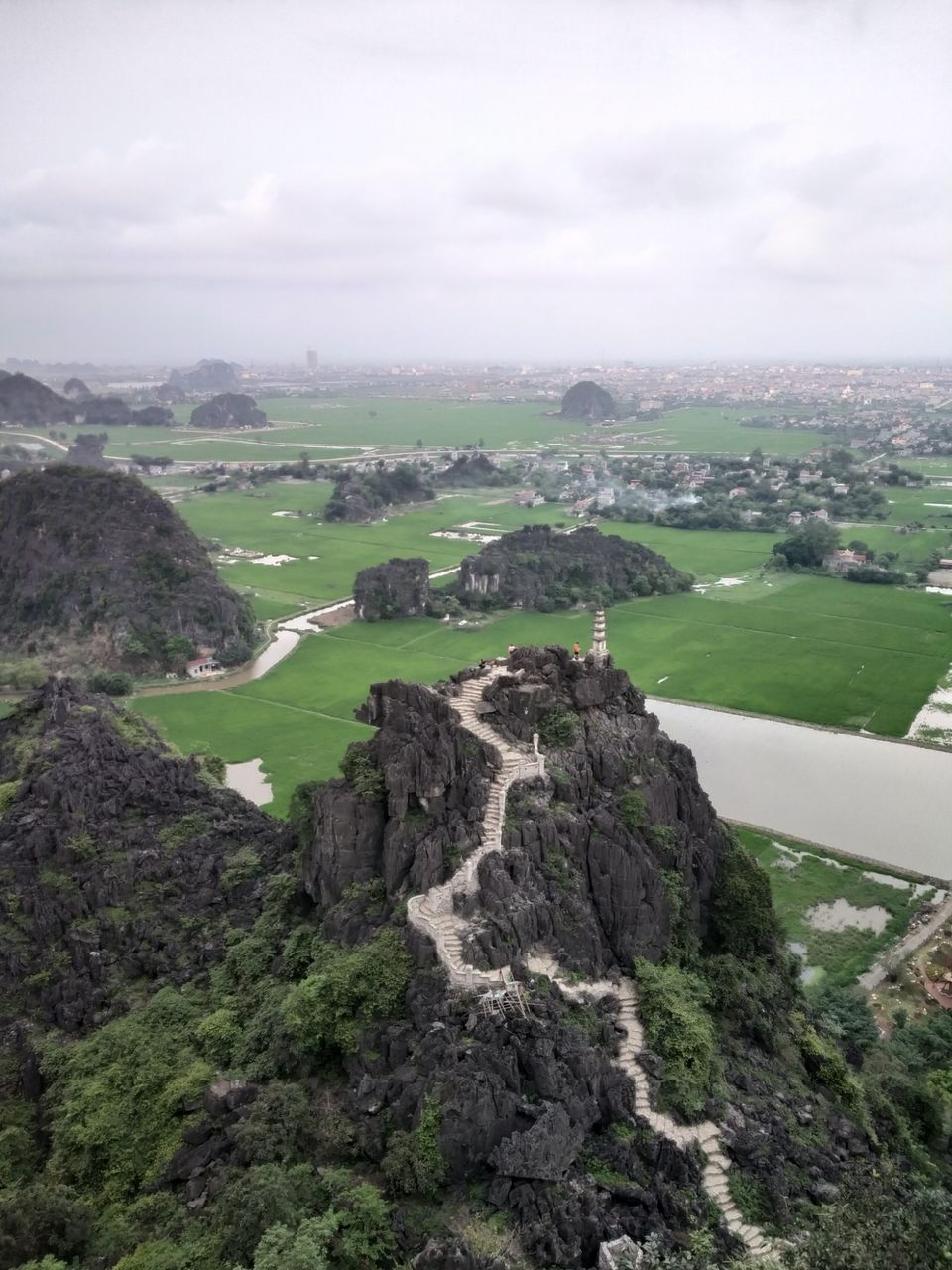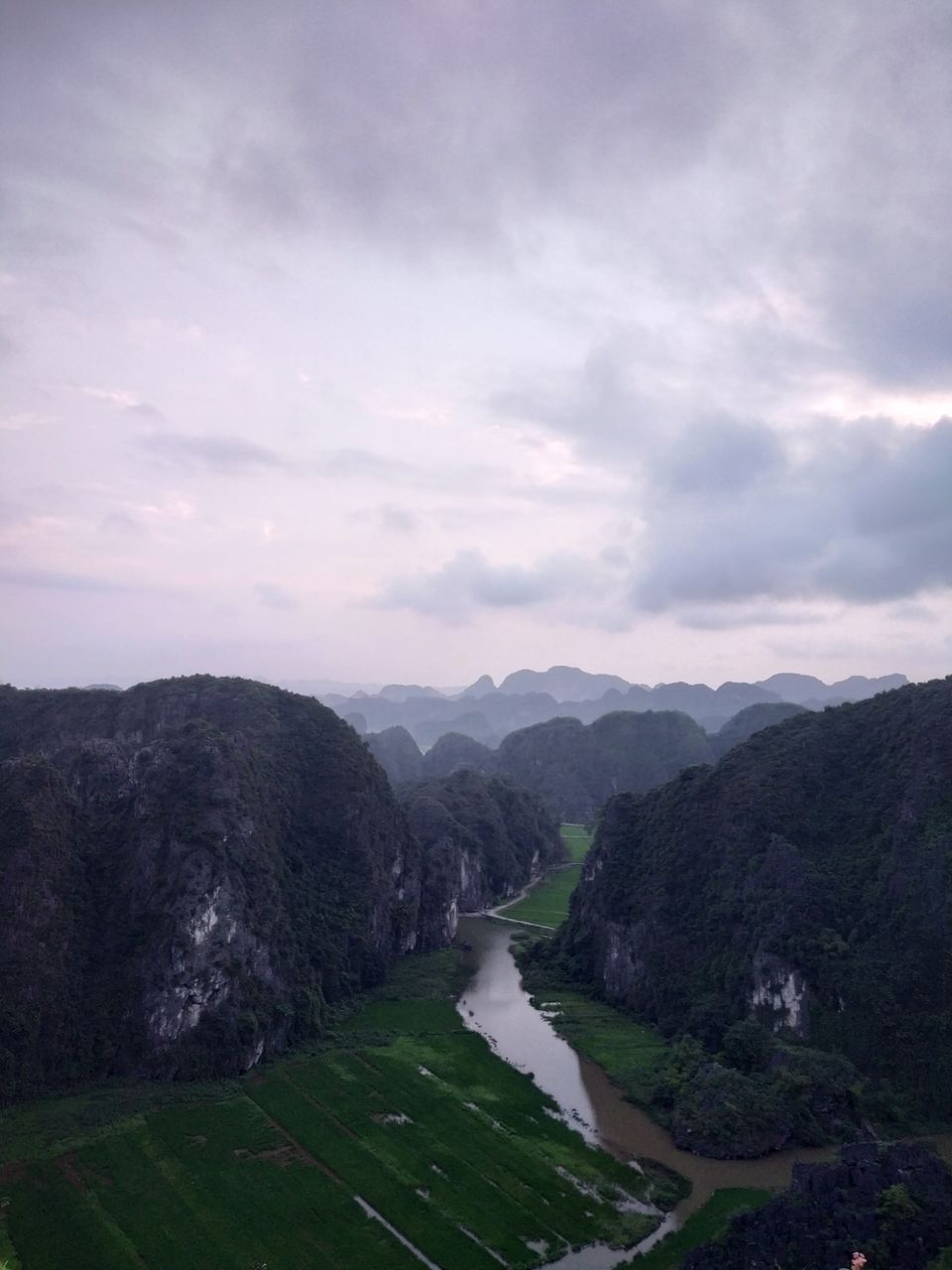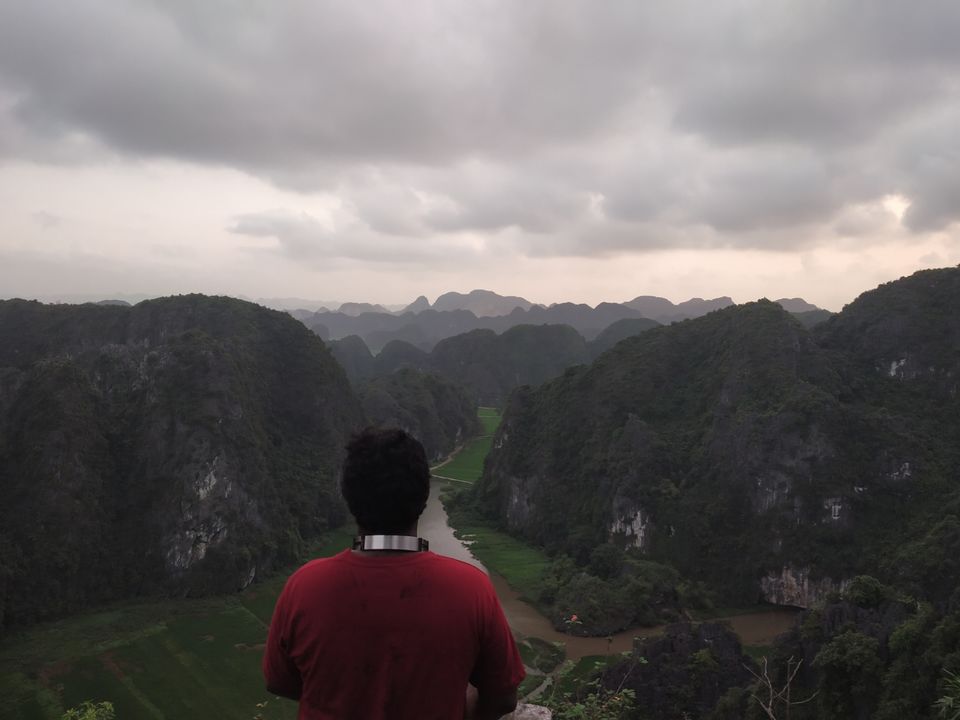 Had a nice sleep last night at the river side home stay in Tam Coc. And I woke up at 6Am and went on to explore the local rice fields in the Cloudy climate on a bike and after returning to the hotel at 7 Am , I have done my complimentary breakfast and was ready to leave to Trang An & it started to rain. So a slight delay in my plan.At 9am the drizzle stopped and I have started to Trang An boat ride point on my motor bike. It's hardly 15minutes from Tam coc and Entrance ticket is 200,000 dongs. Always take route 1 at Trang an Boat ride which consists of 3 routes. Because the route 1 is for more duration (3 hours) than the other two and have more Caves & temples than the other two routes, so always choose route 1 at Trang an boat tour if you have time.
The boat tour is so refreshing with many caves which are 350,300 metres long and we can just sit back and enjoy the view of the lime stone mountains. So it started at 9:30am and ended at 12:30pm. Went back to the hotel as I have a train to Hanoi at 4:30pm. Packed my things and I'm ready for My over night journey in which I have to change two trains. Ninh Binh to Hanoi and Hanoi to Lao CAI. Lao CAI is the nearest railway station to Sapa. Sapa is on the northern tip of Vietnam. At China - Vietnam border. It's a remote village with some good rice fields and mountain view.
I just want to witness every bit of Vietnam. From the Largest city of Vietnam in the south to a remote Village in the north tip. It's been 1600kms and still counting.
And I heard from many that the train journey to Lao cai from Hanoi is amazing. So I'm very excited about it. So boarded the train at Ninh Binh at 4:30pm and Been at Hanoi , the capital city of Vietnam at 7:30pm . And the next train for Lao CAI is at 9:30pm. So in this 2 hour time I went outside the station to taste from street food in Hanoi. And slowly the clock ticked 9 , I went back to the station and my ride is already waiting for me at the platform. The SP1 express. So it's true. The train is really amazing. The berths are just perfect. I have got a lower berth in a 4 berth cabin. It costed me like 415000 dongs for the 9 hour Journey . It's like 1000 Indian rupess.
Attaching the images. You should definitely watch it. Vietnam Railways is amazing.❤️
Good night guys! A lot of things to do in Sapa.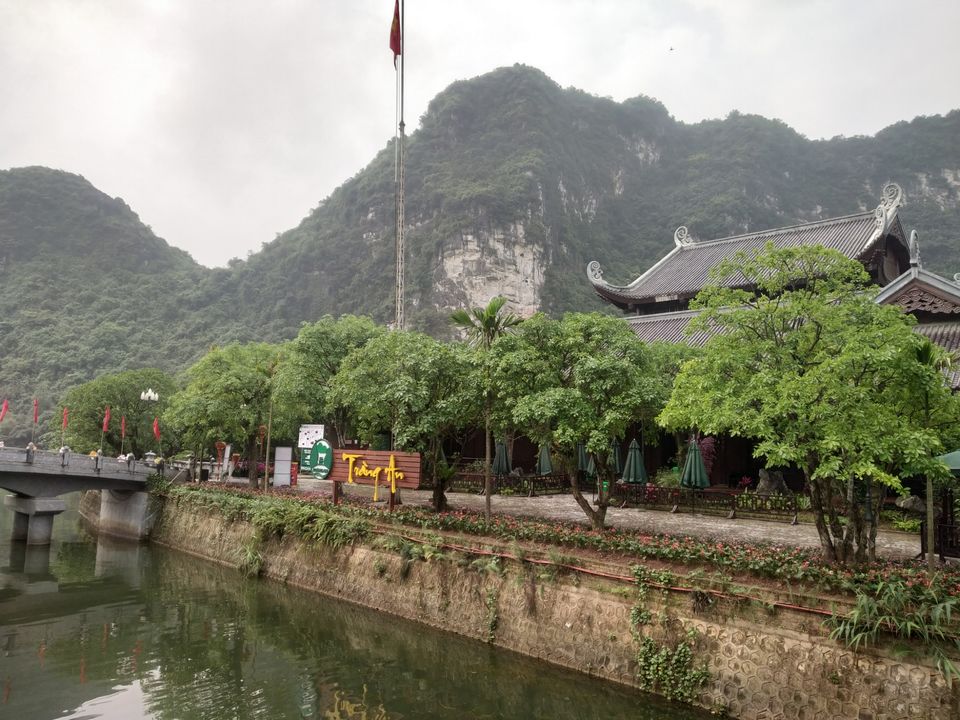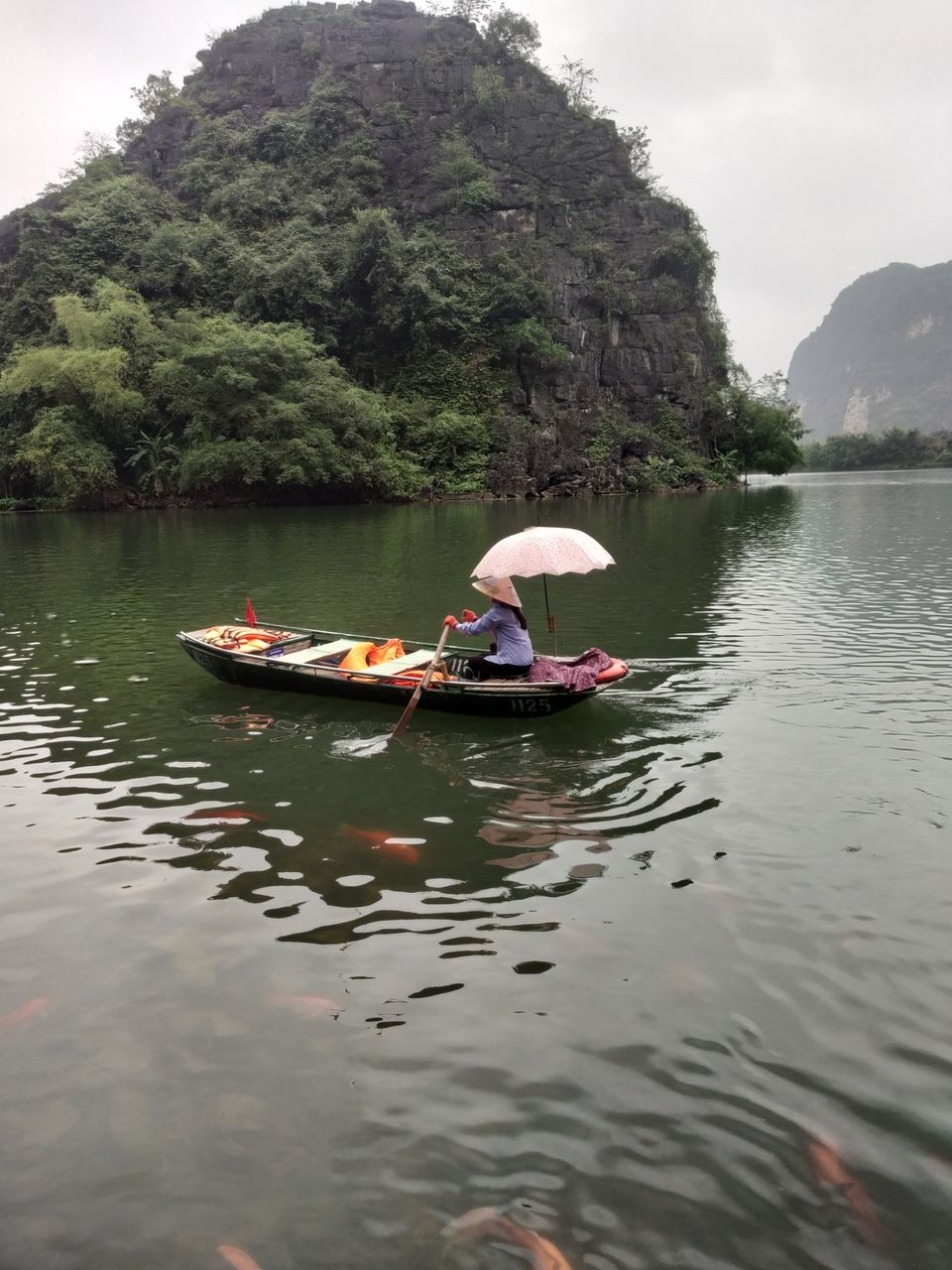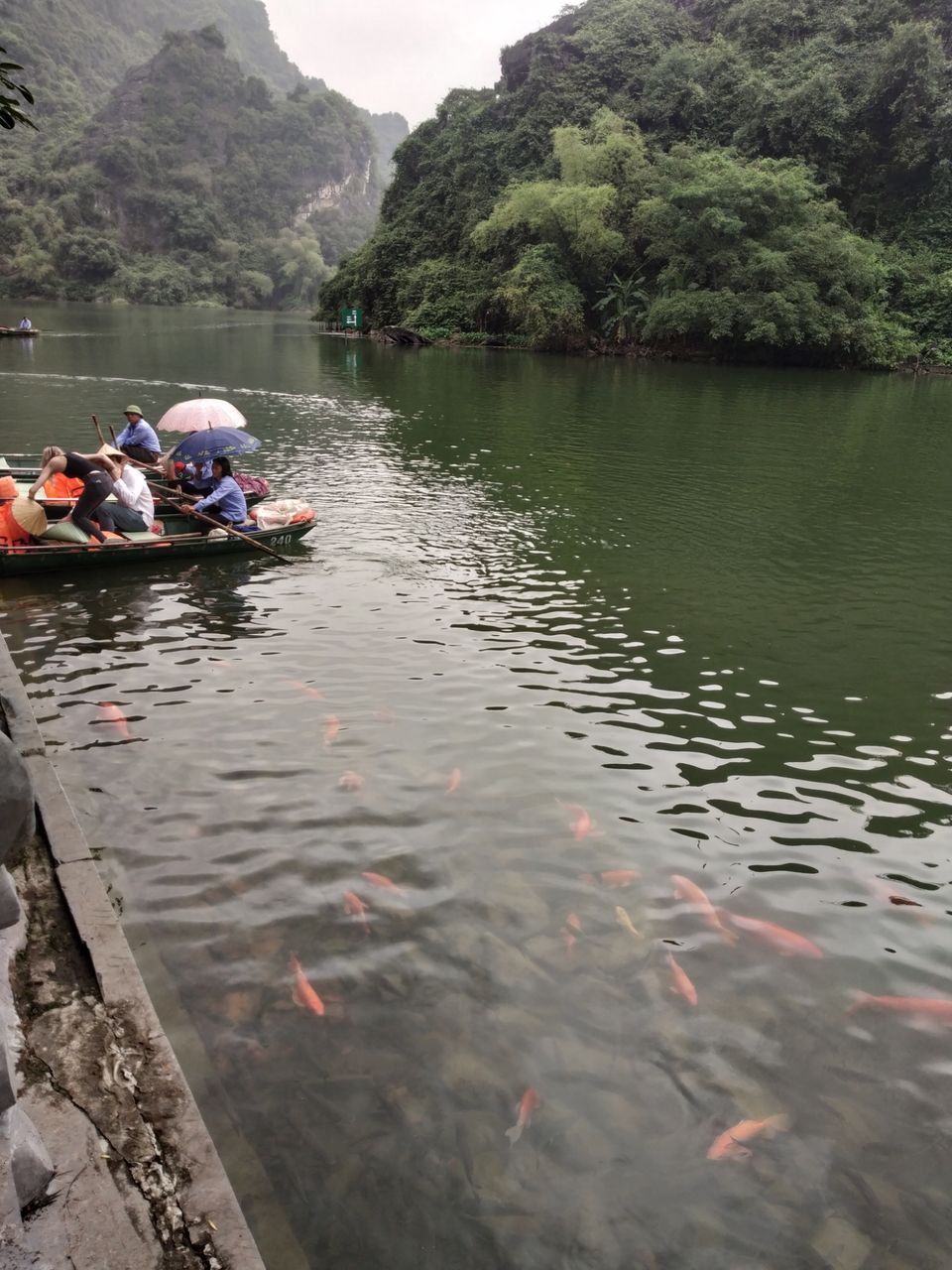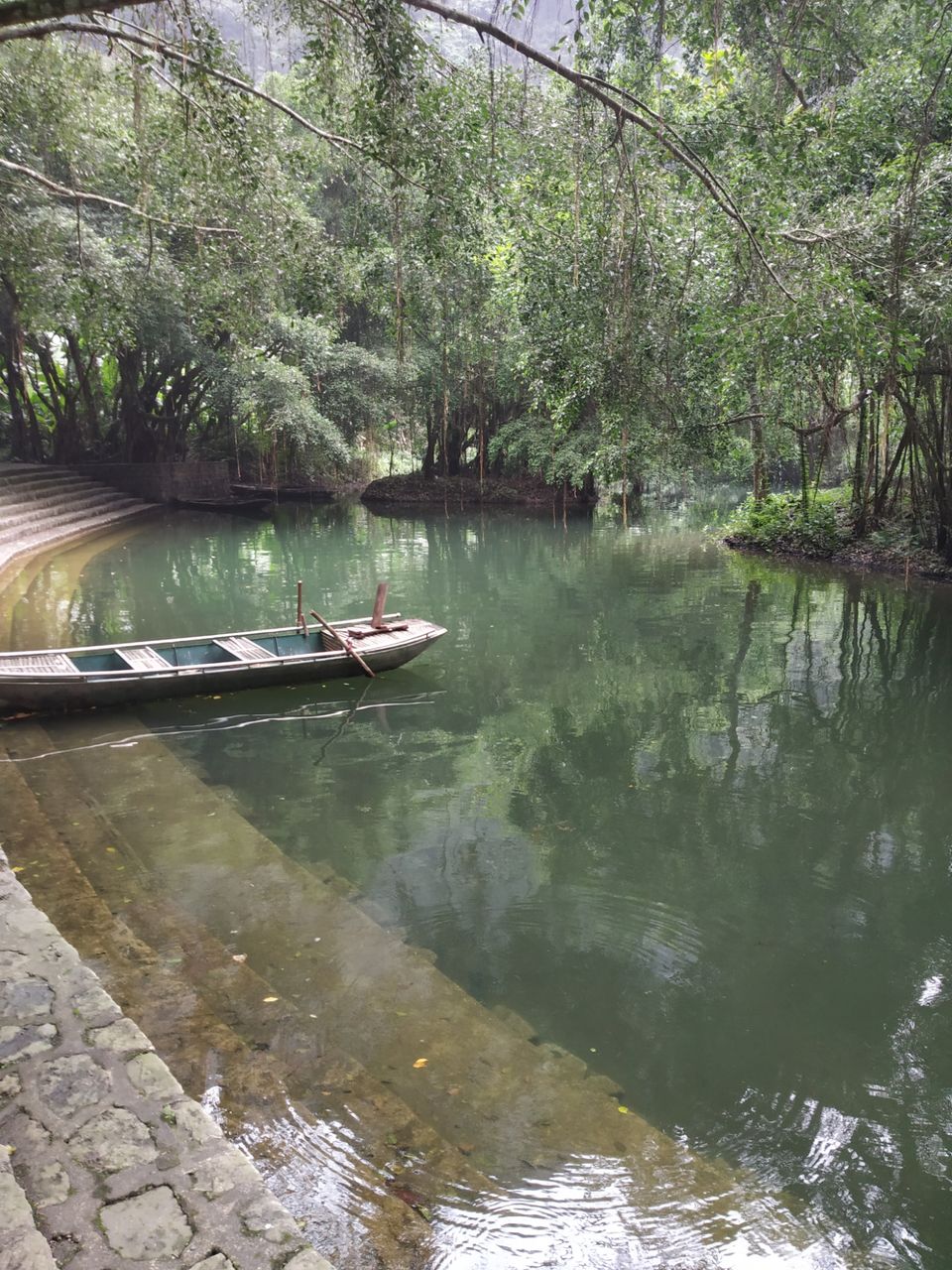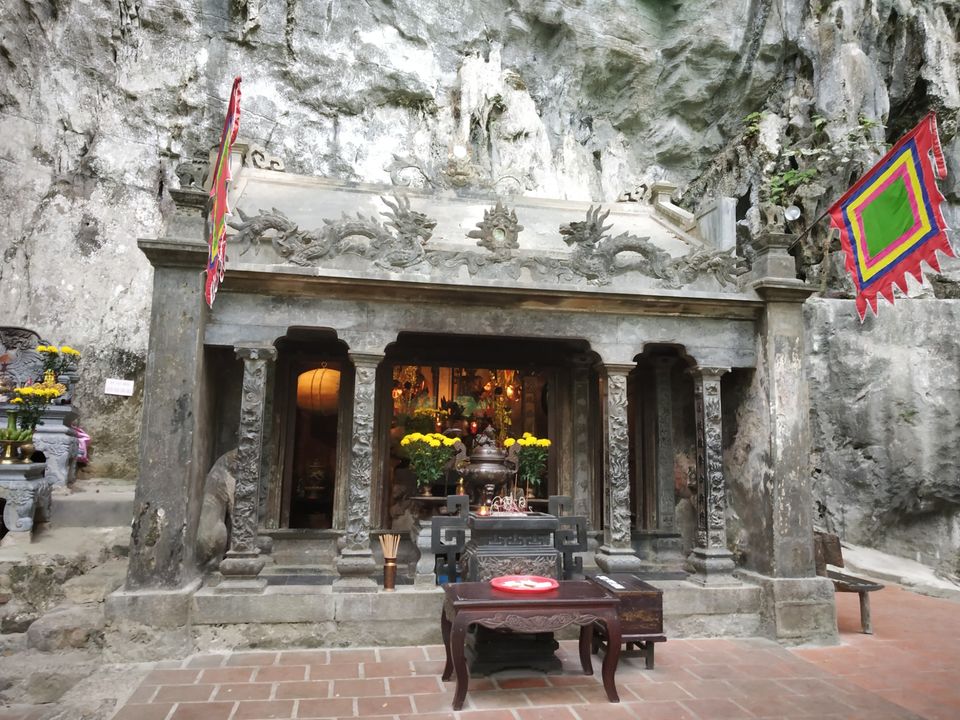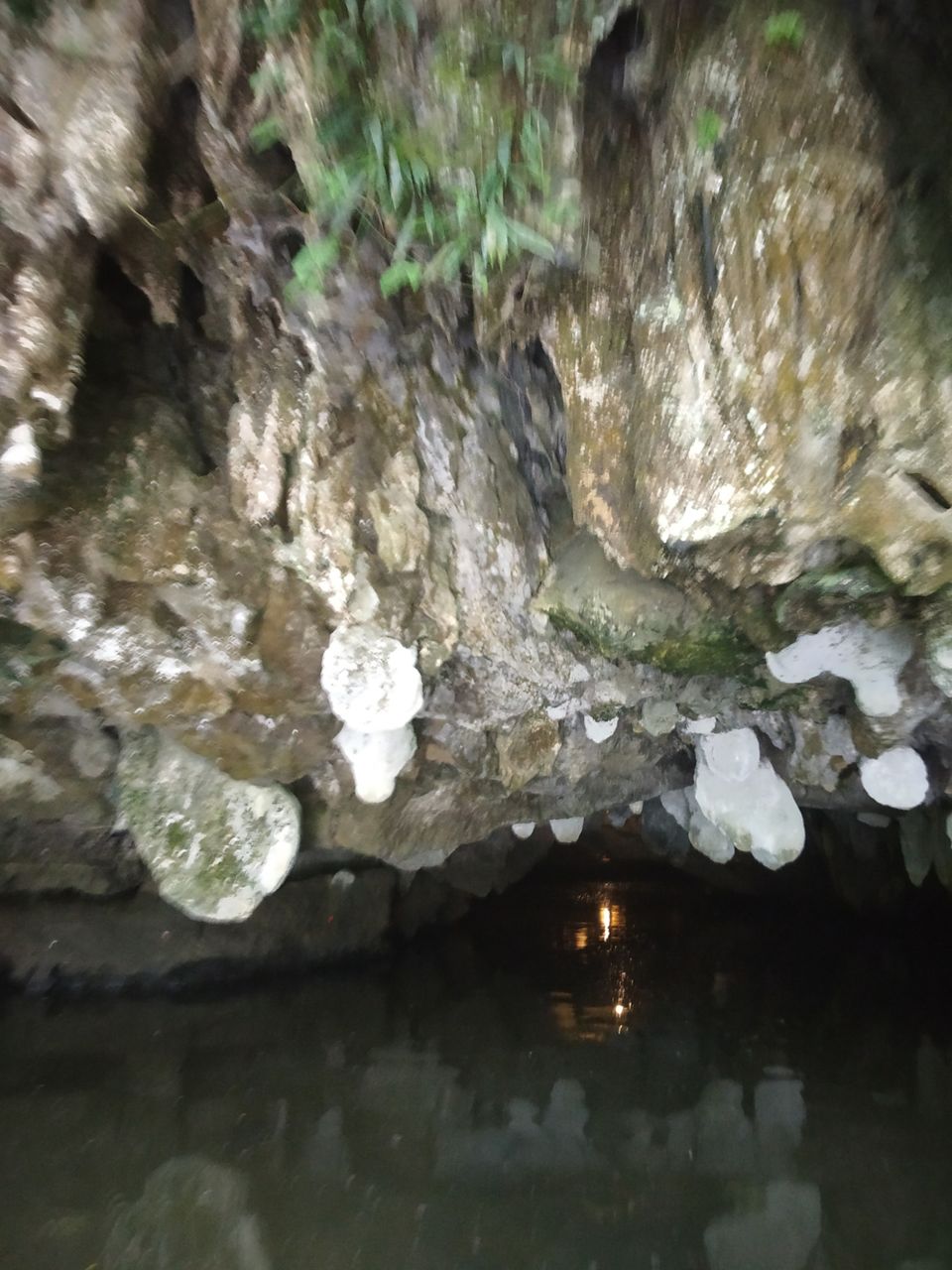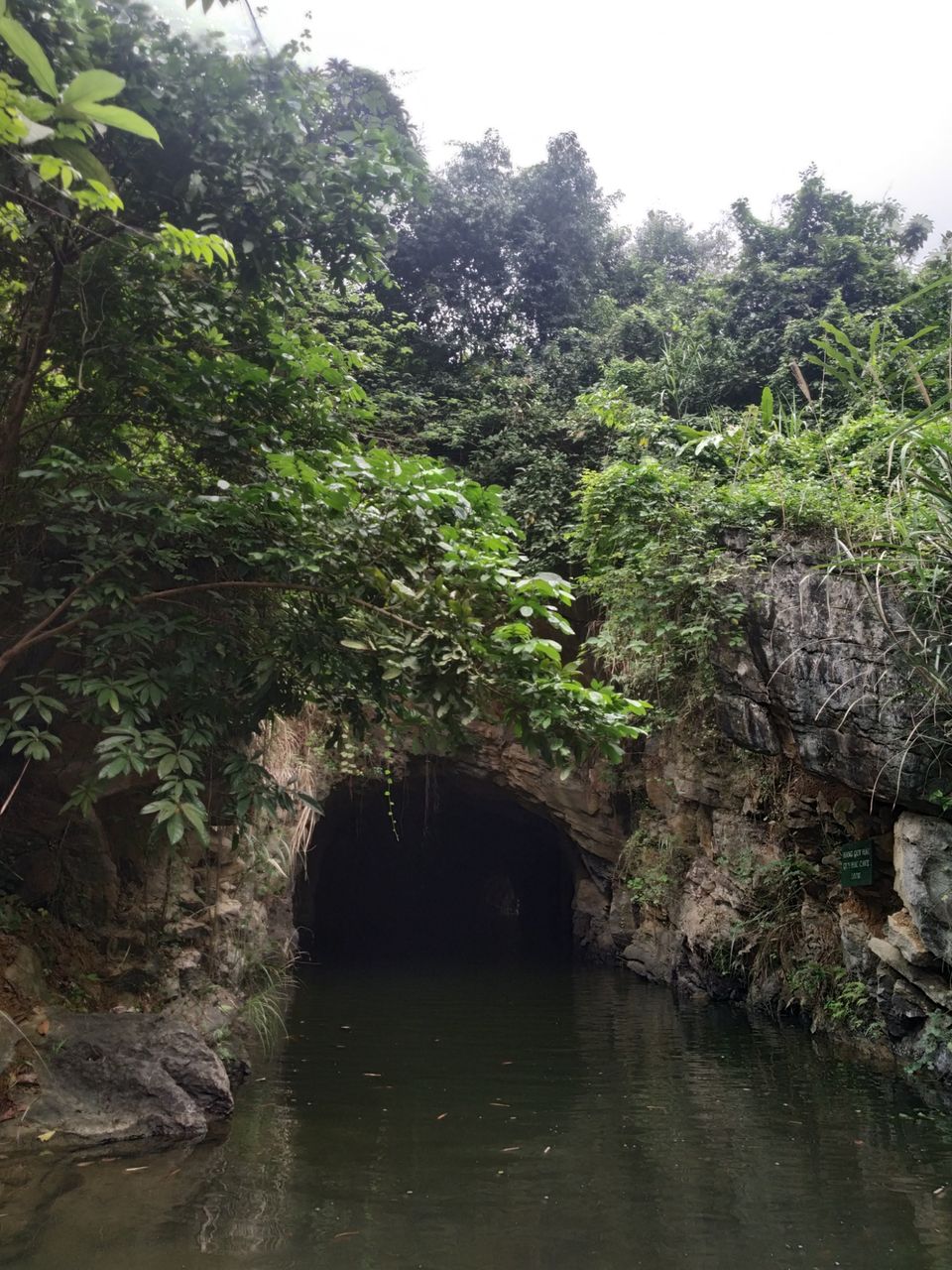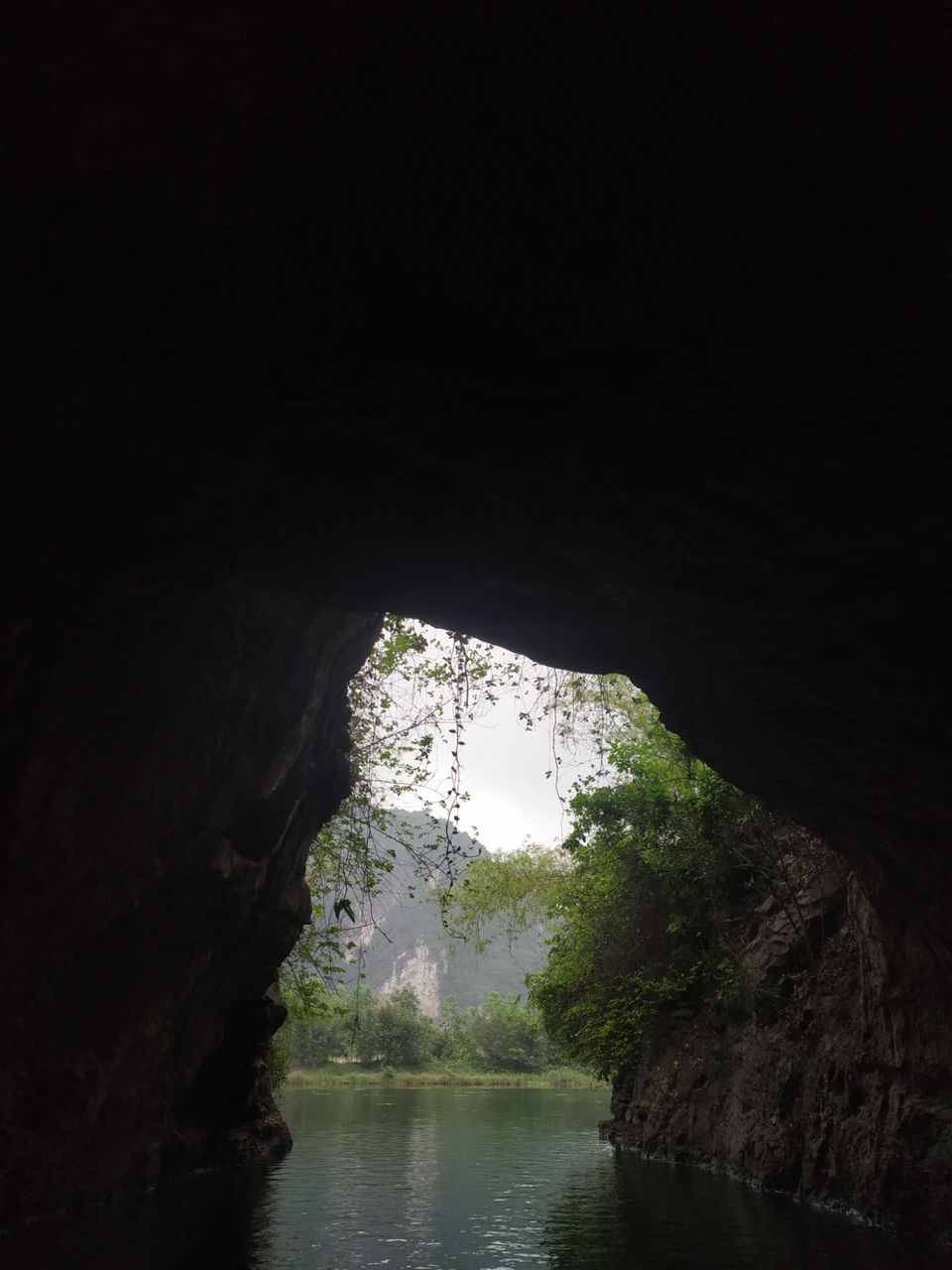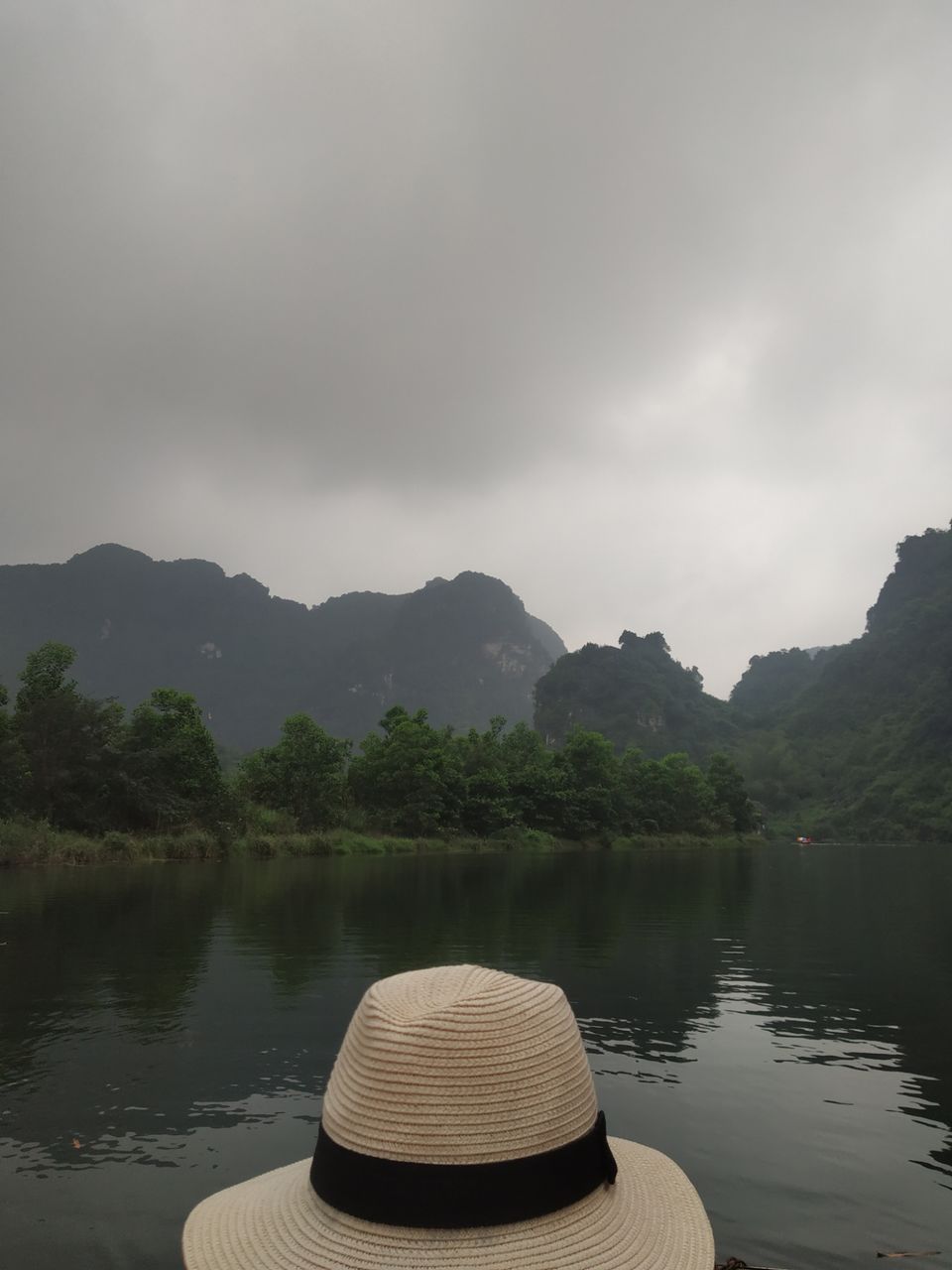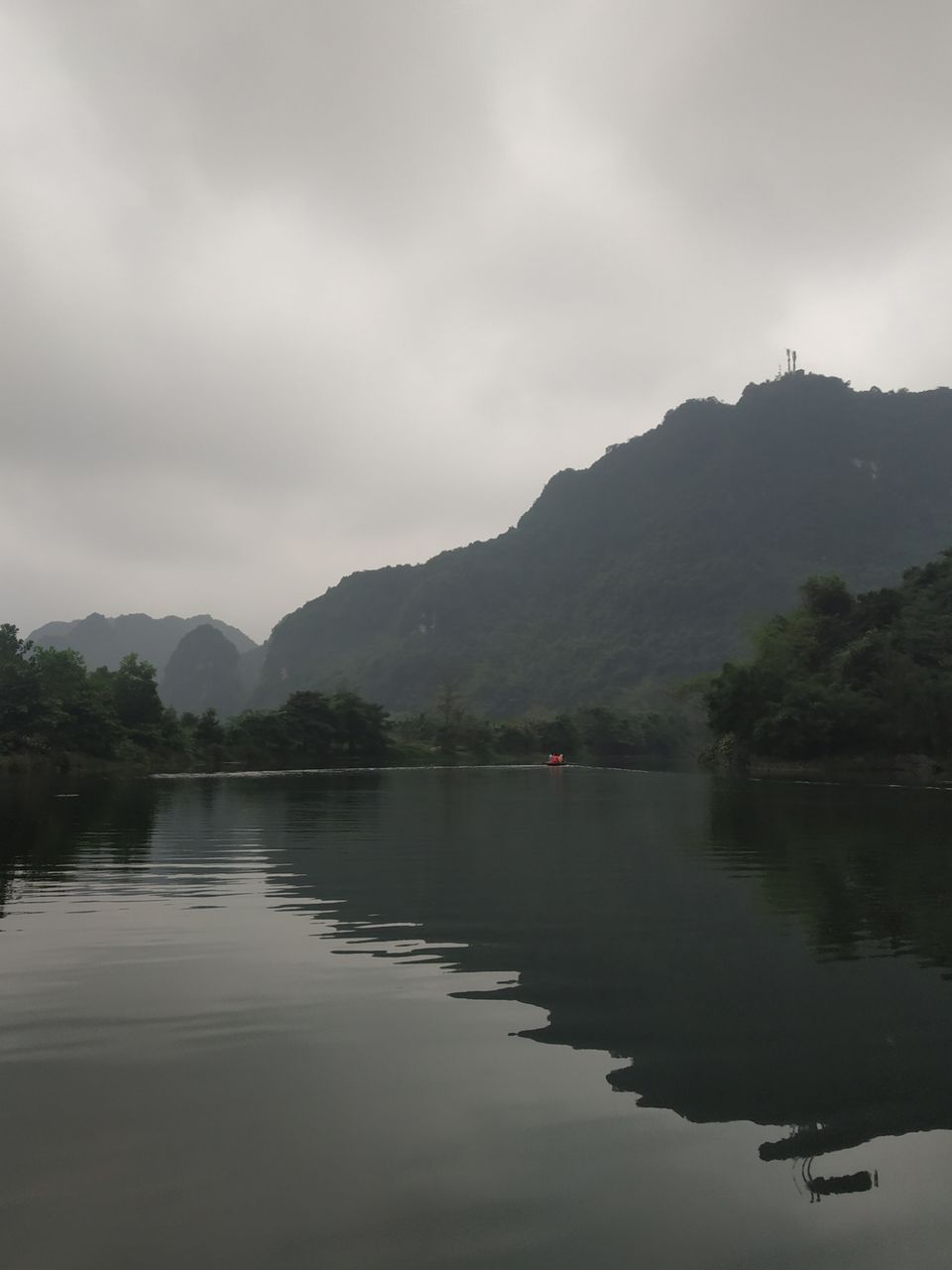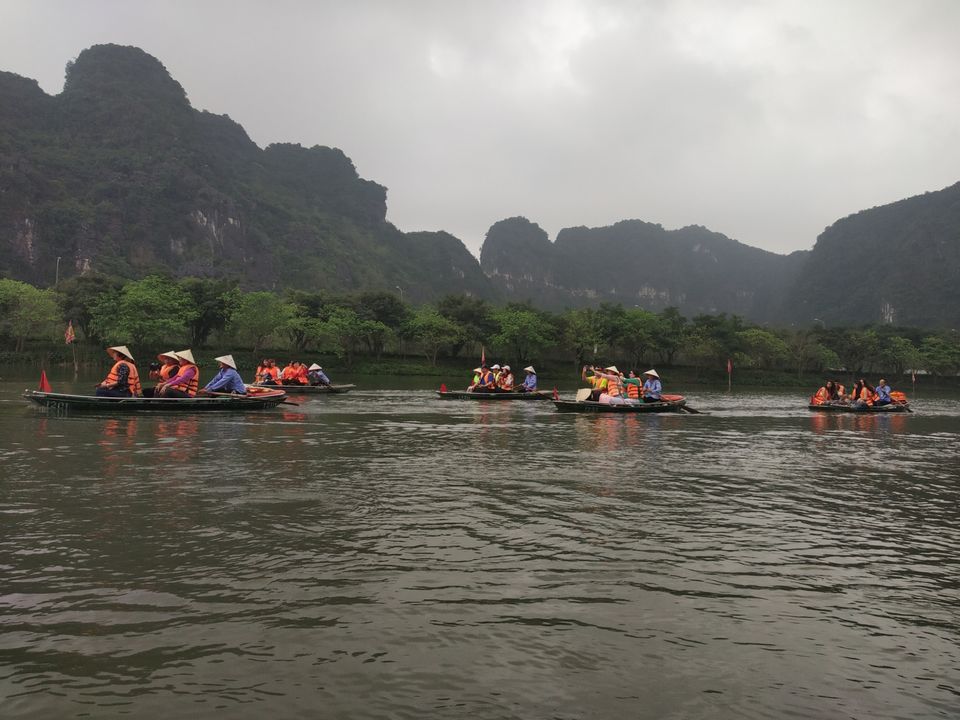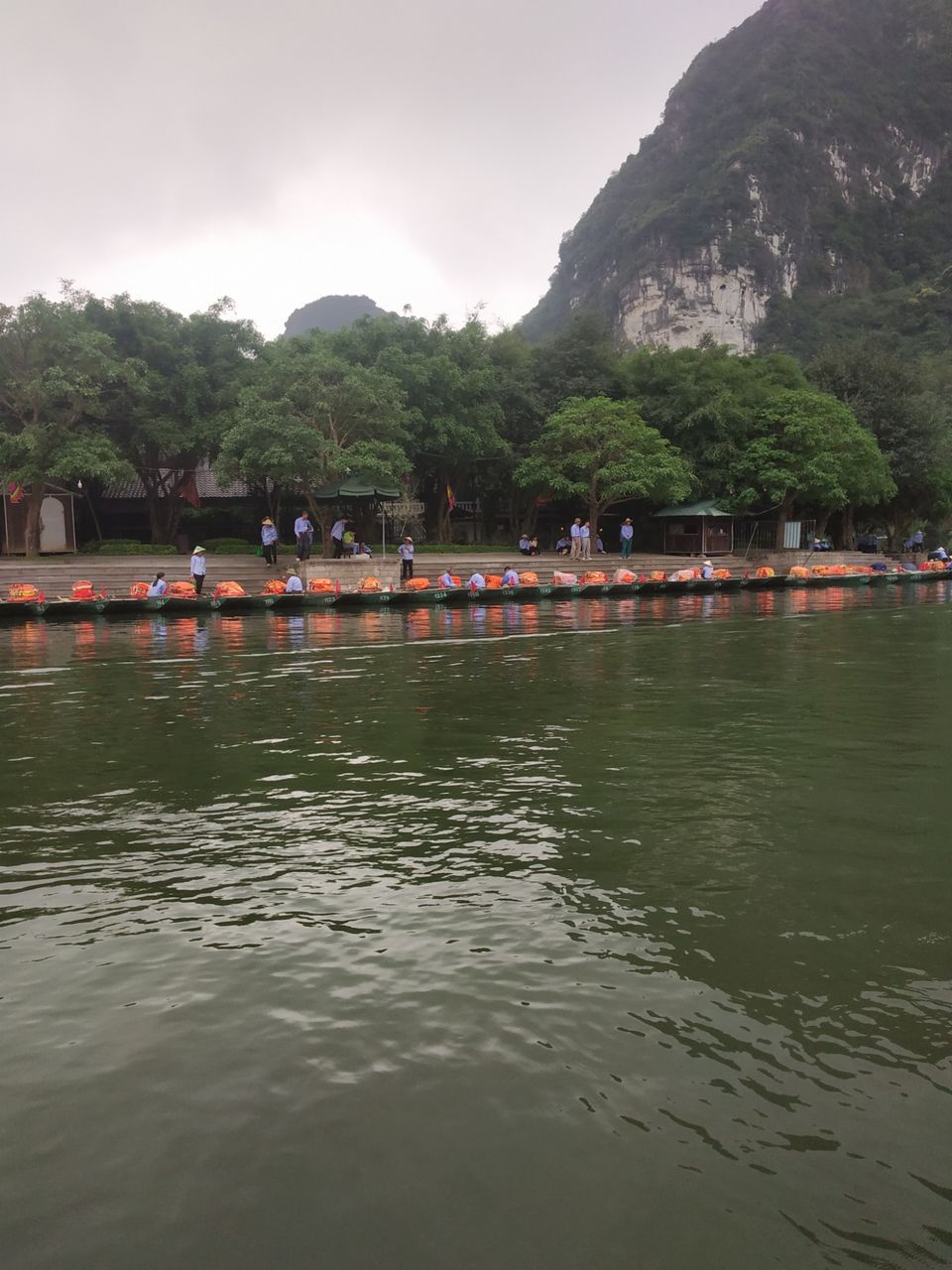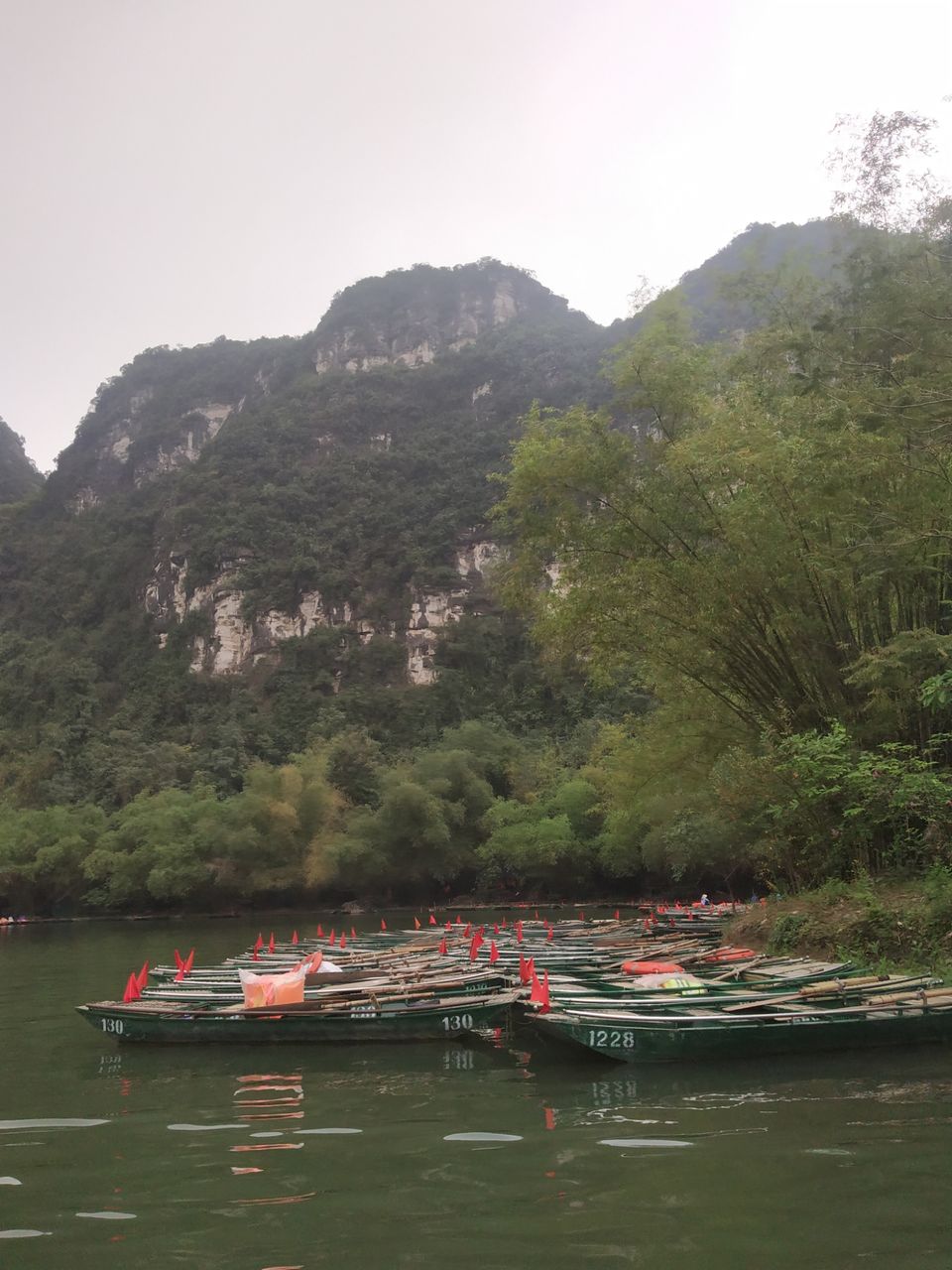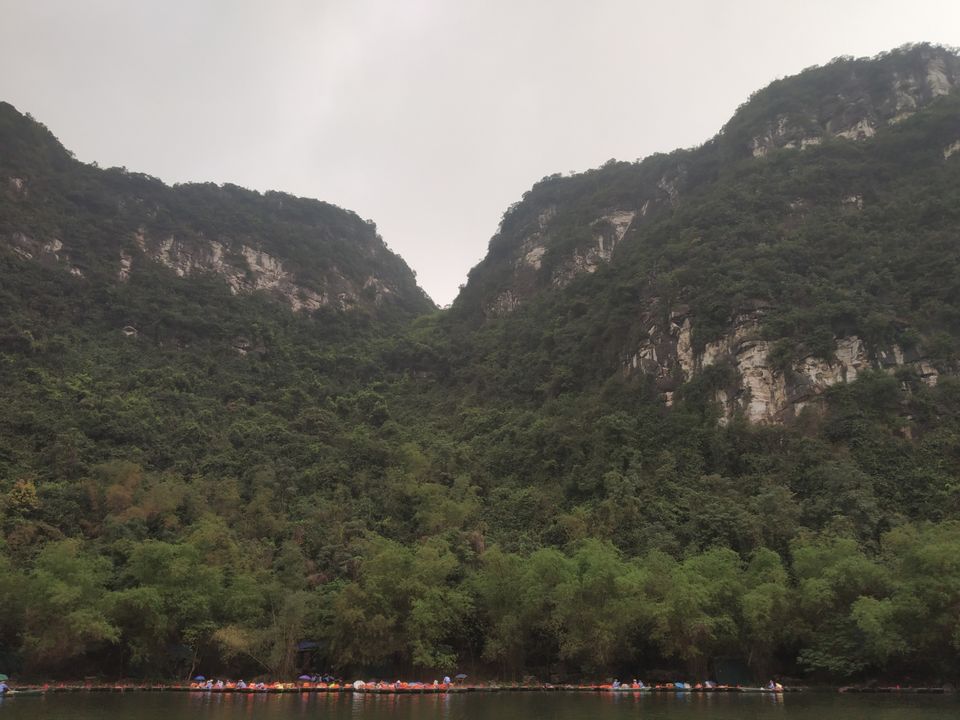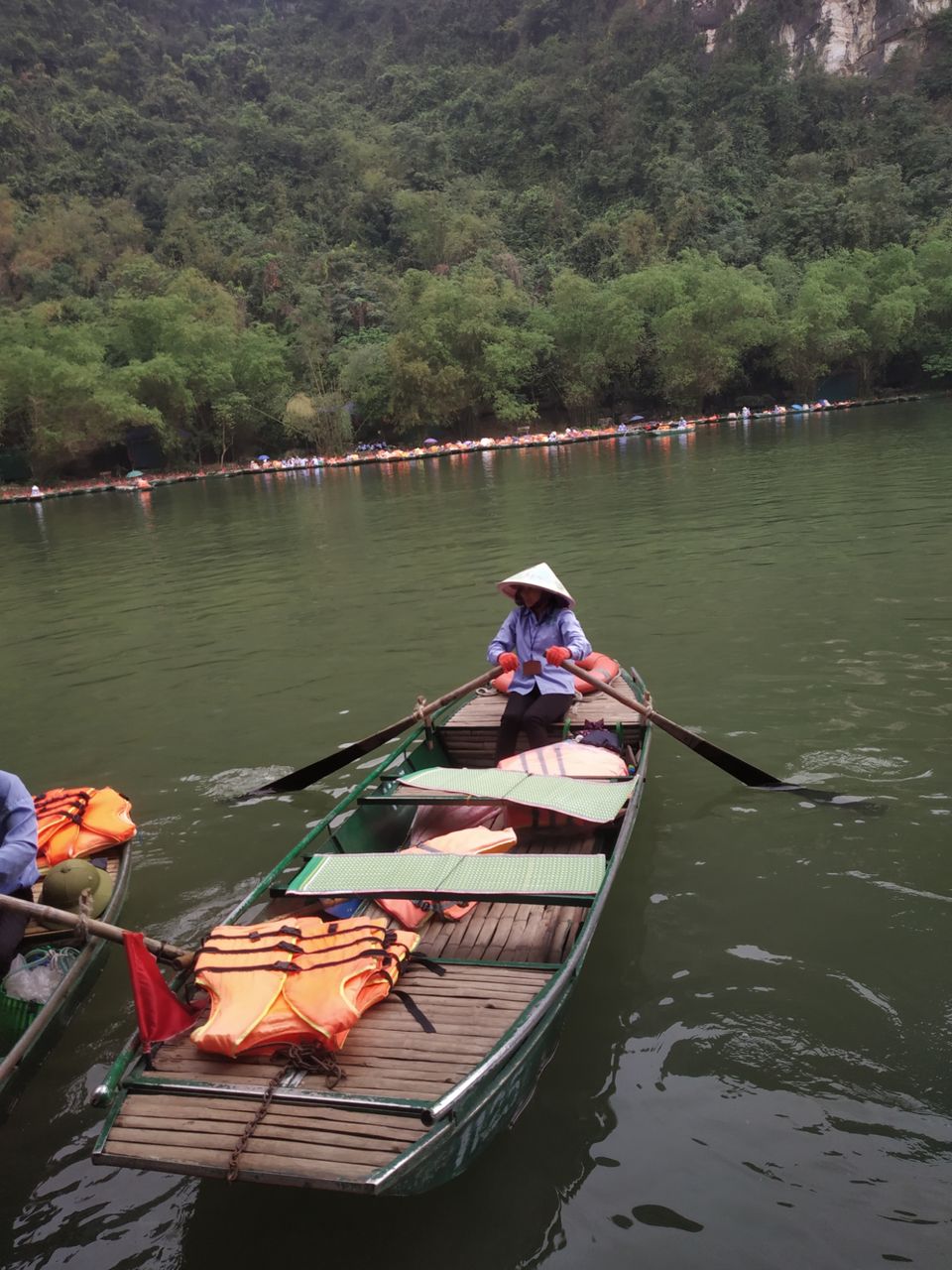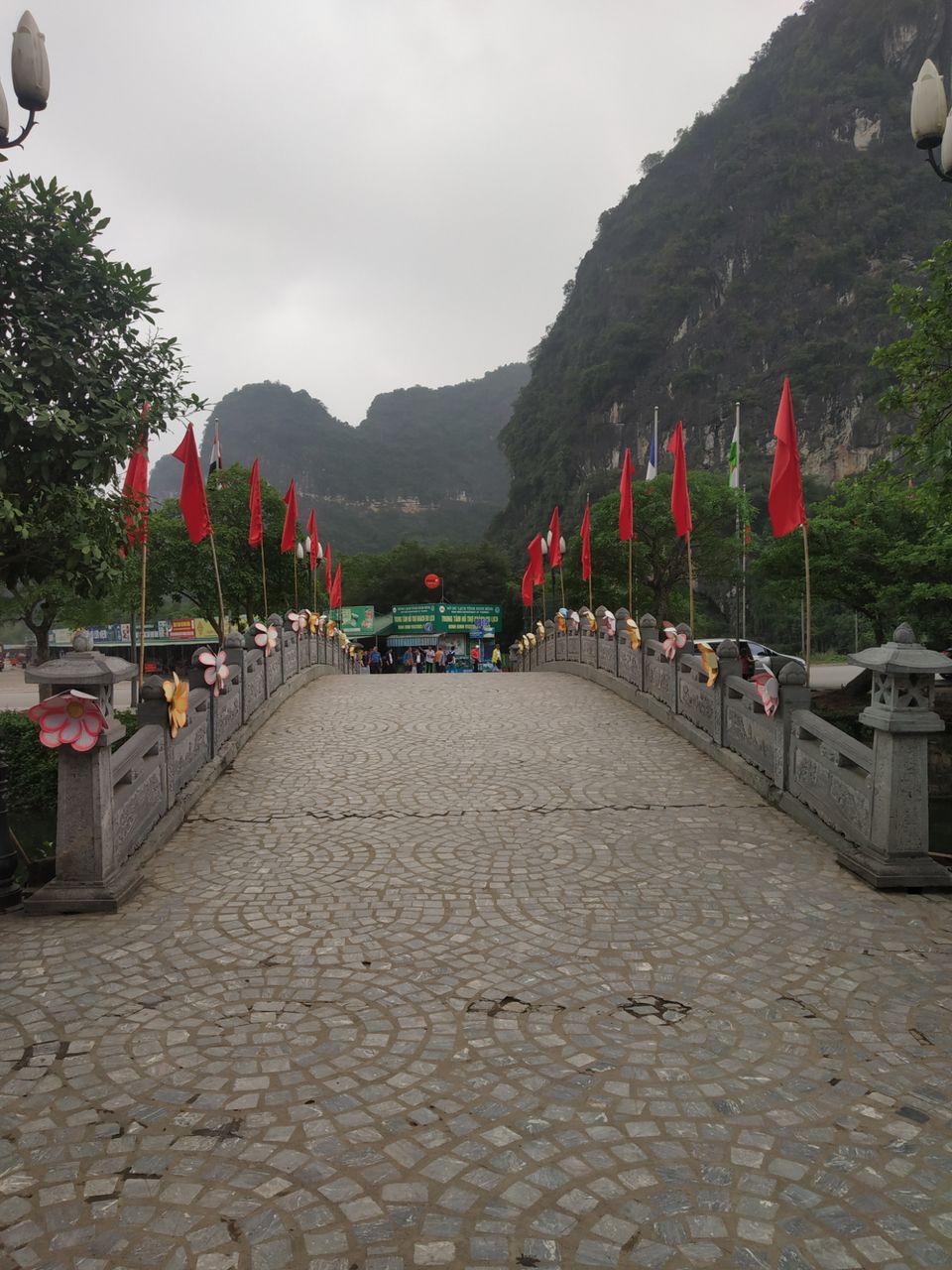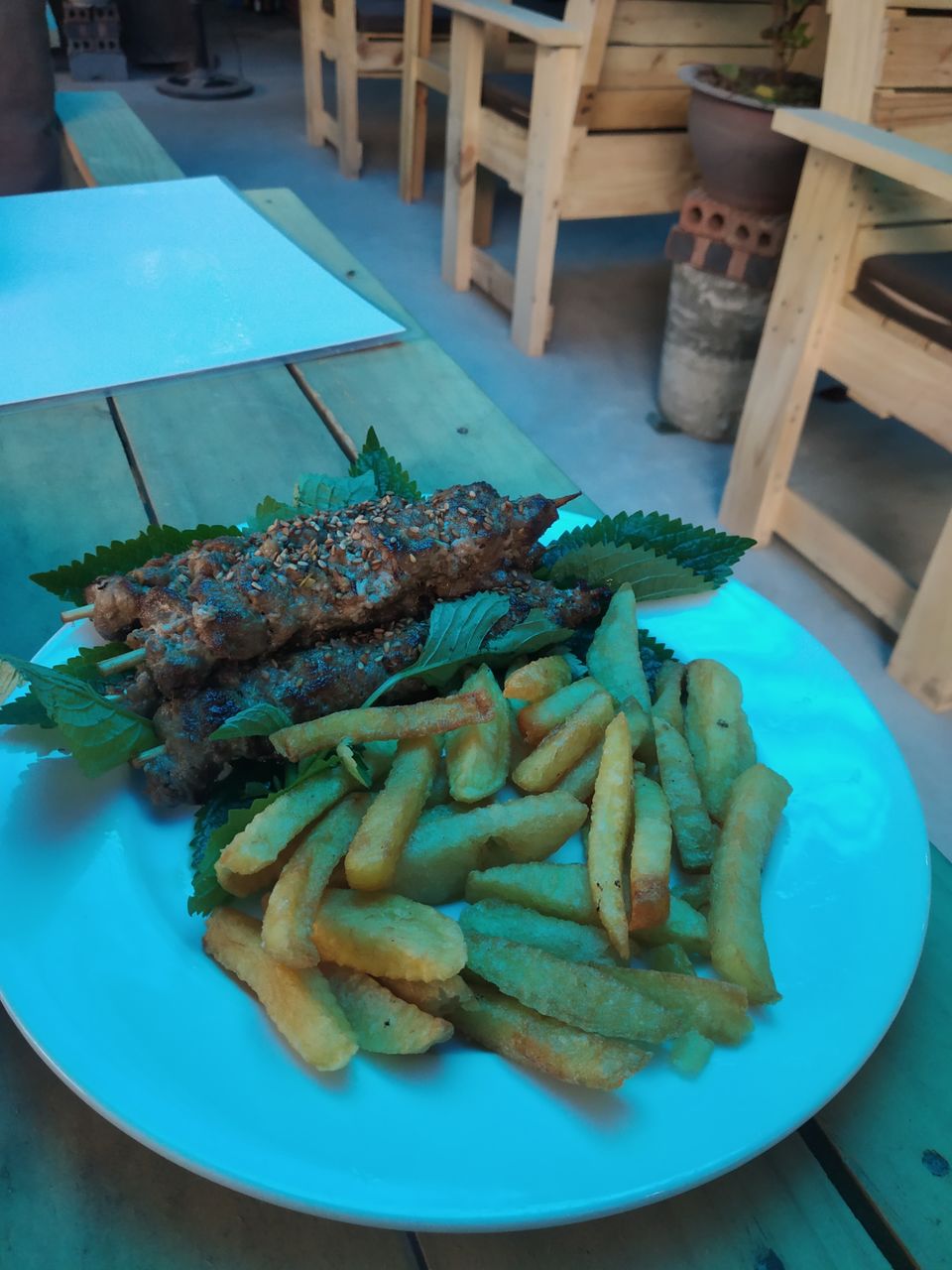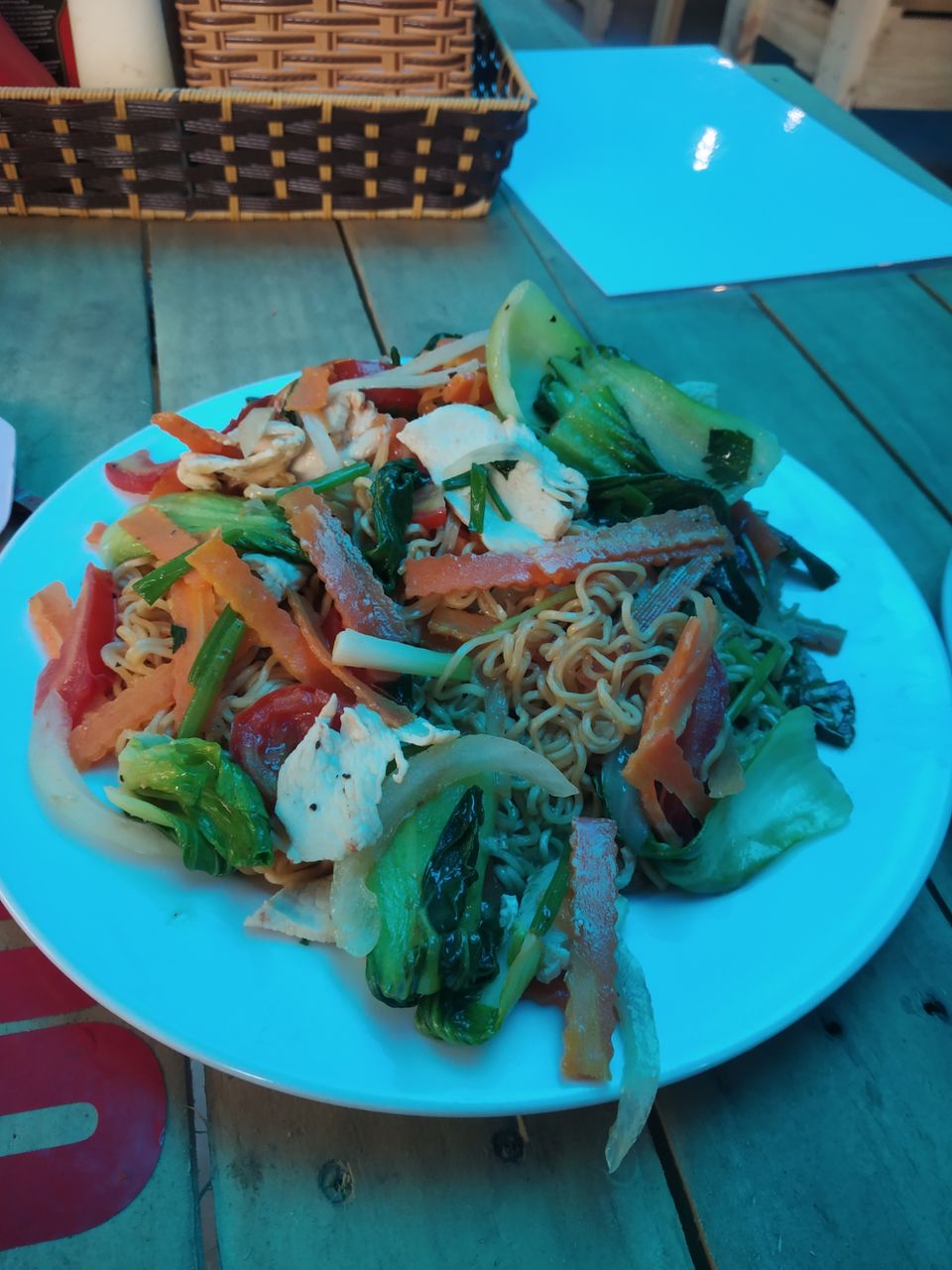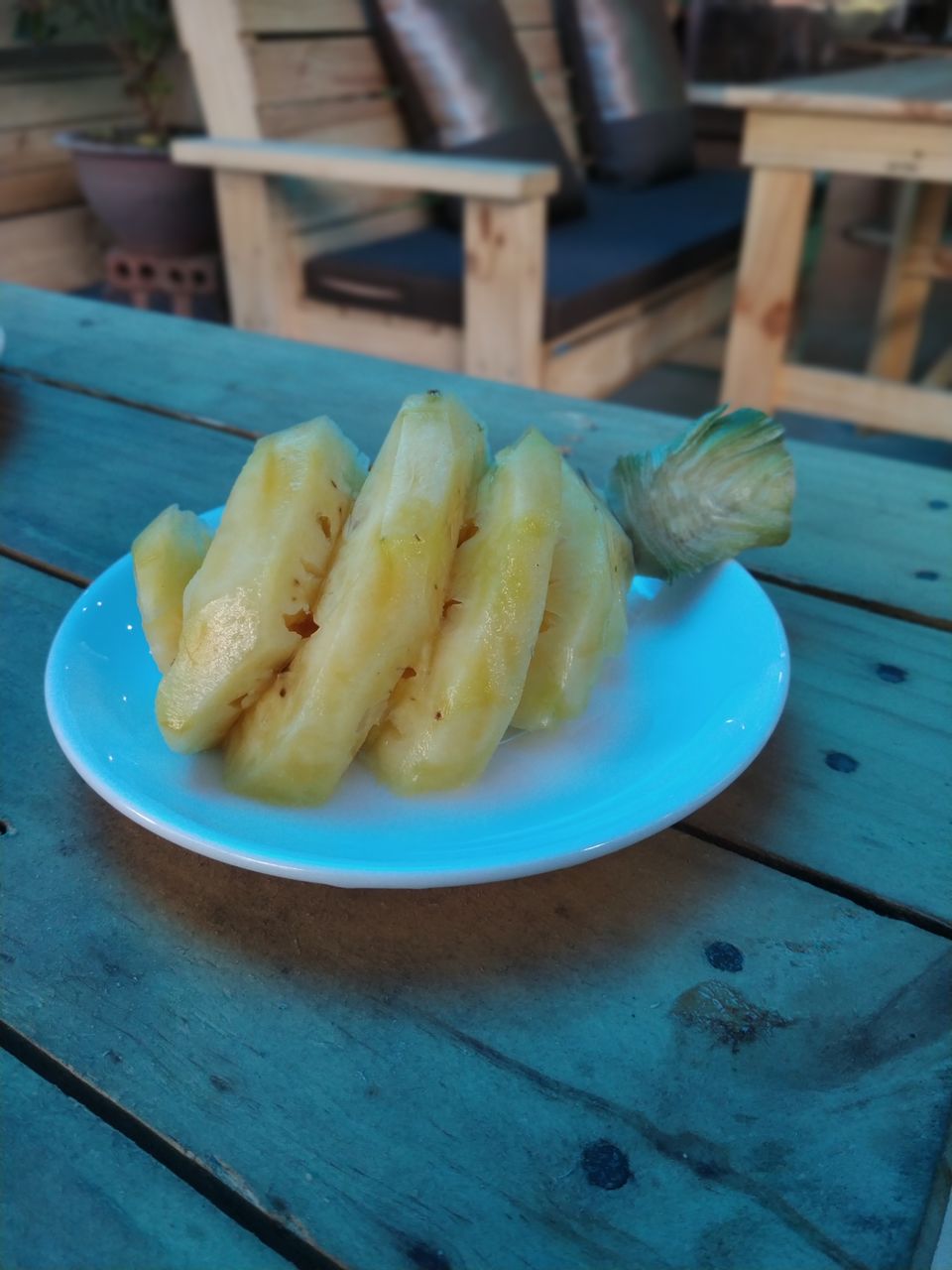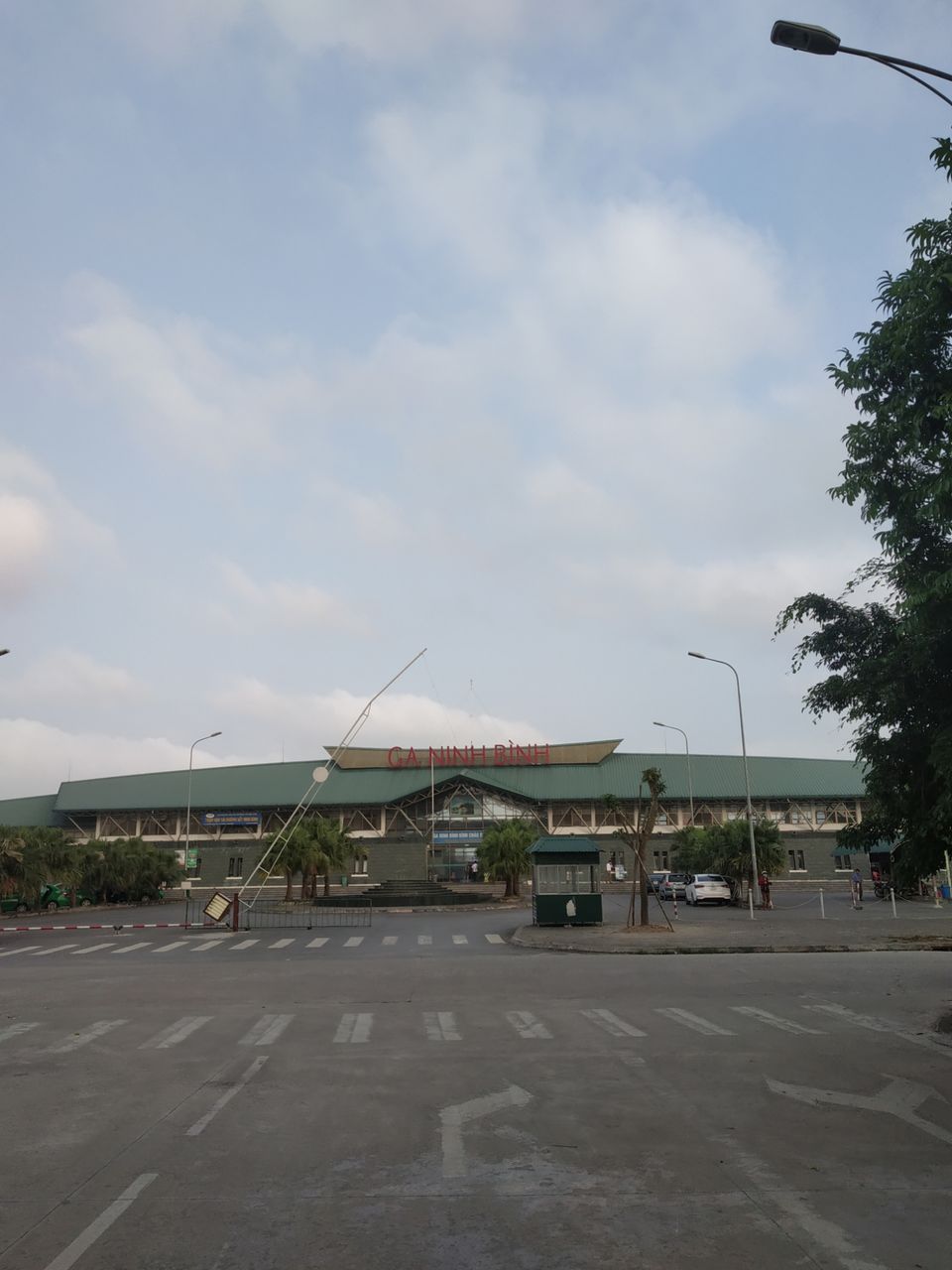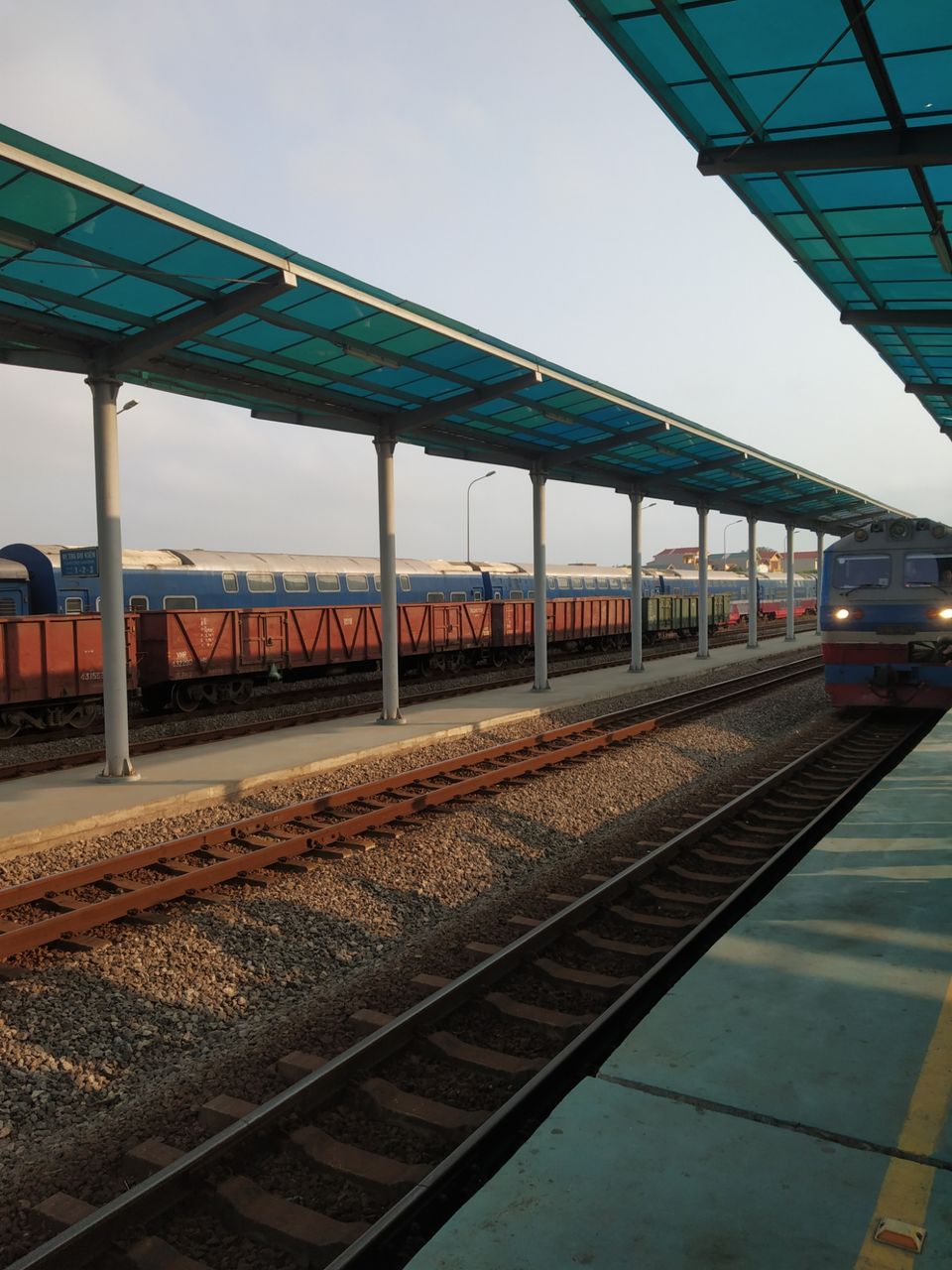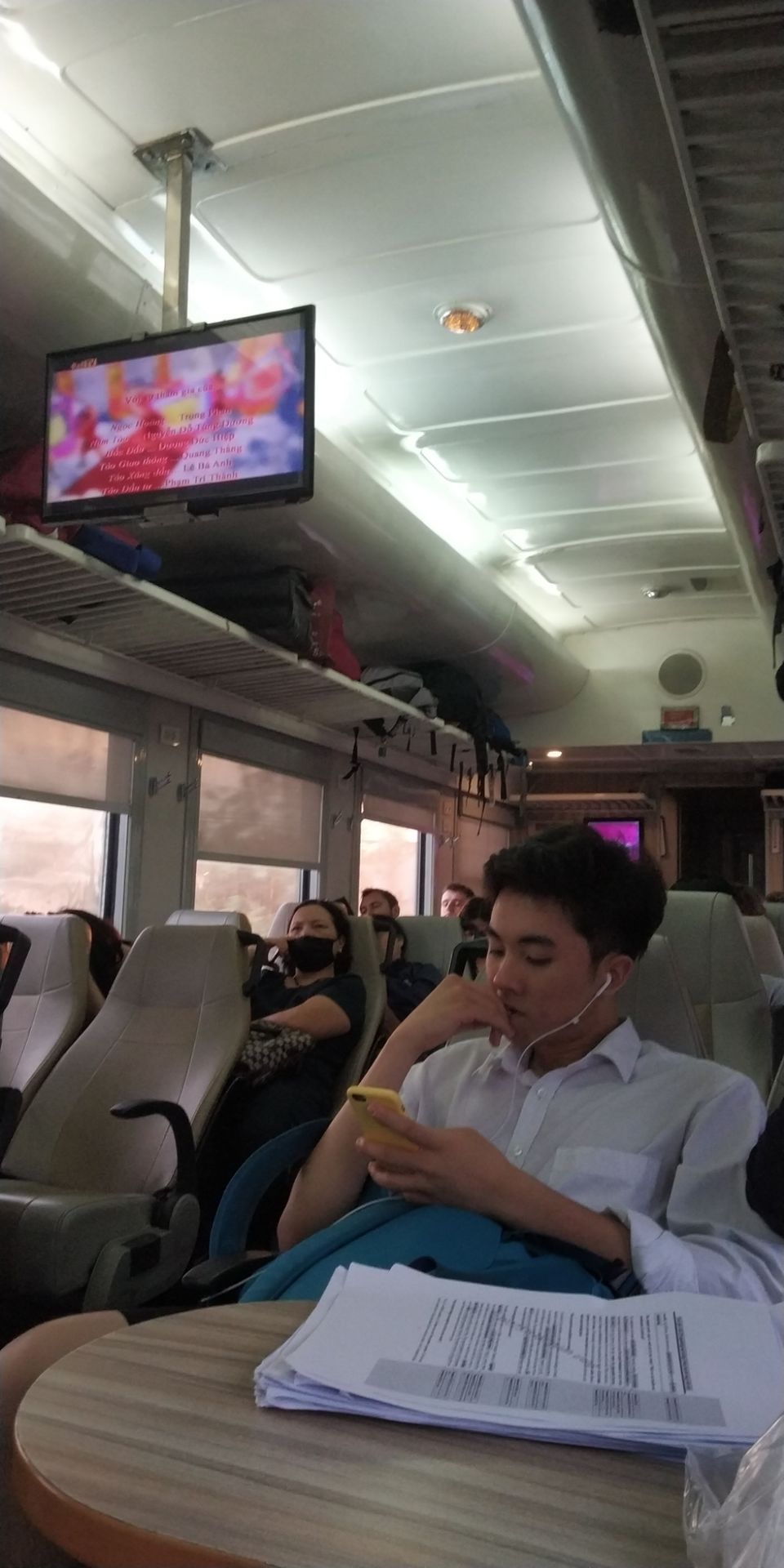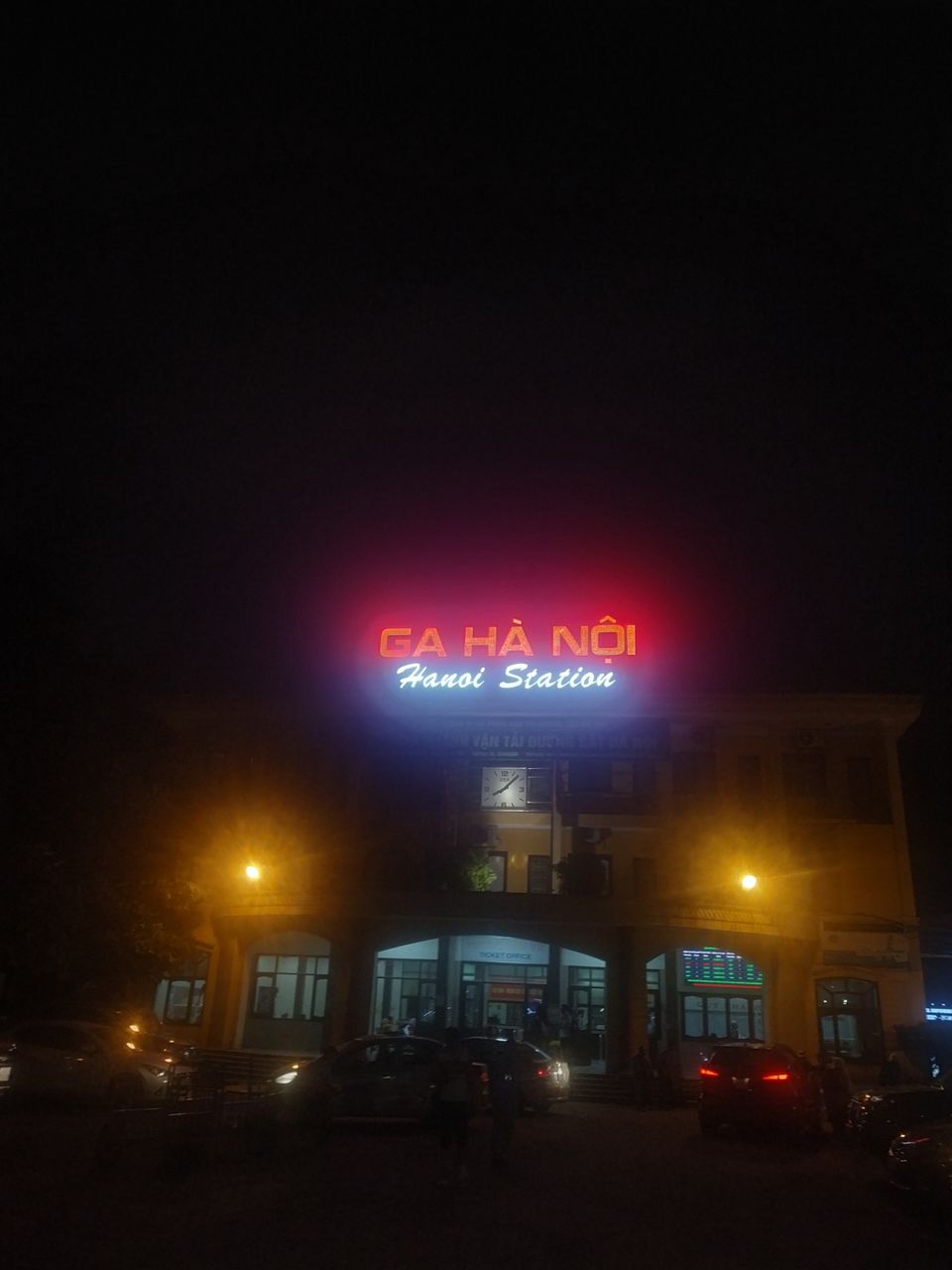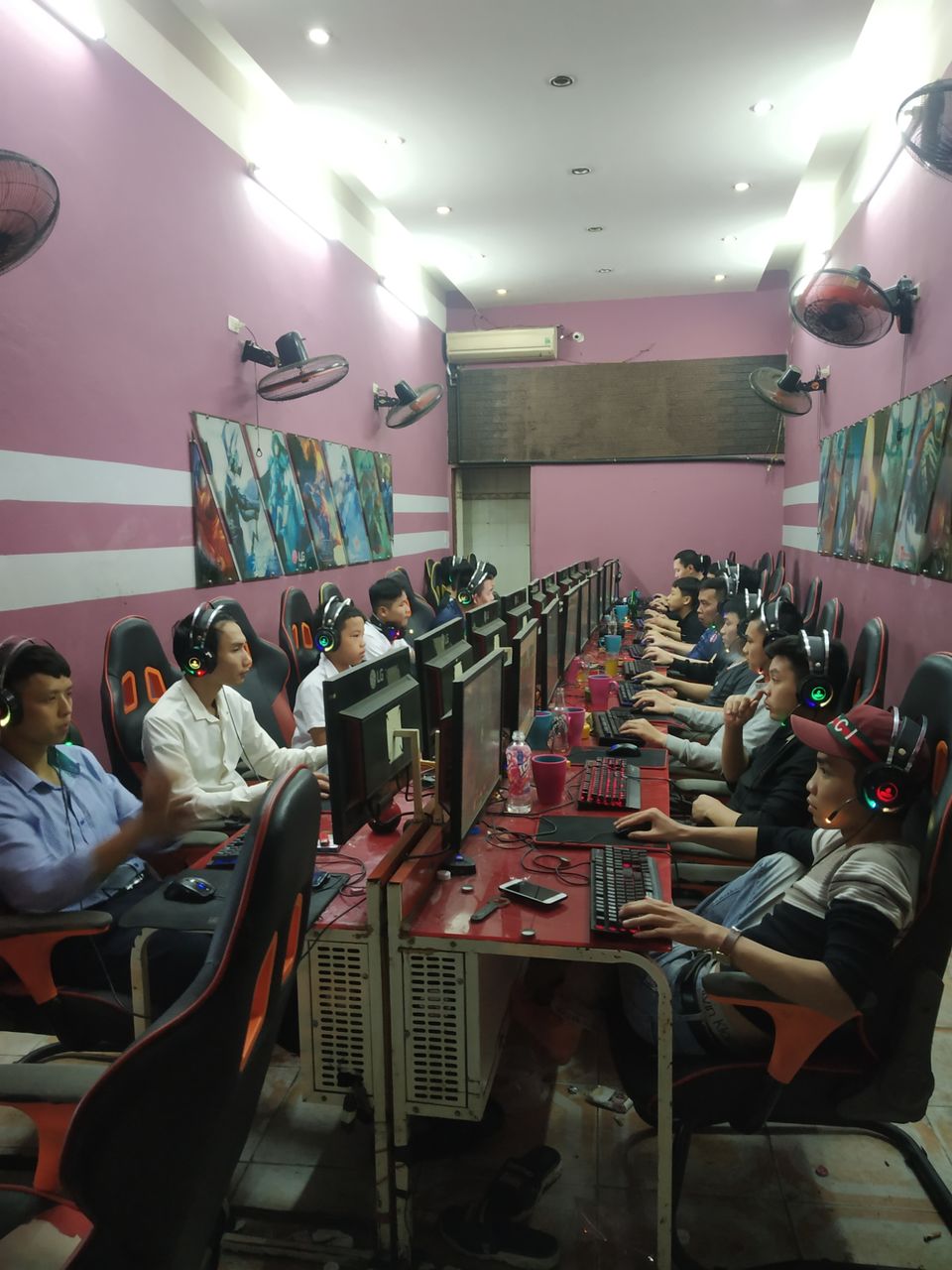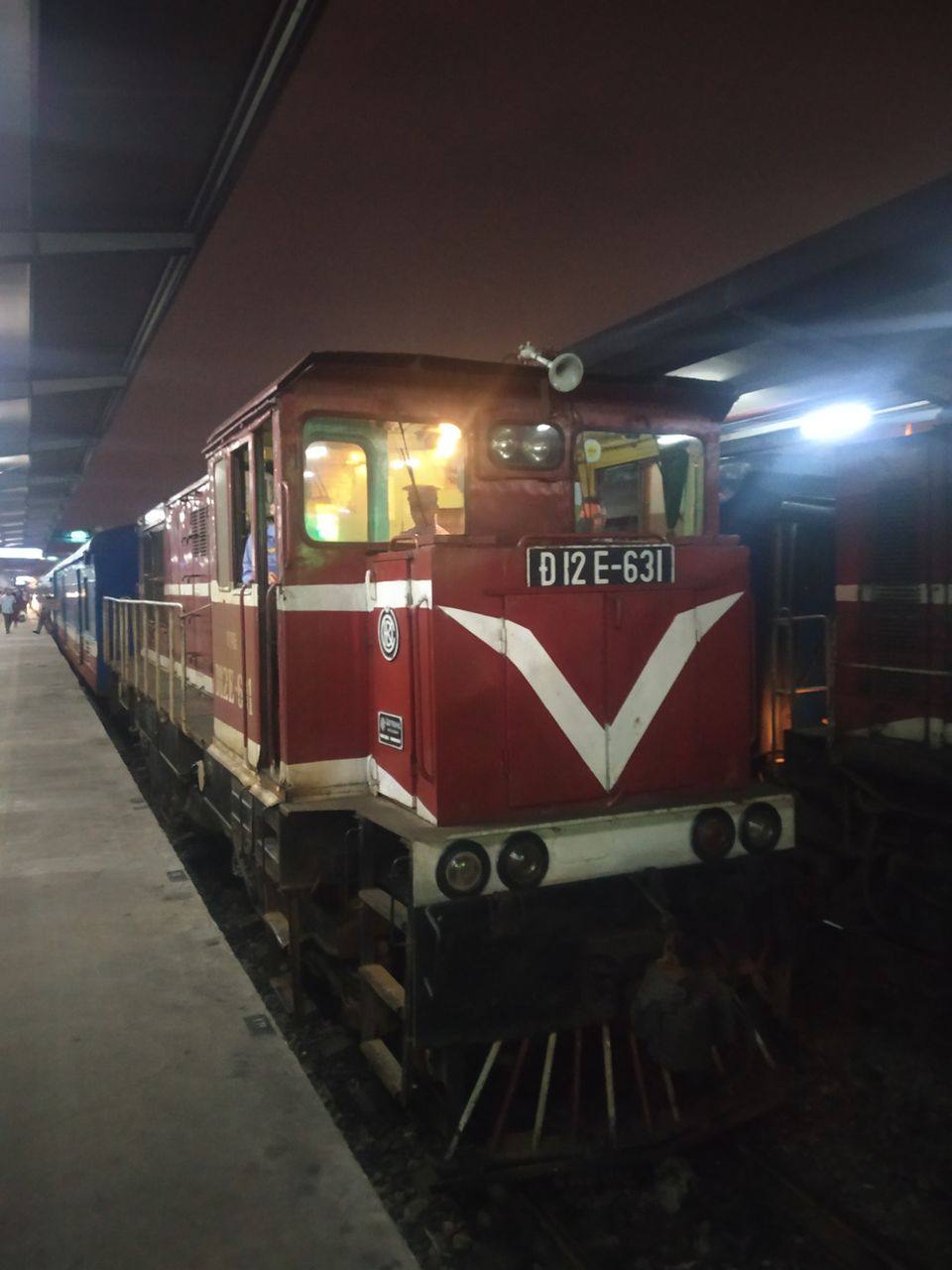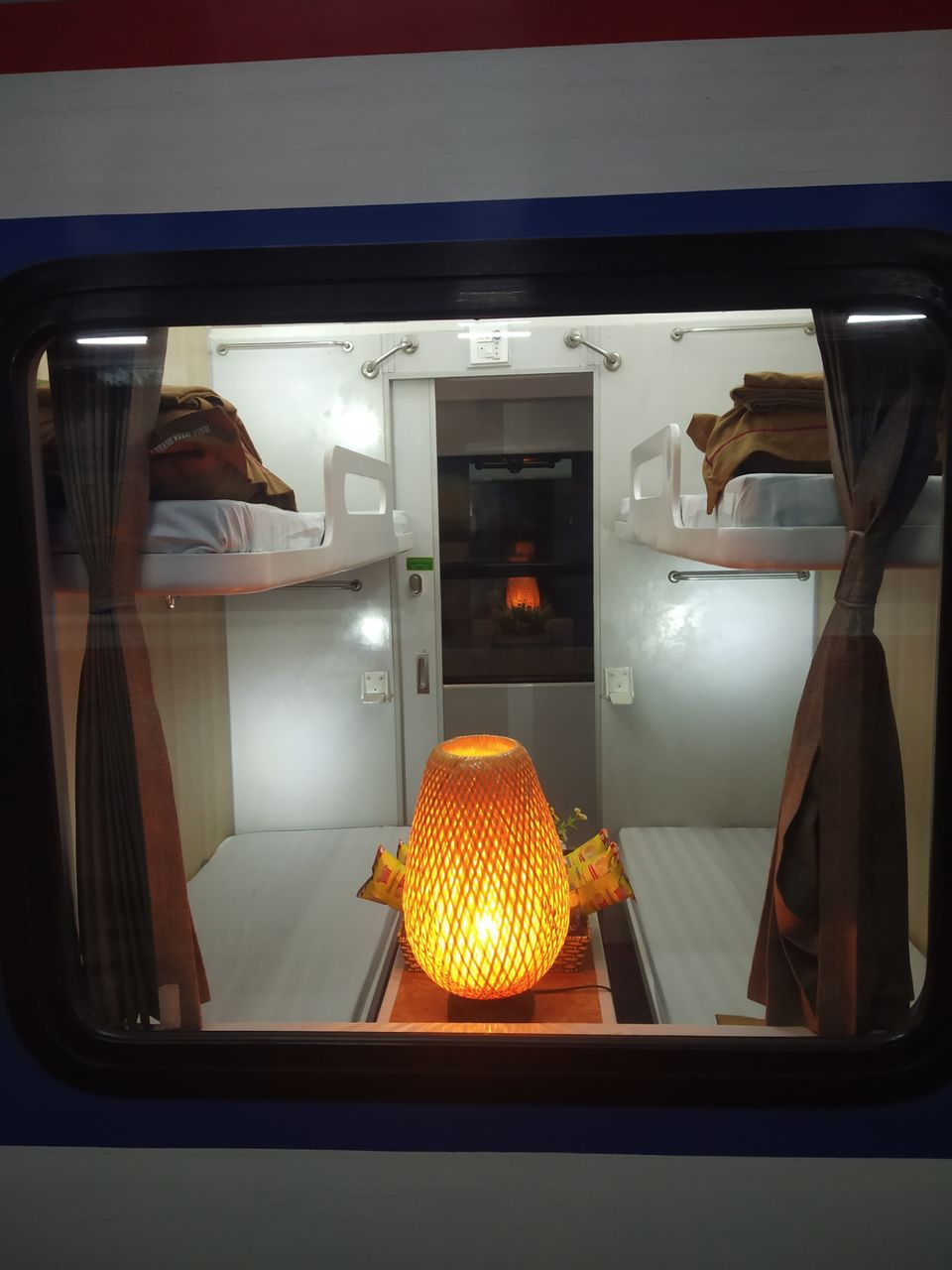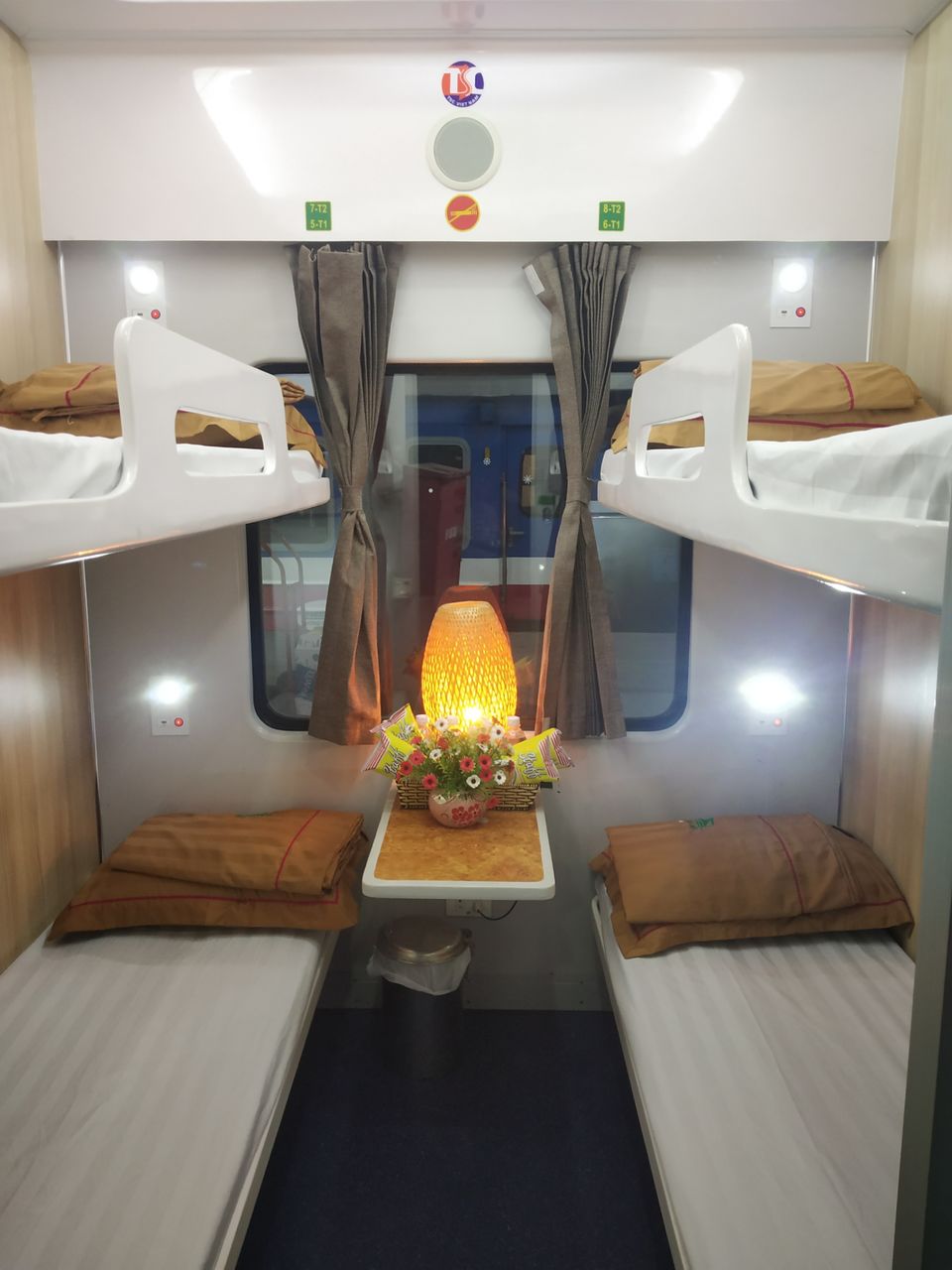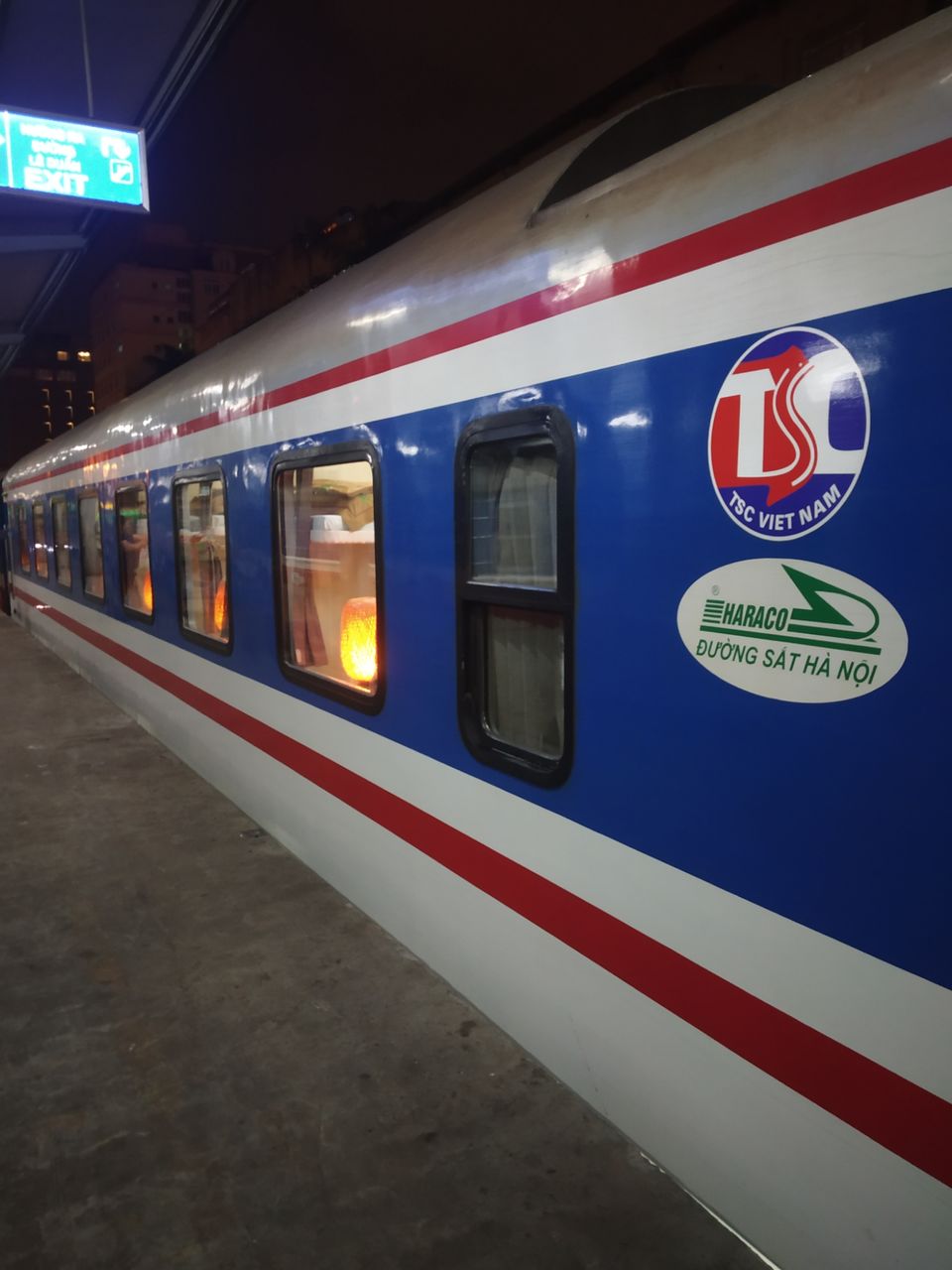 That was a great sleep in the train and at around 5:20am the train reached Lao Cai station, Which is the nearest to Sapa. So From Lao CAI it will be like 1 hour or 1 hour 20 mins ride to Sapa. Everyone who were coming out of the railway station are forced to get into the mini buses at Lao cai station which charges u around 50000 or 40000 dongs. But if you wait like 10 mins there's a local bus which will be going to Sapa which will be of 30000 dongs. So do search for it when you are at Lao cai. I am the only passenger from the train who have boarded the local bus. Every other foreigner went on with the mini buses. So my bus started at 5:50am and reached Sapa by 7:15am. And immediately I have done my breakfast & went to the Sun world Sapa railway station at 8am to go the tallest mountain of the IndoChina peninsula (Which includes, Myanmar, Cambodia,Laos, Malaysia,Thailand, Vietnam) which is 3,143 metres(10000 ft) above sea level "Mount Fansipan". so the entrance ticket is like 750,000 dongs including the cable car ride and funicular ride to the top. We have to hop on the funicular at the Sapa station and it takes you to the Muaon Hua Cable car station. The funicular ride is pretty good going over the village with the mountain view and rice fields view. Then there's a luggage counter at Muaon Hua Cable car station. So I have deposited my luggage over there(for free) and went on to the cable car ride. So the cable car ride is the best I have ever done. Beacuse it's like I just went into an cloud.????. Yeah!. It was so sunny at the start and at sudden it's like I'm going into heaven. The sight is just beautiful. After a 20 Minute ride You will be reaching to A funicular station again. And you have to pay 70000 dongs if u want to go to Fansipan on the funicular or else you can hike the steps????. I chose to hike. And it was pretty hard, beacuse the steps are very slant. And there's a super change in the weather. Like from 20°c to 5°c and also it started to rain. Wow! Just wow! I am literally in the clouds, dancing all over and shouting with joy. And also slowly inching towards the top of the mountain, we can see a big idol of Buddha and Bodhisattva and some pagodas if we choose steps. I have heard that a few years ago when there was no cable car to Fansipan , people used to Hike for 3-4 days to the top! That's amazing, Right!. And yeah finally, I conquered the Mount Fansipan. Literally I'm standing on top of Vietnam. What a feeling!
From the Tallest building in the south To the Tallest mountain in the North! Vietnam is so beautiful ❤️. So it's been 2000Kms from South and still counting.
So After spending some time at the top I started my hike back to the cable car and yeah keep the ticket safely, it's a two way ticket for everything if u lost it ur done. You have to buy a new one. And I reached back to Sapa at 12:30Pm and I went to a homestay at the mountain valley of the village to explore more of the Vietnamese culture and traditions. And the homestay is just perfect. The view and my bed. Just loved it. And also there's a school, more like a kindergarten just beside my home stay and when I went there all the kids came running towards me and they are just smiling seeing me. I am just so happy at that moment seeing those faces. Innocent hearts ❤️ and At around 3 pm I went around for a small walk through the valley and it was foggy all the day! At 7Pm the dinner was served and it was the best food I have ever ate in Vietnam. Vietnamese cuisine is always good with greens in everything. May be that is the reason why they are much healthier and look younger. And after a good conversation with everyone it's time for me to go to my bed. Beacuse it's gonna be a long day tomorrow. May be going for a trek.
But seriously I loved Sapa, not only Sapa but every place I have visited in Vietnam is just so wonderful with beautiful people surrounded everywhere. More 4 days in this country.
The lights are off and everyone are sleeping, may be early, but that's how villages are. They are the same Everywhere in the world.
It's very silent over here. The noise of moths and some insects is what I hear. What a pleasant night! Good night guys!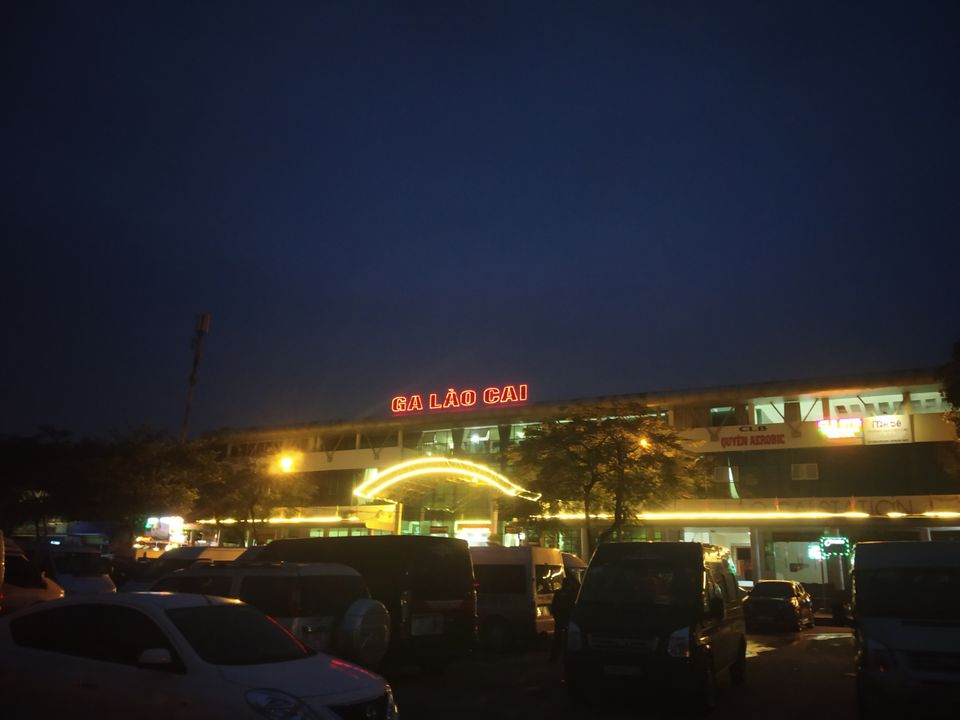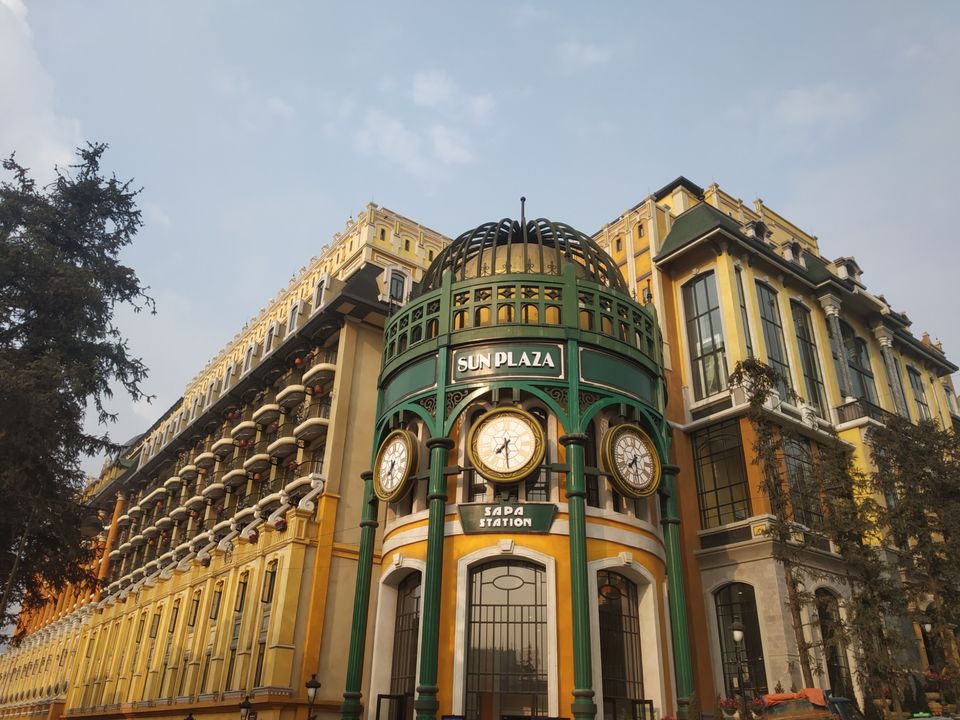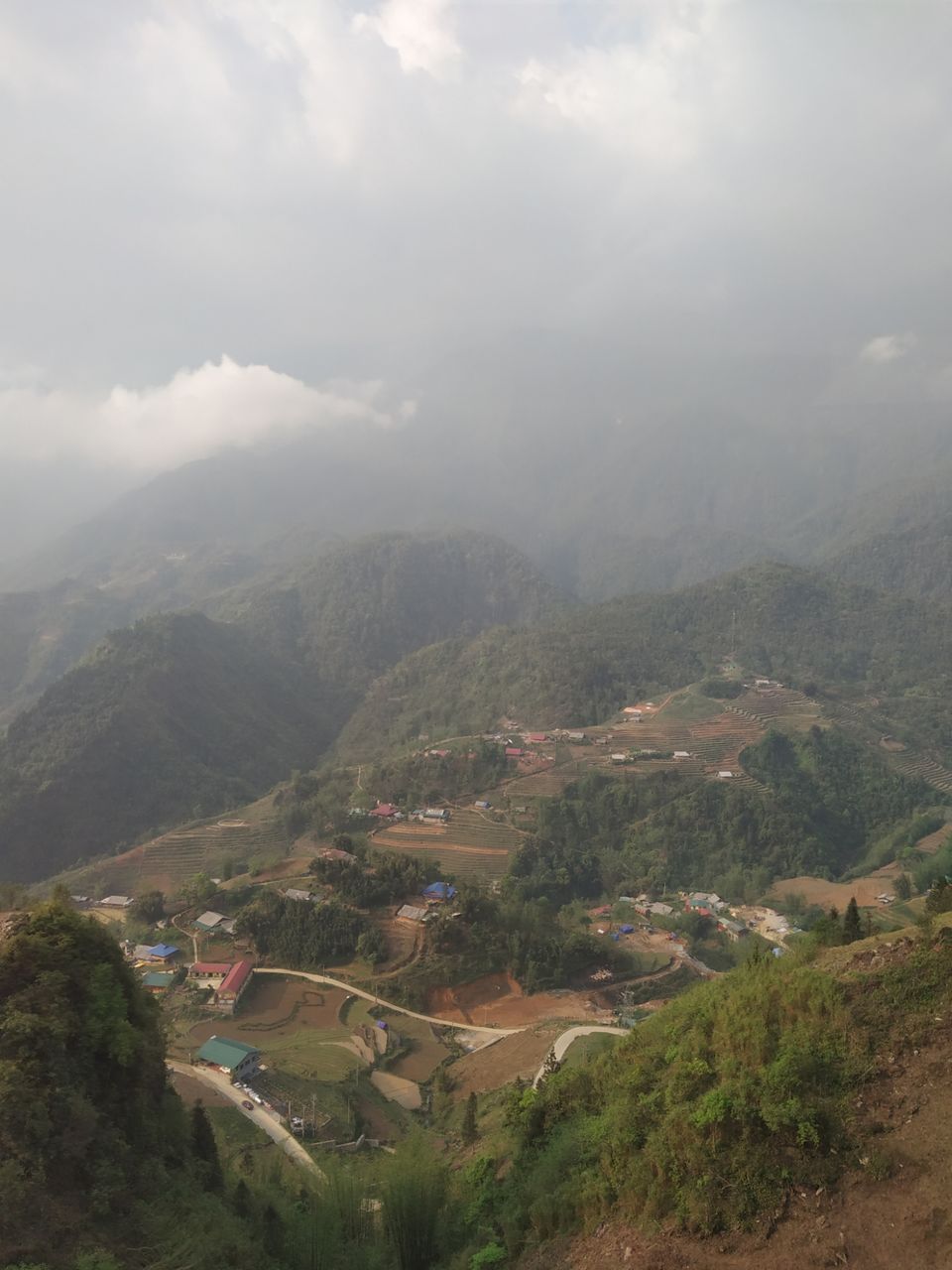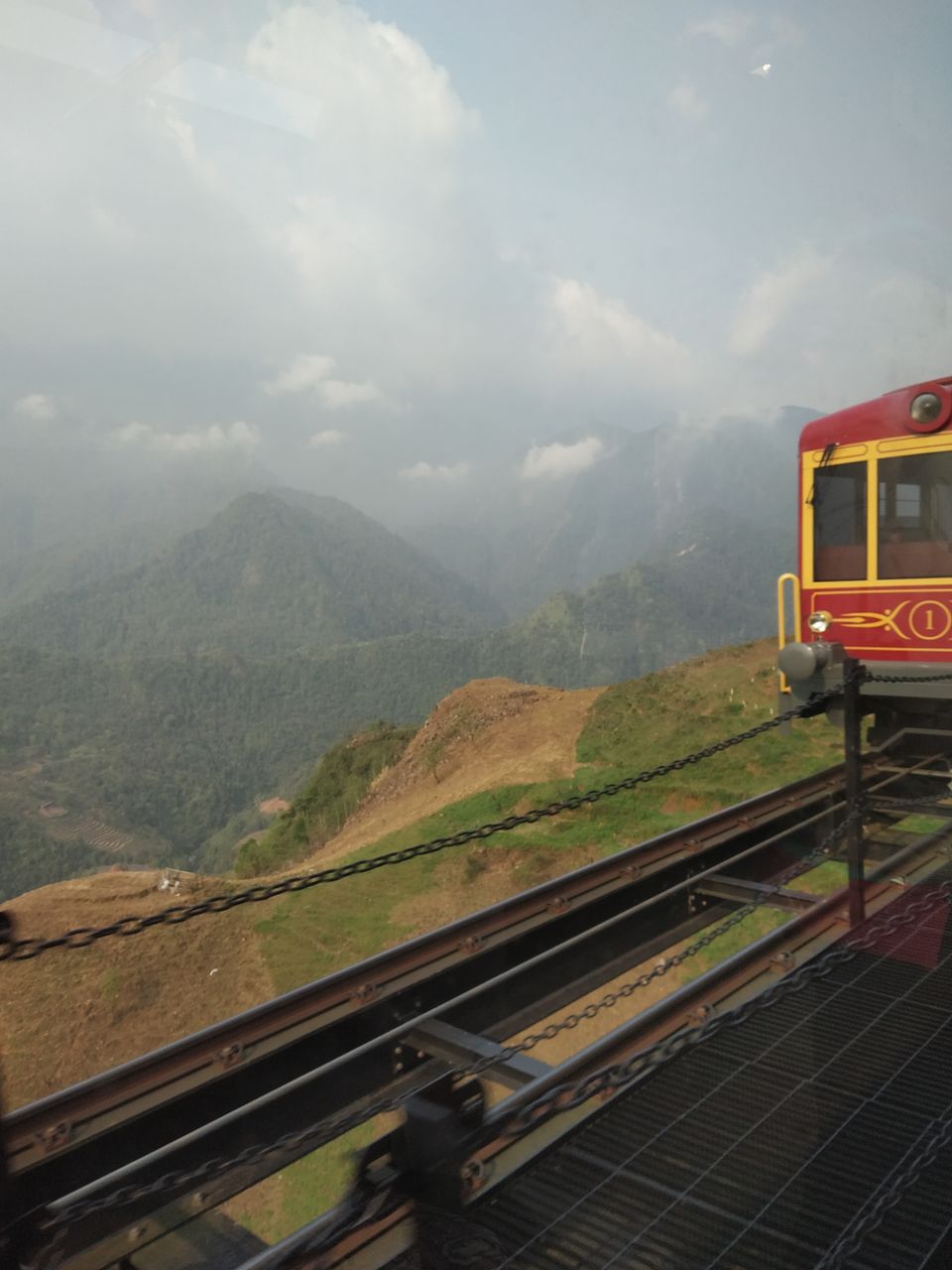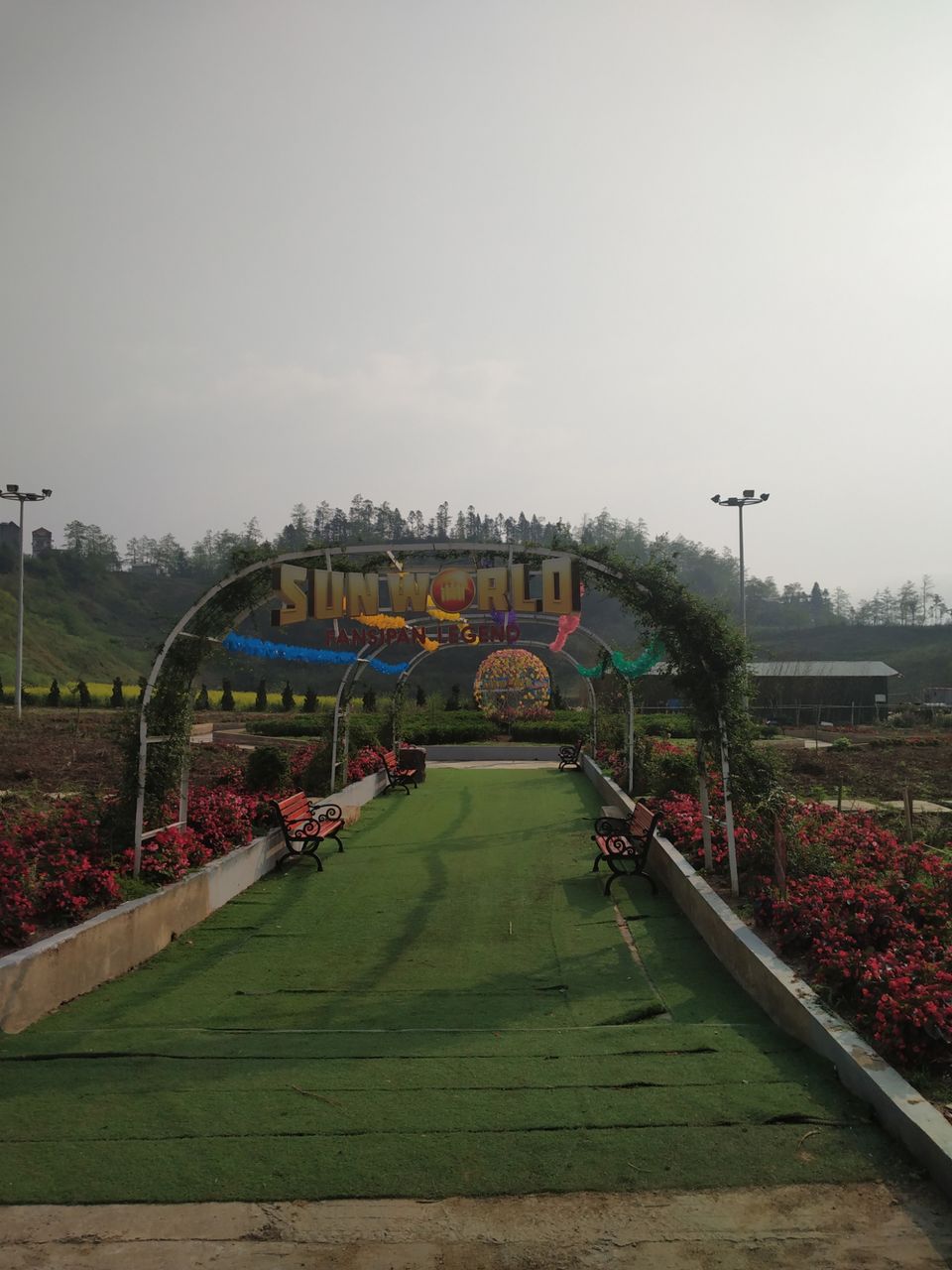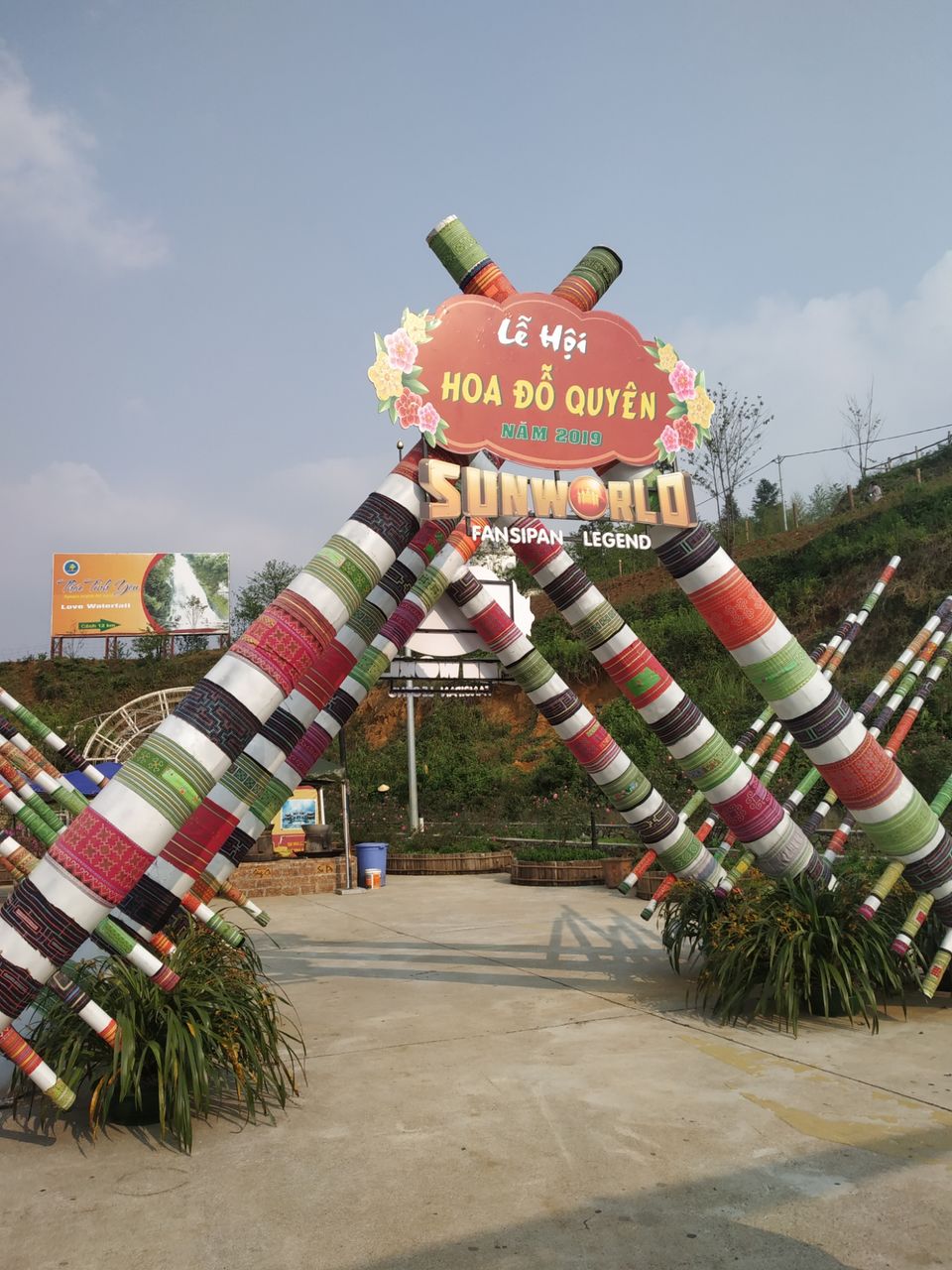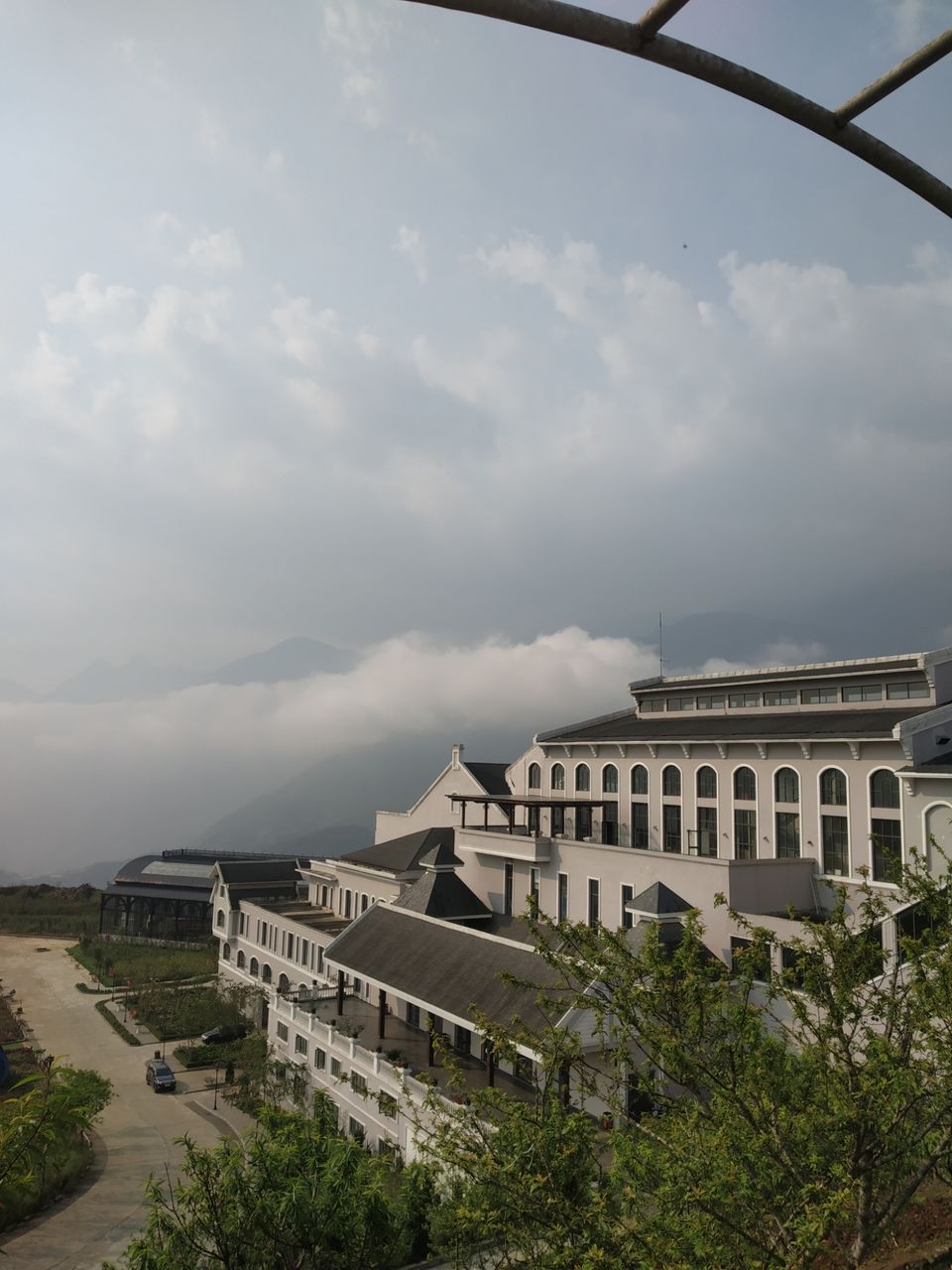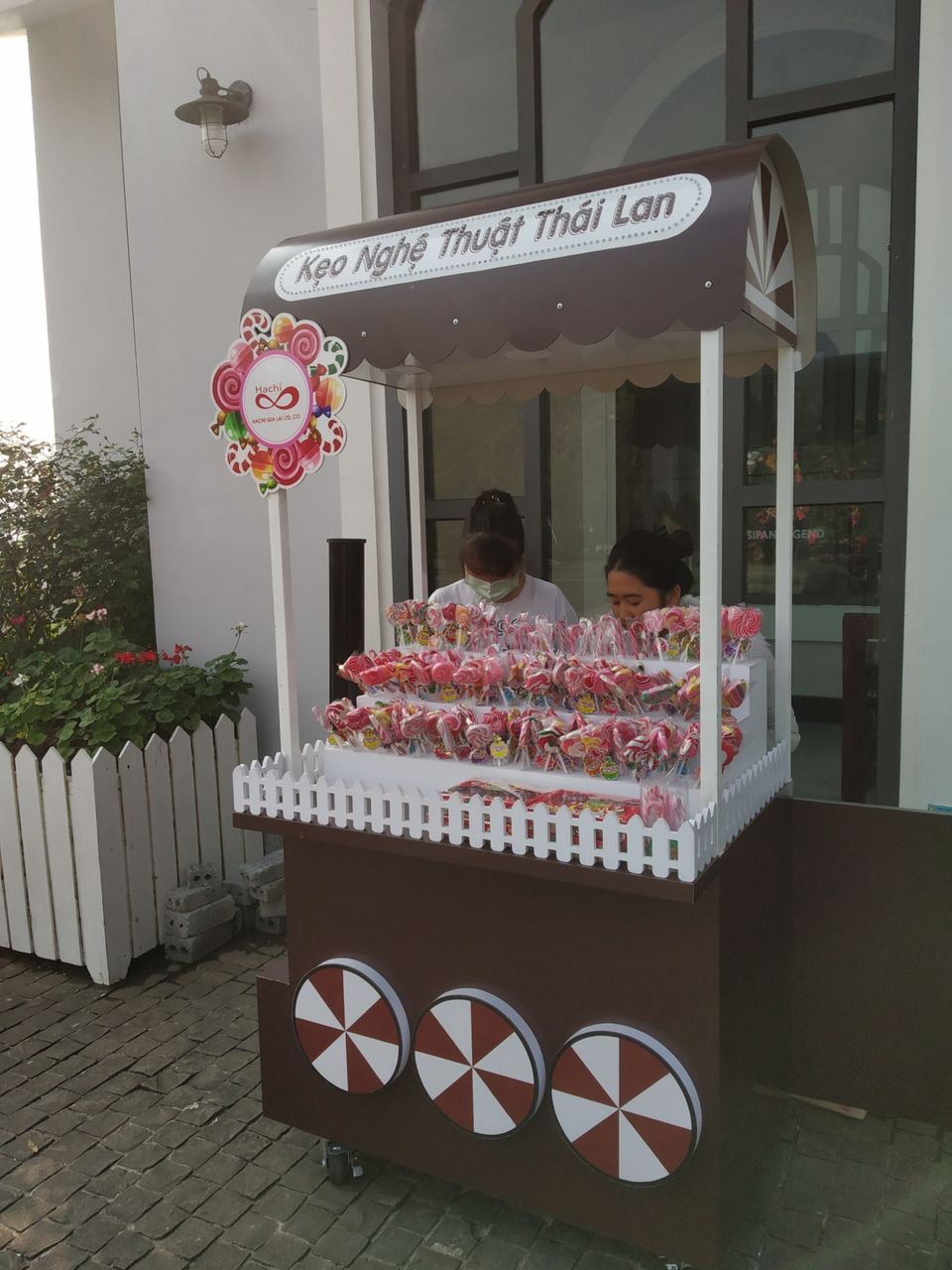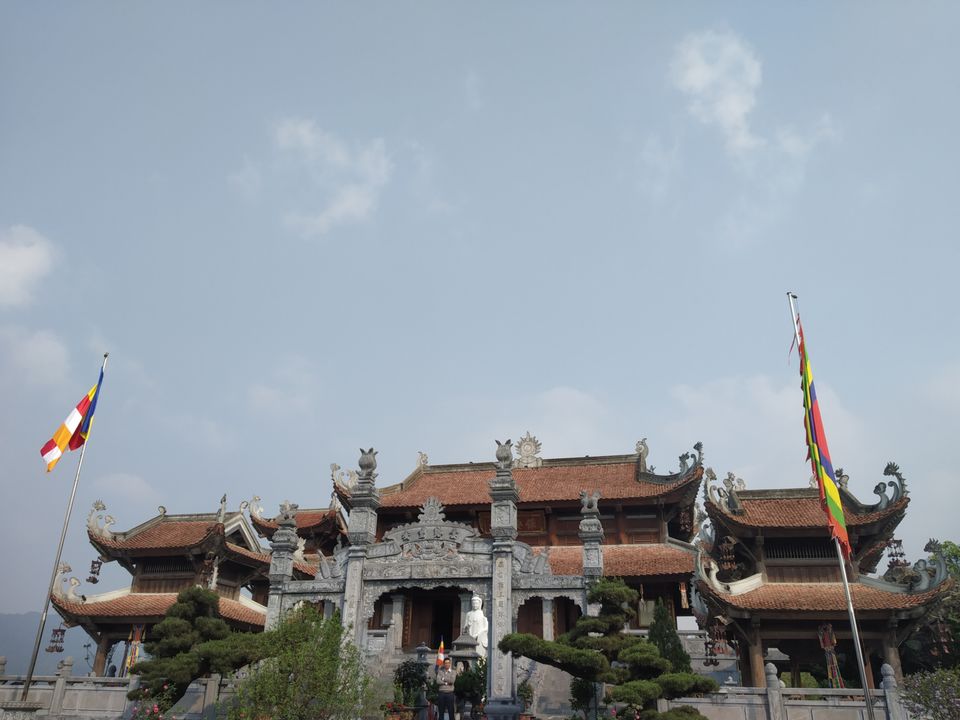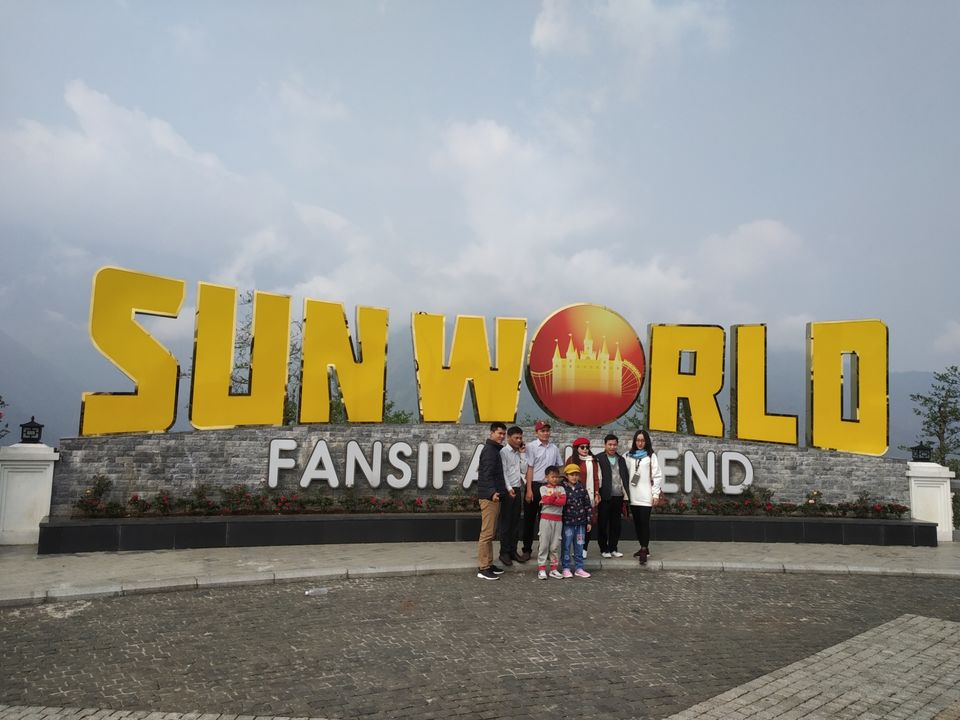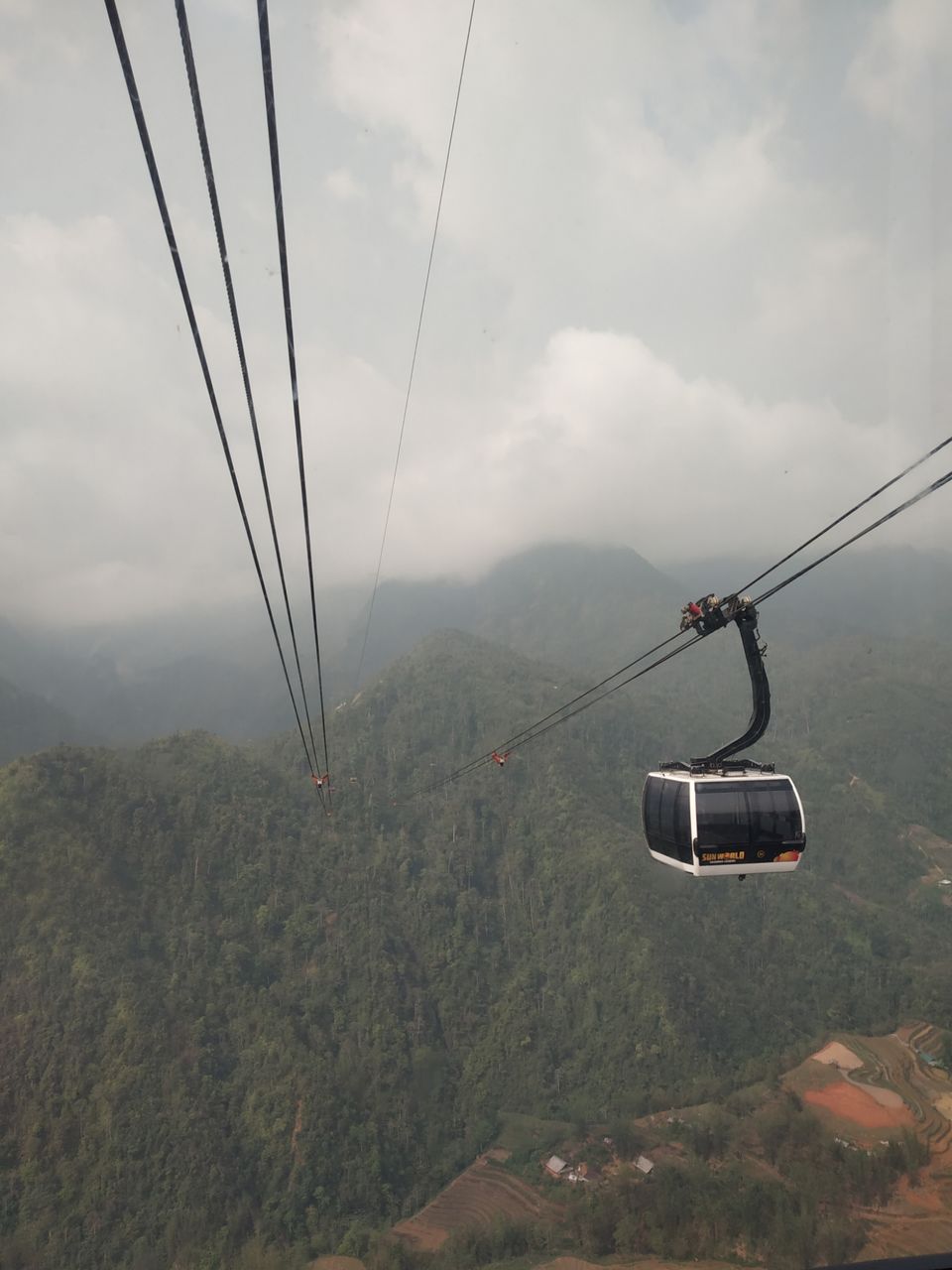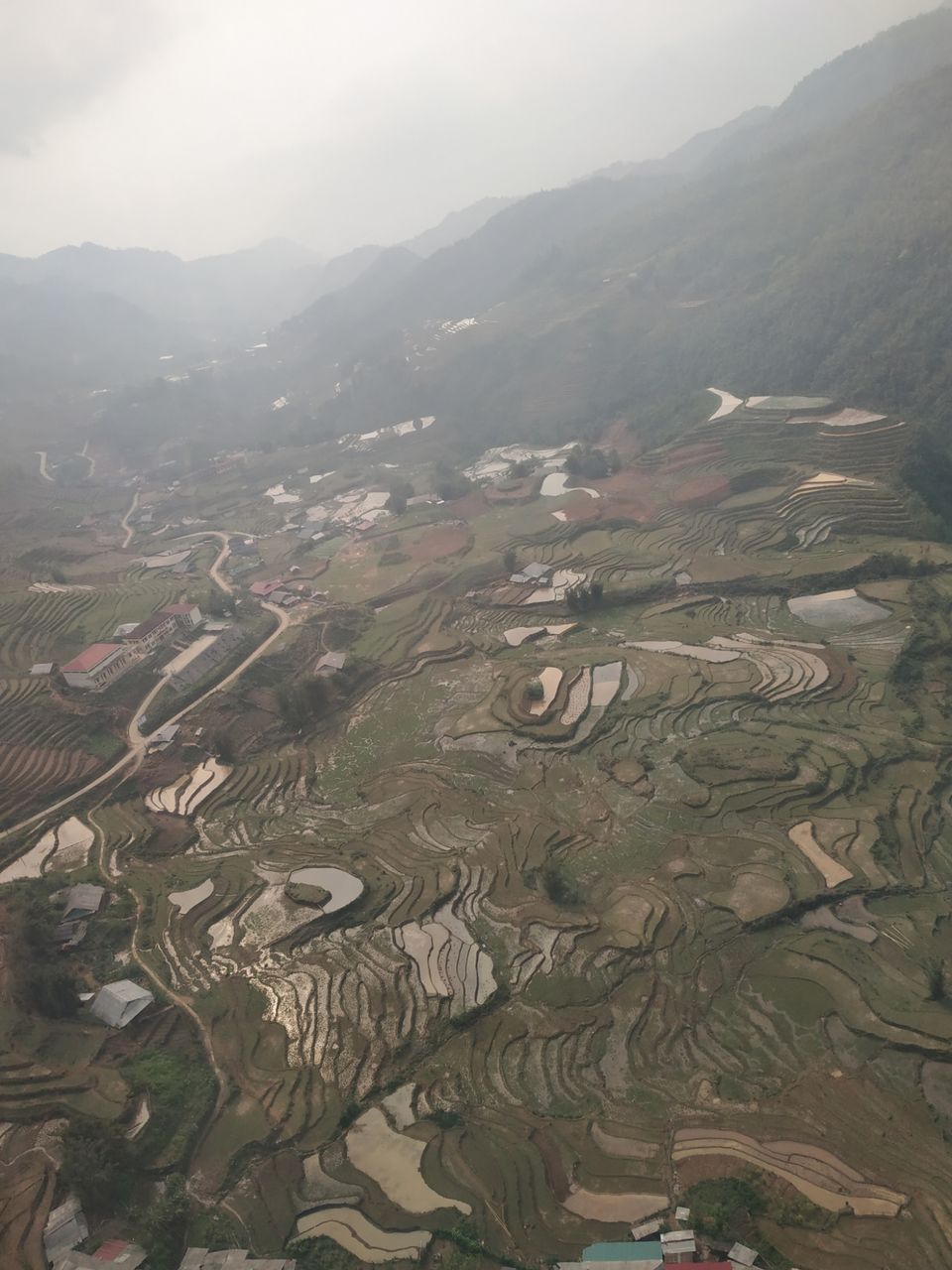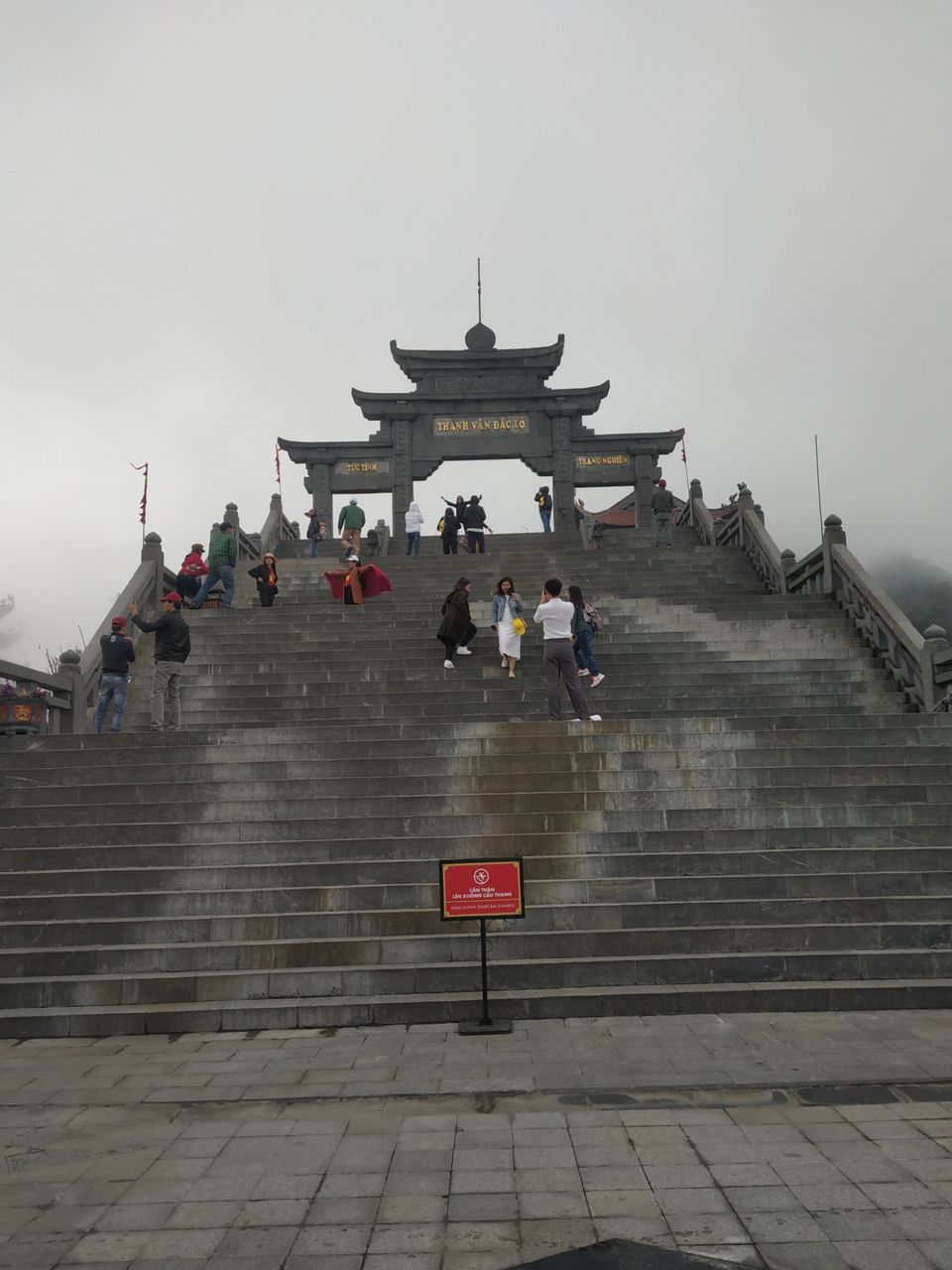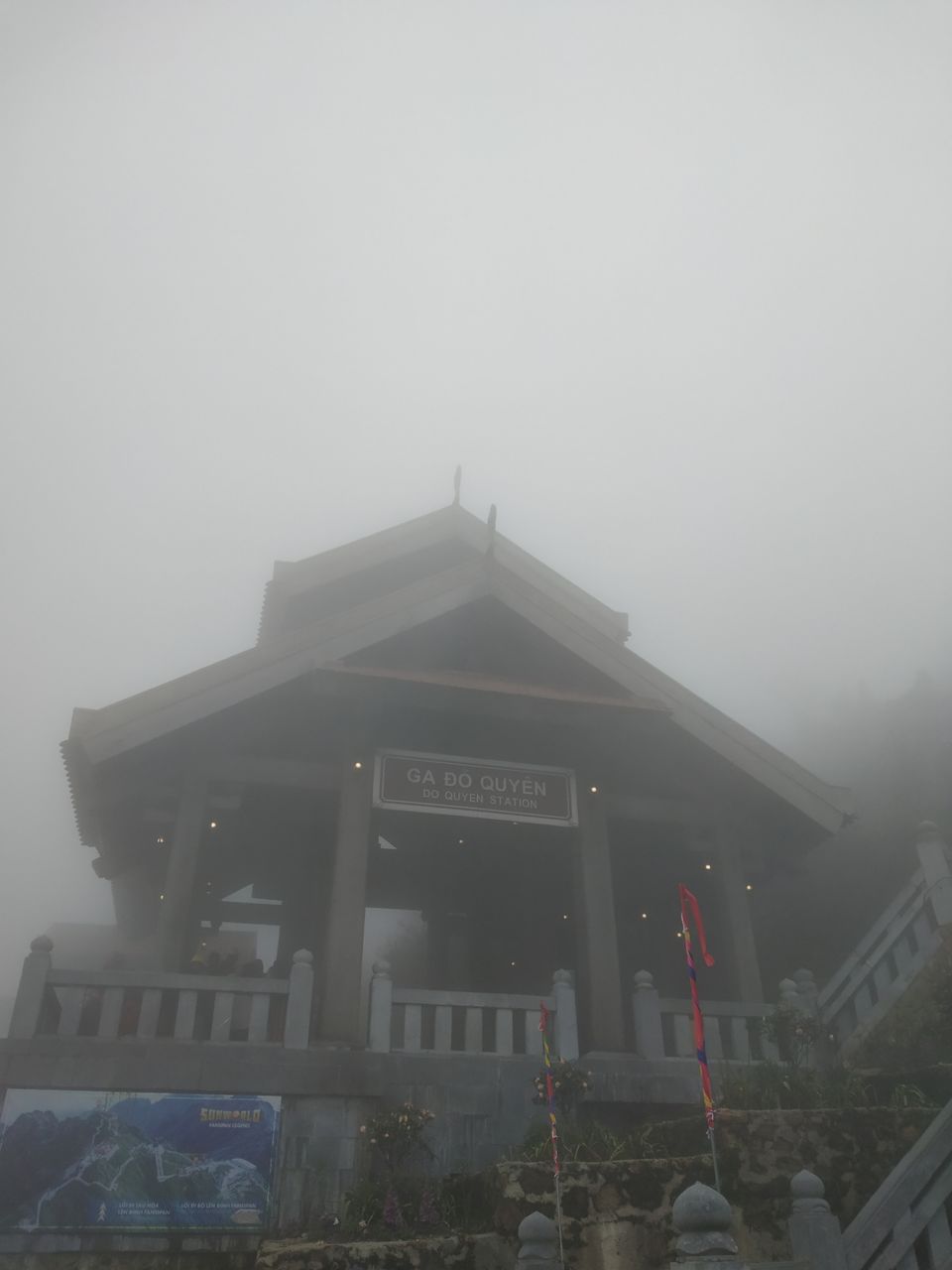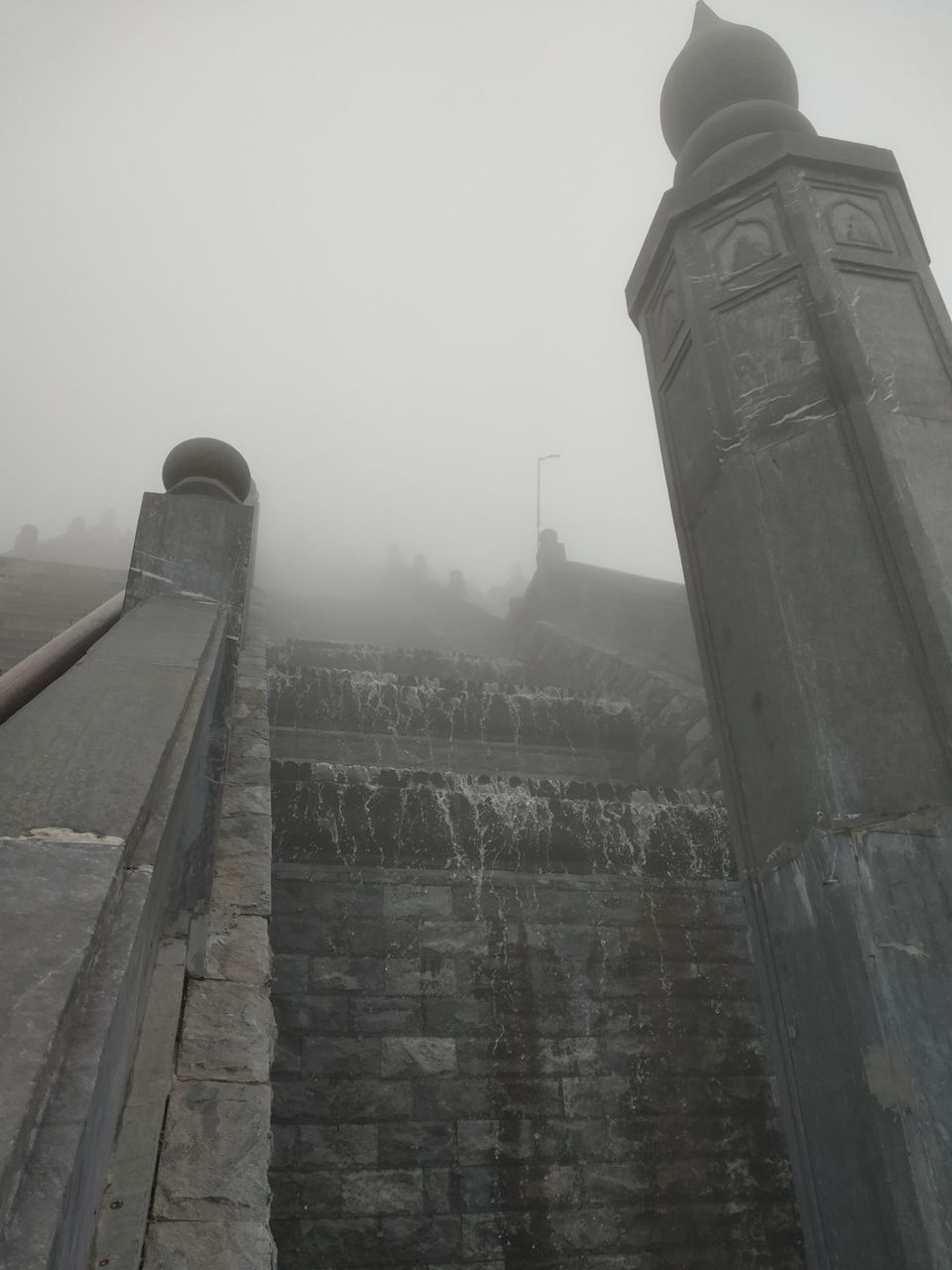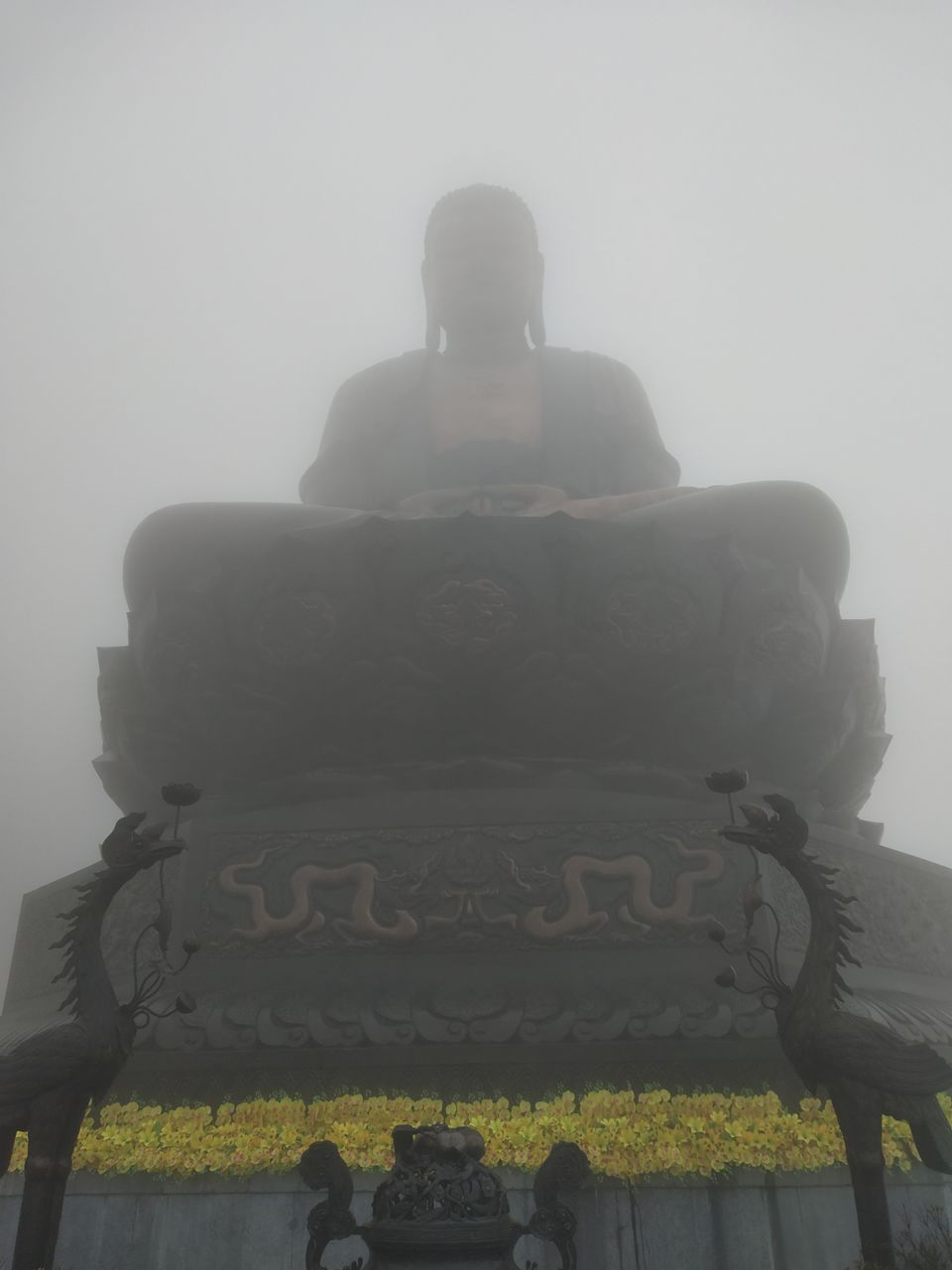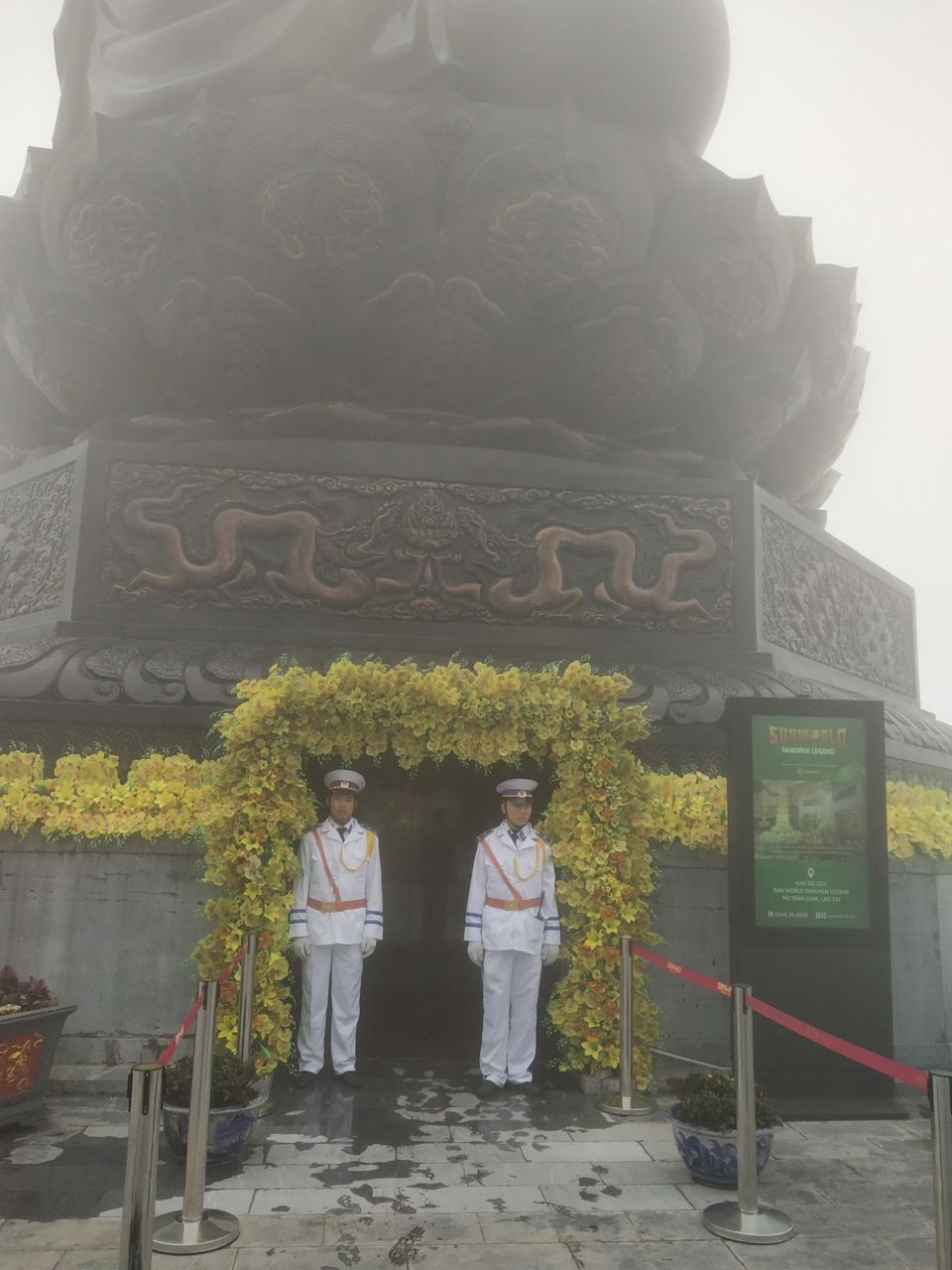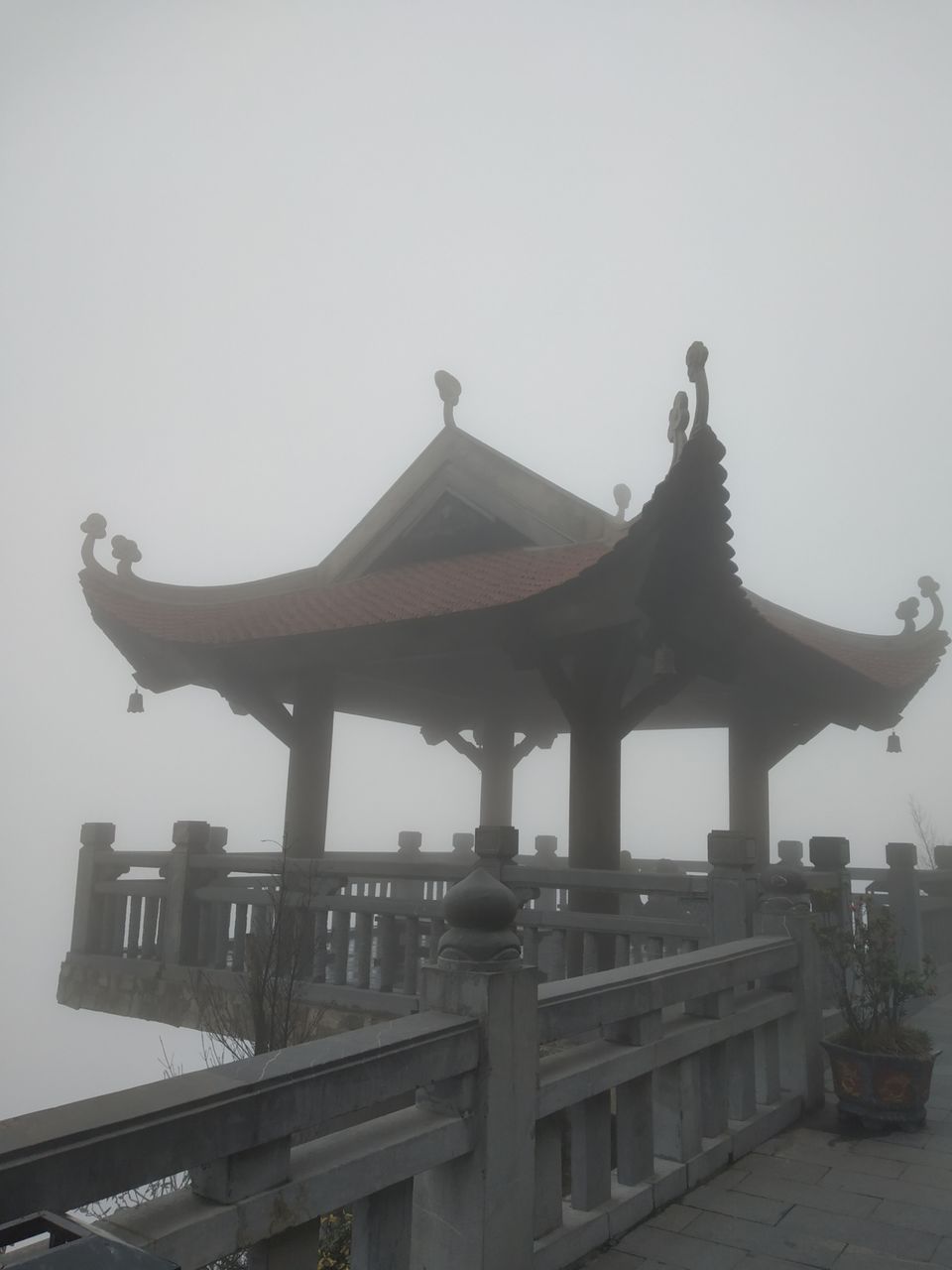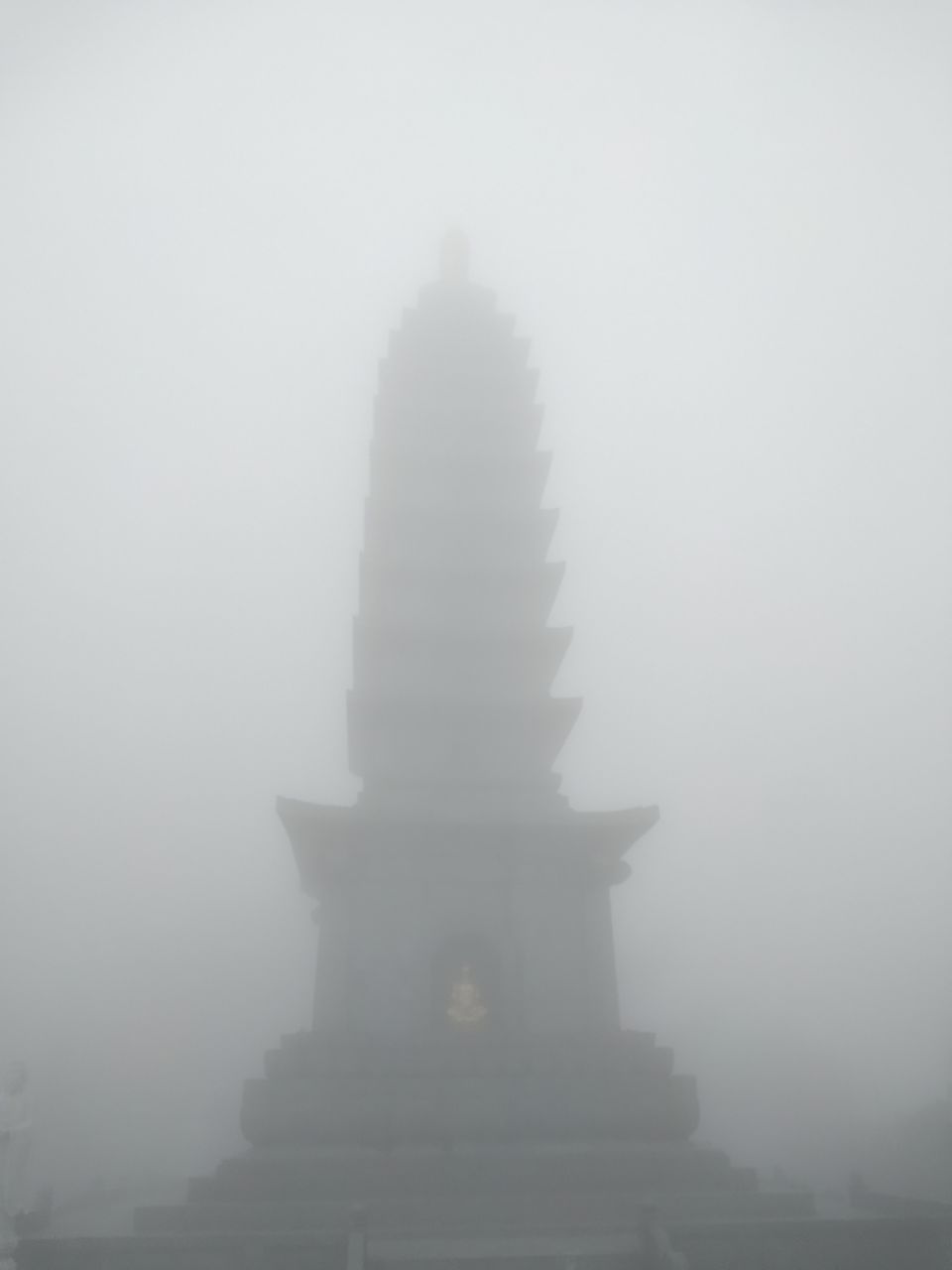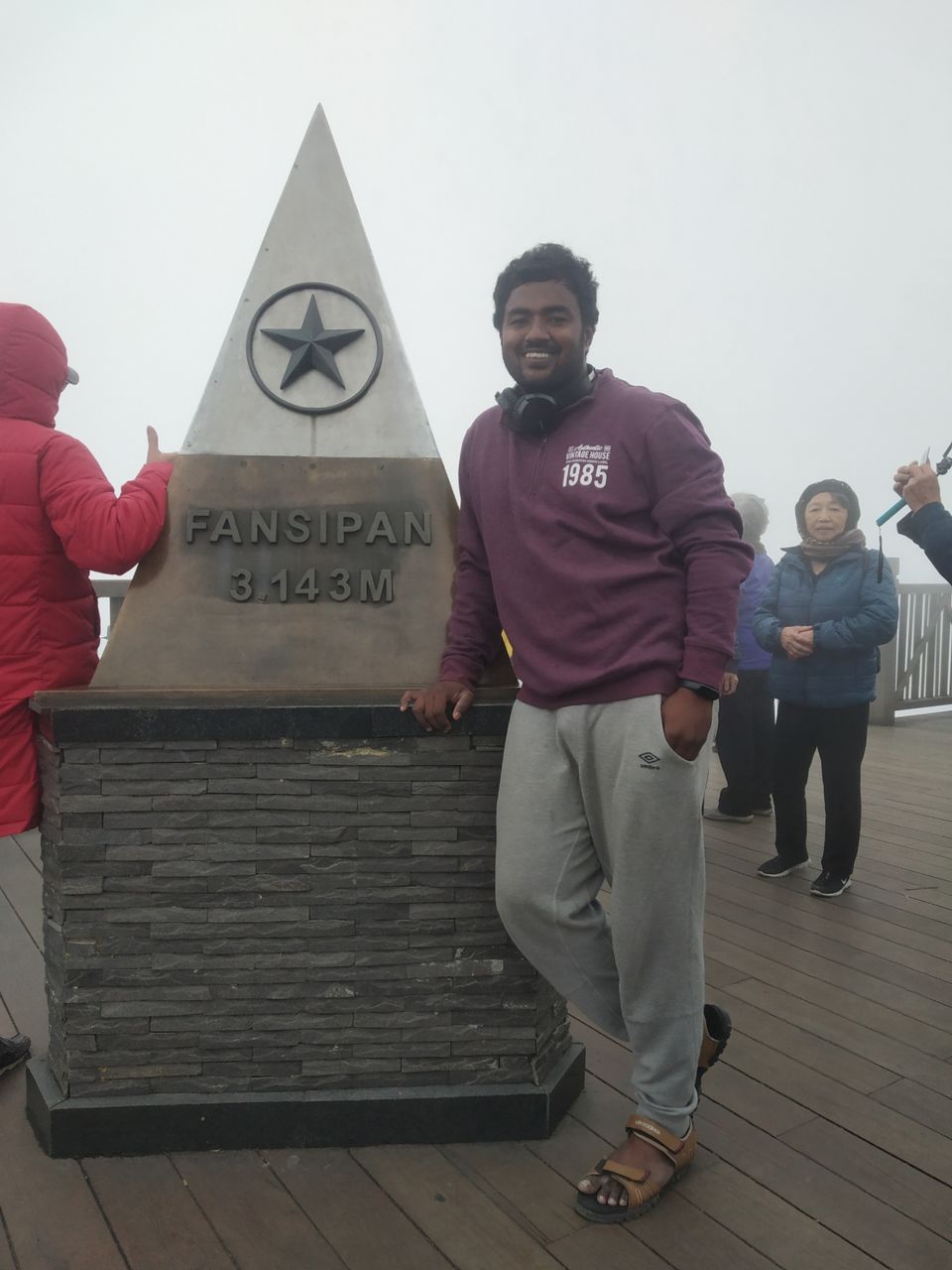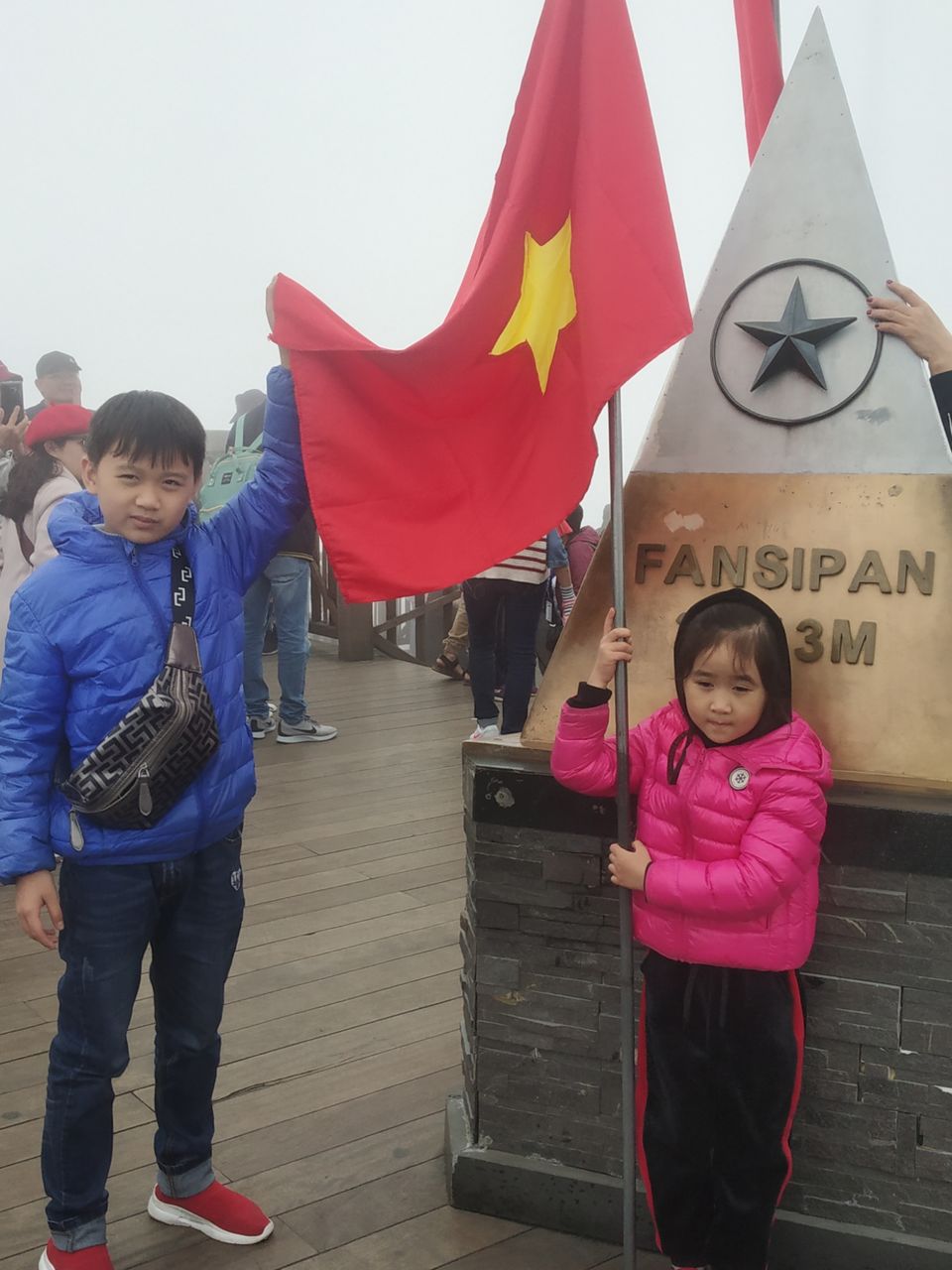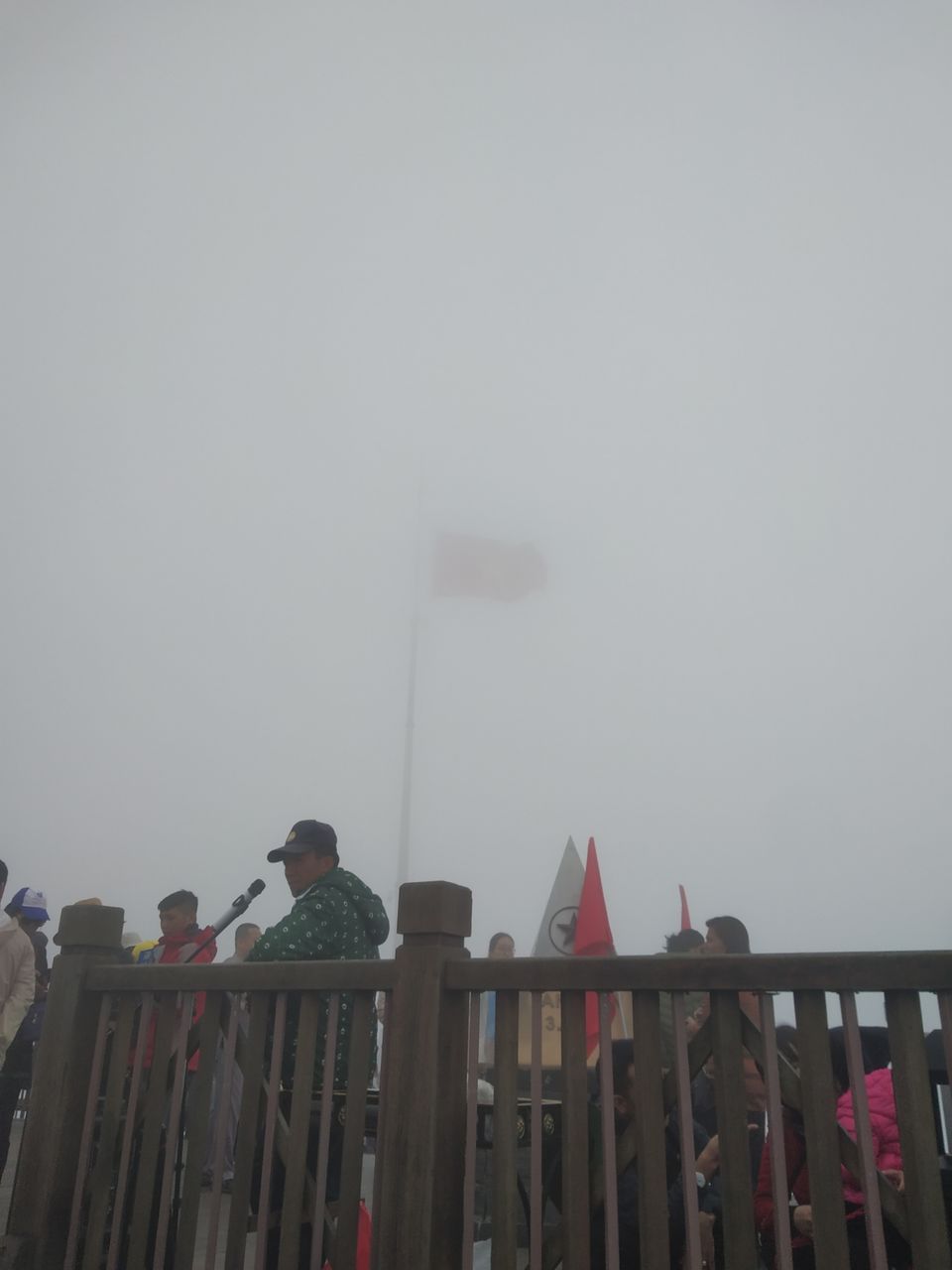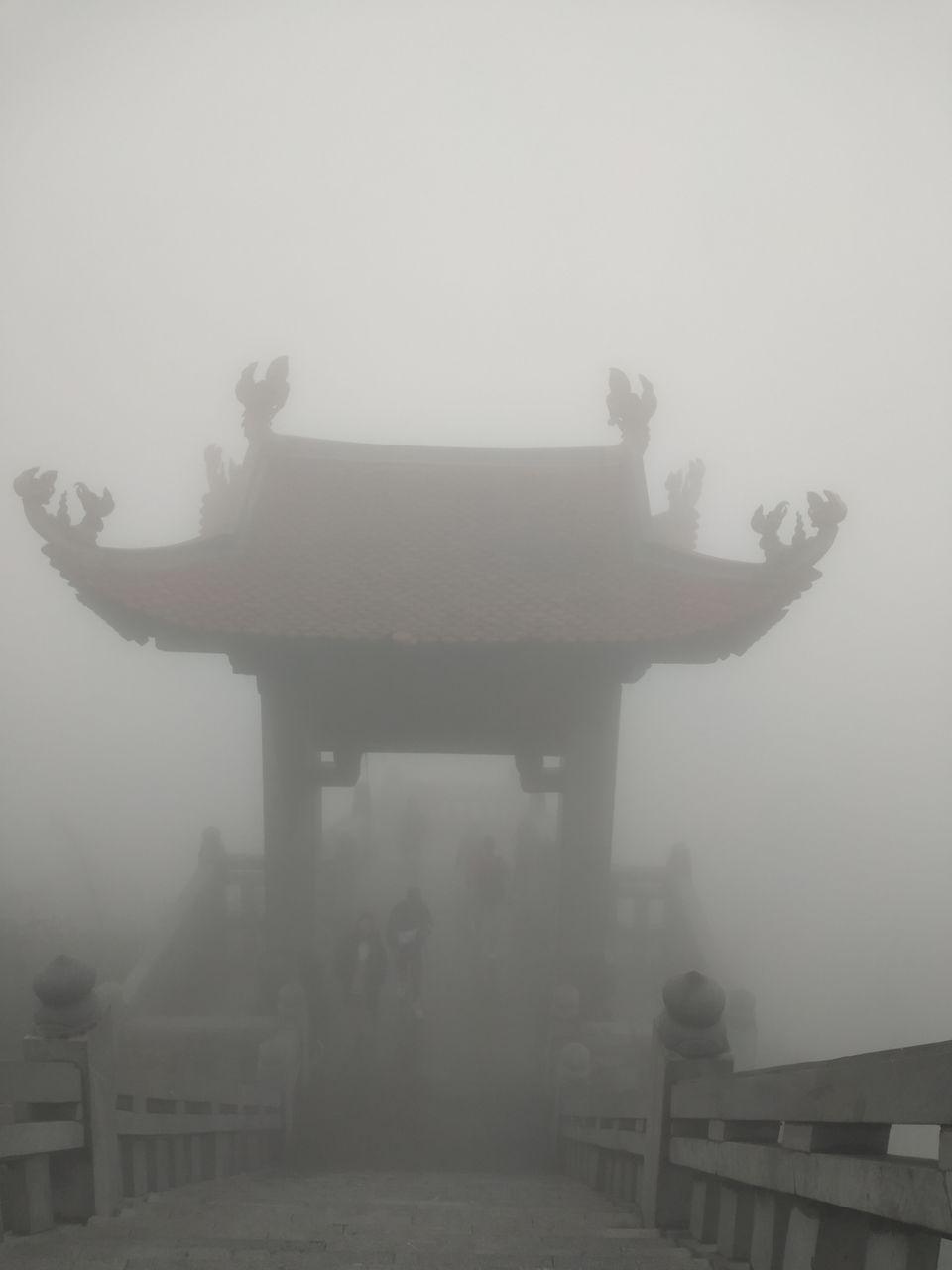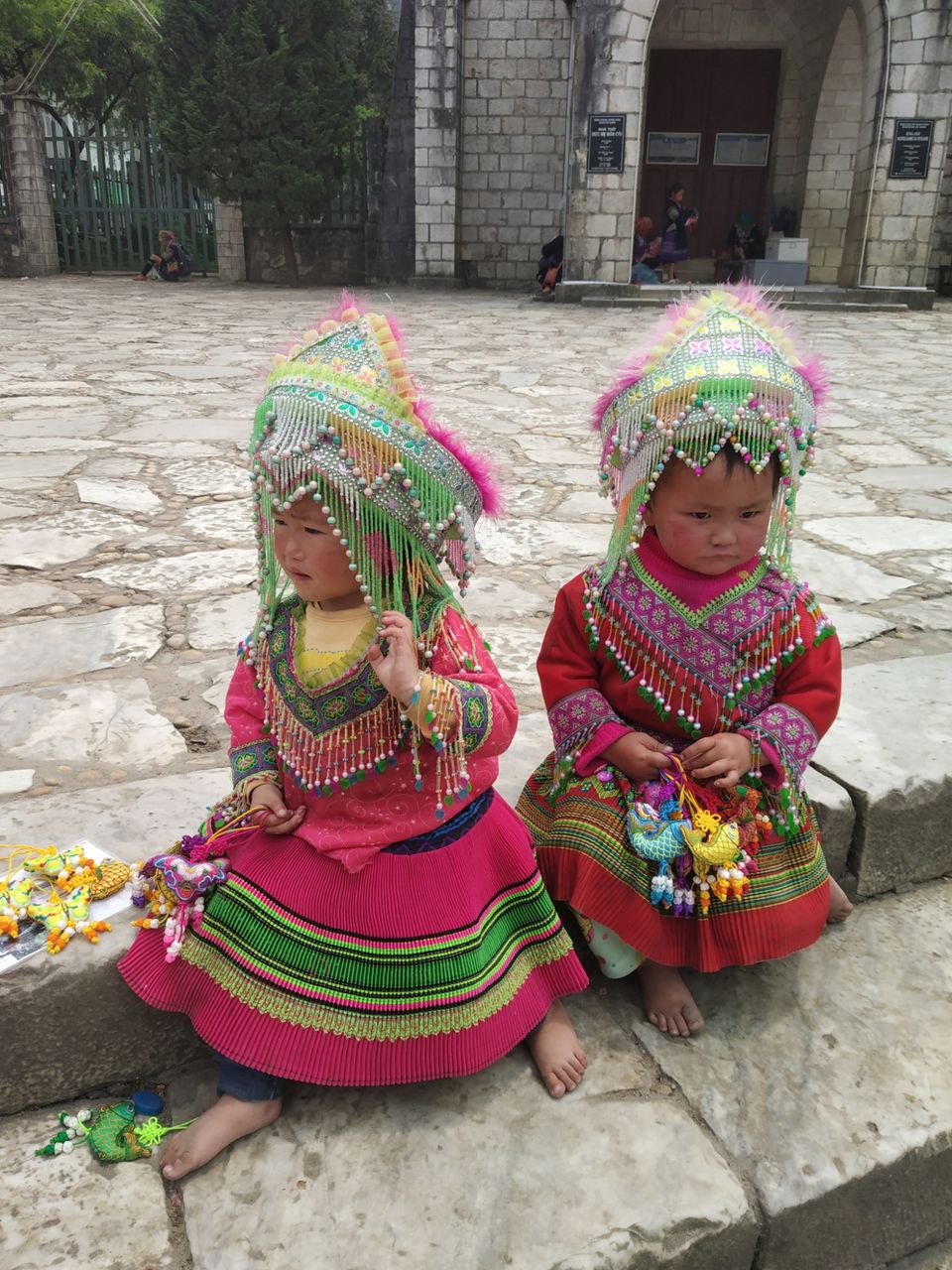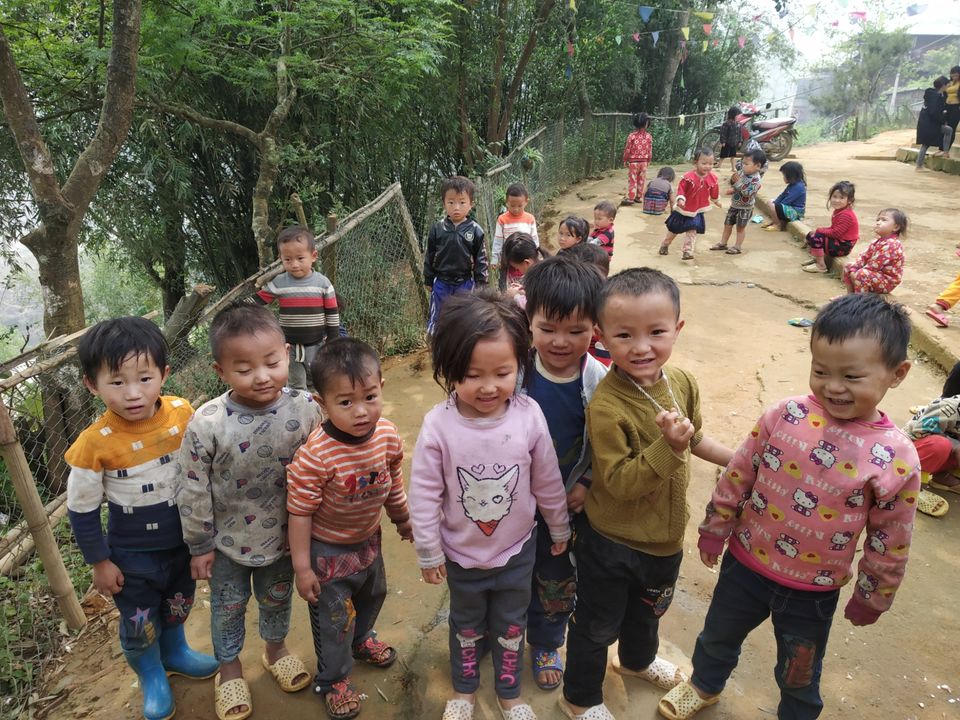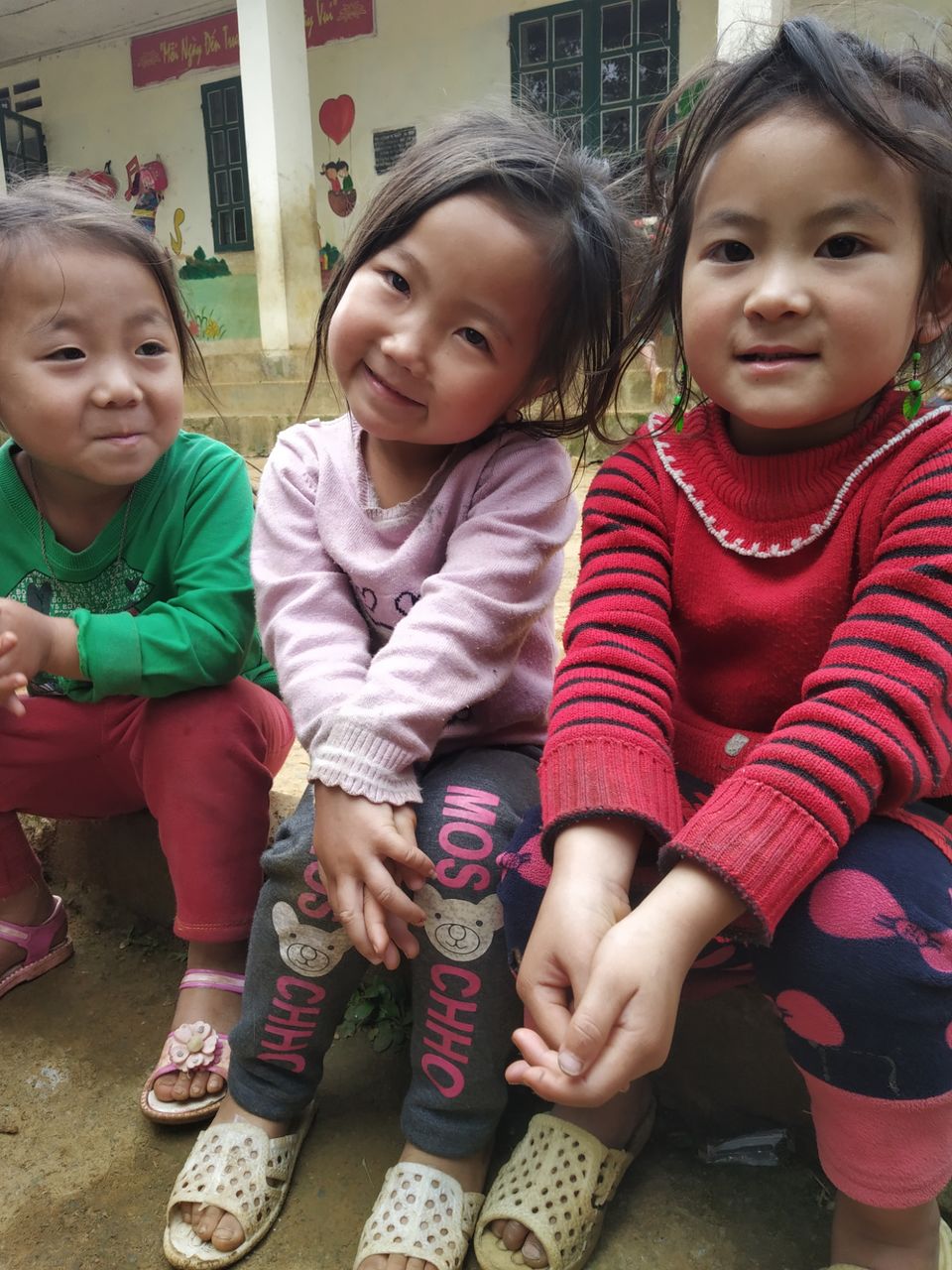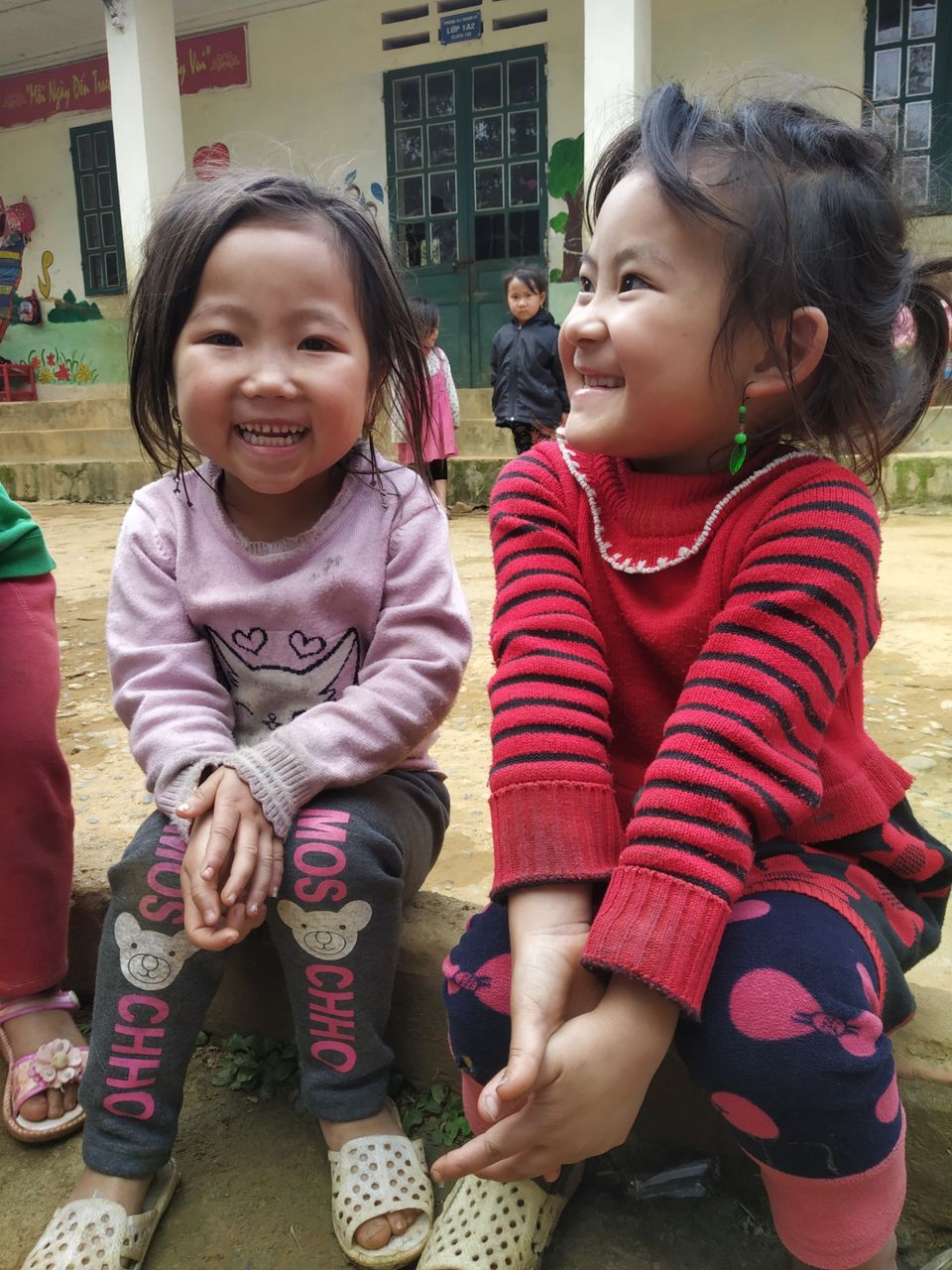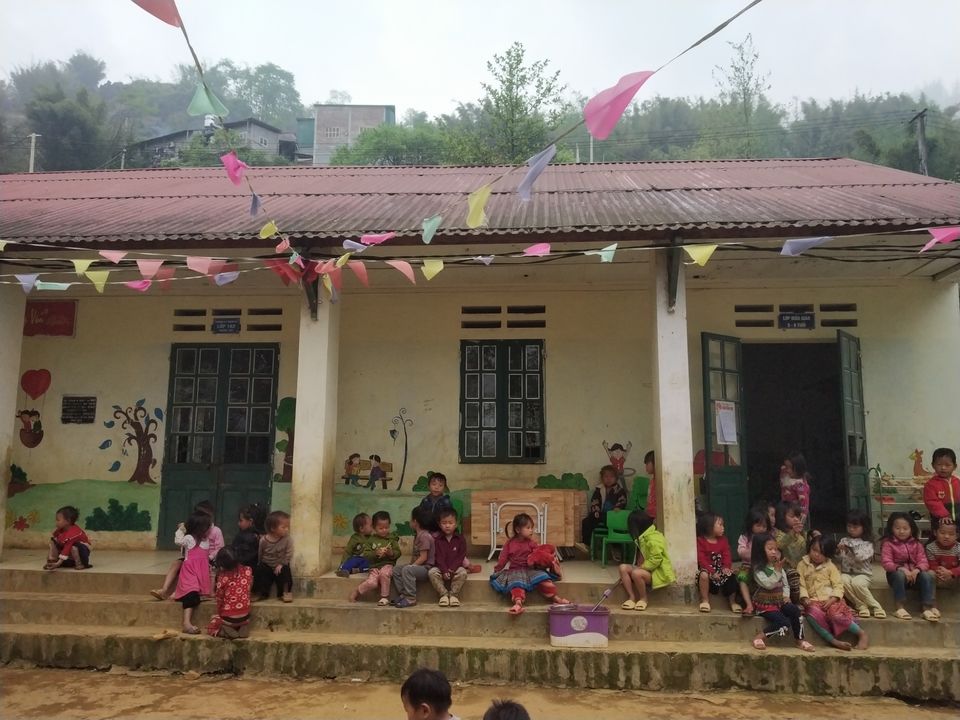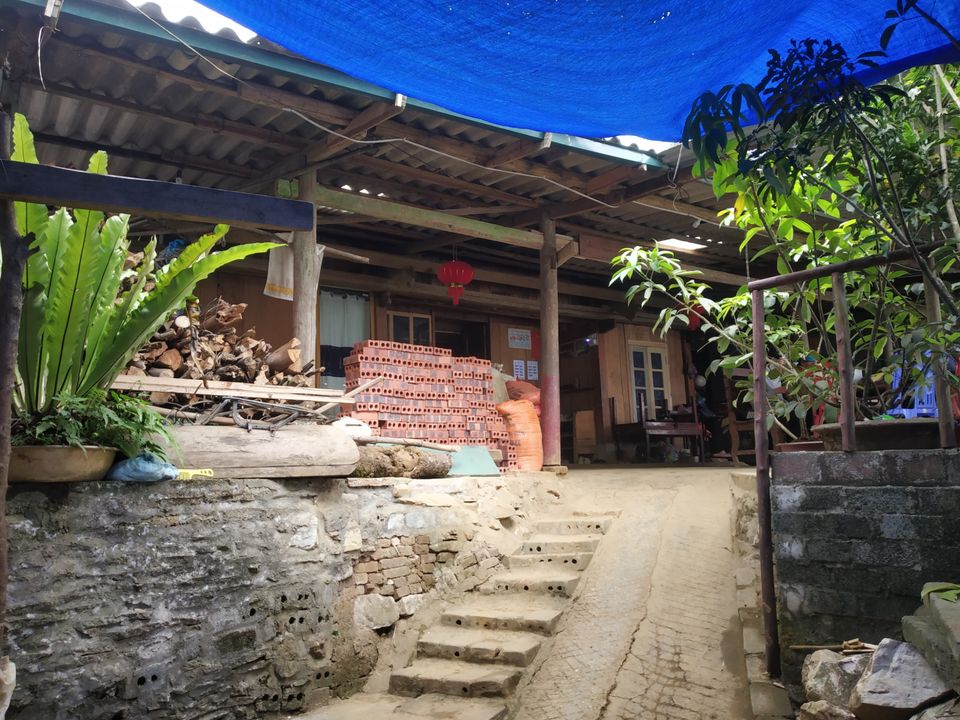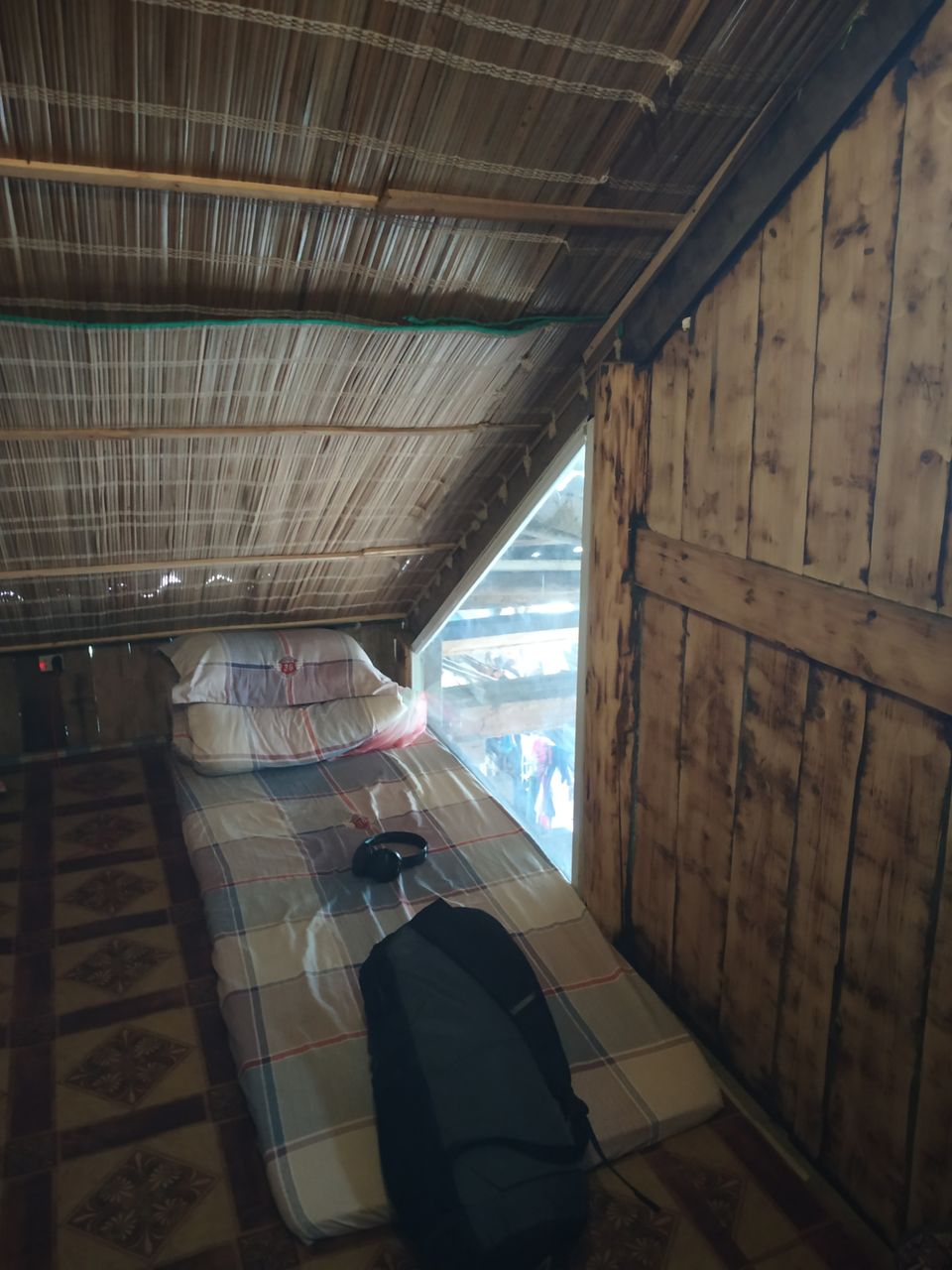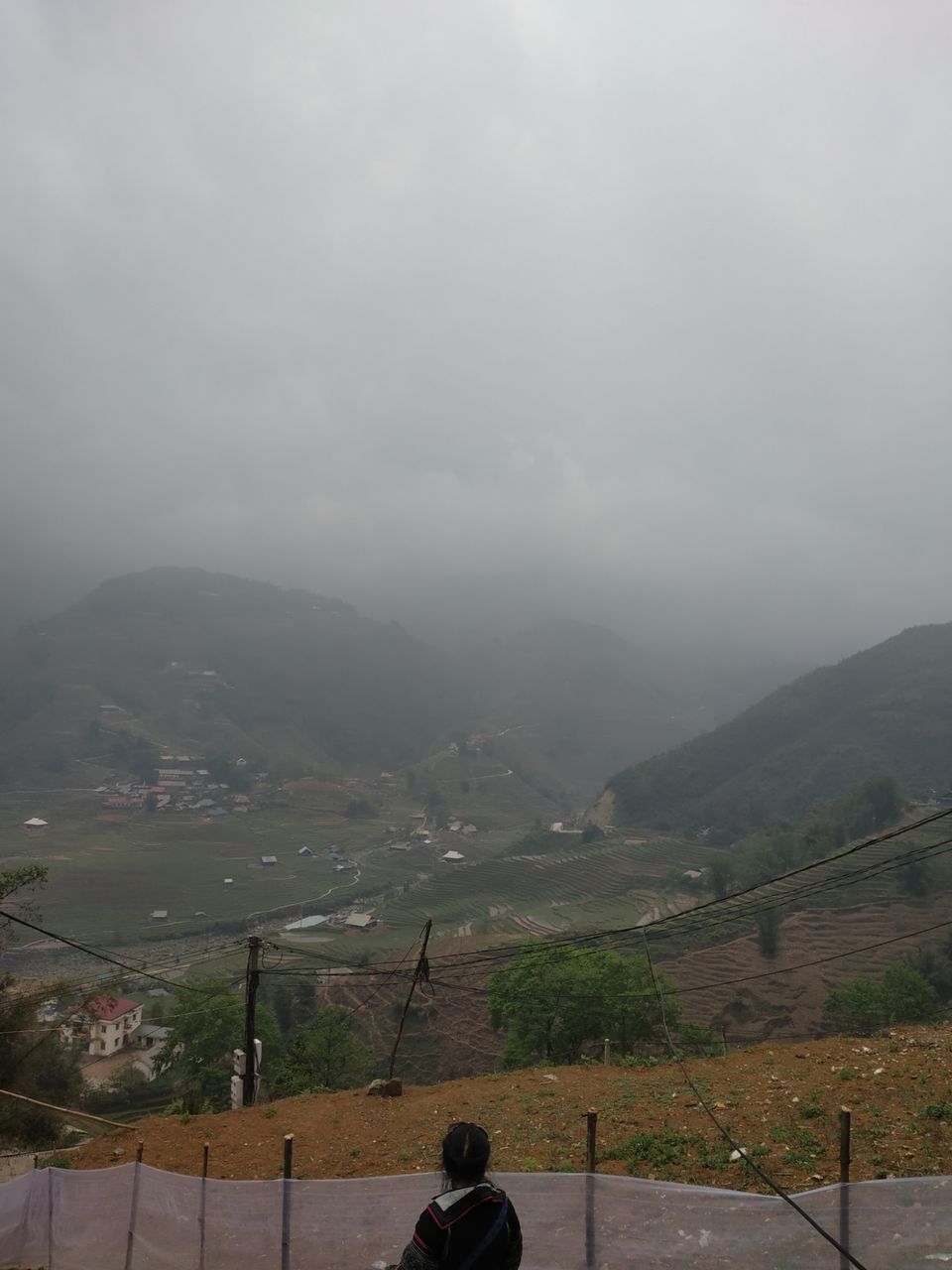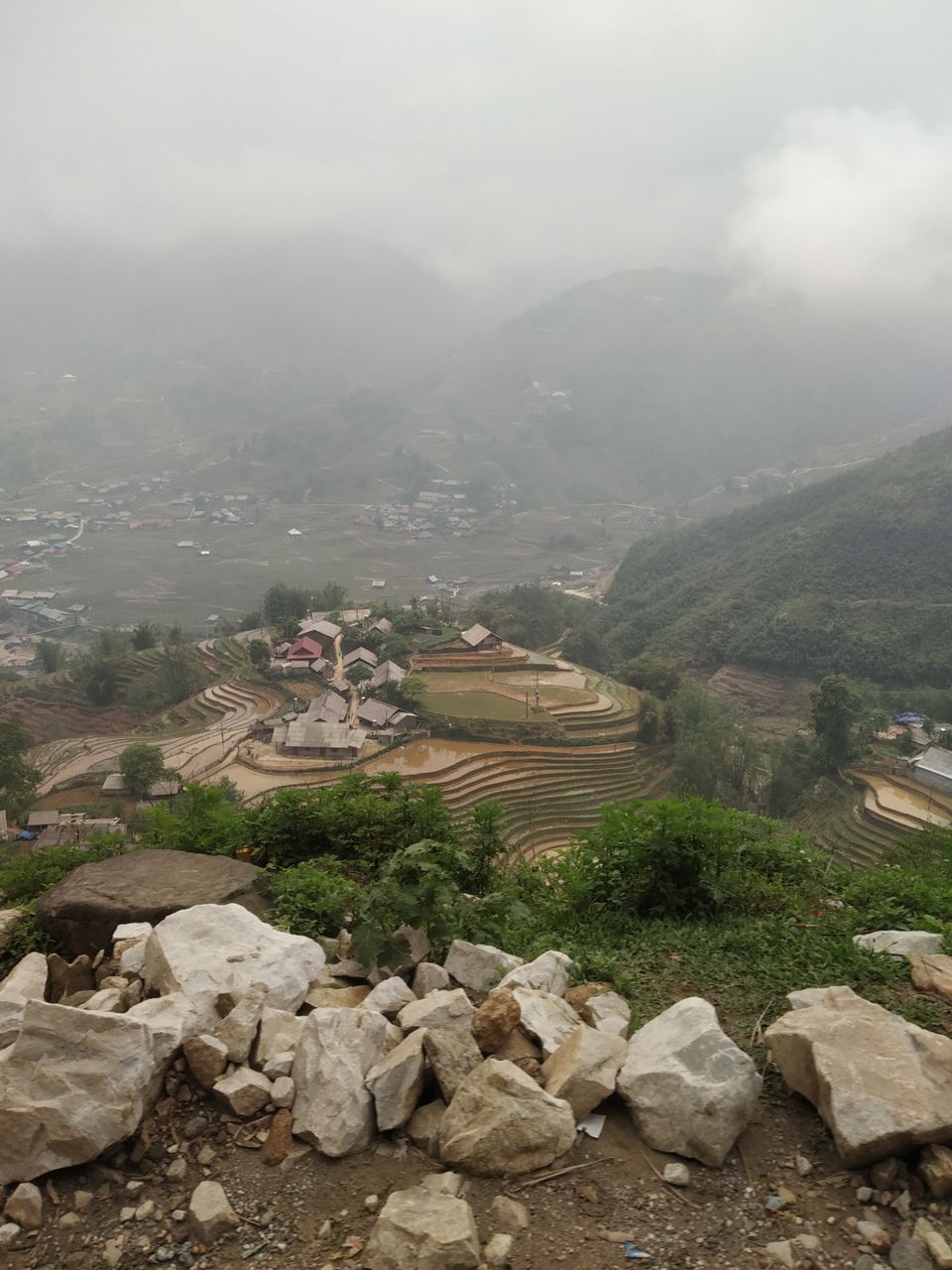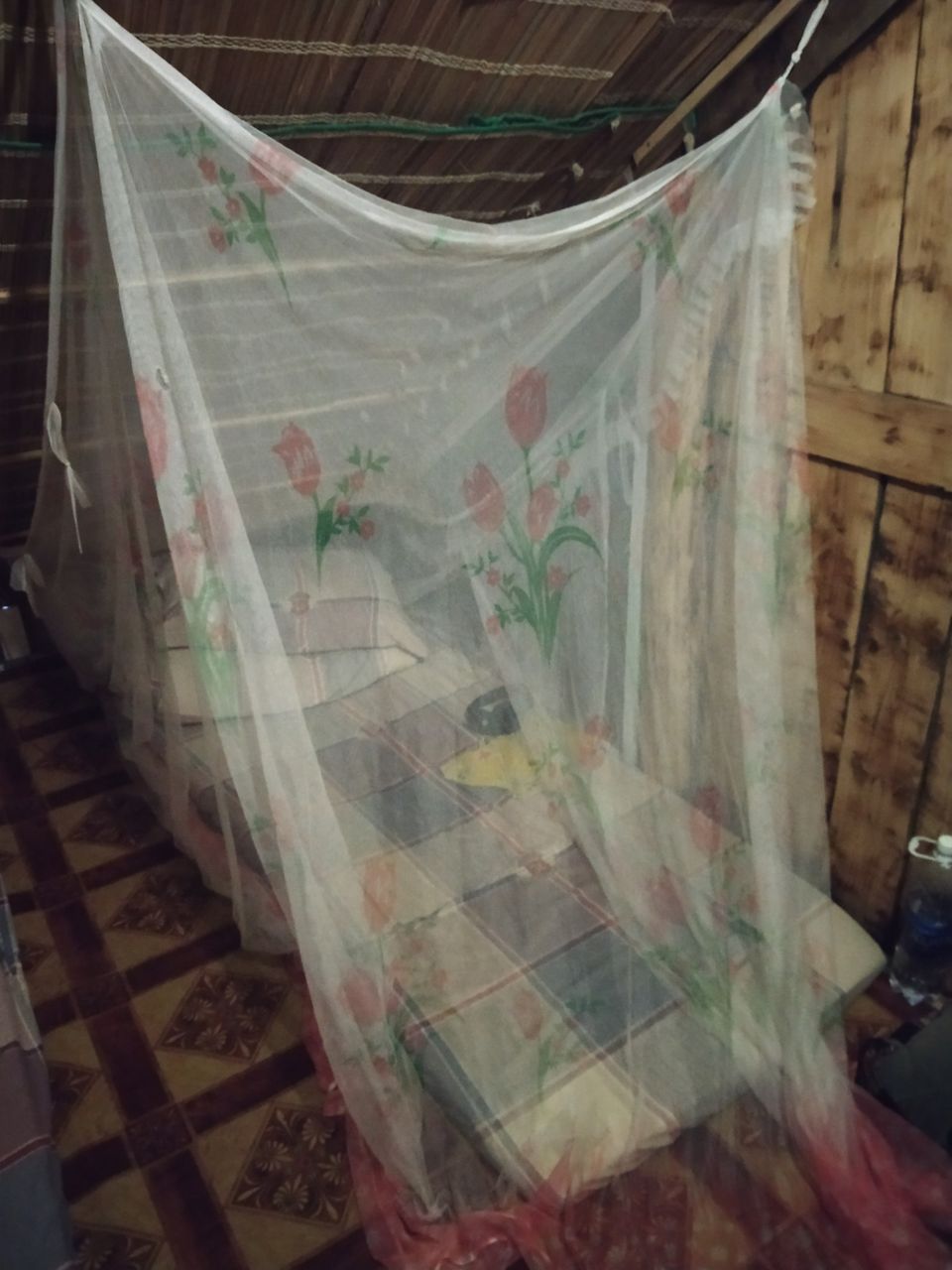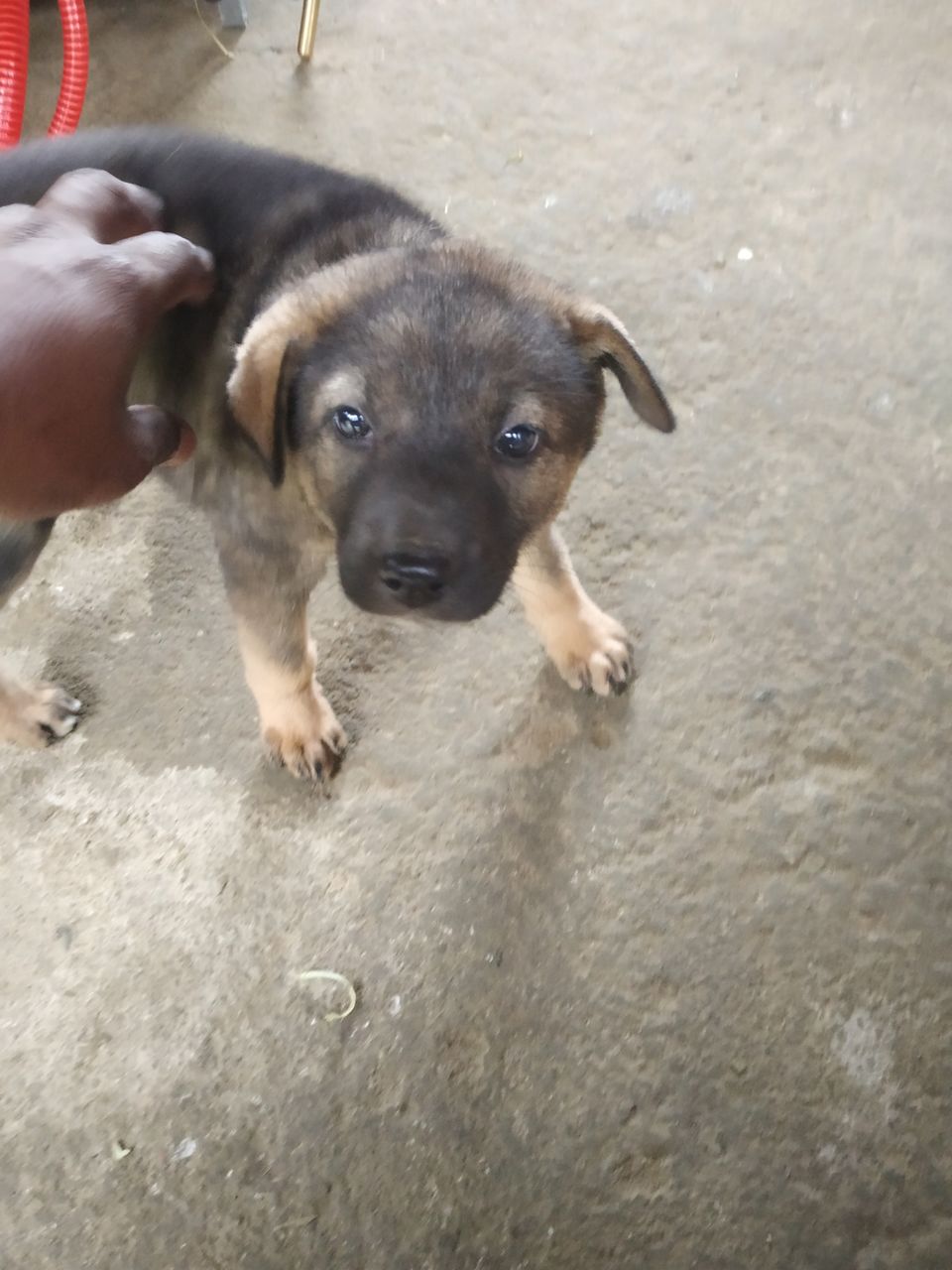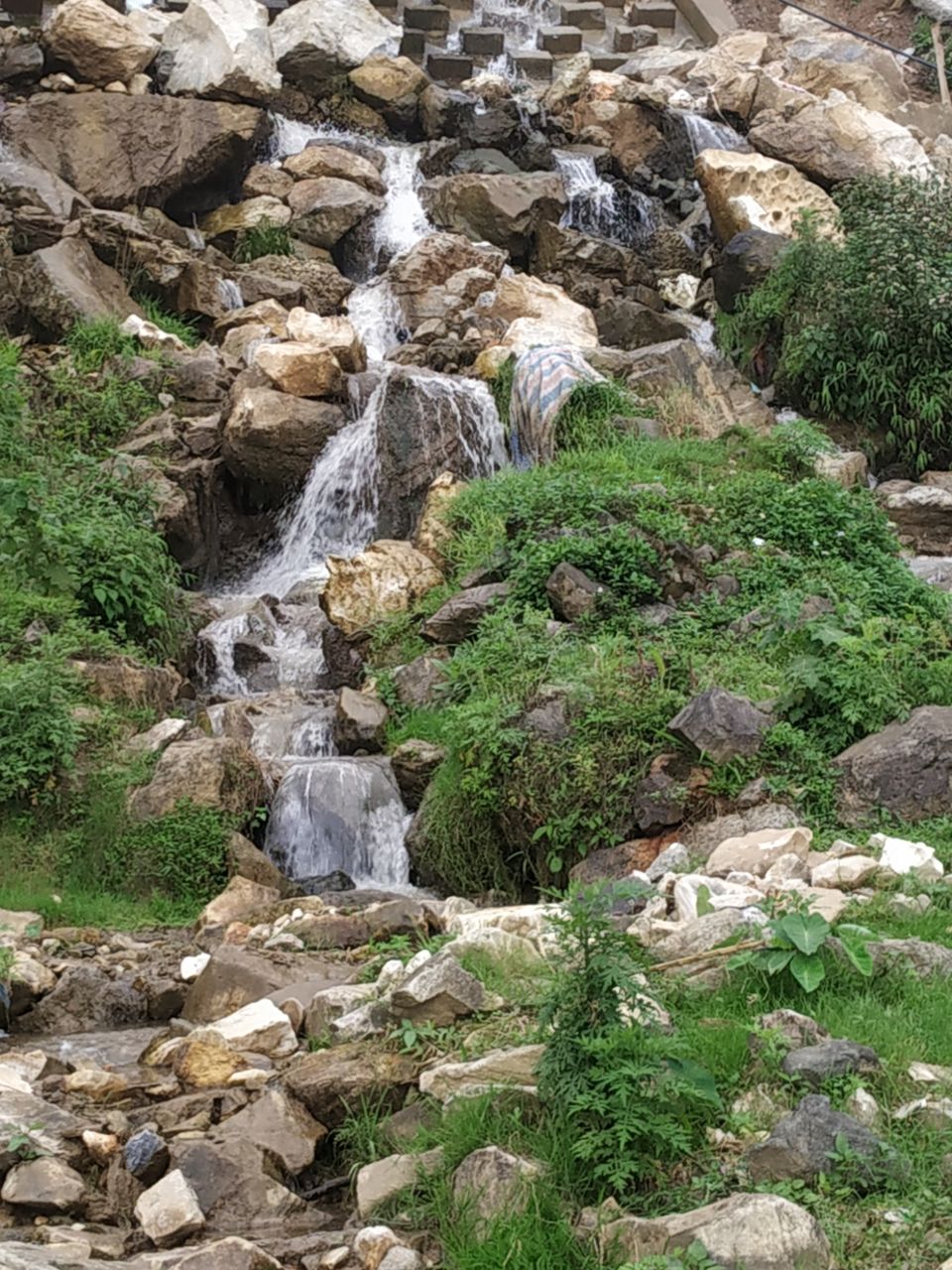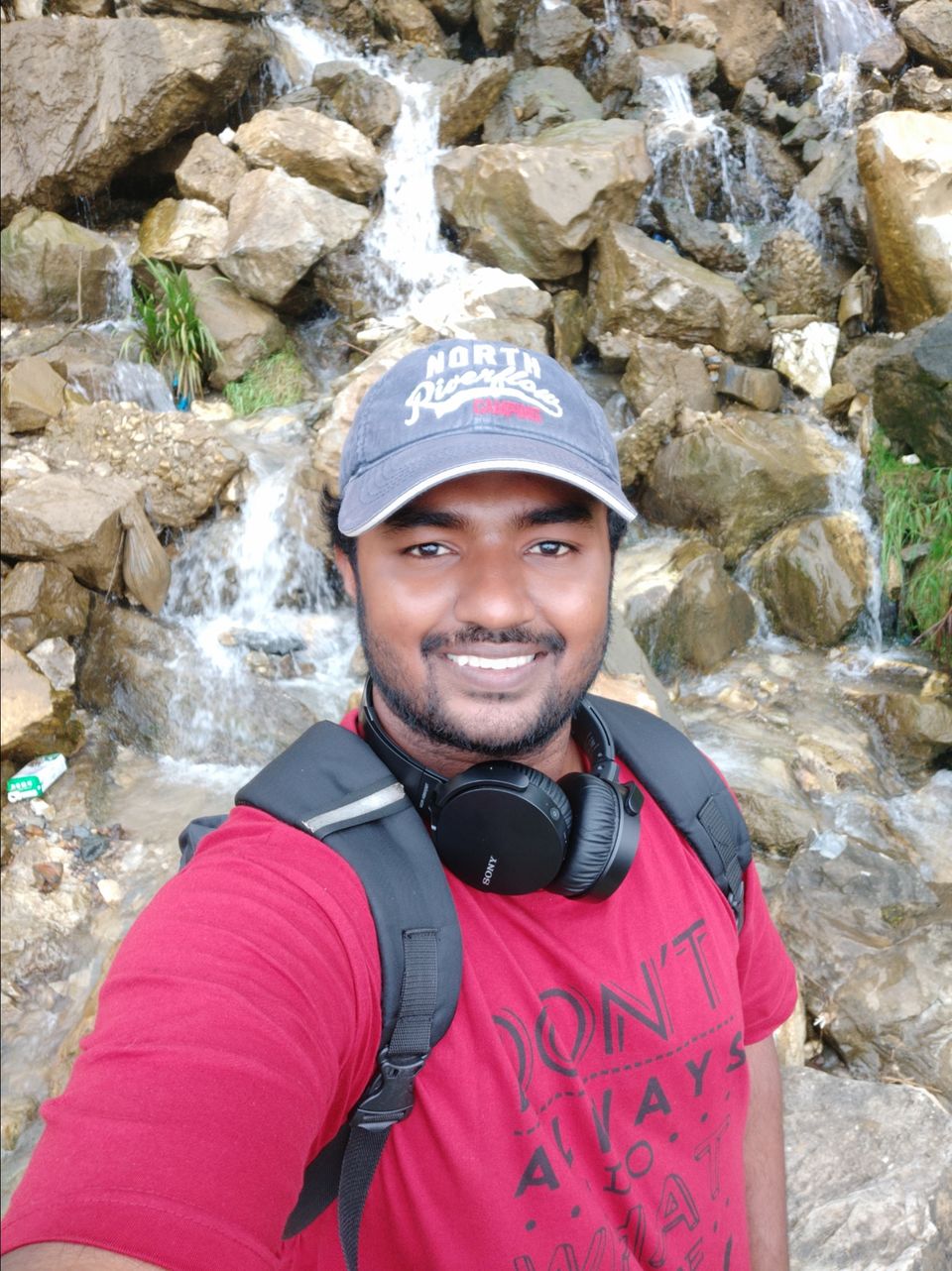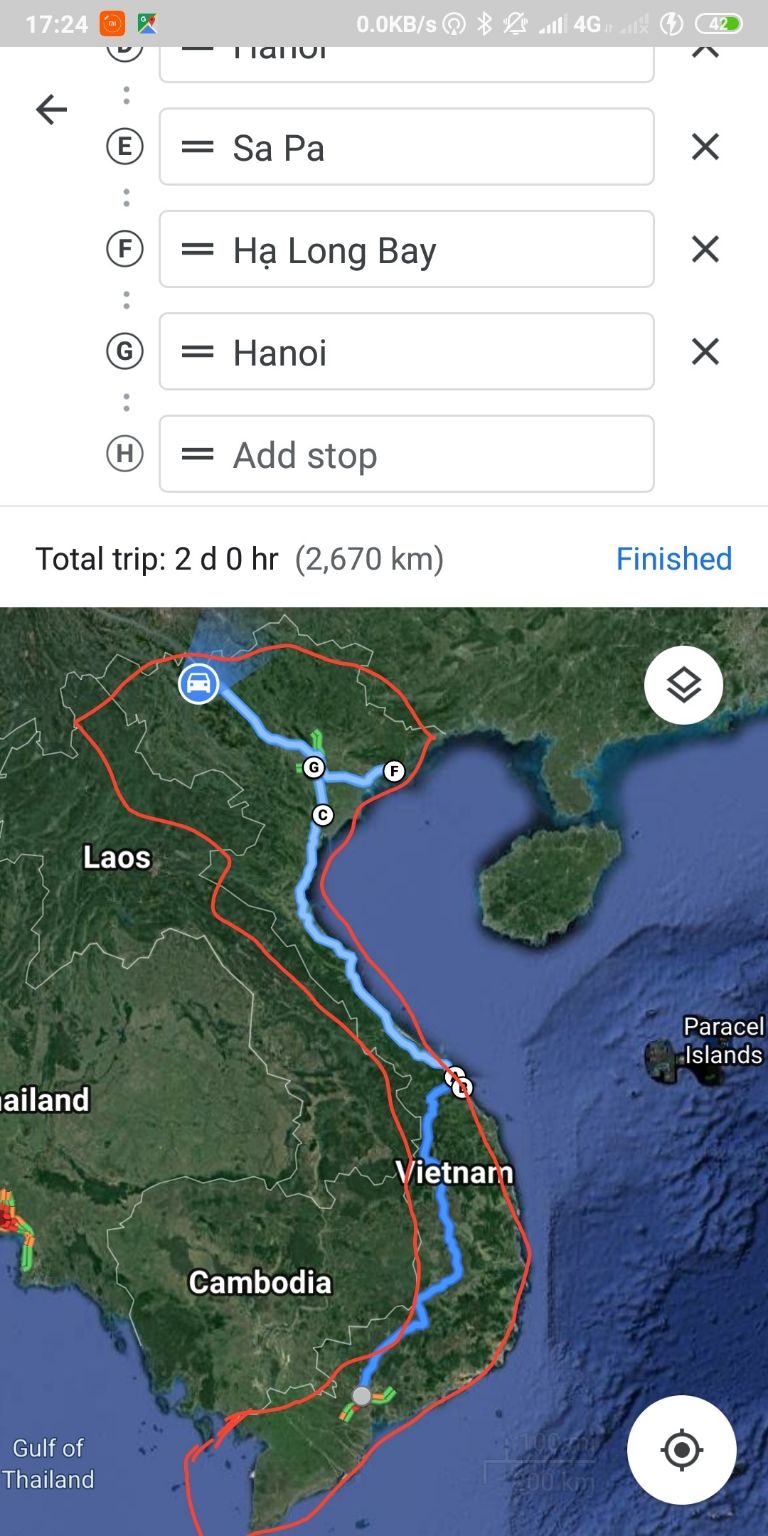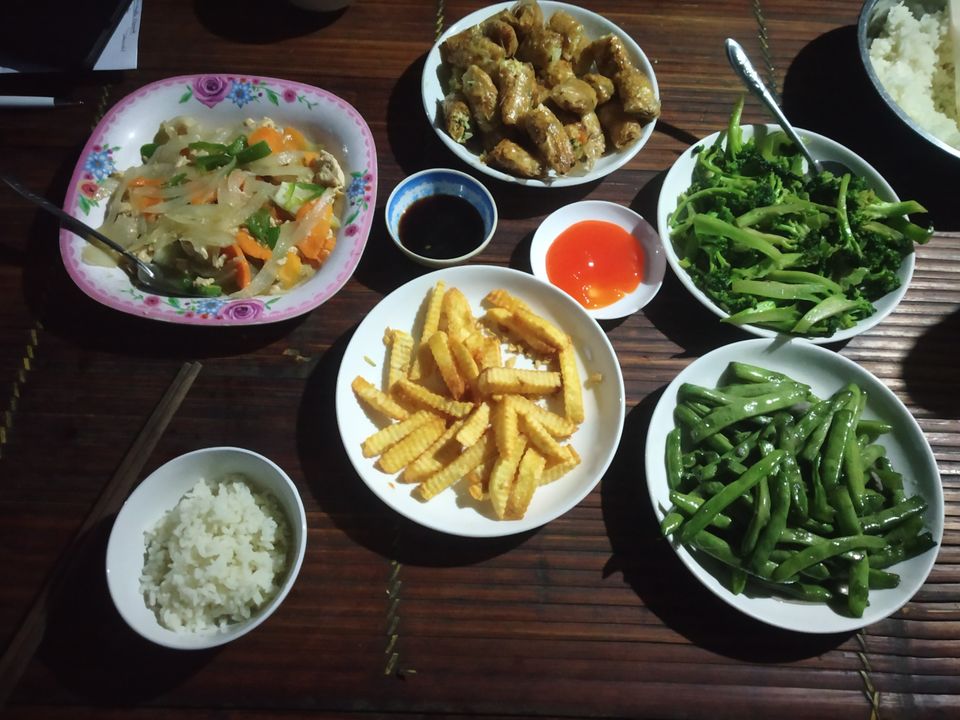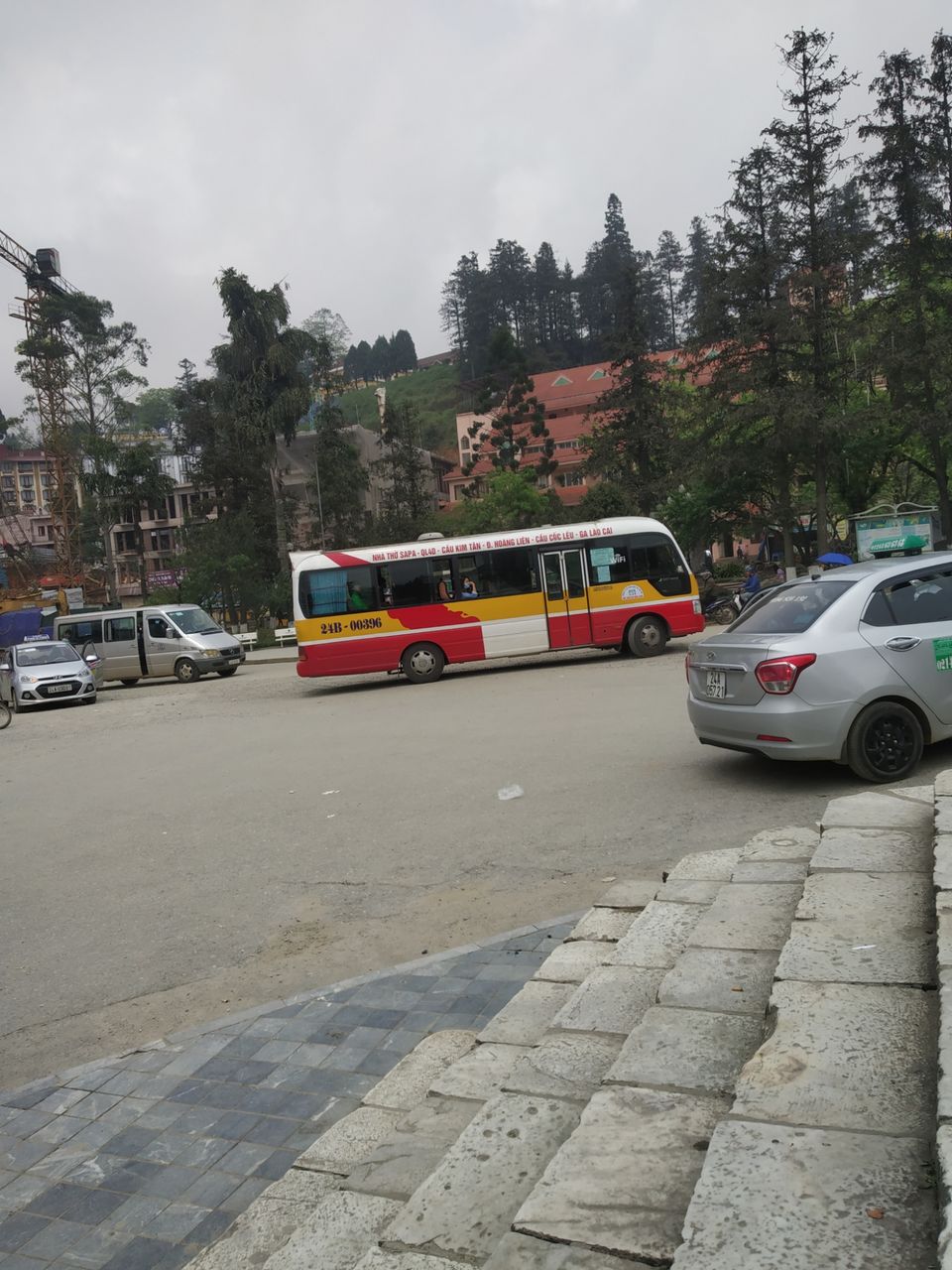 That was a great sleep in the homestay. After 7 hours of sleep I woke up at 6:30am, After completing my breakfast I am all set for a trek and went through the Rice fields, walking along side the river and A small waterfalls. It was a nice view of the rice fields which are beautifully step cultivated. Anyway vietnam is known for its vast rice fields. The view is just amazing from the top. And it was a 3 and half hour trek and I met many people on the way who have treated me with a warm hello. Not only in Sapa, but it's pretty much the same in every city in Vietnam. I have reached the homestay at 12:30pm and I was so tired & took some rest. After some time I have socialized with other travellers over there about their trips and country and many other things. At around 5:30pm it's time for me to leave to Lao CAI to catch a train back to Hanoi. After bidding farewell to everyone I was on my way to Sapa centre to catch the bus back to Lao CAI railway station. And at around 7:30pm I have reached Lao CAI and I have boarded the train at 8:30pm. The train from Lao CAI to Hanoi costed me 350,00 dongs. So I will be reaching Hanoi by 4:30am. Tomorrow is gonna be an another long way! Good night guys!
That was my best stay in Sapa village! Thank you Vietnam.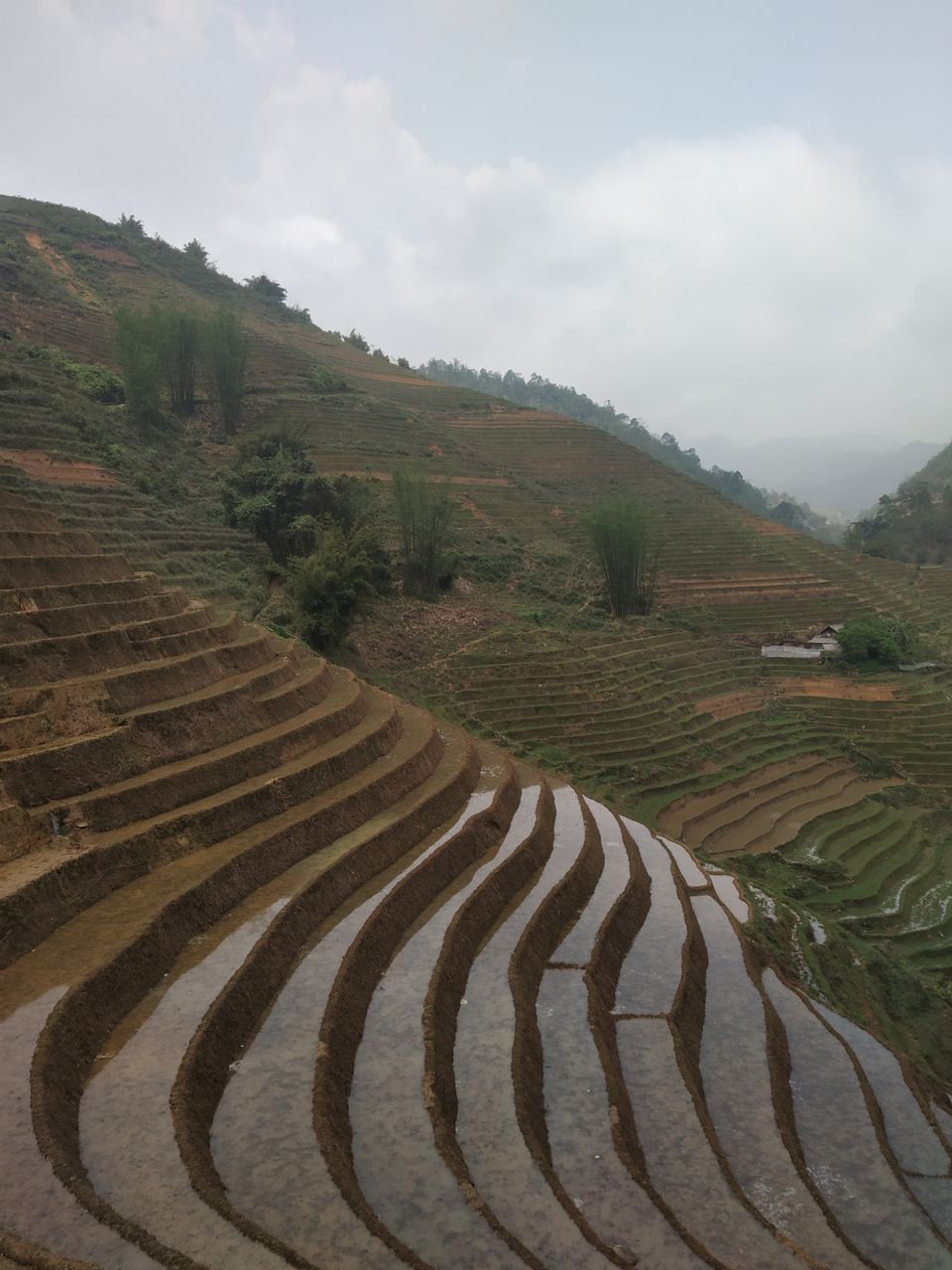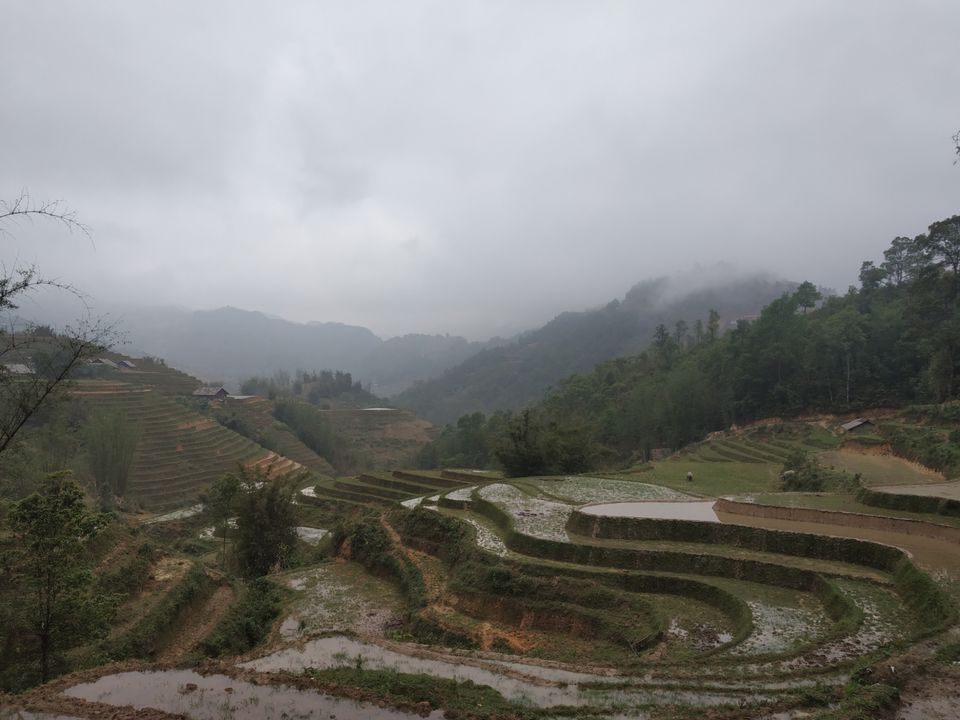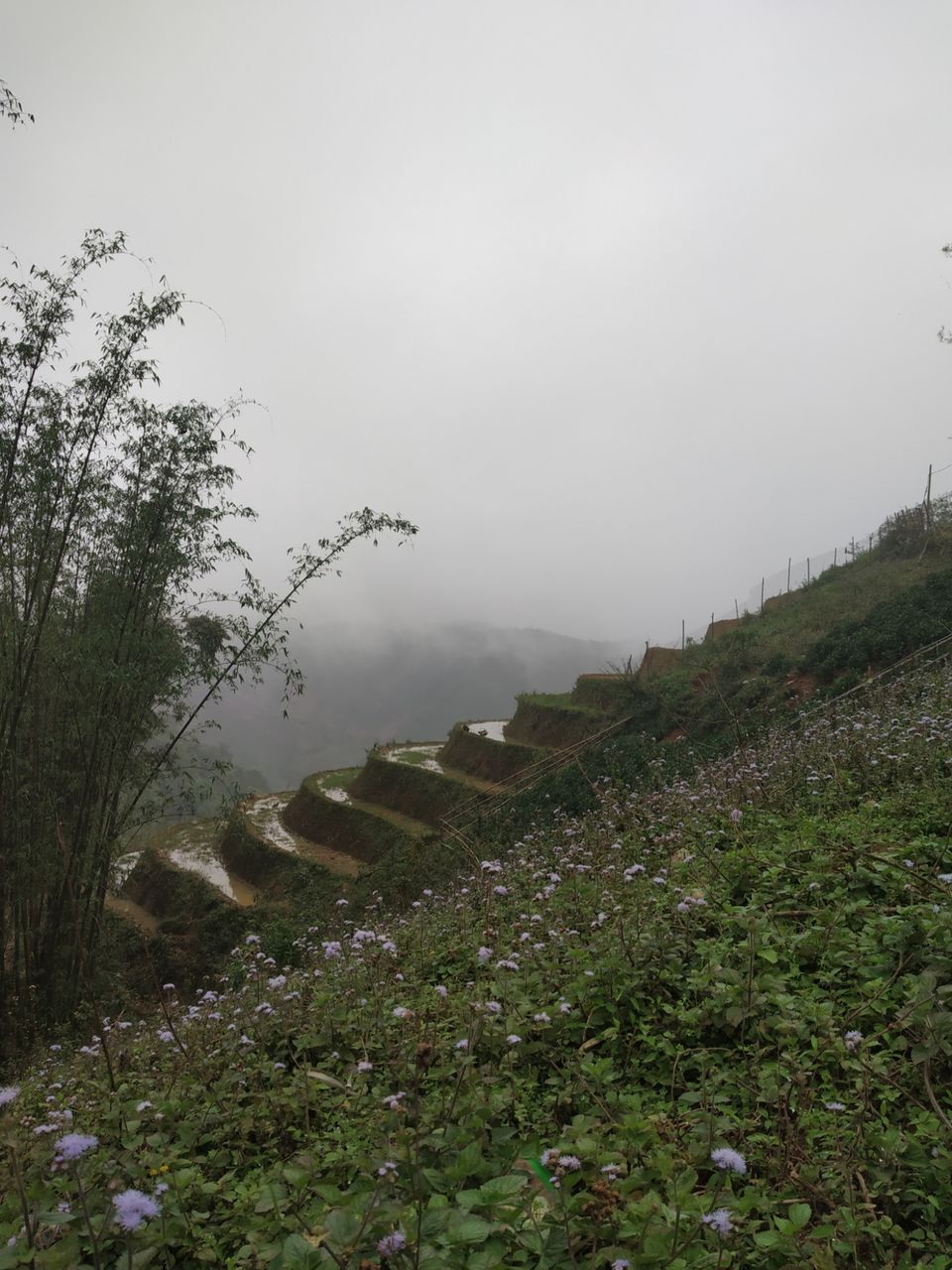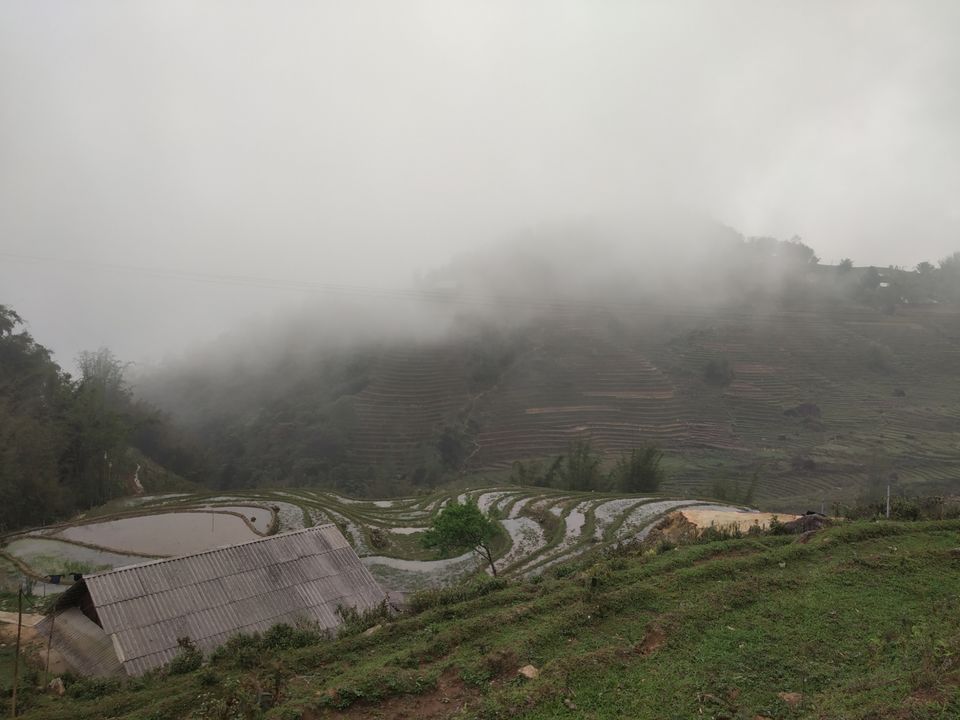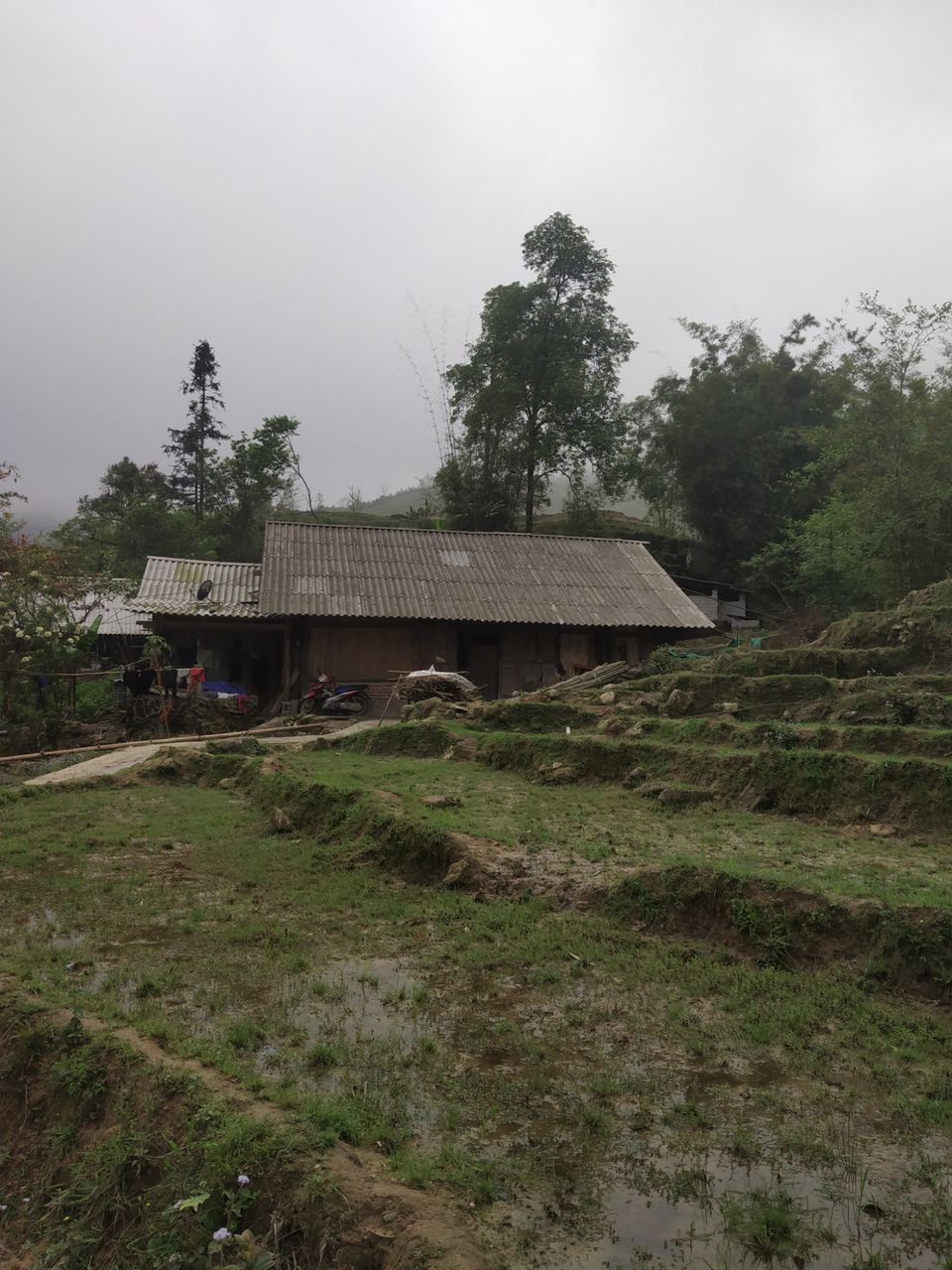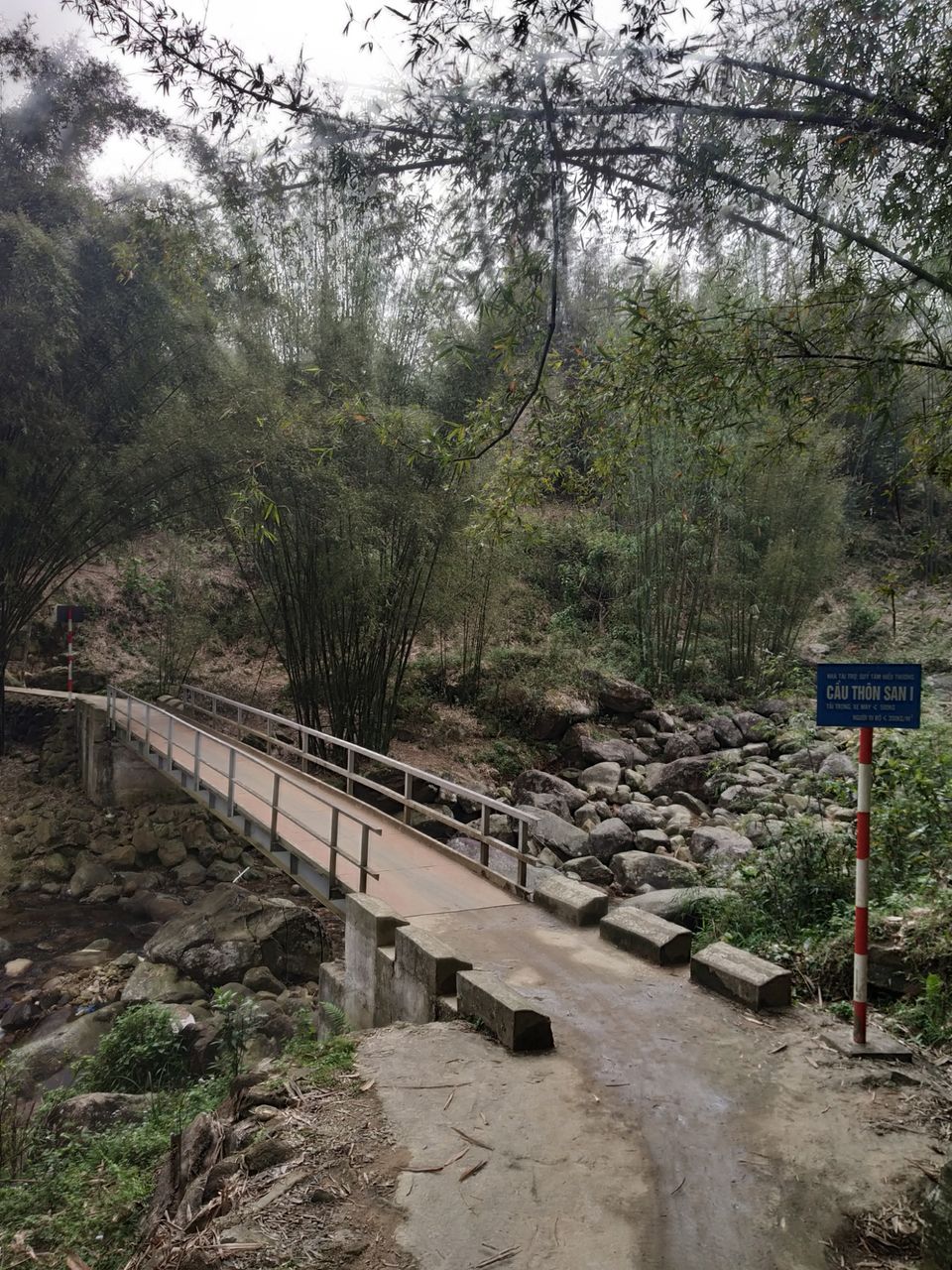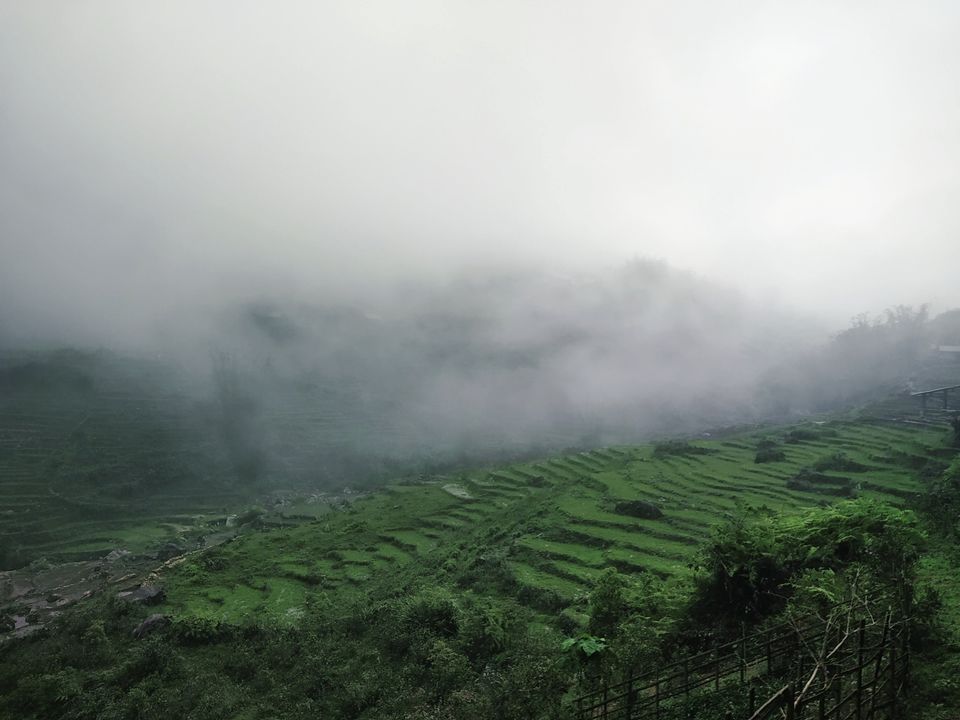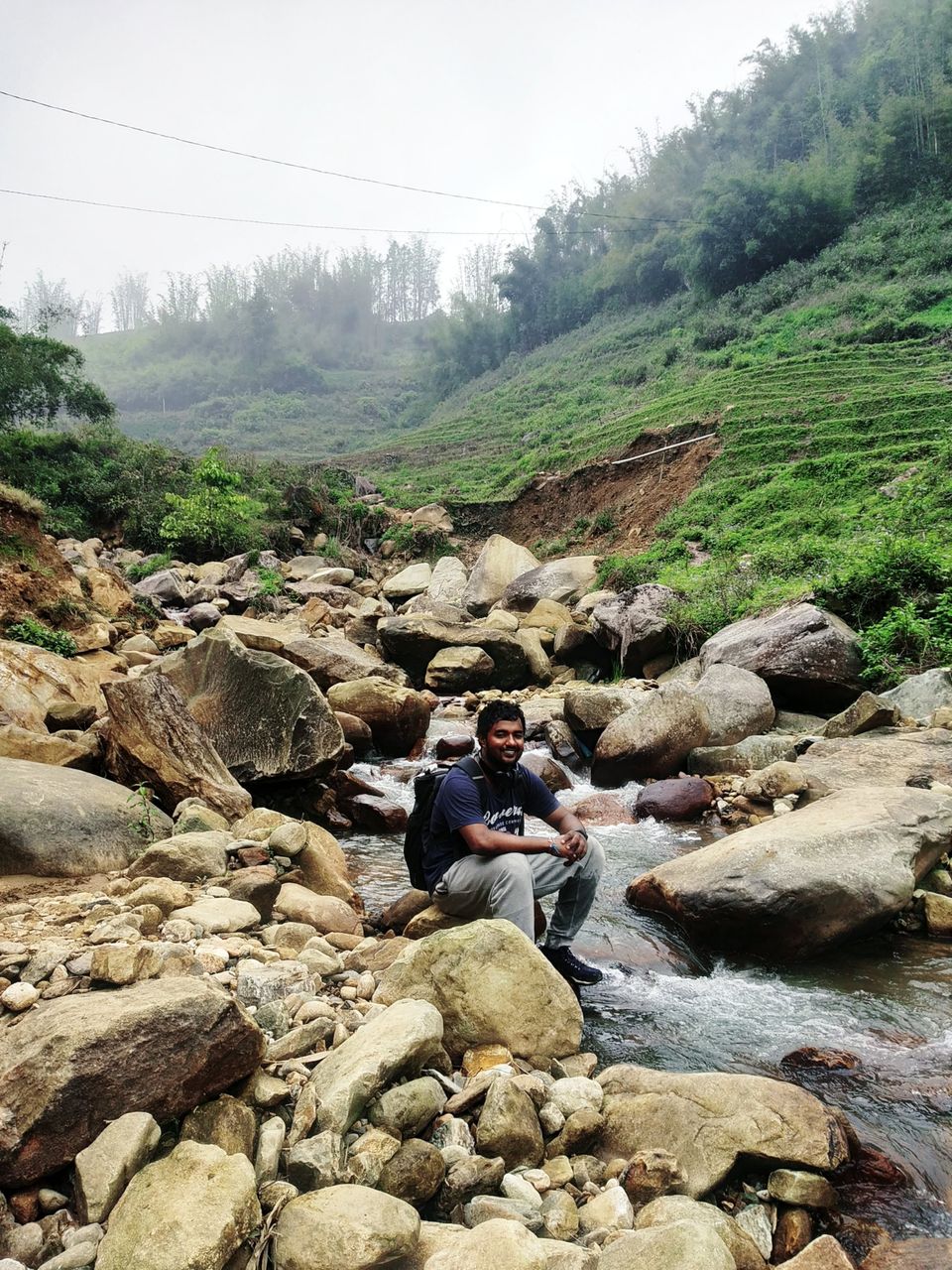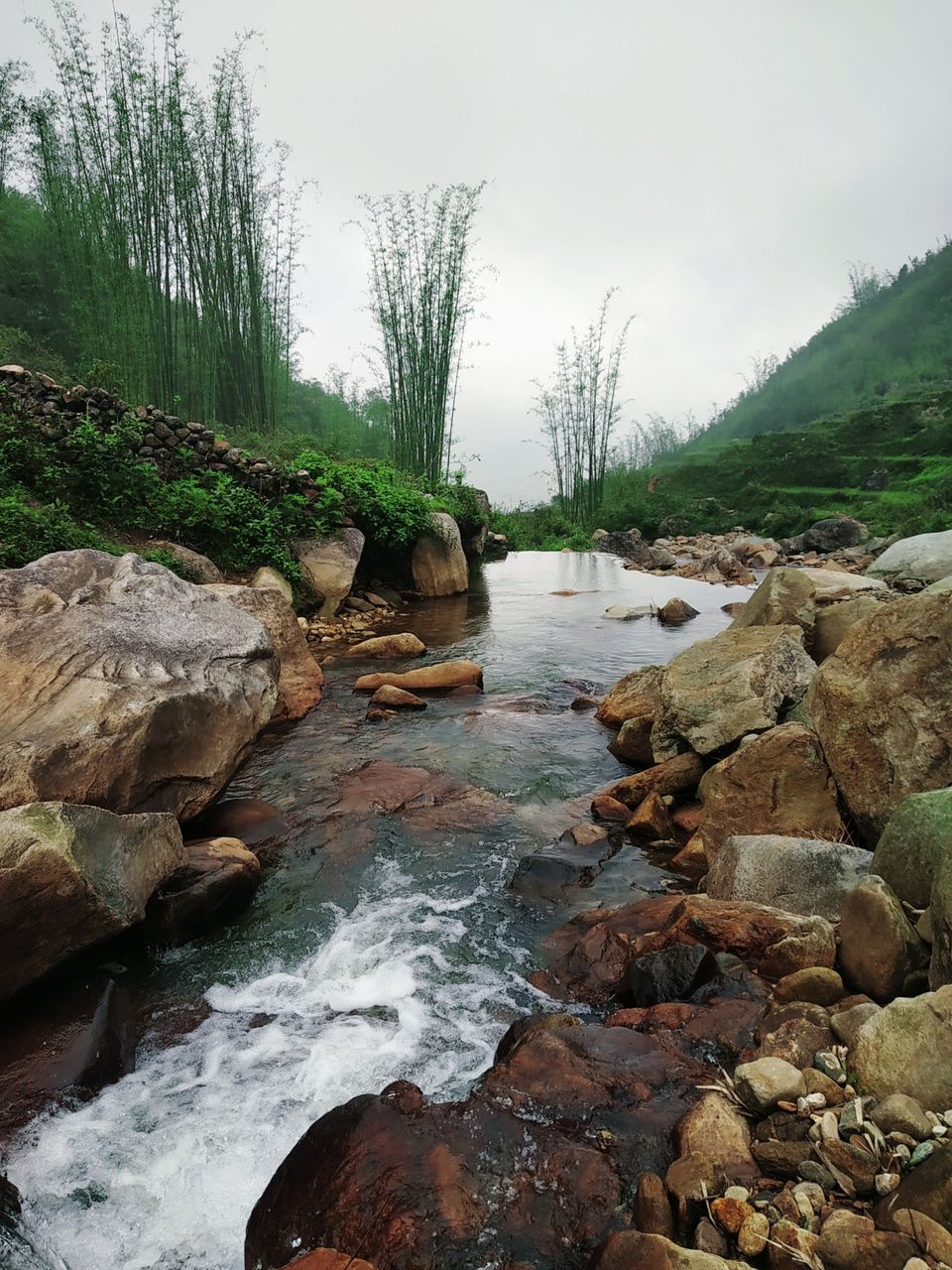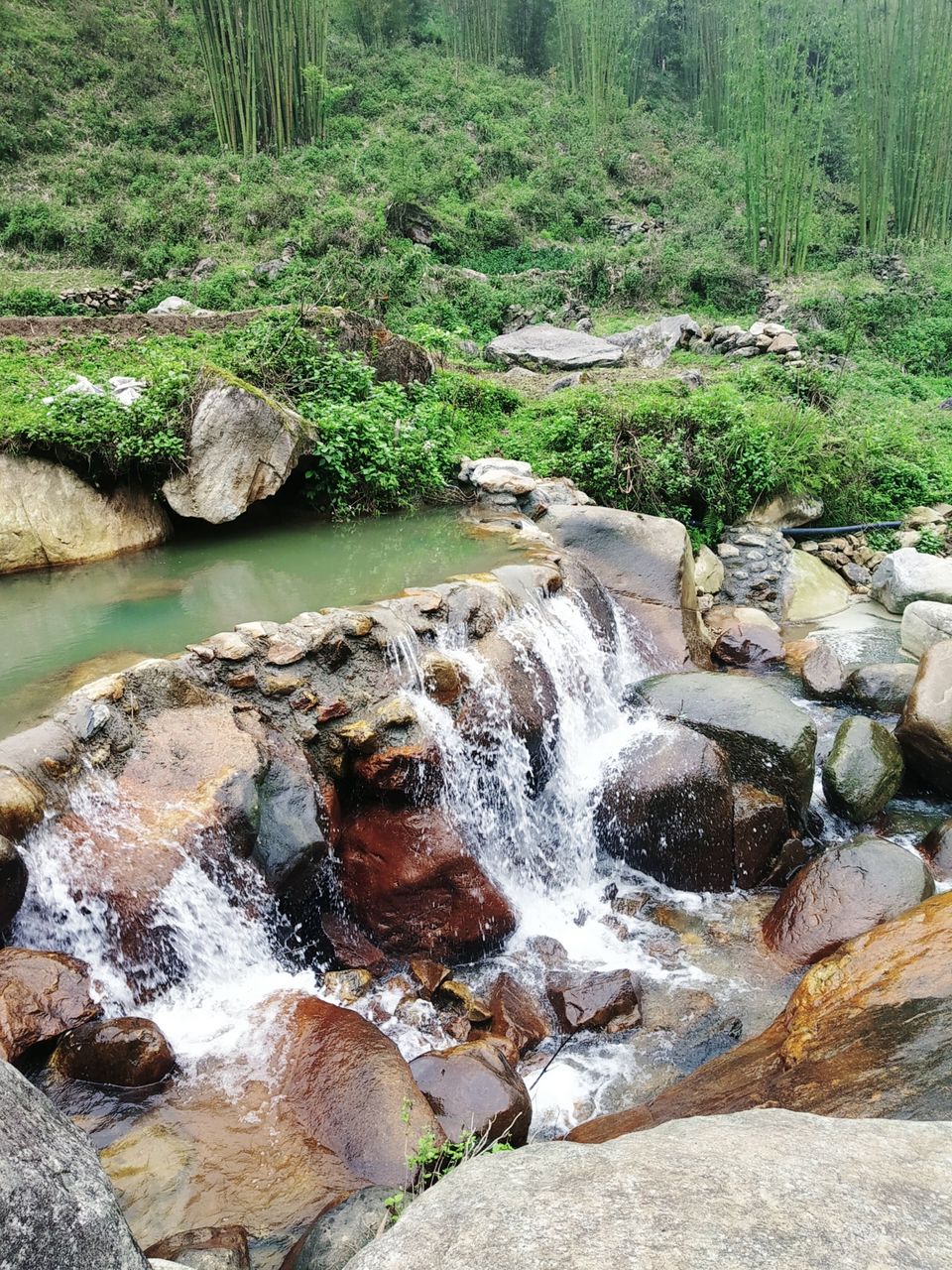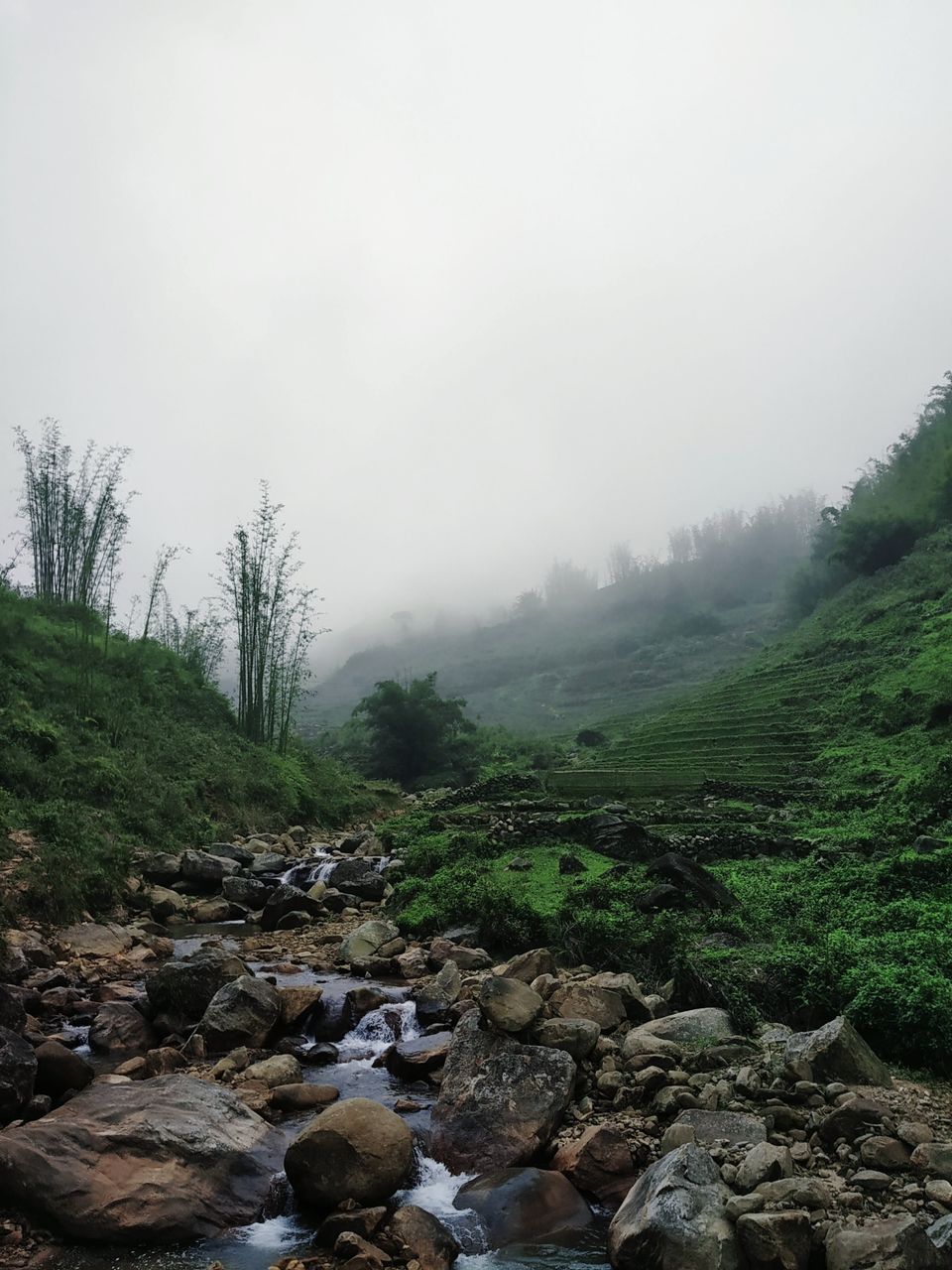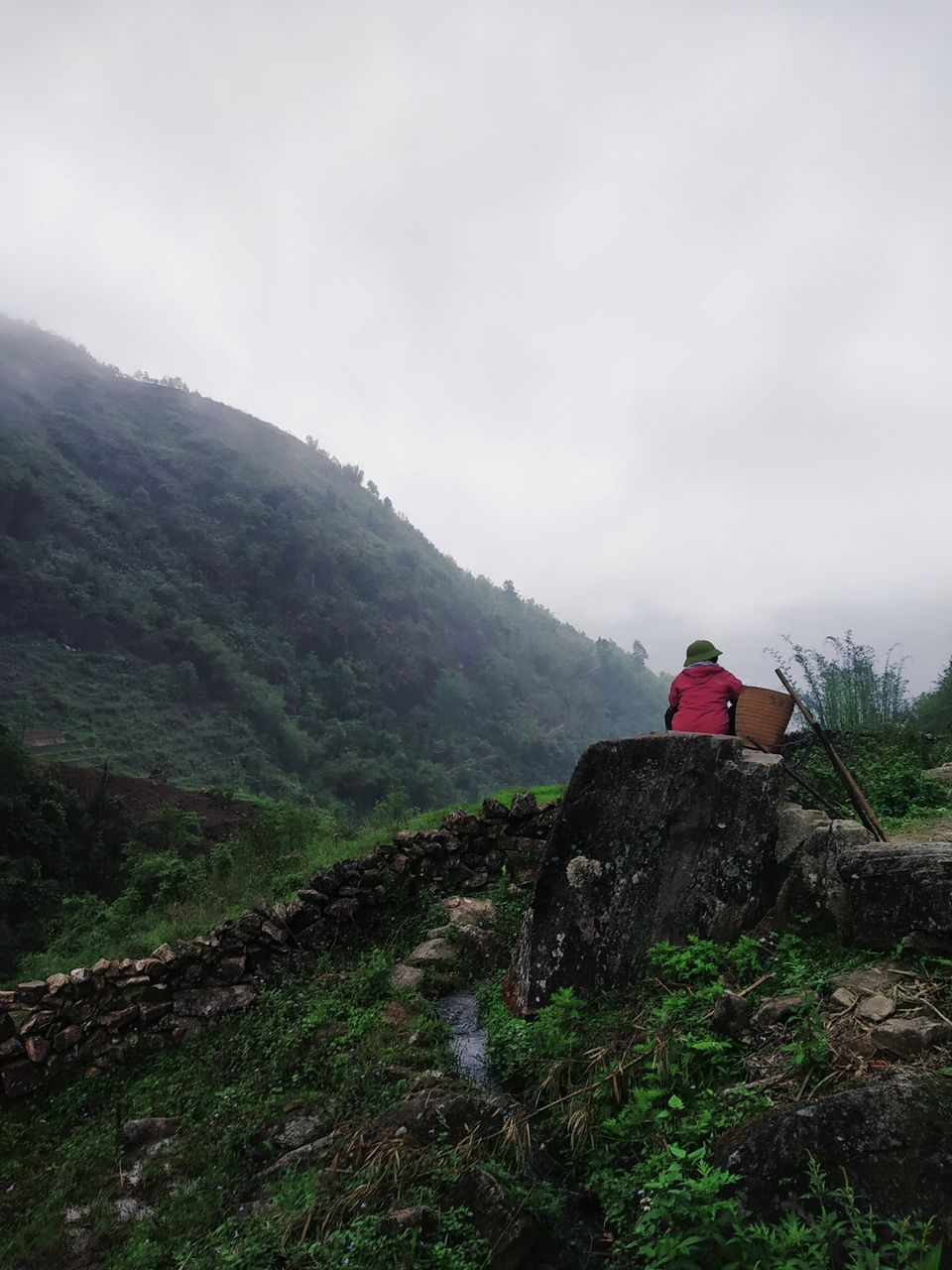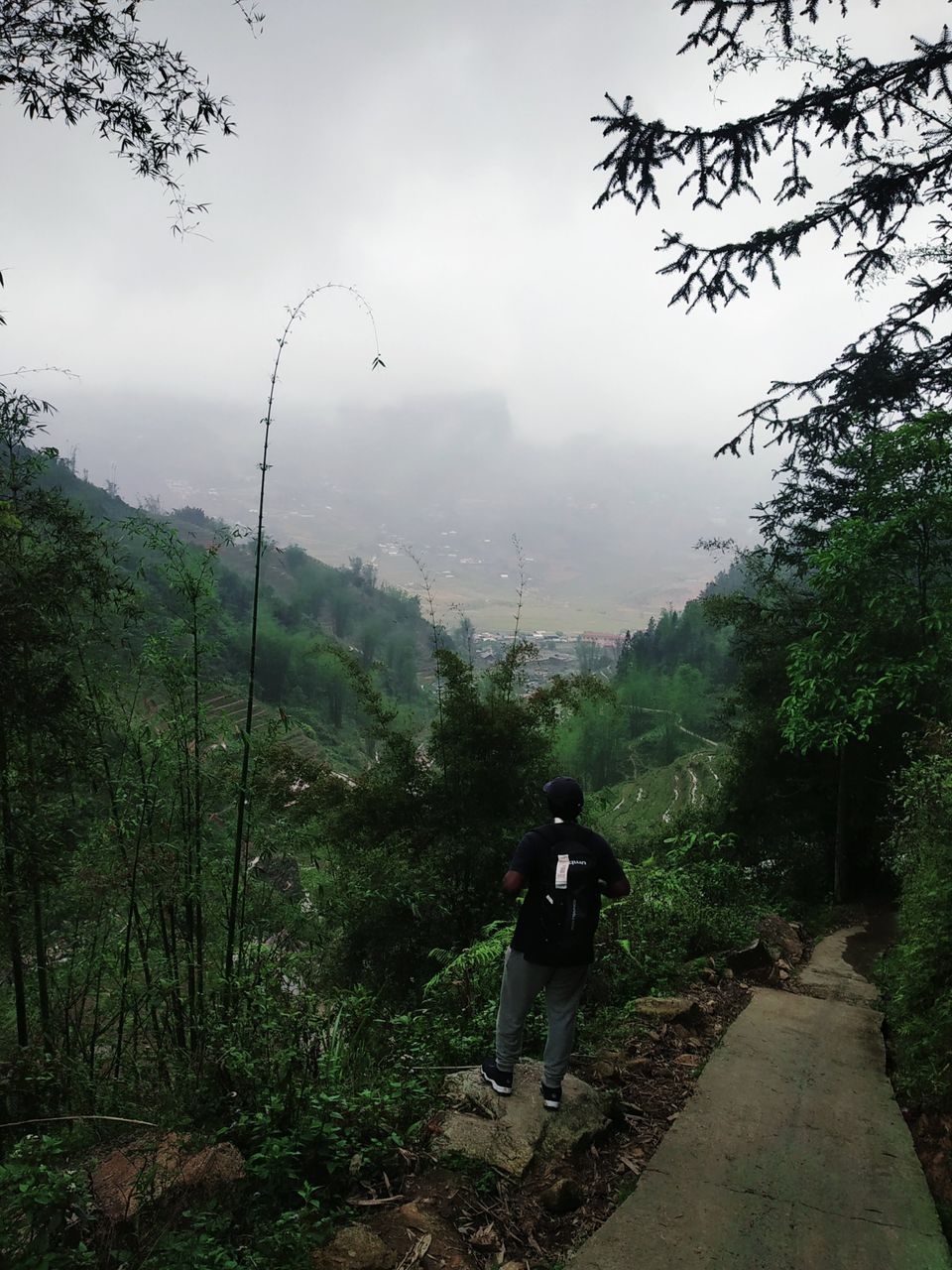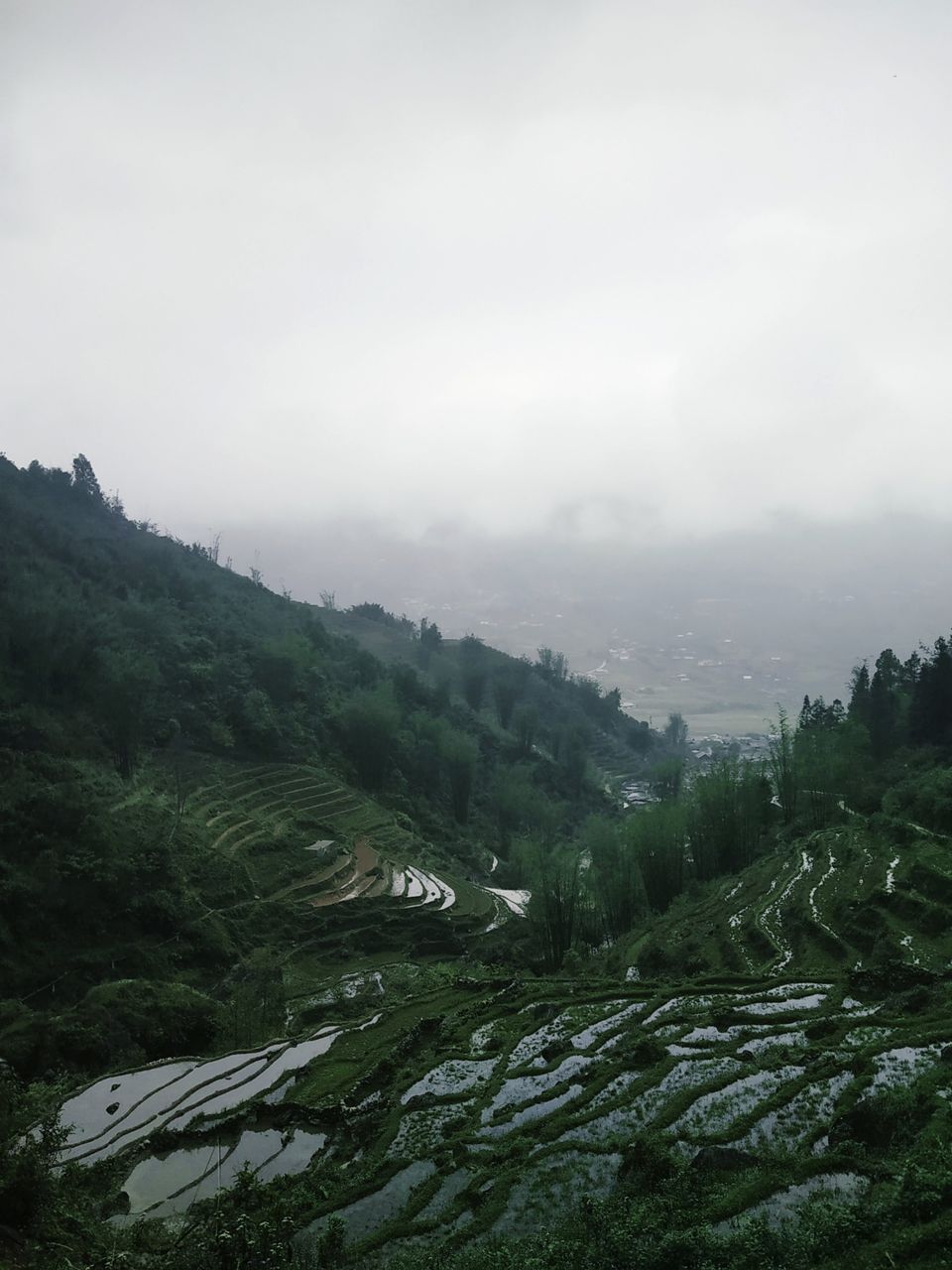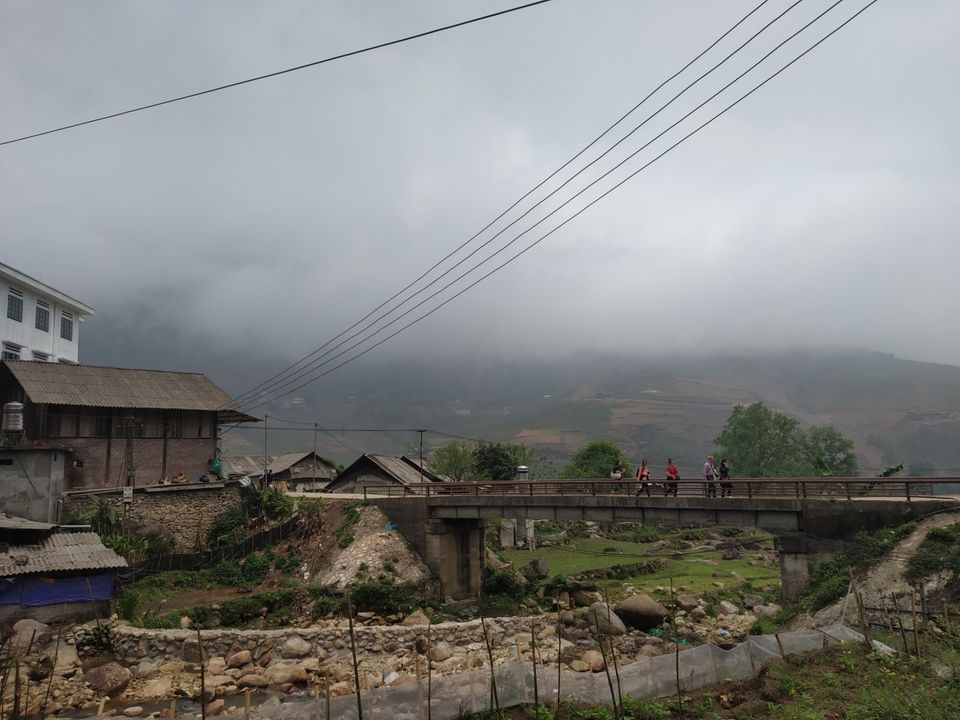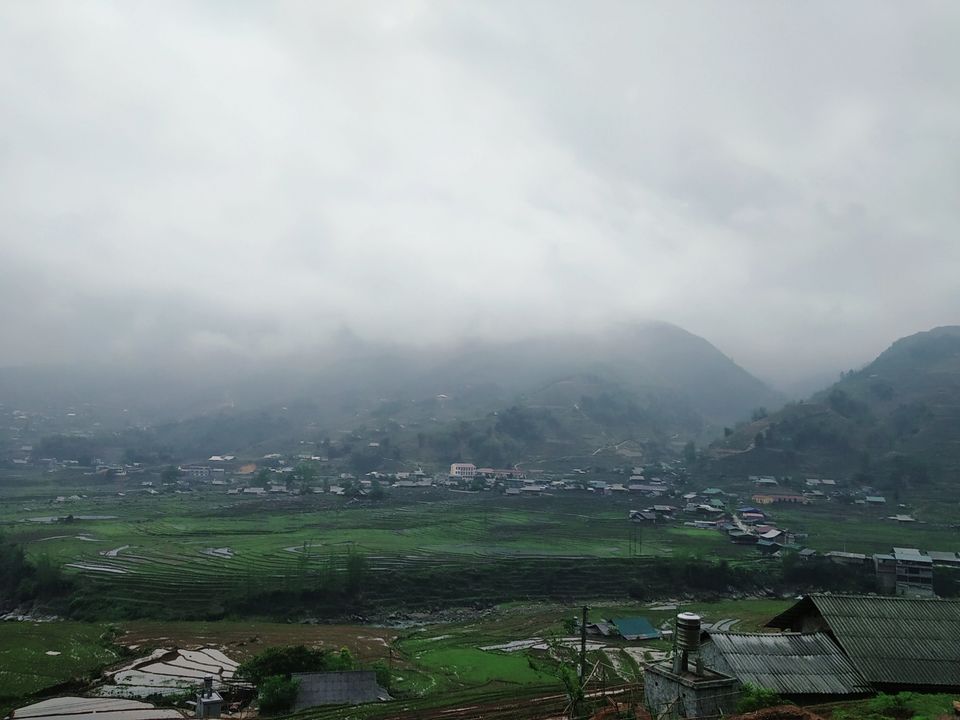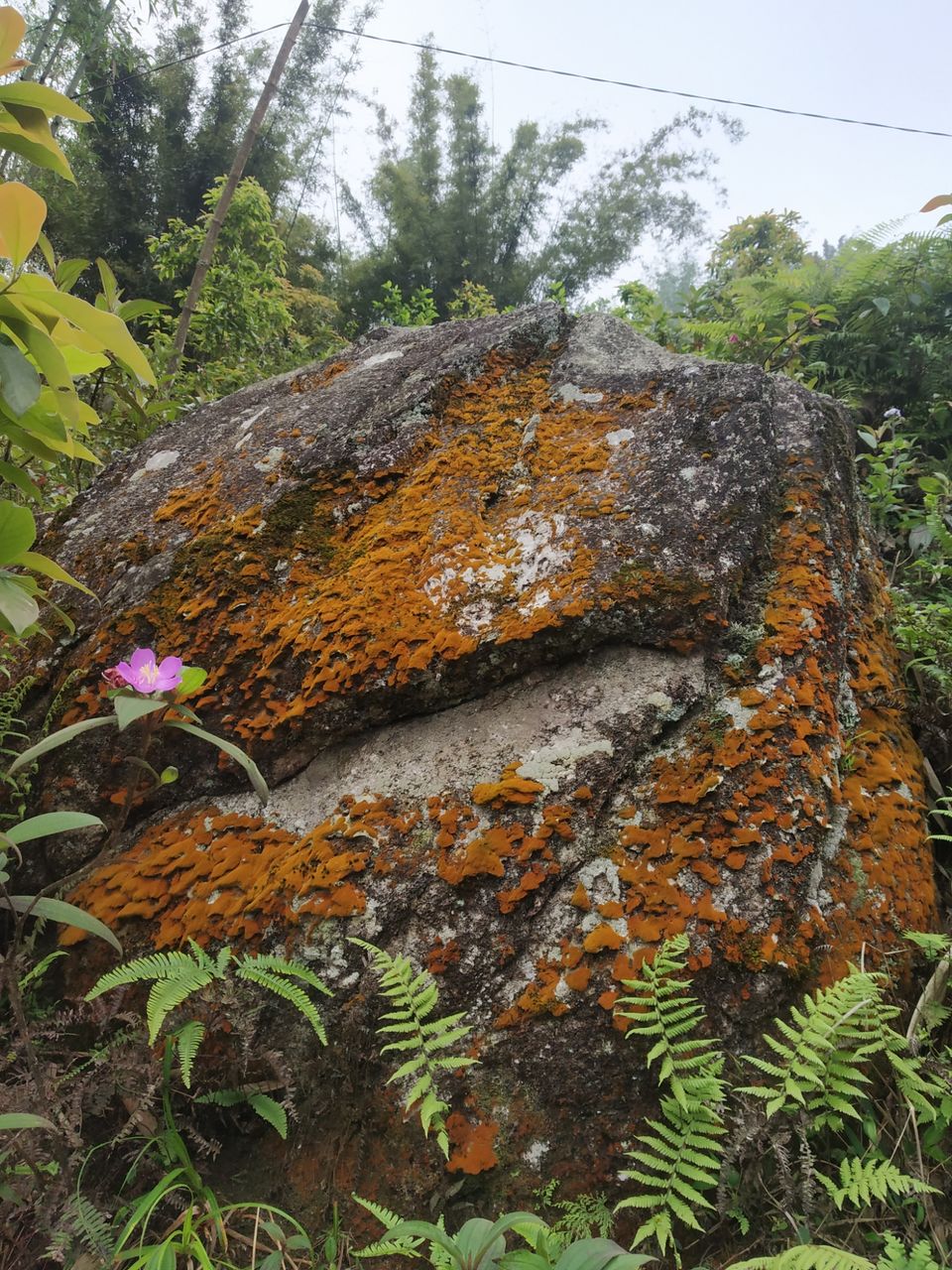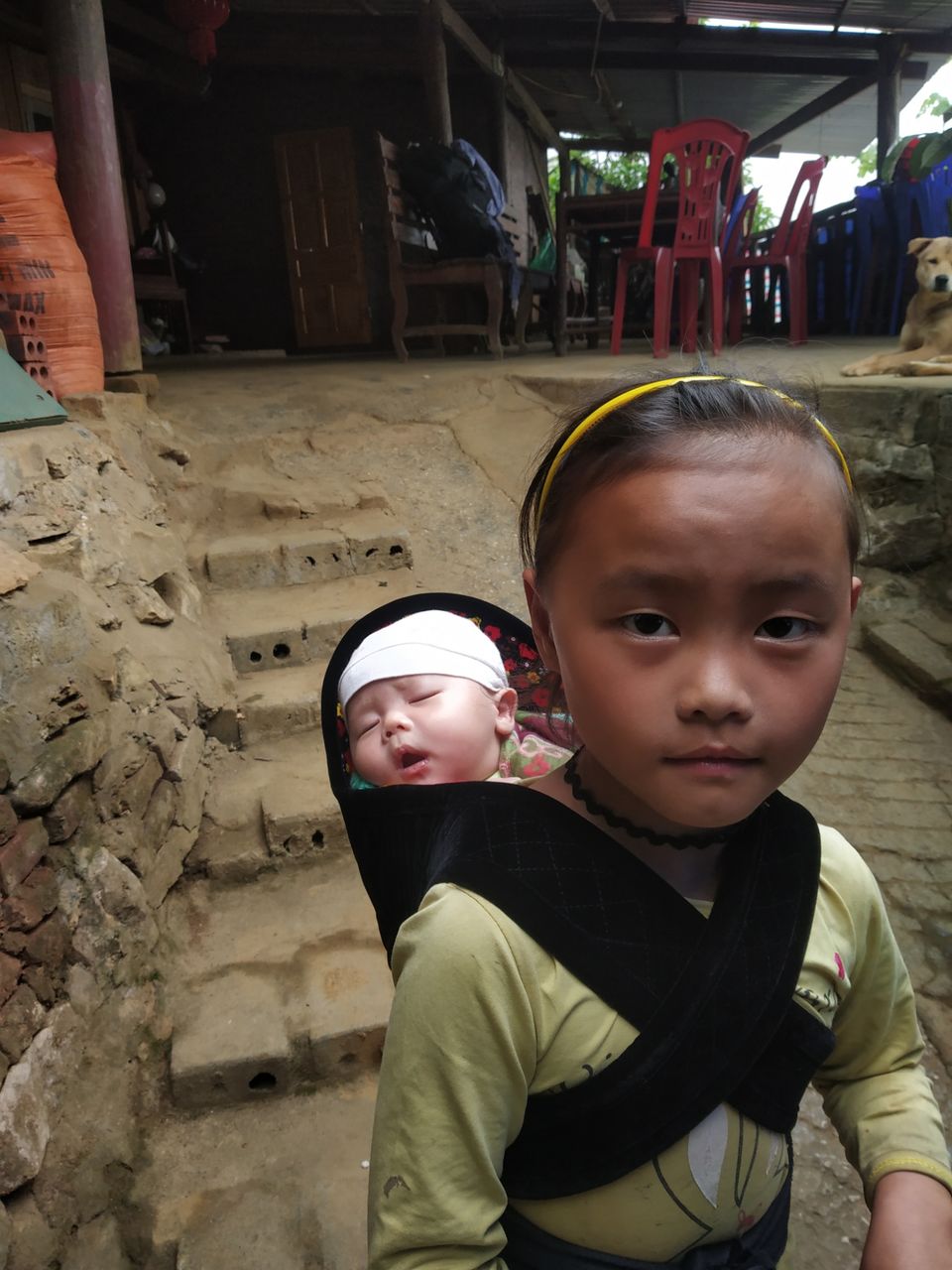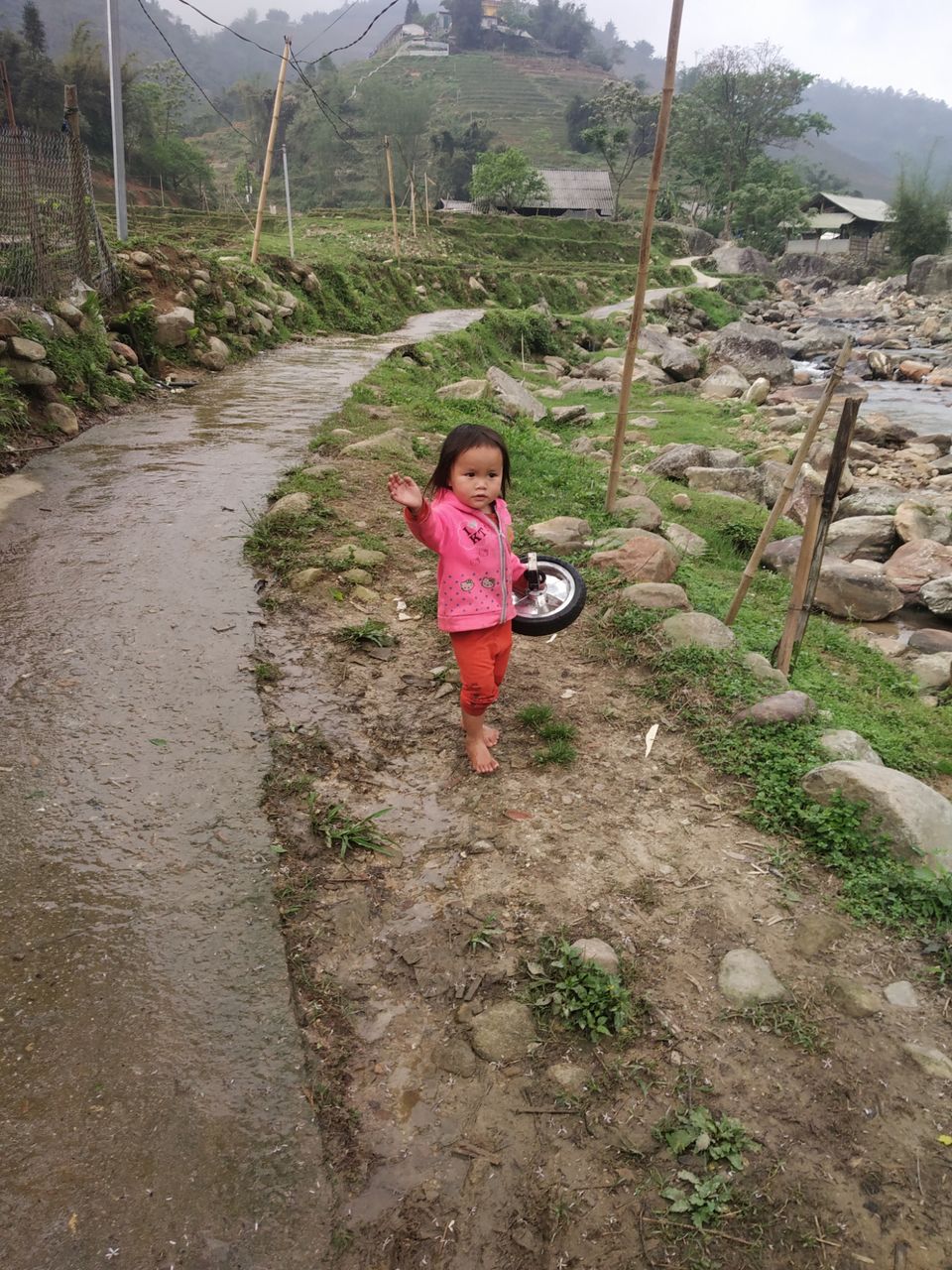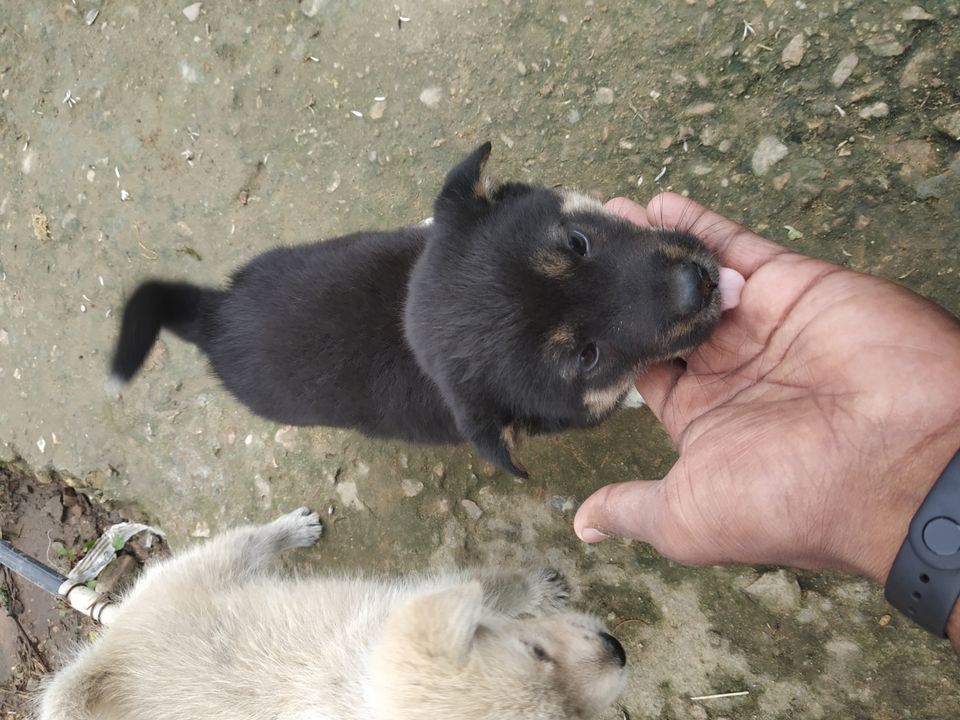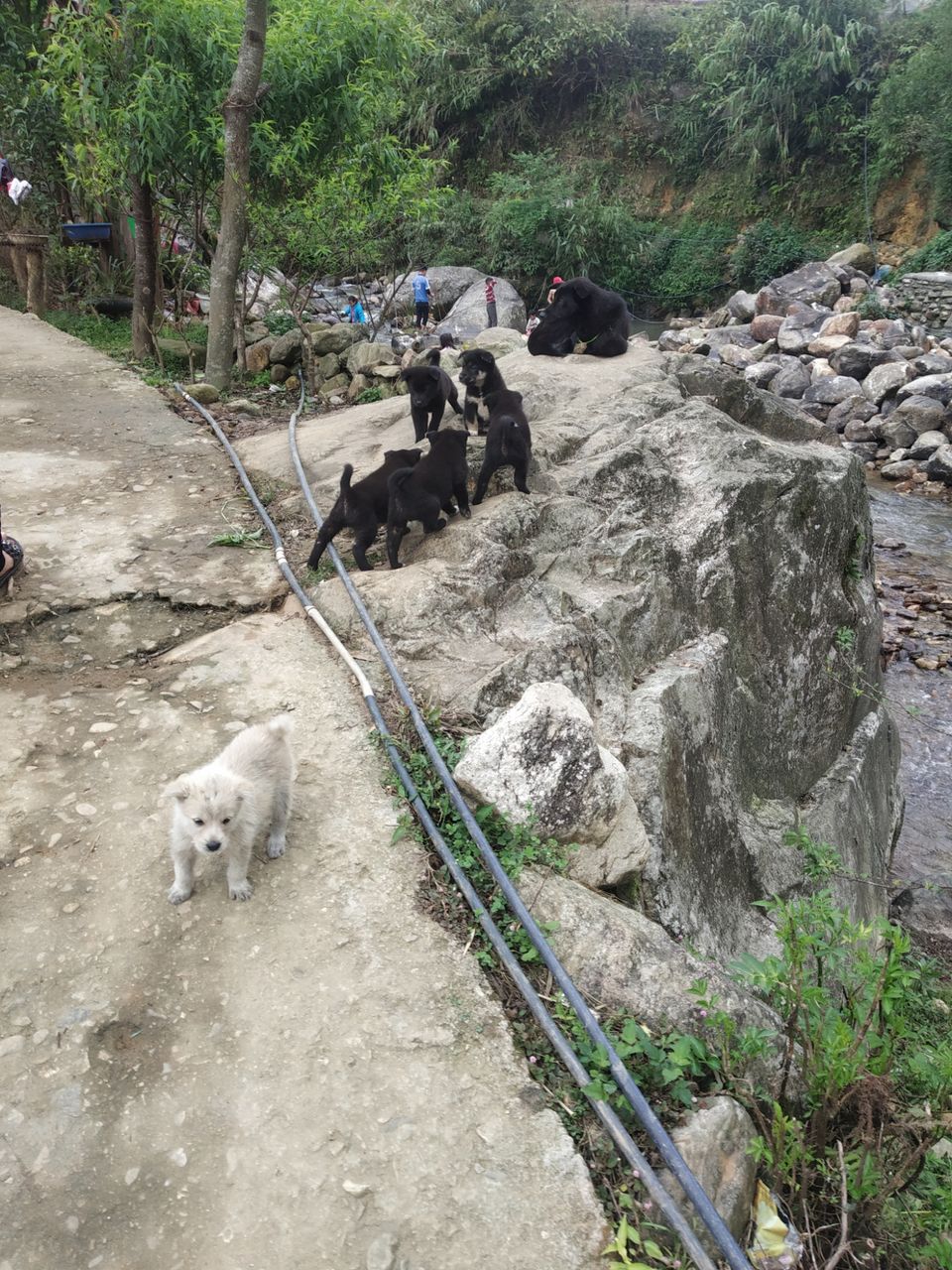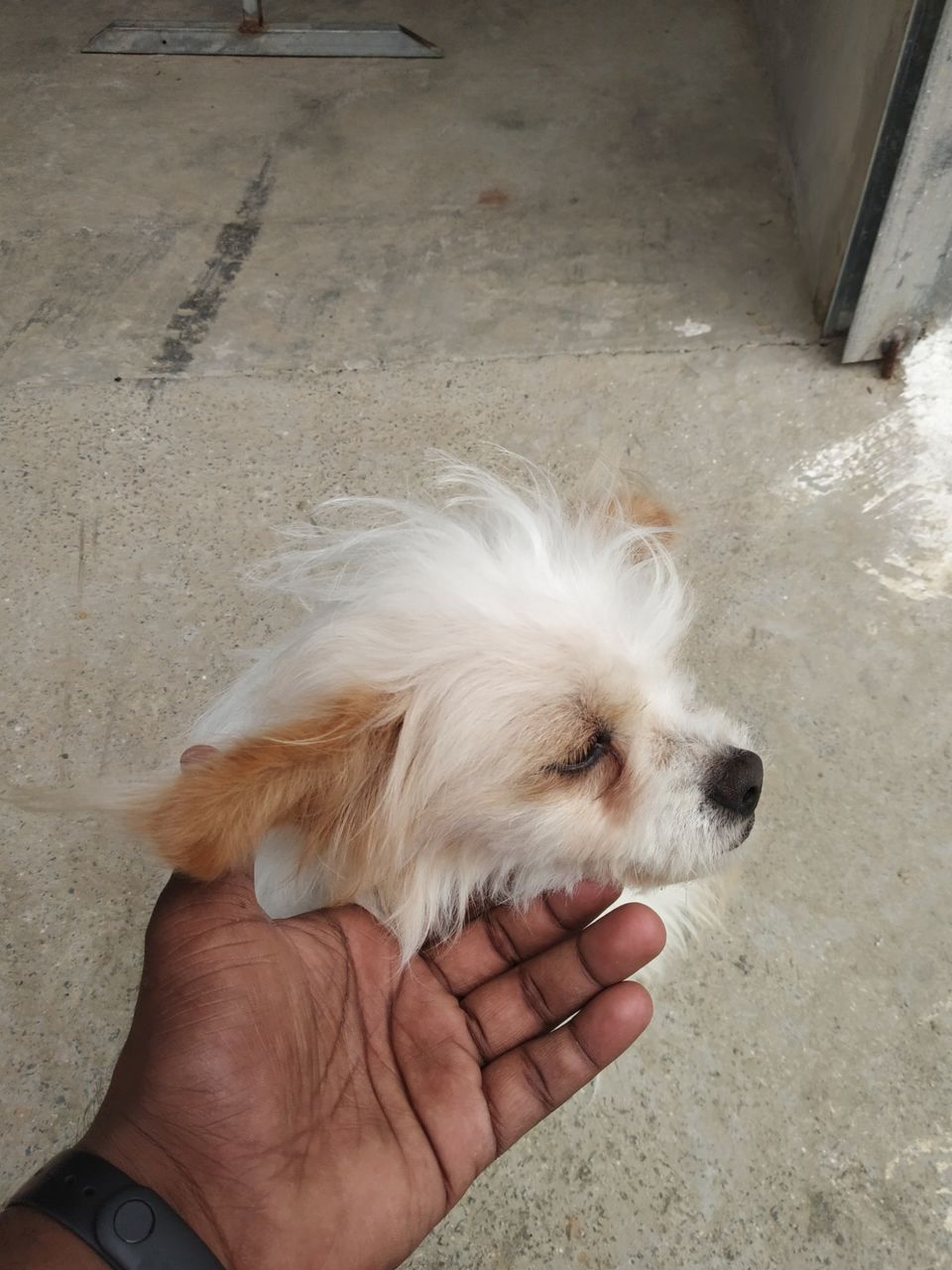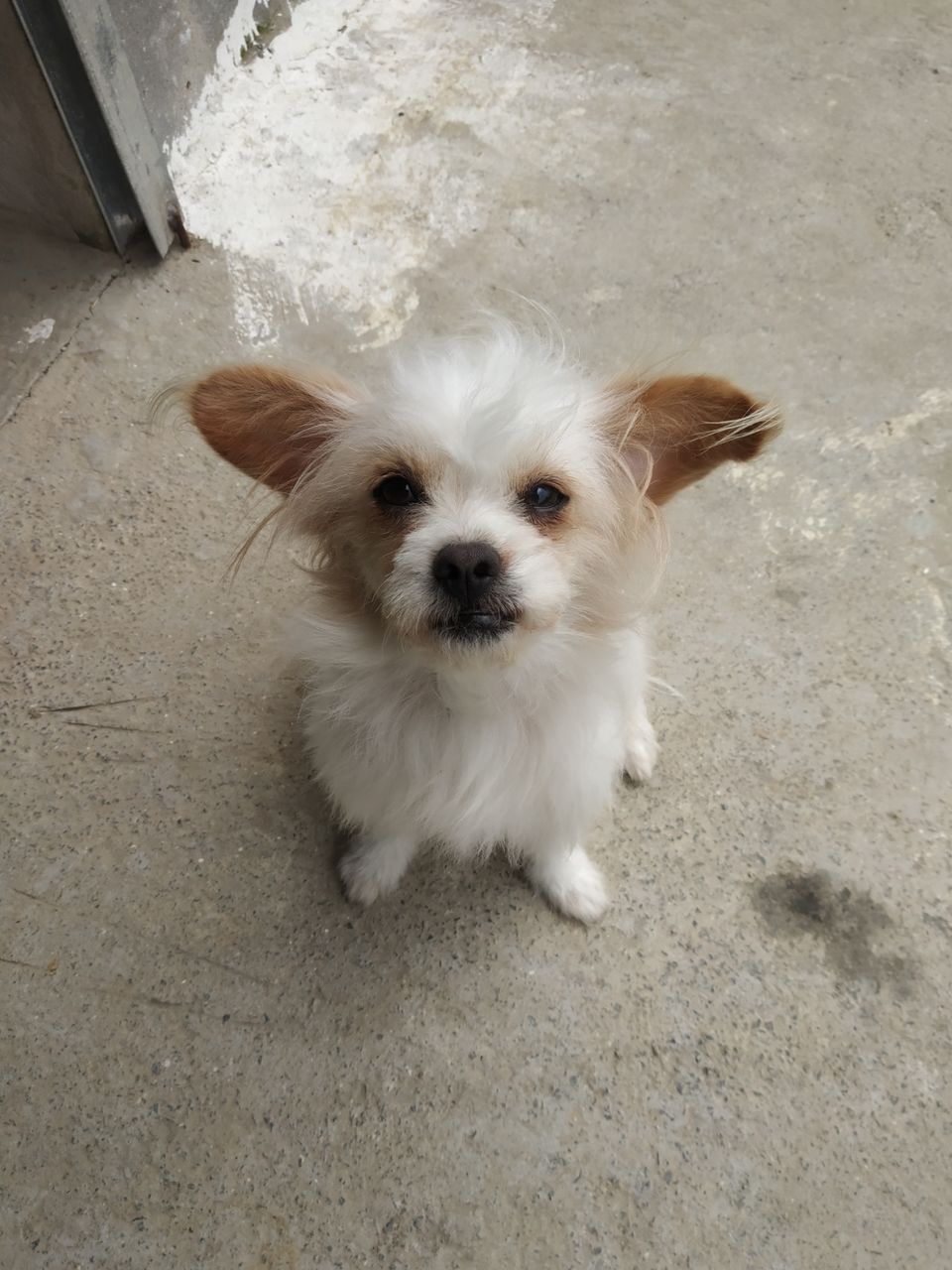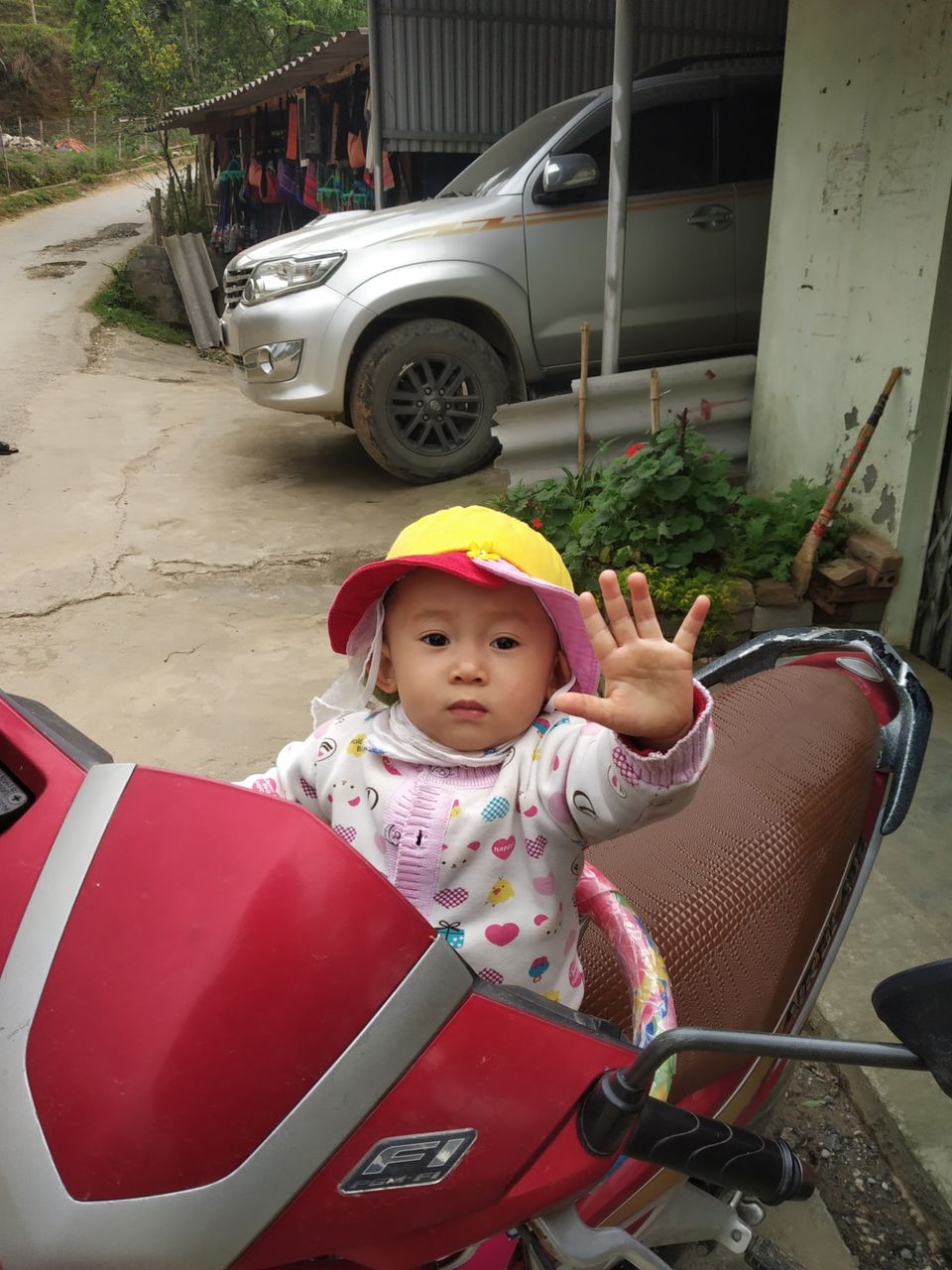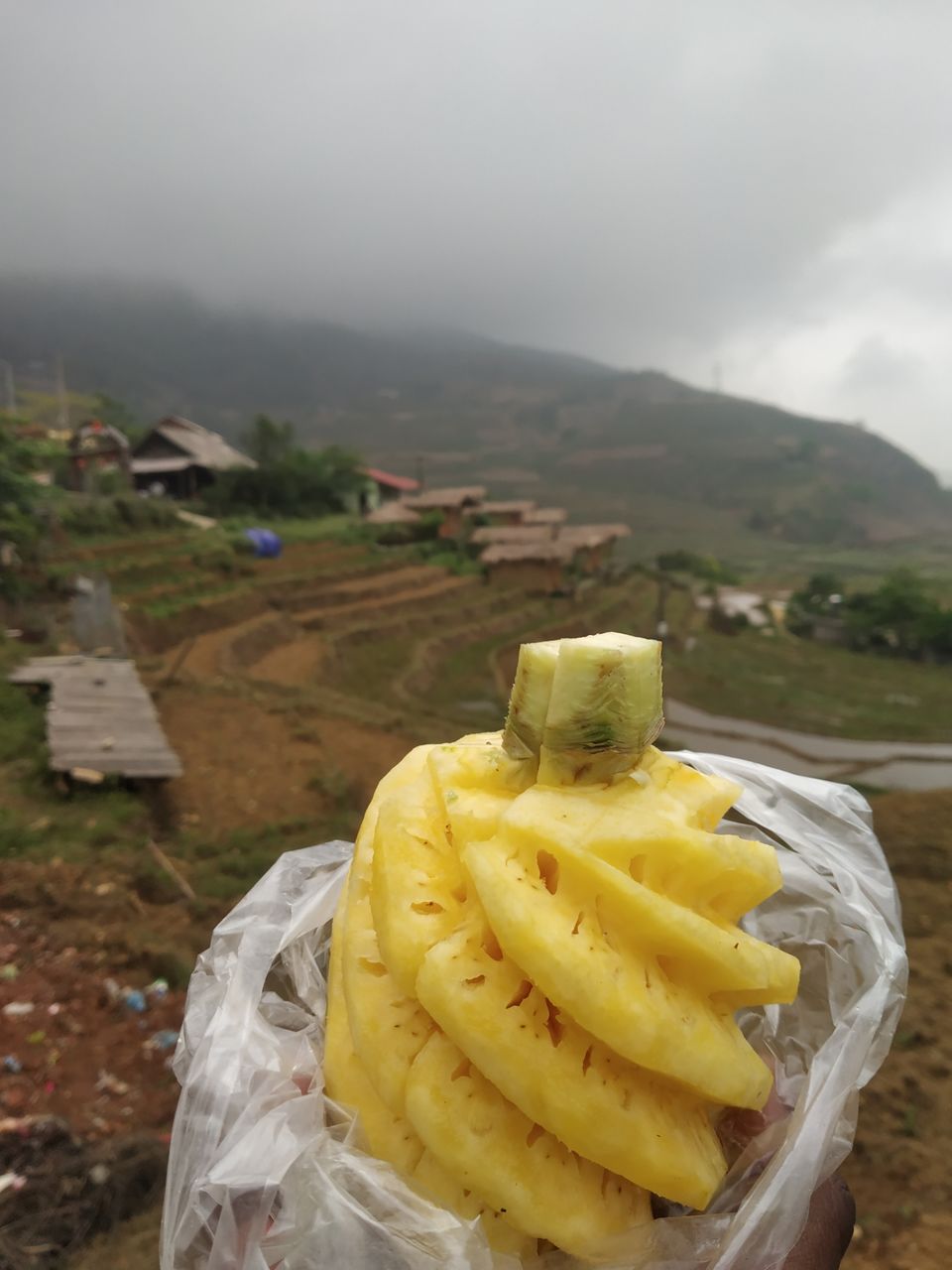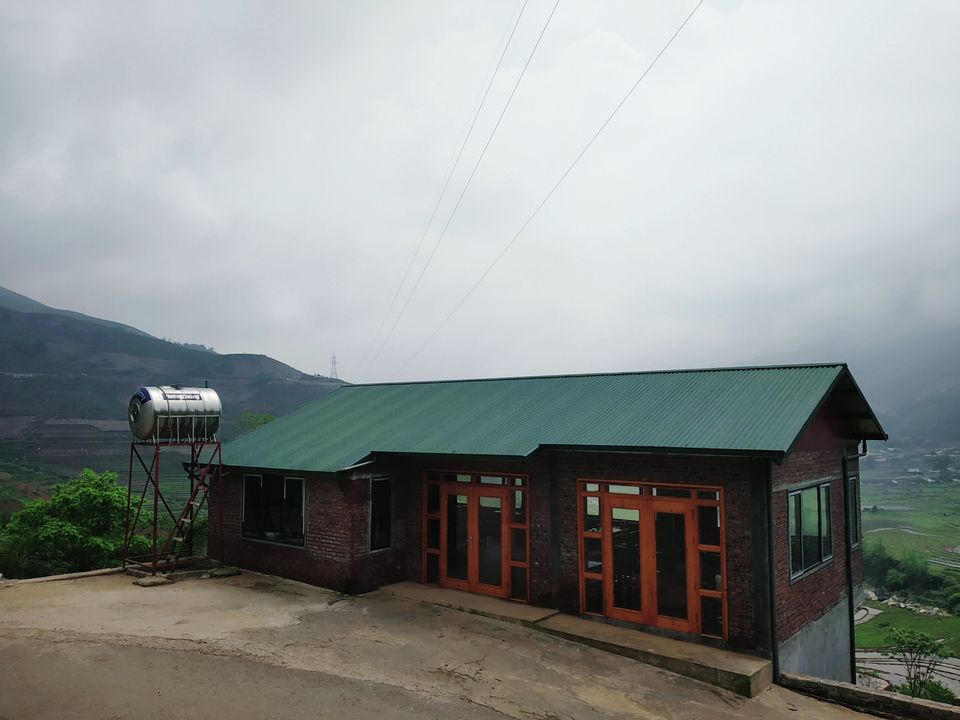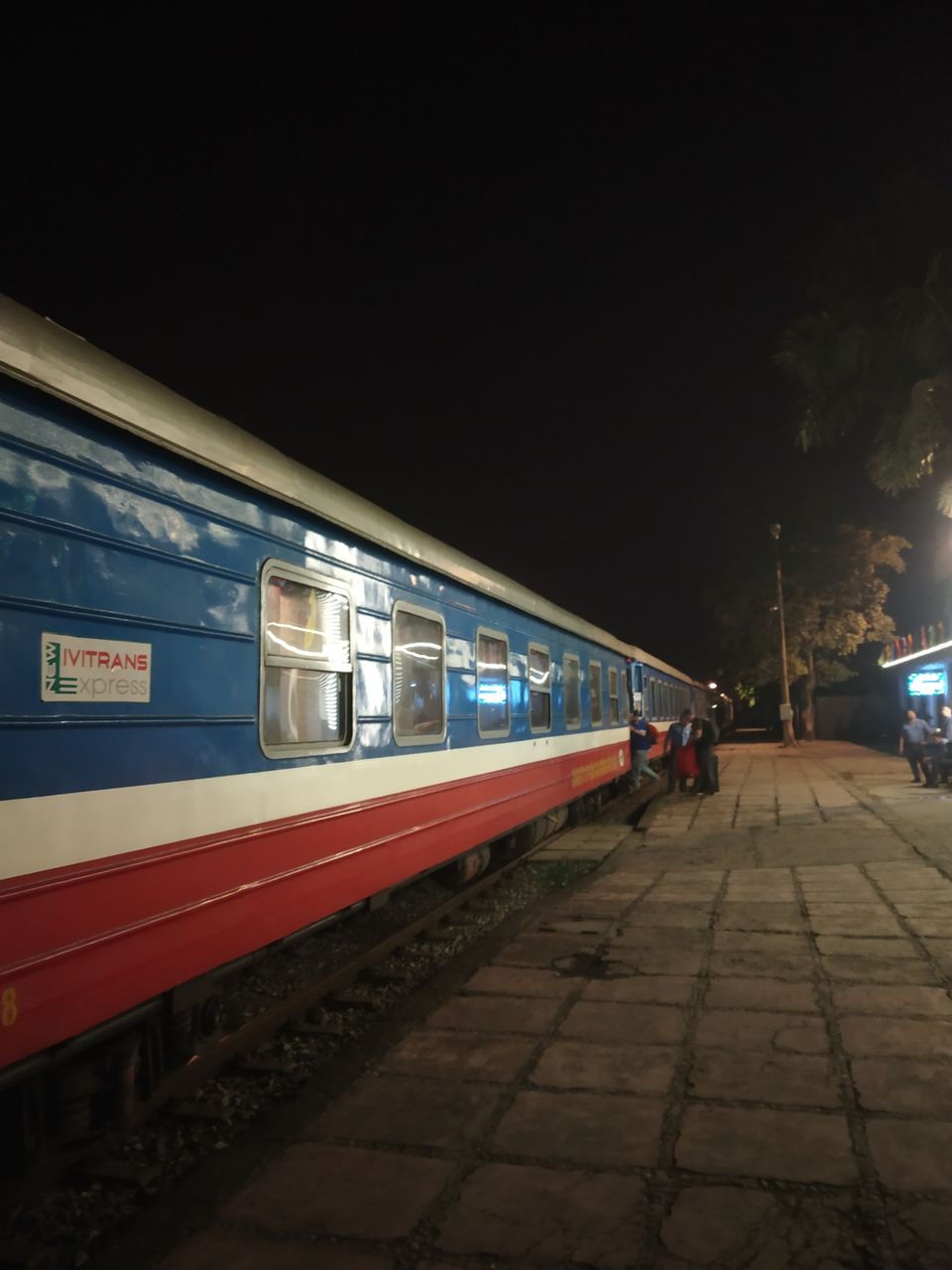 It was a terrible night in the train From Lao CAI to Hanoi beacuse the AIr conditioning didn't work properly, may be because it's an old compartment. So haven't slept well! I just closed my eyes at 1:30am and It was like immediately someone woke me up, "hey woke up , it's Hanoi". ????????‍♂️ But truly I haven't slept well. I am super tired beacuse of the trek I did in Sapa and there was no proper sleep at night! Anyway it was 4:30am and I went out of the station and Book a grab to my stay which is Hanoi old Quarter.On the way I saw mobile snatching, it was like 2 girls are walking on the Foot path and suddenly a guy came on a motor bike and just snatched the mobile from her hand and just disappeared. Always be careful in Hanoi. Chances of getting robbed are high! May be in the shops also, they sell you for more price. So always be aware.
And I have kept the luggage in the storage room of my hotel, Freshed up and as I have a tour to The UNESCO World Heritage site Halong bay today I am waiting for them to pick me up at the hotel. Its great that the hotel which Iam staying has a TV room in it where we can rest. So I have been waiting there and at around 7:30 am the bus came for me and I have boarded it and my tour started. We reached Halong bay by 11:30am and Got our tickets for the entrance which is included in the tour and yeah we started walking to get into our cruise. So at 12:30pm we have boarded into the cruise and started sailing and the lunch is served. It has all types of sea food in it. That was like the dishes I have never even seen. I was just so excited seeing everything. They tasted good though. So after completing our lunch we went to upstairs of the cruise to enjoy the view. And after 1 and half hour you will be reaching the Dong Thien Cave expedition. So we will just explore the cave for 45 minutes and will be back into the boat and another 45 minute ride to The floating island where it's the shooting spot for the movies James bond and Kong skull Island. That felt awesome and also we can do either kayaking or bamboo boat ride. And I choose kayaking. I have done it like solo and it's for 45 minutes. It is like the best part of the tour. Great view and kayaking around the lime stone mountains. It's just so perfect. And after that we will back on the cruise and it's 1 hour ride back to the boarding point and it's time for us to leave to Hanoi. At around 5 pm we started back to Hanoi and reached the hotel by 8:30Pm. So we can experience the night market only in the weekends in Hanoi old quarter. So I have been there and ate A banh mi for my dinner and went back to my hotel for A pleasant sleep, Atleast for this night ????.
And the Halong bay tour is 42 dollar tour which is around 3000 Rs. Everything included.
The pickup and drop at our hotel
The sea food lunch
Entrance ticket for Halong bay
Cruise
Cave entrance
Floating village entrance
Kayaking.
I have done it with the Dragon Cruise like a day tour. You can choose 2 days,1 night or 2 nights ,3 days. But anyway Halong bay cruised are pretty expensive, mine is the cheapest and it doesn't disappointed me.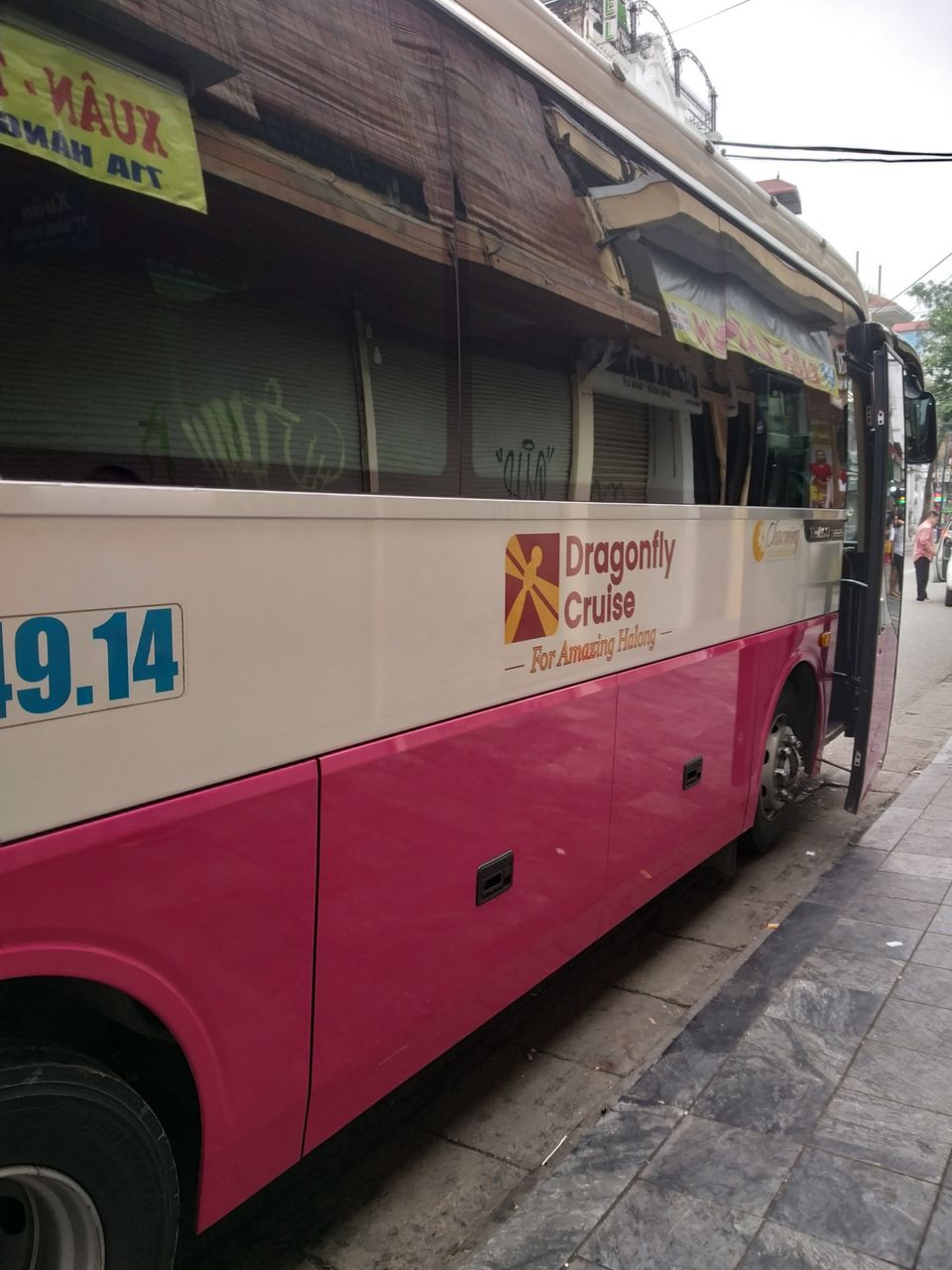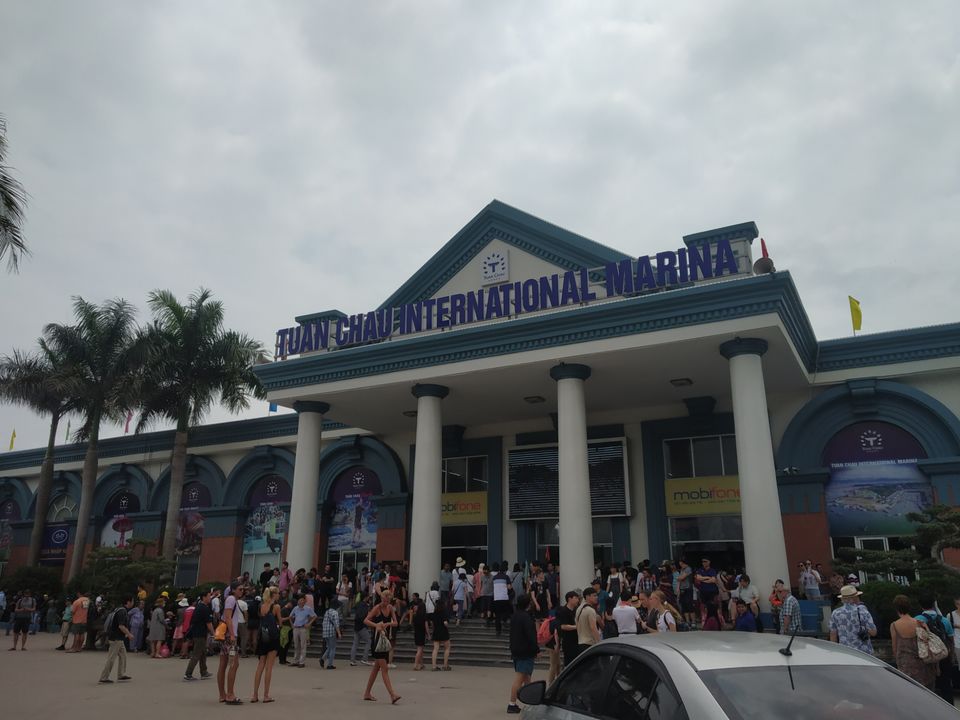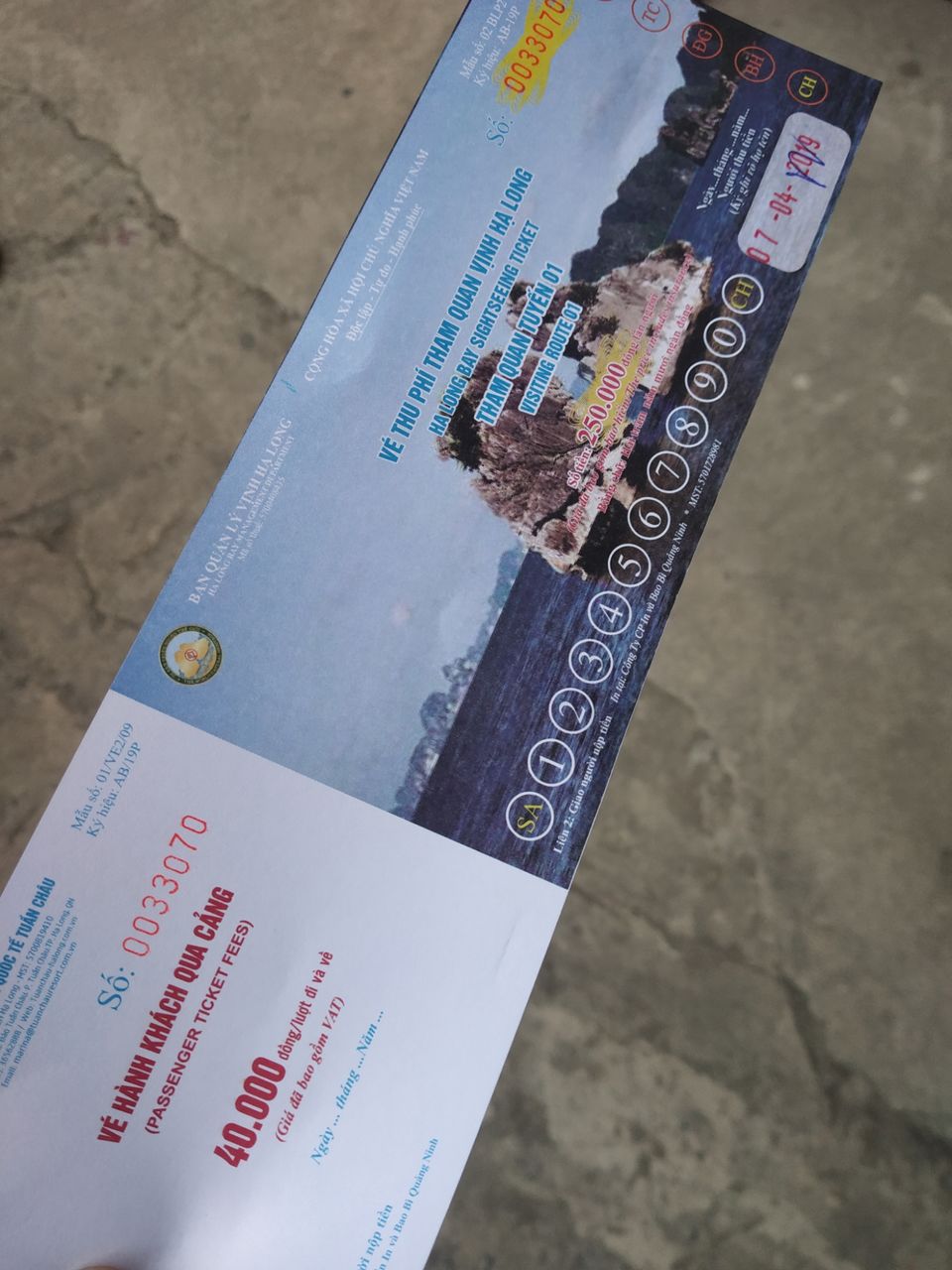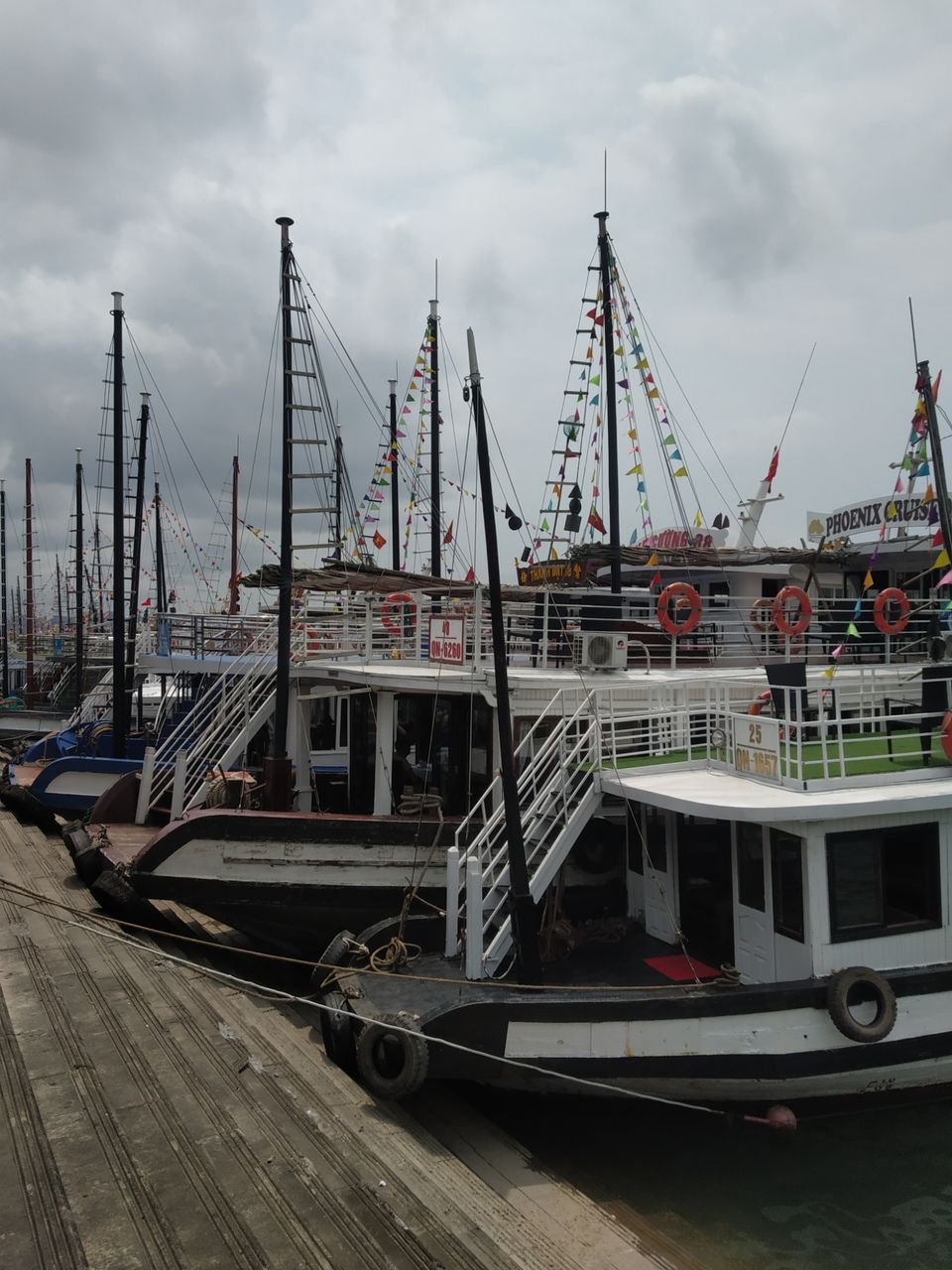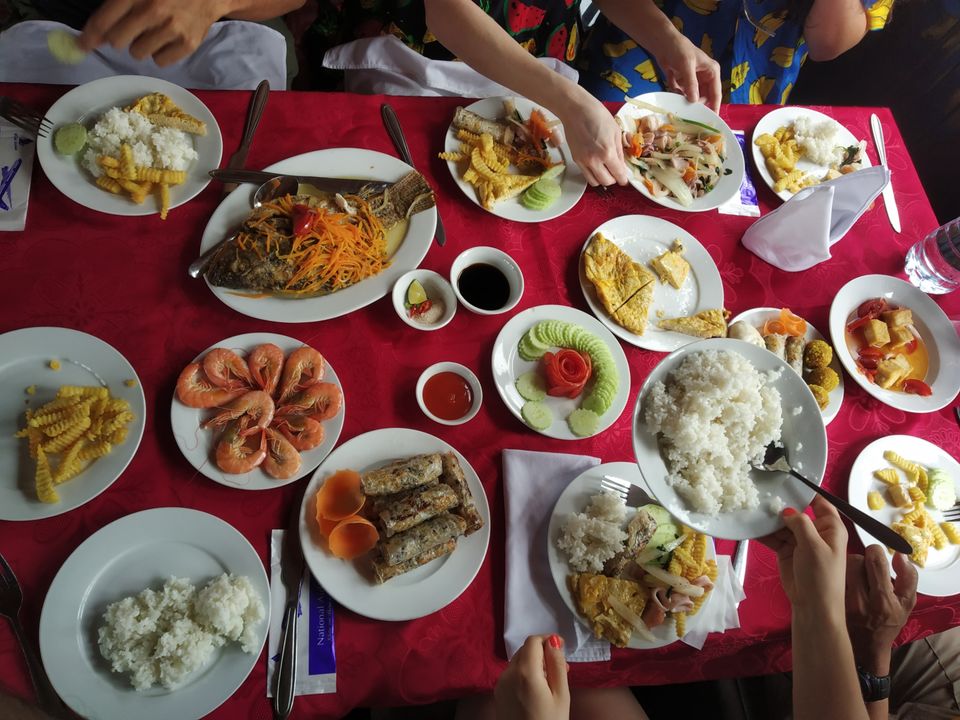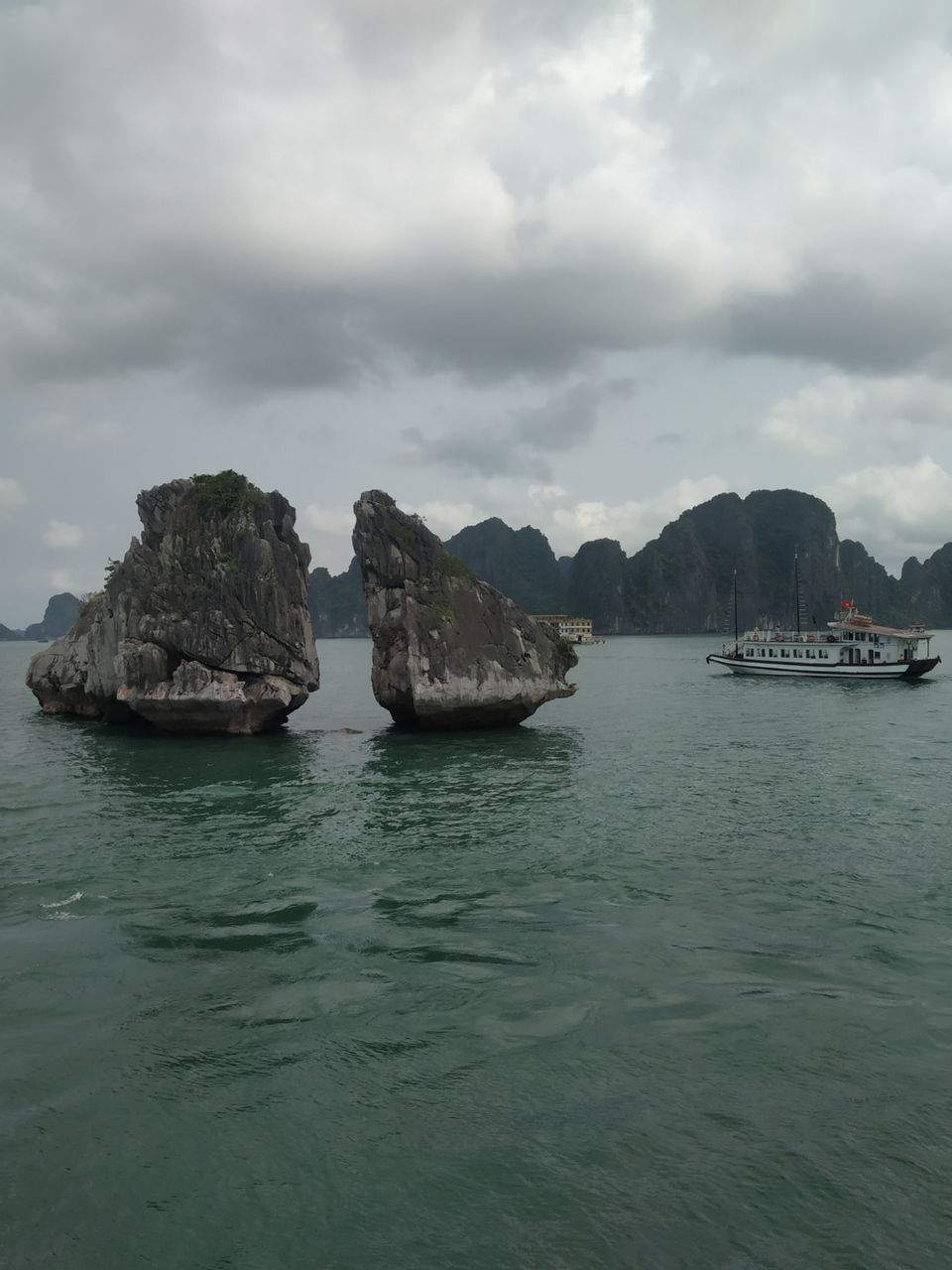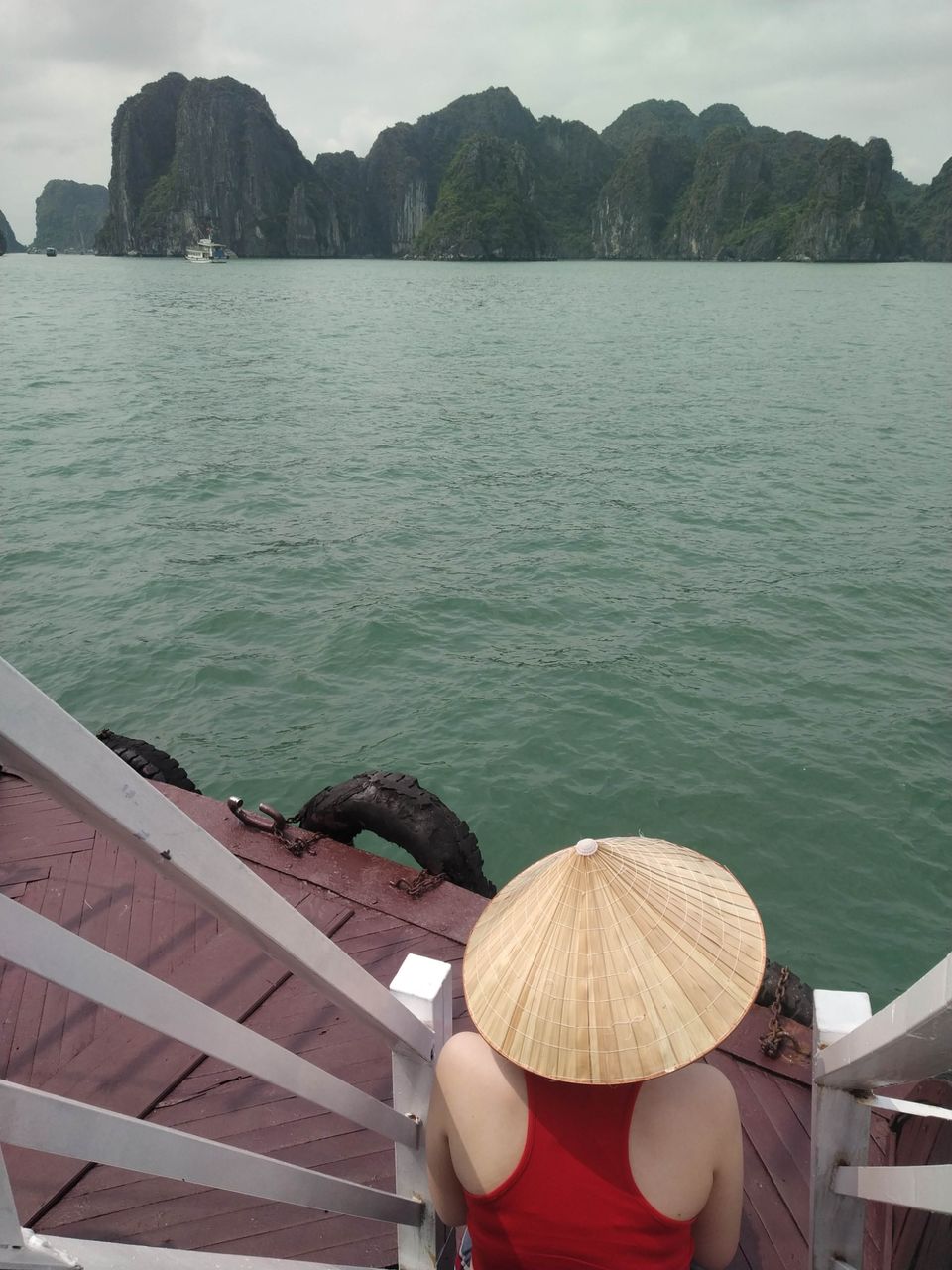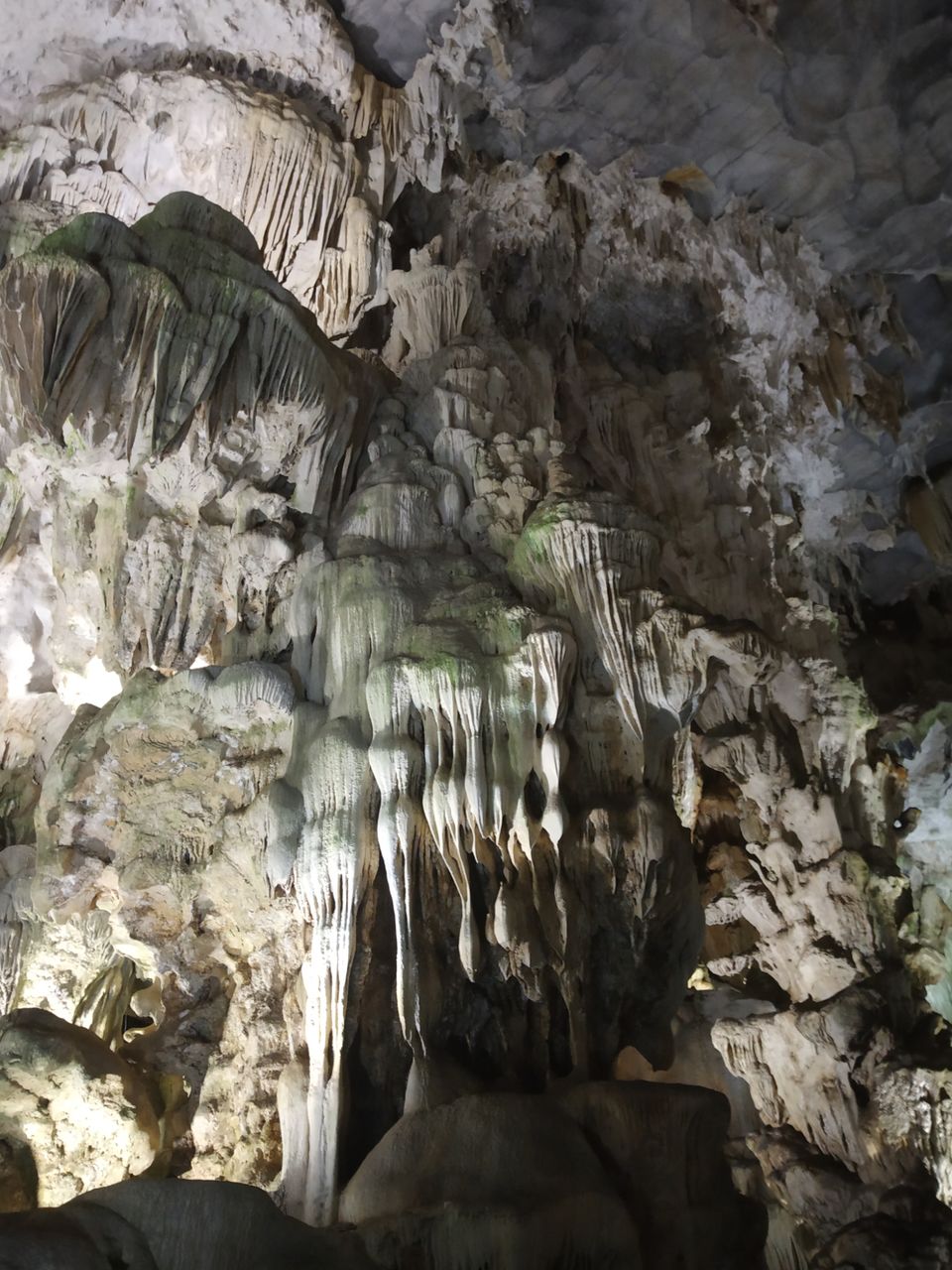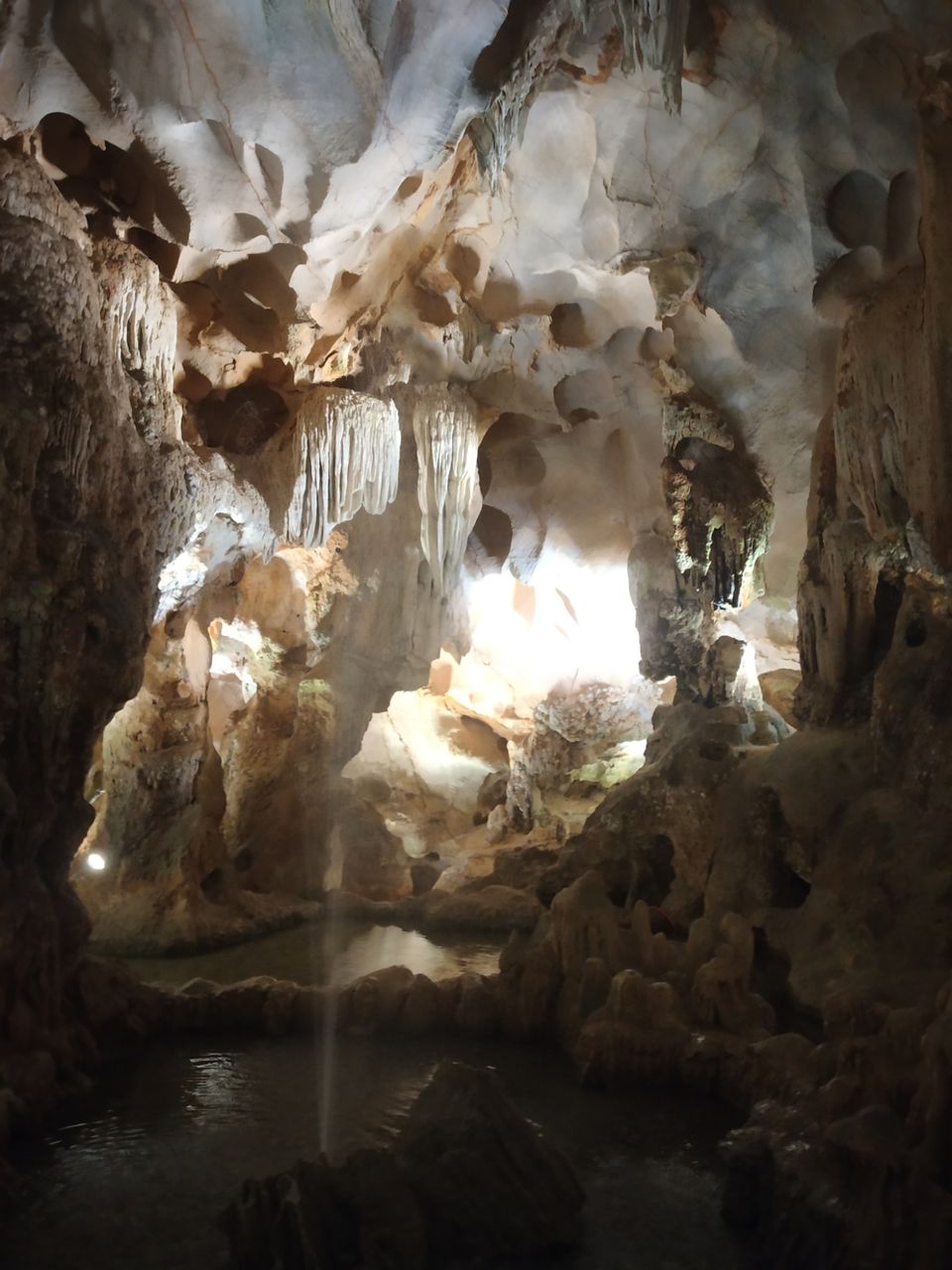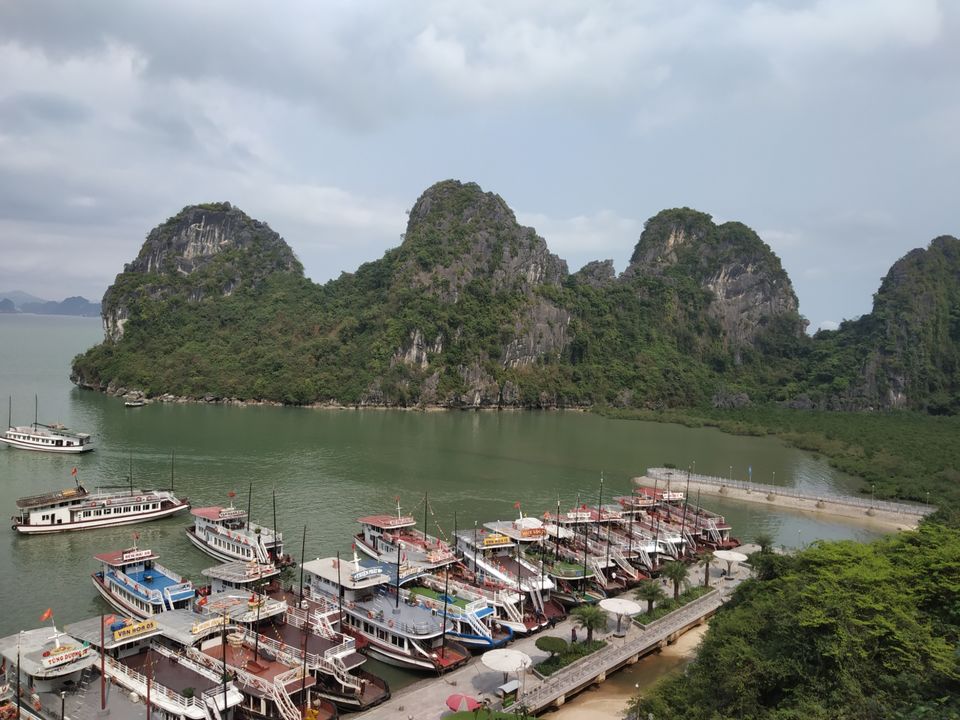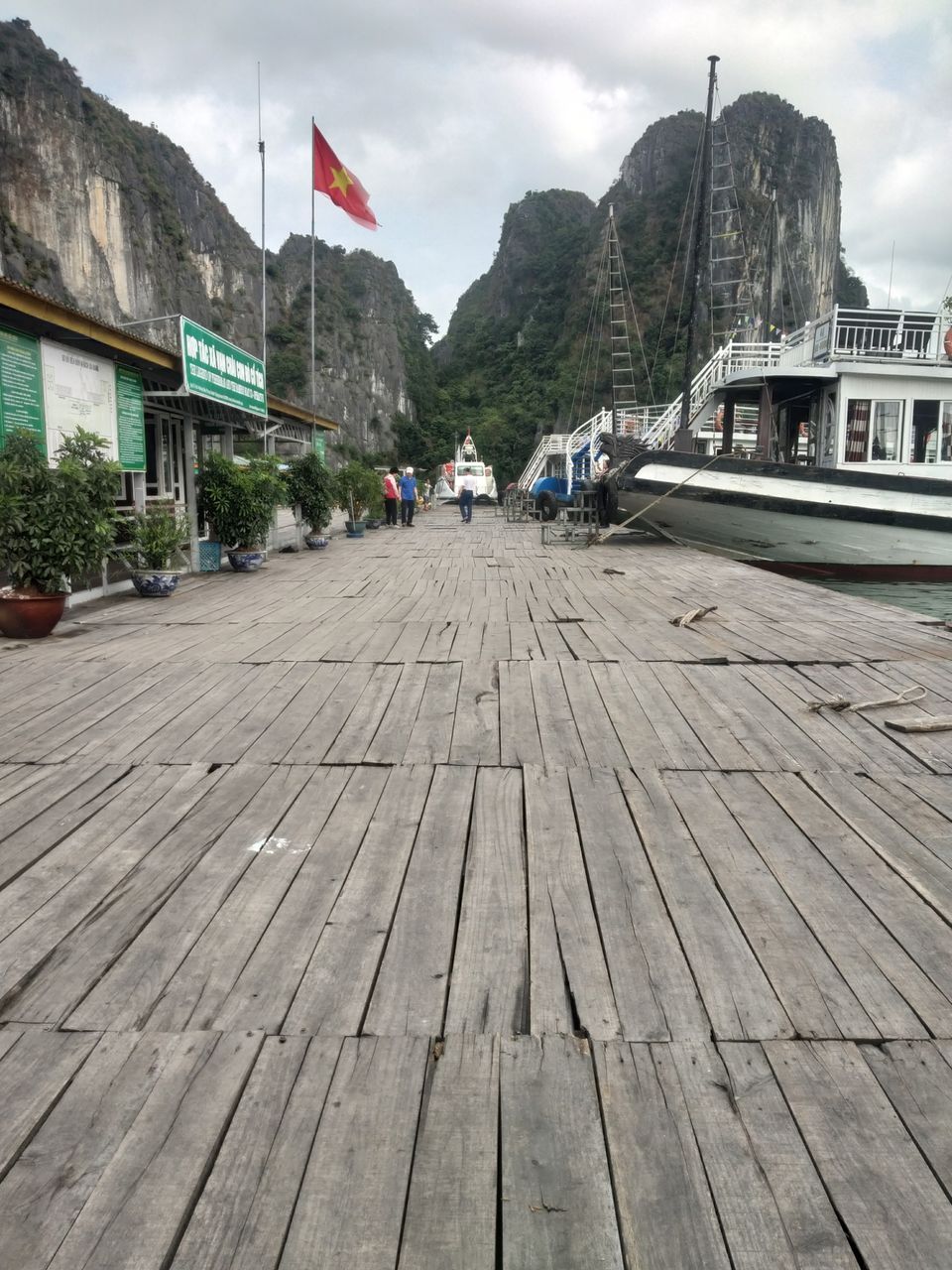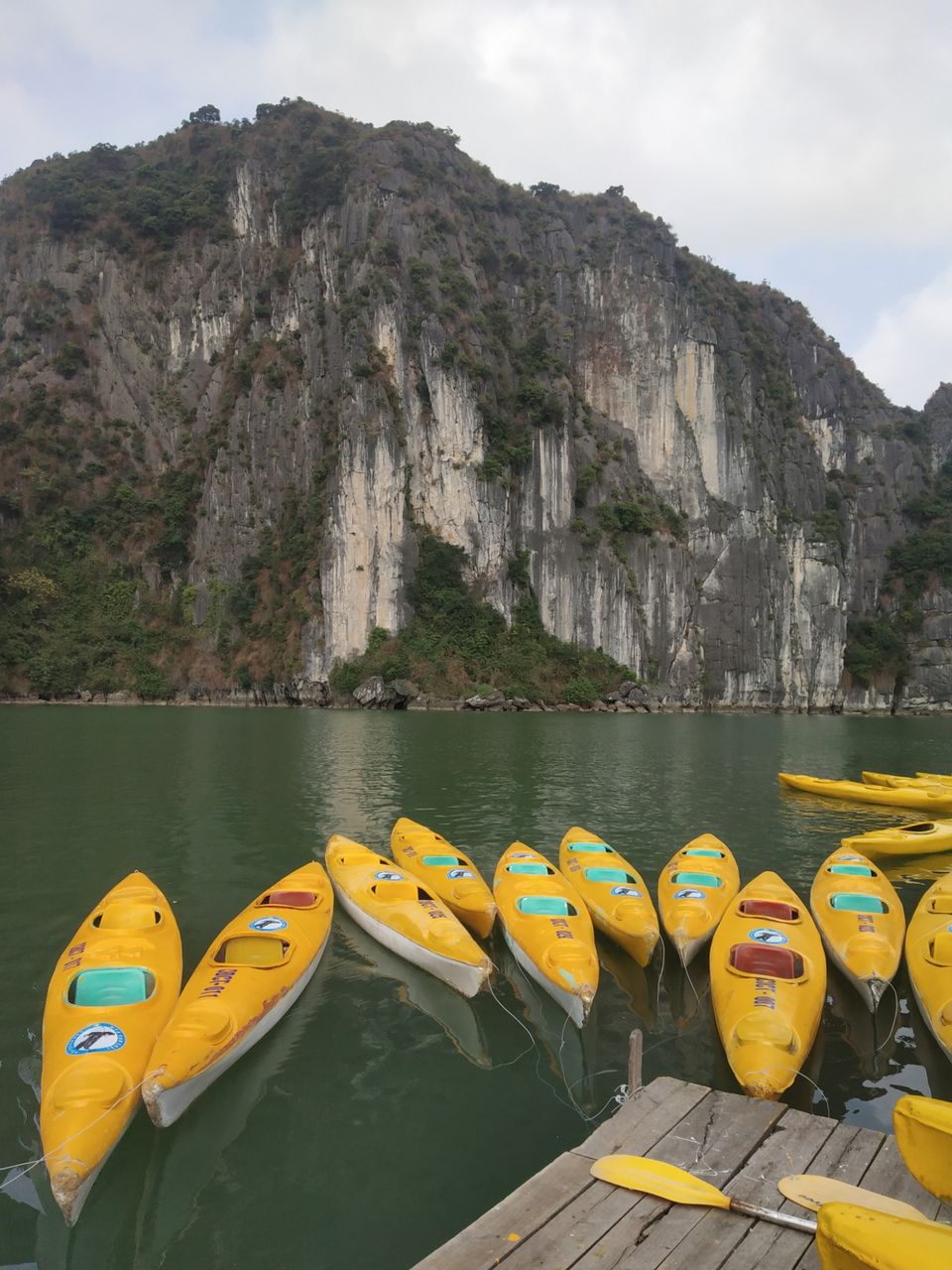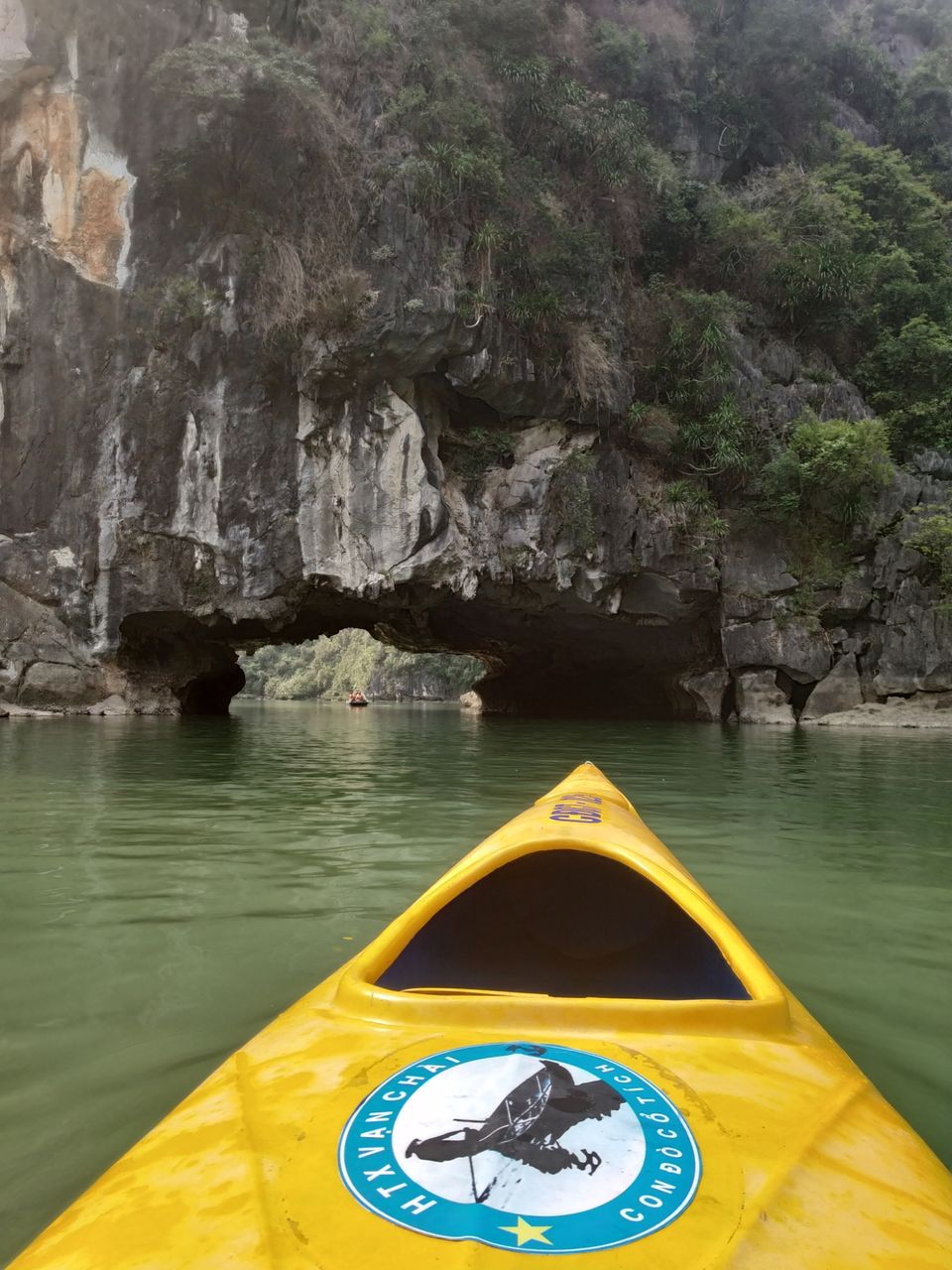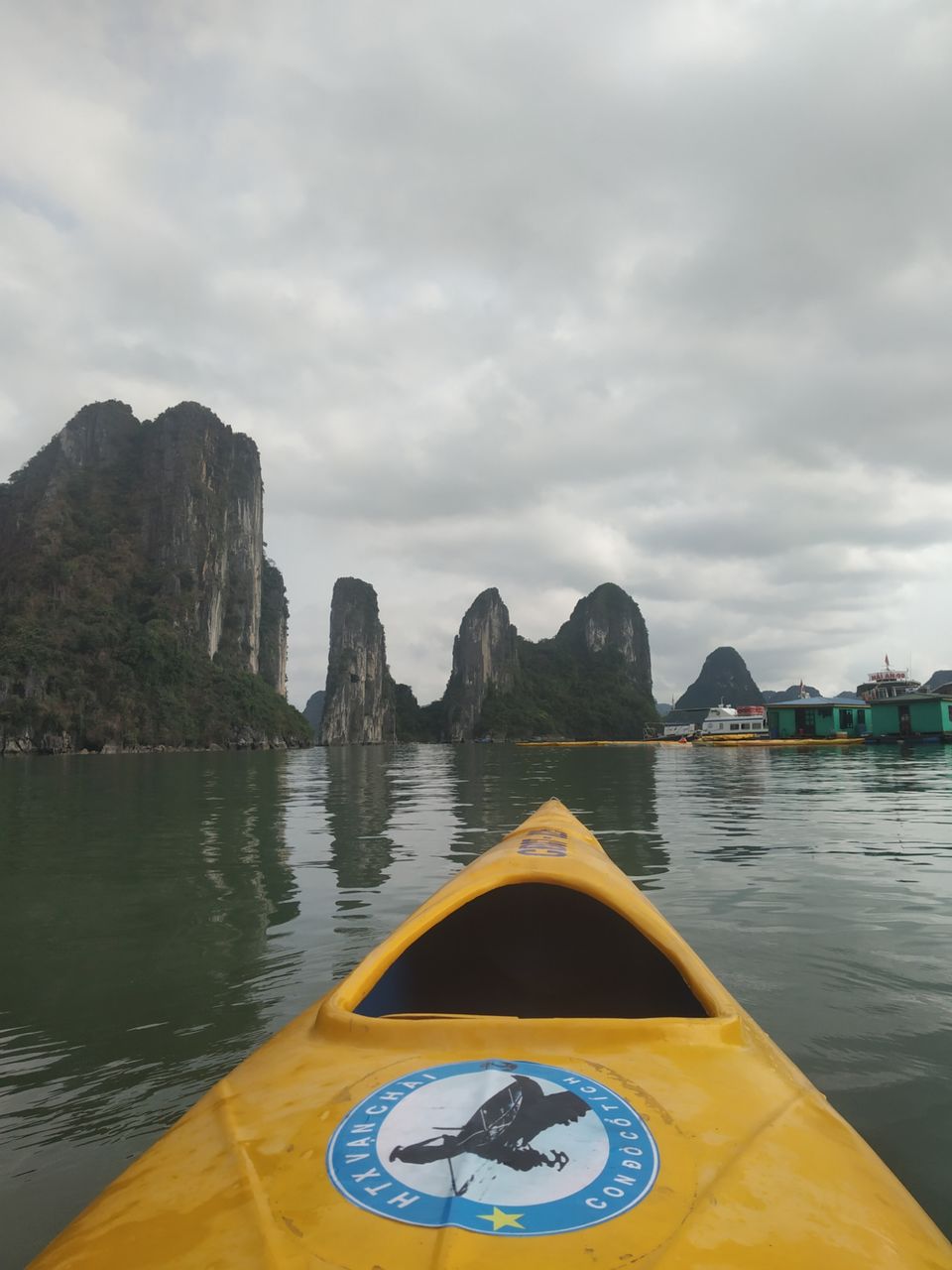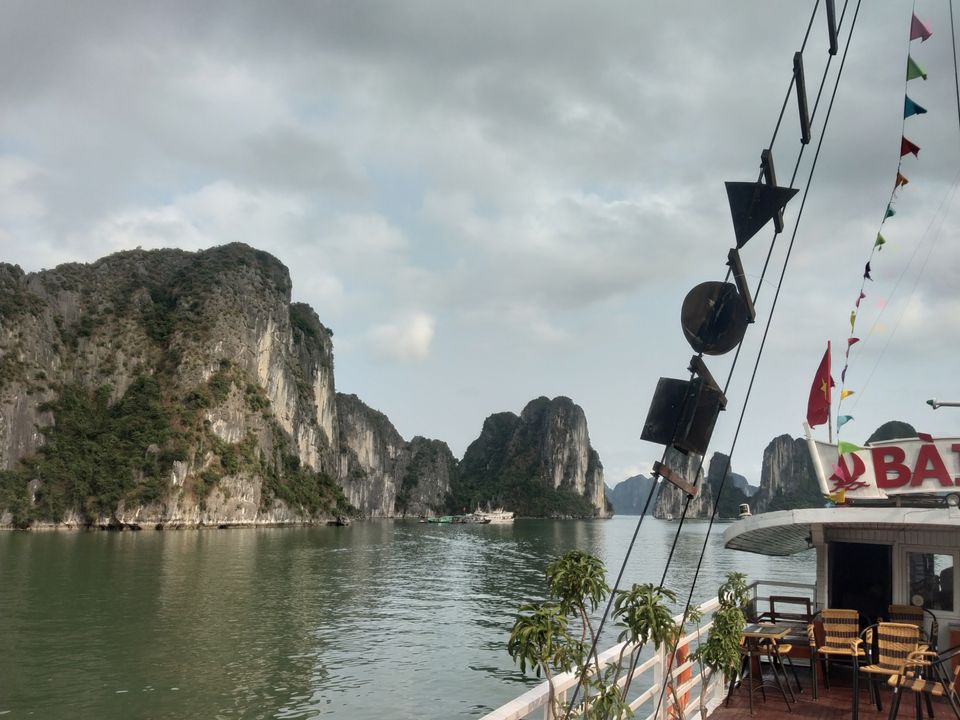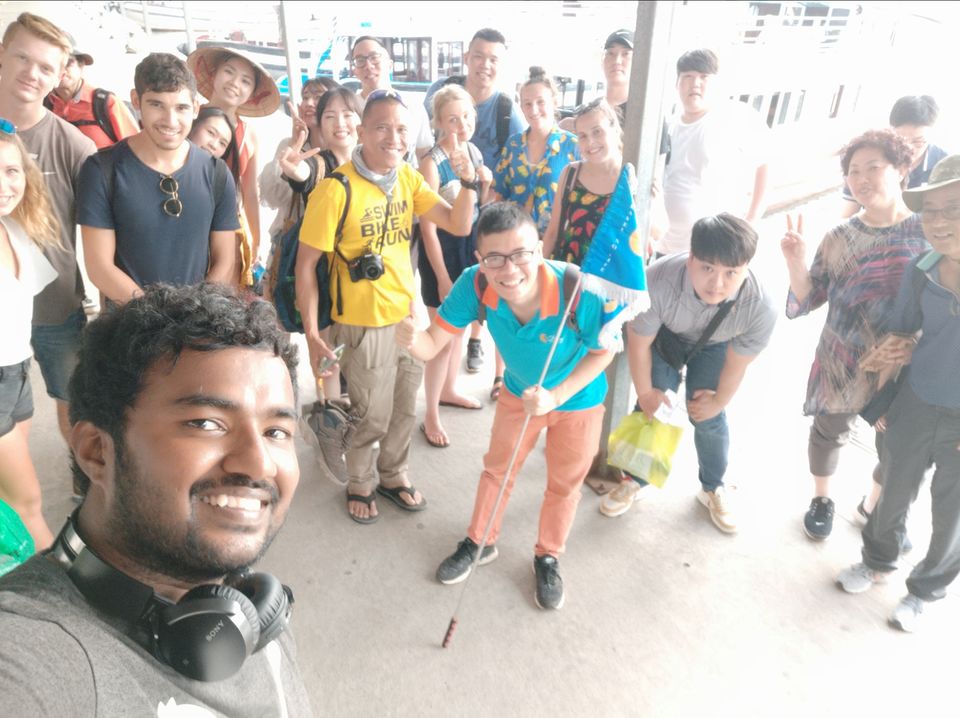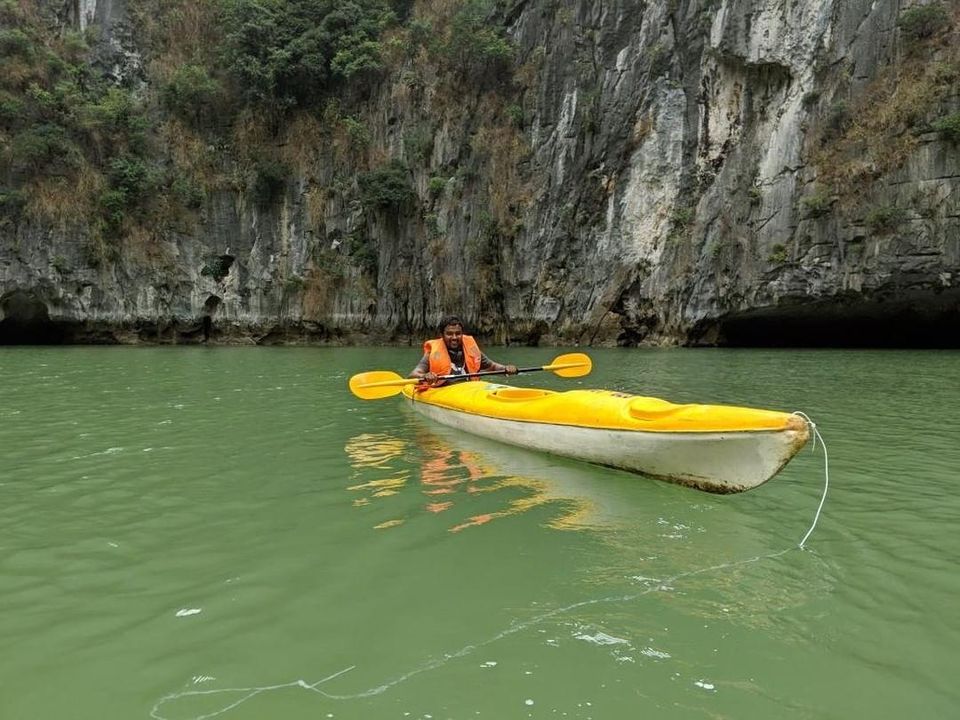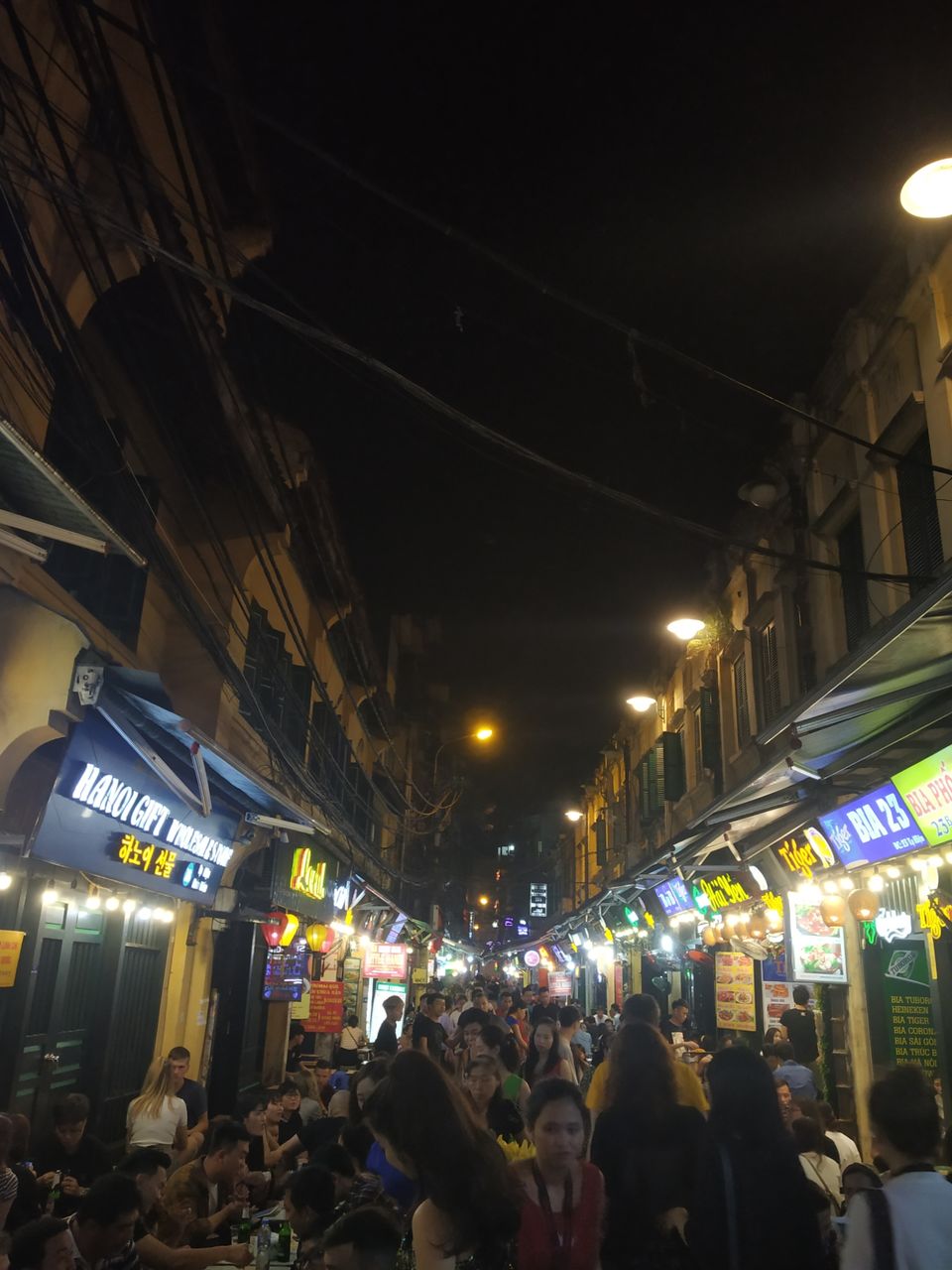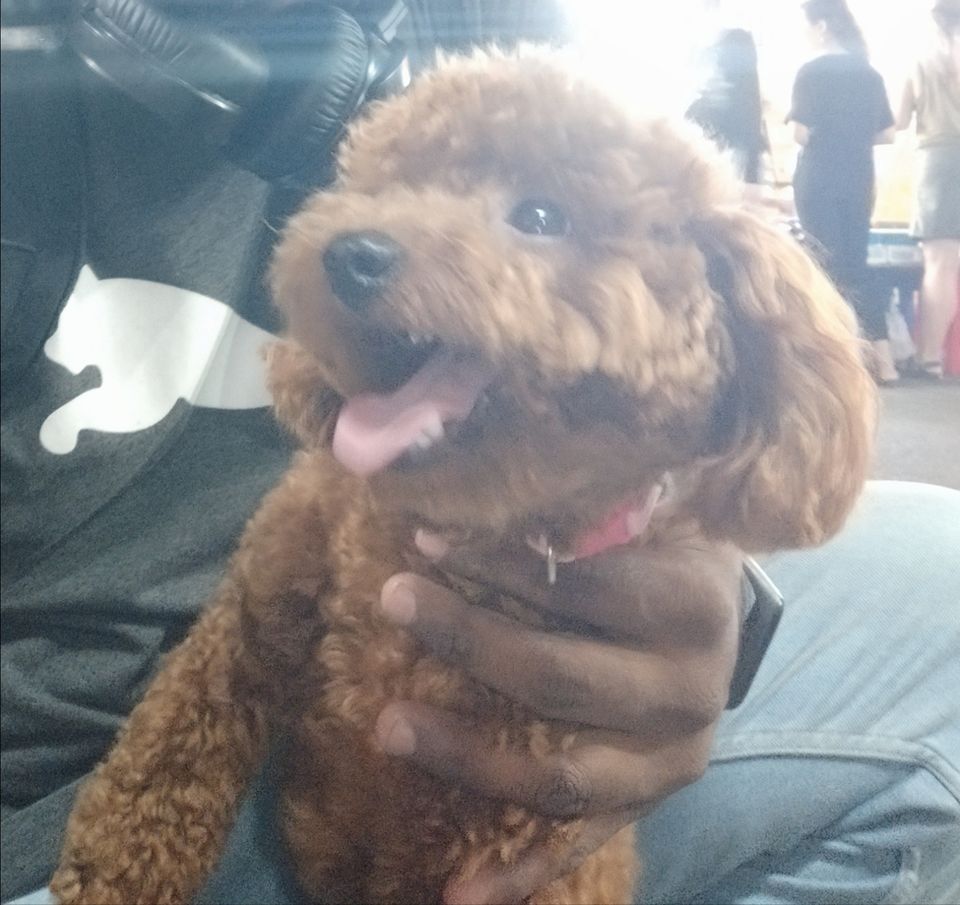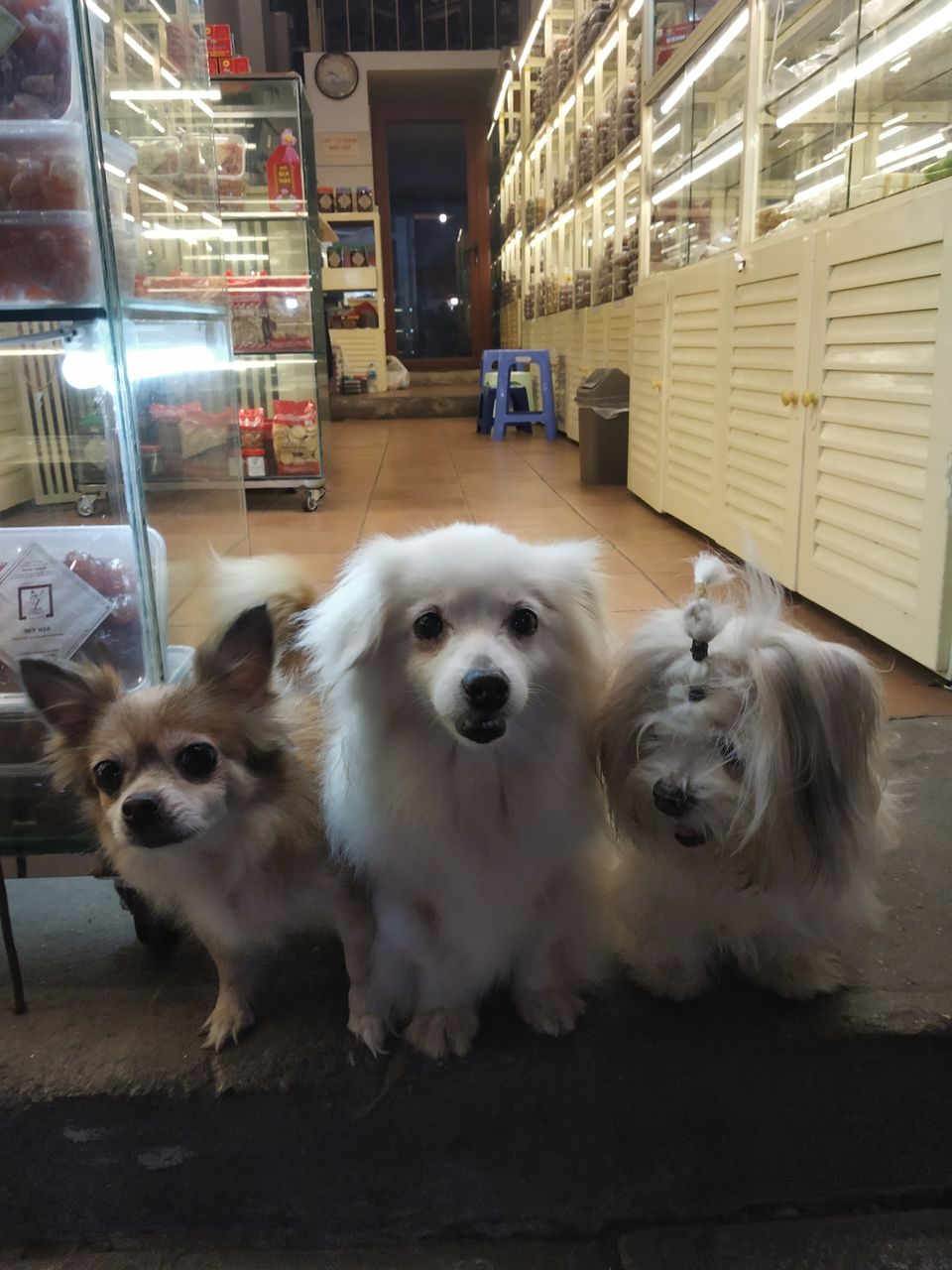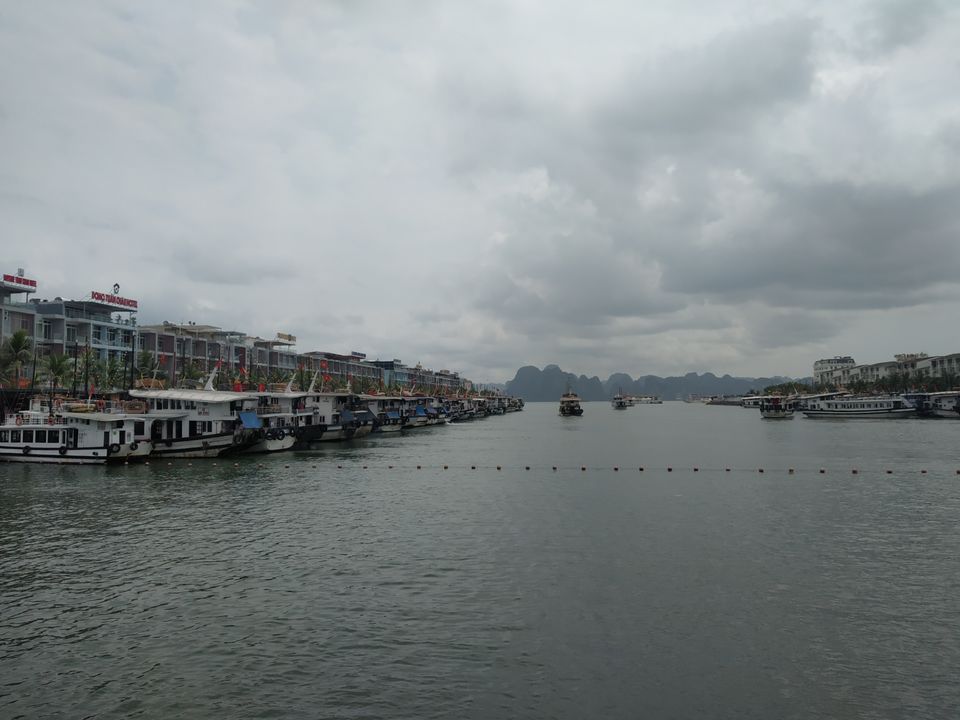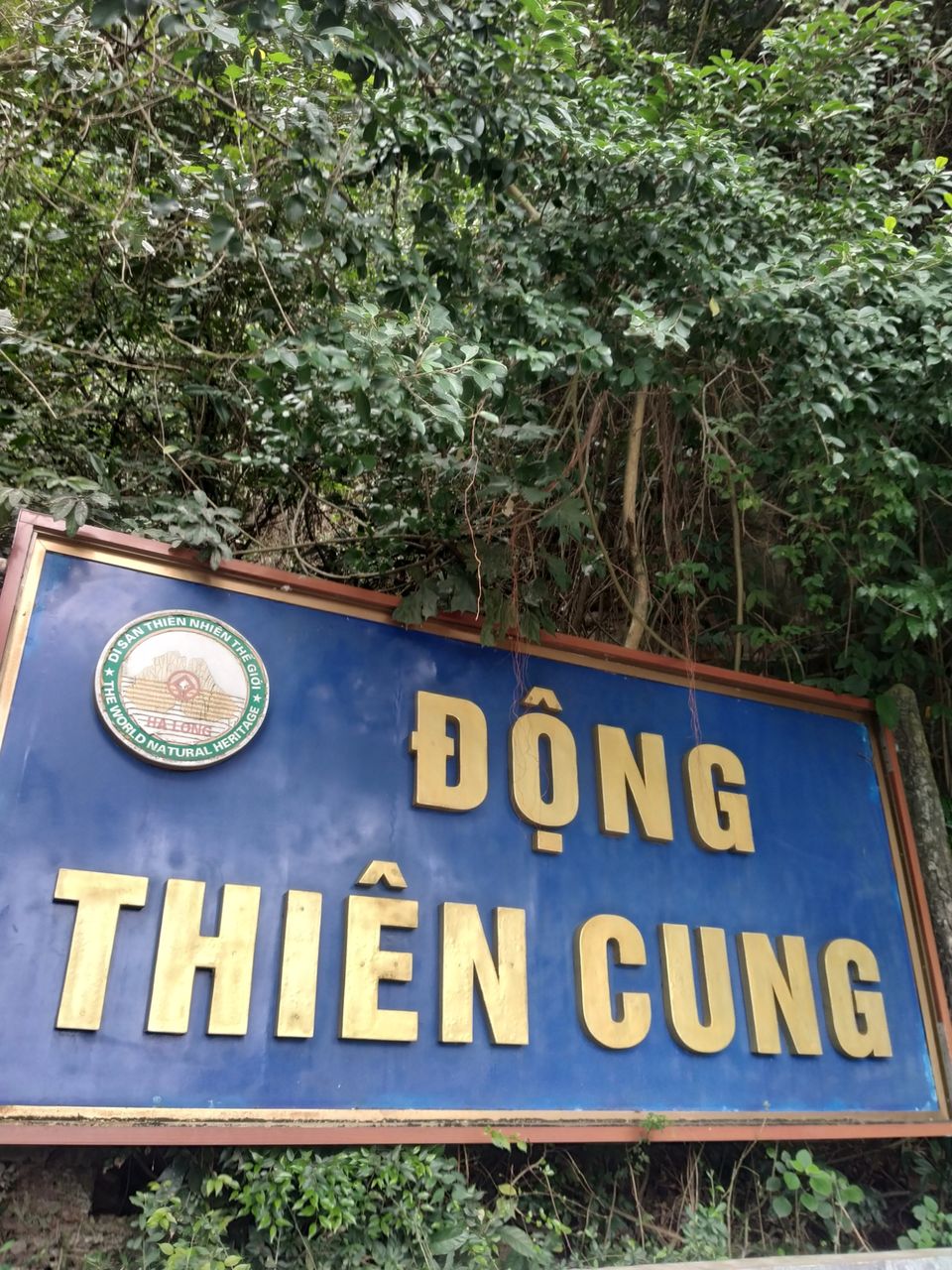 It's gonna be my last sight seeing day in Vietnam. The day started by visiting the Ho chi Minh mausoleum, the presidential palace, home of Literature and Van Mieu. The Van Mieu is the monument which is printed on 100,000 Vietnamese Dong.
It's pretty much for the day and I have enjoyed my last day in Vietnam by walking in the streets and eating some street food.
And this concludes my trip to Vietnam. I have a flight at 9am tomorrow from Hanoi. It's a connecting flight. Hanoi- Kaula lampur and Kaula lampur- Visakhapatnam with 6 hours lay over. I will be reaching my home around 10:30PM.
I will write total details about my budget tomorrow.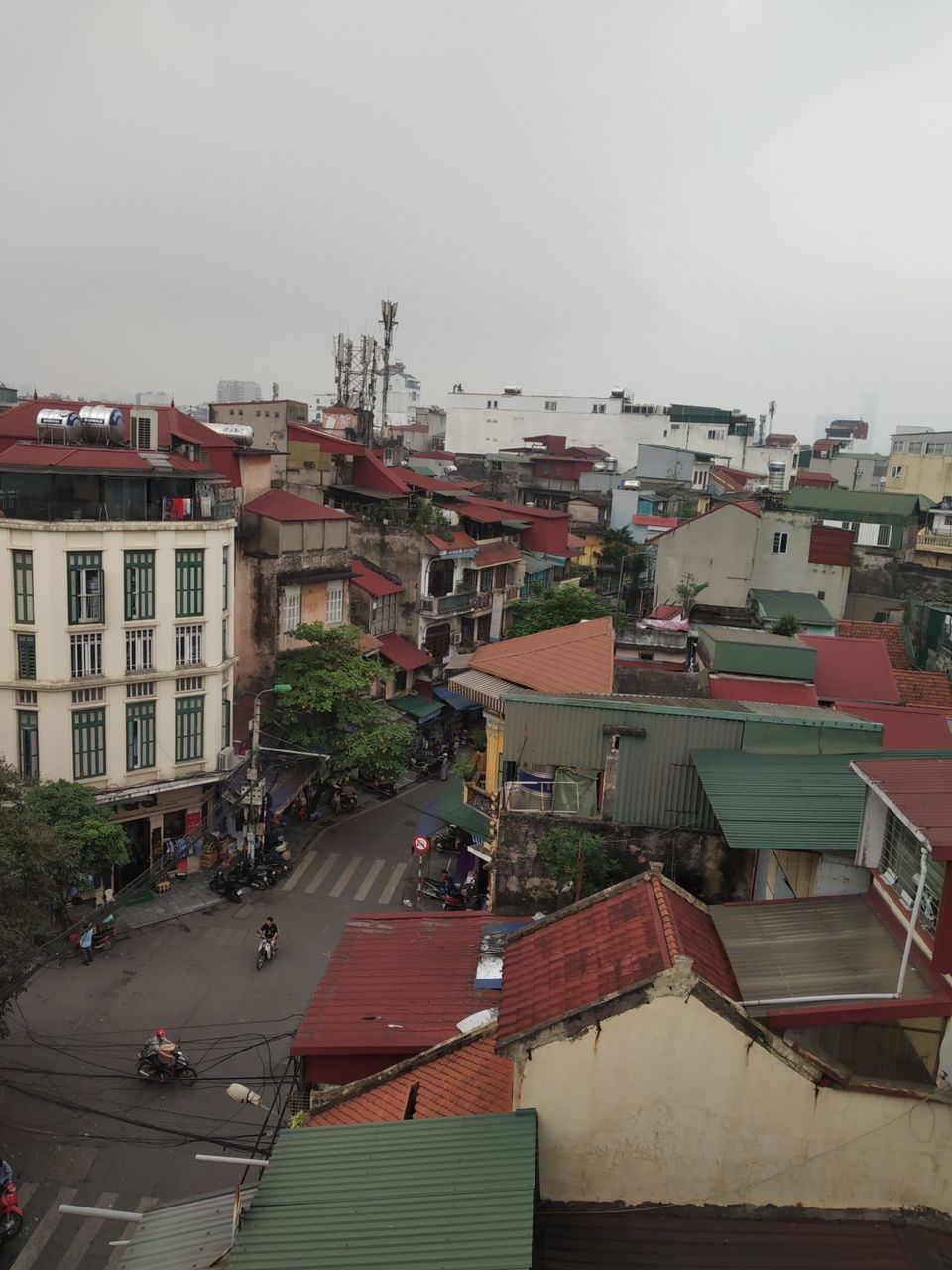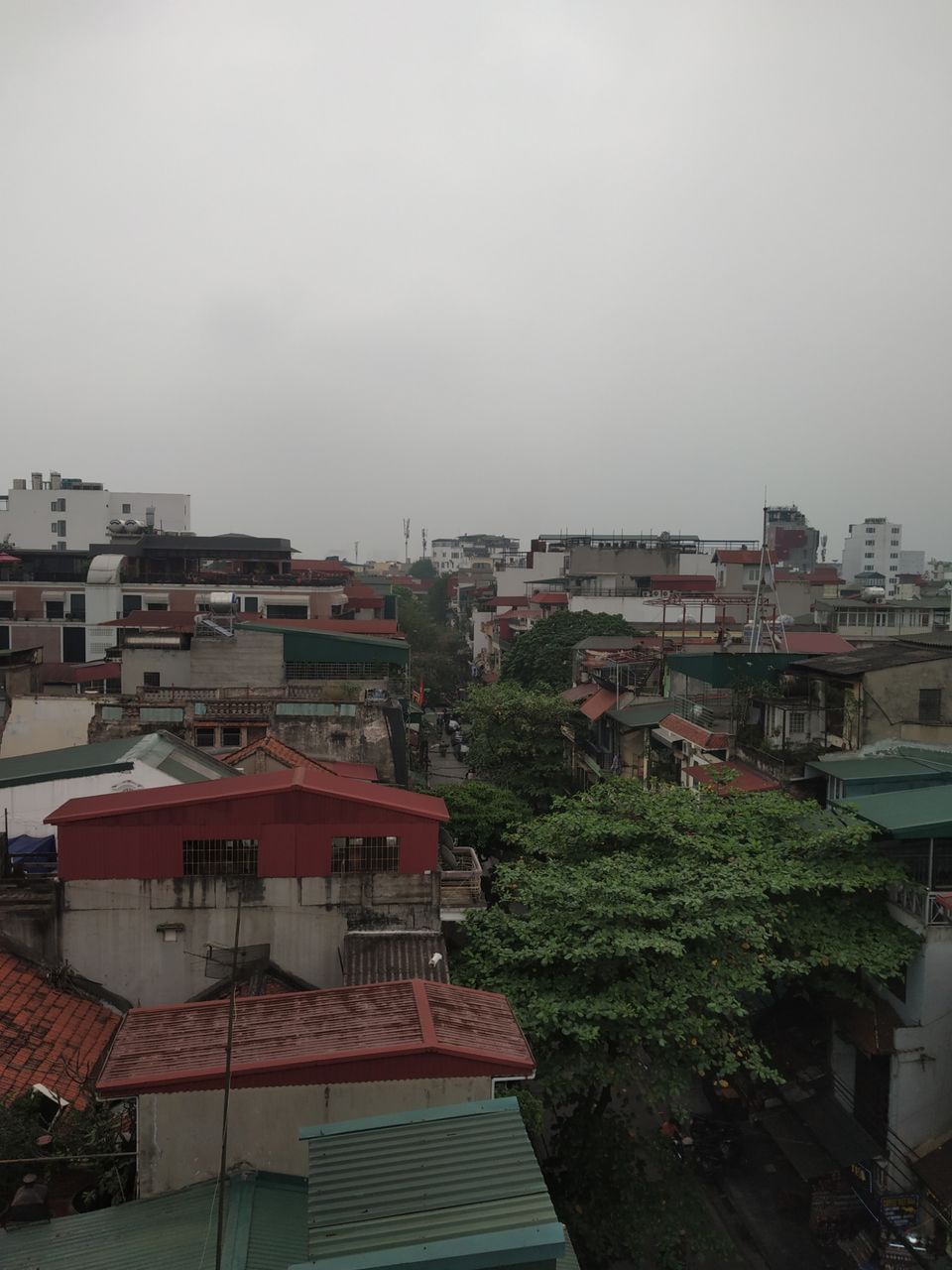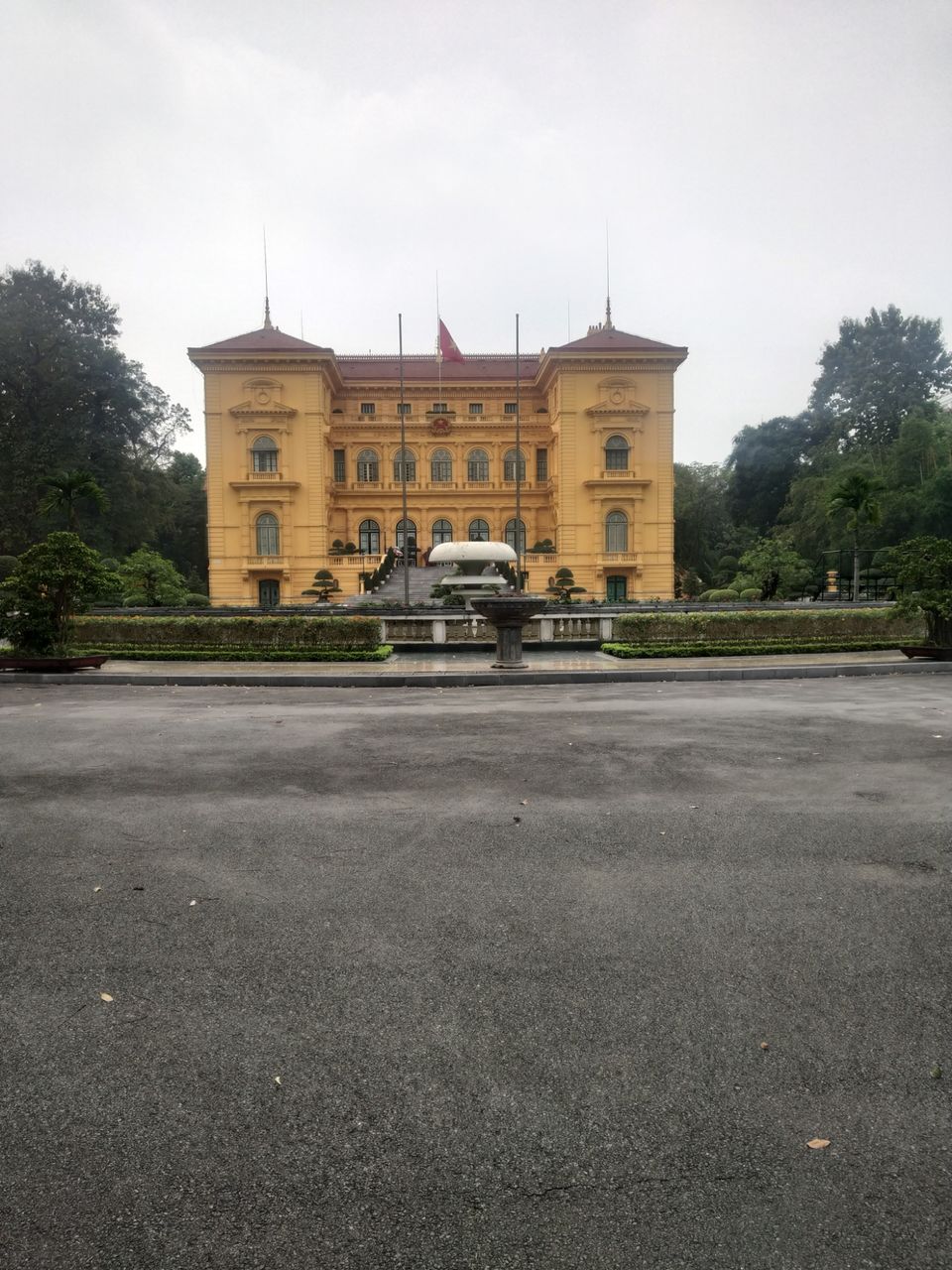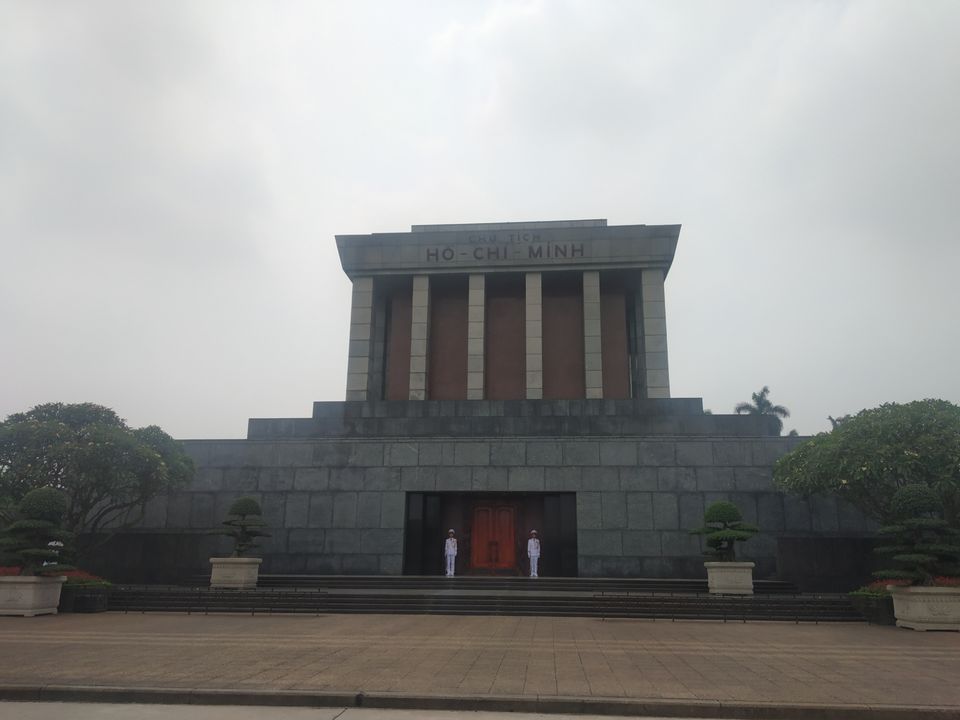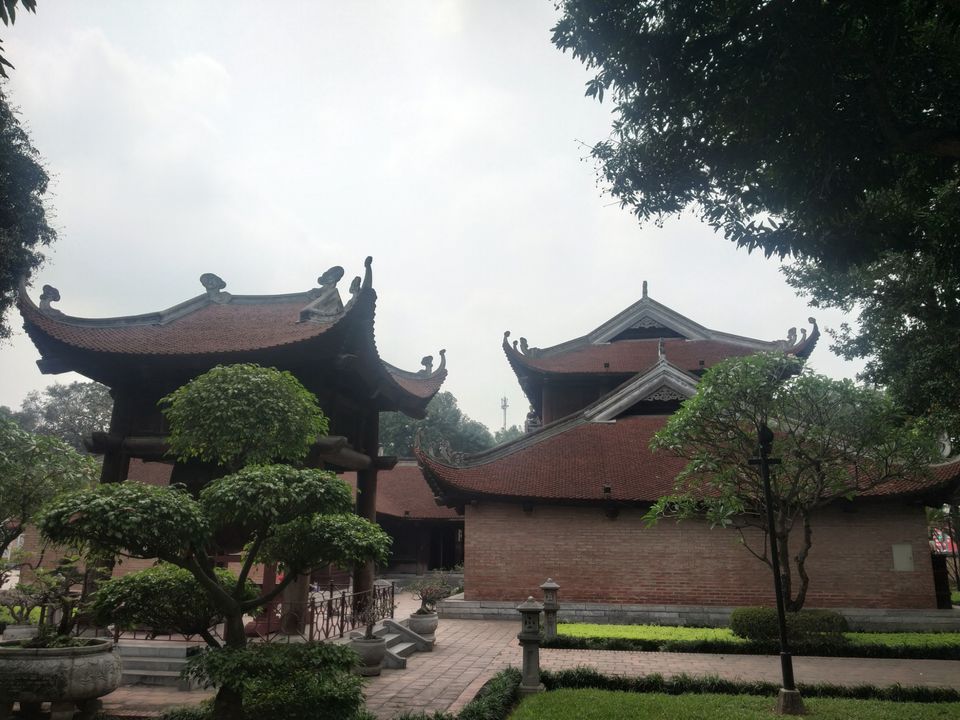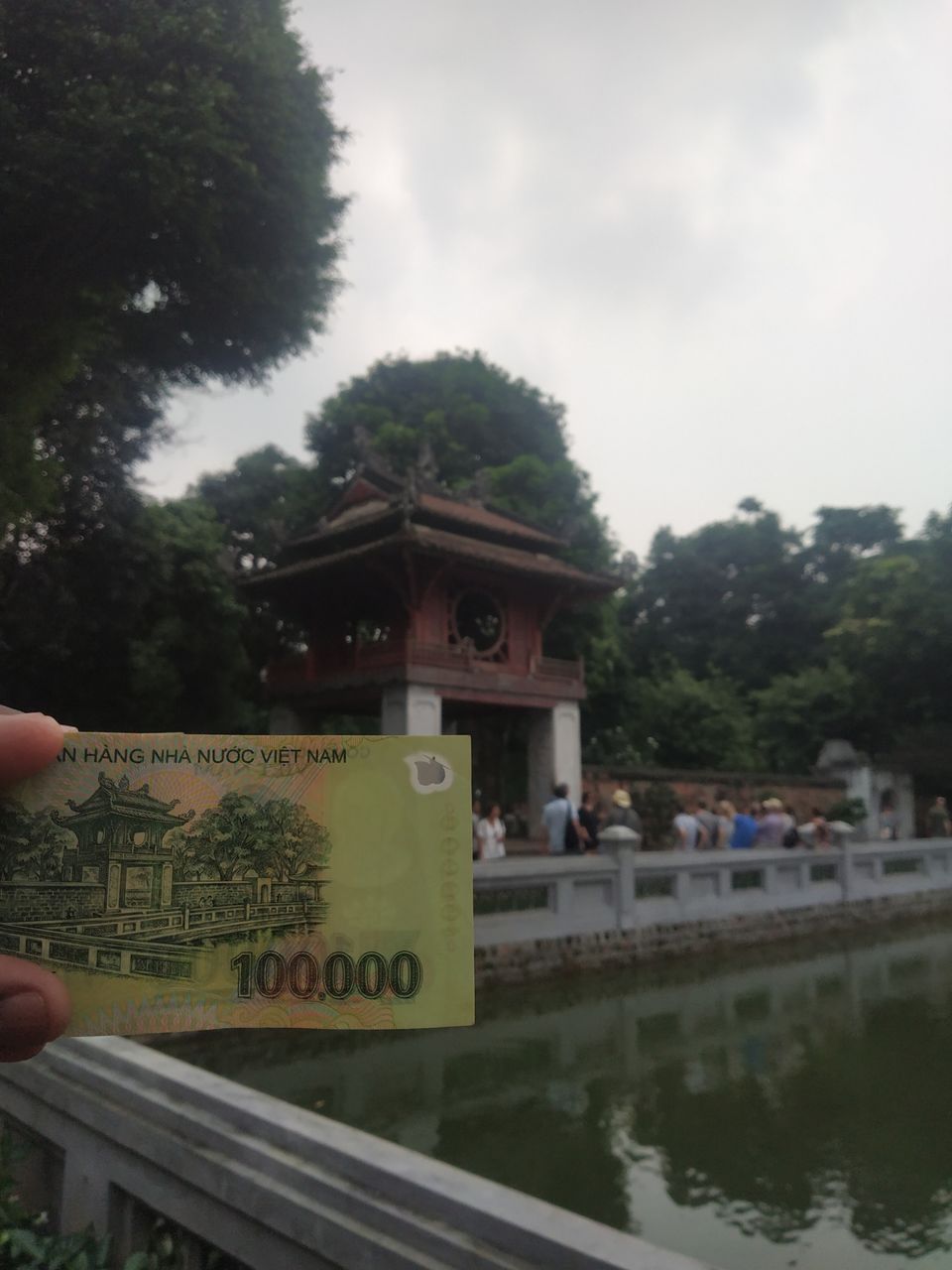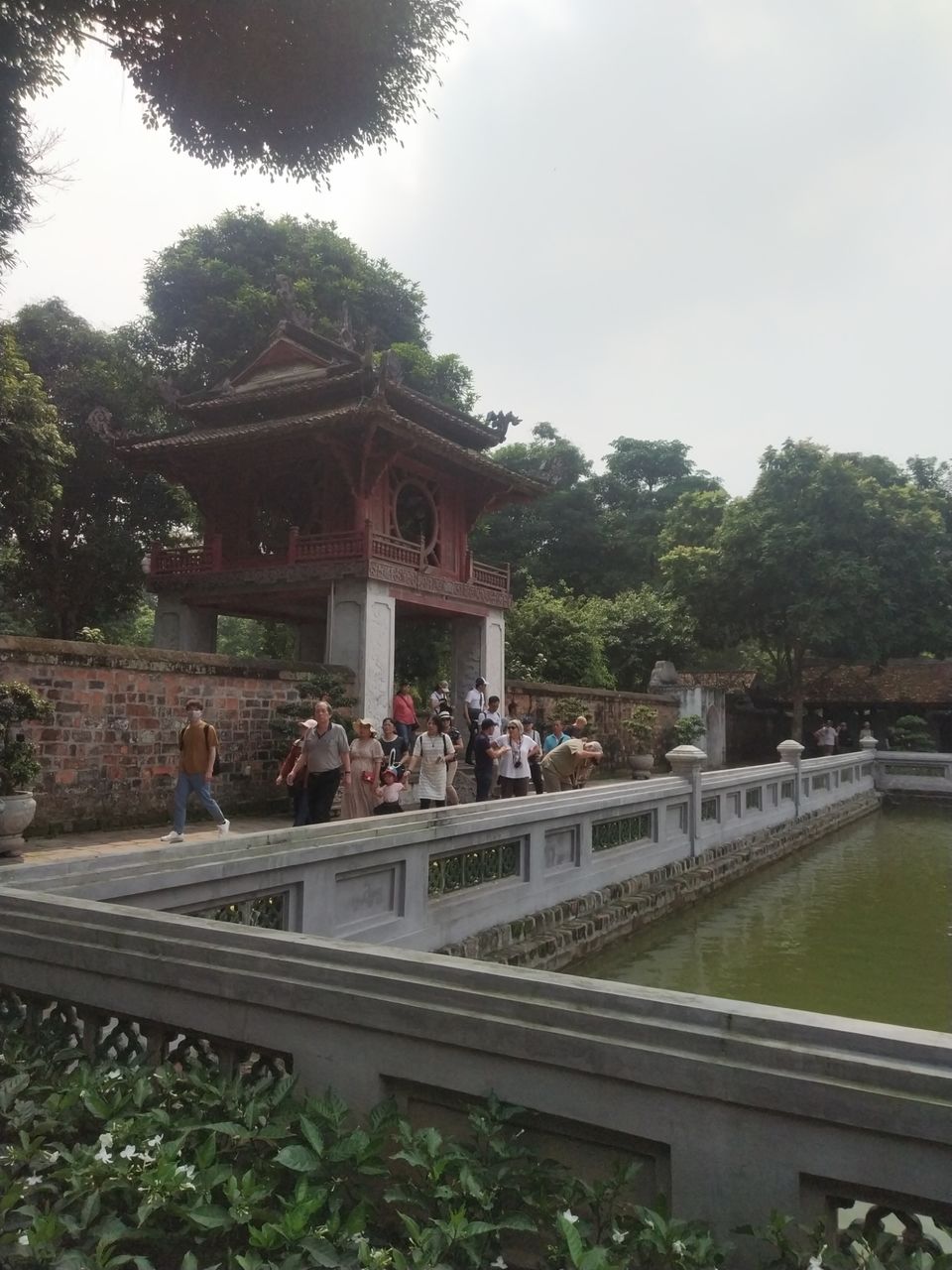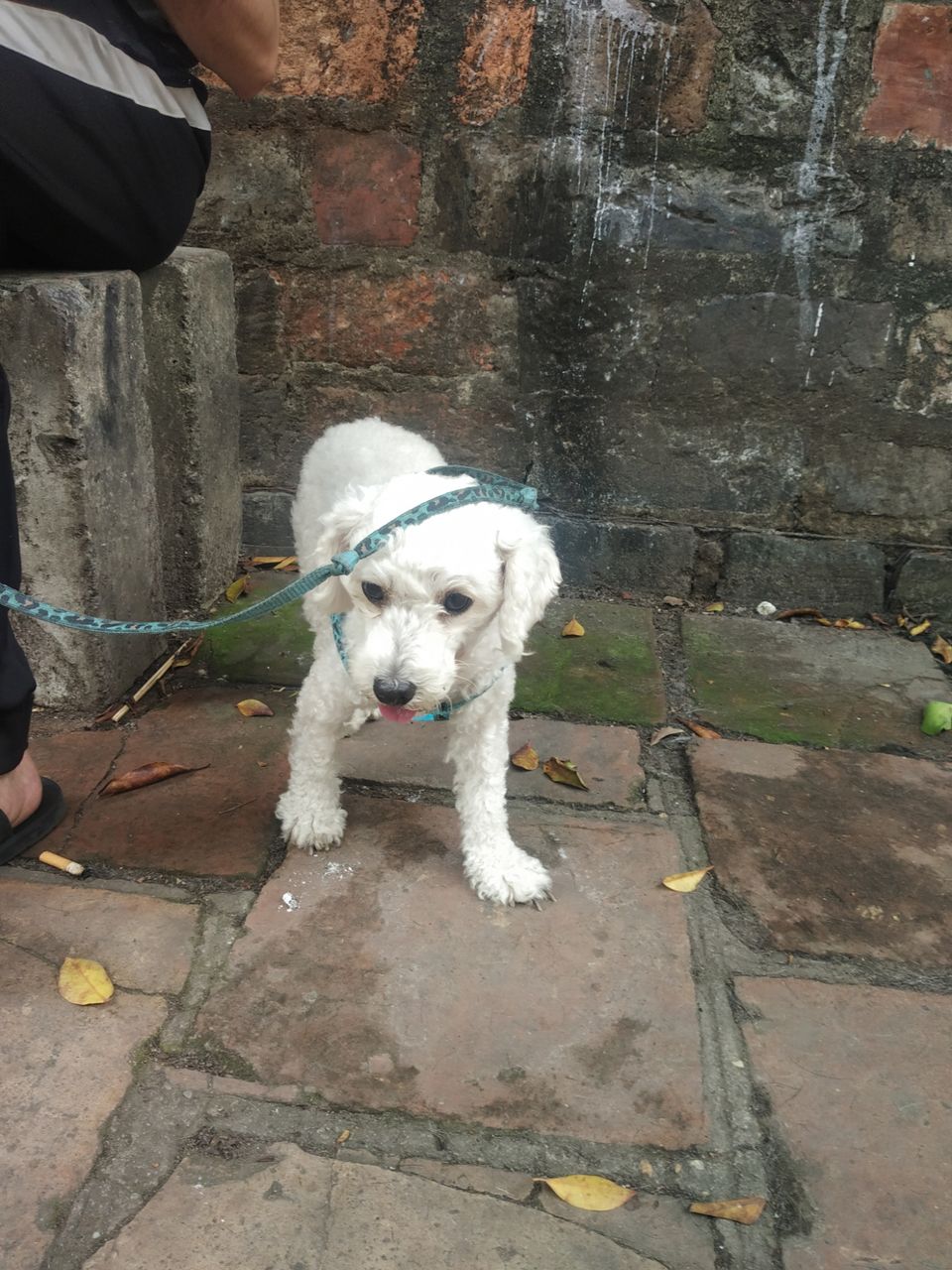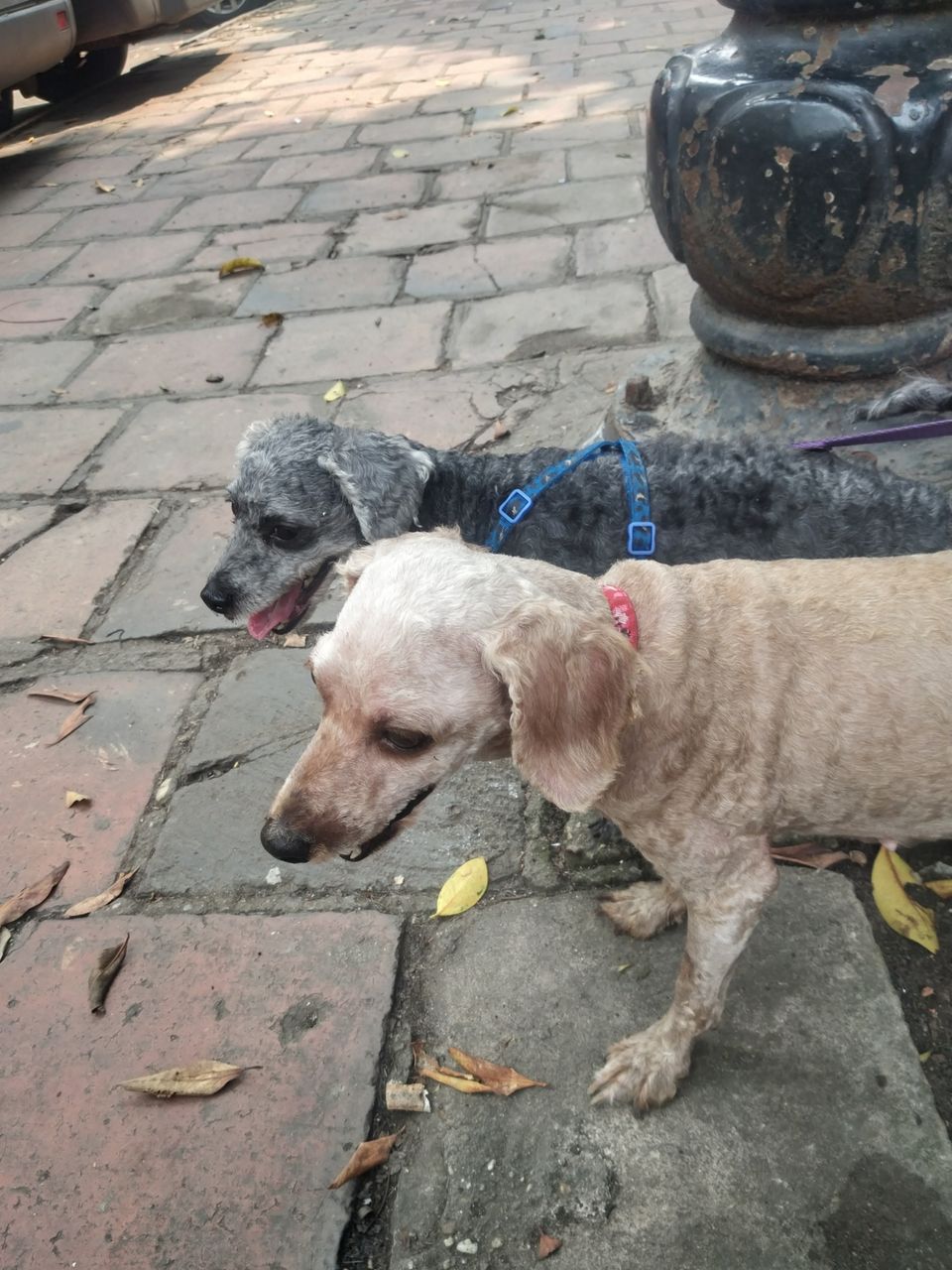 I haven't slept properly because of a feeling that I may over sleep and miss my flight!????. So I went to the Hanoi (Nai bai Airport) at 5am and checked in my luggage at 6:30am and boarded the Air Asia flight to Kaula Lampur at 8:30am. At around 12:30 I have reached the major airport in South East Asia, Kaula Lampur. And it's a long lay over for 7 hours for my flight to Visakhapatnam. It is at 8:00pm. I will reach My home by 10:00pm. So I have done a tour inside the airport. I wish I could have went into the city but Indian's do need a visa to enter Malaysia. So just done an inside tour of the airport. Airport is super massive with all the facilities. Shopping,Movie Lounge, sport lounge, free water etc. It is also well connected to the city with the metro train and local bus.
And coming to my Vietnam trip for 13 days my total budget is 50000 Rupees Including everything and it is well concluded around that only.
With flights costing around 21000 Rs To and Fro from Visakhapatnam.
And the remaining 30000 Rs for Food, transport and hotel and entrance tickets for 13 days in Vietnam.
In my estimation if you plan perfectly for a 7 day trip To Vietnam, It can be done under 30000 Rupees easily.
So don't be lazy and start planning from now.
Instagram: vinay_chand
https://www.instagram.com/vinay_chand/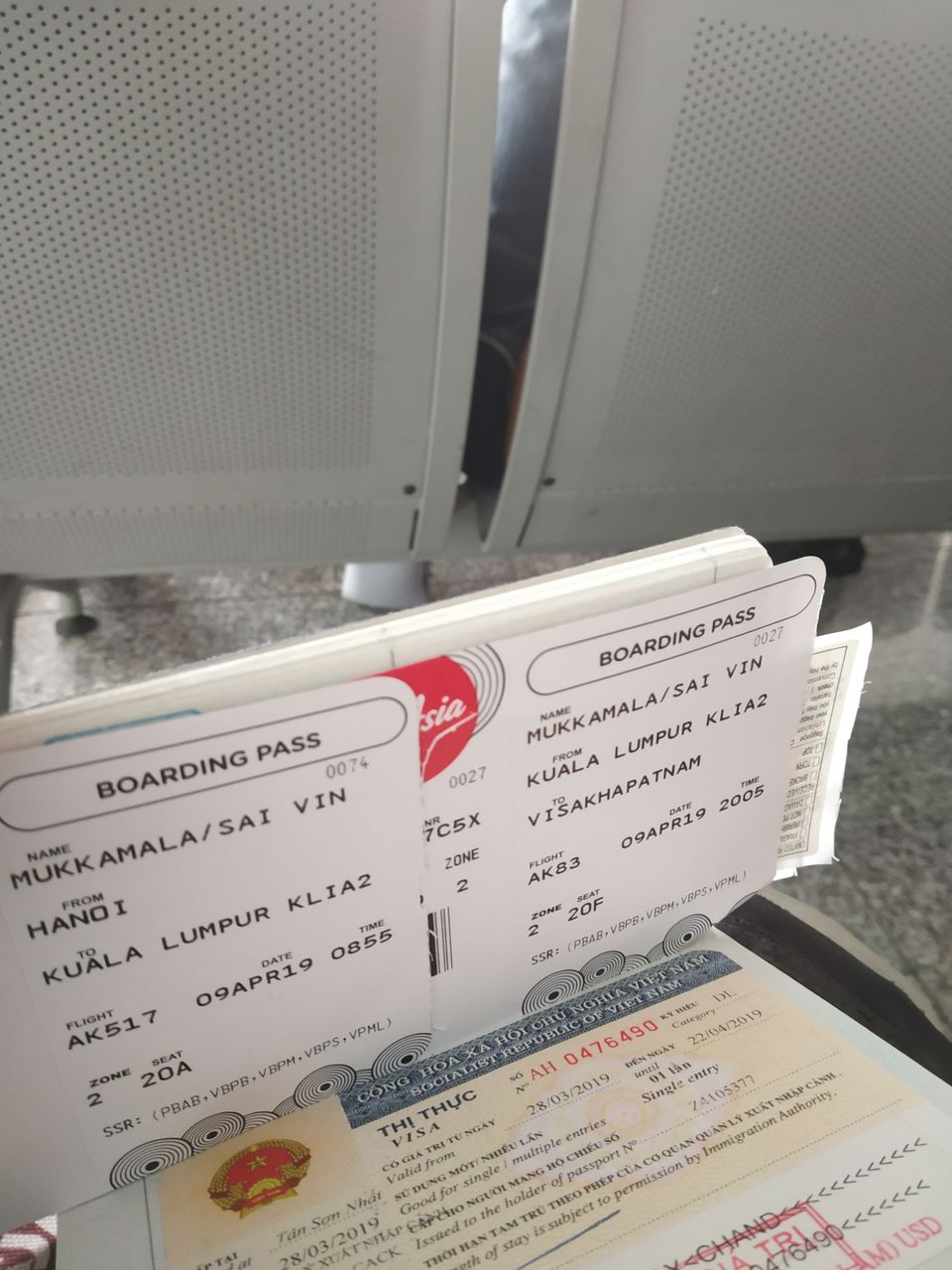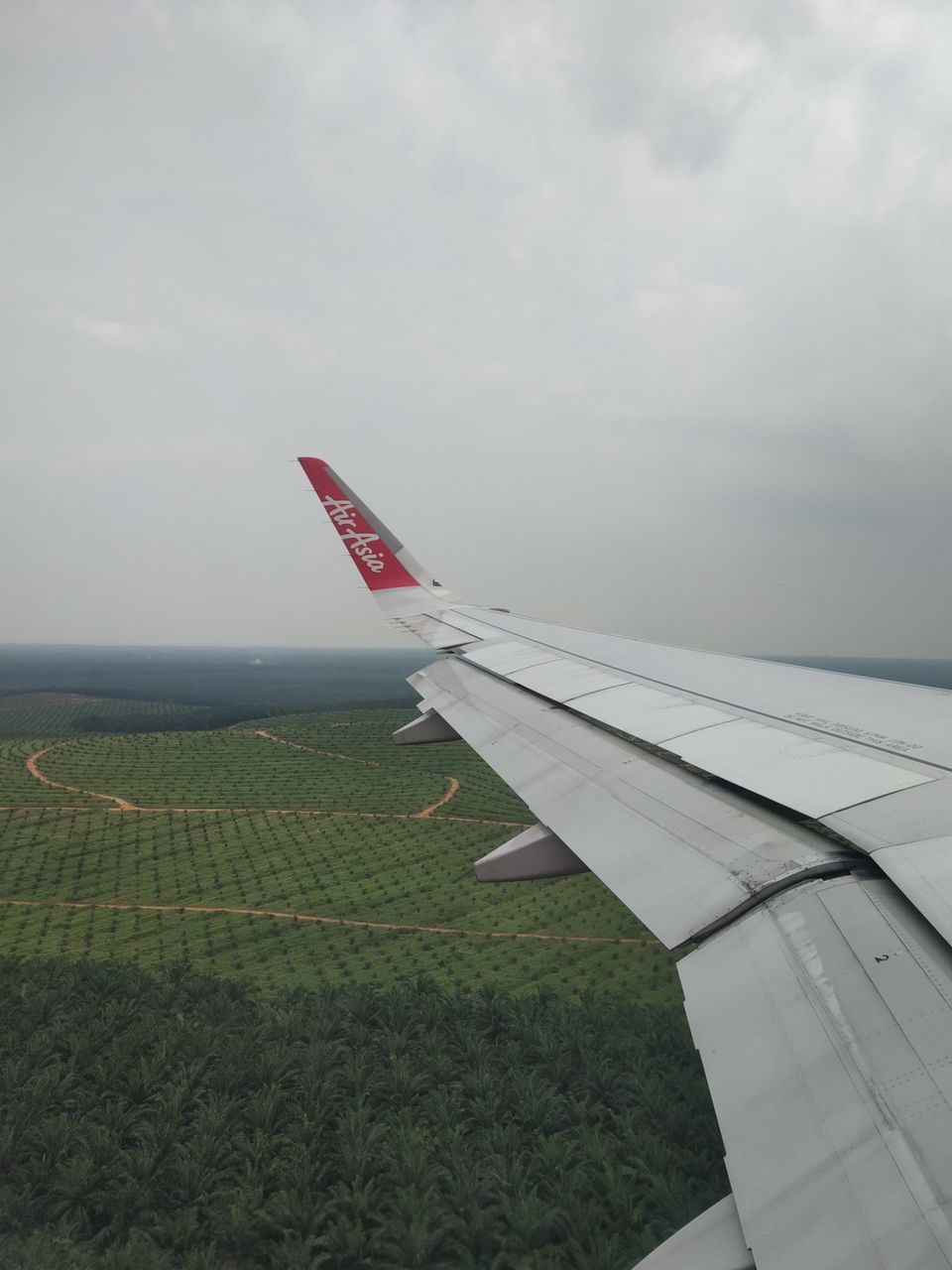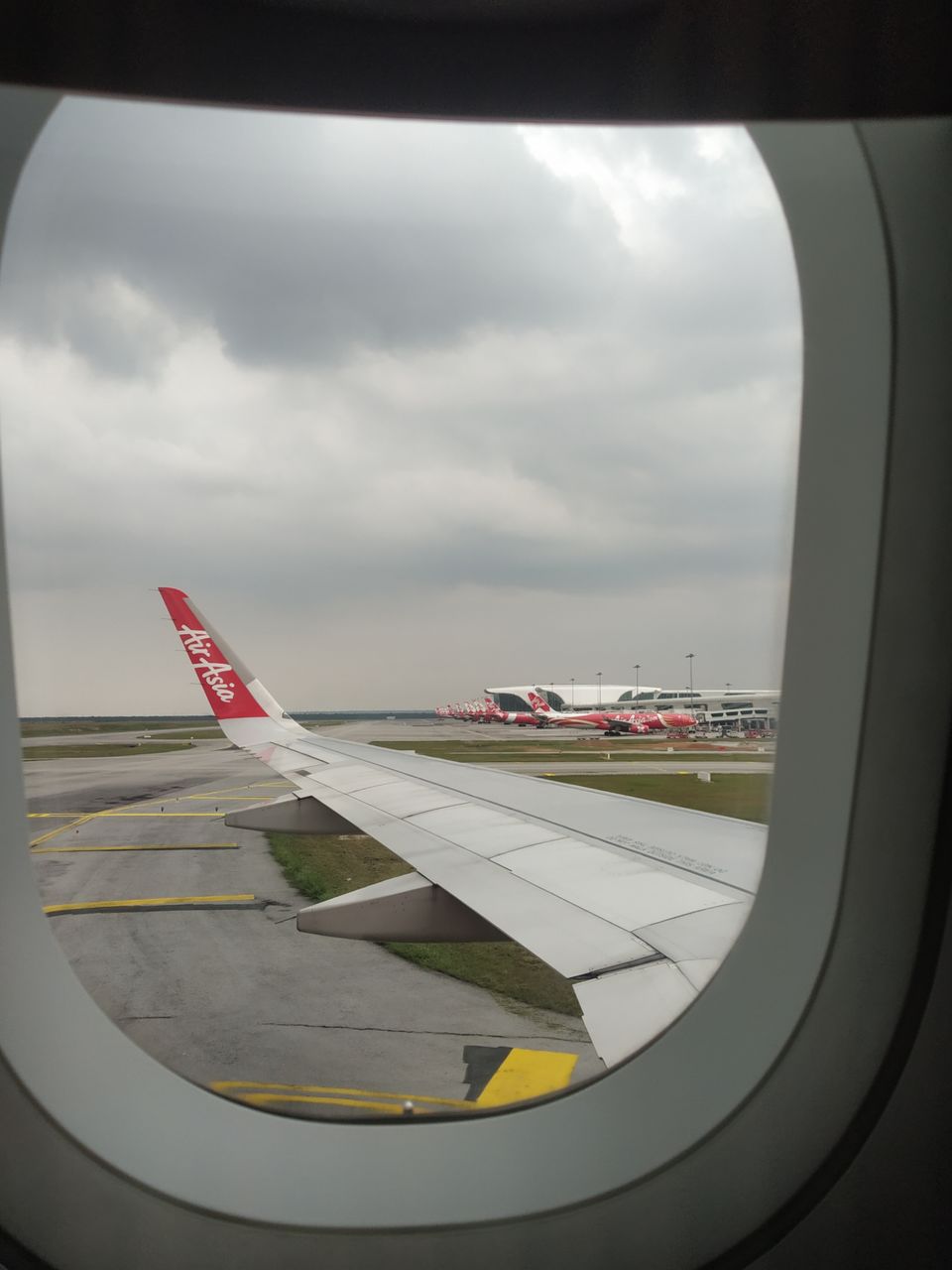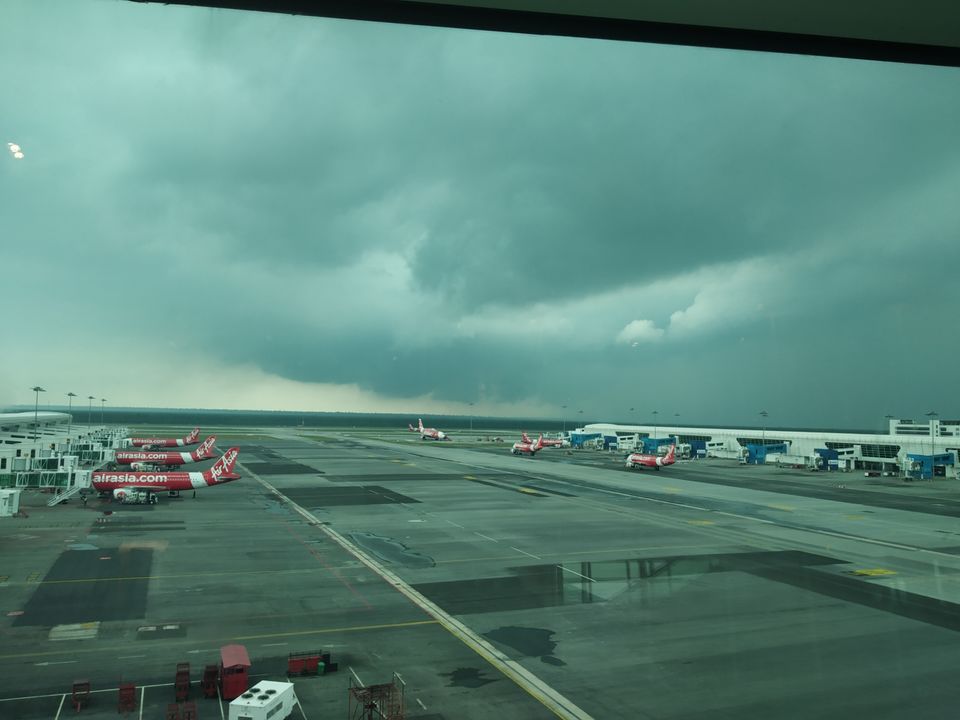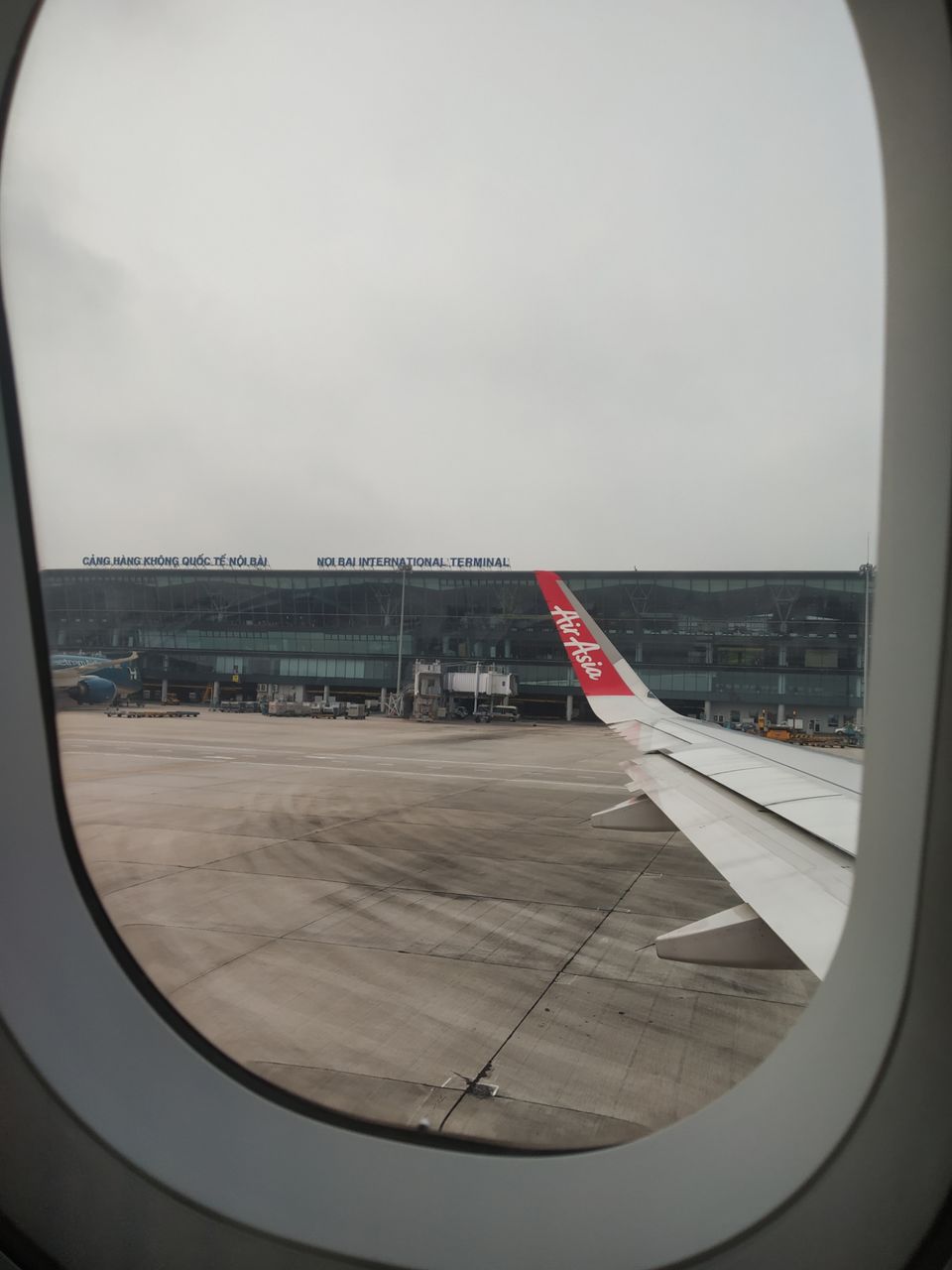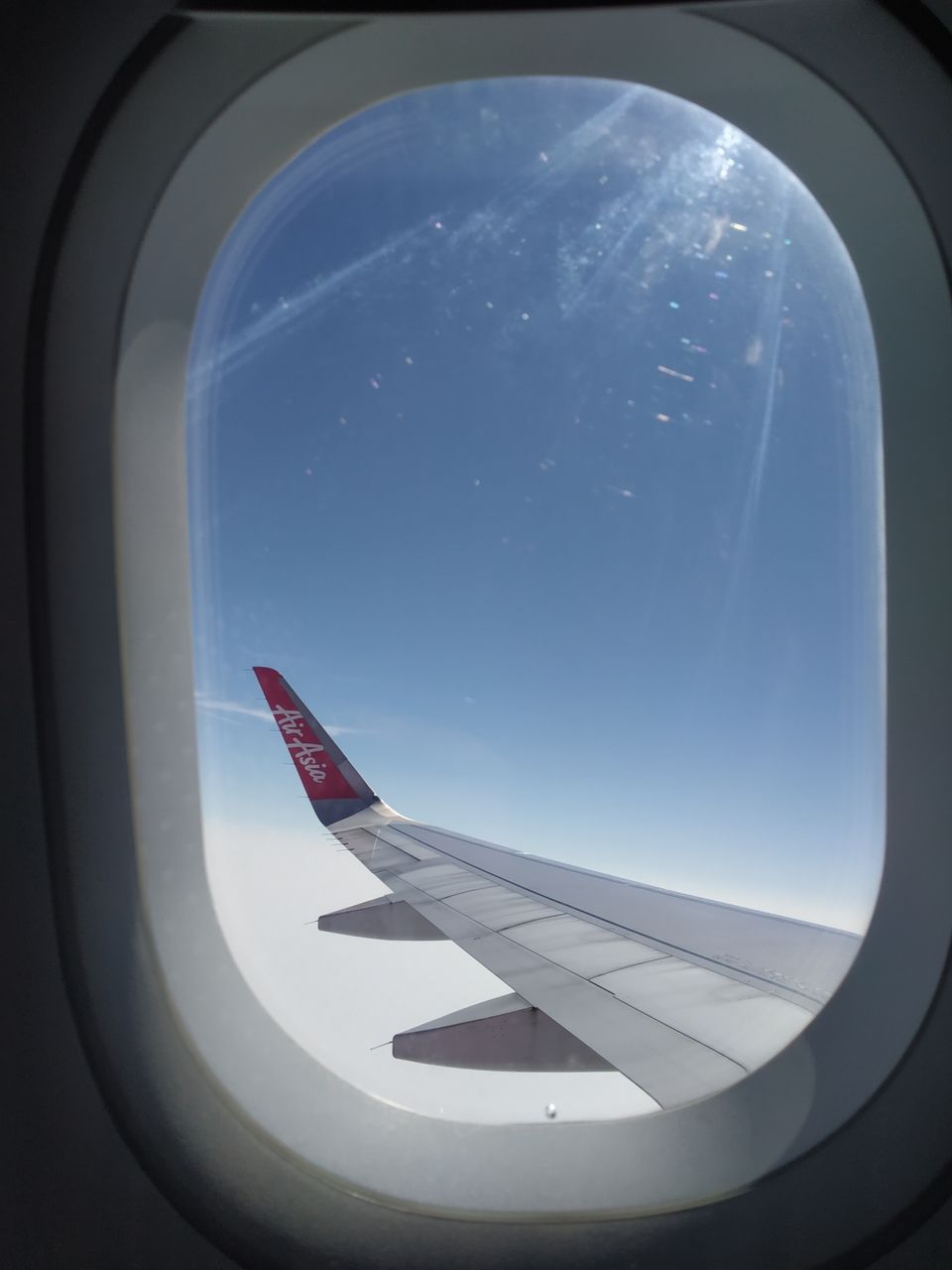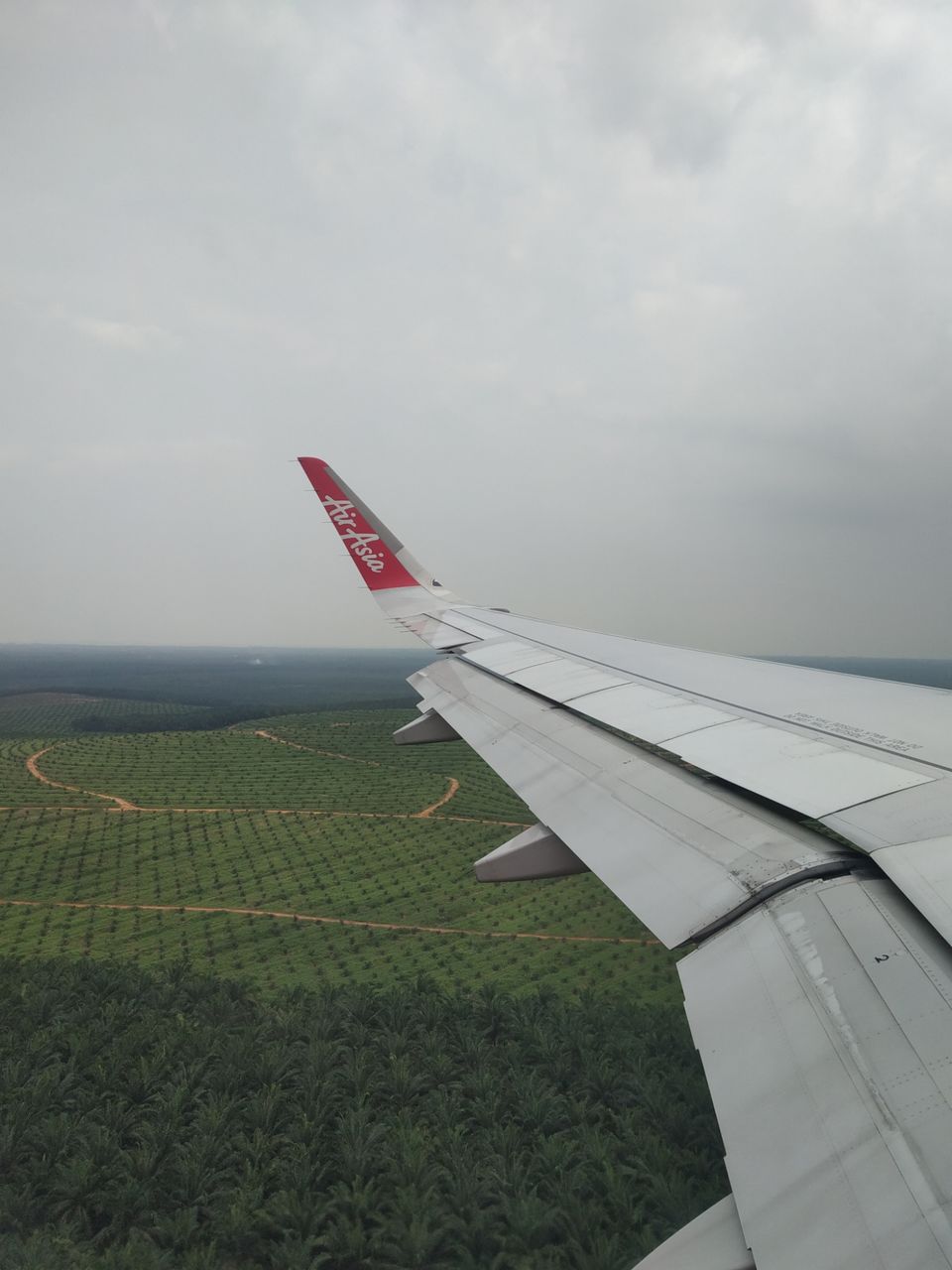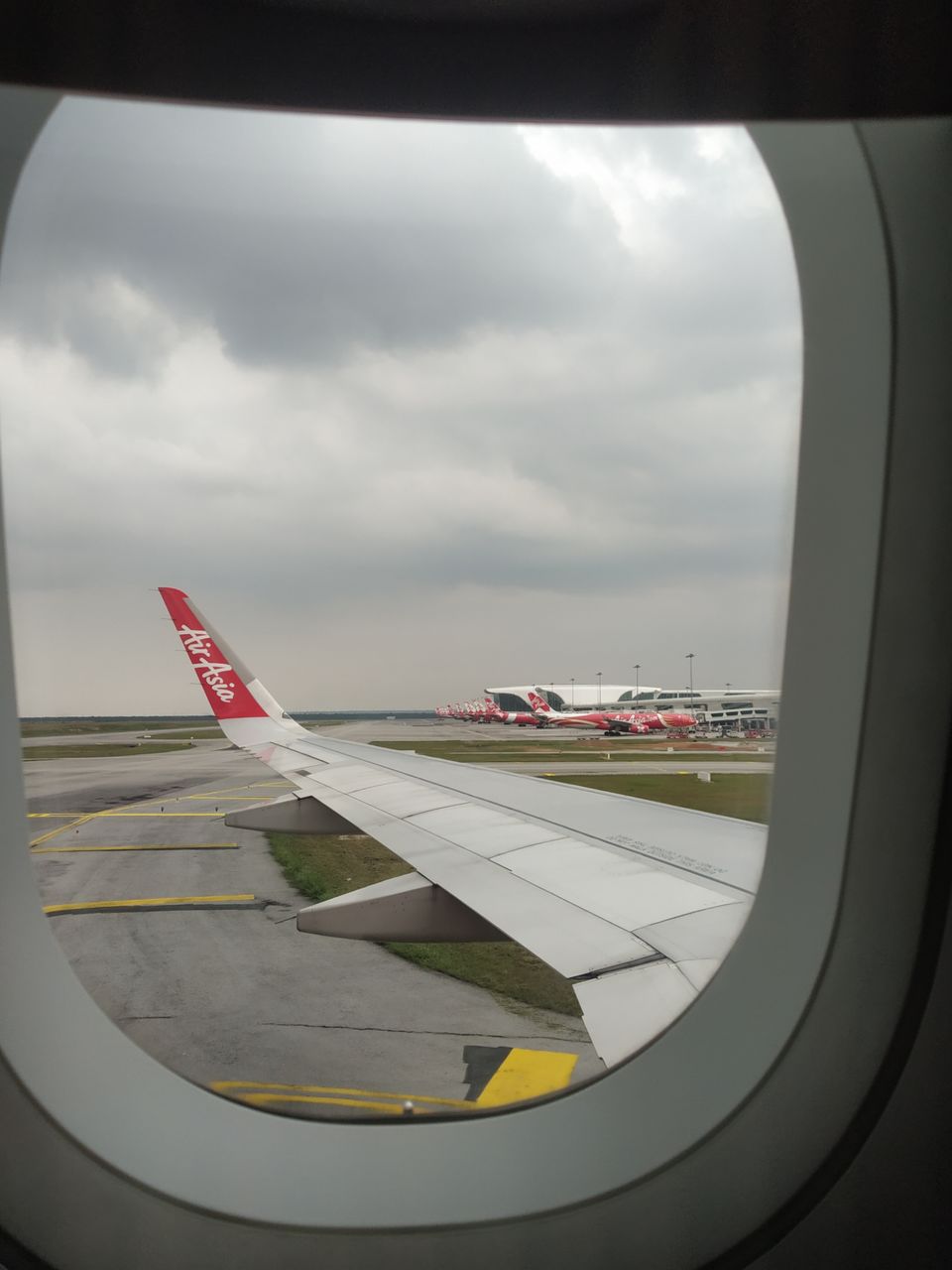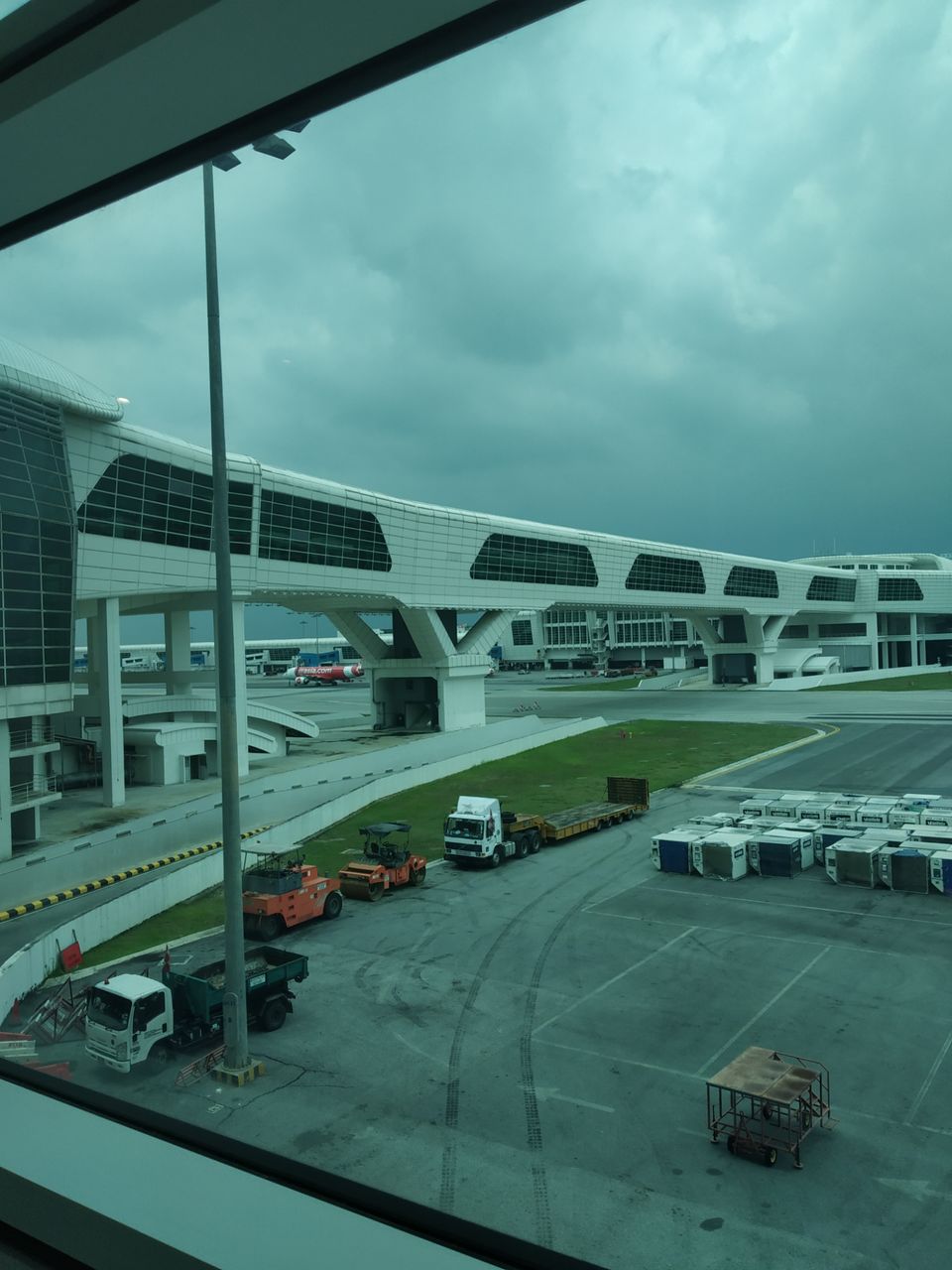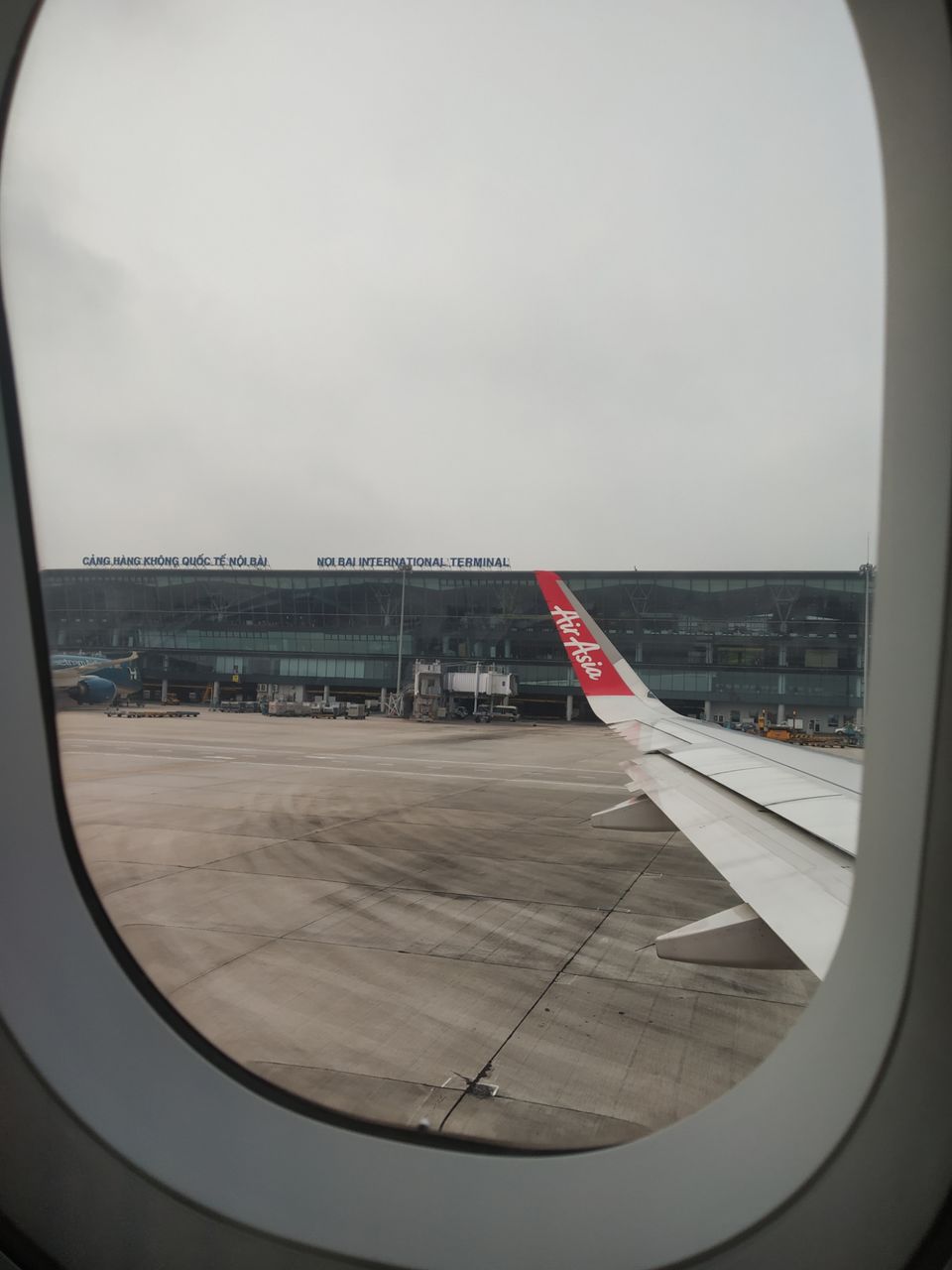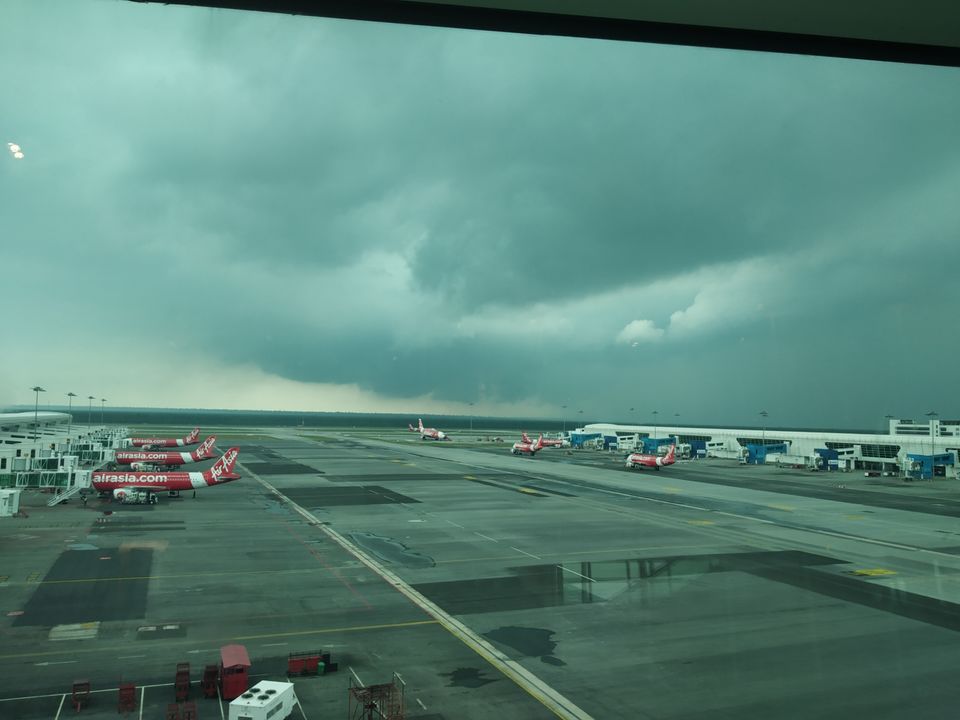 Frequent Searches Leading To This Page:-
Vietnam Tour Places, Vietnam 4N 5D Itinerary, Vietnam Tourism Office In India, Vietnam Tour Operators In Vietnam, Delhi To Vietnam Flight, Places To Visit In Vietnam