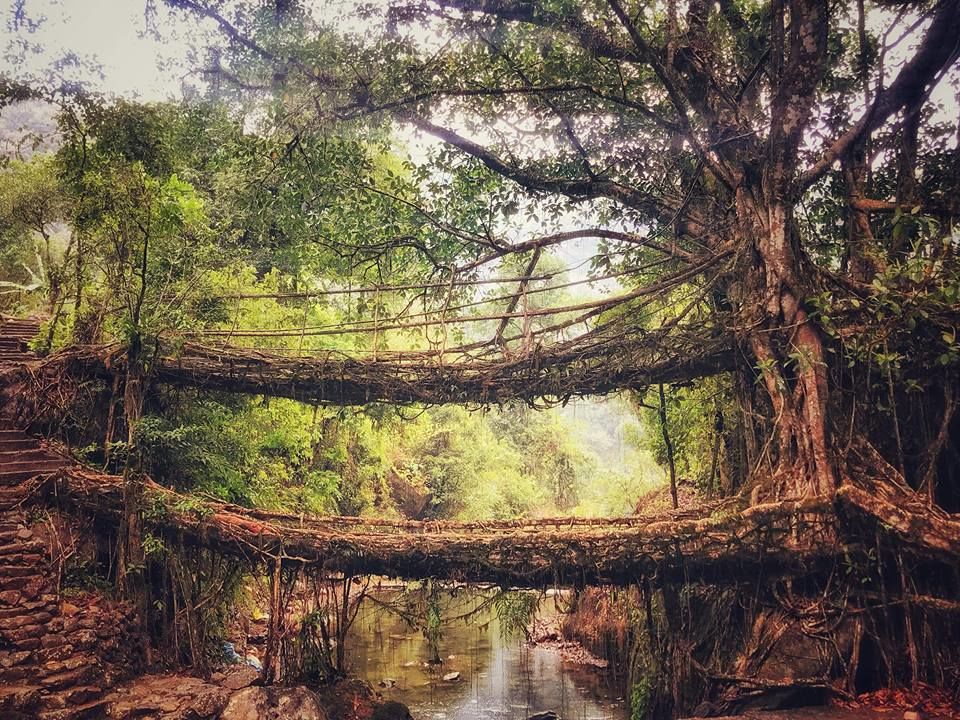 Yet another day, yet another way and it is Meghalaya this time, a gang of 5 with 3 novice travelers. Felt promising when everyone made to Chennai airport on time. We were off to Guwahati, the nearest accessible airport to reach Meghalaya.
Day 1: Chennai – Guwahati – Shillong – Cherapunjee
We left Chennai early in the morning and reached Guwahati for breakfast. Being like-minded backpackers, we did not opt for cab, rather went out looking for bus to reach Paltan Bazaar, the place where we get cabs to Shillong. We were unaware that there is a direct bus from airport to Paltan. Bearing in mind that morning walk is the right way to kick start a day, we atlast found an auto stand at 2kms from airport to reach the next pit stop, we hired a van that shares ride for onward. Off to Aadabri, took a bus to Paltan Bazaar post breakfast. Astonishingly, only one bus runs to Shillong from Paltan, despite being the most visited place by tourists and travelers. But the place hoards a lot of shared sumo that runs jam packed upto Shillong, usually a 4 hour journey.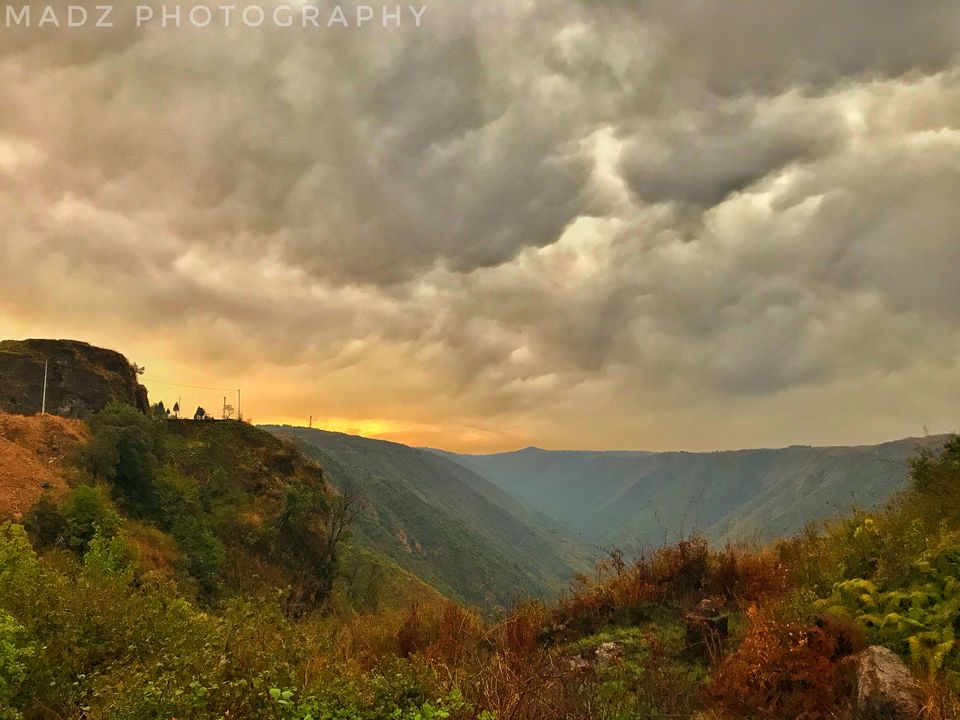 Those cabs stop at a point 2kms from Police Bazaar, the place where we can hire cabs for the next destination. We again preferred to walk, over cab. To no surprise, there were no buses from Shillong to Cherapunjee. We were also informed that there were no proper resorts there by a Professor, one of our co-passengers in the share van. We wanted to decide anything only after food, food is peace and only a peaceful mind makes the right decision. We inquired transportation details from the restaurant staff and concluded leaving to Cherapunjee wise. Only Alto 800 runs from Police Bazaar to Cherapunjee. 7 of us shared a single Alto, a thick one-hour ride.
Day 2: Sohra – Tyrna – Nongriat
We all were ready exactly at 6.00am to start trekking down to the root bridge. Unaware if it was because Good Friday the previous day or because they usually start their days late in the morning, the streets were deserted. Seems they enjoy the luxury of deciding when to start their day, unlike us, people from one of the busiest parts of India. We somehow managed to hire a cab alongside witnessing rain in India's highest rainfall recorded region. Nongriat, at 15kms from Sohra is the village that hosts the living root bridge. Those were built by the Khasi tribes. The base camp is at Tyrna. The drive to Tyrna was so scenic, every inch of Cherapunjee felt beautiful.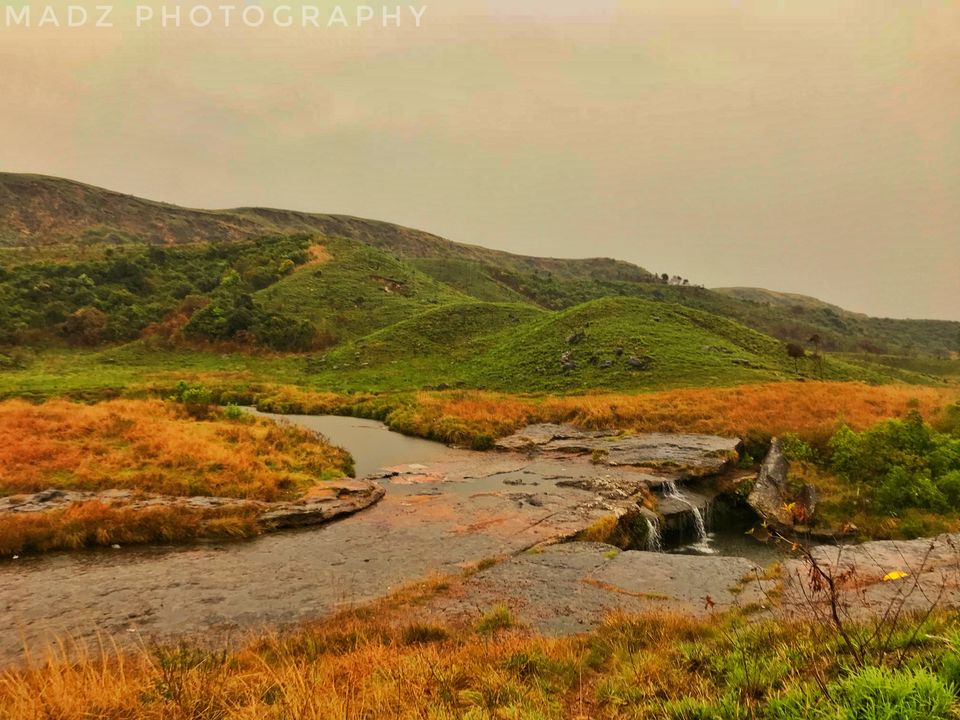 Since we started very early, we had to stop somewhere for breakfast. We stopped by where there were a couple of tea stalls. But we wanted to have food, not just tea. There was one shop that sold groceries. We asked a woman from the tea shop if she can cook for us if we buy noodles and eggs from the grocery store, she agreed. It wasn't literally a shop, it was wooden built, a small sit out with a couple of benches, a small firewood kitchen with a window facing the mountains. That was a place where luxury was absolutely redefined. The woman who cooked for us did not know to price her service, we just wanted to be generous. Many followed this idea after us, a new business idea to those old souls stuck in millennial body. We reached the trek start point, Tyrna, from there we made our way down to the bridge.
Despite having known about the place, me and one of my acquaintances were brain dead enough to wear floaters. But our gang met a couple at just 5 minutes from start, we were warned it wasn't a brilliant idea to wear slippers to that place and about a turn that led to single deck bridge, we were off to spot the double deck. Glory to them and the one who immediately ran to the vehicle, changed to his shoes and brought mine too leaving my floaters behind.
We were off again, fascinated about the next few kilometers. It was raining and those were steep steps. Out of 5, we 3 made it comparatively faster, while the rest lagged. No doubts of being lost as it was just one way. Few say we must descend 3000 steps to reach there, but we felt there were even more. We were totally watching our step to keep us from getting tumbled. At some spots, we just wanted to sit there and enjoy the epitome of beauty.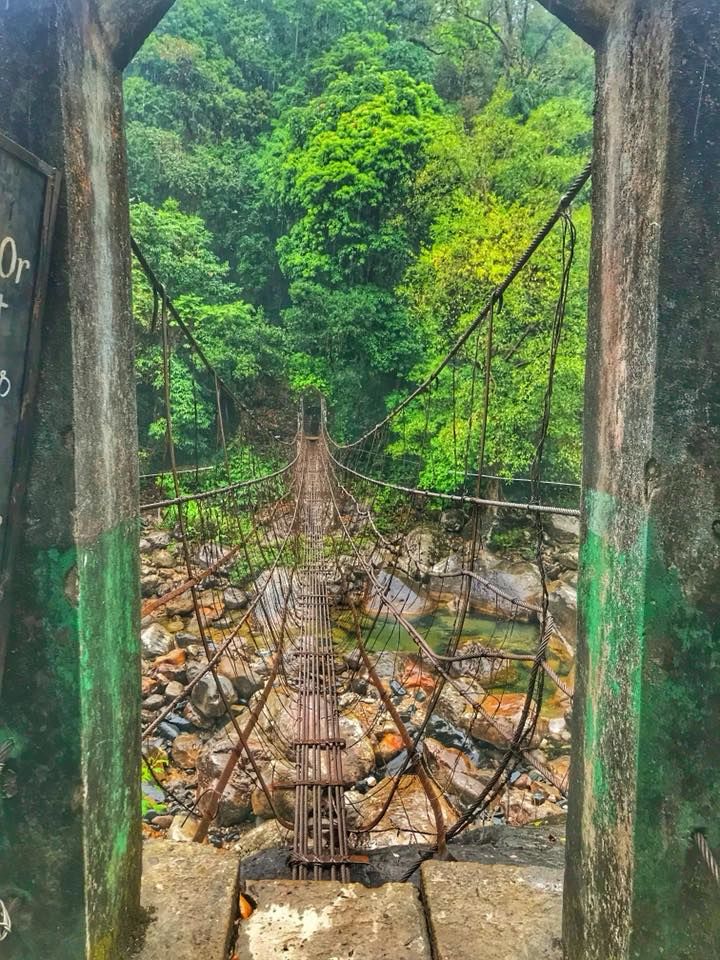 The first instance of absolute bliss was at the hanging bridge that was built with iron rods across the valley. Getting past that was not so challenging, still it caused an adrenaline rush. At some distance from there was another hanging bridge, it wasn't that hanging like the former one though. We made our way through the concrete staircase and reached the single deck bridge. That was again across a valley and from there we reached the double deck one in just sometime.
The double deck bridge was across a waterfall, the necessity of which can be felt only during monsoon, we can walk through the turf bridge otherwise. The spot delivered pro level peace that we did not regret waiting for a long time for the ones who were left behind. Took off towards the rainbow falls from there, again we split into 2. There were a couple of hanging bridges again on the way and men were fixing one of those. When we saw 2 men eating under a cave, it felt like anyone who is born can survive, but the challenge is to live life the way we want to.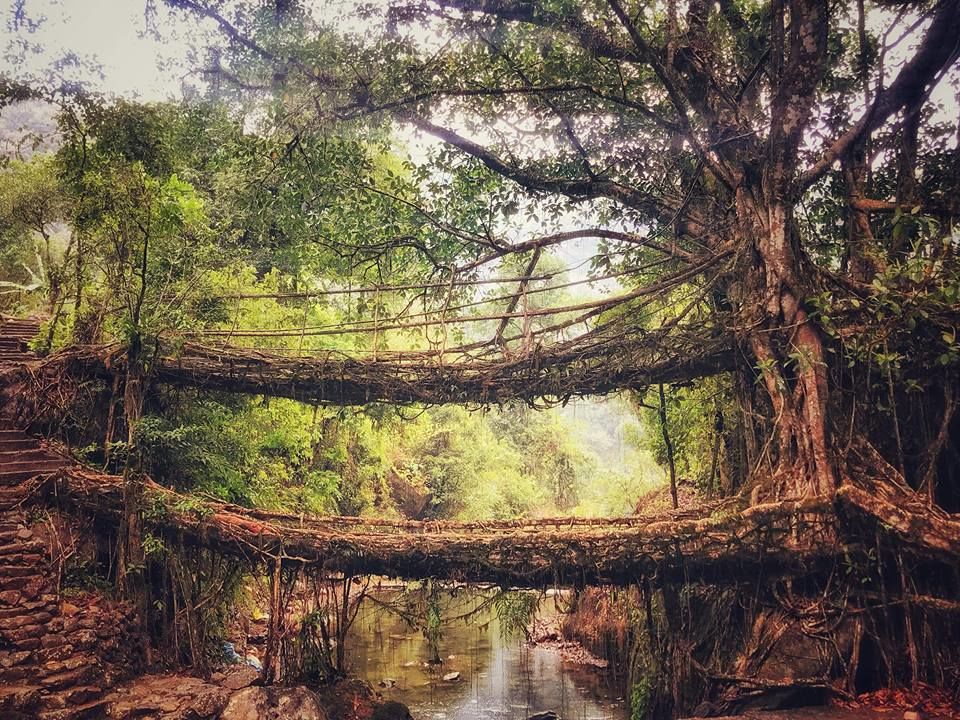 In due distance, there were 2 ways and we obviously took the wrong one. In just few minutes we met 2 different gang of people walking past us and to our surprise, none of them knew if there was a rainbow falls. They were making their way to the bridge from Nohkalikai falls. Which means, if we start from Nohkalikai falls, we trek down for 2 hours to reach the point where there are 2 ways (there is a yellow sign board to identify the turn), take right and ascend to rainbow falls, return the same way and descend to the root bridge and then indeed to Tyrna, thereby covering the complete circuit. Our trek path was Tyrna – Tyrna, but the best path will be Nohkalikai – Rainbow falls – Double deck bridge – Single deck bridge – Hanging bridge – Tyrna, an approximate 13km trek.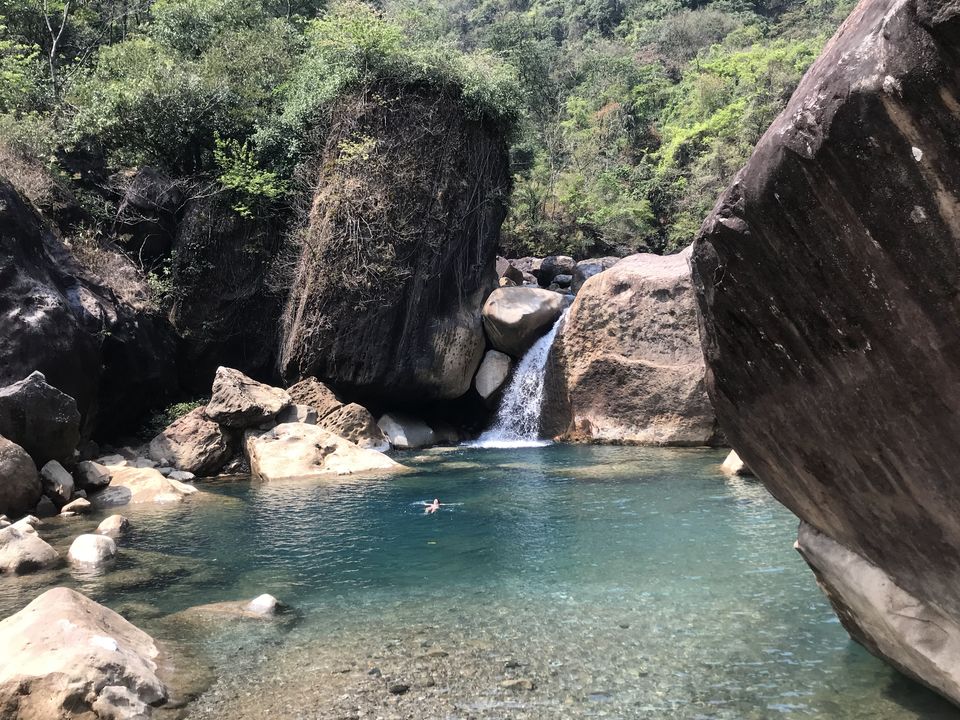 Since we lost track, we returned to take the right path to the rainbow falls. In between, we found a small unnamed falls which looked like a private pool. We made up our mind to slide through the rocks to reach there. There were only 2 people by that time and it really felt like a private space. With no delay, we jumped into the crystal clear water. We spent enough time before more people started coming in. We again set our way towards the rainbow falls. The path was no more a staircase, it was steep and a one way trail. After swimming for a while, it wasn't the way that was tedious, but the hunger. We left all the refreshments in the vehicle. There were atleast shops until double bridge, we were desperately looking for food and water.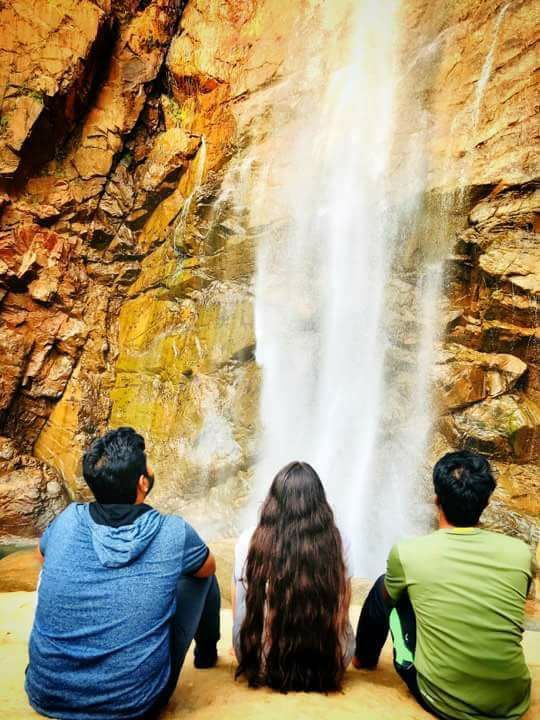 Goodness be with us, there was one place with food. I couldn't wait until they prepared it, hence borrowed some from people who were eating nearby. Recharged the deprived energy and made our way to the rainbow falls. It was atleast 300m steep down through the rocks that we literally had to slide, crawl, hold and hang to get to the bottom. From the base we climbed a huge rock to reach the point to spot the rainbow, hence the name.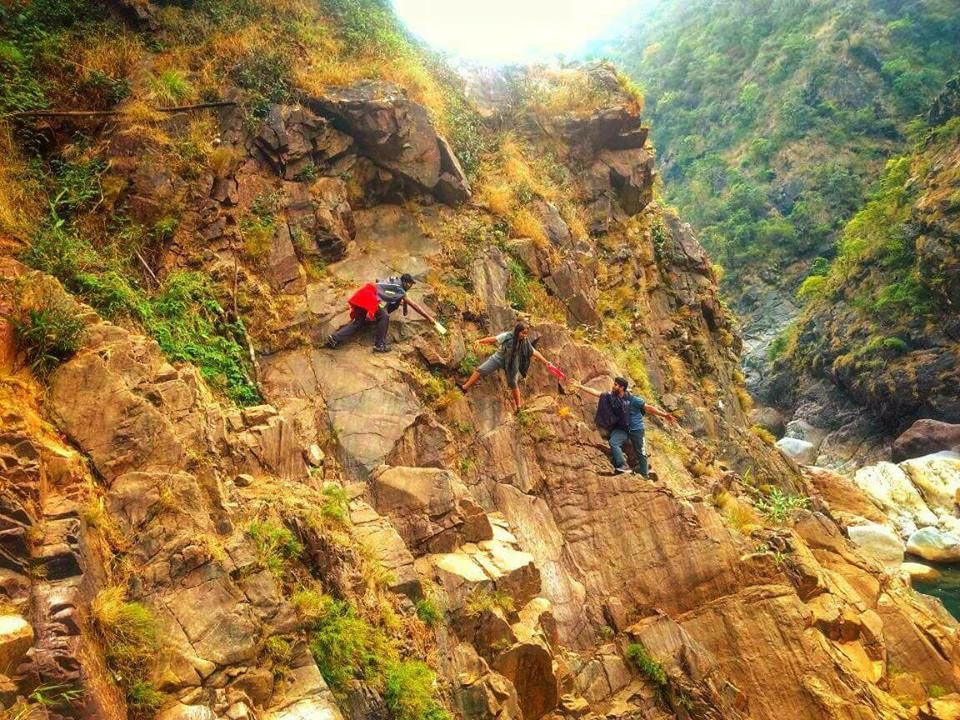 We took the same way back to return to Tyrna. Returning is usually easy and quick, unlike our situation, we had to ascend all way up to reach there as we were descending for the whole day. Our way back was moderate until 6.00pm, spotting a fully grown pineapple, tasting native ripe red berries, we reached the point where ascending steep steps began. The successive an hour and a half scaling sucked every last bit of energy and fluids from the body. Holding on to the railings helped a bit with managing the body weight. We 3 made it to the vehicle much faster and had to wait for the rest for a couple of hours as they lost their way in between. The day was ultimately surreal and the pedometer clocked 12000 steps.
Day 3: Sohra – Dawki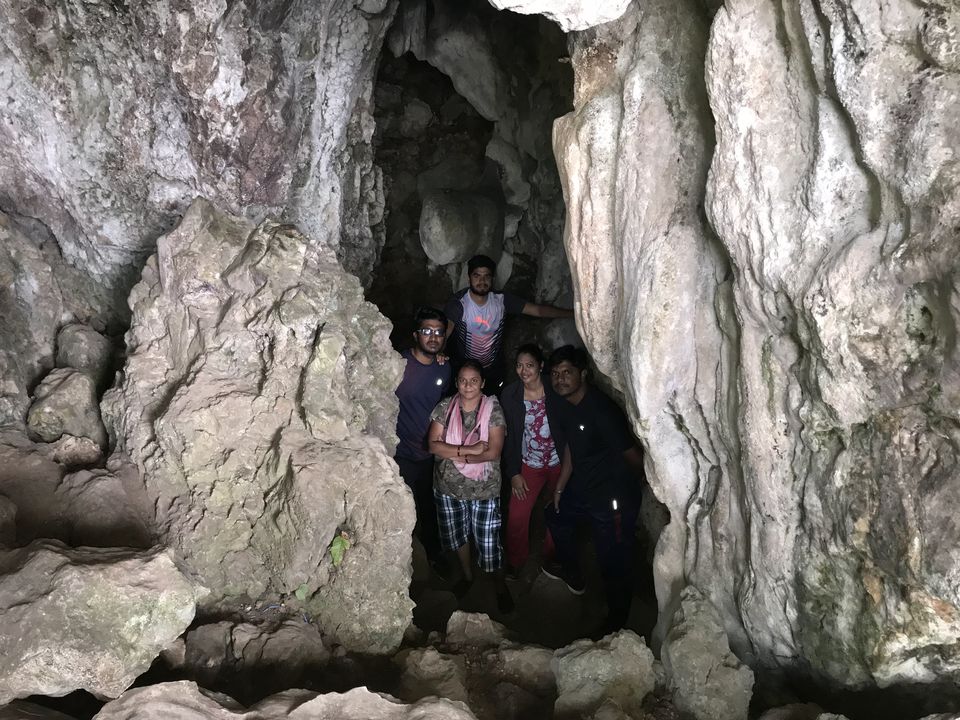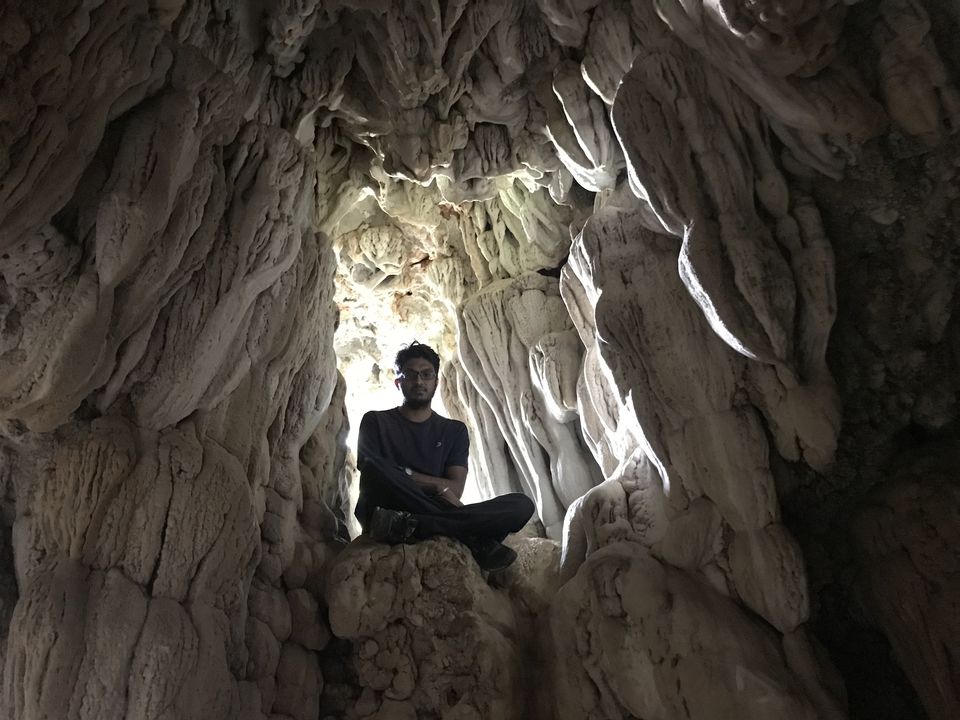 Post a long night of the most wanted sleep, we took off to visit Mawsmai caves. From there we made our way to Dawki, the village where Asia's cleanest river, Umngot flows. The way was through the mountains again, but witnessing hailstorm was unannounced, it left us with awe and wonder.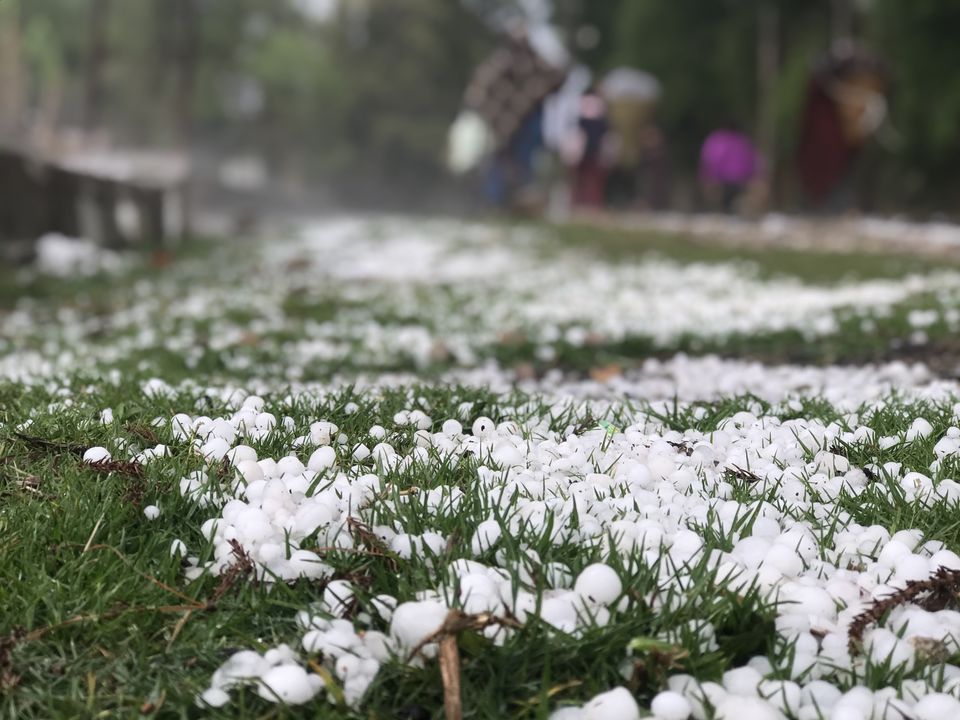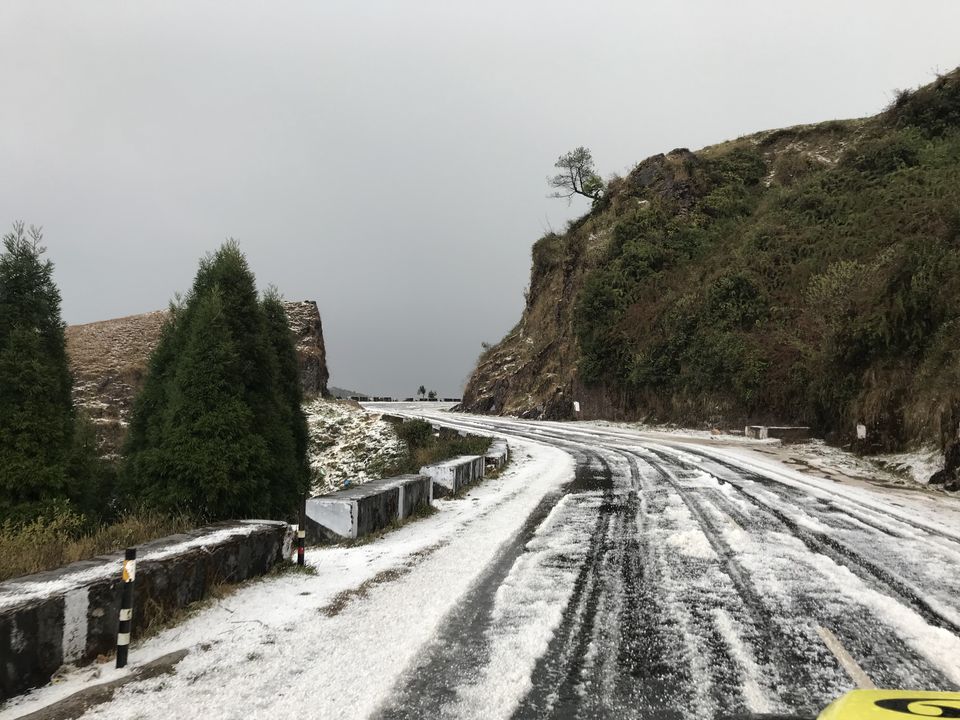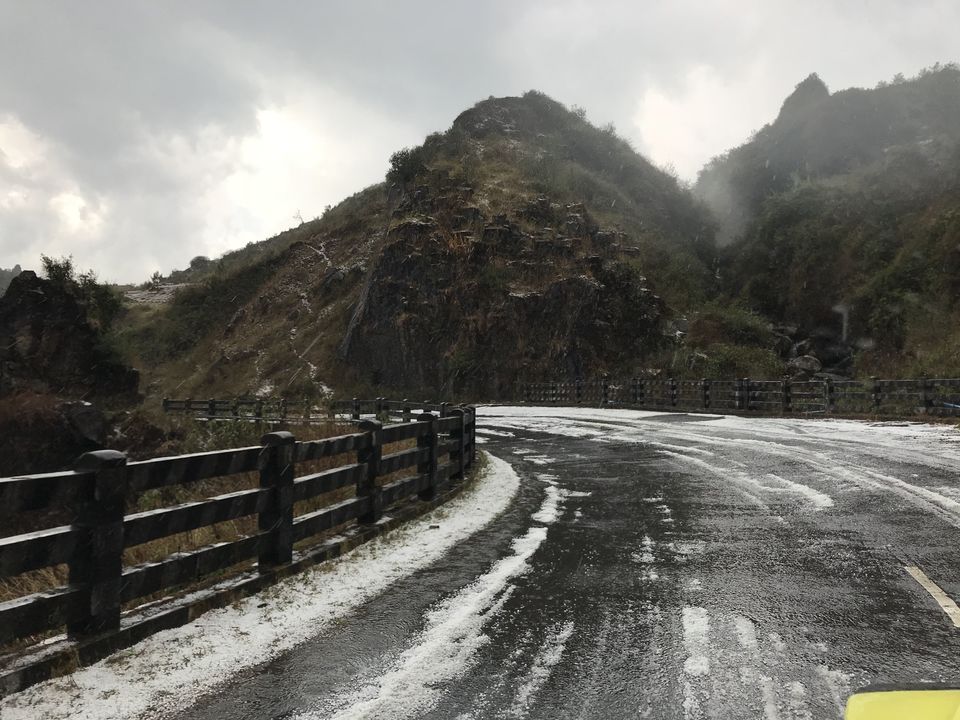 Upon reaching Dawki, we were a bit disappointed to see sand scandal in the dry river, unaware that it was happening on the Bangladesh side of the river. It was a small village and all hotels and lodges were closed, seemed bandh. We atlast managed to find a place to eat and refresh. We went looking for Hamsilet, the one who arranged camp by the river. The other 2 were very tired, hence left them in a hut along with the bags, while we 3 went searching for him. Initially we found camping by the river expensive, hence thought of spending that night in the same hut or in the temple nearby, but Hamsilet agreed the same deal for half the cost. We left the hut and were waiting for Hamsilet near the border separating India and Bangladesh.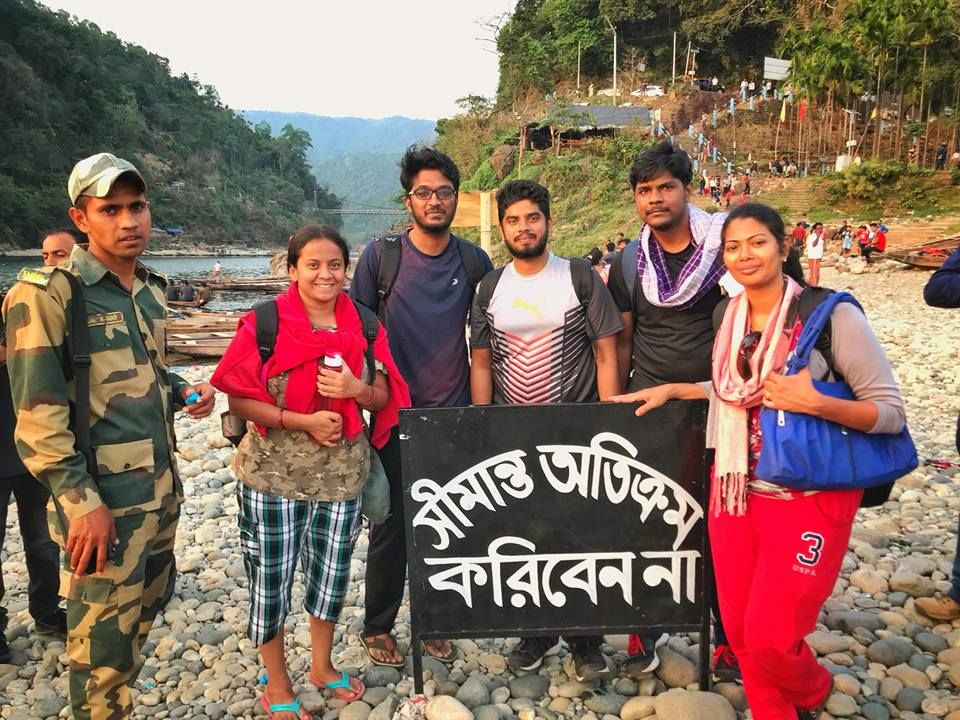 Since we had to row against the wind, we took 2 boats to reach the beach. Hamsilet and Humitre had setup the tent already for us. They left Bonival with us and went back to get dinner. We did not know that Bonival was left to take care of us, but eventually we all got well acquainted. He explained us the history of the hills while enjoying the river by the shore. The river Umngot runs between Khasi and Jaintya hills. Those are not just hills but 2 different tribal cultures. A bridge was built connecting these 2 hills with rods imported from Britain. It did not just connect the hills, but 2 great cultural heritage. One incident that night made all of us realize that family is everything. Bonival could not inform his family that he had to stay back with us for a while, the worried family came searching for him, started blasting at him for not having informed. Anger is the easiest way to express love, it is a global rule, not everyone understands that so much love is the drive behind. Should someone enjoy unconditional love, expect that only from family.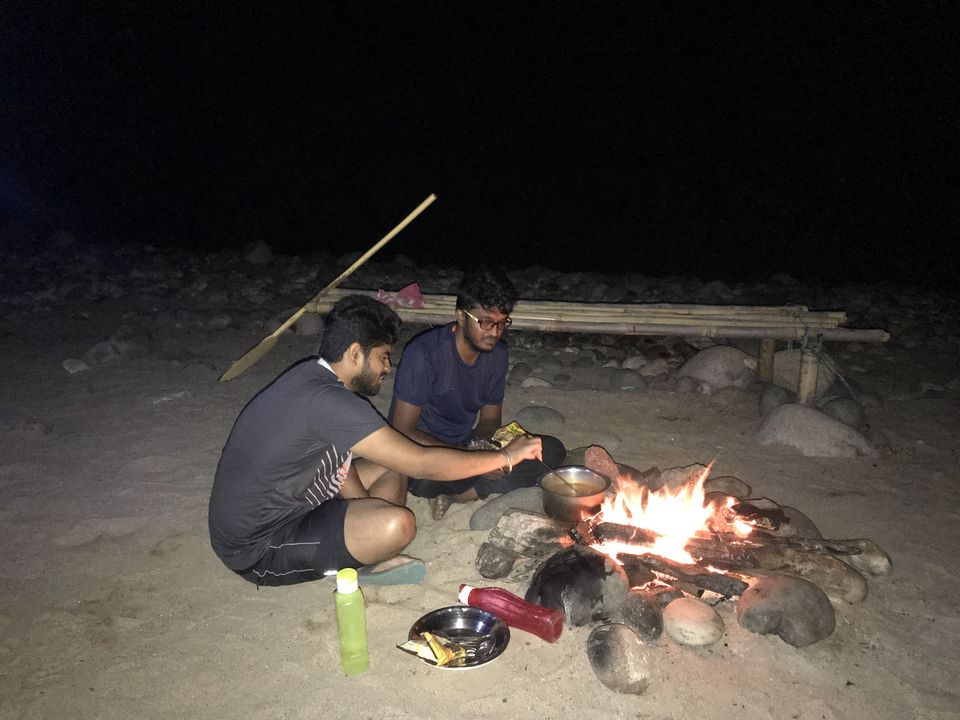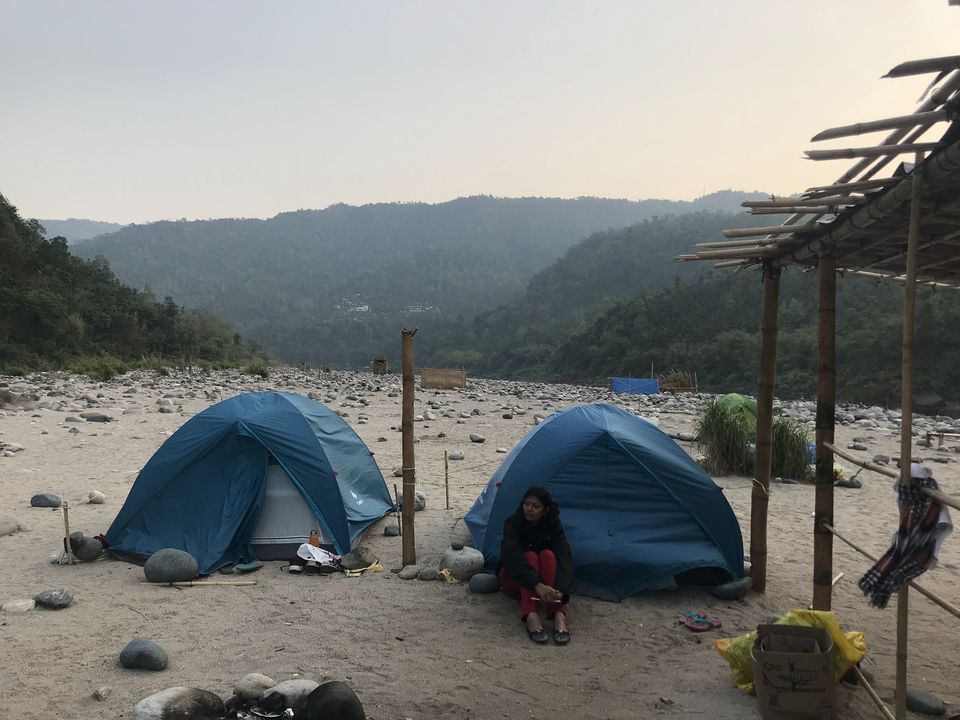 He left in sometime along with his son as the other 2 arrived. We got the fire setup, cooked noodles and enjoyed the camp. My choice of being a vegan made me starve that night as we gave away the fruits we bought to the kids who accompanied us in the hut. When heart is full, tummy less yearns for food. We were lying on the shore for a long time that the full moon rose above the mountain. It polished the entire dark valley daylight. The sound of breeze and river was so noisy. No wonder why the sound of silence is the most deafening. That night, the hills, the moon, the river and the breeze were just for the five of us. We were lucky to enjoy all those in private because 54 people camped there the previous night. But we human are the most dangerous to the nature, heart ached to see trash dumped here and there by the shore. It is the cleanest river because of the crystal clear water that flows, not because how clean it is, because it wasn't.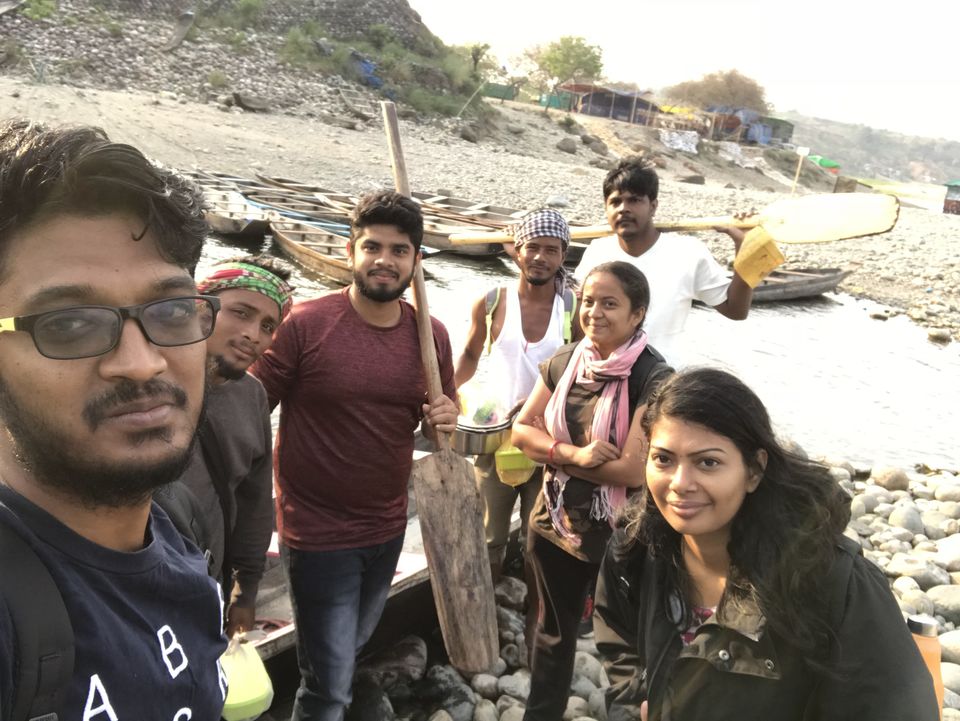 Day 4: Dawki – Shillong – Guwahati – Chennai
We all returned in a single boat as we were rowing by the wind and reached Dawki. For the first time, we had poori with Boondhi (a dessert made with sugar and gram dal). We took the only bus that runs to Shillong from Dawki and reached there late morning. From there we took the share sumo and reached Guwahati. We, the like minded people, did not want to repeat the mistake, hence, took the airport bus from Paltan Bazaar. From there, Chennai was just at 3 hours flight. "Otha" is not just a word, it is an emotion, this trip proved it right. Returned home with a brand new perception towards life.