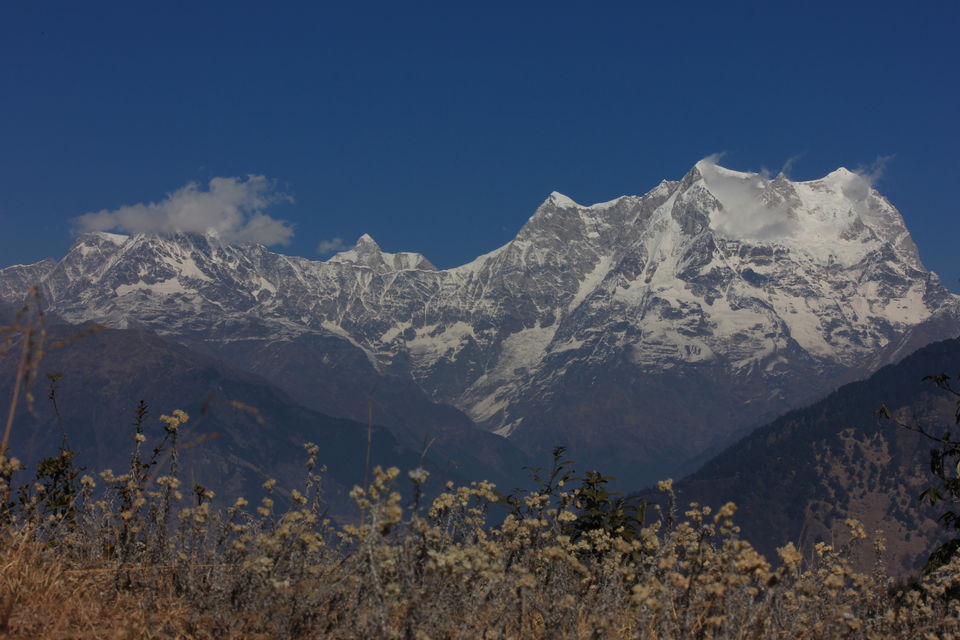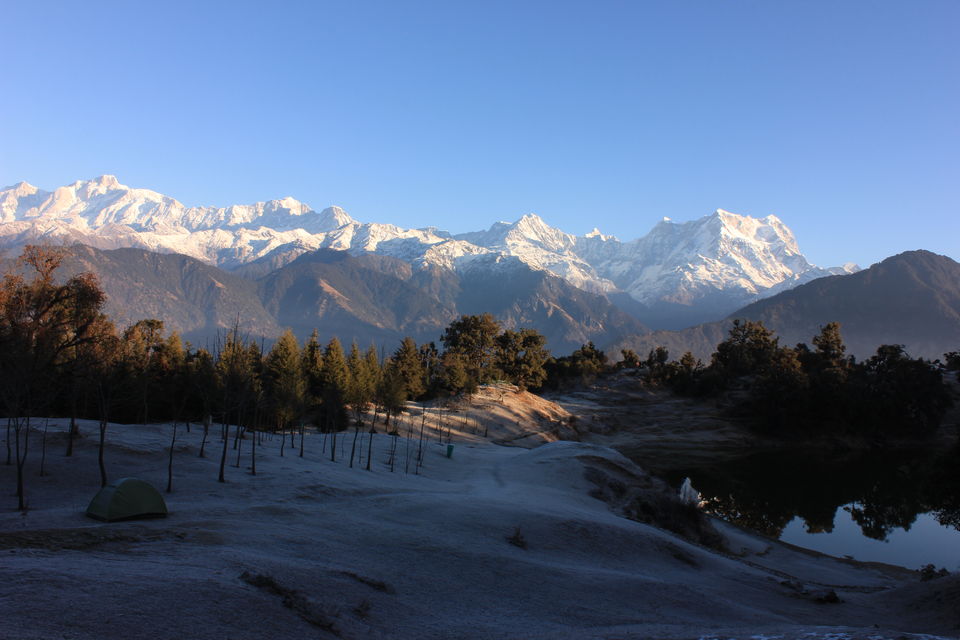 Hello Travellers,
Visited Deoria Tal on 21 Jan 2015 and stayed there for 3 days and 2 nights and had a really great time so thought of sharing my experience.

Location and connectivity- Deoria Tal is locate in Rudraprayag district of Uttrakhand and can be reached after a 2.3 km uphill trek from the villages of Sari. Path leading to Deoria Tal from Sari is a well paved one and frequented by villagers and other visitors to and from Deoria Tal.
 For those travelling in their own conveyance Sari is an 8-9 km drive from Ukhimath (around 200 km from Haridwar, via Devprayag-Srinagaar-Rudraprayag-Agast Muni) and around 20-25 km from Chopta. For the once travelling in public conveyance there are shared taxies operating from Ukhimath to Mastura, located at distance of around 1.5 km from Sari.

Main Attractions-Deoria Tal offers a splendid view of Chopta, Tungnath and Chandrashila peak to the right but the real highlight of the trip is the breathtaking view of mountains like Chaukhamba, Nilkantha, Bandarpunch, Kedar Range, Kalanag to the left. 
One can also undertake a 14 km trek to Chandrashila and Tungnath from Deoria Tal. I would recommend any one undertaking this trek to take along a guide. I was told about 3 guys from Delhi who didn't do that and were lost in the woods for 2 days and were rescued only after the forest department started a search operation from them. At the end I will share couple of local contacts who can act as guide.

Apart from splendid view on both sides other prime attraction is the wild life. Deoria Tal is located in the Nanda Devi Biodiversity Park and has an abundance of colourful birds and mammals. During my stay I saw a lot beautiful birds and was able to photograph some of them. Foxes are a common sight around the lake and if a visitor is willing to spend time in the forest they might get lucky and get glimpse of more elusive animals. I was lucky enough to get a glimpse of and photograph a pair of fox like mammals with slim body and furry tails running around on tree tops. 

Where to Stay- In Sari I stayed at Trilok Tourist Lodge. Owner of the lodge Mr. Bharat Bhatt is a nice guy and offers cheap, neat and clean accommodation in Sari. He also acts a tourist guide and can be contacted for organising trekking and camping expeditions.

 Shailander was my host at Deoria Tal. For authentic and tasty Gharwali dishes one can bank on him. He owns a few rooms at Deoria Tal and lets out camping gear for overnight stay.
 
A word of advice- There are a lot of idiots who visit this beautiful place just to drink and it is because of the irresponsible acts of these idiots, apathy of the forest department and short sightedness of the locals operating tourist lodges and camps in Deoria Tal forest is littered with plastic bottles, emptied bags of chips and namkeens.
Please ensure we do not spoil this beautiful place by such irresponsible acts.

At the end some useful contacts:
Bharat Bhatt (Stay in Sari and trekking) - 9458913001; 8476920531
Shailander Bhatt (Stay at Deoria Tal)- 8126304098
Thank you