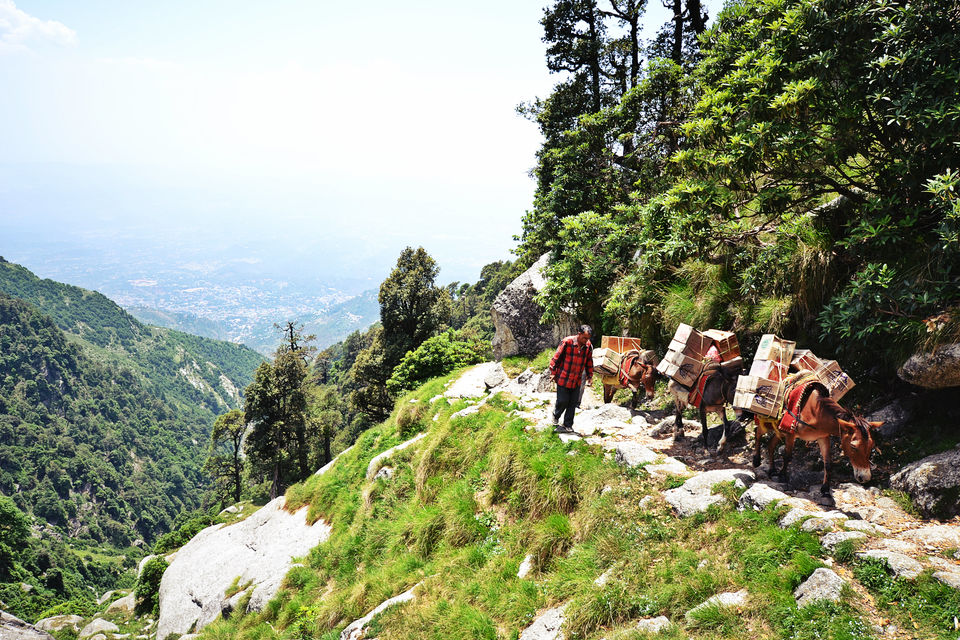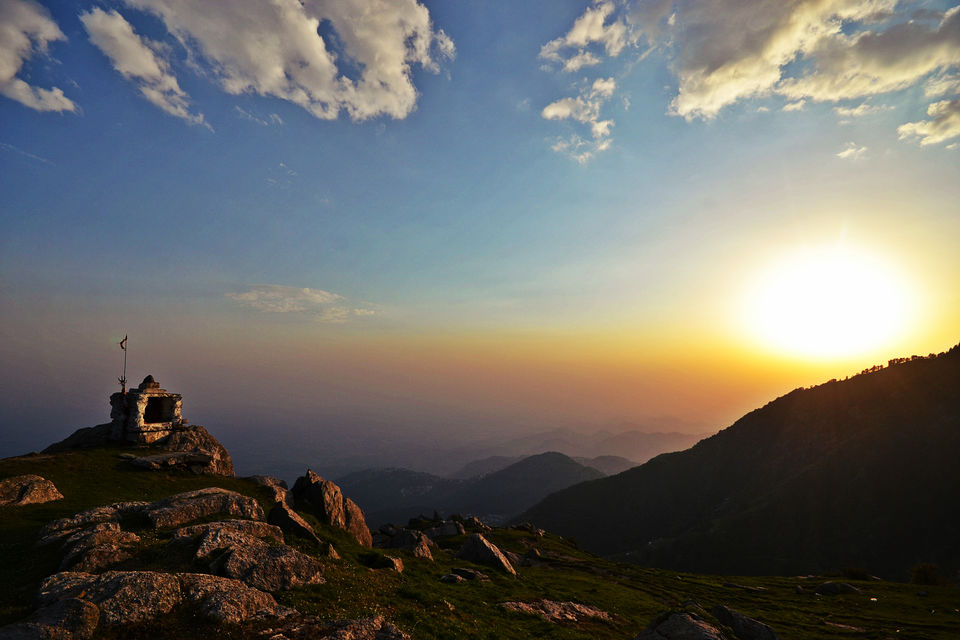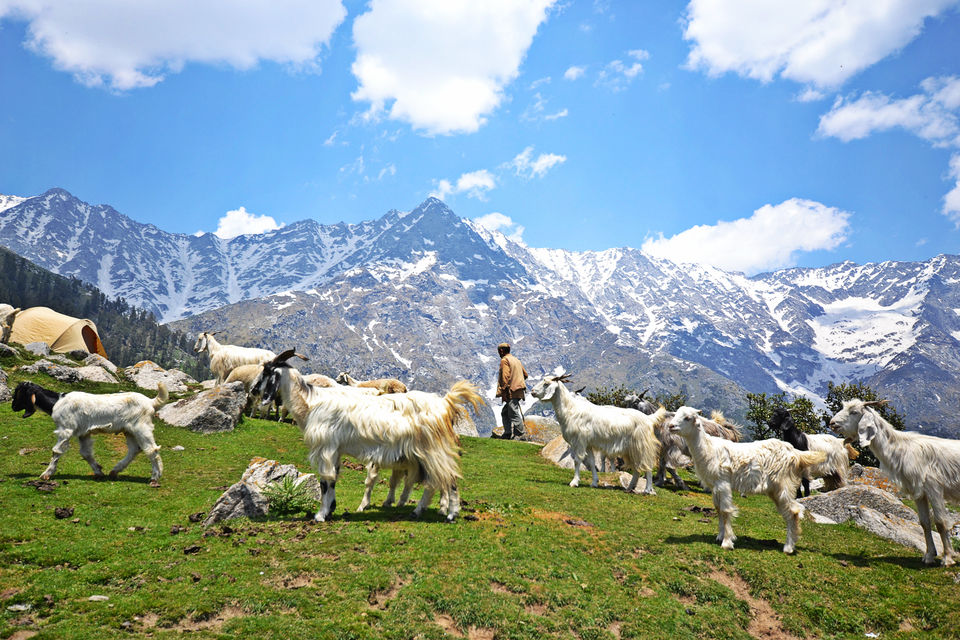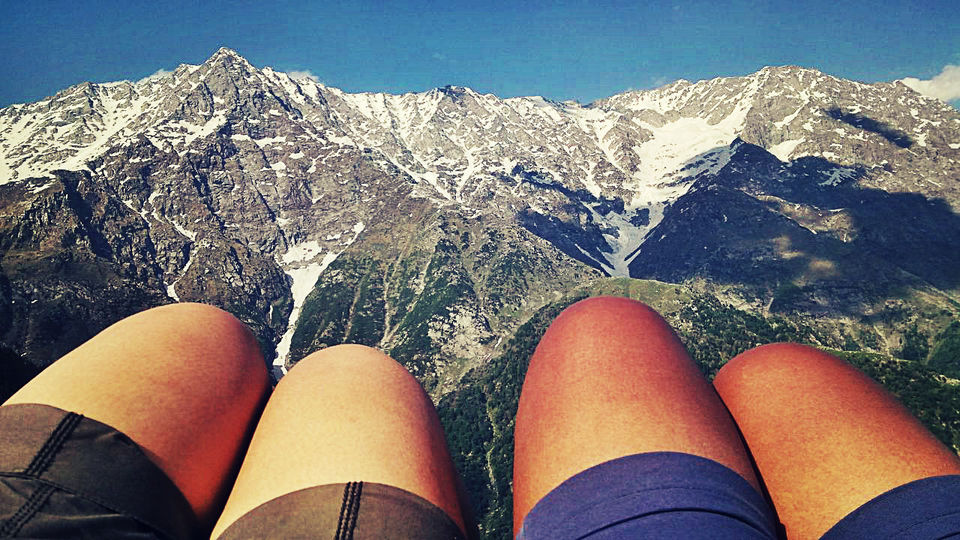 They say if you want to know about a person's heart, travel with them and if you want to know if they love you, climb a mountain with them.
Before you think otherwise, let me tell you this isn't a love story. Like hell no. But then again it is a story about love. Actually it is about this time when I convinced my city-bred best friend forever(BFF) to go on a trek with me to the Dhauladhar range.
How I convinced Tanya to come on this trek with me, only I know. From emotional blackmail to blatant threats, I worked all my cards. And finally when she reluctantly said, "Like yeah ok. Now stop bugging me!" that was the best kind of yes I had heard in a long time.
It was her first trek, so I spent hours scanning websites for the shortest and easiest trek possible in the Himalayas. After recommendations and weighing all pros and cons, we concluded on the popular Triund trek.
Reasons why I chose this trek:
1.       It starts from Mcleodganj. So basically you can club this trek with a laid back trip to McLeod & Dharamshala.
2.       If your friend loves food, McLeod is an easy lure. *From Japanese to Tibetian to Thalis, you have everything*
3.       It is a short and easy trek. 9 KM only which can be completed in 4 hours. Not much I say.
4.       It has some fantabulous view of the Dhauladhar range!
5.       It has no network, no electricity or water. This of course I did not disclose to my friend, until we were mid-way through the trek. *evil laugh*
Since we were just two girls on this trek, I sorted help from a local trekking agency. Vir ji came along with us. He had all the basic logistics and food in place and also provided the tents, since we decided to stay overnight.
On a sunny morning, we started this trek from Mcleod. We were quite excited about it. Really. In our mind we pictured green meadows surrounded by snow topped mountain peaks, hairy gaddi(pahadi/ mountain) dogs licking us silly and some short lived state of nirvana. That's how the first one hour or so went by. Dreaming of what could be.....
By the second hour, the trek up was starting to get a bit tiresome. And worrisome for me, since Tanya was getting tired because of the heat, the climb & lack of food. Now everyone knows the equation;
Human Being- (Minus) Food + (Plus) Heat + (Plus) Climb= Disaster/ Irritation/ Murderous intentions
Where the hell was the bloody tea shop...
Back in college, sometimes when we got late for lectures, we were forced to skip breakfast. Until lunch break we would only hear her grumbling and her stomach rumbling. I knew how much she hated being starved and worked at the same time.
So far it hadn't got so bad. We stopped every half hour or so to take a break on the pretext of taking a picture or admire the beauty of the valley below. Finally we reached our first tea shop. The short break definitely worked! I saw a faint smile for the first time in the last one hour. Or maybe it was the gaddi dogs who followed the trekkers and were taking a break along with us.
By the third hour, trekkers walking back saw our tongue sticking out and encouraged us to go on. We trudged slowly and rather silently. Afraid to say a word, lest my best friend spent her last bit of energy lashing out at me for manipulating her and getting her to do this horrendous activity.
The eerie silence was only broken by the distant tinkling sound of bells on the approaching mules. These mules are used by the locals to carry everything from food, water & even gas cylinders to the top of the mountain. *I wondered if they would carry her till the camp site.*
The last stretch was really treacherous. It was steep and at some points, we had to clamber on the rocks. At this point, and the only point, where I felt a bit threatened. I walked behind her in the fear that she might just lose her marbles and shove me off the mountain side screaming, DIE DIE DIE!!!!!
Out of the corner of my eye, beneath my serious huffing, I kept an eye on her. Just in case.
But she didn't seem agitated. She walked on silently, occasionally asking that one redundant question, "How much further?"
This time Vir-ji didn't give the usual answer of ten minutes and said, "Just above that corner".
Vir-ji was a local. Freelance guide. For him Triund was an after meal stroll. I wondered on a scale of 1- 10 how much would he secretly be snickering at our current plight and thinking, "these city girls, tsk tsk.."
Squeezing that extra strength, we continued the scamper till the corner and suddenly loomed ahead the wide range of snow peaked Dhauladhar range. It was magnificent. The view of the range doesn't sneak in slyly but appears suddenly! And if we hadn't already lost our breath getting till here, it would have been taken right away.
Suddenly nothing seemed sore or tired or…ummm…tense, as we gazed upon the mountain ahead together and laid back on the green grass beneath.
The Triund camp-site was actually quite pretty. Sprinkled with colourful tents all over the green carpet of grass, surrounded by the imposing white mountains and clear blue sky overhead. This is the kind of place that inspires you to read a book, take a nap and think about big nothings.
I couldn't contain it any more and finally turned around to ask Tanya, "What do you think?"
"This is nice." And she smiled. SHE SMILED!
That was all I wanted to know. From how much I know her, "nice" is her expression of saying 'Super' or 'Awesome'! We spent the whole afternoon and evening lolling around, attempting to read or get new profile pictures.
That is when I realized, however nice the place might be, she did this for me. This is what you do for friends. She bruised herself climbing over the rocks, panted all the way up, maybe in her mind, even made plans to kill me. Who knows….! But she did all this for me.
Under the cold starry night, as we cozied into our sleeping bags, I smiled because I realized that she truly did love me, mountain or not. As for me, I was going to live to see another day.
Now I could doze off in peace without worrying about being murdered in my sleep. 
*PS- We are still Best Friends!!!!!
 This trip was first published on http://pinkjamramblings.blogspot.in/.