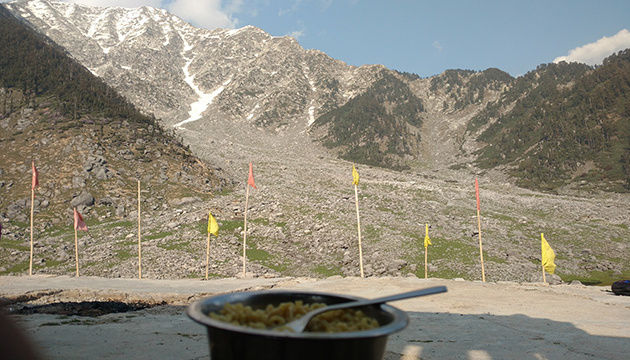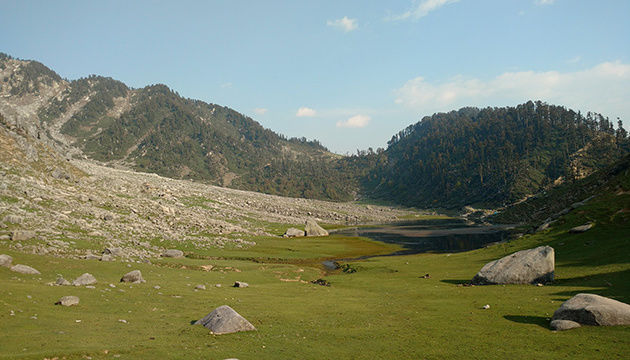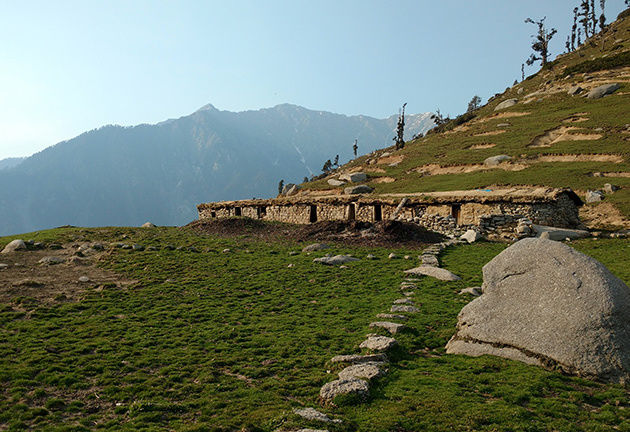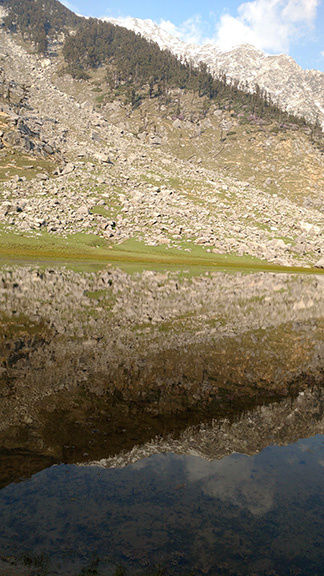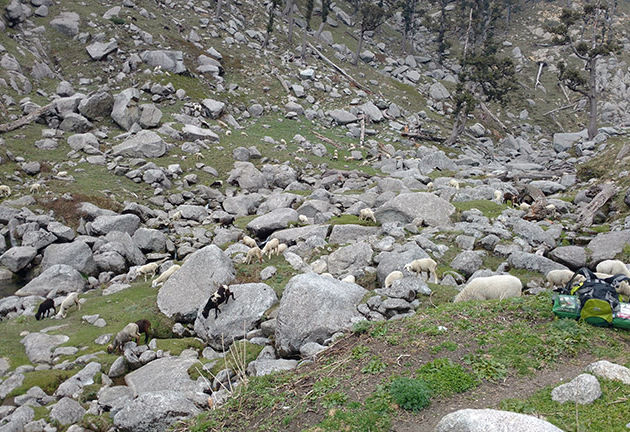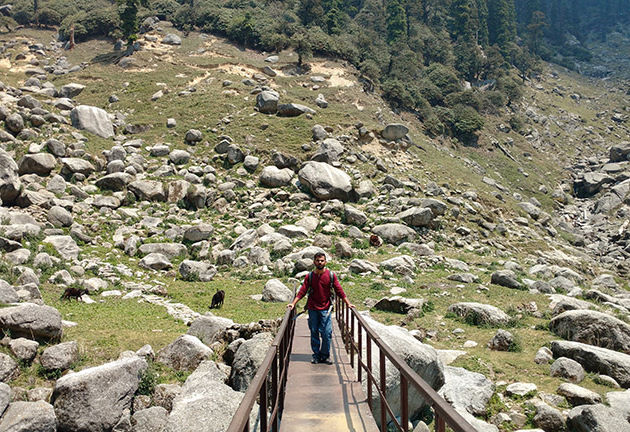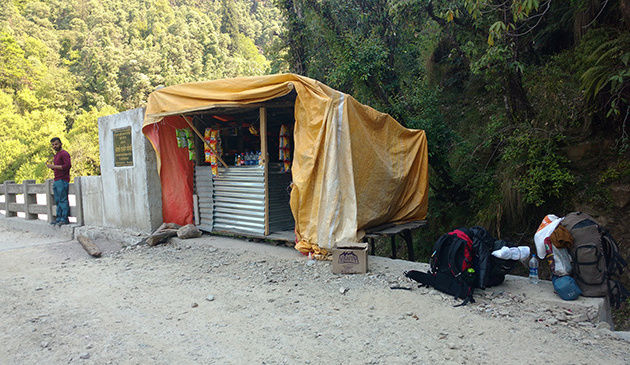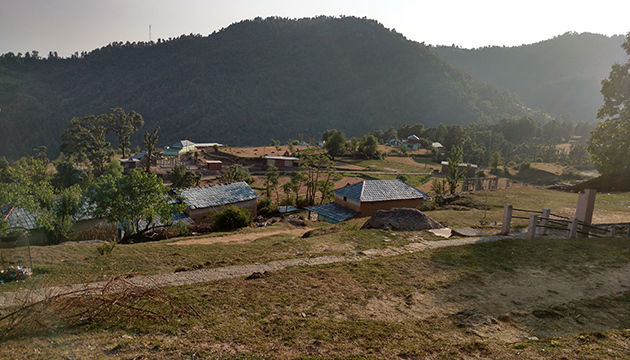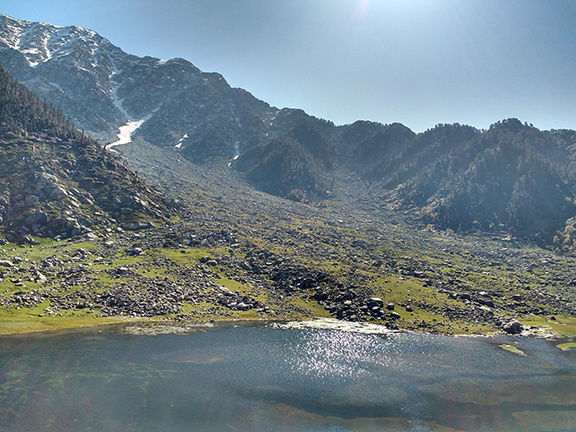 Kareri Lake, is a lesser known glacial lake located in the Dhauladhar range. I visited the place in late April in 2016.
We got in a bus going to Dharamshala from Delhi (ISBT Kashmere gate, cost rs.520) at 10:30PM. I find traveling in the Himachal Roadways bus almost at par with a semi deluxe bus that's why I always prefer them. They are cheap and comfortable.
So we were at Dharamshala by 9:30 looking at the mighty Dhauladhar range. Before coming here I had read all the blog and collected info on how to reach here, we had to go to a village called Ghera, which is supposed to be the last point till vehicles can go and beyond that it's a 5 km trek to Kareri Village. Usually all the info you get from blogs are right but to my surprise this time it was all wrong.
Kareri Village
So after having breakfast in Dharamshala, we looked for jeeps going to Ghera, we couldn't find any. So the new route would be we take a mini bus to Charri/Chadi (cost rs.15) and from there Shared jeeps can be found. Once we reached Charri we came to know about a bus service till Ghera and also we we reached a jeep stand for shared jeeps (and these jeeps were going to Kareri village all the way for rs.60/person). We hop into the jeeps, the ride was bumpy and the roads were woefully manages till Ghera. The way from Ghera to Kareri was the real bumpy one and it was no way 4-5kms, it was at least 12 kms, so we were glad we took the jeep instead of bus till Ghera.
After a tiring journey we reached Kareri village by 3:00 PM. It's a very small village consisting of 20-30 houses, with Dhauladhar right back of it and a forest rest house at the end of the village. We talked to the forest rest house official, they told us we can stay for rs.500 per night but usually booking is done from Dharamshala but we can stay since they didn't have any booking. However if we wanted we could have camp in the village by paying rs.100 camping fee to the forest officials. The meals were served by the officials at rs.100/meal. We enjoyed the quiet evening sitting in front of the rest house as the temp kept dropping until we started feeling cold.
The Shop, right behind it the trek begins
Next morning we started the trek at 8. The trek starts from the forest rest house only, there is a trail going up and you follow it until you reach a bridge and from there you walk on the road for 3 kms until you reach another bride with a shop alongside. There is a tiny trail going up the mountains just next to the shop that's your way. After going 30 minutes into this trail you will reach a small reservoir that's where you will have to cross the river by stepping over the boulder and continue your trek through the jungle, you will find another shop selling juice after 30 minutes into this side of the river. The trek is all uphill and it gets difficult as you move ahead but the breathtaking views of mountains and the rivers following you all the way is enough to refresh you.

The trek route
 
After 4 hours into the trek and when the size of the boulder will get enormous you will reach a man made steel bridge and you will have to cross this, another 10 mins after crossing the bridge you reach the breakpoint of the treak, it's a small camping ground, river and a shop. Some guys camp here for the night. But I would recommend completing the journey in a day only as it is only 15-16 kms. After resting for 30 mins we started t he trek once again, its 4 kms uphill from here, we found Gaddi home on our way, herd of sheeps following us and after another 2 hours into the last strenuous stretch of the trek we reached Kareri Lake.
Maggi at 10000+ feet
Kareri Lake
It looked heavnly. The crystal clear water, the glacier in front of it and the Minkiari pass. The water was so clear that you can see the reflection of the whole peak in it. We sat in Kareri temple for sometime, ordered maggi from the shop.  The shop owner told us the temp gets down to 0 in the night so we decided to take two blankets on rent from it.
We strolled around the lake, clicked picture, checked out few Gaddi tribe homes. As soon as the sun went down it was almost freezing, fe Gaddi people started a fire in the temple premises we sat by it gazing the start studded sky. Had our meals from the shop and went back to our tents at around 10 when the fire was going off. The night was freezing; we were shivering the whole night.
The morning sun brought warmth, we tried taking on the glacier in the morning but we couldn't do it all the way.  We had our meals from the shop and started heading back by 10 by the same route.
Gaddi Village next to Lake
View of Lake from Distance
We were not able to get a shared while going back from Kareri village as it was evening time( During the day time you can find one) so we hired one for rs.800 till Dharamshala.
Total trek distance both ways 35Kms (approx)
Day 0: Board the bus to Dharamshala from ISBT Kashmiri Gate at 10:00 pm(Cost rs.520).
Day 2:  Reach Dharamshala by 10:00 am. Get yourself filled with some food at Dharamshala. Catch bus leaving to Charri/Chadi  at 11:30 (Cost rs.15/person) reach Charri by 12:30 pm. Hop into shared jeeps going to Kareri village (rs.60/person). Reach Kareri Village by 3:30-4:00 pm. Get accommodation in Forest Guest house (rs.500) or camp (rs.100). Spend rest of the day exploring Kareri village and resting.
Day 3: Get up early and start the trek. Reach Kareri Lake by 3:00 pm. Explore the Lake. Camp overnight.
Day 4: Start journey to your way back in the morning. Reach Kareri village by evening (You can choose to either rest in Kareri village or continue your journey to Delhi.)
Day 5: If you rest at Kareri village overnight, then start heading back to Delhi.
This post was originally published on 'Travel Beings'.