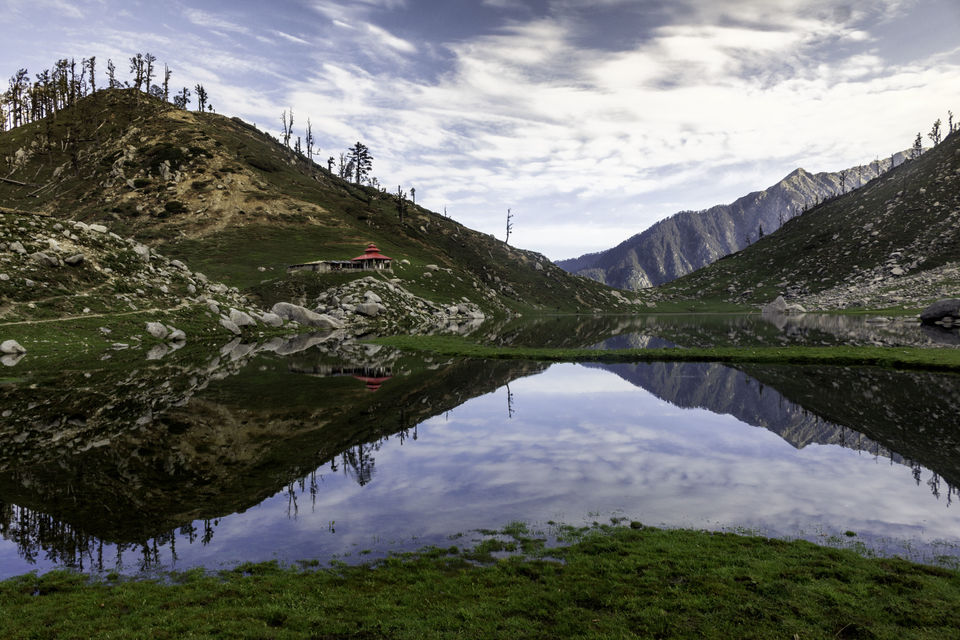 "Anything that can go wrong, will go wrong" - Murphy's Law
Back in may 2017, we were working for a boutique homestay in a small village Nagri near Dharamshala in Himachal pradesh. One evening suddenly 4 of us including me, Anunay, Sahir and Hafiz made a plan to go for the Kareri lake trek, base camp for which was around 2 hour drive from our place. In just minutes of planning (or should i say miss-planning) we were on the road to get to Kareri village. We parked our car there and left to find the trail which leads to the Kareri lake at around midnight. And what were we thinking? We ll watch sunrise from the top. A Great idea to begin with on an unknown trail with no documentation at midnight, and what preps we had done !!!! Even a novice would have packed more properly then us. Reason?? "Overconfidence" of doing multiple treks earlier.
So just few metres of walk we met a drunk shepherd who guided us in very brief but why would we listen to a drunk shepherd at midnight who was coming from that trail only???? We started going ahead, and found beautiful bridge with a stream flowing below. It was a beautiful clear night for some star-gazing.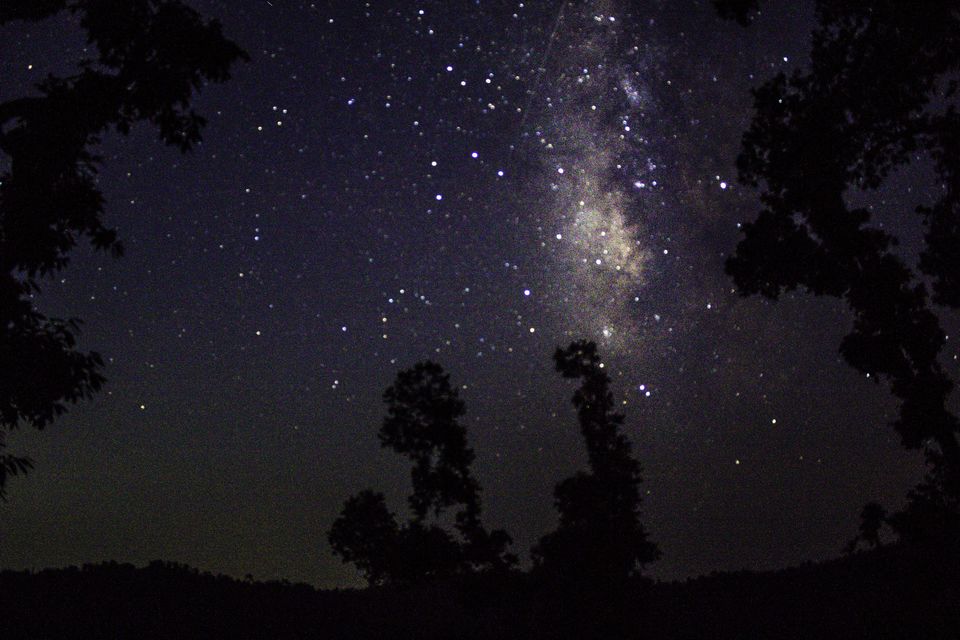 We slept on the road and gazed at the stars for some time, clicked some photographs and then moved ahead to find the trail. Next 2 hours we were still looking for the trail but it was nowhere to be found. We finally accepted that we have lost the route, but we had to reach anyhow to satisfy our ego. We started climbing anywhere in the woods with just a head-torch to guide us. And after another 3 hours of this monkey business we came by a cliff with grand views. We stopped for a break.
And what we see amidst those grand view is the trail on the opposite hill. We reached there and what we see is that the trail goes besides the same bridge on which we were stargazing. We just had to go along the stream which was coming from the Kareri lake itself. I think we were too experienced to get this sign. And guess what, who signaled us about the trail and bridge and stream?? That drunk shepherd.
We just laughed at our sleepless and tired self and finally started the actual ascend at 6:30 am. Which was supposed to be the very moderate trek, started feeling like an advanced trek eventually. We reached a place called Reoti dhaba around 8:30 am. We had some tea, Maggie & we were so tired that we slept there for couple of hours.
Again started the trek after taking rest but now we were totally fatigued. Every step was taking a hell lot of efforts. Strangled, tired and almost dead we reached the Kareri lake at 1 pm. We were not in condition of appreciating the breath taking beauty of the place. We just sat there for an hour came back to our senses. We were carrying our own tent and maggie packets and cooking stuff so instead of staying at the place where everyone was staying, we went to the opposite side of the lake to pitch our tents. Reason?? To get great pictures and astro-photography, and it was indeed the postcard perfect location.
We pitched our tents, arranged woods to cook Maggie. After all the not so planned adventure of whole night nd morning, it was supposed to be the perfect setup. But nature had something else in store for us. The moment we started cooking maggie, it started raining. It was raining like anything, as if to punish us for choosing this spot. We had to get into our tents and it just wont stop raining. There were few moments when we thought, our tents would fly away with the wind. We had to support the frame with our legs for 2-3 hours straight. Now it was around 8/8:30 and there were no signs of rain slowing down. With all the above situations, now we were deprived of food as well since early morning and there was no chance we can get to those guesthouse and dhaba to get food in such rain. Suddenly couple of guys came calling in front of our tents, we opened the tents and they had brought food for us is such rain. They just felt like gods. We had the food and somehow our tiredness made us fall sleep.
Our astrophotography dream remained dream only. But the next morning was pure bliss. I had hardly seen such beautiful morning ever. We packed up and reached the Dhaba wala guy to thank him for everything. Had some breakfast and went there to pay the bill. Nd to our surprise, we left the wallet in the car. We gave them our packets of maggie and asked him to send someone down with us so that we can pay him from the wallet. It was probably the most difficult descend ever for me. Never had i ever thought of reaching the base point asap like this time. We somehow managed to reach near the car, paid that guy and left for our homestay. But the disaster doesnt end here. On the way, the roads were so bad that the bash-plate of our car got broken and stuck on the road. No idea how we managed to get out from there to reach our place. But just like the saying "the best view comes after the hardest climb", we were invited for lunch by Anunay's retired colonel uncle. And what a necessary feast and pampering it was. It was a blast of authentic Himachal cuisines.
This whole trip reminds me of a tip given to me by my very first trek leader, " there is a very fine line between adventure and stupidity". And that day we had crossed all these lines by quite a good margin.
For more such experiences and travel stories please checkout my Instagram @meet.ercycle_adventures