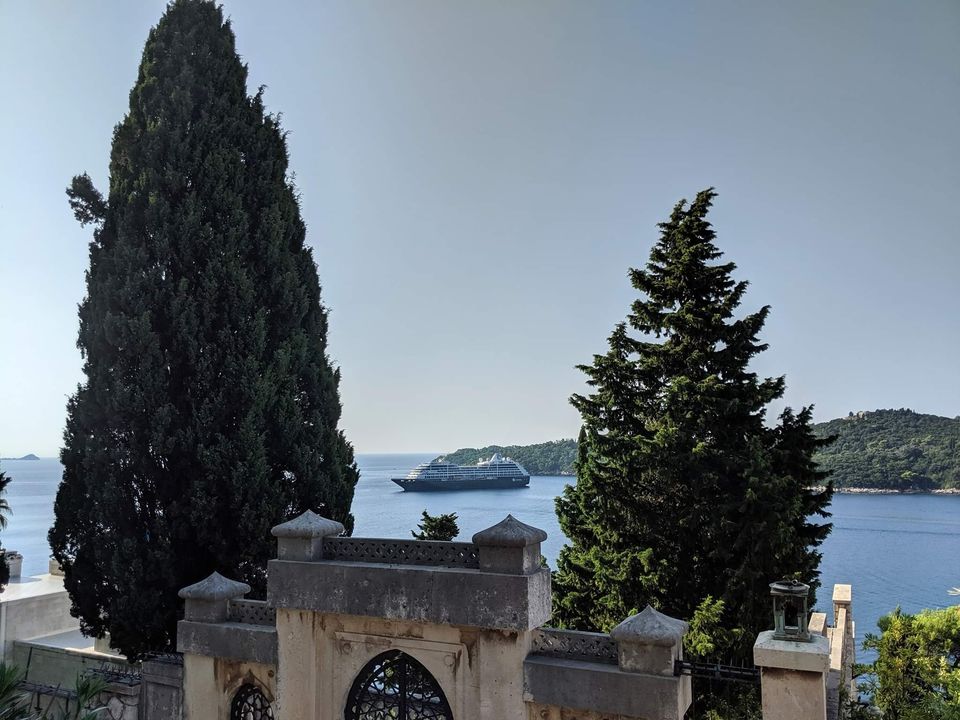 Chapter - 3 , Volume (II)
Dubrovnik - Croatia 🇭🇷
September 2019
Now I have already spend a long time in this old Town and admired these huge walls , live music by musicians , one of wow ice creams paradise
, fresh fruits and juices .
It was already 9 PM and I have not checked in to my hostel . I had the extra cost of 30,000 INR from flight tickets from India and back which I wanted to compensate from my accommodation . Somehow I knew that experiencing hostels at different country would be damn unique ...
In my last visit , I had already saved near to 4500 INR by staying in hostel and I knew if I continue that for next 4-5 places and then I should be ok with that dent . With that note I knew that it would not affect my any other spend ... It would be just about accommodation ..
Amsterdam hostel was occupied just to sleep and hence even after staying I was still not as par with hostel experience .
I went out of this Old Town Palace and trying to locate my hostel . I was following the description what my hostel staff has shared me on email and by looking at in-depth description I somehow knew that locating hostel in these all similar building would not be that easy at all .
I am in habit of asking different individuals about way . Since Google maps doesn't work here and hostel was at elevation of 200 meters from main road , that means any single mistake would take your last breath specially I have been traveling and out since morning .
I went out at taxi stand and ask for the lane . He quickly denied about whereabouts . Though you can measure this town inch by inch by cloth measurements tape and such denial was only meant to be for not helping nothing else .
I didn't mind that .. it's ok .. people have choices .. And I don't expect all people to be helpful and generous !
I moved ahead and it was a bar .. Few young lads standing outside along with the staff .. I asked them about the lane and in splits of second they said , you can go there and suggested me not to stop till end .
It was no less than 200 meters elevation . I am not into trekking and was also not in mood to climb these stairs and make mistakes .
But somehow I had to start .
Somewhere in my mind it was running how could they all gave me address in that few micro seconds ..I climbed 10 stairs and one girl was sitting outside a small restaurant and I asked her address and she said who guided you here and then she guided me exact address . So I started walking at right way .. on the way I met same guys and Cabbie again and I just smiled when they looked at me .
Probably smile is the only weapon which Gandhi ji has not suggested but works everywhere in all the conditions and walks of life . Hell yeah I am not talking about Rahul Gandhi ...
I wanted to cross the way and all cars stopped even when it was not green light and waved me to go . This is why I love these guys .. They respect pedestrians like it ideally should be ...
One lady who was in her early 40's walking along and I asked her the address of hostel . She was not aware about hostel but she told me that walk with me I am going similar way ..
I started conversation and found that she is from USA and living here from last 12 years as historical architect and she follows history as interest . And I just said Wow .. Someone who loves history and architect for historical monuments and palaces , this place is no less than heaven .
She was happy seeing me appreciate her and her work and she decided to walk with me further to make me search for my hostel .
Finally she made me closer and then she took a next lane saying goodbye ! And I said we would probably meet again , probably when I am searching some other lane and she smiled ....
I went closest but it was late night with almost no human kind around . I knew I am closer but how would I locate my hostel now . I met a guy in between and asked him whether he can help me and I told him that Google maps is a big time disappointment here .
He said not exactly .
He opened his app and he checked the directions and then he said walk at this direction and you should get it ..
And yeah he was right ..
Even when my whole life I used Google maps still at this time I couldn't use my brain that I could still go by directions .. Poor Me ... This again told me that " be humble " ... There is always a better person than you at all walks of life .. Even if we act super intelligent but we have no idea that someone use a common sense and still find a place better than you ..
I reached the hostel for which I paid 7000 INR for 4 nights . So people who thinks that Europe is all expensive , it is not exactly so .. you need to understand how you can drop your budget to minimal , if you want . My whole idea was to sleep for one night and then next day would see the best location to spend rest 3 days but fortunately I continued staying there .
I went at reception and lady at desk told me that I only need to pay City Tax and I happily paid that in Euros not Kuna .
At desk I found this guy who was looking suspicious , Introvert , Sulken and looking like combination of (Aamir Khan & Gautam Gambhir ) and probably less of Aamir and was of gambir and I said loud in my mind that I probably don't want to share my room with him ..
Lady guiided me about hostel , restrooms , kitchen , washing machine , lobby and ofcourse my bed in room .
Unfortunately when I went inside I saw same guy again . He said Hi and she said Hi .. Probably we had this only conversation today only unlike my super kickstart conversation with strangers ...
I put my bag in my locker and took clothes to get a shower from bathroom at ground floor . I came back inside and a girl sitting in front of gate .
I said sorry and went back ... This was not my room ..
I checked my key and room number is same and I entered again because it was indeed a same room .
Well like I said before I had no idea about hostels experience and I didn't check properly that whether it was mixed dorm room or gender specific . Sharing rooms was not a problem but sharing this tiny room with a stranger female was probably a first time . Probably sharing room with all females was a different league in Greece which I would explain in Greece Chapter .
I said hi and she replied with warmth . She was quite shy and was making her bed so the next note was good night ... She put on her ear phone and started her movie session on her mobile . In between the third roomie came and he was in late 40's and from United Kingdom . Good to find him and he was traveling solo and was too much amicable . In terms of conversation I just loved Germans and English . They just know how to continue conversation with all grace ... Probably I have encountered them the most , may be because of this ..
Probably he told me about everyone sharing room today . He did mention about one guy whose name is Ajay but he told me that he is "AeehJehhh" read AJ .. I asked him whether he is from India and he said he was looking like that but he told him he is a New Zealander ..
AJ came in night and I said Hi and said I am Ankur . He said he is "AeJeeh" He was looking like an Indian and I told him that I am from Delhi and he said Oh , You are an Indian !! I am from New Zealand , good to meet you .
We discussed about his schedule and plans and somewhere in my mind it hit time and again except your accent there is nothing that makes you feel surprised about me as Indian . Anyways may be he was born and brought up in New Zealand and was not connected as Indian but somehow it was devastated till the next morning when all the things he was doing was just how an average Indian does ...
No worries , I still respect his take but only point is you can go out from India but you cannot take Indian out of you . Probably in my life even I become citizen of any country but I would still remain Citizen of India from heart .
Now this was near 12 PM and everyone was on sleeping mode . This shy girl in front whispered in slow voice that we should switch off the lights . And guess what who started conversation with her , this Gautam Gambhir lookalike . This USA based guy was only interested in talking with this girl . I was not shocked to see how can a extreme introvert guy takes initiative in striking a conversation but hell yeah I recalled "Imperial blue , Men will be Men Advertisement .."
We had a comfortable night and probably even in this budget , hostel in Europe is just wow . I changed my mind to skip this hostel and choose hotel and I continued staying here .
My next day was awesome and next day I had all new room mates except UK Guy and Gautam Gambhir ...
No Bad moments in this trip except I lost my favorite cap 😞
Will continue in Volume III .... 💓