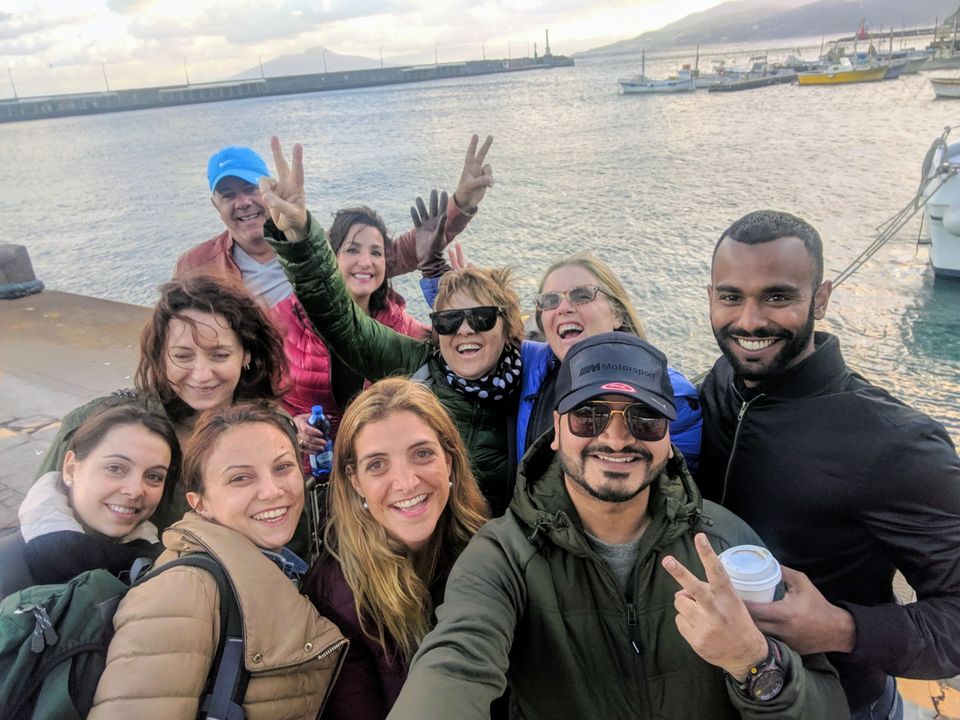 Stuck on an Island !
Capri - Naples - Italy , November 2018 !
Well Travelling solo is never actually solo because in the process you end up meeting with alot of people like you who thinks like you , behaves like you and desires like you .
Apparently stuck on an Capri island was amongst one of my beautiful travel stories till date .
Just after coming from that Mini Europe trip and breathing the hangover of Switzerland was way too enticing and then I asked one gentleman that I have 7 more days tell me where should I go in Europe and with that note I told him that it should surpass my previous experiences in Europe and in India . He happened to saw my collection at Instagram and told me that your appetite is big enough and there are very less places around here which should exceed your expectations . This made me little more confused specially when I had 7 days and with no thoughts . Somehow he dropped down to Austria and Capri , Italy basis my travel interests .
Probably this was the first time I heard of Capri . Somehow I was trying to relate it with my all times favorite Leonardo D Capri but then I realized they are poles apart and it's Caa-p-riii ..
Austria probably was somehow left to be explored for next time and then I settled with 4 Days Capri and 2 Days Amsterdam and 3 days in London and flight back to Delhi .
Plan seemed to be Wow and I booked flights immediately and with hell of excitements , early morning from Gatwick , London to Naples , Italy .
Some said Napoli and some said Naples but then the fact that made me inclined was this , Napoli is birth place of Pizza . Swear by my extra pounds of cheese burst layer of my baby fat , this was the biggest motivation ever to visit my Mecca and Madina .
People told me that in Germany or Italy you would find language barriers but then I am too much seasoned to have graduated in language of expressions and love . I knew I will handle anyhow .
I dropped at Airport and was looking to find Bus to Port , Port is the place where I would get ferry to Capri . Capri is 2 hours away from Naples . I was looking around to find the bus and met with local police officer . I said I need to go Capri and where is the bus but then he couldn't understand . This time I tried the language of expressions and body language and minted words like Bus , Ferry and Capri .. And Yes he recognized and said Alibus and showed me the way from his hands movement . While leaving he said , It's CaaaPriiii - no Capri . That brings me my first learning to these Countries , Speak English slowly .. Your British or American accent is not required . All they need is the way you put your words in slow tempo and they would gazed your words .
I finally reached to Port with understanding that while coming back I would eat Pizza at the oldest restaurant and first pizza restaurant of world .
Went to ticket counter and asked for round ticket . Somehow they were giving one side ticket which didn't bother me much because it is matter of minute sum of euros . Little did I know that reason of one side was Marine weather . That probably means there is possibility that ferry would not come at least today . This didn't bother me either because of my long stay and I boarded the ferry .
In normal course I don't sit inside but then crew was tough saying that all inside . We started and then like always my window seat was full of oceanic view . It's now 20 minutes and guess what . Water started splashing on the window glass . The oceanic view is now foggy view , the beautiful sea waves are now actually covering your glass window and probably you are in submarine rather a ferry . There was a young couple sitting just above my seat but then lady was laughing and feeling frightening at same time . I could see that she was holding the guy tightly but my problem was I was travelling solo and equally frightened like a lady but who did I keep hold of ? Somehow I know it's in Italy with professional crew and I am sure life jackets would be in abundance and were available just straight to my sight . Kidding , even in India it is almost same facilities now .
I minced some Hanuman Chalisa shaloks in my head which I hardly know and experienced this rollercoaster submarine ride .
We finally reached at Capri .
Best part of such islands is that you get to meet same people again and again . So I took a chair lift to heaven and felt the best views of islands till date . I had always explored mountains but then visiting a proper exotic island was a long time pending list which actually happened today .
I was looking around for my hotel which I booked on the way . Best part of last minute deals is that I got a 4 star property at less than 40 Euros . No worries let's hunt for my property at island . I somehow realised that almost every shop here has Pizza and for me it's no less than a heaven .
People are extremely friendly here but then you need to understand the levels of friendliness . So this cute guy working at Pizza cafe asked me if I need any help or whether I need any guide . I said I wish to find my hotel and shook hands . His soft hands and the way he shook hands told me alot about him but then it's ok till the time someone is harmless to you . I liked this guy and the way he was holding my hands like if he is my princess but then he realised pretty early that his consent is not my consent but anyhow he was helping me every now and then throughout which was indeed a kind gesture . I didn't want to stop talking with him just because of his expectations but then probably this was the time I realised why people in my country gets friendzoned so often . They need you , they like you but "As a friend" ... ha ha ha ... Somehow I know in my head 'Yeh Pyaar Nahi Hai Aasan " ...
I finally landed at my hotel and with a rude lady Manager sitting at reception . She saw that I have got a deal for the lowest price ever in history of Capri and since there was not much occupancy because of almost end season I requested to upgrade without any additional cost . She looked in my eyes and made me feel that I asked for I-Phone at price of Nokia 1100 . This hurt my ego for few seconds specially when this little smile and Request trick worked everywhere else in this World with me .
Somehow she upgraded me to better room but with no sea view . Mind you she now put me at 80 Euros room and sea view is 160 euros per night .
I went outside and explored two three points but then in night it was a strong thunderstorm . The speed was 70 Km/Hr . Can you imagine I saw trees breaking into two .. I saw umbrellas flew like piece of paper . I saw my eye glasses slipped from my face . I saw flower pots were falling down on streets and the worst I saw 60 Kg adults dragging by the wind . I somehow reached back hotel and reliazed my lifetime experience of thunderstorm .
Next day morning I was having breakfast and two women in their late 50's sitting next to me . They were from South America and the young lad sitting next to me was from Germany . We started talking about ferry and thunderstorm and then finally we left to visit some place . Somehow I saw these ladies and my interest are too much similar in nature . The only difference was I could afford to take little more risks . So we went at Faro . I remember when I was reaching near the gigantic waves . One of them who was clicking my pics told me ' If I were your mother , I would not have ever allowed you to let go that near " .. I can understand the mothers heart pretty well so I cooperated there after .
Days passed by and we all explored all the prettiness together and probably like always I found my camera person in form of these lovely ladies . Now this is last day and tomorrow our ferry back to Naples and from Naples to Amsterdam .
Guess what , Marine God said .. No ..
So we were standing at Port from 5 AM and still no luck .. We realised that there are many like us who are solo Travellers and are stuck here .
We all were waiting eagerly for any ferry company to operate but then finally ferry companies were in no mood to take a chance .
Somehow we all got together at Coffee shop and like any award winning idea I said let's make a WhatsApp group and we would keep on posting about whereabouts of ferry and conditions .
I along with my travel friends went back to the same hotel and booked another day . The rude lady was so much sympathetic with me this time . I may lost my Amsterdam non refundable bookings but then you would never able to know what is there in a women's heart . She gave me Sea view of 160 Euros at price of same 40 Euros . She told me consider this is as gift from my side .
And like I always know , God has his own way to balance things ... Probably this was it .
We made group of all the Travellers around us and kept on updating . This happened for another day as well and then we finally got a green flag for Sorrento . Luckily Sorrento was near to Naples and with road connectivity .
By this time I missed my non refundable flight and hotel bookings of Amsterdam but then having similar mindset of individuals was a different league of experience all together .
We were happy as if we got independence for first time . Before we were onboarding our ferry we wanted to have photo session and for some good one hour we clicked wonderful moments together .
Probably travelling alone is not always alone , you end up making alot of friends in between .
Many of us are in Instagram where we keep on exploring world from each others eyes and probably with a promise that the lines of our lives may intersect somewhere in future .
P.S - I then went to Sorrento and then to Amalfi and then to Salerno and then to Naples and then to Amsterdam and then to London . I thought Capri was a dream but later I reliazed Amalfi is place on Earth where you see dreams with open eyes 💓
If you have read till now , you are hell brave !!!