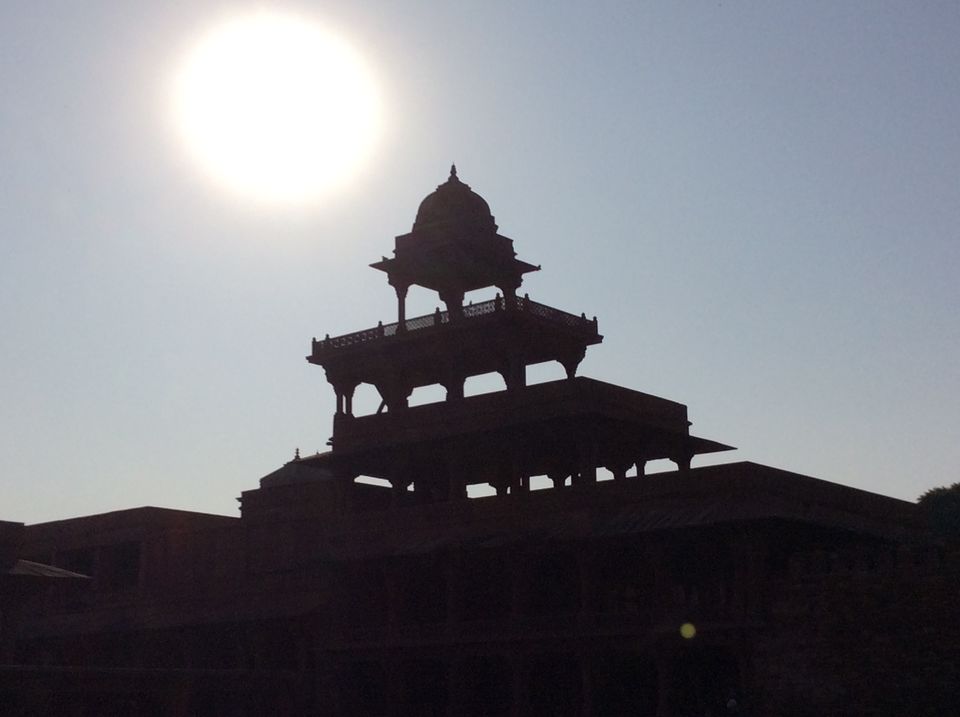 Our history makes for our present. There's nothing more enriching than taking a trip to a historical city that will help us reconnect with our country's and culture's roots. What's another popular city, close to Delhi, that is historically and culturally as rich? You're thinking of Agra, right? So for a visit to a historical city, my friends and I did something courageous—we took an an all-women trip.
The best weather to visit Agra is early spring, for it gets a little too hot a little too quick, and also cools down to a chill and makes for very poor visibility. We didn't manage to visit in spring, so we chose early winter. The weather neither gnawed a cold bite nor scorched our skin.
Plenty of buses ply between Delhi and Agra throughout the year. Trains like Shatabdi also makes for a good comfortable travel. However, our last minute plans left us with little choice but to be the adventurous bus travellers. Armed with volvo bus tickets, four of us set out to explore the ancient city of Agra.
We took an early morning bus from Sarai Kale Khan ISBT. Crowd was decent, interior was clean, and most importantly the bus halted at proper stops. Clean washrooms and fresh food were available at the stops, as against our fears. Following a four-hour ride on the highway we reached Agra ISBT. Entering the city we saw nothing of the majestic grandeur that the city boasts of. All that we could see after reaching the city were the jostling crowd and wayward traffic. Perceive the city through time-tinted glasses and you will see the chaotic confluence of heritage, decadence and modernity.
Most of the hotels and resorts are located further away from the city. Tajganj and Fatehbad are the places to look out for, with hotels and resorts lining its sides. We had already booked ours from https://www.booking.com for ease on arrival. It's also advisable to rent a car to travel around the city, however, public transport like auto and electric rickshaw are available in plenty too.
Of the several ancient structures that stand to bear witness the height of Mughal architecture in Agra, the Agra Fort is one of them.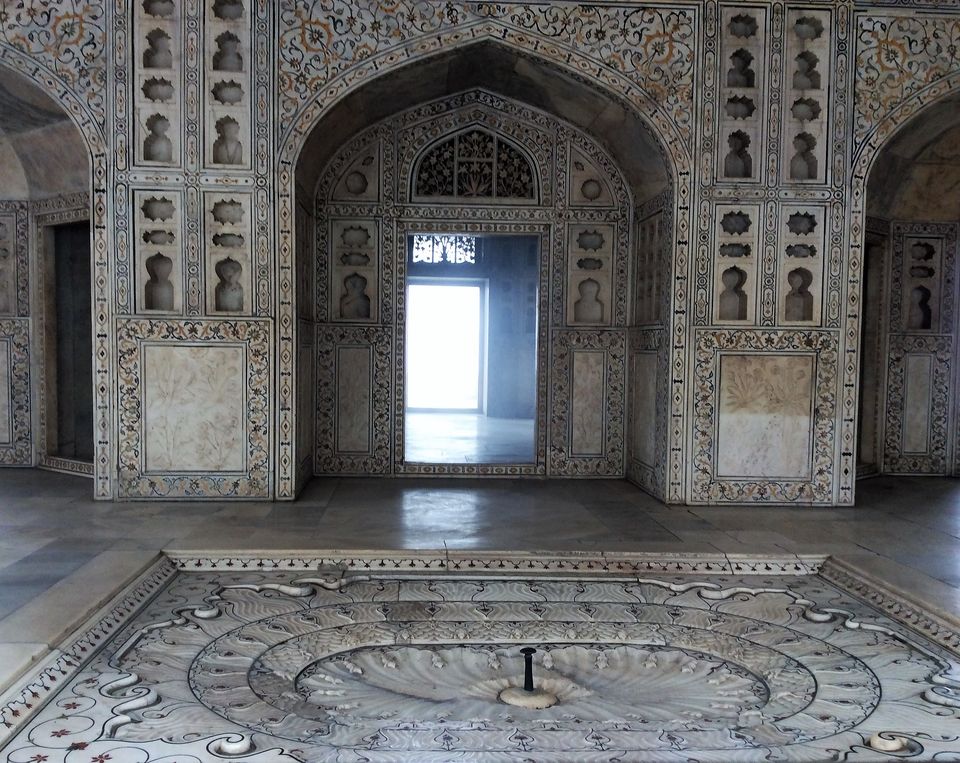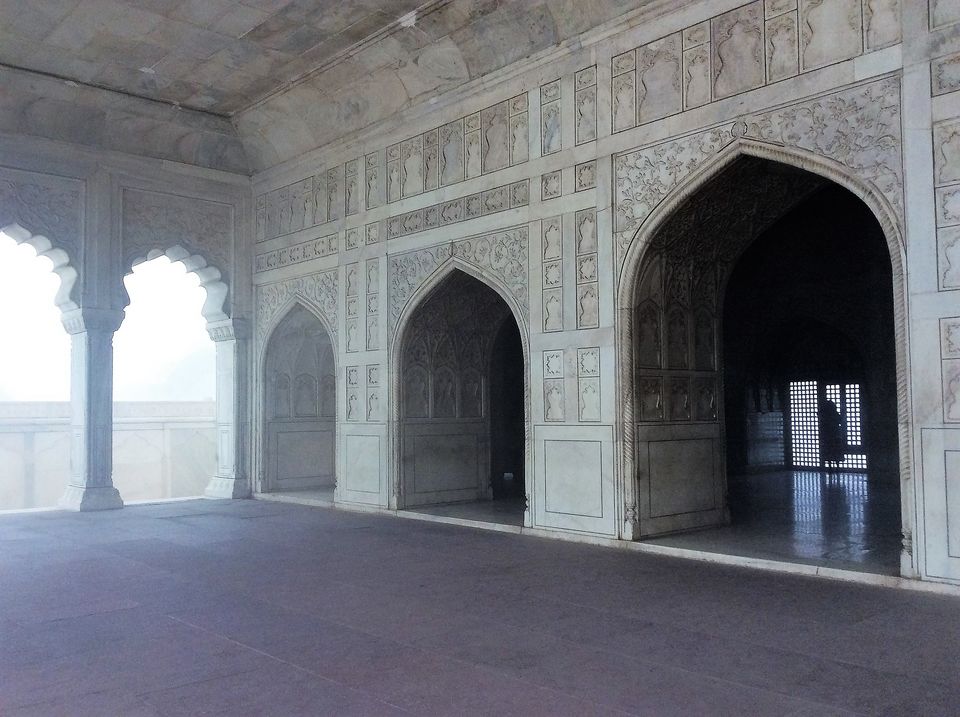 It is a complex of courts, palaces, gardens, pavilions and mosques. The fort is carved mostly in red sandstone, which is perfectly complimented by the marble palaces it houses within its confines.
Exquisite marble carvings and magnificent inlay work of the places of Jodhabai, Jahangir, Jahanara and Roshanara, the halls and the pavilions will leave you in awe. It's no difficulty to travel back in time and find yourself in an era fed by historical stories and a vivid imagination.
The Agra Fort also happens to be the fort where Emperor Shah Jahan spent the last days of his life as a prisoner to his son, Aurangzeb. Guides flock the gates of the fort in plenty. The best way to avoid people from duping us for our gender is by taking the services of government appointed guides who have fixed rates for the services provided.
As legend has it, it is believed that Emperor Akbar came here on foot to seek the blessings of Sufi mystic, Sheikh Salim Chisti, to have a son. Akbar's prayers bore fruit and he built the city of Fatehpur to honour the Sufi saint. Within the inner walls of Fatehpur lie the Royal Mosque and the tomb of the Sufi saint. Pilgrims visit all round the year to offer prayers.
The Taj Mahal has come to be eponymous of Agra. The magnificence of Taj looms large over Agra, to the extent of almost consuming Agra's individual existence. It's magnificent grandeur is beyond words to describe.
Vehicles leave you 2 km away from the Taj. Battery cars and camel carts are readily available to take you on pillion. Carry your id cards and buy your tickets if you want to take a closer look of this grand monument. Latticed gardens and pristine blue pools adorn the Taj like a foyer, as the monument rises from a red sandstone base. The double dome, the slender four minarets with intricate inlay work renders one simply speechless. As you enter the dark dome you see Persian verses decorate the walls and a marble enclosure, within whose vault lies the cenotaph of Mumtaz Mahal and the casket of Emperor Shah Jahan.
The architecturally exquisite Taj is much more than its twin 'Bibi-ka-Maqbara'. At the end of it, you leave the Taj with wonder in your eyes and a mesmerising awe of having seen something so beautiful and so grand built to epitomise someone's death!
Agra, like Delhi, was the seat of Mughal governance and eminence. It's indigenous culture, architecture and heritage makes it a perfect city to know more about our royal past.
The holy city of Fatehpur is a must visit when in Agra. You will be swept away into the pages of history as you'll step through the grand city gate of Buland Darwaza.
Now, when in Agra, peetha must not be missed. As word of mouth goes, peetha from Panchhi store is the best that Agra has. It is one of the oldest petha stores of Agra, established in 1926 and selling a large variety of pethas. From Angoori to Kesar, Panchhi petha is popular all over Agra, so much so that its duplicates criss-cross the market.