I like to say that travel never gets old-fashioned and every time I get to visit a new place, beautiful things happen.
I suppose everybody has heard of the most beautiful, colorful and chic city of Europe, which by now you might already have visited or at least have it written somewhere very high on your bucket list to visit for sure. Any guesses? Of course, it is After our two and a half hour journey from Bucharest, we reached Paris. Instead of a taxi, we prefer to reach our hotel After reaching our Hotel, we quickly got ready to explore our very first and the most enduring symbols of Paris - PARIS, one of the most beautiful cities in France(and Europe probably) which is also a Fashion capital of this part of the world. Recently, I was fortunate enough to visit the capital of France with my spouse. We planned a four days trip from Bucharest to explore the beauties and grandeur it has to offer. Hold on guys here, I am going to share my entire experience over the trip and itinerary with you all.Ibis in Montmartre via metro and tram, as taxis in Paris are expensive. I also realized that the French Government has done a great job with public transportation, not only they are affordable, they are accessible and easy to use as well. The Eiffel Tower. We choose to walk around because I believe it is one of the best ways to truly explore a new destination. I suppose everyone dreams of getting to the top of the Eiffel Tower, that includes me as well before my visit. Here, I am going to tell you a bitter truth, when I started approaching the tower I realized that it's not very romantic, as does look on google photos (with some filters I guess - as usually with Monochrome). Frankly, we didn't get romantic feel there as it was crowded with people taking photos and also it looks rusty. However, it does look good at night with all that lightings which should not be missed. Thereafter, we headed for the River cruise on the Seine which runs through the Paris. It was an hour ride and must to do in Paris. It was night time, we got incredible views of the Eiffel Tower, Louvre, Notre Dame (sadly in need of restoration now), and other historic buildings while crossing the splendidly illuminated bridges.
Using multiple modes of transport - Tram, Metro, and Train we reached By then, our stomach started growling, so we stopped by at some Italian restaurant. One thing I like about the restaurants in Europe, we don't need to go inside and check the menu they just present the entire menu outside itself. Being a vegetarian we hardly find good options outside which is why it is good to check the menu before entering.DAY 2 The Palace of Versailles. It was the principal royal residence of France from 1682 until the start of the French Revolution.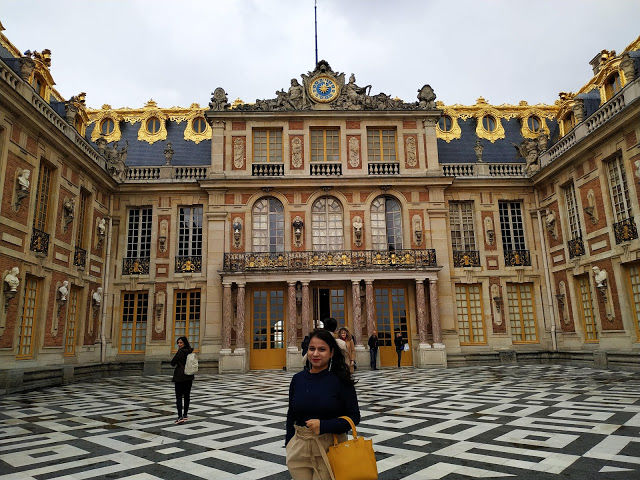 Guys, to avoid waiting hours in a queue, we can book "Skip the lines" tickets from their official website. Also, don't forget to take the audio guide from reception to know the history and several facts about this jaw-dropping palace.
I bet, If you have your own definition of luxury and extravagance, your definition will surely get change after visiting this iconic palace in France.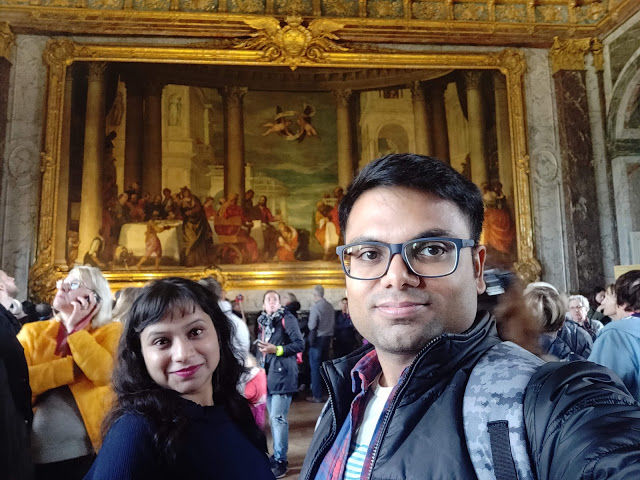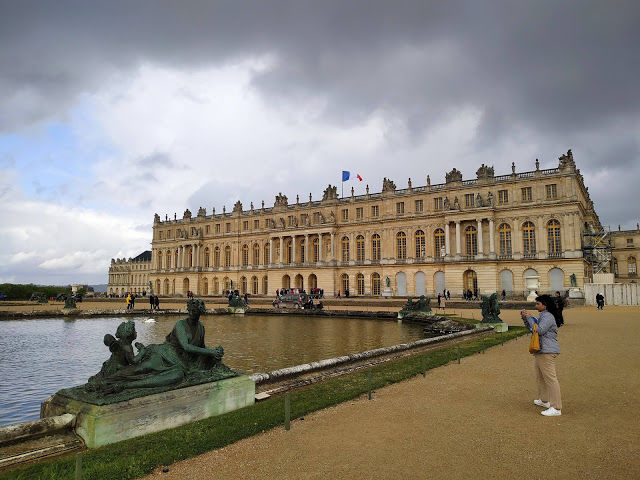 The artwork, the decor, the mirrors, the grounds! Fabulous. We walked through the corridor and spectacular gardens where Queen Marie enjoyed an incredible life. Which were absolutely worth the visit. There are also plenty of sculptures and fountains to admire. This is really the most amazing gardens in France and maybe in all of Europe. I walked in the gardens trying to imagine what would be the life of the Royal Family members.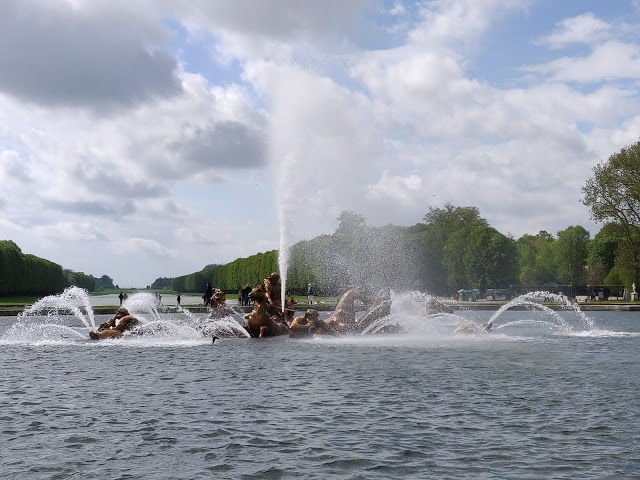 While coming back, we even tried food in one Indian restaurant, This is how our trip to the very opulent palace end by wandering around the gardens and admiring the work of art that they are.Krishna Bhavan. Isn't this sounds good, Yes. They have friendly staff and 100% vegetarian food to offer. DAY 3 This day we choose to visit one of the most fun place in Paris - Disneyland. It was a wonderful experience, full of amusement and fun, right from the gate of the theme park.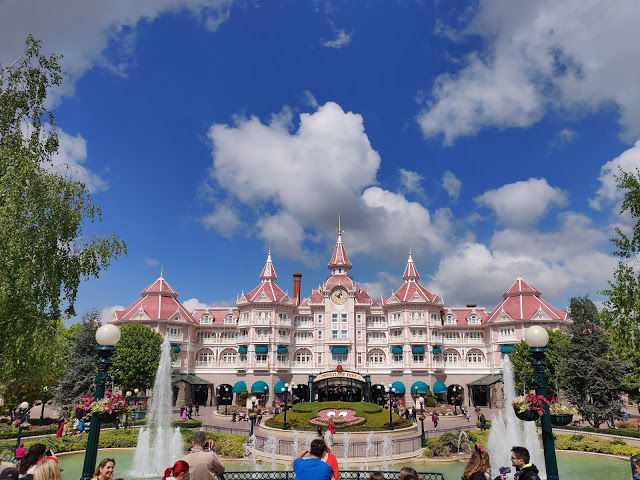 It sounds funny but it's true, once you enter the park you will forget everything. It is indeed a DREAM WORLD!!! There were beautiful castles, nicely decorated restaurants that you can't hold your feet to step inside, swings, rides including roller coasters. This day we planned to visit Among all the things Disneyland has to offer, you couldn't afford to miss The Chic-toon parade and the very famous Disney Illuminations in the night. Thousands of people gathered around in front of the Centre Plaza(A Disney Castle) to get amazed by the light, sound and water show accompanied by wonderful fireworks. It was like a fairy tale ending to the most fun visit.DAY 4 a beautiful church in Montmartre. You need to climb the stairs to reach the top of the hill where beautifully white-painted, Saint Coeur is situated. City view from the top is amazing with truly mesmerizing buildings in it. The church also offers multiple delights to the admirers of art and architecture.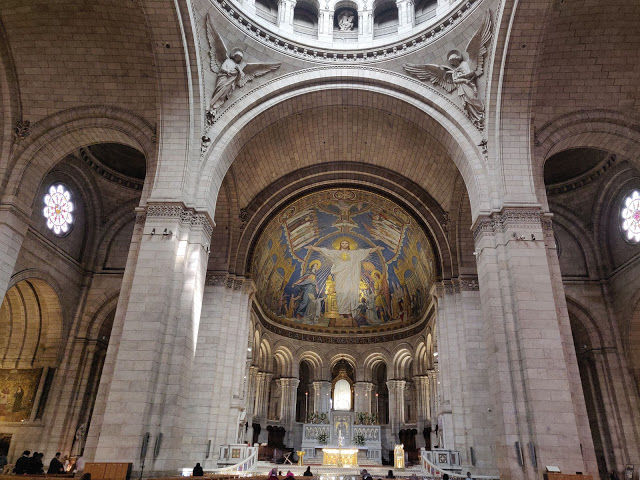 We quickly climbed down the stairs to take a bus to the city center. Here we visited Grevin's Wax Museum. It was fun to visit as it was the first wax museum we've seen. We took full advantage of it being a stunning Selfie spot with a lot of worldwide famous figures and celebrities including few Indians cricketers and Bollywood stars.
We ended our day by walking through the narrow streets of the Latin quarter for souvenirs shopping.
This is all about our 4 days visit to Paris. I hope it would be helpful for those planning to visit this Iconic city. If you have any queries or suggestions please, let me know in the comments section below.