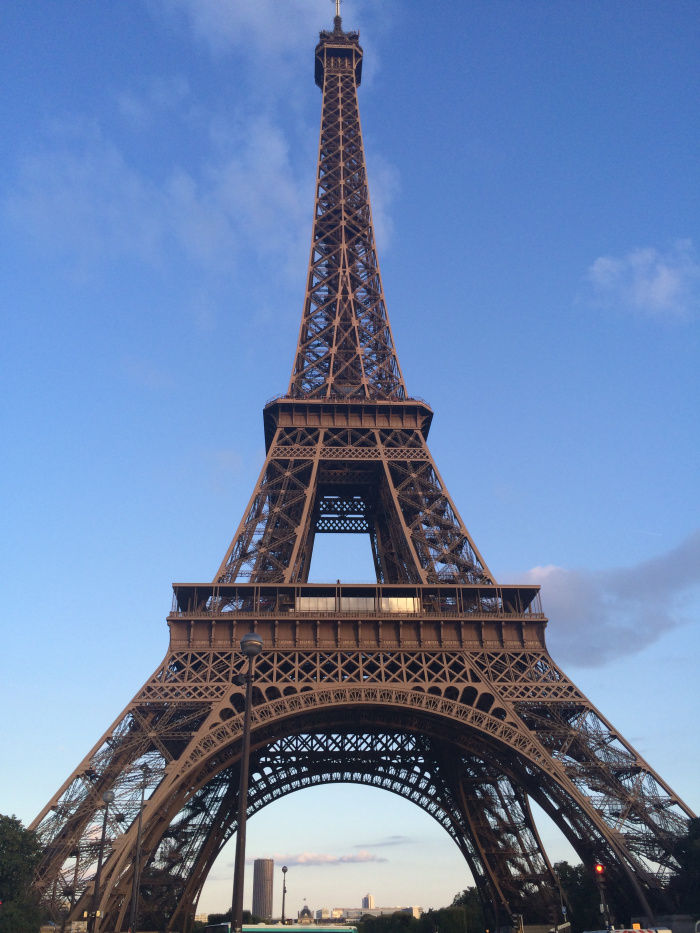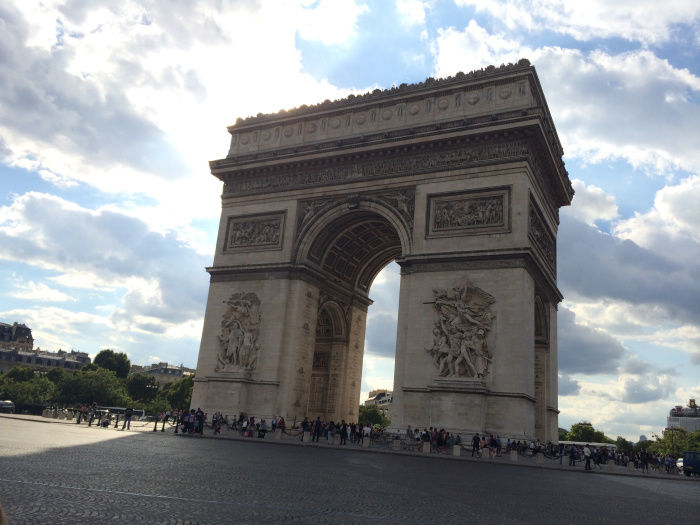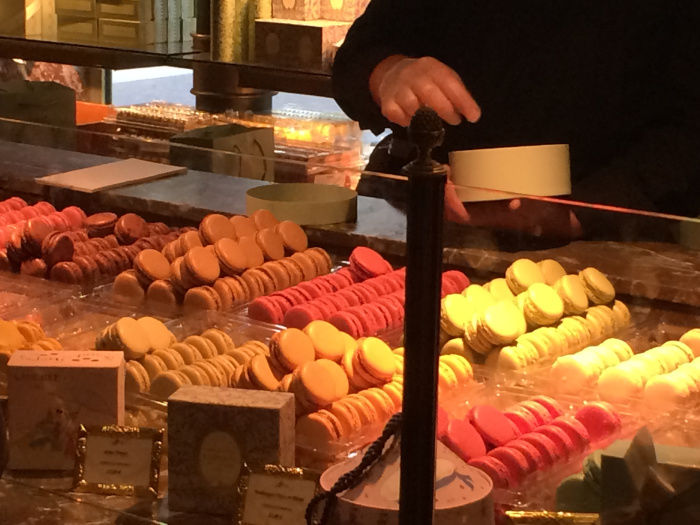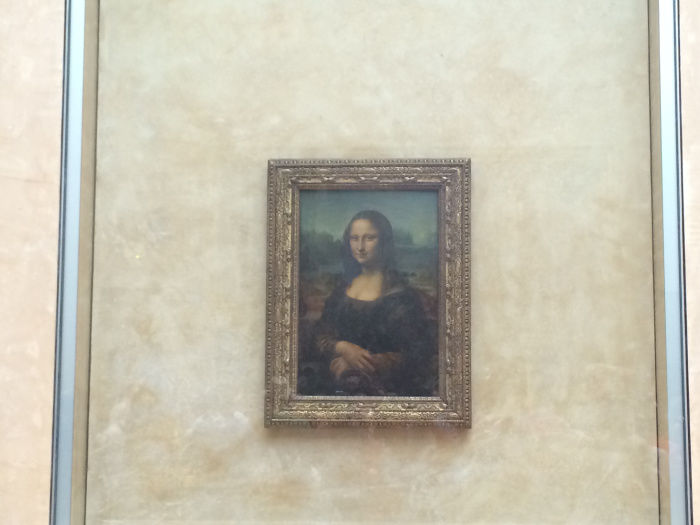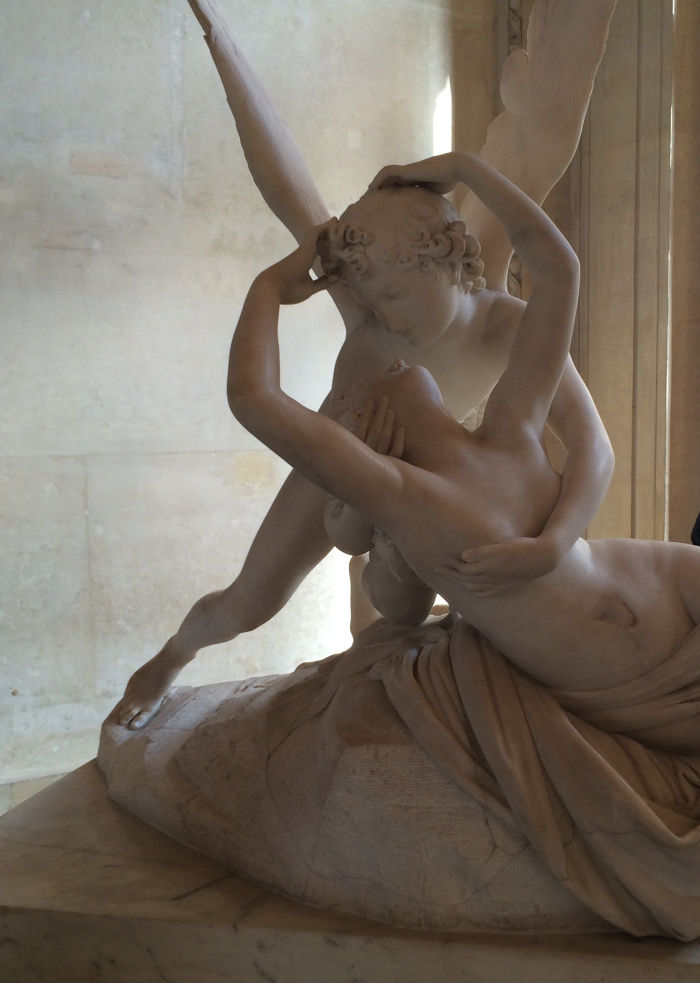 There is a reason why people consider Paris to be one of the world's most romantic cities. People dressed in chic clothes, the beautiful architecture, quaint coffee shops and the aromas of delectable macarons and croissants at every street corner is bound to make you feel gooey inside. So, I was beyond excited to visit the City of Lights during our trip to Europe. It was a quick stop over, we had about a day to make the most of our stay so we hopped on the Paris metro and visited all the important landmarks while making sure we got the time to soak in all that the city has to offer. So read on to know more about our Parisian adventure
1. Eiffel Tower: I entertained the prospect of visiting the Eiffel tower with cautious enthusiasm. As much as I wanted to see this mammoth structure, the idea of hundreds of over eager tourists and persuasive hawkers selling everything from key chains to alcohol made me a bit weary. Well, I was right in my assessment but there is no way one should miss the Eiffel Tower because the sheer size of the structure, the views it offers and watching it change color from day to night are in itself worth visiting Paris. We spent a couple of hours just sitting on the lawns opposite the tower while the lights were slowly turned on. It was breathtakingly beautiful. Be careful about what you eat and drink near the tower and instead head on down the street to enjoy a glass of wine while watching the tower from afar.
2. Arc de Triomphe: Built in honor of French soldiers who lost their lives fighting under Napoleon, the Arc stands in the center of radiating roads, one of which is Champs Elysees. The numerous sculptures on the arc celebrate and commemorate various achievements during the wars of early 1800s. Over the years, the Arc has served as a monument of victory and celebration the most notable of which is hosting the last stage of the Tour de France. A visit to the top should be on your itinerary because of the bird's eye view of the city and its attractions that it offers. The lines here are shorter than at Eiffel so if  you had to pick one then choose the Arc de Triomphe because the Eiffel is worth seeing from outside, not from atop!
3. Champs Elysees: Aah, lives of the rich and fashionable. If you wanted a crash course in understanding Parisian chic, take a walk down Champs Elysees, a road lined with shops from all top fashion houses of the world – Chanel, Louis Vuitton, you name it. Thronging with tourists, it can get a bit overwhelming if you really do want to shop but even if you are just passing by it is quite interesting to see people in their finery or gleaming proudly with a purchase in their hand. One thing you cannot miss at Champs Elysees is eating macarons at world famous La Duree. It is not a tough shop to find, if you see a long queue of eager tourists you know you are at the world famous patisserie. I would highly recommend buying the pistachio flavored macarons which are beyond delicious.
4. Louvre: Touted as being one of the world's largest and most popular museums, the Louvre is an attraction that demands a large chunk of time and attention to be able to do it complete justice. The entire experience of  walking along the Seine river and crossing Pont des Arts (also popularly known as the Lover's bridge) to reach the entrance of the Louvre was magical. The streets are lined with local artists with paintings that range from human caricatures to the avant-garde. Louvre is hosted inside a fortress and you get the feeling of walking into a palace rather than a museum. We reached the museum around 3 pm on a weekend so we had three hours to see everything that we possibly could which was not a lot considering how massive the museum is and the wide range of things it has on display. The official website of Louvre has all the details you need to prepare yourself and a wonderful interactive map that can help you plan your visit. Do not hesitate to ask one of the museum guides for directions if you are lost or want to make your way from one section to another because it can get tricky. We went through the Egyptian section for a bit before moving on to see the Monalisa. I have never understood the hype around the Monalisa considering some of the more obviously grander work by not just Michelangelo but also other Renaissance artists such as Rembrandt, Rafael etc. In fact, the painting itself is cordoned off and it is quite impossible to stand and observe the painting for even a second considering how crowded it gets. I thought it was a massive disappointment. Some of the other attractions such as Nike of Samothrace (also known as statue of Winged Nike) and Psyche revived by Cupid's Kiss are not as crowded and you get time and space to appreciate all the sculptural beauty. We took a break near the beautiful glass pyramids right outside the museum where crowds were surprisingly sparse and a cool breeze was blowing. Perhaps even a month would run short if one were to absorb all that the Louvre has to offer so do not try and cover everything because it isn't possible and will make you tired. Instead plan ahead and spend your time wisely.
If you have more time then the Notre Dame Cathedral, Luxembourg Gardens and Musee d'Orsay should feature prominently on your list. I am sure that another Paris visit beckons me because despite the not so friendly customer service and my husband's lukewarm take on the city I think that Paris is charming and beautiful beyond measure. Plus, I can't wait to eat some more macarons!
This trip was originally published on The Round Trip Ticket.