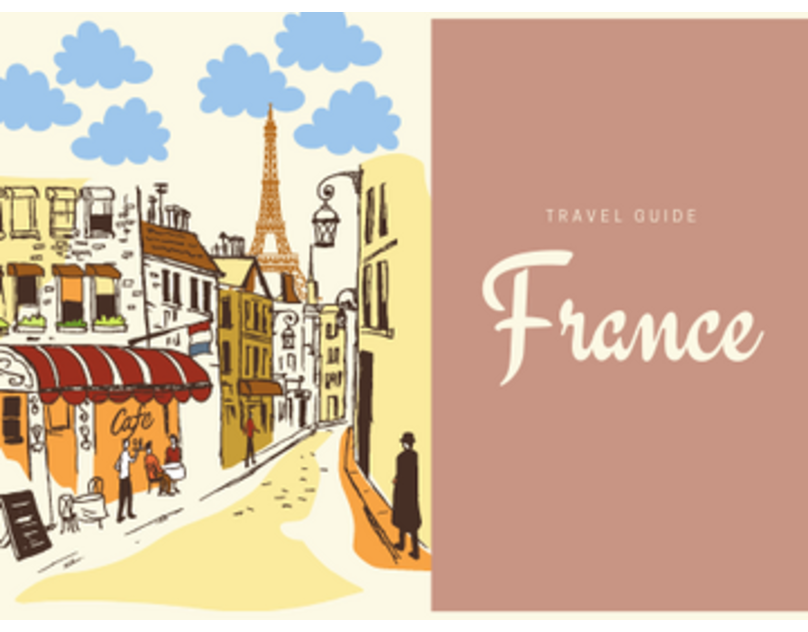 One of the most exquisite countries in Europe, which saw a footfall of 100 million tourists in 2020, must be on the list of every travel enthusiast. Known for its language, cuisine, culture, and fashion, the popularity of France is increasing day by day. The best thing about this country is the wide range of experiences it offers. It doesn't matter if you want to spend your vacation relaxing in a countryside vineyard sipping on some wine or want to go underwater and reunite with nature, France has everything.
Another important thing to know about the country is the fact that it is well connected through roads, and if you want to experience the real France, it should be a point to take a road trip. You can hire a car and get to experience the countryside as authentically as possible. It will not only help you in being truly free from arrival and departure timings but can also lead you to unplanned and impromptu adventures. And those are the kinds of stories that you will want your grandchildren to know!
Let us take a look at some of the destinations in France that you will regret missing -
Paris - Well, no brownie points for guessing this one. Also known as the City of Light, this city has been a crucial part of the modern history of the world. Poets, painters, musicians, most of those who revolutionised art and literature have walked through the streets of Paris. In this French city, love is always in the air, along with the aroma of baked goods and perfume. The Eiffel Tower and Notre Dame Cathedral are of great historical importance.The Louvre Museum has some of the greatest works of art in the world. The Château de Versailles is just a one and a half hour car ride away from Paris and without any argument one of the grandest architectural pieces in the world.
The island of Corsica - To the south of France lies the beautiful island of Corsica. You might have come across this one if you were an Asterix fan.The city of Bastia is famous for its streets, cafes, churches, scenic beauty, and markets. Take a day to walk the beautiful metropolitan area to blend in with locals and absorb the beautiful warm Sun. Take a tour of the Balagne villages which are just a 20 minute drive away. Catching a sunset in the village of Occi can be a magical experience for you.
Nice - The foundation of the city takes us back to the time of the Greeks. It is one of the biggest attractions for international tourists. Nice is widely known by Henri Matisse, the famous painter who lived and worked in this beautiful French city. There are several things that you can do in Nice, such as taking a bus tour around the city or dedicating a day to museums. However, to experience Nice in its truest sense, you must take the cruise from Cannes to Monte Carlo.
Bordeaux - It's not difficult to locate this name, right? If you are a good old wine lover, you have surely seen Bordeaux many times. This quaint port city is a massive wine hub that reportedly produced 440 million litres of wine in 2020. Apart from the obvious attraction of lovely Bordeaux, this place offers peaceful countryside that is perfect both for you and your gram. Spend a weekend in the region tasting some wine and basking in the sun in one of the gardens that run along the riverside.
Normandy - Although this northern region has a history of injustice, war, and suffering, it is surely a place that you would not want to miss. The Normandy coast gained popularity during the Second World War and has since been one of the major attractions for tourists with historical interest. The region has expansive beaches lined with white-chalk cliffs. The grandeur of the landscape is absolutely breathtaking and sublime. Guess that is the reason why Claude Monet spent a good deal of his life and painted some of his best works in Normandy.
The Alps - If you are an adrenaline junkie, you should not miss the opportunity to visit the part of the Alps that falls under the jurisdiction of France. Outdoor sports such as skiing, snowboarding, mountaineering, and paragliding are some of the activities that will account for some of the central experiences of your life.
Loire Valley - While France equates to romance, not every place in the country will be able to offer you the kind of privacy that you might expect with your loved one. Loire Valley is one such place that will give you the chance to escape with your partner. The serene nature of the valley and the beautiful accommodation options this place has is ideal for a romantic getaway or a honeymoon. It has also been recognised as a World Heritage site by UNESCO.
Dune du Pilat - When in France, there is no reason to miss Europe's tallest sand dunes. Located in the Arcachon Bay area, it attracts a huge number of tourists every year. You will not only be shocked at the sight of the high dunes, but you must also climb to its peak to see the breathtaking view.
Mont St. Michel, the grand abbey on this island located near Normandy, is a treat for both adults and children. It is said that this beautiful structure was the inspiration behind the famous children's tale Rapunzel and it also inspired the creative directors of the Disney movie Tangled. Don't deprive yourself of this beauty when you're in France.
These are just a few of France's most popular tourist destinations. This country has a lot to offer in terms of places to visit and things to see. Being a country of serenity, love, romance, and wine, France is one of the best destinations to visit. The spring months of April and May are the best time to visit France.
If you are planning to go around the country on the road, you must remember that you should possess an international driver's permit. This will give you the ability to rent a vehicle and drive around to reach your preferred spots.
Although almost all of these tourist destinations are accessible by public transit, it is always a good idea to rent a car as a tourist or foreign visitor. This lets you travel according to your desires, making as many pauses as you wish, even for something as simple as a nice little selfie and making memories, without the driver constantly pressuring you to hurry or disguising their annoyance each time you ask them to stop.
An International Driving Licence, on the other hand, is a perfectly straightforward answer to this tiny problem that threatens to ruin your vacation mood while in France. With the help of ITCA, you may apply for an international driving licence and obtain your international driver permit in only a few easy clicks. You may visit these tourist destinations whenever and wherever you choose with your international driving permit in hand. The land of serenity, love, romance, and wine is waiting for you to be explored. Go ahead and book a vacation in France!