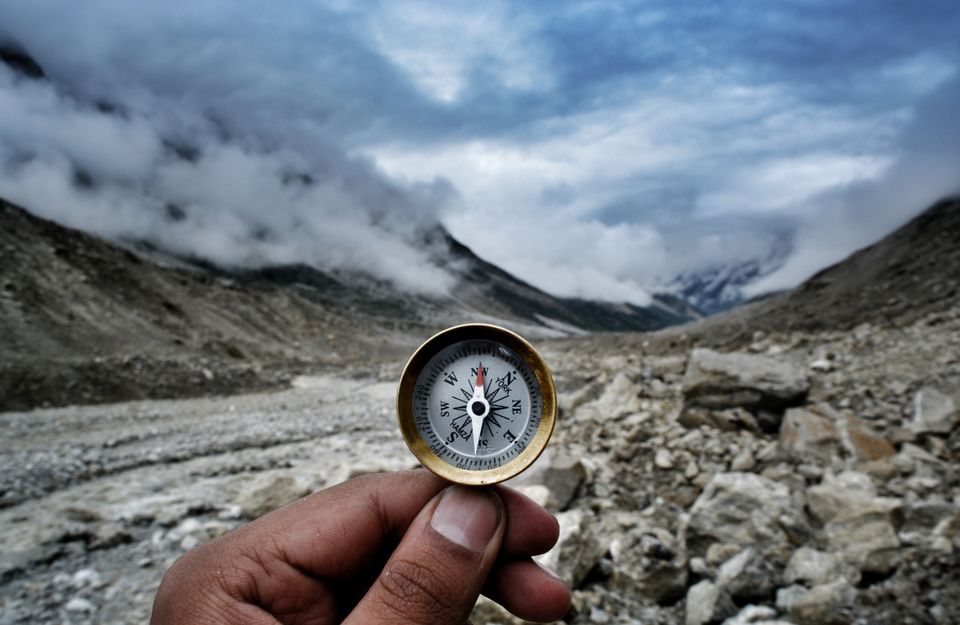 How often are plans made immediately after seeing a movie or reading a blog? How often does something that we gaze at in pixels, relaxed in our beds, translate into a twisted bus journey over 3000m, overloaded with people, who hung their clothes to dry inside the bus? (yes, inside the bus)
If you are spontaneous traveler, you know the feeling of transforming 'plans' to 'reality' which takes place no time. While it surely does make you feel alive and motivated, it also leaves you inevitably handicapped at large when it comes to having choices!
So here I was, after braving 27 hours of continuous packed bus journeys one after another thanks to my spur of the moment plans, having a slight case of AMS, a poorly packed backpack and cheese slice with 'namkeen' for mountain food's sake. It might have been one of the trips with a poor execution you read about people venturing out unprepared due to 'the call of the mountains'.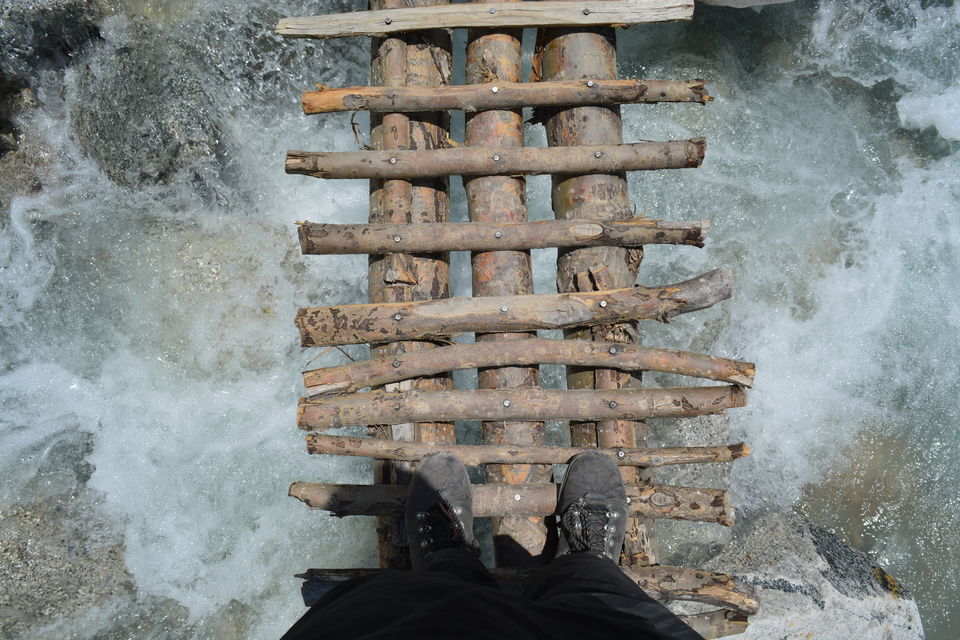 While I don't think the mountains call anyone, I knew I had to go. Or maybe I just wanted to capture some good shots and get those extra pounds off me. Who knows? Oh, and in case you are wondering who or what triggered this impromptu trip, it's the 'Meru' movie, released 2015 directed by the famous mountaineer Jimmy Chin. Do try to watch it!
A tiny town nested high up in the Himalayas beside the Bhagirathi river, Gangotri is often known both for spiritual and religious reasons alike. As one of the 'Dhams' of the holy Char Dham Yatra, it is famous for its temple as well is home to the Gaumukh glacier which, according to the Hindu mythology is the source stream of the holy river of Ganga. However, looking beyond it's usual prospective for religious tourism, one may be left spellbound with its serenity and natural landscapes.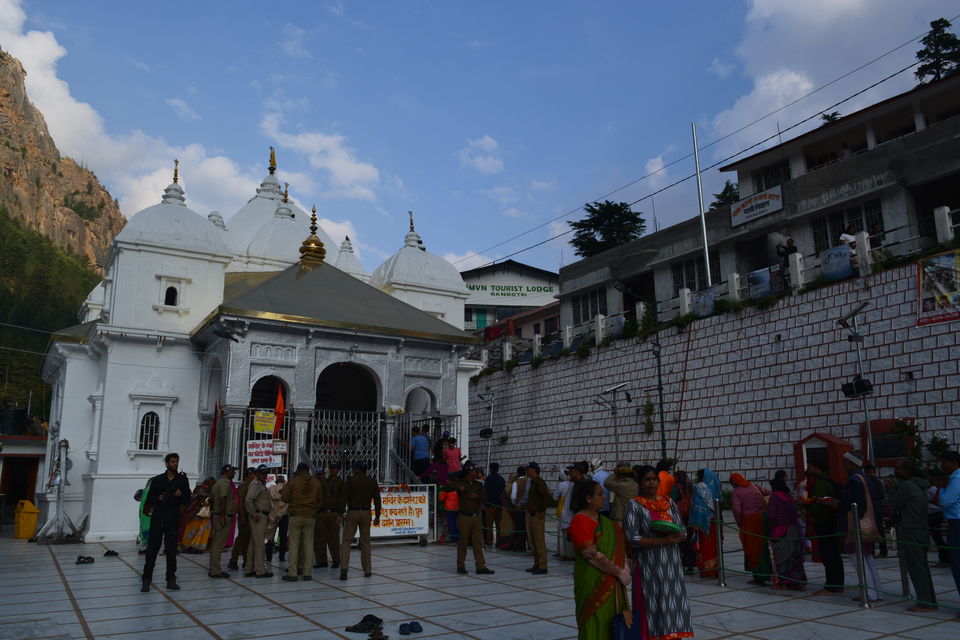 Being an uncommercial heaven for lovers of the outdoors, thanks to strict government control, it shines as offbeat place for mountain and nature tourism! In the summer of 2018, I made the decision of venturing deep into Gangotri National Park and tracing the origin of the Holy river Ganga. What entailed me were a lifetime of memories as I walked on and into the holy shrine of Goddess Ganga herself!
Gaumukh, literally meaning 'Mouth of a Cow' marks the birthplace of the river Bhagirathi which later merges into Alaknanda river at Devprayag in Uttrakhand and gives rise to what we all know as the holy Ganges. It is apt to say that it is the starting point of Ganga itself. Gaumukh is located well within the Gangotri NP and is accessible only via foot, an 18km trek from Gangotri leads one through a well-marked trail filled with many beautiful vistas, snow-clad mountains like Mount Shivlinga (6543m), famously known as Matterhorn peak.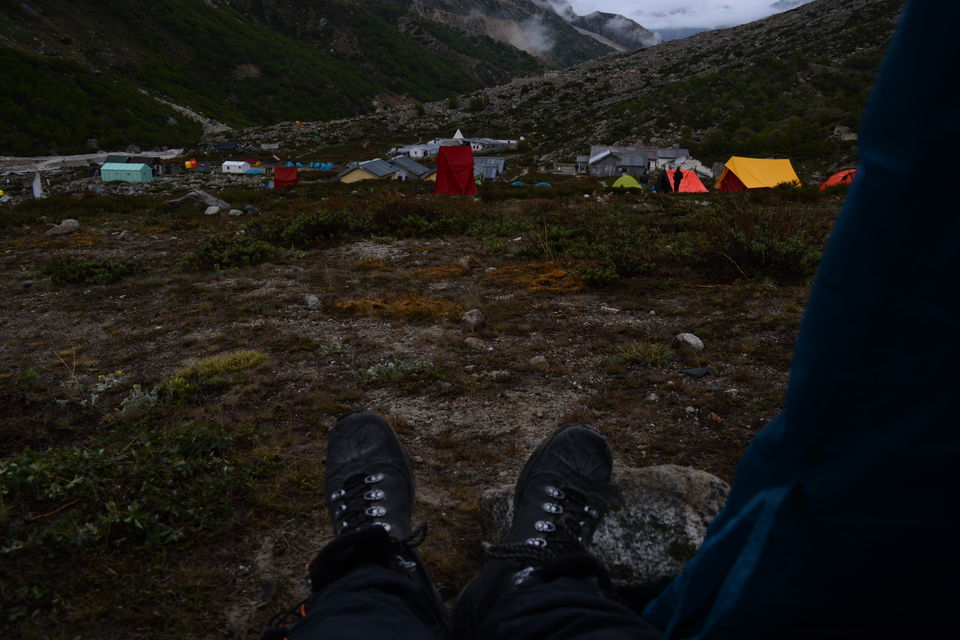 Vegetation varies with elevation and becomes sparse as one ascends, consisting of deodar, spruce and such. One may also be able to spot a Blue sheep (Bharals) or Himalayan Buck (Musk Deer) on the trail, usually in the later sections that are above 11000 feet.
The trail, otherwise popularly known as the Gaumukh trek starts from the town of Gangotri itself. A permit is required for the trek, which can be purchased from the permit office located within the town. It is recommended to start this trek as early as possible (preferably before 7am), so one has plenty of time to take in the views and capture photos.
A steep set of stairs beside the Gangotri temple leads to the trail, which then has a gradual ascent leading into a mountain ridge trail which soon breaks into full-fledged Himalayan views and offers these beautiful vistas until the end. The gushing sounds of the river of Bhagirathi accompanies the trekker all throughout the trail, and there are plenty of spots to refill water from natural sources.
About 9km into the trail consisting of steady ups and downs, one encounters a large cluster of pine trees, this area is called Chirbasa and is often the first stop for trekkers enroute Gaumukh. The first tea stalls/eating points in the journey are located at Chirbasa and one can relax and take in the views while sipping hot tea at Chirbasa. An average trekker will take around 5-6 hours to reach this point from Gangotri.
It is after Chirbasa that one can notice the vegetation getting sparse, giving a feeling of trekking in a dry desert like Spiti Valley or Ladakh. Please tread carefully on the trail post Chirbasa, as it is a frequent landslide/rock falling zone. It is always useful to watch your steps and be aware of your surroundings. After trekking for about 3 hours and covering a distance of about 5km, one approaches the last inhabited settlement on the trail, Bhojbasa.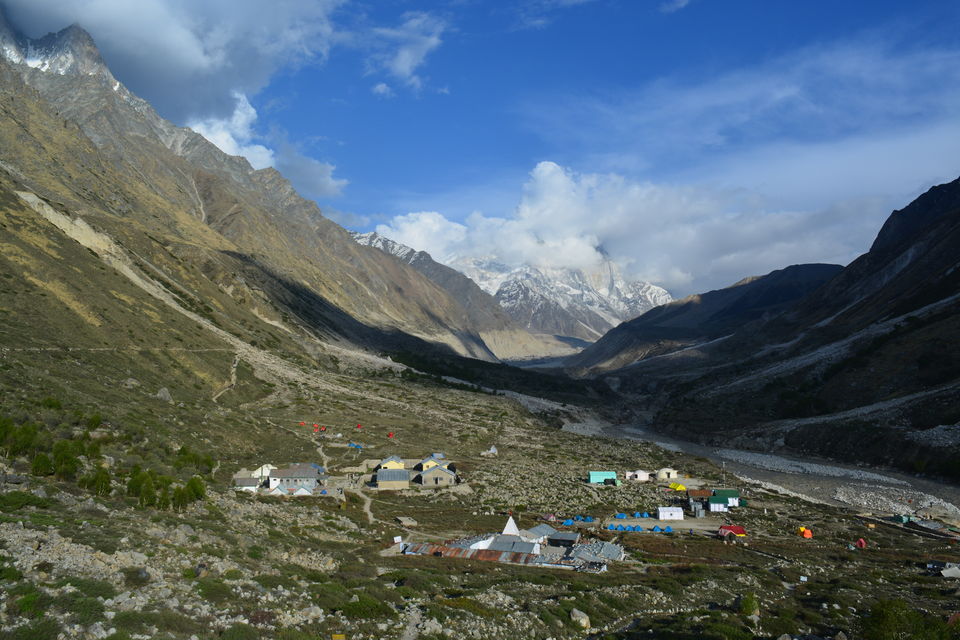 The last section of the trail to Bhojbasa is quite rocky, and one might not see this settlement until he reaches a certain point. Bhojbasa, perched high up at an altitude of almost 3800m offers food and hospitality in its ashrams and a government rest house. The nature of accommodation is basic and shared type. Meals outside the ashrams can be very expensive at this distance, so be prepared to shell out if you have an appetite!
Many choose to stay a night at Bhojbasa and then trek the remaining 4km distance to Gaumukh. However, if one reaches Bhojbasa before 2pm, it is possible to trek to Gaumukh the same day and return back to Bhojbasa for the night. Depending on energy levels or mood, one can select either option without worrying too much about spoiling the itinerary as both will be able return to Gangotri on time. A point to be kept in mind is that the trail between Bhojbasa and Gaumukh, although well marked, is a frenzy of boulder climbing as well is a non-gradual gradient filled with ups and downs. One has to ensure that sufficient water is carried while attempting this section, as there are no water filling points here unlike the rest of the trail. Unless, one is sure of energy levels before making the decision to cover Gaumukh on the same day, it proves better to stay the night at Bhojbasa. This will let the body relax and acclimatize to the high altitude of Bhojbasa.
Regardless of the option chosen, after a gruelling 3 hour climb to Gaumukh, one is delighted with sight of the brown coloured (not aqua blue) Gaumukh glacier in the distance. Please refrain from going more than 500m close to the glacier as it is strictly not allowed, and thus pollutes the sanctity of this holy destination.
It is recommended to bring snacks along to consume peacefully at this point, and admire the scenic landscapes all around you! You've made it to the Gaumukh Glacier! I reached this point within 72 hours of finishing that movie, what about you?
The way back to Bhojbasa from Gaumukh is not pleasant either. It would take approximately 2 hours to return back to Bhojbasa and then another 4-5 hours to Gangotri depending on one's pace. Even if you did Gaumukh glacier on the 2nd day of your trek, reaching Gangotri on the same day is very much possible. Once at Gangotri, feel free to treat yourself to a feast, a hot shower and snooze comfortably at the hotel/ashram! I know I did! It also makes sense to make arrangements for the return journey before you do so.
Lastly, don't forget to bottle your litre of the holy Bhagirathi river to bring home!
Afterall, what is a trekker's pilgrimage without a souvenir?
More pictures below -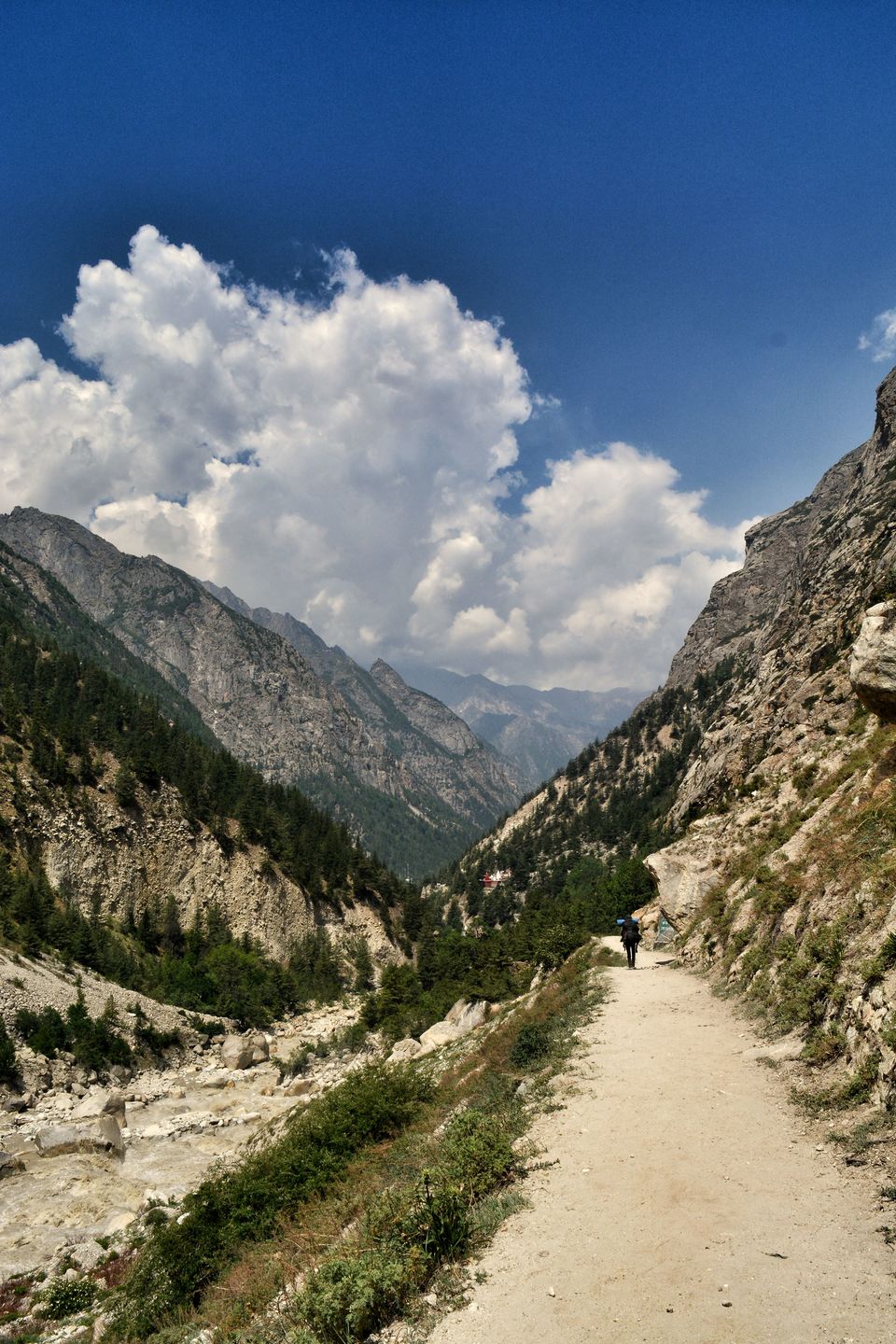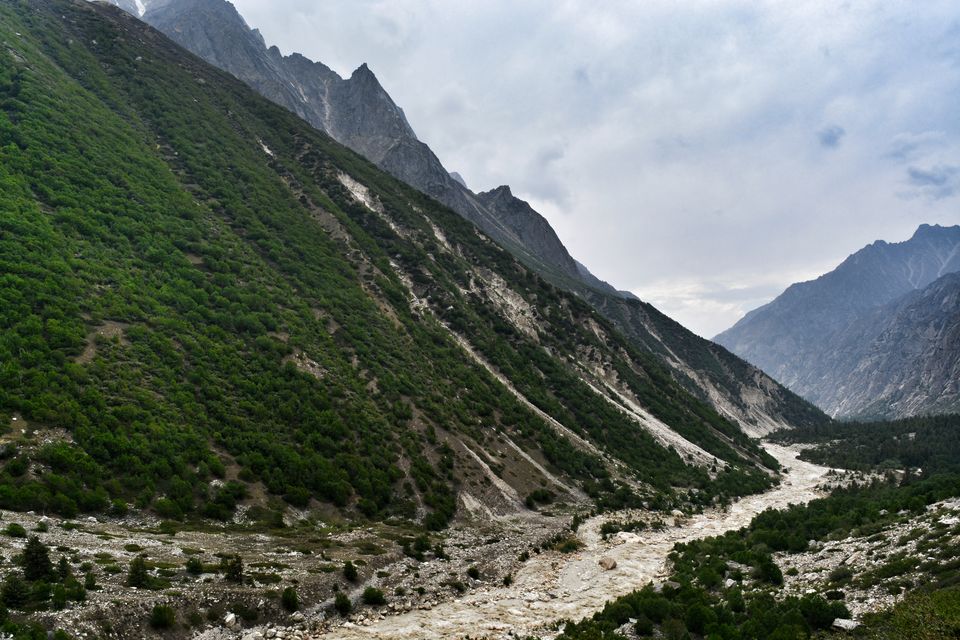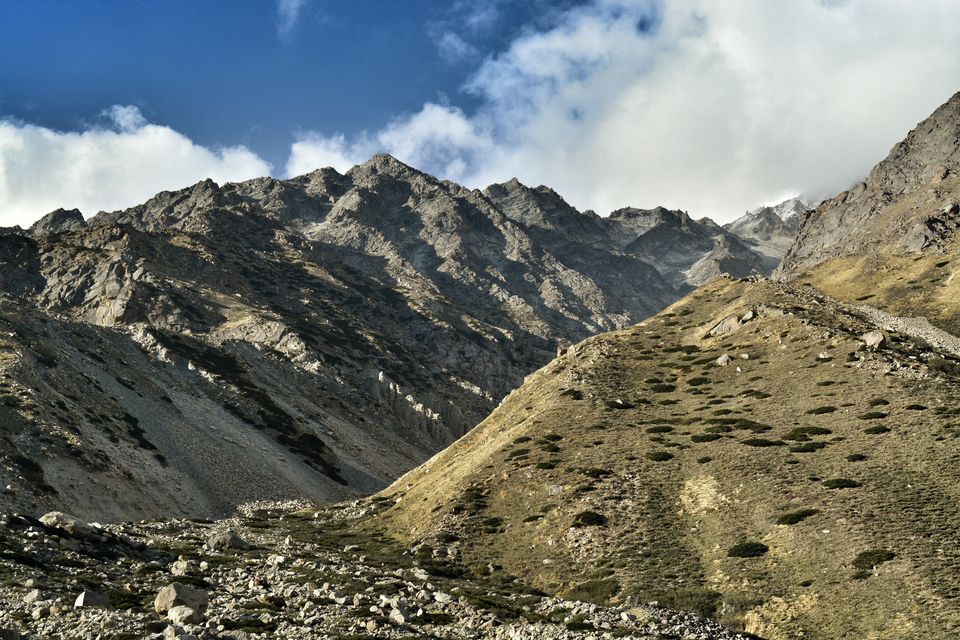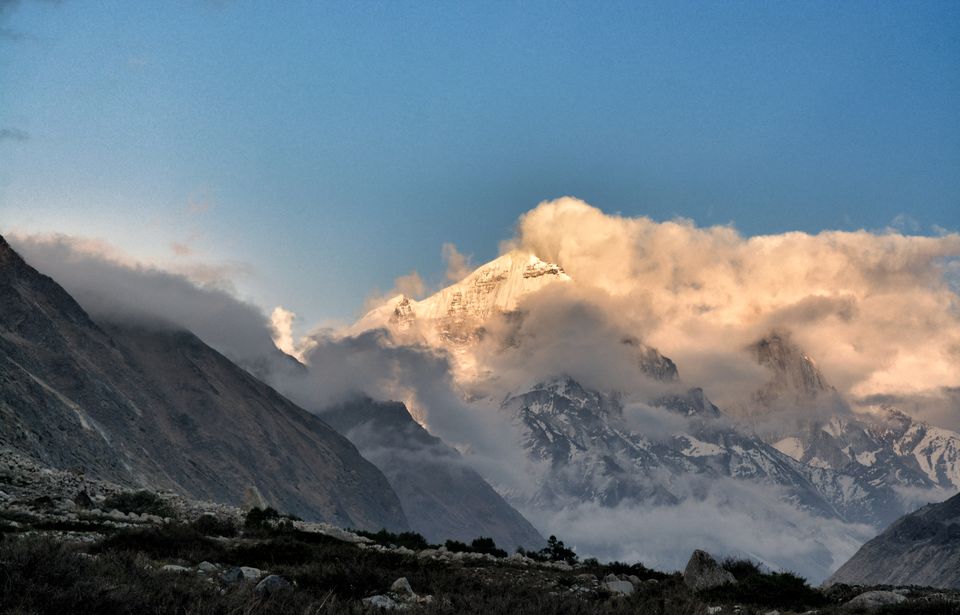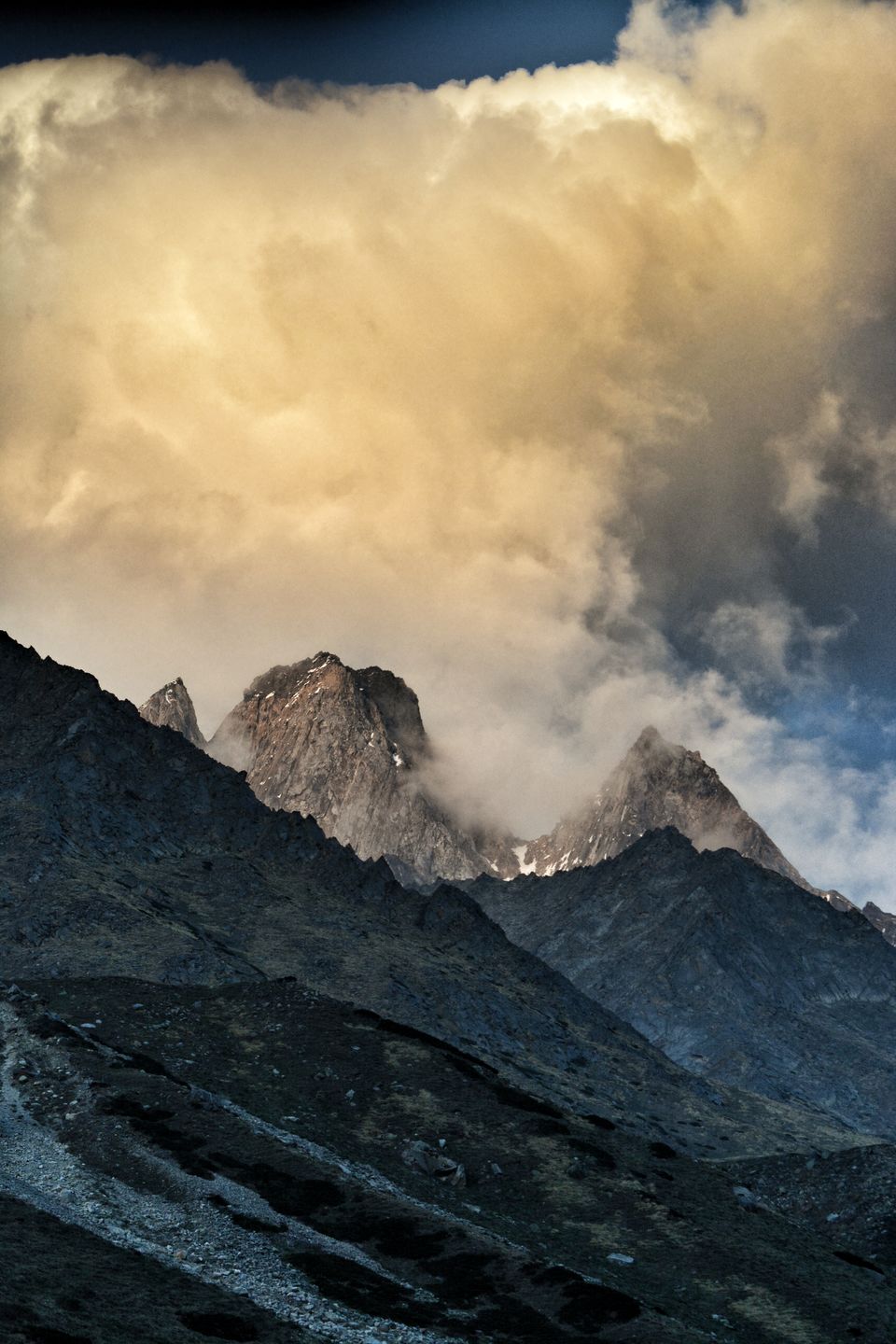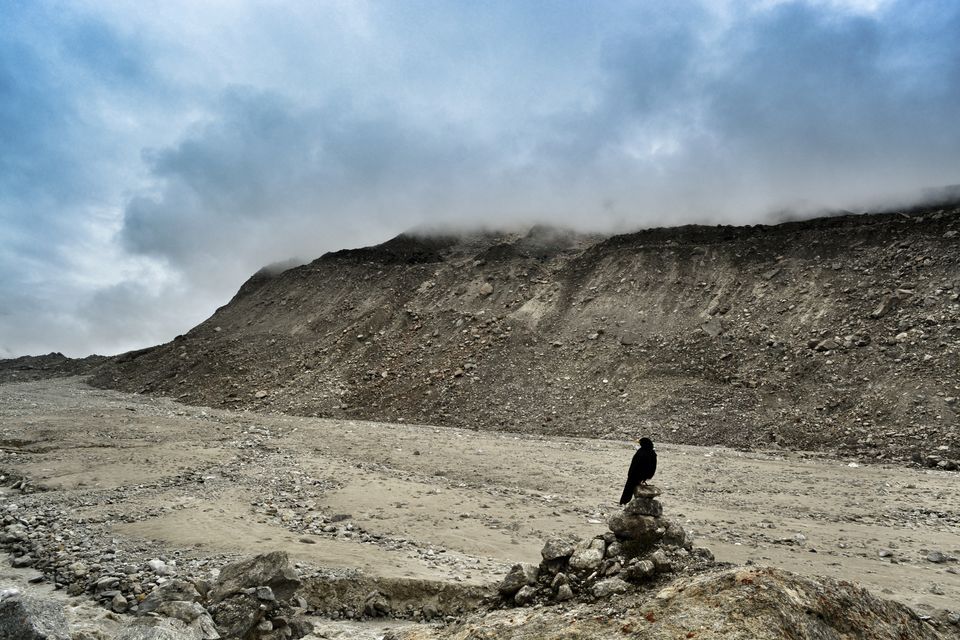 TRAVEL INFORMATION
HOW TO REACH –
Gangotri (dist. Uttarkashi, Uttrakhand) is the starting point of the Gaumukh trek. It is about 500km from Delhi, 270km and 287km from Rishikesh and Haridwar respectively. It can be reached in the following ways:
1) Road –
a) Public Transport: Two direct buses run from Rishikesh and Haridwar to Gangotri early morning at around 5am. However, this service is available only during yatra season and it is advisable to book beforehand. Availability and timing of these buses can be enquired by calling on 0135-2430344. The total journey time ranges from 10 to 14 hours depending on the road conditions. The return journey can also be covered using these buses as they depart from Gangotri itself. Alternatively, one can take a bus to Uttarkashi and take a shared cab costing about 300Rs. per person. Buses from Uttarkashi to Gangotri run from 5am to 3pm, but it is better to enquire about the timings with the bus stand country.
b) Personal Transport: From Delhi, one can take the Meerut-Roorkee-Rishikesh-Dharasu Bend-Uttarkashi-Harsil-Gangotri route. Alternatively, one can opt for Delhi-Saharanpur-Dehradun-Mussoorie-Dharasu Bend and then proceed to Uttarkashi and further to Gangotri via Harsil. Both routes are about 500km.
2) Railways – One can reach Dehradun/Haridwar/Rishikesh via train and then proceed to take a cab or use public transport.
3) Airways – One can take a flight to Dehradun, and then a cab/train to Haridwar or Rishikesh and opt for public transport or cab till Gangotri
Elevation – Gangotri is at an altitude of 3415m, whereas Gaumukh is almost 3892m at the snout of the Gangotri glacier.
Trek Duration – Two days, and overnight stay at Bhojbasa.
Distance Covered via Trekking – About 18km.
Best Time to Go – May – June or September – October
Permits – To be taken from District Forest Officer, Uttarkashi, in Gangotri or online. ID proof required. Cost Rs. 150 per person (Indian) and Rs. 600 per person (foreigners). Timing for Gangotri office are 8am to about 10am, and it is open all week (including Sunday). For online booking: please refer to http://www.swsuttarkashi.com/Permission/GangotriNationalPark
Stay -
1) Gangotri: Various hotels and ashrams ranging from Rs.300 to Rs.1500 depending on quality and amenities provided.
2) Gaumukh: While there is no accommodation at Gaumukh itself, accommodation is available in Bhojbasa (14km into the trek). Three ashrams are present costing Rs.300-400 per person per day all inclusive. The nature of stay in the ashram is basic. The GMVN rest house can be booked online costing about Rs.350-400 per dormitory bed, exclusive of food (which can be pretty expensive)
3) Another option is camping; one can pitch his/her own tent till Bhojbasa.
Misc. Tips –
1) There is no mobile connectivity of any sort after an hour into the trek, however BSNL and Airtel work fine before this point and in the town.
2) Being a high-altitude trek, there is risk of AMS. Proper acclimatization at Gangotri is thus recommended before trekking.
3) High ankle hiking shoes are to be preferred for maximum comfort and minimum injuries.
4) Temperatures vary widely in the mountain on an hourly basis, try to dress in layers and bring a light jacket for cold nights (even in summers)
5) The trail is well marked and hence a guide is not necessary, however options are available in the Gangotri town itself. Hiring a guide also contributes to the local economy of the people and gives unique insight into the local Himalayan culture.
6) Ponies are available till Bhojbasa to those who cannot trek, costing up to Rs.1500 per pony.
7) While you are discovering the unexplored and exploring the discovered, please refrain from dumping waste in mountains and practice responsible tourism to preserve the beauty for further generations.
Written by
Mayank Pathak