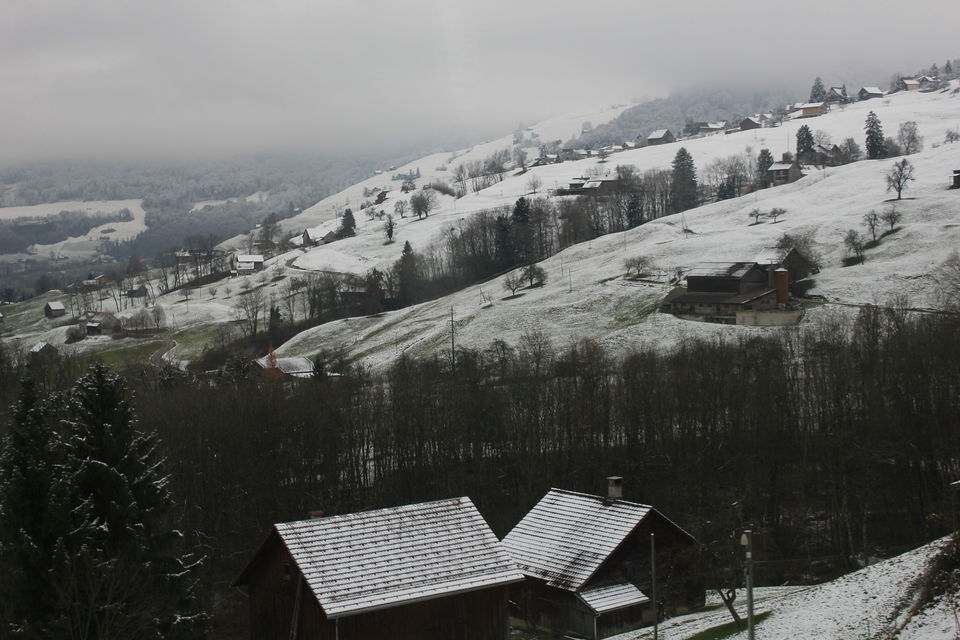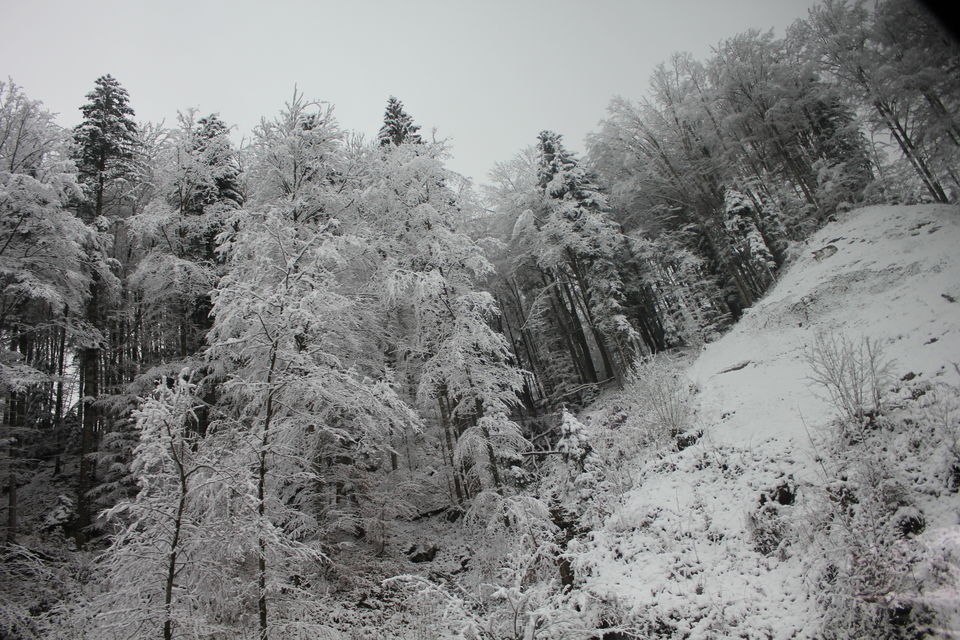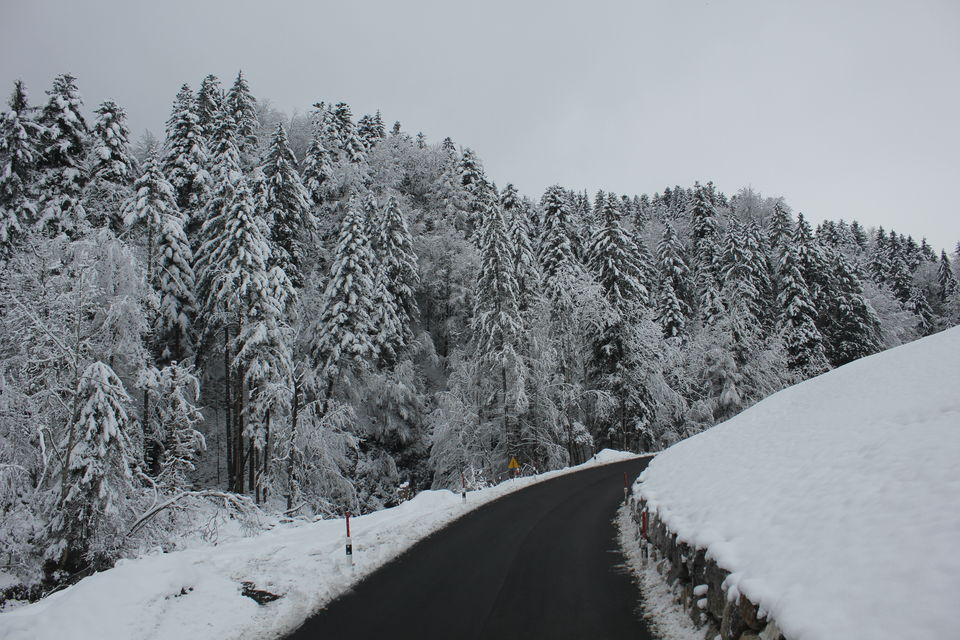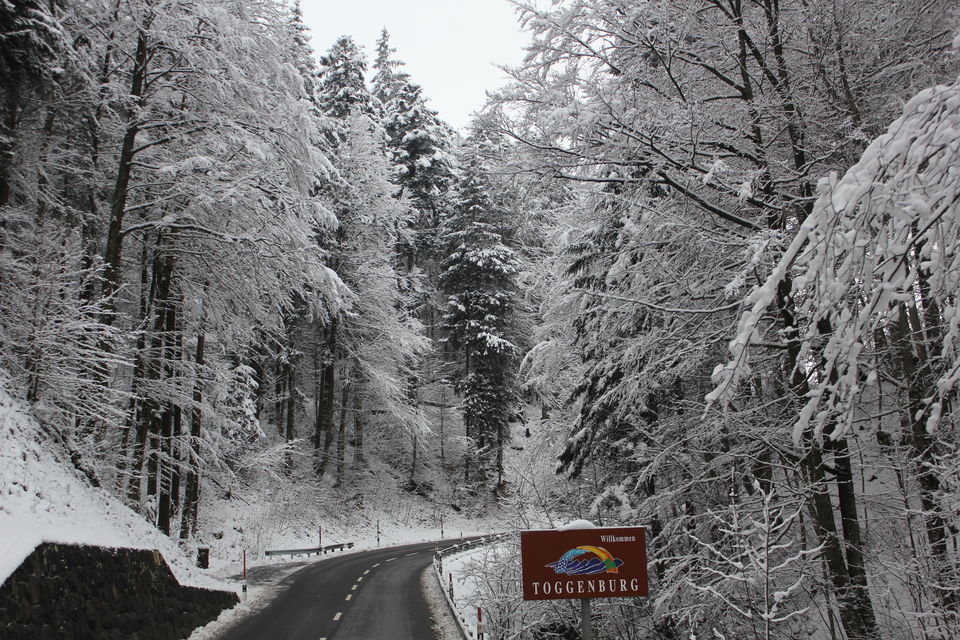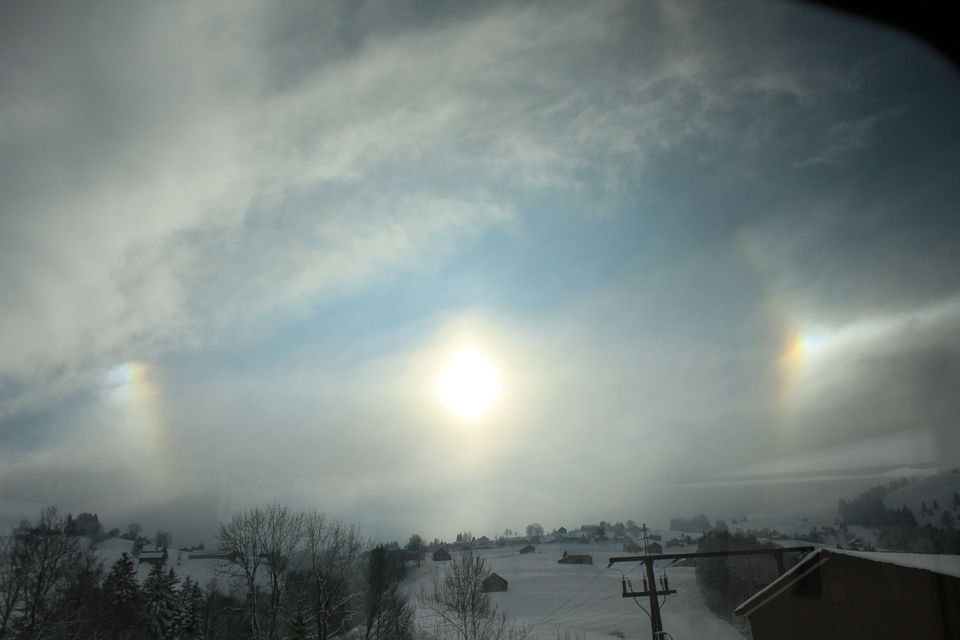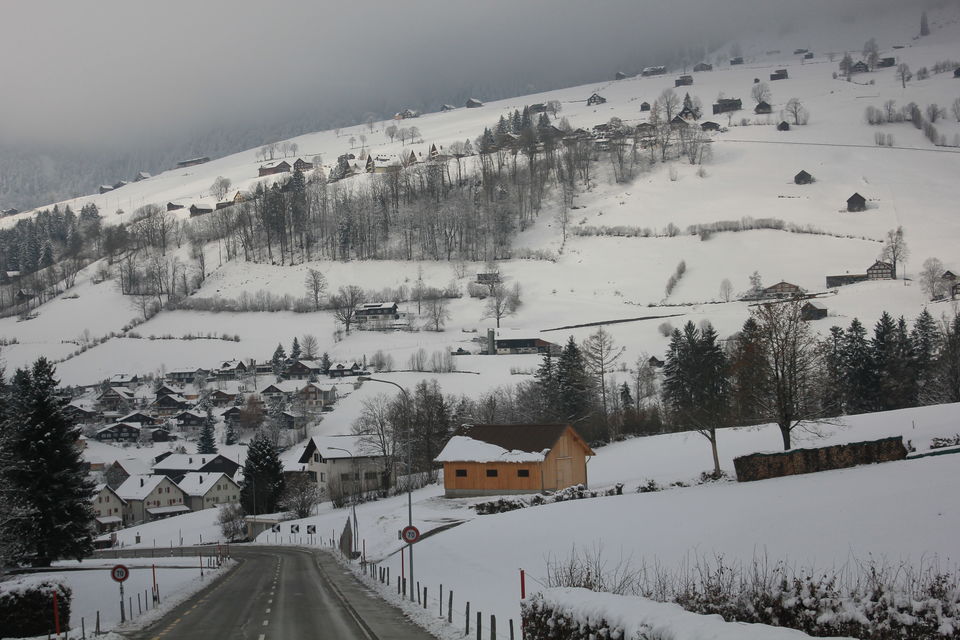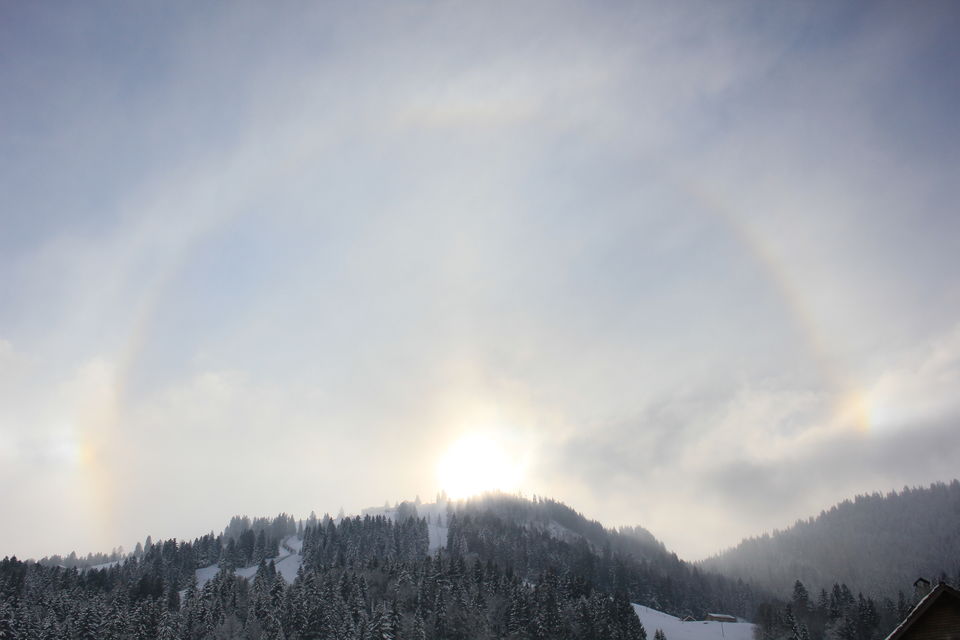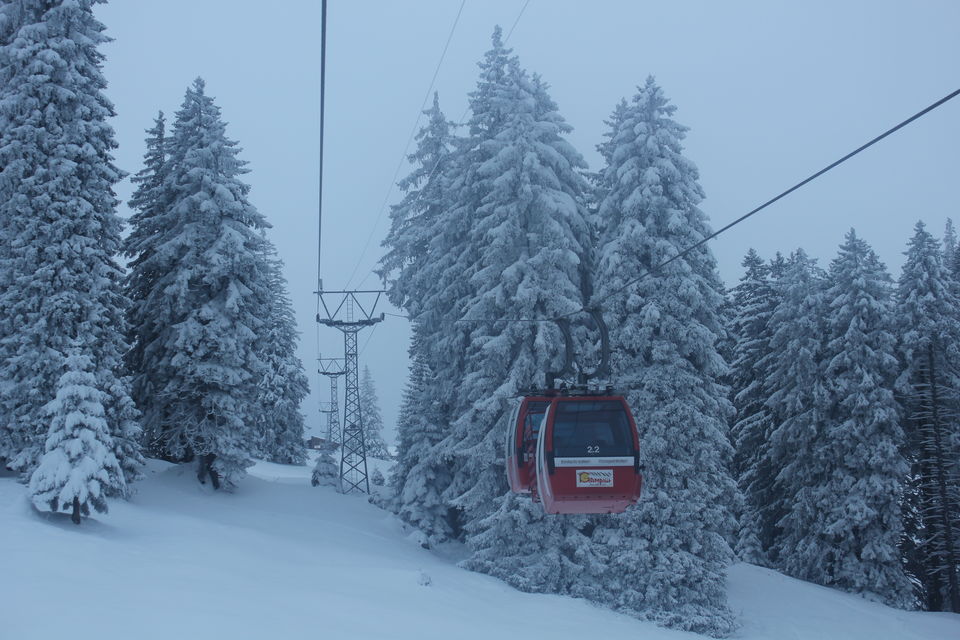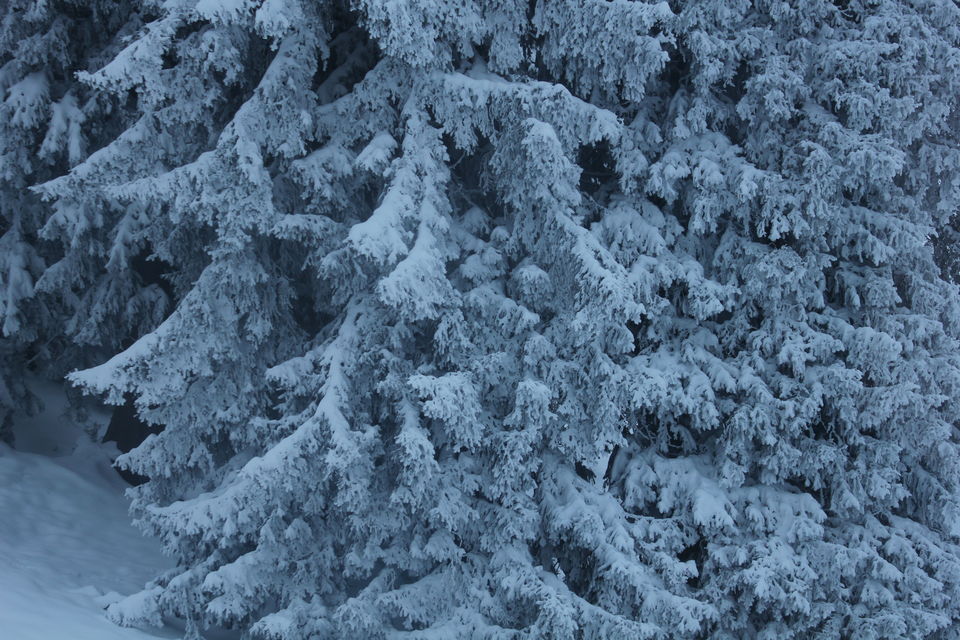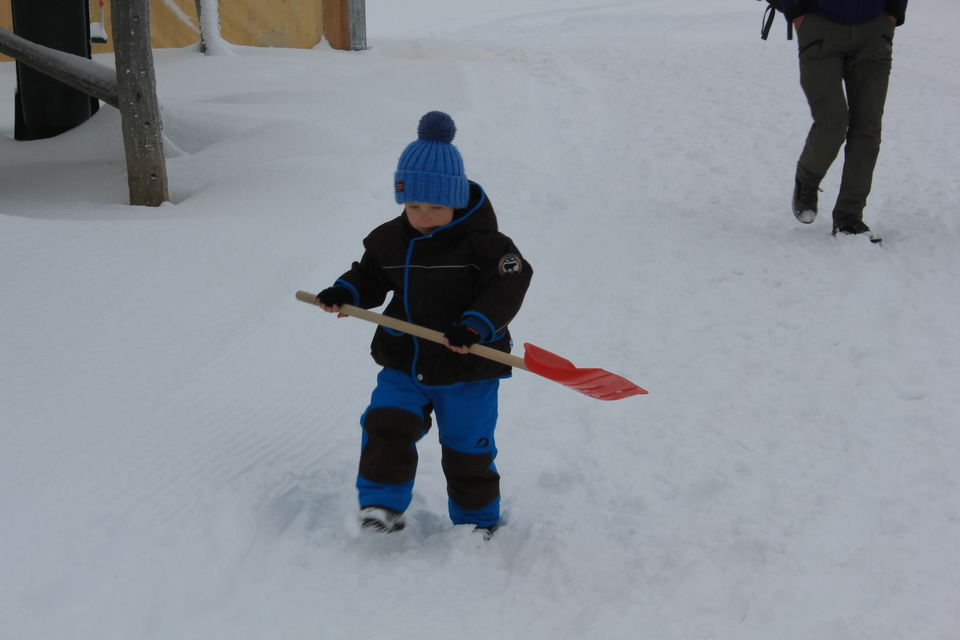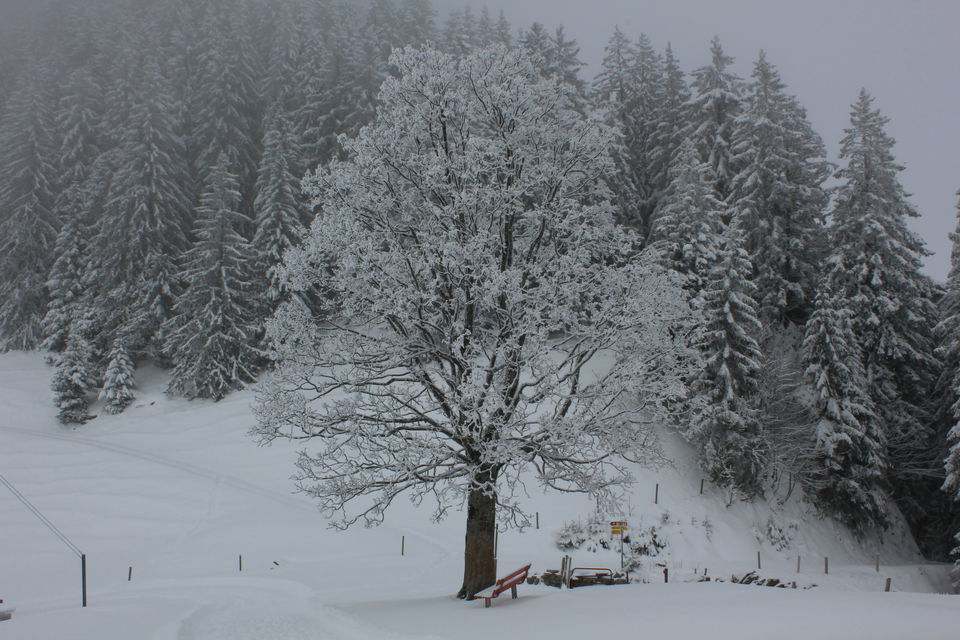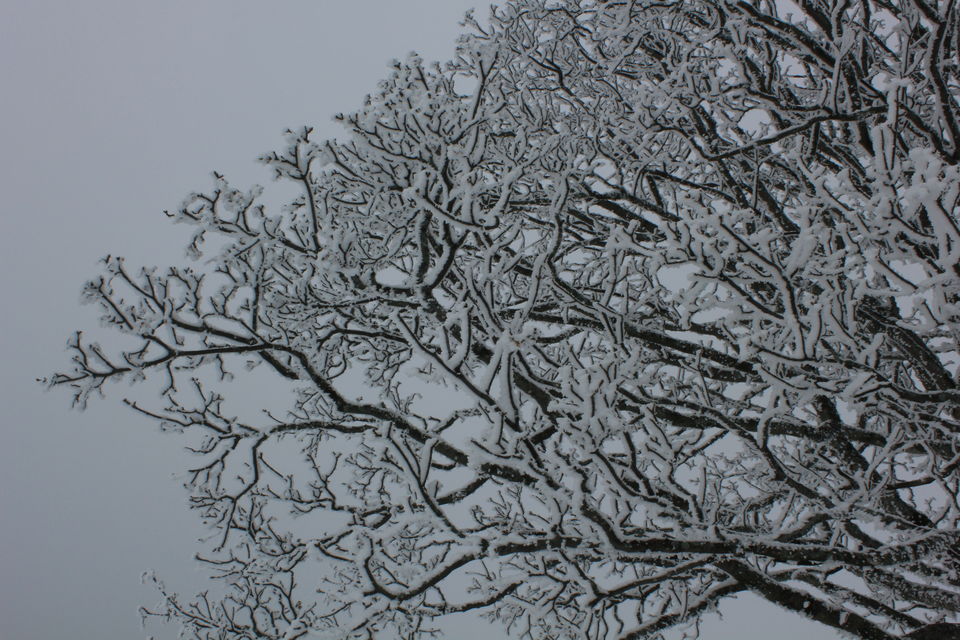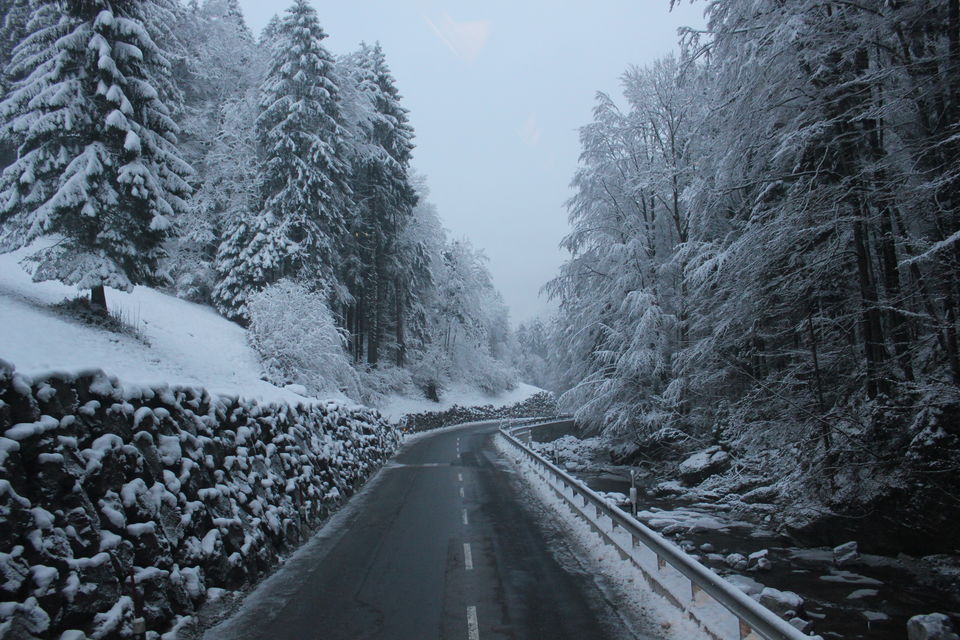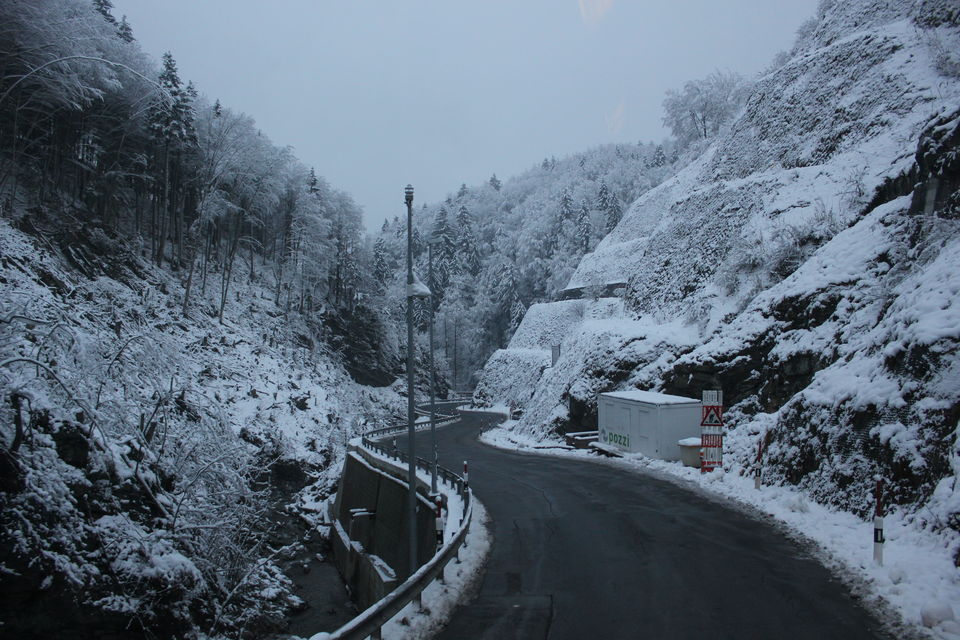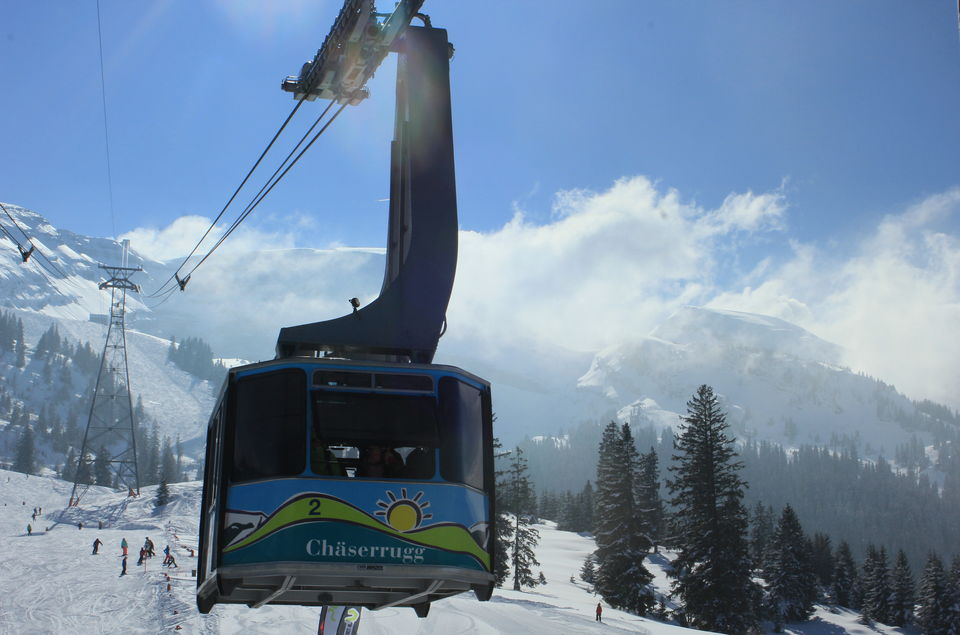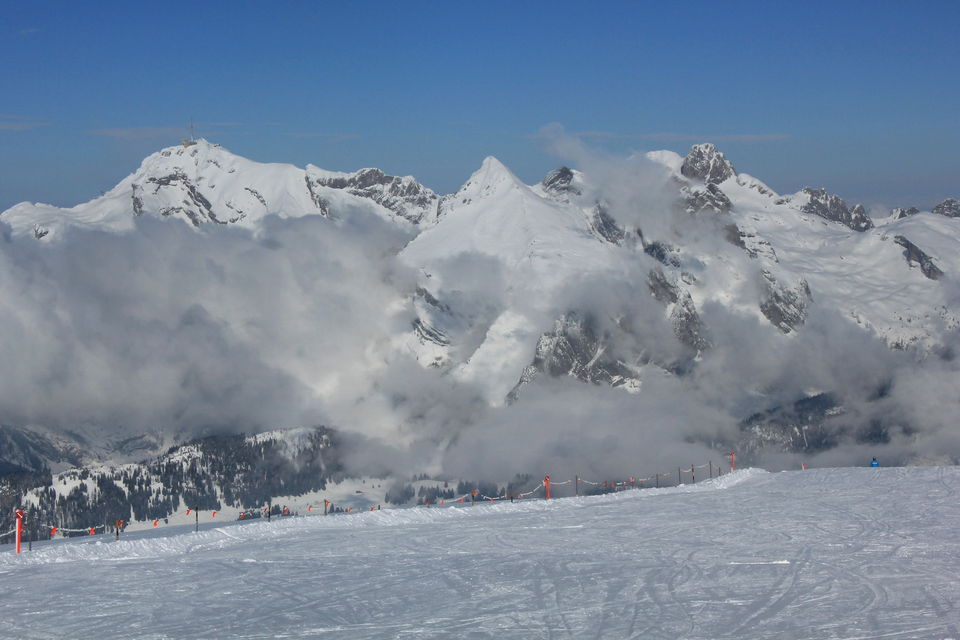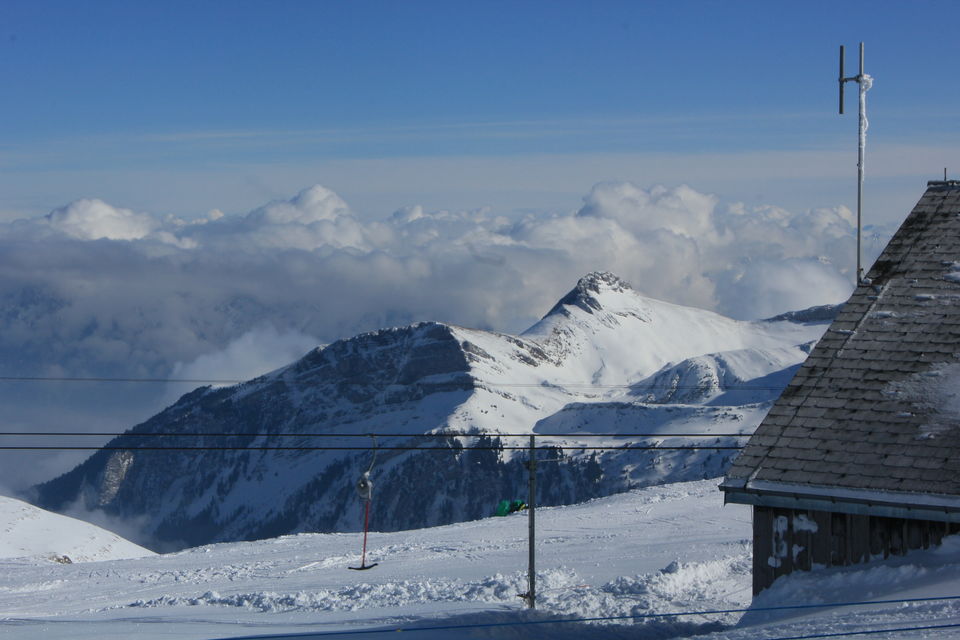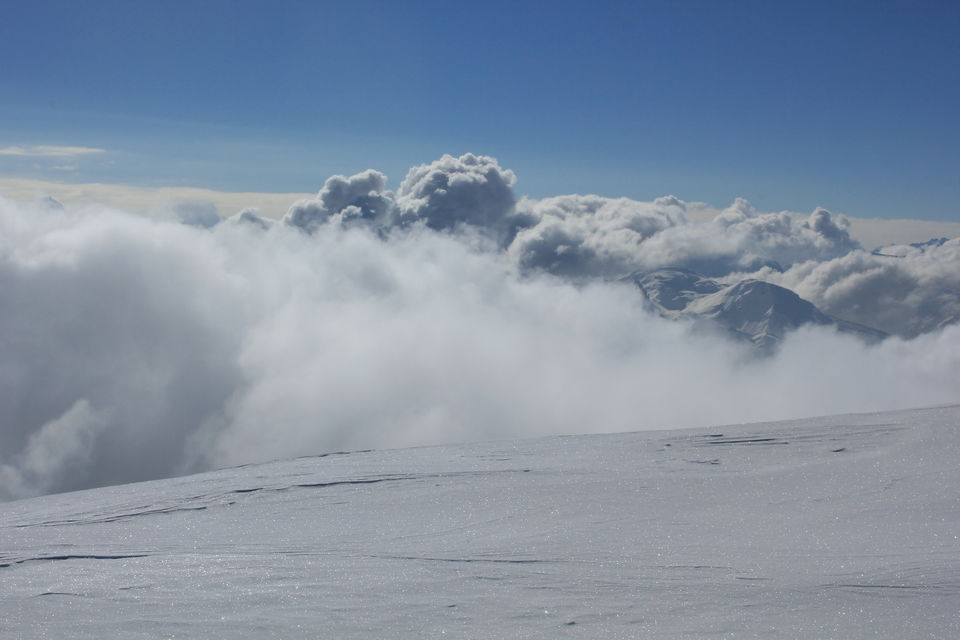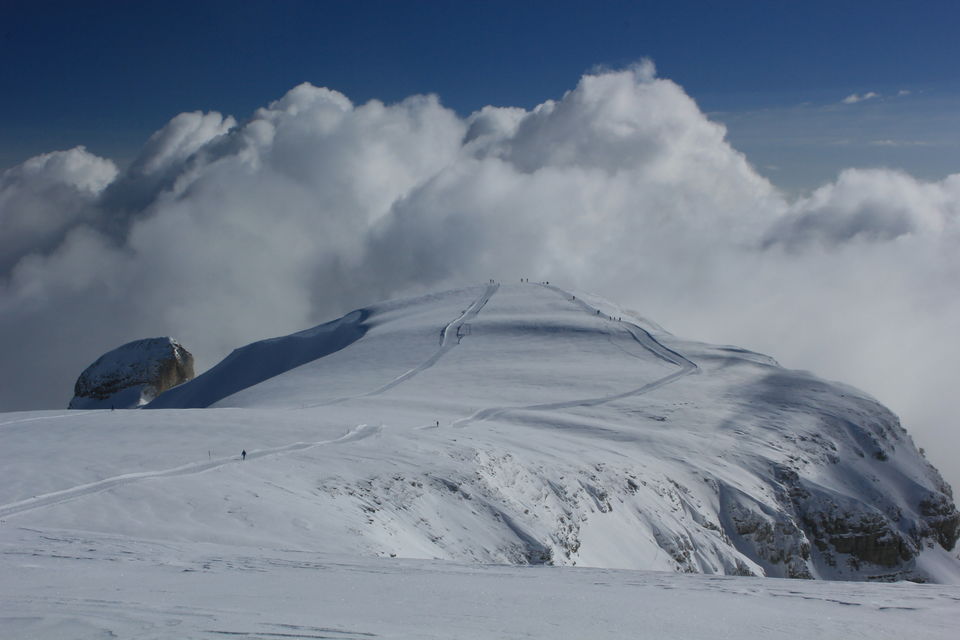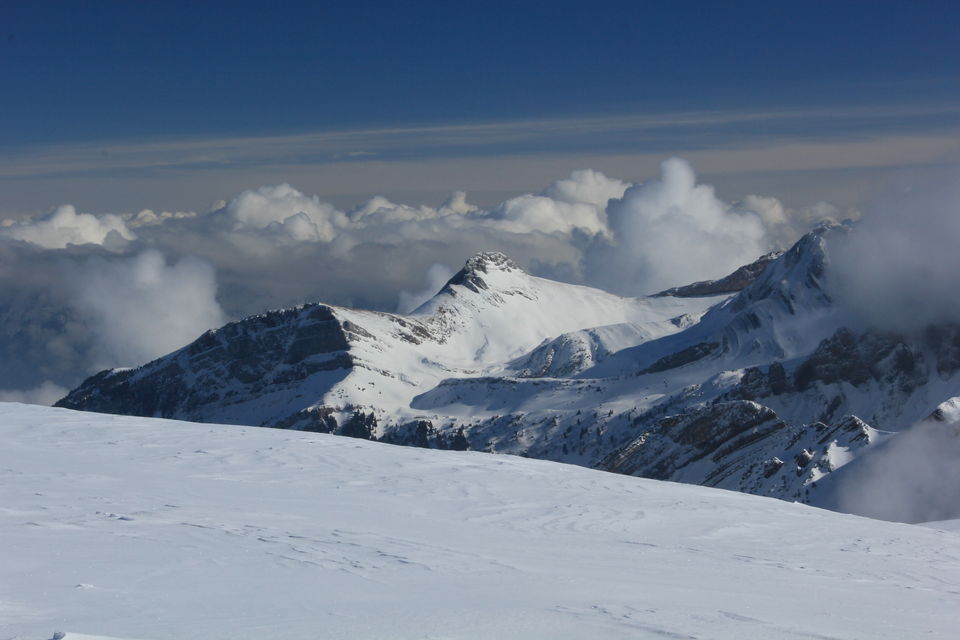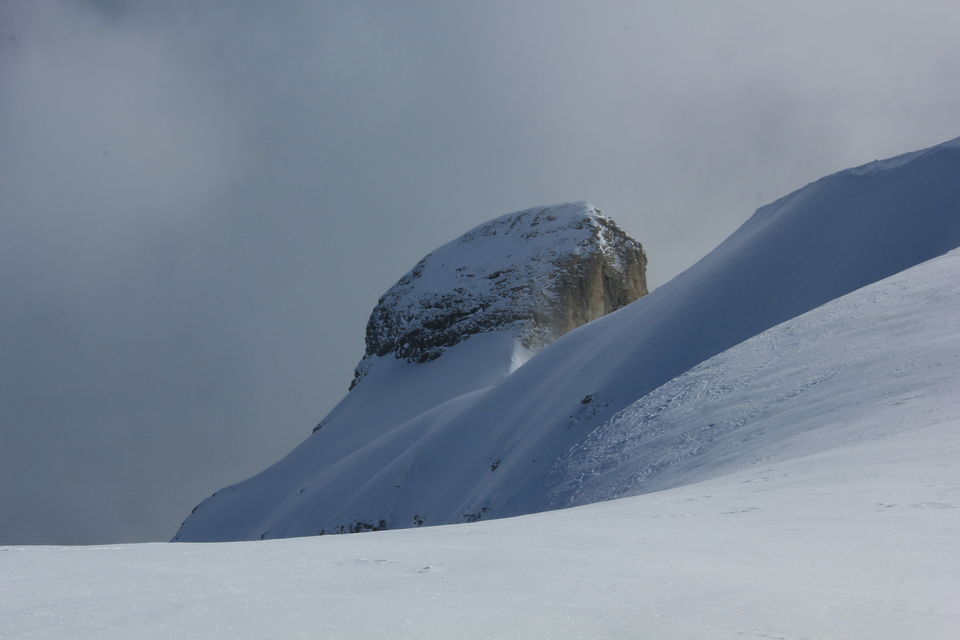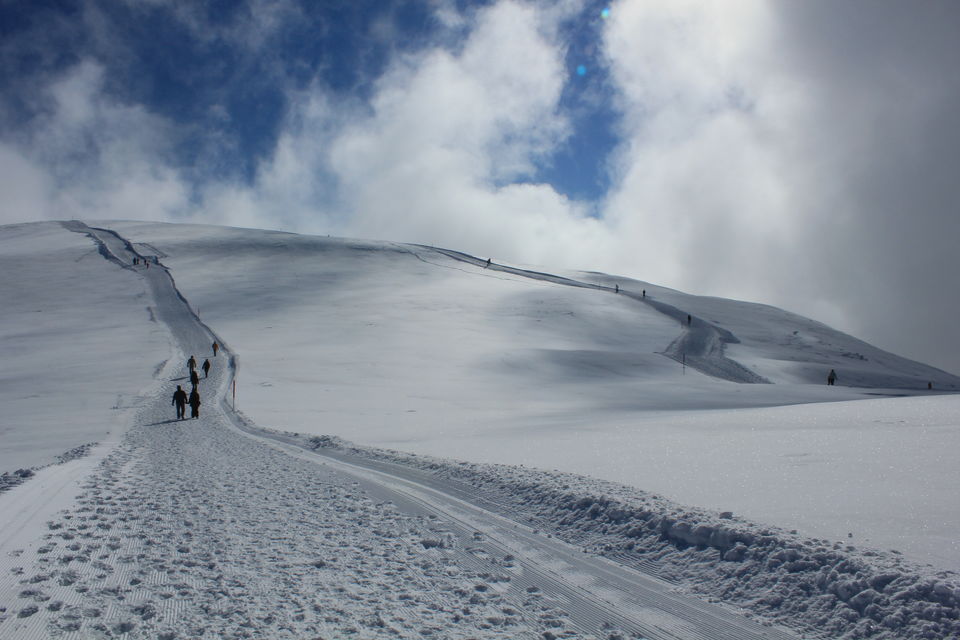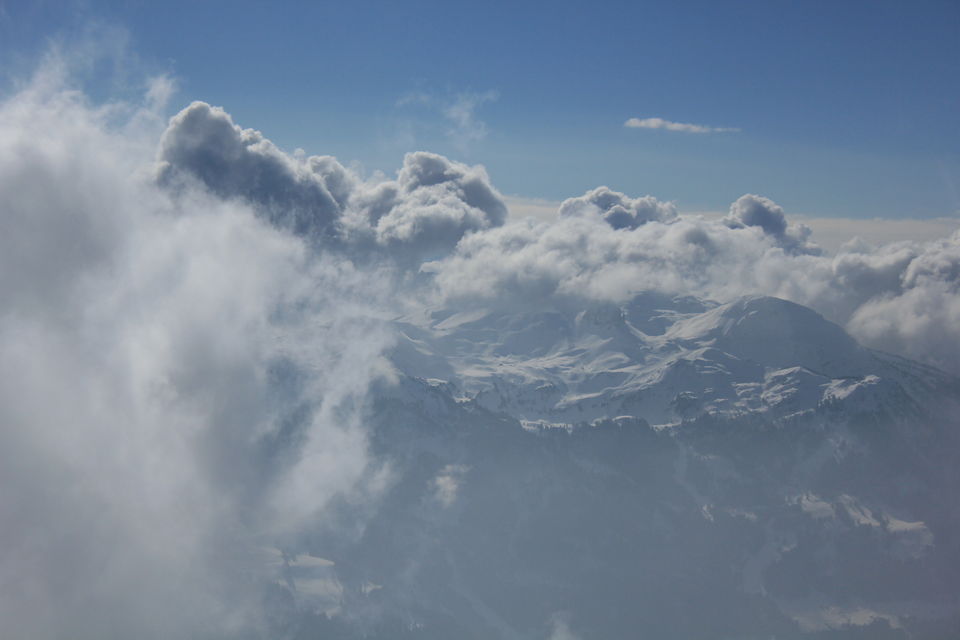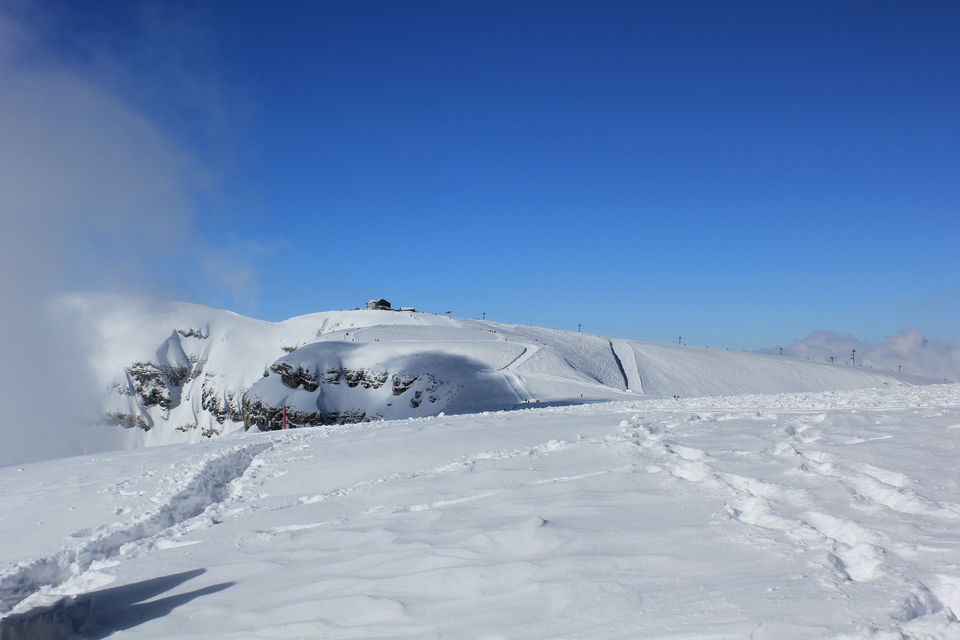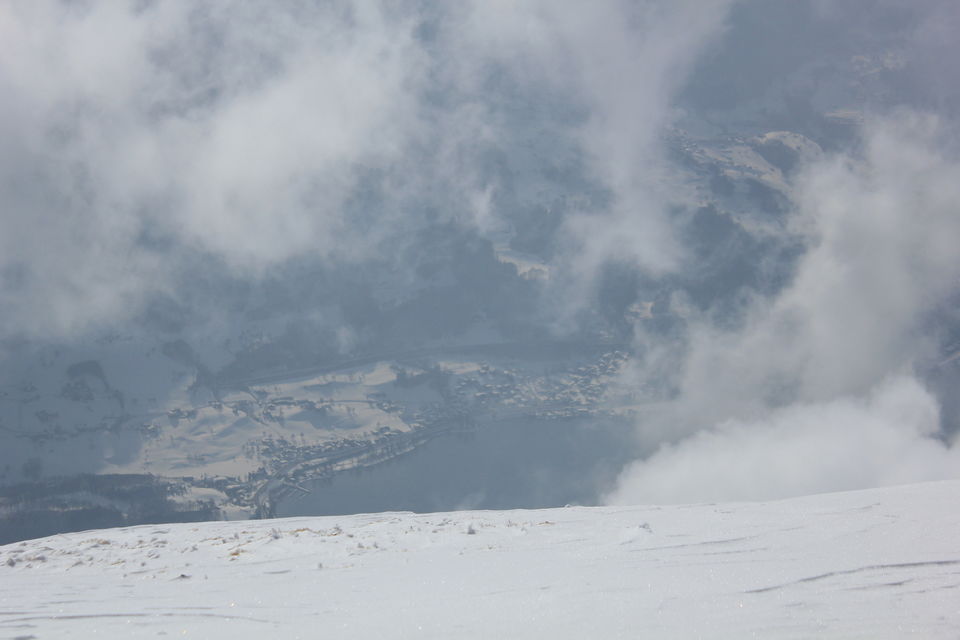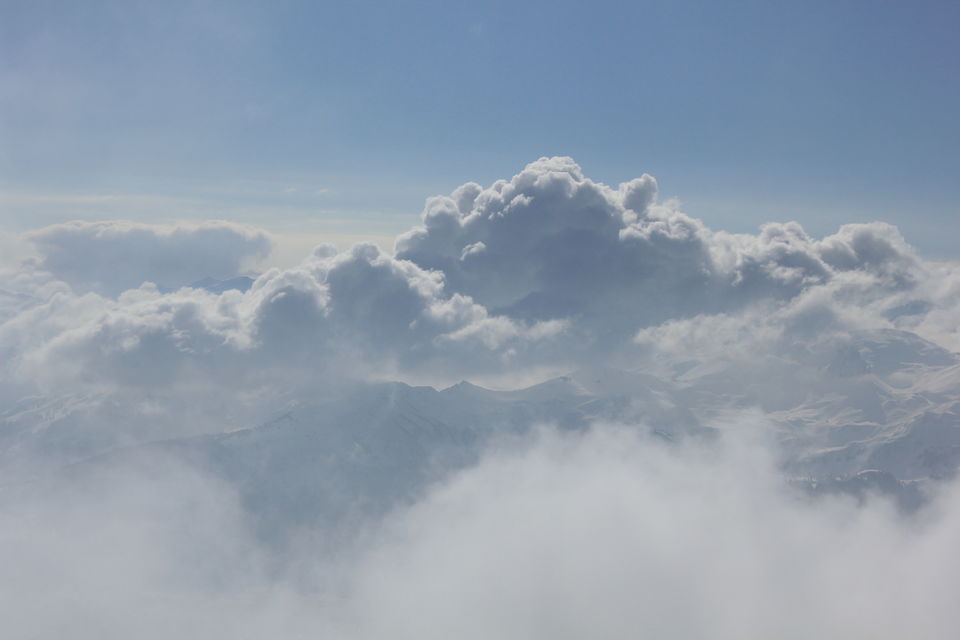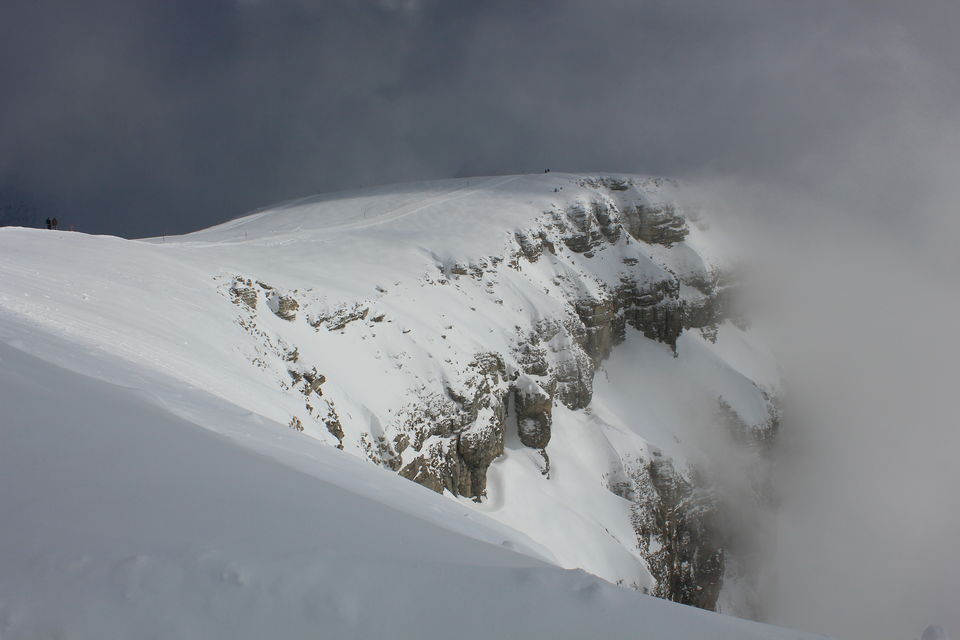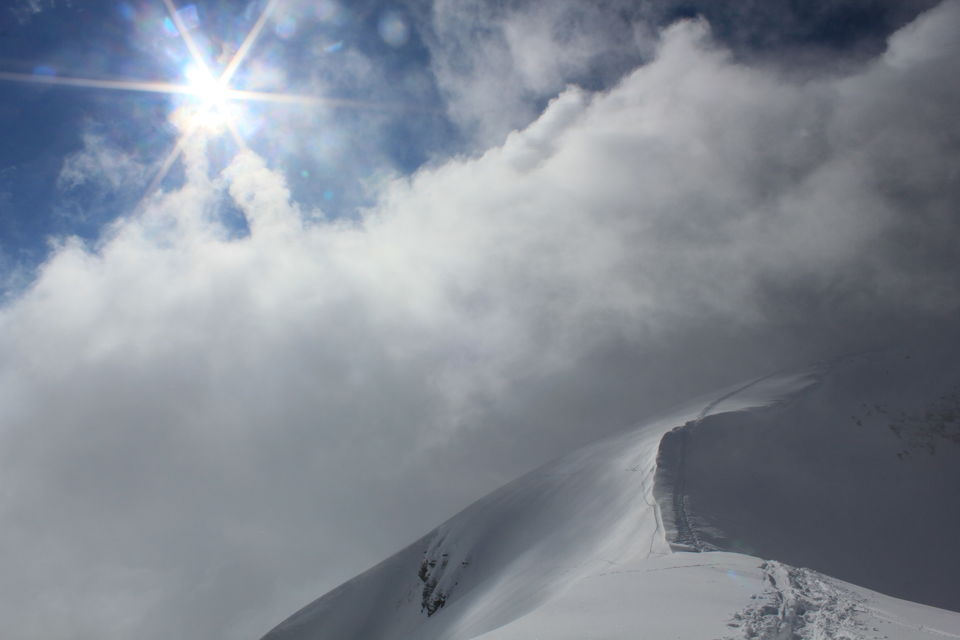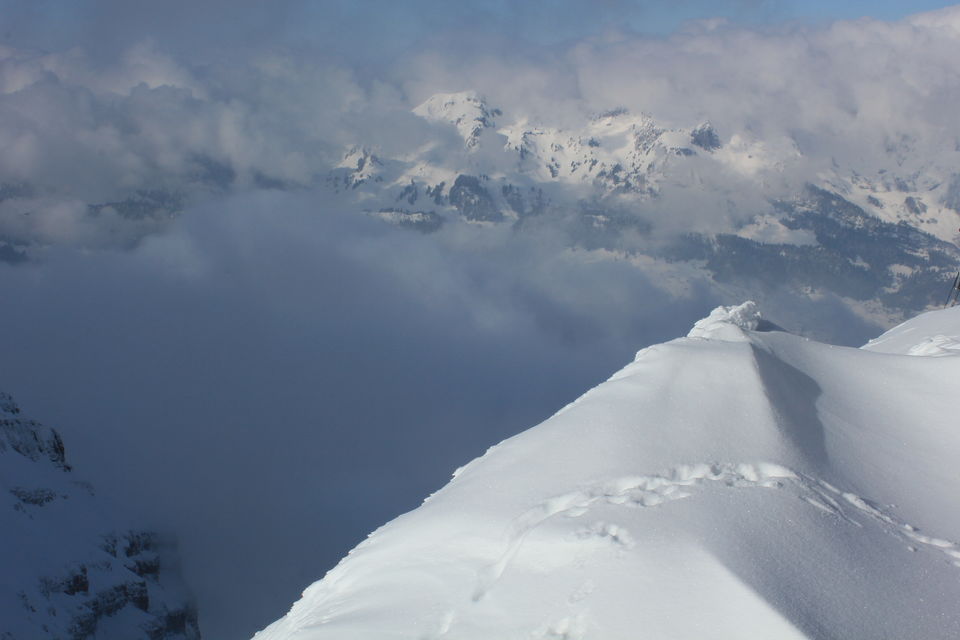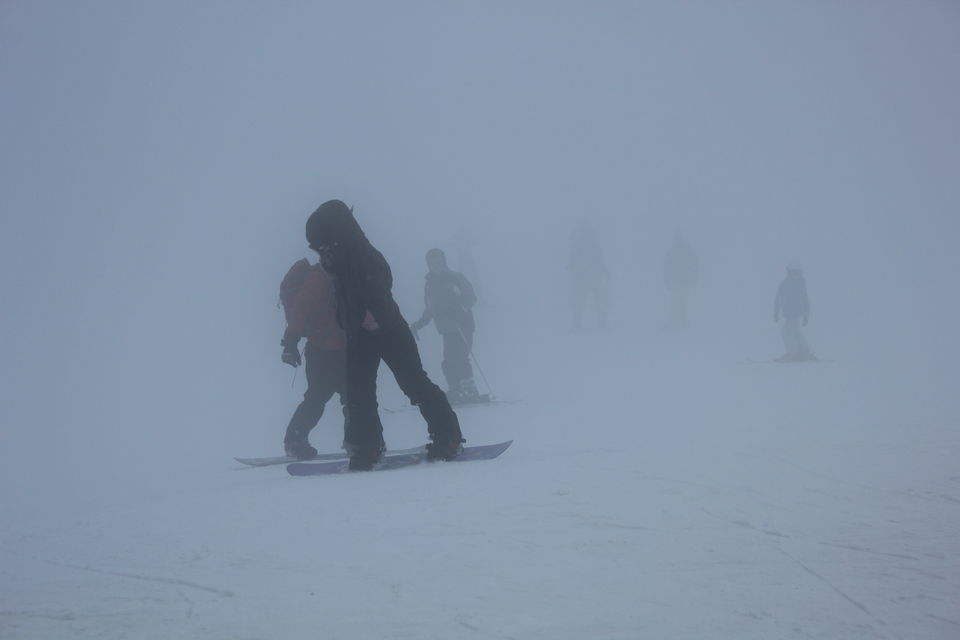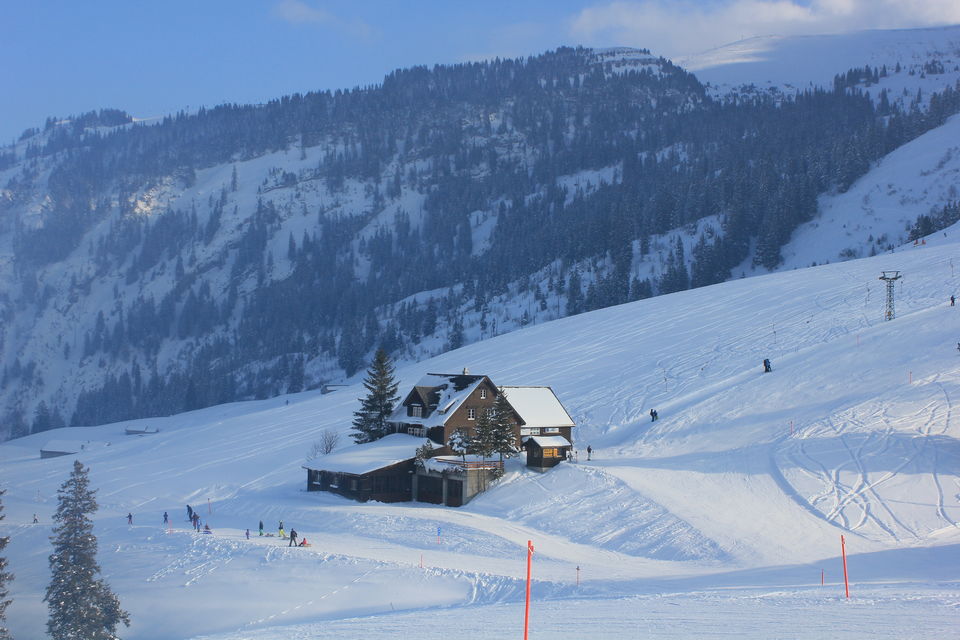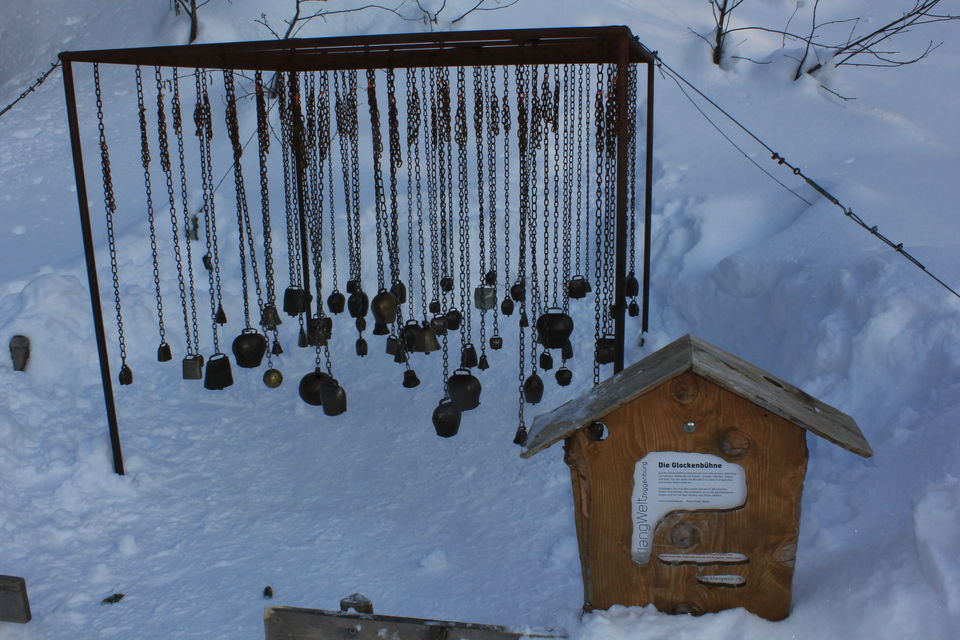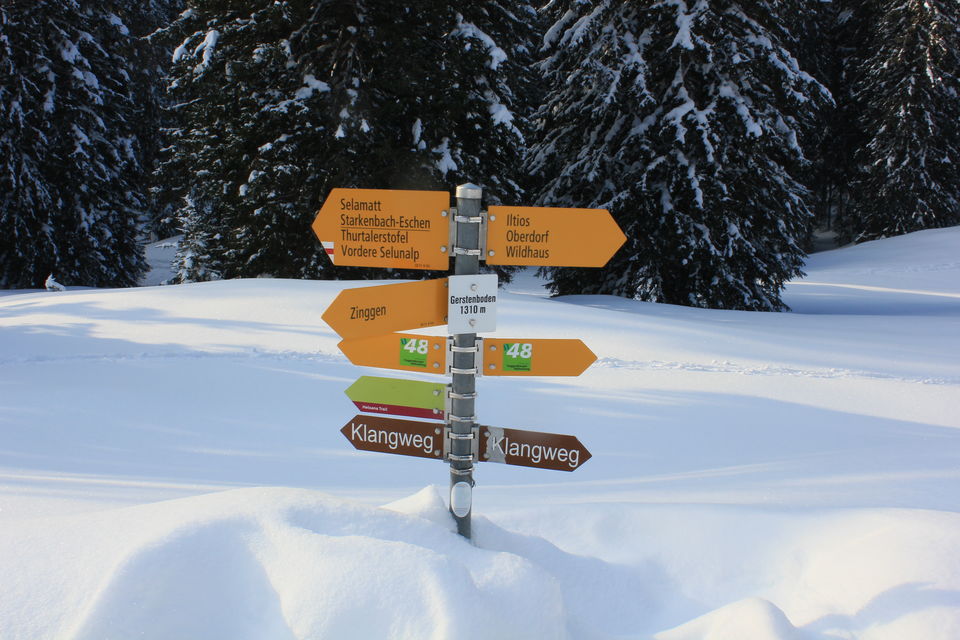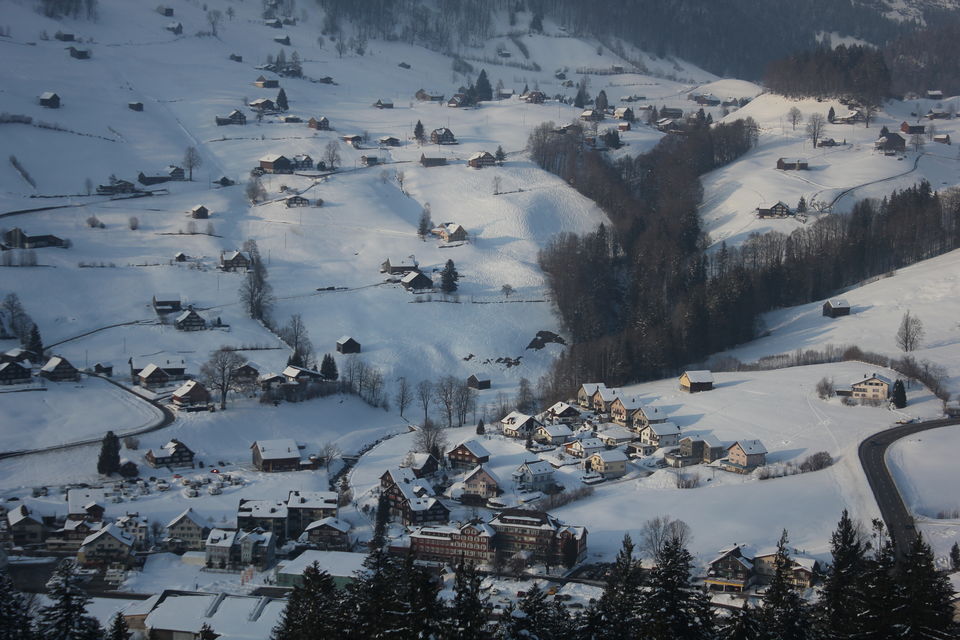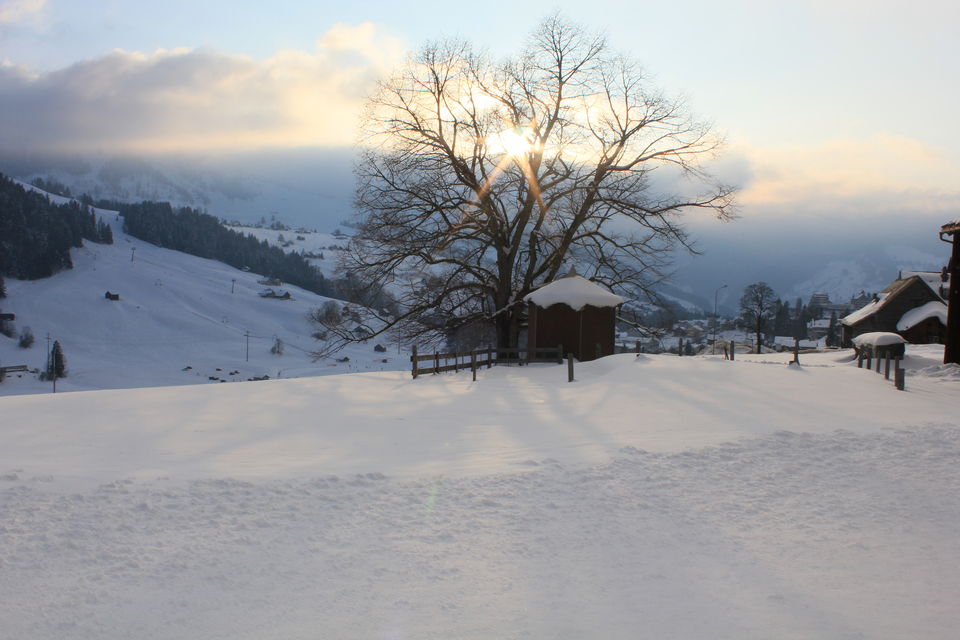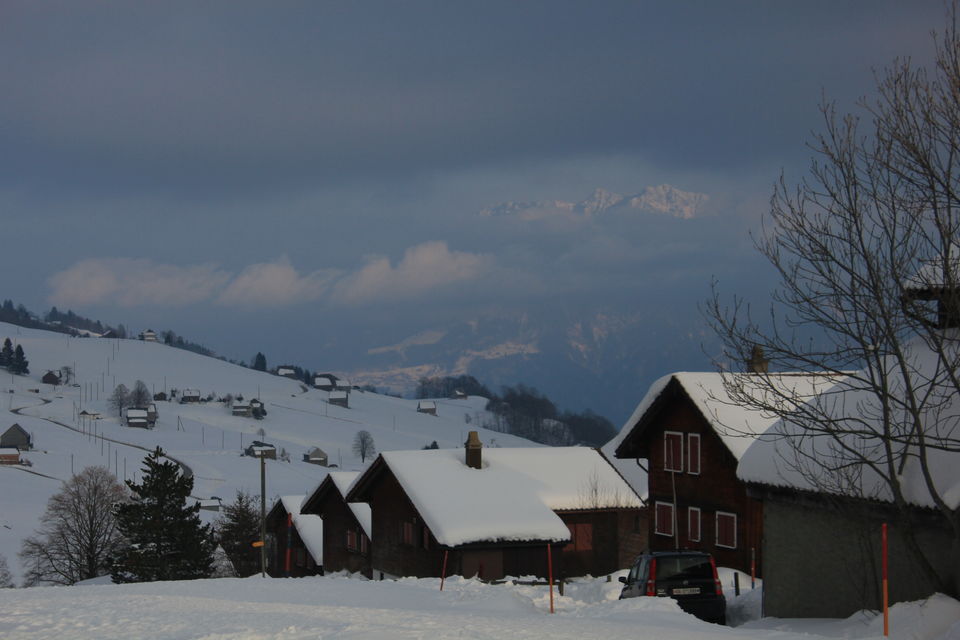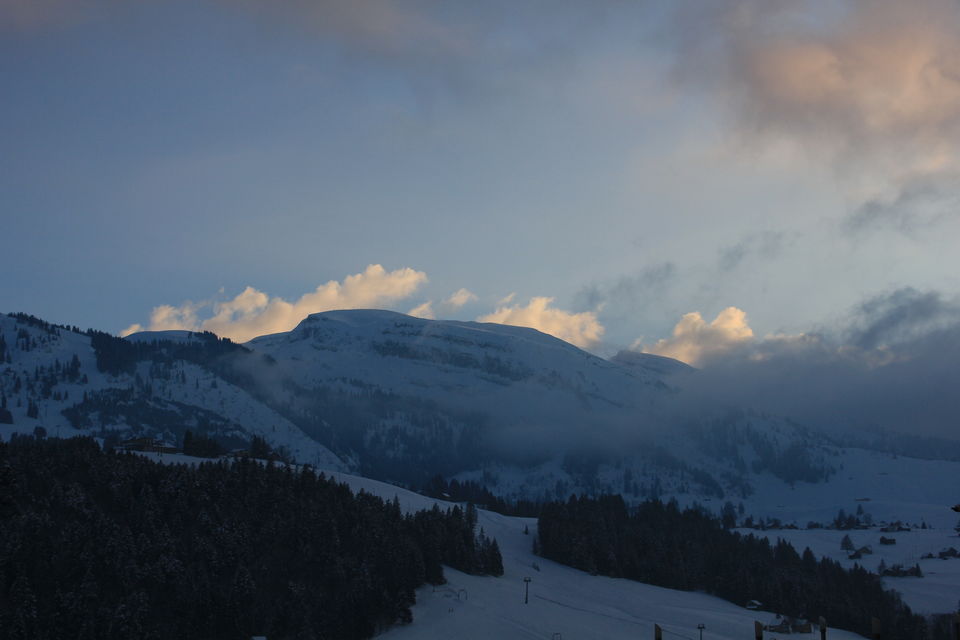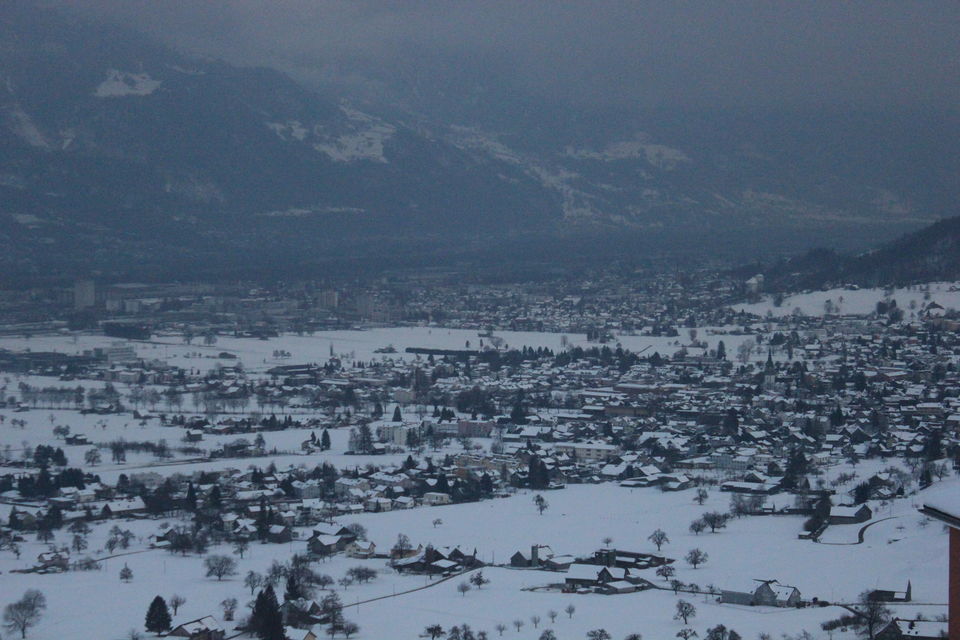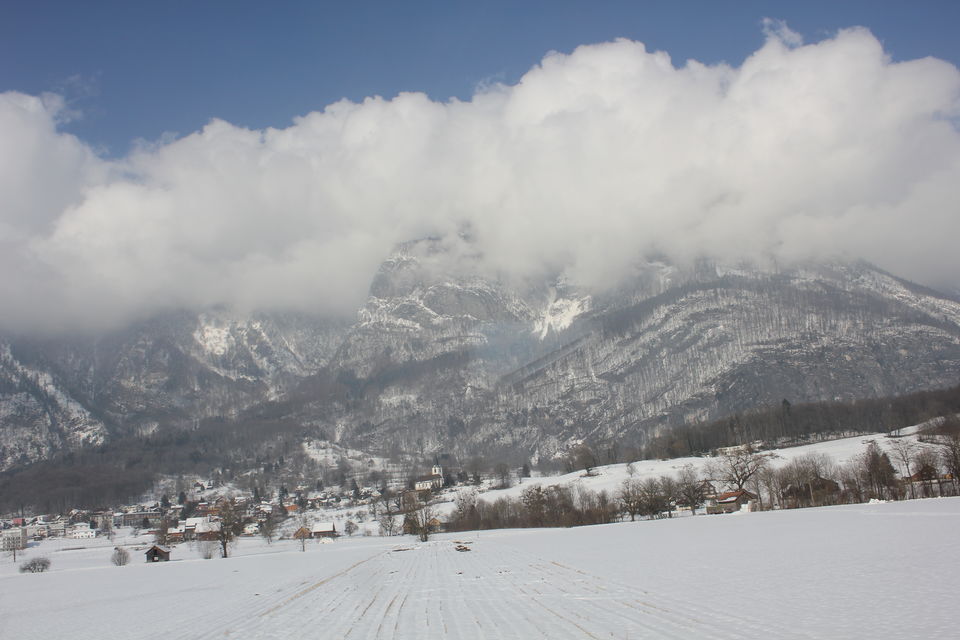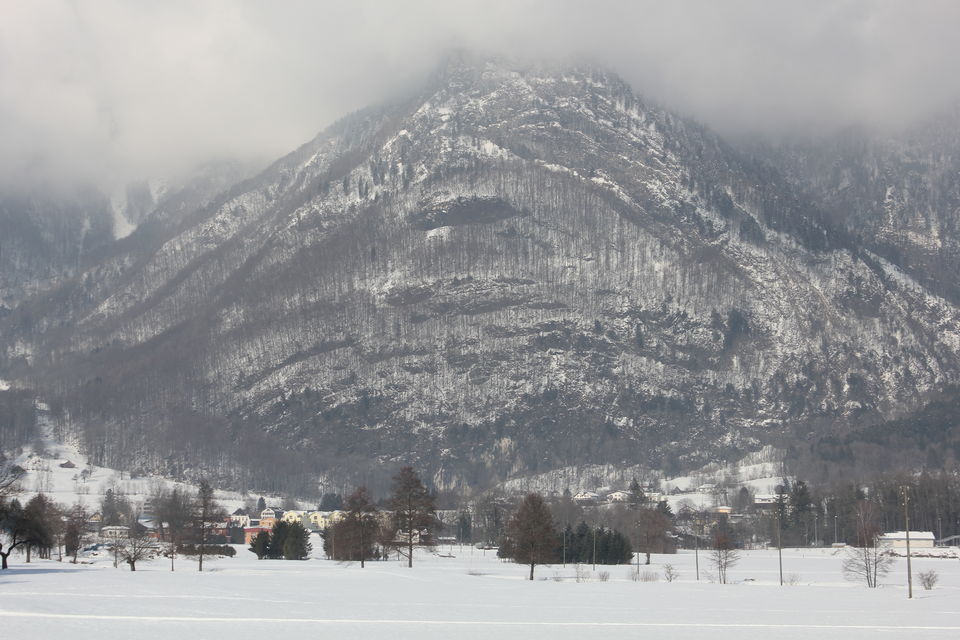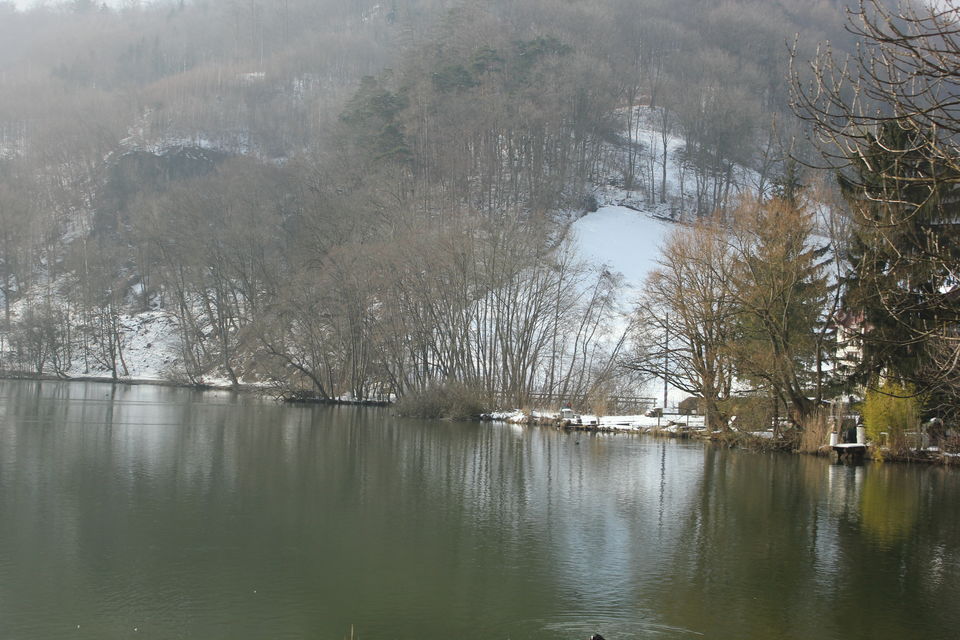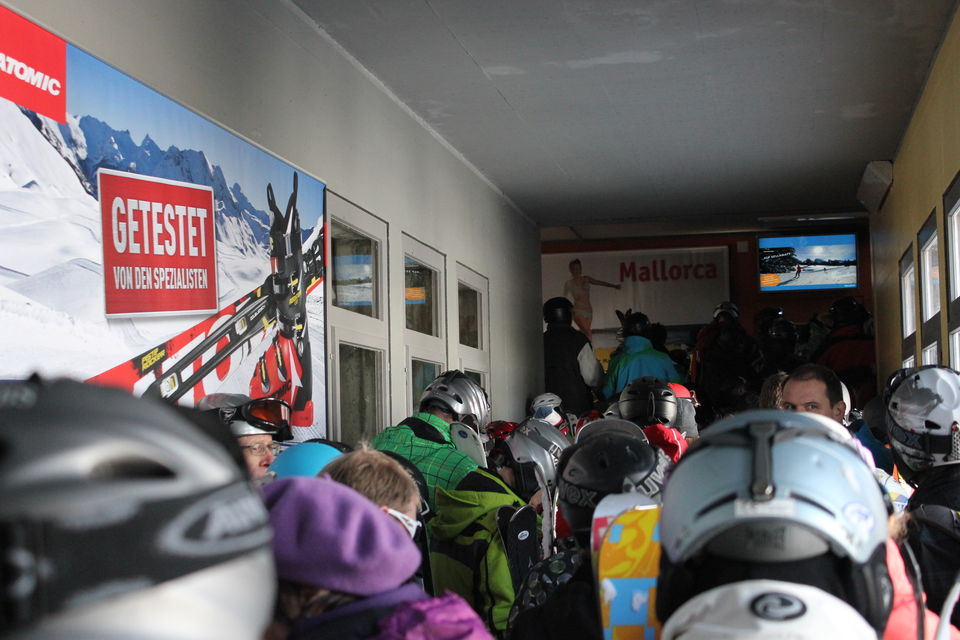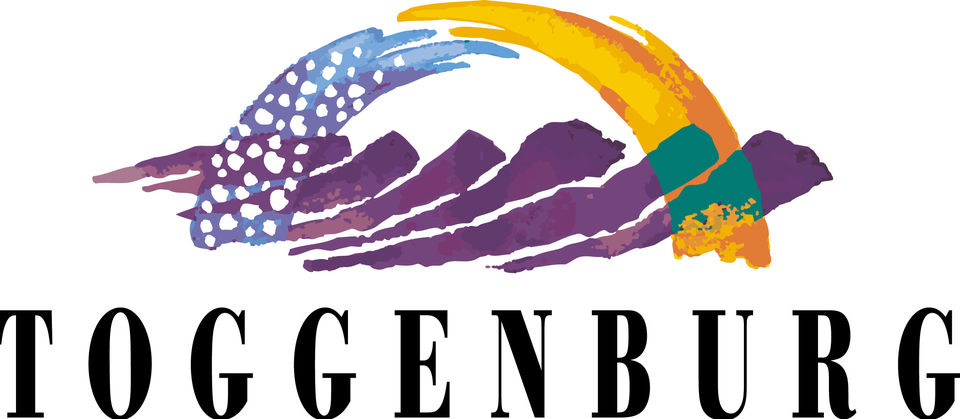 Welcome to Toggenburg, the land of circular rainbows! Or semi-circular to be precise. I'm sure as a wanderer you have heard of circular rainbows (if not seen them yet), they form between your eyes and Sun, and not on the opposite part of the sky to Sun like in a 7-colour rainbow. Usually it's hard to witness circular rainbows, best seen from flight over mountains, but as you see in the logo itself, Toggenburg is infamous for it's rainbows. Beside the smallest country Leichtenstein, in the Eastern Switzerland and in between the norther face of Mt. Säntis/Altmann and Churfirsten massif exists this heavenly place - Toggenburg (to understand the names, please go through my previous travelogues).
There is a direct way to reach here from Zürich, however while I was staying at Konstanz in Germany, it was easier for me to arrive here via Leichtenstein. In that way, I also saw a new country in all together, isn't that cool? I came to this place twice and  every time I was amazed with out-of-the-world experience atop the mountain. The place really unfolded to my eyes when I visited the summit of Mt. Säntis in winter, the 13th highest peak in Alps and the highest in Appenzeller region in Eastern Switzerland. The Churfirsten range kind of beckoned me and then next visit to the summit in Autumn, I could easily see that, one can go atop the saw-tooth wave like structure of Churfirsten. So I googled and found out a cable-car going atop and was impatiently waiting for a time when I can grab the lucrative view from there. Unfortunately I had too much of work & couldn't make it before the winter (it's really unfortunate that I missed the view of Walensee in the non-snowy months), however the winter beauty was more dramatic and breathtaking that I feel now, it was a blessing. :) 
I started from Konstanz with the Ostschweiz tageskarte to come to Rorschach in Austria via Romanshorn by the banks of Lake Konstanz (damn, I crossed four countries that I count now: Germany, Austria, Switzerland and Leichtenstein). From Rorschach, a beautiful mountain train picked me up to Buchs, a station by the banks of river Rhein and Leichtenstein. I could see the Hoher Kasten range and snow-capped giant walls all over my right side, clanged with thick cover of clouds. The peaks were visible only when the cover was unravelling only for a few seconds! I went twice to this place by the same route, while I absolutely loved the journey. I had a double-dekker bus from Buchs, that goes via the Wildhauspass to a place named Wildhaus, which was my first days destination. Actually what happened was I aimed for the summit of top most mountain, called "Chäserreugg", but only after reaching the base (Unterwasser Post), I could find that the mountain lifts are closed! It's pretty surprising, while there were no such informations available at the Swiss railway counter, neither anything written in the mountain-sport website. Apparently, they were upgrading the system for the winter-skii season to start (I went there in October end). Alas, while coming back, I found a similarly trapped group of ladies from Zürich, who were heading towards another mountain by their car and offered me a ride without even asking (Swiss people are quite generous about their visitors). The group consisted of three persons with varied age group and mixed profession, from medical surgeon to a University professor to even a kindergarten teacher. We headed to Wildhaus, and from there took the cableway to "Alp Gamplüt". This is a nice station up in the northern ridge of Mt. Säntis, and because of the fresh snow, it was quite a good walk after having some snowfun up in there. We also ate in the local cafeteria, though usually I avoid such meals due to heavy cost of Swiss food. From Alp Gamplüt we hiked down to Wildhaus - what fun to walk on the first snow in Alps. While the day was more or less over, we went all together for a hot chocolate finally before to part ways. It was quite fascinating to get acquainted with these wonderful ladies, unfortunately I lost all contacts to reach out to them (hope someday we meet again in Toggenburg). The trip was not dull, while I witnessed the circular rainbow in this trip! 
In the next trip around February, I was lucky to have mountain lifts open and from Unterwasser post, I started with the Iltiosbahn to the next station "Iltios". Its the last place where the mountain train can go, from where I took again a cable car to reach "Chäserreugg" - the top of Toggenburg. Again, pardon me for not been able to describe things perfectly, the beauty and charm is beyond my writing skills. I thought, I had seen enough of Switzerland but mountains always come with a surprise! From Iltios itself I viewed that clouds were flying in flocks in real time like a scattered bunch of sheeps moving in unison. When I reached there, I was completely stunned!!! The summit is a knife-edge (A knife edge is the edge between two sharp ridges), down in the other side of the ridge lies the lake Walensee, Mt. Flumserberg in Heidiland etc (to know more, read my previous travelogues). From here, the Mt. Säntis/ Altmann massif were clearly visible. A few paragliding students were initiating their training flights. Decided that I'll go for the walk, I took the round circuit, called Rosenweg. The journey was more than awesome, it was like a miniature version of me going through a smoked kettley while the smoke is cold! The shades, the peeping sunlight, the glowing snow, the breathtaking massifs, the cowbell ringings .... what a lovely moment I had back then!! From the endpoint of the walk, I could see the frozen lake Walensee and also the Heidiland, where I made many summer hikes. I figured my way back to the summit station all by myself (there were no travelers to help which made me nervous in case of an accident) and roamed to the other edge of Churfirsten.
Finally, I came down to Iltios via the cable car, roamed around in the snow to discover the cowbells, and then took the train back to Unterwasser Post. There I submitted my rented skii-poles at the Intersport shop. I still had an hours time to catch the bus, so I roamed at the small uphill. I bed good bye to the setting sun in Toggenburg to come back home. I particularly liked this place because of it's proximity to Konstanz and breathtaking geographic positioning in Alps, hope to visit them again perhaps in summer, to assimilate with the beauty of unexplored Switzerland. A bit of warning: you might feel strain, if you don't speak German, while it's not a popular destination for tourists and non-Swiss travelers. The pros is, the nature can be obtained in a nascent form - free of irritating tourists. There is another ridge called Alp Selamat, that you can explore - for that you need to get down from the bus at Alt St. Johann. Happy travelling to Toggenburg! :)